It's not often I go a day without checking out my social media pages, and I assume many of you are the same way. Whether you flip through your Facebook feed to click on the onslaught of Buzzfeed posts or you mosey around on Twitter to catch up on the hottest news, there is certainly plenty of time wasted on social sites like Facebook and Twitter.
But why not use these social networks to learn something new? Following blogs is great to improve your knowledge on WordPress, but there are plenty of pages and groups on social media sites that bring together strong groups of people to share thoughts on WordPress topics such as SEO, plugins, development, and more.
The Facebook, Twitter, and LinkedIn groups for WordPress are quite plentiful, but you have to kind of sift through the mess on all of these sites to find the ones that suit you best. For example, many of these groups go stagnant after a while so there is no point in following them, while others are filled with weird spam. Regardless, when you find a solid social group about WordPress with tons of people talking, you can create business relationships and improve your knowledge along the way.
We did the work for you so you don't have to mess around with junky groups. Let's take a look at all the must follow Facebook, Twitter and LinkedIn groups for WordPress.
WordPress Facebook Groups and Pages
Facebook has a few categories such as business pages and groups. Some of the groups are solid, but many of them seem to die out after a while. I'll outline a few of the oldest and most consistent groups along with a company page or two.

WordPress Help for Beginners rings true to its name, with simple advice for people who are just getting started with the system. You'll notice that whenever someone posts a question it usually gets answered by a handful of people, so you don't end up wasting your time along the way.
You'll see easier questions such as how to create a frontend reset password module or how to change the background on your WordPress site. It's not a place to hang out if you are an experienced WordPress developer, unless of course you want to stay sharp on the basics and help newbies out with your knowledge.

Intermediate WordPress is a step up after you start to realize that the beginner group is no longer for you. Once you graduate to this group you will find plenty of support for more advanced topics such as modifying the functions.php file or plugins that require a little more technical knowledge.
The group is heavily moderated, so they expect you to participate as much as possible. If you post an advertisement for your plugin or theme you will get kicked out, which is a good thing for those people who are truly in there to collaborate and learn. You'll also see that there are some funny jokes about people posting jobs for incredibly low rates. They do a great job of displaying the rules and creating a nice environment.

All About WordPress is another great WordPress Facebook group for chatting with other people about anything to do with WordPress. They moderate pretty well, but they also designate one day a week for self-promotion, because after all, most developers are looking to promote something at some point.

WordPress for Business is a unique take on the WordPress Facebook group because it is primarily for business owners, large and small. It's a private group, so you have to wait for your invitation to get accepted, but this is all for the good of the group.
If you run a business, this is the place to start, instead of drifting around in a group that is filled with developers.

WordPress Help and Share clearly states the rules in its profile photo, and they enforce them quite nicely. The group is another private gathering, so you have to wait to be approved. They always encourage people to share their experiences and talk about the problems they are having. Nothing is out of bounds in this group. People seem to be very receptive to even the most simple of questions.

Of course, WP Kube is a wonderful place to find all your WordPress tips, so make sure you follow us on Facebook for an easy way to learn about our newest posts. The conversation on recent blog posts is usually very active, so feel free to stop by and say hello.

Sometimes you just want to post your ramblings online, but many of us actually want to create an income with WordPress. If you are one of these people, this is the group for you. The community is quite active and they constantly talk about unique ways to make a little cash through the platform.

The Advanced WordPress group is for those who really want to dig deep with WordPress. The users skip over the basics completely and go into technical coding questions, making it nice for well-seasoned developers.

The Divi Theme is one of the best options if you plan on making money online, since it includes a sleek interface and options for things like eCommerce. If you plan on using the Divi Theme, make sure you follow this close-knit group of people who are simply trying to figure out the best ways to use the theme.
WordPress Twitter Pages to Follow
Twitter accounts that focus on WordPress are not only informative but fun. It's an easy way to connect with famous people and large companies, and it's one of the fastest ways to find tips and information on our favorite blogging platform.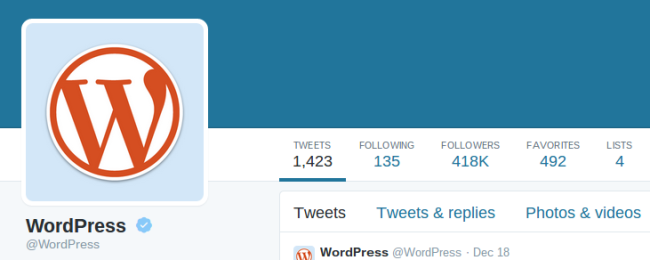 I would recommend that anyone using WordPress should follow the official WordPress Twitter page. The company shares tons of information and updates to the system. If you are always on the lookout for the hottest new theme or plugin you can find it here.
They also post some boring items like technical update information, but it's still rather interesting to expand your knowledge on the whole system. The company also likes to interact with its followers so try mentioning them with something creative and they might retweet or respond.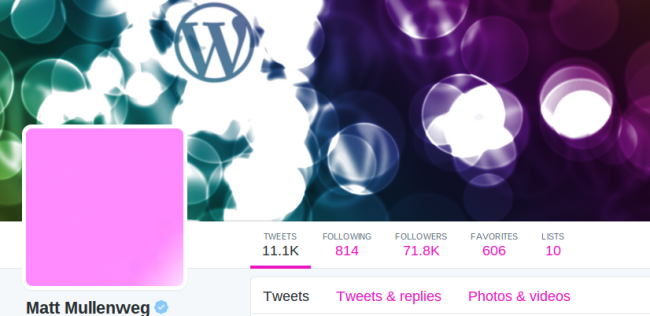 Matt Mullenweg is the developer who started it all. If you're not aware, he created WordPress, so he's somewhat helpful in this area. He also developed projects like Akismet and VaultPress so you will find plenty of information from a guy who knows what he is talking about. He shares information and photos from his personal life and likes to interact with fans and developers with interesting things to talk about.
You won't find how-to posts or tutorials with Matt, but it's always wise to study the mind of someone who has created so much.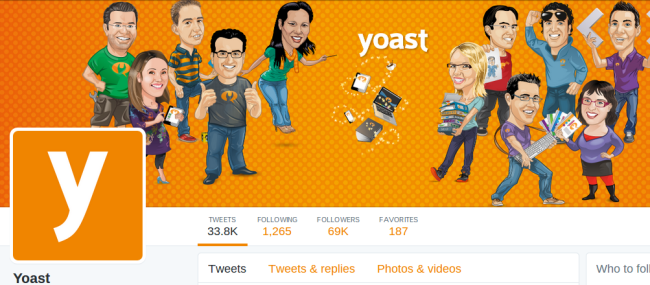 Yoast is the superb company behind products such as SEO by Yoast and Google Analytics by Yoast. They are the ultimate WordPress plugin company. They typically share updates on their own products, but they auto tweet newsletters that go out with highly interesting content to help you along your WordPress journey.

WordPress 101 is a company that sells WordPress tutorial videos, and they are wonderful if you are looking for a one-stop shop on everything you could possibly need for learning the system. That's not what I'm here to talk about though. The company's Twitter page shares tutorials and articles from around the internet, and they even send out the occasional WordPress news update in case you missed something that the WordPress company released.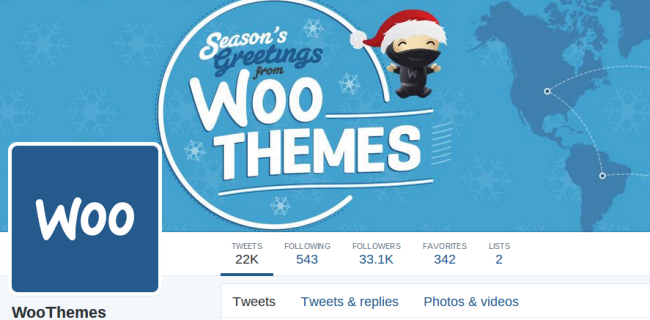 WooThemes sells WordPress themes, and its Twitter account is quite unselfish because they always retweet articles that are useful to users, and they even throw the occasional motivational quote up there. WooThemes is a pretty fun company, so it's nice to learn from them on how they keep their culture so interesting. Not to mention, their WordPress blog posts are usually good reads.

If you haven't already followed WP Kube on Twitter, give us a look to receive all the most recent updates from our blog. I always find that Twitter is one of the best ways to aggregate information and locate the hottest news pieces and tutorial articles, so if you are a Twitter junky, find WP Kube on Twitter to keep up with the site.
WordPress LinkedIn Groups to Follow
LinkedIn pages are typically just for finding jobs and scoping out companies, but the groups are essential if you want to expand your network and learn more about WordPress.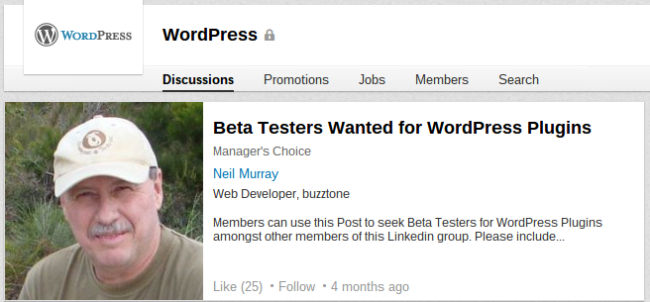 The WordPress LinkedIn group is an extremely active community where you can find job listings, information on WordPress and cool people to connect with. I occasionally go on there to ask a question or to see the most recent articles that people have posted.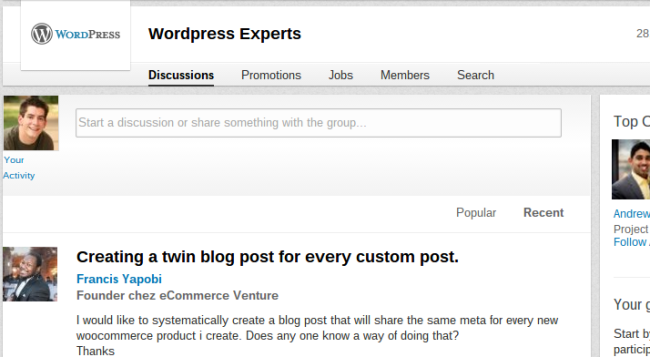 WordPress Experts is another nice place to share the interesting articles you have found online and chat with folks you just love WordPress in general. You'll notice that each post has several responses, so it's an effective way to start a discussion and learn.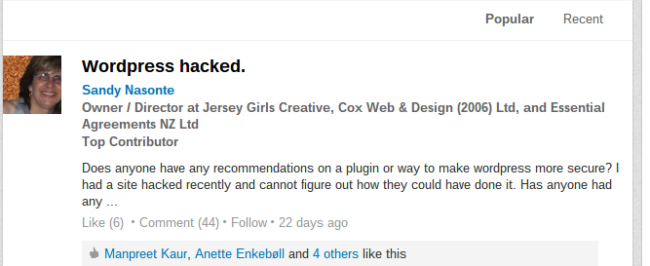 This group is more for the technical WordPress folks who are looking for feedback and recommendations on their designs. You can also seek out workers for your projects and just chat about your development techniques.
SEO for WordPress is a double-edged sword. The group actually has plenty of active users who share nice articles on improving your SEO on WordPress sites, but there is just too much spam. I'm assuming the moderator isn't all that active, but it's still worth a look.

Honestly, this is just another great option to choose from if you are a developer. Not much different from the WordPress Web Designers group, but you can pick your favorite.
Well, I don't speak Spanish, so I can't read half the things listed on this group, but I figure this is a nice place for people who speak Spanish and want to talk about WordPress.
Let us know in the comments section if you have any questions about Facebook, Twitter and LinkedIn groups for WordPress. Do you participate in any other groups that would help people out?