SEMrush is one of the best tools available to manage your keyword research, SEO, advertising, content, and competitor research in one place.
Looking for an SEMrush coupon? Visit SEMrush now to get started with an exclusive 30-day free trial only for WPKube readers.
Want to know more about SEMrush and why it's the SEO suite of choice for so many digital marketers? Keep reading for an overview of SEMrush features and what makes it different from other SEO and PPC tools.
What is SEMrush?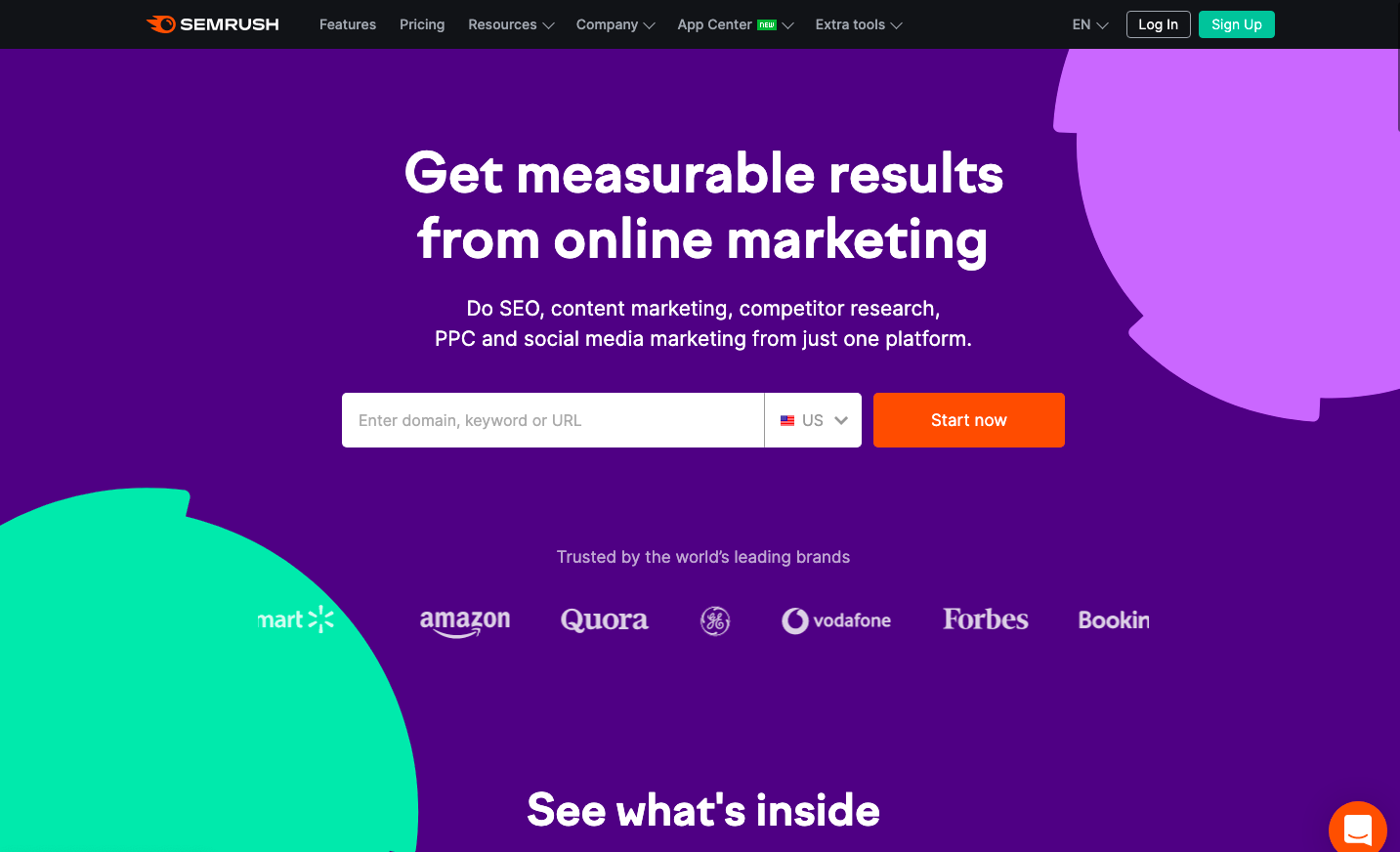 SEMrush is a single platform that includes tools for:
SEO
Keyword research
Analyze backlink profile of a domain
Run technical SEO audits
Track daily SERP positions
Content Marketing
Conduct topic research and find content ideas
SEO writing assistant with real-time tips
Audit and improve your content
Track brand mentions
Market Research 
Analyze traffic to any website
Discover your competitor's promotional strategies
Uncover opportunities for keywords and backlinks 
Advertising 
Find the best keywords for your PPC campaigns
Monitor competitor ad copy and landing pages
Optimize advertising spend
Analyze Google Shopping ads
Social Media
Schedule content for social media
Analyze post performance
Analyze competitor accounts
Optimize social media ads
SEMrush has a database of 20 billion keywords, 310 million ads, and 17 billion URLs. It also analyzes your data and will give you automatic suggestions on how to improve your SEO, content marketing, and advertising.
If you're using several tools to manage your social media, paid ads, and SEO, you could manage your workflow more efficiently and save money by switching to SEMrush.
Some of the world's leading brands including Amazon, Forbes, Tesla, and Apple use SEMrush to manage their SEO and drive digital marketing campaigns.
SEMrush Features
SEMrush is an incredibly powerful suite of SEO, advertising, and marketing tools that will help you to move up the ranks in the search engines and beat your competitors. Here are some of the platforms best features:
Keyword Research
Analyze any keyword to see search volume, difficulty, CPC, competition level, and more.
Analyze a list of your competitors' organic keywords and find new keywords to target.
Generate new keywords from a single seed keyword.
Discover keyword gaps and opportunities.
Create keyword lists and manage up to 1,000 keywords at once.
Integrate with Google Analytics to cross-reference data.
On-page SEO Tools
Site audit tool with on-page and technical SEO checks.
Tips to improve page ranking including content writing and link building.
Log file analyzer to find navigational and structural issues with your site.
Competitor Analysis
Benchmark and analyze your traffic against your competitors.
Discover your organic search competitors and find their keywords.
Analyze your competitors' ads.
Track brand mentions and reputation.
Analyze your competitors' social media.
Content Marketing
Topic research tool to find content ideas.
Collaborative marketing calendar for planning content.
Create SEO content briefs and templates.
Real-time SEO writing assistant.
Find suitable platforms and influencers for content distribution and promotion.
Measure the performance of your posts
Full content audit based on real-time metrics
Rank Tracking
Track the position of your keywords, domains, and competitors in Google on a daily basis.
Monitor volatility in the SERPs and signs of an algorithm update.
Find domains with the most paid keywords and paid traffic.
This is just a small sample of some of the features included with SEMrush. You can see the full list of SEMrush features on their site.
SEMrush pricing
SEMrush plans start from $119.95 a month. The cheapest plan is suitable for small teams and gives you up to 5 projects, 500 keywords to track, and over 20 tools and reports to help you to analyze keywords, domains, and backlinks.
The next step up is the Guru plan at $229.95 a month. This plan gives you 15 projects, 1500 keywords, and additional features such as historical data, content marketing platform, and integration with Google Data Studio.
If you pay annually, you can save 17% off the normal monthly pricing.
SEMrush Coupon FAQs
Does SEMrush offer coupon codes?  
Yes, SEMrush publishes new codes for special offers and discounts from time to time. Right now you can get a 30-day free trial by using our link to get the best deal and apply the SEMrush coupon automatically.
Can I cancel my SEMrush subscription at any time?
Yes, you're not locked into a plan and can cancel, upgrade, or downgrade at any time. If you cancel within the first 7 days, you'll get a full refund.
Does SEMrush have free accounts?
Yes, if you want to use the platform for free, you can sign up for a free account. This account doesn't include all the features of the paid plans. Analytics reports are limited to 10 per day and you can manage only one project and track up to 10 keywords.
If you want to try out the extra features in the premium plans, you can sign up here to get a free 30-day trial.
Will my card be charged when I enter my payment details to get the free trial?
No, if you sign up for the 30-day free trial with our link, you won't be charged until the 30 days is up. However, SEMrush may charge a small amount to your card to check validity. This charge will be immediately refunded.
How to Use the SEMrush Coupon
Click here to visit the site using our SEMrush coupon code and claim your 30-day free trial. You won't see this offer on the normal SEMrush homepage, so make sure you use our link and land on a page that looks like the one below.
Click the "Get a free 30-day trial" button. Fill out your details and sign up to get your free trial. You'll have full, unrestricted use of the entire suite of SEMrush tools and won't have to pay anything unless you decide to keep using it after the 30-day trial.