There are plenty of web hosts around to choose from, and new ones appear all the time. And although greater competition results in better services at lower prices, this abundance of choice compounds the problem of choosing the right host to fit your specific needs. The challenge is even greater for WordPress users, who need a provider that understands their particular requirements.
To tackle this issue, we rounded up six of the best-known WordPress hosts and took an in-depth look at each. These hosts offer something that most don't: WordPress-specific hosting and everything that entails.
Before we get into the reviews, we'll first take a moment to discuss exactly why you should choose a web host with WordPress-specific experience. Then, we'll dissect each host, with the main focus on support and security features, performance, and pricing.
Best WordPress Hosting in 2021: Quick Summary
We're going to go much more in-depth in this post with our hands-on tests and experience-backed opinions. However, if you're in a rush, we want to start things off by giving you a quick summary of our top picks.
So – you can either use this simple summary table as a jumping off point. Or, you can keep reading to learn exactly why we've chosen these hosts and see the test data.
Rank
Host
Price from /mo.
Highlights
1st 🥇
HostGator
$5.95
✔️ Affordable prices
✔️ Fast load times
✔️ Helpful support
2nd 🥈
WP Engine
$30
✔️ Useful managed features
✔️ Fast load times
✔️ Expert WordPress support
3rd 🥉
Flywheel
$15
✔️ Useful managed features
✔️ Fast load times
✔️ Special tools for agencies
WordPress Hosting vs. Shared Hosting – The Key Differences
You may have noticed that many web hosts offer general shared hosting plans and WordPress hosting plans. These are two very different things. To illustrate why, let's walk through their differences one by one:
When you get shared hosting, you're paying for a set amount of space within a server. You have the freedom to install any content management system (CMS) you want, but performance will never be as good as say a dedicated server (i.e. one that is reserved for your use only).
With WordPress-specific hosting, you're usually paying for space within less crowded servers. Each of these servers is optimized to provide you with a better WordPress experience right out of the box.
WordPress-specific hosting often includes security measures tailored for the CMS.
WordPress-friendly hosts are more knowledgeable when it comes to the CMS, so they offer better support.
Web hosts optimized for WordPress often offer better loading speeds. For example, their servers are tuned for WordPress and they often include optimizations such as server-level page caching for WordPress.
Often, WordPress hosts also take care of backups for you, which is a huge load off your shoulders
These days, there's arguably no good reason for a WordPress user to opt for generic shared hosting. WordPress hosting plans usually start at competitive prices, so they're the best choice – even if you're on a tight budget.
Our Methods for Choosing and Evaluating the Best WordPress Hosts
Each of the web hosts we've chosen for this roundup are very well-known in the WordPress hosting industry, but we didn't want to base our comparison on reputation alone. To be as thorough as possible, we went through the following process with all six of them:
We set up paid WordPress hosting accounts for each company.
Some of these web hosts come with WordPress pre-installed, but for those that didn't, we did it ourselves.
Once our site was ready, we contacted each web host's support team and evaluated their staff with questions about WordPress security.
We tested each website's speed using Load Impact (now called k6 after a rebrand). This tool enables us to test how fast a site loads under both light and heavy stress by simulating multiple visitors within a period of time. Basically, how fast will your site load in a real-world situation where you have multiple visitors at the same time.
Finally, we took a look at each of their plans to gauge if they represent good value for money. Knowing this, we can give you specific recommendations about which plans to pick for each web host.
Let's check out how each WordPress host performed through our tests.
The Six Best WordPress Hosts for 2021 Ranked
After concluding our testing, something became very clear – some providers performed considerably better than others. With that in mind, we decided to rank them below from best to worst, to help you make an informed decision. It's worth mentioning, however, that our rankings are certainly not 100% objective, and the best provider for your specific needs may not be the top provider on our list.
For example, WP Engine is one of the top hosts on this list in terms of features and performance, but we only ranked it second because its pricing puts it out of reach for a lot of casual WordPress users, especially beginners.
With that in mind, let's start with top six hosting providers and work our way down!
HostGator is one of the best-known names when it comes to web hosting, but not one of the most highly regarded. In the past, the hosting service has experienced issues with site speed, but it has recently turned over a new leaf. HostGator's WordPress Cloud Hosting plans are some of the fastest around, and they include both free migrations and free SSL certificates.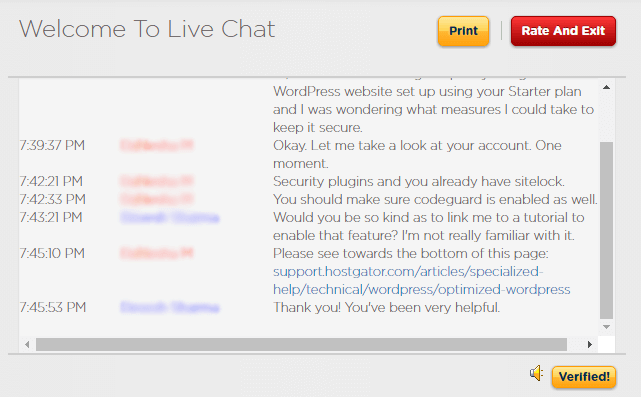 Security and Support Services
HostGator's support team was very helpful, reviewing our website before answering our question to ensure their proposed solution was on the mark.
That said, the wait for a live chat agent was relatively significant – almost ten minutes.
Speed Testing Results
Minimum Loading Speed: 0.16 seconds
Maximum Loading Speed: 0.21 seconds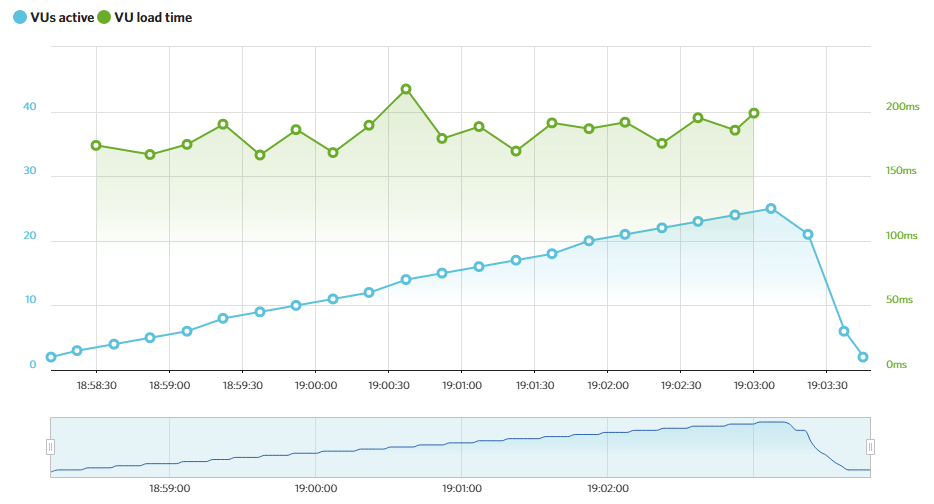 Pricing and General Impressions
HostGator completely blew us away with their speed test, even on the cheapest plan.
The Starter plan offers the best bang for your buck when it comes to WordPress hosting ($5.95 per month when you commit for a year), but prices increase sharply once you move into the enterprise-level range of plans.
That's not to say HostGator is a bad option, but you may be mindful of the costs.
Pros
Fantastic loading speeds.
One of the cheapest starting plans among WordPress hosts.
A helpful and friendly team with good WordPress chops.
Cons
Aside from the Starter plan, other offerings aren't very cost effective.
In Summary
HostGator knocks the ball out of the park with low prices, great speed tests, and a reliable support team. The only downside to this web host is the fact that aside from the Starter plan, their prices aren't that great.
💰 Our exclusive 30% off HostGator coupon
When it comes to advanced features such as automatic performance enhancements, scalability, and high-grade security, WP Engine is second to none. The catch, however, is that unlike most of the other hosts on this list, these features do come at a premium.
Security and Support Services
WP Engine prides itself on its customer service, and the support staff certainly lives up to the hype. We waited a mere two minutes for an agent to connect with us via live chat, and he easily guided us through a few WordPress-related security queries.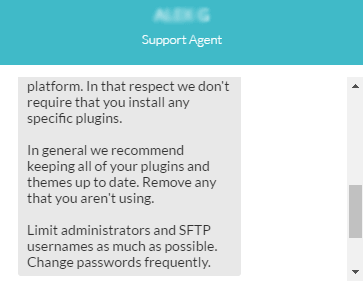 One of WP Engine's most encouraging offerings is its built-in security features, meaning you don't need to depend on potentially unreliable third-party plugins.
Speed Testing Results
Minimum Loading Speed: 0.32 seconds
Maximum Loading Speed: 0.40 seconds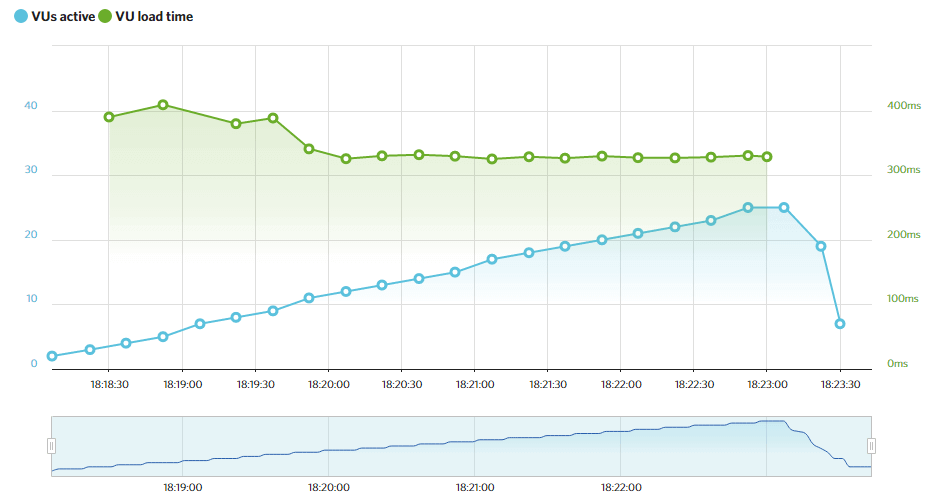 Pricing and General Impressions
WP Engine is definitely not a budget web host. The cheapest plan starts at $30 per month, which gives you you get top-notch security and high speeds. You can also get two months free if you pay for a year upfront.
Make sure to use our special link to get 20% off your first payment. If you pay for a year, you'll get a whopping four months free.
Pros
Some of the best loading speeds in the business.
Custom scalability options – WP Engine can handle the biggest and meanest of WordPress sites.
Exceptional security measures.
A support team well-versed in WordPress.
Cons
More expensive than a lot of other options.
In Summary
To be frank, WP Engine would probably make the top of this list if it weren't for a small detail – their prices. This is a web host built for serious WordPress sites that need top-notch speed and security, and their prices reflect that fact. If you have the budget for it, you probably won't find a better option.
👉 Our full WP Engine review
💰 Our exclusive 20% off WP Engine coupon
Flywheel is a WordPress hosting company that targets both regular users and agencies. It offers a wide variety of plans at different price points and incorporates advanced features across all of them. These features include nightly backups, free security scans, and the ability to create staging sites.
As of 2019, Flywheel is now owned by WP Engine (the previous entry on our list). However, the two are still run separately and have separate features, though their prices are almost identical now.
Security and Support Services
Flywheel offers 24/7/365 live chat support. You can quickly access their support channels from any page in the Flywheel dashboard, whether you need a quick chat, to check the status of a ticket, or reference their handy help docs.
This host also takes security very seriously. They enforce significant login measures and take great pains to keep your site stays safe and malware-free.

Speed Testing Results
Minimum Loading Speed: 0.52 seconds
Maximum Loading Speed: 0.57 seconds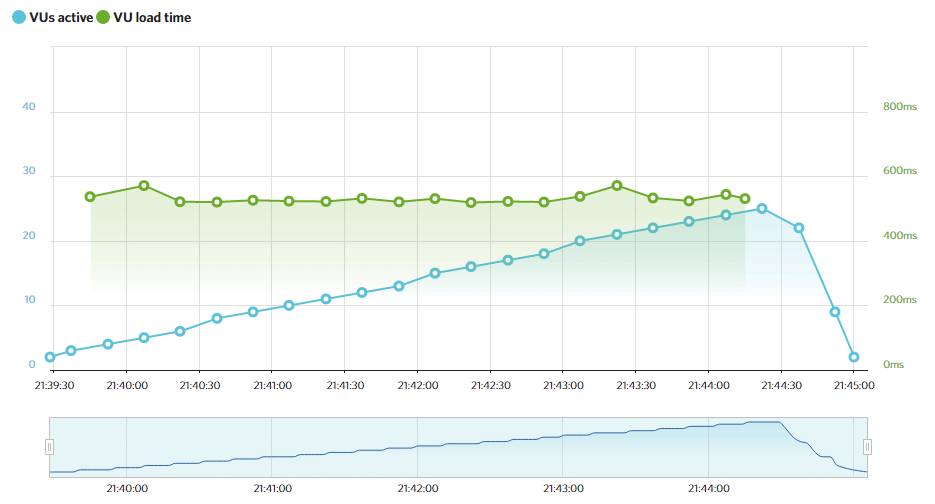 Pricing and General Impressions
Flywheel is one of the fastest hosts we tested. That benefit, combined with their wide range of plans, makes them a good choice for anyone that's looking for a safe, fast WordPress host.
However, Flywheel is definitely a premium service; the cheapest plan is $15 per month for a single site install and a limit of 5,000 monthly visits. If you're looking to host multiple websites with significant traffic, Flywheel will get pretty expensive pretty fast as their other plans are identical to WP Engine's pricing.
You can also save 33% with our exclusive Flywheel discount code.
Pros
Offers a great variety of WordPress plans.
Plenty of advanced features for solo WordPress developers and agencies.
Great security measures, including nightly backups.
Cons
Can be expensive if your site gets more than 5,000 visits per month.
In Summary
Flywheel is a serious competitor in the WordPress hosting business, with a wide variety of plans, and lots of advanced features. It also offers lots of agency-specific features, which makes it a great option for agencies or freelancers who are building WordPress sites for clients.
👉 Our full Flywheel review
💰 Our exclusive 33% off Flywheel coupon
Bluehost is one of the biggest and most popular WordPress web hosts around, with a decent variety of plans at mid-to-high prices. WordPress-specific features include dedicated backups and an enhanced cPanel interface.
Security and Support Services
Bluehost offers the SiteLock suite of security tools to its users, which takes care of malware detection, removal, and firewall duties.
Moving on to support, Bluehost provided one of the worst experiences for us. Waiting times for the live chat often stretched beyond half an hour, and from our experiences, the staff isn't particularly knowledgeable about WordPress.
Speed Testing Results
Minimum Loading Speed: 0.64 seconds
Maximum Loading Speed: 1.41 seconds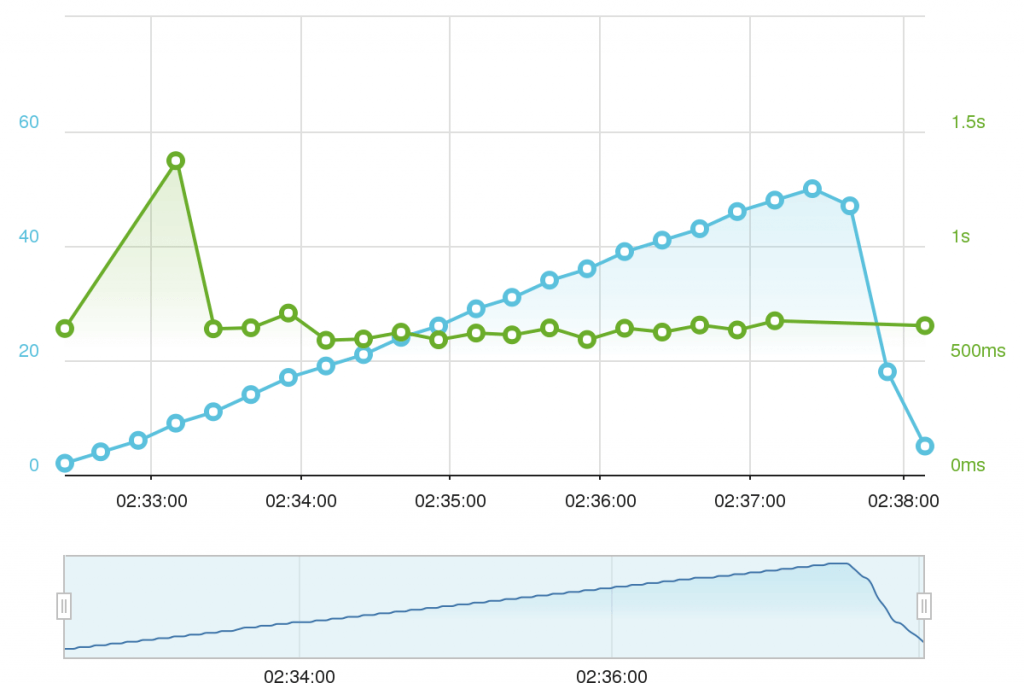 Pricing and General Impressions
Bluehost doesn't lead the pack when it comes to speed or support. What they do offer, however, is a wide variety of plans at midrange prices and adequate security features.
You can choose from:
Shared WordPress hosting from $2.95 per month.
Managed WordPress hosting from $14.95 per month.
WooCommerce (eCommerce) hosting from $12.95 per month.
You also get a very beginner-friendly dashboard and setup experience, which makes it easy to get up and running with a site. This part makes them appealing for beginners who might feel overwhelmed at trying to start a WordPress website.
Pros
A good suite of security features.
A decent variety of WordPress plans.
Very user-friendly dashboard and onboarding process.
Cons
Erratic loading speeds on the slow side.
The support team takes ages to respond to queries.
In Summary
Bluehost is far from the lead when it comes to WordPress hosting. That being said, it offers a very user-friendly experience and a wide variety of WordPress hosting plans to choose from. This can still make it a viable option for beginners who value ease of use and low prices over top-notch speeds and support.
👉 Our full Bluehost review
💰 Our exclusive 30% off Bluehost coupon
Most web hosts focus on either regular or managed WordPress plans, but not DreamHost. They offer plans of all different kinds, from stripped-bare shared hosting plans to superior managed plans replete with all the bells and whistles.
Security and Support Services
DreamHost offered decent support times. You can connect with a live chat agent in a matter of minutes – approximately six, in our case – and the support reps were fairly knowledgeable about WordPress security.
Speed Testing Results
Minimum Loading Speed: 1.25 seconds
Maximum Loading Speed: 1.95 seconds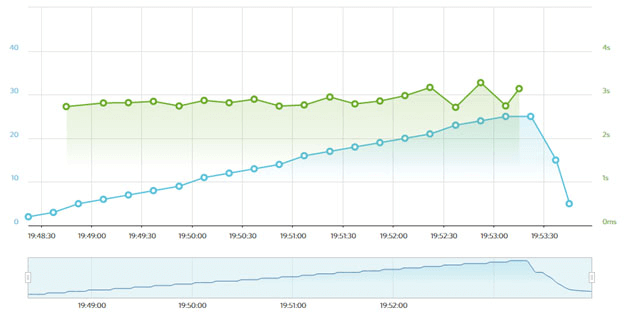 Pricing and General Impressions
DreamHost fills a particular niche when it comes to WordPress hosting. They offer a decent service at reasonable prices:
$16.95 per month for managed WordPress hosting
Cheap shared plans from $2.59 per month for annual billing or $4.95 per month with month-to-month billing.
However, DreamHost won't blow you out of the water with any particular feature.
Pros
Offers a simple choice between two WordPress plans – one shared (single site or unlimited sites), and one managed.
Good support response times and knowledgeable staff.
Offers cheap month-to-month billing even on the shared WordPress plans, whereas most other budget hosts make you pay for at least a year upfront.
Cons
Terrible loading speeds.
Lacks a decent variety of plans.
In Summary
DreamHost offers a unique experience when it comes to WordPress hosting. It offers only two plans: one shared, and one managed. Their service is decent, except when it comes to loading times. We can only recommend this host to users who don't want to choose between too many plans and aren't too concerned with loading times.
Or, it can be a good option if you're looking for cheap month-to-month payments.
InMotion Hosting is one of the largest names in the world of WordPress hosting. They offer only a few select plans, but plenty of WordPress-exclusive features, including WP-CLI support, a collection of free themes, and automatic backups.
Security and Support Services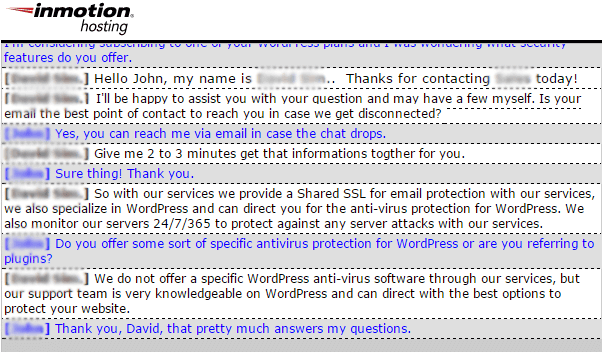 Most of the time, InMotion Hosting offers swift support service via live chat, but in some cases, the wait can get quite long. We attribute this to their overwhelming popularity, but it can be jarring if you're a new customer looking to fix a simple issue.

Despite the (occasionally) erratic wait times, InMotion Hosting's support is friendly and knowledgeable. We'd even go as far as to say that it's their strongest point.
Speed Testing Results
Minimum Loading Speed: 2.05 seconds
Maximum Loading Speed: 2.26 seconds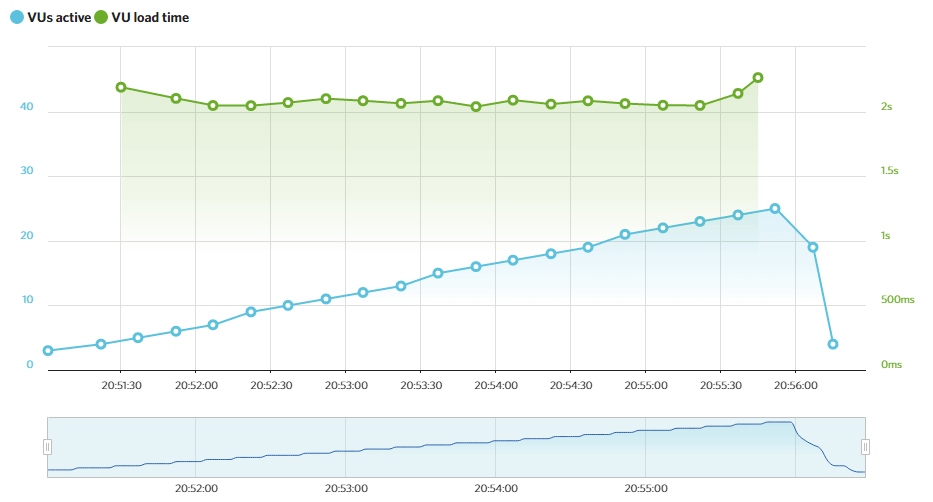 Pricing and General Impressions
Unfortunately, InMotion Hosting's quality of customer support doesn't translate to site speeds – at least while under stress. Despite this, their shared plans are very competitively priced (starting at just $4.99 per month) and offer plenty of WordPress-specific features.
InMotion Hosting also offers slightly more expensive managed WordPress plans starting at $7.99 per month for up to two websites and improved features/performance.
Pros
A good set of WordPress-specific features, including automatic backups.
Very competitive prices for both shared hosting and managed WordPress hosting.
Cons
The worst loading speeds out of all the WordPress hosts we tested.
Unpredictable support experience.
In Summary
Despite its bottom-of-the-barrel load speeds, InMotion Hosting does offer a decent set of WordPress-specific features, as well as competitive prices. Sadly, it also drops the ball a bit when it comes to their support experience. We would recommend this host to webmasters on a budget who don't need top-shelf performance.
💰 Our exclusive 40%+ off InMotion Hosting coupon
Customer Support Analysis
At this point, you should already have a good idea of where each web host stands when it comes to WordPress support. However, we decided to go one step further and include specific response times for each one, as well as an overall rating which relates to their level of helpfulness and initial waiting times.
| | | | | | | |
| --- | --- | --- | --- | --- | --- | --- |
| | HostGator | WP Engine | Flywheel | Bluehost | DreamHost | InMotion Hosting |
| Response times /m | 9 | 2 | 20 | 35* | 6 | 12* |
| Overall score (0-5) | 4 | 5 | 3.5 | 1 | 4.5 | 4 |
Those results speak for themselves mostly, but let's walk through them briefly.
WP Engine goes right to the top of the list thanks to its swift response times and friendly staff, which should come as no surprise. HostGator, InMotion Hosting, and DreamHost almost tied with WP Engine for the top spot, but their initial response times let them down somewhat. That being said, for a host that came near-last during our roundup, DreamHost offers a good support experience.
At the bottom of the barrel we find Flywheel and Bluehost. The first result is somewhat disappointing, considering the fact that Flywheel bills itself as a premium WordPress host. In Bluehost's case, their support reflected the quality as their overall service.
Conclusion
Having covered each web host in detail, there's nothing left to do but rank the six WordPress hosts we've discussed. We've included an informative snippet alongside each to help you make your final decision:
Which WordPress web host are you leaning towards? Share your thoughts with us in the comments section below!