Adding charts and tables to your WordPress posts is often the most efficient and clearest way to display data. But they can be a pain to create from scratch. WPKube readers can use our wpDataTables coupon to get this table creation plugin at a 20% discount, and easily create responsive tables and charts with advanced filters and search.
Ready to get the discount? Click here to visit wpDataTables and enter the coupon code WPKUBE20 at checkout to get 20% off any of the annual license plans.
Want to find out more about this plugin and why you should consider using it? Keep reading for more details.
What is wpDataTables?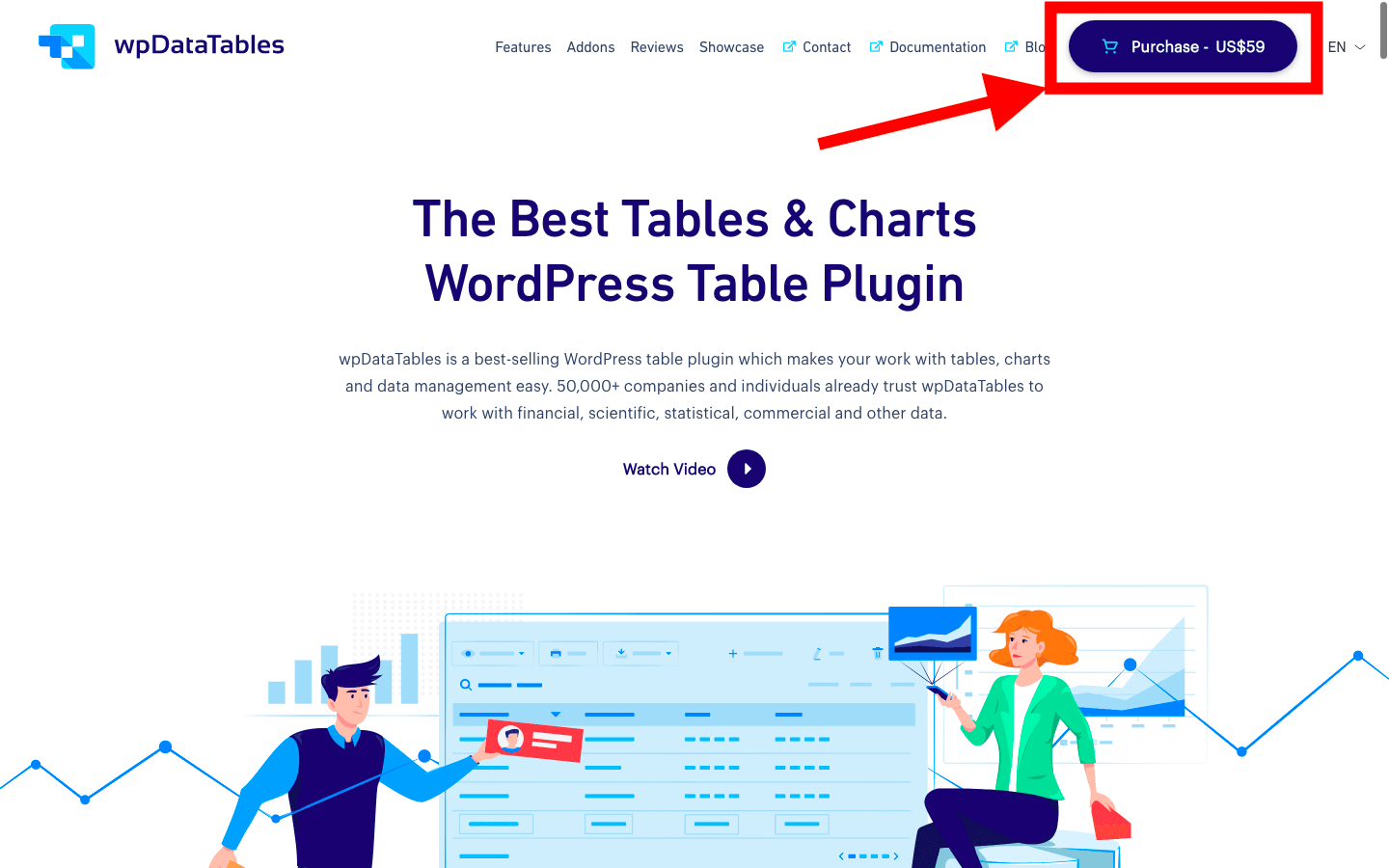 wpDataTables is a WordPress plugin that makes it quick and easy to create beautiful, responsive tables and charts in your WordPress posts and pages.
If you've added tabulated data to WordPress before, you'll already know that working with standard tables in WordPress is not always easy.
It's pretty simple to create a basic and small table in WordPress. However, for wide tables or those containing a lot of data, the standard WordPress editor just doesn't cut it.
If you've ever got sick of switching between visual and code views to tweak your tables or got frustrated because your tables are too wide to be displayed within your post, this plugin is for you.
Tables created in wpDataTables are fully responsive and will automatically adjust so they still look great and are easy to use at small screen sizes.
The tables are also interactive so users can sort data by column, filter and search data, and export the data as a file.
No more time-consuming manual input of data with this plugin either. You can pull data from any source including an uploaded file, a MySQL query, or a URL
wpDataTables can also create beautiful charts from your data, which will update and change in real-time.
The plugin is also compatible with Gutenberg and popular visual page builders including Elementor and Visual Composer.
For more information about this plugin and what you can do with it, read our detailed wpDataTables review.
wpDataTables Features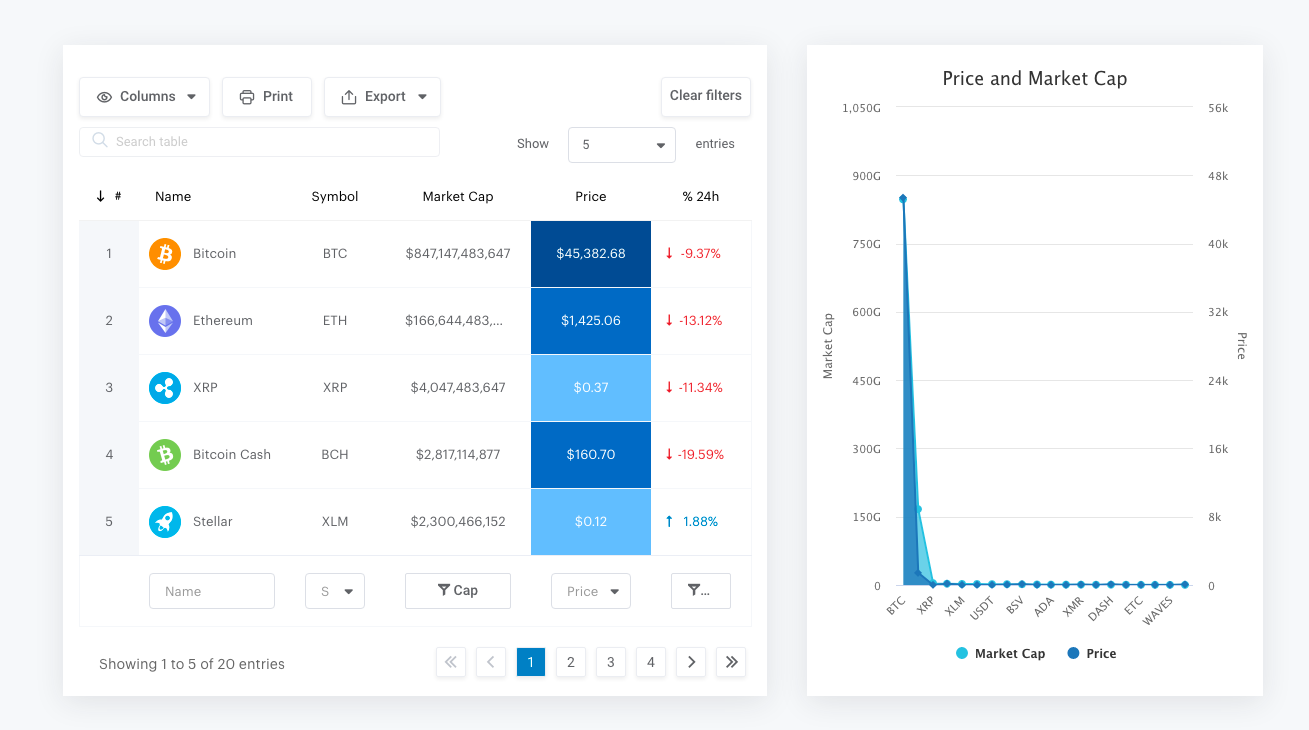 Now you understand the basics of what this plugin can do, let's take a more detailed look at its features.
Beautiful & Customizable Tables
Standard tables that you make in the WordPress editor just don't look that great. If you want your tables to look more attractive, you'll need to edit the CSS by hand or use a plugin.
wpDataTables produces clean and beautiful tables right out of the box and you can easily change column colors and styles in the plugin settings. Edit your table styles to highlight data or match your website branding.
Responsive Tables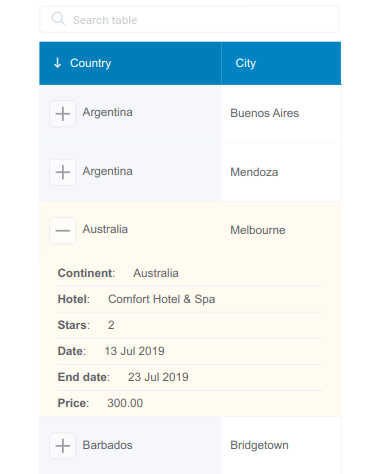 Large tables can be difficult to work with in the standard HTML format that WordPress produces.
If your tables contain a lot of columns, they might end up wider than your standard content area. While your browser will do its best to display them on a narrow screen, there's a limit to how small it can compress a standard table. And you'll often end up with skinny columns containing a lot of text that look ugly and are difficult to read.
wpDataTables produces fully responsive tables that automatically adapt to the device you're viewing them on.
You can choose to hide certain columns at small screen sizes. Users can then access this data if they wish via a dropdown.
Easily Import & Work With Large Data sets
When you're creating a table with wpDataTables, you can import data from pretty much any source.
You have the option of manually creating a table from scratch or filling a table with data from a MySQL query, Google spreadsheet, Excel file, or data from JSON, XML, or PHP.
wpDataTables also works quickly with large tables with up to millions of rows of data. The plugin uses server-side processing to delegate data processing, filtering, sorting, and pagination to the MySQL engine, fetching only a small number of rows at a time and resulting in fast filtering and sorting at the front-end.
Interactive Tables With Advanced Filters and Search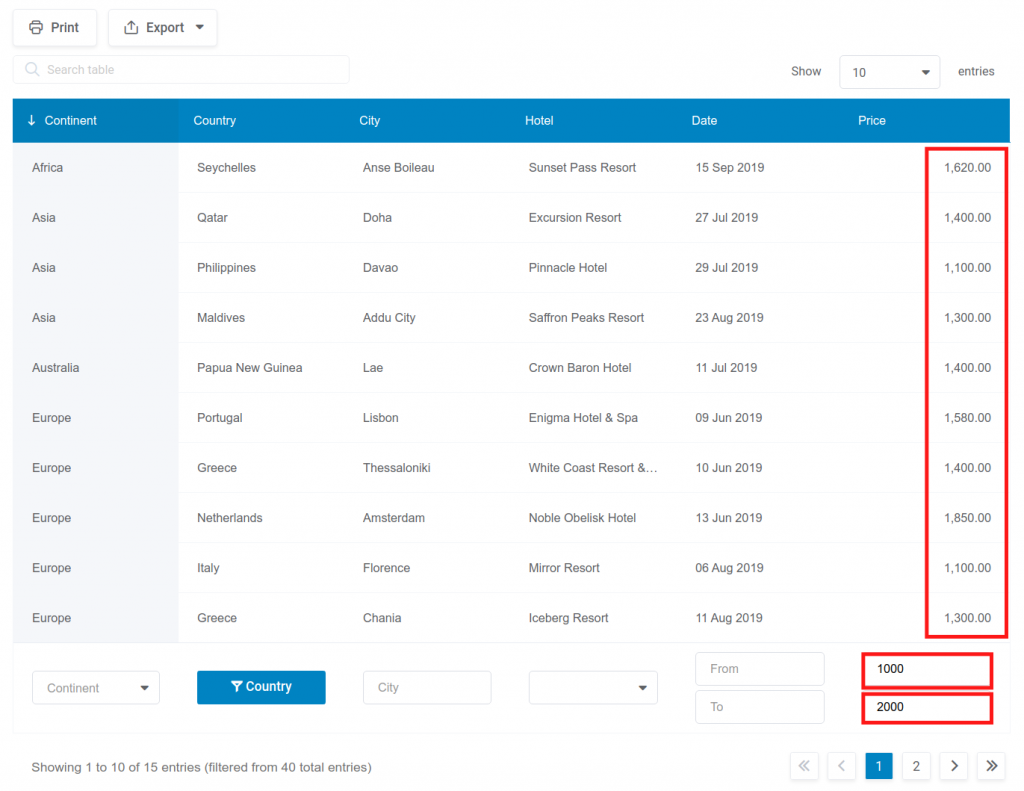 The tables that the wpDataTables plugin produces aren't simple static tables. Rather, the user can interact with them by sorting columns and filtering and sorting data with a number of advanced options.
You can also choose to make your tables editable so that WordPress users can edit the data from the front-end.
Highlighting & Conditional Formatting
As well as changing the color of table columns in the plugin settings, you can also automatically highlight cells, rows, and columns, depending on their content.
This makes it easy to draw attention to particular data in a table such as numbers that are above or below a certain limit.
Advanced Data Columns
Like Excel and other spreadsheet software, you can configure your wpDataTables columns to display various types of data including dates, times, images, currencies, and formula (calculated) data.
Charts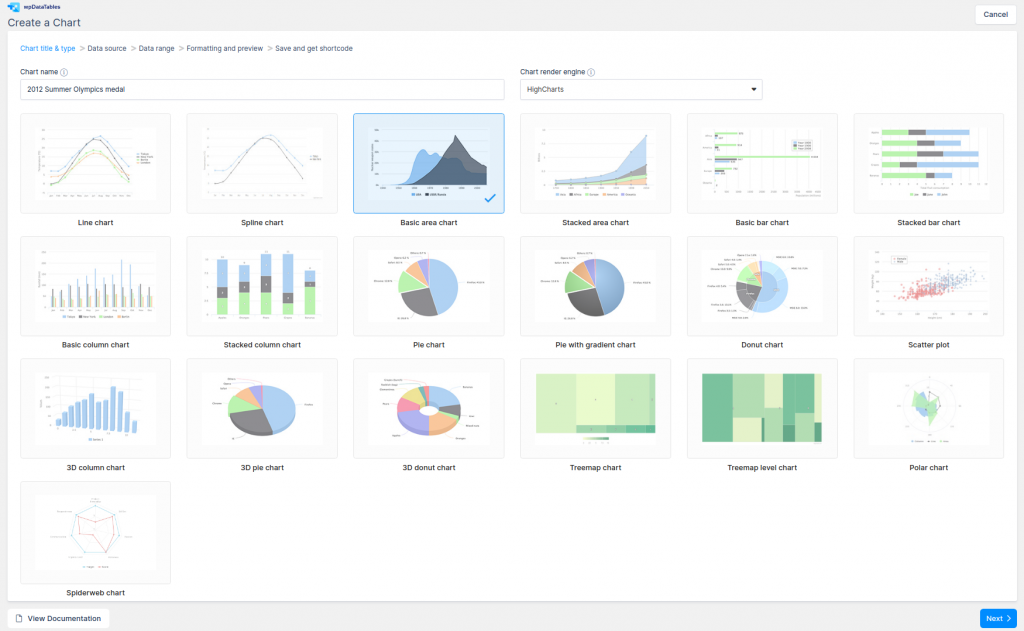 You can also use the data source for your table to create beautiful charts that update in real-time as the data changes.
There's a choice of several chart types including line charts, bar charts, and pie charts, all with a variety of styling options.
wpDataTables Pricing & Plans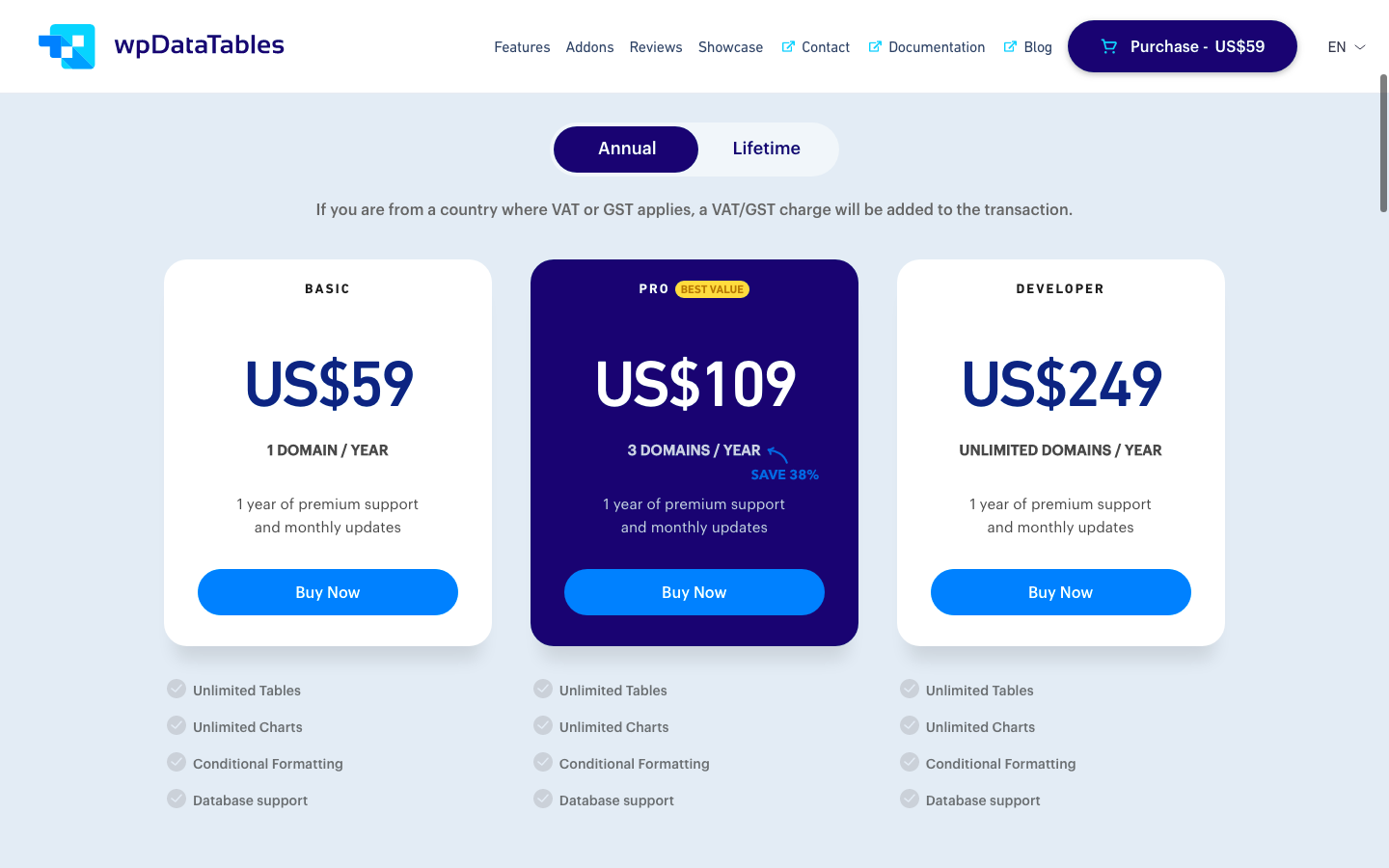 You can license the wpDataTables plugin as either an annual or lifetime subscription. Both options are available at 3 levels, depending on how many sites you want to use the plugin on.
Basic – 1 domain ($59/year or $189 one-time payment for lifetime support & updates.)
Pro – 3 domains ($109/year or $389 one-time payment for lifetime support & updates.)
Developer – unlimited domains ($249/year or $589 one-time payment for lifetime support & updates.)
Remember, if you use our WPKUBE20 coupon, you get 20% off all annual subscriptions. This reduces the price of the basic plan to $47.20, the Pro plan to $87.20, and the Developer plan to $199.20.
wpDataTables Coupon FAQ
Which plans is the coupon valid for?
The WPKUBE20 coupon will work on the annual payment option for all three of the Basic, Pro, and Developer plans. It's not valid for the lifetime licenses.
How long is the coupon valid for?
There's no expiry on the WPKUBE20 coupon but the offer could be withdrawn at any time. So if you want to take advantage of the 20% discount, we advise you to use the coupon ASAP.
How do I make a beautiful table in WordPress?
The WordPress block editor has limited styling options for tables. To make your tables look beautiful you'll need to add custom CSS or use a plugin like wpDataTables to style your tables.
How do I create a dynamic table in WordPress?
You can only create standard basic static tables with the standard WordPress editor. You'll need to use a table plugin like wpDataTables to create a dynamic table.
Which is better: wpDataTables vs. Ninja Tables vs. TablePress?
Any of these plugins will help you to create beautiful tables on your WordPress site but wpDataTables has some advanced features like dynamic tables, large tables containing a lot of data, and real-time charts.
How to Use the wpDataTables Coupon
Click here to go to wpDataTables and click the "Purchase" button in the menu.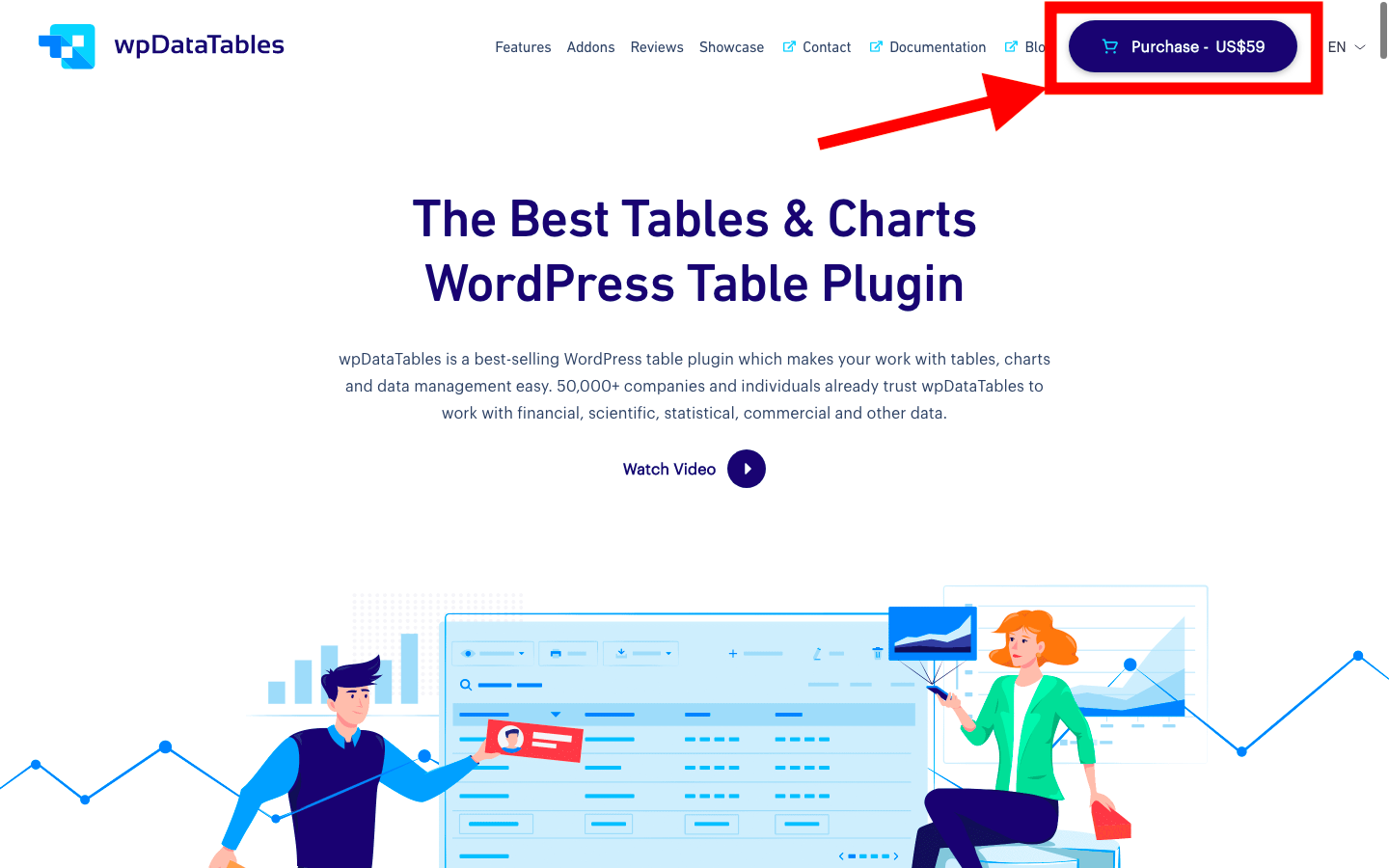 This will take you to a page where you can choose your subscription plan.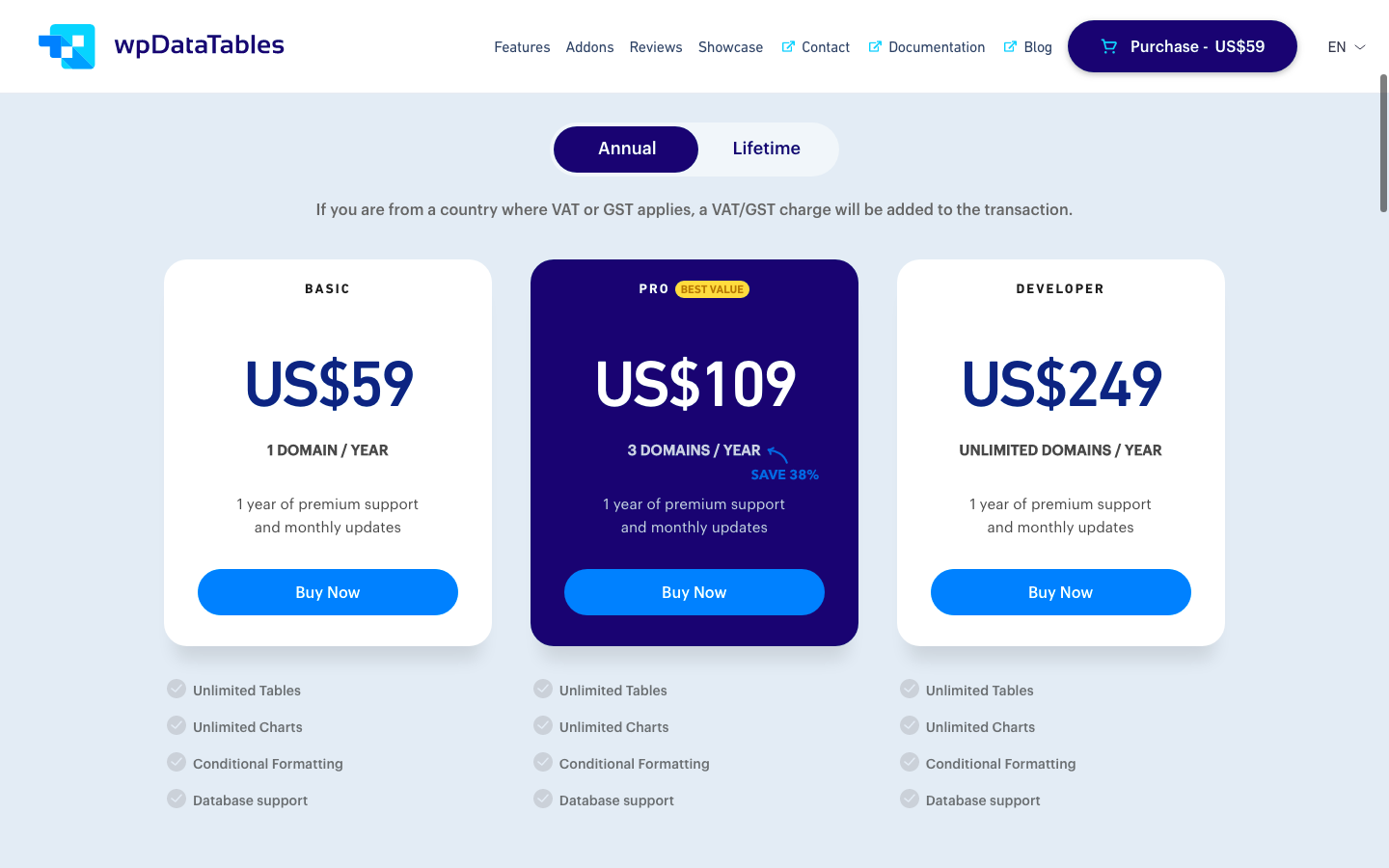 Choose your plan (the coupon is only valid for annual plans) and click the "Buy Now" button.
You'll be prompted to enter your email address and then your country and zip code. Do this and click the "Continue" button.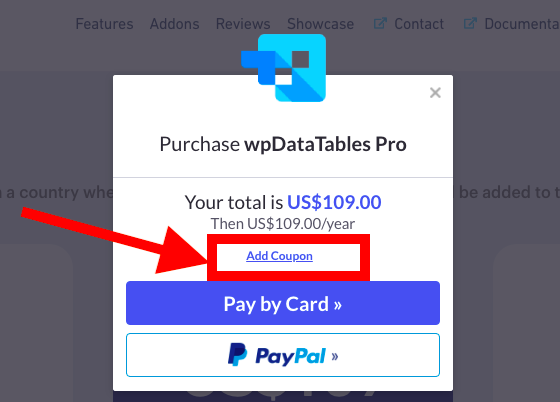 At this point, you can click the link to add a coupon. Enter the code WPKUBE20 and click the "Add Coupon" button.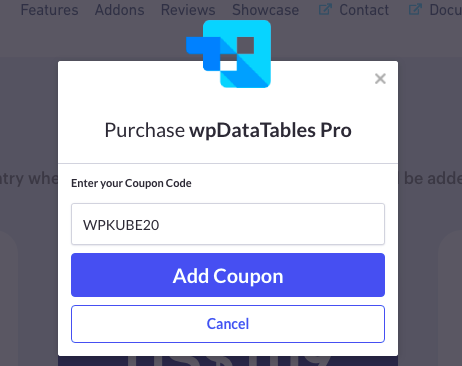 You should get a confirmation that the wpDataTables coupon discount has been applied. You can then click through to pay by card or PayPal and complete checkout.