Considering using the Astra theme for your website? In our hands-on Astra theme review, we'll help you decide whether it's the right theme for your needs.
Astra has the impressive distinction of being the most popular non-default WordPress theme ever. It was the first and only non-default theme to pass the one million active install count at WordPress.org and it's done that with a perfect 5-star rating on ~5,000 user reviews.
All that to say – a lot of people like Astra. And – spoiler alert – I'm one of those people, so this is going to be a generally positive Astra theme review, though I will highlight a few areas where other themes do things a little better.
To help you understand why I, and so many other people, like Astra, I'll divide this review into two parts.
First, I'll cover six areas where Astra stands out from the competition. These areas are:
Lightweight performance
Multipurpose design
150+ importable starter sites
Detailed WordPress Customizer controls
Compatibility with other WordPress plugins
Powerful custom layouts feature for advanced users
Then, I'll give you a quick guide on what it's like to create a site with Astra, go over the pricing, cover some FAQs, and give you my recommendations at the end.
Let's dig in!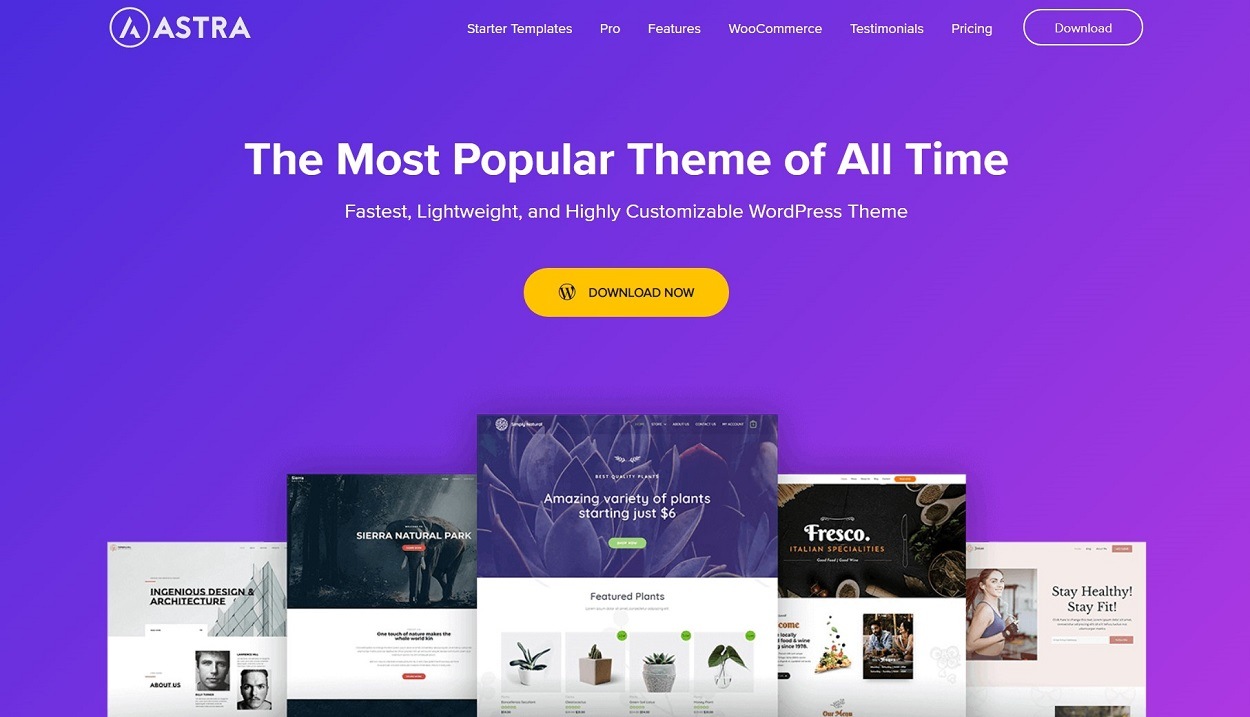 🎩 Why Is the Astra Theme So Popular? Six Top Features
I think there are six main reasons why the Astra theme has been so successful – let's go through them…
Lightweight Performance – You Can Create a Fast Website
As your site's foundation, your theme plays a big role in how quickly your site loads. One of Astra's standout features is that it's super lightweight.
On a fresh install with just the theme, an Astra site is only 37 KB with 7 HTTP requests.

Is it the fastest theme I've ever tested? Not quite. But it's pretty dang close! For example, GeneratePress is only 26 KB with 7 HTTP requests, which technically beats out Astra. But I don't think most people are going to notice the extra 11 KB 🤣
In the grand scheme of things, Astra is faster than 99% of WordPress themes and you can build incredibly quick-loading sites with Astra.
Multipurpose – You Can Use It For Anything
Astra is a true multipurpose theme, which means you can use it for literally any type of website. This includes:
How is it so multipurpose? Well, its flexibility comes from the next three points that I'm going to talk about.
Easy to Use – Demo Sites Make It Easier to Get Started
To back up its multipurpose chops, Astra comes with 150+ importable demo sites built for a range of different use cases and niches.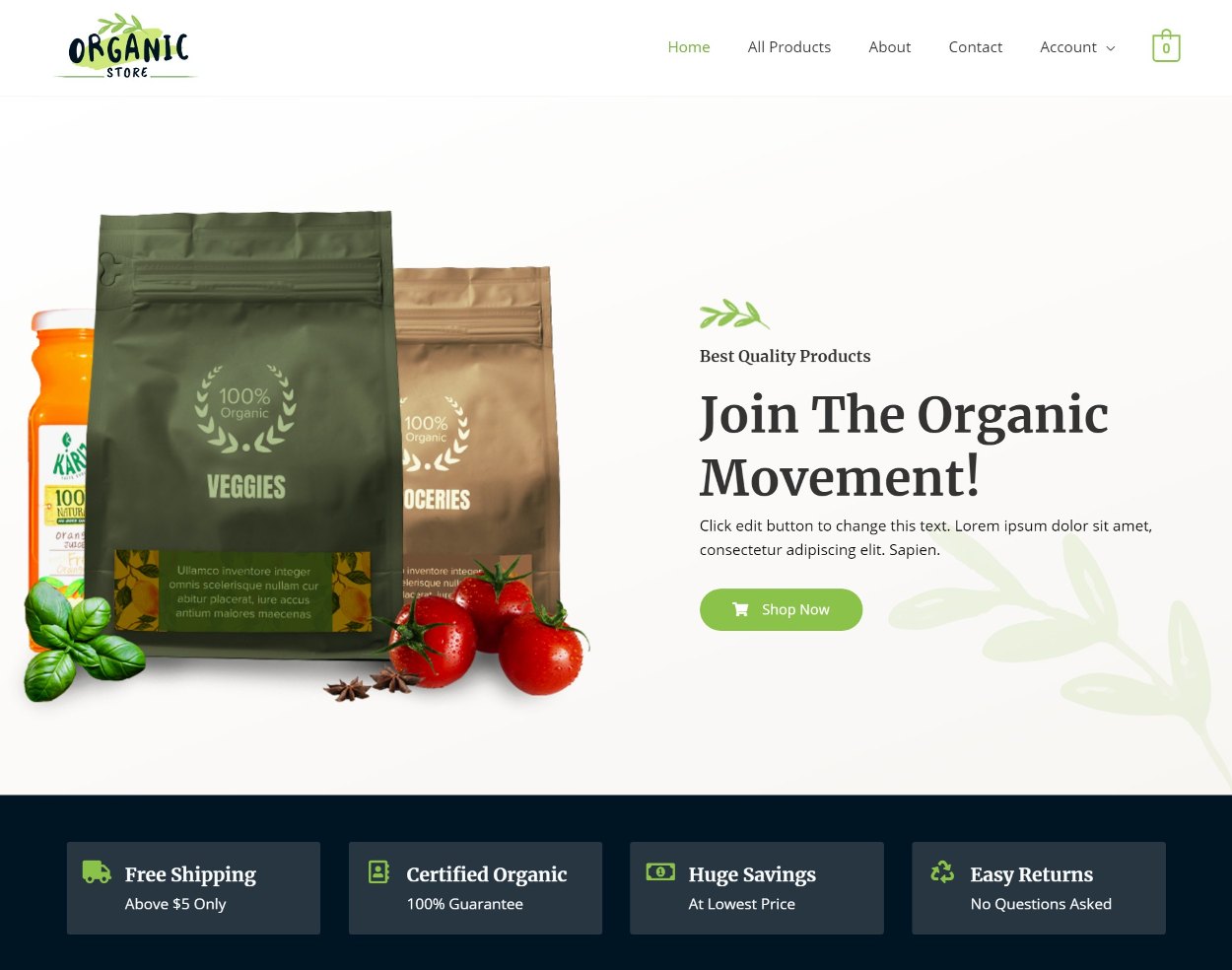 You can browse all of the demo sites by clicking here, but here are some examples of specific demo sites to highlight Astra's multipurpose nature:
The demo sites themselves are built with your choice of four popular builders:
Because all of the demo content uses a drag-and-drop builder, it's super easy to customize everything to meet your needs.
Flexible Options in the Customizer – You Can Adapt It To Your Needs
Another reason why Astra is such a good multipurpose option is because of its incredibly detailed customization options, all of which are available through the native WordPress Customizer.
There are two advantages to using the Customizer:
It's simple and code-free. You can make your changes using pre-built options – no tech knowledge needed.
You get a real-time preview, so you can instantly see how your choices will affect the design of your site.
In general, the Customizer gives you a ton of options when it comes to:
Layouts
Colors
Typography
Features
Metadata
Etc.
I can't show you every single option because there are a lot. But I do want to highlight a few of my favorites.
First, there's the drag-and-drop header/footer builder, which lets you create a custom header using a simple interface like this: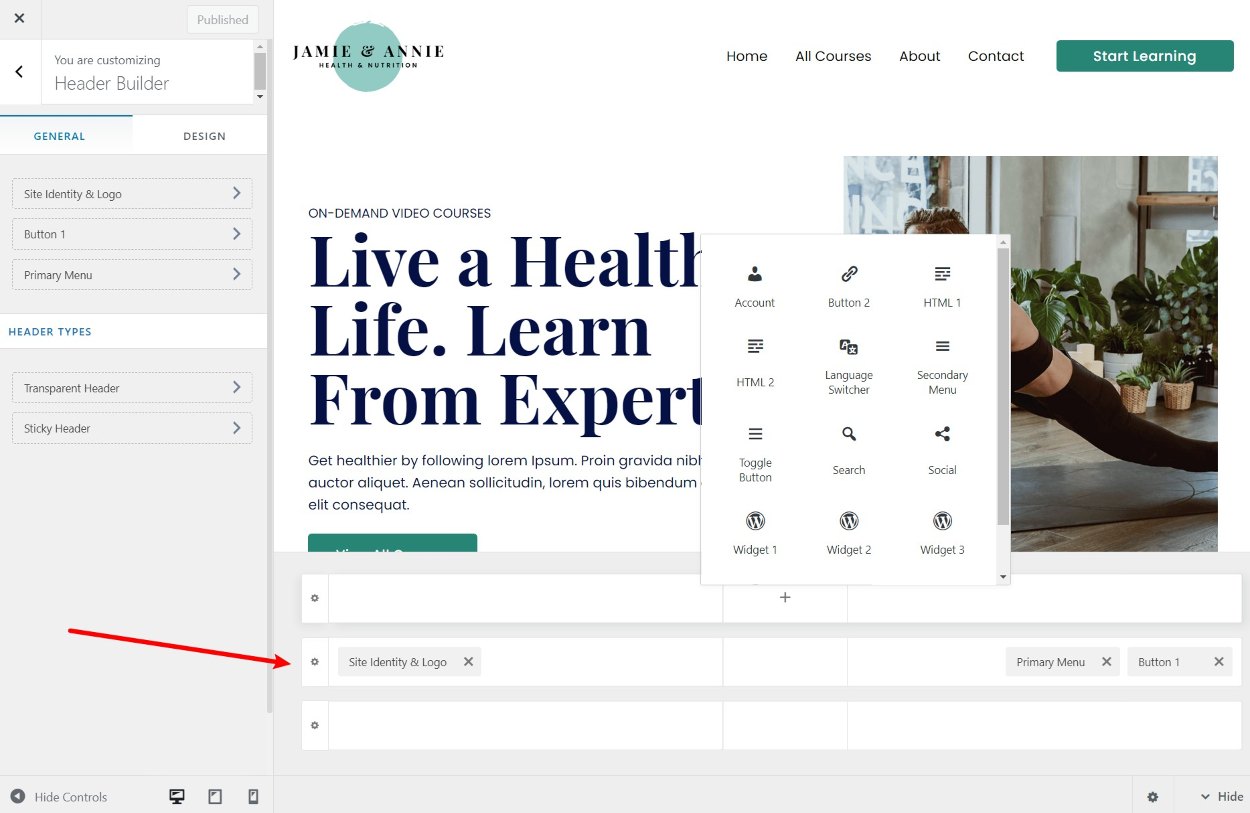 You also get a ton of options for controlling other layouts. For example, you can configure different blog page layouts, adjust metadata, etc.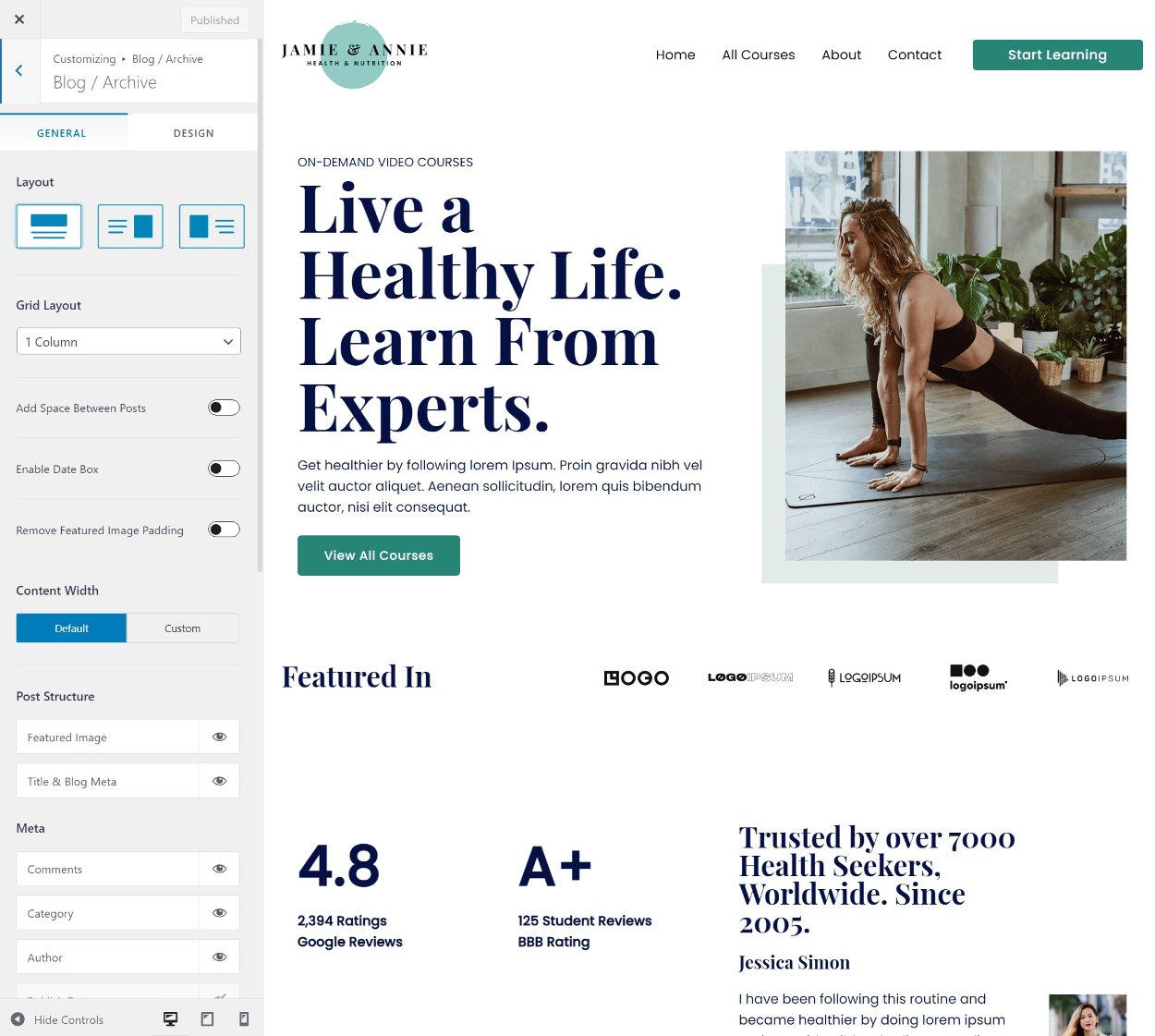 You also get detailed global color and typography controls. This is really nice if you're using a page builder because you can use Astra to control your global styles and just have the page builder inherit them.
That way, if you ever change your branding, the page builder will automatically update based on your global styles and you won't need to edit each page individually: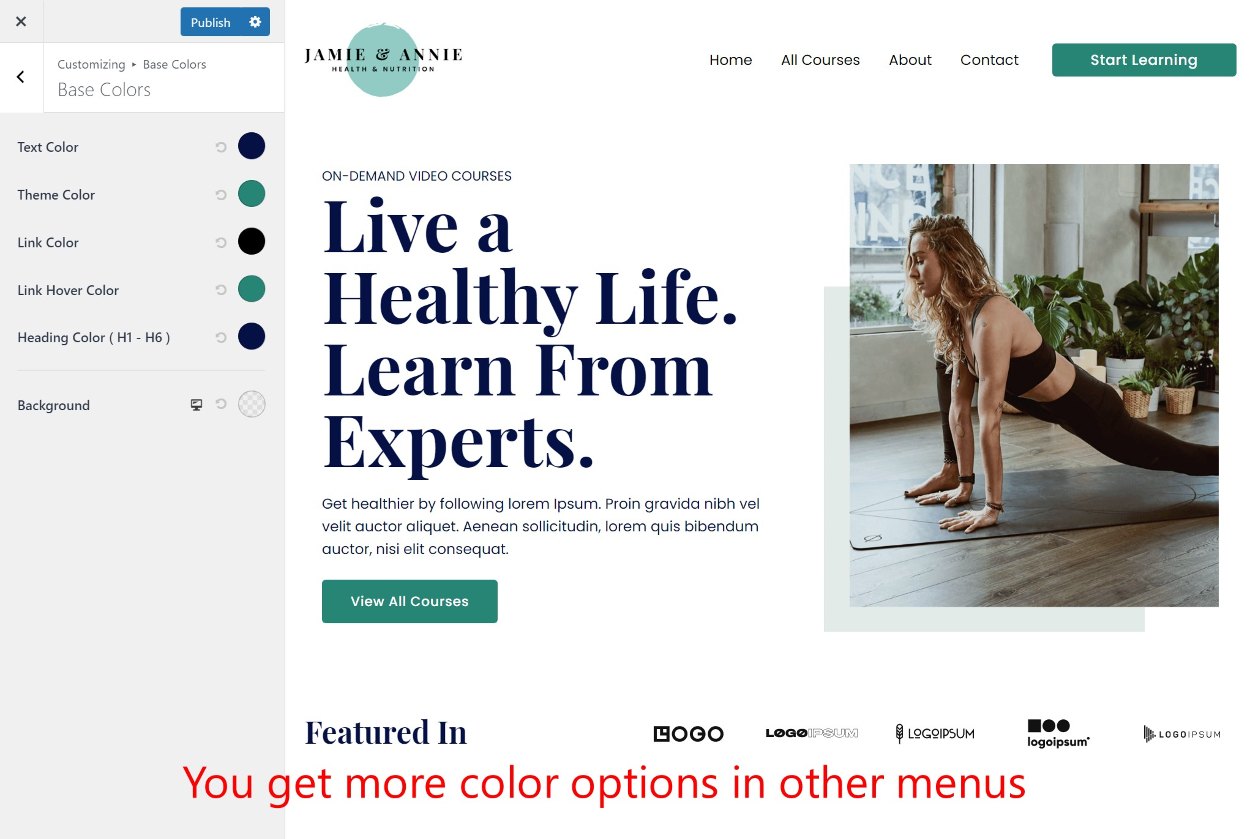 Compatible – It's Compatible With Page Builders, WooCommerce, and LMS Plugins
There are two types of compatibility here. First off, Astra works great with page builder plugins thanks to its global style rules and page-level controls. It makes a great option to pair with:
Here are the page-level controls: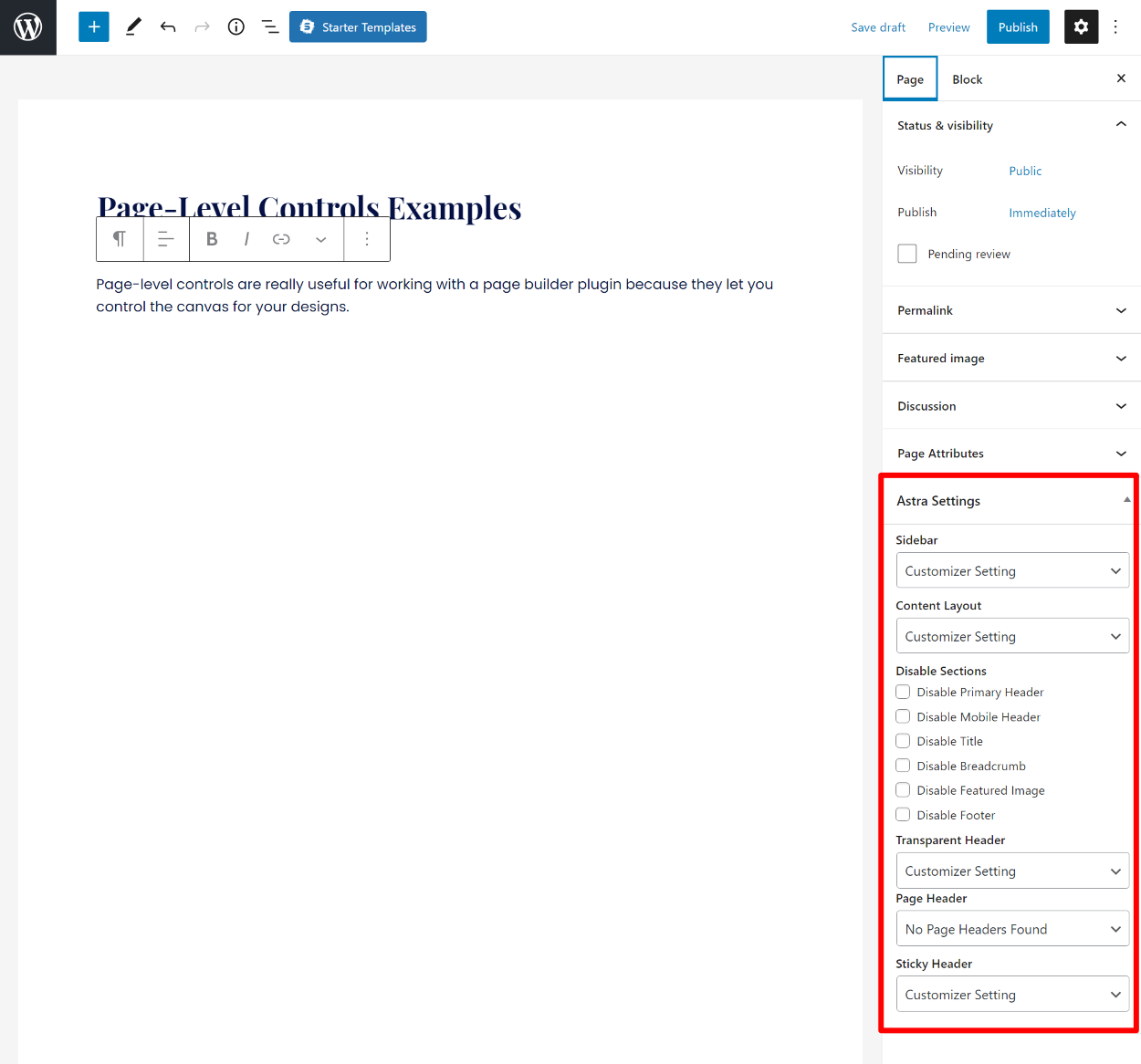 Second, Astra has built-in compatibility options for some other popular plugins you might be using including:
WooCommerce
Easy Digital Downloads
LifterLMS
LearnDash
For example, if you're using LearnDash to create an online course, you'll get access to built-in Astra customization options to control the layouts of your LearnDash course content.
Powerful Custom Layouts Feature
Finally, if you upgrade to Astra Pro, Astra has lots of advanced features to give you more control over your site.
One of my favorites is Custom Layouts, which lets you create custom designs that you can "inject" into various parts of your site (kind of like hooks).
You can create the designs using the native editor or your favorite page builder and then insert them anywhere on your site using conditional rules.
For example, you could design a CTA box that you want to display at the end of all your blog posts. Then, you could use Astra Layouts to automatically inject it on all blog posts (or maybe just a certain category of posts or posts from a certain author). Or, it's also really handy for including ads.
You can even target your layouts to specific user roles, devices, time/dates, etc.
If you ever want to update that CTA in the future, you just update the Astra Layout and that change applies all over your site.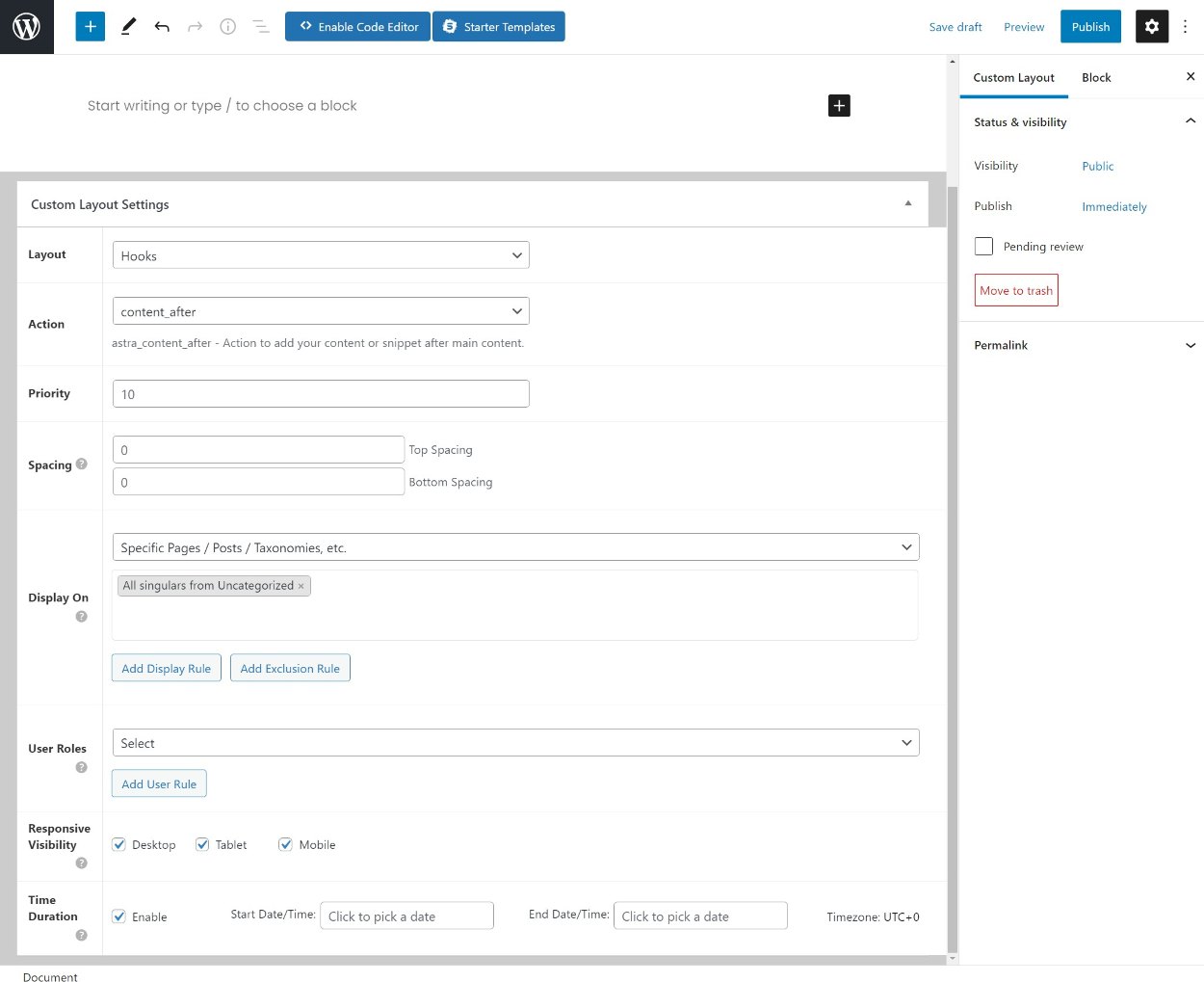 You can even create layouts that insert into the body of your content, e.g. after the first three paragraphs.
For example, here's a custom layout that injects after the third block in your content: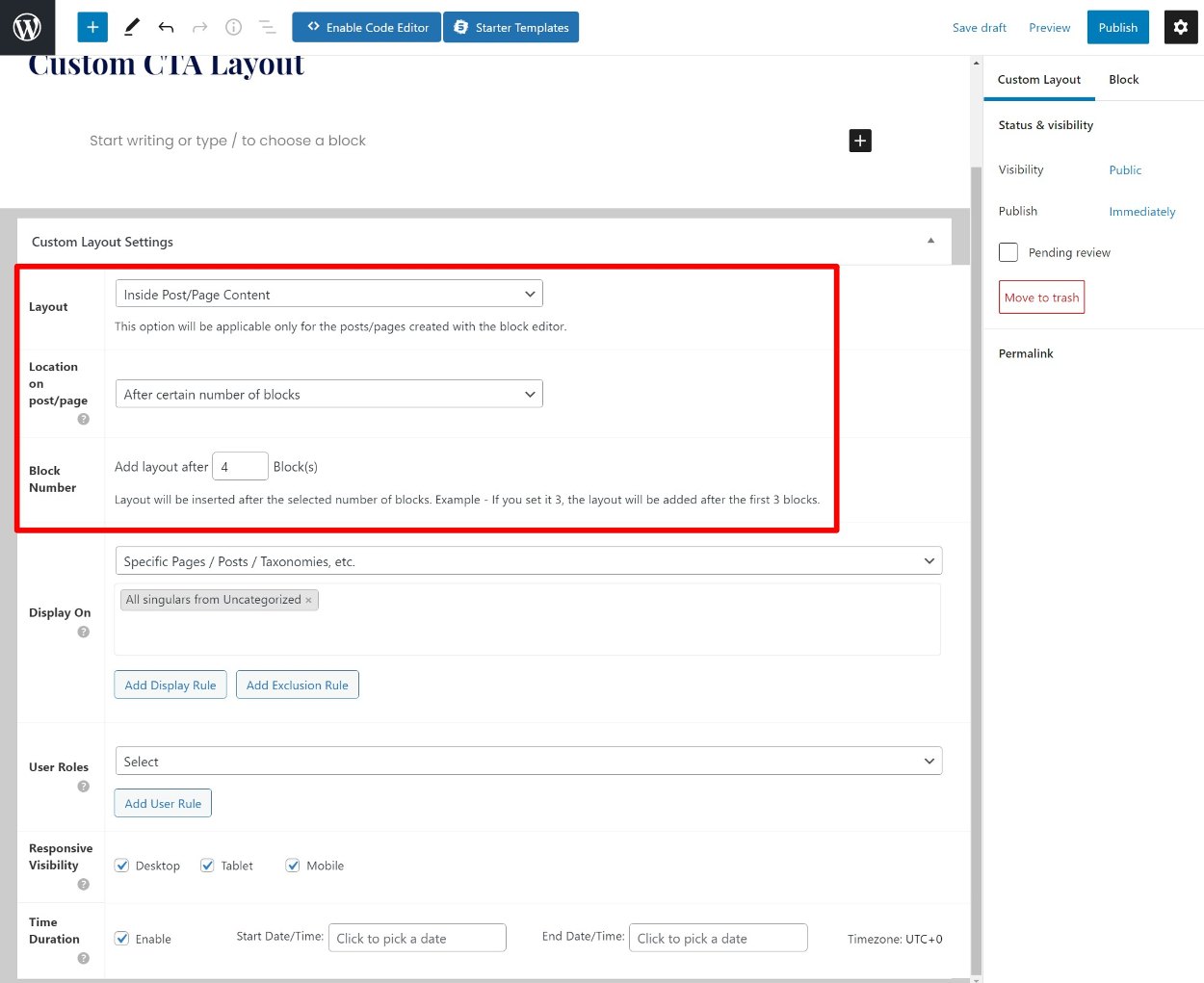 Once you understand how Custom Layouts work, it's an incredibly powerful feature that helps you build customized, personalized websites.
How to Use the Astra Theme
Now that you know some of the standout features, let's quickly go over what it's like to use the Astra theme…
1. Import a Demo Site
When you activate the Astra theme, it will prompt you to install the companion Starter Templates plugin, which is what lets you import the demo sites: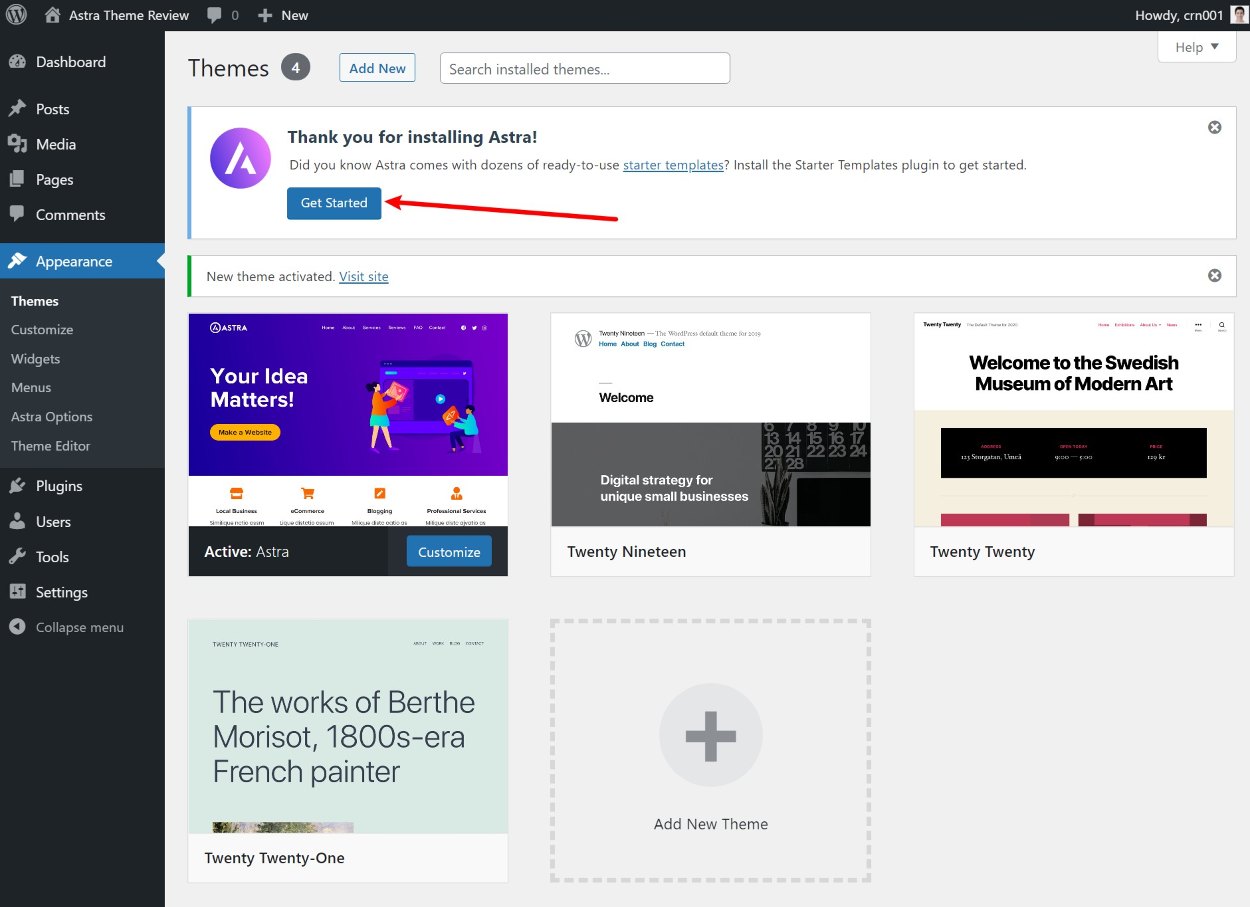 From there, you can choose your preferred builder from the four available options: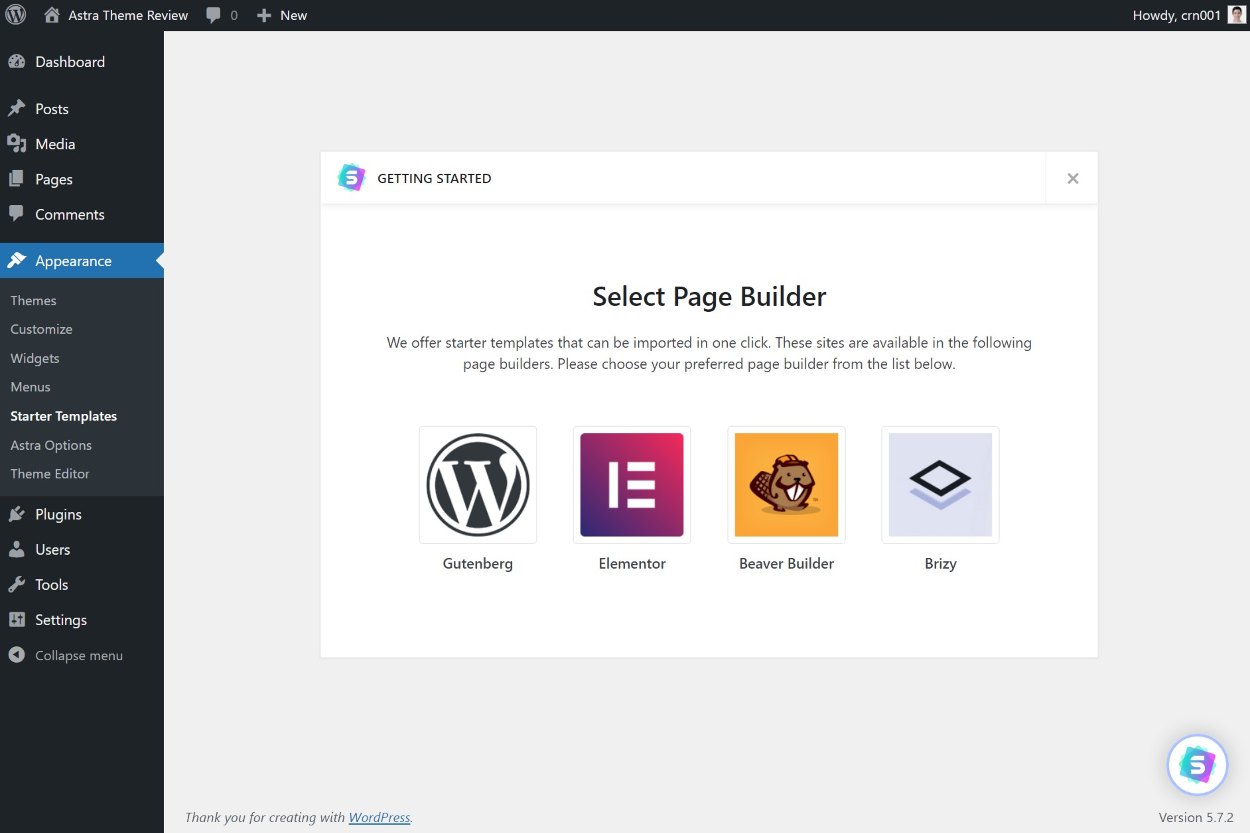 If you're worried about performance, I recommend trying to use one of the Gutenberg demo sites as they'll load a little faster than a page builder. Of course, the downside is that you won't have as much customization control with Gutenberg.
Then, you'll see a list of demo sites available for that builder. Elementor has the most available demo sites, so you'll want to choose Elementor if you value variety:
If you select a site, you can see a preview of its content. To import it, you click Import Complete Site: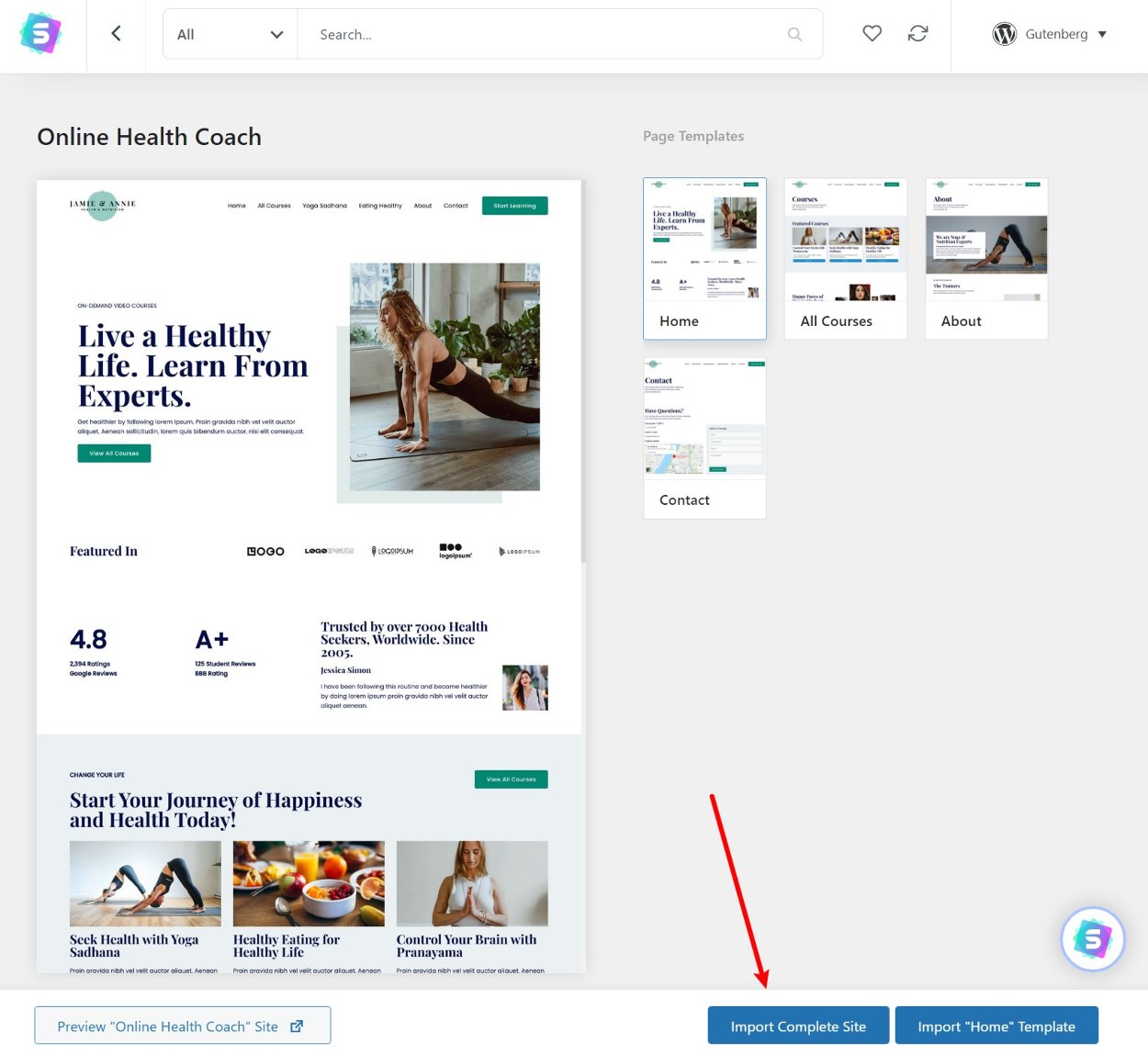 This will launch the import wizard. You can choose to import all the content or just specific elements, like the Customizer settings:
And that's it! If you imported all of the content, your site will look exactly like the demo.
2. Customize the Demo Content
To customize the demo site's content, you can just edit the pages using your chosen builder as if you'd created them from scratch: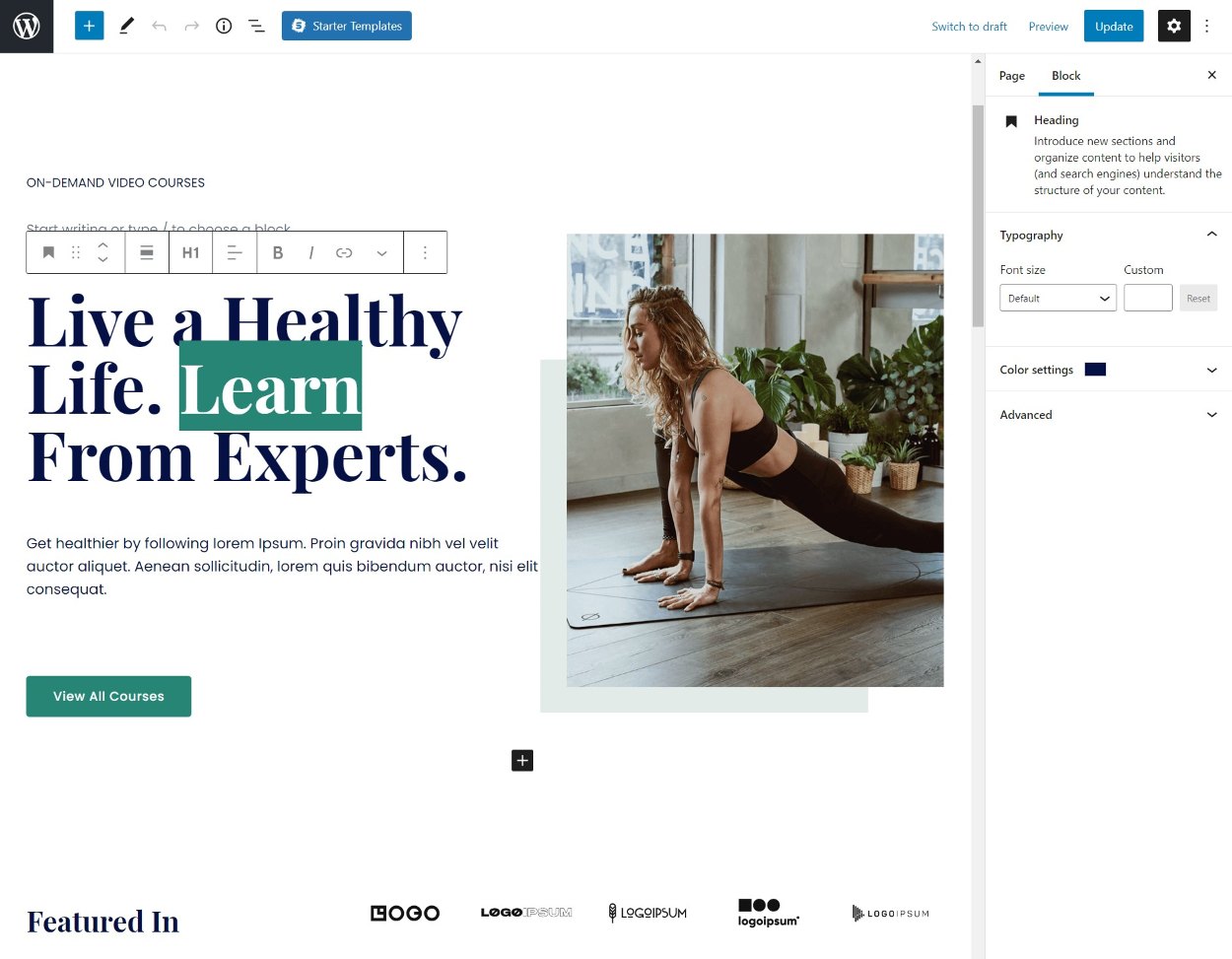 3. Use the WordPress Customizer
If you want to adjust the design of your theme, you can use the real-time WordPress Customizer. This is where you can change colors/typography, customize your header and other layouts, etc.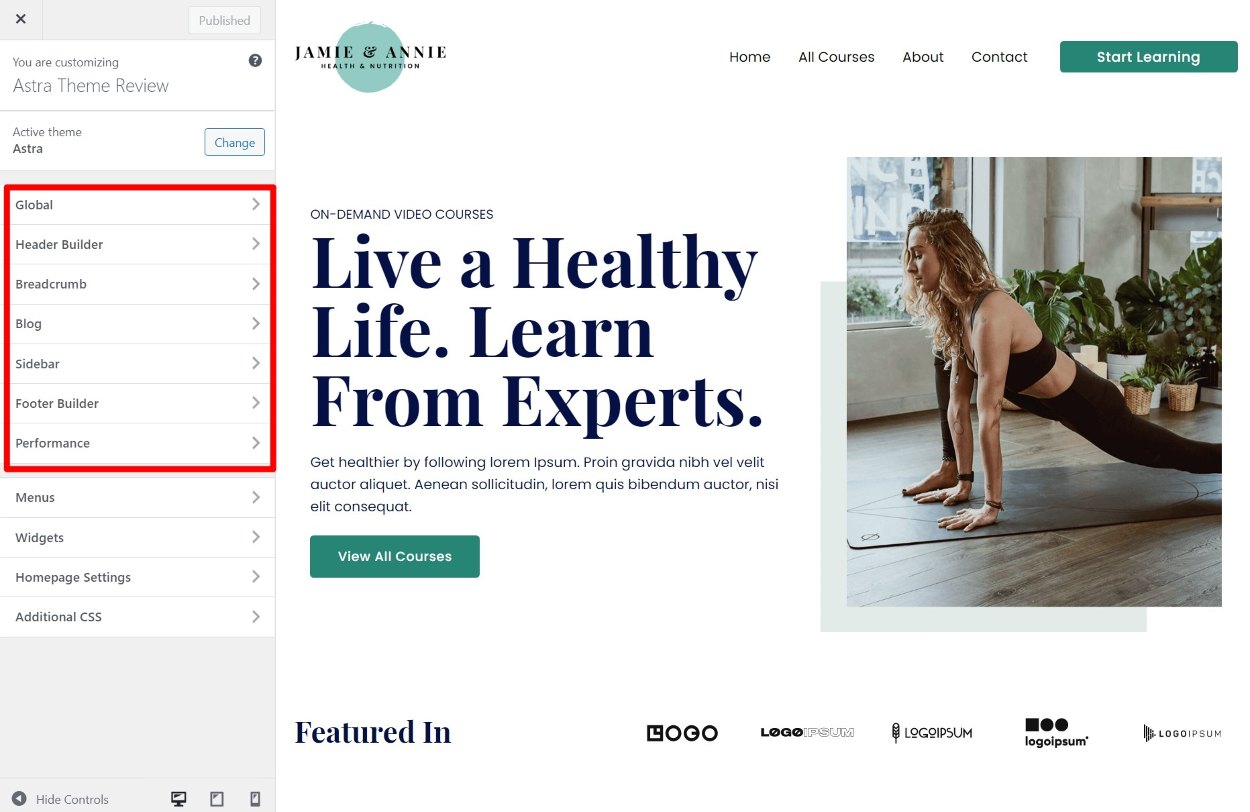 4. Enabling Pro Features (Optional)
If you purchase Astra Pro (more on pricing soon), your next step is to install the Astra Pro plugin. The theme is always 100% free – Astra Pro just lets you add new features by installing a plugin.
Once you activate the Pro plugin, you can go to Appearance → Astra Options to enable the premium modules. There are also some free features that you can enable as well: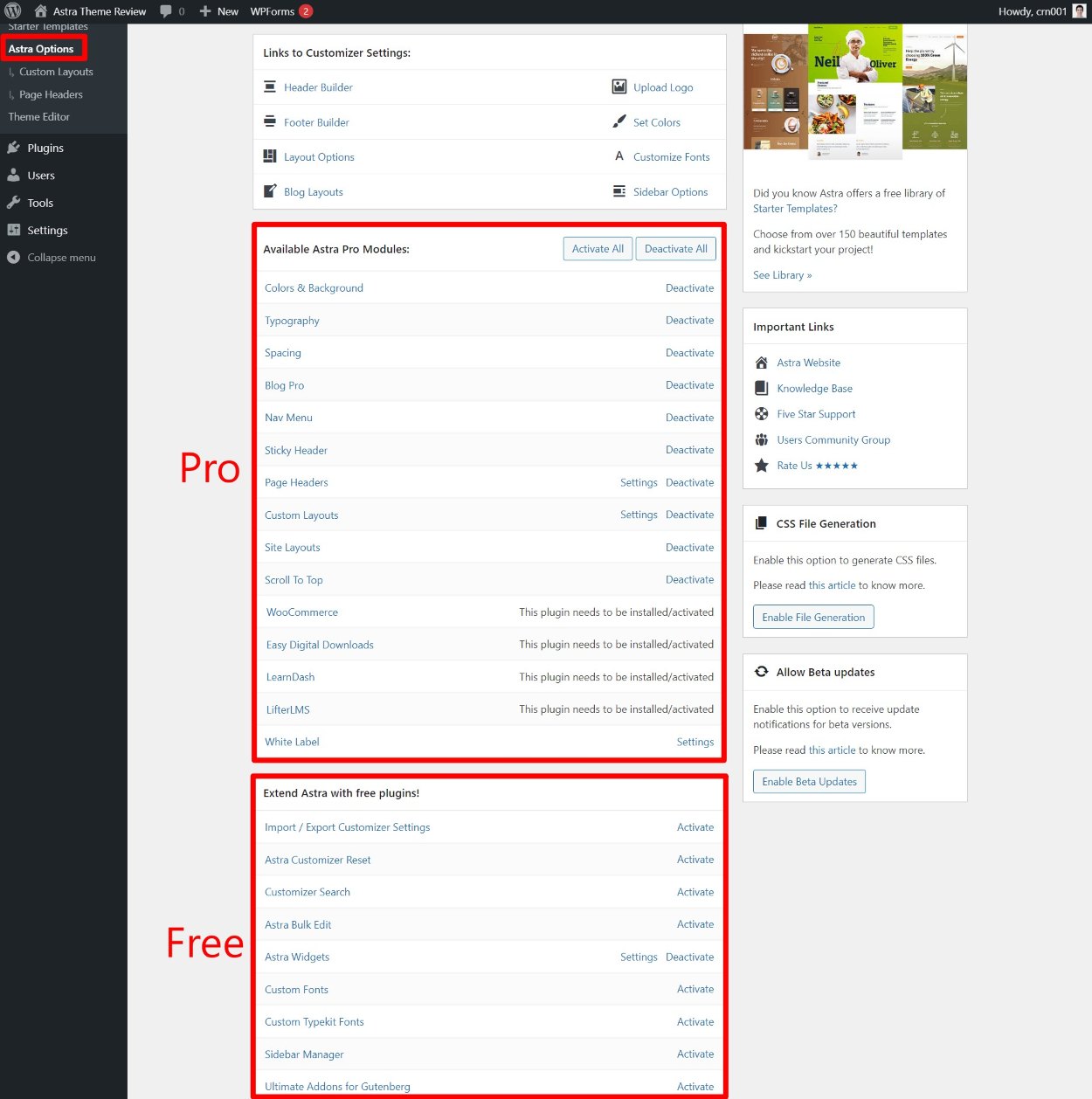 💵 Astra Theme Pricing
The core Astra theme is available for free at WordPress.org. The free theme alone includes a good selection of demo sites and a good array of options in the Customizer.
However, to unlock all of the customization options, all of the demo sites, and the advanced features like Custom Layouts and sticky headers, you'll need Astra Pro.
Again, Astra Pro is a plugin that you install alongside the free core Astra theme.
For just Astra Pro, you can pay $47 for a one-year license or $249 for a lifetime license, both of which allow use on unlimited sites. However, this does not include the premium importable demo sites.
To access the premium templates, you'll need at least the Essential Bundle.
You can view the prices below. Note – Astra says these prices are a limited-time sale, but they've been running these discounted prices for months, so it seems like just a marketing strategy at this point.
One-year license: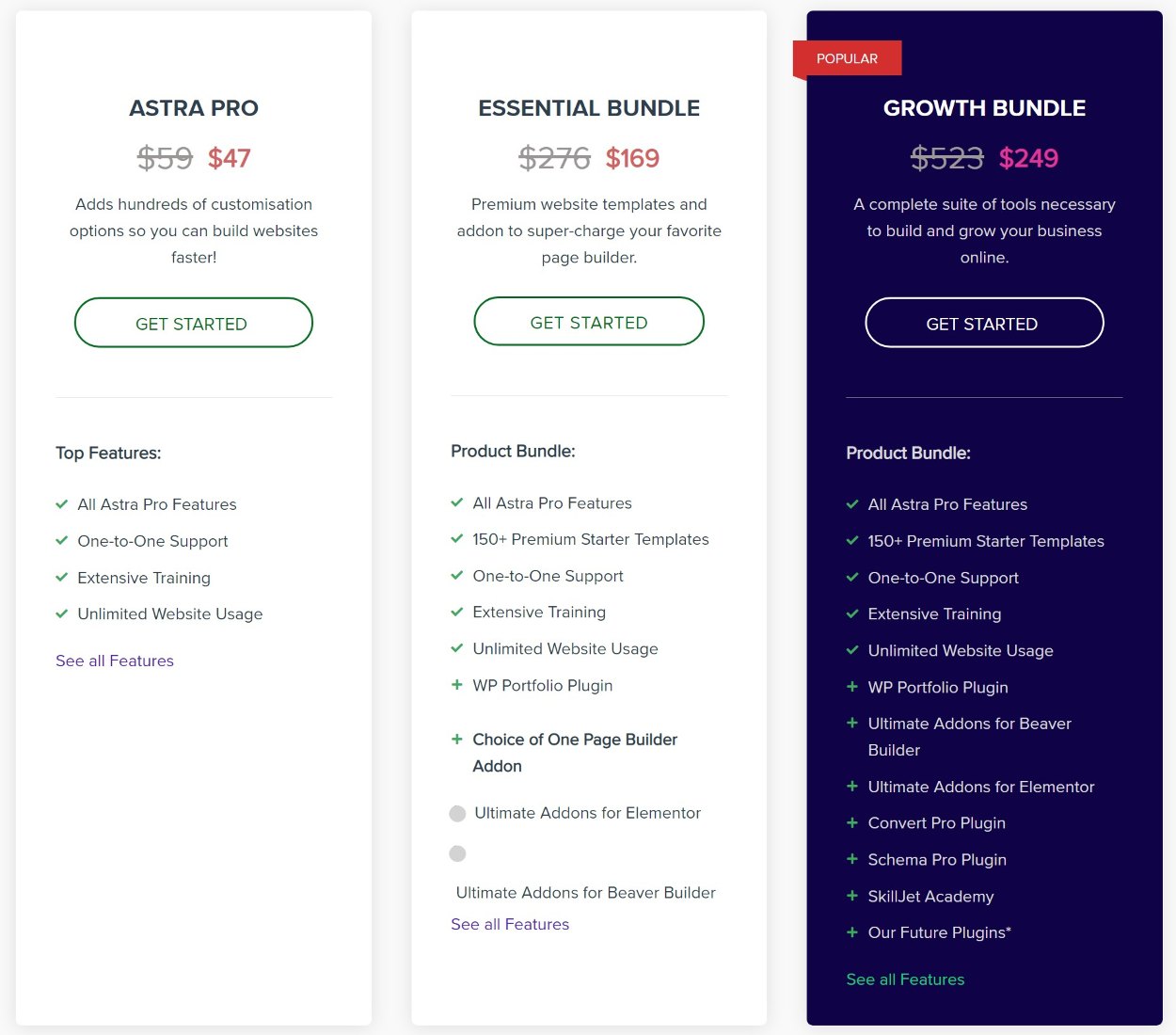 Lifetime license: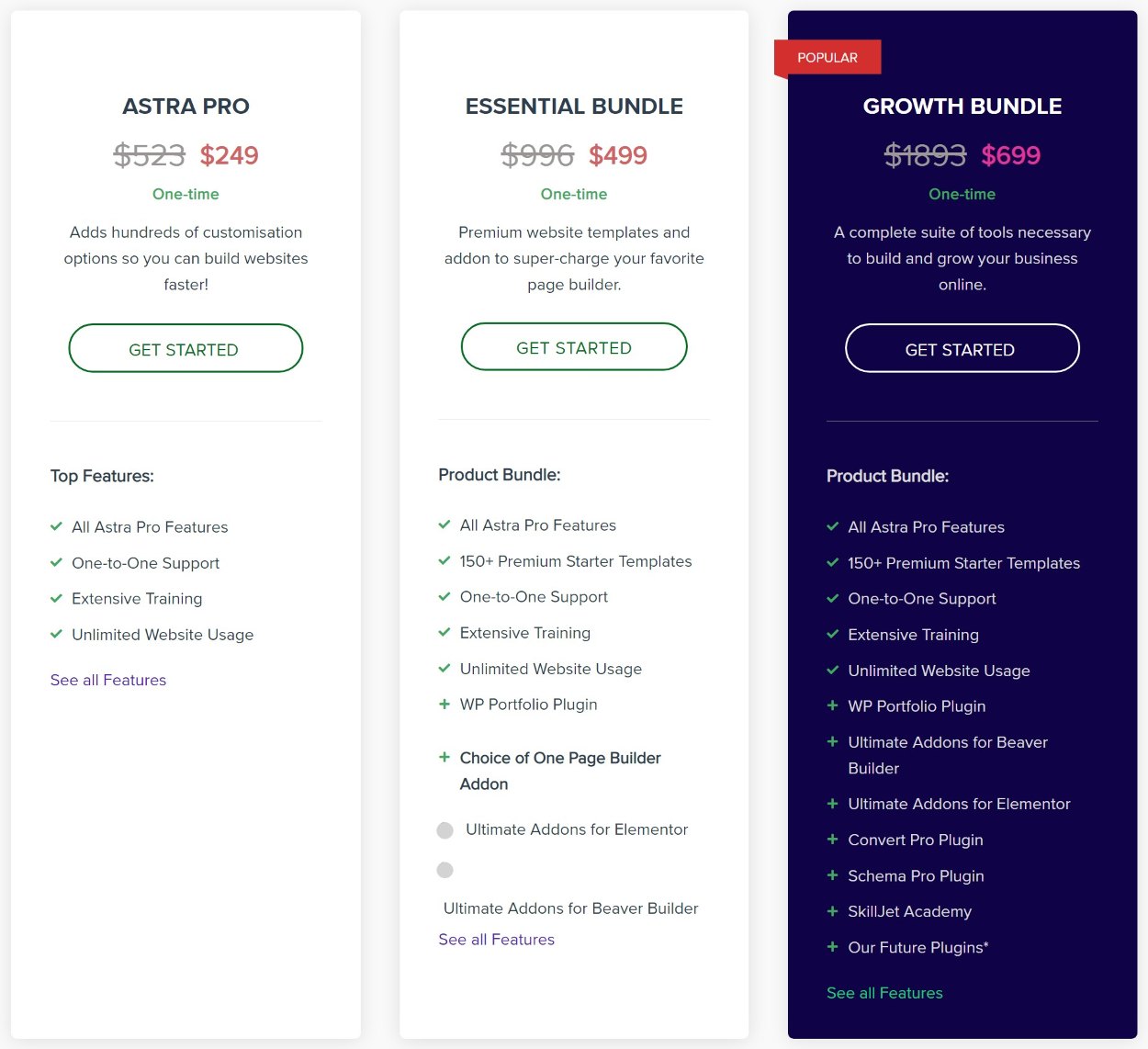 Should you use Astra free vs Pro? Well, I think most people will do better with the Pro version because it gives you more flexibility. But you can always start with the free version and only upgrade if you find that the free version doesn't offer enough flexibility for your needs.
👎❓ Are There Any Downsides to Using the Astra Theme?
Honestly, it's hard to single out any specific weak points in Astra, which is why it's the most popular non-default WordPress theme of all time.
Of course, there are some areas where other themes are a bit stronger. For example, GeneratePress is even more lightweight and now comes with its own theme builder, which is pretty cool. However, it lags a bit behind in starter sites, design options, and integrations.
Or, OceanWP gives you some more interesting design options…but it's also a bit heavier than Astra, so there are trade-offs there, too.
Overall, as a complete package, it's really hard to single out any major flaws in Astra or recommend a theme that's consistently better across all areas.
With that being said, if you do want to consider some Astra alternatives before making your final choice, I recommend these themes:
Or, if you'd prefer niche-focused themes instead of multipurpose themes, check out MeridianThemes.
📈 Be Careful With Demo Sites When It Comes to Performance
One thing I will single out is that, if you're really concerned about WordPress performance, I would recommend trying to stick to the demo sites built with Gutenberg over the demo sites built with a page builder. This is because Gutenberg will be a little "lighter". This is true no matter which page builder you choose.
For example, here's a little test using the exact same demo site design – one built with Brizy and the other built with Gutenberg:
| | | | | |
| --- | --- | --- | --- | --- |
| | LCP | Fully Loaded | Page Size | HTTP Requests |
| Brizy | 1.616 s | 1.602 s | 542 KB | 32 |
| Gutenberg | 0.977 s | 0.975 s | 201 KB | 21 |
The Brizy design's load times are still ok, so it's not like you can't create a quick-loading site with Brizy and Astra. But the Gutenberg design does load even faster, which is why I recommend those demo sites for speed-conscious users.
Remember, though – there are trade-offs here. A Gutenberg-based demo site won't give you nearly as much customization control as Brizy or one of the other builders. That's the sacrifice you make for performance – you'll need to decide if that sacrifice is worth it.
⁉️ Astra Theme Review FAQs
To finish out our Astra theme review, let's go over a few questions you might have:
Is Astra a good theme?
Yes! Astra is one of the best WordPress themes and it's the most popular non-default WordPress theme of all time.
Is the Astra theme free?
The core Astra theme is free and available at WordPress.org. To add more features, there's a paid add-on plugin called Astra Pro.
Is the Astra theme fast?
Yes! With just 37 KB and 7 HTTP requests on a default install, Astra is one of the fastest WordPress themes out there.
What's the difference between Astra free vs Pro?
The Astra theme is 100% free. Astra Pro is a plugin that adds new customization options, features, and demo sites to the free theme.
Is the Astra theme mobile-friendly?
Yes! The Astra theme is responsive by default and it also comes with useful features such as letting you design a custom header for the mobile version of your site.
Do I need Elementor with Astra?
No! While Astra does work great with Elementor, you do not need to use Elementor to use Astra. You can use the native Gutenberg editor or you can use a different page builder plugin.
.
🤔 Should You Use the Astra Theme?
With a lot of the reviews that I write, I try to lay out situations where the product is a good fit and also situations where the product isn't a good fit.
But honestly…with Astra, I don't really have any "bad" situations to share. It's an excellent WordPress theme and, because it's so multipurpose and flexible, you can benefit from Astra no matter what types of sites you're building.
That doesn't mean it's the only good WordPress theme – I shared some other great options above. But it does mean that I don't think anyone will be disappointed by choosing Astra.
If you want to give it a test, you can play around with the free core Astra theme at WordPress.org. But to access all of the features and customization options, I'd recommend upgrading to Astra Pro.
Still have any questions about Astra or our Astra theme review? Give us a shout in the comments!