Much like planting a seed, a fledgling business needs to be taken care of in order to grow and thrive. As such, you'll need a tool to help keep your row of 'money trees' from becoming common weeds.
Organization and planning can do wonders for keeping your vision on the straight and narrow. However, having all of the major aspects of your new business on one dashboard lets you potentially work smarter and be more productive.
In this Systeme review, we'll look at whether it can help you launch an online business. We'll outline its features, pricing, competitors, and sum up whether it's worth your time.
The Pitfalls of Launching an Online Business
Of course, launching any business is a perilous effort. However, starting an online business is fraught with danger for a number of reasons:
The current climate is not conducive to success for some niches, regardless of your efforts.
The market you choose could be saturated with competitors and similar products or services.
The different hats you'll have to wear could see you neglect or completely skip over crucial tasks.
It's this last point that is arguably the biggest worry. After all, you will have likely researched your competition and determined that, "Yes!" you can launch a business and make it work.
However, many would-be business owners underestimate just how much you're pulled apart by horses, especially during the first few months and years. You have to be an expert marketer and salesperson, a web designer, an SEO maven, a social media wizard, a customer support guru, an accountant, and much more. Not to mention, you also have to actually do your day job of selling products and services.
If you have a team behind you to assist, the job is easier. Even so, many startup businesses are one or two people at most, with low budgets, time, and thought-processing power. The answer to these problems could lie in the rest of this Systeme review.
An Introduction to Systeme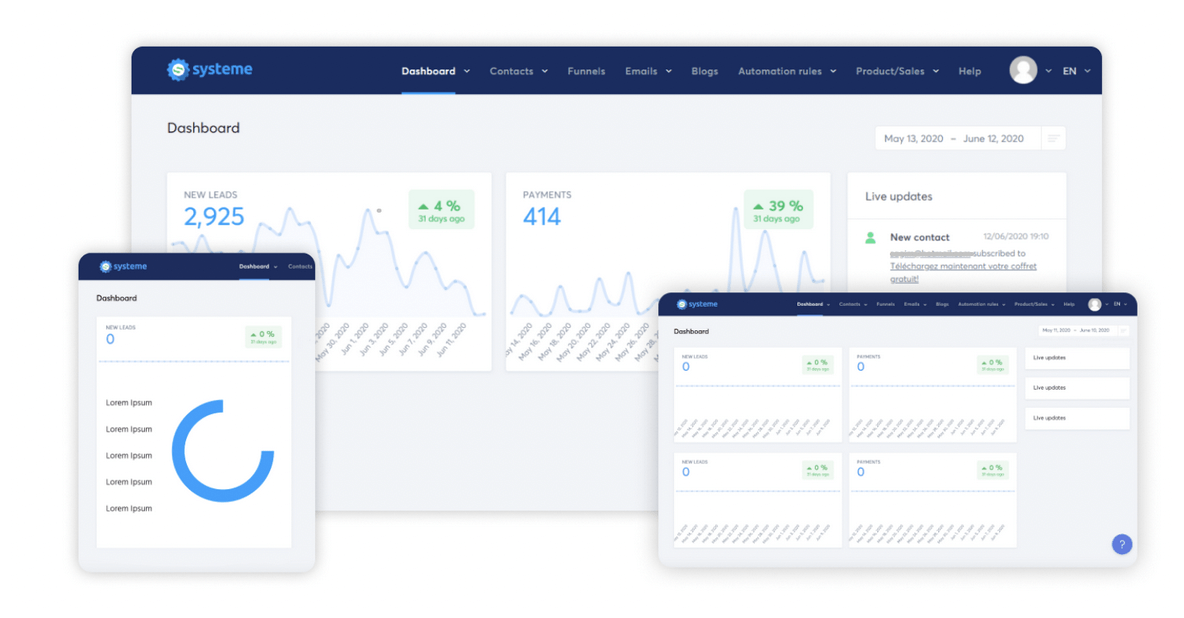 The goal of Systeme is to be a 'turnkey' platform for launching and running online businesses. In other words, it includes practically everything you'll need relating to marketing, contact management, affiliate management, and more.
There are features for selling online courses and subscriptions too. You oversee this from a slick-looking dashboard, with a separate affiliate dashboard.
What's more, you can create dedicated sales funnels based on your unique requirements, with a number of templates available (and a custom funnel builder).
Overall, Systeme is at first glance a jack-of-all-trades tool, that doesn't want you to leave the confines of the platform to run your business.
To find out whether this is something that can benefit you, keep reading!
Systeme Review: Features and Pricing
While we're not able to cover everything Systeme has to offer – there's a lot within the package – let's give you a run down of some of its key features. After this, we'll take a look at Systeme's pricing.
Systeme's Features
Given that one of Systeme's goals is to keep you within the ecosystem, the developers have done well to provide almost everything you'll need to run an online business:
A robust contact manager.
The ability to create custom sales funnels based on your unique requirements.
Email marketing functionality.
A blogging platform.
A full-featured way to sell subscriptions, courses, and much more.
This is all tied together through a good-looking dashboard to help give you an overview of your leads and revenue.
Creating a Sales Funnel
Sales funnels are a primary feature of Systeme, and the custom builder doesn't disappoint. You're first asked to select a conversion focus (such as selling a product, building your email list, or winning webinar signups):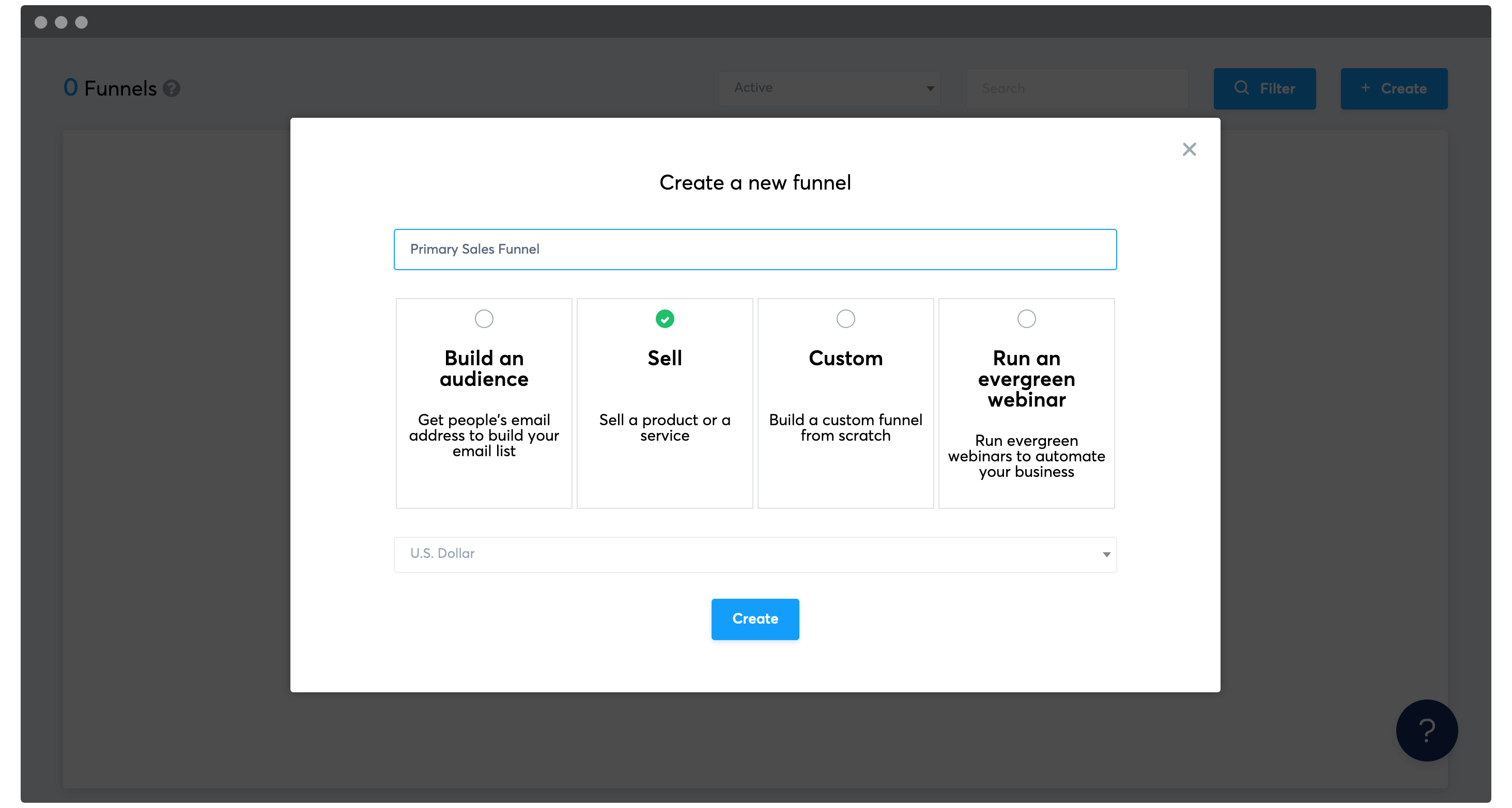 From there, you can build the steps in your funnel, and assign dedicated landing pages to them: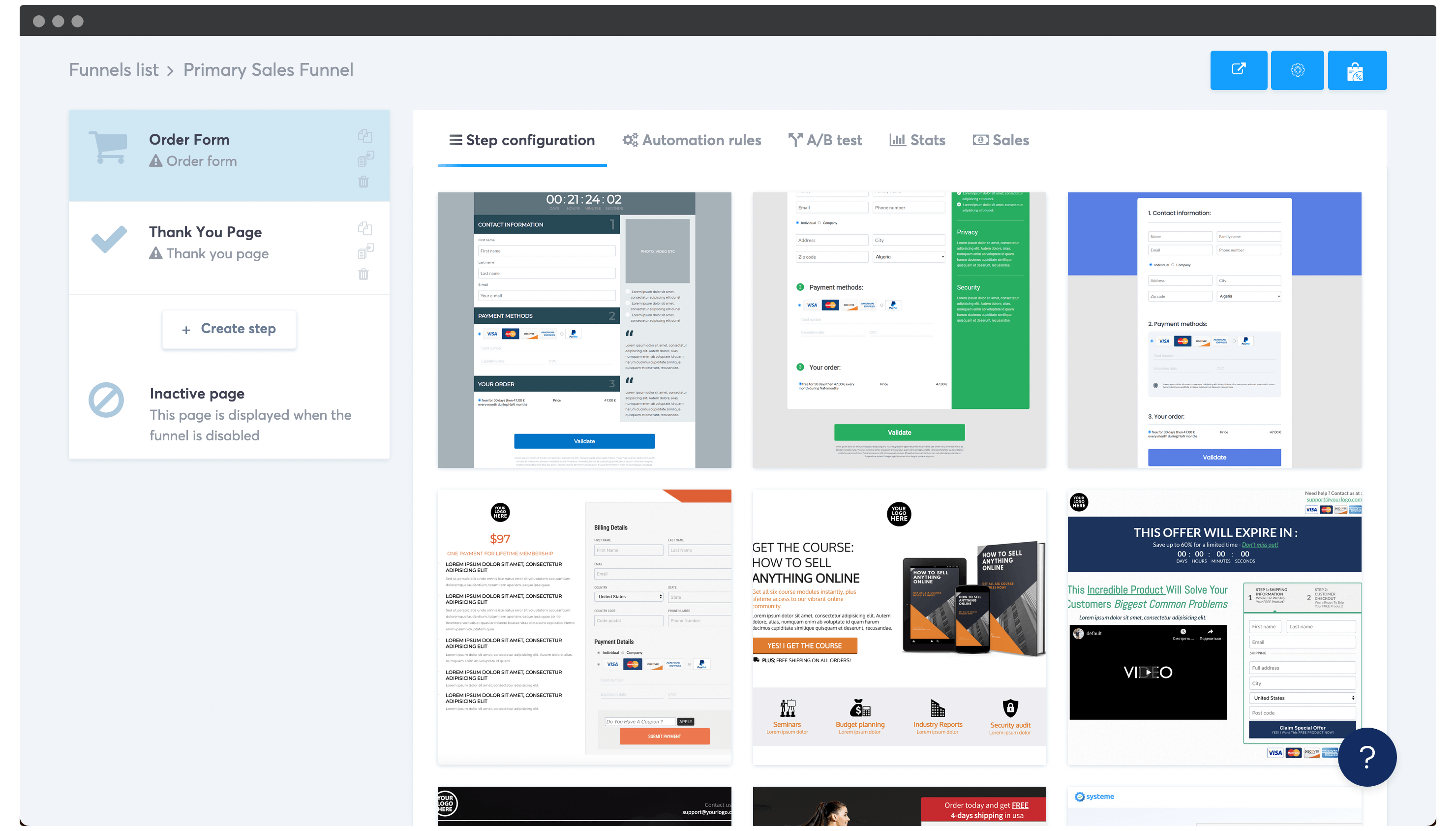 Each step can be assigned a specific type based on its function in your funnel, such as an opt-in page, sales page, or registration form. There are plenty of templates to choose from, which is good to see. There's always a danger of your site looking too 'cookie-cutter' when using included templates, so it's nice to see some variety.
Selecting a page brings up a customization screen, so you're able to tailor your page to your exact requirements, including the URL, and affiliate commission rate: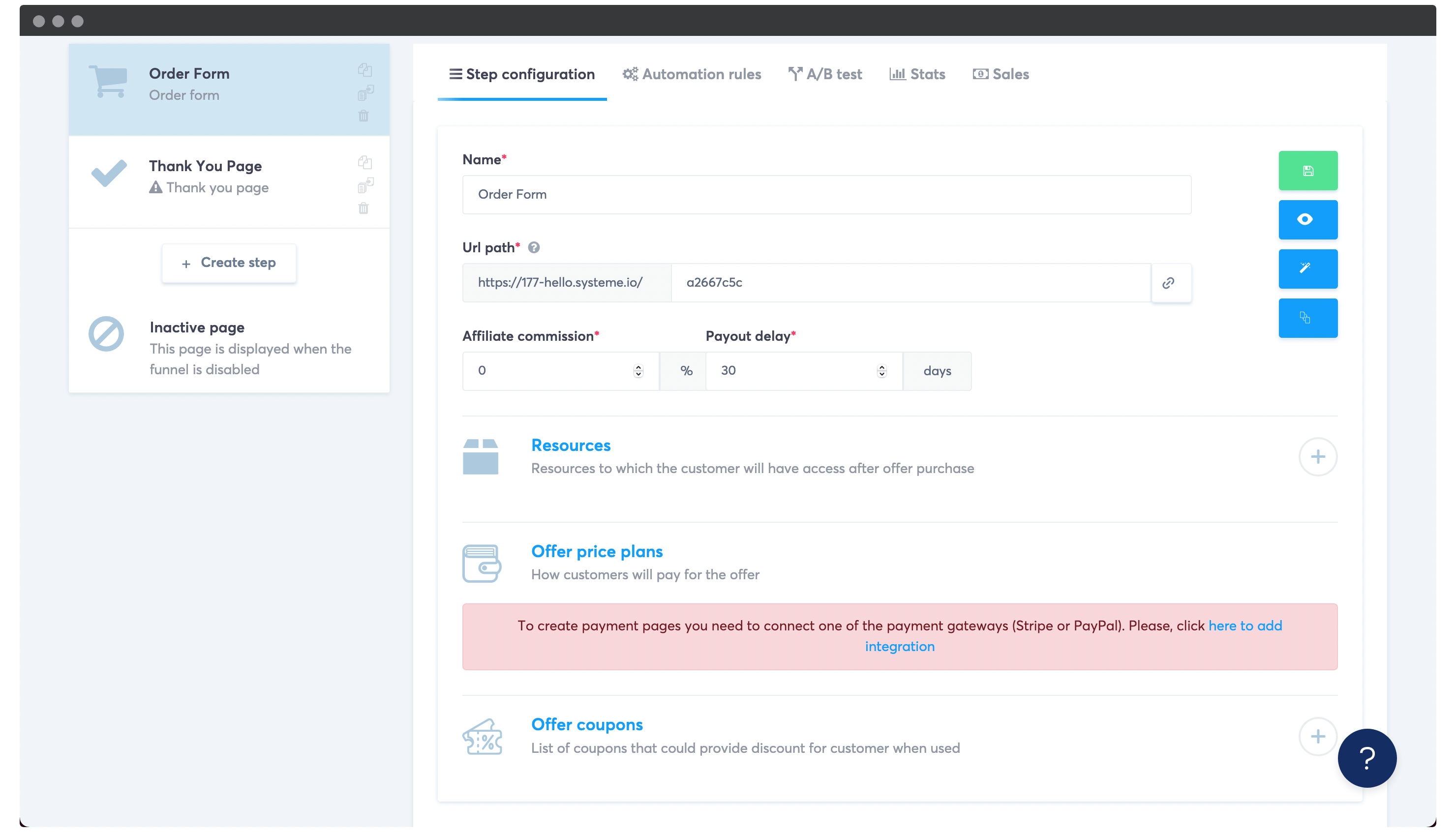 What's more, if a page layout or design needs some customization, there's a fantastic drag-and-drop page builder integrated into the platform: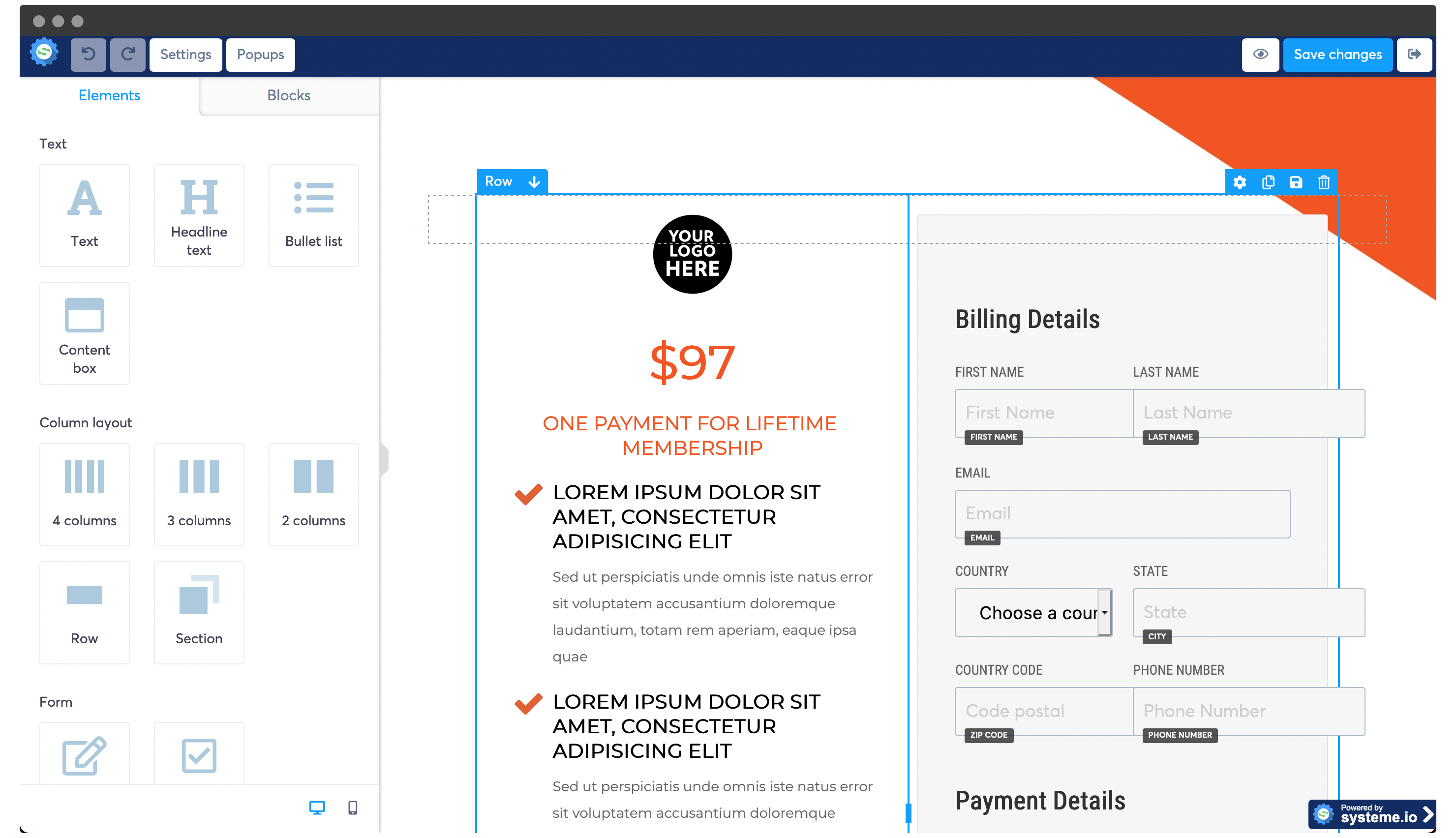 This is impressive, and lets you take your great-looking sales funnel templates and design them as the pros do.
Reaching Customers With Email Marketing and Blogging
One of the drawbacks of an all-in-one solution such as Systeme is that not everything is going to be stellar. This is a natural byproduct of including so much functionality. The consistency in feature-specific quality is outweighed by the convenience of the platform.
Unfortunately, the email marketing and blog page offerings are not up to the same standard as the sales funnel builder. The blog page – and Systeme are underselling it, because it's really a website builder – offers the same creation system found in the sales funnel section. This is good news.
However, there's only one template available, and it's not professional-looking in our opinion: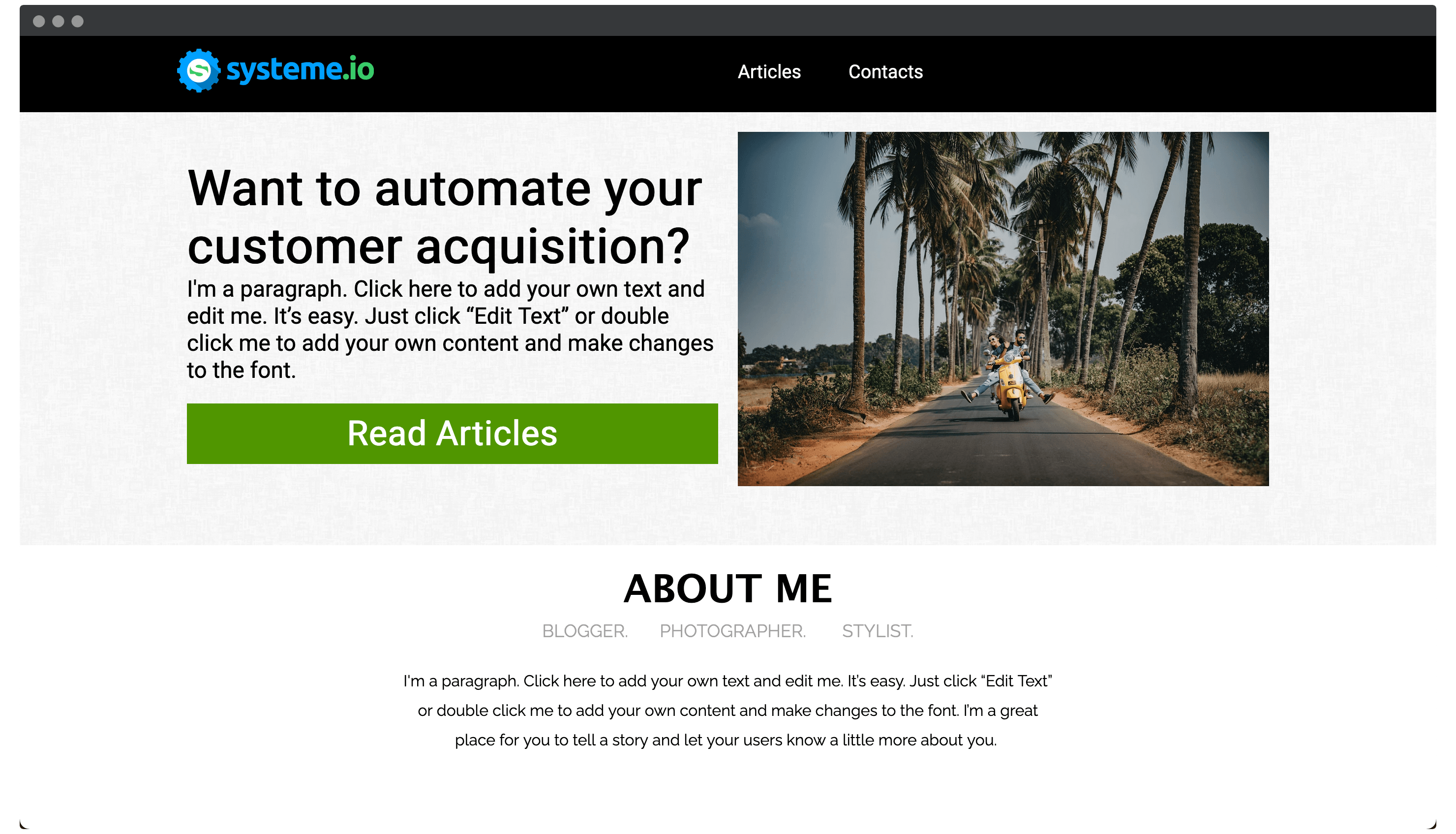 Of course, you can edit the template, but it's a shame that more layouts aren't available. It means you'll have to spend time designing your site, from the ground up, which will increase set up time.
Likewise, the email marketing tools are basic, and there isn't any real way to edit the appearance of your newsletter:
It's functional, but when you're trying to capture leads, your email marketing should be stellar. Hopefully this will be updated in the future.
Systeme's Pricing
Given the wealth of functionality within Systeme, it's understandable that there is no free tier. However, there is a 14-day full-featured free trial. Once this trial is over, there are three premium tiers to choose from.
Overall, the tiers are close in terms of features and functionality. Regardless of which one you opt for, you get almost unlimited emails, blogs, sales funnels, storage, and membership subscribers.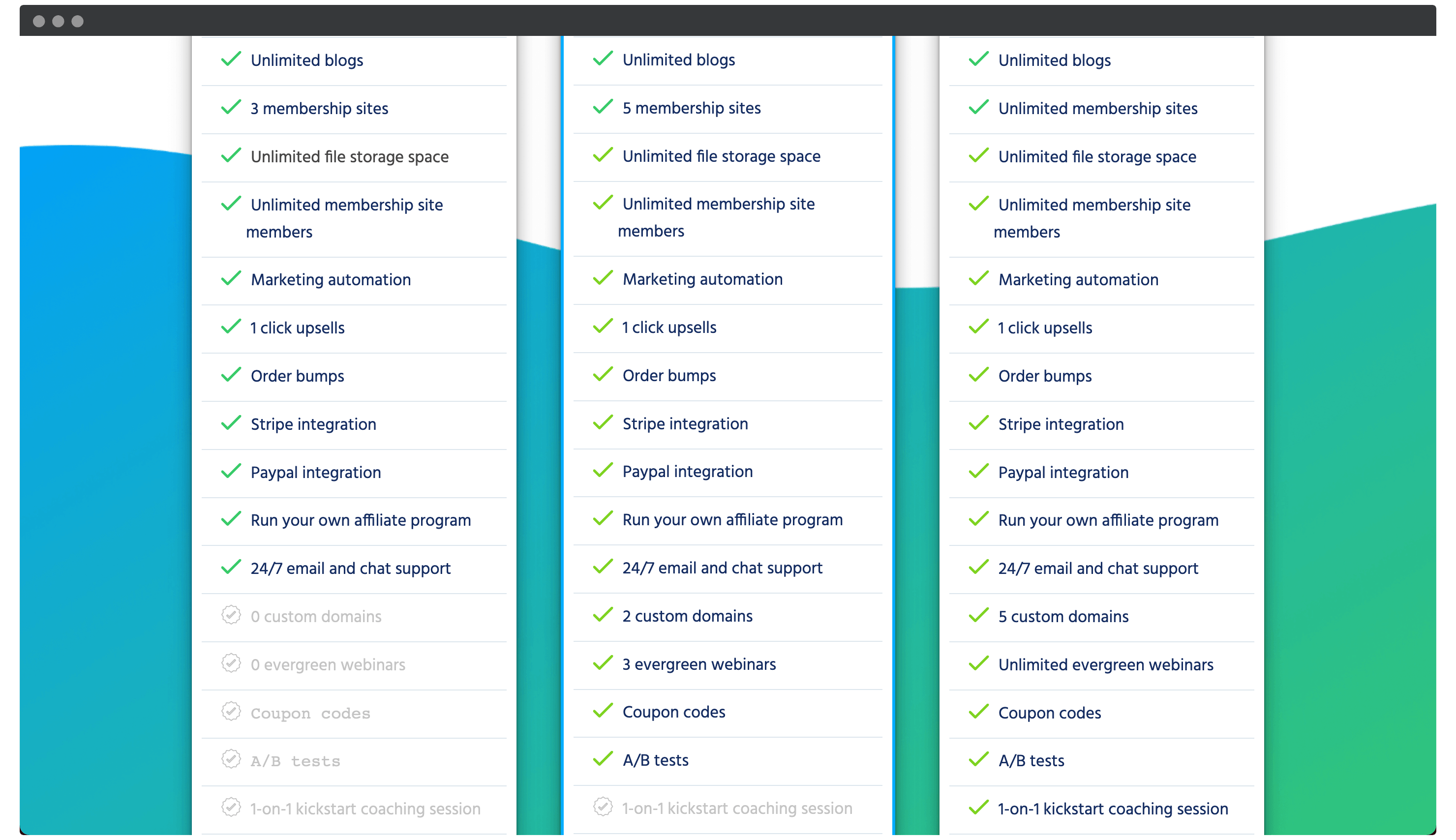 What's more, each tier offers PayPal and Stripe integration, marketing automation tools, an affiliate program, and much more. Overall, you're well-catered for and it makes any price point tempting.
Here's the rundown of the differences between tiers:
Startup. For $27 per month you can store 5,000 contacts and run three membership sites. However, you're not able to run any custom domains or evergreen webinars. What's more, you won't be able to issue coupon codes, take advantage of a kick-starter one-on-one coaching session, or perform split tests.
Webinar. This tier lets you have 10,000 contacts, five memberships sites, two custom domains, and three webinars. While coupon codes and split tests are yours, personal coaching isn't. This is all for $47 per month.
Enterprise. As you'd expect, this $97 per month tier provides as many membership sites and the ability to run unlimited evergreen webinars as you can manage. However, there's still a cap on contacts (15,000). You get to use five custom domains, and more importantly, have access to a personal coaching session to get up and running.
In our opinion, if you're serious about using Systeme, the Startup tier isn't going to be enough for you. Webinars, coupon codes, and custom domains should form a large part of an online business (at least in this regard).
Neglecting to include essential features in the lowest tier potentially hamstrings you, and makes the tier expensive. However, the Webinar and Enterprise tiers are hefty enough to warrant the price.
Who Systeme Would Be Ideal For
We'd suggest that Systeme would suit you if you want to sell non-subscription products, and prefer the ease of use the platform provides. Systeme does include subscription functionality, but the setup of the other features doesn't facilitate a winning package.
For example, the main feature of Systeme is arguably the sales funnel. While funnels are important for businesses of all stripes, the marketing tools aren't as slick. As such, you'll likely spend most of your time working out how to churn customers through the funnel steps, while tacking your site and newsletter on as an afterthought.
What's more, Systeme is going to really appeal if you're not tech-savvy or uninterested in piecing the necessary nuts and bolts together to run an online business. Part of this is down to the level of support you get.
Systeme's Support
There are three support channels in Systeme:
A knowledge base.
An online course.
Email help.
There is also a dedicated 'instant answers' button on most of the pages, that looks like a live chat feature. However, this seems to show specific elements of the knowledge base, depending on the questions you're asking.
Fortunately, the knowledge base is well-stocked, and has plenty of useful information. It's clear the developers want to make sure you're comfortable with the platform: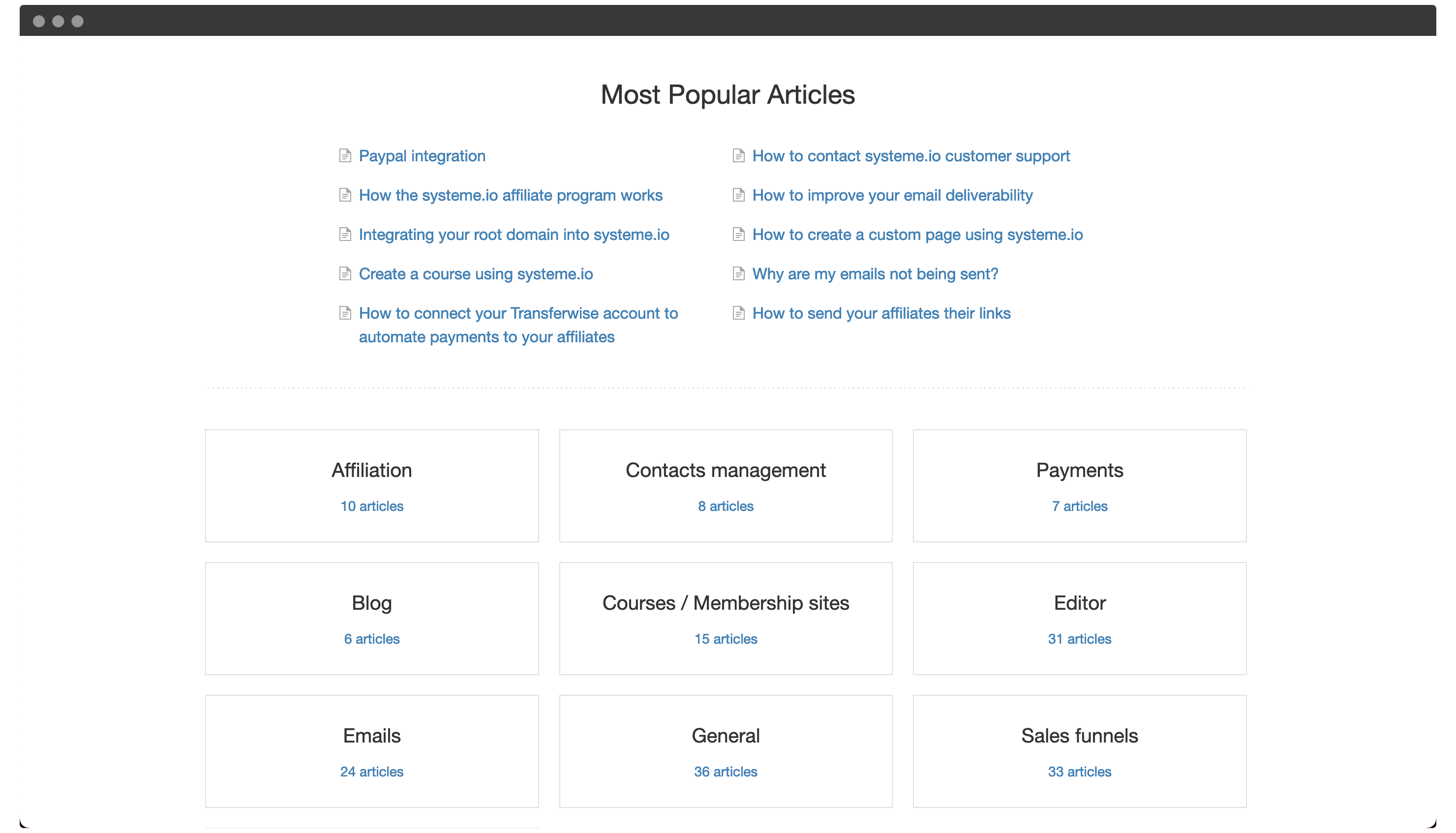 If you're more of a visual learner, there's also something billed as an "online course", but it's really a collection of short videos showcasing the functionality of Systeme: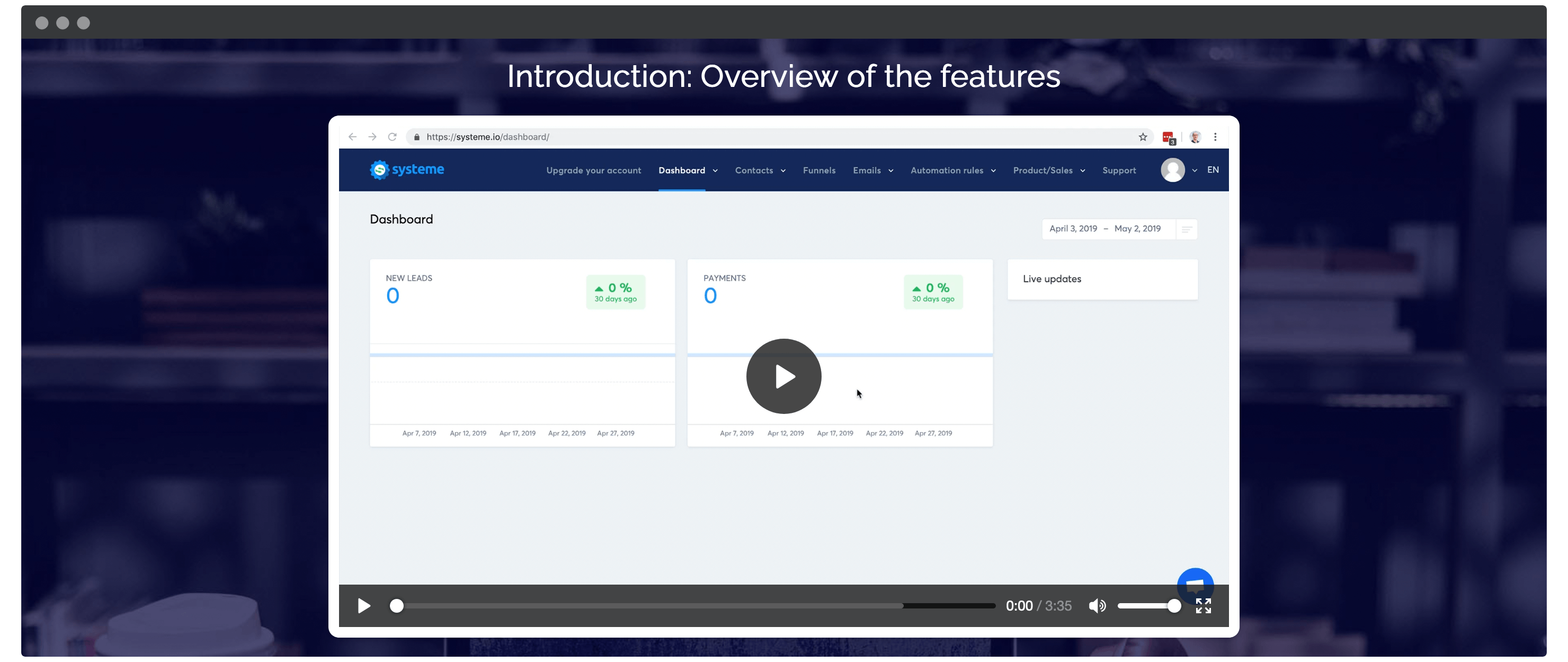 Finally, there's email support on hand in case either of the other channels haven't answered your question. It would be nice to see live chat available, although Systeme is so intuitive to use that it may not be necessary.
Alternatives to Systeme
The marketing 'spiel' for Systeme gives mention to a number of competitors that are currently more established:
Just from reading some of the testimonials and feedback, it's clear that Systeme isn't actually competing with these tools, despite the wording. Much of the focus is on how other platforms are bulky, slow, complex, and pricey.
As such, Systeme's ideal users are already 'qualified', as they'll likely have negative opinions on their current solution. Even so, all three of these platforms have more features, and do an arguably better job than Systeme.
On the flip side, pricing for Systeme's competitors start at around $99 per month. For the same money, you'll get the full package from Systeme, which could sway some unhappy users of other platforms.
Systeme Review Summary: Is This a Viable Platform to Launch an Online Business?
All in all, the takeaway from this Systeme review is that it's going to be viable only for some of the users it targets. For starters, happy users of ClickFunnels et al. are going to stick with their current platforms. There isn't enough here to tempt an existing user to make the switch.
Those with even a modicum of 'tech-savviness' would be best served by a WordPress setup running hand-picked themes, plugins, and other tools. Although the pricing is competitive, an online business really should prioritize its site and marketing over how well the sales funnel works.
What's more, there are plenty of email marketing platforms such as MailChimp that offer much more value for similar money.
This leaves a sub-section of users who dislike the complexity of ClickFunnels and WordPress, but want enough functionality to run an online business selling 'one-shot' products. For these users, this Systeme review will have provided a convincing argument to switch. For everyone else, it it may only be an interesting diversion from your regular tools.
Wrapping Up
Given the sheer scale of starting a business, you'd usually be forgiven for not checking off one or two tasks before launch. However, with a tool such as Systeme, you can't hide from any pre- or post-launch task.
This Systeme review has covered a number of elements. Overall, we'd say that if you like the idea of having everything under one dashboard, the price point is tempting. However, it's not an essential tool, and it could be that you save money and gain functionality forging a more traditional path – even if it might need extra organization to tie it all together.
Are you looking to launch an online business, and has this Systeme review made your wallet twitch? Let us know in the comments section below!