In this HostGator hosting review, we show you how good HostGator really is, who should use it, and what features you can expect to get.
HostGator is one of the most popular web hosting companies on the web. They've won users over with a couple of things. Their affordable prices are one very good reason to give them a look. But perhaps more significantly, their marketing has always been on point, with ads in all the right places. Maybe they're one of the reasons you are here today?
Here's what we're going to cover:
🤔 What is HostGator and what types of hosting it offers?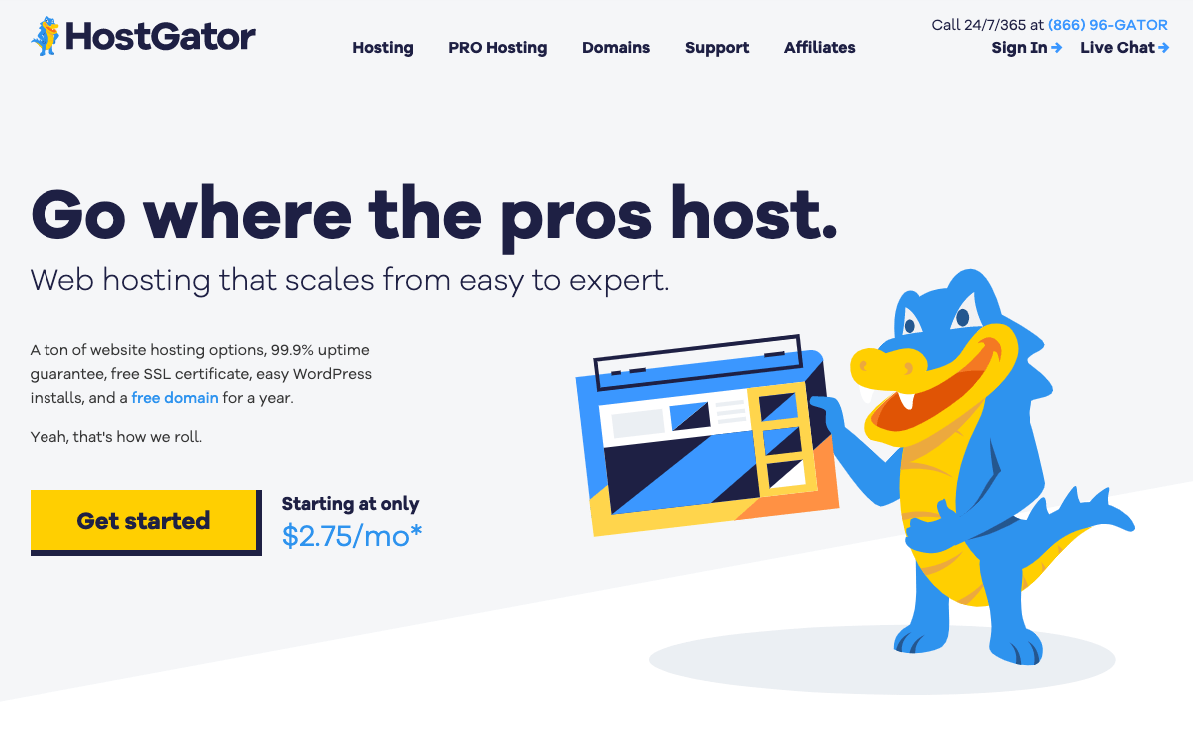 HostGator has been around since 2002, so they certainly do know the hosting game enough to stay above the surface. Though that would be an understatement, to be honest. HostGator has done a lot over the years, and merely staying above the surface doesn't sound like much of a goal for them.
There have been many important milestones in HostGator's lifespan, but a couple of them stand out:
In 2012, HostGator was acquired by EIG, a giant of the hosting industry that holds many hosting brands in their portfolio.
In 2015, HostGator launched their tailor-made managed WordPress hosting plans, which were the answer to some of the more expensive boutique WordPress hosts out there.
Today, HostGator serves more than 800,000 customers in more than 200 countries.
Let's take a look at what all those customers have been that crazy about. Here's what you'll find in HostGator's offering:
Shared hosting
This is HostGator's flagship hosting offering. These plans deliver all the features that most users will find essential, and they do so at very affordable prices.
What's great about these plans is that they come with unmetered storage and bandwidth. This means that, for the most part, you don't have to worry about your website growing too big.
There are also one-click installers available for website engines like WordPress, a free SSL certificate, and a free website transfer for users coming from other hosts. Plus, on top of all this, you get a free domain name for the first year.
👉 Go to HostGator's shared hosting plans.
WordPress hosting
This tier of hosting is a variation on the shared hosting plans, but with added optimizations for websites running on WordPress.
These plans are similarly affordable, and come with a free domain name, too. The bandwidth is not metered, but these setups will work best when you have up to 100k monthly visitors (on the cheapest plan) and up to 500k (on the far end).
So, what makes them optimized for WordPress? Just to name a few things:
automatic daily backups,
added security features for WordPress,
optimizations to improve the speed of your WordPress site,
integrated catalog of WordPress themes,
integrations with SiteLock and CodeGuard.
And, of course, these setups come with WordPress installed from the get-go – for users who are going to be launching a completely new site. Alternatively, you can transfer an existing site.
👉 Go to HostGator's WordPress hosting plans.
Website builder
This one is a pretty original offering since it flips the way most users think about hosting and owning a website.
Instead of selling you access to a web server and then putting the ball in your half of the field so that you then have to figure out how to use that server, HostGator proposes you start with a site builder tool first.
In this model, you get access to the builder, craft your website from top to bottom, and then have it launched to the public with the help of one of HostGator's servers.
The website creation part is made user-friendly – the builder comes with nice templates and it's fully visual (so, no coding skills are required).
👉 Go to HostGator's website builder plans.
VPS hosting
Now, we're entering the realm of pro-level hosting!
VPS hosting is commonly used for web apps rather than standard websites. Creations like that usually need more scalable setups as it's hard to predict the load that the app can experience every day. Also, the server requirements can be different from what a classic website usually needs.
Just so that we're on the same page, VPS (virtual private server) hosting is a virtual machine that comes configured to match given requirements of the project.
👉 Go to HostGator's VPS hosting plans.
Dedicated hosting
It doesn't get much further in the "pro" direction than dedicated hosting.
In simple terms, dedicated hosting is where you get access to an actual physical machine (computer) that runs your server software.
It's the most expensive type of hosting and also the most tailor-configurable to match the user's exact needs.
👉 Go to HostGator's dedicated hosting plans.
Reseller hosting
I have a feeling that this last type of hosting will be really interesting to agencies, developers, and freelancers working on client sites.
The idea is simple, you buy a hosting package from HostGator, and then resell it to your clients. You also pocket the difference between the price you bought the hosting for from HostGator and the price you sold it for to your clients.
👉 Go to HostGator's reseller hosting plans.
Which type of HostGator hosting is right for you?
This all depends on what your needs are and what type of site you want to build.
Generally, if you want to build a WordPress website for any sort of serious purpose – like a business, professional portfolio – then you should go with the WordPress hosting plans.
Other new website projects and small experiments will work well on the shared hosting plans.
For everything more demanding…well, you've probably already done the research and know whether you need VPS or dedicated hosting.
In the next part of this HostGator hosting review, let's now see what's under the hood:
⚙️💵 Features and Pricing
⚠️ For the purpose of this HostGator hosting review, we're looking at HostGator's WordPress hosting plans. This is the type of hosting that's in high demand these days due to WordPress' popularity as a website platform.
First, the pricing: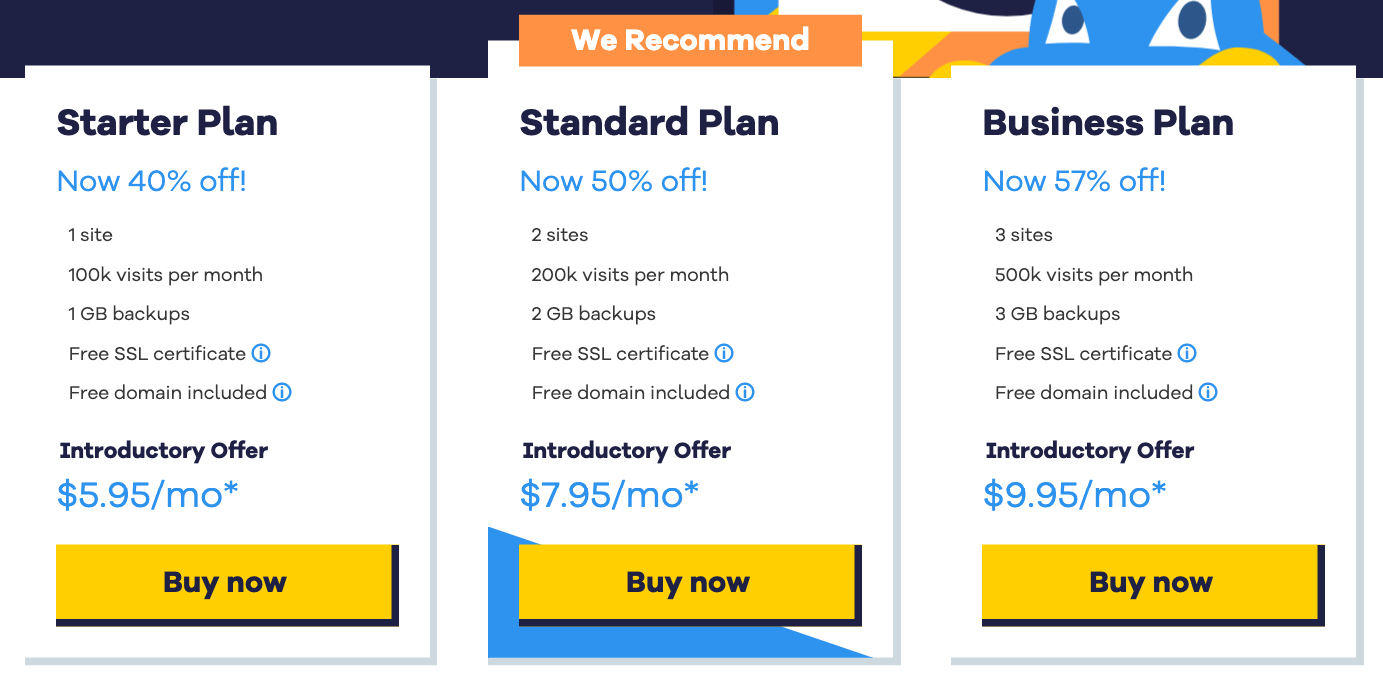 See these *stars next to the prices? What do those mean? Like usually, there's a catch there somewhere. A thing that most hosting companies do – and HostGator does this as well – is that the price you pay depends on the contract length that you're willing to sign.
Here's how the prices play out based on the plan you choose vs contract length:
| Plan | 1 month | 3 months | 6 months | 1 year | 2 years | 3 years |
| --- | --- | --- | --- | --- | --- | --- |
| Starter | $14.95 | $14.95/mo | $14.95/mo | $7.95/mo | $6.95/mo | $5.95/mo |
| Standard | $20.95 | $20.95/mo | $20.95/mo | $9.95/mo | $8.95/mo | $7.95/mo |
| Business | $27.95 | $27.95/mo | $27.95/mo | $11.95/mo | $10.95/mo | $9.95/mo |
The longer the time period you're willing to commit to, the cheaper it's going to be per month.
Here are the features you get:
All of HostGator's hosting plans are similar in terms of performance or server power, the main differences come in the form of how many sites you can host and how many visitors you can welcome.
First, here's what you get with all plans:
unmetered bandwidth – this means that your bandwidth is unlimited as long as your usage doesn't go above what HostGator deems reasonable,
free domain name for one year,
free email hosting – this is huge(!), not all hosts offer this for free; it also includes unlimited email aliases, autoresponders, and email forwarders,
$150 credit for Google Ads,
free installation of WordPress – so that you don't have to take care of that on your own,
a catalog of WordPress themes to choose from,
free SSL certificate,
free CodeGuard integration for backups,
free SiteLock Fix integration – scans your site for malware and other security issues,
24/7/365 customer support.
There's also a 45-day money-back guarantee.
Now, what are the differences between the specific hosting tiers? Here's the most important stuff:
| Plan | Sites allowed | Monthly traffic | Website migrations |
| --- | --- | --- | --- |
| Starter | 1 site | 100k visits | 1 free website migration |
| Standard | 2 sites | 200k visits | 2 free website migrations |
| Business | 3 sites | 500k visits | 3 free website migrations |
These plans are nicely balanced and make it possible for anyone to pick the option that fits their project. No matter if you want to launch just one site or a couple of them, HostGator will offer you an affordable setup.
What's important here is that all these plans are the same from performance perspective, so the only parameters that are different are the numbers listed in the table above.
👐 Ease of use
The signup process with HostGator is straightforward and doesn't come with any surprises. All that HostGator needs from you to get you started is some personal info and payment details. Of course, you also have to pick a hosting plan that fits you best (we covered the options above).
If you're planning to launch an eCommerce store on your setup, you might want to consider getting a premium SSL as an add-on during signup. HostGator gives you that option, though it's deselected by default since most users won't have a need for it.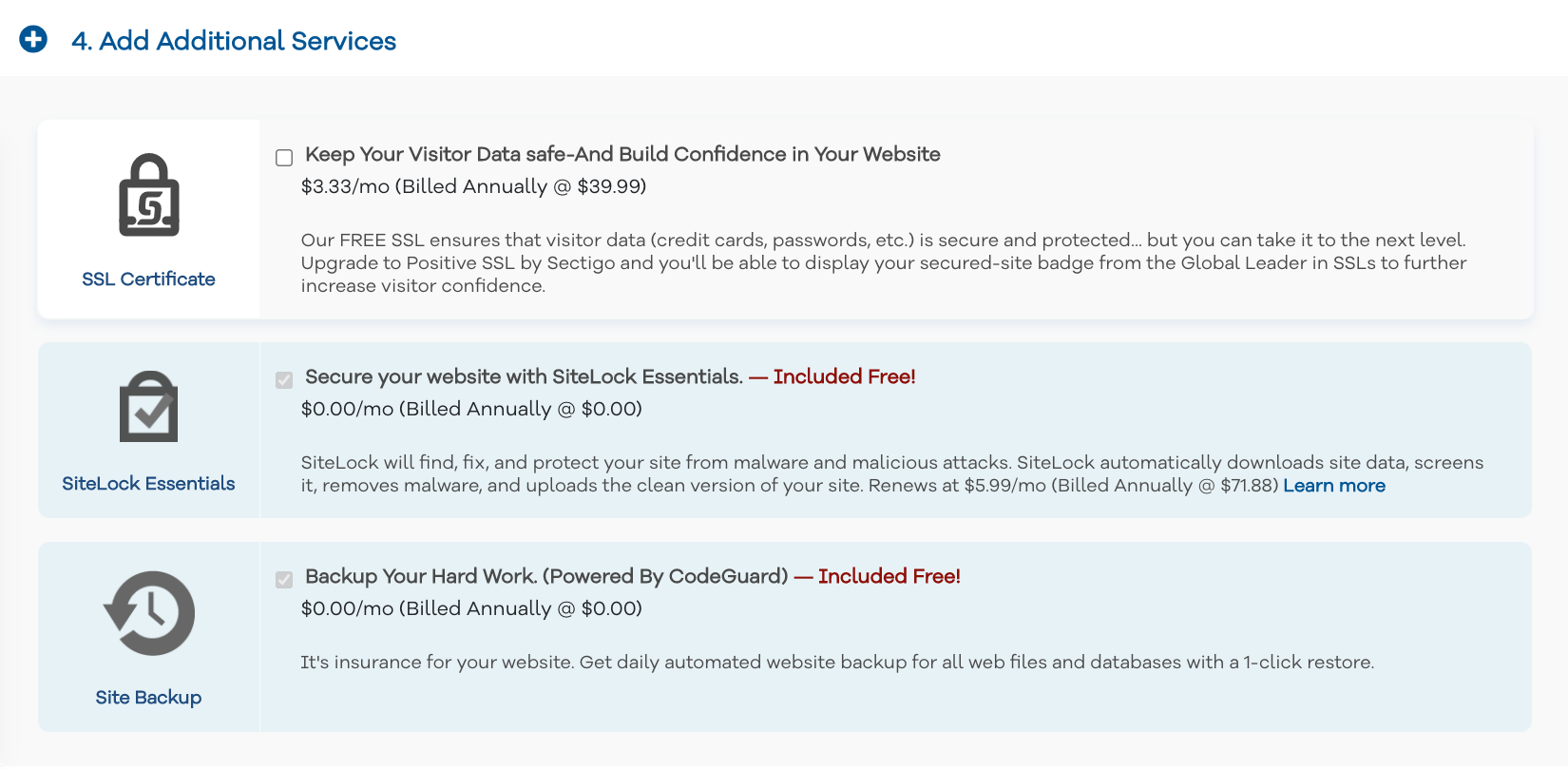 After finalizing the purchase, you'll get to see the main user panel: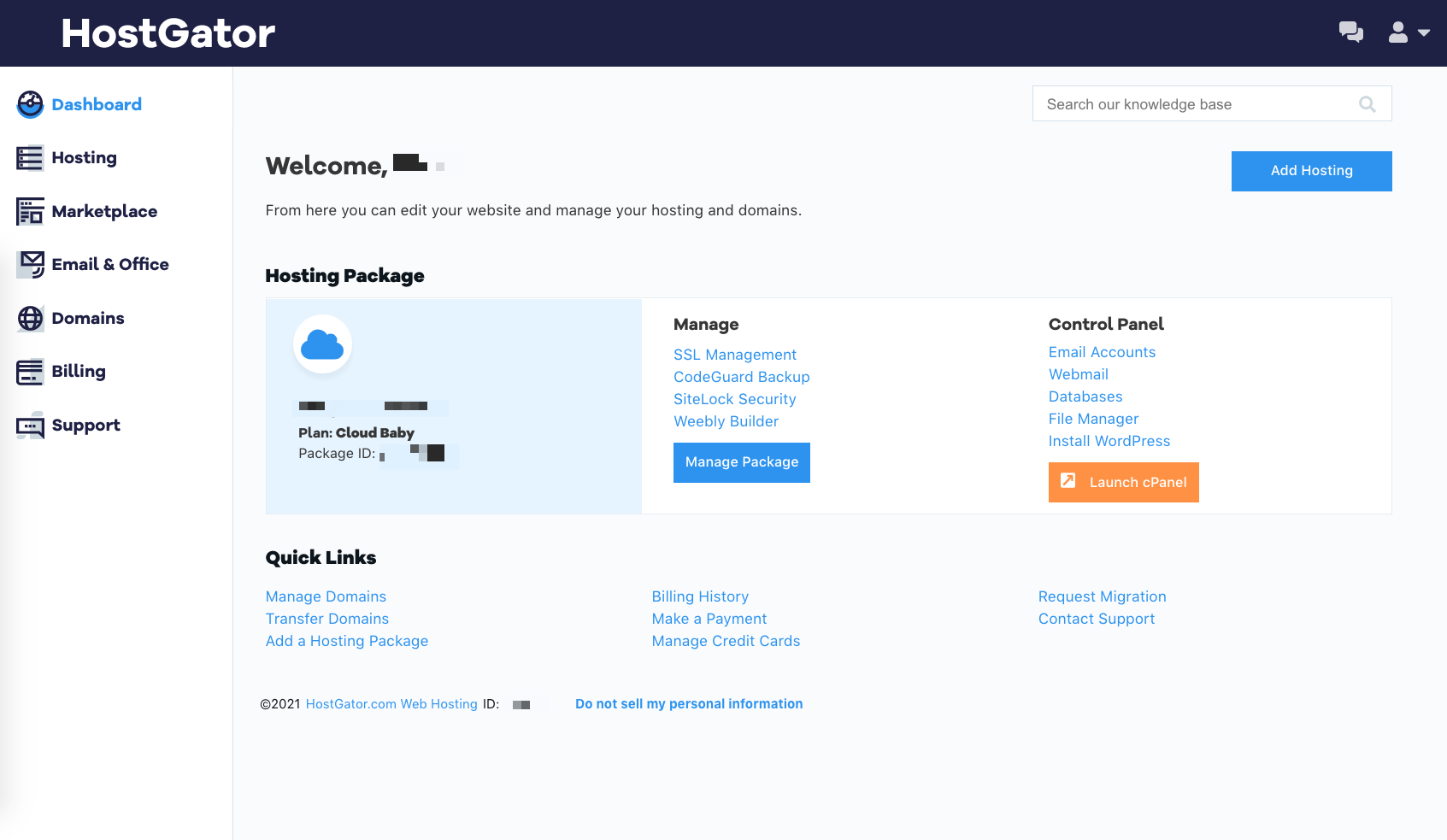 Everything is pretty straightforward there, and you get easy access to all the most important actions you'd want to perform on your server in the sidebar:
Hosting. This is where you can do your main server management. Though keep in mind that interacting with this section is not mandatory. It's there if you ever need it. Even with that, HostGator tries to make your work easy by placing all the most commonly accessed settings in plain view.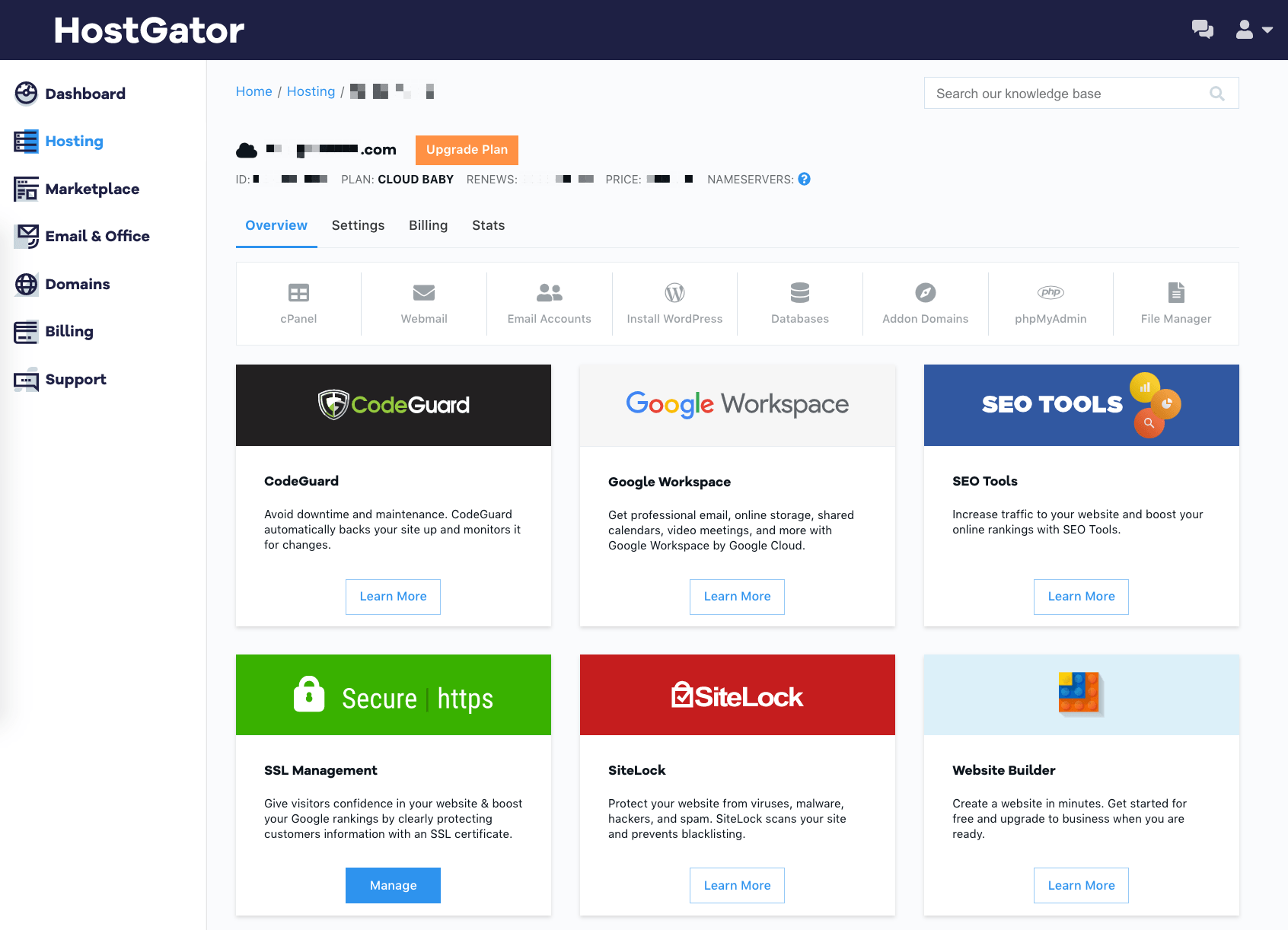 Marketplace. This is where you can buy upgrades to your setup – things like Google Workspace integration, SEO tools, etc.
Email & Office. HostGator offers integration with Google's and Microsoft's email and office tools. This is where you can enable that.
Domains. Manage and buy additional domains for your setup.
Billing and Support. Pretty self-explanatory.
Overall, the HostGator dashboard gives you quick access to all the important features and settings, while also not overwhelming you with options. Plus, on a day-to-day basis, there won't even be many reasons for you to enter this dashboard. Everything that we consider "working on your site" happens in the WordPress dashboard anyway.
🏎️ Performance and load times
Okay, everything here is fine and dandy, but the next thing we have to find out in our HostGator hosting review is how fast these servers really are.
Here are the steps we took to do our tests:
we bought one of HostGator's hosting plans,
we set the site up with demo content and images,
we installed a couple of plugins to simulate some load (WPForms, Yoast SEO, and Jetpack).
Then, we tested the site three times from multiple locations around the globe. Here are the average load times:
| Location | Loading Time | TTFB | First Paint | Interactive |
| --- | --- | --- | --- | --- |
| N. Virginia | 0.89 s | 395 ms | 1.08 s | 1.08 s |
| California | 0.76 s | 298 ms | 0.93 s | 0.95 s |
| Canada | 0.84 s | 328 ms | 0.97 s | 0.97 s |
| Frankfurt | 1.34 s | 534 ms | 1.38 s | 1.38 s |
| Paris | 1.30 s | 510 ms | 1.33 s | 1.40 s |
| Mumbai | 2.57 s | 921 ms | 2.13 s | 2.58 s |
| Sydney | 1.91 s | 819 ms | 1.85 s | 1.96 s |
These loading times are more than acceptable. The one thing worth pointing out here is that HostGator only offers data centers in Utah and Texas, although this doesn't seem to have any huge impact on the loading times from abroad.
🚑 Customer support
HostGator offers 24/7/365 customer support. You can get help via your user panel.

The best way to interact with support is through live chat. It is available round the clock. Alternatively, you can also call in via a toll-free line if you're in the US or use an international number if you're abroad.
Lastly, HostGator offers an extensive knowledge base and a huge catalog of video tutorials to help you out with the most common actions. For instance, things like, how to redirect a URL, how to create an add-on domain, how to set up CodeGuard, and a lot more.
The video tutorials in particular make getting started with the platform very approachable, even if it's your first time working on a website.
👍👎 Pros and cons of HostGator hosting
Here are the main pros and cons we've identified in this HostGator hosting review:
Pros 👍
Affordable prices and nicely scalable plans for hosting 1-3 websites.
A free domain name for the first year.
Free email hosting.
Free SSL.
Free integrations with CodeGuard and SiteLock.
24/7 customer support via live chat and phone.
Cons 👎
You have to commit to three years upfront to get the lowest prices.
Currently, HostGator offers data center locations only in Utah and Texas.
💪 HostGator hosting review conclusion: is it any good?
We haven't stumbled upon any serious problems with HostGator hosting. Neither when working on this HostGator hosting review nor when using HostGator for one of our other projects for the last couple of years.
Overall, HostGator delivers quality features and good server performance at an affordable price. If your audience is based predominantly in the US, HostGator will make your site load fast and work free of hiccups.
Lastly, HostGator is also ready to grow with your business and give you access to higher-tier hosting plans if you ever need them. Even their selection of dedicated hosting is affordable compared to what other companies offer in that space.
What do you think of HostGator? Have you used them for any of your website projects yet? Feel free to add a comment below.