Looking for an A2 Hosting review?
A2 Hosting is a great alternative to many of the more expensive web hosting companies. Customers often land on A2 when looking for a reliable WordPress host or for a much more unique hosting setup (such as hosting for a billing platform or online analytics).
In this A2 Hosting review, we show you what the company has to offer, how good these services are, and what prices you can expect.
Here's what we're going to cover:
What is A2 Hosting and what types of hosting it offers? 🤔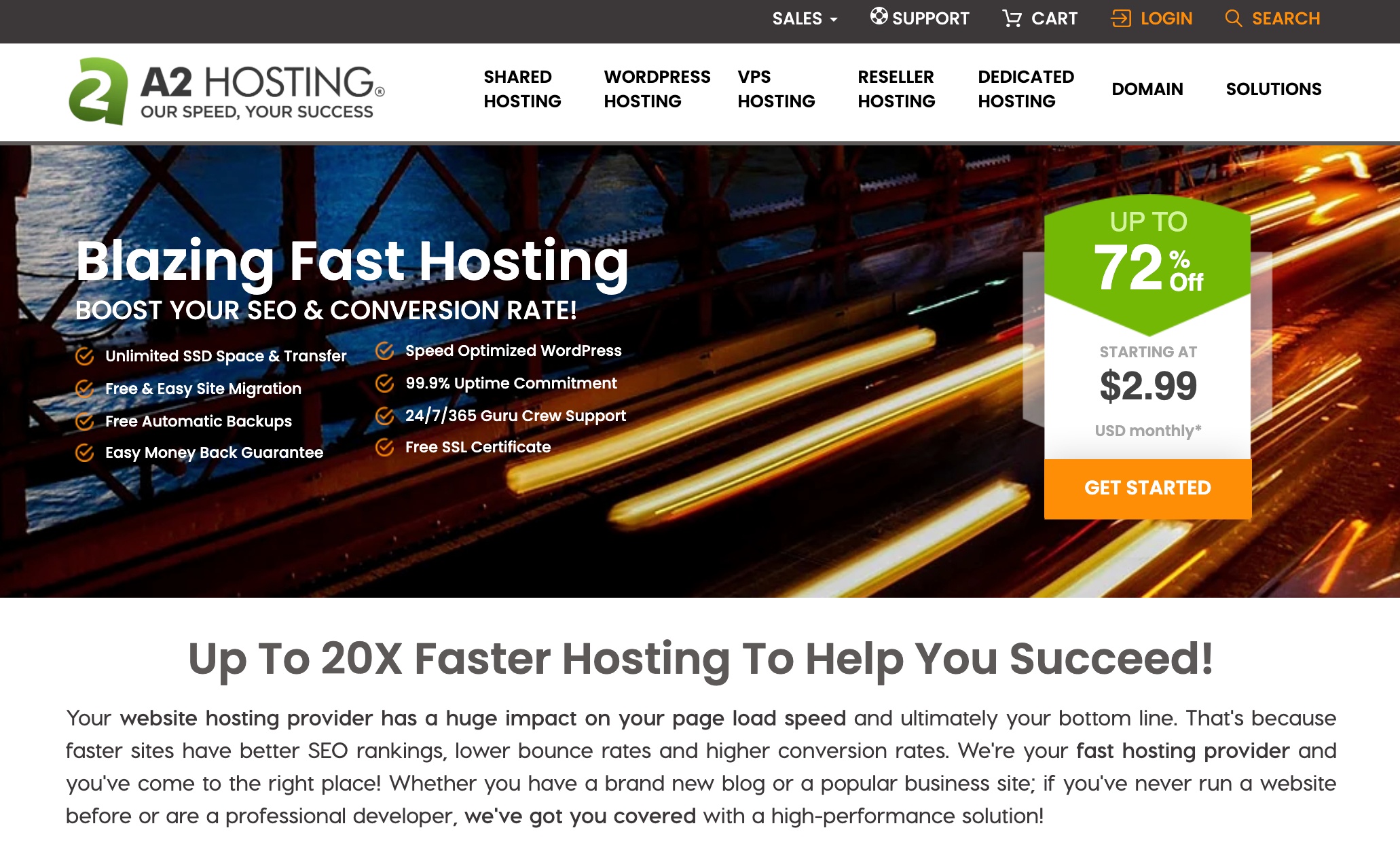 A2 Hosting has been on the market since 2001. They started as a humble setup, in a two-room office in Ann Arbor, Michigan. Since the very beginning, they have offered various types of hosting that cater to different users and project needs.
Let's take a look at some of the specific hosting offerings that you can get from A2 Hosting:
1. Standard shared hosting services
This is the entry-level hosting offering that's on the menu for A2 Hosting customers. Like with most hosting companies, the entry-level plans focus on the essentials and providing the features and abilities that most websites require to operate.
These entry-level plans will allow you to host from one to an unlimited number of sites, and use anything from 100 GB to unlimited disk space.
You also get quite a range of side-features and perks that are not commonly seen, even on some of the more expensive hosting setups.
For instance, you get unlimited email accounts on all hosting plans, free website builder integration, and even integrated staging sites.
Then, if you need more, you can get one of the higher-tier plans that also offer the ability to host unlimited websites on one account, free server rewind backups, additional performance optimizations, unlimited databases, NVMe drives, and turbo caching.
👉 Go to A2 Hosting shared hosting setups.
2. WordPress hosting
All sorts of WordPress hosting setups have gotten very popular over the last couple of years – not just from A2 Hosting but in the hosting landscape overall. It's not hard to see why. After all, WordPress now controls nearly 50% of all websites.
A2 Hosting has some attractive servers in this realm as well. What's particularly interesting is that they don't offer just one type of WordPress hosting but both unmanaged and managed setups.
Unmanaged WordPress hosting is basically A2 Hosting's shared hosting with a WordPress installation added on top and some pre-added plugins like their own A2 Hosting Optimized WordPress (performance plugin).
Managed WordPress hosting offers a bit more in terms of server power and providing a WordPress-optimized environment, with the addition of a Jetpack Personal license and WP-CLI pre-installed. It's also run through the Plesk control panel vs cPanel that's used on shared hosting.
👉 Go to A2 Hosting WordPress hosting setups.
3. VPS hosting
VPS hosting is a nice mix between expensive dedicated hosting setups and cheaper shared plans. The aim is to offer the best of both worlds – an affordable setup that's still powerful and can handle the load.
Again, A2 Hosting offers two types of VPS hosting: unmanaged and managed.
The unmanaged plans are basically just the hosting setup on its own – you get access to the server where you can install any piece of web software that you require. The managed plans, on the other hand, are where it is A2 Hosting that takes care of the maintenance, security, and network configuration aspects of your setup.
The managed plans are a lot more expensive than the unmanaged ones.
👉 Go to A2 Hosting VPS hosting setups.
4. Dedicated servers
We're entering the big boys' territory here. Dedicated servers are the highest tier of hosting in many a hosting company offerings.
A dedicated server is an arrangement where you get access to the actual physical server machine that runs your server software. Similar to A2 Hosting's VPS setups, here as well you can choose from unmanaged and managed dedicated servers.
The idea is much the same; with unmanaged dedicated servers, you just get access to the machine and then it's on you to maintain it, take care of the updates, software installation, and other things. With managed setups, part of this job is going to be handled by A2 Hosting.
Dedicated hosting is usually a solution for web developers who know the exact parameters that they require.
👉 Go to A2 Hosting dedicated hosting setups.
5. Other hosting and services
Apart from the types of hosting listed above, A2 Hosting also offers a handful of other, more original services that are a bit more niche.
For starters, they offer reseller hosting setups. These can be attractive for agencies that want to provide hosting to their clients and have control over the setups that those clients run.
Then, A2 Hosting also offers domain registration. This means that you can get both your domain and hosting from one place, which makes the job a lot easier when building a new website.
Lastly, they offer a range of purpose-built hosting setups for things like hosted analytics, ad servers, billing systems, CRM, LMS, forums, guestbooks, and a lot more.
👉 Go to A2 Hosting custom hosting solutions.
Features and pricing ⚙️💵
⚠️ For the purpose of this A2 Hosting review, we're going to focus on the shared hosting plans. This is the most popular type of hosting, and it's likely what most users are going to end up choosing.
First, let's talk pricing:

As you can see, these setups are very affordable, and they do give you all the essential features you might need.
However, in order to get these low prices, you have to agree to buy an A2 Hosting server for three years upfront.
If you don't want to commit to such a long contract period, your bill will be higher. Specifically:
| | Monthly | 1 year | 3 years |
| --- | --- | --- | --- |
| STARTUP | $10.99 | $6.99 | $2.99 |
| DRIVE | $12.99 | $9.99 | $5.99 |
| TURBO BOOST | $15.99 | $10.99 | $6.99 |
| TURBO MAX | $22.09 | $16.99 | $12.99 |
These differences are not insignificant, especially when comparing the prices for the three- vs one-year contracts.
Overall, if you're walking into a website project with a long-term mindset, then opting for those longer contracts is a better decision.
Here are the features included:
Each of the A2 Hosting plans improves on the previous one by adding extra features and server optimizations.
First, here are the features that you'll get with all plans:
unlimited email accounts
unlimited transfer
24/7 customer support
free SSL certificate
free website builder
staging sites
Apart from the above, here's what you get from each of the plans:
The STARTUP plan
use it for one website
100 GB of storage
1 CPU core
The DRIVE plan
unlimited websites
unlimited storage
free site migration
free automatic backups
free server rewind data backup protection
unlimited databases
1 GB of RAM
2 CPU cores
The TURBO BOOST plan
everything in DRIVE
unlimited NVMe storage
up to 20x faster page loads
SEO tools
up to 40% faster CPU
LiteSpeed-enhanced server
turbo cache
2 GB of RAM
The TURBO MAX plan
everything in TURBO BOOST
5x more resources
4 GB of RAM
4 CPU cores
The differences between the STARTUP and DRIVE plans are pretty obvious – the former only allows you to host a single website, while the latter can handle unlimited sites.
However, the differences between all the other plans are not as clear at first sight. Basically, what it all comes down to is your desired server performance. Both TURBO plans give you RAM and more CPU cores when compared to the DRIVE plan. Therefore, they're going to be able to handle much more load.
Overall, the full list of features that these entry-level hosting plans from A2 Hosting have to offer is pretty impressive. You can find nearly every piece of web technology there with A2 Hosting being confident that their hosting setups can support them.
What this means in practice is that A2 Hosting gives you all the tools you might need to build a new website and make it available to the public.
Ease of use 👐
There's nothing too original about the way A2 Hosting goes about letting you sign up for their services and pick your hosting setup. For the most part, the form is a standard one, asking for the required personal details and letting you customize a thing or two about your setup.
Speaking of that, here's what you can pick when signing up:
the data center location – there are four available: Michigan (US East Coast), Arizona (US West Coast), Amsterdam (Europe), Singapore (Asia),
whether or not you need a dedicated IP for your setup (paid extra at $5.99),
integrated website builder (free if you only need a one-page site, then from $6-$16 for larger sites),
automatic script installation (you can pick WordPress or other popular website platforms),
the currency you want to be charged in.
To make this as easy on yourself as possible, pick the option where A2 Hosting installs WordPress on your behalf – this is the path we've chosen for this A2 Hosting review. That way, you won't have to take care of that later on.
Once you enter your payment info and approve everything, you'll get access to the A2 Hosting panel and your new hosting setup.
To be honest, the main dashboard isn't one of A2 Hosting's strengths. While it's perfectly functional, it's not immediately clear where to go or what to do first.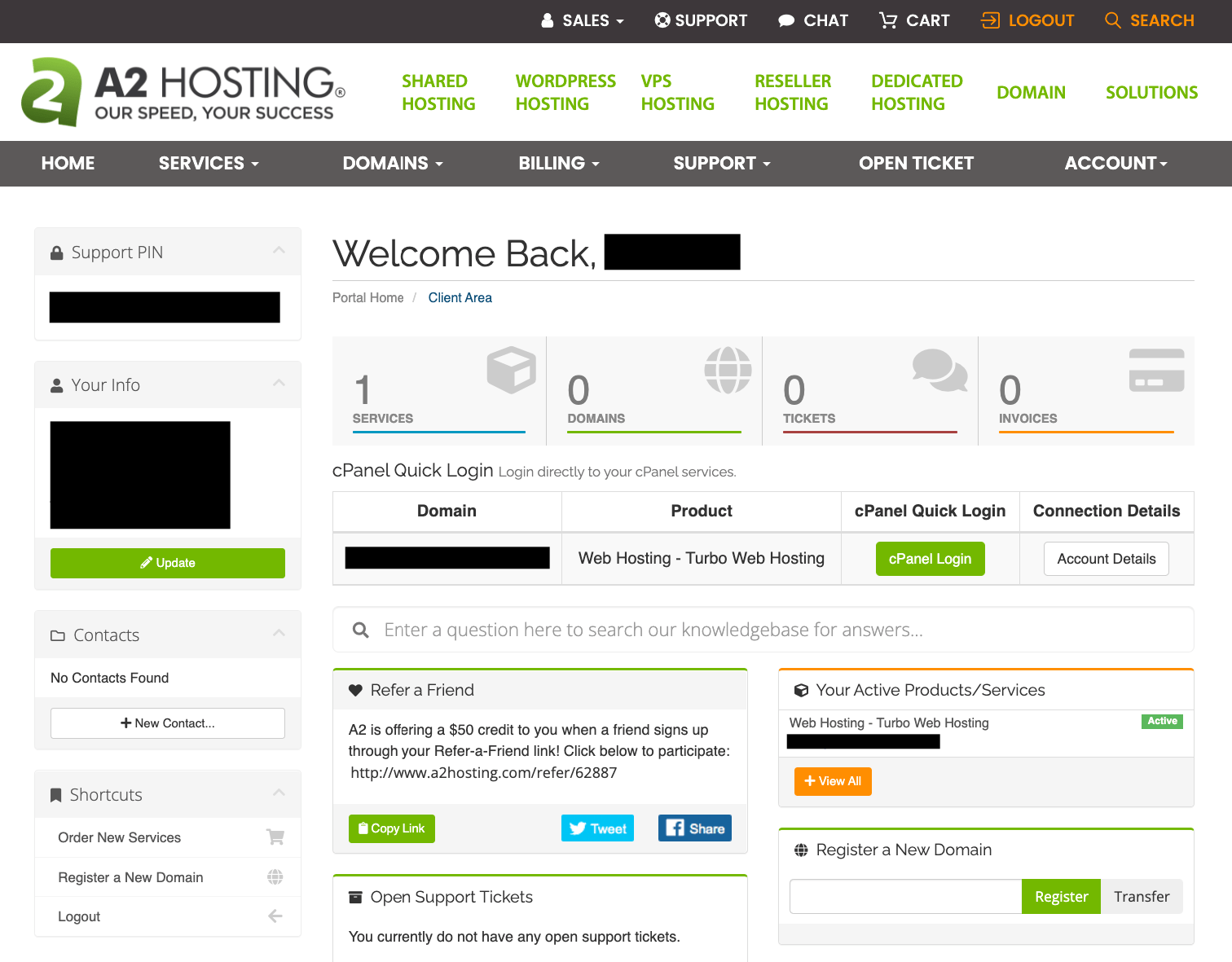 If you want to manage your website, first click on services and then on the appropriate link next to the site that you want to work on (if you have more than one).
From there, you can see your site's main domain and server settings, and you can perform common administrative tasks, like managing your email accounts, adding subdomains, setting up cron jobs, plus you can launch the full cPanel interface, which gives you a lot more options.
Apart from administering your website, you can also go to either the domains, billing, or support areas of the panel. The purpose of each of those is pretty self-explanatory.
Overall, while A2 Hosting's approach towards server administration is focused on making all the tools available. However, at the same time, they don't worry as much about how beginner-friendly those tools are.
The assumption is probably that beginner users won't need to do much in this dashboard anyway and will instead focus on working inside their WordPress dashboards, which is understandable.
That being said, all the options are there, they're just not always that easy to identify or find.
Performance and load times 🏎️
As I mentioned a couple of paragraphs above in this A2 Hosting review, this host lets you pick your data center location during sign up. Generally, the closer that location is to your target audience, the better the performance where it matters.
For our tests, we picked a server, installed an example WordPress site on our setup and added some demo content and images to it. We also installed a couple of plugins for good measure.
Then, we tested the site three times from a handful of locations around the globe. What you see below are the average load times that we got:
| Location | Loading Time | TTFB | First Paint | Interactive |
| --- | --- | --- | --- | --- |
| Ohio | 1.35 s | 736 ms | 1.52 s | 1.58 s |
| California | 1.42 s | 822 ms | 1.40 s | 1.44 s |
| Canada | 1.21 s | 704 ms | 1.51 s | 1.44 s |
| Frankfurt | 1.77 s | 907 ms | 1.88 s | 1.78 s |
| Paris | 1.66 s | 997 ms | 1.81 s | 1.66 s |
| Seoul | 2.42 s | 1175 ms | 2.43 s | 2.48 s |
| Sydney | 2.33 s | 1189 ms | 2.28 s | 2.23 s |
As you can see, these results are very good, and should be more than enough to service not only websites that are just getting started but some more established ones as well.
A2 Hosting also offers 99.9% uptime guarantee.
Customer support 🚑
A2 Hosting stands out in terms of the customer support options that they have. While most budget hosting companies tend to only offer live chat and ticket support, A2 Hosting does that, plus they're also ready to hear you out over the phone.
Additionally, they have a whole support section for site migrations (which are free), and the support team is available 24/7. A2 Hosting also brags about hiring only a knowledgeable "guru crew" that knows WordPress and other website platforms that A2 Hosting integrates with.
The way getting support works with A2 Hosting is that every customer gets their unique support PIN which they can provide during a call/chat.

Lastly, there's also a knowledge base and a separate portal displaying A2 Hosting system status that informs you of what's going on with the A2 Hosting platform in general.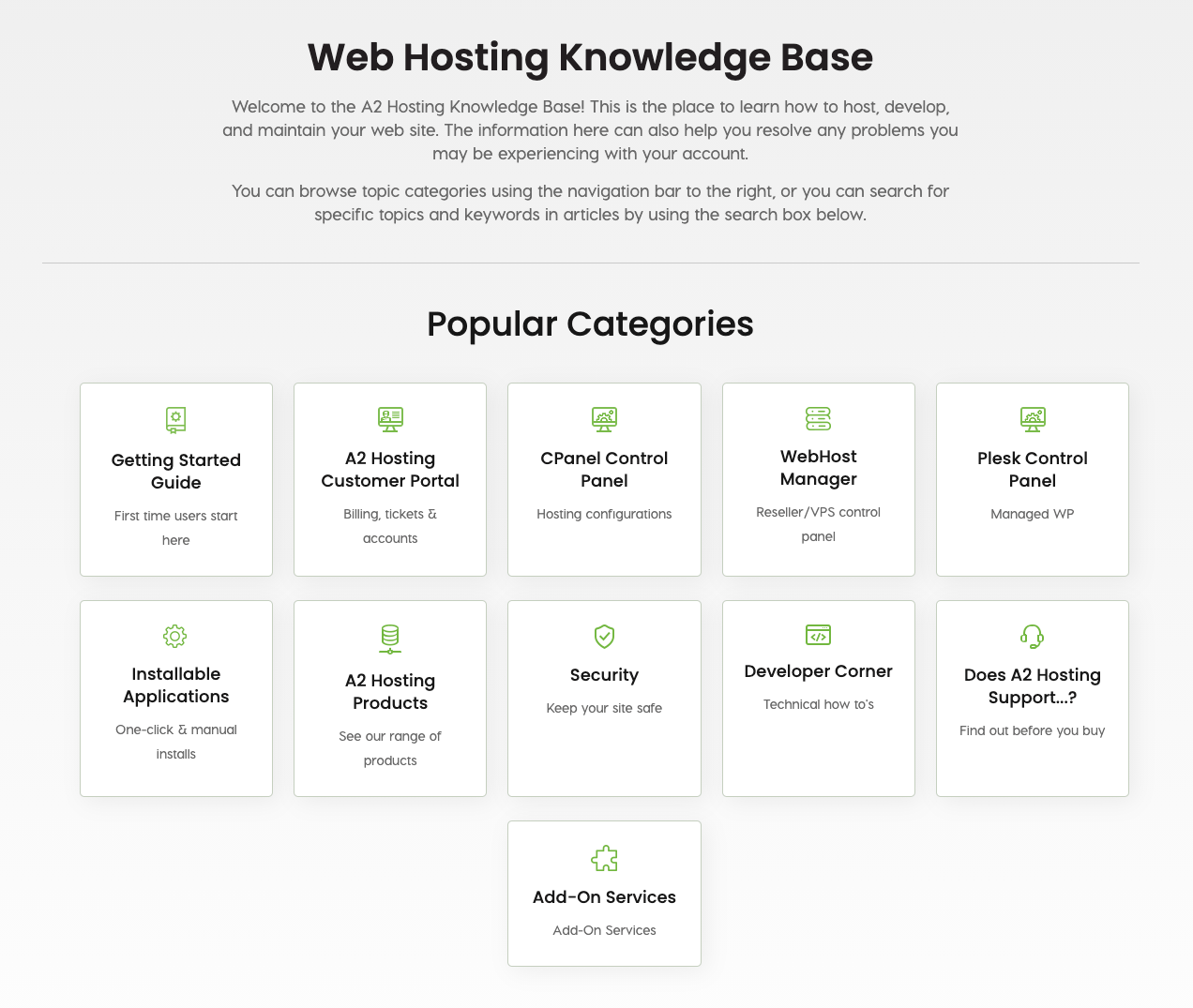 Overall, A2 Hosting is ready to help you out no matter the issue you might have. If you're just wondering how to do this or that with your setup, you can check out the knowledge base. If your issue is more serious, you can fire up the live chat or even give A2 Hosting a call.
Pros and cons of A2 Hosting 👍👎
Here are the main pros and cons that we've identified in this A2 Hosting review:
Pros
Great prices for the value you're getting.
Hosting unlimited sites on a single setup is still very affordable.
Free email hosting included, with unlimited inboxes.
Pre-installed WordPress and other website scripts.
Free site migrations.
24/7 customer support, not only via live chat but phone as well.
Cons
There's no option to get a domain name included for free, even on the more expensive hosting plans.
The advertised low price of $2.99 is only available if you decide to sign up for three years upfront, which is a ~$110 investment.
A2 Hosting review conclusion: is it any good? 💪
The short answer is yes. The main conclusion we've reached in this A2 Hosting review is that they are a quality web hosting platform that's not only affordable, but can also handle every size of website or traffic.
The wide range of hosting types on offer make it possible to keep working with A2 Hosting as your business grows and your needs change. Starting from cheap entry-level shared hosting, all the way to VPS, A2 Hosting has something for your needs.
⚠️ Don't forget to use our exclusive A2 Hosting Coupon to get up to 51% OFF.
What do you think of A2 Hosting? Are you convinced by their low price and wide range of hosting offerings? Let us know in the comments section below.