Kinsta is a recognizable brand in the WordPress hosting space. The main thing that sets them apart is that they only offer WordPress hosting setups. This means that you cannot run any other website script on their servers.
This WordPress-only nature comes with its pros and cons, which we'll discuss in this Kinsta hosting review. In the following sections, we'll go over the server parameters of Kinsta hosting, list the features you get and for what price, and, at the end, we'll tell you who should use Kinsta hosting and when.
Kinsta hosting review: What is Kinsta? 🤔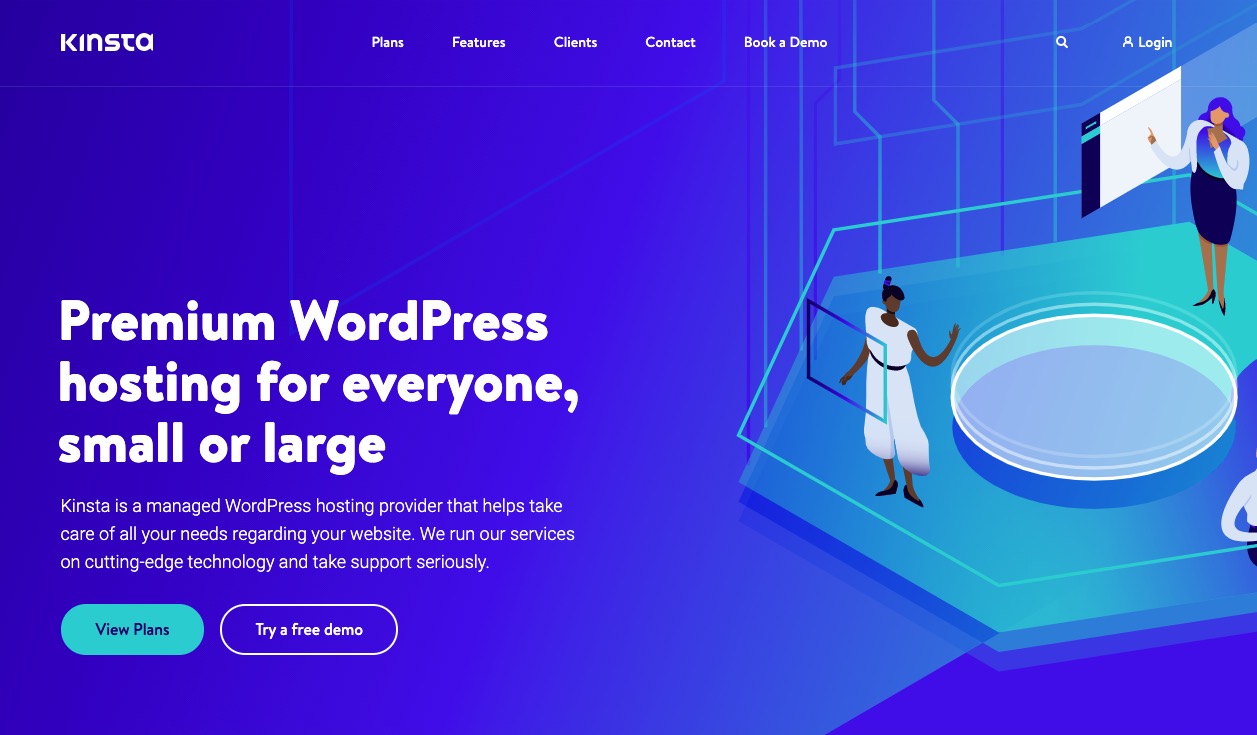 Established in 2013, Kinsta is what most people call a managed WordPress host.
A couple of things to unpack about this:
"WordPress host" means exactly what we mentioned briefly in the intro – Kinsta only accepts WordPress websites on their servers. Therefore, you cannot run any additional standalone scripts on your server (scripts that would run outside of WordPress).
"Managed" means that the hosting company itself handles everything that's usually involved in managing/maintaining a server. This means that you don't have to, sort of, get your hands dirty and, instead, can focus on creating content for your site and marketing it.
That being said, the term "managed" is often overused by many a hosting company. It's not like there's any legislation regarding what can and cannot be called a managed hosting setup, so companies tend to get rather liberal with the term and slap it onto anything. Not Kinsta though!
In the following sections of our Kinsta hosting review, we'll go over all the features and traits that make Kinsta a true "managed WordPress" setup.
Features and pricing ⚙️💵
Let's start this Kinsta hosting review by discussing the pricing, since this is probably what you want to know most of all.
Right out the gate, we have to be honest and admit that Kinsta hosting is not the cheapest way out there to host a WordPress website. But it does come with its perks!
Here's the current pricing: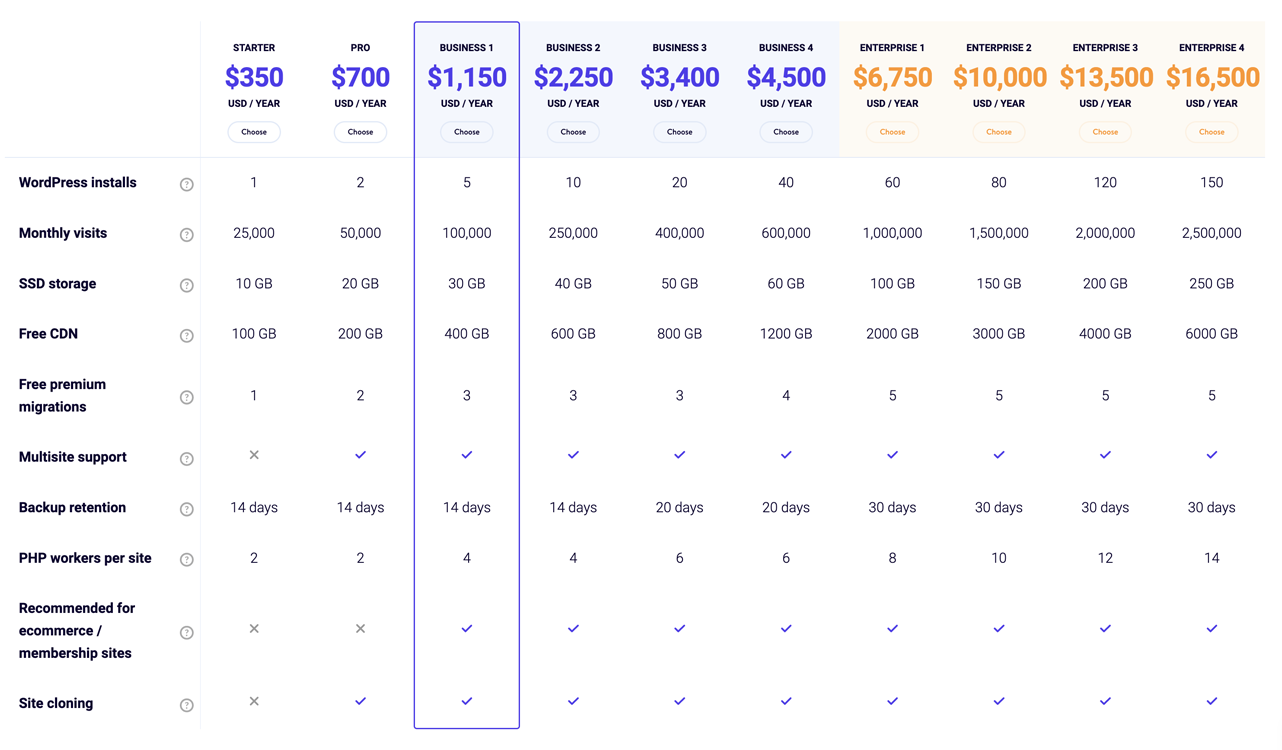 What you see here are Kinsta's prices when paid annually. If you want to pay month to month, the prices rise by 20%.
First off, Kinsta's pricing plans are very clear and don't complicate the choice for users more than necessary.
Basically, Kinsta has decided not to limit any specific server features from one pricing tier to another but rather put a cap on the easily measurable parameters, like allowed websites, allowed traffic, and disk space.
Some of Kinsta's competition in the hosting industry tends to exclude certain features (like automatic backups) or customer support options based on the pricing plan. This is an understandable marketing tactic, but it makes picking the right plan difficult for the user. Not with Kinsta. The only thing you have to think about with them is how many websites you want to run on your account.
Kinsta is also one of the very few hosting companies in the entire industry that doesn't increase their prices on renewal.
Just to give you an example. SiteGround – a popular budget WordPress host – offers their plans at an attractive entry-level price of $4.99/mo. However, when the initial contract period is up, the price rises to $14.99/mo. This is unavoidable. If you want to continue hosting your site with SiteGround, you will have to pay those higher prices.
Overall, Kinsta's entire pricing model is very refreshing in how clear and surprise-free it is, albeit not that budget-friendly for new websites.
There's one surprise when it comes to Kinsta's server infrastructure, though.
In fact, Kinsta doesn't run their own server machines. Instead, they rent out server space from Google Cloud and put their own software on top of it to make it optimized to handle WordPress sites.
As a result, you also get to choose from 25+ data center locations for each of your WordPress installs. Google being Google, those data centers are literally all over the world, so you will easily find a location that's near your target market.
Now, let's look at the features you get for the price.
For starters, Kinsta seems to realize that most users who choose a $25+ hosting setup usually move from another host. The story is simple, really; people get annoyed with some shortcomings of their current host so they decide to switch to a more optimized one.
This is where Kinsta hosting comes into play with their website migration services. First, each hosting plan gets a set number of premium website migrations included in the price. It's 1-5 depending on your tier.
As part of this premium migration, Kinsta will ask you to fill out a form in your dashboard, and then Kinsta engineers will migrate the website for you – making sure that everything is safe and that your site gets transferred with no downtime.
Then, you also get unlimited basic migrations – on all plans. Those basic migrations will still be enough to handle standard WordPress websites. However, some restrictions apply.
Here's what else you get:
Automatic self-healing technology. WordPress runs on PHP, and PHP sometimes experiences some glitches. Kinsta monitors the status of their servers every minute and applies fixes when needed.
Hack and malware removal. As awesome as WordPress is, it's also one of the most commonly attacked website platforms of them all. If your site is ever compromised when hosted at Kinsta, they will fix it for free.
Automatic daily backups with 14-30 day backup retention. Additionally, optional hourly backups are also available. And, most importantly of all, you can restore from any backup with a single click.
Automatic database optimization. This is not its finest trait, but WordPress is known for having a tendency to clutter the database after a while. Kinsta fine-tunes the database automatically every week.
WordPress Multisite support on all plans except the cheapest one.
Multi-user environment. This is a great feature if there are more people than just you taking care of the site. You can create additional user accounts for your team and give them access rights to specific areas of the setup.
Staging area. A staging area (or staging site) is a carbon copy of your main website. You can use that copy for testing new features or plugins before rolling them out to the main version of the website. This lets you identify any potential problems early. You can create staging sites with a couple of clicks and then roll them out to live just as easily.
Free SSL certificates, SSH access, and PHP 8 support.
Free CDN hookup included. A Content Delivery Network is the no.1 hack to make your website faster. The bandwidth depends on your pricing plan.
Integrated caching. Kinsta has their own caching plugin that's built to fit their servers. This means that you no longer have to experiment with third-party caching plugins searching for the top-performing one.
These features are pretty impressive, and, looking at them, it becomes clear why Kinsta charges the prices they do. If you're a power user and you will be taking advantage of staging sites, multi-user workflows, or you need compatibility with the latest versions of PHP, then Kinsta might be the ideal WordPress host for you.
How easy to use is Kinsta? 👐
Something we found out rather quickly when working on this Kinsta hosting review was that getting started with Kinsta is more than straightforward.
After you're done with a standard signup procedure – which involves providing your info and paying for the service – you will be able to access the main Kinsta dashboard. At first sight, nothing much is going on there, but with time, you'll see some interesting stats and parameters about your website. For starters, let's focus on how to get WordPress installed on your new server.
Kinsta tries to make the process as uncomplicated as possible. When you go to Sites (from the main sidebar) and click on Add site, you'll see three options to choose from:

In most cases, you'll want to go with the first one – Install WordPress.
The good thing here is that Kinsta requires only the basic site details from you and doesn't force you to think about some server-level things that really aren't a concern for 95% of users.
All you need is to provide your new site name, choose your data center location, enter the title of your new site, login and password. Kinsta will also suggest a couple of plugins that many users will want to install anyway (for example, WooCommerce and Yoast SEO).
As soon as you submit the form, Kinsta will set up the site for you.
When that's done, you'll be able to see your new site in the Kinsta dashboard.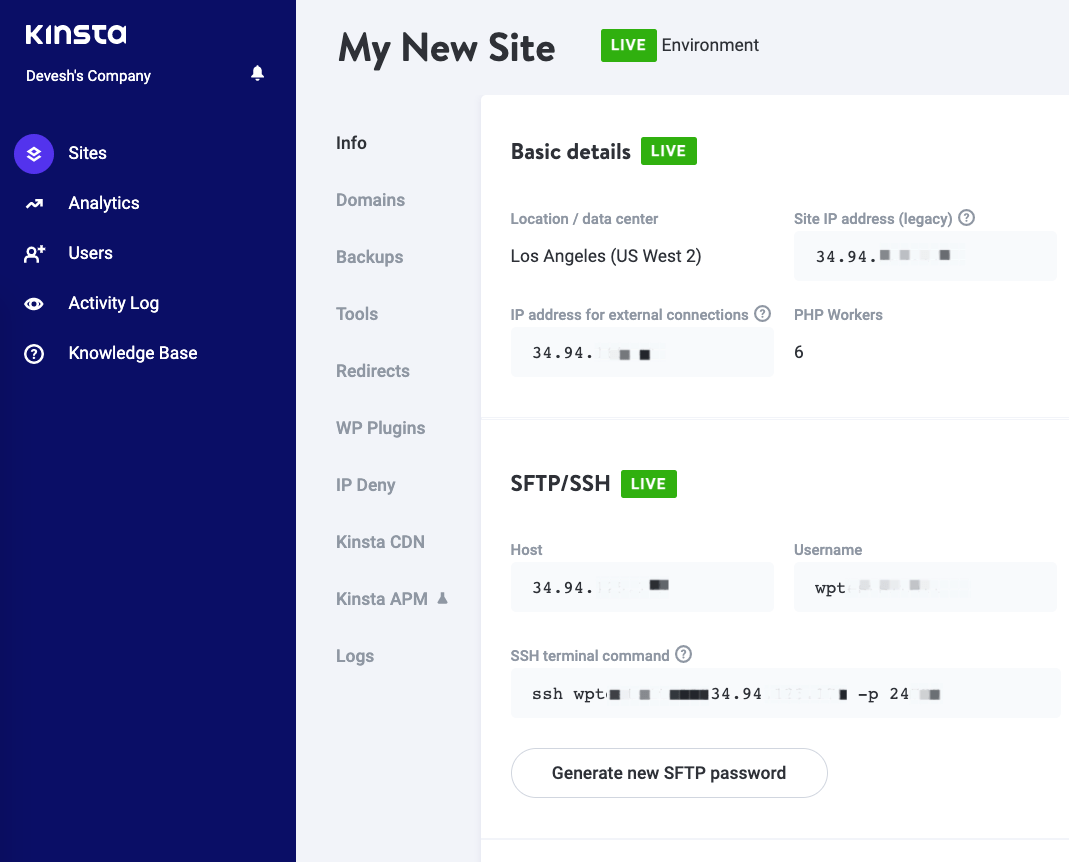 If you're a power user, you'll benefit from the details you can see here. If you're not, you don't have to worry about this screen at all.
Each of the sections in the sidebar directly beneath the site name is where you can take care of some standard maintenance tasks (if you choose so). For instance, in the Backups section, you can find all your automatically created backups, and you can also restore any of them with one click.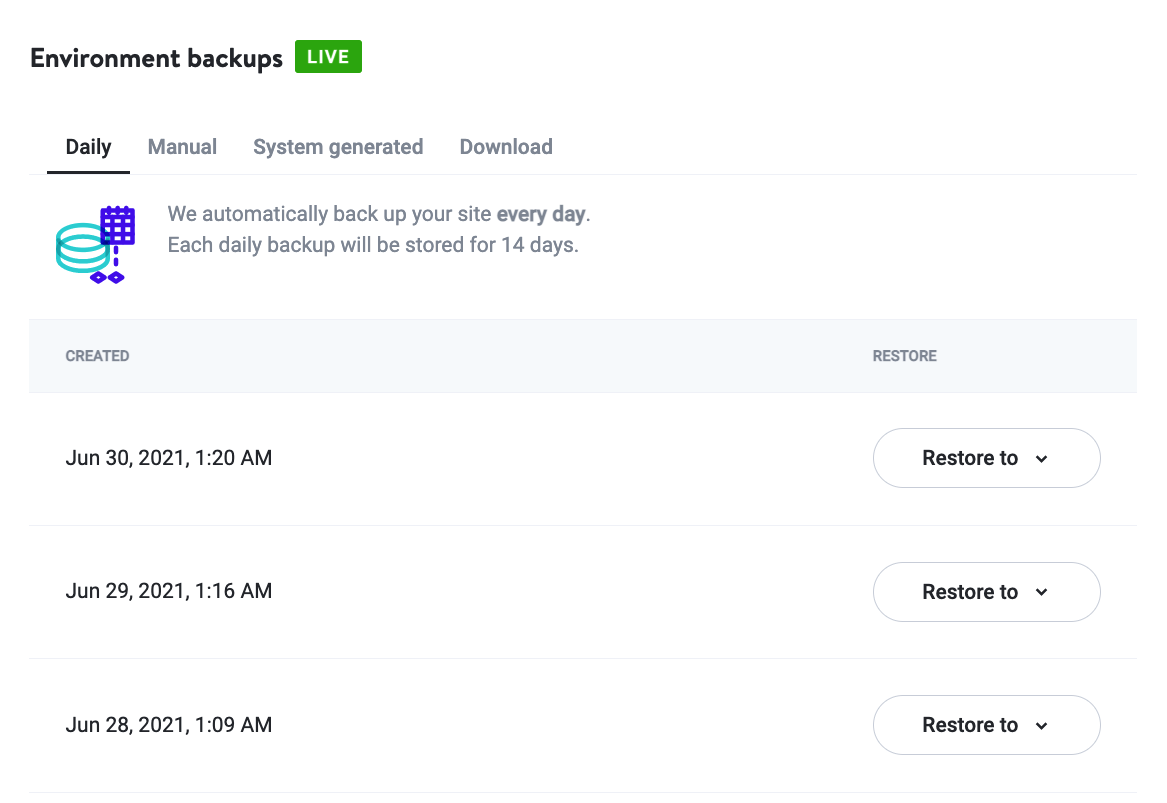 In Tools, you can check the status of your server software and restart some elements of it if needed.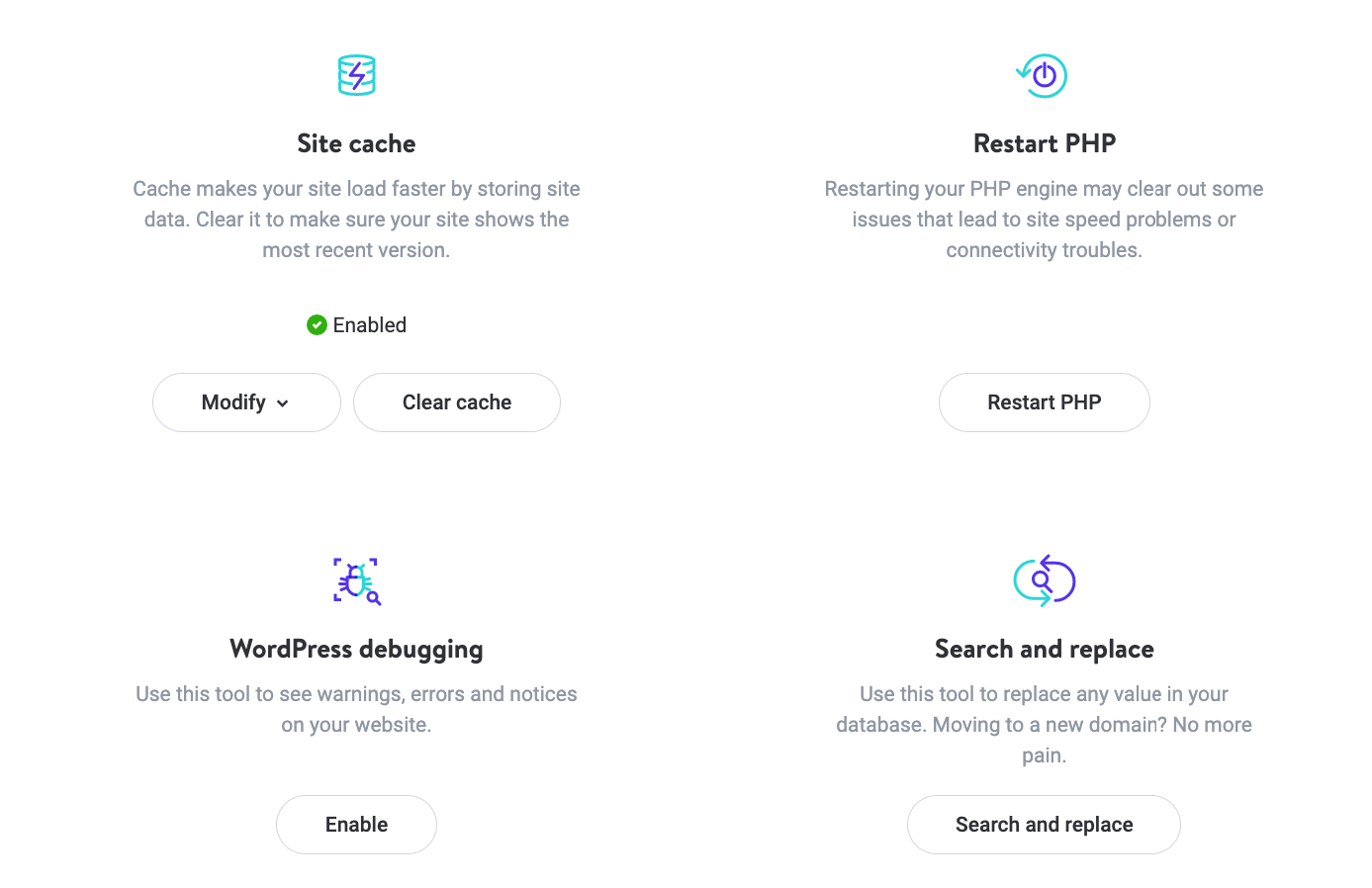 In Kinsta CDN, you can enable the CDN hookup for your site and make all your media load faster.
We're not going to go over each individual section of the dashboard in this Kinsta hosting review, but it's becoming clear that Kinsta puts focus on making sure that the power user is well catered to. At the same time, if you're a beginner, you don't actually have to trouble yourself with understanding what all these sections are for. You can just go to your normal WordPress dashboard instead and work from there.
After a while, the homepage of your Kinsta dashboard will become more populated with interesting stats and website metrics.
From within the main sidebar, you can also request premium site migrations, create staging sites, or check Kinsta's advanced stats.
Overall, even though Kinsta aims to make their dashboard useful to power WordPress users, they're also not overwhelming you with traditional server configuration interfaces. They give you the exact set of features that a power user might need, but not more. This is a good thing since it's the right balance between power and ease of use.
Kinsta performance and load times 🏎️
This might be the most interesting part of this Kinsta hosting review. So how fast Kinsta really is?
We did some performance testing to find out. Here's what happened:
we bought Kinsta's entry-level hosting plan,
we chose "Los Angeles (US West 2)" as our data center location,
we set up a demo site with example content and images,
we added a couple of popular plugins to the mix to resemble an average WordPress website.
Next, we ran three separate loading speed tests from multiple locations around the globe. Here are the results:
| Location | Loading Time | TTFB | First Paint | Interactive |
| --- | --- | --- | --- | --- |
| N. Virginia | 0.76 s | 394 ms | 0.92 s | 0.92 s |
| California | 0.28 s | 156 ms | 0.59 s | 0.59 s |
| Canada | 0.85 s | 429 ms | 1.00 s | 1.00 s |
| Frankfurt | 1.50 s | 723 ms | 1.49 s | 1.49 s |
| Paris | 1.45 s | 694 ms | 1.49 s | 1.49 s |
| Mumbai | 2.34 s | 1093 ms | 2.16 s | 2.16 s |
| Sydney | 1.44 s | 696 ms | 1.47 s | 1.47 s |
As you can see, these results are very satisfactory. Unsurprisingly – since our server is in Los Angeles – we got the fastest loading times from California. But even the loading times from far away places, like Mumbai, are not half bad. Overall, you can expect good performance when running your WordPress website in Kinsta.
Kinsta customer support 🚑
Kinsta offers 24/7 support on all hosting plans, no matter your tier. You can get assistance from your Kinsta dashboard directly by starting a support chat.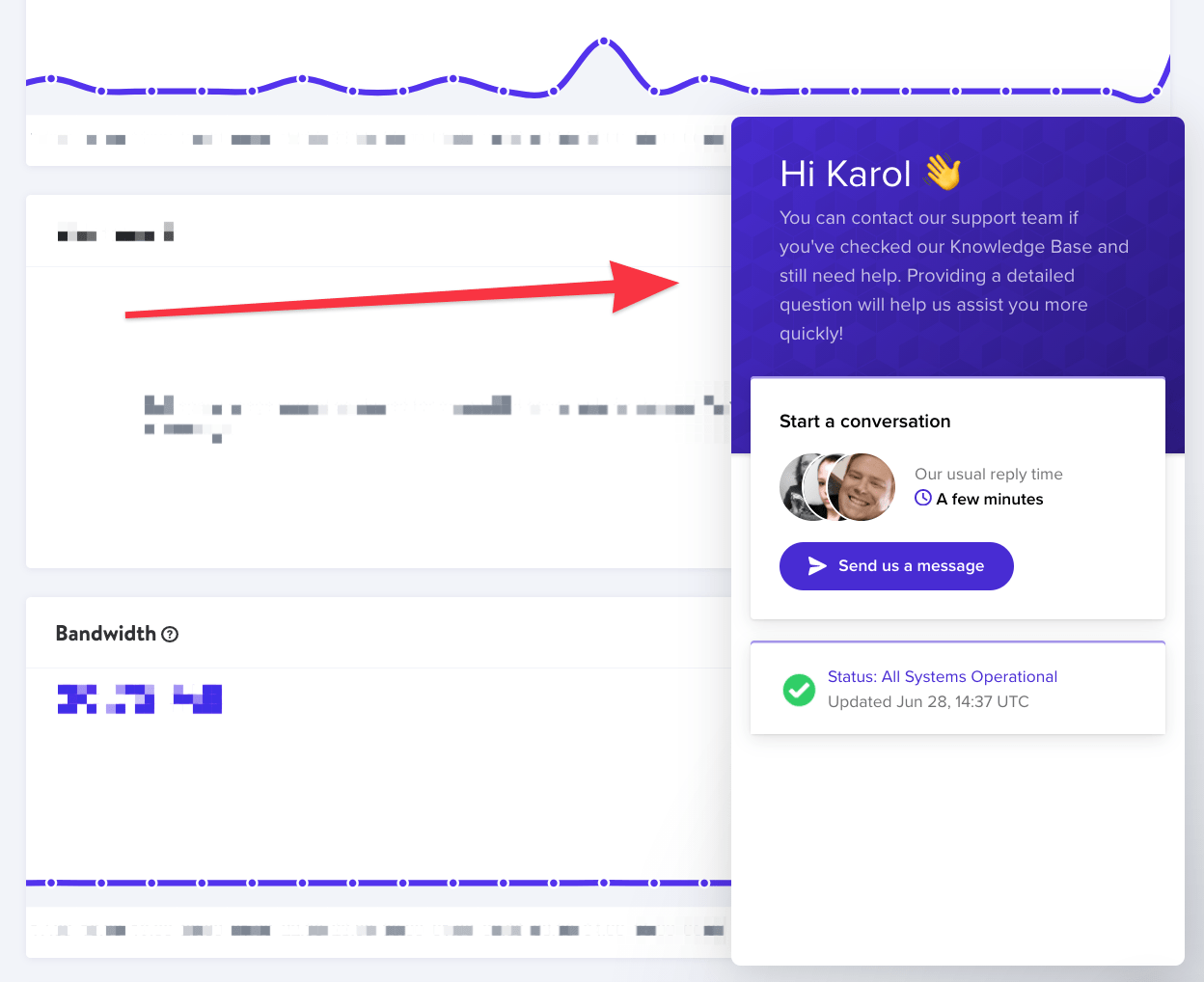 What's even more impressive is that Kinsta offers support in a couple of languages – not just English. You can see the availability time slots on their main support page:

That's not the end of it either. Kinsta also has an extensive knowledge base, a whole catalog of WordPress tutorials and resources, plus their proactive site monitoring helps you avoid problems in the first place.
What's particularly valuable to users is that Kinsta is quick to respond to your initial support requests. They boast about their current response time being exactly 1min 27sec.
Pros and cons of Kinsta 👍👎
There's a lot to enjoy about Kinsta, that's for sure!
First off, they really are there for you if you ever experience any issues with your site. And as we said earlier, customer support is available in a couple of languages.
Then, Kinsta offers really good performance and great server optimization for WordPress websites. It's also easy to keep your site up-to-date on Kinsta and make sure that there are no issues with your themes or plugins.
Kinsta is nicely scalable in terms of potential server load as well as letting you work with staging sites. Not to mention that their infrastructure runs on Google Cloud, which lets you pick from 25+ data center locations around the globe.
That said, Kinsta also has its slight downsides. Those mostly come down to the fact that Kinsta is a WordPress-only host:
Chiefly, the main downside is that you can't host anything else on your Kinsta server other than WordPress sites.
There's no email hosting either. This means that if you want to have a custom email address under your website's domain name, you're going to have to host it elsewhere – and pay for it separately.
Some of Kinta's competitors, such as WP Engine, also offer extra WordPress themes and other bonuses included for roughly the same price.
Lastly, speaking of the price, that $25/mo per site is also not the cheapest WordPress hosting solution out there.
Kinsta hosting review conclusion – who should use it? 💪
In the end, you get what you pay for with Kinsta. It's a great, optimized WordPress host that will handle anything you might throw at it. After all, they're backed by Google Cloud.
Getting started with Kinsta is also very easy, and the included premium migrations mean that you don't have to worry about the technical aspects, even when you're moving your site from a different host.
⭐⭐⭐ Overall, Kinsta is a great solution for a WordPress website on the rise that wants to guarantee good performance and a hiccup-free scaling. The fact that Kinsta support is known in the industry for quality service is an extra benefit that can come in handy as well.
What do you think of Kinsta hosting for WordPress? Have you tried their Google-powered servers yet?