Kinsta is a performance-oriented managed WordPress host that's powered by Google Cloud Platform, which is the same hardware running Google's own products (maybe you've heard of Google?).
In the past, Kinsta was almost exclusively a premium host, with prices starting at $100. That all changed in late 2017.
Beginning in November 2017, Kinsta completely relaunched with an all-new pricing plan that starts at just $30 per month, which is still the starting price today when we're updating this review in October 2020.
In my Kinsta review, I'll run some performance tests and give you a hands-on tour of some of the best parts of the "Kinsta experience", highlighting six areas that I think make Kinsta stand out (beyond its performance).
In general, Kinsta consistently impresses me with its performance and it's one of my favorite WordPress hosts. But let's not jump the gun – here's why I think that:
Kinsta Performance Tests: My Test Site Loaded In Under 1 Second
How quickly your website loads is a massive part of how successful your website is. Page load times affect everything from your Google ranking to how much people enjoy browsing your site and are willing to buy stuff from you.
So if your chosen host doesn't set you up with a quick-loading WordPress website, none of the other bells and whistles make a difference.
That's why I want to start off my Kinsta review by running a few performance tests.
To see how quickly Kinsta loads, I've set up a test site that:
Is using the Elementor page builder
Has a homepage using the Elementor Canvas blank layout and an Elementor landing page template.
Other than installing Elementor, I didn't make any changes to my test site. Its page size is 1.0 MB and it has 43 requests.
First, I ran it through a Pingdom test, where it loaded in just 946 ms:

Then, I put it through GTmetrix, where it loaded in a similarly impressive 0.9 seconds:

So, as far as one-off tests go – Kinsta consistently loads in under 1 second, which is pretty dang fast. But what about a situation where your site is receiving actual traffic?
That is, will your site load just as quickly for the fiftieth visitor as it does for the first visitor?
To see if that's the case, I ran my test site through a Load Impact test with 50 concurrent visitors. Here's how it fared:
What does that chart mean?
The blue line indicates the number of "active visitors". It increases from 0 all the way up to 50.
The green line indicates how quickly the site loaded for each visitor. It hovered around 510 ms.
Essentially, this chart shows that the load times always stayed around 510 ms, no matter how many visitors were active on the site. That's a good thing and indicates that your site will perform well even when your site is getting real traffic.
All in all, Kinsta has maintained its high-quality performance, despite dropping its prices.
Here's The Technology That Makes Kinsta's Performance So Good
In case you're interested in why Kinsta sites load faster than cheap shared hosting, here's some of the technology that powers Kinsta:
PHP 7.4+ support
Nginx web server (no Apache here!)
Google Cloud Platform infrastructure, including the high-performance Compute-Optimized (C2) VMs
MariaDB
HTTP/2
LXD containers
Automatic MySQL Database optimization every week
Included premium DNS from Amazon Route 53 (or, you can use your own DNS)
6 Other Things That I Like About Kinsta (Beyond Performance)
Beyond Kinsta's quick page load times, here 6 other things that I like about Kinsta hosting…and that I think you'll like too.
1. The Kinsta Dashboard Is Awesome And User Friendly
Kinsta's dashboard was always easy to use. But the recent redesign just made things even better.
Say goodbye to cPanel for good, because here's what Kinsta's custom dashboard looks like: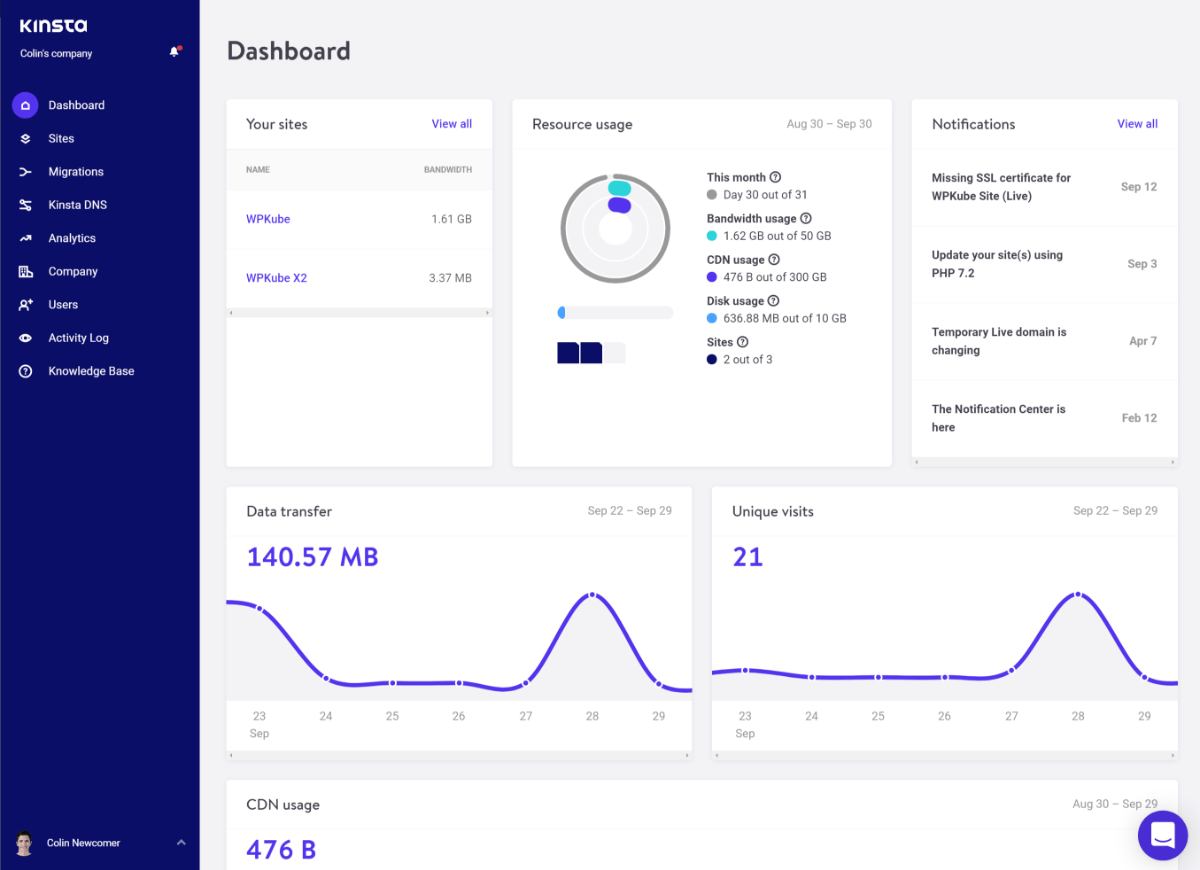 All the sidebar tabs are interesting, but the area that you'll probably work in most is the Sites tab.
Here, you can view all of your sites, as well as basic usage and traffic stats:
And if click on each individual site, you'll be able to manage:
SFTP/SSH details
Database access
Backups (more on these in a second)
Caching
HTTPS (which you get for free)
New Relic Monitoring
Your PHP Engine
Plugins
CDN
Server logs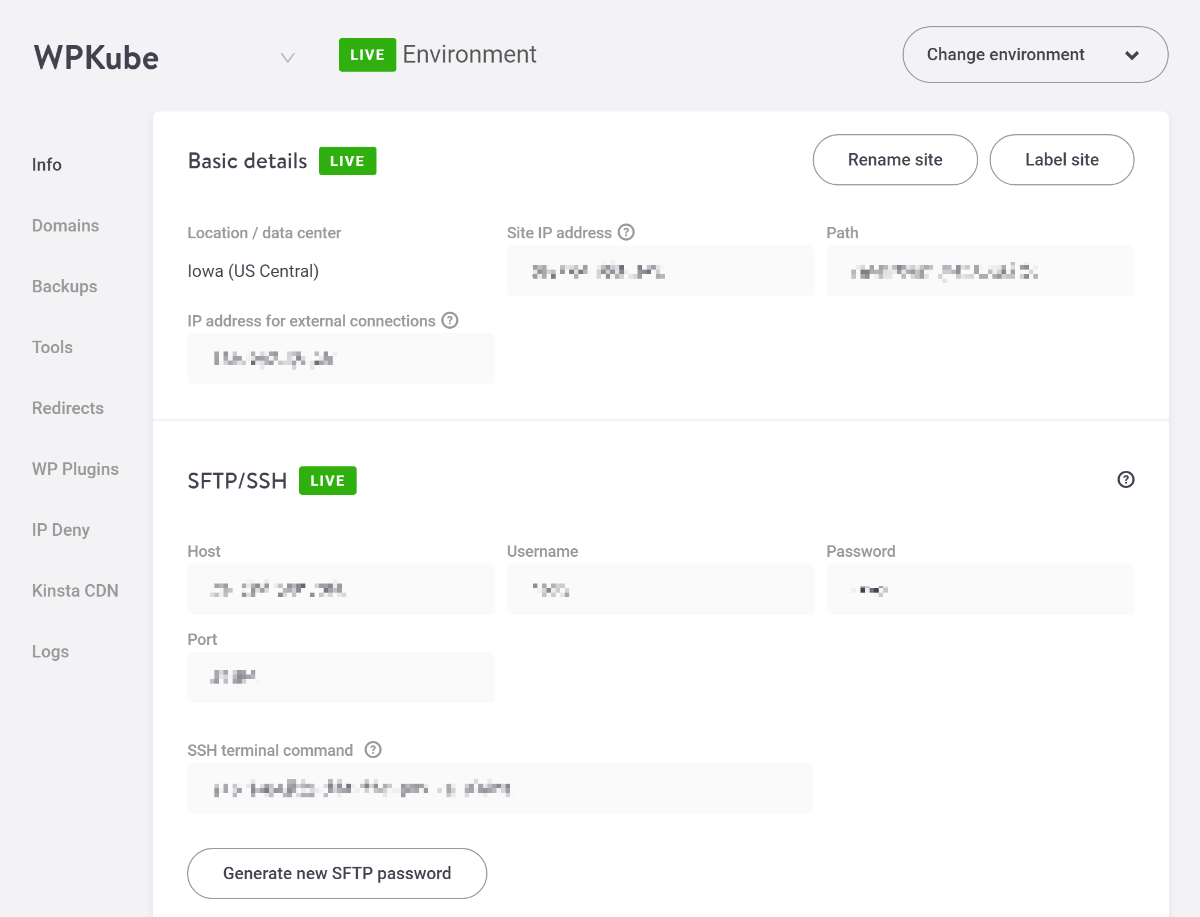 If you want to experience the custom MyKinsta dashboard for yourself, Kinsta offer a full-featured demo that you can try without needing to purchase hosting. Click the button below to go to the demo:
Try the MyKinsta Dashboard Demo
2. Support Is Available Everywhere Through Intercom
In the first screenshot above, you might've noticed that Intercom icon floating around in the bottom right corner.
This is how you get support with Kinsta, which I love.
Why is Intercom better than regular live chat support? Because Intercom isn't tied to a specific window. That is, you can navigate through the dashboard without affecting your chat. Or, you can even completely close the window and your chat history will be preserved for the next time you access your dashboard.
For example, you can see that I can still quickly access my support chat from four weeks ago: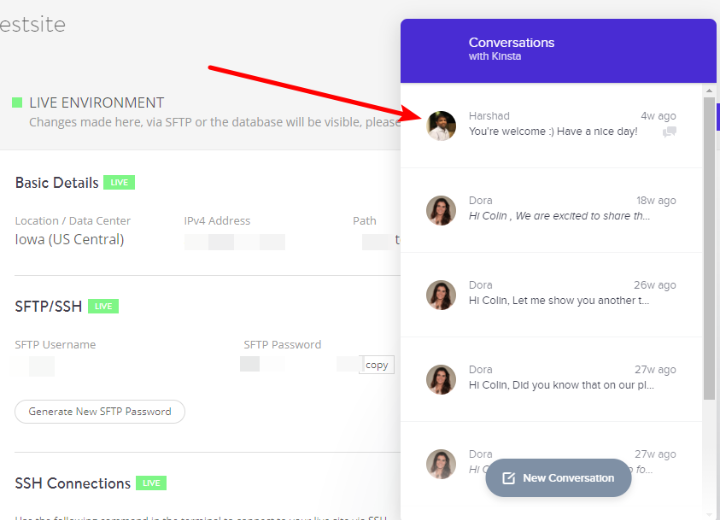 It's a small thing, but much more convenient.
And in case you're wondering – Kinsta responds pretty dang fast. Even though I'm in Vietnam (super weird time zone!), I still got a quick response to my query.
Just be aware – Kinsta purposefully does not offer phone support. You can read their reasoning here. That's not a negative to me as I prefer live chat anyway – but it is something that you should be aware of.
3. Easy-to-Use Staging Sites
Staging sites allow you to create a clone of your live site that you can safely make changes to. Then, when you're happy with the changes, you can click a button to push those changes to your live site.
Basically, they're pretty awesome and ensure you don't accidentally mess up the live version of your site when you're tweaking things.
Kinsta makes staging stupid simple. Whenever you're managing a site, you can quickly switch between the Live and Staging environments by using a drop-down: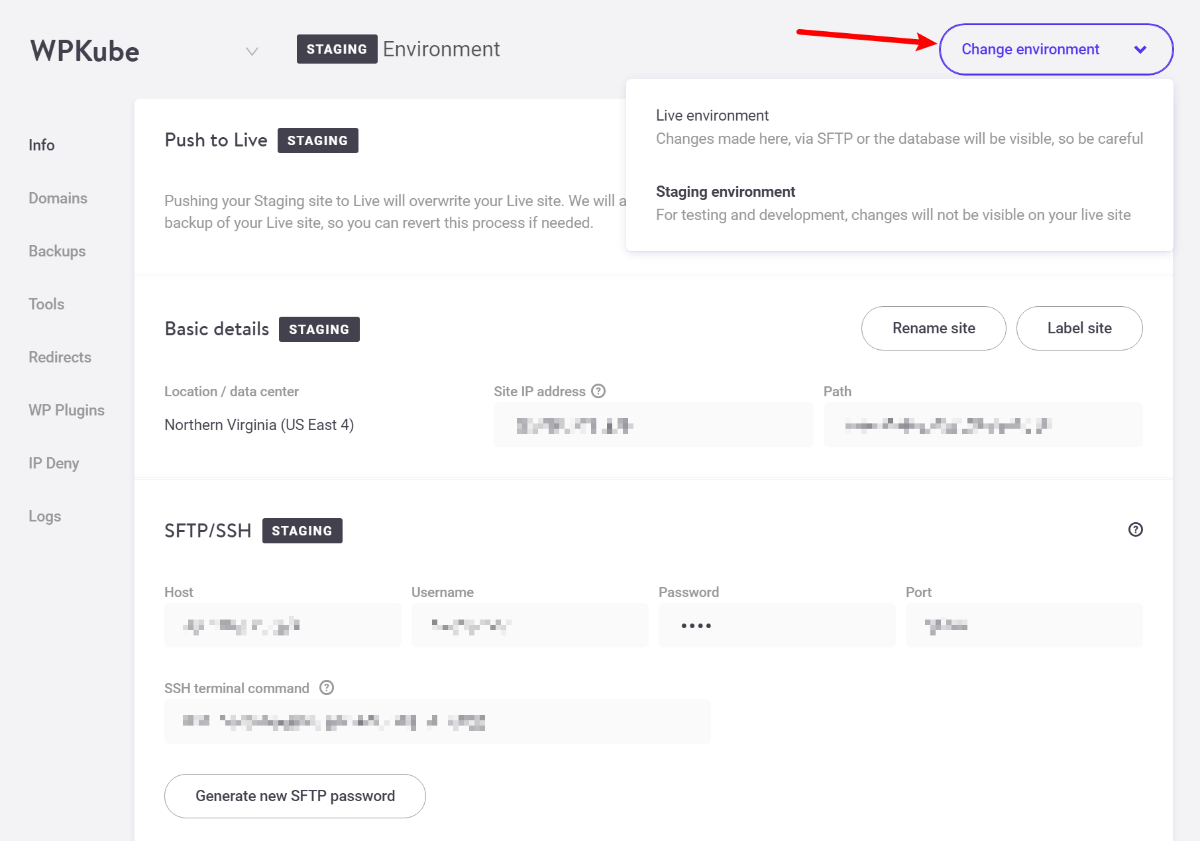 Once you switch to staging, you can manage all of your staging site's details and push it live with a single click: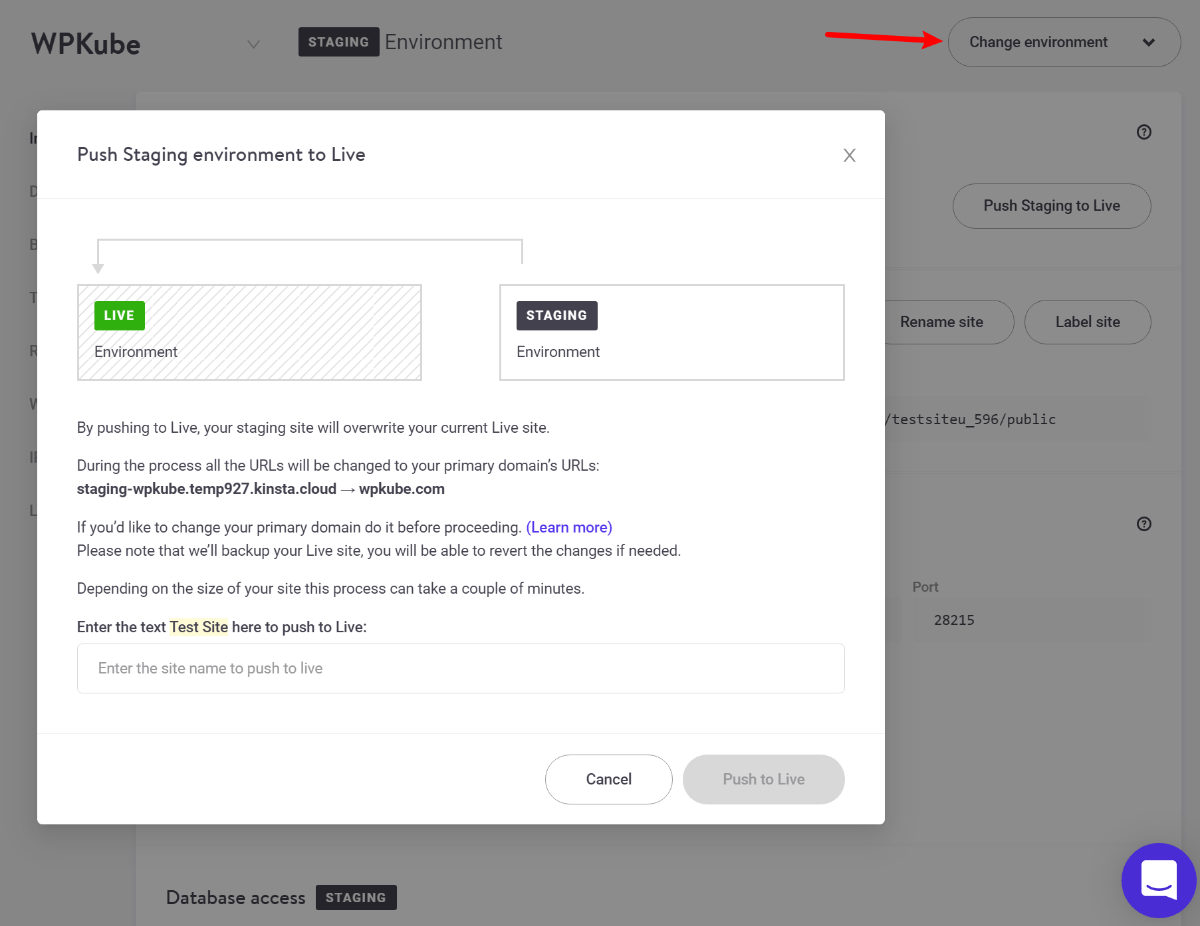 Keep in mind that your staging site will completely overwrite both the files and database of your live site. Kinsta doesn't offer a feature to merge databases or only copy files like some other managed hosts allow.
However, Kinsta automatically creates a backup whenever you push your staging site live, which makes it easy to revert back to the old version in case you accidentally overwrite something important.
Speaking of backups…
4. Automatic Backups + Easy Restores
Kinsta automatically backs up your site every single day and stores 14 consecutive backups for you (or 20 if you're on the higher-tier plans). You can also run a manual backup at any time.
And here's what I really like – Kinsta gives you two options:
Restore (to live site)
Restore To Staging
That way, you can easily test out a backup before replacing the live version of your site: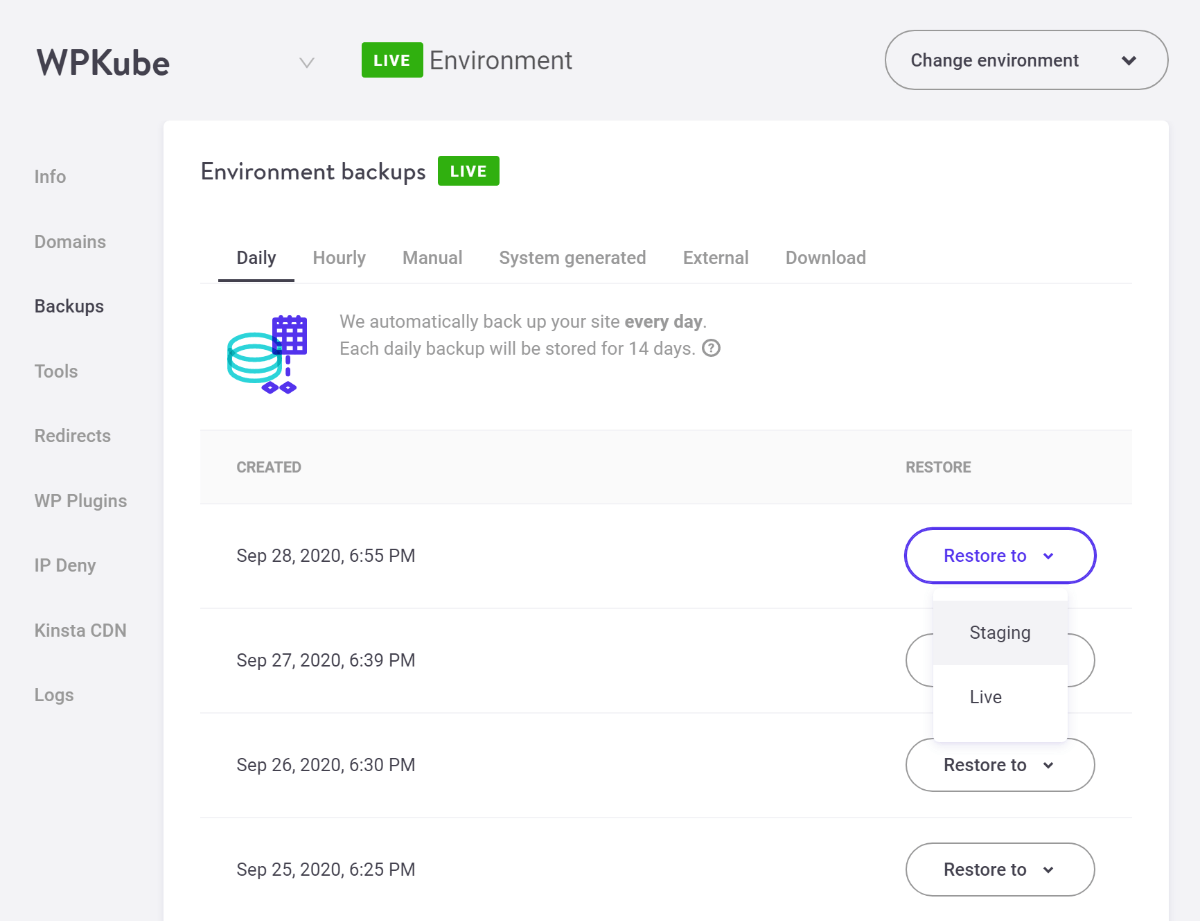 Kinsta also offers some optional paid add-ons that you can use to enhance the backup system.
First off, if you want to increase the backup frequency to more often than once per day, you can increase it to every 6 hours for $50/month/site or you can even increase it to every hour for $100/month/site.
Second, Kinsta also offers another add-on that lets you send backups to offsite storage on either Amazon S3 or Google Cloud Storage. While Kinsta's automatic backups are already separate from your hosting account (to eliminate a single point of failure), the benefit of this new external backup feature is that the backups go to your own S3 or Google Cloud account.
These external backups cost $2/month/site + $1 per GB of bandwidth.
5. Excellent Security Features Plus A Hack Guarantee
If you want to keep your WordPress site secure, it helps to take a proactive approach. Kinsta does this for you with a number of security-conscious features. These include:
Hardware firewalls
Malware scanning
DDoS protection
24/7 uptime monitoring – uptime checks every 60 seconds
Free Let's Encrypt SSL certificate
Additionally, if, by some chance, something does happen to your site, Kinsta offers a Hack guarantee. If your website is ever hacked, Kinsta will fix it for you and restore your site back to working condition.
Of course, there's more to WordPress security than just your site itself – there's also your hosting account. If someone gets access to your hosting account, it doesn't matter how secure your WordPress site is because they basically have the keys to the front door.
To prevent that from happening, Kinsta gives you a lot of useful tools. First, you can use two-factor authentication for your Kinsta hosting account, which can lock things down.
However, that only handles your own account – what if you need to give other people access, like a freelancer?
First off, when you give other people access, you can either give them access to all of your sites or just a specific site. Beyond that, you can also limit what permissions they have. For example, you could give someone access to the staging version of your site but not the live version: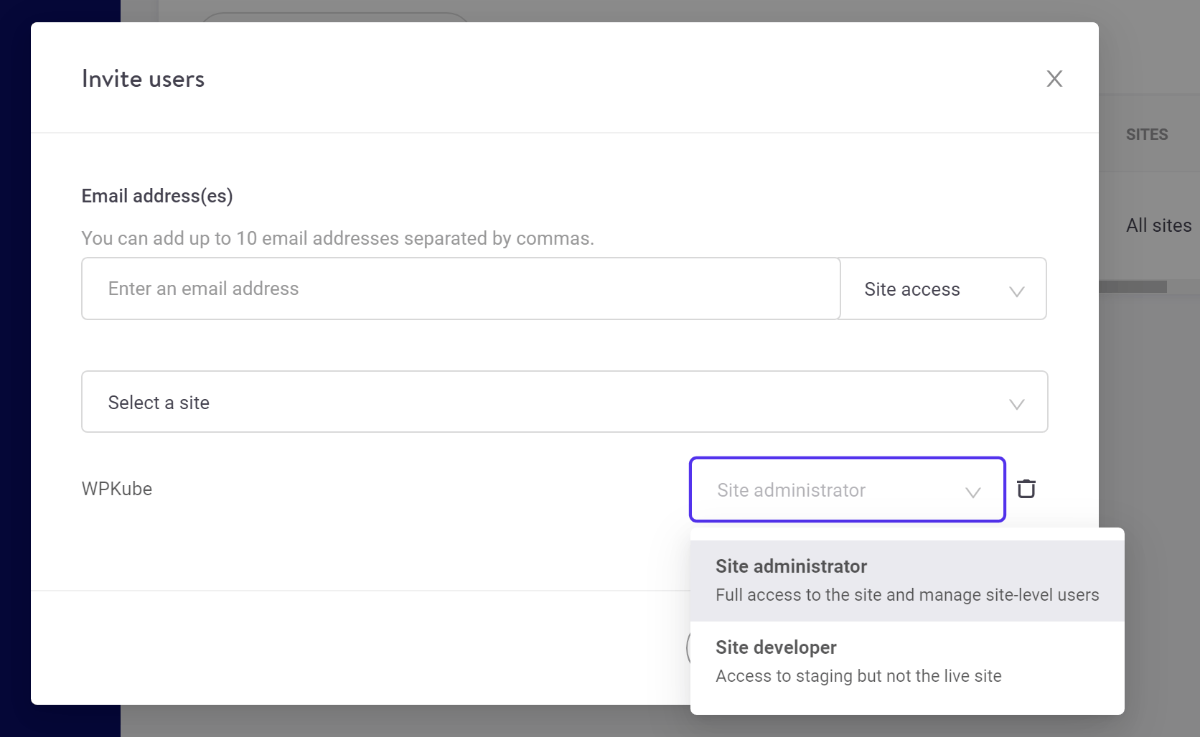 Second, there's also an activity log that lets you see every action that you or other users have taken inside the MyKinsta dashboard.
6. 24 Global Data Centers
When you host a website, you want to host it on the physical server that's closest to your target audience in order to offer them the best page load times possible.
Kinsta makes that easy for you by offering a whopping 24 different data centers on 5 different continents. Those locations are:
Council Bluffs, Iowa, USA (us-central1)
St. Ghislain, Belgium (europe-west1)
Changhua County, Taiwan (asia-east1)
Sydney, Australia (australia-southeast1)
The Dalles, Oregon, USA (us-west1)
Salt Lake City, USA (us-west3)
Ashburn, Virginia, USA (us-east4)
Moncks Corner, South Carolina, USA (us-east1)
São Paulo, Brazil (southamerica-east1)
London, UK (europe-west2)
Frankfurt, Germany (europe-west3)
Jurong West, Singapore (asia-southeast1)
Tokyo, Japan (asia-northeast1)
Mumbai, India (asia-south1)
Montréal, Canada (northamerica-northeast1)
Eemshaven, Netherlands (europe-west4)
Hamina, Finland (europe-north1)
Los Angeles, California (us-west2)
Hong Kong (asia-east2)
Zürich, Switzerland (europe-west6)
Osaka, Japan (asia-northeast2)
Seoul, South Korea (asia-northeast3)
Las Vegas, Nevada, USA (us-west4)
Jakarta, Indonesia (asia-southeast2)
Having such a large selection makes it easy to host your site near your visitors, no matter where they're located.
How Much Does Kinsta Hosting Cost?
As of October 2020, here are Kinsta's pricing plans: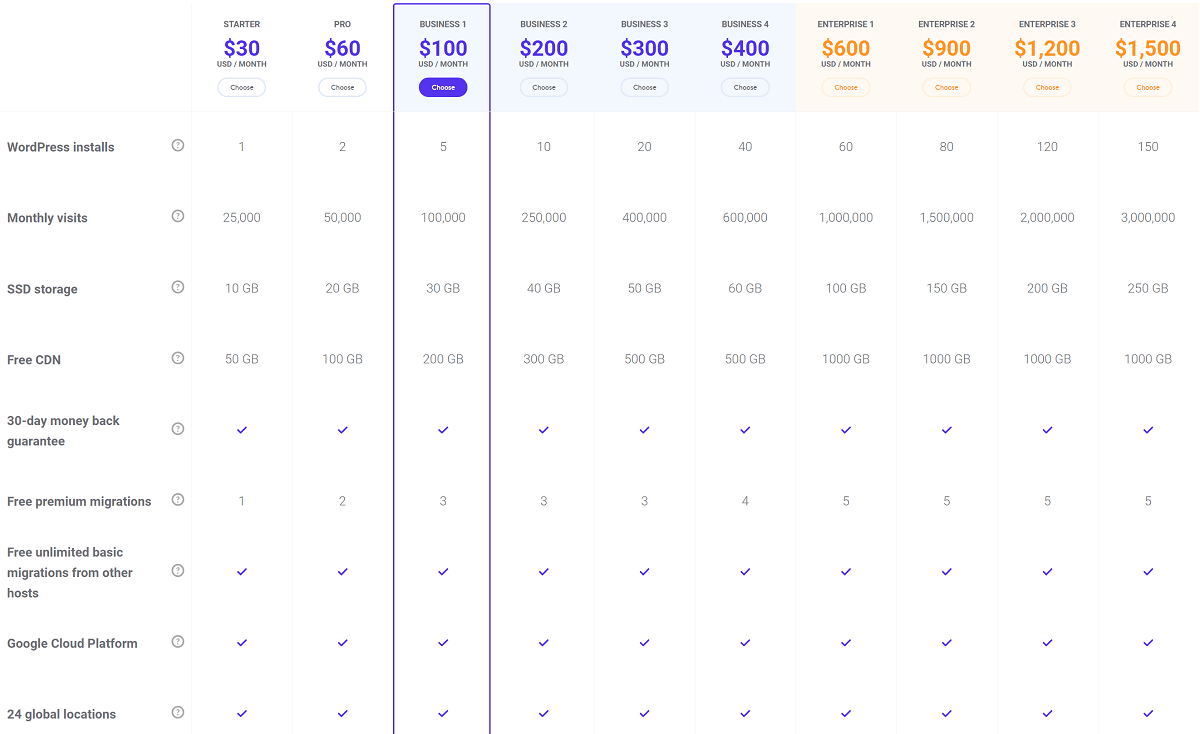 Kinsta is priced competitively with other hosts such as WP Engine and Flywheel. In fact, Kinsta's entry-level plan has an identical price and resources to those other two hosts.
Once nice thing about Kinsta, though, is that they offer a lot of plans – 10 different plans in fact. This makes it easy to scale up your plan as your site grows because you don't have to make huge jumps. At other hosts that only offer 3-4 plans, it can be hard to find the right plan for your needs. Kinsta fixes that by offering something for everyone.
There are two other things you might need to pay for.
First off, there are overage fees. If you exceed your plan's limits, Kinsta won't shut off your site, but you will be charged overage fees. Here's what they are:
Visitors: $1 per 1,000 visitors over your plan limit. For example, if your plan supports 25,000 visitors and your site gets 30,000 visitors in a month, you'll pay $5 in overage fees.
Storage: $2 per GB
CDN Bandwidth: $0.10 per GB (this only applies if you're using the built-in CDN)
Second, there are also optional add-ons that you can purchase to extend your plan. We already covered two add-ons that give you more flexibility for your backups. The other add-ons are:
Elasticsearch – $100 per month per site.
Redis – $100 per month per site.
Nginx reverse proxy (to load WordPress from a subdomain while a separate site loads at the root) – $50 per month per site.
Increase storage by 20 GB – $20 per month per account.
Kinsta Review: Is It Right For Your WordPress Site?
Because of its price, I don't think Kinsta is necessarily the best host for beginners. That is, if you're launching your first website, you can probably save some money by using a host like SiteGround (read our SiteGround review here).
But if your site has started to gain some traction and you're looking for improved performance, as well as improved management when it comes to things like staging and backups, that's when I think Kinsta is a great option.
As I highlighted before, page load times can affect everything from your conversion rates to your SEO rankings, so speeding up your site can literally improve your bottom line (which means Kinsta might even pay for itself).
With prices from just $30, Kinsta is competitive with other managed WordPress hosts and Kinsta's performance, support, and features are top-notch.
So, if you're looking to make the jump from cheap shared WordPress hosting to performance-oriented managed WordPress hosting, Kinsta is definitely one of the best options for your site(s):