No matter what niche you are in, one thing you need to focus most on is building an engaging email list. This will not only help you get more targeted traffic, but it will also help you build trust with your audience.
If you want to run a successful business online, building an email list is the way to go.
Email list is the key. An engaging email list of subscribers can easily out-perform the results from social media sites like Facebook or Twitter.
The easiest way to go about this is to make it super easy for your readers to subscribe to your email list. This means adding opt-in forms in key locations of your website including your sidebar and the area below your content.
There is a good number of free and premium plugins available in the market, that makes it easy to add opt-in forms on your WordPress powered website.
In this post, I will share some of the best list building plugins that can help you get more email subscribers.
What Are the Best WordPress List Building Plugins?
Top WordPress Subscription Plugins For Building a Powerful Email List in 2023
1. Thrive Leads
Thrive Leads is a powerful lead generation tool from Thrive Themes, the developer behind a number of conversion-focused WordPress plugins.
It helps you create a variety of different opt-in forms including (in part):
Lightbox popups
Welcome mats
Notification bars
Slide-ins
You can also skip the popups and create regular inline forms that you display anywhere on your site.
You can quickly get started using pre-made templates or build your own designs from scratch. Either way, you'll get to use a visual, drag-and-drop builder. The builder is basically like a stripped-down version of the developer's Thrive Architect page builder plugin, which gives you pixel-perfect control over your designs.
You'll get a solid list of targeting rules, including page-level targeting. You can also use different triggers such as exit intent. However, it lacks some advanced targeting rules, like referrer targeting.
Once you publish a form, you'll get built-in analytics to monitor it. You can also quickly spin up new A/B tests to optimize your form. One really neat feature here is that you can go beyond just testing content changes and also test different targeting rules or even completely different types of forms. For example, you could see if a notification bar performs better than a popup.
Another unique feature in Thrive Leads is SmartLinks, which lets you hide the opt-in form for people who already subscribed to your list (or, you can display a different offer instead).
Finally, Thrive Leads works with most popular email marketing services, as well as a few webinar services (which is a nice addition).
👉 Read our full Thrive Leads review
Price: Thrive Leads costs $90/quarter as part of the Thrive Suite membership. You also get access to every Thrive tool including Thrive Architect, Thrive Ovation, Thrive Optimize, Thrive Comments, and much more. Learn more in our full Thrive Themes review.
2. Convert Pro
In terms of features, Convert Pro is kind of like a native WordPress version of OptinMonster. That's not to say it's just a "me too" plugin – it's more a compliment to the depth of targeting rules that Convert Pro lets you use for your forms.
You'll be able to target your opt-ins by different conditions including:
Content on your site
Device
Referrer
New vs returning visitors
Logged-in WordPress users
Speaking of opt-in forms, Convert Pro lets you create lots of different types of offers including lightbox popups, notification bars, welcome mats, inline forms, and more.
To design your forms, you'll get a visual drag-and-drop builder as well as some great-looking templates that you can use as a starting point.
Once you publish a popup, you can analyze its effectiveness through Convert Pro's built-in Google Analytics integration. While it requires Google Analytics to function, Convert Pro imports the data into your WordPress dashboard for easy access. You can also quickly spin up A/B tests as needed to experiment.
Price: $79 for use on unlimited websites
3. ConvertBox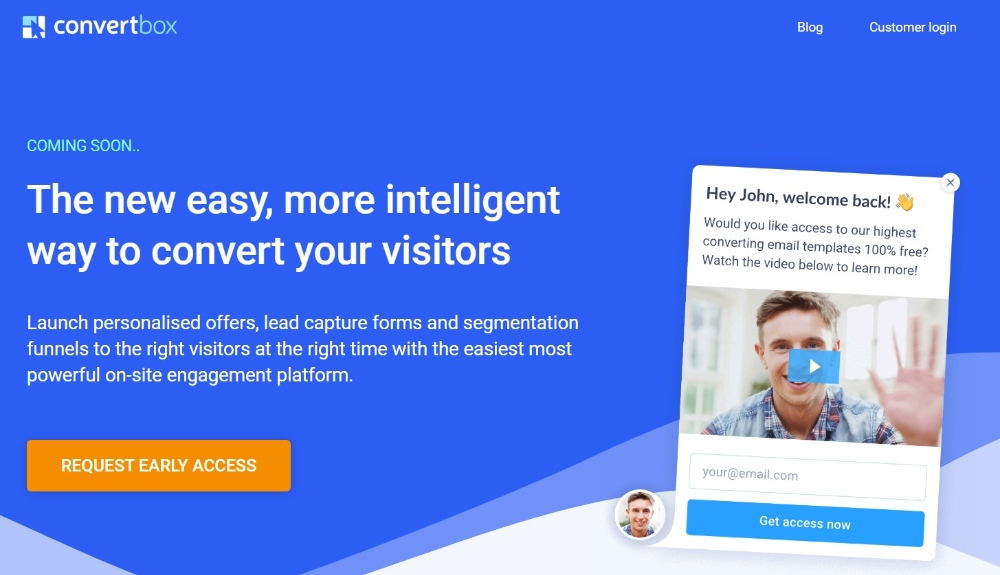 ConvertBox is a really unique approach to list building that kicks popups to the side and replaces them with an intelligent "conversion box" (hence the name!).
You get a few different placements for your box:
Callout (kind of like a slide-in)
Notification bar
Modal popup
Full-page filler
The key differentiator is that your boxes are intelligent.
For example, you can create a sort of "chatbot-like" experience to funnel visitors into personalized offers. You can also start with personalization from the beginning by using their site activity or tapping into your CRM/WordPress users (if they're already registered).
In addition to collecting email addresses, you can also use ConvertBox to show promotional videos, schedule meetings/appointments, chat via various live chat services, and more. You can even display different actions based on segmentation information.
Finally, to help you find what works best, you can use A/B testing and view basic analytics.
All in all, a really interesting tool that offers some twists on the "standard" popup approach that a lot of lead generation plugins use.
Price: $395 lifetime offer for 500,000 impressions & 50 websites.
4. Bloom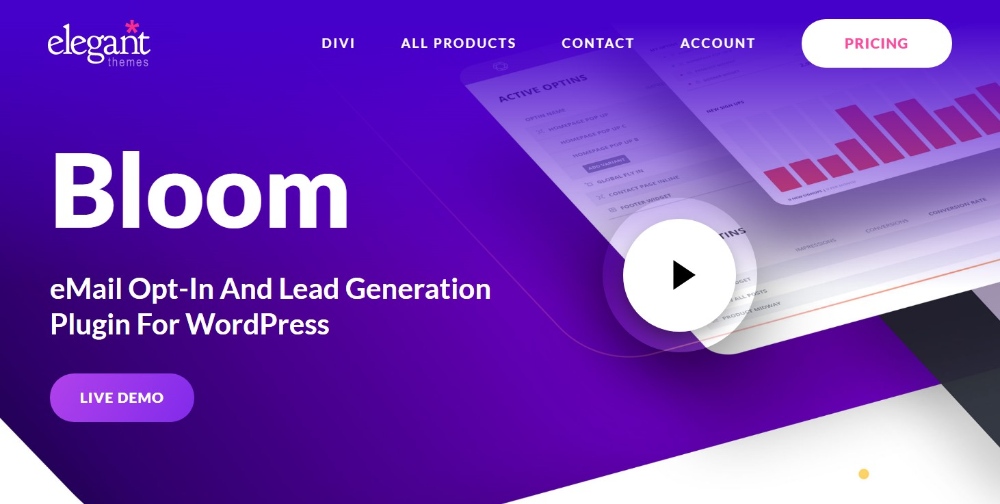 Bloom is a simple list building plugin from Elegant Themes, the same developer behind the massively popular Divi theme/plugin.
You can choose from six different types of forms including:
Popups
Slide-ins
Inline forms
Content lockers
You can start from 100+ pre-made templates and then customize your chosen template's content and colors to match your site using a simple editor.
However, one of the drawbacks of Bloom is that there's no drag-and-drop builder. While you can edit the content and colors of the templates, you won't be able to fully adjust every element like you could with the previous three plugins.
To trigger your popups, you'll get a variety of rules including some unique options to let you trigger a popup after a user leaves a comment or makes a purchase (though there's no exit-intent trigger).
You'll also get all the basic targeting rules, including page-level targeting.
Finally, Bloom integrates with 19+ email marketing services, including all the popular options, and includes built-in analytics and A/B testing.
Overall, if you don't need the flexibility of a drag-and-drop builder or advanced targeting rules like referrer targeting, this is an excellent option. It's also great value if you're interested in some of Elegant Themes' other themes/plugins (like Divi).
Price: Available as part of the $89 Elegant Themes membership, which also gets you access to all of the developer's themes/plugins (including the Divi theme). You can learn more about these other benefits in our full Elegant Themes review and our Divi review.
5. WP Subscribe Pro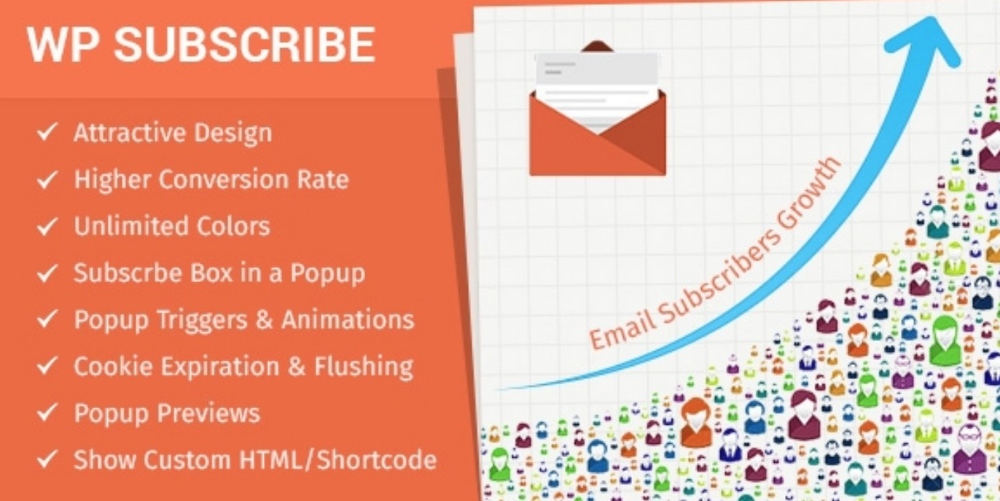 WP Subscribe Pro is another simple WordPress list building plugin that uses the same basic approach as Bloom. That is, you'll get pre-built templates that you can quickly customize with your own colors/content. However, you don't get a drag-and-drop builder that lets you fully customize every element.
Still, if all you want is to be able to quickly create some good-looking opt-in forms, WP Subscribe Pro definitely delivers on that front.
It integrates with most popular email marketing services and includes triggers such as exit-intent, as well as page-level targeting to control where your popup forms appear.
Overall, WP Subscribe Pro is definitely not the most feature-rich list building plugin, but it's quite affordable and easy to use, which will tick the box for webmasters who are looking for those criteria.
Price: WP Subscribe Pro starts at $19 for use on a single site (there's also a limited free version at WordPress.org that you can use to try the plugin).
6. Optin Forms

The free Optin Forms plugin skips the aggressive popups that you'll see in a lot of other email list building tools. Instead, it helps you easily create great-looking inline forms that you display above or below your content.
You can also manually place an opt-in form in the middle of your content or anywhere else on your site via a shortcode.
Optin Forms works with all the popular autoresponder services including Mailchimp, AWeber, GetResponse, and more.
It comes with five good-looking templates that you can customize to make them your own (though there's no drag-and-drop builder). It also comes with a live preview option that makes it easy to customize your forms.
All in all, if you're just looking for a simple and free plugin to place opt-in forms in your content, this one is a great option.
👉 Read our full Optin Forms review
Price: Free (no upsells either)
7. Leadpages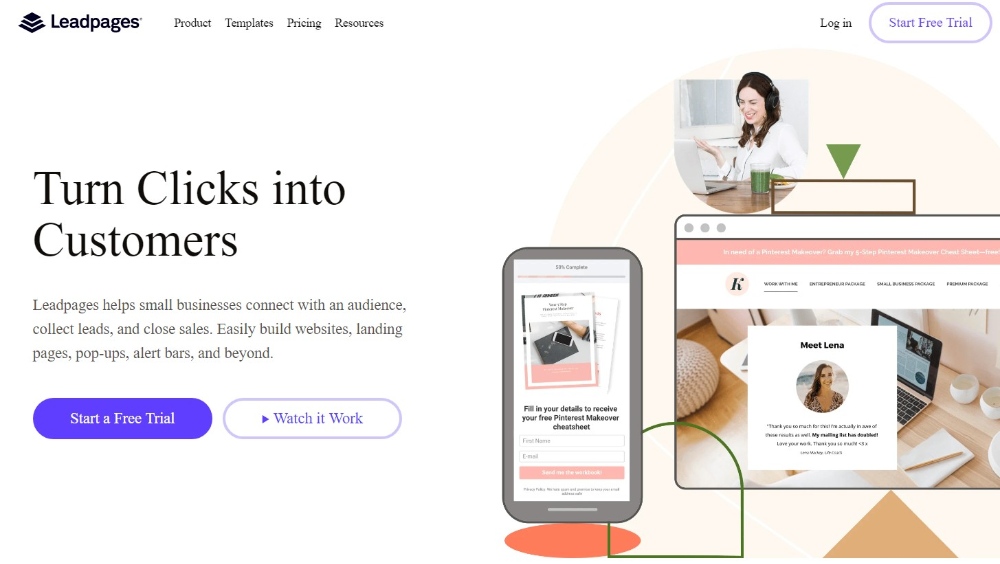 Leadpages is a lot more than just a list building plugin. It's a landing page builder, website builder, and popup builder all wrapped into one tool.
For list building on a WordPress site, you'll probably be most interested in the features that let you create popups and notification bars.
You'll be able to use Leadpages' excellent visual drag-and-drop builder to design your opt-ins. Then, you can easily publish them to your WordPress site via an integration plugin, including plenty of options for targeting and trigger rules.
Another useful way to build your lists would be to use Leadpages to design squeeze landing pages to convert people into subscribers. With the integration plugin, you can also easily publish these landing pages to your WordPress sites.
Leadpages includes tons of pre-built templates as well as the lengthiest list of integrations of any plugin in this post. For example, in addition to all the big-name email marketing services, you can also connect to webinar services, CRMs, and more.
Other useful features include:
Built-in analytics
A/B testing
Countdown timers
Full landing page builder (including payment integrations)
One-click signup links. E.g. automatically sign up email subscribers for a webinar
Price: Leadpages starts at $37 per month for access to the popups, notification bars, and landing pages. You can also save if you opt for annual billing.
8. OptinMonster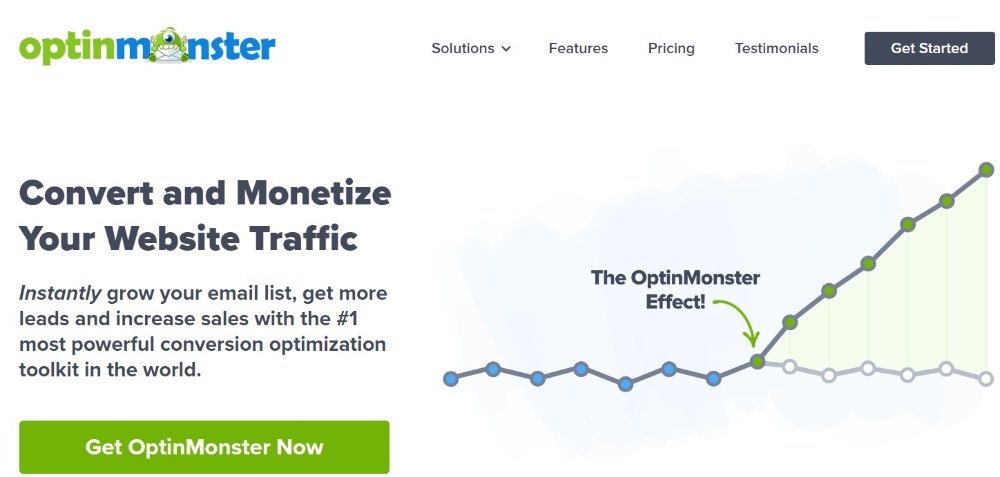 OptinMonster is a list building tool that primarily focuses on helping you create different types of popup offers, such as lightbox popups, welcome mats, notification bars, and more.
OptinMonster is not technically a list building plugin – it's now a standalone SaaS tool (though it started as a plugin). Still, the developers offer a dedicated WordPress integration plugin that makes it super easy to display your opt-in forms on your site.
You can create your opt-in forms using pre-made templates and a visual drag-and-drop builder that lets you fully customize every part of your form.
One of the areas where OptinMonster really excels is when it comes to targeting and triggering rules. The depth of the options really lets you dig in and personalize your opt-ins, which can help you boost your conversion rates. Of course, it'll take a little more time to optimize these rules – but they're definitely worth investing in. Some of the rules that you get are:
Content on your site
Referring websites
Device
Whether a visitor has viewed a certain page
New vs returning visitors
Location (geotargeting)
…plus a lot more
OptinMonster also includes eCommerce-specific targeting rules, which is great if you're running a WooCommerce store. For example, you can display different offers based on the item(s) in a shopper's cart or the total value of their order.
You also get flexible trigger rules, including the popular exit intent trigger that connects with people just as they're about to leave.
The plugin is fully compatible with all the leading email marketing services including GetResponse (which is what we use here at WPKube), Mailchimp, Aweber, among others. It's also fully responsive, which means users won't feel annoyed when viewing your site on a smartphone or tablet.
Finally, once you publish your offer, OptinMonster includes its own built-in analytics as well as a Google Analytics integration that lets you view all your conversion data inside your Google Analytics reports. You can also easily spin up A/B tests to optimize your offers.
👉 Read our full OptinMonster review
Price: OptinMonster starts at $108 per year, though you'll need higher-tier plans to get features like A/B testing and exit intent triggers.
9. Ninja Popups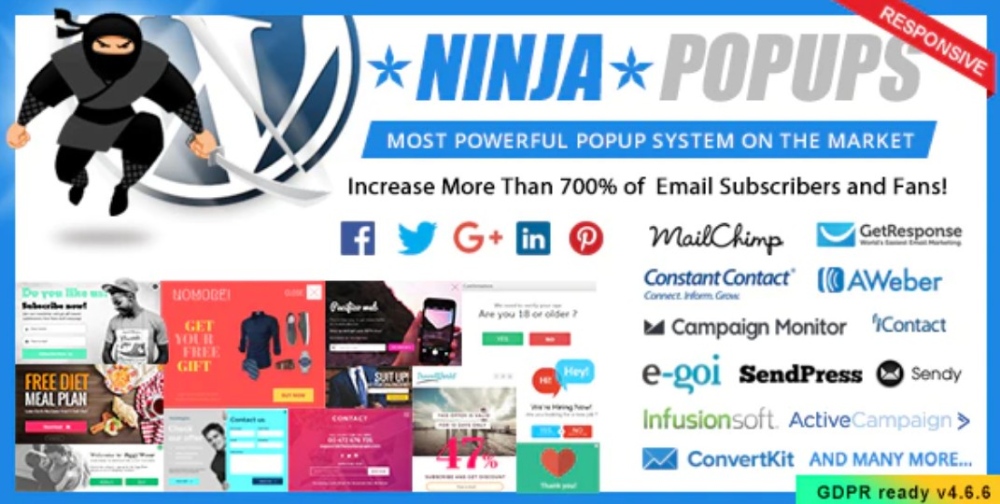 Ninja Popups is another great solution for showing well-designed popups on your site. In fact, it's the most popular popup/list building plugin at Envato's CodeCanyon marketplace, where it's been purchased over 37,000 times while maintaining a solid 4.32-star rating on over 1,700 reviews.
While we'll focus mainly on the list building features, you can also use the popups in other ways, like getting more social shares or boosting your social follows.
You can start from tons of pre-built templates and customize them using a drag-and-drop builder. While the drag-and-drop builder gives you a lot of control, it's not nearly as nice as the builders you get with tools such as Thrive Leads, OptinMonster, or Convert Pro.
Other useful features include:
Multiple placement options
Page-level targeting rules
Several trigger options (including exit intent)
Built-in statistics
Built-in A/B testing
Support for most email marketing service providers including Aweber, GetResponse, iContact, Mailchimp, Campaign Monitor, and more
If you want even more features, the developer also sells optional add-ons that give you:
More placement options, like a notification bar or widget
More pre-made templates
Price: $27 for lifetime usage on a single site and six months of support
How to Pick the Best List Building Plugin for Your Needs
To finish things out, let's go through some recommendations to help you choose the right plugin for your needs.
Thrive Leads is perfect for WordPress site owners who want value for money. The plugin provides all the features that most webmasters need at an affordable price.
Convert Pro is also another good option, especially if you need a tool for multiple websites (which would make it cheaper than Thrive Leads). Convert Pro also has more detailed targeting rules than Thrive Leads, which is another thing in its favor.
However, if you want the absolute best set of targeting rules, you'll want to go with OptinMonster. OptinMonster gives you so many ways to personalize your offers, which can really help you optimize your forms.
With that being said, if you just want to create a few basic popups and you're not going to take advantage of those advanced personalization settings, you could probably save money with another tool (like Thrive Leads or Convert Pro).
Finally, if you're just looking for a super simple option to create inline list building forms, check out the free Optin Forms plugin.
WordPress List Building Plugin FAQs
Here are some common questions about WordPress list building plugins…
Can these plugins send emails for me?
No! These plugins only help you create forms to collect subscribers. In order to actually send your subscribers emails, you'll still need an email marketing service like Mailchimp, AWeber, ConvertKit, etc. Here are our thoughts on the best email marketing services.
Another option would be to use the MailPoet plugin, which lets you send emails from your WordPress dashboard. We have a tutorial on how to use MailPoet.
What are targeting rules?
In a nutshell, targeting rules let you control who sees a certain opt-in form. You could target anyone who views certain content on your site. Or, you could target certain types of visitors, like people browsing from a smartphone.
In general, using targeting rules is smart because it lets you personalize your forms and personalized forms usually convert better.
What are trigger rules?
Targeting rules let you control who sees your form, but trigger rules let you control when they see the form. For example, you could wait until they scroll to a certain point, have spent a certain amount of time on your site, etc. This is another useful way to improve your conversion rates.
What's the best way to grow my email list?
It depends! You'll need to test and find out what works for your audience. That's why we recommend choosing a tool that has an A/B testing feature if possible.
Last Words
That's it for the best list building plugins. If you have any questions about how to install/configure any of these plugins on your site, feel free to drop a line in the comments section below. If you like this guide, you may also want to check out our in-depth guide on the best landing page plugins.
Do you use any of the plugins mentioned above on your WordPress site? What do you think about popups and other list building plugins? Please share your thoughts in the comments below.