At first glance, InMotion Hosting has everything you'd expect from one of the leading web hosting companies on the market. There are entry-level plans, there are WordPress-specific plans (more on those later), and there are also highly scalable setups that can grow with you over time. In this InMotion Hosting review, we look at how good those hosting solutions really are and whether you should use them for your next WordPress website.
Here's what we're going to cover:
What is InMotion Hosting and what type of hosting it offers?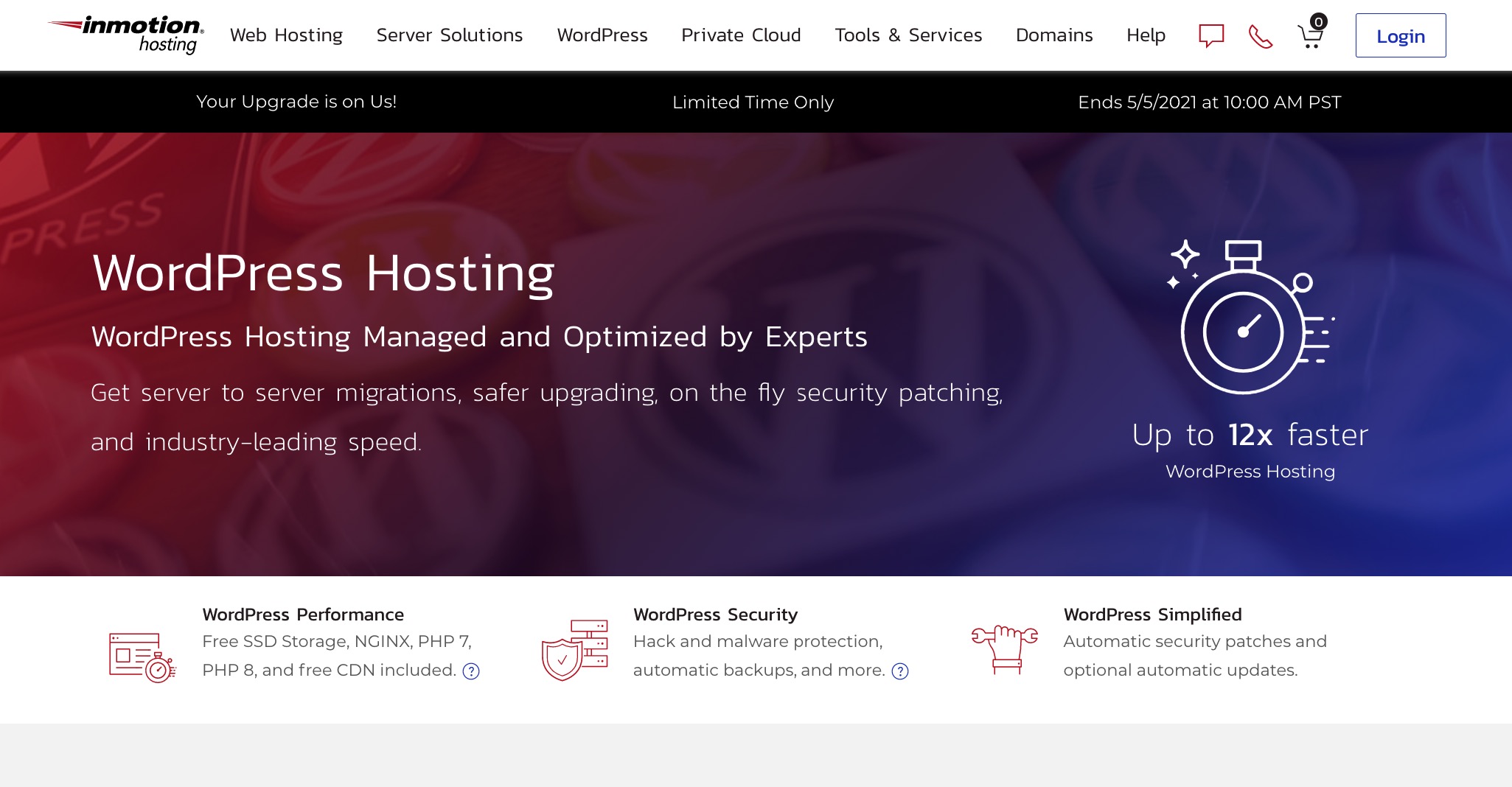 InMotion Hosting is a US-based hosting company that started as a small project back in 2001. This means that it's been in the hosting business for a whole 20 years. What's even more impressive is that it's an entirely employee-owned company. This is a breath of fresh air compared to the corpo-structured hosting giants that we're all used to.
The company is headquartered in Virginia Beach, VA, offers US-based customer service, a really generous 90-day money-back guarantee, and secure data centers in the US.
What's also worth pointing out is that the company is making moves to commit to an eco-friendly and sustainable operations model. They're the first-ever green data center in Los Angeles, reducing their overall carbon output by more than 2,000 tons per year.
Let's look at the different types of web hosting that InMotion Hosting offers:
Shared hosting
This is InMotion Hosting's entry-level offering for web hosting. It's a good choice for users who need a reliable hosting platform for a small website (or a handful of websites).
To make the setup easier, InMotion Hosting gives you access to one-click installers for over 400 web applications and website engines (such as WordPress, Joomla). There's also unmetered bandwidth and enough SSD disk space for a standard website.
Those of us who enjoy getting stuff for free – which we all do(!) – will be happy to know that InMotion Hosting throws in a free SSL, free email address, and even a free domain name (on the second-to-cheapest plan).
👉 Go to InMotion Hosting's shared hosting plans.
WordPress hosting
WordPress hosting has been getting more and more popular, so no wonder InMotion Hosting has an offering like that in their portfolio as well. Structure-wise, it's a similar setup to their entry-level hosting, but it's more optimized to run WordPress, plus it also offers a couple of WordPress-specific features and helpers.
For starters, it is what's called a "managed hosting" setup, which means that some of the everyday hosting maintenance tasks are handled by the InMotion Hosting platform itself.
The server hardware/software stack has been put together to better cater to the WordPress platform. It runs on NGINX, PHP8, has WP-CLI, Imagemagick, and a free CDN included. The server is configured with regular security scans for malware and other potential issues. InMotion Hosting will also handle automatic security patches for you, plus you can set all updates to happen automatically.
More on WordPress hosting later in this InMotion Hosting review.
👉 Go to InMotion Hosting's WordPress hosting plans.
Advanced hosting
InMotion Hosting offers a couple of hosting setups that can be called "advanced hosting" – even though InMotion Hosting doesn't use this label themselves.
These are all hosting plans that are above the entry level and are commonly used by more seasoned users. Such users know what the specific server requirements of their project are and how to then set that server up.
This is:
VPS hosting. InMotion Hosting offers both managed VPS hosting and unmanaged cloud VPS. The former runs on Linux, it's powered by UltraStack, and lets you launch and scale your project easily. The latter works as a cluster of self-managed cloud servers.
Dedicated server hosting. Here, again, InMotion Hosting has both managed dedicated servers in the catalog as well as unmanaged setups (called "bare metal," which does sound cool, I give them that). As you'd expect, the managed setups handle a lot of the everyday server work for you. The bare metal setups are exactly what it says on the tin – you get the bare metal server computer.
But wait, there's more! InMotion Hosting also offers specialized WordPress setups: WordPress VPS hosting and managed dedicated WordPress hosting. Most new websites won't need this level of power, but it's nice to see that InMotion Hosting is ready for any scale of website.
Which one is right for you?
As you can see, InMotion Hosting offers a lot when it comes to their hosting portfolio. There's something here for everybody and every scale of web project.
But how to choose which one you need?
It's quite simple actually:
If your project calls for an advanced hosting setup, then you probably already know that it's the case.
If you consider yourself a casual WordPress user, get one of their WordPress hosting plans.
If you want to launch a new website that won't be running on WordPress, get one of their shared hosting plans. 🌱
Okay, that's all fine, but are those hosting setups any good? Let's find out next:
Features and pricing
⚠️ For the purpose of this InMotion Hosting review, we're looking into the WordPress hosting plans offered by InMotion. Chances are that if you're planning to launch a new website, you'll run it on WordPress.
First things first, here's the current snapshot of the pricing page: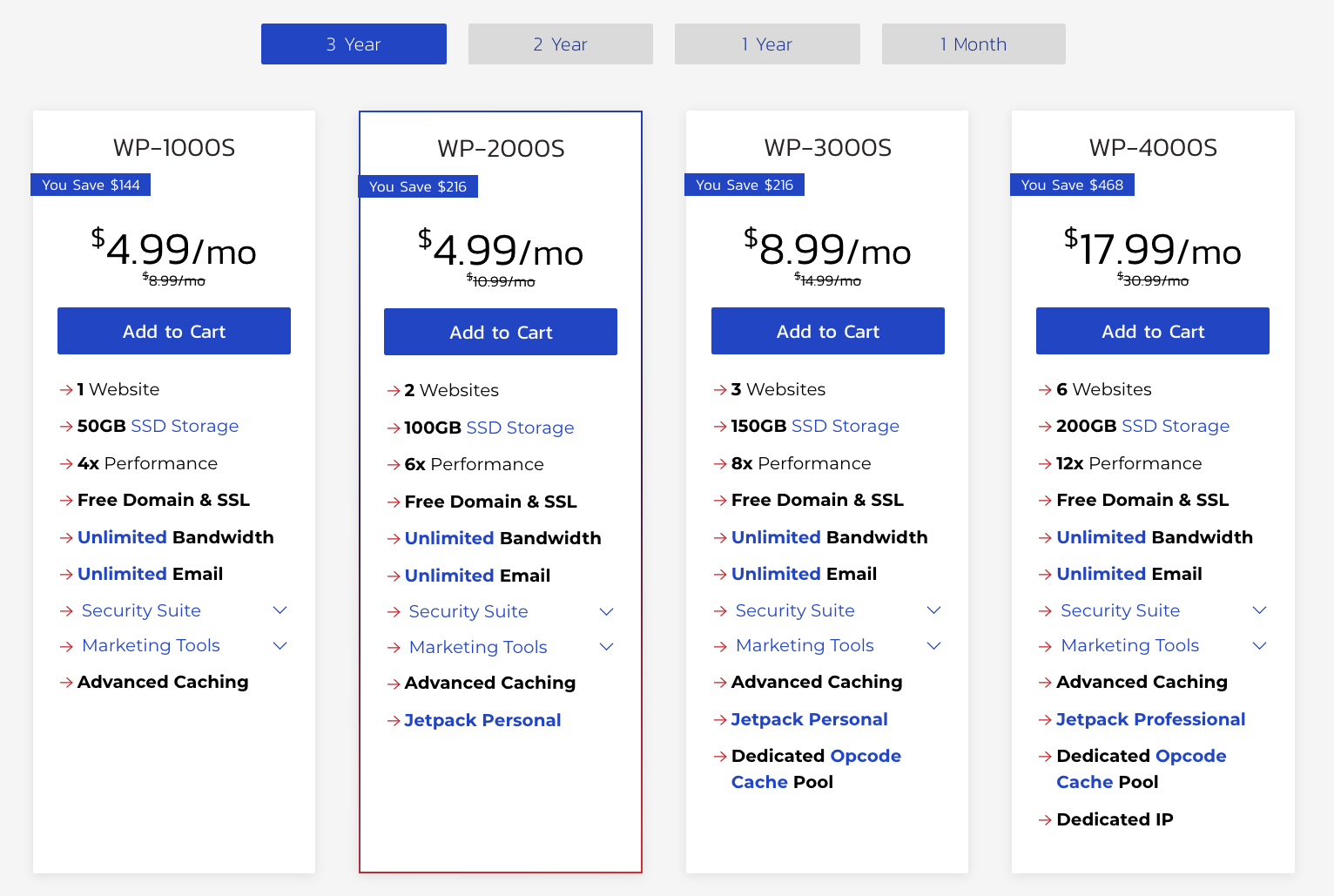 A couple of things that we need to point out right out the gate:
The per-month prices you're looking at are on a three-year contract. Meaning, you'll get them if you buy your hosting setup for three years upfront. As you can see in the screenshot above, InMotion Hosting also has two-year and one-year contracts as well as month-to-month plans.
Here's a breakdown of the prices based on contract length:




One more thing that's not immediately apparent with any web host is the renewal prices. Long story short, the prices you see above are InMotion Hosting's "welcome offer." This means that you get that price when you first sign up for hosting. When it's time to renew your server after the initial contract is up, you'll have to pay more.
Overall, the renewal prices are around 1.8x-2x higher than the welcome price. This is not just InMotion, by the way – this is how all hosts do it.
Here are the features you get:
InMotion Hosting gives their users access to much of the same feature set no matter the specific hosting tier they choose, which is a good thing! The differences come mainly in the form of number of allowed websites on the setup, disk space, and monthly visits capacity.
On sign up, InMotion Hosting offers you two data center locations, both in the US.
The entry-level plan – WP-1000S – allows to launch one website and consume 50 GB of disk space. You also get a domain name for free for the first year and a free SSL already integrated with your setup, which further lowers your initial launch costs.
This WP-1000S plan is suitable for up to 20,000 monthly visitors – should be more than enough for a new site. You can also create unlimited email accounts on this plan. This is great since it doesn't require you to buy email hosting elsewhere (which is often a must with other hosts).
InMotion Hosting also has something they call their UltraStack performance, which works as a layered caching setup. Based on the plan you choose, you get either a 4x performance setup (the WP-1000S plan), 6x, 8x, or 12x.
And, last but not least, here are the things that make this setup a WordPress-optimized one:
Pre-installed WordPress – you get a WordPress instance added to the server on sign-up.
Free WordPress migration/transfer tools – in case you're moving from a different host.
The aforementioned WordPress-optimized stack – WP-CLI, Imagemagick, PHP8, managed updates, etc.
Access to free WordPress themes right from your user panel (with easy installations).
Access to premium WordPress plugins (on higher-tier plans).
An integrated drag-and-drop WordPress page builder – BoldGrid.
I don't blame you if you're a bit intimidated by all these things. So, what does it all mean in plain English?
To say it simply, InMotion Hosting has everything a "normal scale" WordPress website would need to run without interruptions. There's enough disk space and enough traffic capacity per month to allow your site to take off.
At the same time, InMotion Hosting gives you some fairly advanced features as well. Features that are not that common among other hosts at this price point. I'm talking about staging environments, application rollback, advanced server caching and separate WordPress caching tools, web application firewalls, and more. All this means that even the entry-level WordPress hosting with InMotion Hosting is ready for some fairly pro-level tasks!
Ease of use
InMotion Hosting seems to be really set on making the beginning stages of working with a web host as pain-free as possible. For instance, during sign-up, you get to pick whether you want to have WordPress installed on your account automatically. You can choose to run a vanilla version of WordPress or have the BoldGrid page builder installed alongside.
To make things even more straightforward, albeit at a price, you can also get InMotion Hosting's QuickStarter service ($99 one time), which will take care of designing a one-page website for you (in two business days), customizing it with your business info, and doing some basic SEO optimizations.
Once you finalize the purchase, you'll be able to log into your main user panel. Here's what the dashboard looks like: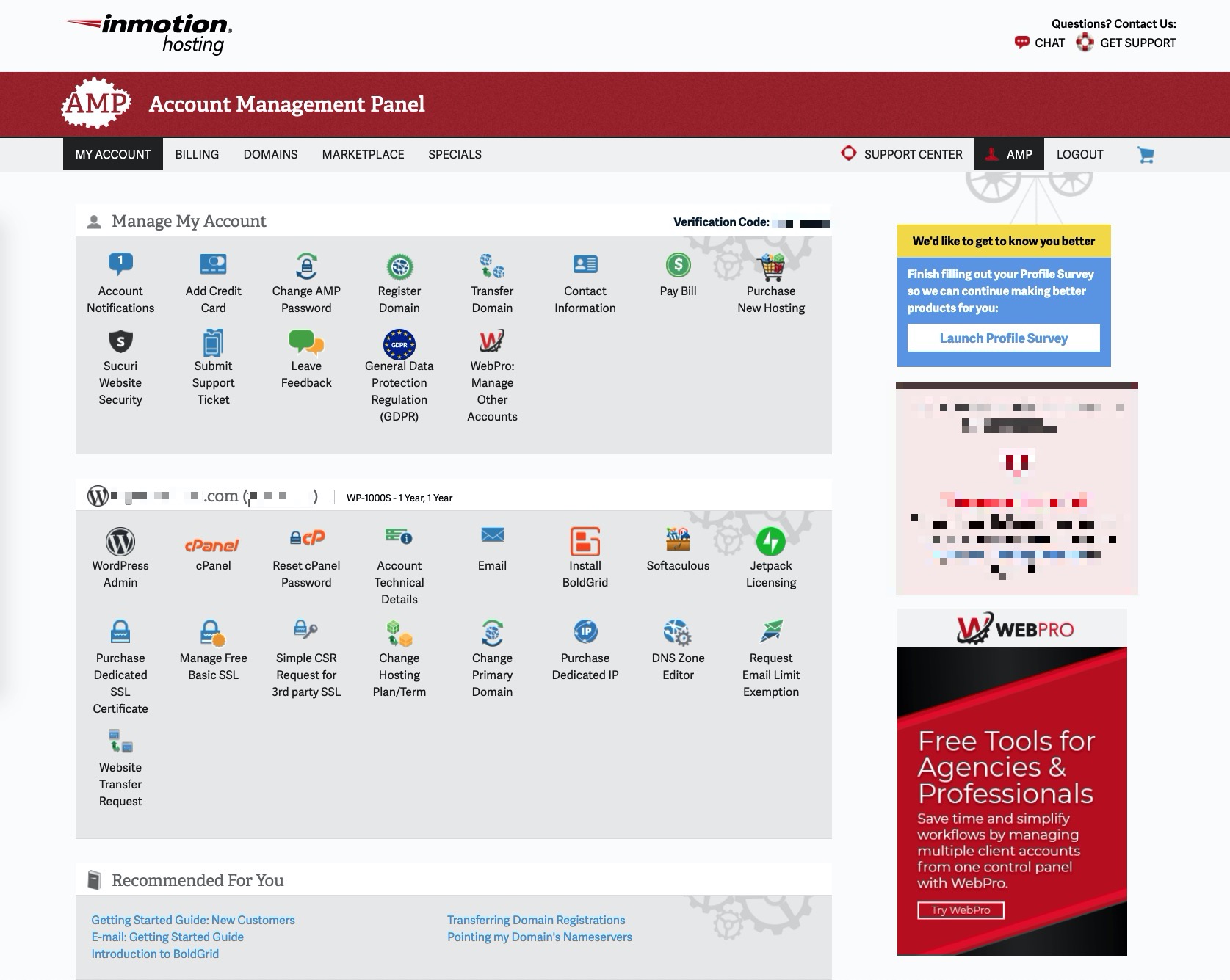 Depending on how many websites you have set up on your profile (our test profile has one), you'll see different sections on this screen. In general, everything is divided in two groups:
your account settings / personal settings,
website settings (one or more).
There's no onboarding wizard that would take you step-by-step through what's possible with your new setup, but all the options are sufficiently clear and let you perform an industry-standard range of server tasks.
Of the actions available, we're happy that InMotion Hosting allows users to register new domain names right from this panel – the Register Domain button. Most importantly, if you haven't used up your free domain allowance yet, you will be able to register your next domain for free.

At the very top of the dashboard, you can switch to your billing info tab, your currently active domains, go into the InMotion Hosting marketplace (it's where you can sign up for additional services such as new hosting plans, web design, the aforementioned QuickStarter package, automated backups, and more). You can also view special offers such as ad credits for Microsoft or Amazon ads.
That top bar of the dashboard is also where you can access the support (more on that later).
In case you're not starting with a new WordPress site but moving your existing site from another host, InMotion Hosting has a website migration service available right from the dashboard.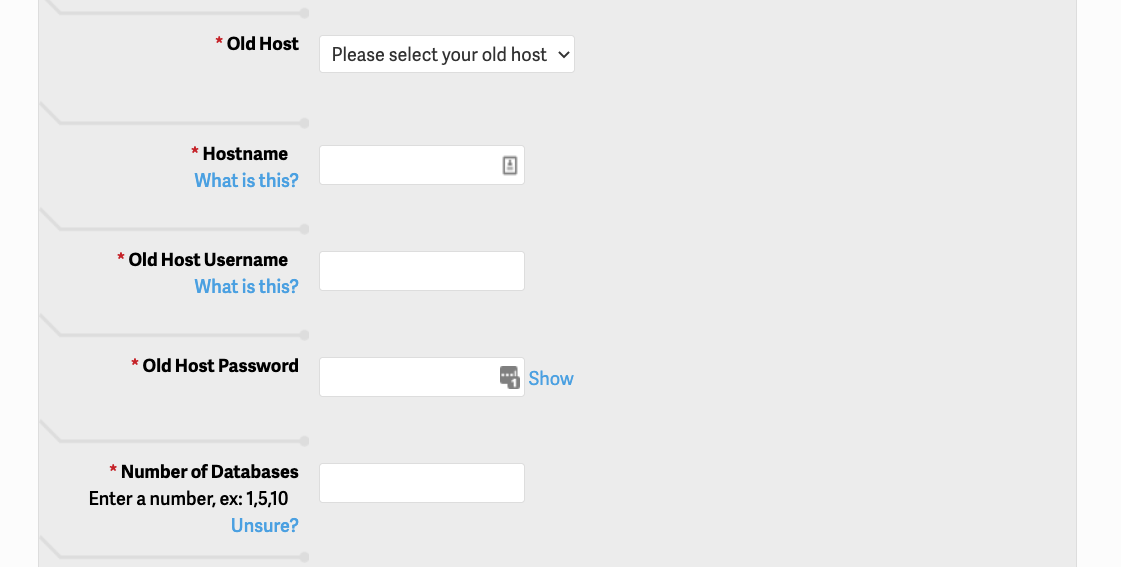 Depending on the size and type of your website transfer, this service may be free.
All InMotion Hosting needs to go through with its magic is some access data to your previous host. If you want to prioritize the migration and have it done quicker, that's going to cost you $29.99.
Then, once the core of your site is set up, you can add themes and plugins to it straight from the dashboard. InMotion Hosting also gives you access to some premium plugins. Depending on your hosting tier, you get a Jetpack license, Speed Coach, Total Upkeep, and more.
In the end, all options are accessible from the main dashboard in a clear way. If you're the kind of person who likes seeing all possible settings in one place – in a large clear form, then you're going to enjoy this very much!
Performance and load times
Now that we've taken a look into what the dashboard looks like and how it all works, let's test out InMotion Hosting's actual performance in a real setup. Here's what we did:
We bought InMotion Hosting's WP-1000S WordPress hosting plan and a domain name to match.
We set everything up using InMotion Hosting's tools in the user dashboard.
We populated the site with demo content and images.
We added a handful of popular plugins to the mix. Our go-to stack is WPForms, Yoast SEO, and Jetpack.
Lastly, we installed a theme and made the site look like a…well, a website.
We tested the site three times from multiple locations. What you see below are the averages:
InMotion Hosting review: PERFORMANCE
| Location | Loading Time | TTFB | First Paint | Interactive |
| --- | --- | --- | --- | --- |
| N. Virginia | 0.75 s | 307 ms | 0.89 s | 0.96 s |
| California | 0.63 s | 161 ms | 0.86 s | 0.79 s |
| Canada | 0.80 s | 331 ms | 0.98 s | 0.92 s |
| Frankfurt | 5.25 s | 567 ms | 1.41 s | 1.47 s |
| Paris | 1.70 s | 544 ms | 1.19 s | 1.12 s |
| Mumbai | 2.03 s | 797 ms | 1.35 s | 1.48 s |
| Sydney | 1.38 s | 549 ms | 1.21 s | 1.14 s |
As you can see, these load times are nothing out of the ordinary, and some of the US-based numbers are pretty great! This is to be expected from a server that's already on InMotion Hosting's 4x performance setup with advanced caching.
The only thing that could have been better is the EU load times. The fact that InMotion Hosting has servers only in the US takes its small toll here.
Customer support
Something we're happy to see in this InMotion Hosting review is that they give their users access to customer support via multiple different channels. But even before that, you can potentially find a solution to your problem in InMotion Hosting's support center and knowledge base. There's a ton of articles there, tutorials, and FAQs.
When it comes to support itself, you can see all the options available when you click on Get Support in the top bar of the user dashboard. There's:
technical and account/billing support over the phone, available 24/7 (this is not always an option that other hosts give you in this price range),
support via online chat, 24/7,
online tickets and email support,
support over Skype.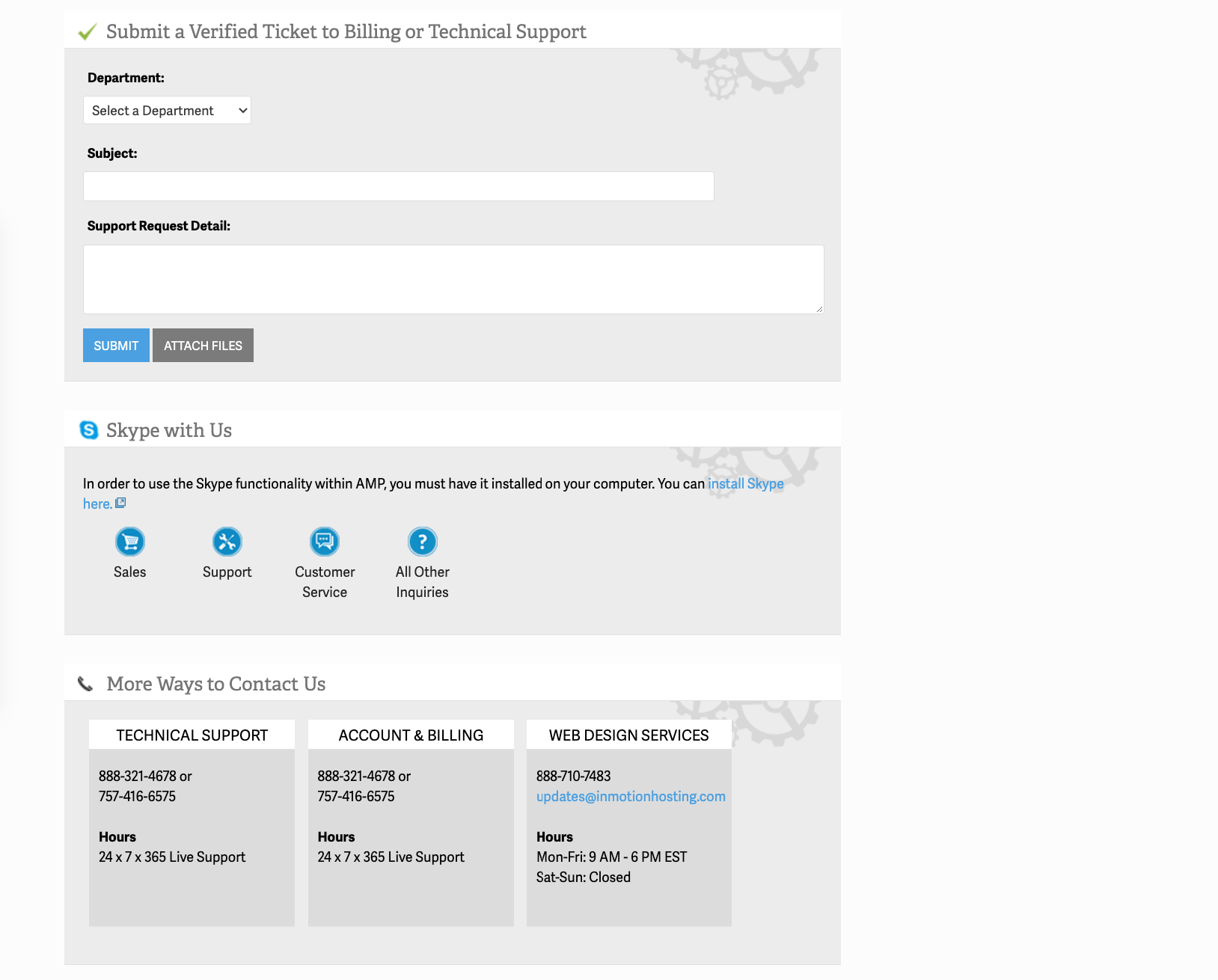 Overall, InMotion Hosting is ready to help you through whatever channel is the most comfortable for you.
Pros and cons of InMotion Hosting
Before we get to the final conclusion of this InMotion Hosting review, here's a quick list of pros and cons:
Pros 👍
Affordable and capable WordPress hosting plan starting at $4.99/mo. Great if you want to launch two websites.
A free domain name for the first year.
WordPress comes pre-installed, and there's a QuickStart service available to help you set up your theme, design, and business info.
Email hosting included.
The support is available 24/7; over the phone as well.
The performance is great for US-based visitors.
You get premium WordPress plugins bundled in (on some tiers).
Cons 👎
As usual with WordPress hosting plans, the renewal prices are considerably higher.
You have to pay for domain name privacy separately.
The loading times from Europe could have been better.
InMotion Hosting review conclusion: should you use it for WordPress?
In the end, there's nothing really missing from InMotion Hosting's offering for WordPress hosting. You get a straightforward setup, customer support that can be reached via multiple channels, and good performance overall.
The only thing that can make you think twice is that you only get a choice of data centers in the US. We can see this disadvantage in the performance tests. So, if your audience is predominantly based in Europe, you might get a better experience with another host.
On the huge plus side of things, InMotion Hosting is perhaps the most affordable entry-level WordPress hosting plan for users who want to launch two sites instead of just one. With that, you also get email hosting included in the package, which is not always standard with other WordPress hosting companies.
What do you think of InMotion Hosting and their WordPress hosting plans? Do you want to add something to this InMotion Hosting review? Comment below!