If you're looking for a WordPress theme, you'll face no shortage of options. You can choose from thousands of free themes or upgrade to a paid theme to get specific features. But choosing the right theme from so many choices can be a real challenge.
With that in mind, we're going to take a detailed look at Kadence, a popular theme that has plenty to offer.
What Is Kadence?
Kadence is a multipurpose WordPress theme that is available for free download and also offers a pro version that opens up more possibilities. The name of the theme shop is also Kadence, and the Kadence theme is their cornerstone product.
Aside from the Kadence theme, they also currently offer four other themes and a large collection of plugins (about 15). The most noteworthy plugin is Kadence Blocks, a page builder plugin that extends the capabilities of WordPress's Gutenberg editor. Like the Kadence theme, Kadence Blocks comes in both a free and a pro version.
For this review, we'll break it down into two main sections so you can see exactly what is included for free and what you'll get if you upgrade to the pro version.
What Is Included in the Free Version of Kadence?
While there are countless free themes out there, Kadence stands out as one of the best. Not only is it a lightweight theme that helps your site to load quickly, but it also offers far more design and customization features than you'll find with most free themes. In fact, the customization capabilities are what truly make Kadence stand out.
Since Kadence is available in both free and pro versions, you would probably expect the free version to be very limited, but that's not the case at all. The free theme is quite capable and will meet the needs of many users.
Theme Settings
With the free theme installed, you'll find the theme settings with the "Kadence" link under the "Appearance" tab.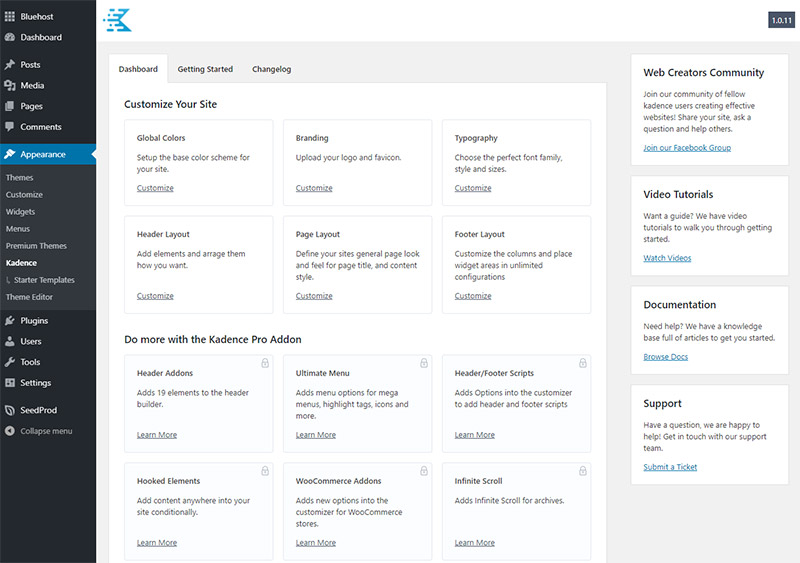 There are settings in six different sections that are available with the free theme:
Global Colors
Branding
Typography
Header Layout
Page Layout
Footer Layout
If you click on any of those options, you're led to the theme customizer where you have full control over the settings.
Global Colors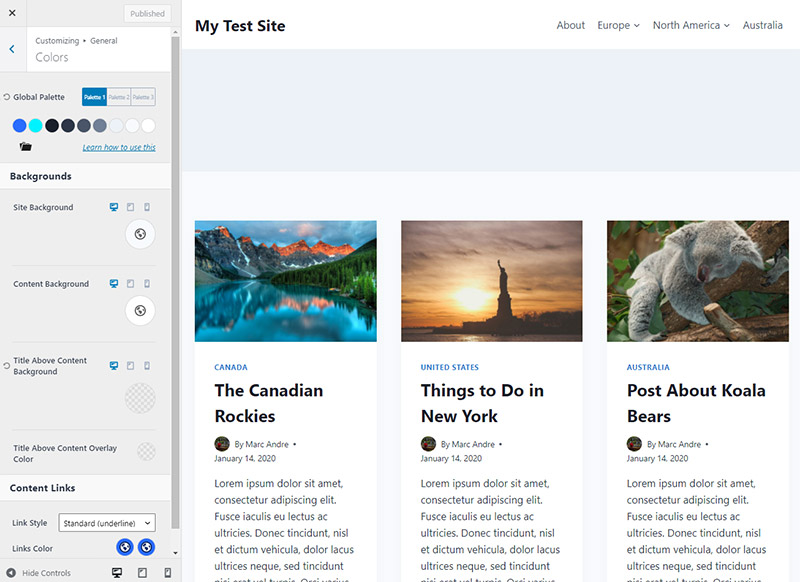 The color settings offered by Kadence exceed the options you'll find with almost any other free theme. You'll be able to set the site background color, content background color, link color, and you can even set a full color scheme for your entire site.
With the color scheme settings you can set two accent colors, multiple text colors, and background colors. You can choose from pre-defined color sets or customize any of the individual colors, giving you full control.
The value of the global color options really can't be overstated. With just a couple minutes of your time, you can have all of the colors for your website set with no need for custom CSS.
Branding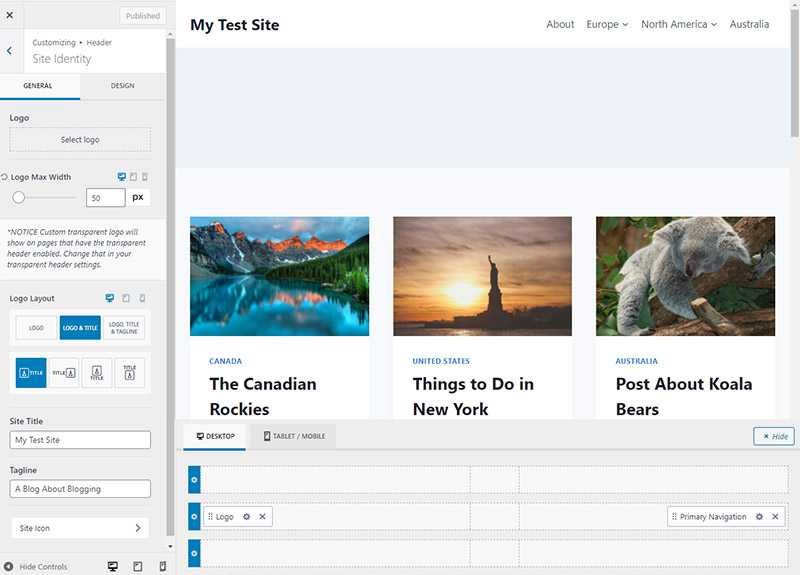 Here you'll upload your logo and determine how the logo is positioned and if it is shown on its own or along with the text of your site name and tagline.
Typography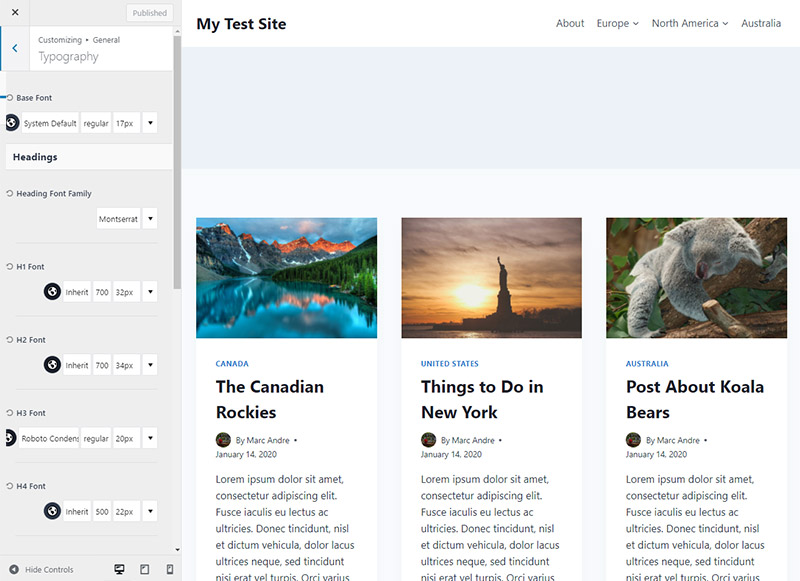 In the typography settings, you're able to choose the font (from Google Fonts) for body text as well as for each of the headings h1-h6, and breadcrumbs. You can also set the font size and weight for each.
Header Layout
The header layout settings panel is a standout feature of Kadence. While you'll get more options with the pro version, even the free theme gives you the power to customize the layout and design of your header.
The settings are available in two tabs: general and design. In the general tab, you'll control what elements you want in the header. To add an element, simply drag it and place it where you want it.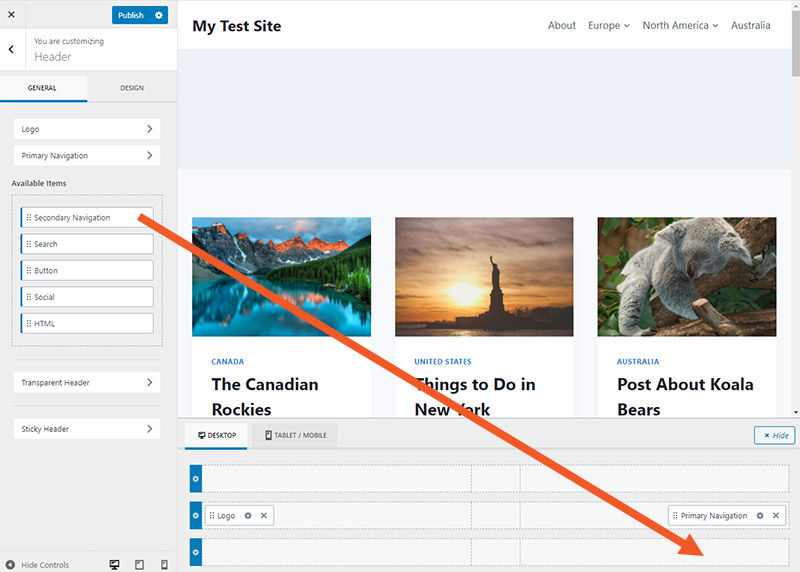 In the design tab, you'll be able to control the header background color (for desktop, tablet, and mobile phone) and the breakpoint for switching to the mobile header.
In the general tab, if you click on an element it will open additional options. For example, click on "primary navigation" and you'll be able to set options related to the layout and design of the menu. You'll be surprised by just how many different options you have for most of these elements.
Page Layout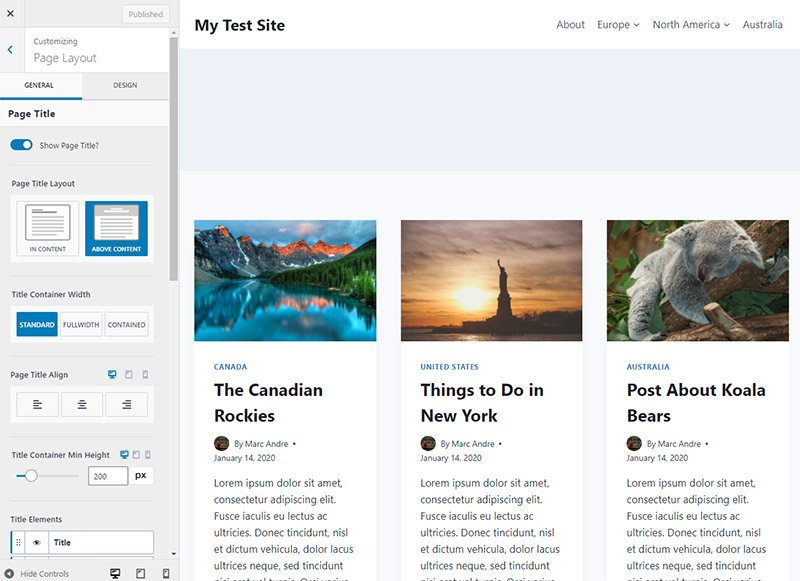 The page layout settings allow you to create a custom template that will be used as the standard page layout. You'll have control over the display of the page title, page width, whether you want a sidebar to be shown, location of the sidebar, featured images, comments, and more.
Like the header layout, the page layout settings are shown in two tabs: general and design.
Footer Layout
You'll also have control over the elements that are shown in the footer and the design of those elements. Simply drag and drop the elements that you want to include and then you can use the design tab to control the way they look.
Additional Customization Options
While the six sections above are accessible through the Kadence settings, you can also find additional options in the customizer (go to Appearance > Customize).
From here you can customize the standard blog post layout, much like the page layout options covered above. You can also customize the layout and design of the archives and search results.
Overall, the customization and design settings of the free Kadence theme far exceed what you would expect to get with a free theme. While it doesn't match what you're able to do with Kadence Pro, it will be more than enough for some users. And at the very least, it gives you the option to try Kadence and see if you like it before purchasing the pro version.
Starter Templates
When you install and activate Kadence, you'll be asked if you'd like to also install a plugin with free starter templates. These templates make it faster and easier to get your site set up quickly, and just like the extensive customization options, they exceed what you would expect from a free theme or plugin.
Once you've installed the Starter Templates plugin, the settings will be accessible by going to Appearance > Kadence > Starter Templates. The first thing you'll do is choose a builder. You can either use the default Gutenberg editor or the popular Elementor plugin. I'll be using Gutenberg for this demo.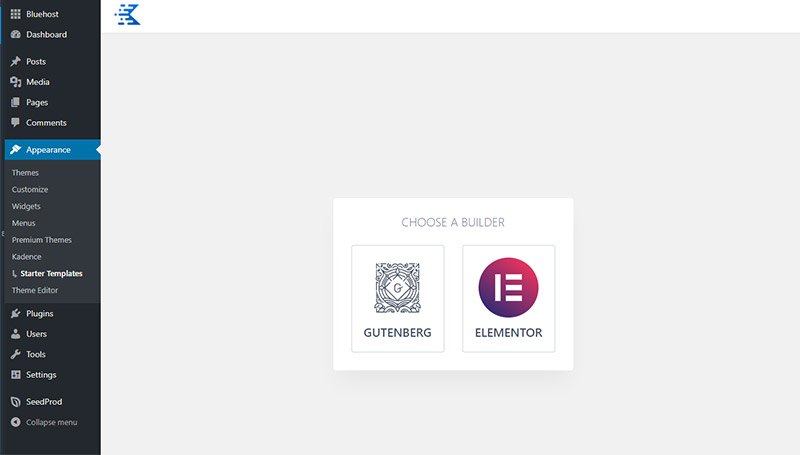 After you select your builder, you'll see the templates you can choose. Currently, there are nine different starter templates available and these templates have been created for several different types of businesses and websites.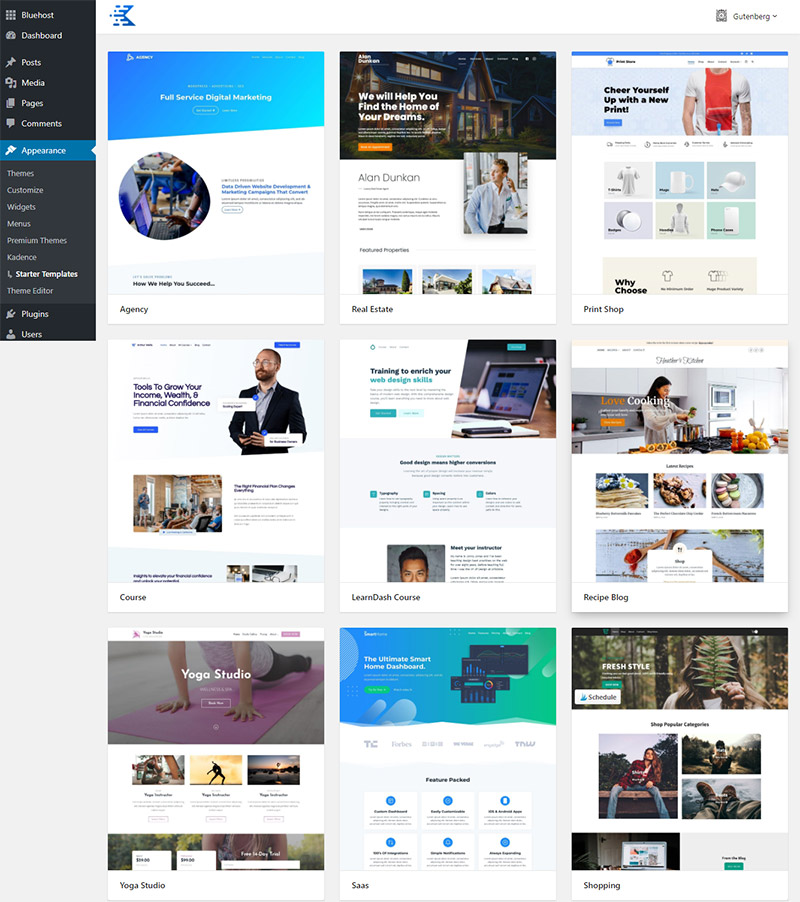 When you select a template, you'll be presented with a few different options like the color scheme and font family. In my case, I didn't have the free Kadence Blocks plugin installed, so I received a notification that the plugin will be installed when I import the template. You have the choice of importing a single page or the full site.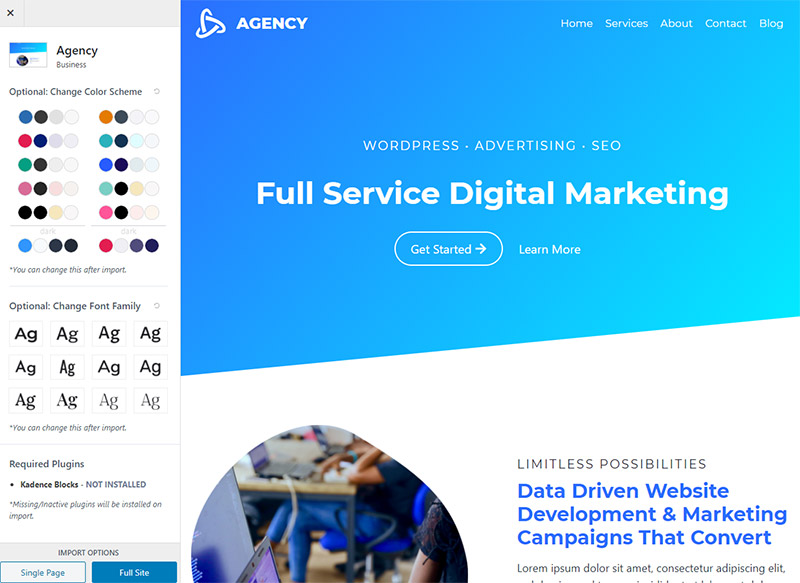 After you initiate the import, it takes just a minute and then you'll have the site set up and ready for you. This includes all of the necessary pages (if you chose the full site option), menus, customization settings, and even the images. At this point, you'll just go through it and customize the text and images as needed. It can be a huge time saver!
Kadence Blocks Plugin
Just like the Kadence theme, the Kadence Blocks plugin can be downloaded for free and extended with the pro version (if you choose). While the pro version is very impressive, the free plugin also has a lot to offer.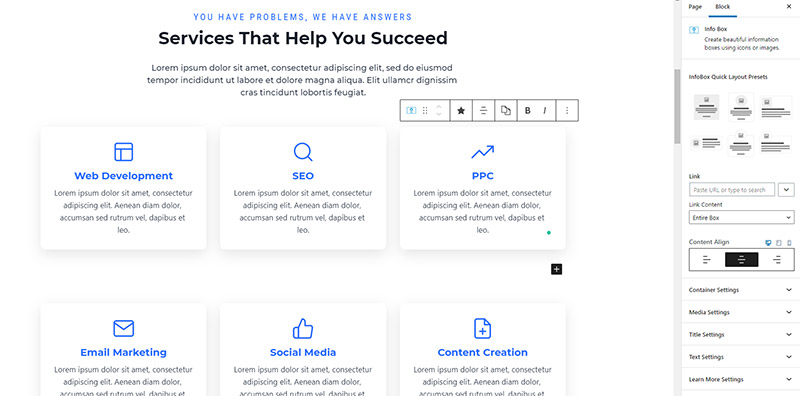 The free version allows you to have incredible control over the layout and design of your pages and posts. And best of all, it will be very familiar if you've used the Gutenberg editor in the past. The learning curve is small, as compared to learning a new page builder from scratch.
The blocks that you can use with the free version include:
Row layout
Tabs
Table of contents
Advanced button
Advanced heading
Advanced gallery
Icon
Icon list
Info box
Accordion
Testimonials
Form
The pro version includes everything in the free version, plus the following blocks:
Image overlay
Post grid/carousel
Product carousel
Split content
Modal
Video popup
The row layout block is extremely powerful for controlling the layout of your pages. When you add a row layout block, you'll be able to choose the number of columns and control the design details.
Kadence Blocks also comes with a pre-built library, which basically gives you pre-designed building blocks that you can use to create your pages quickly.
What Additional Features Does Kadence Pro Offer?
The free Kadence theme and Kadence Blocks plugin both include so much that it makes you wonder, what additional features do you get if you purchase the pro version?
In short, Kadence Pro builds on the features that are available in the free theme. When you're looking at the Kadence settings, the pro add-ons that were grayed out with the free theme are now available with Kadence Pro.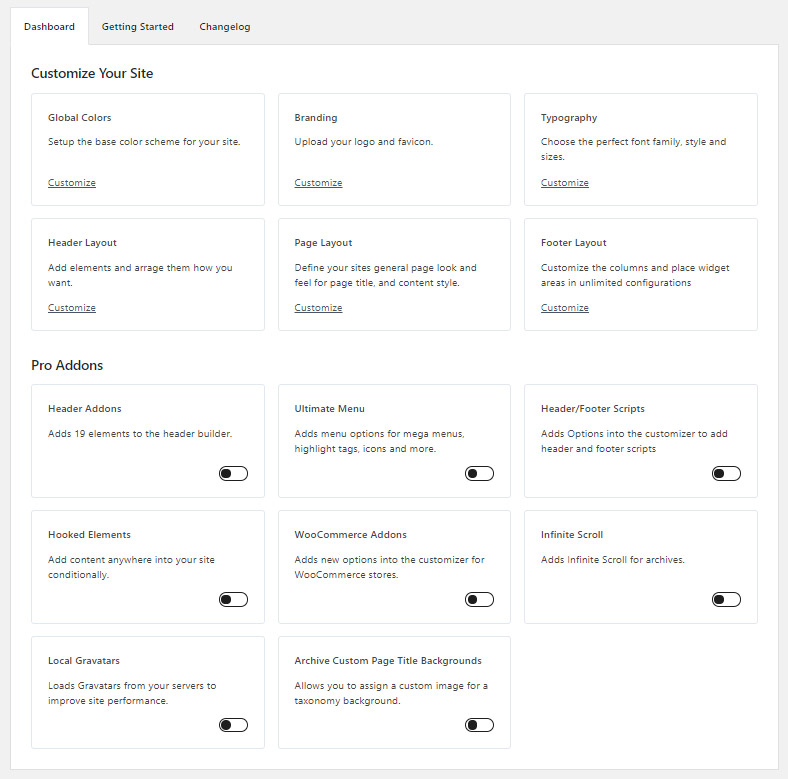 As an example of how Kadence Pro builds on the options from the free theme, let's take a look at the header elements that are available. To activate any of the pro add-ons, simply switch the toggle as shown below.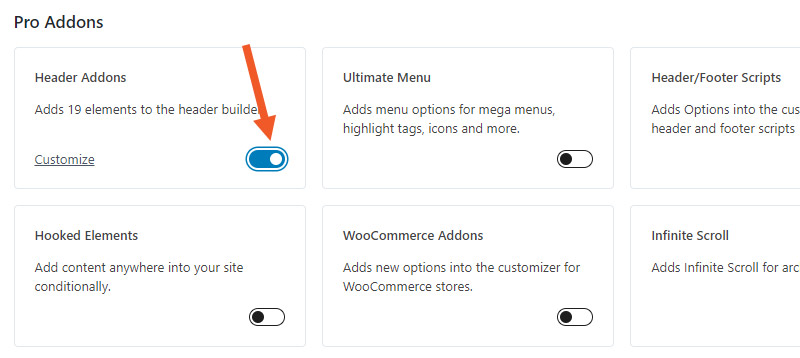 The free theme includes the header layout settings, but the pro version gives you 19 additional elements that you can use in your header, including:
Dividers
Additional buttons
Contact elements
Toggle with slide-out panel
You'll also get additional menu options to create a beautiful mega menu, multi-column dropdowns, dropdowns with custom backgrounds, or include icons in your menu.
If you're building an e-commerce website, you'll love the WooCommerce add-on that gives additional options within the customizer for WooCommerce shops.
The pro upgrade also comes with hooked elements that can be added anywhere in your site conditionally. You can show these elements to specific users, show them based on page or post type, and control many other aspects.
In addition to these features (and some others that haven't been mentioned), you'll also get one year of support and updates.
Websites Using Kadence
Now, let's take a look at some real-world websites that are using Kadence. This should give you an idea of the versatility offered by Kadence.

FluentCRM's Tech Stack:
Kadence Theme
WP Manage Ninja (checkout)

Presto Player's Tech Stack:
Kadence Theme
Cloudflare (CDN)

Sanders Design's Tech Stack:
Kadence Theme
LiteSpeed (caching)
Contact Form 7

Tansley Photography's Tech Stack:
Kadence Theme
WP Rocket (caching)
ShortPixel (image optimizer)
Font Awesome
Pricing
There are a few different ways you can get access to the Kadence theme and the plugins from Kadence.
Kadence Theme
Free Version
Kadence Pro Theme – $56/year
Regardless of whether you purchase just the theme or the membership, you'll be able to use it on an unlimited number of sites and you'll get one year of support and updates.
Kadence Blocks Plugin
Free Version
Kadence Blocks Pro – $59/year
Kadence Membership
The Kadence Membership includes access to the Kadence Pro theme, four other themes, Kadence Blocks Pro, and all of their other plugins (currently, there are about 15 plugins). The Kadence Pro theme and Kadence Blocks Pro are the highlights of the membership, but the other themes and plugins may be of interest to you as well.
There are two different options for purchasing a membership:
$136 per year
$480 for lifetime access
Regardless of which product or plan you purchase, you can use it on client websites as well as your own sites, and you'll also be covered by a 30-day money-back guarantee.
Pros of Kadence Theme:
Lightweight, fast-loading theme
Even the free version is packed with features
Header and footer builders included even in the free version
Full control over page layout with Kadence Blocks
Starter templates that speed up your development process
Reasonable pricing for the pro version and membership
Cons of Kadence Theme:
Starter templates and the pre-built library are good but not as extensive as some competitors
Separate websites for the theme shop, theme, and Kadence Blocks plugin can be confusing
Conclusion
With thousands of WordPress themes out there, it's not easy for theme developers to create something that truly stands out. However, Kadence is one of those rare themes that exceeds expectations and proves to be special.
I've been using WordPress since 2007 and I almost never use free themes because the quality is usually not very good. But Kadence is easily the best free theme that I've tried. The available customization options will rival the options from some premium themes.
While many themes that use a freemium model will offer very limited features in the free version (forcing you to upgrade if you want the good stuff), the free version of Kadence will be more than adequate for many users. The same is true with the Kadence Blocks plugin. And the starter templates that can be installed for free are equally awesome.
With the free version of Kadence and Kadence Blocks being so good, it might take a lot to convince you that you need to upgrade. Getting access to professional support is a factor that you'll want to consider, as you're bound to want or need support at some point. Additionally, the add-on features that are available with the pro theme and Kadence Blocks Pro will be enough to justify the cost for users who want the advanced features.
Overall, Kadence is an excellent theme. Since the free version is so capable, you could easily start with the free version to make sure you like it, and then upgrade to the pro version when you find that you need some of these premium features.