There are lots of site niches that rely on donations. Non-profits and charities (of course) use this as a primary tactic to generate income for different causes.
The good news is WordPress also supports the best WordPress donation plugin on the market. With our GiveWP coupon, you can even get a discount.
Let's first look at what GiveWP provides you, then talk about its pricing. From there, we'll show you how to use your GiveWP coupon code before we answers some of your potential pressing questions.
How GiveWP Could Increase Donations on Your Site
It's important to handle money in the correct way, especially if you ask for donations towards running costs or other charitable endeavors. After all, if a donor gives, they will want to know the money is going to the right place. What's more, there could be legal requirements on your end to adhere to.
This means you need a dedicated WordPress donation plugin that can support your nonprofit or charity. GiveWP is one of the best plugins available for the job.
The plugin includes a number of essential fundraising tools:
You can keep track of donors from the WordPress dashboard that includes who they are, and both the frequency and amount of their donations.
You're able to display donation forms in a number of styles on your site, and display custom goals on site to show visitors how far along your campaign is going.
GiveWP provides extendability through add-ons too. We'll talk a little more about them later, but you can add payment gateways, marketing integrations, and much more.
There's full, comprehensive reporting options available. This lets you understand who donates, how much they give, and maybe even why.
If GiveWP is familiar to you, that's because we mention it in a few places on the WPKube. In fact, we put it at number one on our list of WordPress donation plugins, which is testament to its quality. We also give it a favorable 'thumbs up' in our comparison against another donation plugin.
As such, you know when you buy GiveWP, you get supreme quality, fantastic support, and long-term development. As premium plugins go, it's one of the best.
What GiveWP Costs
It's refreshing to see a complex and feature-rich WordPress plugin provide straightforward pricing. GiveWP has three tiers available, although the differences are subtle:
Basic ($149 per year). This gives you all available payment gateways, priority support, and a small selection of crucial add-ons for GiveWP.
Plus ($349 per year). You get all of the available add-ons, along with the ability to take recurring donations. There's also a 30 minute audit for your fundraising website that comes with the package for free.
Pro ($499 per year). On this plan, you have everything in the Plus tier, but also get "VIP support" and peer-to-peer fundraising functionality.
However, the prices you see here don't have to stay that way! Next, we'll show you how to snag a sweet discount on your purchase using our GiveWP coupon code. Stick around to find out how.
How to Use Your GiveWP Coupon
First things first, you should head to the GiveWP website using our dedicated link. Once you're there, you need to get to the Pricing page – there's a link in the header for this.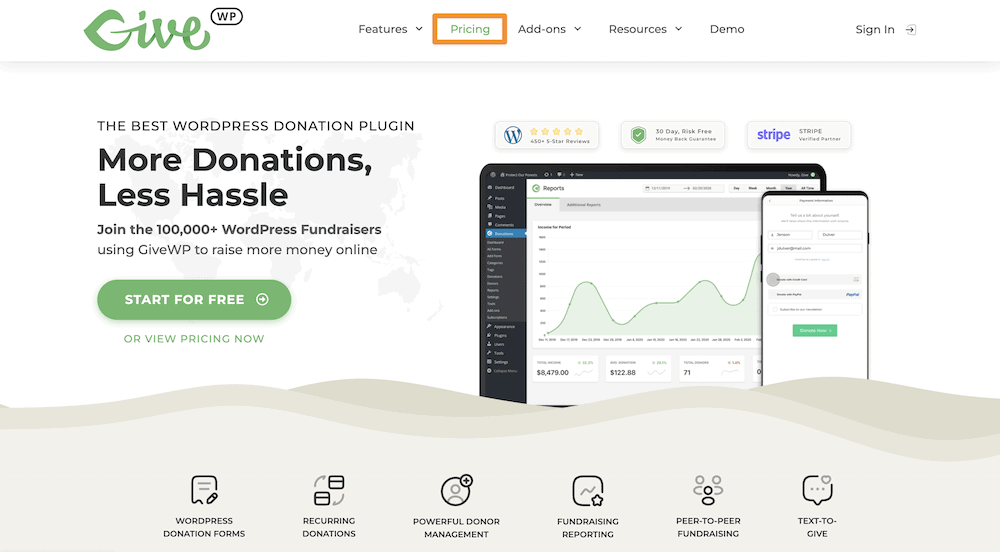 At the next screen, check out the different plans available, and choose the one that best fits your needs. To begin the purchasing process, click the Buy button for your chosen tier: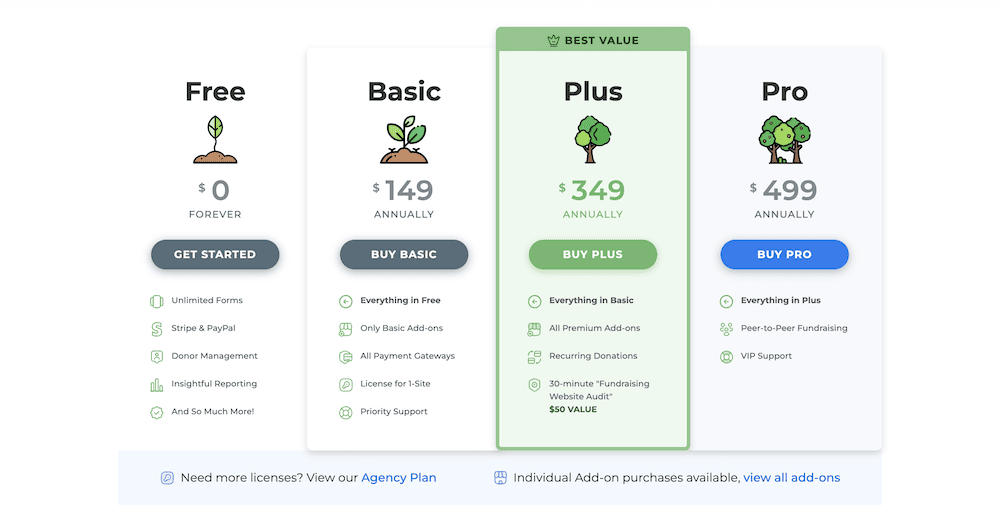 The next page gives you fields to enter your payment details. However, before you do this, check out the right-hand sidebar, specifically the Click to enter discount code link.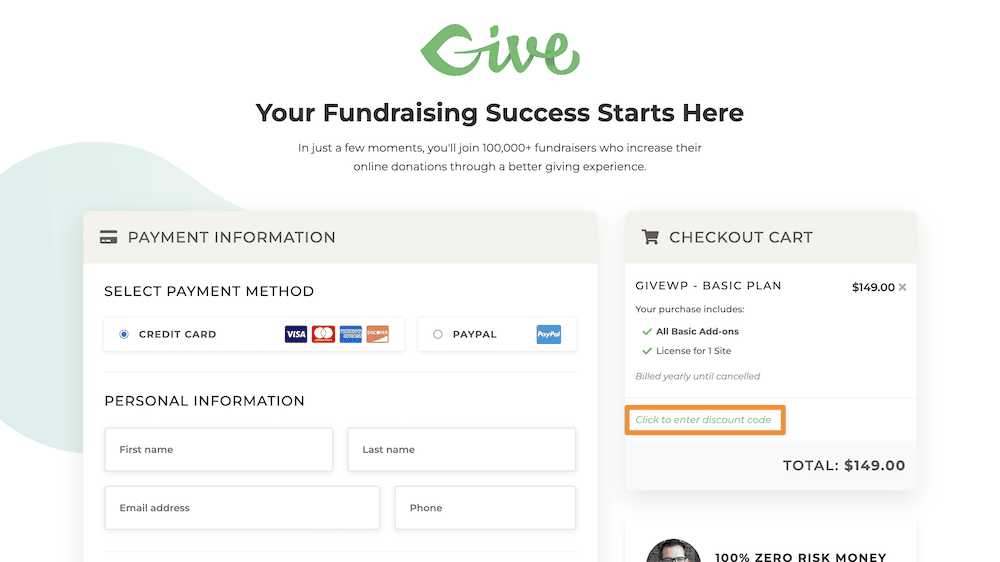 You should do as the link says! This will bring up a field for a discount code. Here, you can use our GiveWP coupon code – WPKUBE15 – and click to apply. You'll see your discount apply straight away: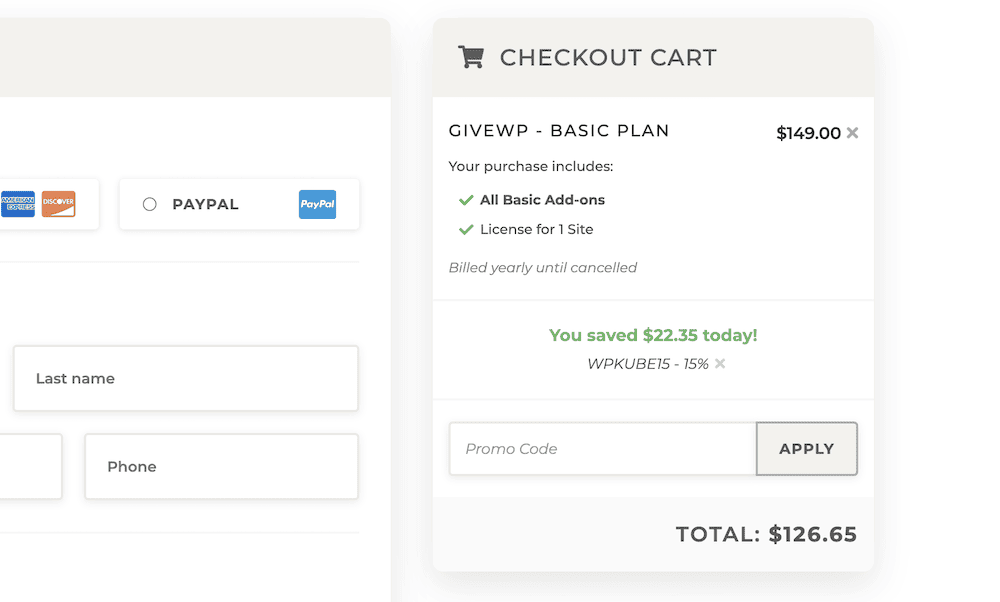 From here, complete the checkout process and you will be able to use GiveWP immediately!
Frequently Asked Questions (FAQs)
Now you know how to use your coupon, you're all set. However, if you still have some questions about the deal, we can help! Let's run over a few of the most common questions you might have about your GiveWP coupon code.
Does GiveWP Offer a Free Plugin?
Yes, GiveWP does have a free plugin to download from the WordPress Directory. However, it comes with the bare minimum to accept donations on your site, and the lowest priority support. In our opinion, you'll butt up against the free version's limitations quickly for all but the most basic of needs.
Is There a Difference Between Stripe In the Free and Premium Versions?
The free Stripe integration packs in a lot, and enables you to take payments on site. However, the premium Stripe add-on (available in all plans) removes the additional two percent commissioning fee. It also includes the option to use Apple Pay, Google Pay, and iDeal.
How Can I Buy More Licenses for GiveWP and Still Take Advantage of the Discount?
All GiveWP plans only let you have one license, which means you'll need to make a separate purchase for multiple sites. However, the Agency plan gives you everything within the Pro tier, plus five site licenses. This can be yours (without discount) for $599 per year.
Can I Purchase Individual Add-Ons for GiveWP?
One of the most flexible aspects of GiveWP is that you can purchase single add-ons separately. This means you could opt for a lower tier that includes almost everything you need, then pick up one or two other essentials for you. Even better, our 15 percent discount is valid for these purchases too.
Is There a Refund Policy In Case GiveWP Isn't For Me?
GiveWP offers a 30-day money-back guarantee, no questions asked on every purchase. This even applies if you use your discount and decide the plugin isn't right for you.
Save Up to 15 Percent With WPKube's GiveWP Coupon Code!
A site that solicits donations needs the best system available to manage the incoming money. For WordPress websites, you want a solution that you can access from the dashboard. GiveWP is one of the leading donation plugins for WordPress as it's a complete donation management system for the platform.
In addition, you can save 15 percent off of the best WordPress donation plugin using our GiveWP coupon code. Simply enter WPKUBE15 at checkout to claim your discount!
META: If donations are your site's lifeblood, you need the best plugin available. With WPKube's GiveWP coupon code, you can save money off of the typical price!