Cloudways is a very original type of a web hosting company when compared to other popular brands in the industry (we'll tell you why in a second in this Cloudways review).
They've made their name by making cloud servers easier to handle, especially if you want to take advanced of highly performant setups provided by some of the cloud hosting giants.
In this Cloudways review, you'll find out:
Cloudways review: What is Cloudways?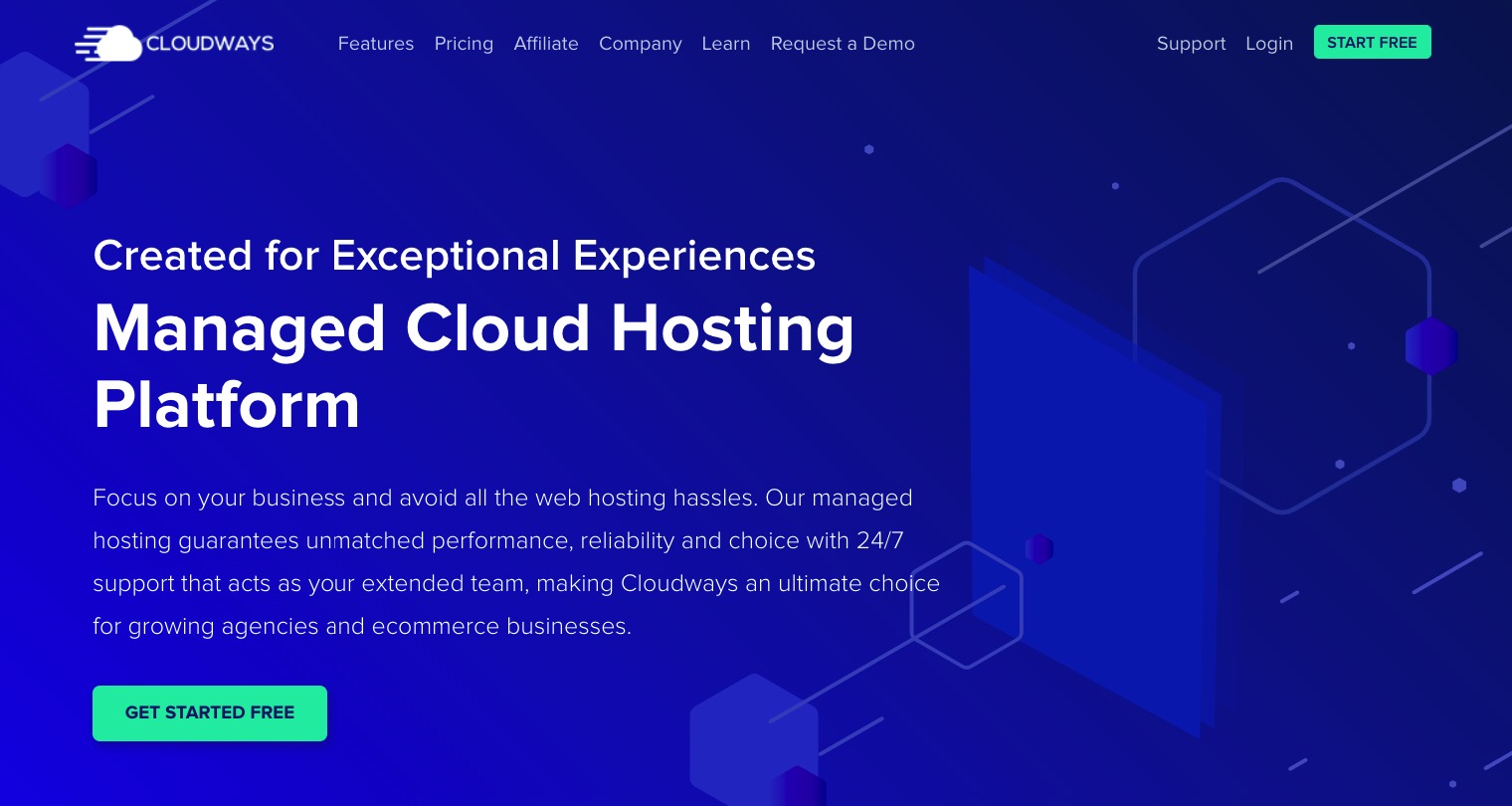 Cloudways call themselves a "Managed Cloud Hosting Platform."
Sounds fancy, but the concept is actually very straightforward:
They let you pick web server space powered by some of the industry's giants, and then manage that server space for you.
Therefore, the first original detail about Cloudways' offering is that they don't actually host their own servers. Instead, they work with companies like DigitalOcean, Linode, Vultr, Amazon (AWS) and Google (Google Cloud), and only put their software layer on top of those hosts' platforms.
In other words, when you get a server through Cloudways, you're not actually getting it from Cloudways. Instead, the server is supplied by a third-party company, and Cloudways only makes it easy for you to work with that server.
"Isn't it cheaper to just get the server from that original provider?" – you're asking. Yes, I hear you. It is cheaper. But, if you've ever tried to configure an Amazon AWS instance to host a simple website, then you know how challenging it can be.
Platforms like AWS or DigitalOcean are not built with the casual user in mind – as in, user who wants to host their own website in a trustworthy place. They're built to serve big organizations, app developers, web-based software, distributed databases, government projects, and all sorts of "pro level" things.
More or less, you have to be pro not only to be able to grasp how to use that server day to day, but even to configure it when you're first starting up.
This is where Cloudways comes into play.
Their goal is to give you the power of, say, Amazon AWS, while also making it easy to use. Of course, it comes at a price. Speaking of which:
Features and pricing ⚙️💵
What's really appealing about Cloudways plans is how scalable they are and that basically anyone can find a setup that fits their budget – as long as your budget is more than $10/mo. But let's take it from the top:
First, here are the companies that Cloudways supports as their cloud hosting providers. At the time of writing, they are:
DigitalOcean
Linode
Vultr
Amazon AWS
Google Cloud
You can pick the exact server setup you want to get from either of these platforms. Basically, whatever your host of choice offers to their customers directly you can also get through Cloudways.
How much more expensive is Cloudways vs the hosts direct?
We haven't checked every hosting plan that's available from these companies, but for the entry-level to mid-tier plans, the markup is roughly 2x.
This may look significant, but it's actually not that huge of an amount considering that Cloudways turns those raw cloud setups into easy-to-use managed hosting.
The way you pick your plan at Cloudways is by first choosing the provider, and then selecting one of 10+ available setups.
The entire pricing catalog is way too big to highlight every possible option, so let's just list some tiers with each cloud provider:
DigitalOcean
| | CPU cores | RAM | Storage | Bandwidth | Price / mo |
| --- | --- | --- | --- | --- | --- |
| Entry level | 1 | 1GB | 25GB | 1TB | $10 |
| Mid tier | 2 | 4GB | 80GB | 4TB | $42 |
| Upper tier | 8 | 32GB | 640GB | 7TB | $230 |
| High end | 24 | 128GB | 2,560GB | 11TB | $715 |
Linode
| | CPU cores | RAM | Storage | Bandwidth | Price / mo |
| --- | --- | --- | --- | --- | --- |
| Entry level | 1 | 1GB | 25GB | 1TB | $12 |
| Mid tier | 2 | 4GB | 80GB | 4TB | $50 |
| Upper tier | 8 | 32GB | 640GB | 16TB | $250 |
| High end | 24 | 128GB | 2,560GB | 20TB | $860 |
Vultr
| | CPU cores | RAM | Storage | Bandwidth | Price / mo |
| --- | --- | --- | --- | --- | --- |
| Entry level | 1 | 1GB | 25GB | 1TB | $11 |
| Mid tier | 2 | 4GB | 80GB | 3TB | $44 |
| Upper tier | 8 | 32GB | 640GB | 6TB | $225 |
| High end | 16 | 64GB | 1,280GB | 10TB | $385 |
Google Cloud
| | CPU cores | RAM | Storage | Bandwidth | Price / mo |
| --- | --- | --- | --- | --- | --- |
| Entry level | 1 | 1.7GB | 20GB | 2GB | $33.18 |
| Mid tier | 2 | 7.5GB | 20GB | 2GB | $138.52 |
| Upper tier | 8 | 8GB | 20GB | 2GB | $366.33 |
| High end | 32 | 32GB | 20GB | 2GB | $923.32 |
AWS
| | CPU cores | RAM | Storage | Bandwidth | Price / mo |
| --- | --- | --- | --- | --- | --- |
| Entry level | 2 | 2GB | 20GB | 2GB | $36.51 |
| Mid tier | 4 | 8GB | 20GB | 2GB | $252.73 |
| Upper tier | 16 | 32GB | 20GB | 2GB | $641.82 |
| High end | 48 | 96GB | 20GB | 2GB | $1,721.02 |
As you can see from the table above, DigitalOcean is the most affordable option. This doesn't necessarily mean that it's in any way inferior to the other hosts available. In fact, DigitalOcean has had a reputation of a reliable cloud computing firm for years. The only downside is that they have relatively fewer data center locations – eight – compared to the other providers available through Cloudways.
Companies like Linode and Vultr have very similar pricing to DigitalOcean and will provide you with probably very similar overall experience.
On the far end of the pricing spectrum is AWS and Google Cloud. For sure, the one thing you can count on when working with either of these hosts is that they will not go down no matter what you throw at them. Those servers can withstand anything, and the price reflects that. Chances are you won't need neither AWS nor Google Cloud if you're just looking for a reliable place to host the average WordPress site.
⚠️ You can get a 30% discount by using this Cloudways coupon.
Are there any specific features that you get?
Sure, the list is rather long. More or less, you will get the same features, regardless of the core provider that you choose.
They are:
24/7/365 customer support
No lock-in – no contracts that would force you to stay with your cloud provider long term
Free SSL certificates
CDN add-on
Free website migration – in case you're moving from another host
Unlimited application installations – this means that you can host unlimited websites on either of the setups
Dedicated firewalls
24/7 real-time monitoring
Automated backups
Staging environments
Advanced caching
Auto healing features
Regular security patches
SSH and SFTP access
The list is pretty impressive, and especially given that Cloudways makes all of that easy to work with and navigate. Chiefly, if you're ever confused by anything, you can reach out to customer support directly.
This is one of the main selling points of Cloudways'. Basically, if you were to buy hosting from the cloud providers directly, your customer support would be very limited (more on that later).
How easy to use is Cloudways? 👐
Something we found out early when putting together this Cloudways review was that getting started with Cloudways is no different than getting started with other hosting platforms. To begin, all you need is to fill out a basic sign-up form and pick the cloud hosting setup that you want to use.
Cloudways lets you pick your provider and then the exact cloud hosting setup. You can also select the application that you want to have preinstalled on that server. In most cases, you'll want to go with the latest version of WordPress.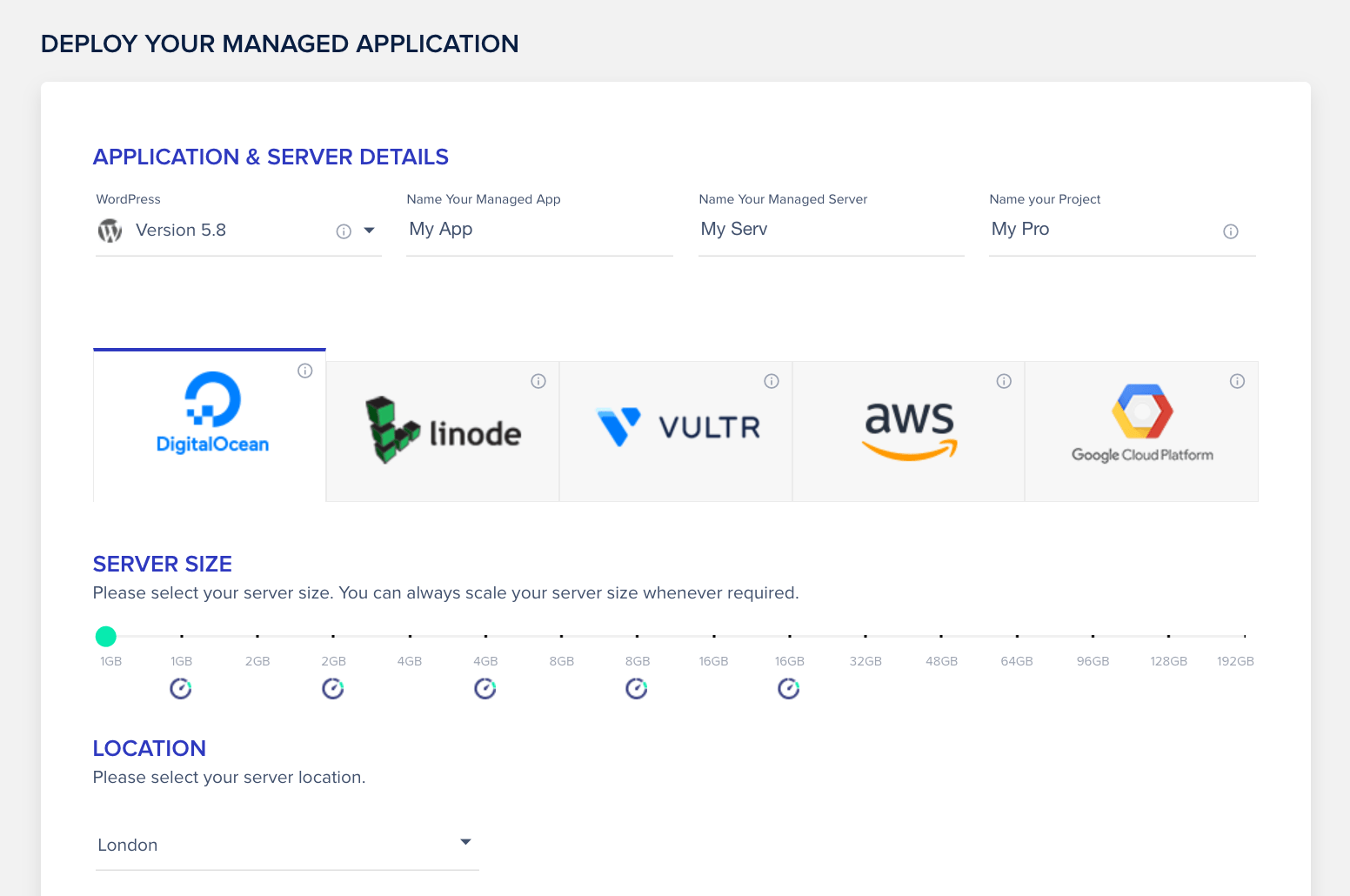 Once you click on Launch Now, it will take less than a minute for Cloudways to have everything set up for you and a blank instance of WordPress installed.
The Cloudways dashboard allows you to add new servers to your profile quite easily, too – just click on the +Add Server button up top.

At the same time, you'll see all your existing servers on the list in the central part.
For each of your servers, you can access the main admin tools and see the key metrics of these servers.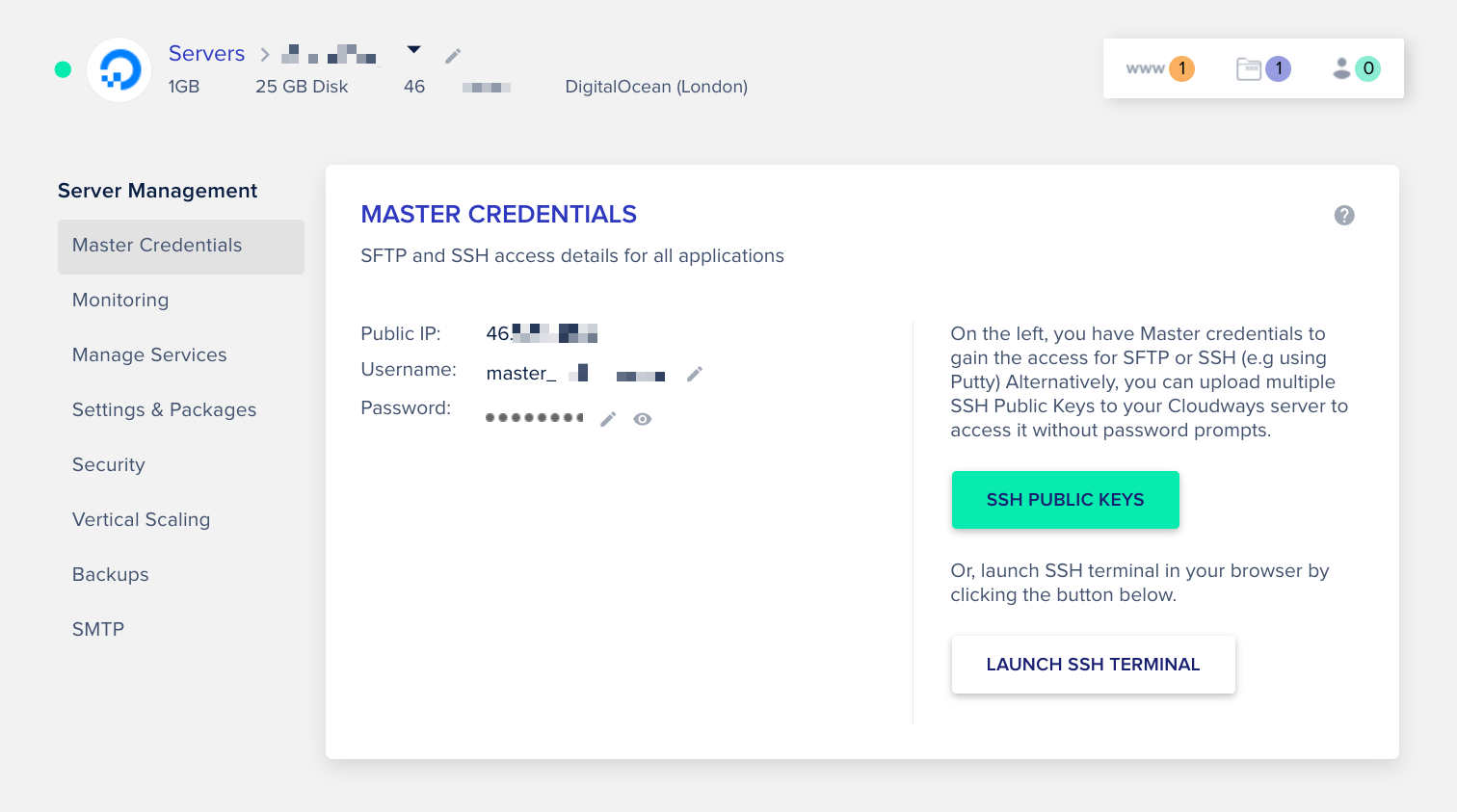 Most of the sections in the sidebar aren't going to be useful on a daily basis. But, from time to time, you might have the need to change your SSH access details, see your RAM and disk usage, manage the services running on your server, or upgrade to a more recent version of PHP, etc.
One thing that's a good idea to check right out the gate, however, is the backup frequency and retention time.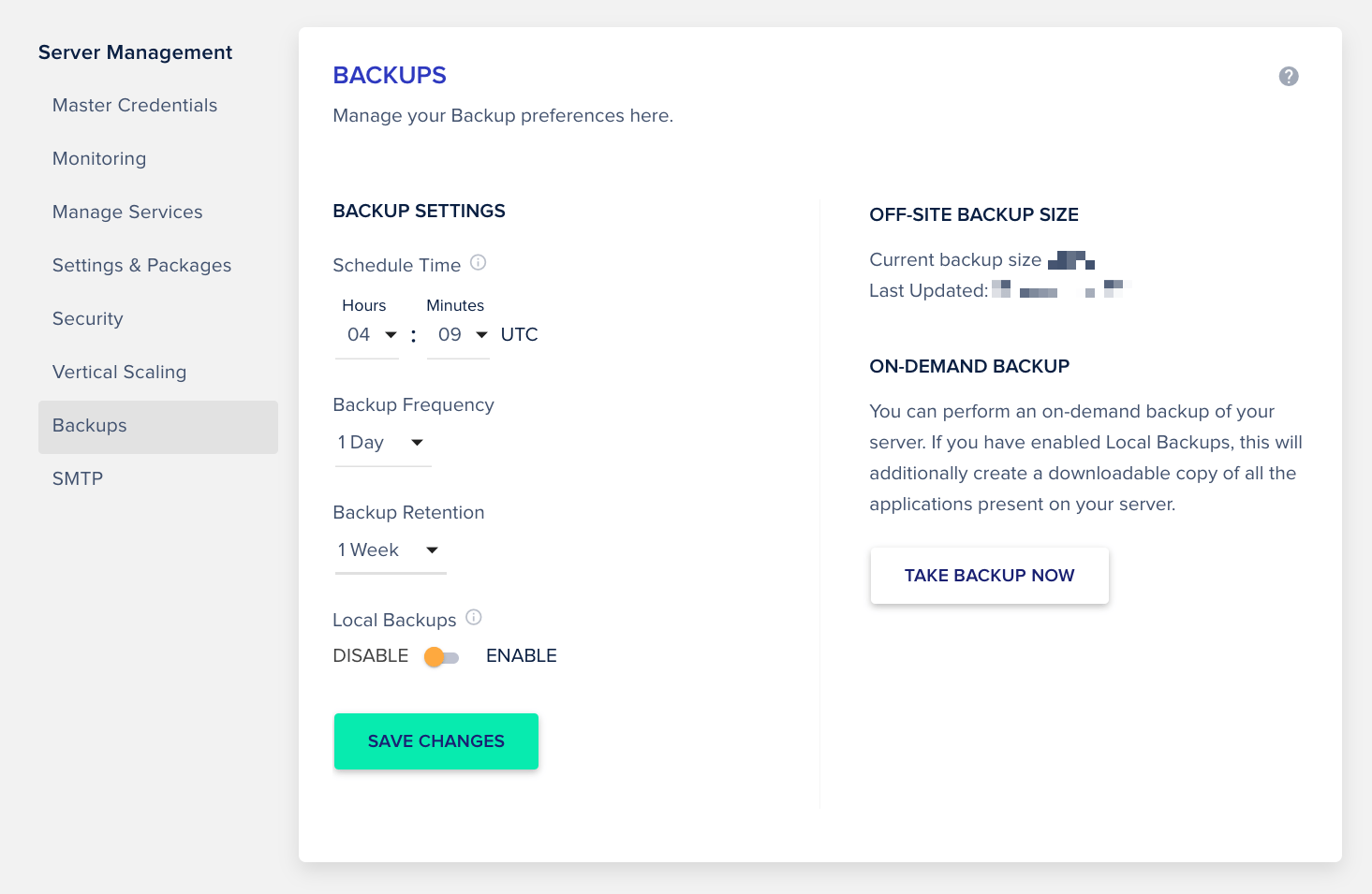 What we've been looking at so far are the main settings of the cloud server. Apart from those, Cloudways also has settings panels for all the applications that you might have running on your server – such as WordPress.
To access that additional settings panel, click on the www icon in the top right corner of the panel and select your application.

You'll see the following dashboard: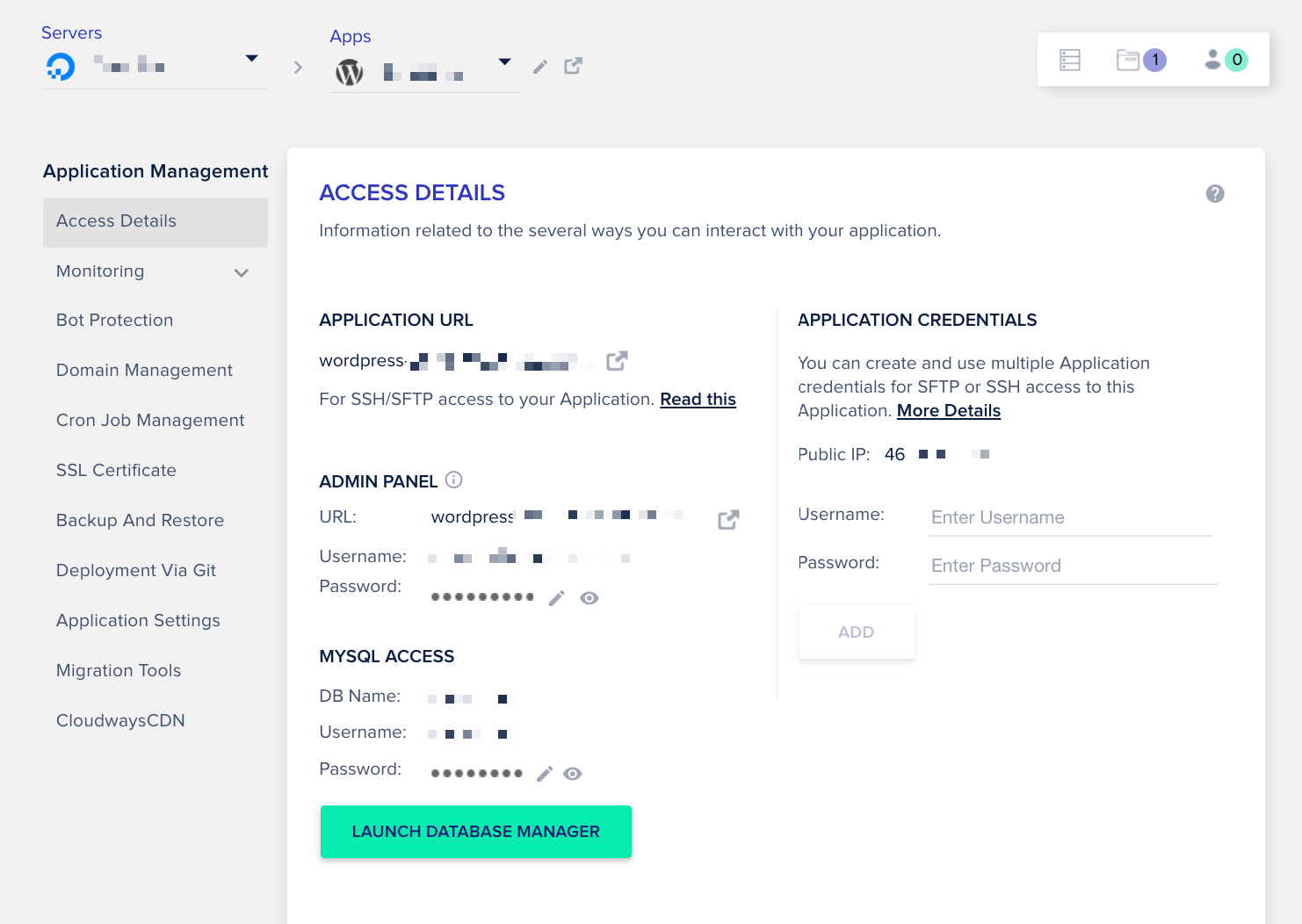 This is where you can see your WordPress site's most important parameters and settings.
You can change your admin password here, the database password, see basic analytics of the site, check the status of some of the security features that Cloudways offers, and more.
Cloudways also makes it easy to connect a new primary domain name to your site, set up cron jobs, and configure new SSL certificates. Plus, this is the place to restore your site from one of the available backups.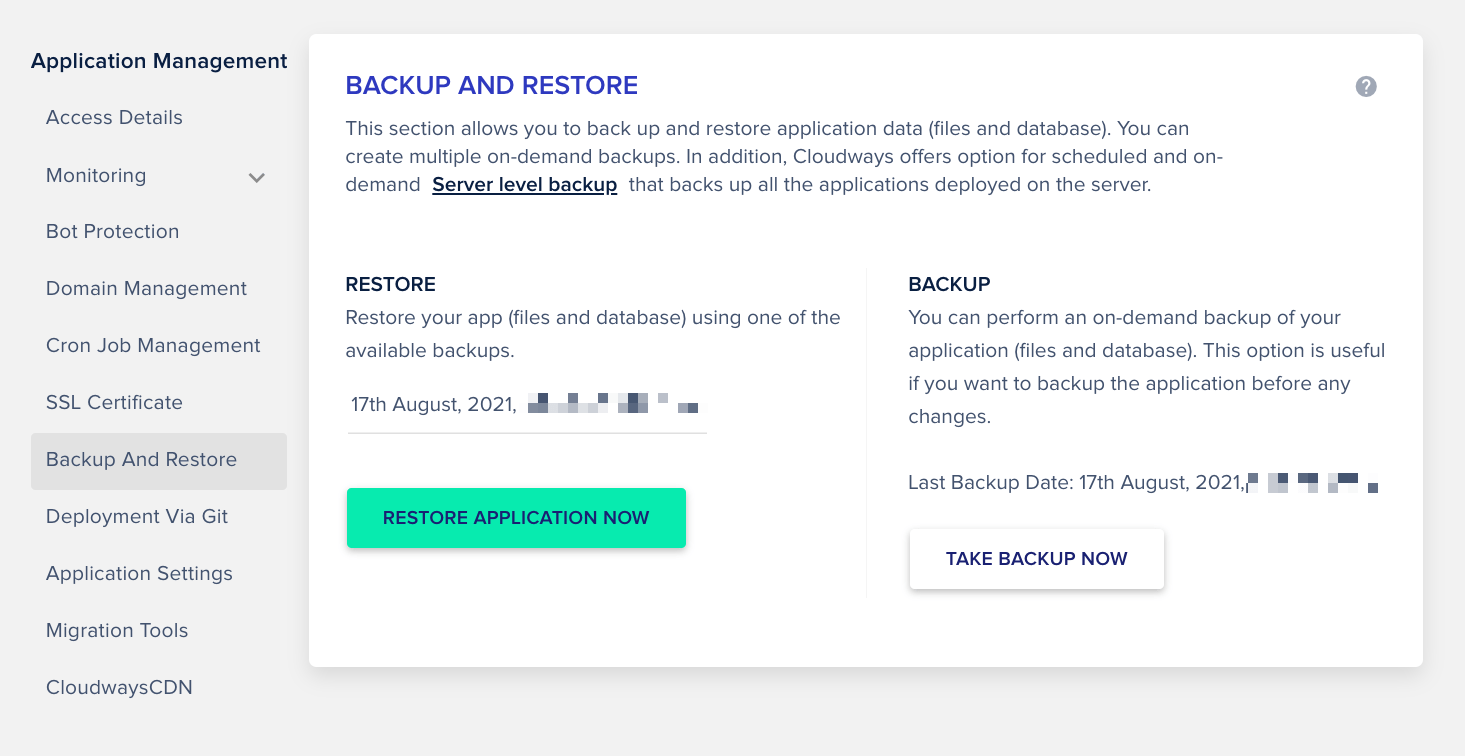 For more advanced website projects, there's also an option to deploy website updates via Git and configure CloudwaysCDN for better performance.
Overall, the dashboard has more of a pro-level feel. Cloudways gives you access to all the administrative actions that you might want to perform on your WordPress site. However, this is not forced upon you.
Basically, since Cloudways installed WordPress for you during signup, this means that all the heavy lifting has been done already. So, if all you want is to focus on working on your site through wp-admin only, then you can do that as well.
Cloudways review: Performance and load times 🏎️
You're probably very curious about how fast those servers really are. However, the thing we need to keep in mind with this Cloudways review is that what we're testing aren't Cloudways' servers per se. As we mentioned before, Cloudways runs their hosting setups through servers provided by other cloud hosting platforms.
Essentially, what we're looking at is the performance of the cloud platform that's been used for the test setup.
Here's how we conducted the tests:
we bought Cloudways' entry-level hosting setup powered by DigitalOcean,
we chose "London" as the data center location,
we let Cloudways install WordPress on the server,
we added some demo content to the site (texts and images),
we installed a couple of WordPress plugins to simulate a normal site setup.
With that done, we ran three sets of loading speed tests from multiple locations. Here are the results:
| Location | Loading Time | TTFB | First Paint | Interactive |
| --- | --- | --- | --- | --- |
| Ohio | 0.99 s | 424 ms | 0.94 s | 0.98 s |
| California | 1.44 s | 562 ms | 1.10 s | 1.10 s |
| Canada | 0.99 s | 409 ms | 0.88 s | 0.88 s |
| Frankfurt | 0.32 s | 188 ms | 0.59 s | 0.59 s |
| Paris | 0.35 s | 196 ms | 0.57 s | 0.57 s |
| Mumbai | 1.34 s | 533 ms | 1.05 s | 1.06 s |
| Sydney | 2.58 s | 942 ms | 1.73 s | 1.73 s |
As you can see, there's nothing out of the ordinary that you wouldn't expect. Since Cloudways runs their hosting setups on some of the most optimized and fastest servers available, it's no surprise that a normal WordPress website loads very quickly on these servers. The EU loading times are particularly impressive, but that's a result of our test website being hosted in the London data center.
Cloudways customer support 🚑
As we said earlier in this Cloudways review, one of the main selling points of Cloudways' hosting is that you get an additional layer of customer support vs what you'd get from the cloud server provider directly.
And, to be honest, that additional support is very appealing! You can access the support chat from the dashboard by clicking on the Need a hand? floating box.
From there, you can either contact a support agent directly, look for solutions in the knowledge base, or submit a support ticket. You can also check what your current support tier is. Speaking of which, Cloudways offers three distinct tiers of customer support:
Standard Support
Advanced Support
Premium Support
Here are the current details of these support tiers: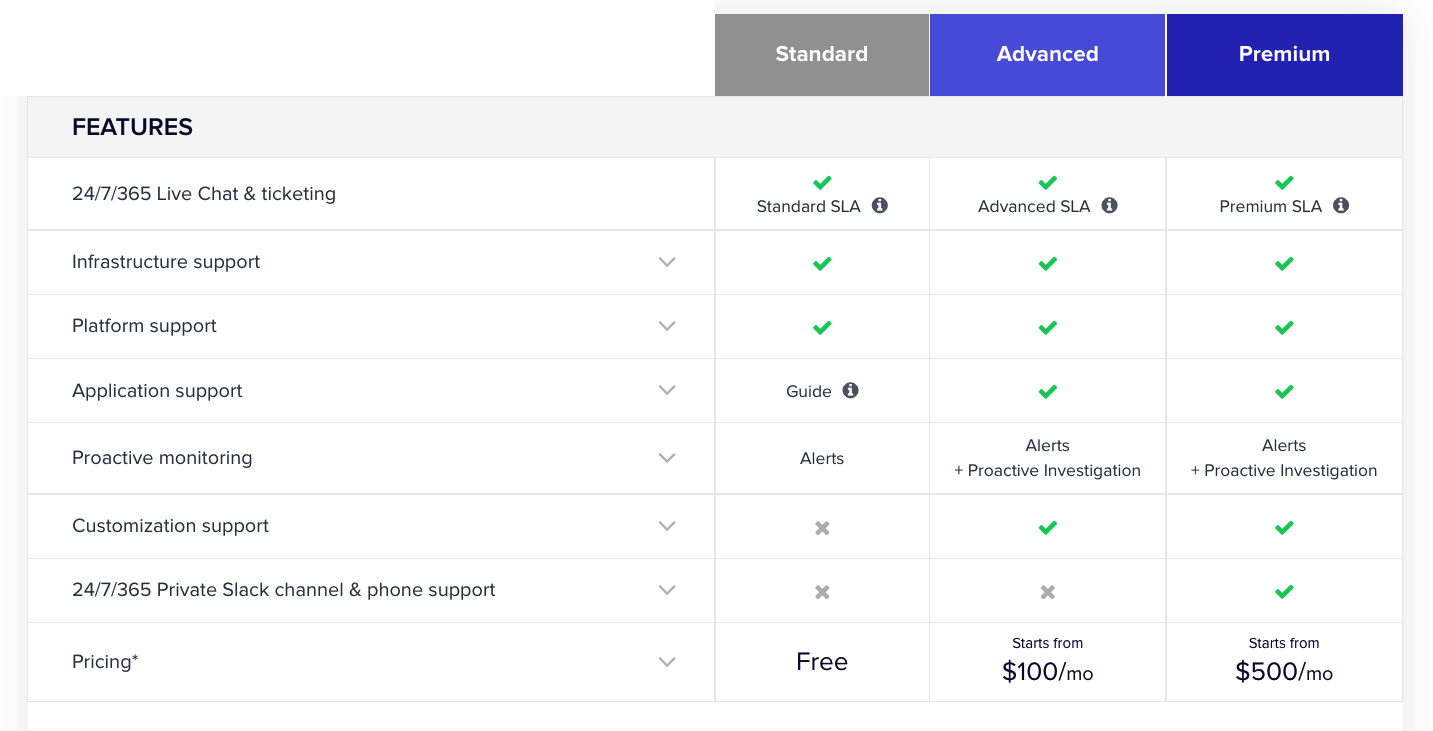 By default, all customers are on Standard Support. This by itself is already a very good support model, and it's going to solve basically 100% of the problems that you might experience with a standard server setup or WordPress site.
For instance, the Cloudways team will help you add servers/applications, clone them, scale your servers, map domains, do backups, solve any SFTP/SSH connection issues, set up caching and CloudwaysCDN, deal with SSL certificates, and more.
However, if that's not enough – maybe your website is more complex, or more popular – then you can upgrade to a higher support tier. For instance, Advanced Support offers you a dedicated account manager, and will also help you with application-level issues such as troubleshooting of plugins and themes, investigating database related issues, Cloudways API troubleshooting, even performance optimization.
Interestingly, Cloudways puts a really high price tag on phone support and a private support Slack channel. These are only offered in Premium Support, and that package is $400 more expensive than Advanced Support.
The support tiers also differ in response times:
| | Time after which unsolved issues are converted to support tickets | Initial response time to support tickets | Initial response time for high-priority tasks |
| --- | --- | --- | --- |
| Standard Support | 15 minutes | 12 hours | 3 hours |
| Advanced Support | 30 minutes | 6 hours | 30 minutes |
| Premium Support | unlimited chat duration | 2 hours | 10 minutes |
As you can see, Cloudways is serious about customer support and this shows in how many different support options they provide. Most users will be good with Standard Support. But if you're running a demanding project, Cloudways will be able to accommodate your needs as well.
Cloudways review: Pros and cons 👍👎
Cloudways does a lot of things right:
The prices are low for the performance you get.
You can host your site with some of the leading cloud hosting providers in the industry.
As a result of the former, you get exceptional scalability of your servers.
The customer support is great, and there are plenty of upgrade options available for more demanding setups.
You can run unlimited websites on all setups.
If you want to run your site on WordPress, you can get it installed during signup – so no need to do it yourself.
There's easy site migration if you're coming from another host.
You get automatic backups and other security features built in from the start.
Just looking at the list above, it's basically all you'd ever need to run a successful website and not have to worry about your server not being able to handle the load.
However, if I were to really, really list some cons of Cloudways' offering, those would be:
You have to get your own domain name. Many cheap, entry-level hosts give you a free domain for the first year. Like Bluehost.
Email hosting is paid extra. You can get it for $1/mailbox/mo.
Premium customer support can get very expensive – from $100 to even $500.
The dashboard is not that beginner-friendly. Granted, most website owners will not need to enter the dashboard on a daily basis, or ever.
Cloudways review conclusion: Who should use it? 💪
As we said at the beginning of this review, Cloudways takes the hosting setups offered by cloud hosting giants (such as Amazon or Google) and adds another layer of software and customer service on top of them. Basically, they make cloud hosting more user-friendly – even for the beginner user.
Of course, this has its price tag – roughly double the cost of working with cloud hosting providers directly, but it's still much cheaper than what the average WordPress hosting company offers (such as Kinsta or WP Engine).
⭐⭐⭐ Overall, Cloudways is a great solution for website owners who want the benefits of having a powerful cloud hosting setup without having to deal with any of the pains.
⚠️ Remember about the 30% discount you can get by using this Cloudways coupon.