If you have a WooCommerce store, finding the best WooCommerce hosting is important because your hosting plays a key role in your store's performance, reliability, security, etc.
To help you make a choice that will set your store up for success, we collected the five best WooCommerce hosting providers in 2023 and beyond, including both premium options for serious stores and budget options if you're trying to keep costs down.
We'll start by showing a quick summary table of the top hosts. Then, we'll share some details on how to choose a good WooCommerce host and then get into the five best hosts for WooCommerce stores.
Best WooCommerce Hosting Summary
If you're in a hurry, here's a summary of our picks for the best WooCommerce hosting providers – you can keep reading to learn more about each host.
*Kinsta's prices start at $30 but they recommend using at least their Business 1 plan for WooCommerce stores.
What to Look for in the Best WooCommerce Hosting
At a high level, WooCommerce is just a plugin for the core WordPress software, so there's a lot of overlap between what makes the best "WordPress hosting" and what makes the best "WooCommerce hosting.".
That is, you'll want to consider:
Performance.
Reliability/uptime.
Useful features like automatic backups and staging sites.
Support.
Those are all important for WordPress and they're also important for WooCommerce.
However, WooCommerce stores do have a few unique considerations because of the nature of WooCommerce, so there are a few extra issues to consider.
First off, WooCommerce has unique performance needs when it comes to caching and database usage (WooCommerce stores query the database more because of product search, order histories, etc.).
With respect to database usage, hosts can build in some tools to help:
Elasticsearch. This lets you replace the default WordPress search system with a much more optimized solution for your product search. If your host doesn't offer it, you can still add it using your own hosted instance or a third-party service like ElasticPress.
Custom database tables. Some hosts create their own custom database optimizations for WooCommerce, which can be useful for large stores.
You also might want to look for some adaptive features, like backups that are more frequent than once per day and flexible staging tools with database merge.
Now, let's get into the five best WooCommerce hosting providers…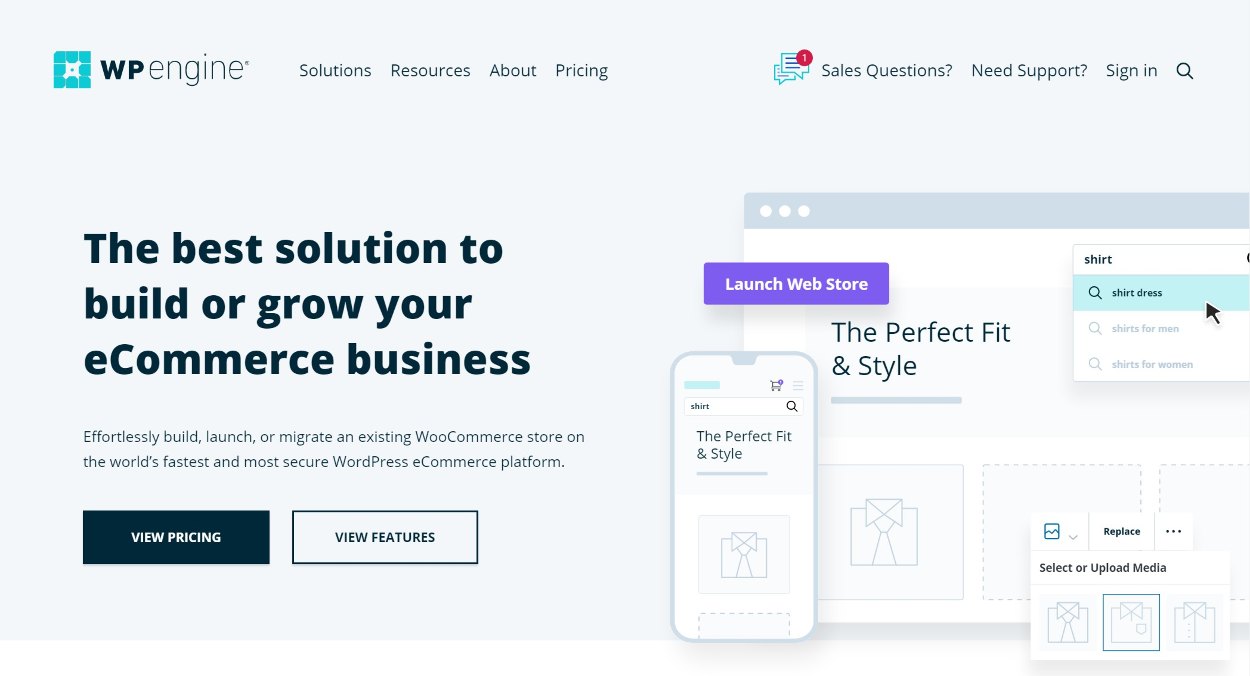 WP Engine is one of the most popular managed WordPress hosting providers. They were always a good choice for WooCommerce hosting, but they just got even better with the launch of dedicated WooCommerce hosting plans.
These plans include WooCommerce-specific optimizations like compatible caching and Elasticsearch for improved product search (though this is only available on the higher tiers).
To learn more about WP Engine, you can read our full WP Engine review, though our review is of the general-purpose WordPress hosting and not the eCommerce-focused plans.
Key Features
Built-in caching solution that's optimized for WooCommerce stores.
One-click WooCommerce installation.
Pre-installed WooCommerce theme.
Free SSL certificate.
Built-in content delivery network (CDN) for improved global performance.
Elasticsearch for improved product search (on the Professional plan and above).
Automatic daily backups.
One-click staging sites including partial merge so that you can only push file changes live (and not touch the database).
Pricing
While you can host a WooCommerce store on any plan at WP Engine, we recommend using the dedicated eCommerce hosting plans. These plans are a little more expensive, but they're worth it for the optimized environment.
WP Engine's eCommerce plans start at $36 per month for the StartUp plan:
One website.
25,000 visits.
10 GB storage.
50 GB bandwidth.
You need the Professional plan for Elasticsearch, though.
Here are the monthly prices – but if you pay for a year upfront, you'll get two months free: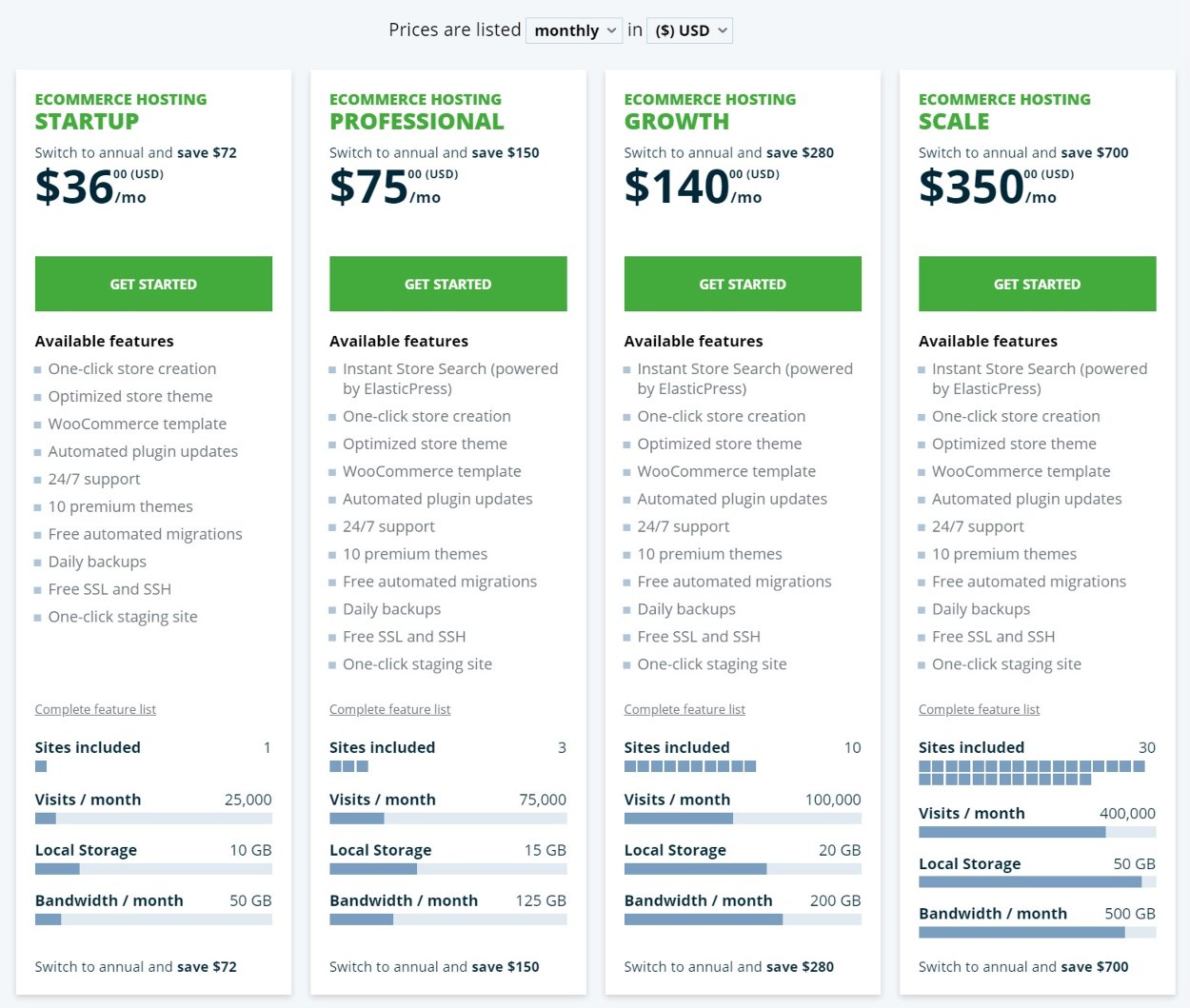 You can also use our WP Engine coupon "wpkube20" to get an even better deal – 20% off your first bill or four months free if you pay annually.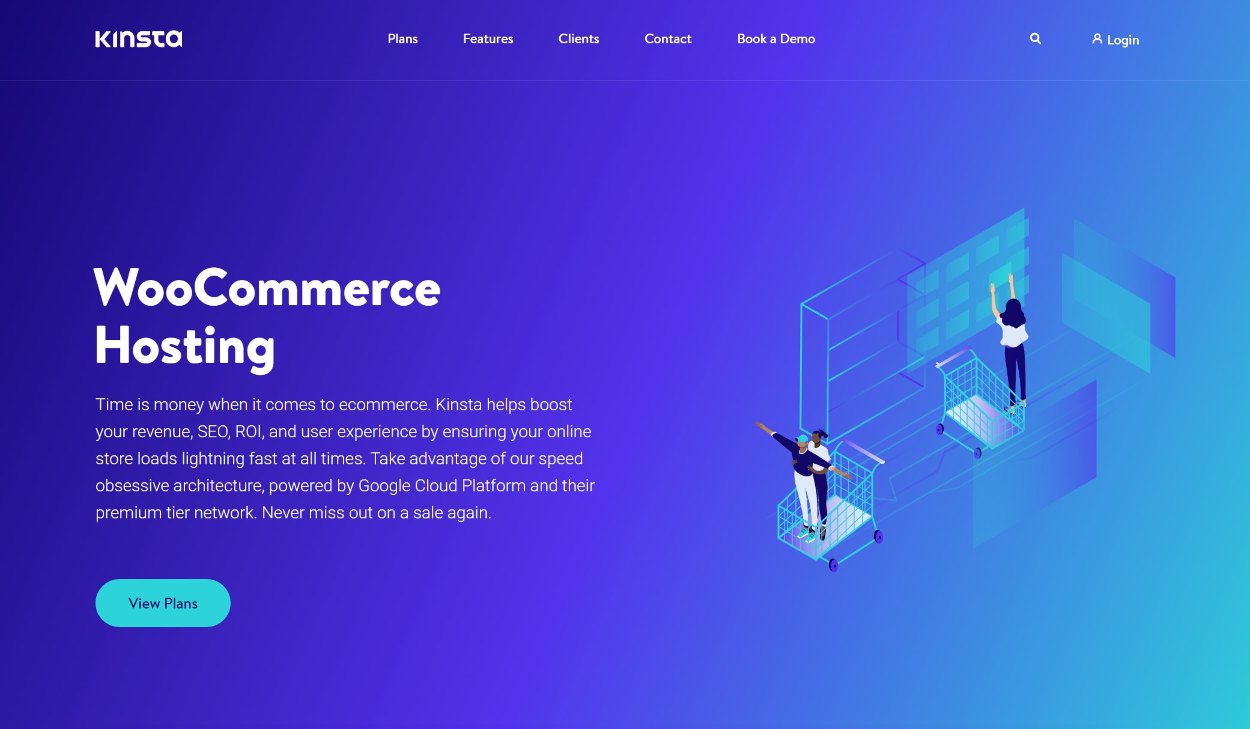 Kinsta is another managed WordPress host in the same vein as WP Engine. Unlike WP Engine, Kinsta doesn't advertise/market dedicated WooCommerce hosting plans, but Kinsta's regular WordPress hosting plans include everything you need to successfully host a WooCommerce store.
Kinsta also offers some useful add-ons for WooCommerce stores (like more frequent backups), on top of just generally offering excellent performance and support.
👉 You can learn more in our full Kinsta review.
Key Features
Dedicated WordPress/WooCommerce installer.
Optimized Google Cloud infrastructure.
Built-in caching solution, including WooCommerce compatibility.
Built-in CDN powered by KeyCDN.
Kinsta Application Performance Monitoring/APM (a New Relic-like performance audit tool to improve your WooCommerce store's performance on a very detailed level – learn more here).
Cloudflare Automatic Platform Optimization (APO) integration.
Automatic daily backups. For an added fee you can also increase the frequency to every six hours or hourly.
One-click staging sites, but you can only push the full staging site live, which isn't ideal for WooCommerce.
Pricing
Kinsta's pricing plans technically start at $35 per month. You can install a WooCommerce store on that plan. However, the Kinsta team recommends using at least the $115 per month Business 1 plan for eCommerce stores because it offers four PHP workers, which leads to better performance for dynamic WordPress sites.
The Business 1 plan supports the following:
Five WordPress sites.
100,000 monthly visits.
30 GB storage.
200 GB CDN.
For very small stores, you might be ok with the $35 per month Starter plan which offers:
One website.
25,000 monthly visits.
10 GB storage.
50 GB CDN.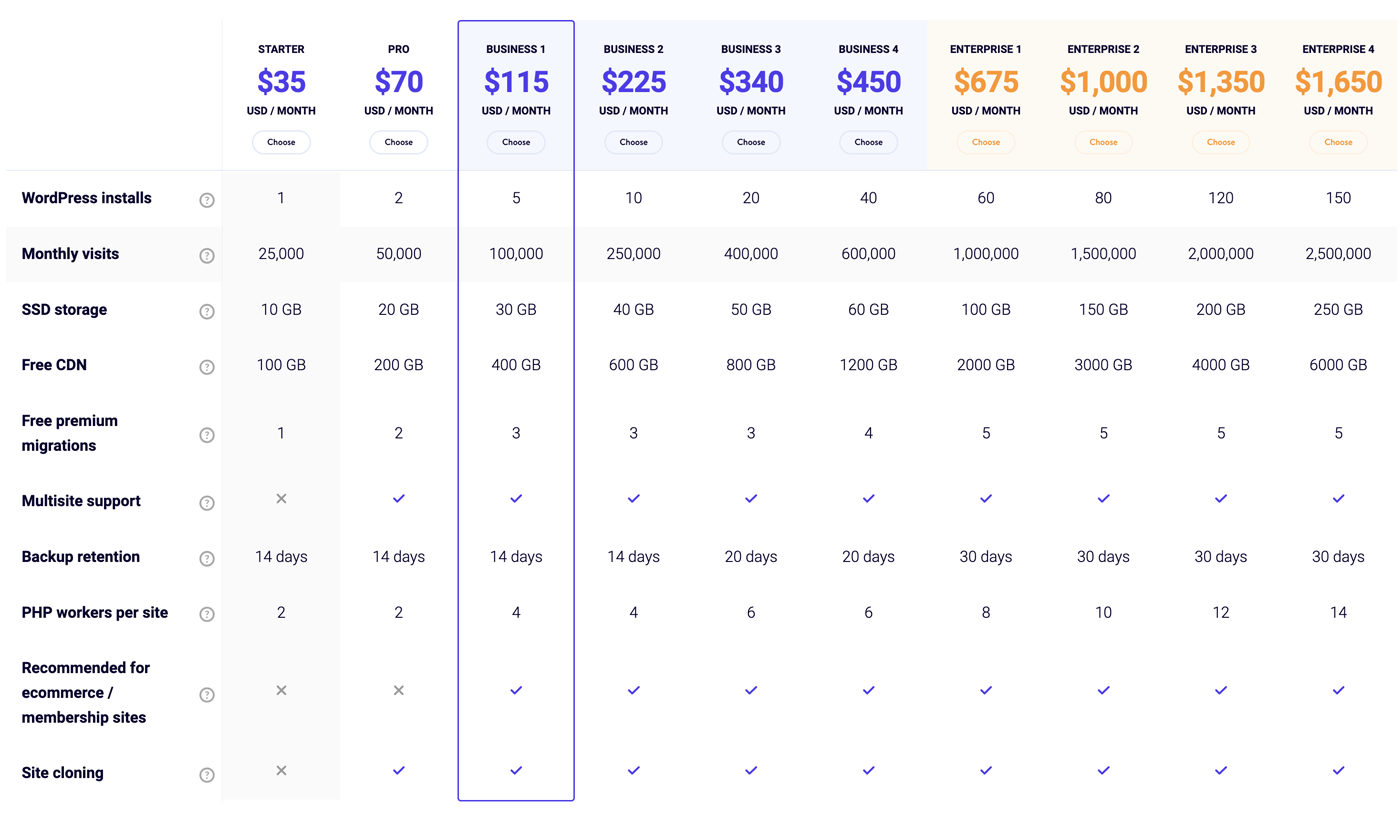 If you want some of the add-ons that we mentioned, those might be an extra fee as well. For example, adding hourly backups costs $100/month/site. You get daily backups for free.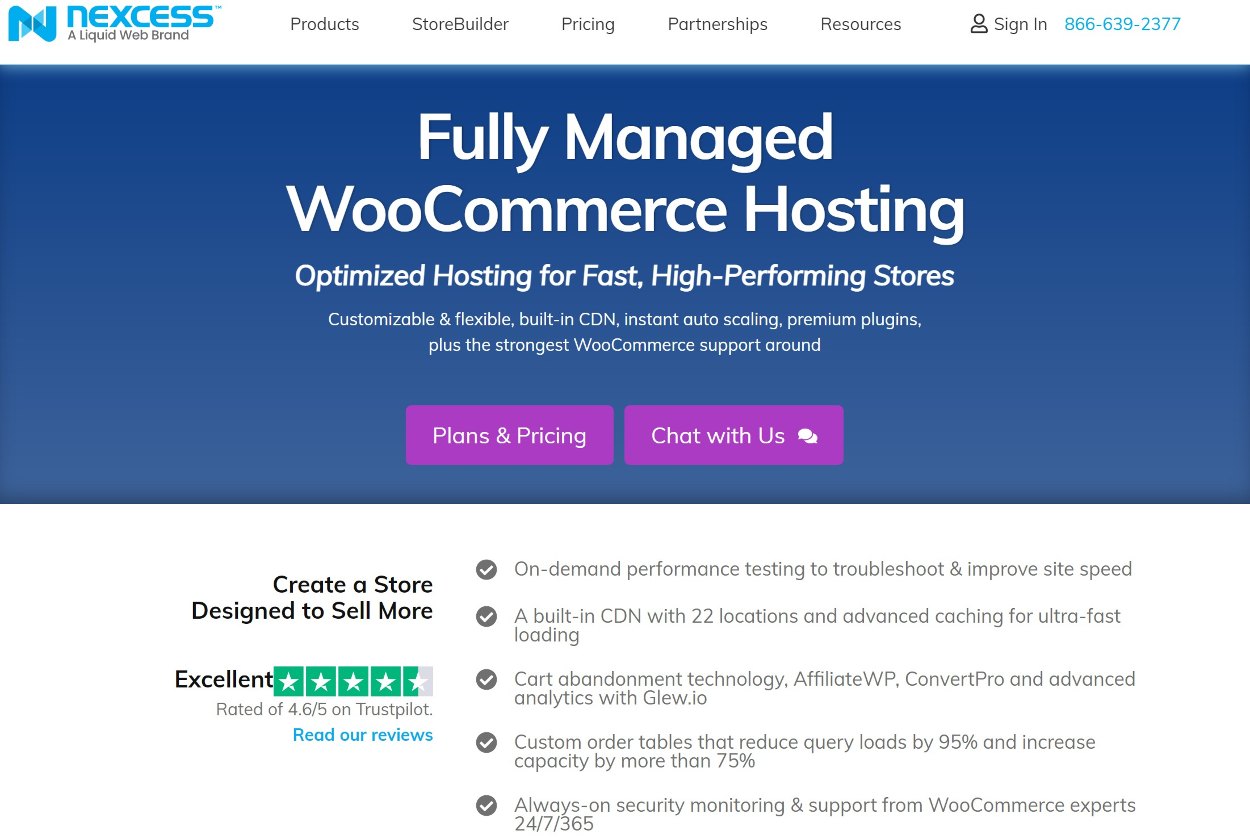 Nexcess is a dedicated managed WooCommerce hosting provider that's a subsidiary of Liquid Web, a popular web host that's been investing in the WordPress hosting space with acquisitions of iThemes, Restrict Content Pro, The Events Calendar, and more.
Liquid Web advertises its managed WooCommerce hosting on both the Liquid Web website and the Nexcess website, but the actual hosting is provided by Nexcess.
Nexcess is one of the few hosts to offer a truly dedicated managed WooCommerce hosting plan. It's not regular WordPress hosting or just rebranded WordPress hosting – it's built from the ground up for WooCommerce stores.
There are a few examples of this singular focus:
Dedicated StoreBuilder feature to help you launch your store.
Unique WordPress performance optimizations including Elasticsearch and custom database tables (depending on the plan).
Tons of built-in eCommerce tools and plugins.
Unique pricing model – you're billed based on your store's order volume instead of just visits.
Overall, it's an interesting option if you're launching a WooCommerce store in 2023.
Key Features
Custom StoreBuilder tool to help you launch your store.
Built-in image compression service.
Elasticsearch for improved product search.
Optimized caching solution for WooCommerce.
Custom database table for orders to improve performance.
Automatic plugin updates with visual regression testing to roll back any issues.
One-click staging sites with partial merges and dummy data.
Automatic daily backups.
Free SSL certificates.
Built-in CDN.
As we mentioned above, you also get a ton of different premium plugins, themes, and tools. The exact selection depends on your plan, but these include:
iThemes Security Pro.
Astra Pro theme.
IconicWP plugins.
Beaver Builder Pro.
Ultimate Addons for Beaver Builder.
WP101 tutorials.
Glew reporting
Thank You Redirect for WooCommerce plugin.
Dokan Pro for multi-vendor marketplaces.
Pricing
Nexcess's plans start at just $19.50 per month with month-to-month billing. That plan supports:
One store.
30 GB storage.
Up to 500 orders per hour.
3 TB bandwidth
No hard visit limit like Kinsta or WP Engine.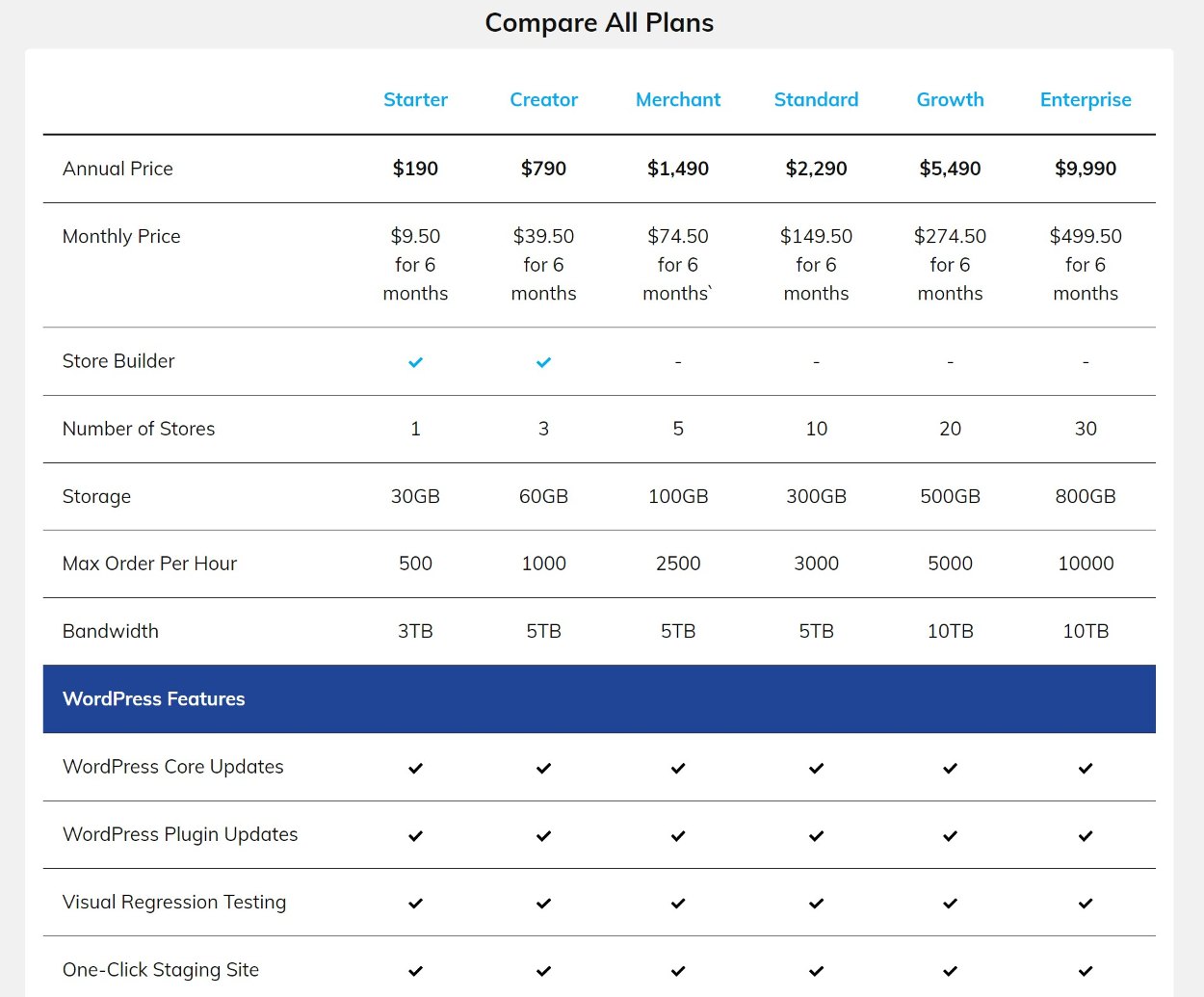 You can save 40% on your first bill by using our exclusive Nexcess coupon code.
Note – you'll need the higher-tier plans to unlock Elasticsearch, custom database tables, and all the bundled tools.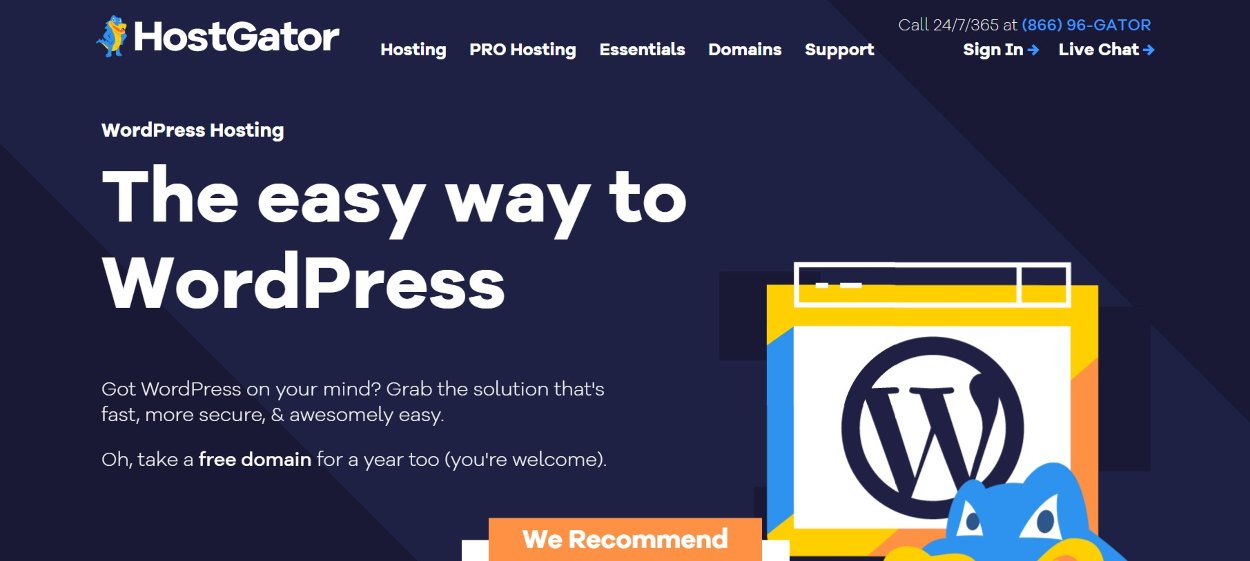 HostGator is a popular WordPress hosting provider that offers cloud WordPress hosting plans at a very low cost, which makes them a solid option if you're on a budget.
They don't have dedicated WooCommerce hosting plans like some of the other providers on this list, but you can easily set up a WooCommerce store on their regular cloud WordPress hosting plans.
Key Features
Free SSL certificates on all plans.
Unmetered storage and bandwidth on all plans (though the plans do have monthly visit limits).
One-click WordPress installer.
99.9% uptime guarantee.
Dedicated backup tool.
Free domain for your first year.
Free email hosting (WP Engine and Kinsta don't offer this).
Pricing
One of the highlights of HostGator's cloud WordPress hosting plans is the price. With promo prices, all of the plans start at under $10 per month – even the most expensive Business plan.
However, you should be aware that these promo prices don't last forever. After your first billing cycle (which can be up to three years), you'll need to renew at the full "regular" price.
However, even with regular pricing, HostGator is still quite affordable compared to other hosts on this list.
You can choose from three plans – the prices in the screenshot below are the promo price for a three-year commitment: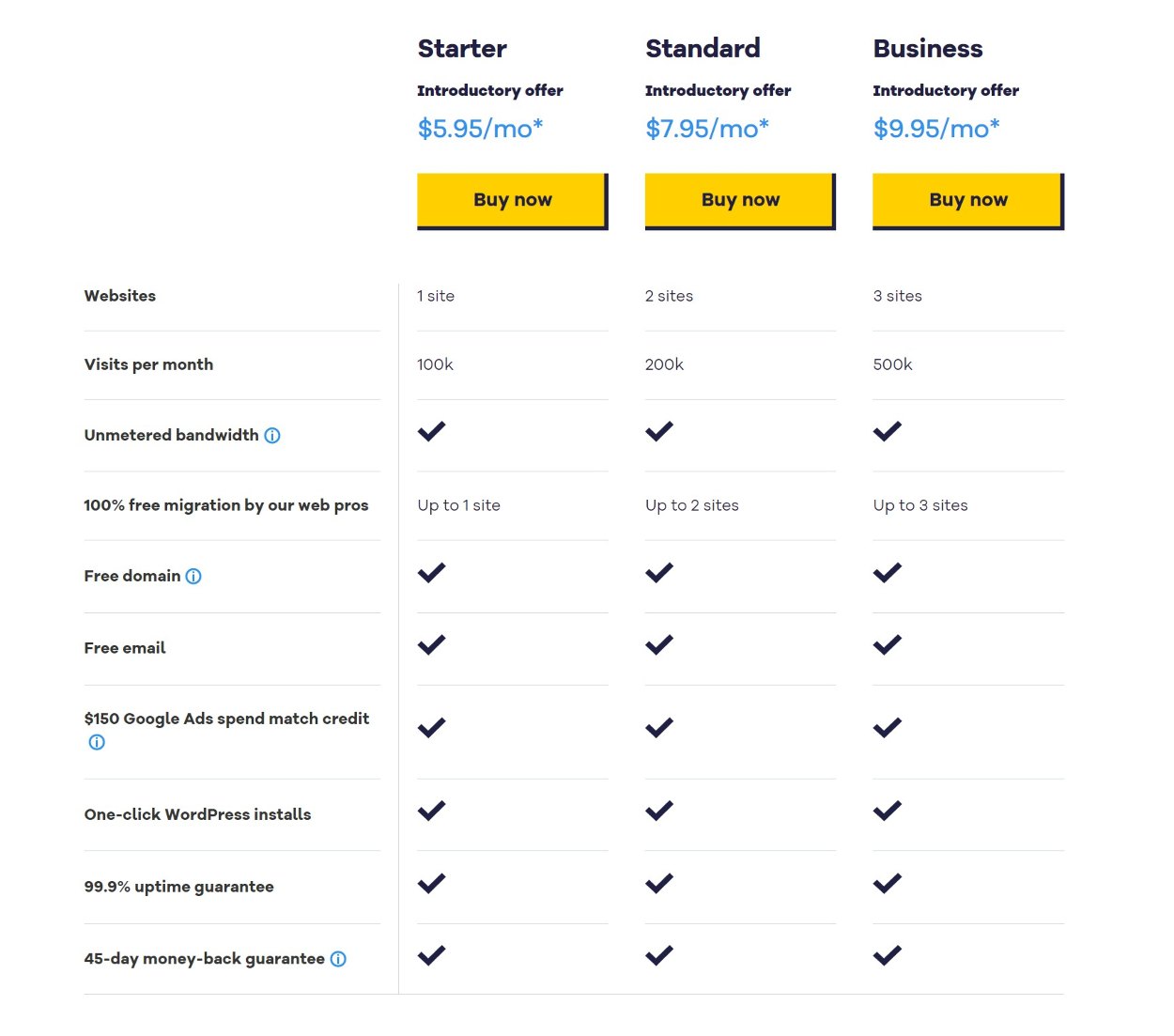 Here's a table showing the full prices when you renew based on different billing terms: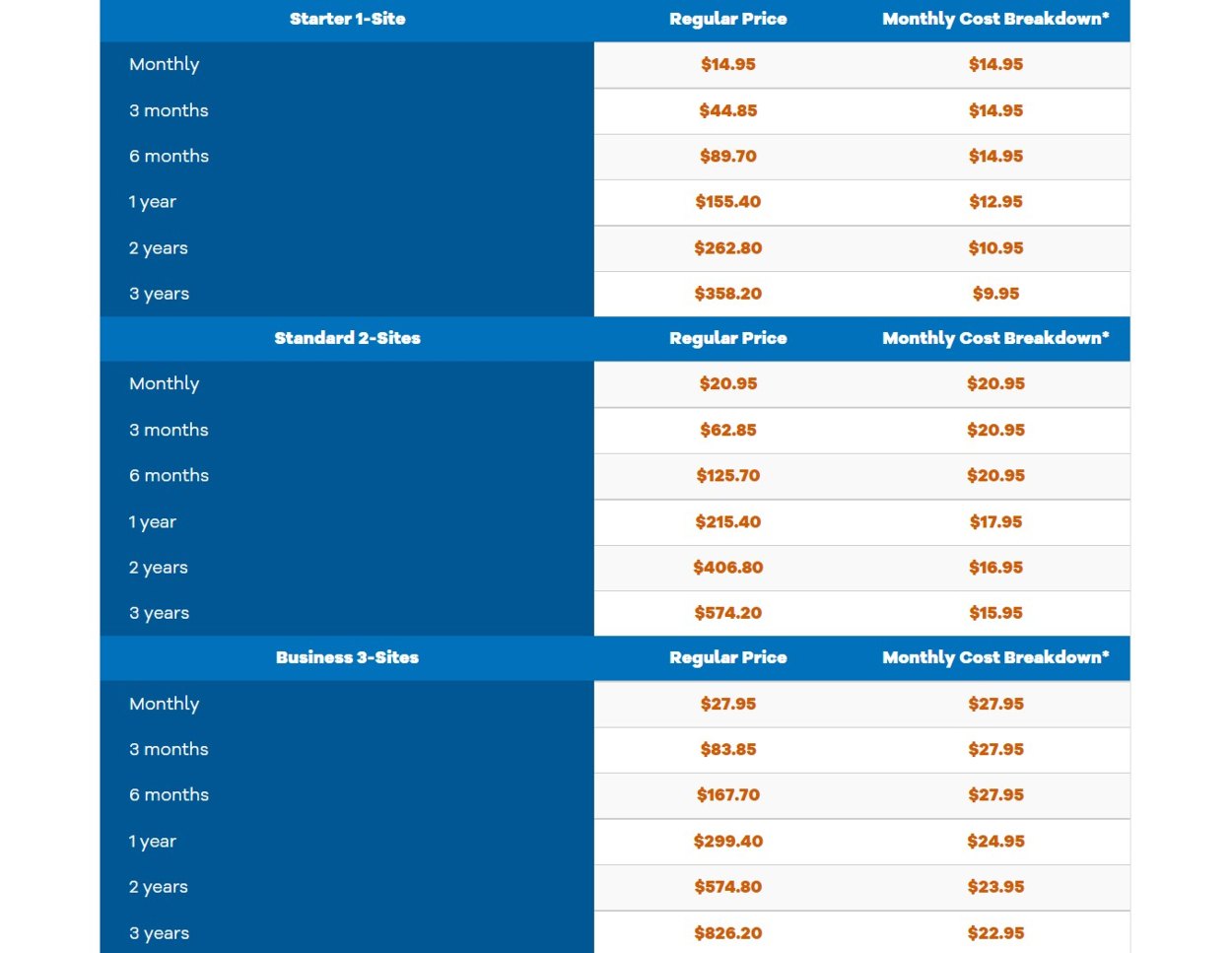 You can save money with our exclusive HostGator coupon code.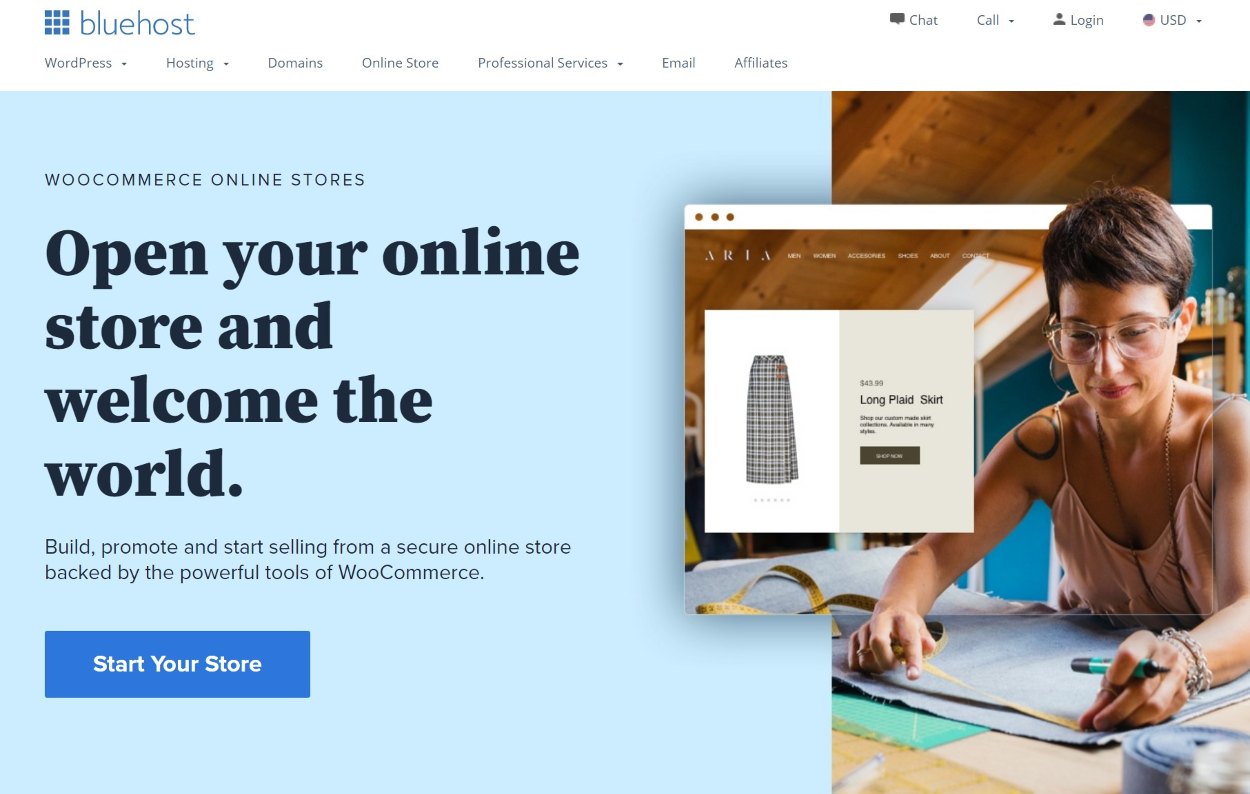 Bluehost is another popular budget WooCommerce host. They're probably best known for their cheap shared WordPress hosting plans, but they also offer dedicated WooCommerce hosting plans that are still quite affordable.
This can make them a good cheap WooCommerce hosting provider if you're on a tight budget. They also give you access to some premium plugins and tools at no extra cost, which further adds to the price savings.
However, Bluehost's performance is not going to be as good as a host like WP Engine or Kinsta, so you'll only want to use Bluehost for small, low-traffic stores. If you have a large and/or high-traffic store, you should invest in a more premium WooCommerce host.
Key Features
Free SSL certificates.
WooCommerce-optimized caching system.
Pre-installed WooCommerce and Storefront theme.
Free WooCommerce plugins and tools – WooCommerce Subscriptions, WooCommerce Bookings, Jetpack Premium, Product Add-ons, and more.
WooCommerce-specific support – get help setting up your store and adding products (that is, the support will help you with WooCommerce itself in addition to hosting).
👉 You can see our full Bluehost review here.
Pricing
For Bluehost's WooCommerce hosting plans, they let you pay monthly, yearly, or triennially (pay for three years upfront). You'll get the best prices if you pay for all three years, but having the month-to-month option is still nice as Bluehost doesn't let you pay monthly on their cheaper shared plans.
You can choose from two different plans – Standard and Premium. In general, the hosting itself is quite similar, but the Premium plan gives you free access to premium plugins and tools like:
Here's an image showing the annual promo price for these plans and the different features: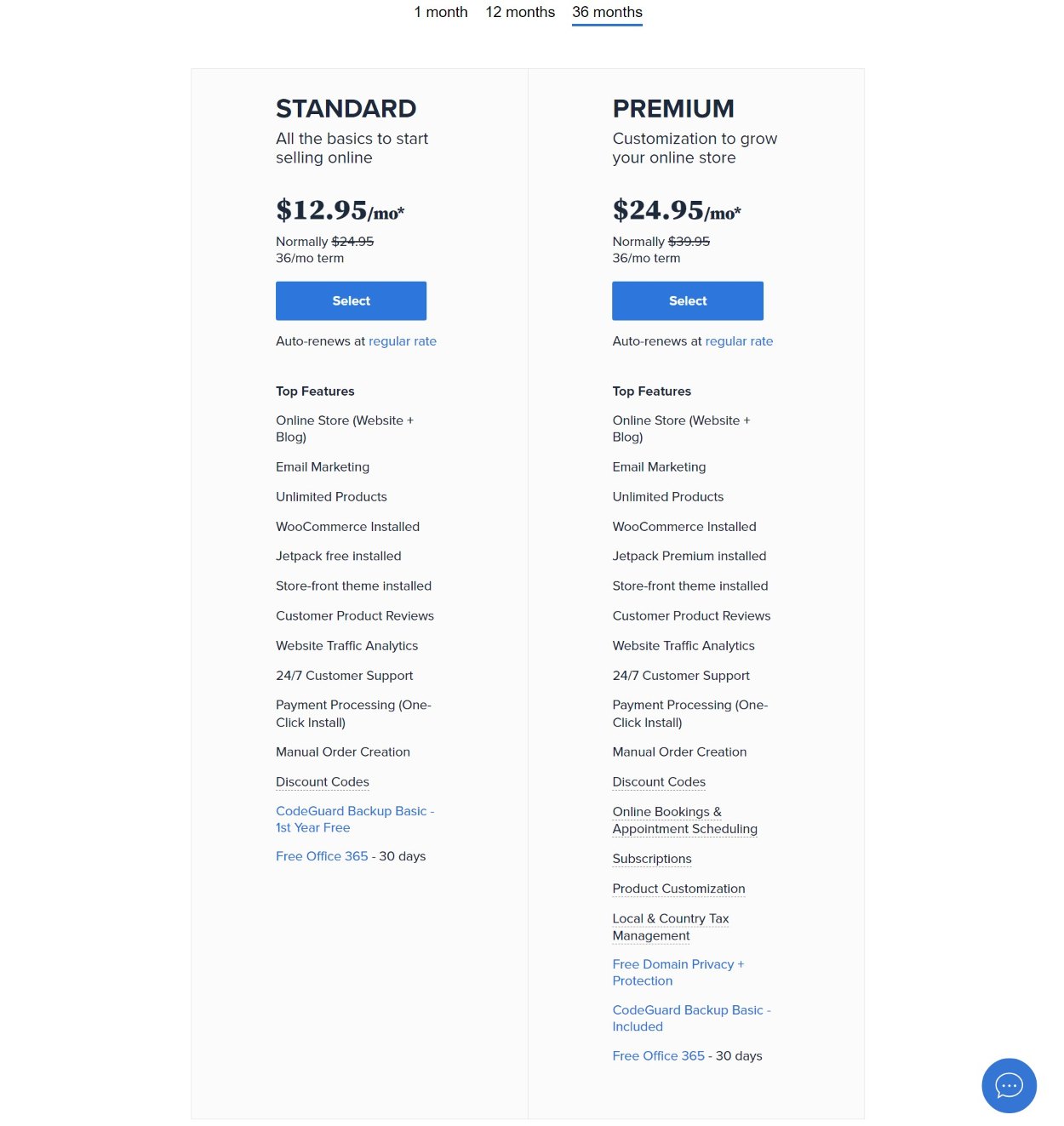 Like other Bluehost plans, Bluehost offers promo pricing for your first billing term but then charges the regular price after that. If you pay for three years upfront, you can lock in the promo price for all three years.
The prices in the image above are the promo prices. Here's a table showing the regular prices that you'll pay when you renew:
| | | | |
| --- | --- | --- | --- |
| Plan | One month | One year | Three years |
| Standard | $29.95 | $24.95 | $24.95 |
| Premium | $49.95 | $39.95 | $39.95 |
🤔 Which One Is the Best WooCommerce Hosting Provider?
Choosing the best host depends on your budget and the size/traffic level of your store.
If you want the best hosting when it comes to performance and reliability, we recommend choosing one of these three options:
These hosts are just on another level when it comes to performance and features, so they're the best option for serious stores where you're willing to invest in the best of the best.
However, these hosts can also be a bit expensive for smaller stores (though Liquid Web does have an affordable entry-level plan).
If you're on a tight budget, you might prefer HostGator or Bluehost. These hosts still have enough power for small, low-traffic stores and can help you keep your costs down while you're growing.
If you're ready to get started, choose one of these WooCommerce hosting providers and then follow our WooCommerce tutorial to create a store. You can also check out the best WooCommerce themes and WooCommerce plugins to help make your store a success.