WP Engine is one of the very first companies to start offering tailor-made hosting for WordPress websites. They're also one of the most popular such services online today. In this WP Engine review, we tell you if their product is actually any good!
Here's what we're going to cover:
What WP Engine is and how it's different from classic hosting 🤔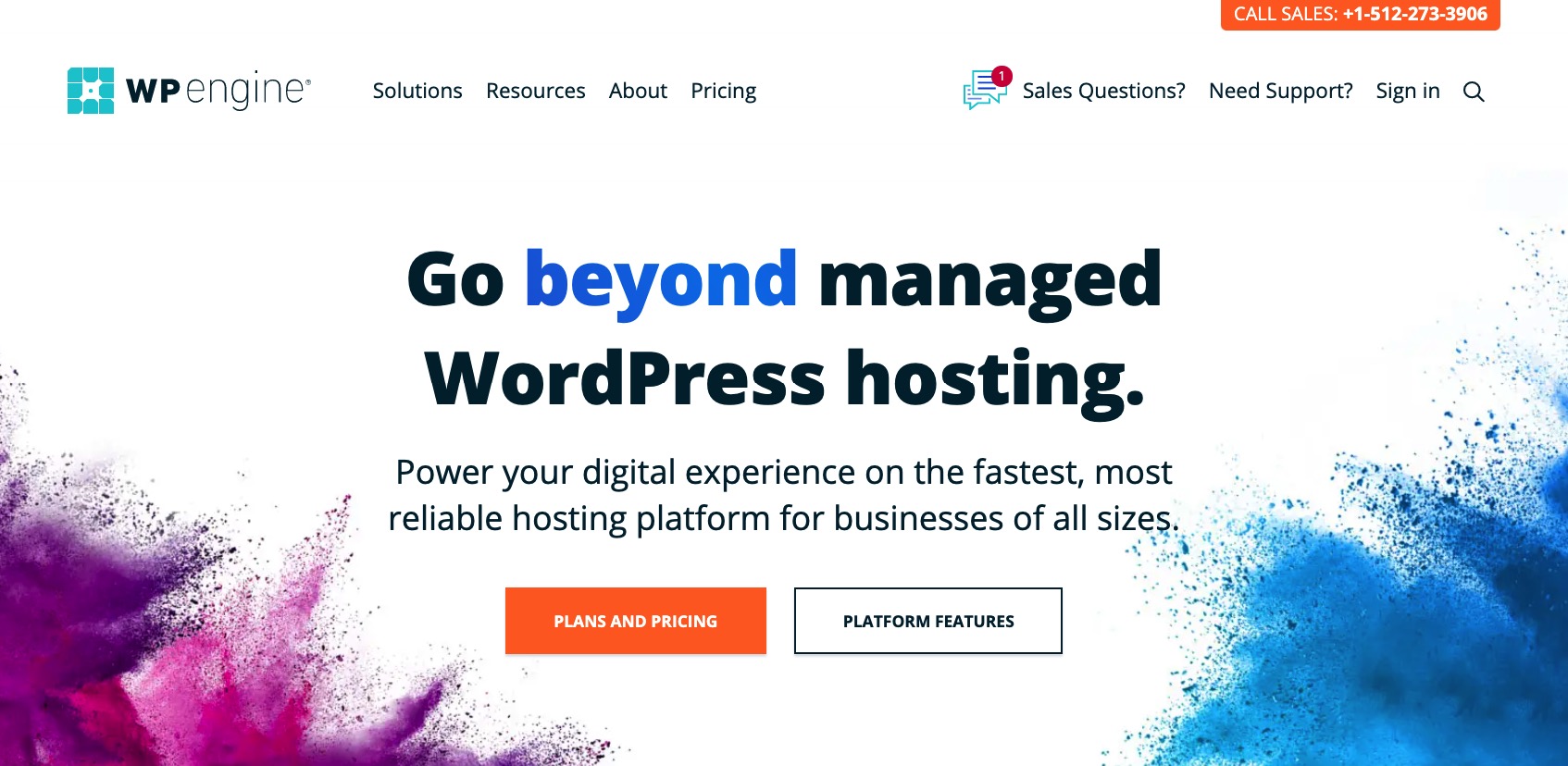 WP Engine is what we like to call "managed WordPress hosting."
Although there's no rock-solid definition of the term, the way most people understand it is web hosting that either houses/allows only WordPress websites or is at least specially optimized to run WordPress websites.
What those optimizations are in practice changes from company to company, and there's no official list of features that a hosting platform needs to have in order to be allowed to call itself WordPress hosting.
So that's "WordPress hosting," but what is "managed WordPress hosting?"
The managed part means that the user doesn't have to deal with any server-level tasks on their own but instead gets that handled by the hosting company itself. In simple terms, when you're on managed hosting, your main responsibility is to take care of your website's content and not worry about any technical aspects under the hood.
What's WP Engine's part in all this?
WP Engine is the most well-known WordPress hosting provider on the market. As of this writing, the company serves 150,000+ customers worldwide, and it's also one of the best-reviewed hosting companies in the WordPress space. In a recent survey, users rated it at 8.69 / 10 overall1.
So, is WP Engine really that good? Let's examine it up close in the next sections of this WP Engine review:
WP Engine review: features and pricing ⚙️💵
You probably already know that WP Engine is not the cheapest host out there. I'm guessing that's why you're here – to see if the high price tag is worth it.
With that, we want to highlight a couple of elements of the WP Engine pricing model that are easy to overlook. But let's start from the top. Here are the main plans that you can choose from: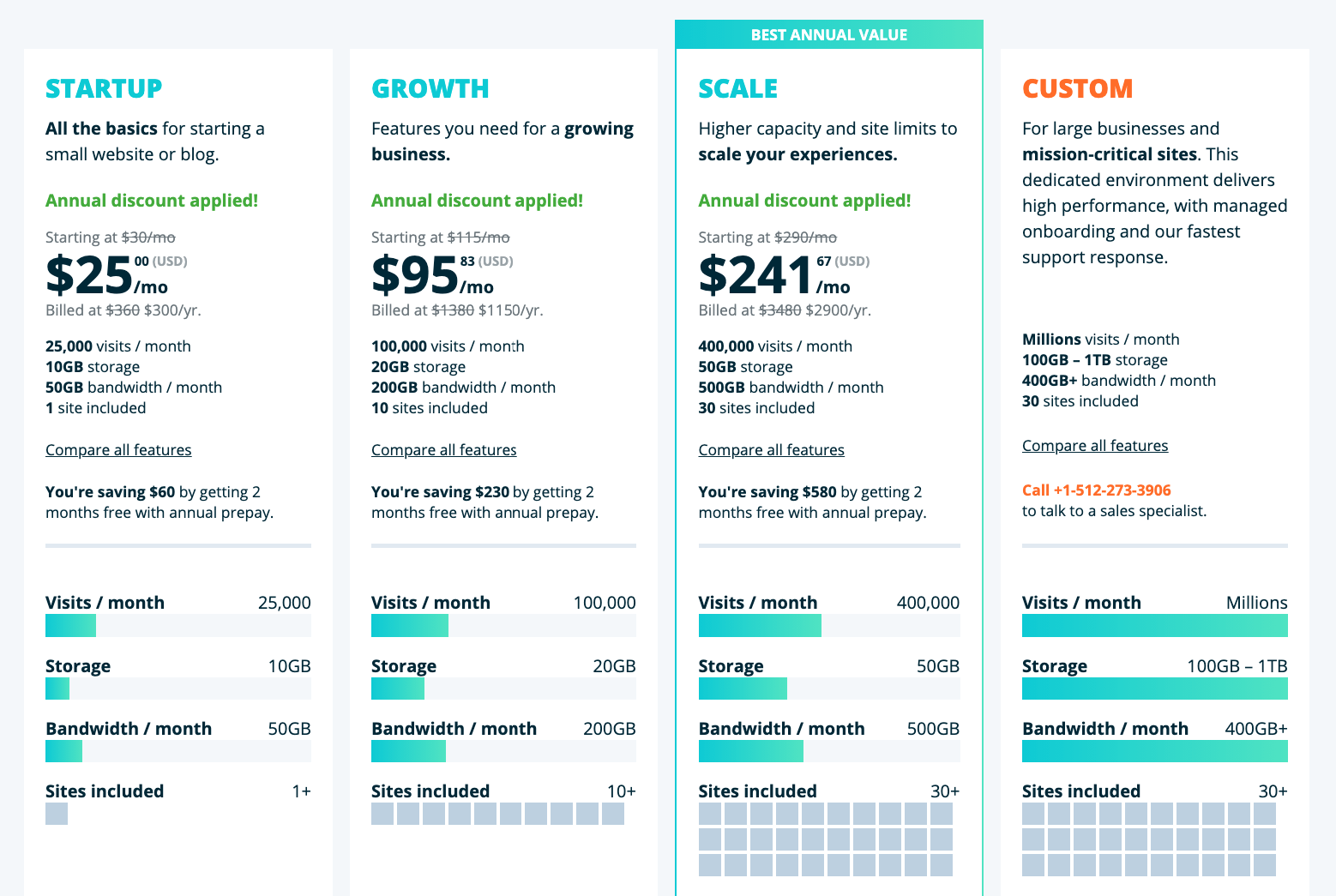 As you can see, getting onto the WP Engine bandwagon is from $25 a month when paid annually (billed at $300 for the whole year).
This is not a small amount, considering that you can get a setup that's similar – on paper – for a third of this. However, there's a lot that's going on under the hood:
Even if you go for the entry-level plan that allows just one website, you can still take full advantage of WP Engine's multi-environment setup with a Production, Staging, and Development version of your site.
You get access to 35+ premium WordPress themes by StudioPress, including the popular Genesis Framework.
You also get built-in integration with Local – a tool for local WordPress development originally built by Flywheel (another host that WP Engine acquired).
There are automatic updates for WordPress core.
There's a functional site migration solution available for free.
There are some useful pro-level tools that we'll talk about later on in this WP Engine review.
Apart from that, the list of extras available across different price points with WP Engine is quite impressive. Even the entry-level plan gives you access to all of the following:
PHP 7.4 support.
Transferable sites – an option for developers to create websites for clients without making those websites count against the developer's site limits.
Evercache – a proprietary front-end cache by WP Engine.
LargeFS – Large Files System to let you store and transfer large amounts of data.
Global CDN provided to WP Engine by MaxCDN.
Page Performance – performance analysis and improvement tool.
Automated and manual backup features, plus one-click restore.
Automated SSL certificates.
SSH gateway – access to command-line tools for the pros.
Git version control.
On higher tiers, you also get perks such as 24/7 phone support, WordPress multisite, or even the option to include geographically customized content via WP Engine's GeoTarget feature.
In the end, while WP Engine is not the cheapest WordPress host on the market, it might just be the one that gives you the most bang for your buck – especially once you start doing the math on all the additional stuff you'd need to run your site.
For instance, if you've been planning on using the Genesis Framework anyway (a popular option), plus you want access to staging sites for development, then WP Engine might just be the budget-conscious choice after all.
How easy to use is WP Engine? 👐
Upon signing up and logging in to your account for the first time, you'll be able to get a WordPress website spun up right away.

There's an Add site button in the top right corner. When you click it, it triggers a pop-up form that lets you install a new instance of WordPress in a really simplified manner (no need to deal with any database settings or anything like that):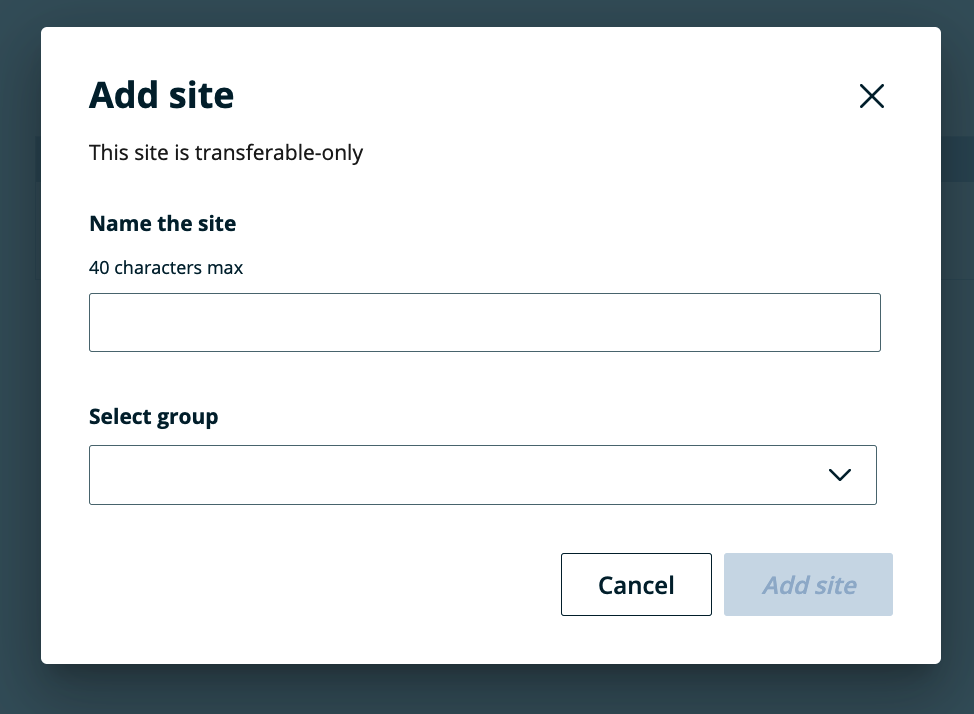 Right up front, it's also quite apparent that WP Engine is a professional-level tool when it comes to WordPress hosting. For instance, you are encouraged to set up three environments for your site – Production, Staging, and Development – instead of just a single one.
This helps greatly if you have a team of people working on the site and gradually rolling out changes. The idea is that you can work on building new elements of your site on Development, then roll them out to Staging for testing, and then move everything to Production for the world to see.
WP Engine lets you create a new environment very easily just by clicking a single button and then providing some parameters of the environment.
No matter if you're creating your initial instance of Production or a new Staging environment, the process looks the same. You get to choose from a couple of options: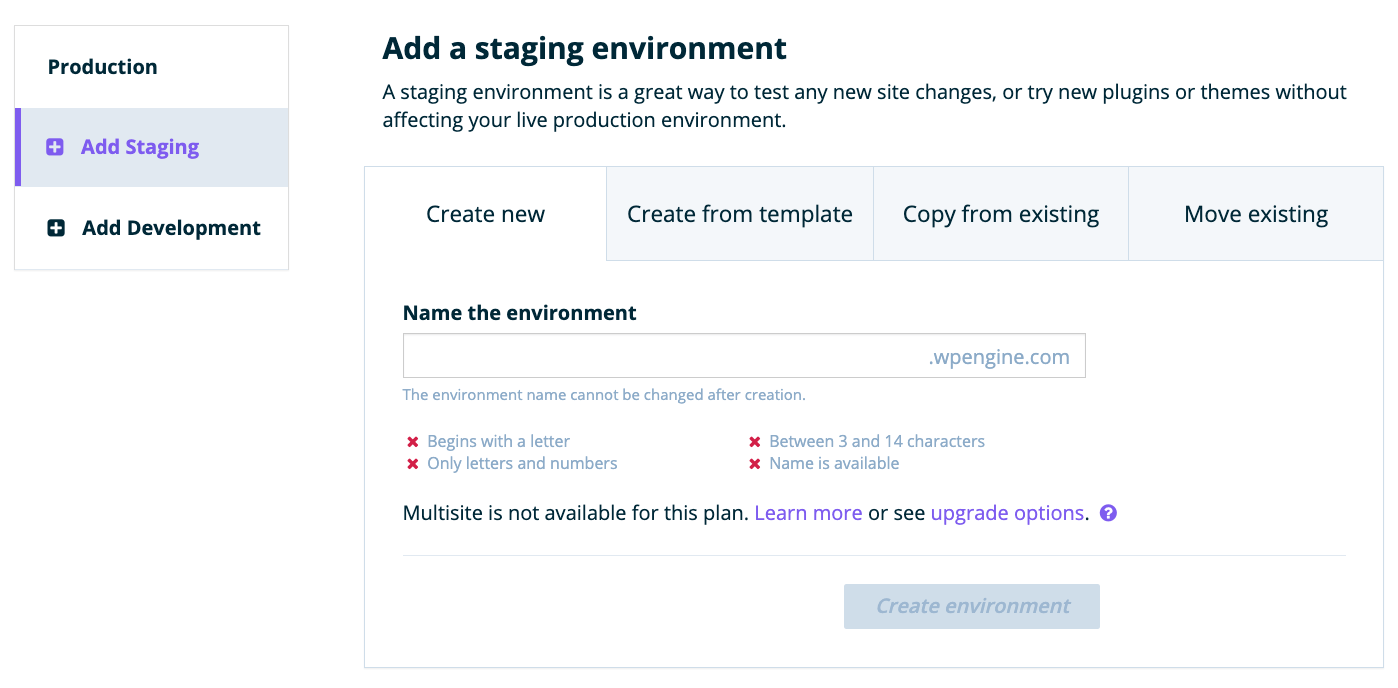 As you can see in the image above, you can:
create a fresh instance of WordPress
create a WordPress instance from a site template
create from an existing site – by copying another environment that you have in your panel already
move an existing environment
When you make your choice and provide the necessary details, your environment will be ready to use. At this stage, you'll be able to log in to your wp-admin and start working on the site normally.
Your WP Engine dashboard will also start displaying a bit more information: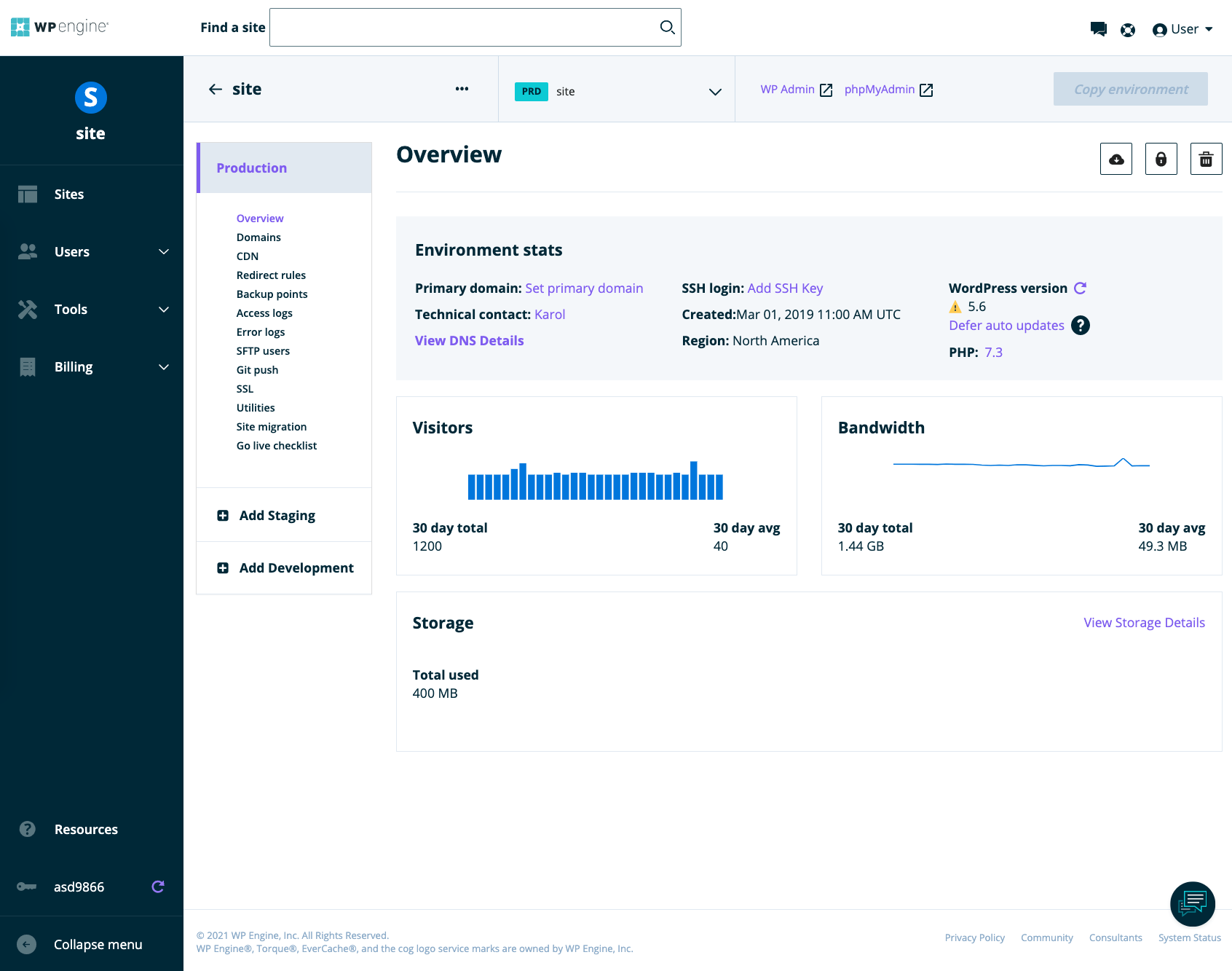 On the far left, there's the main sidebar where you can access your individual sites and view your profile info.
On the not-so-far left, you can switch between the environments and access the individual options of a given environment.
In the center, you can see important stats about your site plus any other notifications that WP Engine might have for you.
The types of options that are available in the sidebar are a pretty clear indication that WP Engine is a tool for professionals. Things like CDN, redirect rules, access logs, or backup points are not things that a beginner will know the purpose of or will want to check out. However, for the pro, these options provide a very granular level of control and can be invaluable.
Still, what's great here is that none of the sections are mandatory for you to go through. In other words, if you just want to get a WordPress site running, then all you have to do is add a new site to the panel and install a production environment for it (as described above). That's it!
Alternatively, if you're moving to WP Engine from another host, you can migrate your website in a semi-automated way. WP Engine has its official migration plugin that handles the heavy lifting. However, you do have to set it up and provide all the required access info.
Luckily, if you're having trouble with any of this, WP Engine's support team will help you out. But more on that later.
Overall, I'd say that the WP Engine interface has been designed with the pro user in mind, and it is very clean and understandable for that type of user. Is it easy enough for beginners to use as well? Yes, but they might be a bit intimidated when going through the WP Engine dashboard for the first time. During everyday work with the site, though, you probably won't be interacting with the WP Engine user panel much.
WP Engine performance and load times 🏎️
Is WP Engine fast?
Let's find out!
Here are the results of the performance tests that we did:
Our test setup was a standard WordPress install with dummy content and some images, running on the default WordPress theme. There were also a couple of plugins installed for good measure, such as Yoast SEO, Contact Form 7, and Jetpack.
Here are the results we got testing the site from a handful of locations (each test was done three times; the numbers you see below are the average values from the tests):
WP Engine review: PERFORMANCE
| Location | Load Time | TTFB | First Paint | Interactive |
| --- | --- | --- | --- | --- |
| N. Virginia | 1.60 s | 382 ms | 1.76 s | 2.38 s |
| California | 1.04 s | 202 ms | 1.21 s | 1.92 s |
| Canada | 1.65 s | 430 ms | 1.64 s | 2.39 s |
| Frankfurt | 2.49 s | 712 ms | 2.11 s | 3.28 s |
| Paris | 2.35 s | 680 ms | 1.97 s | 3.02 s |
| Mumbai | 3.33 s | 1087 ms | 2.68 s | 3.90 s |
| Sydney | 2.50 s | 771 ms | 2.14 s | 3.19 s |
As you can see, the results are very good across all testing locations. For most hosts – especially the budget ones – tests done from Australia tend to run into the 5-10 second range, but not with WP Engine. Everything sits around the 2-second mark or lower, which is a good result for UX and SEO.
WP Engine customer support 🚑
WP Engine prides itself on its award-winning 24/7 support.
To start off, as a user, you get access to an extensive support center with articles, docs, and guides on how to achieve/build certain things on your site. There are also solutions to some of the common problems.
If you want to contact a support agent, you can easily do that from your user panel. When enabling the support chat, at first, you'll get contacted by a support bot that will try to decode what you need doing and link to some solutions. If you'd like to talk to a human agent, you can just type "support".
The wait to reach an agent isn't usually too long, but your experience may vary depending on the time of day you're reaching out for help.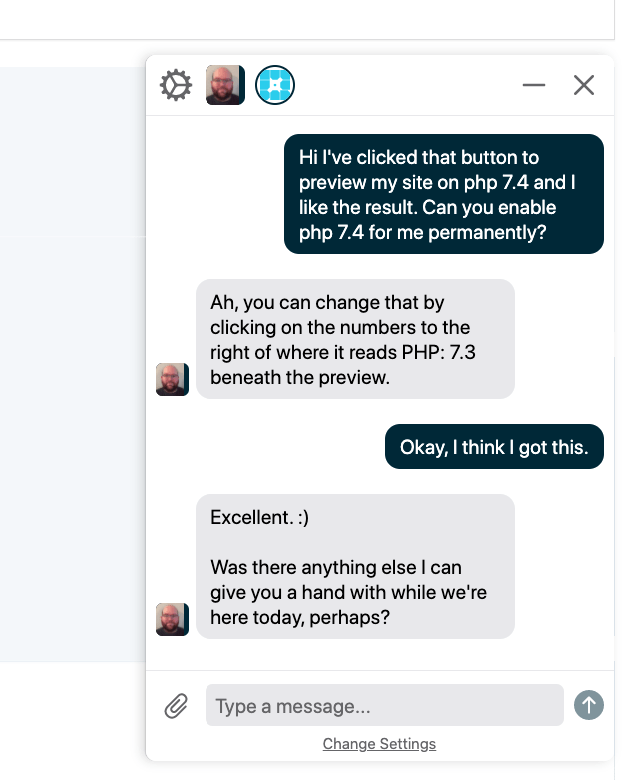 One observation I've made after contacting WP Engine a couple of times over the last year or so is that they will always try to point you toward finding a solution yourself rather than solving it for you on their own. Depending on how you look at it, this isn't always a good thing.
What's not so great about WP Engine 👎
Whether some characteristics matter to you or not will depend on your individual requirements and expectations, but for me, the most significant downsides discovered when writing this WP Engine review are the following:
There's no email hosting.
This is something you usually find out only after you've signed up for a host, moved your site to it, and then realized, "wait, what about my email?"
Yep, WP Engine doesn't offer email inbox hosting.
If you're used to your web host handling everything about your online presence – including giving you access to a mail server, you'll be disappointed to see that WP Engine doesn't do that.
What this means is that you'll have to invest in email hosting separately. Google Workspace is a popular option.
Some plugins are banned from the WP Engine platform.
The reasons are plenty, from performance to security to who knows what else.
Either way, if you rely on any of these plugins to run your site, you should probably reconsider if WP Engine is the right host for you.
The overage charges are quite brutal.
For instance, when on the entry plan, you're allowed 25,000 visits a month. If you go above that, it will cost you $2 per every 1,000 extra visits.
Lastly, WP Engine only lets you to run WordPress websites. This is a fairly obvious downside, but it still needs to be said. Especially if you're a pro user, you might also need access to a standard web server every now and then to do quick tests of new projects not based on WordPress. I'm just putting this out there. It might not be an issue for you at all.
Why use WP Engine vs another host? 💪
The WordPress hosting market is fairly crowded at this point, and you can find viable solutions in all price ranges. There are budget WordPress hosting options like SiteGround (from $6.99 a month), all the way to high-end hosts like Pagely (from $499 a month and up).
There's something for everyone on the market, and the only question is which features are the most important for you specifically and how much you're willing to pay to get them.
WP Engine is a mid-tier offering in terms of pricing among other WordPress hosts (again, from $25 a month). Feature-wise, it has enough pro features to be a good host to grow with, and while it's not exactly built for beginners, the learning curve isn't too steep either.
Users seem to enjoy their WP Engine experience quite a lot, too, and the host's score on Trustpilot only proves that:

Here's the final conclusion of

our WP Engine review

:
⭐⭐⭐ Overall, WP Engine brings the whole package to users who want their WordPress websites to work problem-free and with no hassle involved in getting them launched in the first place. Plus, there are also pro-level features available to those who need them.
At the end of the day, I have to say that provided you have $25+ to spend on WordPress hosting every month, WP Engine is likely to be your best bet!
Oh, and one more thing I didn't mention; if you want to save 20% on any WP Engine hosting plan, use our exclusive coupon code. This offer allows you to test WP Engine for 60 days and get a 20% discount on personal, professional, and business plans. 🎟️
What do you think of WP Engine? We're happy to expand this WP Engine review with your input.