Every website running on the Internet shares a common trait: They all need Web hosting to store the content.
But there is a dilemma.
According to some stats, there are over 330,000 web hosting companies in the world. So which one will you pick to host your website?
You can't randomly pick any host. Instead, you need reliable, secure, and fast Web hosting with a company that doesn't leave you hanging on technical matters.
This company is Cloudways.
They specialize in offering cloud-based hosting services with an affordable price tag.
The Benefits of Using Cloudways and Cloud-based Hosting
When you use shared hosting, the hosting company uses one server to host multiple websites. You may save on the costs, but the downside can be poor website performance.
Cloud-based hosting is different. There, you can use multiple servers to host your website. This kind of service is possible thanks to global cloud infrastructure companies like Digital Ocean, Linode, or AWS.
Cloud-based hosting has certain key benefits:
Better performance for your website.
Scalability of server resources.
Flexible pricing, even the pay-as-you-go model.
Server redundancy, so when a server resource goes out of operation, another replaces it on the fly.
When you sign-up with Cloudways, you get all these benefits. On top of them, you get an easy setup experience. The setup phase can be tricky with other cloud-based hosts, but this is not the case with Cloudways.
Finally, you get support from professional personnel, who can help you with your queries.
So what about the technical aspects, then? Here is what you get when you sign-up with Cloudways:
24/7/365 support.
24/7 Real-time Monitoring.
Automated backups.
Regular security patching.
Free SSL.
But these features are just a taste of what they offer you.
As soon as you take advantage of our Cloudways coupon code, you can start enjoying all benefits and features at a reduced price.
How Much Does Cloudways Hosting Cost?
There are a total of four plans you can choose from.
In each plan, you can choose between Traditional and Premium levels. Within those levels, you can then choose between monthly or hourly billing.
For instance, here is what the monthly billing at the Traditional level looks like: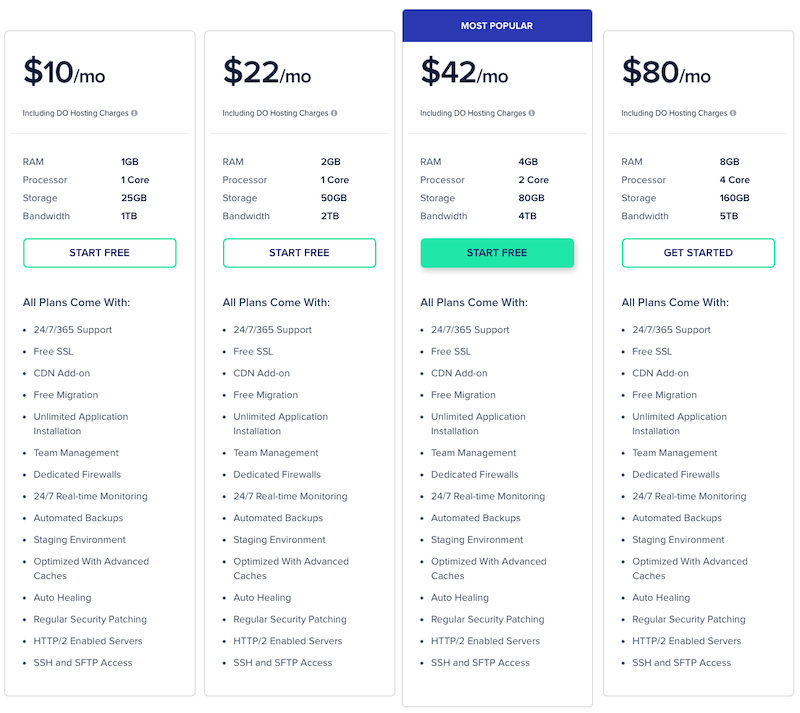 When you switch over to the hourly billing inside the same level, the prices change (the features stay the same):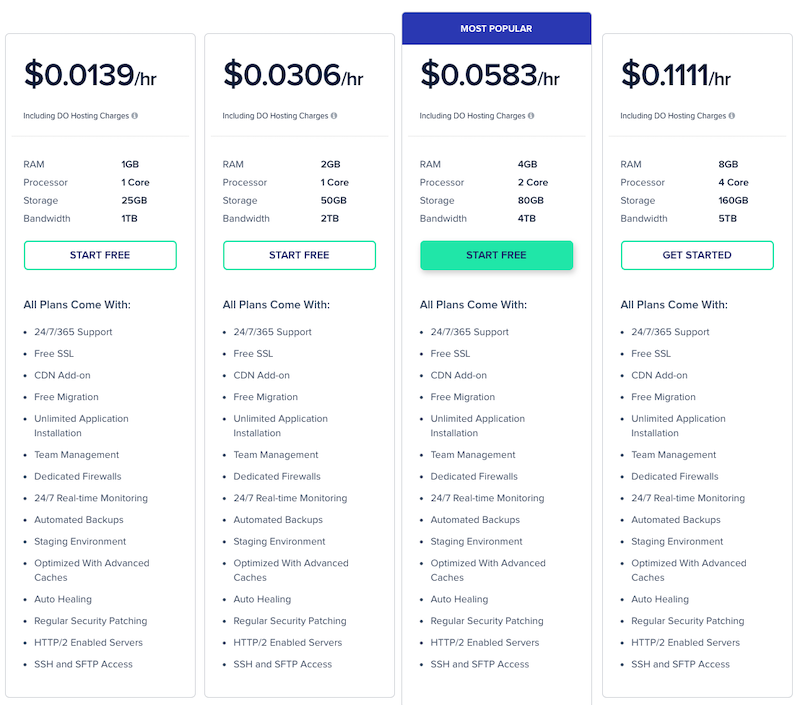 The Traditional pricing starts from $10/month (or $ 0.0139/hr with hourly billing). You get a server with 1GB of RAM, a processor with 1 Core, 25GB of storage, and 1TB of bandwidth.
If you want to pay more for your hosting, you also get more power to your server and infrastructure. For instance, the most expensive Traditional level plan costs $80/month ($0.1111/hr). With that payment, you get 8GB of RAM, a 4 Core processor, 160GB of storage, and 5TB of bandwidth.
Every plan starts with a 3-day free trial, after which you move into the regular billing cycle.
But before you sign-up with Cloudways, make sure to apply our coupon code, which takes 30% off for the next three months for all the plans. It's a deal you can't pass on!
How to Use the Cloudways Coupon?
Take these steps to apply the coupon code:
Step 1: Go to the Cloudways pricing page, and pick the plan (Traditional/ Premium) with the billing cycle (monthly/hourly) you'd like to use. Then click the Start Free button.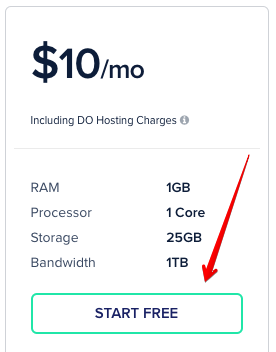 Step 2: On the checkout page, enter all your payment information and click the link: "Got a Promo Code?"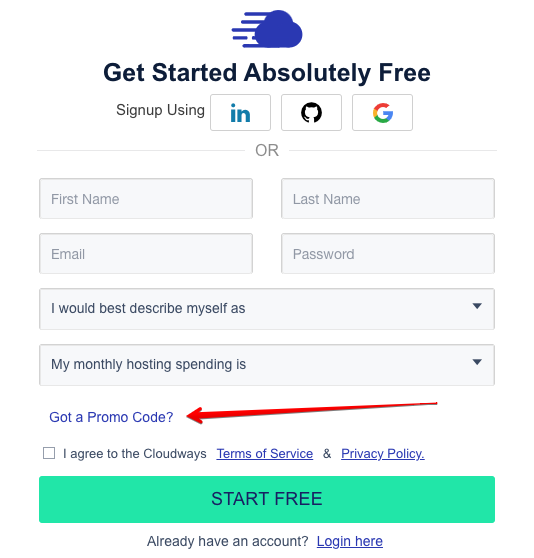 Step 3: Enter WPKUBE30 into the discount field. Briefly after that, you should see a green checkmark next to it: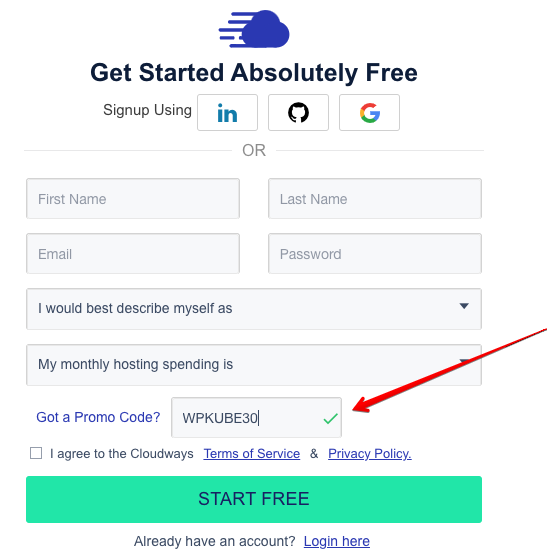 Step 4: Make sure to fill out all other required fields as well. After that, click the Start Free button.
Cloudways Coupon FAQ
How much can you save with a Cloudways coupon?
You can save 30% for three months on any plans.
Is there a free trial so that I can test the platform first?
All the plans have a 3-day free trial, and you can cancel the subscription anytime.
How can I reach customer support if I need a helping hand?
Customer support is available 24/7/365, and you can reach them by chat or by ticket.
There are three levels of support: Standard, Advanced, and Premium. The more money you are willing to invest, the quicker the response times are.
The Standard support level is part of the package. The Advanced level starts from $100/month, and the Premium level from $500/month.
What is the difference between the Standard and the Premium plans?
With the Premium plan, you get better performance on your servers than with the Standard plans. The Premium plan is also more expensive compared to the Standard plan.
Sign up with Cloudways Today!
Let the Cloudways team handle your website and its infrastructure. Use our WPKUBE30 discount code and start your journey with Cloudways today!