While running a website doesn't require too much need for complex growth strategies, 'sales funnels' are something you should investigate. ClickFunnels is a market leader for creating targeted pages to drive users through your funnel. However, it's not the only solution. There are a number of ClickFunnels alternatives available that are worth considering.
Of course, different solutions have specific focuses, although all generally let you create targeted landing pages. They let you push your site's visitors through the sales funnel without affecting your 'bounce rate'.
In this post, we'll look at the concept of sales funnels, then introduce you to ClickFunnels. Finally, we'll look at a number of ClickFunnels alternatives and discuss what makes them viable.
A Primer on Sales Funnels
For the unaware, sales funnels are where your website's visitors go through a number of steps before becoming a paying customer. Usually, you'll find three or four steps consisting of Awareness, Interest, Desire, and Action (AIDA).
While a sales funnel is usually part of a defined conversion strategy, practically every business that sells products and services will use one. For example, take the following:
Awareness. You put out a social media ad, which some users click through.
Interest. Once they get to the page you specified in the ad, they check out the product.
Desire. The copy on that page causes them to add the product to their cart.
Action. The visitor becomes a paying customer once they checkout.
Here, you have distinct phases. The 'top' of the funnel is where potential customers enter, based on their reaction to your ads, content marketing, and other promotional tactics.
At this point, they're 'qualified'. In other words, they've expressed at least some interest in buying your wares. Once they're on the site, you funnel them through one or more pages designed to pitch your product and convince them to sell.
The 'bottom' of the funnel is where a paying customer exits after checking out. However, the goal of a good sales funnel is to prevent 'leaks'. In other words, each part of the funnel needs to keep users within it. There have been numerous products to help you with this.
Introducing ClickFunnels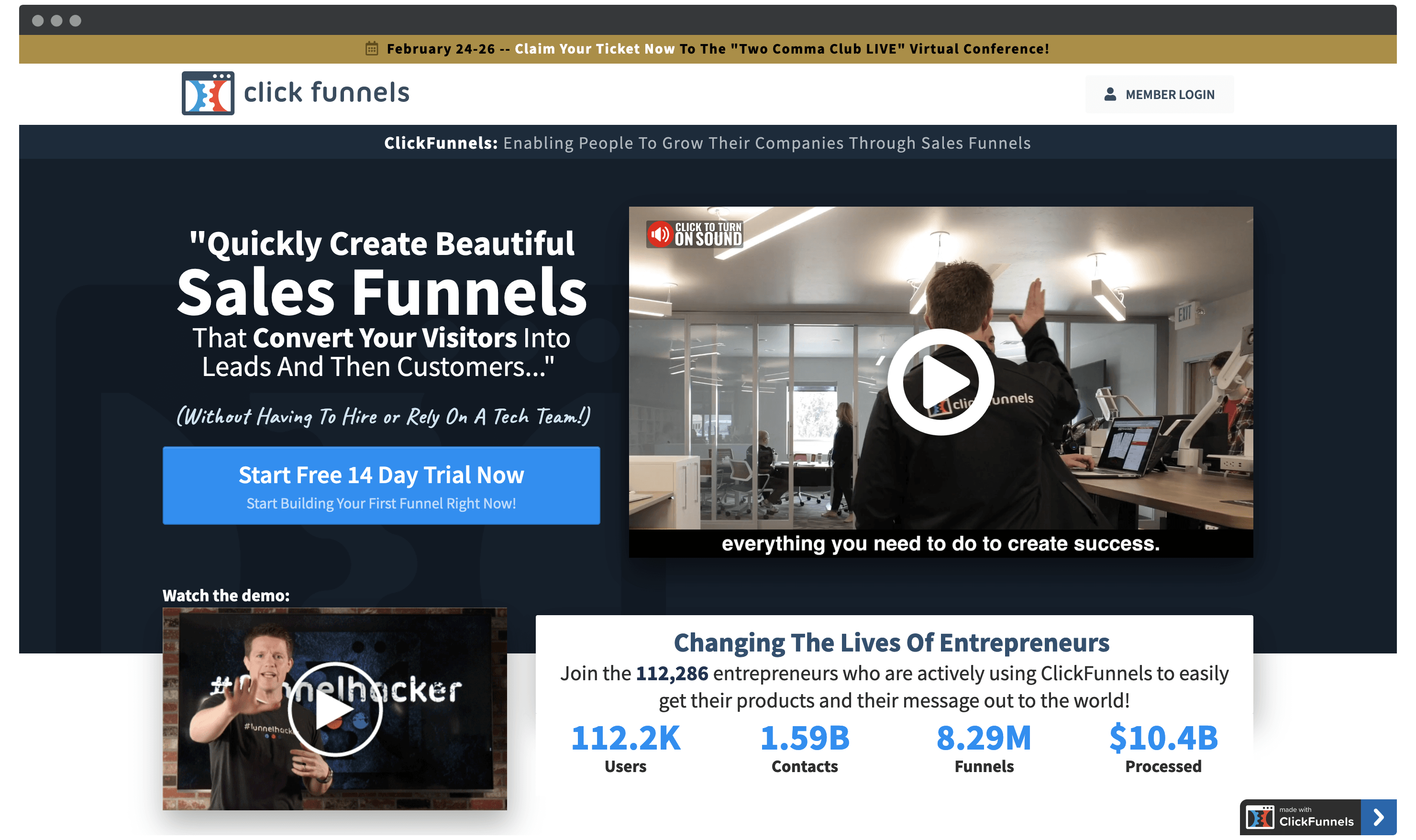 ClickFunnels uses the term "marketing funnel", but it's essentially the same thing as a sales funnel. The goal is still to take the unqualified masses, filter them into qualified leads, and push them through the funnel to become paying customers.
The product is essentially an all-in-one solution for creating a website and sales funnel. There are also elements of aftercare, called 'Follow-Up Funnels'.
Overall, the process is simple. Create a website based around landing pages using the built-in drag-and-drop editor; Connect payment gateways so that customers can buy your products and services; Use Follow-Up Funnels to capture any users who leak from the funnel.
However, while this seems solid on paper (and it is – ClickFunnels has a lot of happy users), it's not the whole story.
Why You'd Want a ClickFunnels Alternative
ClickFunnels has definitely found a market that's lucrative. However, there's room for competition, and it's not a perfect offering. For starters, ClickFunnels often comes across like stock photography, in that you know when you're in a funnel: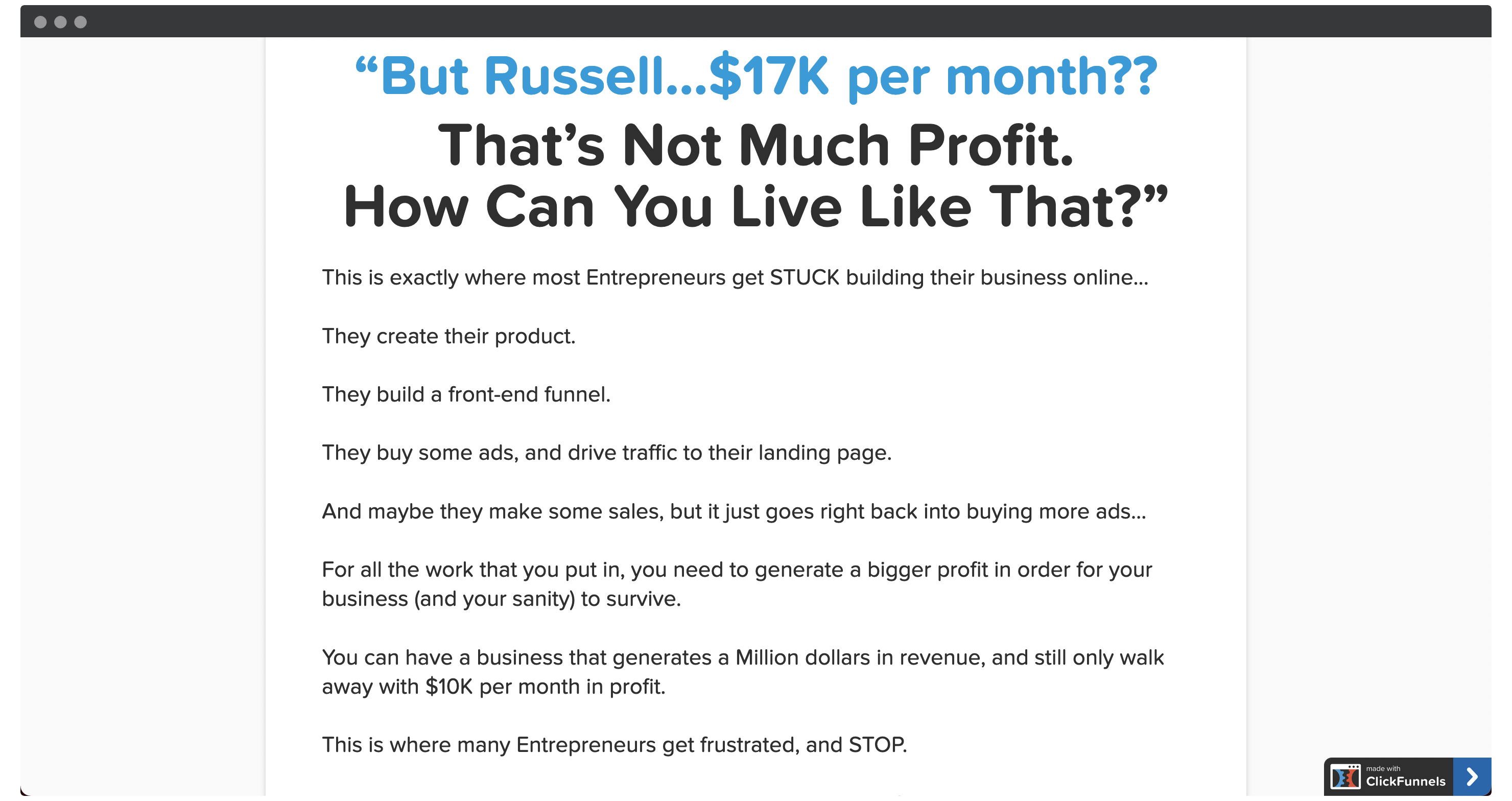 Huge font sizes, mammoth copy, and myriad success stories on every page are the order of the day. This can be tiring to wade through, although we admit that it's a successful approach. While you don't have to use this approach, much of the ClickFunnels methodology is based around it.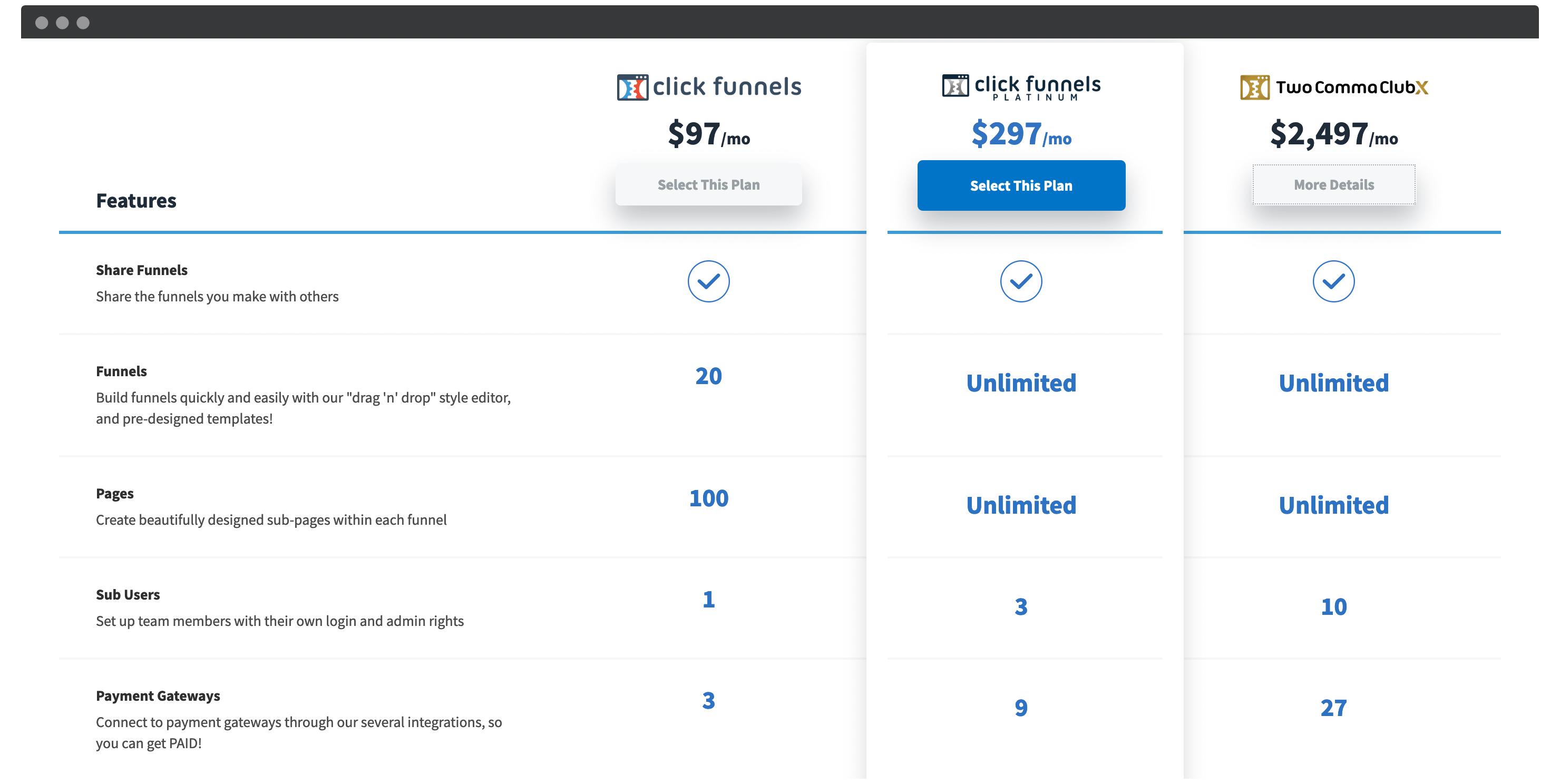 What's more, the price is astronomical. The entry tier is $97 per month, which is nearly $1,200 per year. This doesn't give you access to Follow-Up Funnels either.
For that, you have to opt for the $297 per month Platinum plan. High-rolling businesses can stump up $2,497 per month for the top-tier Two Comma Club plan. If we're judging this, we'd wonder what business has up to $30,000 a year spare to spend, yet still needs help capturing customers.
Finally, you're going to be locked into the ClickFunnels ecosystem, which is going to sting if you ever want to change your approach. Coupled with the pricing and methodology, there are other avenues for you to consider.
What You Should Look for In a ClickFunnels Alternative
Fortunately, we've already distilled the elements required to build a sales or marketing funnel. These are essentially the same elements you need to look for in a ClickFunnels alternative:
The ability to build a website to host your funnel.
A way to create landing pages, add payment gateways, and capture forms.
Drag-and-drop editing that's flexible and powerful enough to cater to non-coders and web designers.
Functionality to reconnect with users who have leaked from the funnel.
In addition to this, you're going to want competitive pricing. Being honest, most solutions are going to be closer to your budget compared to ClickFunnels. Still, your chosen alternative has to be cost-effective.
There are plenty of solutions available that could tick all of these boxes. Let's discuss them next.
4 Quality ClickFunnels Alternatives to Help You Build Better Sales Funnels
Below, we're going to look at four alternatives to ClickFunnels. Let's quickly show you what we're going to feature:
However, there are many more solutions too. We could have featured Unbounce, Thrive Architect, Leadpages, and umpteen other ClickFunnels alternatives.
Even so, these four cover a lot of ground. Let's take a look, starting with a direct competitor to ClickFunnels.
1. Systeme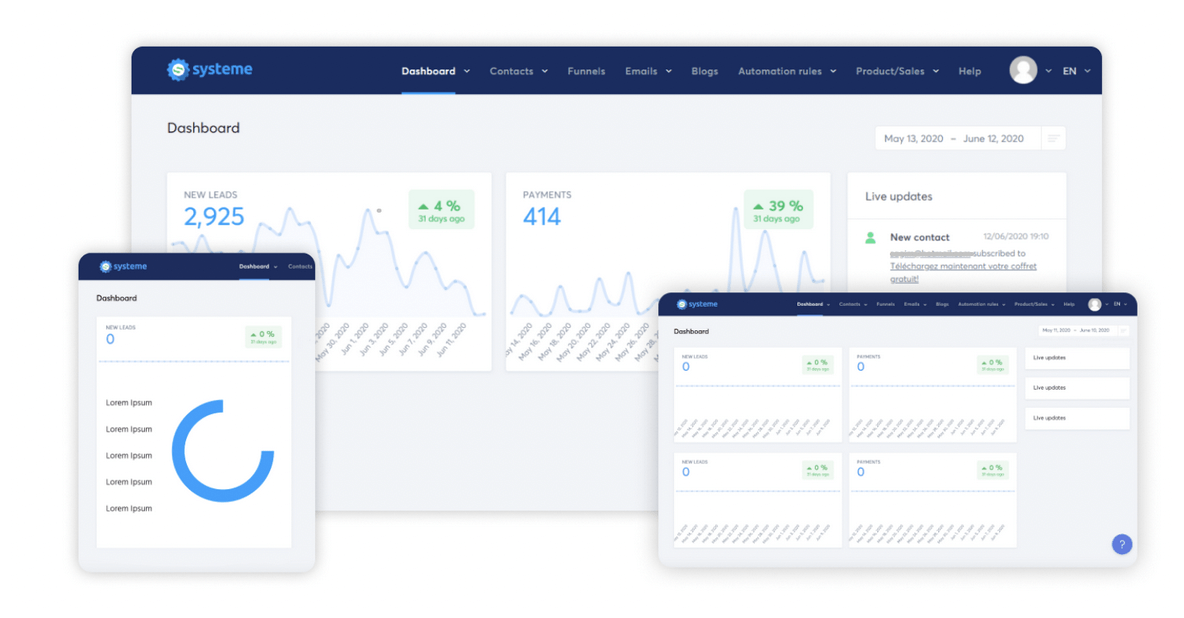 First up, Systeme is a solution we've talked about before on the blog. It bills itself as a ClickFunnels alternative, although we believe its user base is has already 'tuned out' to ClickFunnels. As such, we think it stands on its own two feet.
Much like ClickFunnels, it's a 'turnkey' offering that also wants you to stay within its ecosystem. The key features are similar to ClickFunnels':
A great-looking drag-and-drop editor for creating landing pages.
The ability to build custom sales funnels.
Content marketing functionality.
A contact manager.
These are all essential, and good enough to potentially tempt you away. However, we think there are better solutions for building a site and setting up content marketing than what both Systeme and ClickFunnels can offer.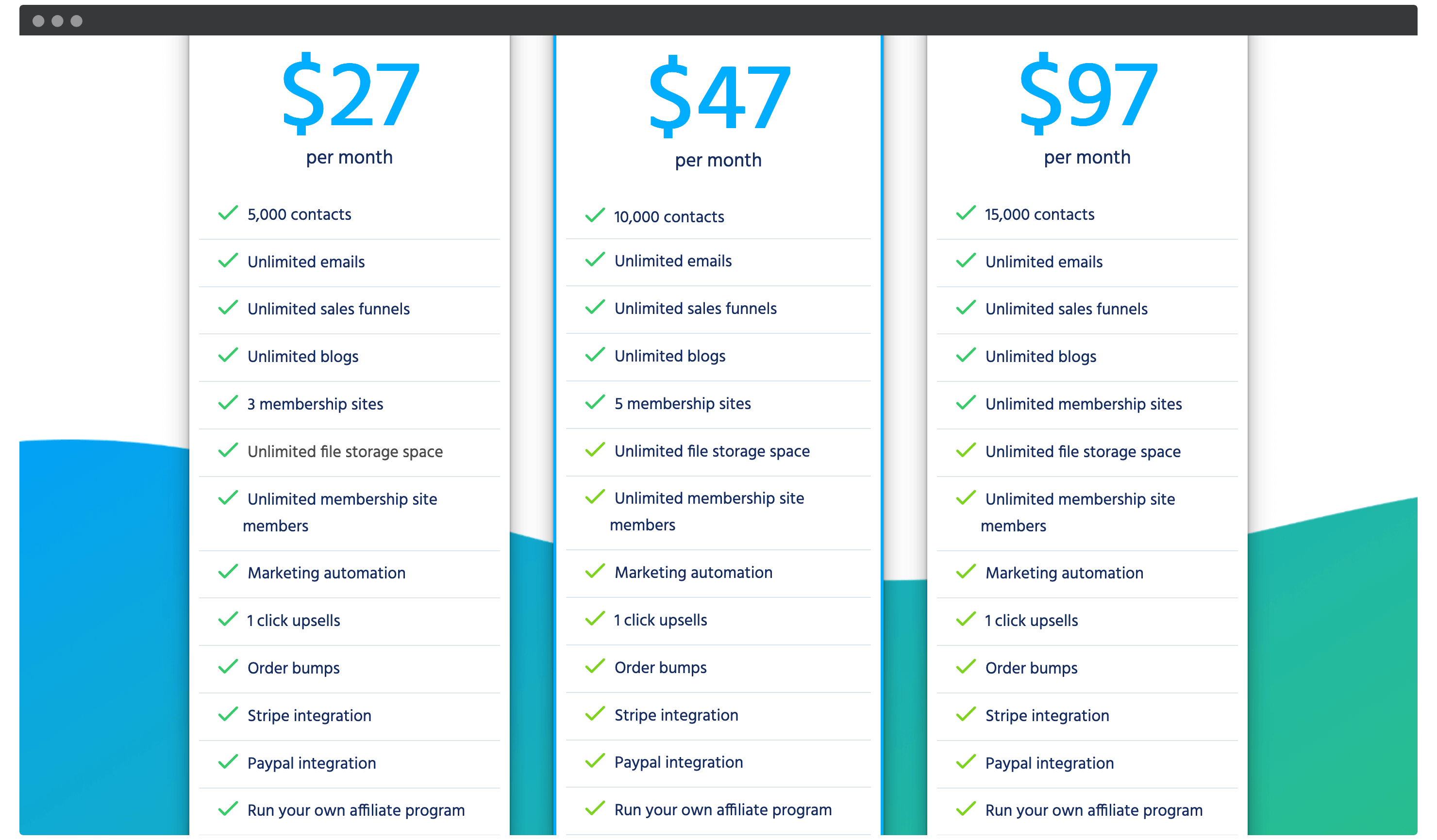 As for pricing, Systeme ends where ClickFunnels begins. The highest tier for Systeme is $97 per month, and we'd say this tier is better on average than ClickFunnels.
Overall, Systeme is a tempting tool. However, the drawbacks here are the same as ClickFunnels. Namely, you're locked into its ecosystem, and you can achieve much more with an a la carte choice of tools.
2. Elementor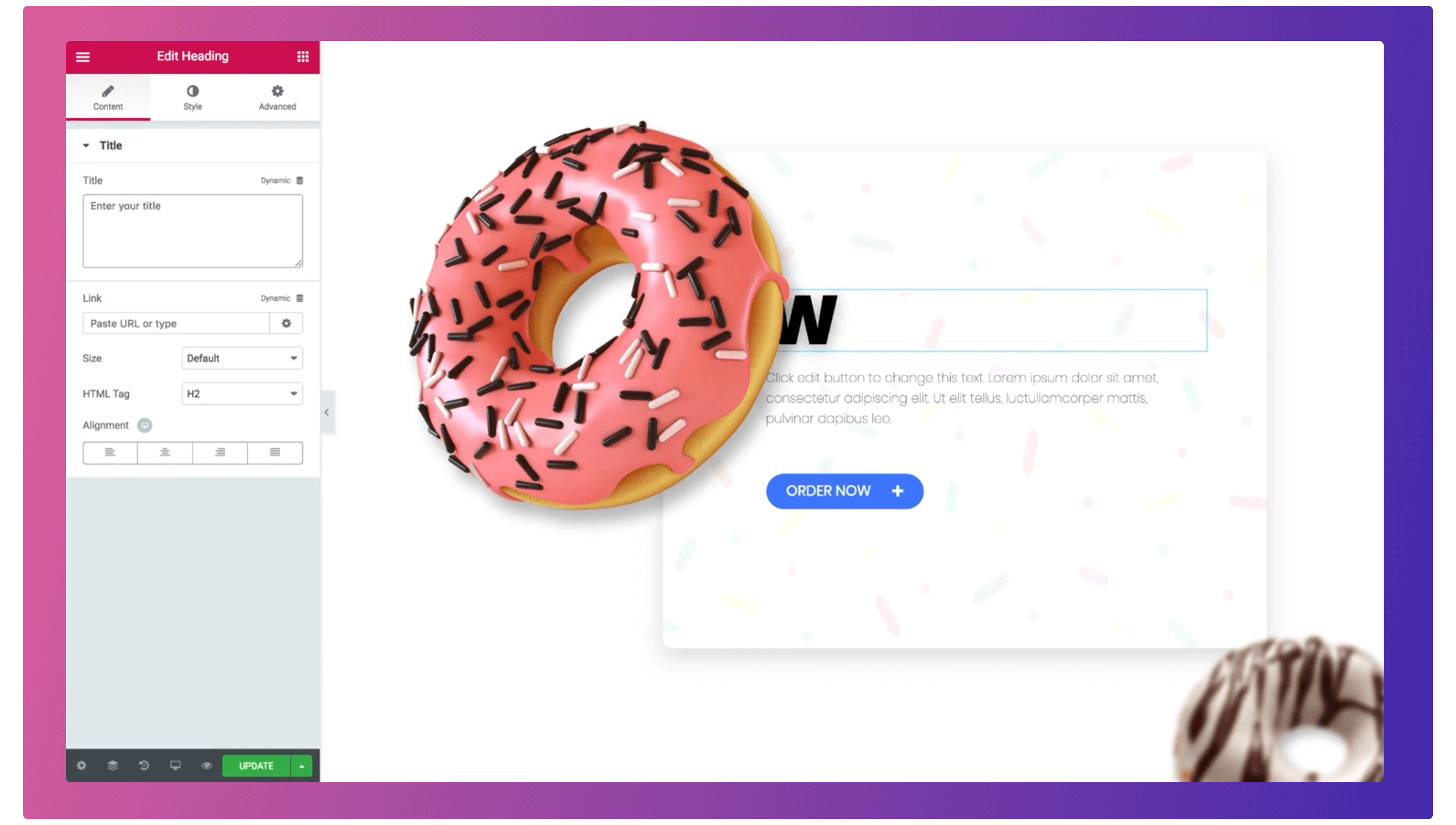 Speaking of which, let's discuss what we believe is a better Systeme and ClickFunnels alternative – WordPress.
While we don't need to go into full details of why the platform is our pick of the bunch, some aspects are key. At zero dollars it's a good price, and it can be extended with plugins and themes.
Elementor is the most popular page builder plugin for WordPress. However, you also get the companion Hello theme: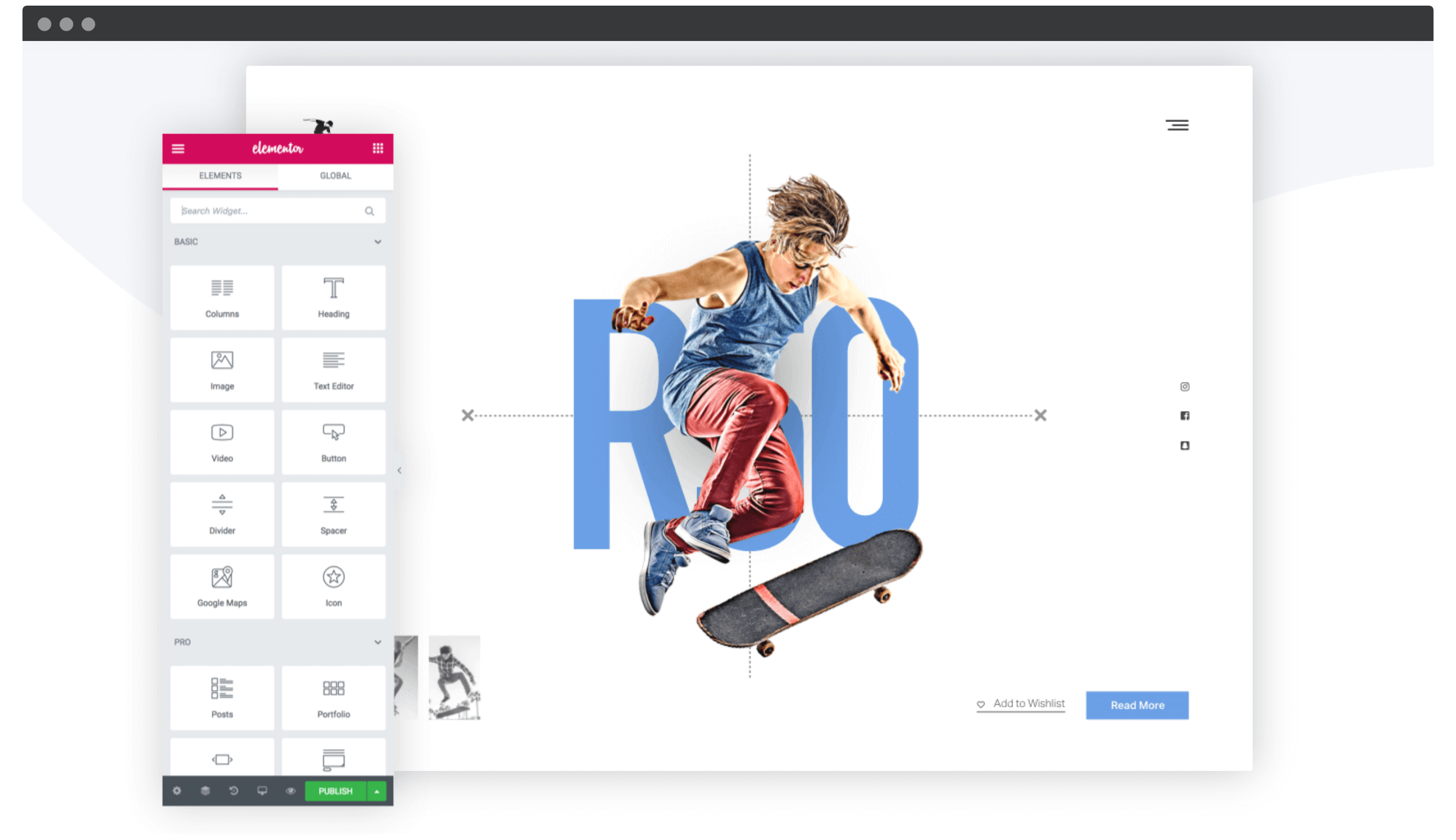 This is a blank starter theme that you build on top of using Elementor. As such, you can use the built-in templates to create a site that meets your exact needs, and tweak it further. In fact, you don't have to use Elementor's own templates.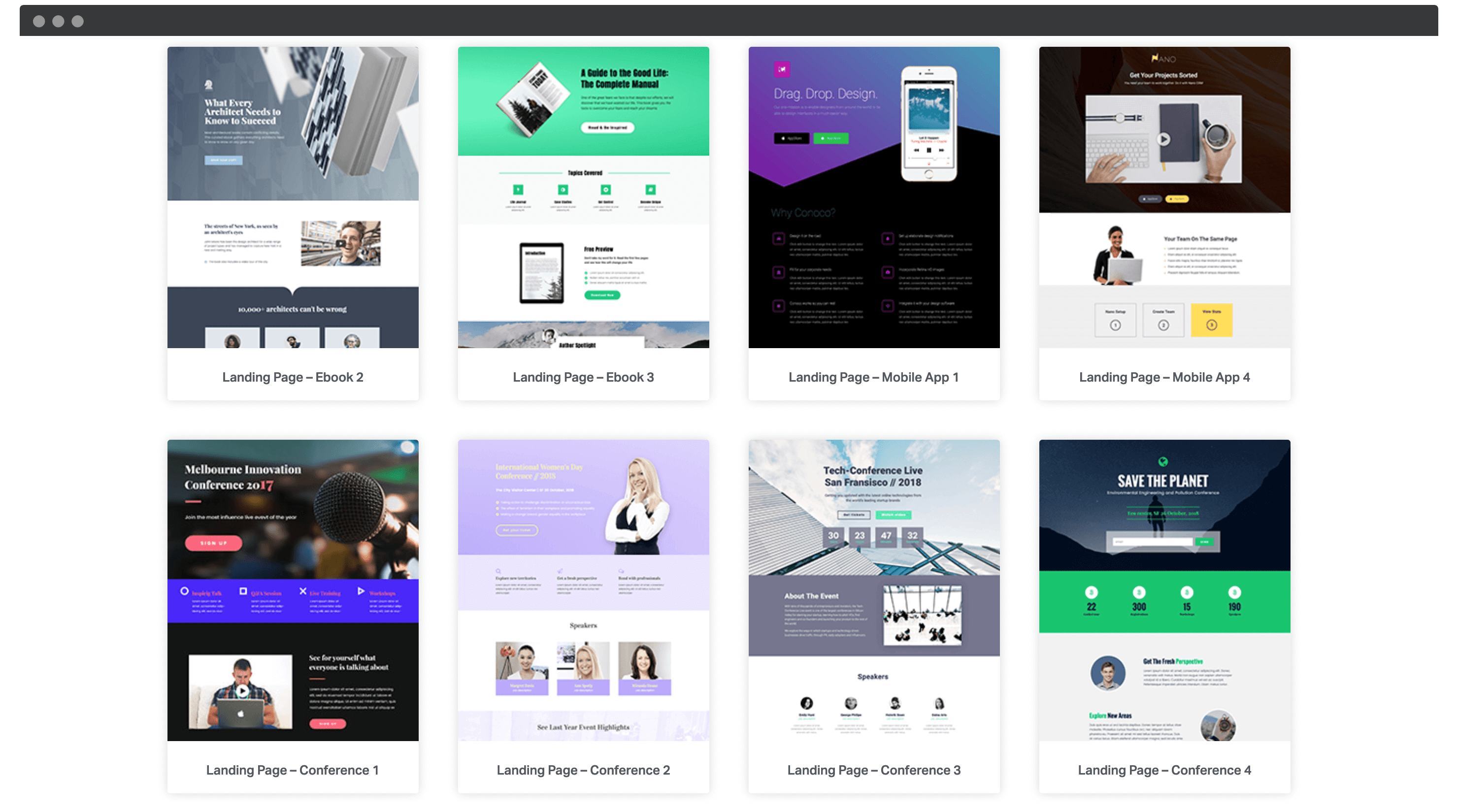 The Elementor blog covers how to build a sales funnel using the plugin. That piece uses templates from Envato Elements. As such, you're able to mix and match components to maximize the quality of your entire funnel.
We could espouse more on why Elementor is our page builder pick over solutions such as Beaver Builder, Visual Composer, and others. However, we've waxed lyrical over Elementor in the past:
Overall, Elementor offers lots of functionality for creating sales funnels. The page builder (obviously), the templates, and the included forms and pop-up builder are all vital for the task at hand.

Granted, you'll also need to bring in a suitable email marketing platform too, but the choice is plentiful. Even if you're starting from scratch, hosting, a domain name, the premium version of Elementor ($49–99 per year), and an email marketing platform will set you back around $250–300.
This is a whole year of a supreme solution for building a ClickFunnels alternative in WordPress, for around 1–3 months of the latter's cost.
3. OptimizePress

Our next ClickFunnels alternative is OptimizePress. This is another WordPress plugin we've featured a lot on the WPKube blog. As such, it's a solution we're happy to recommend.
You use it mainly to build landing pages with the Content Management System (CMS). However, it does much more than let you create landing pages:
You're able to create sales pages to sit alongside your landing pages.
Using the OptimizeCheckouts plugin you can integrate payment gateways and checkout screens into your pages.
You can create custom sales funnels for your online business.
As such, OptimizePress is a full-featured suite of marketing tools. What's more, there is a plethora of extensions to expand the scope of what OptimizePress can do:

Given the focus, OptimizePress is centered on conversions. For example, the templates and forms work with the funnel builder to make sure each element is 'conversion-ready':

You even get features such as order bumps, one-click upsells and downsells, and much more besides.
Given the whole OptimizePress package, you'd expect a similar price to ClickFunnels. However, pricing begins at $99 per year. To get everything OptimizePress offers, you'll need to pay $200 per year. Comparing this to ClickFunnels, there is more power at only one-tenth of the annual cost.
For WPKube Readers
If OptimizePress is tempting, WPKube knows a guy! We've got a 50 percent off coupon available for you. By clicking the link, the discount is already applied. This leaves you more time to get your sales funnel up and running!
4. CartFlows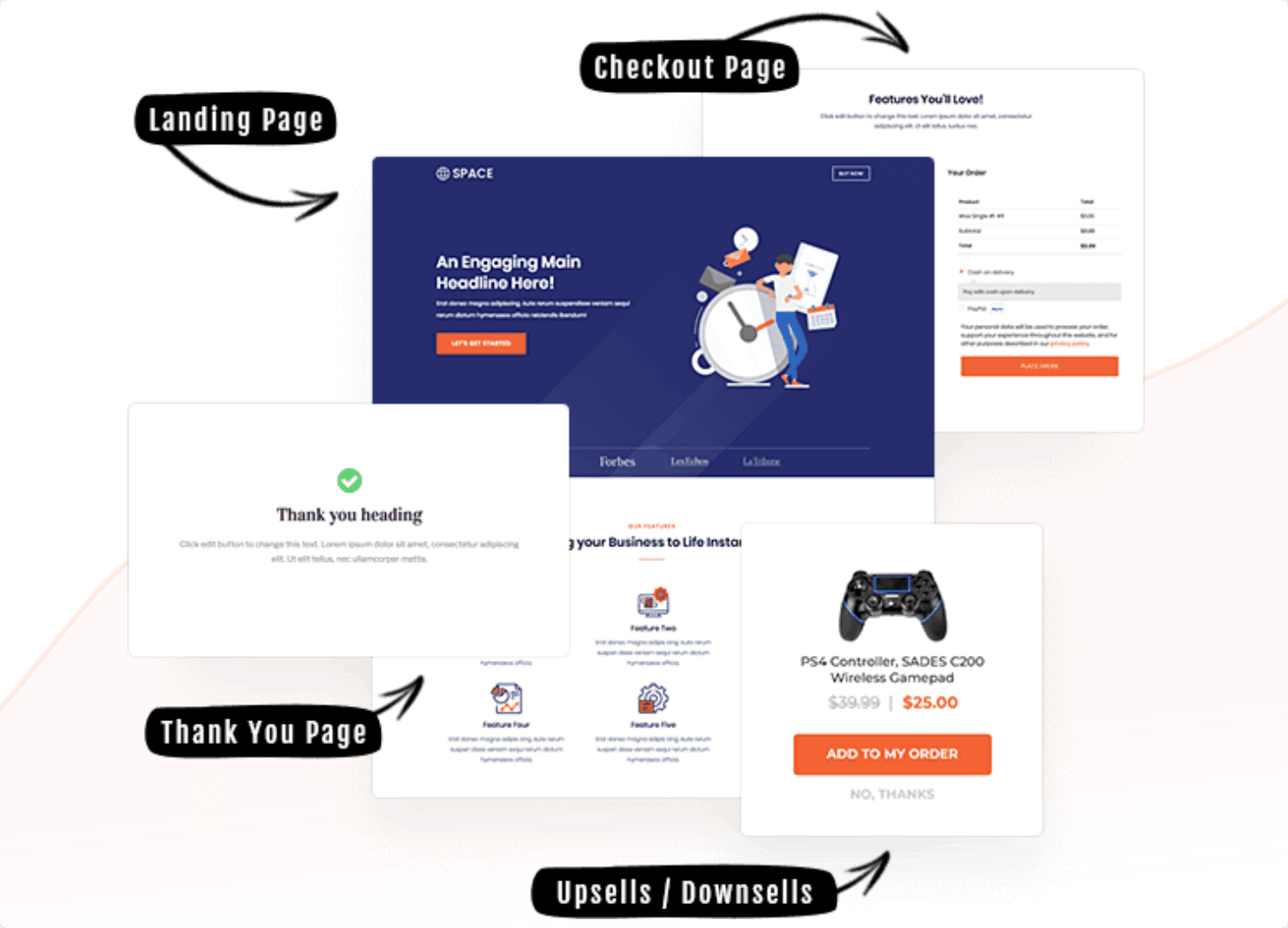 We've looked at CartFlows in detail in another post on putting a sales funnel together. Even so, there's a lot we can say here too about the platform.
It's a WordPress-based solution, which means you have a familiar User Interface (UI) with which to navigate the plugin.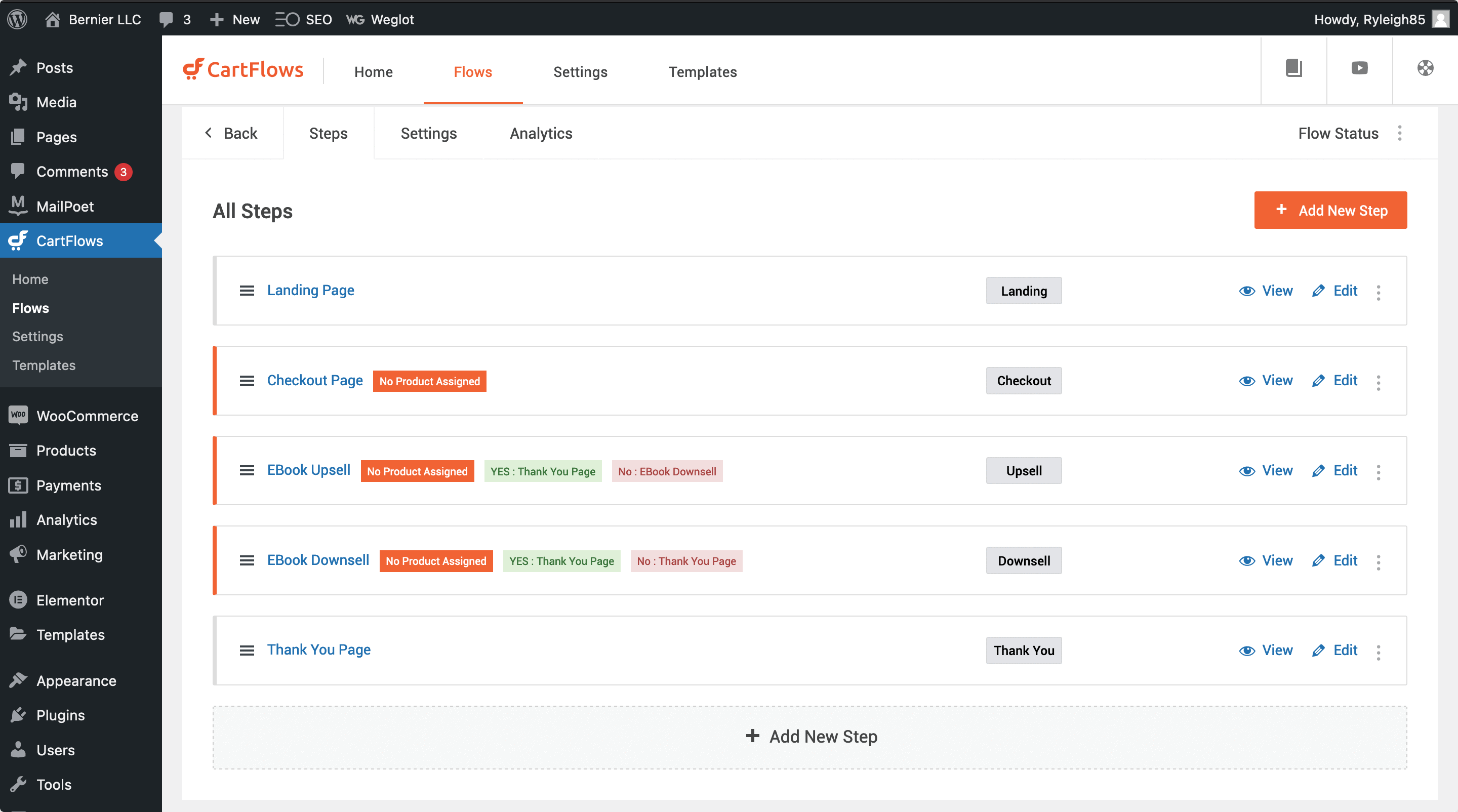 Much like ClickFunnels, you have a defined process to build your sales funnel. First, you'll pick a 'Flow Template'. They're all good-looking, and cover a wide gamut of use cases: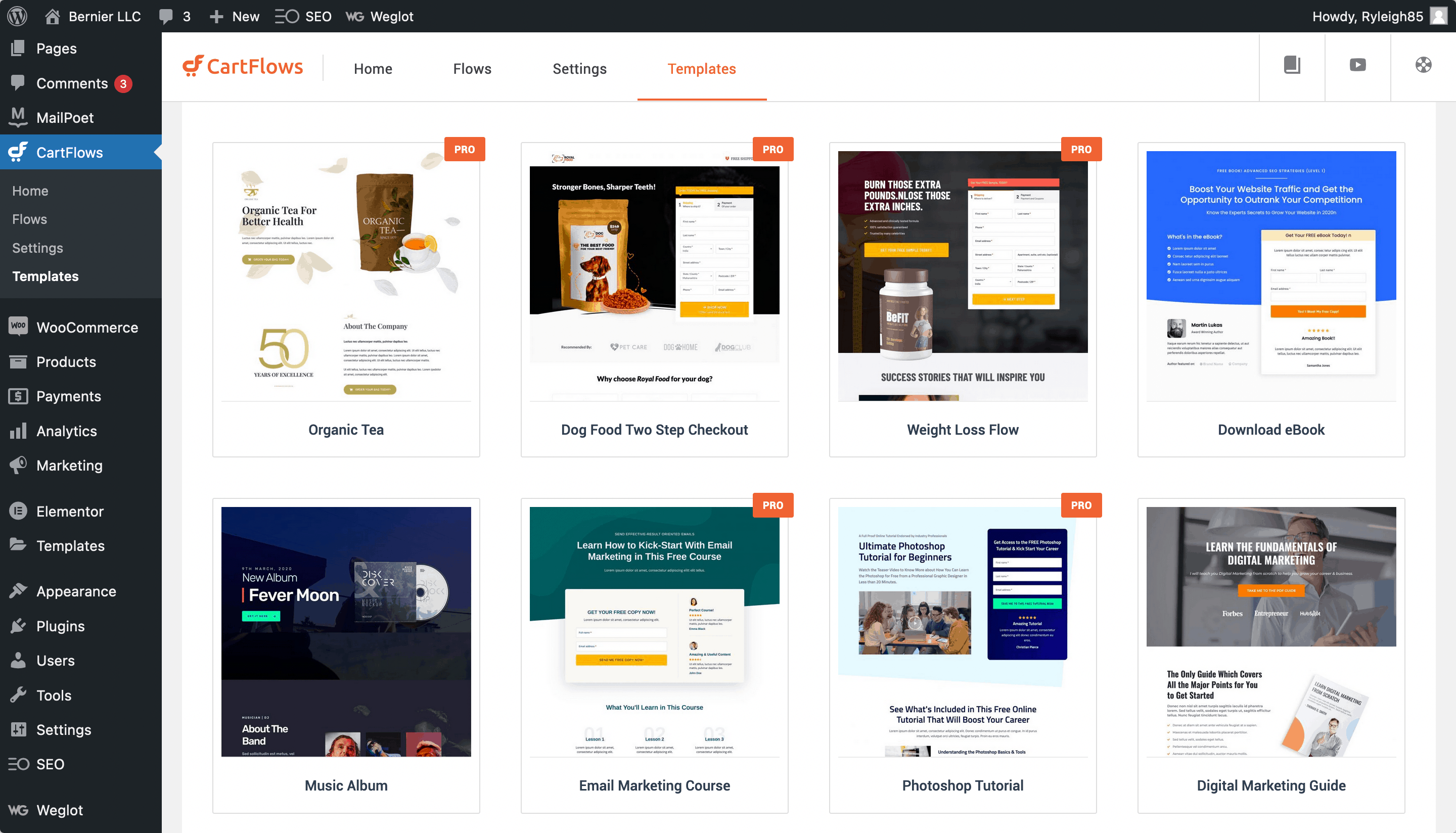 From there, you can edit the steps involved. If you're using a solution such as Elementor, there's tight integration. As your default editor, you'll use this to edit your Flow, with all of the functionality available to you: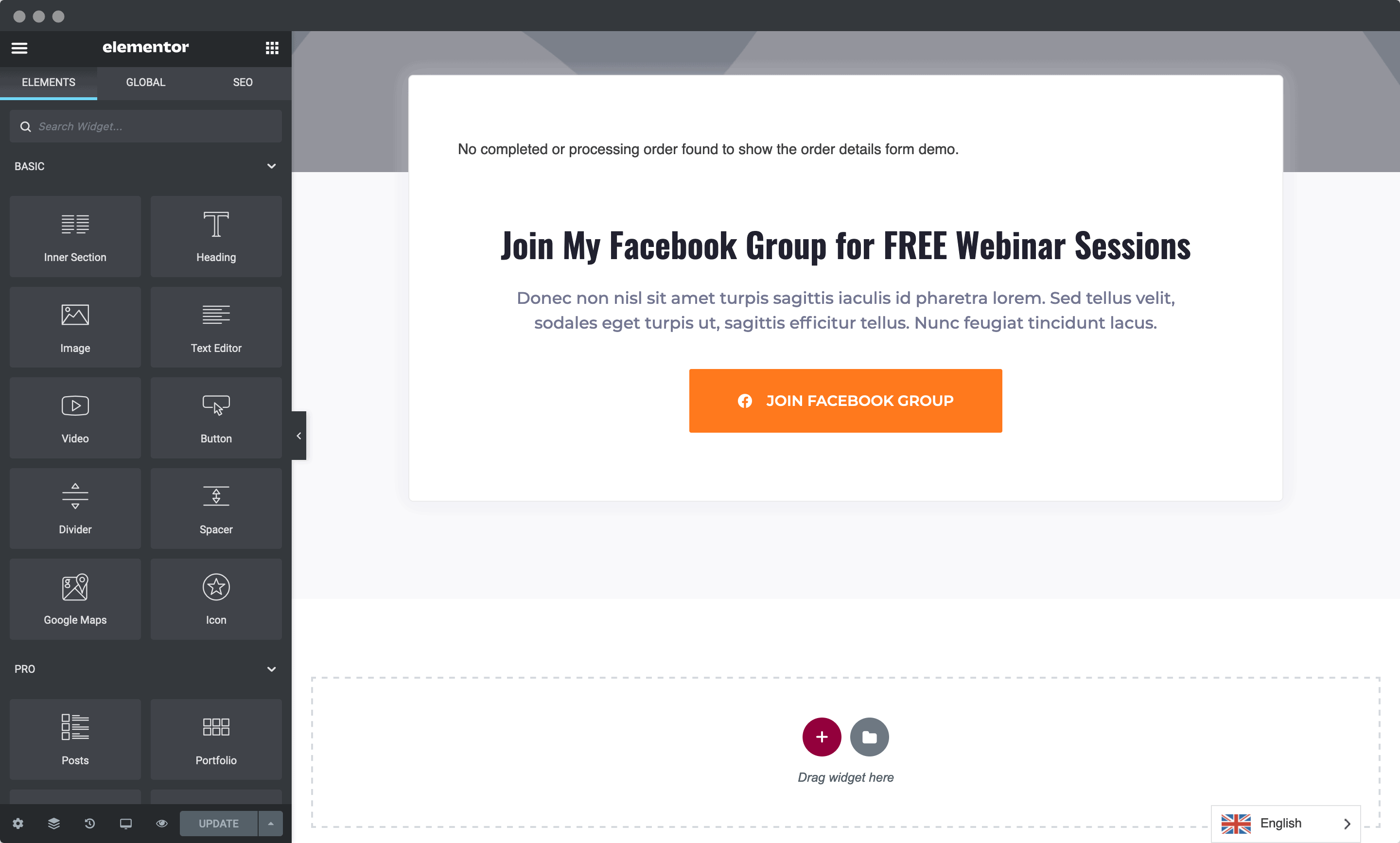 As our sales funnel guide details, we think CartFlows is a clear winner. What's more, the pricing is super-competitive. A single site license is $199 per year, which compared to most of the competition is a steal.
If you have more sites that will suit using CartFlows, you can opt for a $299 per year plan, which lets you use the plugin on up to 30 sites. For heavy long-term users, there's a $999 lifetime deal. This seems expensive, but compared to ClickFunnels, it's giving the product away.
In short, CartFlows should be a solid consideration. For the functionality and features you get compared to the price, and the flexibility and integration with WordPress, CartFlows is a top-choice pick for building a sales funnel.
👉 See our Step by Step guide on How to Create Funnels with CartFlows
Wrapping Up
Sales and marketing funnels are used on every site that sells – whether you know it or not. As such, successfully repeating a winning formula is worth its weight in gold. ClickFunnels offers almost everything you need to get the job done, but it's not the only solution.
In fact, there are many ClickFunnels alternatives available. Systeme is solid, although it has the same drawbacks as ClickFunnels. A WordPress-based solution is more flexible and affordable. For example, OptimizePress is a dedicated landing page builder, and CartFlows is a robust and powerful solution. However, the Elementor page builder plugin also gives you almost everything you need to build effective sales funnels.
Are you a ClickFunnels user and have any of these ClickFunnels alternatives impressed you? Let us know in the comments section below!