Conversions are the bread and butter of any online business.
No conversions = no money. It's a simple equation.
Therefore, it follows that creating a conversion-focused website should definitely be one of your top priorities.
But it isn't always easy to design a website for conversions from scratch — especially when you don't really know where to begin.
That's why we've collected ten WordPress themes that do the job for you. Each of the below products have been designed for maximum conversion rates through strategic highlighting of content, landing page functionality, and attention grabbing calls to action.
All you need to do is browse through and take your pick.
1. Solopreneur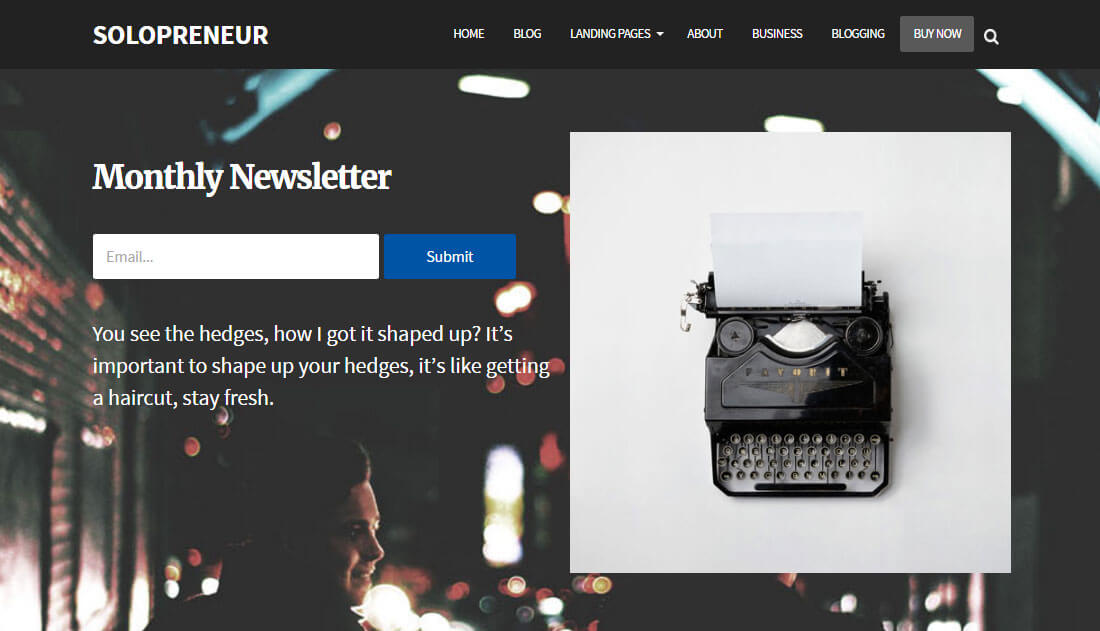 Solopreneur is a clean and beautiful theme created to maximize conversion rates with a minimal, clutter-free design.
SEO-optimized to ensure high search engine rankings and fully translatable, Solopreneur is mobile responsive and comes with custom designed logos, favicons, and social media icons. Lightweight code maximizes site speed and reduces bounce rates.
Solopreneur is also packaged with 2 landing pages that focus heavily on call to actions to either promote your latest products or aid you in building a sizeable email list.
Key Features:
2 custom landing page templates
lightweight and fast loading speeds
mobile friendly
localization for all translations
footer CTA
Price: $59
Use our FancyThemes coupon code "wpkube15" to get an exclusive 15% discount.
View Demo Download & More Info
2. Luxe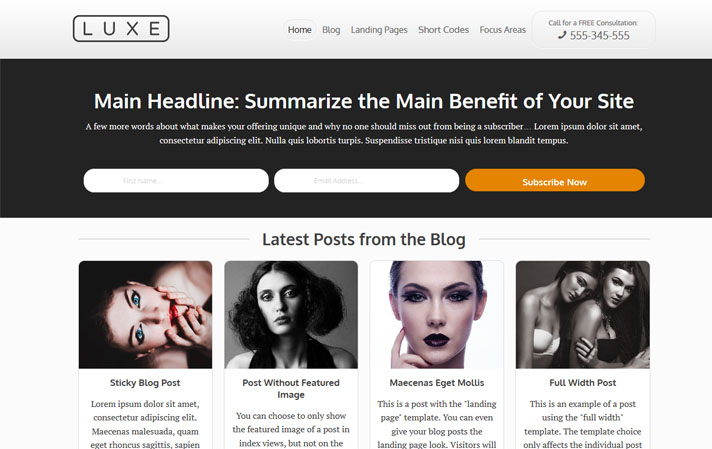 Luxe is a conversion-focused ThriveThemes product with a silky-smooth design boasting luxurious typography.
The minimal design is heavy on white space and focuses on highlighting what's important: your content and your products. Like all Thrive Themes offerings, Luxe is built for high load speeds and 100% mobile responsive. The homepage comes with a focus area complete with a large opt in form to maximize conversion rates.
Luxe is also packaged with 5 elegant pre-designed landing pages, an impressive inventory of shortcodes for boxes, tables, quotes and more, as well as a visual composer.
Key Features:
multiple preset color schemes
homepage with large opt-in form and focus area
5 stylish pre-designed landing pages
great support
intuitive theme options panel
page generator
Price: $49
View Demo Download & More Info
3. The Essence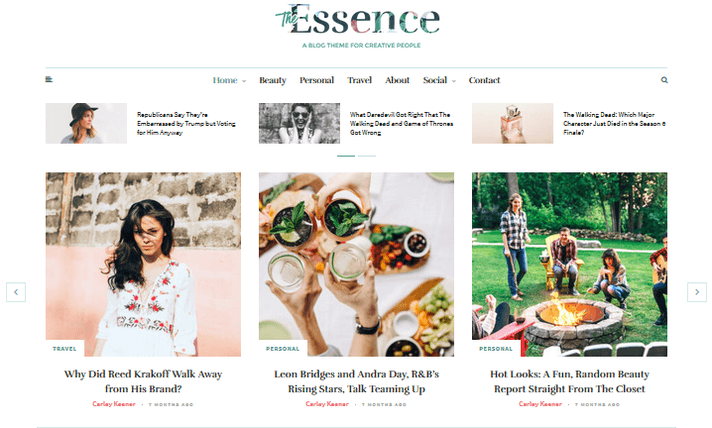 The Essence is a chic and flexible WordPress theme designed to bring out your creative persona and help you maximize conversion rates at the same time. The lightweight theme is optimized for performance from the get-go and features a fully responsive design that's guaranteed to look great on all device sizes.
The Essence theme packs 17 different blog layouts and tons of column-sidebar combinations that you can try out until you land on the perfect design. It also features integrated social sharing icons that are designed to encourage readers to share your content on their social profiles. In addition to all of this, the theme packs promo boxes that let you add catchy CTAs to prompt visitors to check out category pages or go through your blog.
Key Features:
17 different blog layouts to choose from
Optimized for performance
Great support
Built-in promo boxes and social sharing icons
Fully responsive design
Price: $59
View Demo Download & More Info
4. Rise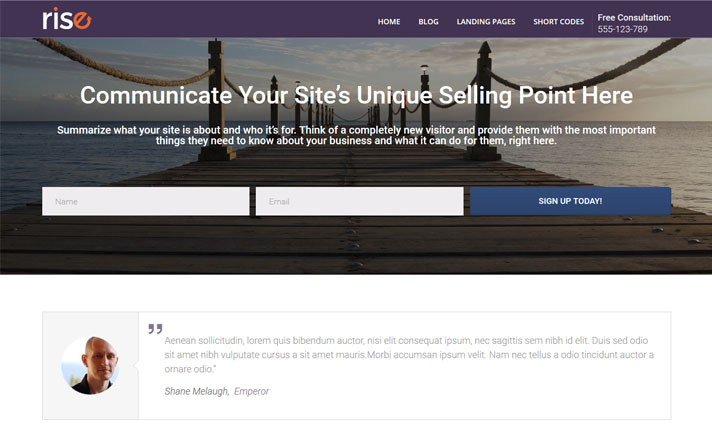 Rise is another amazing Thrive Themes product. What's special about this one is that it was built in collaboration with none other than Zac Johnson, an affiliate marketing veteran. With credentials like that, it's hard to doubt this theme's effectiveness.
SEO-ready and fast-loading, Rise comes with the standard ThriveThemes fare: extensive admin options, customizable header layouts, preset backgrounds and colors patterns, built-in targeted opt-in forms to maximize conversion rates, an automatic page generator with a host of custom pre-built pages, automatic image optimization and more.
Key Features:
built in collaboration with Zac Johnson
multiple preset color schemes
homepage with large opt-in form and focus area
5 stylish pre-designed landing pages
great support
intuitive theme options panel
page generator
Price: $49
View Demo Download & More Info
5. Landlr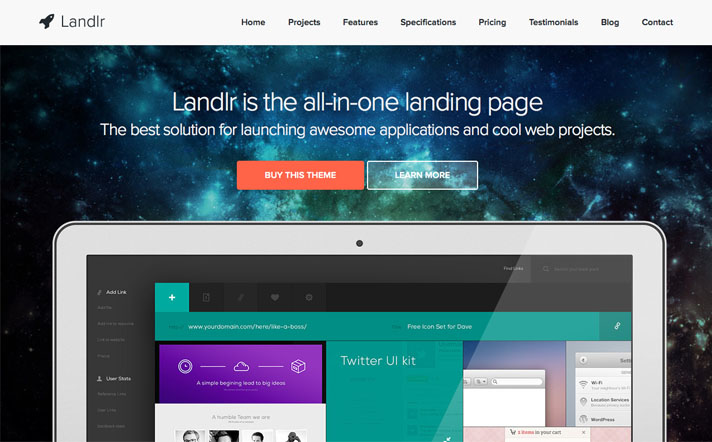 Landlr is an all-in-one landing page that's sure to net you a high conversion rate.
Based on Bootstrap 3, Landlr is a responsive and flexible WordPress theme. The clean code makes for an SEO-optimized template that comes with custom styling options that effectively highlight CTAs.
On the ThemeForest description page, Landlr has included a section that shows how their customers are using the theme in different niches like music, outdoors, consulting, and more, highlighting their products versatility. It's no surprise that Landlr is one of the top contenders on this list.
Key Features:
great documentation
lots of shortcodes
support for Font Awesome icons
$16 value Slider Revolution plugin included
4 preset color schemes
Price: $44
View Demo Download & More Info
6. Launchkit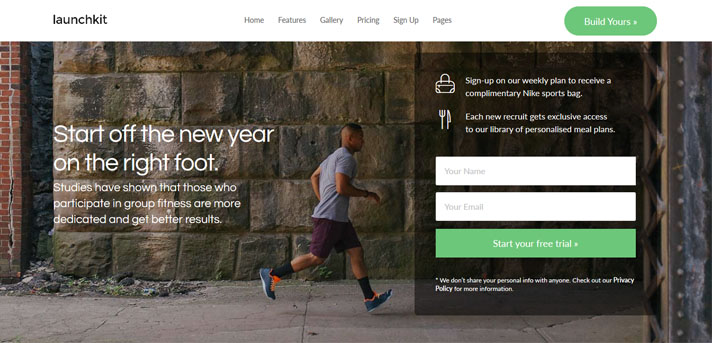 Clear, balanced, and downright stunning, Launchkit offers both a premium design and a luxurious experience bound to convert your visitors much faster than your average WordPress theme.
Launchkit features meticulously designed content blocks with a veritable host of configurations that includes things like a/b testing support, 3 header types, 7 footer layouts, 3and 0+ custom elements for Visual Composer.
This theme is a complete package that offers all the tools necessary to turn your website into a lean, mean, conversion machine.
Key Features:
3 header Types
7 footer Types
$33 value Visual Composer
30+ custom page builder elements
included child theme
smooth parallax effects
Price: $59
View Demo Download & More Info
7. Lead Injection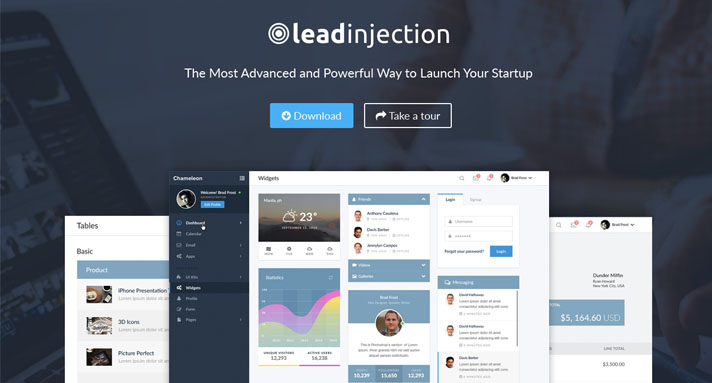 Specifically designed for professional marketers, business owners and affiliates, Lead Injection is a theme for those who wish to launch high-conversion landing pages in next to no time at all.
A powerful admin area, 800+ scalable vector icons (customizable by color), several pre-made layouts ready for use, Slider Revolution, and leadModal (a popup plugin) all work to ensure that you're up and running with this theme in no time at all.
Key Features:
$33 value Visual Composer
pre-made layouts
800+ scalable icons
$19 value Slider Revolution
leadModal popup plugin
Price: $44
View Demo Download & More Info
8. Scalia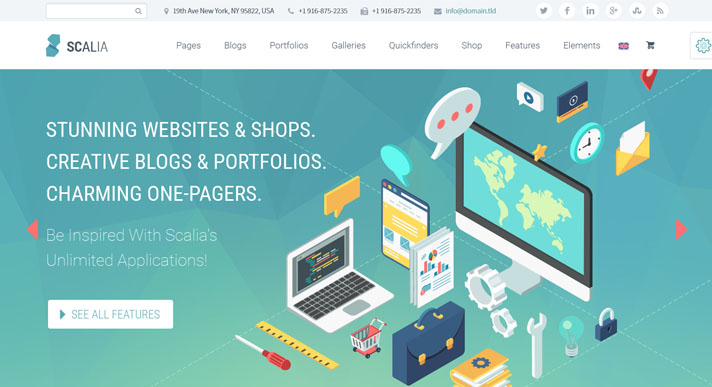 Scalia is a modern, trendy, multi-concept theme that can offer a high-converting website a sweet design in multiple different niches.
The theme's versatility is nigh unparalleled — whether you're a large corporate, a small eCommerce shop, or a creative agency with a need for a beautiful portfolio, Scalia has you covered.
Custom mega-menus, 150+ demo pages ready for use, 400+ font icons, WooCommerce integration, LayerSlider, and much more are all included. So whether you're comparing rates, sharing reviews, promoting a product/service, or just focused on building an email list, Scalia is more than equipped to handle all your business needs in any niche at an affordable price tag.
Key Features:
150+ ready to use demo pages
$15 value Layer Slider
$33 value Visual Composer
400+ font icons package
multipurpose — fits multiple niches
8 blog styles
several gallery & portfolio layouts
one-page option
50+ shortcodes and custom elements
Price: $59
View Demo Download & More Info
9. Permatex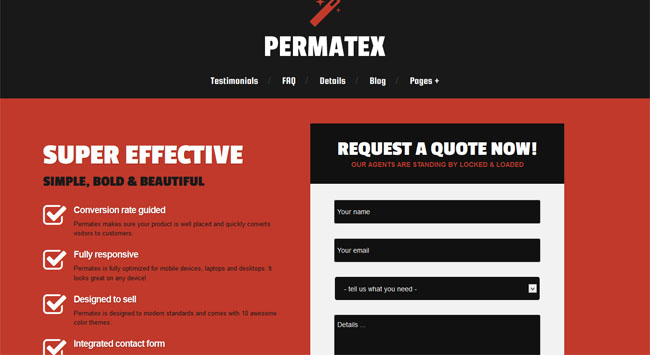 Permatex is a creative theme that captures and converts readers with a bold, sharp, and creative design.
Strategically-placed headlines headlines, a versatile Ajax contact form that can be linked to an autoresponder via Mailchimp, and a sliding gallery all help control visitors' attention and increase website conversions.
Permatex's feature list is quite substantial. You're getting 350+ font icons, jQuery effects, 12 colorpickers, separate menus for front vs. inner pages, lots of custom shortcodes, and built-in FAQ functionality.
The designers have also handpicked and included 11 Google fonts that they believe really set off the theme's typography — a nice touch.
Permatex is a theme that really makes a statement — with this theme running on your website, you're sure to stand out amongst a sea of competitors.
Key Features:
bold, attention-grabbing design
sharp headlines
+350 font icons
Ajax contact form
links easily to Mailchimp & supports autoresponder functionality
2 homepage versions
built on the Twitter Bootstrap framework
Price: $39
View Demo Download & More Info
10. Landing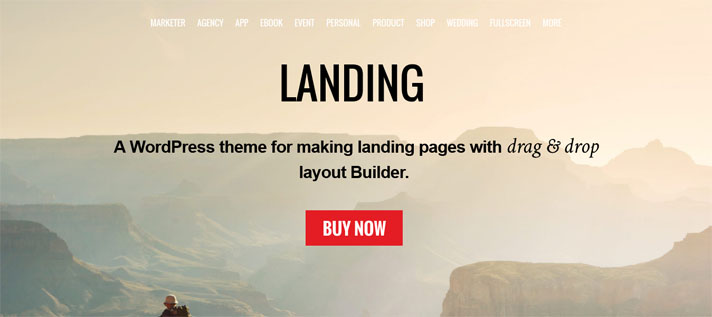 A premium, conversion-focused theme offering from the good folks over at Themify, one of Landing's main draws is the superb drag 'n drop builder that comes part and parcel in every Themeify product. The page builder is a versatile one, offering a wide array of tools to create dedicated pages to highlight your products & services like never before.
Another thing that makes Landing stand out from the rest of the crowd. is the 25+ pre-built layouts. These layouts include templates for agencies, event websites, apps, bookstores, eCommerce, marketing companies, and even personal pages.
This flexible theme comes with custom portfolio options, several header templates, WooCommerce integration, an events post type, and Mailchimp integration. Speed optimized and SEO-ready, Landing also comes with a few standard Themify features including hook content (easy to place banner ads), custom social media icons, built-in support for Google fonts, and much more.
Last but not least, with Themify's buy-1-get-1-free pricing scheme, Landing is pretty affordable!
Key features:
25 pre-built layouts
attractive header options
WooCommerce integration
Mailchimp integration
portfolio & events post types
Price: $49
View Demo Download & More Info (20% off discount)
11. OptimizePress
OptimizePress is by far one of the most conversion-focused WordPress themes to ever float around cyberspace (just take a look at the name!). Its developers have very specifically designed it for website owners with an interest in high-conversion landing pages, sales pages, and membership portals.
OptimizePress's real time editor allows you to view changes in the front-end without reloading or refreshing your page. A fully automated generator prepares mobile-responsive pages to ensure that you're appealing to visitors on any screen. 30+ pre-made templates and an element browser are also at your disposal and an element browser to spice up your design.
A few of OptimizePress's custom elements include the following: Headlines, Order Boxes, Testimonials Blocks, Progress Bars, Countdown Timers, and Video & Audio Players (and much, much more).
One of the theme's most fundamental features is its membership portal. When coupled with the element browser, you can easily create restricted-access membership pages that are sure to wow customers.
OptimizePress comes in two different formats, both as a plugin and as a theme (we've focused on the theme offering in the description above). So be sure that you're keeping in mind that even though OptimizePress has a (very) high price tag when compared with the rest of the products on this list, you sure are getting very significant bang for your buck.
Key Features:
real time editor with live view
automatically generated mobile-responsive pages
30+ custom templates
a comprehensive element library
customizable membership portals; restrict content access
premium add-ons with a wide array of functions
Price: $97
Download & More Info Our Review
12. GrowthPress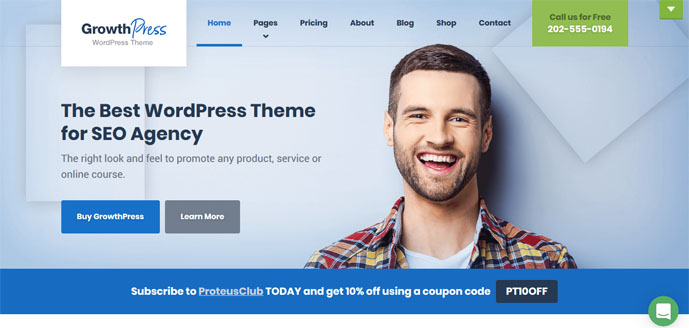 GrowthPress is a clean and modern WordPress theme designed by the team at Proteus Themes specifically to promote products, services, or courses. The design is based on the most successful blogs to use their design tricks to get more email sign ups. The theme has a standalone sales page and landing page without navigation bars, designed specifically to optimize conversions.
Various pricing widgets are included that have been developed using insight from A/B testing pricing pages of over 250 companies. Techniques used to increase conversions include highlighting the most valuable package, and listing easily comparable plan features.
Large calls to action makes contact information instantly visible and phone numbers can be set to automatically call if the visitor is browsing the site from their phone.
An integrated lead generator form, and various widgets for moneyback guarantee, announcement bar, testimonials, and personal profiles round out the site and help to build trust with the user.
At almost $100 this isn't the cheapest option but it comes as part of the Proteus Themes bundle containing 12 different themes to meet any need and style preference, so it's actually a great deal.
Key Features:
Standalone sales page
Pricing widgets
Header video
Lead generator form
Guarantee widget
Announcement bar
Testimonial widget
Personal profiles widget
Contact form widget
100+ Pre-designed icons
Responsive design
SEO optimized
Drag & drop pagebuilder
Pre-built layouts
Price: $99.95 including access to all other Proteus themes.
Wrapping Up
This concludes our list of the 10 best conversion-focused themes for WordPress. Each of these themes are top-notch offerings sure to attract more subscribers and new customers to your web business than ever before.
Which one of the above was your favorite? Do you have any experience with one (or more) of the above themes? Leave your thoughts in the comment section below!