Searching for the best WordPress maintenance service to get a little helping hand with your site(s)?
Whether you're a beginner feeling overwhelmed by WordPress, an advanced user who just wants some help, or a freelancer/agency looking to offload client sites, you can find a ton of great WordPress maintenance services at a surprisingly affordable price point.
In this post, we've collected 10 of your best options – keep reading to learn about them.
Or, if you're in a rush, we think WP Buffs is the best service for most people, so give it a look if you want to skip the list and go straight to the help.
WordPress Maintenance Services FAQs
Here are a few quick FAQs before we get to the WordPress support services…
What do WordPress maintenance services do?
It depends on the service, but the "core" features of any maintenance service are usually updates, backups, and security scans. Some services also go further with things like performance analysis.
Will a WordPress maintenance service update my website for me?
It depends on the service. Some WordPress support services do offer limited or unlimited website edits as part of their service. Typically, this includes content edits, plugin settings, and maybe minor CSS tweaks. However, it doesn't include development work.
Some services do offer custom development, but you'll typically only get 30 minutes to an hour per month – you'll never find unlimited development help.
How much does a WordPress maintenance service cost?
It obviously depends on the service, but plans usually start around $50-$60 per month for basic services.
If you want unlimited task help, you should expect to pay more like $100-$150 per month.
1. WP Buffs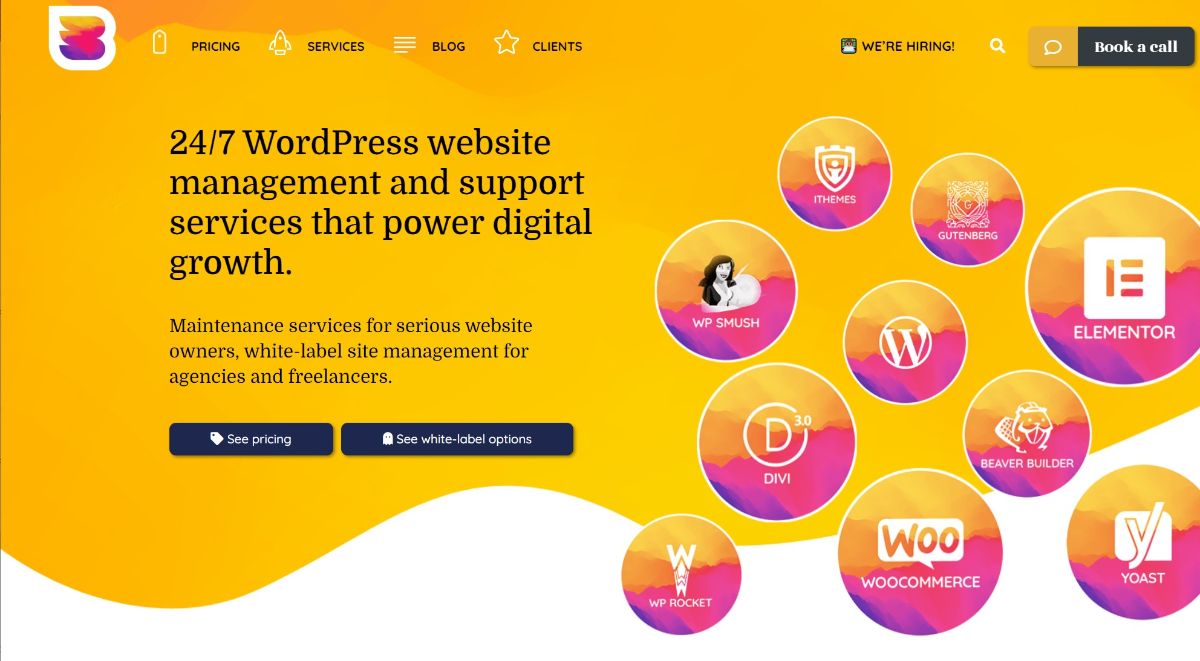 WP Buffs is one of the most popular WordPress maintenance services thanks in part to its generous "unlimited 24/7 website edits" policy. Yes, you can request unlimited content edits at any time for content, plugin settings, or basic CSS adjustments.
Of course, this is in addition to all the standard maintenance help that you'd expect from a service.
WP Buffs offers three pre-set plans:
Maintain – $67/month for weekly updates, 24/7 uptime monitoring, daily cloud backups, and Google Analytics integration.
Protect – $147/month for everything from the Maintain plan plus the unlimited 24/7 content edits, 2x daily cloud backups, security optimization, and iThemes Security Pro.
Perform – $197/month everything from the Protect plan plus speed optimization, WP Smush Pro, 4x daily cloud backups, mobile and tablet optimization, and complete malware removal.
You can get two months free if you pay for a year upfront.
If you're building client websites (either as a freelancer or agency), WP Buffs also has a white-label service that lets you offer your own custom maintenance service using your own email and dashboard, all powered by the WP Buffs team.
💲 Use our exclusive WP Buffs coupon to get 20% OFF.
2. Maintainn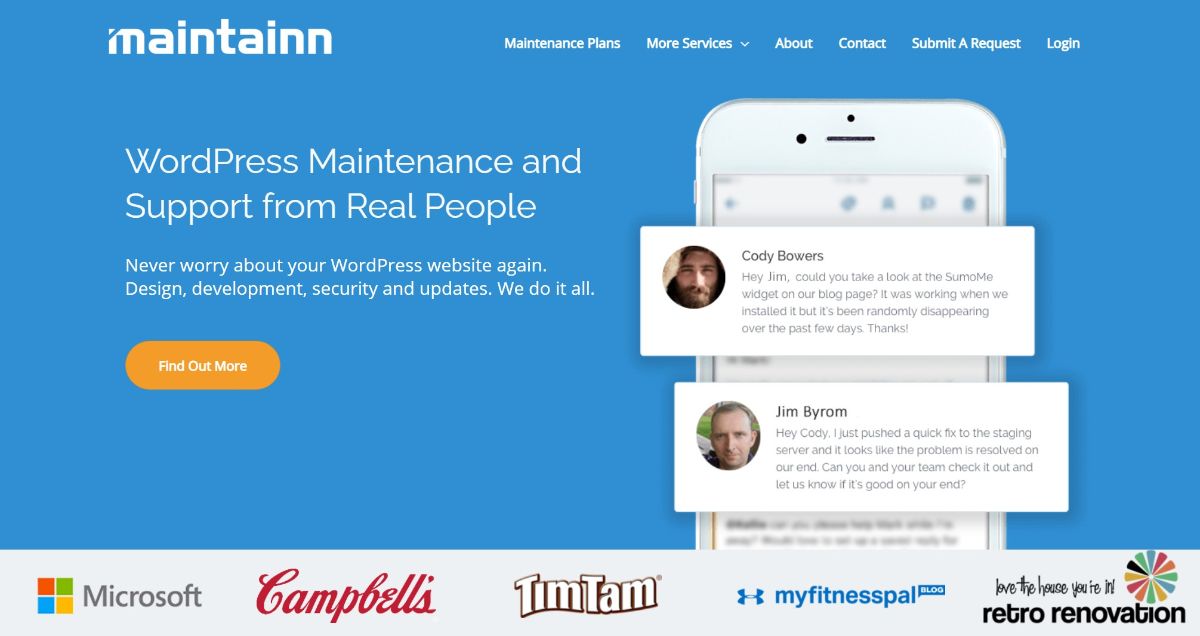 Maintainn is another well-established WordPress maintenance service. They offer core plans with basic maintenance features as well as developer or design support (for an extra fee).
Maintainn offers three pricing plans:
Standard – $59/month for weekly updates, 24/7 security monitoring, and daily backups.
Professional – $179/month for free hacked website repairs, 2x daily backups, performance checks and uptime monitoring, and eCommerce/multisite support.
Enterprise – $299/month for 4x daily backups, version control, staging updates, and other advanced features.
If you want technical support, you can also purchase support hours from $150/hour. Higher-tier plans get a discount on support hours.
3. WP Maintainer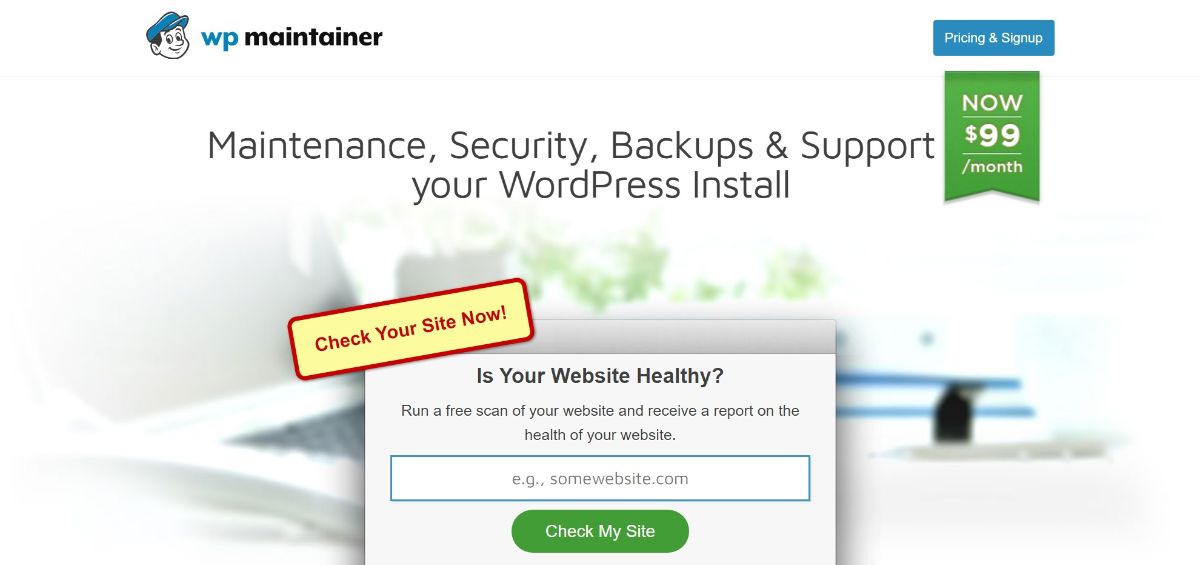 WP Maintainer is a very straightforward service for basic WordPress maintenance.
For $99 per month, you get:
Managed core, theme, and plugin updates, including support for any compatibility issues.
Automatic backups.
Sucuri security monitoring and cleanup.
As a WP Maintainer customer, you can also purchase developer support for $99/hour (which is discounted from the normal rate).
4. SiteCare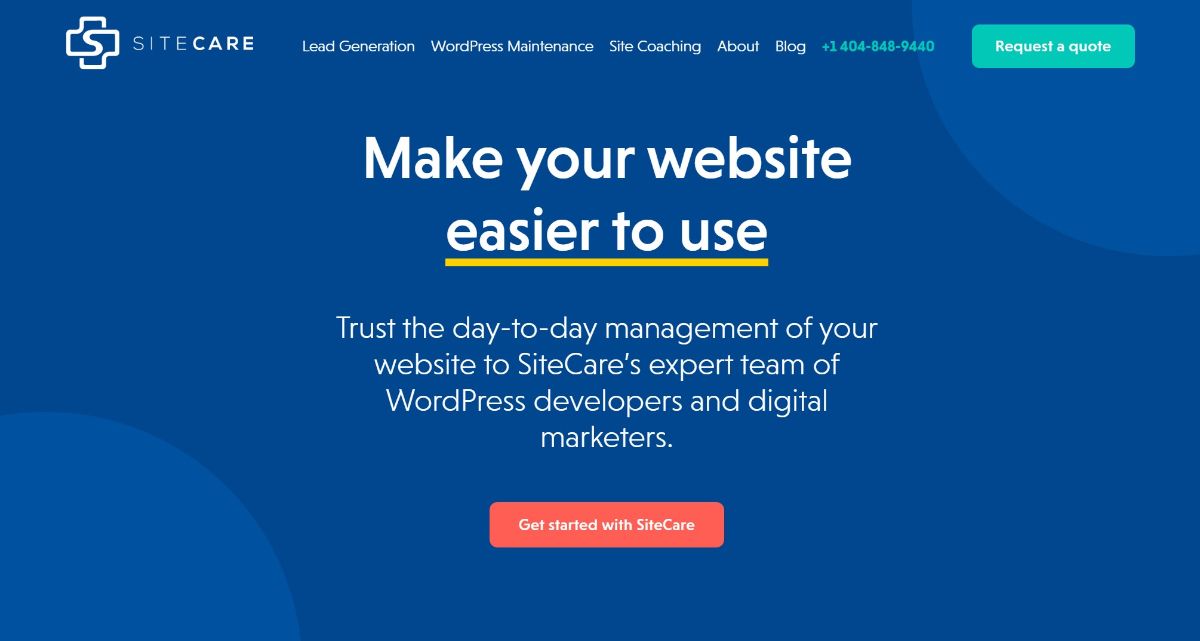 SiteCare (formerly known as WP Site Care) is one one of the oldest and most established WordPress maintenance services, founded all the way back in 2012.
Since the rebrand, they've gone a little more "bespoke" as they no longer offer set pricing plans. Instead, you'll need to reach out to their sales team.
However, I'm still including them on this list because they're a very established name and have acquired a lot of other support services, including WP Radius.
So – if you want more of a bespoke service and you have a budget to match, give SiteCare a look for help with things like:
Managed updates
Backups
Security
Speed and performance optimization
Emergency help
Managed WordPress hosting
WordPress development
5. WP Runner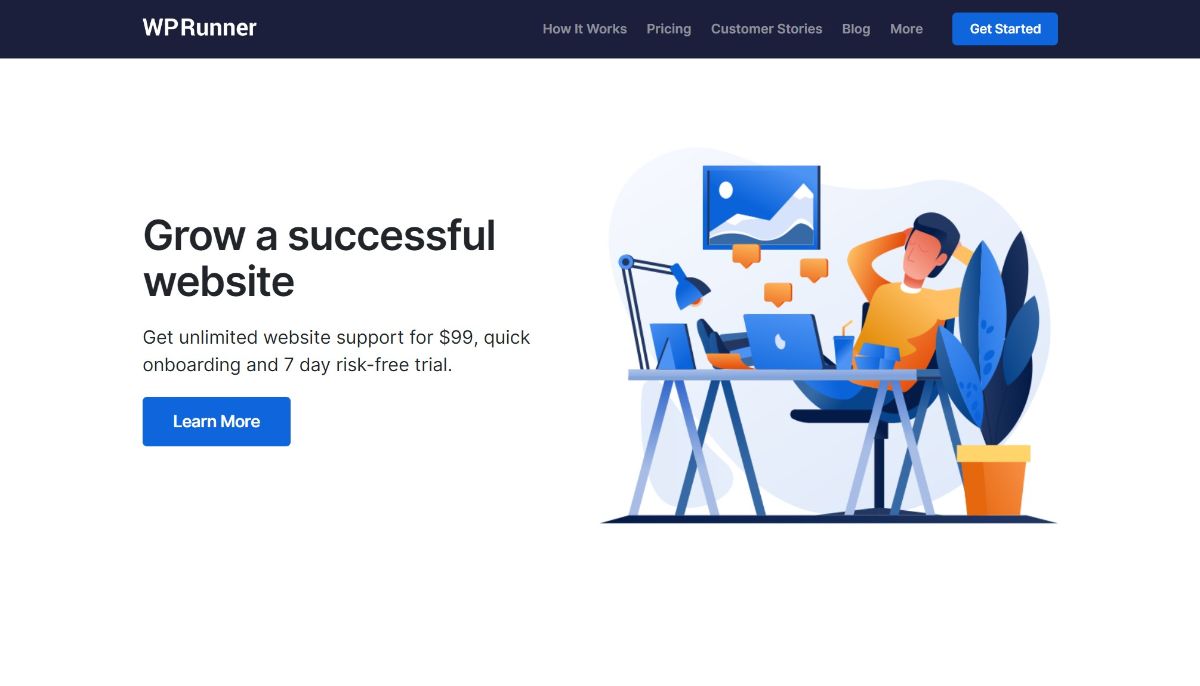 WP Runner is a WordPress maintenance service with an attractive value proposition – unlimited website tasks per month (in either 30-minute or one-hour blocks depending on your plan). They're based in Australia, but they have a global team all around the world.
For $99 per month, you get:
Unlimited 30-minute website tasks (but you can only send in one task at a time).
Monthly performance and security audit.
24/7 uptime monitoring.
Weekly website backups.
Or, if you don't need the unlimited tasks, you can pay just $59 for everything above except you only get 30 minutes of task help per month.
And if you really need help, there's a $599 per month Premium Support plan that adds on:
Unlimited one-hour tasks and you can queue up 5 tasks at a time.
Daily backups instead of weekly backups.
The tasks that you submit are usually finished within a day.
6. GoWP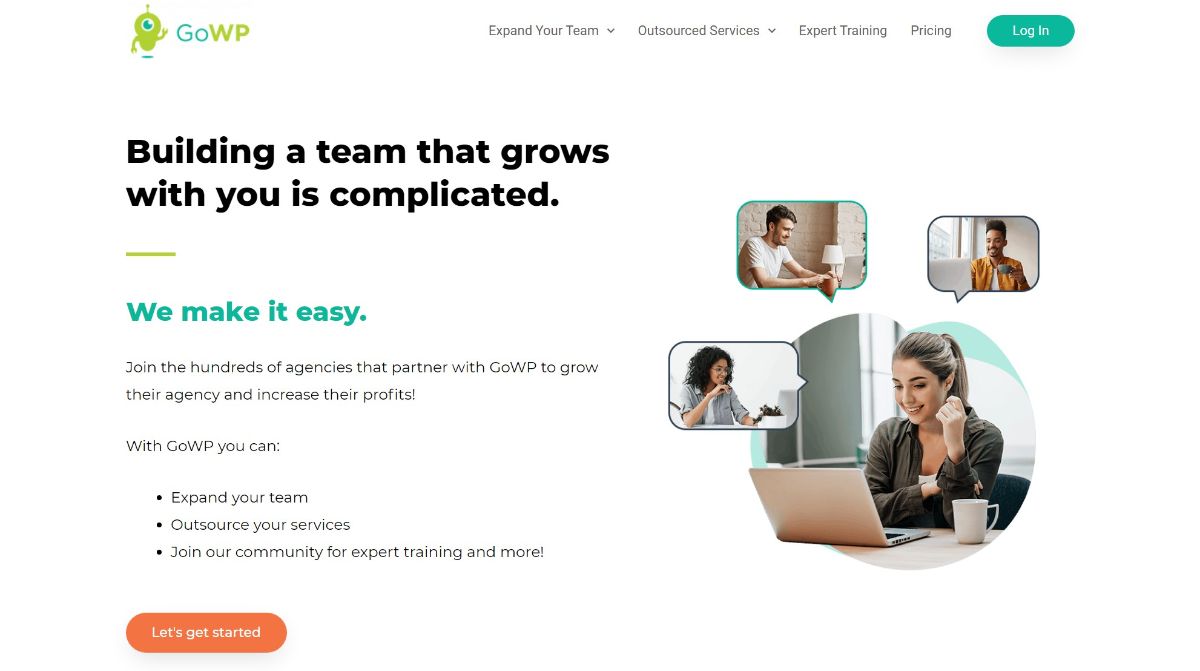 GoWP is a WordPress maintenance service specifically targeted towards WordPress agencies rather than WordPress users themselves, though there's nothing stopping you from signing up as a solo WordPress user.
Overall, though, GoWP is structured so that WordPress agencies can use GoWP as the backbone of a maintenance service that agencies resell and white-label to clients.
Everything is white-labeled, so GoWP will respond as if they're part of your team (you can even have them use a custom email based on your domain and you can have them automatically BCC you on every conversation).
GoWP has two core maintenance plans:
Maintenance – $29/month/site – Visual Validator safe WordPress updates, 90 days of offsite backups, daily security scans and malware cleaning, and a maintenance dashboard.
Content Edits – $79/month/site – everything in Maintenance plus unlimited content edits and a white-labeled support ticket dashboard.
7. WP Tech Support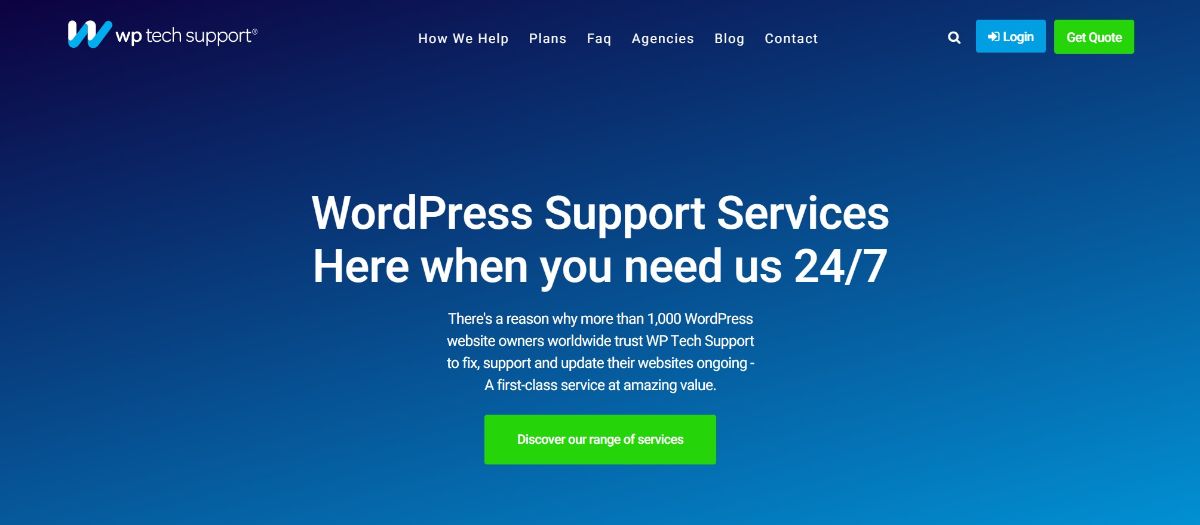 WP Tech Support is another popular service that offers a variety of plans for everything from basic maintenance to performance tune-ups, dedicated custom development work, and more.
They can be a good budget option because of their low prices, but the quality of their service doesn't match something like WP Buffs.
All of WP Tech Support's plans include the following:
Emergency fixes (one on the cheapest plan and unlimited on the other plans).
Daily backups
Weekly WordPress core and plugin updates
24/7 uptime monitoring
Daily malware scans
Security improvements
The cheapest plan costs just $45 per month, but higher-tier plans can add:
Theme updates
Malware removal
Dedicated development hours
Performance optimization
eCommerce, LMS, and membership site support
8. WP Kraken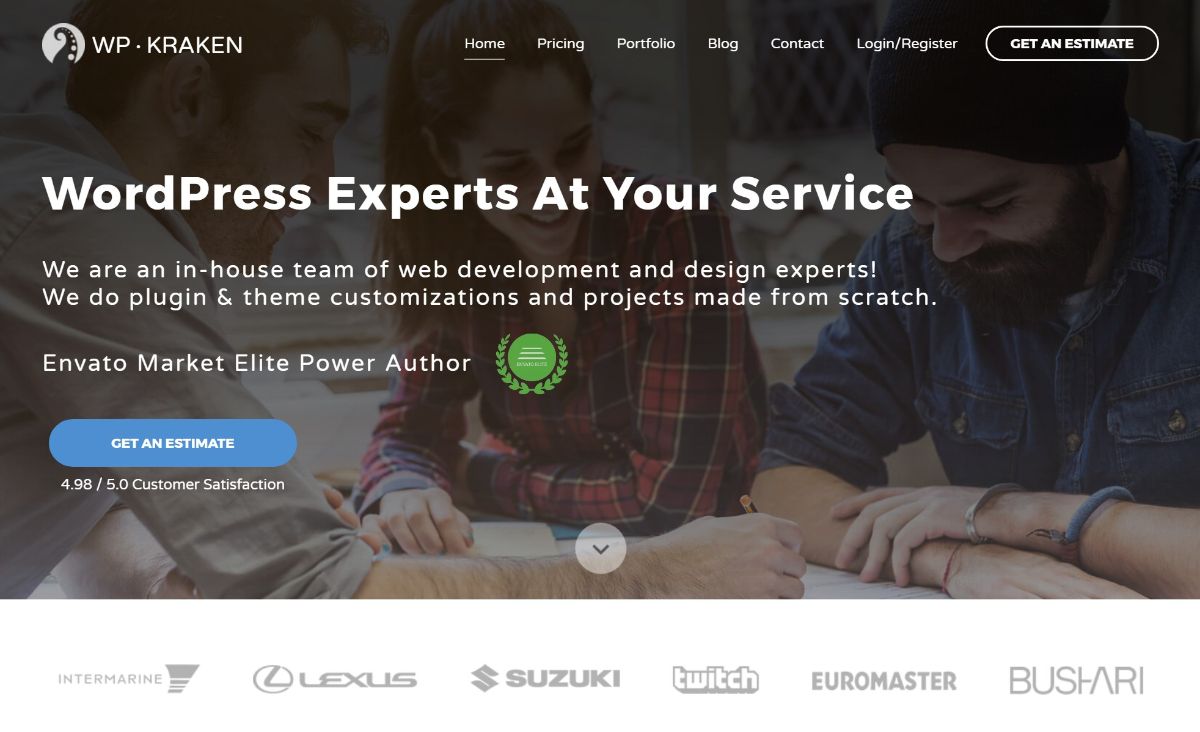 WP Kraken is a bit of a departure in that it's not a dedicated WordPress maintenance service. Instead, it's a service where you can outsource specific tasks to a team of WordPress development experts.
For example, if you're having problems with some plugin or you can't figure out why your site is so slow, you can use WP Kraken to easily hire someone on a one-off basis to get the help you need.
If you like this task-based approach to WordPress support, give this one a look.
9. WP Copilot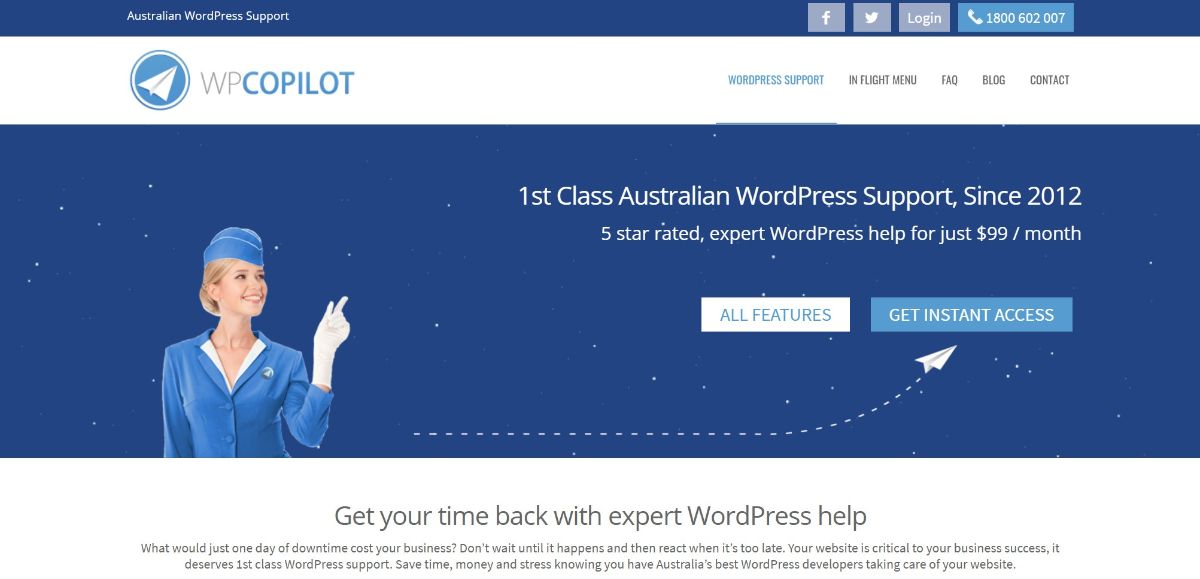 WP Copilot is a WordPress maintenance service in Australia, which makes it a great option for Australians or anyone else in the Asia-Pacific region. The WP Copilot team is available Monday to Friday from 9 AM to 5 PM AEST.
A lot of other maintenance services are US or Europe-focused in their hours, so this is a nice competitive advantage (though other services like WP Buffs offer full 24/7 support).
WP Copilot only has one plan, which makes things super simple. It costs $99 per month for:
24/7 uptime monitoring
Daily automatic backups
Daily malware scanning
30 minutes of developer support per month ($99/hr for additional time beyond that)
Automatic updates for vulnerabilities (based on scanning the WPScan Vulnerability Database)
Monthly site care report
10. Newt Labs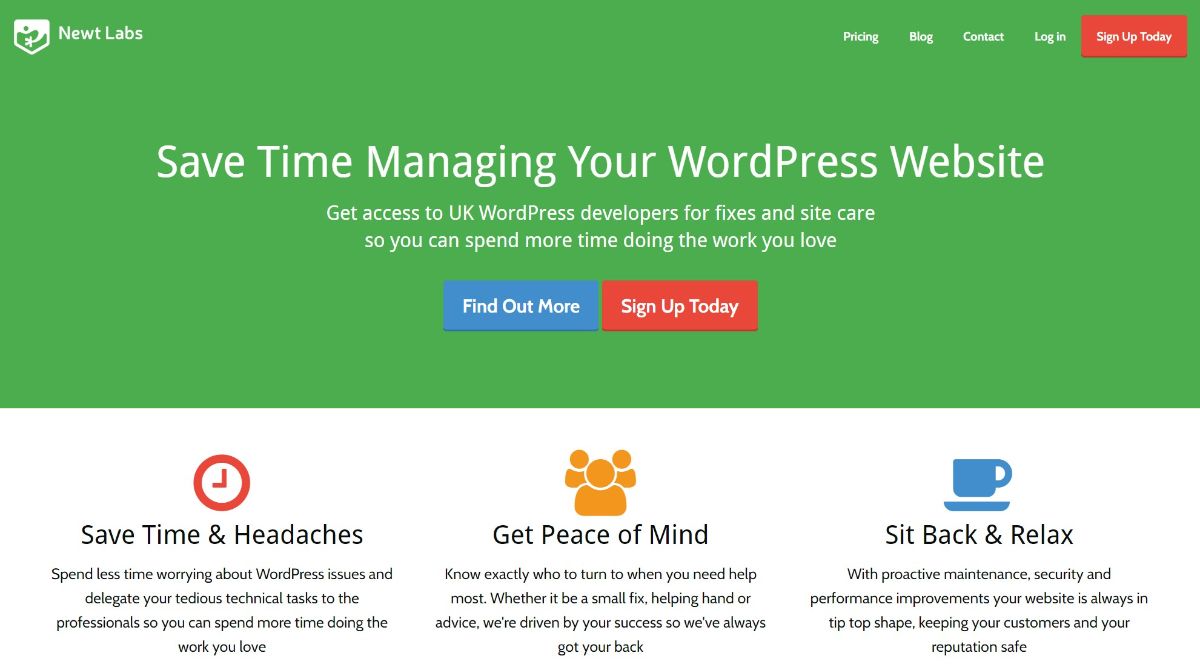 Newt Labs is a WordPress maintenance service based in the UK (and priced in pounds), which makes them an especially good option for WordPress users in the UK (and Europe in general).
Their standout feature is unlimited small fixes on all plans – even the cheapest one. They define small fixes as basic tasks that take up to 30 minutes.
Beyond the unlimited fixes, you also get:
Managed WordPress updates
Daily cloud backups
24/7 security monitoring
Free hack cleanups
Real-time activity tracking
The maintenance service costs £59 per month.
They also offer a full managed WordPress hosting solution if you want someone to cover both your hosting and your site's maintenance.
Which Is the Best WordPress Maintenance Service?
The best WordPress support service obviously depends on what you're looking for when it comes to help – there's no single "best" option for all scenarios.
For example, do you just want someone to handle basic maintenance like updates, backups, and uptime monitoring? Or do you want someone who can actually dig in and update content on your site and make other tweaks?
However, the first question should be whether you even need a WordPress maintenance service in the first place. If you just want someone to help with backups, security, and updates, you might be better off with a managed WordPress hosting service, which will probably end up being cheaper than paying for hosting and a separate WordPress maintenance service. Check out our collection of the best managed WordPress hosting to see your options.
On the other hand, if you want someone to go beyond just backups and updates, a WordPress maintenance service might do just the trick.
And while all of these services have something to offer, we think WP Buffs is the best option for most people because:
You get unlimited edits for content, plugin settings, or basic CSS tweaks (on the Protect plan and above).
They offer 24/7 help, whereas some services are only available during certain hours.
They have happy customers and great reviews.
They also make a great option for WordPress agencies and freelancers thanks to their white-label service. Or, for a white-label solution, GoWP is also one of the best WordPress maintenance services for agencies.
Still have any questions about picking the best WordPress maintenance service? Ask us in the comments!