I know what some of you are thinking right now.. why on earth would I need a service to help me with the maintenance of my WordPress site?
If you're a business owner, freelancer, or someone else whose website is integral to bringing in business, it's easy to worry about and spend a lot of time and energy on maintaining your website. But at the end of the day, if you free up that time and energy, aren't there other areas you can tackle that can lead to a much higher return on investment?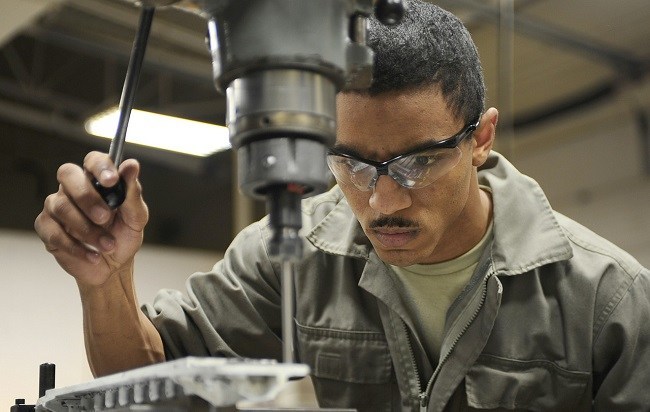 If leaving the maintenance to someone else saved you just a few hours a week, how much extra money could that translate into? (Or alternatively, how much extra joy from the extra free time?)
Instead of worrying about the newest update, uptime or security, or trying to make small fixes yourself, you could be bringing on a new client, finishing up a chapter for your new book or put the finishing touches to your next app.
While WordPress makes maintaining and updating a website relatively easy, it can be surprisingly time consuming. Updating plugins, checking for compatibility issues, backups, optimizing your database, the list goest on.
It can be especially bad if you've developed slight OCD about keeping everything up-to-date and running smoothly, which is easy to do when your livelihood depends on one or more websites.
WordPress maintenance and support services are a way to do away with the time spent and anxiety that often goes hand in hand with maintaining important websites. And it's also a great way to get support for those times when Googling and some experience isn't enough.
This post gives you an overview and introduction to a few of the more popular services, to help you get one step closer to finding the one that's right for you.
WP Curve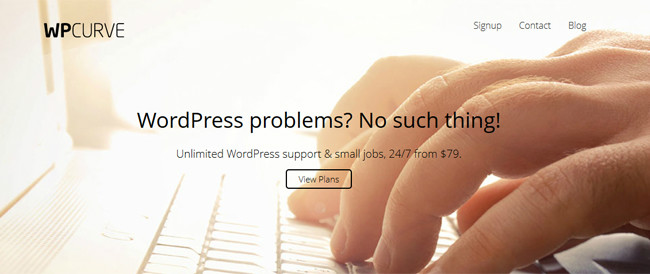 Despite being one of the younger alternatives mentioned in this post, WP Curve has been able to carve out a space (and make a name) for itself by doing a few things differently. First off, they actually offer small jobs done by developers(30 minutes or less), and they are incredibly transparent about their business.
Other than sharing their revenue and plans for the future, they also share things that are even more interesting to a prospective customer, like their monthly average response times(10 hours and 10 minutes in march).
Their basic 'Professional' plan at 99$/month (79$ if billed annually) offers the unlimited small jobs, chat and email support, upgrades, backups, and monthly security scans. Their VIP plan at 199$/month (159$/m annually) offers all that, a shorter response time, and up to 3 job requests at a time instead of 1.
WP Maintainer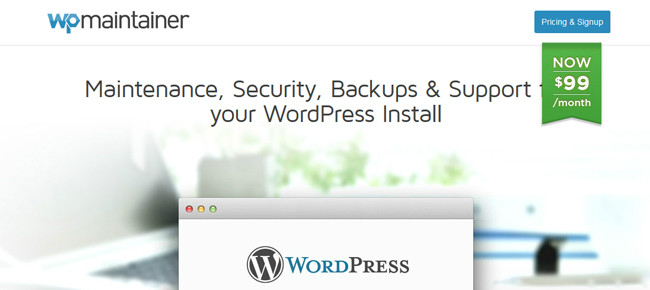 Just like it's name suggests, this service takes maintenance seriously. Offering compatibility support(up to an hour of support should your site unexpectedly break due to a WordPress, theme or plugin update), backups, Sucuri monitoring, and monthly WordPress support.
It seems like you can get hands-on developer help for a number of smaller issues(CSS styling of a new element, CSS and JS optimization), read their Terms of Service for more information on exactly what falls under monthly WordPress Support. Larger requests, like site redesign or custom development can be fulfilled at a discounted rate of 99$/h.
WPMatic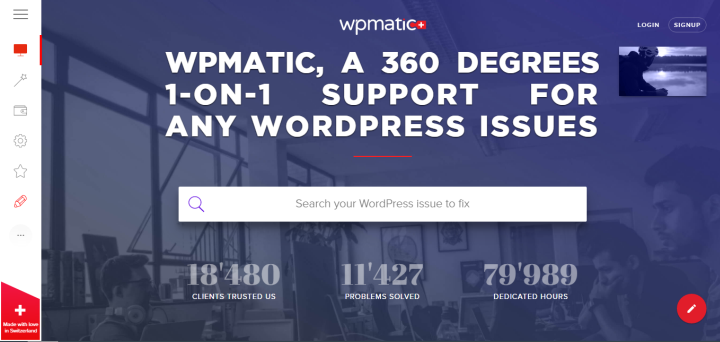 WPMatic has a simple, straightforward workflow that lets WordPress users tell the company about the issue they're facing and then have professionals fix everything as soon as possible once they've subscribed to one of their plans. WPMatic offers a multitude of services covering everything from WordPress installation to security configurations and creating backups to customizing your site's front-end.
The service doesn't focus on simply solving your problems, however. At WPMatic, they provide a complete solution which also includes a detailed report on the job and helpful recommendations for the future so that you can take measures to prevent similar problems from arising in the future.
Their basic Starter plan is priced at $59 per month ($46 per month if billed annually) and features site maintenance, weekly backups, 24 hour support, unlimited small 30 minute jobs for a single site, detailed notes, and WordPress core updates. When you want to take things to the next level, the Business plan priced at $99 per month ($79 per month if billed annually) offers the basic features in addition to access to any TeslaThemes theme, optimized loading speed, and a personal concierge. For $159 per month ($124 per month if billed annually) will give you access to all of the features with WPMatic's Enterprise plan.
WP Copilot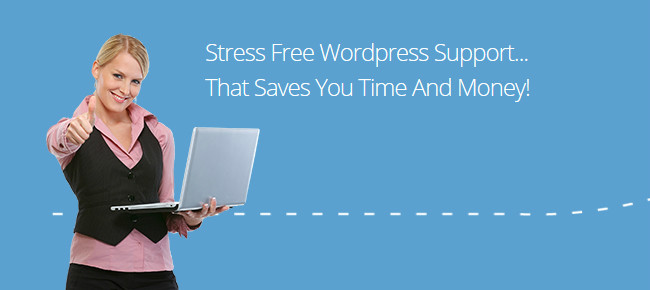 This service is an Australian alternative, perhaps more fitting for those who have sites with audiences mostly based in Asia, or of course Australia.
Because the support team works during Australian work hours (6 AM to 12 AM), rather than American or European ones, you might be better covered during peak traffic hours.
For 39AUD per month, roughly 30$ US, you get 30 minutes of WordPress help monthly, as well as updates, backups and help with site security and loading times.
WP Site Care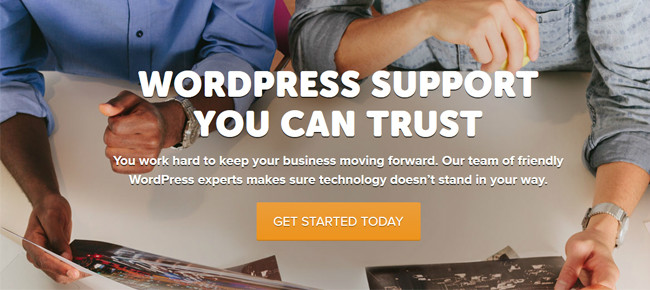 Their cheapest plan at 39$/month (29$ if billed annually)offers security monitoring, daily backups, and updates. Their specialized plan at 99$/month (79$/m annually) includes that, as well as site performance optimization, SEO optimization, eCommerce support and one hour support response time.
The downside here seems to be that if you want any hands on developer help, it looks like you need to upgrade to their Business plan at 299$/month (239$/m annually) which includes site migrations, uptime monitoring, phone support and 2 hours design and development per month.
WP Radius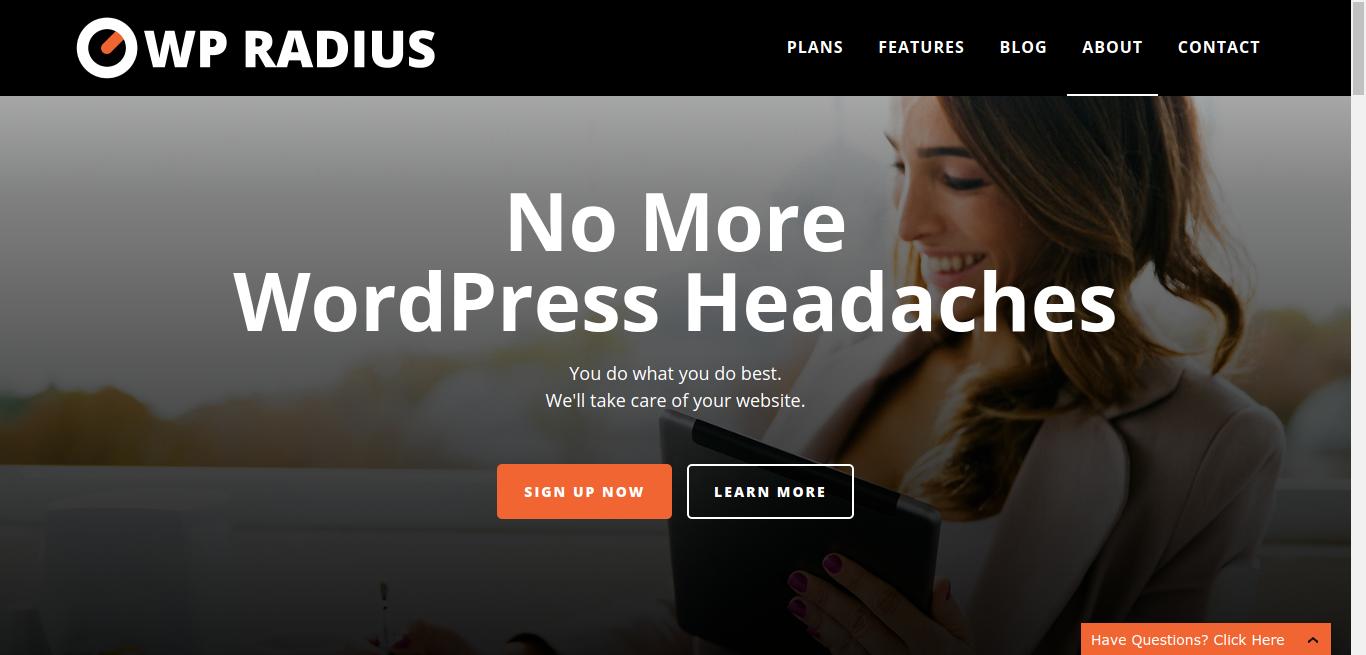 WP Radius is a full-service WordPress Support & Maintenance company that will take care of all your WP needs.
With a team full of experts, WP Radius offers unlimited help and support; whether you just have a question or need your design or layout changed. They will even publish your blog posts for you. They take care of all your troubleshooting, updates and backups … so you don't have to.
WP Radius is a great option for business owners, entrepreneurs, and bloggers who need a reliable support team to maintain their WordPress website.
Plans with unlimited support start at just $67 a month.
WP Mayday

Perhaps the newest kids on the block, these guys offer daily backups as well as, malware and virus monitoring across all plans, they seem focused on helping you avoid… prolonged downtime or other complications due to incompatibility issues or malware.
Even their Lite plan at 30$/month offers some access to hands-on help from developers, up to 5 requests under 30 minutes per month. With basic at 60$, you get unlimited requests, and with premium at 100$ you get unlimited 40 minute requests.
Mayday could be a good choice for someone who likes to tinker a bit with the design or code of a theme, without the experience to do so 100% safely, though I'm not sure they can prove that their WordPress developers are the 'world's best and most experienced'.
Fix My Wp
Offers backups(monthly for their junior plan, and weekly for ninja), weekly spam cleaning, weekly database optimization, and email support.
While at first look the design (perhaps specifically the logo) looks a little dated, this is just a testament to their status as somewhat of a veteran in this space. It does not seem like hands-on developer time is included in any of the plans.
Junior costs 50$/site/month, and Ninja 100$.
WP Valet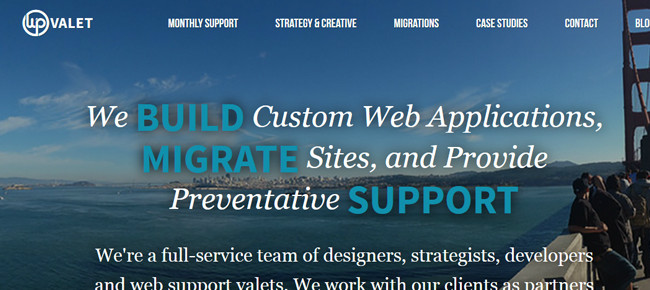 The WP Valet website is a little hesitant to show you the actual price of the plan. (I don't like having to answer a survey just to look at plans or features, but I can see it being useful to online business owners who don't know exactly what they need).
With 250$ a month for the bare-bones plan of updates, uptime monitoring, backups and ticket support, it can seem a little pricy. At least on paper, WP Valet seems like less value for money than many of the other options.
But, I don't know if they have more qualified staff, considerably higher staff/member rates, or if ticket response times are miles away from other services.
Conclusion
There's a wide range of options available, and with prices as low as 30$/month, it's hard to argue against bringing in a helping hand to deal with the day-to-day maintenance of your site. They can be an amazing help for business owners who can't afford to hire someone full-time or part-time to maintain their website.
One of the great things about doing so, is that even if you have a tendency to get laser-focused when you're doing a new project, your website will still be in safe hands with 0 hands-on attention from you. With many of the services this also gives you an added layer of security, and an extra safety-net to catch any potential downtime.
Which of these services you should choose depends on you, the needs of your site and any wants or extra worries that needs reassuring.
This is not a review of the individual services, but rather an overview aimed at helping you find services to take a closer at. The next step towards finding the perfect WordPress maintenance and support service is to visit the website of a particular service that appealed to you and take a closer look.
Have any experience using any of these services (or others)? Please share in the comments below.