There's no doubt there's a ton of money to be made in blogging.
But the bloggers who are really killing it are the ones who have started selling products.
If you are looking to take your blogging business to the next level, you need to transition from just blogging into product creation.
And as a blogger, you are in the best possible position.
I'll show you how to transition into selling products, but first, let me show you an example of how one of the most popular blogs created a digital empire by transitioning into products.
How Copyblogger Came To Be Worth $7 Million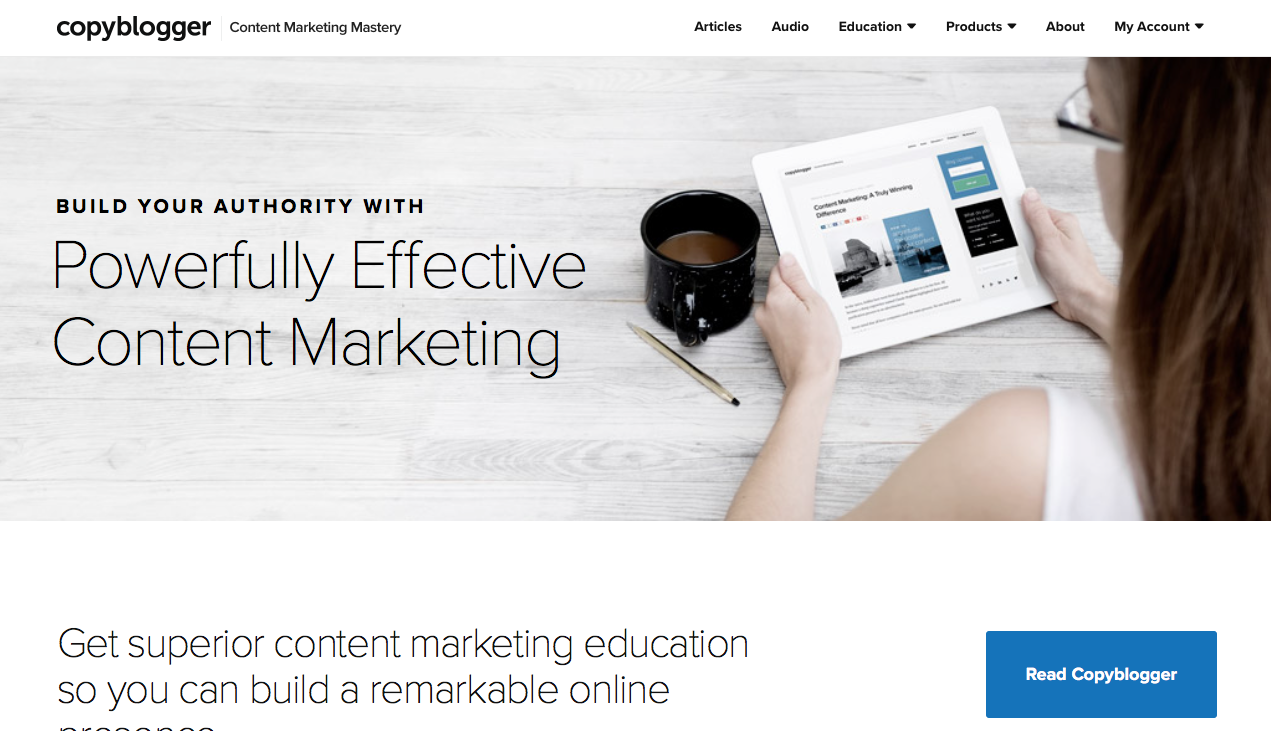 If you've been involved in Internet marketing, you've probably heard of Copyblogger.
It is one of the most popular blogs about Internet marketing, content production, and copywriting.
When Brian Clark started it, it wasn't much more than a simple blog.
Brian kept blogging, and his audience kept growing.
But Copyblogger really took off when they transitioned into products.
They sold courses, and then started selling WordPress plugins and themes. And today, Copyblogger even sells hosting.
What was once a simple blog is now a $7 million company (hear the full story at Mixergy).
Copyblogger Is Not Alone
Many bloggers have seen huge success by launching their own products.
Look at Pat Flynn of Smart Passive Income, who not only launched a few books, but even a podcast plugin for WordPress (Smart Podcast Player).
Or Derek Halpern of SocialTriggers.com who offers a bunch of courses on various aspects of Internet Marketing, and even created ZippyCourses, a WordPress plugin for selling online courses.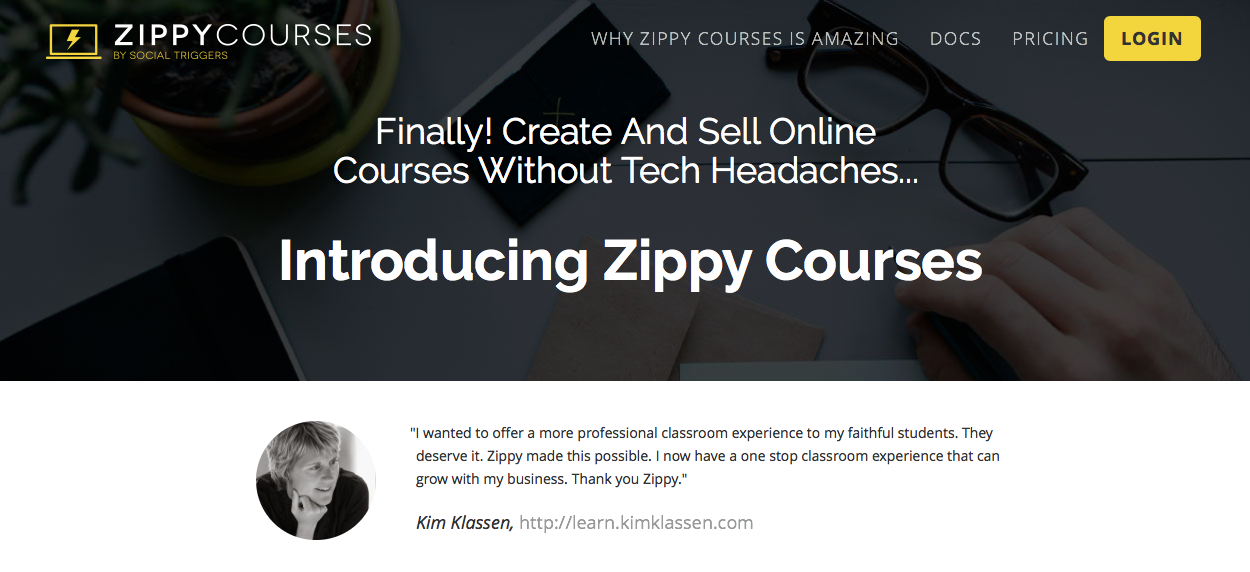 They are countless other examples of bloggers who started with a simple blog, and from that blog started creating and selling various products.
And it's no wonder: bloggers are in a very special position.
Why Bloggers Are Special
Bloggers already have a built-in market to sell their product to: their audience.
Think about someone who has an idea to launch a product: when they are ready to launch, they have to spend a lot of time and money marketing to get people to buy it.
But bloggers have already spent the time to build an audience. On top of that, their audience trusts them.
So when a blogger decides to launch a product, they don't need to do traditional marketing. They can sell it to their existing audience.
How To Get Started
So you're convinced: you want to launch your own product.
But how do you get started?
Here are the 5 steps I've seen many bloggers who launched their own products take.
But a couple of words of warning:
This is a general overview of what you should do. A kicking off point, if you will. Please do some research on each of these, as there are many nuances to each.
This is NOT easy to do. If it were, everyone would be doing it. But like most business ideas, if you have a good idea, and are persistent, you are likely to see success.
Step 1: What Does Your Audience Need?
Since you will be selling to your audience, you need to find some problem that you can solve.
This is an extremely important step, so don't skip it. If you get this step wrong, then there is no reason to continue on, since no one will want to buy what you create.
You need to figure out what your audience needs.
For instance, Pat Flynn of Smart Passive Income did just this. After he launched his successful podcast of the same name as his blog, many of his readers looked to his as as podcasting expert.
Many in his audience started their own podcasts.
But they ran into an issue: there wasn't an easy way to display good looking podcast players in WordPress.
So Pat built Smart Podcast Player, something born of his readers' needs.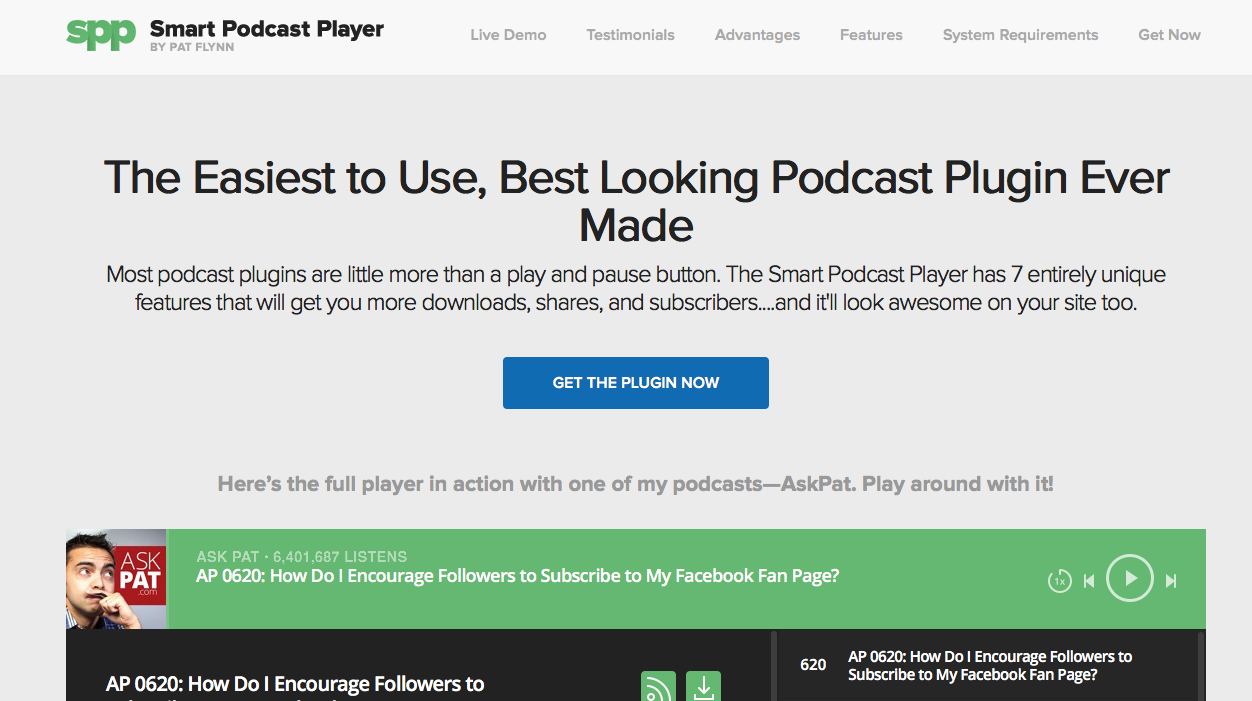 You should do the same.
Spend time going through comments on your blog to see what people are looking for when they come to your blog.
Schedule meetings with individual readers and dive into problems or needs they have.
When you find something that a majority of your readers are having, you have the need/problem.
Work on a way to solve that problem. Can you teach them through a course? Build software or a plugin?
Next comes how you will actually build it.
Step 2: Build Your Product, Or Partner With Someone Who Can
If you decide that you want to build a course, you may be surprised to know that you can do this on your own without much help.
If you use WordPress, there are many course plugins, such as Sensei, or membership plugins like Memberpress.
However, you aren't stuck with only courses or membership sites. You can also build software or plugins, even if you don't have the skills. You can hire a software developer from a website like Upwork, or even partner with someone who can.
That's what Copyblogger did.
While Copyblogger's team was great at content marketing, they probably weren't great at creating themes. So they partnered with StudioPress, a WordPress theme company.
Step 3: Test Your Product With Your Audience
The first version of your product will be far from perfect.
Maybe there are bugs, or errors. Or maybe it's just not as good as it can be.
But the only real way to find out is to release it to small group of people to test.
As a blogger, this is where your audience comes in.
Ask some of your best audience members if they'd like to have a free version of your product, in exchange for testing it and providing feedback.
In the past, I used to send out surveys to get feedback. But I found I missed out on a lot.
Instead, I now meet with testers over Skype or in person. I'll have a chat with them and try and find what problems they had with the product, and what ways I could improve it.
I can then look over all the feedback, and from there determine what I can change or do to improve the product before launching it.
If you need help coming up with questions to ask, UserTesting.com has a great post about it: How to Write Great Questions for Your Next User Test.
Step 4: Audience Launch
Now that you've built, tested, and refined your product, it is time to launch to the rest of your audience.
This is the moment when you see if you actually have something are willing to pay for.
Set up a sales page. If this is your first time setting up a sales page, check out 9 of the best sales page themes for WordPress. Also, check out this tutorial on creating high converting sales pages.
To spur initial sales, I recommend offering a discount for a limited time (such as 25% off for the first 5 days).
The best way to announce your launch is to start an email campaign leading up to the launch itself. It doesn't have to be anything too complex. Maybe just 3 emails that build anticipation for your launch.
The first email can hint that you are announcing something awesome in a few days. The second email can let them know when your product is ready to buy. And the third email can be a reminder that the discount you're offering is ending soon.
If you launch and no one buys, it is not the end of the road: it may be an issue with pricing, or how you present your product. If this does happen, go back, see what went wrong, talk to your email list, and find out how you can improve your product and relaunch it.
If you makes sales, congratulations! You've already made it past the point most people never make it to.
It's time to move on to the next step.
Step 5: Selling Beyond Your Audience
After you've launched to your audience, you want to increase your target market and begin selling beyond your audience.
This is where you REALLY start making a ton of money.
With your blog audience, and your existing customers, you have a built-in marketing channel.
Ask your readers and customers to promote you and refer you.
To make it even better, offer an affiliate program. This gives them an incentive to promote you.
With an affiliate program, every sale they refer, you pay them a percentage. Most affiliate program usually pay between 25% and 50%.
The best thing with affiliate programs is it gets you great exposure, and you only pay for it when your affiliate makes a sale.
It's like having a huge sales team.
If you'd like to set up an affiliate program on your WordPress site, AffiliateWP is a popular plugin for just that.
Final Thoughts
It's time to begin your journey and create your own digital empire, like many other bloggers have.
You already have an audience in place, and can easily turn your audience into a customer base.
It is now just a matter of finding what they need, building it, and offering it to your audience.
Brandon Yanofsky is the founder of WP Radius. With unlimited WordPress support and maintenance plans starting at just $67, they handle your website so you can concentrate on your blogging and business.