It seems like just yesterday when the process of selecting an email marketing platform was relatively straightforward. With just a few key players, making a decision was something that could be accomplished at a leisurely afternoon pace.
Articles like this one have been surfacing for years, questioning whether the death of email is right around the corner. However, it appears email has other plans, or at least has yet to burn through all nine lives.
For every email naysayer that comes along, we're presented with statistics like this from McKinsey & Company that state email is 40 times more successful at acquiring new clients that popular social platforms like Facebook or Twitter.
Email Marketing: 8 Popular Platforms Compared for 2020
Love it or hate it, for the time being, email looks like it's here to stay. This brings us back to selecting the ideal email marketing platform. Today, we're going to cover 8 possible solutions – from simple and user-friendly MailChimp to the robust and complicated Infusionsoft.
I won't be performing a thorough review of any platforms today. But if you're looking for a jumping-off point before you start some more in-depth research, this post might be just what you need.
What to Look for in an Email Marketing Service
There's a lot things to look for in an email marketing service. To start, portability should be considered highly important, and all the platforms covered here make that process relatively simple. After all, building a list is not something you want to do more than once.
That said, price is always a priority too.
For the purposes of this post, we're going to consider pricing at three breakpoints under the assumption that you're able to send an unlimited number of emails with a fully-featured plan. I've included pricing for lists of 3 different sizes:
500 subscribers
2000 subscribers
5000 subscribers
In addition to price, you'll want to be on the lookout for these features:
Ease of Use: being able to use your email marketing service with your online business is a must. You don't want to over complicate things and waste time.
Automation: sending out specific email campaigns at certain times to specific audiences is a key strategy when it comes to email marketing. Though most email services have automation of some sort, it's important to dig deeper and make sure it suits your needs.
Scalability: over time your email list will continue to grow. You'll want to make sure the service you use will grow with you.
Advanced Reporting: monitoring the success of your campaign is crucial for building a bigger list and converting more sales. That's why the email marketing service you choose should provide access to detailed analytics so you can make data-driven decisions about your campaign efforts.
Integrations: integrations with third-party apps and services are always helpful for streamlining your marketing efforts. For instance, eCommerce, WordPress, and Google Analytics are some great examples of tools and platforms you'd want your email service to integrate with.
Customer Support: knowing that someone is on hand to help you anytime you run into trouble goes a long way when choosing a service for your online business.
Now that you know some of the key things to look out for, let's get started.
1. Sendinblue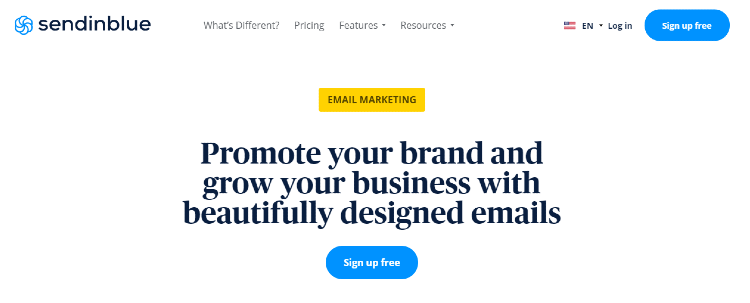 Free Trial: Yes
40,000 emails: $25/mo (you can add unlimited subscribers but can only send up to 40k emails)
60,000 emails/mo: $39/mo

Sendinblue is a little different from our other picks in that it lets you have an unlimited number of subscribers for free. Its plans are based around a monthly email limit and features instead, which we'll get to in a minute.
You can add as many details for each subscriber that you like, and you can then use those details to build dynamic lists for targeting your emails. For instance, you can target by gender, geography, purchase history, and much more.
This easy to use email marketing solution comes with pre-made templates and a drag and drop editor, so you can design your own emails with ease. In addition, it comes with lots of features, such as A/B testing, SMS marketing, landing pages, signup forms, and retargeting tools. You can also track the results of your campaign in real time.
The free version has a daily email limit, rather than monthly. You can send 300 per day and still get the unlimited contacts feature.
There are 4 paid plans. The Lite plan costs $25 per month and is basically the same as the free version, but you can send 40,000 emails per month. The Essential plan costs $39 per month and comes with a few added features, such as A/B testing, as well as a 60,000 monthly email limit.
Its Premium plan is the most popular and will set you back $66 for 120,000 emails. If you need more than that, you can create a custom solution. There's also an option to purchase email credits outside of your normal plan.
2. Constant Contact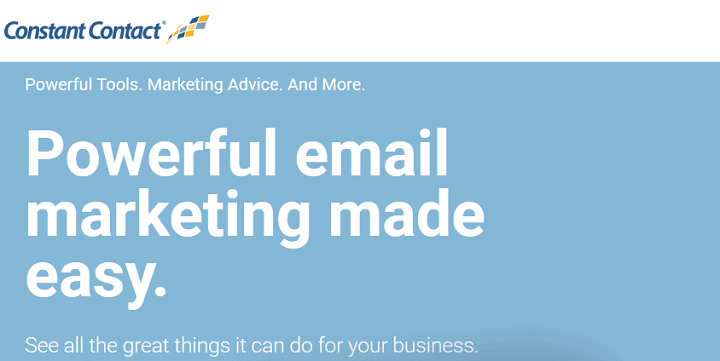 Free Trial: Yes
500 Subscribers: $20/mo
2000 Subscribers: $45/mo
5000 Subscribers: $65/mo
Constant Contact is one of the fastest growing email marketing solutions in the market to date. It also happens to be really user-friendly, making it a perfect choice for those that are just starting their campaign efforts.
To start, you can manage contacts, email lists, a marketing calendar, and email templates all in one convenient location. Plus, each account gives users access to detailed analytics for tracking the effectiveness of campaigns, built-in social media tools to encourage social sharing, and email automation features. And if you happen to have a Shopify store, you can integrate Constant Contact with your eCommerce shop in no time.
If you already have an email list and need to transfer it to Constant Contact, no worries; there's an easy way to import existing lists from Excel, Gmail, Outlook, eCommerce shops, and more. You can also create highly converting pop up forms to boost conversions, create a landing page, and accept online payments using PayPal, Stripe, or Mollie.
With Constant Contact, you'll receive stellar customer support in the form of phone calls, email, community forums, and the favored live chat. There's also a huge library of helpful resources to help you succeed with email marketing and generate more revenue.
If you want to invest in the higher tiered plan, you can expect to be able to tap into powerful features like subject line A/B testing, surveys, polls, coupons, online donations, and even automated email series centered around subscriber behavior. Lastly, you'll have the chance to speak with a Constant Contact expert to find out how to best use the product and nail your email marketing efforts without wasting any time.
3. MailChimp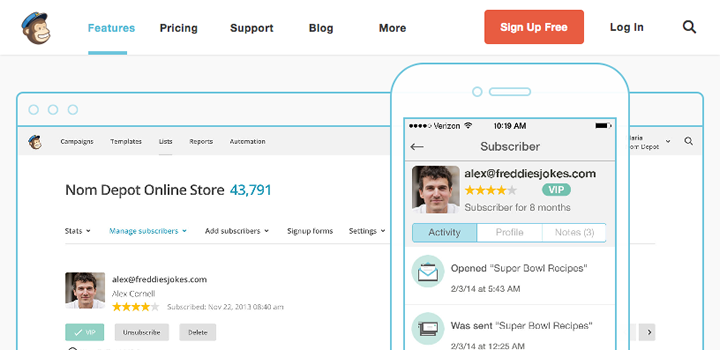 Free Trial: Yes
500 Subscribers: $10
2000 Subscribers: $25
5000 Subscribers: $50
Mailchimp, founded in 1991, claims to send out more than 600 million emails every day.  That's an impressive number despite the fact that many of those are probably free accounts.
With one of the best-looking user interfaces out there, Mailchimp does a great job of making email marketing look easy for everybody. Of course, you probably already know that there's some art & science involved when creating an effective email campaign. It's much more than just clicking send.
Mailchimp has plenty of pre-made drag and drop templates to pick from or if you're feeling adventurous, you can design you own. You'll also have access to all the expected features including A/B testing, list-segmentation, full reporting, third-party integrations, and more.
Mailchimp makes it easy and free to get started with email marketing which explains their popularity with many small business owners. In fact, you can send up to 10,000 emails a month to 2000 subscribers without spending a dime. Multi-step automation, timezone delivery, and the removal of Mailchimp branding are all paid features. However, with a free account you do get standout features like behavioral targeting, the ability to create surveys, social posting, and landing pages, which helps set Mailchimp apart from some of the premium alternatives.
It is worth noting that Mailchimp's support options vary depending on the plan you invest in. For example, with a free plan you only have access to email support for the first 30 days. After that, you're on your own. And if you want phone support, you have to invest in the highest tiered plan, which will set you back $299/month (though it does come with a ton of great features too).
4. GetResponse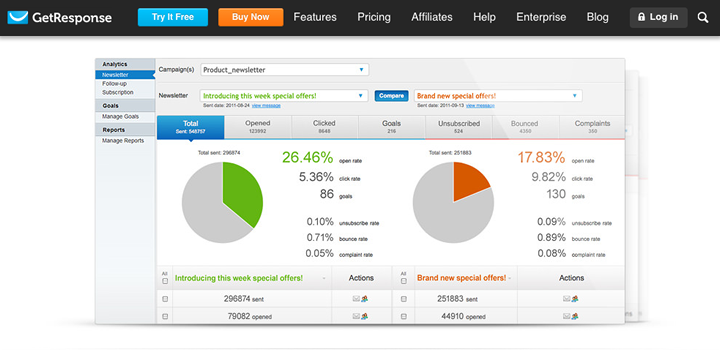 Free Trial: Yes
500 Subscribers: $15
2000 Subscribers: $15
5000 Subscribers: $45
GetResponse is an easy-to-use platform that provides email marketing, autoresponders, and landing page creation. Launched in 1998 by Simon Grabowski, GetResponse has grown from it's pretty humble beginnings into a market leader serving over 350,000 customers across 183 countries.
Not only is GetResponse easy to use, it also offers all the features you would expect from a top email marketing platform. For instance, enjoy a drag and drop email builder, advanced segmentation, analytics, A/B testing, and custom forms.
One feature that sets GetResponse apart from many competitors is its advanced landing page creator. Although you only have access to the basic version, full-access is just $15 per/month. With relative ease, the landing page creator will allow you to create simple, customizable landing pages using pre-made templates.
Of course, you could accomplish the same thing with any of the other platforms as well, but it will likely require creating your own landing page, adding custom CSS, and inserting the appropriate form. Instead, GetResponse makes it easy on you.
Related Reading: GetResponse vs MailChimp: A Detailed Comparison Review
5. AWeber
Free Trial: Yes
500 Subscribers: $19
2000 Subscribers: $29
5000 Subscribers: $49
AWeber was launched in 1998 and is now one of the more well-known email marketing platforms in the market. With a customer base of 120k, they are a little smaller than some of the other providers. Part of the reason for this might be that there was a time when AWeber was slightly behind the curve – things like mobile responsive forms and email templates were slow to be rolled out to customers. But don't worry, those issues have since been addressed.
AWeber takes a somewhat minimalist approach to its platform. Where Mailchimp has a beautiful, dare I say flashy, user-interface, AWeber focuses on simplicity and effectiveness. It works, and it works well. Perhaps it's not by chance that AWeber is reported to have one of, if not the best, email deliverability rate in the business at over 99%.
All of the other expected features are available at AWeber including custom sign up forms, over 700 email templates, a drag and drop editor, custom segmentation, and full analytics. In case you're looking for the ability to integrate your email marketing platform with another app, there is a good chance that AWeber has you covered there as well.
6. ConvertKit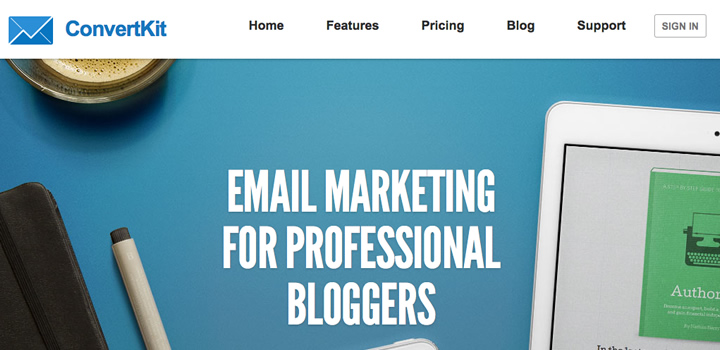 Free Trial: Yes
500 Subscribers: $29
2000 Subscribers: $49
5000 Subscribers: $79
ConvertKit was founded by Nathan Barry, which explains the attractive, well designed, and easy to use interface. A small company that's growing quickly, ConvertKit is built and maintained by a team that understands and relies on email marketing.
One specific advantage worth noting is the way in which it calculates subscribers. If you have the same subscriber on multiple lists, ConvertKit treats them as only one individual. Many other services treat the same subscriber as 3 different people if they are on 3 different lists. Because of this, it doesn't take long for this feature to even out some of the small pricing differences between ConvertKit and the other platforms.
ConvertKit offers all the convenient features you'd expect and more. For example, easy to embed and customizable forms or a WordPress plugin are available. In addition, subscriber tags and audience segmentation are also available, as well as a rule based and automated system that lets you respond to your subscribers actions. ConvertKit also offers a landing page feature that is ideal for opt-in pages, coming soon pages, and more.
7. Drip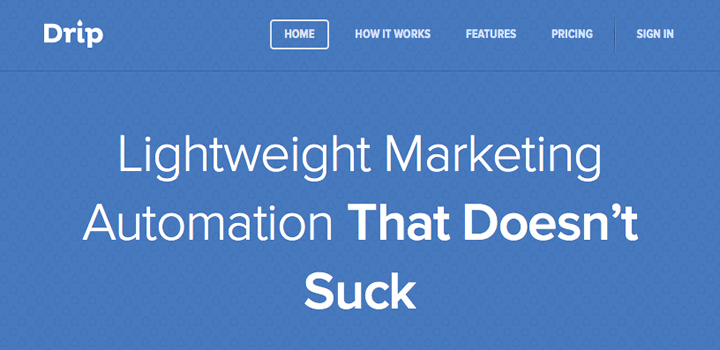 Free Trial: Yes
500 Subscribers: $49
2000 Subscribers: $49
5000 Subscribers: $122
Drip is a relative newcomer to the business of email marketing and they appear to have found their ideal niche market. Are you currently using one of the platforms previously mentioned and feel like you outgrown their capabilities? Have you considered the more robust marketing automation platforms like Infusionsoft or Ontraport? Do you find yourself turned off by the complexity, high-cost, and sign-up fees? If you answered yes to those questions, Drip might be just what you're looking for.
Drip's team describes their software as "marketing automation that doesn't suck." In just a few minutes, Drip will allow you to add a sign-up form to your site and begin collecting emails. But that's just the beginning.
Although the base price is slightly higher than some of the other platforms, Drip also offers some pretty cool advantages. You'll have the ability to manage the lifecycle of your customers – from visitor to trial member to customer. Using Drip's marketing automation engine, you can tag subscribers based upon their actions. It's pretty customizable as well. For example, you might want to apply a specific tag and start an email sequence if a trial member visits your pricing page 3 or more times.
I have spoken to a few business owners who are pretty impressed with what Drip has to offer. It might be worth checking out if you're looking for something a little more sophisticated. Drip also offer their unique guarantee:
We guarantee that Drip will grow your list and increase conversions.
If not, we will happily refund your most recent monthly payment.
8. InfusionSoft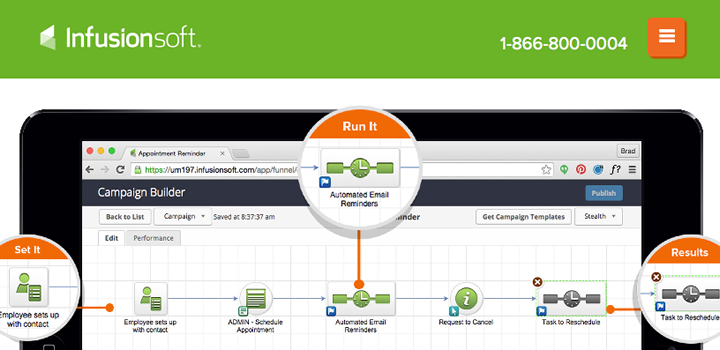 Free Trial: Yes
500 Subscribers: $199 (plus on-boarding)
2000 Subscribers: $199
5000 Subscribers: $299
Infusionsoft provides a complete marketing and sales automation platform. Serving more than 30,000 small business customers, Infusionsoft is the leader in its category. Like the other platforms discussed, Infusionsoft also focuses on email marketing, but they don't stop there.
Customer relationship management, lead scoring, sales automation, detailed reporting, and deep integration with dozens of apps make this software a complete solution. Once you've got some experience under your belt, it's downright amazing what you can accomplish with this software.
But with all that functionality comes a few drawbacks as well. Infusionsoft has been called a beast – a description that's not too far off. While you'll be able to create complex marketing campaigns, don't expect to jump into using Infusionsoft over the weekend. The learning curve is steep and it's not uncommon for business owners to seek outside help from Infusionsoft consultants.
Top Tips for Improving Email Marketing Efforts
Do you want to capitalize on one of the most effective and affordable online marketing strategies around? Then follow some of these helpful email marketing tips and boost campaign performance immediately.
Clean up your email list regularly using a scrubbing and verification system to make sure your list is always accurate
Double check for GDPR compliance to boost open and clickthrough rates by limiting your list to those that purposefully signed up
Personalize emails and increase engagement by using the subscriber's name
Split test email subject lines and use a helpful tool like CoSchedule's email headline analyzer
Include one clear call to action button per email
Segment your email list and give people what they want, when they want it
Optimize your emails for mobile users so all the content is easily accessed no matter the screen size or device type
Add social share buttons to reach a wider audience and boost leads
Preview and test all campaigns before sending them out
Track the performance of your email campaigns and make changes as needed
Email Marketing FAQ
What is email marketing?
Email marketing is a direct form of marketing that is designed to target leads or existing consumers via email. Its main goal is to drive traffic, boost sales, increase customer loyalty, and communicate important information to subscribers.
What are the benefits of email marketing?
Email marketing is a fast and affordable way to communicate with people after they've left your website. It's also cost effective for you and highly accessible for target audiences of all kinds, making it a reliable form of communication.
What are the benefits of email marketing?
Email marketing is a fast and affordable way to communicate with people after they've left your website. It's also cost effective for you and highly accessible for target audiences of all kinds, making it a reliable form of communication. In addition, email marketing offers you an easy way to personalize messages to leads and form long-lasting relationships.
What are the types of email marketing?
There are three types of email marketing. They include email newsletters (e.g., product updates, promotional messages, and account information), transactional emails (e.g., receipts, invoices, order confirmations), and behavioral emails (targeted emails that meets the individual needs of subscribers).
What are the best email marketing services available?
The top three best email marketing services to date include Sendinblue, Constant Contact, and Drip. Each have a unique set of features, help marketers achieve specific goals, and help people build stronger, longer-lasting online businesses.
Email Marketing Services: Top Picks
And there you have it! Eight of the very best email marketing services available to website owners today. Although each of them will work as an email marketing solution, it goes without saying that there are some standout options.
To start, Sendinblue is the perfect option for marketers that need a simple, yet effective way to get in touch with subscribers and maintain their attention. With landing page creation and retargeting tools, A/B testing capability, and a feature-packed free version, this solution is great for beginners and those on a budget.
If you're looking for an email marketing service that's easy to use, is highly reliable, and makes converting people into subscribers and managing relationships that form long after conversions a cinch, you need to use Constant Contact. And with exceptional customer support available to help along the way, there's no way you won't reach your goals using this solution.
Lastly, if you need a robust solution that doesn't have a steep learning curve, won't break the bank, and also comes packed with powerful features, you should consider Drip. Thanks to highly advanced marketing automation, you can have full-fledged conversations with each of your subscribers on a personalized basis using this platform that goes beyond email marketing.
Are you ready to create a landing page that is sure to convince potential leads to subscribe? Then be sure to check out this roundup of the best landing page plugins in the market.
Do you have a preferred email marketing service that you'd like to recommend? We'd love to hear all about it in the comments below!