Are you in the process of launching a new website or updating the current one and want to update your website's visitor immediately when your WordPress blog is up? The best solution is to use a coming soon WordPress theme.
Having a coming soon page is really beneficial, you can easily collect the emails addresses & build the presence before even launching the site. These emails that you collect can be used to send out a mailing on launch day and provide you with a nice bump in traffic.
Jon Morrow is a great example of someone, who has used this strategy to attract a large number (around 13,000) of email subscribers in a very short period of time. So whether you are planning to launch a new product or a WordPress blog, having a coming soon page will ensure that you attract a good number of email subscribers for your site. To attract right amount of audience, you should offer some kind of freebie or maybe an early access to the product.
In this post, we will share 17 of the Best WordPress Themes for creating coming soon page. Now you should that some of these may not have a responsive design, but assured they all work as effectively as they are advertised. If you have questions, feel free to ask them in the comments below.
Best Coming Soon WordPress Themes
1. Launch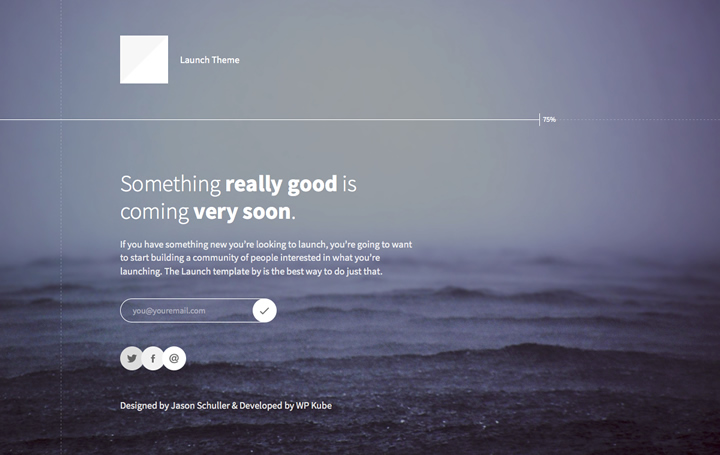 Launch is a new coming soon theme designed by Jason Schuller and developed by WPKube team. The theme is perfect for creating any type of coming soon page and works perfectly with MailChimp. Launch has an minimal and clean design ideal for building a landing page, coming soon website, or for showcasing a new app / product. It is well built and fully optimized for mobile.
Some of the key features include: responsive design, well-coded, and live customizer.
2. Anticipate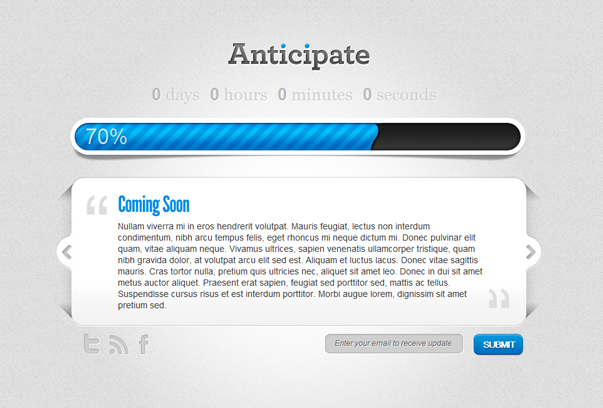 Anticipate is a premium coming soon and maintenance mode plugin designed and developed by ElegantThemes. The plugin comes with all the useful options that you will need to create an effective landing page. Some of the key features including, social media buttons, custom subscription form, and options page to change logo, favicon, and other aspects of your site. This isn't a theme, so when you are logged in as an admin user, your normal theme will appear, allowing you to build your website in the background.
Priced at $69 / year, and you also get access to 86 other premium themes. Though, you should, it will cost $89 / year (instead of $69), if you want access to the plugins as well. Plugins include Bloom and Monarch, both are great and must have for WordPress powered site. The former one helps you generate more subscribers to your site, while the later one helps you get more social shares.
3. Launch Effect App
Launch Effect theme is designed for startups and small businesses. This theme lets you to create campaigns for your site in minutes.
It lets you customize all aspects of the landing page and lets you beta invite, discount coupon, or a gift. Some of the features:
Animated Countdown and progress bar
Fully functioning WordPress Blog
Conversions are tallied on WordPress, and the user can determine who should receive the incentives.
Ability to add extra form fields.
Paypal Integration to sell products
It also has a free version of the theme
Price: $65 (for unlimited sites)
4. Under Construction page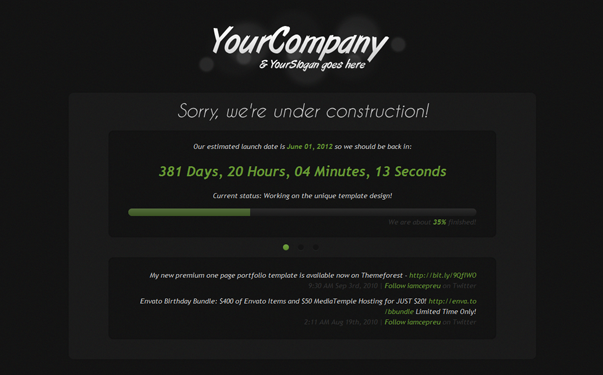 This is powerful under construction/holding page with AJAX Newsletter Sign-up and Contact forms, Twitter feed, Countdown Timer, and Progress Bar. It comes with a dozen of useful features and includes both HTML file and WordPress file. So if you want to use this template without installing WordPress, you can easily do that.
Features include:
Newsletter Sign-up form
Contact form with validation
jQuery Progress bar to show the progress of your site
jQuery Countdown timer
Twitter Feed to show latest tweets
Price: $5
5. xTime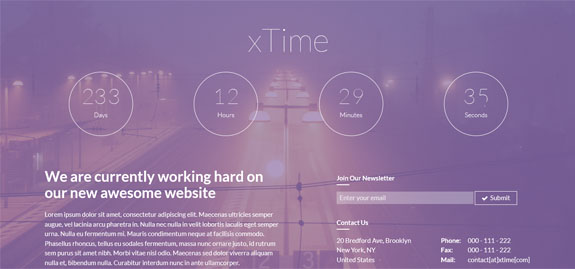 xTheme is a great looking, modern, and well designed theme to attract potential users of your future website. xTheme theme is built with Twitter Bootstrap framework, that means you will get a ton of useful options and responsive design. The theme also includes theme options panel, where you can customize the design and make small modifications.
Features include:
Fully responsive design (works on all small screen devices)
Unlimited background colors, social media icons
Newsletter
Google Font integration.
Price: $16
6. Caelus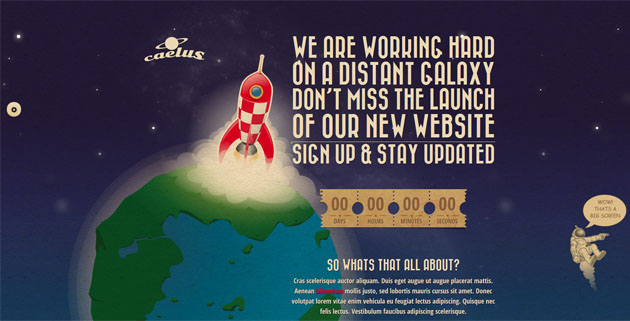 Caelus is a under construction page WordPress theme, perfect for launching a new app or website. It comes with well designed landing and countdown page. It includes two skins with four different combination of fonts.
Caelus has a responsive design, meaning it will look great on iPhone, iPad, and desktops.
Features include:
Built with Twitter Bootstrap
Responsive design
Twitter feed integeration
Social media icons
Mailchimp support (out of the box – no need of extra plugins)
Well documented
Price: $33
7. Paragon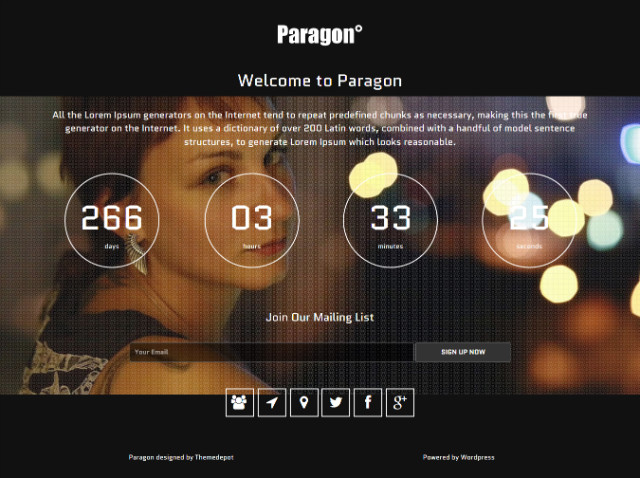 Paragon is a beautiful custom made template ascends to the highest levels of handling this situation professionally. It easily lets you inform your visitors about the launch date, present them with a nice countdown, and politely ask for their email address, so they can be informed about any news or updates to the site. This theme is perfect for bloggers, portfolios or businesses looking to get their presence online.
It comes with a number of useful features that allows you to create a striking website in no time. It also includes a drag and drop builder for customization and creating custom layouts.
Some of the features include: Translation ready, google fonts integration, clean coded design, powerful admin panel, unlimited color options, full screen design, and more. Price: $29
8. SuperCharged
SuperCharged is a clean, most elegant, and stylish construction WordPress theme and include features like social media integration, animated progress bar, different color variations. SuperCharged theme also includes both versions including HTML and WordPress.
Some of the key features include: different color variations, social media integration to show social media icons, rss feed link, newsletter sign up, customizable intro text area, and easy of use. Price: $6
9. Parkit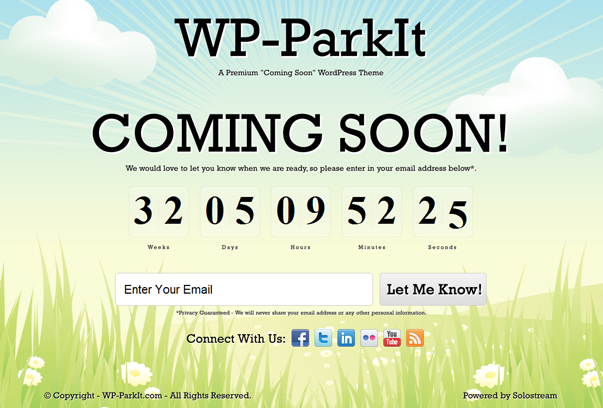 PartKit is a clean and modern WordPress theme designed by SoloStream. This theme comes with newsletter form, countdown timer, social media buttons, and much more. Parkit is a fully responsive theme and will look fantastic on any small screen device.
Features include SEO Ready, buttons, sidebars, pages & galleries, posts & category, home page layout, footer, and Google anlytics integration. Price: $29
10. SeedProd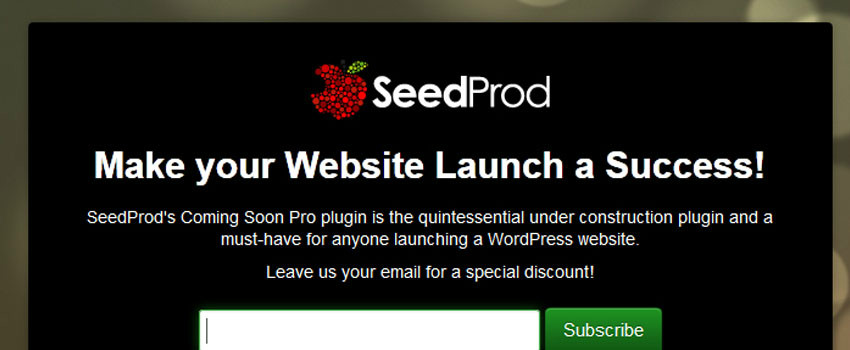 SeedProd is my personal favorite solution, when it comes to adding coming soon / maintenance pages on your website. One of the best things about SeedProd is that, it's a plugin and not a theme unlike other coming soon page themes listed in this post. It makes easier for site owners to customize the theme according to their needs and still keeping the coming soon page.
Some of the key features include: visible only to non logged in users, Maintenance mode with automatic screenshot, Integrated google fonts, display an incentive after sign up, social profiles & social sharing buttons, aweber & mailchimp integration, Gravity forums integration, and multisite Support. Price: $47
11. Working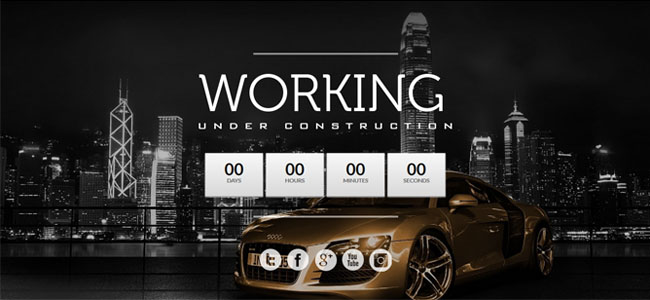 Working is a modern under construction theme designed for WordPress platform. It comes with a full screen slider, countdown timer, email integration via mailchimp, and other useful features. Working theme is also incredibly easy to setup and includes features such as Options panel, responsive design, filterable portfolio, Logo PSD, detailed documentation, and regular updates / support.
12. Aitasi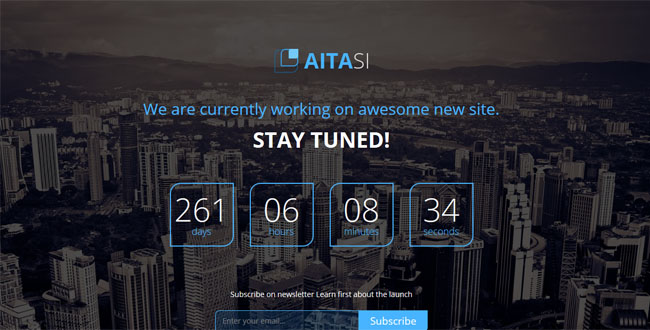 Aitasi is another modern, elegant, and high quality Coming Soon / Under Maintenance / Under Construction template designed for the new WordPress websites. This simple WordPress theme is built on Bootstrap framework and ideal for building landing pages, coming soon sites, maintenance pages, and under construction sites.
Aitasi is fully responsive so your site will look great on any device, including your iPhone and iPad. The theme also includes a powerful theme options panel for small modifications to the front-end design.
13. Launch Theme
Launch is a simple and elegant WordPress theme created by Sunil Joshi and is available for purchase on ThemeForest. The theme is highly customizable via theme options panel to make it unique and suit your needs.
Some of the key features include single page interface, full localizations support, easy theme options, contact form, and much more.
14. Launcher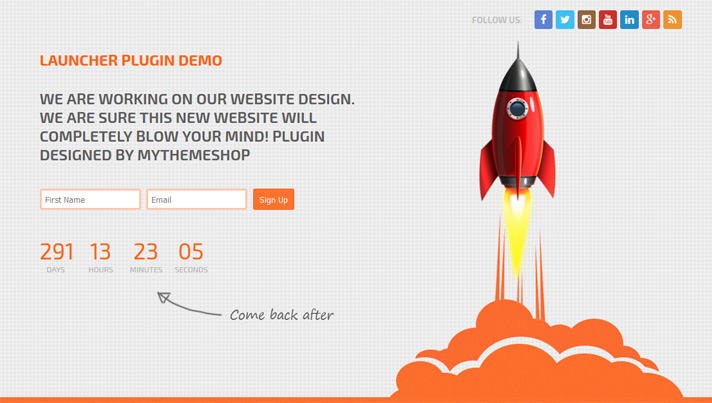 Launcher is a free WordPress theme from MyThemeShop. The theme has a clean and modern design and comes with built-in subscription form, social media buttons, countdown timer, and options panel for making customizations to the design.
Plus it is created by MyThemeShop team, who are behind some of the most popular products in the WordPress industry including the popular WP Subscribe Pro plugin (here's a full list of popular list building plugins).
Launcher is a clean, minimal and responsive WordPress coming soon theme. It has a built in subscription box, countdown timer, twitter feed integration and social sharing buttons to keep in touch with your visitors. Everything can be customized via simple yet powerful web interface.
15. WP Launcher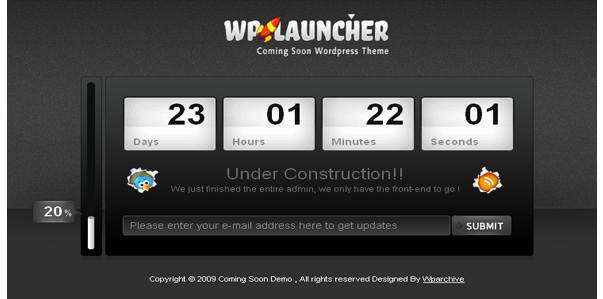 WP Launcher is a clean, simple, and free WordPress theme designed with a single purpose: to provide an attractive page to collect emails before actually launching the site.
It features a simple design, countdown timer, social media icons, and subscription form powered by Google Feedburner. I don't know about you, but I have stopped using Feedburner a long time ago, and switched to GetResponse. It also includes an options panel, so you can customize the color scheme, update count down timer, add social media icons, and your FeedBurner ID.
16. Lexiity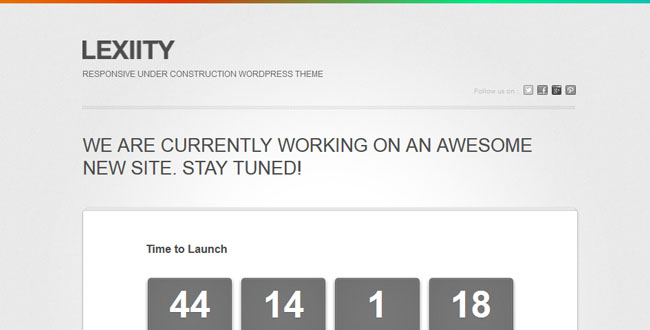 Lexiity is a sleek, responsive, under construction theme designed to tell your vistiors that your site is still work in progress. It features a few different colors skin, shortcode generator, white label theme administration, subscription form powered by Mailchimp (free), and count-down timer.
17. Felice Theme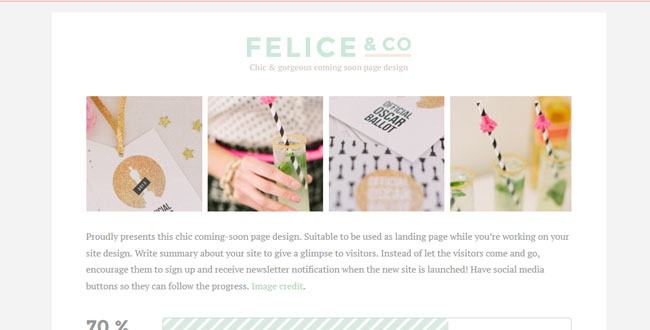 Felice is a clean theme ideal for sites that are still in under construction. The theme has a clean design and comes with subscription form to collect emails, social media buttons to stay connected with your audience, and fancy progress bar. The theme has a responsive design, meaning it will look good on any desktop or small screen device.
18. LaunchPad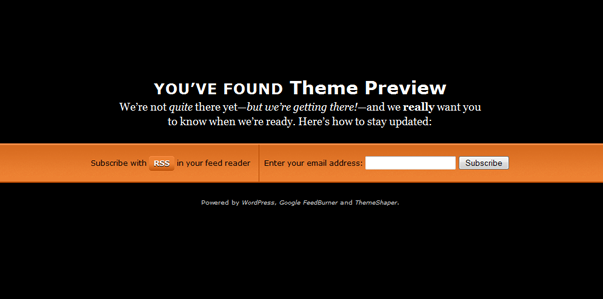 LaunchPad is a simple yet elegant WordPress theme that comes with some useful features such as theme options panel, FeedBurner integration, GPL licensed, and regular updates. I am not a big fan of FeedBurner but it gets the job done (plus it doesn't cost a dime).
Have you try to use any of the above themes for your WordPress blog? Which of these looks best for you? Please let us know in comments below.