WordPress is a platform that can be used for building any type of website including education websites for universities, colleges, high schools, or education institutes. This is mainly due to the high number of free and premium WordPress themes available online.
Most of the themes listed below have designs suited for education websites, and some include specific features such as custom post types for staff members, courses to list all the courses, events page, galleries, blog, and more. Almost, all the education themes listed here comes with a responsive layout and will work on all screen sizes.
Best Education WordPress Themes
This is a handpicked collection of professional education WordPress Themes designed for university, college, high school, and other education websites.
WPLMS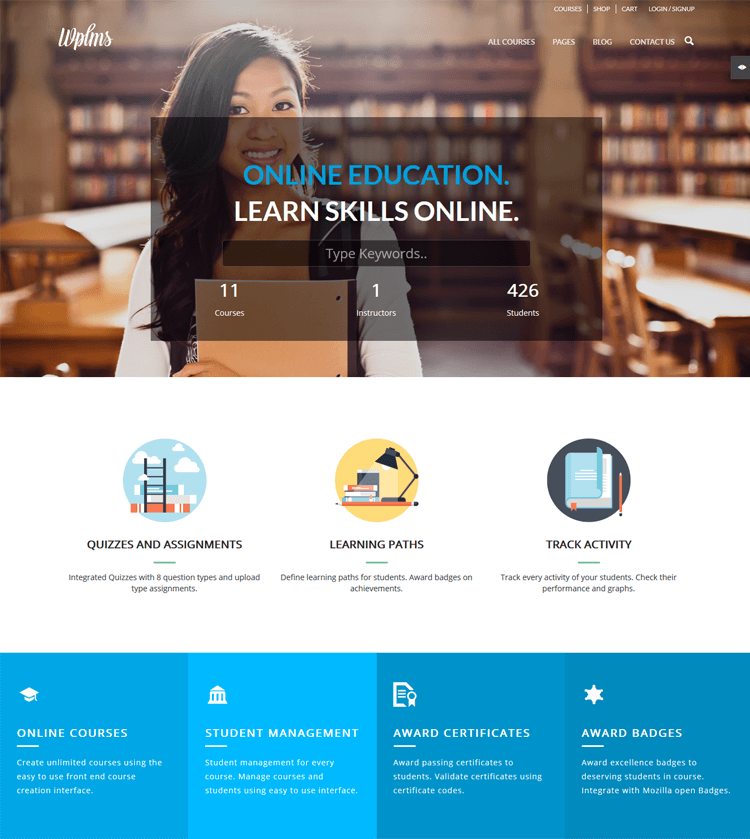 WPLMS is essentially a learning management system designed for WordPress sites that offers an e-learning platform. The theme can be used to create, sell, and manage e-learning courses from within your WordPress Dashboard.
It combines the functionality of some of the most powerful resources – WordPress, BBPress, BuddyPress, WooCommerce – to create an integrated solution for transforming your site into a full learning management system.
The theme comes with 10 turbocharged plugins right out of the box and is compatible with a lot of popular plugins that could potentially be of great use to your site at some point such as WP Coauthors Plus, BadgeOS, MyCred Points System, and Visual Composer. All in all, you'll save over $100 worth of premium plugins with WPLMS!
Setting up WPLMS is simple and straightforward – it only takes a few minutes to have your e-learning course up and running. The theme includes an instructor's dashboard which enables users in the Instructor role to be able to view relevant statistics. Students who enroll in your courses can get visual insight on their progress.
Visual appeal is crucial to the success of any e-learning course and the WPLMS theme takes this factor into account by featuring custom course pages that users can tweak to their liking using Visual Composer's front-end customizer.With WPLMS, you can do everything from adding course quizzes and assignments to offering your institute's certification on course completion.
Price: $64
View Demo Download & More Info
School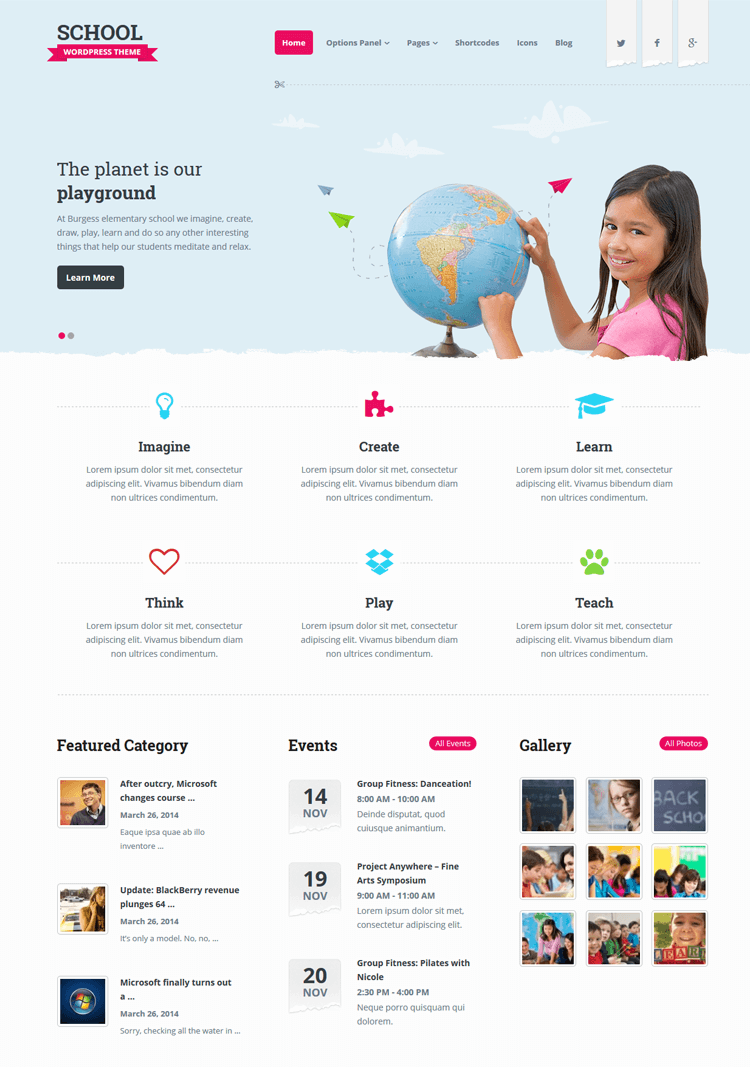 School theme features a lightweight, fully responsive design that's perfect for any e-learning websites. The theme, appropriately named, is designed keeping a younger viewership in mind. Its gallery and events features make it interactive and visually appealing to children. The School theme can be used as an online school system, to teach selected classes, or even as a daycare system for young children.
The theme offers a neat, clean, and professional design and interface yet manages to provide more than enough space for educational purposes. According to the developers, the theme was designed specifically for reputed schools, universities, crèche, and other educational institutes.
Its one-click demo installation enables users to load dummy data into the theme to build a structure within minutes that's much, much easier to modify. This education-oriented theme is bound to establish a professional yet enticing web presence for your institute. The developer offers 24/7/365 direct support to all of their customers – premium quality theme with premium support, all for $59!
Capable of supporting course ratings and providing well-structured blog layouts, the performance optimized School theme is definitely worth a shot.
Price: $47
View Demo Download & More Info
Clever Course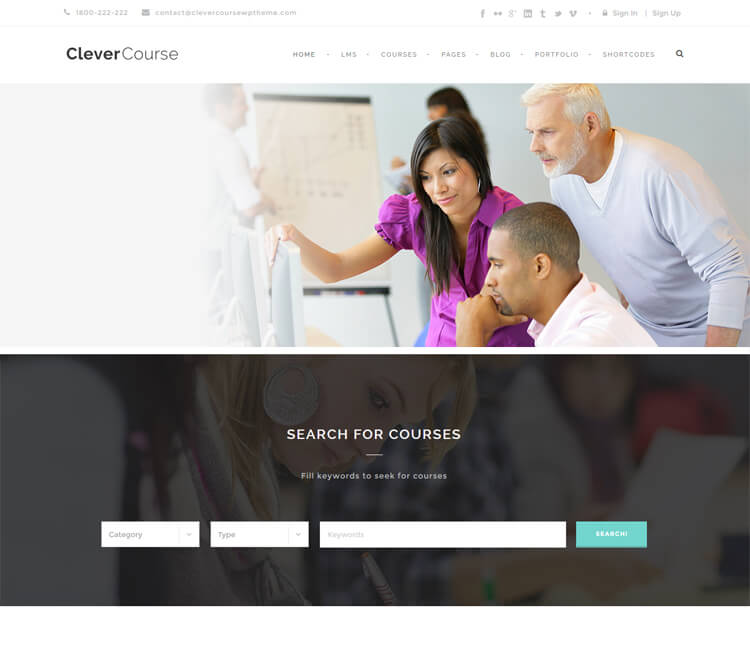 The Clever Course theme offers a platform for users to publish and sell their online courses through by harnessing the power of WordPress. This theme is ideal for those of you who haven't set up an e-course site before and would like to try their hand at it. Clever Course provides all the right features to get you started and help you start monetizing your online courses from the first day.
This theme lets users offer full-fledged courses, free and paid, complete with quizzes, assignments and terminal exams. Instructors can start off their course by offering a course curriculum to help students decide whether they'd like to enroll in it or not. This not only engages your viewership but also helps to increase course registration by improving credibility.
Clever Course's stand out feature is that it offers a host of payment gateways making it infinitely easier for students to sign up for courses. The theme supports payment via PayPal, Stripe, Paymill, Authorize.net, and Cloud Payments. Once a course is successfully completed, instructors can award students with a customized certification.
The theme has different backend systems for different user roles including instructor and student. For transactions, admin members can easily make payments or collect payments by logging into the transactions backend. Clever Course makes learning management systems fun and easy to use.
Price: $59
View Demo Download & More Info
Masterstudy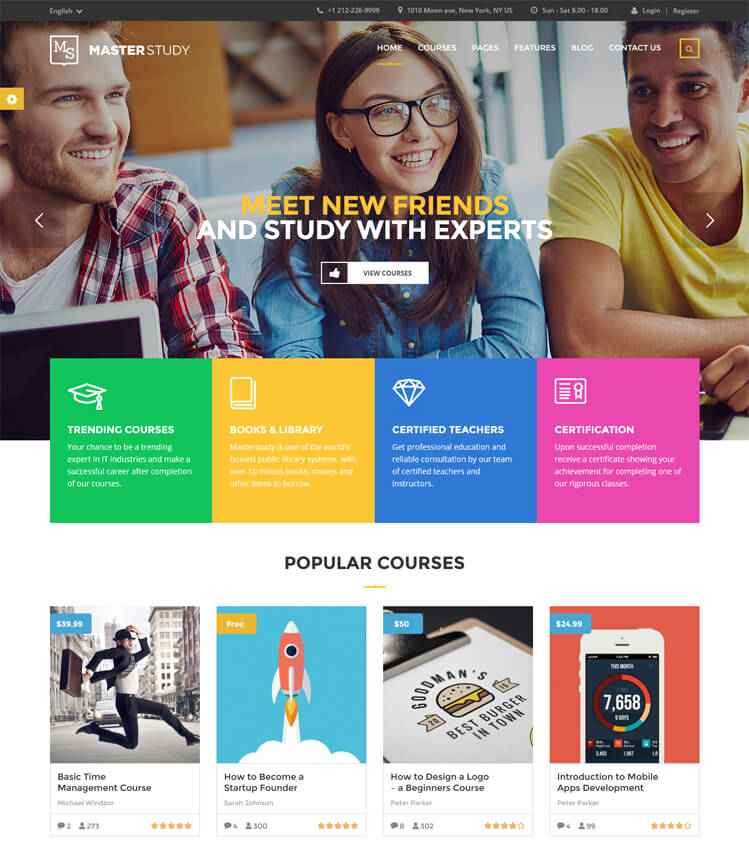 The developers behind Masterstudy claim to know exactly what your e-learning based WordPress site needs to increase course sales and deliver top-quality content effectively. The theme is fully responsive and comes with over 690 Google Fonts right out of the box along with popular, premium plugins like Visual Composer and Revolution Slider.
Masterstudy offers a full e-learning platform with WooCommerce integration making it easier for users to publish both free and paid courses. The theme allows students to pay for a course using PayPal and includes MailChimp Subscription for admins to build email lists with ease.
From a design standpoint, Masterstudy theme is built using LESS technology, comes with four different preset skins, and parallax/video background options. It has an in-built Visual Composer page builder for users who'd like to fully customize their pages without having to write a single line of code.
Once you've installed the theme, you can leverage its one-click demo content import feature to load placeholder data (just like in the demo version) and edit it from there. Using this handy feature, you can have your e-learning site ready to go in less than five minutes! The theme is compatible across all browsers and supports PDF files.
Price: $59
View Demo Download & More Info
LMS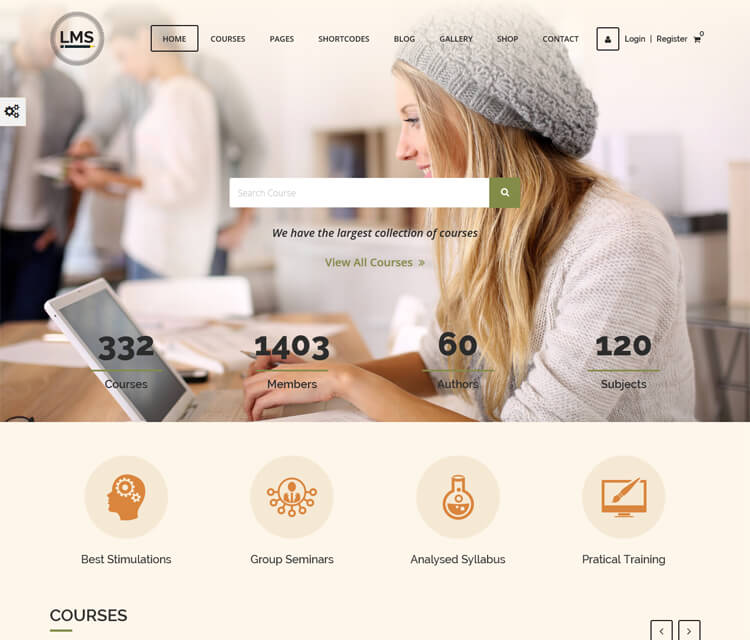 LMS is one of the most powerful and feature-rich learning management system themes you'll find for WordPress. The standout feature you can leverage with this theme is its built-in portfolio pages for teachers. Establishing an extended user profile builds credibility among your viewership which results in larger online classrooms. LMS's friendly user interface and cutting edge design makes it a popular choice when it comes to e-learning.
This theme lets users set up all kinds of options for making online lectures easier to grasp and appeal to the students. You can use LMS's lesson management system to offer engaging lectures and classes. The quiz system makes online examinations much easier and synchronized thereby increasing user experience – your students willenjoy the e-learning experience!
The tools and resources LMS uses are some of the very best out there including WordPress, Sensei, WooCommerce, BuddyPress, Event Calendar, and WPML. Admins can even set up email subscribers with the themes integrated MailChimp service. Not only can you offer your class the best learning experience but save a ton of money on premium plugins in the process — the theme more than just pays for itself!
Price: $59
View Demo Download & More Info
Lincoln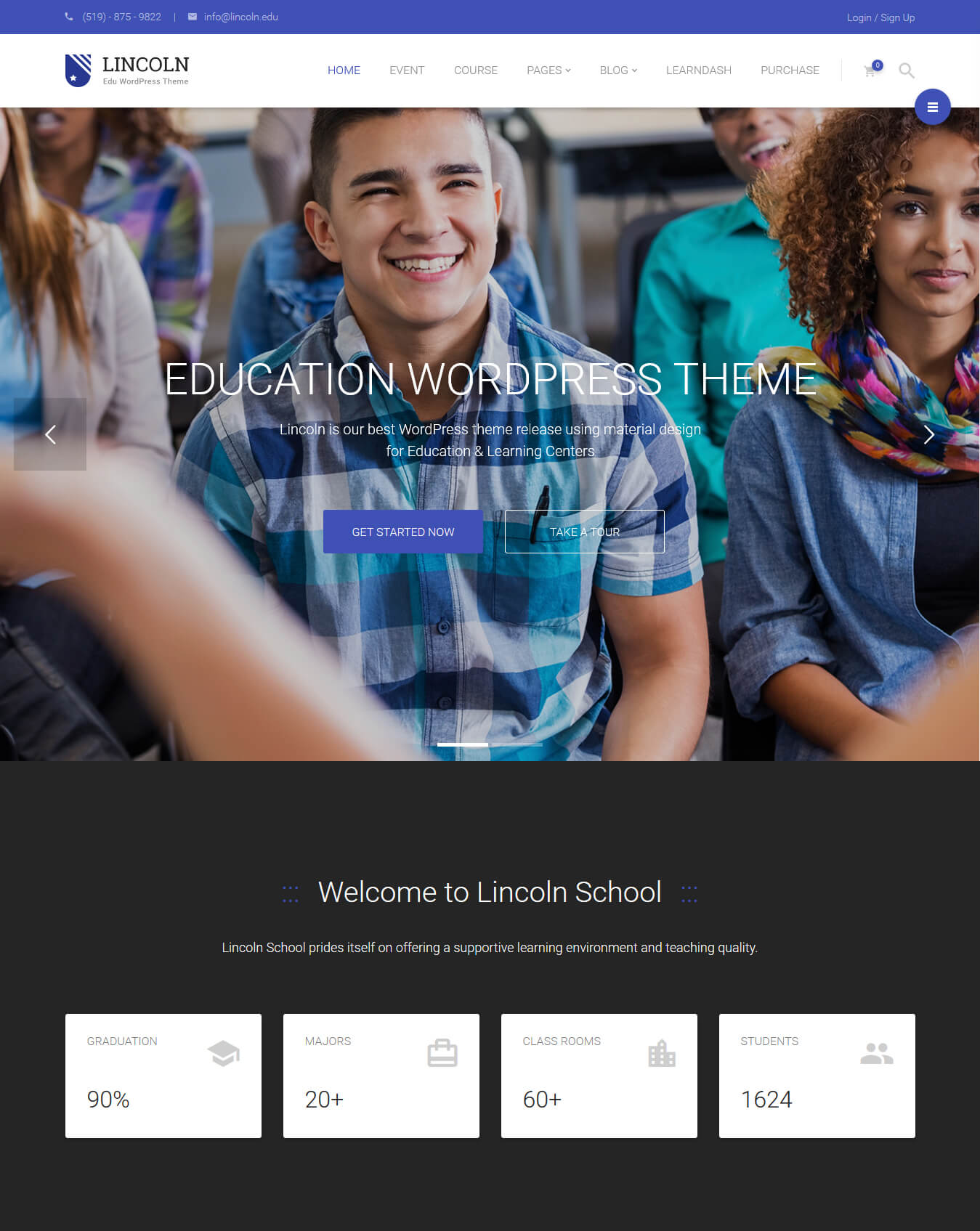 Lincoln is a multipurpose WordPress theme for education and learning centers that can also be used for creative digital agencies and business websites. All in all, this theme is best suited for webmasters who are looking into monetizing their courses. It's got options to set prices and offer discounts on certain courses. Users can also collect feedback from students who've purchased a course and write reviews on the theme's blog page for promotional purposes.
No e-learning course is complete without a transactions system and Lincoln takes care of your monetary needs by integrating WooCommerce into the theme right out of the box. Users also get Visual Composer and Revolution Slider pre-installed with Lincoln making frequent design alterations easy.
The only downside to this theme is that it doesn't come with a learning management system per se. The developers advise users to install the premium plugin, LearnDash, on top of the Lincoln theme to leverage it to its full potential. If you're willing to throw in some extra cash for a plugin that's essential to your business's smooth operation then Lincoln is a good option – albeit a pricey one!
One of the standout features you get with this theme is that you can set up events on your sites enabling your students to interact with one another and the instructors in a less formal environment. Events such as seminars and hands-on competitions are all possible with the Lincoln theme.
Price: $59
View Demo Download & More Info
Education Academy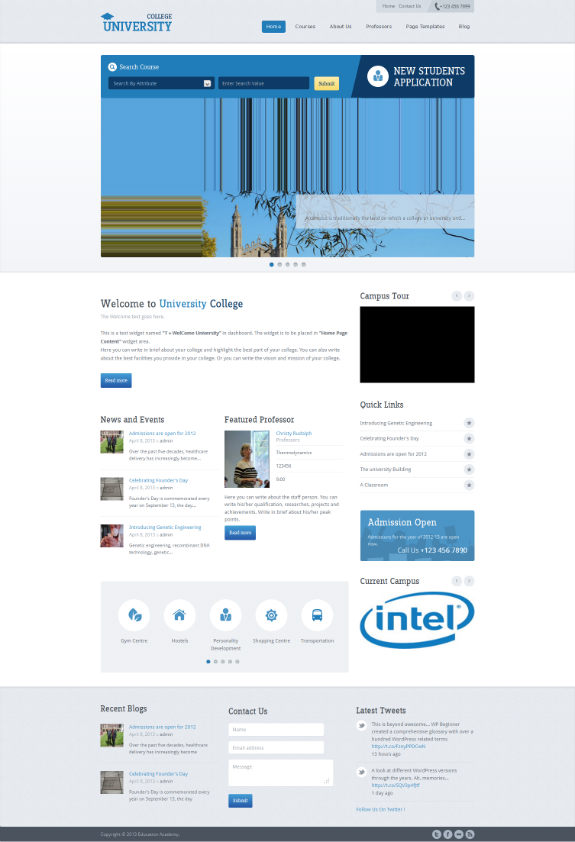 Education Academy is a well-designed commercial theme by Templatic. The theme has a clean and responsive design, which is suitable for professors, colleges, schools, and any other education institute you can think of.
It has a nice unique homepage with advanced search function to search for a particular course, professor, feeds, time, etc. It also has a widgeted homepage with several built in features such as custom post types for courses, staff members, and galleries to make handling the content as easy as possible. Other features include – dedicated blog section, custom skin variations, different layout options, and much more.
Price: $49
View Demo Download & More Info
Education Pro by StudioPress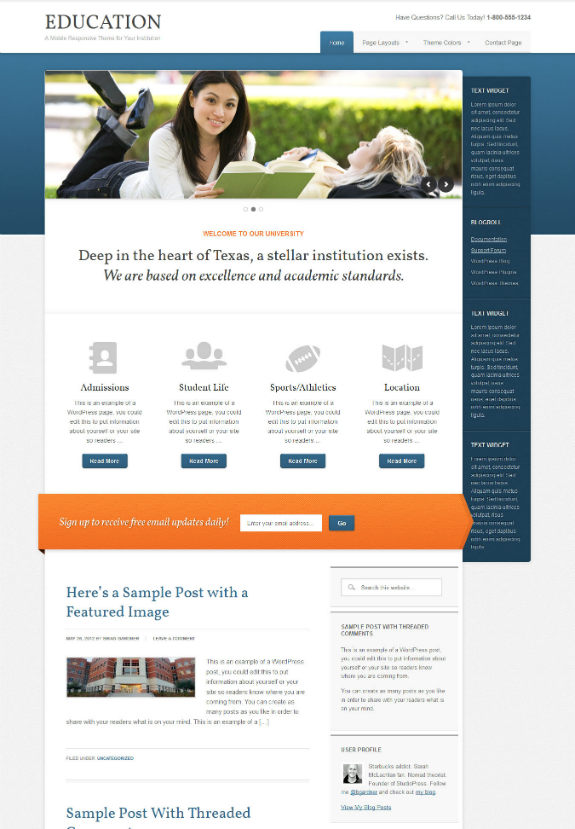 Education Pro Theme is on the higher end of the price scale but it comes pre-integrated with the Genesis Framework. In the developer's own words "Your institution has a great deal of information to convey in a short period of time. Text, audio, video, curricula, and more…" and Education Pro theme for WordPress takes care of it for you. With this theme, you can help teachers, students, and press find everything they need without having to get into the nitty-gritty details yourself.
The Education Pro theme comes with a multitude of customization options right out of the box. Users can create a unique and professional looking website in minutes! Those of you who'd rather not mess with live customizers can simply choose from one of six color styles and layout options to get started with this powerful e-learning platform.
This theme doesn't feature a full-on learning management system but it's got enough functionality to allow you to dip your toe in the e-learning pool and see if it's right for you. Those of you who're experimenting with the e-learning industry should definitely give this theme a try.
Price: $99
View Demo Download & More Info
Erudito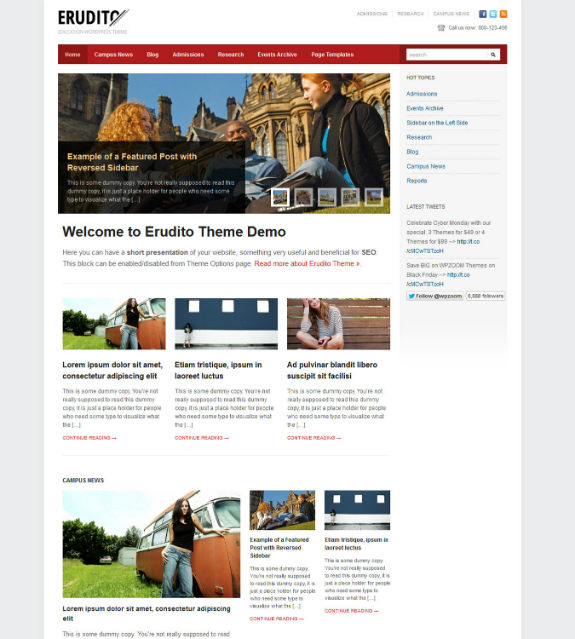 Erudito is a modern responsive WordPress theme with 12 color styles. The theme is built for keeping education institutes and websites in mind. It is best suitable for universities, high schools, colleges, but will also fit just any business oriented website.
The theme has a simple magazine style layout, with more emphasis on content and news. It comes with some useful page templates like events archive and shortcodes page.
Additional features include big slider section, responsive design, footer widgets, different color styles, custom shortcodes, and quality support.
Price: $75
View Demo Download & More Info
Academica Pro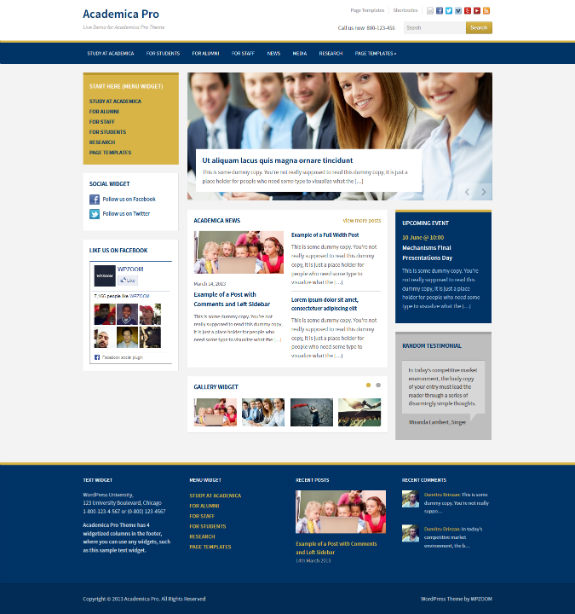 Acaedmica Pro is a modern and flexible theme with responsive layout. The theme features numerous custom page templates to help students, faculties, and press, get the information as quickly as possible.
This commercial theme is designed by WPZoom and is built using WPZoom Framework. It also has a post slider, dynamic homepage builder, easy color styling, As with other WPZoom's education themes, it put more emphasis on content area.
Price: $75
View Demo Download & More Info
ParkCollege Theme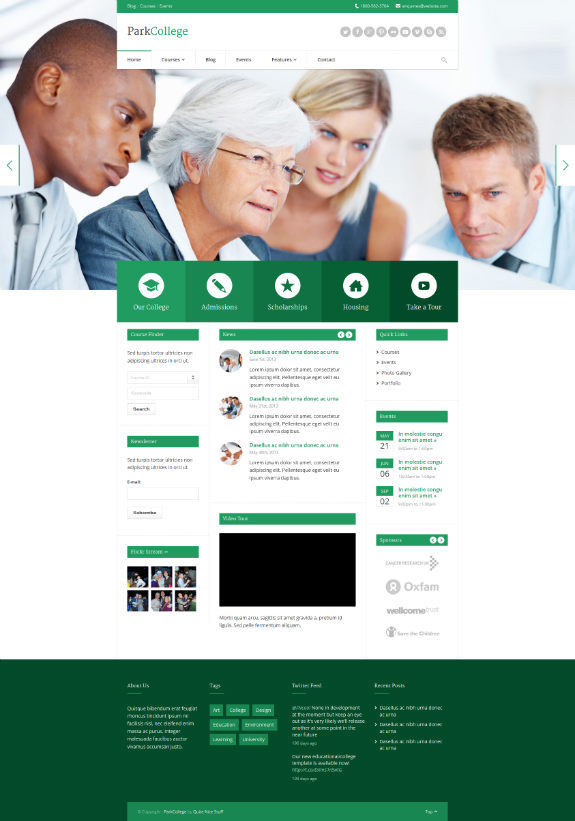 ParkCollege is designed with keeping institutions/educational websites in mind. It has a widgetized homepage with some great built-in features such as custom post types – courses section to manage course details, options panel to drag & drop widgets on homepage, unlimited colors schemes to make the website unique, and video support to easily add and manage vimeo or youtube videos to content & widgets.
The theme has a responsive design, which means it is compatible with iPad, iPhone etc. It is currently available on ThemeForest marketplace for $45.
Price: $45
View Demo Download & More Info
MyCollege Theme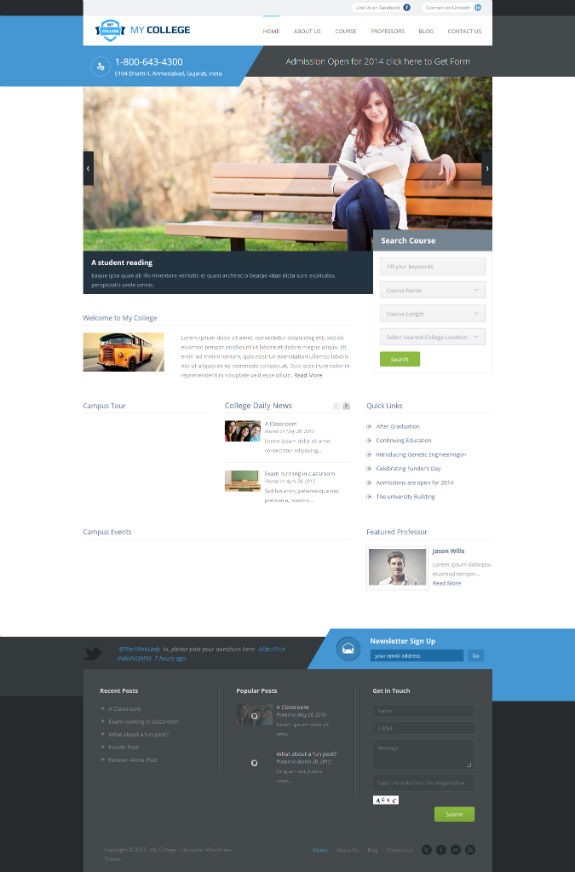 MyCollege is a powerful education theme with some fantastic features. The theme has a responsive design and is very easy to customize. The theme is perfect for education websites and comes with 3 color styles, custom widgets, touch & swipe enabled featured slider, and much more.
The powerful theme options panel allows you to customize general settings, header, home slider, search box, etc. It also has a template specifically designed for professors, to list all your faculty members, and courses page, to show all the available courses.
Price: $50
View Demo Download & More Info
University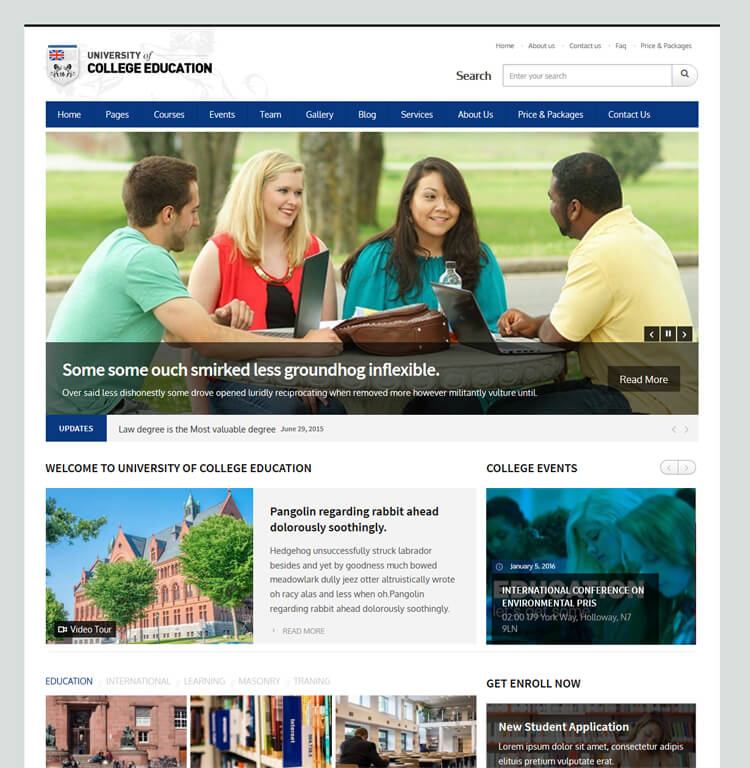 The University of College Education theme is an elegant solution for webmasters wanting to create online courses, events, teams, galleries – just about anything that goes into creating the perfect e-learning experience. UOCE features a comprehensive course management system that enables users to enter relevant information such as course descriptions, pricing options and features.
The theme's standout feature is its team management module that allows admin members, faculty, and students to collaborate with one another without having to leave the website. The theme is fully responsive and supports WPML.
The only downside to this otherwise feature-filled theme is that it doesn't come with WooCommerce integration. If you'd like to monetize your courses, you'll have to install the plugin yourself or explore other options.
Price: $49
View Demo Download & More Info
Lexington Theme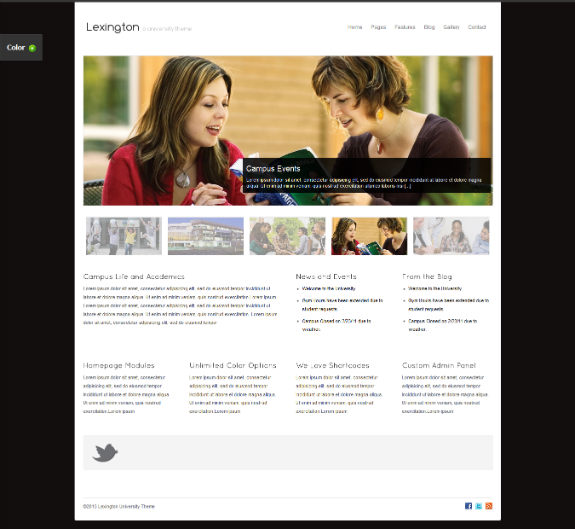 Lexington is an easy to use minimal theme for education websites. The theme comes with unlimited color options to make your site more unique. Some other features include – multi-level dropdowns, unlimited color options, shortcodes, flexible homepage, custom gallery, custom admin panel, and much more.
Price: $35
View Demo Download & More Info
Grand College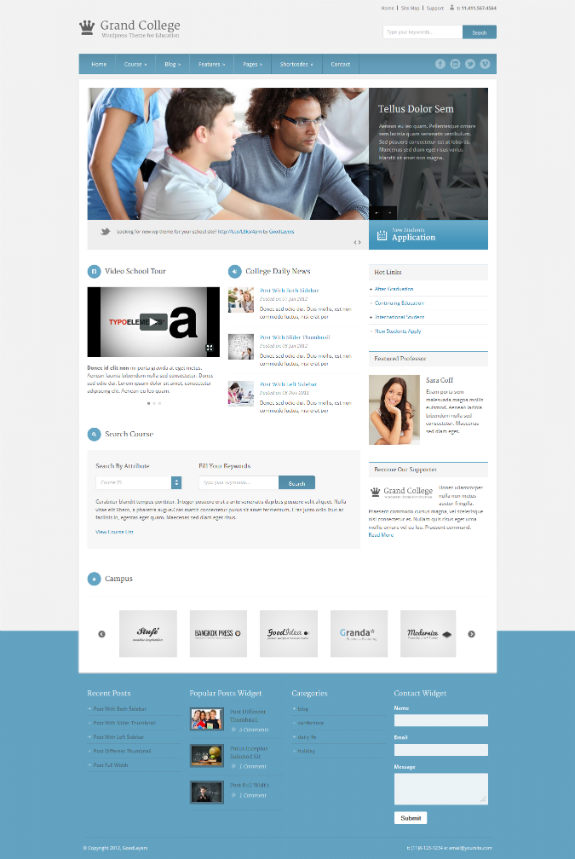 Grand College is a nice looking theme for high schools, universities, and colleges. The theme is designed in such a way that it can be used for any type of website, be it a corporate or business website.
This well crafted theme comes with a fantastic admin panel, which allows you to change every element or color easily. You can manage the page items using the Page Builder tool. You can also create unlimited sidebar, choosing over 450 fonts or if you want to use your own, we provide a cufon uploader.
Price: $45
View Demo Download & More Info
Jasper Responsive Education Theme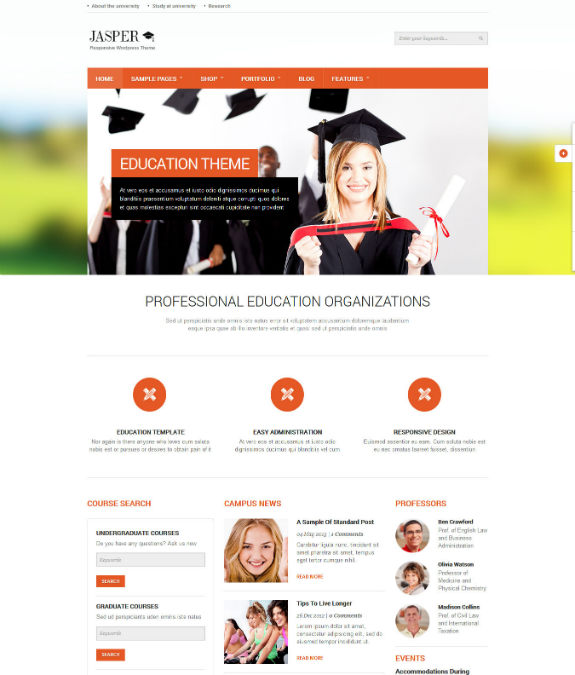 Jasper is a multi-purpose premium WordPress theme. The main focus of the theme is on education, it is perfect for Education organization, Events websites. The theme is integrated with WooCommerce, which means you can easily get eCommerce functionality with a few clicks.
Some of the features are – responsive layout, fully WooCommerce integrated, revolution slider, sleek portfolio styles, custom widgets, post formats, social ready, advanced typography, etc.
Price: $55
View Demo Download & More Info
Kid's Voice School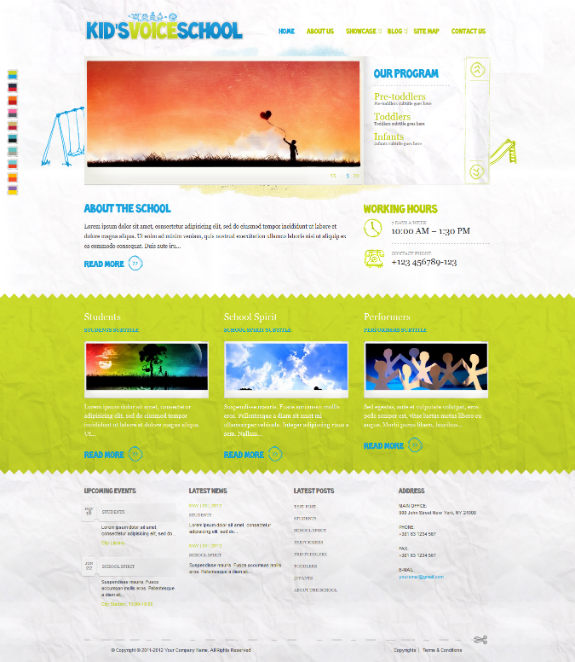 A theme designed specifically for child schools and child cares. The Kid's Voice theme is beautifully designed and has a ton of great feature such as widget for showing working hours, program section with slider, and blog section at the bottom of the page.
Although this theme can be used for any type of website including college & school websites, but it would look much better for something like art institute or child care. Some of the features are – powerful options panel, responsive layout, gallery custom post type, shortcode manager, ajax contact form, royal slider, and much more.
Price: $40
View Demo Download & More Info
WP Education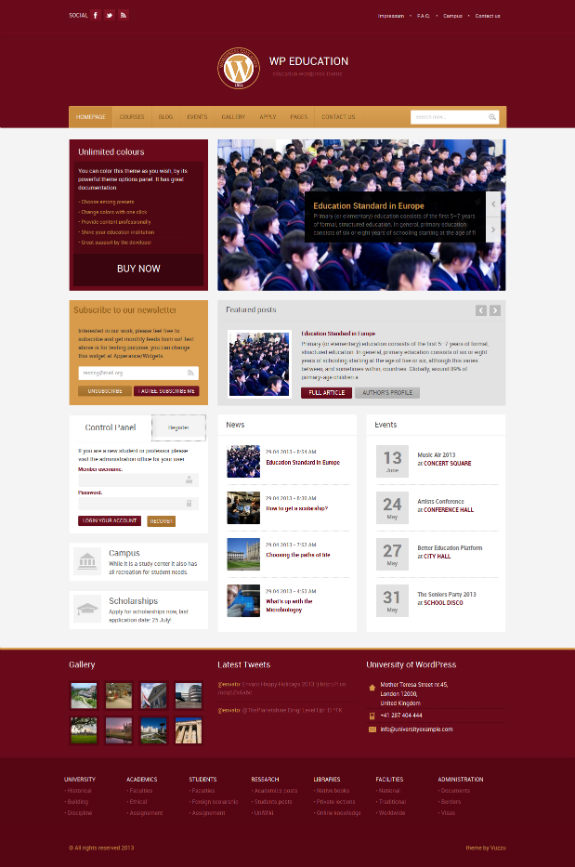 WP Education has a clean and modern design, and is best suited for colleges and high schools. This theme has a impeccable combination of colors. It also has a professional theme panel which allows you to change logo, texts, slugs, colors, fonts, and pretty much everything.
Some of the key features of this theme are six color variations, events custom posts, courses page, calendar manager, gallery manager, user groups, student privileges, professor privileges, file sharing, extra size footer, applying for builder, newsletter marker, etc.
Price: $45
View Demo Download & More Info
Dreamy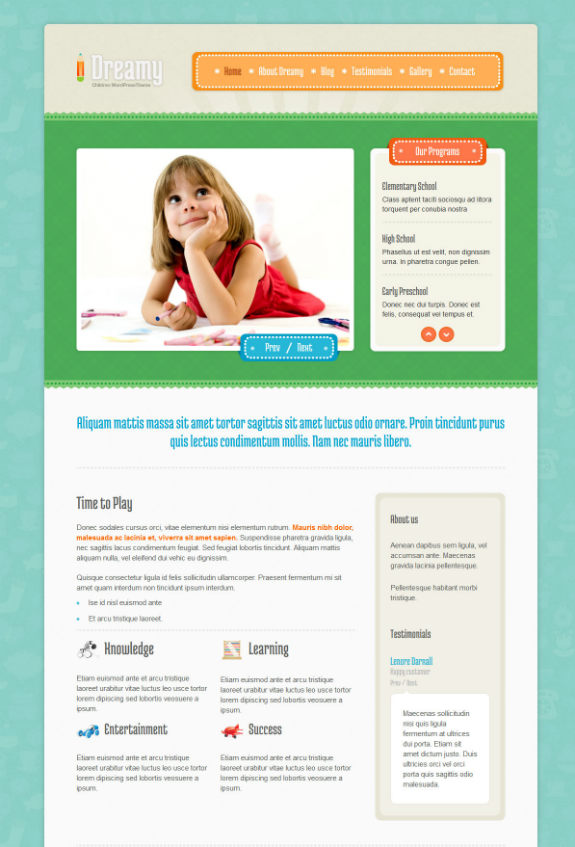 Dreamy Theme is simple and clean, is crafted for child care, kindergartens, daycares, preschools, and other education related sites, created by Themes Kingdom (we have an awesome deal, if you plan to purchase this theme).
The theme has features such as responsive design, different color skins, post formats, google maps integrated, SendLoop integration, custom login panel, and much more.
Price: $35
View Demo Download & More Info
EDU – Educational Theme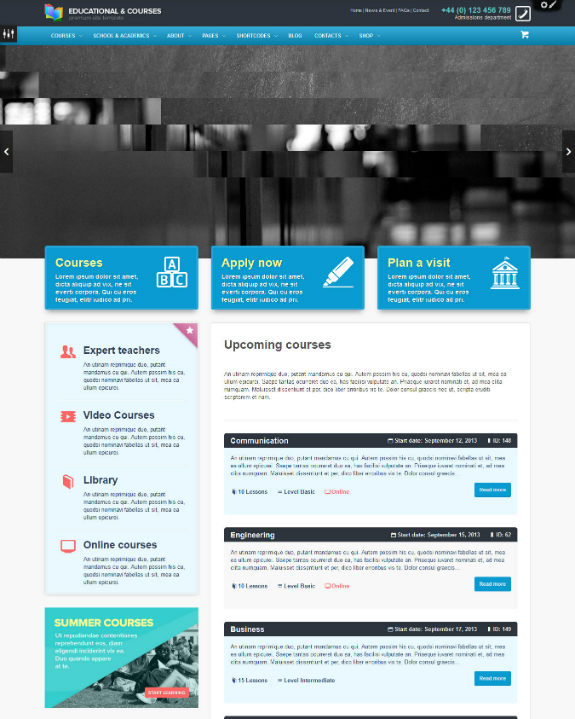 EDU theme is ideal for webmasters who'd like to set up an e-learning platform that's not restricted to traditional video-based lectures but also includes tutorials and college courses. The developer's very own SmoothTheme's Framework and drag and drop page builder makes customizations painless. Creating a unique e-learning platform has never been easier!
The theme's course builder is one of its best features that are loaded with all the right options to make your course portfolio informative and inviting. You can add a course title and description along with a featured image for the course. Users are also able to add the same details for individual lectures together with the duration of the lecture, download link, and online streaming link.
As far as the design of this theme is concerned, the overall user experience is positive and the theme incorporates trending design elements skillfully such as sliders. Though it doesn't come with a ton of premium plugins right out of the box, you can always add them on later.
This lightweight theme is designed using HTML5 and CSS3 which makes it easier for those of you with a little programming knowledge to really dig in deep with customizations and color combinations.
Price: $59
View Demo Download & More Info
Academy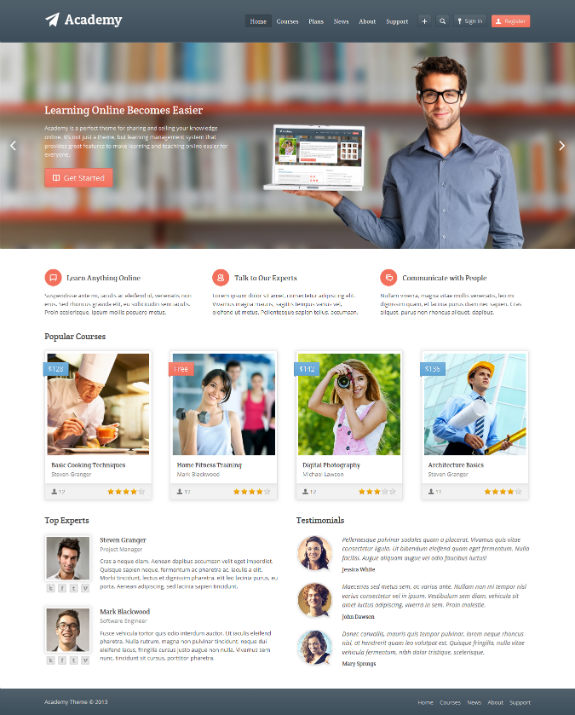 Academy is the most popular education theme available on ThemeForest. The theme is perfect for sharing and selling your knowledge online. It features a number of great features – creating online courses, user profiles, and theme options.
It also has an rating system, questions system, file attachments, embedding self-hosted media, tracking course progress, and WooCommerce integration.
Price: $55
View Demo Download & More Info
I hope you enjoy the list of best education themes. Have you tried any of the themes listed above? If so then please share your thoughts in the comments below.