Genesis is one of the most powerful and popular theme frameworks on the market today. It is currently running on half a million websites, serving over 200,000 happy customers and powering massive blogs like ProBlogger.
Genesis is a robust framework by itself, but StudioPress also offers some of the best Genesis child themes out there on the market. Their collection contains themes created by their team, as well as by third-party developers.
The Genesis framework is known for its speed, performance, security, and flexibility. The massive Genesis child theme library is one of its biggest selling points. You'll find close to a hundred child themes for every niche out there.
If you're interested in using the Genesis framework and want to use their child themes, you have two options:
Get the Genesis Pro membership. This option gives you access to the Genesis theme framework and every single child theme in their library, created by StudioPress.
The yearly subscription costs $360/year. With little customization on your end, you'll end up with a stellar, high-performing website that delights your visitors.
Purchase the StudioPress child themes from third-party developers. There are plenty of developers who also create and sell StudioPress child themes on their marketplaces. You can find the best of these themes in this post.
Below, we dive deep into some of the best Genesis child themes out there today. By the end of this post, you should have a handful of WordPress themes you could consider for your new blog.
Note:
You can get access to most of the Genesis Child themes by becoming a
WPEngine
customer. If you do decide to purchase WPEngine hosting, make sure to use our
20% off coupon for WPEngine
.
Best Genesis Child Themes
Below you'll find some of the absolute best Genesis child themes on the market today: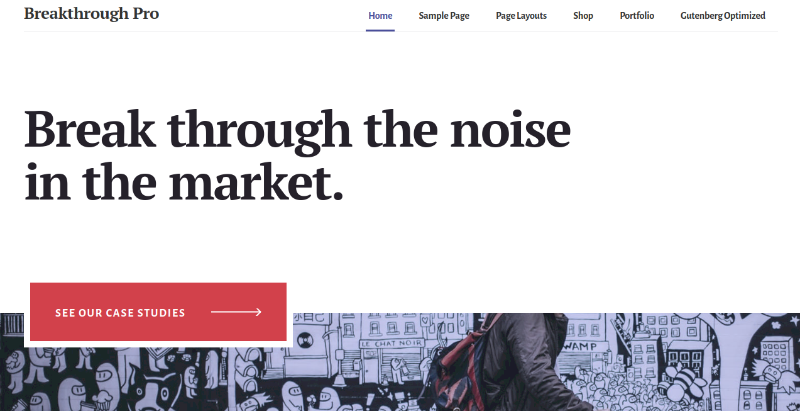 Breakthrough Pro is a clean and minimalist theme designed to help you cut through the noise in your market. It's specifically aimed at marketing and advertising agencies who want to make a bold statement.
The color palette is bold and simple, which helps your text and images stand out even more. There are nine different widget sections that you can use to customize the appearance of your site.
This theme is also eCommerce compatible if you want to start selling products on your site.
Price: $360/year. Included in the Genesis Pro membership.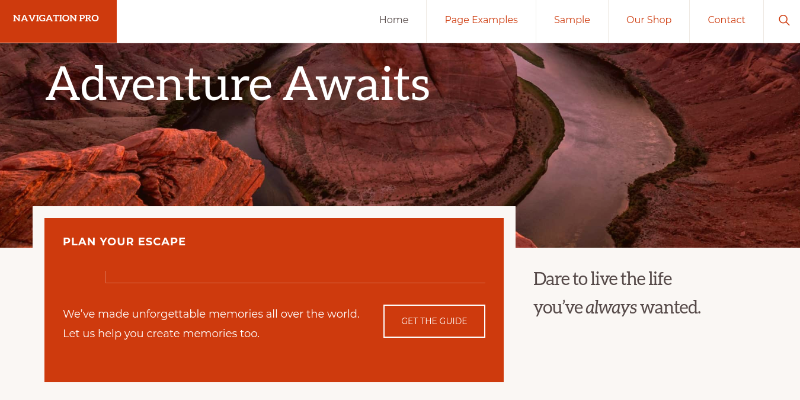 Navigation Pro is an excellent theme for companies in the outdoor or tourism spaces. It's a bright theme that offers you plenty of room for eye-catching imagery.
It includes a handful of bundled premium plugins. Plus, three different demo content packs cater to the travel, food, fitness, or law niches. So, you can quickly build out your site with a theme that caters to your niche.
Beyond being easy to set up, you can easily customize the theme via the Gutenberg block system and the WordPress theme Customizer.
Price: $360/year. Included in the Genesis Pro membership.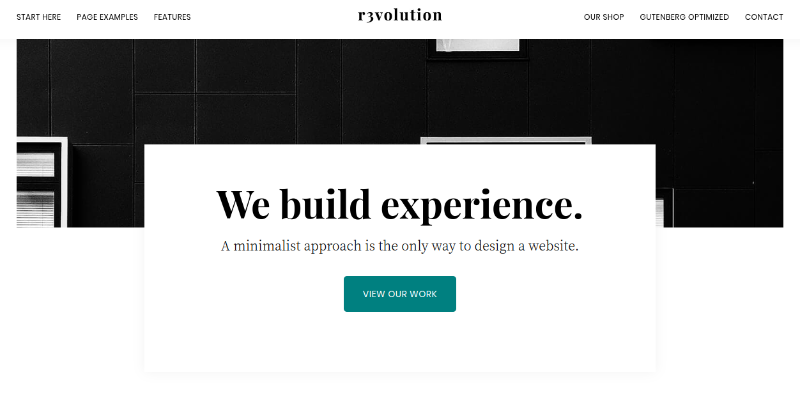 Revolution Pro is a unique theme for bloggers and writers who want to focus on their words and stunning imagery.
The homepage is easy to configure with the Gutenberg editor. So, if you want to customize your site more than the demo theme, you can easily do this with the block system.
There's even a one-click "Set Up Your Homepage" button, which will import the demo theme's sample content, plugins, and settings, without overwriting your existing content.
It's a very minimalist theme with the overarching goal to put a focus on what matters most–your work.
Price: $360/year. Included in the Genesis Pro membership.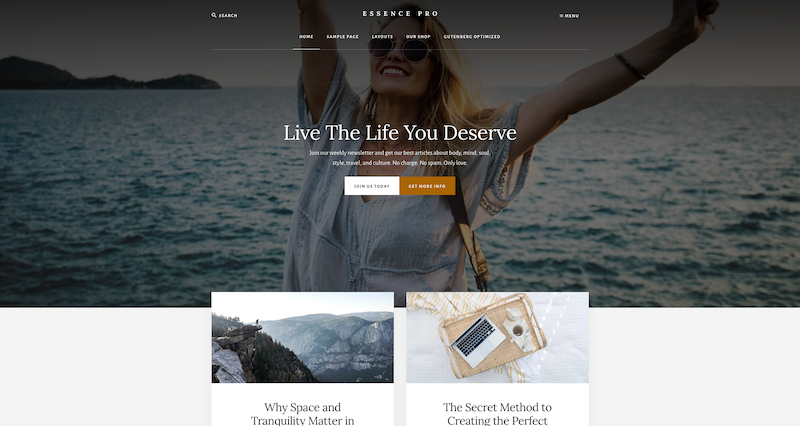 Essence Pro is a clean and clutter-free theme for health and wellness websites.
As with any StudioPress theme, you can tweak your website with the theme customizer tool. And since the theme includes Gutenberg support, you have even more customization options at your disposal.
Essence Pro is eCommerce-ready, and it's also mobile responsive. With its one-click theme setup, you can start building your website fast.
Price: $360/year. Included in the Genesis Pro membership.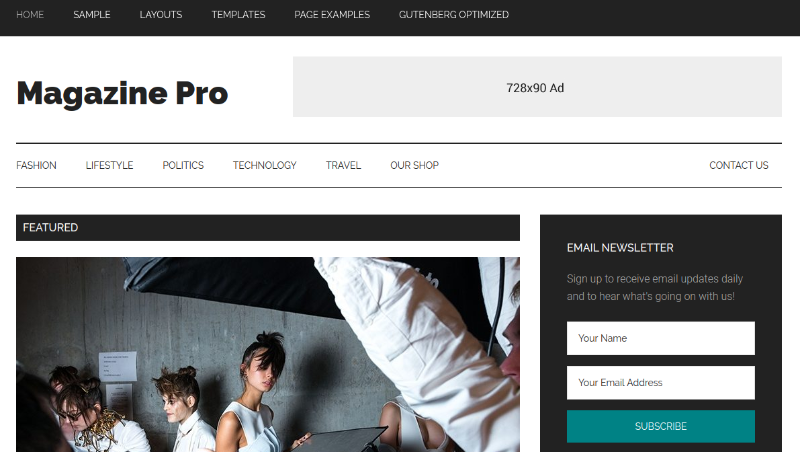 Magazine Pro is a clean and modern theme perfect for online magazine publishers or those who run blogs with a ton of content.
This theme makes it easy to manage a diverse array of content and still display it in a way that's enticing to your visitors. You can arrange your content sections via the three different homepage widget sections.
Plus, this theme comes with advertising spots built-in, and it has eCommerce functionality if you want to sell products down the line.
Price: $360/year. Included in the Genesis Pro membership.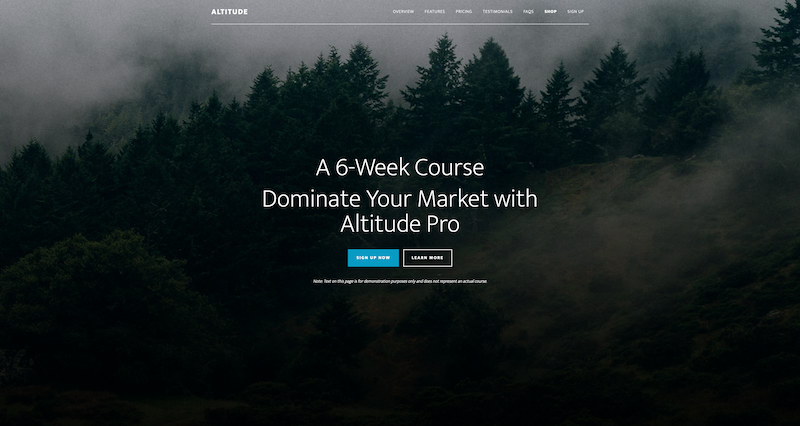 The Altitude Pro catches your attention with its powerful parallax scrolling effects. The theme is suitable for businesses of any size.
Altitude Pro includes seven widget areas on the home page, so you have many customization options at hand. And naturally, you can also use Gutenberg blocks and the theme customizer to tweak your content further.
You can also build an online store next to your website since Altitude Pro has WooCommerce support built-in.
Price: $360/year. Included in the Genesis Pro membership.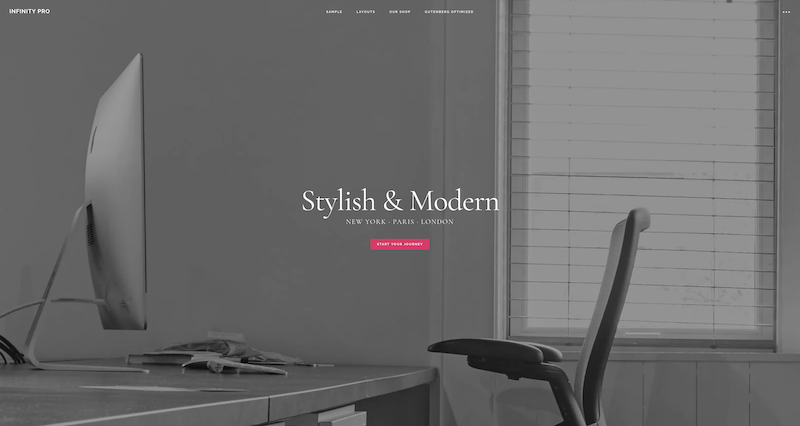 Infinity Pro is a theme built for digital businesses.
It gives you nine page types and 13 widget areas you can use to construct your website. The theme is also compatible with WooCommerce.
The theme gives you a clutter-free and modern design with lots of white space. You can also hook up your visitors with CTAs in each section on the home page.
Price: $360/year. Included in the Genesis Pro membership.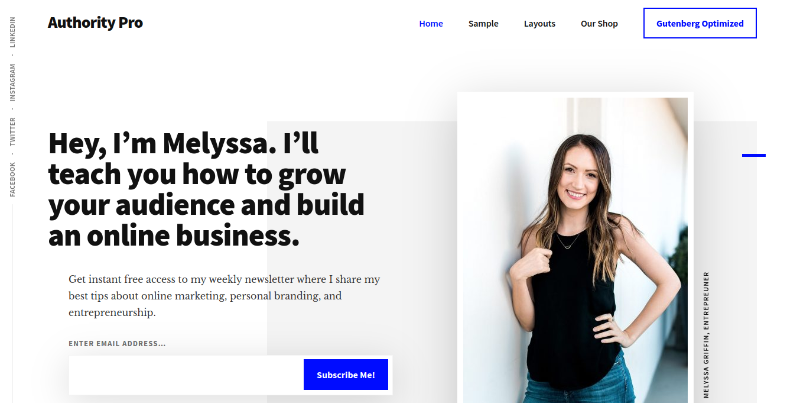 Authority Pro is a great theme for coaches and consultants alike who want to build trust and authority with their audience and clients.
You'll notice right away that the homepage highlights you and your expertise with the tagline, CTA, and image header. There are also a series of widget areas you can customize as you wish.
The bottom of the homepage is best suited to showcase your latest blog posts or a CTA to learn more about your work.
Price: $360/year. Included in the Genesis Pro membership.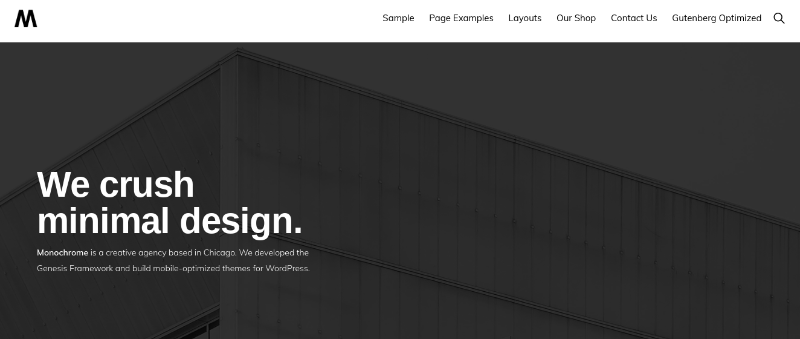 Monochrome Pro is a bold and minimal theme that's best for businesses who want to make a statement. The big focus of this theme is on providing plenty of whitespace and offering clean typography.
This theme works well for agencies or companies who want to showcase their mission statement in the header and highlight their service areas below that.
You can freely customize this theme with the multitude of widget areas it offers.
Price: $360/year. Included in the Genesis Pro membership.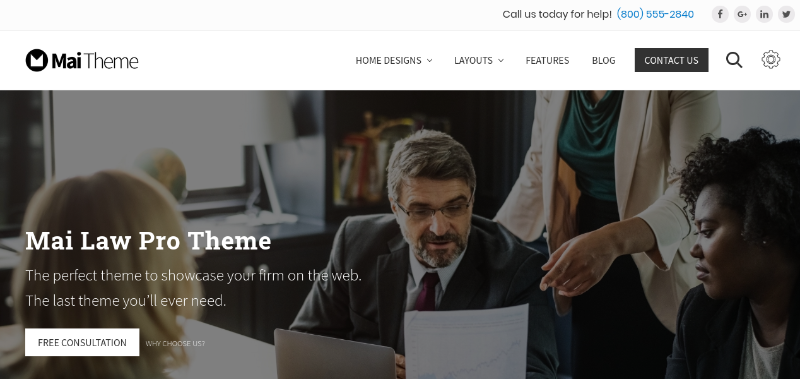 Mai Law is the perfect theme for legal firms and other law professionals.
It has a modern and clean look while still providing all the features required for any law firm. The look of the theme is professional but still in alignment with modern website best practices.
There are three different homepage designs to choose from, so you can find the perfect layout for your business.
You can customize the theme even further with the nine different page layouts. Overall, it's a highly customizable yet functional theme that can help any law firm thrive online.
Price: $84/year. Sold by a third-party developer.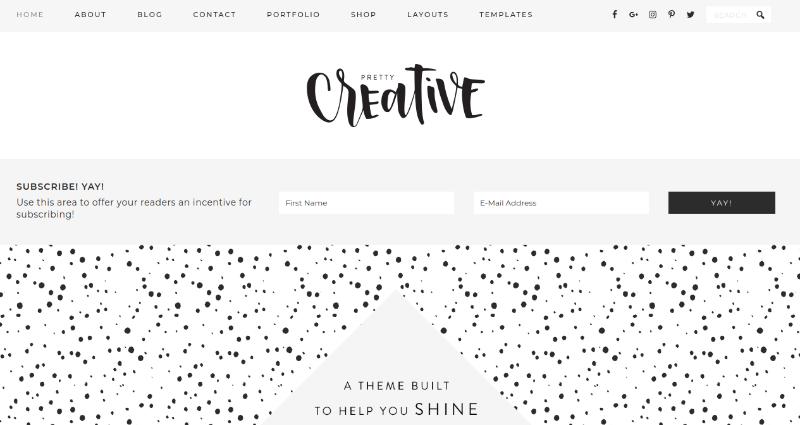 Mai Creative is a theme built by and for creatives. It's equipped with tons of advanced features.
For example, there are a unique parallax scrolling effect, six different layout options, six other widget areas on the homepage, and two footer widgets.
It's also eCommerce ready if you want to incorporate selling products into your website.
Overall, it's a flexible theme that can be adapted to various niches and types of websites, from blogs to online stores, service-based sites, and more.
Price: $84/year. Sold by a third-party developer.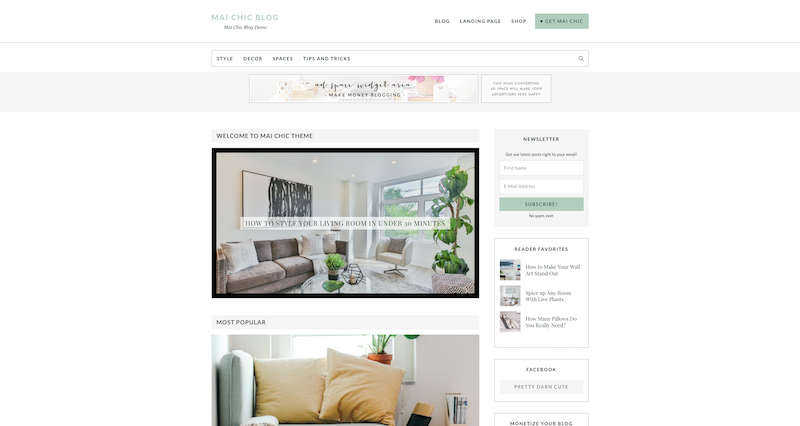 The Mai Chic theme is perfect for home design or travel blogs, although you can naturally use it for other purposes as well.
The theme has a blog-style homepage layout that helps you bring out your best content. It also has built-in WooCommerce integration so that you can run an online store on your website.
Finally, the theme includes a landing page, which you can use to promote your courses, webinars, or products you have created.
Price: $84/year. Sold by a third-party developer.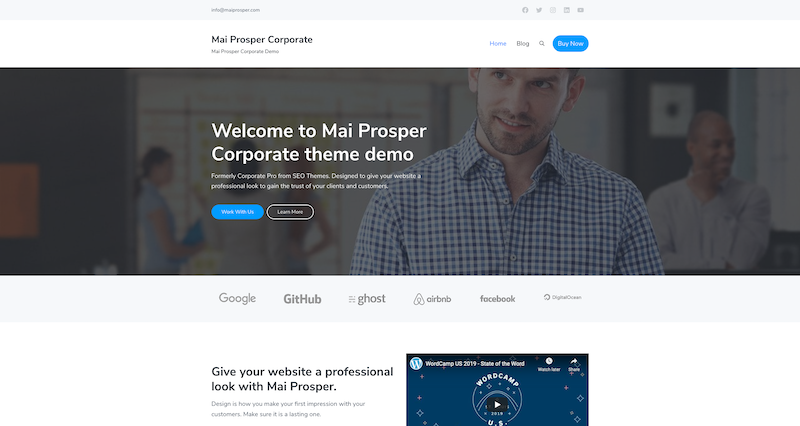 Are you looking for a corporate StudioPress child theme? In that case, you should take a look at Mai Prosper.
Whether you are a medical clinic, agency, author site, or any business type, you can take advantage of this good-looking corporate theme.
Page-wide images are sure to grab your audience's attention. And CTA buttons, alongside the client logos on the homepage, make an impression on your potential customers.
The theme contains a pricing table component, and you can also customize the appearance with a block-based layout.
The WooCommerce integration helps you to sell products or services through your website.
Price: $84/year. Sold by a third-party developer.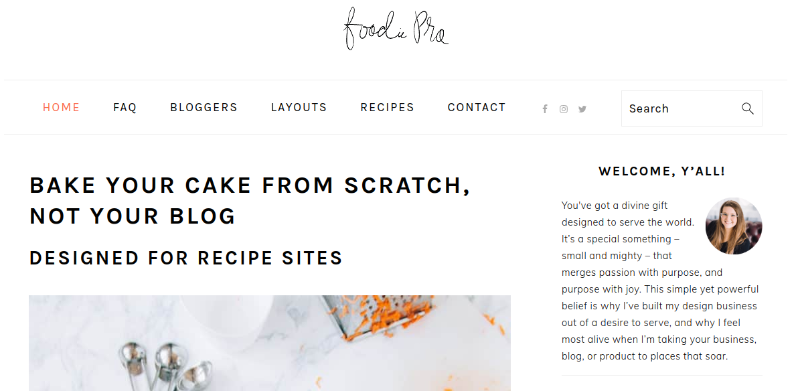 Foodie Pro is a popular theme that's built for food bloggers. However, it's very flexible and can be used to suit a wide range of different blog topics.
It has three different homepage widget sections, along with five site-wide widget sections you can customize to your liking.
You'll find archive and blog page templates useful for blogs with a ton of content.
You can edit this theme with the built-in WordPress Customizer to change the color scheme, layout, widget areas, and much more.
Price: $75. Sold by a third-party developer.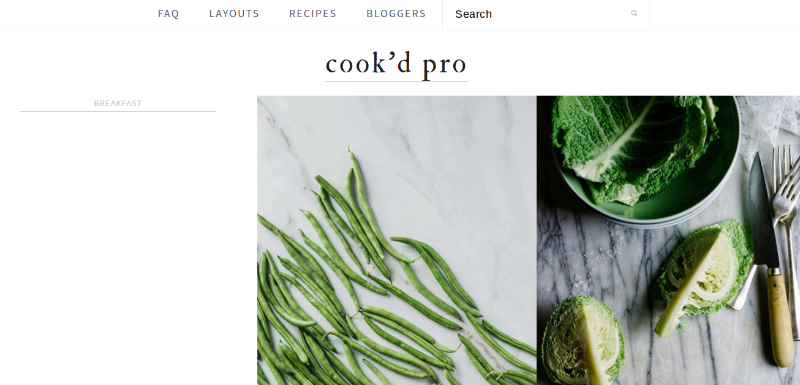 Looking to start a food blog? Then, Cook'd might be the theme you've been looking for.
Cook'd has a very clean design and recipe integration, which makes it easy to create and share your recipes with the world. You'll also find multiple built-in recipe indexes that can help you create unique recipe layouts without any coding.
There are multiple different widget areas, which you can use to place your social media profiles, opt-in forms, advertisements, and more.
Price: $75. Sold by a third-party developer.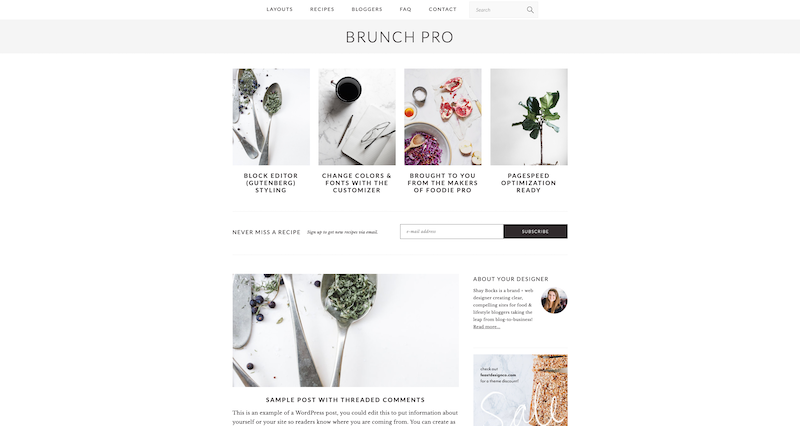 Brunch Pro presents a minimalist style for all food bloggers. It's a little sister of Foodie Pro, yet it contains plenty of excellent features.
For instance, you can customize various parts of the layout, including the header, typography, or archives, with the theme customizer.
You also have flexible grid archives, featured images, and the Brunch Pro Featured Posts widget at your disposal.
The theme supports ads and opt-ins in the strategic parts of the layout, including inside the header or primary sidebar. These spots help you to monetize your blog or collect email leads effectively.
Price: $75. Sold by a third-party developer.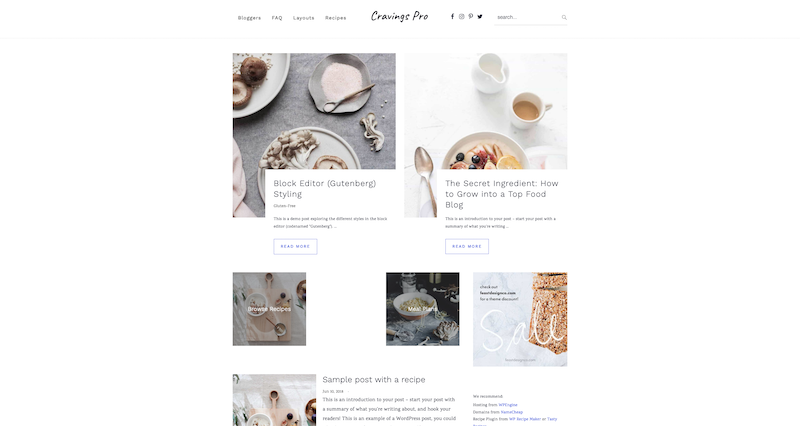 Cravings Pro is for food bloggers who prefer a minimalist yet alluring style on their website.
The theme is optimized for speed, which can help with user experience and even search engine rankings.
You can modify the layout with the theme customizer tool or with various Gutenberg blocks. You also get a recipe index tool for displaying the delicious masterpieces you have created.
The theme is compatible with ads, and it supports pre-styling for AdThrive and Mediavine networks.
You can include email opt-in forms in various parts of the website or integrate your site to social media platforms with stylized buttons.
Price: $125. Sold by a third-party developer.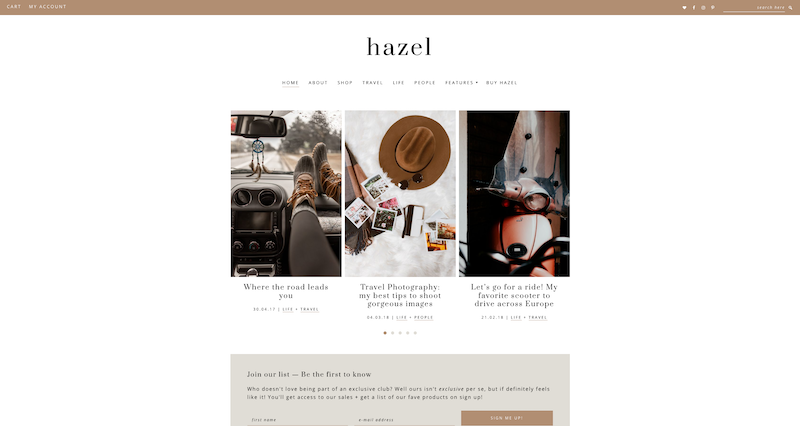 Hazel, by Code+Coconut, is a modern and responsive theme for any blogger.
To help you find the perfect layout for your brand, Hazel provides four options to choose from. So whether you want the layout vertical or horizontal, Hazel is your choice.
Like any modern theme, Hazel is compatible with WooCommerce, so you can start an online shop to sell your products or services.
Price: $49. Sold by a third-party developer.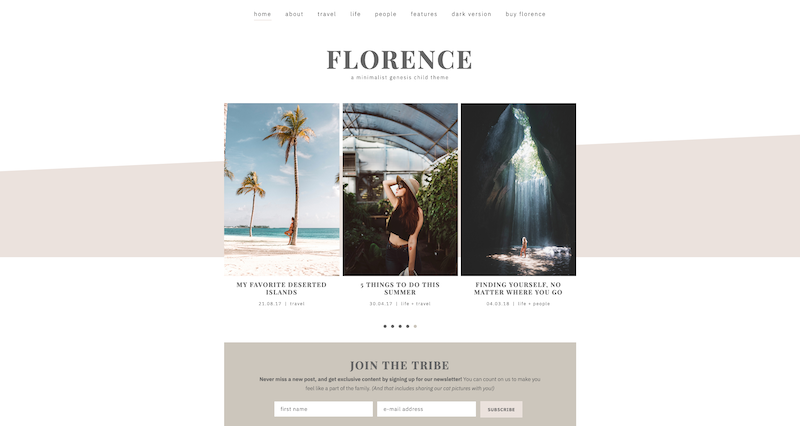 Florence is a minimalistic theme that will work on any device.
The theme has reserved areas for ads for monetizing your blog. You can also add email opt-in forms to collect leads.
Florence is translation-ready so you can translate the content for international audiences, too. And with the theme's Vertical Post Carousel, you can make your content stand out.
And if you are an audio or a video blogger, you can add media content to your site with just a few clicks.
Price: $49. Sold by a third-party developer.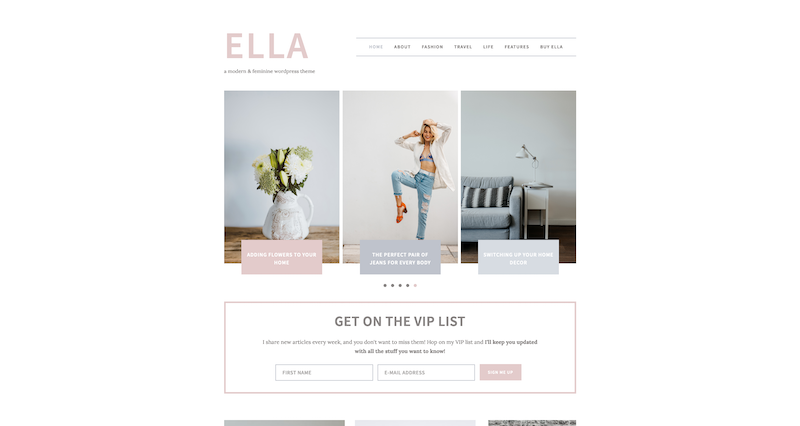 Ella is a minimalist theme with a colorful palette. It is a great starting point for your blog.
Ella lets you customize its colors to match your branding. And naturally, Gutenberg blocks are supported, too.
You can also serve international audiences with this theme. Ella can be translated to various languages using a third-party plugin.
Finally, if you'd like to display your Instagram feed on the website footer, you can do that with Ella (through a third-party plugin).
Price: $49. Sold by a third-party developer.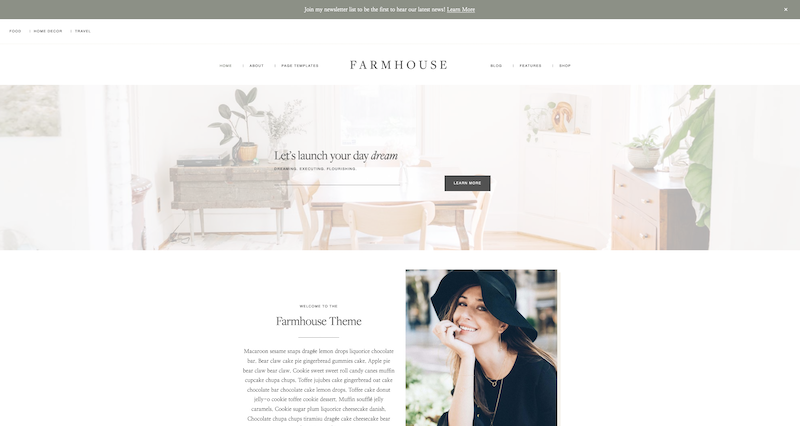 Farmhouse brings beauty and elegance to your website with various styling options in one package.
You have four home page designs with various layouts to choose from.
You can also choose between nine different page templates based on the use of the page. You also have ample options for navigation, with five locations for the menu.
The theme is optimized for Web Core Vitals, a specific set of metrics that Google uses to measure the website's user experience.
Price: $99. Sold by a third-party developer.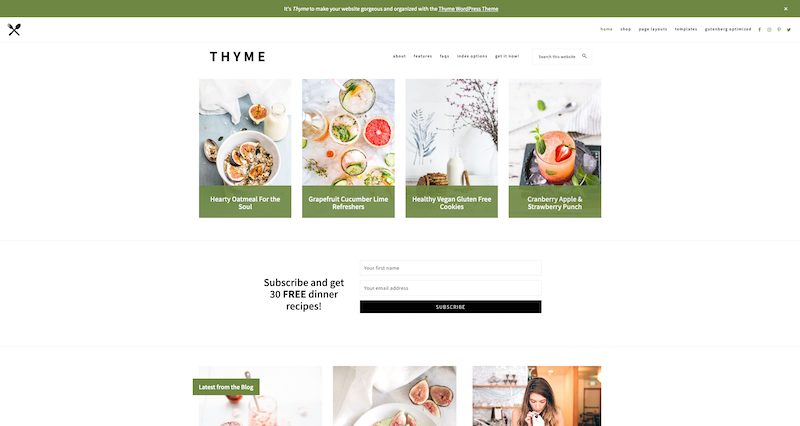 Although the Thyme theme's target audience is food bloggers, anyone can use it.
The theme comes with three colorful and bright homepage designs that you can modify with the Gutenberg editor the way you wish.
You have six page templates at your disposal, including the blog page, the about page, the Instagram page, or the landing page.
Food bloggers value the fact that Thyme includes a custom template for the WP Recipe Maker plugin. This premium plugin helps you to format your recipes beautifully.
The theme also supports another premium plugin, Facet WP.
This plugin gives faceted filtering/search capabilities to your site. With this type of functionality, you can make it easier for your visitors to browse your recipes.
Price: $99. Sold by a third-party developer.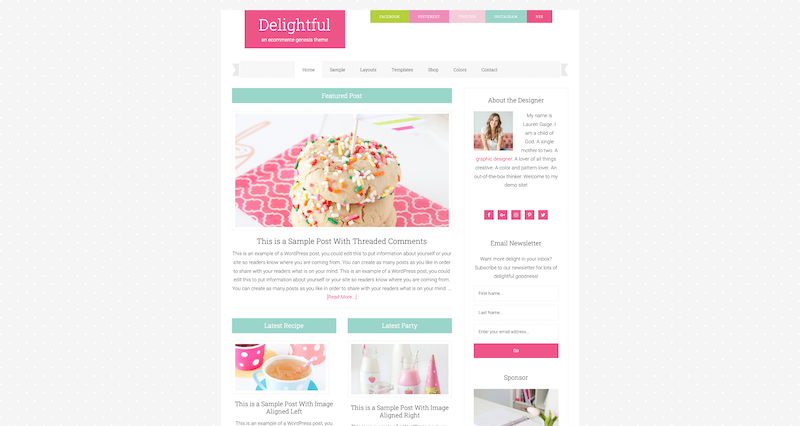 The delightful theme comes with fresh colors that pop!
You can create the content with three page layouts and five page templates. And naturally, the theme is Gutenberg-compatible so that you can tweak the content even further.
What's even more impressive is the selection of colors that you can use with Delightful. Currently, it supports over 20 color options that you can use to match your branding.
On top of having spots for ads or newsletter opt-ins, the theme is also WooCommerce-enabled.
Price: $75. Sold by a third-party developer.
Genesis Child Themes FAQ & Closing Thoughts
When you're creating your first blog or website, you'll run into all kinds of challenges.
However, by choosing a high-quality WordPress theme, you can avoid a lot of potential issues.
Is my theme fast enough? Is it optimized to the latest SEO standards? Is it up to the latest web design best practices? Will I be able to customize it?
Luckily, you can have all of these pressing questions taken care of by choosing a high-quality Genesis child theme.
Here are some of the most common Genesis child theme questions we've received:
What is Genesis?
Genesis is a framework you can use to create your website. It operates similarly to a traditional theme. However, to customize the appearance, you'll want to use a child theme.
What is a child theme?
A child theme is a skin that sits on top of the Genesis framework. This behavior controls how the theme looks and functions. Instead of customizing the core Genesis framework, you customize a child theme instead.
Is there a child theme with the stock version of Genesis?
If you choose to purchase the stock version of Genesis, you get access to a bare-bones theme. However, unless you're a developer, you won't be able to do much with it.
Do I have to use a child theme?
When you use a child theme, you start with a website that's pretty much finished. Plus, any changes you make to the theme's codebase will remain, even after WordPress updates.
Can I buy multiple themes?
Yes, you can buy a Genesis Pro membership for $360/year and get access to every theme in the StudioPress marketplace created by StudioPress. You can also purchase third-party themes individually.
By now, you should have a solid grasp of how powerful and versatile the Genesis framework is. Any of the Genesis child themes mentioned above will be a solid fit for your new website.
Now over to you. Do you have any questions about the Genesis framework or any of the child themes highlighted above?
If so, please share in the comments below. Any favorite Genesis child themes we didn't mention?