If you're searching for the best WordPress LMS plugin, you've probably come across the name LifterLMS.
LifterLMS is one of the more popular options if you want to create an online course with WordPress, thanks in part to releasing the core plugin for free at WordPress.org, where it has a 4.7-star rating and is active on over 10,000 WordPress websites.
But is it the right plugin for your course? In our detailed LifterLMS review, we'll help you decide whether you should use LifterLMS or go with one of the many other WordPress LMS plugins out there.
Here's how we'll divide our 2023 LifterLMS review:
Let's get started!
🧰 LifterLMS Features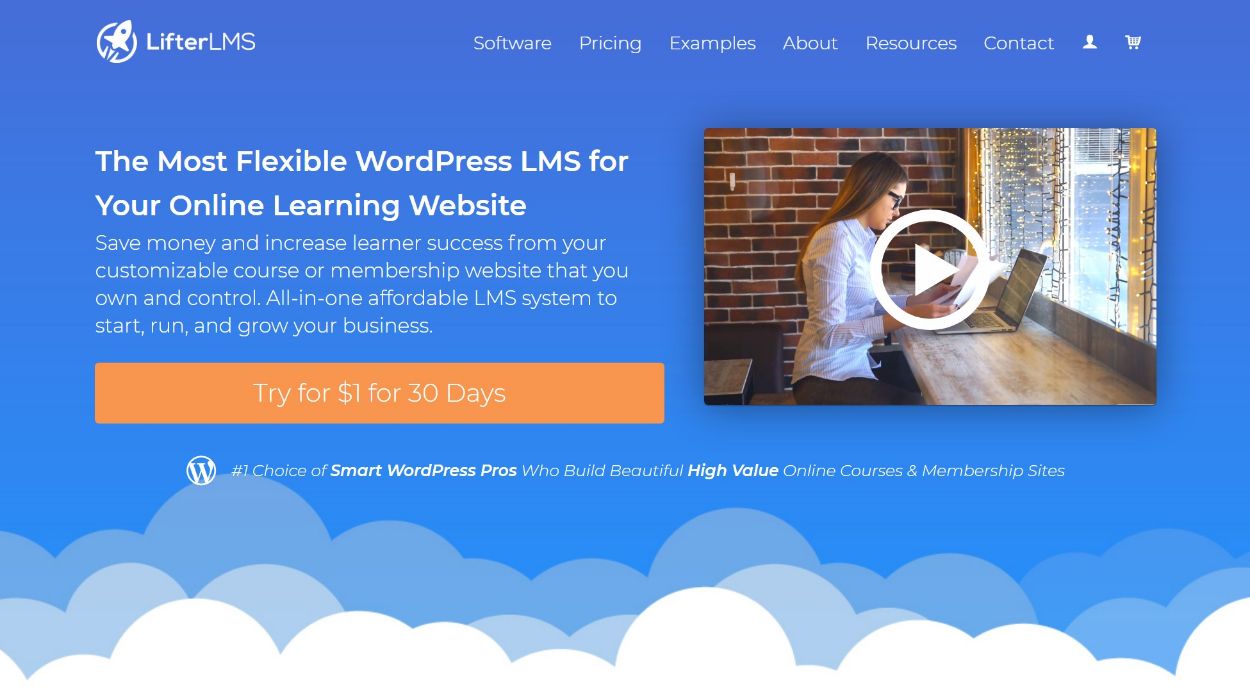 To start, we'll quickly go over the many features that LifterLMS offers.
Course features:
Drag-and-drop course builder.
Multimedia lessons – support for video, audio, text, and image-based lessons.
Assignments.
Quizzes – with lots of different question types.
Gradebooks to show progress, quiz scores, and more.
Course prerequisites.
Course tracks – e.g. offer a certification when people complete multiple courses in any order.
Support for multiple instructors.
Course discussion areas.
Membership features:
Content restriction.
Content dripping.
Offer sitewide memberships instead of selling single-course access.
Special members-only pricing on courses.
Payment features:
Sell courses for one-time or recurring payments (or make them free).
Dedicated payment integrations with Stripe, PayPal, or Authorize.net. There's also a WooCommerce integration that lets you use any of WooCommerce's gateways.
Payment plans (let people spread payments over time).
Coupons.
Bulk sales to sell access to groups.
Affiliate network integrations.
Course bundles.
Private coaching upsells, along with bundling private coaching and course content.
Social learning features:
Course achievements to gamify your courses.
Course certificates upon completion.
Social learning to create course communities.
Connect with learners using customizable emails or text messages.
Integrations:
Email marketing support for WP Fusion, ConvertKit, or Mailchimp.
Direct integrations for popular WordPress form plugins – Gravity Forms, WPForms, Ninja Forms, and Formidable Forms.
Zapier integration to connect to the thousands of apps on Zapier.
Now, let's get into the hands-on section of our review…
👷 LifterLMS Course Builder
Creating an online course can be time-consuming because you need to set up a lot of different pieces of content and organize everything into a logical structure.
To help make this as painless as possible, LifterLMS comes with a drag-and-drop course builder that lets you easily set up the overall structure for your course and then dig into more detailed sections when needed.
Creating a Course
When you first set up a course, you'll see the native WordPress block editor, which is where you can set up the course overview content and basic settings. This is not the actual course builder.
At the top, you just have the regular block editor, along with some special LifterLMS blocks. And below that, you have the Course Options meta box, which lets you set up basic details like:
Estimated completion time.
Prerequisites.
A featured video.
Scheduling.
Maximum capacity.
Etc.
This is also where you can set up payment options, but I'll cover those in a separate section.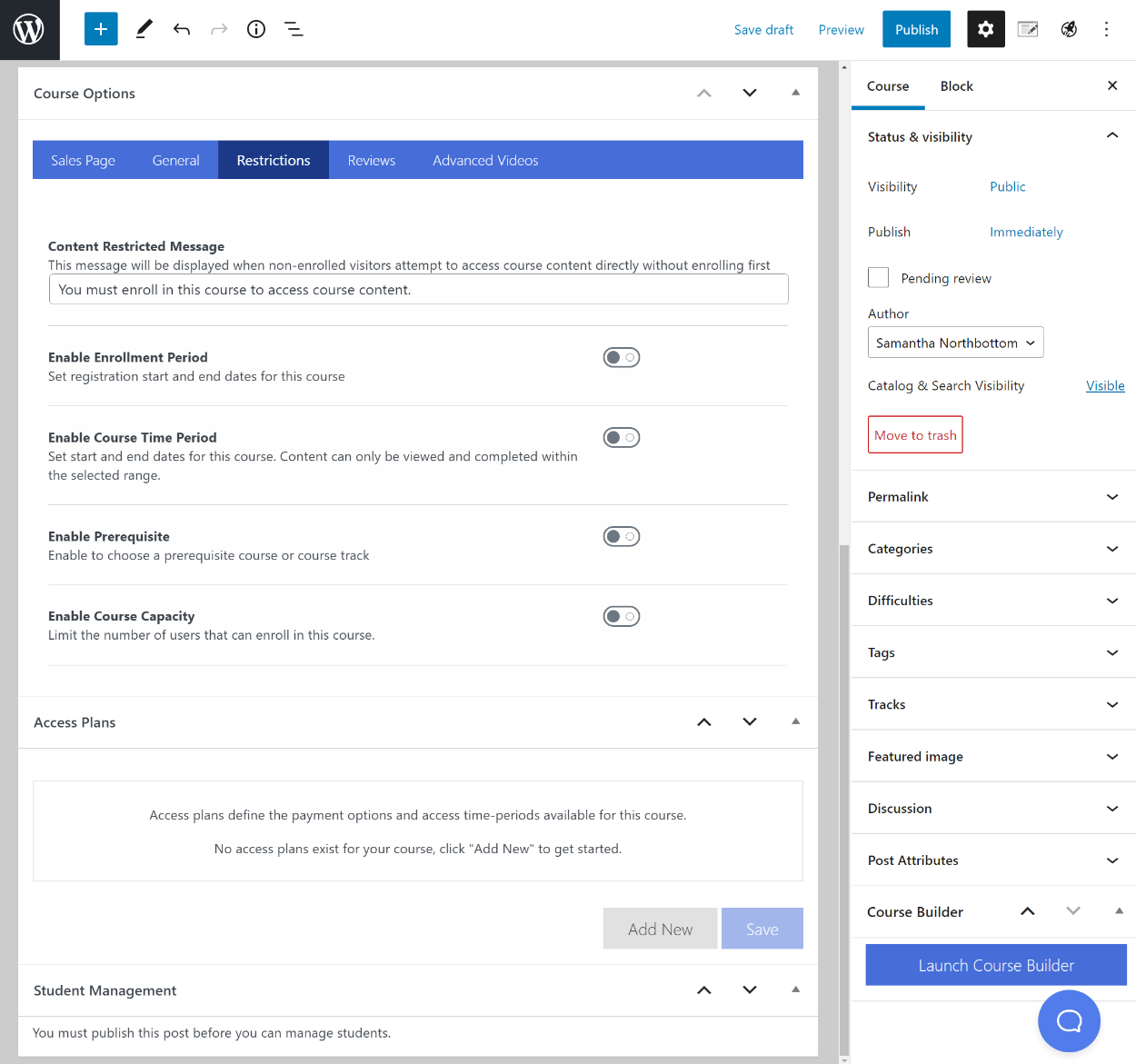 Once you're ready to set up course content, you can click the Launch Course Builder button in the bottom-right corner.
Using the Drag-and-Drop Course Builder
To organize your courses, you get two levels of content:
Lessons – the actual content of your course.
Sections – these organize lessons into different categories/units.
In the course builder, you can use the buttons and drag-and-drop to create the high-level structure of your course using lessons and sections.
Here, you can see the basic structure of a course: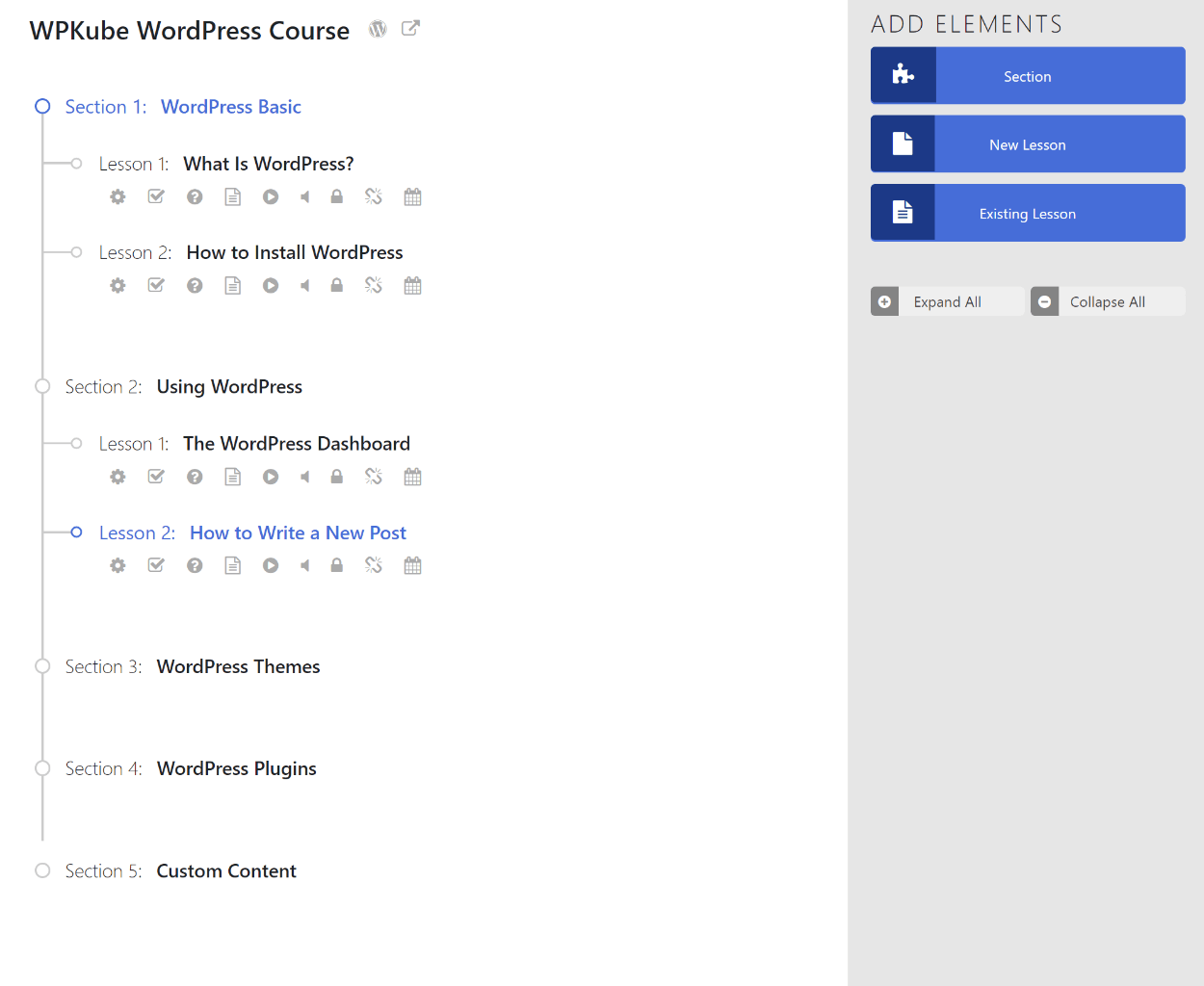 You also have the option to compress the lessons under a section, which makes it easier to focus on a specific part of your course.
You can see that each lesson has a set of icons beneath it (as well as a different set of icons when you hover over it). These icons let you quickly view/edit a lesson's content.
Some icons will quickly show whether a lesson has certain content attached to it, like video or audio. Other icons let you add a new quiz or assignment or open the lesson's content editor in a new tab.
You can edit basic lesson settings by clicking the icon to open a slide-out. However, you'll need to open the full lesson editor to add text content: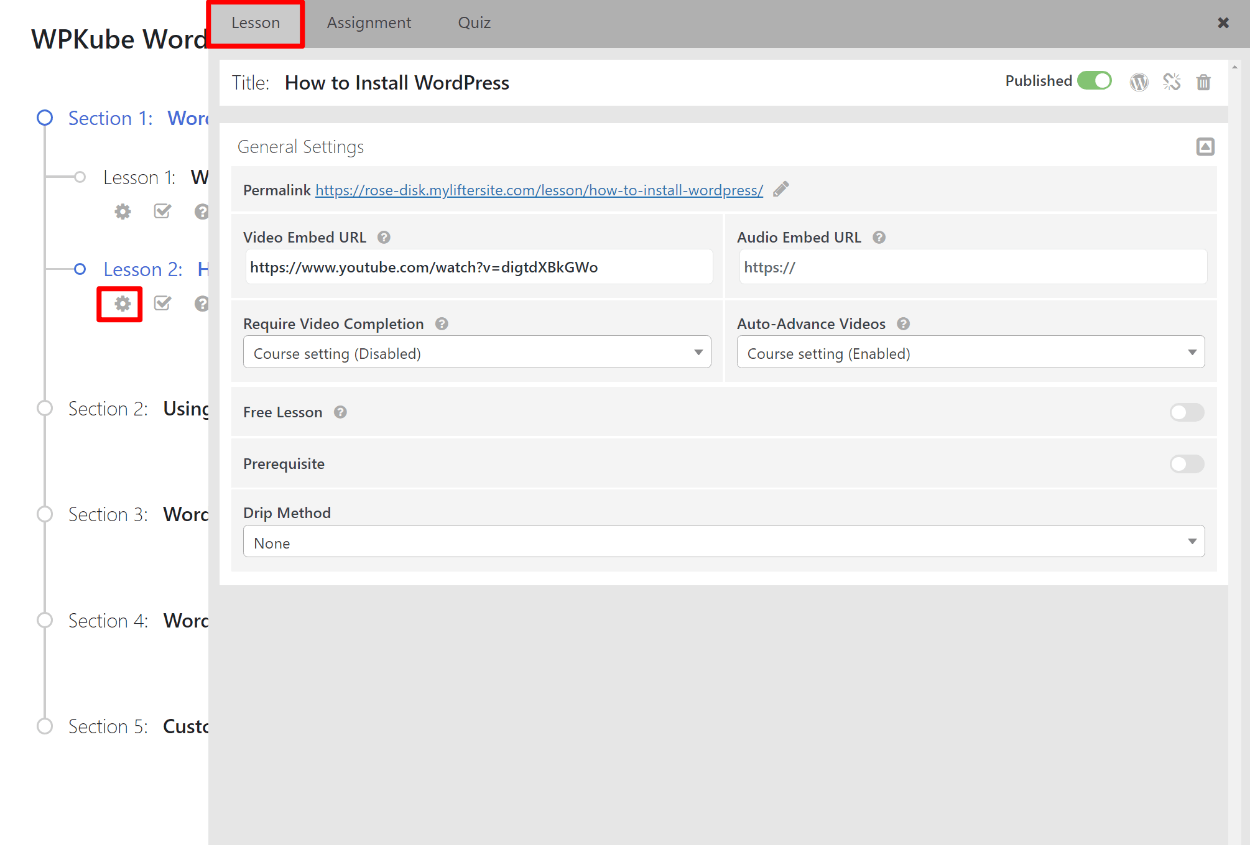 Adding Lesson Content
The lesson content editor gives you access to the native block editor to add text/image content, as well as a Lesson Settings box that lets you attach a video or audio file and control other lesson settings.
For example, if you're creating a video course, you can add the video to the Video Embed URL box and then add some companion text using the content editor: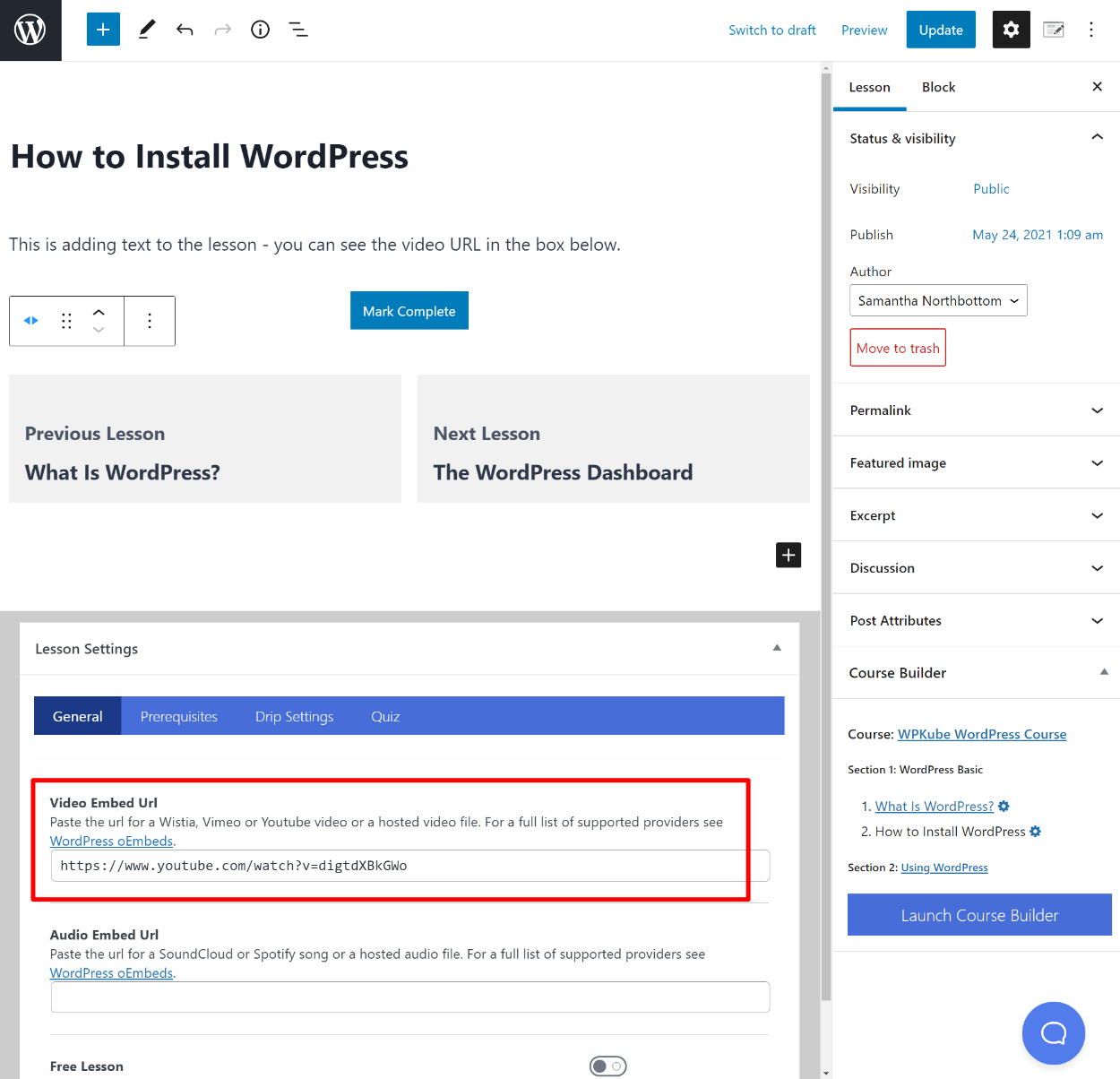 The Lesson Settings box also lets you control prerequisites, a content dripping schedule, and some other settings.
In the sidebar, you can also see where a lesson fits in the course and quickly jump back to the full course builder.
Creating Quizzes
To add a quiz, you can work from inside the drag-and-drop course builder by clicking the icon for the lesson to which you want to attach a quiz. Clicking the icon opens a slide-out where you can set up your quiz (or add an assignment):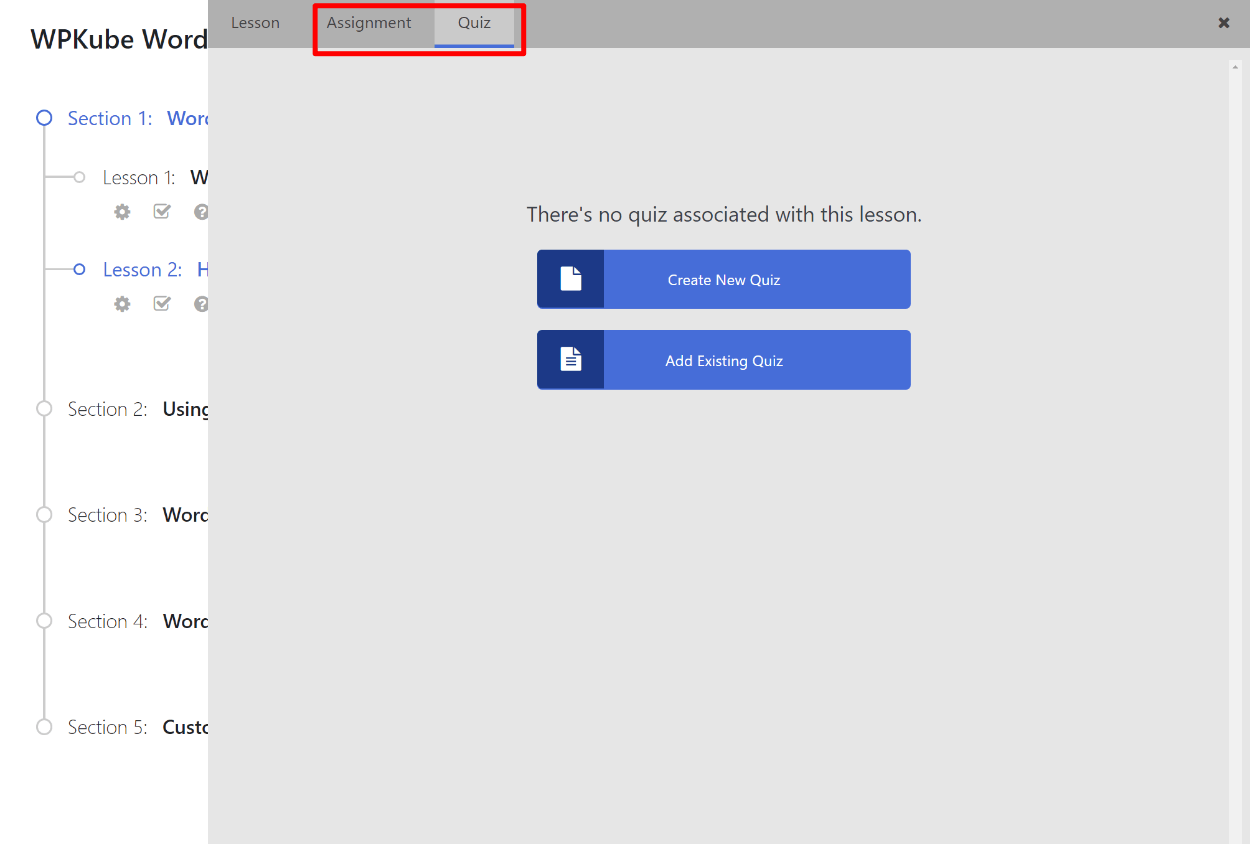 There, you can set up basic details like the passing grade, time limits, attempt limits, and more.
Then, you can start adding questions using a variety of different question types. You get the Basic Questions with the free version but you need the Advanced Quizzing add-on to access the Advanced Questions: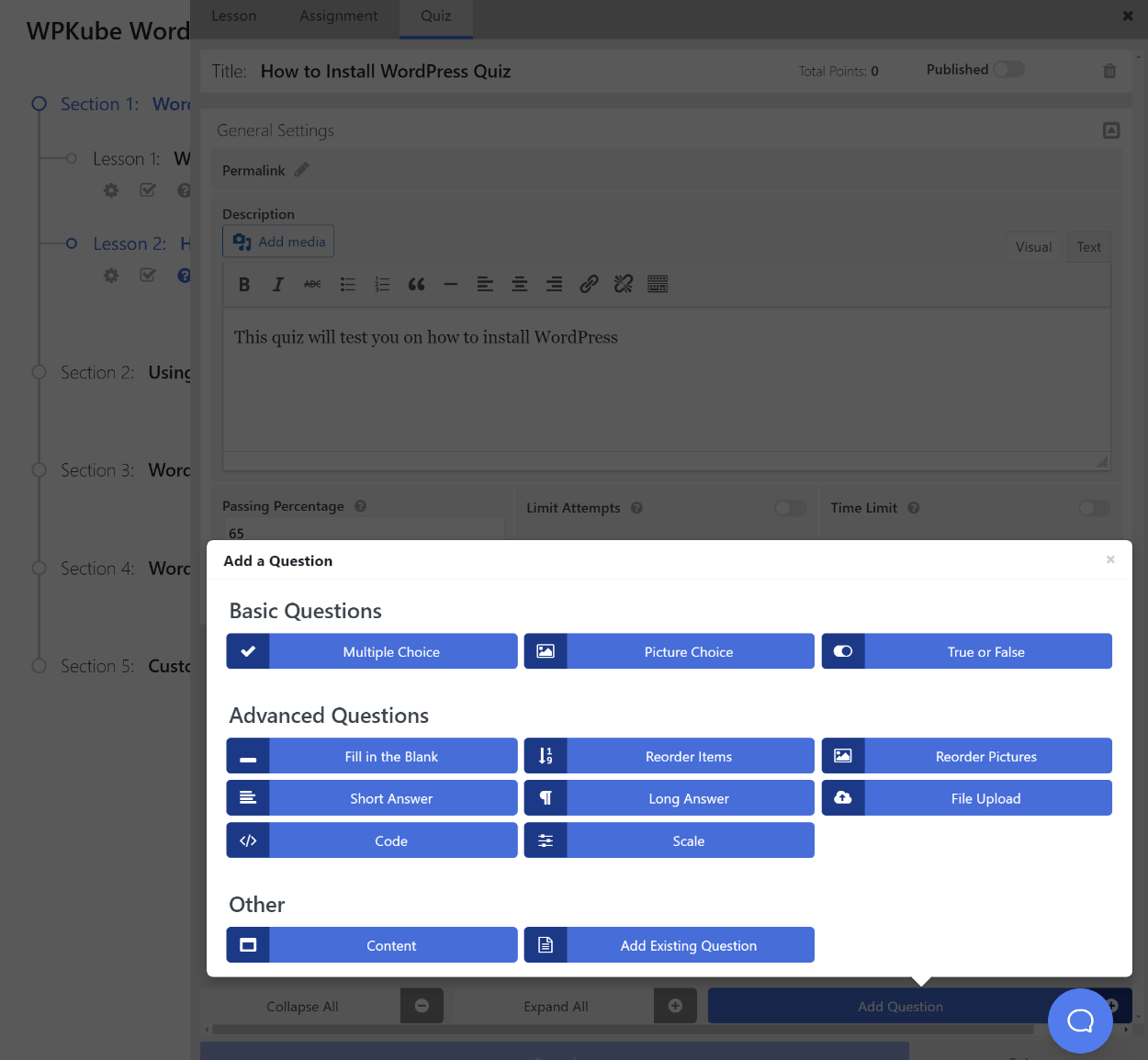 And that's a quick look at what it's like to create quiz content with LifterLMS.
💳 LifterLMS Payment Options
If you're like many people, you're probably creating online courses with the goal of monetizing your courses and earning money. Here's how LifterLMS helps you do that…
Charging for Course Access
To charge for access to your course, LifterLMS lets you create Access Plans when you edit a course's settings.
When you create an access plan, you can choose from three payment options:
Free
One-time payment
Recurring payment (on a custom schedule).
You can also set expiration dates – e.g. whether it's lifetime access or only for a defined period.
For recurring payments, you can also set up a free or discounted trial period: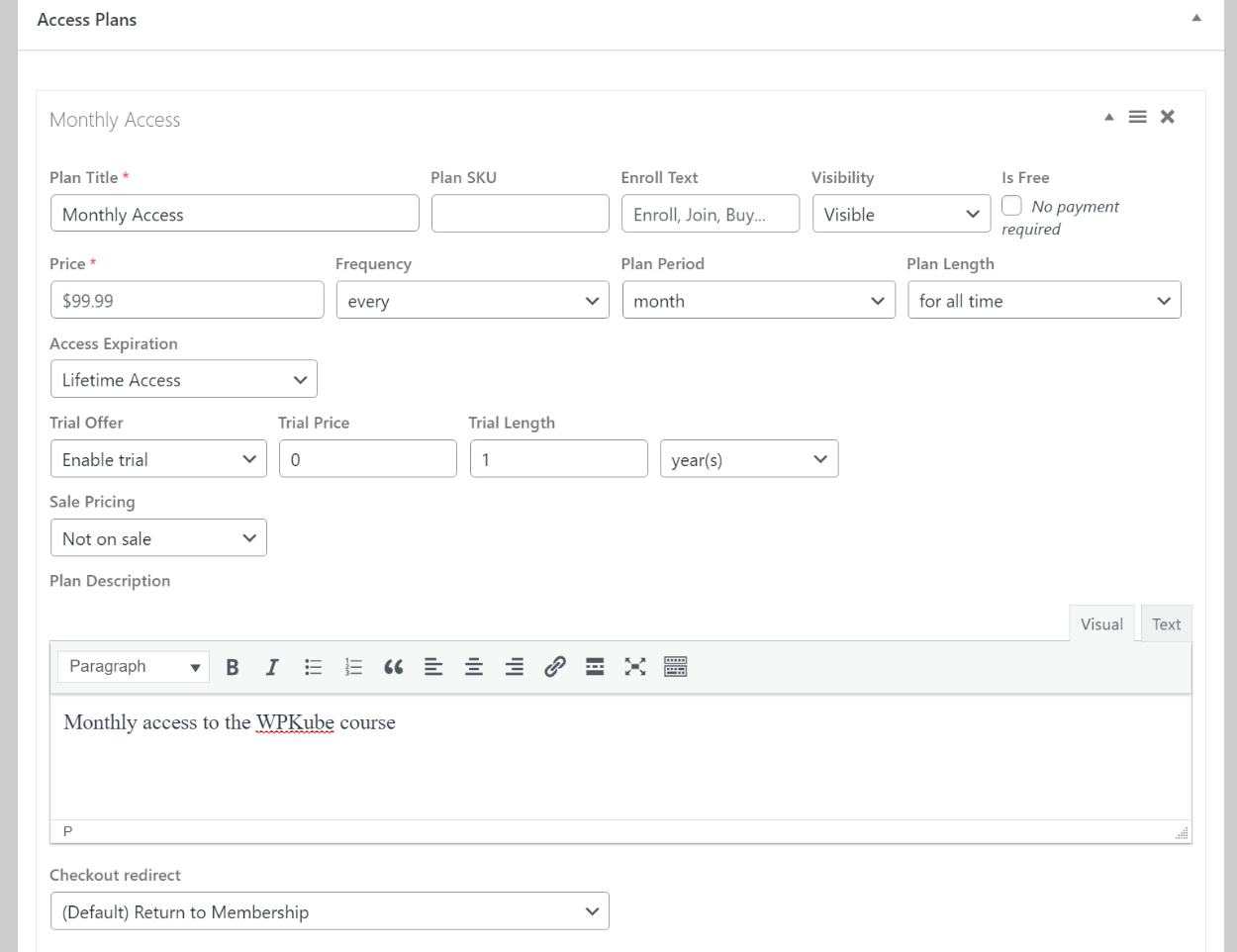 You can create multiple access plans for a single course, which gives you a lot of flexibility for pricing. For example, you could offer monthly payments or a discounted annual payment. You could even add a super expensive one-time payment option that gives lifetime access.
Selling Memberships
In addition to selling courses, LifterLMS also lets you sell memberships to your site. Memberships give you more flexibility for pricing – you can use them to:
Sell access to course bundles.
Give members access to special prices on courses.
Create members-only courses.
To control access to memberships, you get the same Access Plan features that you saw above.
Sell Private Coaching Upsells
Another way to monetize your courses is to sell private coaching upsells to your existing students. You can do this with the Private Areas add-on, which lets you create a private area for individual students where you can:
Publish special content for them.
Have private discussions.
Give user-specific feedback.
Etc.
Offering Coupons
To improve your marketing, LifterLMS includes built-in features to offer sales, coupons, or vouchers for your courses.
When you create coupons, you can choose between a percentage or flat-rate discount. You can also limit their use by different conditions:
Specific courses or memberships.
One-time vs recurring access plans.
Expiration date.
Usage limit.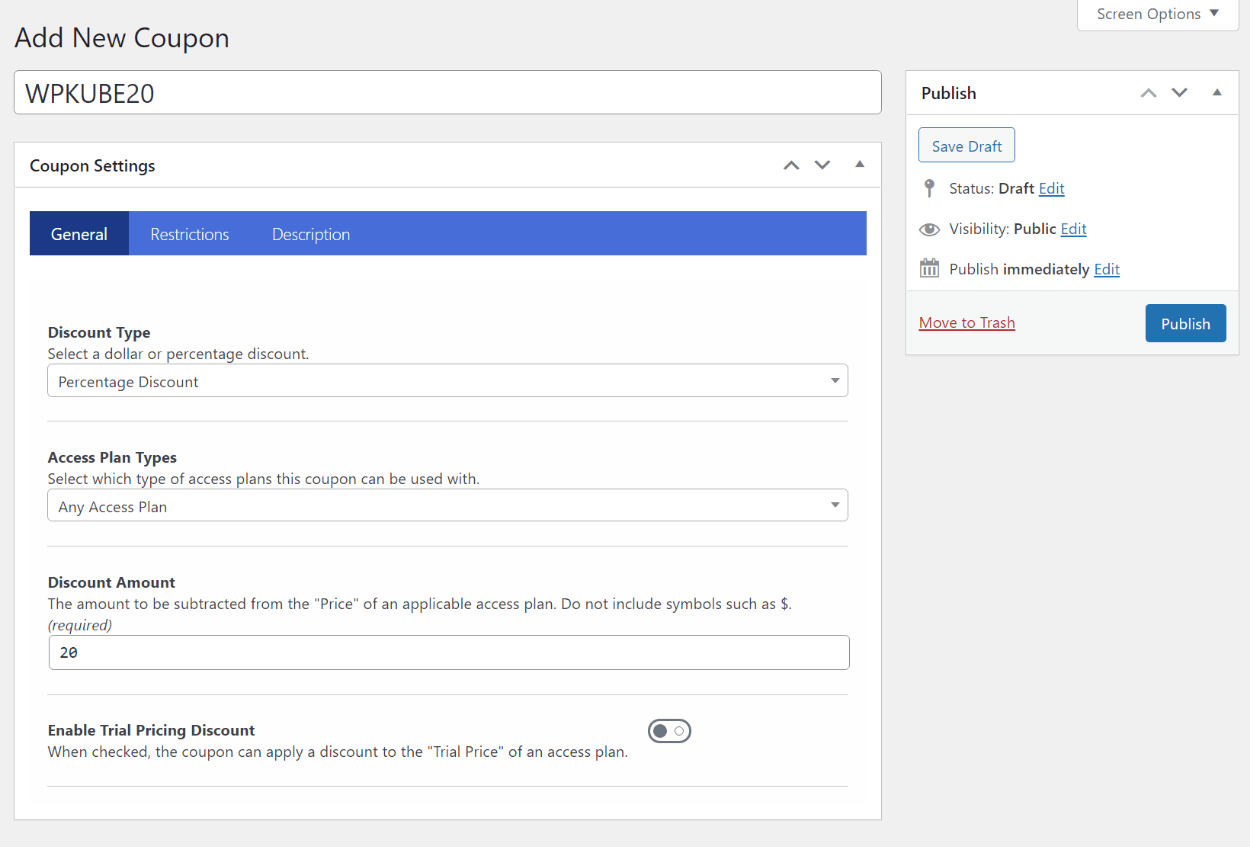 Creating an Affiliate Program
LifterLMS doesn't have its own built-in affiliate program feature, but it does offer dedicated integrations to let you integrate with AffiliateWP or iDevAffiliate.
💰 LifterLMS Pricing
The core LifterLMS plugin is free. Then, there are a variety of different premium add-ons that you can purchase individually or as part of a bundle.
In general, the add-ons cover things like:
Access to payment gateways. The free version lets you create access plans, but you need a paid add-on to actually accept online payments.
More advanced course functionality like advanced quizzes, assignments, advanced videos, etc.
Social and gamification features like social learning, groups.
Integrations with other plugins and services like popular form plugins and email marketing services.
This is where LifterLMS can get pretty expensive. Or, it can also be one of the more affordable WordPress LMS plugins.
If the actual course functionality in the free version is enough and you just want to accept payments, all you need to do is purchase a payment gateway extension, which costs $120.
This price would make it one of the cheaper WordPress LMS plugins, as LearnDash's cheapest plan is $159 (if you use our LearnDash coupon).
However, if you need multiple add-ons or a bundle of add-ons, LifterLMS can be very expensive.
If you need multiple add-ons, purchasing them individually really doesn't make sense as the individual prices are high. For example, the Advanced Quizzes add-on already costs $240 per year just by itself!
However, the bundles are quite expensive. You can get a bundle of some add-ons for $360 per year, which will work for a lot of courses. But if you want all the add-ons, that bundle costs $1,200 per year, which is pretty expensive in the WordPress space.
To sum up our review of LifterLMS pricing:
If you just need a payment gateway add-on to accept online payments, LifterLMS can be cheap. Many online courses will be fine with just the free core LifterLMS plugin.
If you need a bundle of add-ons, LifterLMS is one of the most expensive LMS plugins.
Either way, you can save money using our LifterLMS coupon code.
If you want to test out all the premium features, you can also pay $1 to unlock a 30-day test site with all the premium add-ons.
👍👎 LifterLMS Pros and Cons
As we get close to the end of our LifterLMS review, let's summarize its pros and cons…
👍 Pros
The drag-and-drop course builder makes it very easy to set up your courses.
LifterLMS has good support for video lessons.
You get very flexible payment options, including one-time and recurring plans, free trials, bundles, private upsells, coupons, and more.
The front-end experience for course takers is very good, as long as you choose a good LifterLMS theme.
LifterLMS can be cheap if you just need a single payment gateway add-on.
You get built-in membership features, which eliminates the need to use a separate WordPress membership plugin.
👎 Cons
LifterLMS can be very expensive if you need multiple add-ons (instead of just a single payment gateway add-on). The bundles are $360 or $1,200 per year, which is a lot more than a plugin like LearnDash.
⁉️ LifterLMS FAQs
Here are some common questions you might have about LifterLMS…
Is LifterLMS free?
The core version of LifterLMS is free and the free version has everything you need to create basic courses. However, if you want to charge for your courses or access other advanced features, you'll need to pay for premium add-ons or a premium bundle.
How much is LifterLMS
The core version is free. You can purchase individual LifterLMS extensions from $120+ each. Or, you can purchase bundles of some/all extensions for $360 and $1,200, respectively.
Does LifterLMS work with Elementor?
Yes – you can easily integrate LifterLMS with Elementor with the help of some popular third-party extensions. Lifter Elements is a popular option and you can also find other LifterLMS – Elementor integration plugins.
Which is better, LearnDash or LifterLMS?
This is a complicated question. In general, LifterLMS can be better for free courses or if you just need a simple payment gateway, while LearnDash is usually a more affordable option for advanced courses.
What are some examples of websites using LifterLMS?
If you want to see live examples of online courses powered by LifterLMS, you can browse the official LifterLMS showcase.
🏁 LifterLMS Review Conclusion
Overall, LifterLMS is one of the top WordPress LMS plugins because it has:
A convenient drag-and-drop course builder.
Flexible options for selling paid access to your courses on a one-time or recurring basis.
A user-friendly front-end experience (this depends somewhat on your theme, but LifterLMS does a good job as long as you pick a good theme).
Built-in membership features, along with useful features like content restriction, content dripping, group memberships, and more.
The free core plugin has enough functionality for most online courses. If you're offering free courses, the free plugin is all you need. And if you want to make money from your courses, all you need to do is purchase a payment gateway add-on for $120+.
If you fit in this situation, you should absolutely consider LifterLMS. Make sure to use our LifterLMS coupon to save some money.
However, if you need multiple premium extensions (like the add-ons for Advanced Quizzing and Assignments), LifterLMS can be very expensive, with the full bundle going for over $1,000. This makes it very expensive compared to other options. So if you find yourself in this situation, you might want to consider LearnDash as a cheaper, but still great alternative (read our LearnDash review). Or, you can also think about one of the other popular WordPress LMS plugins.
Do you still have any questions about LifterLMS or our LifterLMS review? Leave a comment!