Blogging is a staple of WordPress. Despite the platform being a full fledged Content Management System (CMS), there's still a place for a good, old-fashioned blog. 'Mom blogs' are some of the most popular, and there are a wealth of excellent themes available to help set yours up.
Given the subject matter, you'll want to find a theme using pastel colors by default, and a readable font. There are other considerations, but this is based on your own needs for your blog.
In this post, we'll roundup some of the best mom blog themes for WordPress. Before this, we'll define what a mom blog is, and help you choose the features you need in your selection.
What a 'Mom Blog' Is
In a nutshell, a mom blog is based on parenting. It can also encompass general lifestyle topics, but there's always a focus on the relationship between a mother, her children, and her family.
As such, there are lots of facets content could be based around. For example:
General parenting, such as handling behavior and structure.
Housekeeping and other chore-based topics.
Nurturing a child, whether through hobbies or education.
Cooking and nutrition.
Mental health and keeping yours strong in the face of parenting challenges.
It's worth noting that these topics aren't just for women. 'Dad blogs' also exist, and they can cover the same subject matter. Even so, this post will look at mom blog themes, although there is some natural cross-over.
What You Should Look for in a Mom Blog WordPress Theme
Because of the subject matter, your requirements for a suitable mom blog theme can be broad. First off, consider the following as essential regardless of your site's focus:
This is almost a bare-bones fundamental list, but a blog isn't a complex website in many cases.
We also think there are a few other elements that could make up your mom blog, given your goals:
eCommerce functionality, if you're planning on selling products (ideal for craft-based mom blogs).
A way to present recipes for an international audience.
Social media integrations, if you plan on connecting all of your channels.
Of course, if you have a specific goal in mind for your mom blog, you should look into whether your chosen theme can help you implement it. If not, there will often be a plugin to help you. Though, our advice is to choose a theme that covers as many bases as possible.
10 of the Best 'Mom Blog' Themes for WordPress
Before we dig into each mom blog theme, let's give you a roundup of each one:
As always, these themes aren't presented in any particular order. This means you should take a look at those of interest, but also come back to the others to see if they hold some charm for you.
1. Elementor
For our first mom blog theme, let's bring out the big guns. Granted, Elementor isn't known as a mom blog theme. Still, as we've covered on the WPKube blog in the past, it can turn its hand to almost any niche or industry: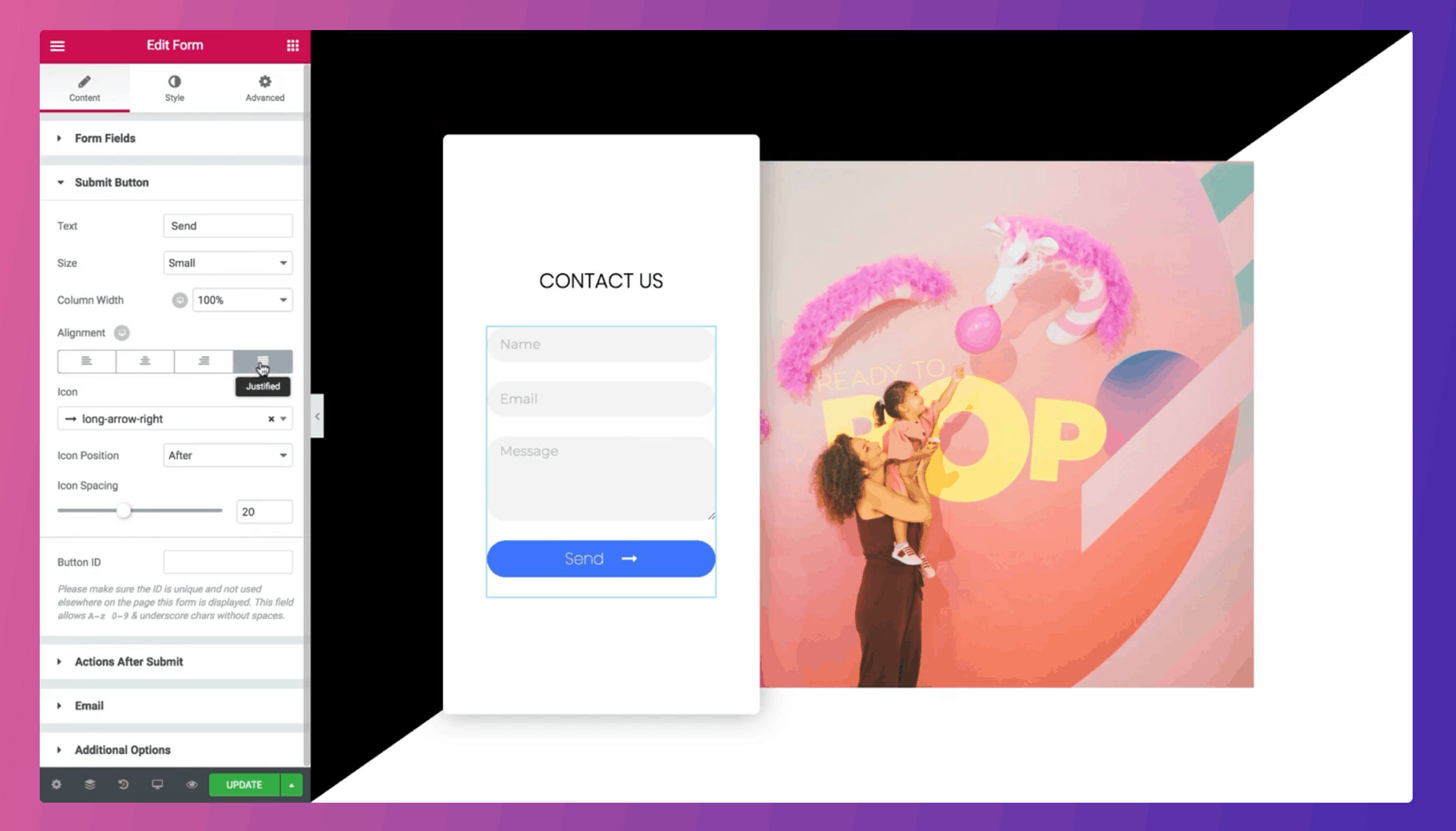 It uses a drag-and-drop page builder to help you create your layout. If you're struggling for time, or you want some help in creating your site, there are a lot of layouts to choose from using the Template Library: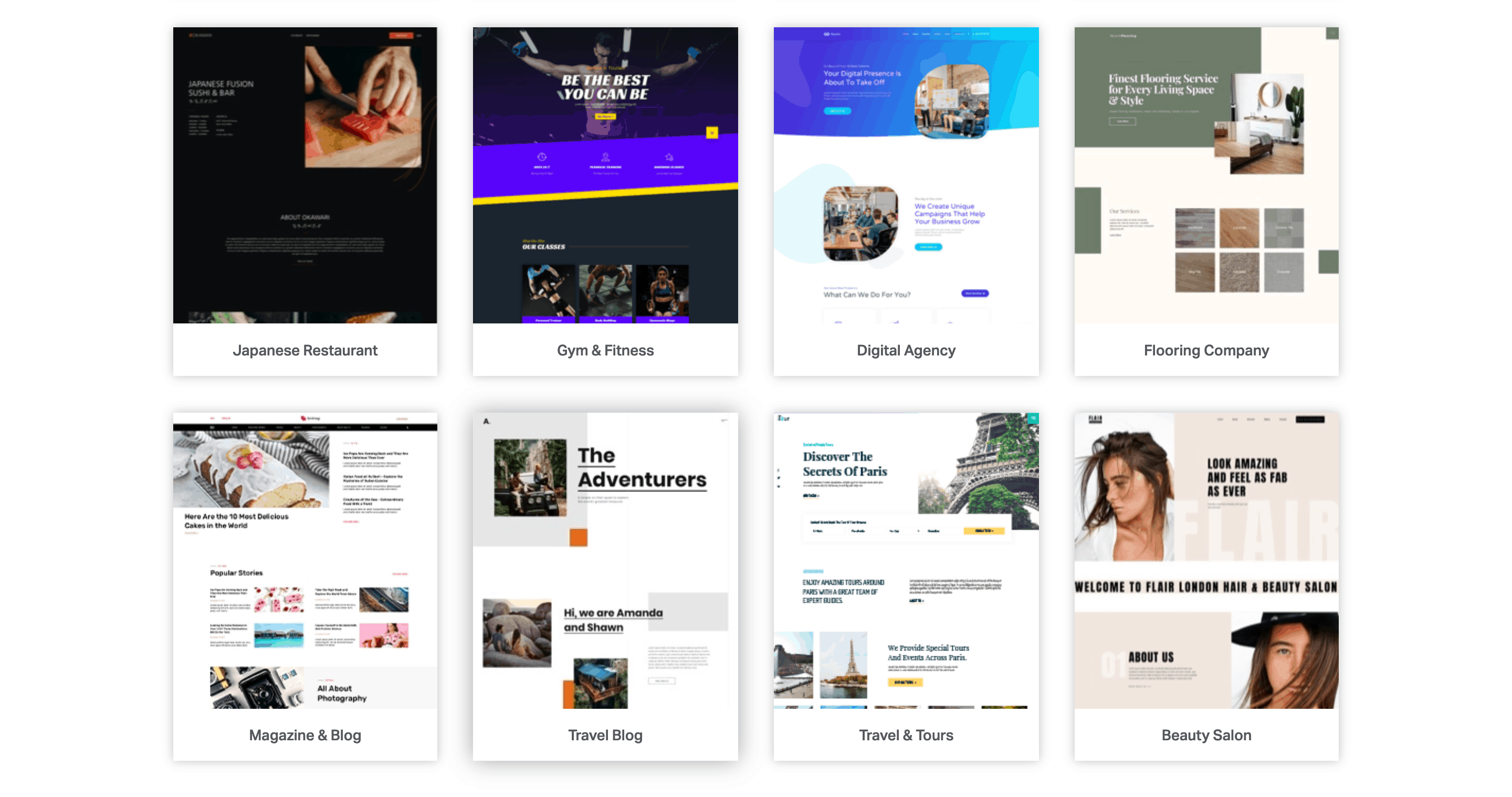 Given the number of 'kits' available (in other words, pre-built layout collections), you may not even need to touch the page builder. Still, for $49 per year, you'll have all you need to get started, and almost everything on hand for the future of your site.
👉 See our full Elementor review.
2. The Essence
The Essence is our penultimate theme on this list of best mom blog themes, and it comes from our sister site, MeridianThemes. It has some classic 'lines', which means it will be a familiar proposition for many users: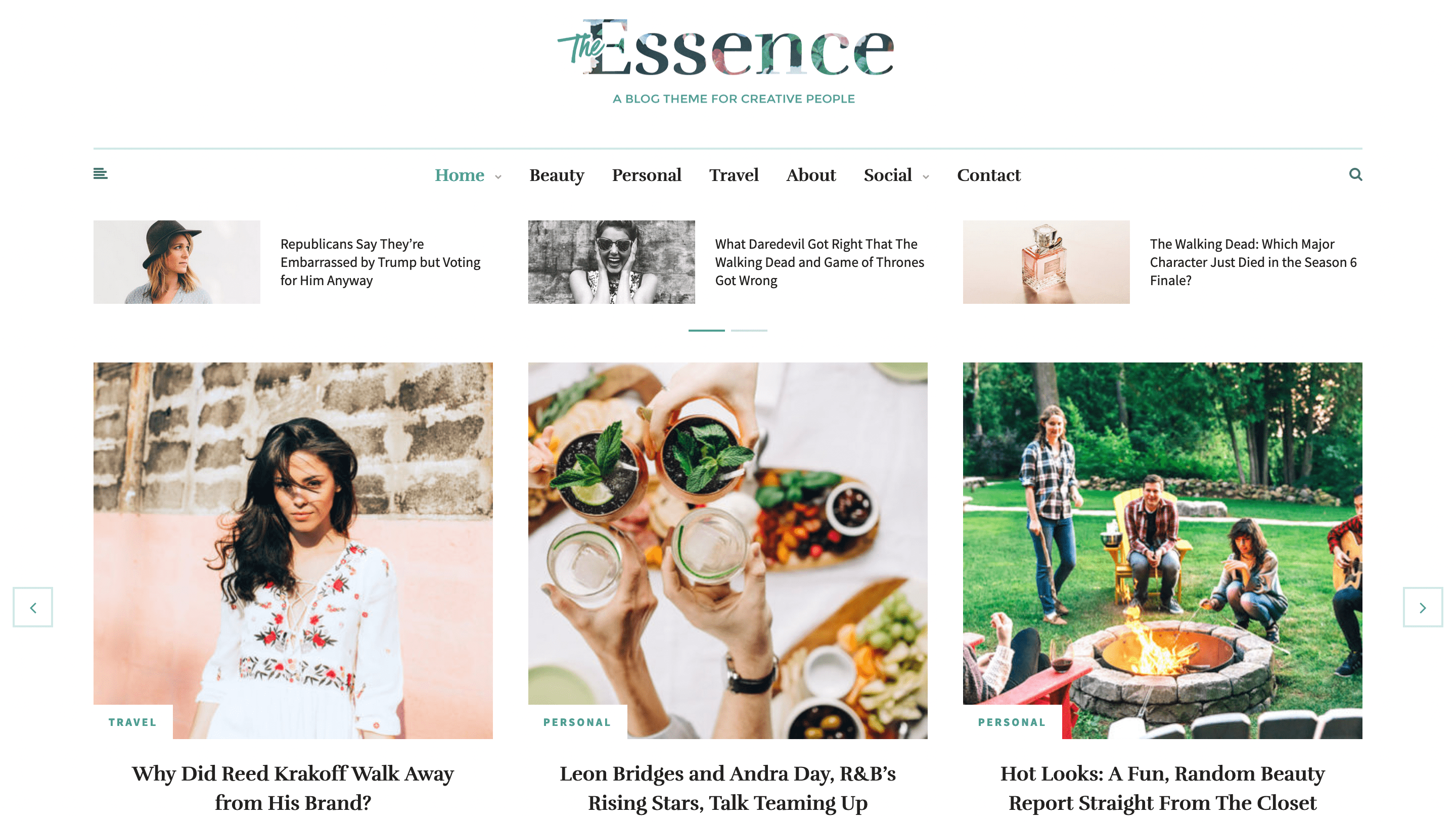 The default color scheme and look is based on feminine colors, although there are customization options in the box. This lets you tailor your theme to your exact requirements. That's not all. There are a bunch of ways to add further attractive elements, such as the custom home page promo boxes: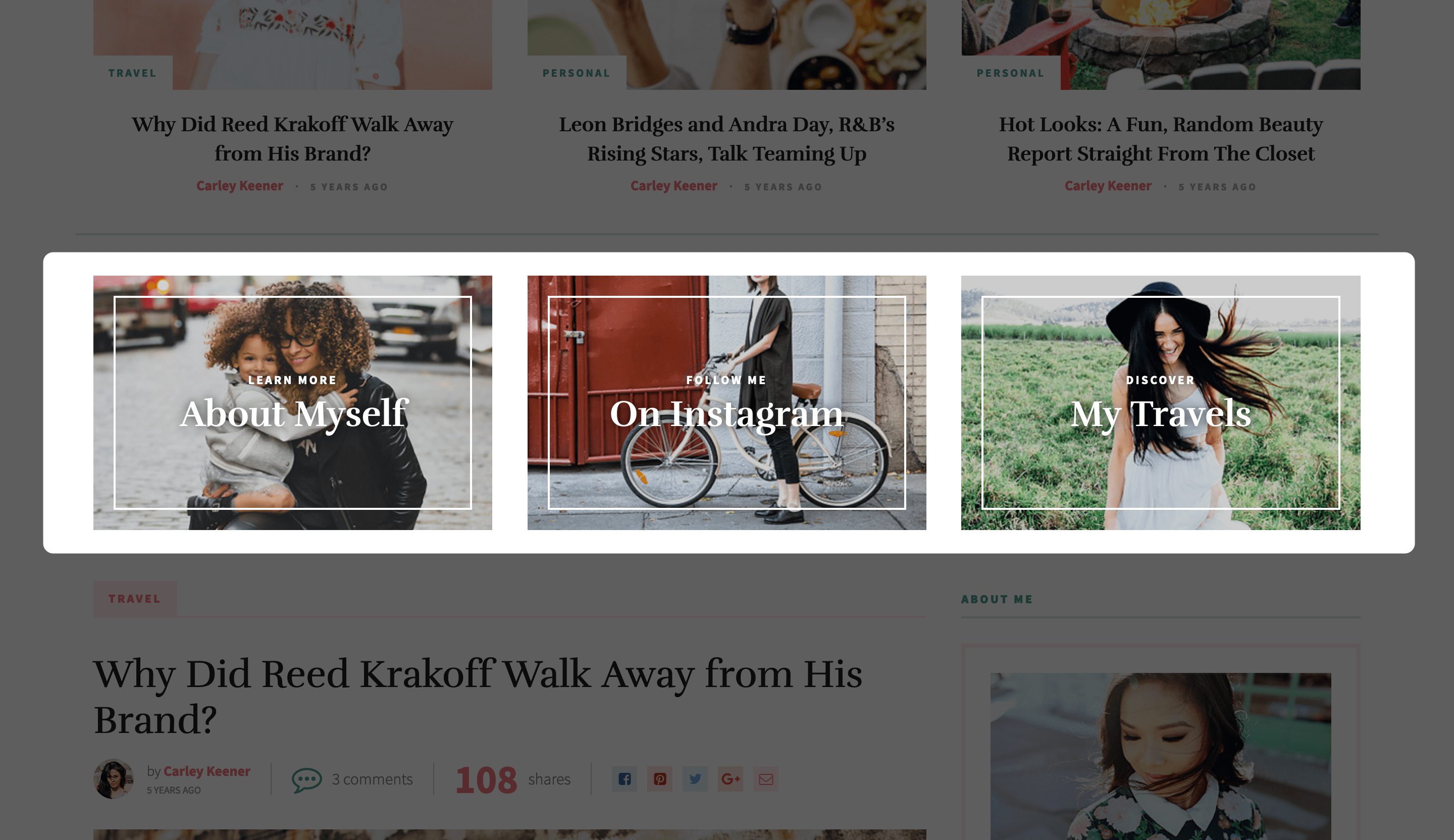 There are also lots of custom widgets to use, in case you have a need to change how your sidebar or footer looks.
Speaking of layouts, there are over 17 blog layouts on offer, and built-in social sharing options. This lets you send visitors to your other channels, after they've finished reading your posts.
The Essence is a no-fuss blog theme that will suit those with a clear idea in mind. For $59, it could be money well spent.
3. Blossom Mommy Blog
Next up, Blossom Mommy Blog is a freemium theme that's focused on mom blogs (hence the name).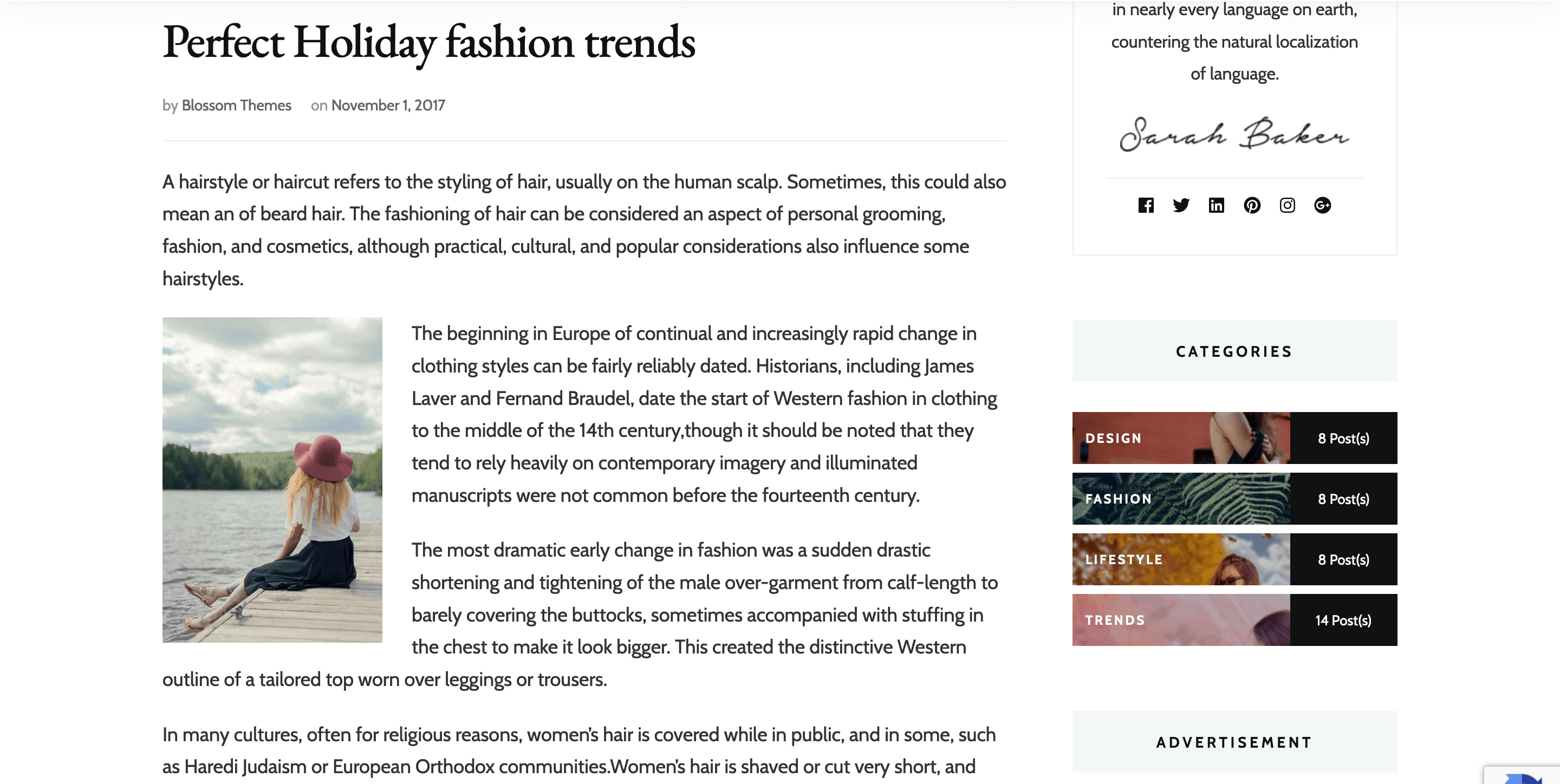 It's spacious and easy to digest, with big natural font sizes and bold colors. Blossom Mommy Blog is interesting to look at, and minimalist without being overpowering.
Of course, there's a focus on stellar blogging and the free version could offer you everything you need to get started. The premium version packs in lots more though.
You get a whole host of blog layouts, header styles, background image patterns, and more. There's also room for advertising, if you're planning on monetizing your blog.
On the whole, Blossom Mommy Blog is a functional theme with a lot under the hood. If you factor in the premium features, there's a lot to sway you.
4. Peggi
Peggi is a theme for daycares and other children's institutions. Still, this doesn't mean it's unsuited to mom blogs. In fact, you may find it's overpowered for the simplest of sites.
There are six layouts to choose from, and despite the e-commerce focus, there will be something for everyone. Peggi is by far the best-looking and relevant theme on this list, even in its default setup: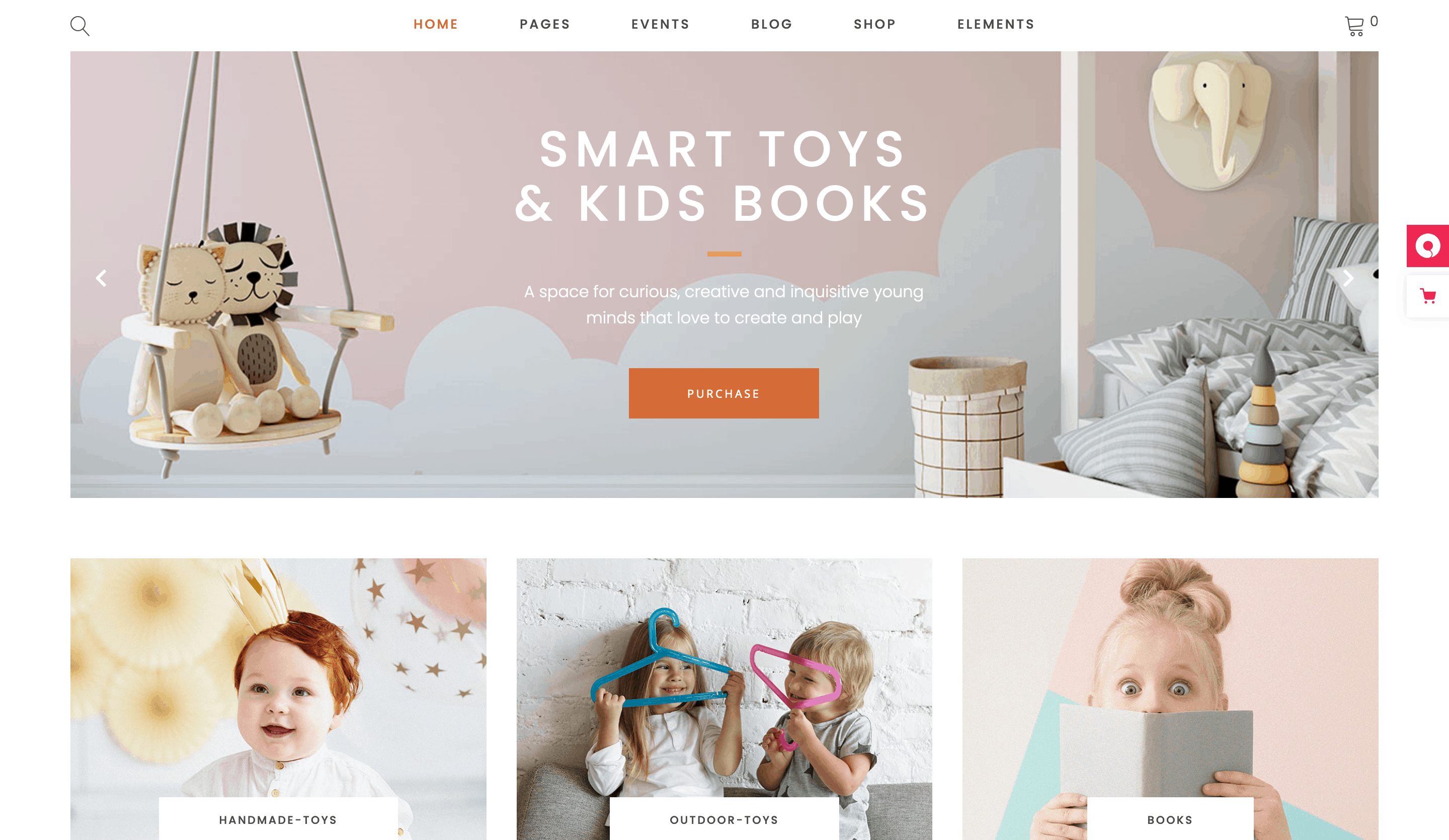 Overall, Peggi is going to suit sites with grand plans. At first, you'll find that you're barely scraping the surface of what the theme can offer. Once you build a brand and begin monetizing your blog, the other aspects of Peggi will come to the fore.
As for price, Peggi is $75 for a one-off payment. This is expensive for a theme, although if you're ticking all of your boxes, it's going to be money well spent.
5. Authentic
Again, Authentic doesn't class itself as a mom blog (much like many themes on this list). Though, there's lots of cross-over with lifestyle and magazine blogs.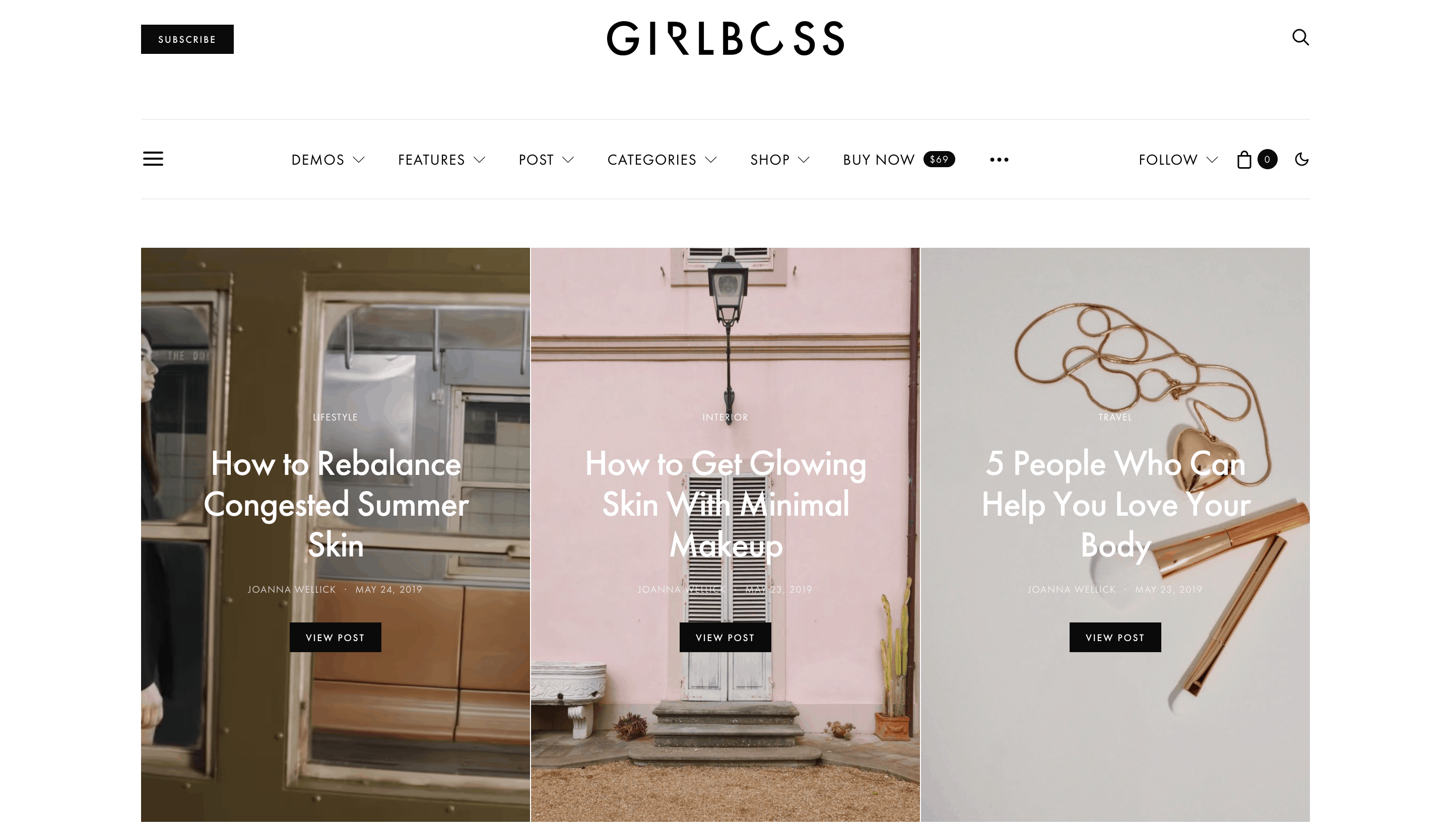 There are 50 demo layouts available, although there's a fair bit of repetition between them. Still, there are some good examples of blog layouts that will suit a mom blog.

There are a lot of customization options for Authentic too, with a deep pool of font choices, colors, header styles, and more.
You also get some premium plugins bundled in. For example, Canvas is a Block-based drag-and-drop page builder, and the Absolute Reviews plugin lets you create gorgeous front-end styles for review posts.
Authentic costs $69 for one site, and this is a one-off fee. Because it's hosted at ThemeForest, you may have to pay additional fees down the line if you want to reactivate support.
6. Ariel Pro
Ariel Pro falls into the 'functional adaptive' mom blog themes on this list. In other words, it doesn't offer unique functionality, and isn't billed as a theme for mom blogs.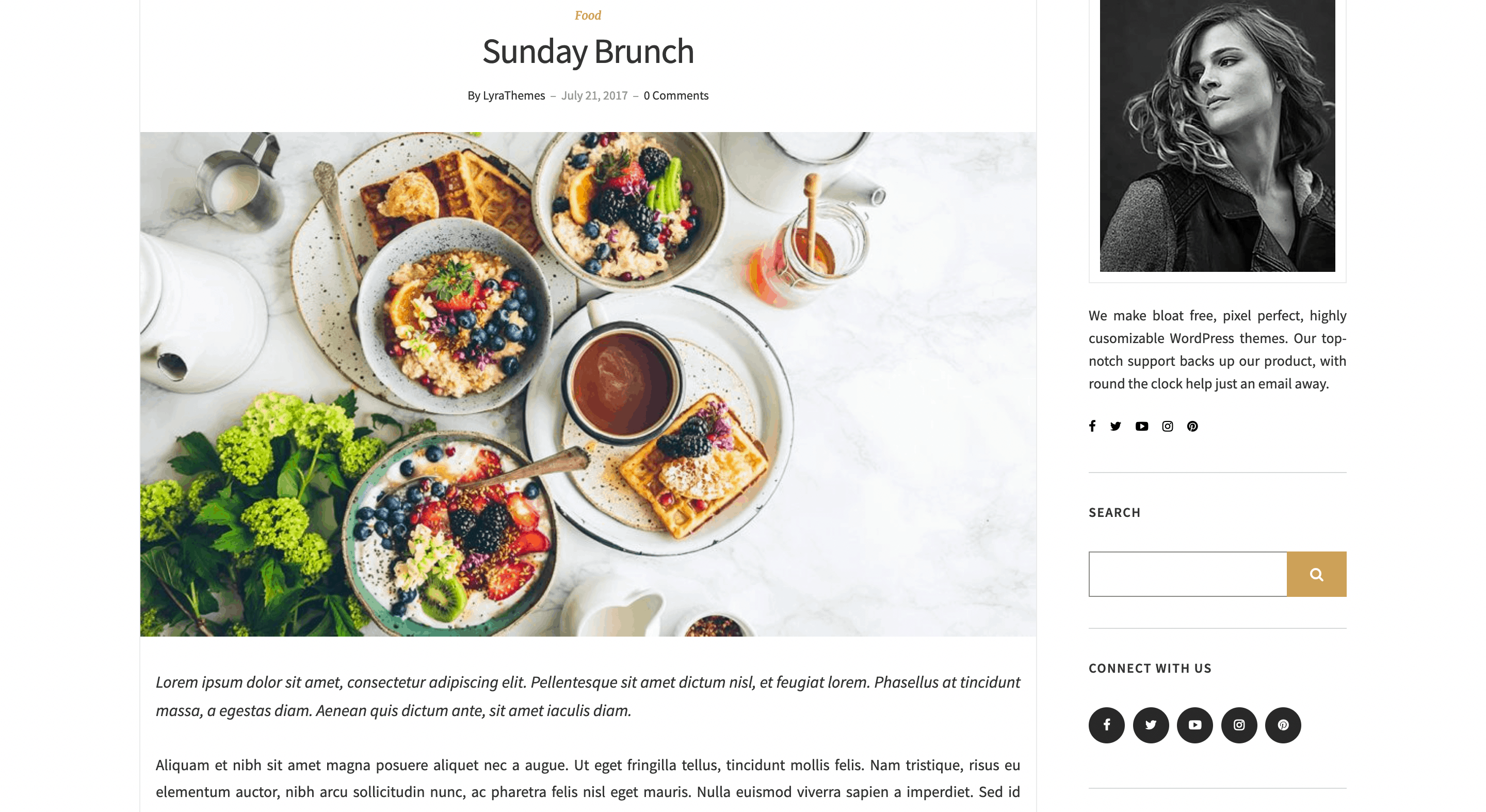 Despite this, there's lots to unpack, and it can do the business for your site. There are a number of header styles, and what's termed a 'power sidebar'. This means there are lots of options available to add, and your site will likely lean heavy on the included options.
You'll also find a way to integrate social media into your site, which is not something included in many themes as standard. What's more, you're able to integrate your Mailchimp account. This is going to be great for building an email list and sending out newsletter content.
For $35, Ariel Pro is a steal, given what's in the package. The unique monthly billing option for support and updates is novel too, and we can see this pricing structure being a draw for many mom bloggers.
7. Happy Baby
Much like Peggi, Happy Baby is all about children's services. Also like Peggi, Happy Baby has plenty to offer for wannabe mom blogs.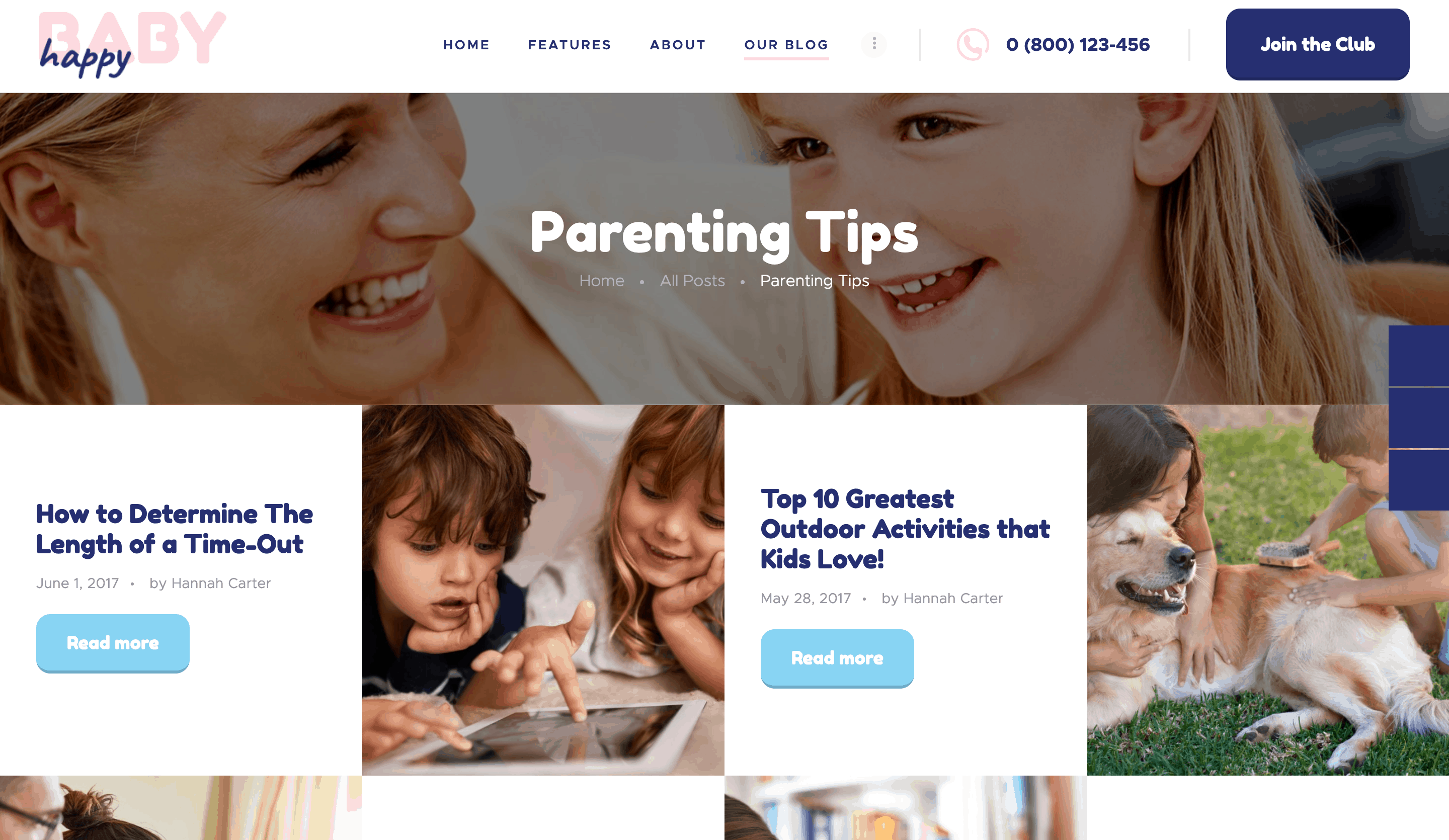 The default color scheme and typography choices are spot on for the niche, and the section layout is lovely to look at too: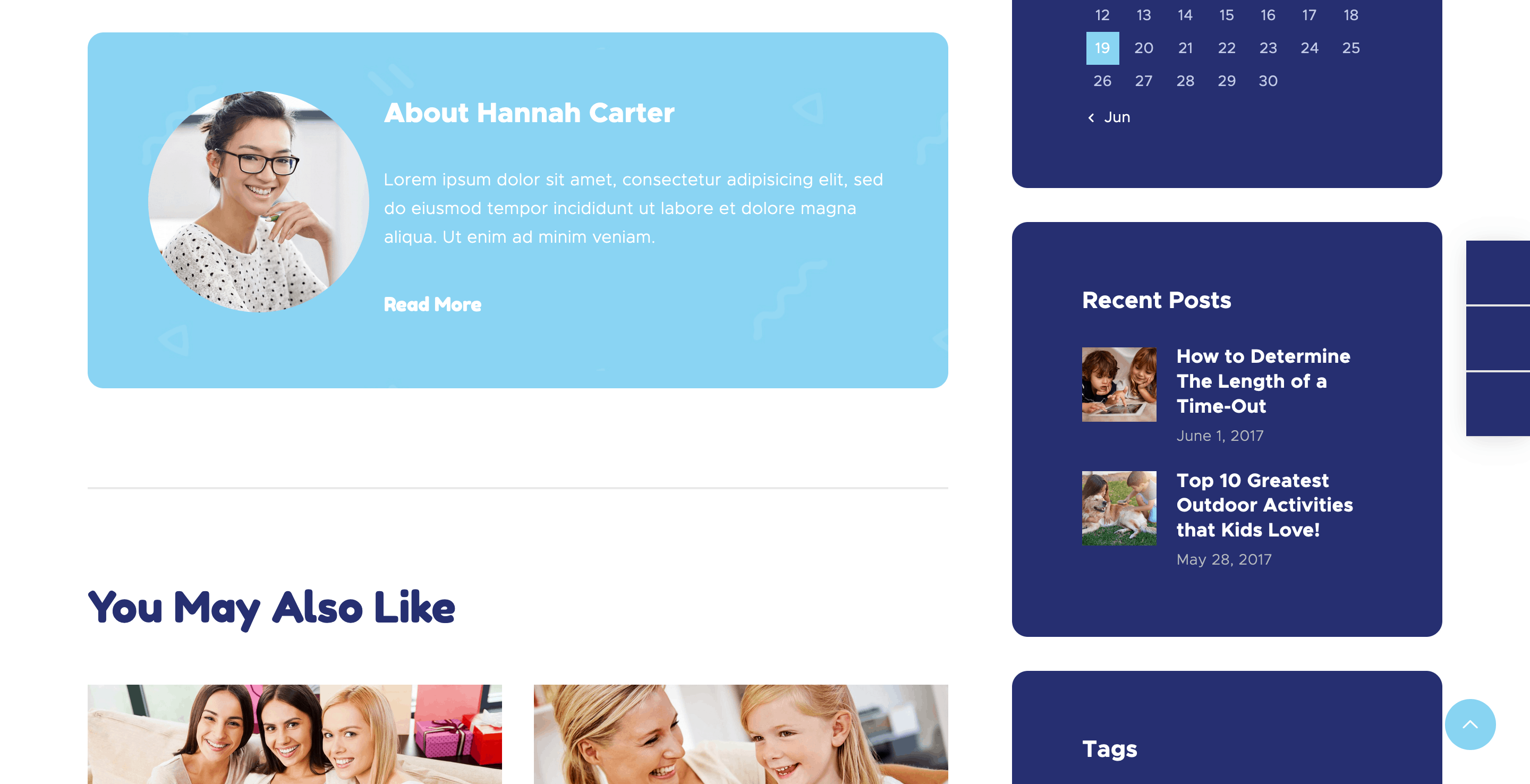 Happy Baby focuses on little ones, unlike many of the other mom blog themes on this list. Because of this, it will suit blogs writing about the very young and how to look after them.
Though, if you have a different approach in mind, you can press the WPBakery Page Builder plugin into service, and customize your site to your liking.
Happy Baby also bundles other plugins into the $59 package too, such as Slider Revolution, Booked Appointments, and Essential Grid. On the whole, Happy Baby is a solid theme that could suit you out of the box.
8. Classic Wedding
We've mentioned a few themes on this list that don't fit the mom blog niche, and Classic Wedding is no exception. Still, getting creative with the designated style of the theme is a good idea. It fits in this case due to the default layout.
In particular, we like the default color scheme and overall presentation. Of course, you're not going to keep much of the wedding-based theming, but the pastel color scheme and layout work well for a mom blog.
The theme itself is free, but there's also a premium version available. If you're on a budget, this theme plus a free version of the Elementor plugin would work wonders – you may not need anything else.
9. Foodie Pro
Our next theme on this list is a classic in the lifestyle blogging space. Foodie Pro is the base of many sites across the web, not only for food blogs. We think it makes a great mom blog theme too.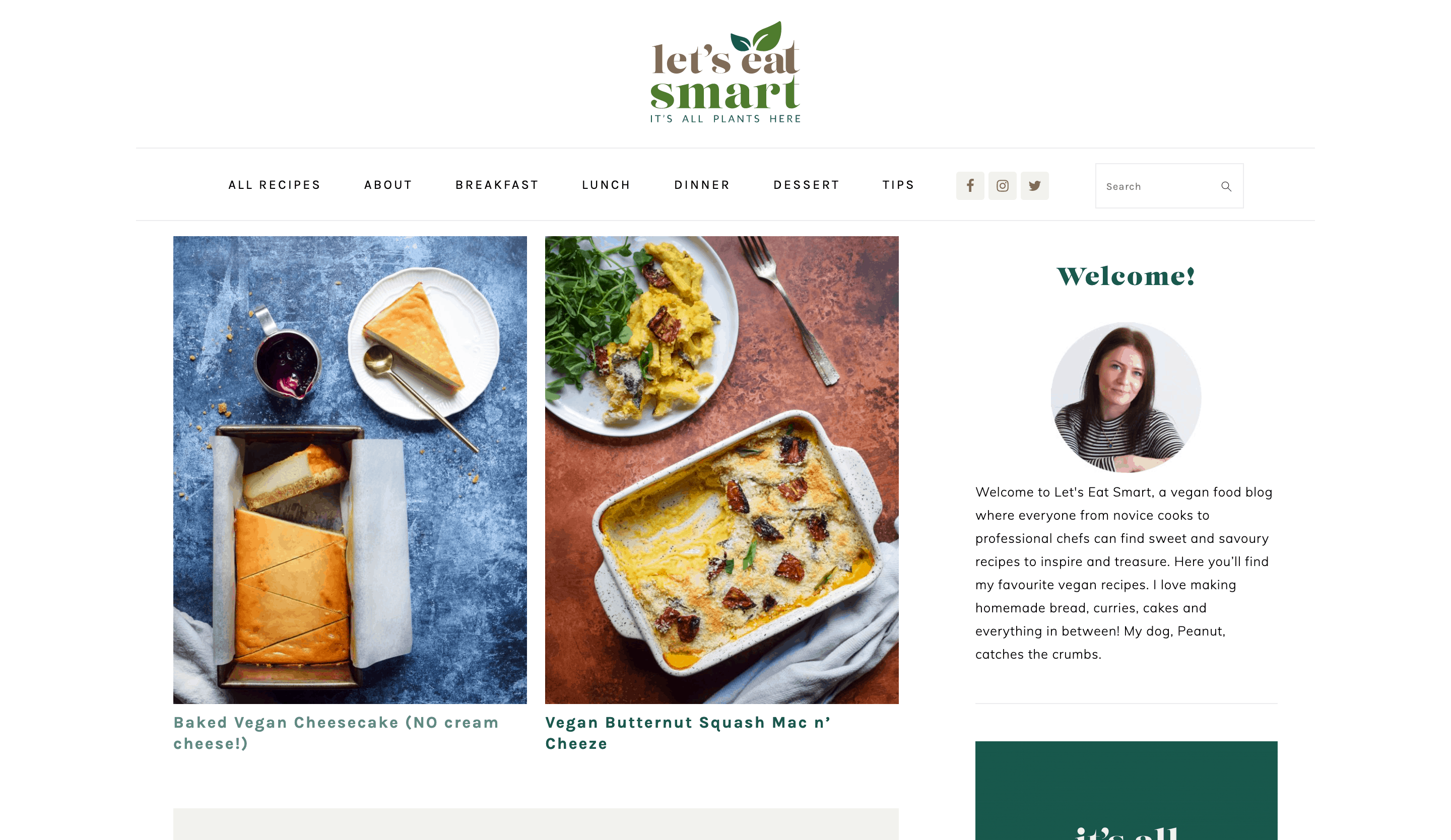 Of course, it helps that recipes will feature on your site, but it doesn't have to be the main focus. This is because of the developer's stellar reputation for making sure the whole site looks great.
As such, you could blog as a primary concern, and use the built-in recipe format when required: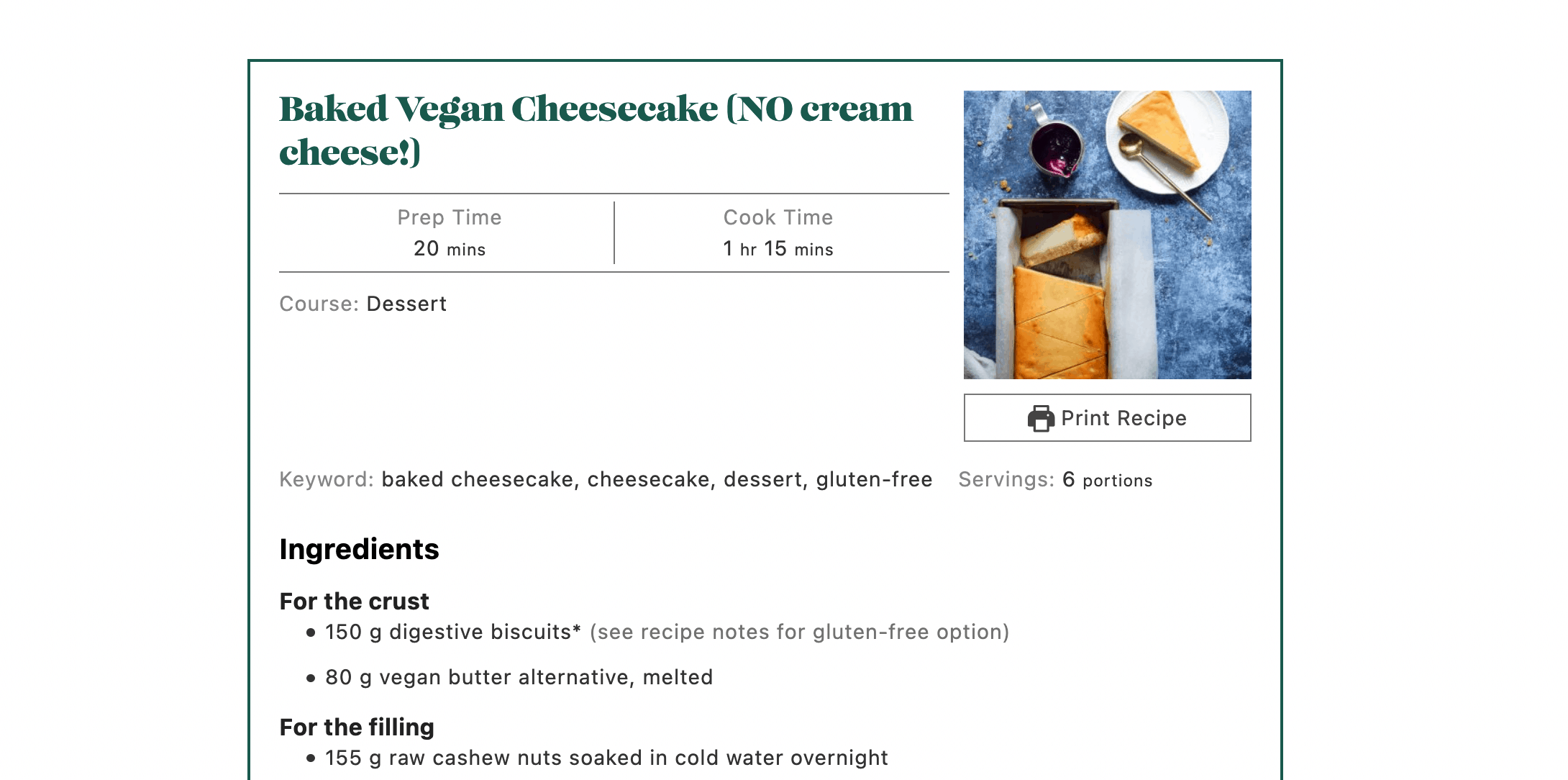 Though, your scope for customization isn't as wide out of the box compared to other themes. Given this, you'll need some coding skills, or the budget for a solution such as Design Palette Pro, which is a compatible customization plugin.
The theme is $75 for new customers, which is almost 50 percent cheaper than it used to be. While it could have been an expense you balk at, it's now at a reasonable price. On the whole, Foodie Pro is a stellar theme that's well-worth the money.
10. Florentine
The final entry on our list of best mom blog themes is Florentine – again from MeridianThemes. This time, the theme focuses on food blogging. It's a niche popular with mom bloggers because it's all part of the lifestyle.
The design is bold, with a front-page post viewer that will direct visitors to your most recent posts. The typography is chunky, and the color scheme is understated. Though, given the built-in customization options, you can change things up if you need to.
Where Florentine shines is in how it displays recipes. There's dedicated functionality to help you display well-formatted recipes, without the need for code: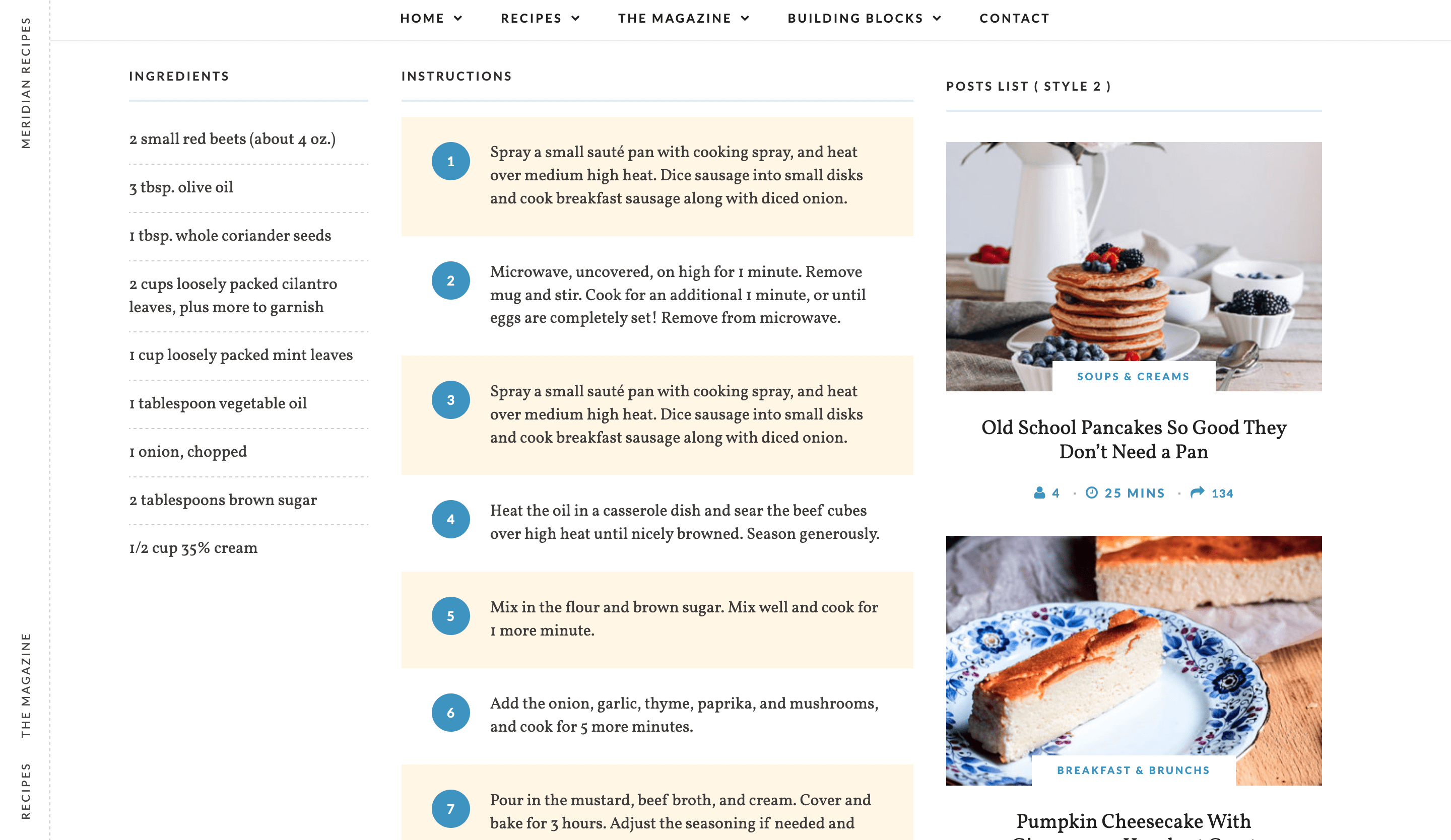 What's more, there's a built-in 'distraction-free' mode to help readers focus on the recipe, rather than the design of your site: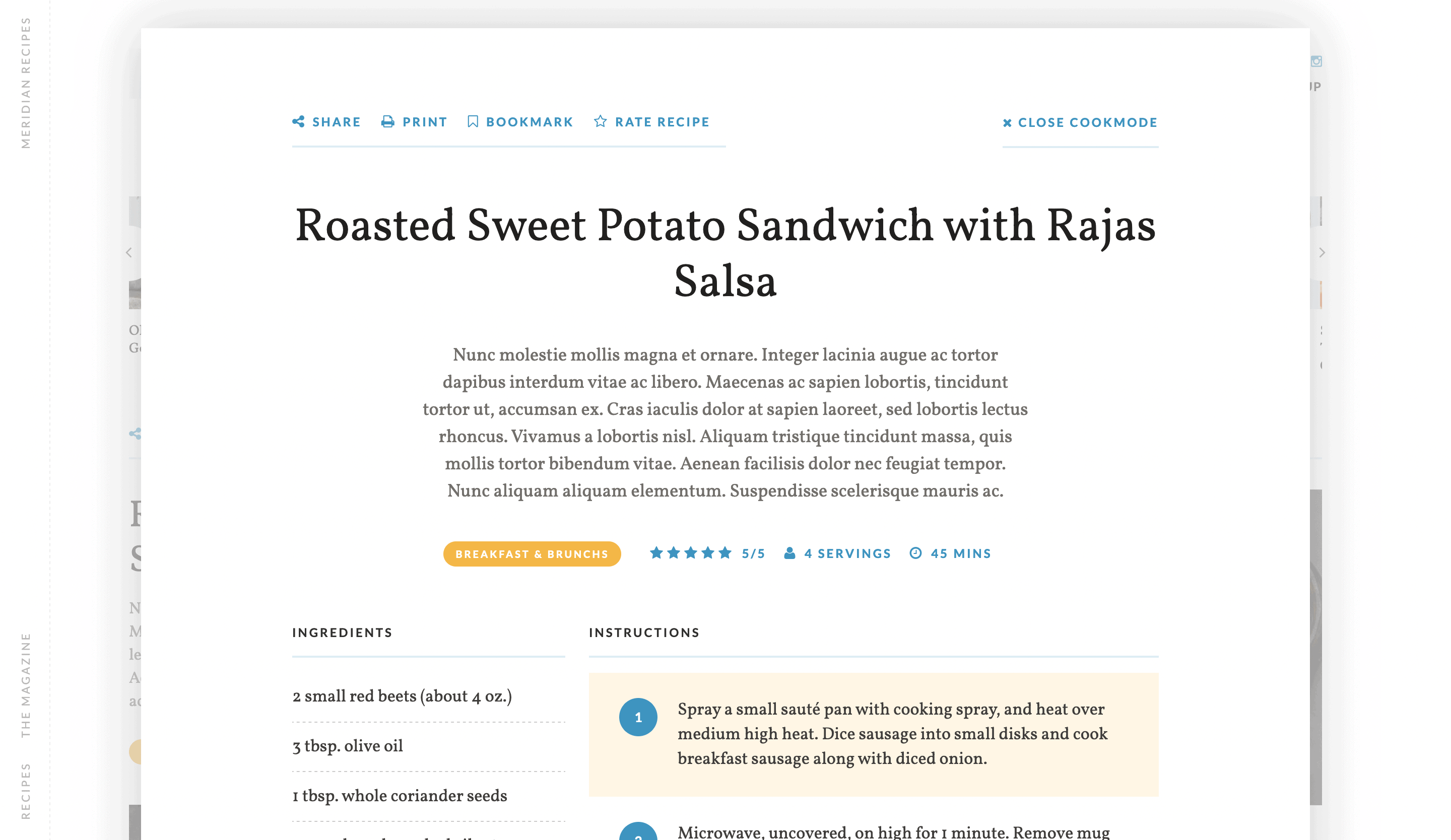 For $59, Florentine is going to be a top contender for your mom blog, especially if you're posting recipes. In fact, it could suit a straight-up food blog too, given the functionality.
Summing Up
Mom blogs are a great way to connect with parents, and share some of the knowledge you've gained throughout your time raising your children. What's more, there are lots of good mom blog themes for WordPress, which makes setting a site up a snap.
This post has looked at 10 of the best mom blog themes for WordPress. A theme based on the Genesis Framework is going to guarantee that your site will function well, and look slick. On the other end of the scale, Elementor gives you almost all of the power you need at your fingertips. In between are sites such as Blossom Mommy Blog, which offer good functionality and a shallow learning curve.
Do any of these mom blog themes interest you, and why? Let us know in the comments section below!