The days of waking up to your morning coffee and newspaper are over. Now, news does not come to you only in the morning. (Same goes for coffee, but that's another story) Today, news streams 24 hours into your living room. And if you want it more personal, it's available at a click of the mouse on your desktop or laptop, or at the tap of a button on your mobile or tablet.
With news moving to online format, it's accessible 24/7 in a very personal way. Many newspapers have a digital version as well, and they have popular websites. Many of these websites are hosted on WordPress – Reuters, Forbes, BBC America. There are many niche news sites as well – tech news, travel websites, sports websites.
All newspaper or news websites have one thing in common – they are content heavy. To make reading easy a website must:
Organize the content neatly, or else, it will appear cluttered.
Offer easy navigation, so menus and pagination are important.
Present a neat layout, capturing all the news on a single screen from where you can move onto the details.
Allow readers to catch up on news and reading while on the move. This means they read on hand-held devices. So the website must be responsive and size down correctly to mobiles.
There are many WordPress themes designed for magazines and newspapers that can help you set up a website quickly, customize it and arrange content as you like. These themes can be used by small blogs as well as large publications.
Here, we'll showcase 23 themes that you can consider for your own content-heavy blog or website. Keep in mind that the themes you choose must be 100% responsive, otherwise you will lose a sizable chunk of the readers who view the news on mobiles.
01. Extra WordPress Theme
The Extra WordPress theme comes from the popular Elegant Themes shop. The USP of this theme lies in the Divi drag-and-drop Builder that comes with the theme.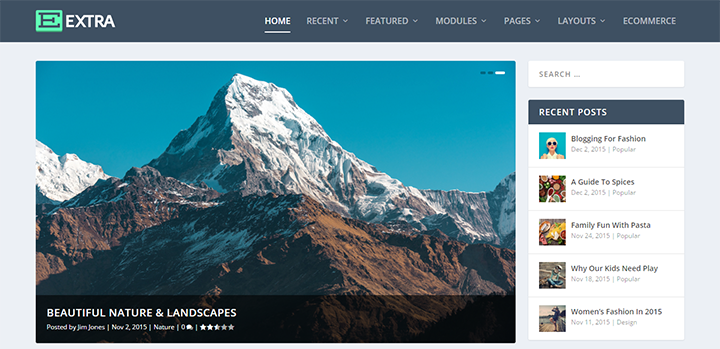 With the help of the Divi Builder, you can use the drag and drop functionality for customizing categories, pages, and posts. A set of posts based modules are available and they are designed specially for bloggers and online magazines. It combines well with Advanced Design settings option to help you to completely customize your website. Code can also be used, if you prefer. With Extra, you have total control over the structure and content of the layout.
A number of column structures and modules can help you with the homepage design. There are 40 content modules available, and each individual element can be customized to give your pages a distinctive look. There are 7 different post formats. Header design can be varied, and the megamenu customized. The header is fixed, but if you choose to disable this option, you can always fall back on the back-to-top button for easier scrolling. You can also add links to footer and secondary header location.
Extra comes with social media integration and a social follow widget that will help to keep track of social profiles across the web. Other widgets included are Twitter feed, recent posts display, member login, recent reviews, and recent videos.
👉 See our full Elegant Themes review
Price: $89 (10% off coupon)
02. Wonderwall
MeridianThemes' Wonderwall is a stylish yet flexible WordPress theme designed to be used on magazines and lifestyle blogs. The theme is mobile-optimized from the get-go, allowing you to deliver a pixel-perfect browsing experience to your site's visitors, regardless of which device they use to access your site.
And the best part is that Wonderwall is fully customizable and easy to get to grips with, so you can rest assured that you'll be able to customize it even if you're not particularly technically inclined. Wonderwall comes with nine different pre-made homepage layouts right out of the box. It gives you the option to add featured boxes linking back to your most popular pages. On top of this, you can choose from five different headers and four different post headers. Talk about customizability!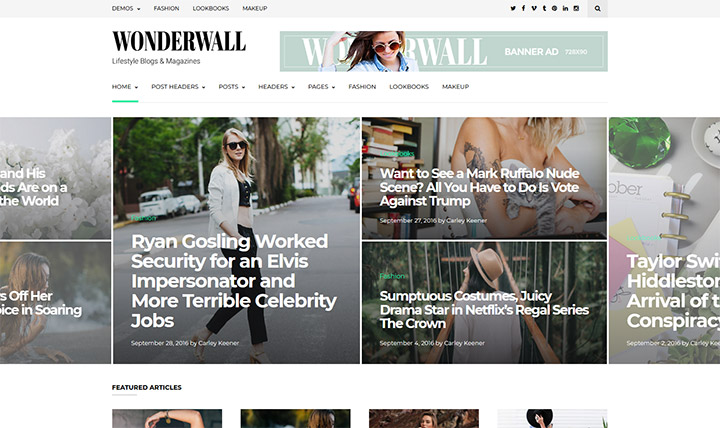 What's more is that the theme comes with a built-in newsletter subscribe widget that lets you begin to capture leads right off the bat. And its pre-integrated banner ad locations are optimized for maximum conversions and give you the option to monetize your magazine site or lifestyle blog.
You're also able to leverage Wonderwall's social profile buttons to their full potential by showcasing your follower counts on both your site's sidebar and footer area. In addition to its incredible range of features and powerful customization options, Wonderwall also comes with premium-quality support.
Price: $59
03. The Essence
Meridian Themes' The Essence is a chic blogging theme for WordPress websites that features a fully responsive design that's bound to captivate your viewers' attention. The theme's design is intuitive making it easy to use for all kinds of users, regardless of how tech savvy they might be.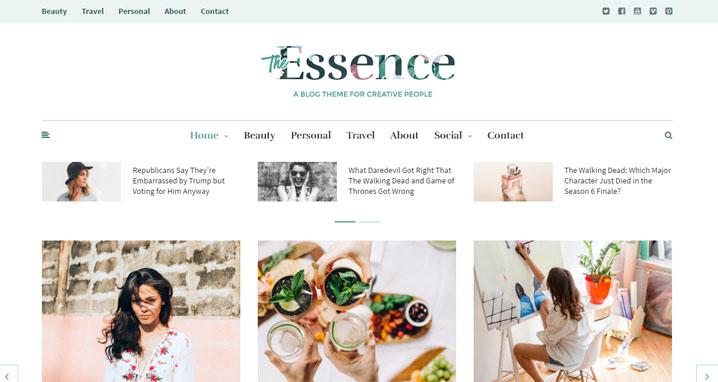 The Essence ships with a plethora of customization options that make it easy for webmasters to customize their site's design and preview the changes live. The theme comes with 17 different layouts including a three-column and four-column design. Users can also tinker with The Essence's social sharing buttons and choose from four different styles – you can even add them in the header! One of the best features of this theme is its neat and clean design that leverages white space to give off a professional yet modern look to your website.
This one of a kind theme also offers a slider to help you display your featured blog posts on your site's homepage. The Essence's elegant menu design and easy navigation make it a popular choice for personal bloggers who prioritize delivering an optimal user experience to their viewers. The Instagram widget support allows webmasters to import content directly from their Instagram and display it on their personal blogs. Pretty cool, right?
In addition to the incredible range of features, the developers behind The Essence also offer premium-quality support.
Price: $59
04. Astra
While it's not only a great WordPress magazine theme, Astra excels at this due to its unique blend of features and functionality.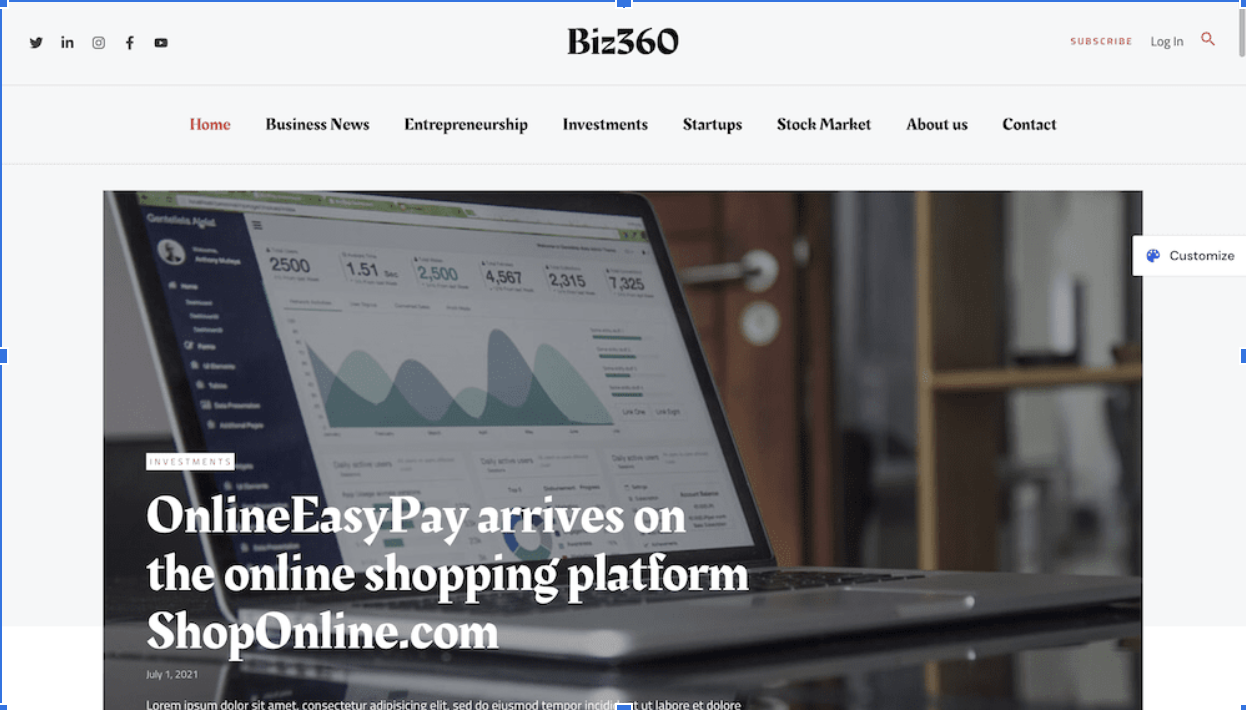 It's one of the most popular WordPress themes on the market, and this is due to the wealth of site templates you have access to – including magazine styles. In fact, it includes a lot of customization in the box, which means using a dedicated magazine template is only the starting point.
You'll use the WordPress Customizer to tweak typography, colors, the header, footer, and even blog layouts. From there, you can employ your favorite page builder to work on your site further. Astra supports Elementor, Brizy, Beaver Builder, and the native Block Editor. However, each of the templates will let you adjust the layout with whatever builder you have access to.
What's more, higher-tiered plans include further premium site templates, and some premium plugins too. You have extra Blocks for Elementor and Beaver Builder, a SkillJet Academy membership, and much more. All in all, Astra is a phenomenal package that is well-suited to a magazine website.
Price: Starts from $59 per year.
👉 See our full Astra Theme Review
💰 Use our exclusive Astra Theme Coupon to get 10% OFF
05. Ultra
Ultra, from Themify, is an amazing all-purpose WordPress theme. It's the most flexible theme offered by this popular theme shop, and with Ultra, you'll have unlimited freedom over the layout and design of your site. Ultra comes with a collection of pre-designed skins or demos that make it quick and easy to set up your site. In a matter of minutes, you can get your site set up using the layout and design from any of these demos. Of course, if you want to use the skin as a starting point and customize it further, you're free to do that.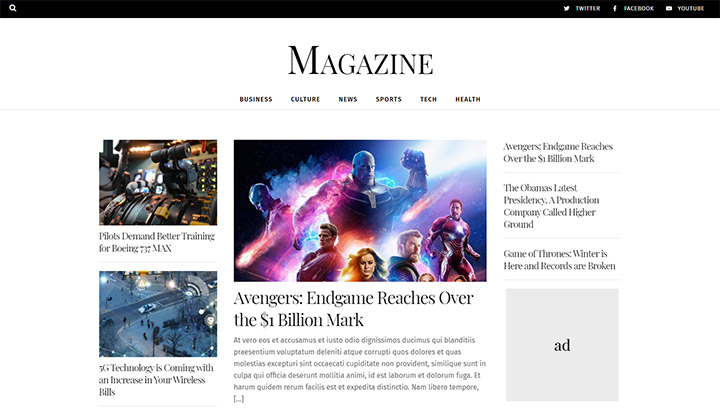 One of the many skins or demos offered with Ultra is called Magazine. With the help of Magazine, you'll get a beautiful magazine or news layout with the power and flexibility of Ultra behind it. The layout and the style of the design are clean and minimal, making it the perfect starting point for your design.
Aside from the 60+ pre-designed demos, Ultra also provides 17 header and page styles, five single post layouts, and six header background options. The theme also uses preset colors and typography that are professionally-designed, but you still have full control to customize those details if you prefer.
Price: $59 (20% OFF Coupon)
06. The Traveler
The Traveler is a blogging theme designed with the needs of travel bloggers in mind. The developers behind this theme, Meridian Themes, bring you a fully customizable WordPress theme which can be modified with the Meridian Styler without having to code a single line.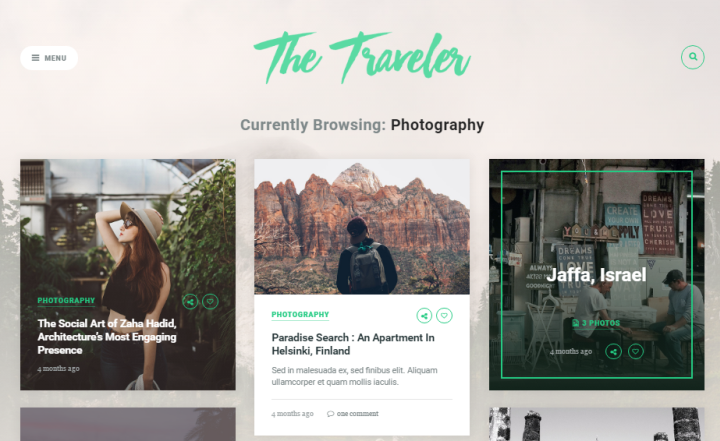 This brand new theme has a lot to offer WordPress travel bloggers from its elegant grid-based design to its front-end style customizer. The Traveler is a fully responsive theme, which means that it looks great on all devices. This feature makes it easy for your site's viewers to read your blog posts on the go. Its minimalist menu design and search bar add to the overall modern-esque aura The Traveler emits. The USP of this incredibly powerful theme is its ability to load more posts without having to refresh the page. This infinite scrolling functionality makes it easy for readers to browse through your content and works to improve the user experience.
The Traveler's user-friendly design, intuitive navigation, and use of big background imagery make it a visually-appealing travel blogging theme. One of the major factors contributing to its clean and compact design is the integration of social sharing buttons within the featured posts. This feature not only makes it easy for readers to share your blog posts but it also encourages them to do so without the extra fuss.
Additionally, Meridian Themes offers premium-quality support that guarantees you'll get a response within 24 hours on weekdays.
07. Indigo
Indigo, from WPZOOM, is a beautiful, clean magazine layout. Thanks to the Theme Options Panel and the Visual Customizer, you'll be able to take control over the details of your site's design and layout. There are also a number of customizable options related to the homepage layout, like custom category display, featured category widgets, and other widget areas. And of course, if you want to create fully customized layouts, Indigo is compatible with popular page builders like Elementor.
If you want your site to look like the demo, you can take advantage of the one-click demo importer that will set your site up with dummy content to match the design and layout of the demo.
While Indigo doesn't offer as many different layout options and demos as some others, like JNews, it's a great option if you want a clean design and layout. You'll still have a lot of control over the look of your site without being overwhelmed by too many different options.
Price: $79 (15% OFF Coupon)
08. Stoked
Stoked is another outstanding theme from Medidian Themes. With plenty of style, Stoked puts an ephasis on visual imagery. This makes it ideal for niches like fashion, travel, photography, and other highly-visual topics. The vertical navigation menu that opens up from the hamburger icon (next to the logo) is rather unique among WordPress themes. Of course, Stoked is also mobile responsive, so your site will look great for visitors on any device.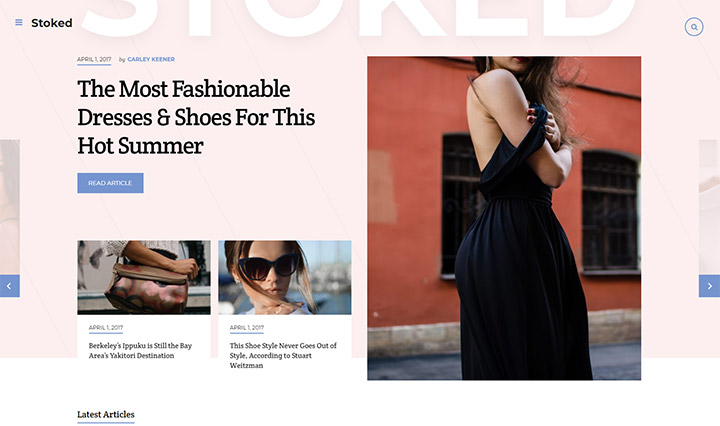 There are four different homepage layouts that you can choose from. All you need to do is make a simple selection in the WordPress Customizer to change the layout of your homepage. Stoked also supports other functionality of the WordPress Customizer to give you control over hundreds of details throughout your site.
With a few menu locations to choose from, you'll also have control over this important feature of your site. Plus, Stoked includes some custom widgets like an "About Me" widget.
Price: $59
09. Dahlia
Are you looking for a professional magazine theme with a feminine style? If so, Dahlia could be an excellent choice. It's ideal for lifestyle blogs, travel blogs, mom blogs, and more.
Dahlia comes with five different homepage layouts you can choose from. Each one showcases your recent content in different but beautiful ways. You can easily change the layout at any time by simply selecting a different layout.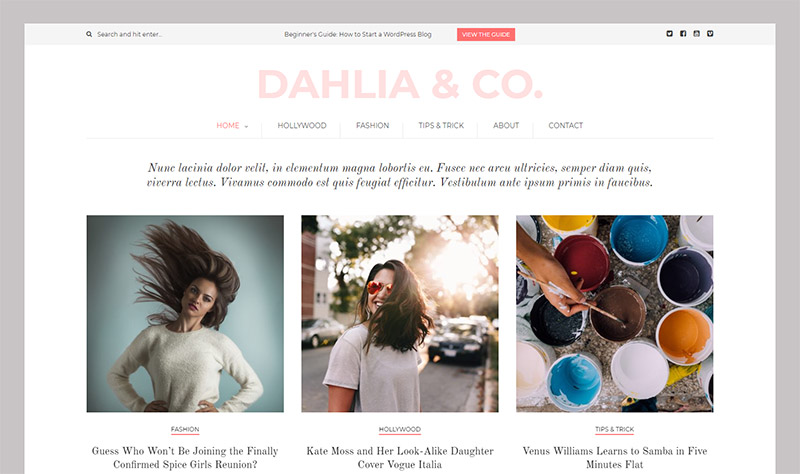 You'll have a great deal of design and layout flexibility with Dahlia, thanks to full support of the native WordPress Customizer. Make changes in the Customizer and see a live preview before publishing the changes. There's no need to touch any code to customize the theme according to your needs. You can also create your own layouts with content sections and modules, again with no coding needed.
Dahlia is built to help you grow your email list. There are built-in subscription boxes, which means you'll have beautiful opt-in forms that match the look and feel of your site, without the need to use any plugins. Simply connect your email service provider and you're ready to start building your list.
Your visitors will also love the "load more articles" functionality (powered by AJAX), which means they won't have to keep clicking through multiple pages to see all of your content.
Price: $59
10. Soledad – Multi-Concept Blog/Magazine WP Theme
Soledad was created only on in November of 2015 and has been continually updated since. It is one of the best-selling blog and magazine themes ever on ThemeForest.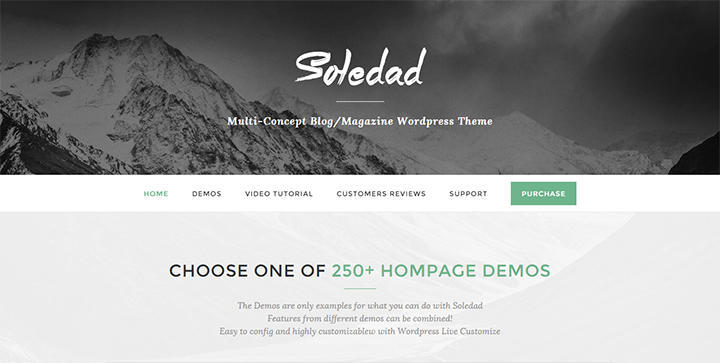 It offers an astounding collection of thousands of pre-made designs that you can adopt as your own. You can pick from portfolio styles, mega menus, and article layouts.
The Live Customizer will help you set up the site visually. You can have a featured video background and Pinterest masonry widget to import Pinterest images to your website without resizing or cropping.
A selection of custom widgets including widgets for tweets and Instagram are included. A lightbox gallery can be enabled on single posts, so you can display your important favorite posts to get plenty of exposure. The theme is translation ready with .po files included, search engine friendly, and WooCommerce compatible.
Price: $41
11. Newspaper
Newspaper is one of the best-selling news WordPress themes on Envato Market, with over 100,000 customers and counting. It's built with an elegant interface, perfect for a dynamic blog, news, magazine, newspaper, or review website.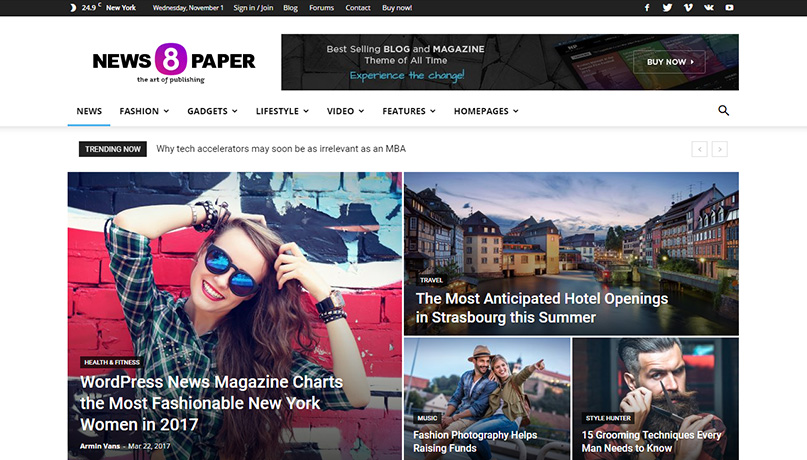 Newspaper is powered by a drag-n-drop page builder called tagDiv Composer. Specially built for the news and publishing industry, this page builder allows you to design and redesign each page and see the results instantly. Over 100 elements, full-width big grid layouts, stylish menus, and custom built features, will help you to create the website you've always dreamed of without any coding involved.
You can publish a beautiful site using any of the 120+ pre-built websites that come with the theme.
Featured images and videos, a custom article editor, a review system and various options will help you present your story in an interesting way. The Newspaper template can also detect articles, images, and titles to create smart lists that will quickly catch the reader's attention.
The sidebar is adjustable and can be moved to hold widgets or to adjust to different screen sizes. The theme comes with over 40 demo templates that can be used as they are or customized as you see fit.
Newspaper also makes monetizing your website simple. There are 18 responsive Ad Spots available, that will intelligently adjust to the site structure. The theme is compatible with Google AdSense and other advertising services.
Price: $59.
12. Flex Mag – Responsive WordPress News Theme
Flex Mag is a well designed magazine theme that allows you to get on with your content, without having to deal with design issues. You can put together a news site making use of the four pre-set skins, or pick the custom skin if you want to start out with your own. Custom widgets will help you to display content the way you want it placed.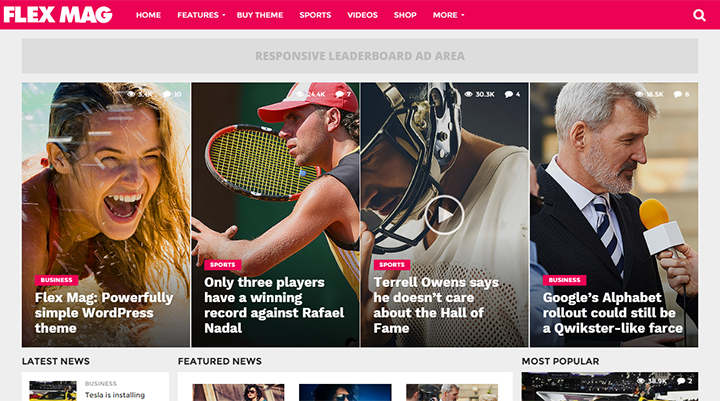 There are nine featured posts layouts that allow you to display selected content on the homepage or category page. Added to this, there are eight article templates for you to choose from to to enhance the reader's experience. Auto loading can be disabled. The homepage can be in the blog format.
A custom flyout menu that works on all devices will help visitors find content easily. A number of ad spaces are provided. Ad widgets can be placed in the homepage and sidebar. Google Adsense can be implemented easily. The Theia sticky sidebar will help keep the content that you want visible always.
Flex Mag gives space for photo credit or caption below the featured images. It is WooCommerce and bbPress compatible and child theme and translation ready. And the footer text or custom copyright text is included to protect your content.
Price: $59.
13. Newsmag
Newsmag is a popular theme on ThemeForest that's been around for years (launched in 2014). Although the theme is older, the developers have done an amazing job of keeping Newsmag up-to-date by continuing to improve it.
The theme comes with 14 different pre-designed templates you can choose from, and they're all beautifully-designed. Regardless of what topics or types of content you're publishing, you're sure to find a design that works great.
However, Newsmag is also very flexible and you can customize layouts or create your own with a drag-and-drop builder. In fact, the page builder (tagDiv Composer) was created specifically for blogs, news, and magazine websites, so it includes all of the elements you'll need.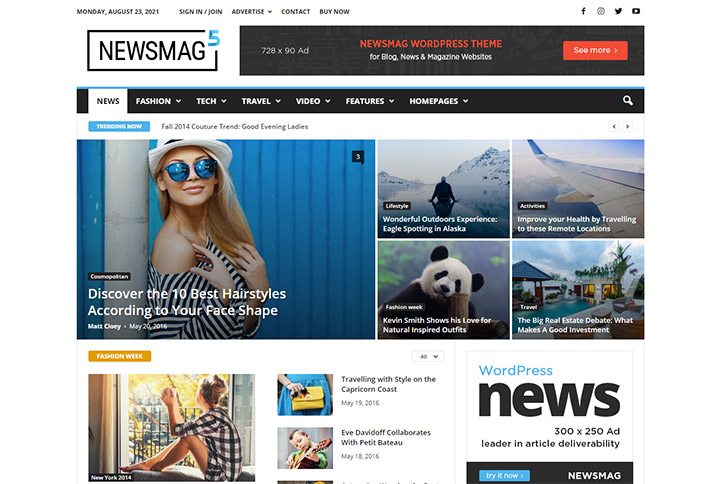 Newsmag also offers nine different post layouts you can choose from. There's also a WYSIWYG article editor that provides even more control.
When it comes to monetizing your site, Newsmag has you covered. It comes with an intelligent ad management system that includes 10 predefined ad spots in articles, plus five custom ad spots to open up more possibilities.
You'll also love the tagDiv Optin Builder that will help you to grow your email list quickly. You can easily add content lockers that prevent certain content from being visible unless the visitor subscribes to your email list.
Price: $49
14. JNews
JNews is another popular and highly-rated theme, with more than 10,000 sales on ThemeForest. It's easy to see why this theme is so popular, with more than 150 different homepage designs to choose from.
The pre-made designs are beautiful and make it easy to create a great-looking news website that functions well. There are designs in a lot of different styles, so you really have to check out the demo to see what's available.
You can also automatically import plugins and demo content to get the design of your choice setup in no time.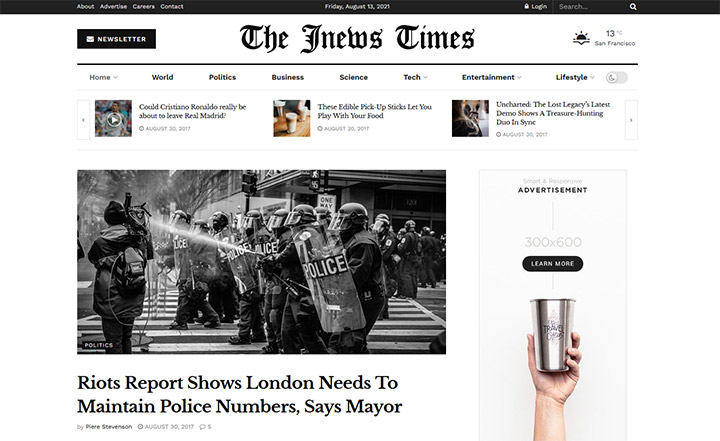 Aside from the pre-designed layouts, you'll also have full control over the site by using your choice of the Elementor or WPBakery page builders. Customize one of the existing layouts or create your own. Thanks to the Live Style Editor, you can also change details like colors, fonts, backgrounds, and more.
JNews also offers a drag-and-drop header and footer builder that gives you complete control and unlimited possibilities. The Single Post Layout Builder puts you in control over the look of any post.
You'll also love the paywall system that allows you to monetize your site by restricting access to paying subscribers, like many major news websites are doing these days.
One of the more underrated features of JNews is the optimization for core web vitals. Your site will load quicker and produce better scores on PageSpeed Insights, which can lead to higher rankings and more traffic.
Price: $41
15. Felt
Felt's standout feature is the carousel and slideshow widget hero on the homepage that shows off your recent or featured content in impressive style. Your homepage will always feel fresh to repeat visitors as they see new content featured above the fold.
You can also customize the rest of the homepage thanks to a few widget areas that give you control over the content you want to display.
Felt gives you options for other details like buttons, colors, spacing, borders, and more. The Style Manager works within WordPress's Customizer so you can tweak your site's design on the fly.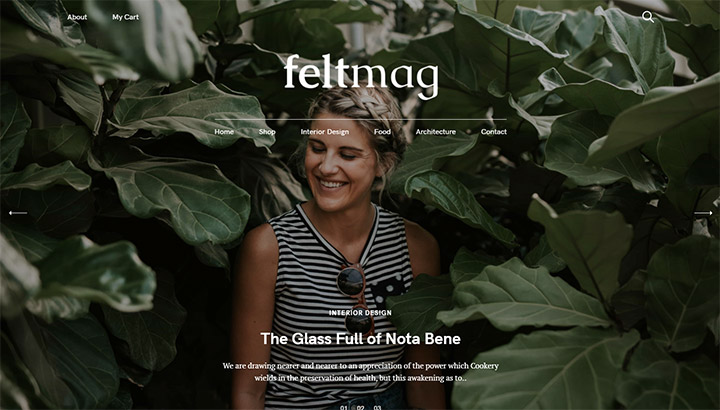 Pixelgrade, the developers of Felt, have also considered monetization. Felt comes with a custom ads widget that is ideal for external ads or sponsored content. The theme also fully integrates with WooCommerce, so you can easily sell products from your site.
Price: $75
16. Public Opinion
Public Opinion is a beautiful and flexible theme that's ideal for websites and blogs that publish a high volume of content. Although it doesn't come with a huge number of different demos or skins to choose from, there are plenty of design and layout options that keep you in control of your site. Change details like color schemes, fonts, and site width according to your preferences.
The homepage includes a breaking news section below the navigation menu, and you can choose details like the number of posts to showcase and the categories to include. With nine different layouts for displaying your featured posts, you'll have plenty of options.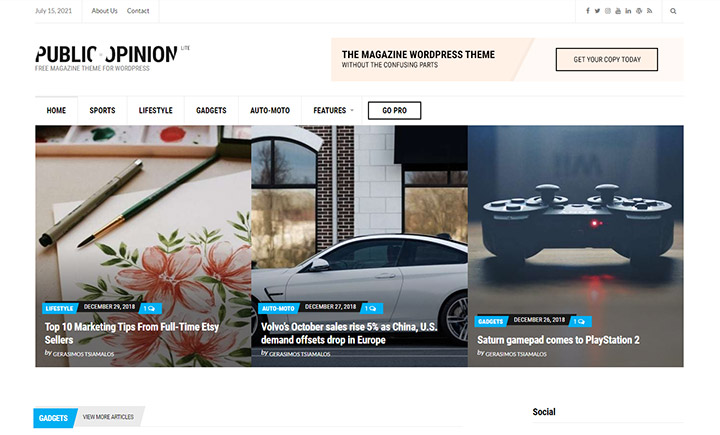 Public Opinion also features a custom archive page builder so you can control the layout of category and tag archive pages. If you want additional control over the design and layout, you can use the page builder of your choice like Elementor, Beaver Builder, and Divi.
Price: $34.30
17. Heap
PixelGrade's Heap is a powerful and snappy blogging theme for WordPress that allows webmasters to customize their site and play around with tons of clean layouts.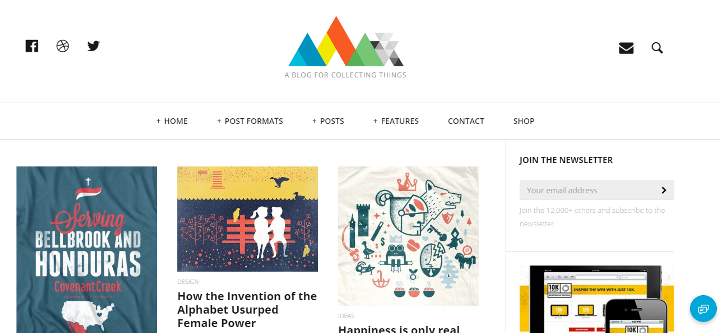 The theme features a Live Customizer that makes it infinitely easier to make quick modifications without having to code. Heap is performance-optimized and comes with full social media integration from the get-go.
One of the best features about this theme is that it is built with the latest sematic HTML5 markup which makes it SEO friendly.
Heap comes with PSD files and over 600 Google Fonts, which allows web designers to create unique websites easily. In addition to this, the theme is translation-ready enabling webmasters to cater to a multilingual audience with the help of the popular WPML plugin.
With Heap, your website will be able to respond to all of your visitors whether they're on a desktop computer or a mobile device. The off-canvas menu makes it easy for mobile users to discover your website.
Price: $75
18. The Voux – A Comprehensive Magazine Theme
The Voux is a comprehensive magazine theme that can be totally customized with Visual Composer, which comes bundled with the theme. Complex layouts are possible with this theme, but even these complex layouts can scale down to mobile devices, as it's totally responsive.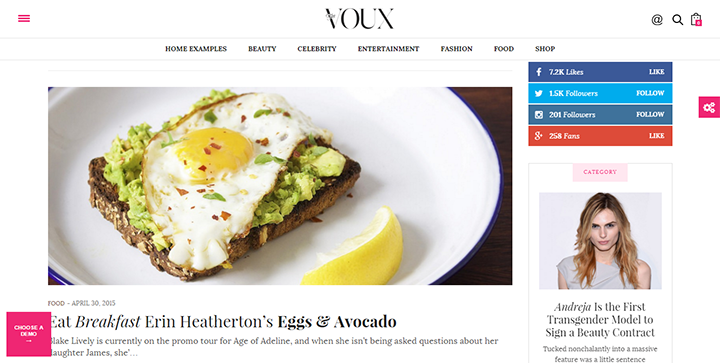 One attractive feature of the theme is that it compiles social data and stores it. This data can be accessed from the backend of your WordPress site. You can use the theme options for specifying the period and the social networks for which data is to be collected.
The megamenu is user-friendly and you can arrange your images in full screen galleries. Articles load sequentially as you scroll down, thereby reducing load times and making it easier for the reader. Posts can be displayed on a slider, with the titles of the post sliding over the post images as you browse.
Price: $29
19. Sahifa – News / Magazine / Newspaper Theme
Sahifa comes to you exclusively from Themeforest. It's a user-friendly, fast-loading WordPress theme for magazines, news and blogs.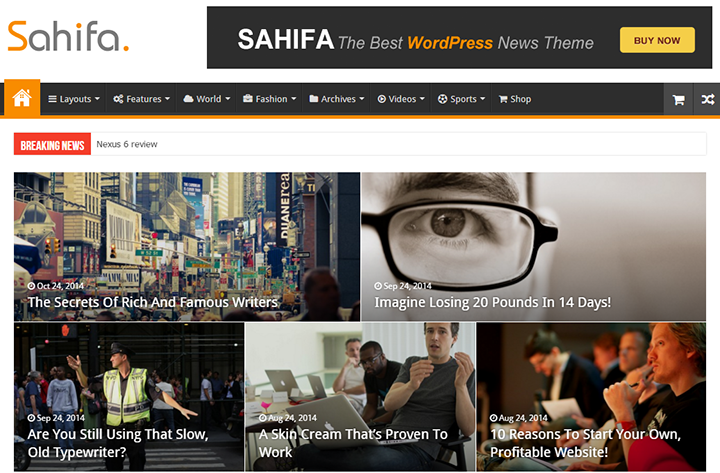 Sahifa is a nearly 5-star rated, feature rich theme that has over 25,000 users. The one click demo importer will help in installation. From the admin panel, you can pick from over 400+ options to optimize colors, fonts and layout. The drag-and-drop builder will make your task easier.
The homepage can feature a slider that can be adjusted for animation, speed and slide time. You can use dark skin, custom background, unlimited sidebars, custom page templates, 40+ shortcodes, menu icons and over 650 Google Web fonts to make your site visually attractive.
Sahifa is translation ready and bbPress and BuddyPress compatible. It also offers the best RTL support in this class of themes. The theme is fully responsive, with an option to turn off this feature.
A number of plugins come bundled with the theme – Review Plugin, Instagram, Sticky sidebar, Lightbox – and this makes the theme an attractive buy for $59.
Price: $59.
20. SmartMag – Responsive & Retina WordPress Magazine
SmartMag is a WordPress Theme for magazines that combines frontend visual appeal with backend functionality and ease of use. With more than 13,000 sales, it has been a popular option for several years.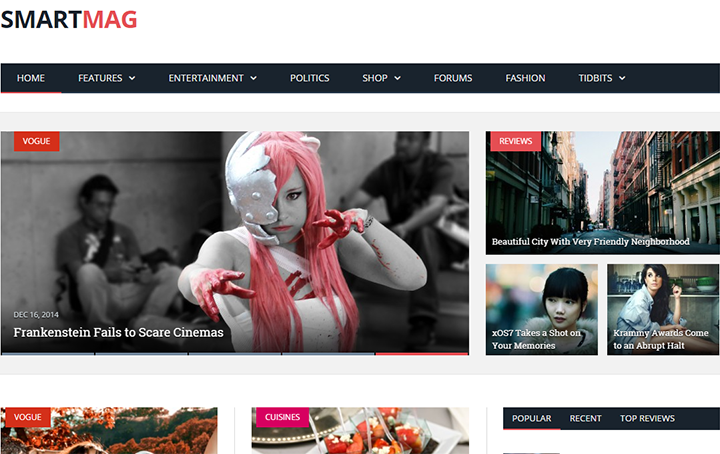 The admin panel offers drag-and-drop features so you can construct a unique homepage. The theme gives importance to SEO and includes rich snippets and HTML5 to improve optimization. It includes most of the regular features of modern themes and is continually updated. These updates are free for purchasers of the theme.
New skins are ocassionally added, and a new grid layout for posts that is quite different from the usual layout that's also included. Multi-page posts can be used as content slideshows. A static powerful slider worth $18 is included .
Price: $35
21. MagXP
MagXP packs flexibility and functionality packed into one great theme. As with most themes, you can use drag-and-drop to build your homepage. Many interesting layouts are possible and any number of sidebars can be configured. Color options are plentiful and you can choose from 630+ Google Fonts and 350+ icons.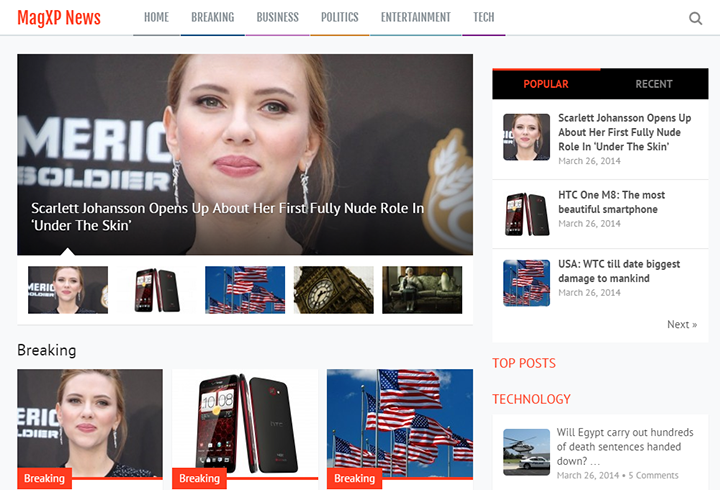 Blogs come in grid and traditional format and four pagination styles are available. The categories can be color coded for easy identification and inclusion of AJAX means images load faster.
The review system is integrated into the theme and shows in search results. Translation panel is also integrated. There are 16 custom widgets, including Related Posts widget, are included. The theme is SEO friendly, HTML5, CSS3 and WooCommerce ready.
Price: $59
22. NewsTube – Magazine Blog & Video
NewsTube is a theme designed for a three-in-one website – magazine, blog, and video. It has a flexible layout and the many options make it easy to customize the theme using the page builder.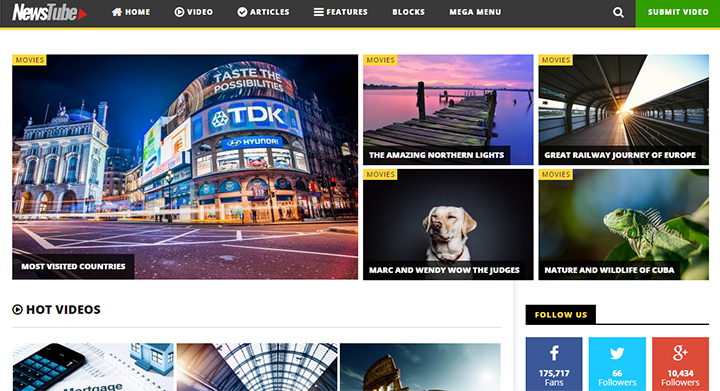 It supports videos from YouTube, Vimeo, and Daily Motion. Videos can be uploaded from the frontend. The theme also gives you the option of creating your own video playlist or video channels. Alternatively, you can import YouTube videos and channels into your website.
There are 16 demos available and they're categorized into different types of uses, so you can pick one closest to your requirement.
You'll have seven blog layouts, four navigation layouts, nine header sliders, neat article and video layouts, easy input of videos into WordPress. It offers advertising solutions and social networks connection.
Featured content or images can be displayed in the header, slider, or blog. The theme is well-suited for websites that allow user generated content.
Price: $54
23. Pressroom – News and Magazine WordPress Theme
Pressroom is another news and magazine theme that you can modify a lot to suit your needs. It is suitable for magazine, blog, review, or newspaper website.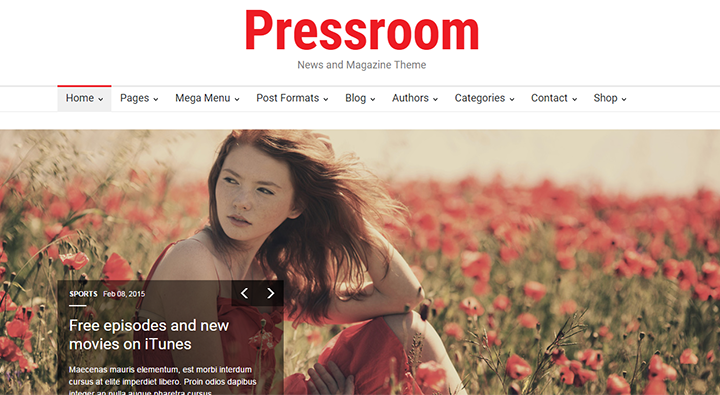 Drag-and-drop page building is made easy with the Visual Composer plugin that comes with the theme. Light, dark, or high-contrast color skins can help change the appearance of the website.
You can have a wide or a boxed layout and combine it with a sticky menu and choose from 15 header styles. It is not just the header that is sticky, the sticky setting can be applied to any column.
All sliders and carousels are touch friendly, and with the theme being responsive, it adapts well to touch devices. Over 60 content elements, each of which comes with options will help in attractive page display. To get you started, the installation is easy and so is import of demo content.
Price: $19
24. 15Zine – Magazine / Newspaper WordPress Theme
15Zine is rich in advanced features, but it is all presented in a manner that an ordinary user can understand. The theme combines great coding with functionality to offer a theme that is versatile.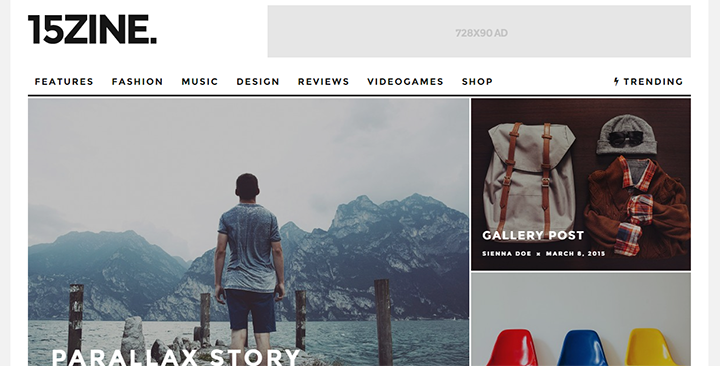 With the trending mega menu option, you can highlight your most popular posts. The header area can be turned off to maximize the gallery or the reading area. The theme has a unique image system that adds to the appeal of a post. Regular embedded images can be converted into full screen images. Parallax effects can be added.
The theme is compatible with bbPress so you can keep a conversation going with your readers. It comes with built-in advertising options, a powerful review system, trending icon choices, and choice of logo positions. A number of scroll options are also available so the reader can easily move through the posts.
Price: $19
To Conclude
That's a good number of themes discussed above. All the themes are suited for magazines, blogs and newspapers and have most of the features essential for these themes. If you are using any of these themes or any other magazine themes, do share your experience.