Hands up who sought out a shiny new theme within minutes of setting up WordPress for the first time?
Me too.
It's only natural. After the cake's baked, you want to decorate it and make it look beautiful, right? The same goes for your Start a WordPress blog.
But what you'll find when you go looking for a suitable theme is a wide (and overwhelming) variety of choices in a vast array of styles. There really is a theme for every type of blog.
How do you decide which is best for you?
It's important to look beneath the surface and choose a theme you can actually use. If you can't set up your blog with ease, or make changes in the future, you'll have a negative experience and your blog may never grow.
Finding the Perfect Theme for Your Blog
In today's post I want to steer clear of complicated premium themes, and instead focus on some of the simpler, free themes that beginner bloggers should consider using while they learn the ropes.
All the themes featured in this round-up are available from the WordPress theme repository at no cost.
You can download free themes from independent sites around the internet, but err on the side of caution, as some come loaded with malware and scripts that could hijack your site.
All the themes in the repository are vetted and approved before release, so you can be confident that they're 'clean' and trustworthy.
How to Customize a WordPress Theme
I've chosen each theme based on two simple criteria:
looks, and
how easy it is to customize.
Typically there are two ways to customize a theme.
The first, more 'WordPress-native' approach is to click the Customize button when you activate a theme: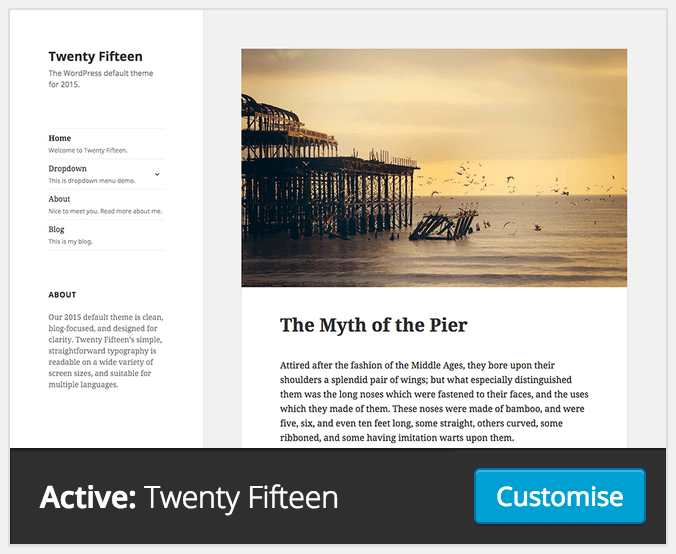 Alternatively, look for a Theme Options (or similar) menu item within the WordPress Dashboard: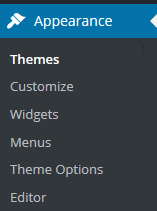 Setting Up Your Theme
Don't be disappointed if your site doesn't look like the demo version of a theme after you install it. The preview image only showcases what's possible – it gives you an idea of how your site could look, not how it will look.
To fully appreciate the themes you're testing before making a final decision on which one to use, it's a good idea to publish some content; even if it's just filler and you later delete it. (Here's a great article that will show you how to add comprehensive demo content to your site.) Without content, you can't visualize your site properly.
With all that said, let's look at some free and super simple WordPress themes for baffled beginners!
1. Accelerate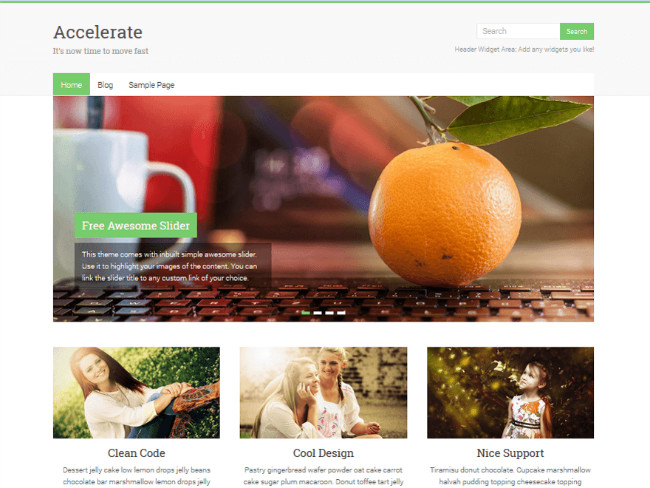 Accelerate is multi-purpose theme and super-simple to use. The minimalist design may not be to everyone's taste, but it's a good starting point if you're just starting out.
You could use it on all sorts of blogs, from personal to business.
The customization options are fairly limited – which is a good thing, as it reduces overwhelm – but there's enough leeway to enable you to create a good-looking blog.
With Accelerate you can:
Upload a header image
Change the layout across the site or for all pages or all posts
Change the primary color from green to something more suitable
Create a slider (it's switched off by default)
2. Hueman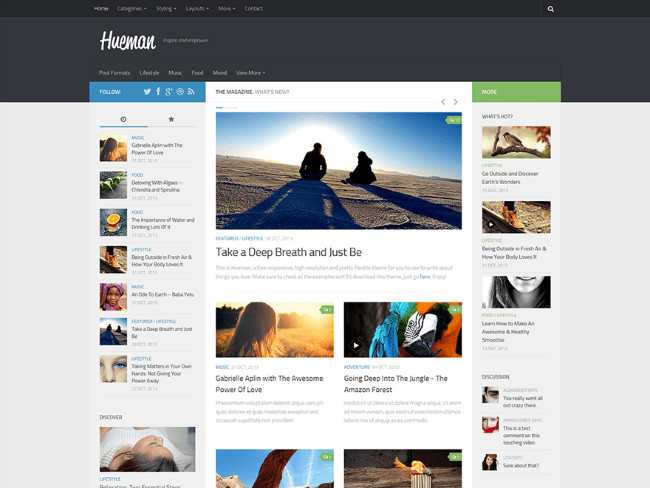 By default, Hueman takes the unusual step of placing the sidebar on the left – rather than the right – and yet it looks perfectly at home over there.
Once inside, you have a whole host of options to choose from. And, unlike some other themes I tested for this post, they're clearly laid out in an uncluttered, easy to understand interface – even if you're just starting out.
One of the features I like most is being able to switch the layout across sections of your site. For example, you can set one layout for the home page, another for blog posts, and a third for category pages. So, you may choose full-width for one area, sidebar-content-sidebar for another, and content-sidebar-sidebar for a third.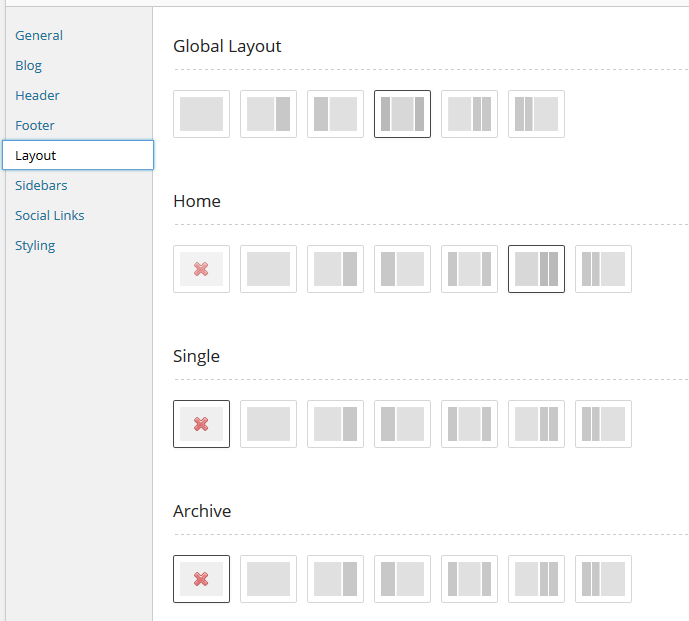 3. Simple Lite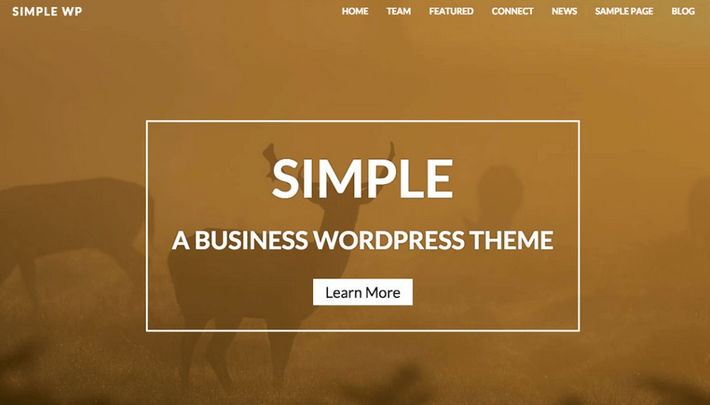 Simple Lite is just what its name implies – simple. However, that doesn't mean there are no desirable features. In fact, Simple Lite comes packed with things like responsive design and mobile-friendliness, customization options for changing fonts, colors, and layouts, and even the ability to translate your content so you can reach a more global audience. In the meantime, you still maintain the minimal, clean look with this simple free theme so that your site visitors aren't overpowered with flash.
Custom featured posts
Cross-browser tested
SEO optimized
Threaded comments
Sticky post capable
4. Portfolio Press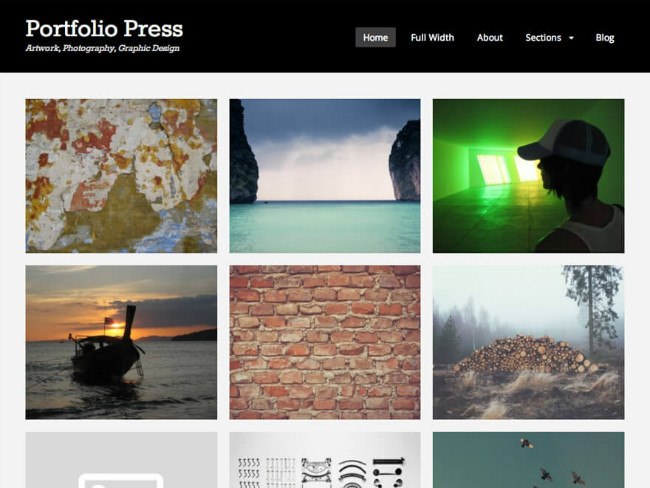 Portfolio Press targets photographers, creatives, graphic designers and the like, enabling them to showcase their work. However, it also works very well for standard blogs.
It looks great without any customization, but if you do want to change things around a little, you have a lot of options:
Add a logo, favicon and Apple Touch icon
Switch layout – sidebar left, sidebar right or single column
Change the header color
Display featured images
Display post navigation (next/previous) links
Options for customizing your archive pages
Add footer text (including HTML)
Move the navigation menu: right of logo or underneath logo
Add or remove widgets
5. Underwood Lite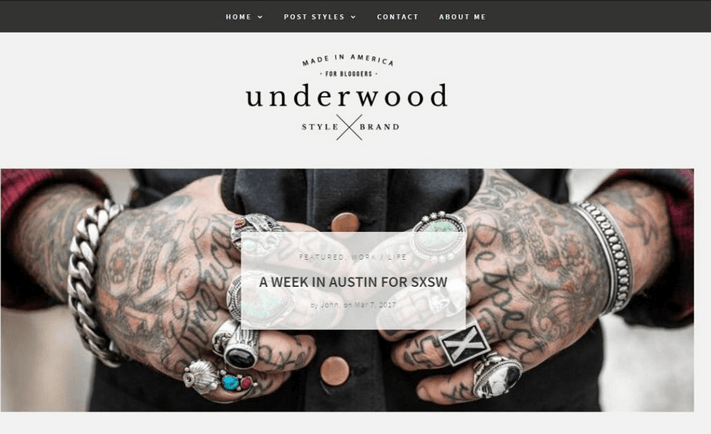 Underwood Lite is another super simple free WordPress theme that has a masculine touch for those catering to an all-male audience. With hard lines, bold imagery, and a darker color palette, this free theme gives you a new way to share killer content and beautiful photography without feeling too girly.
Enjoy things such as footer widgets, custom background images, sticky posts, and threaded comments and see your minimal theme engage site visitors like never before. Lastly, translate your content and internationalize your brand, choose from multiple homepage layouts and create a stand out website, and even enable the large featured image in the header for grabbing visitors' attention right away.
6. Cele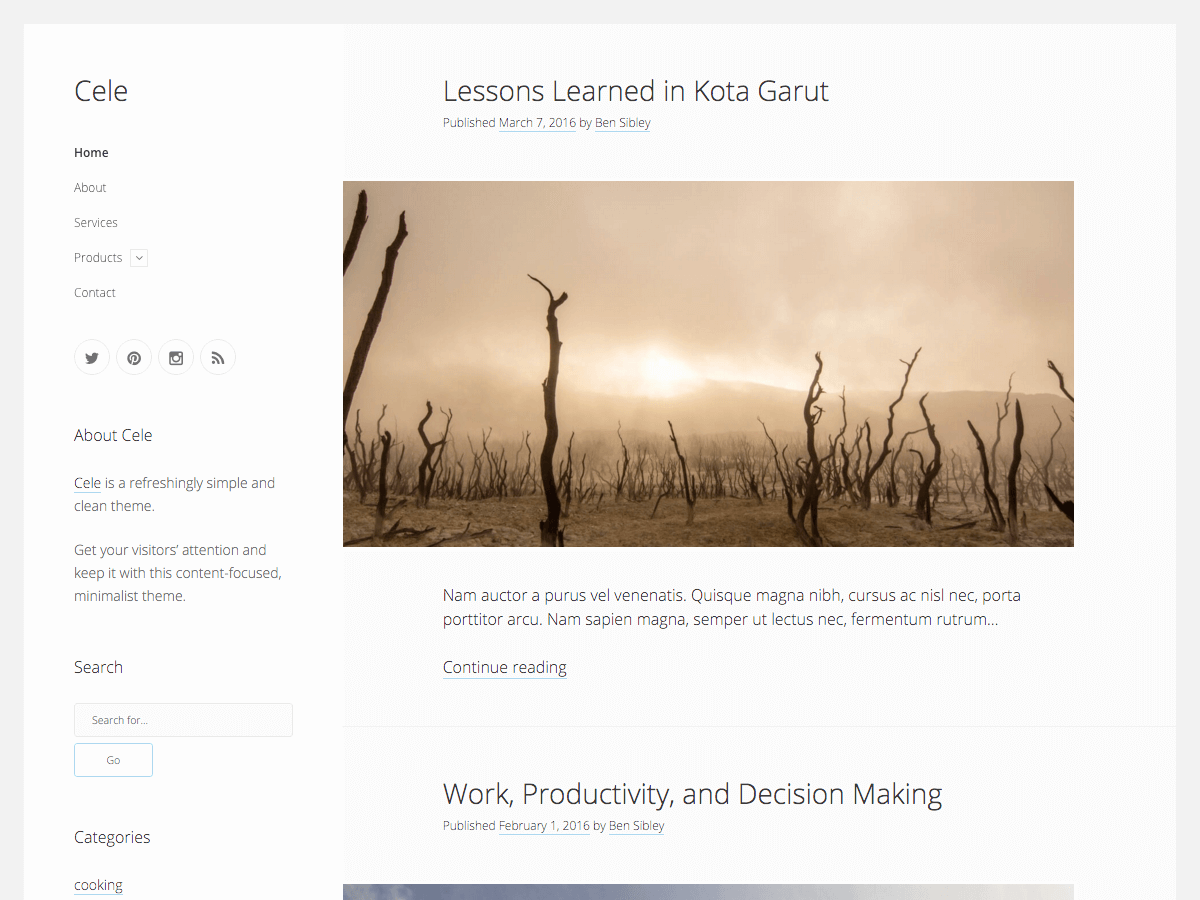 Cele is a minimalist theme for professional bloggers and writers. With a content-first approach, it's designed to focus visitor attention on your writing and images.
Cele looks great on desktops and adapts elegantly to tablets and mobile devices too. As for customization options, it comes with all the essentials such as social media icons, full posts VS excerpts on the blog, and a few display options.
7. Baskerville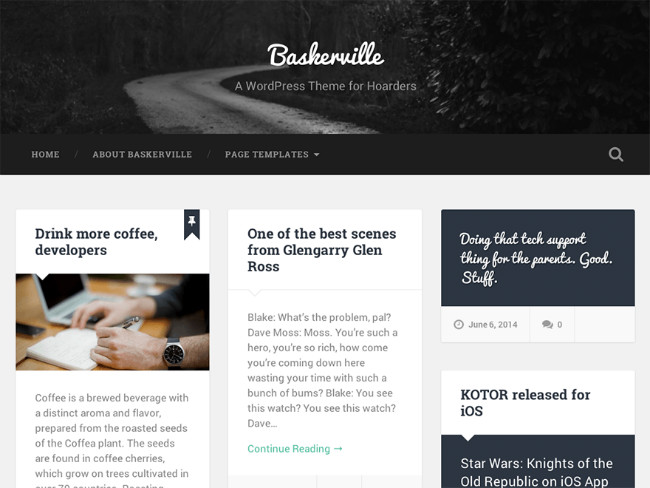 A fine-looking retina-ready masonry theme (grid layout) which really catches the eye. It's big, bold and looks good on any device.
There are just a handful of customization options – change the background color of the page (or swap it for an image), and change the header image.
8. TopShop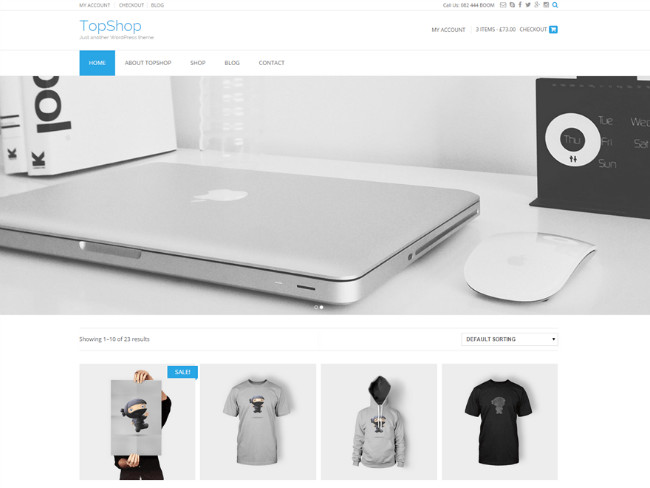 TopShop is a theme with a dual purpose. Its main role is as a skin for an eCommerce site, but you can quite easily install it on a standard blog and still have it looking great.
You may notice the huge slider in the sample screenshot. You can switch this on and off at your leisure.
There are a number of other options too, but you'll have to buy the premium version to activate them.
9. Omega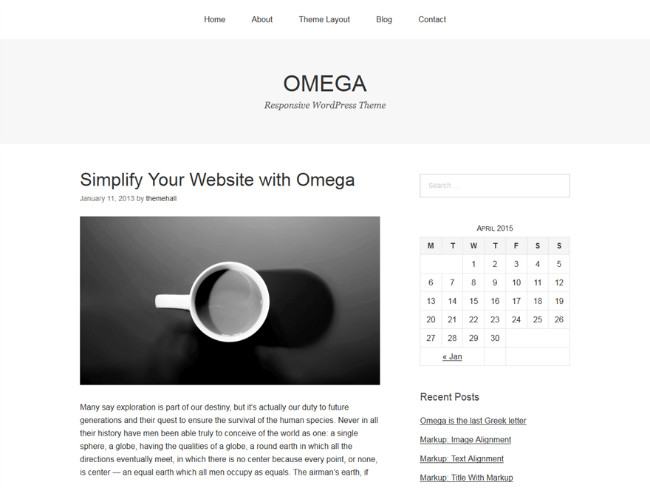 Omega is one of the simplest themes in this round-up. It's minimal and sparse, letting you get down to the business of blogging with minimal fuss.
It's also a framework, which means you can build child themes for it, should you get into theme designing/customization in the future.
10. Fruitful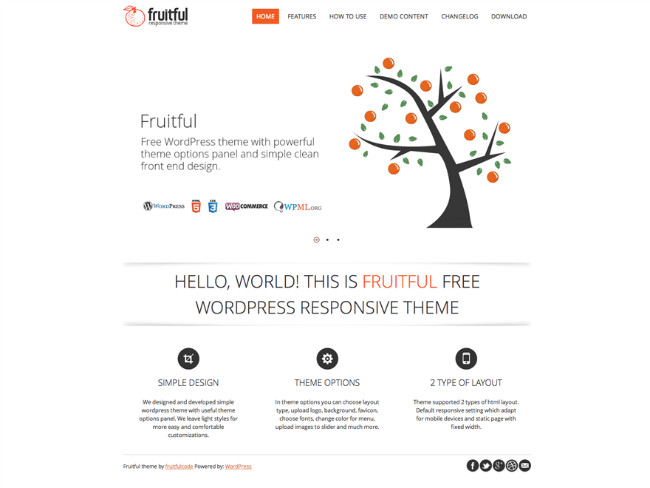 Another super theme worth looking at.
Fruitful looks great out the box, with its bright orange highlights, but there are a lot of detailed options that can help you to create a standout design.
For example, you can choose from a 20+ fonts for different areas of your site (header, menu and body), change the colors for buttons, lines, menus and more, and you have a choice of two sliders.
And if it all goes wrong, hit the Reset Defaults button, and you're back where you started.
This theme is probably the most complicated in the list, but it's still relatively simple to use, and definitely a good starting point if you want to explore theme customization.
Wrapping Up
If you're new to WordPress and baffled by themes and how they work, the best thing you can do is download the ones you like the look of and play around with them.
You'll make mistakes, and sometimes your blog will look terrible, but don't be discouraged. Eventually you'll find a configuration that works for you, and a killer design will shine through.
And remember, if you're tweaking the dials within an options screen in the admin area, you almost certainly won't break your site, but you definitely will learn a thing or two about working with and customizing themes.
Do you know of any super-simple themes worth looking at? Share with us in the comments section below!