Trying to choose between GetResponse vs Mailchimp for your email marketing and digital marketing platform?
Both of these tools started as email marketing services but have since morphed into full digital marketing platforms complete with website and landing page builder tools, along with many other useful options.
But which is the best tool for your specific situation?
📚 To help you decide between GetResponse vs Mailchimp, I'm going to compare these two tools in three key areas:
Ready to get started? Let's dig in!
🧰 Features
To kick off our comparison, let's go over the features that each tool offers in a comparison table. The core of both tools is email marketing, but both also offer other useful marketing features like a CRM, landing pages, and more.
High-Level Features
| | | |
| --- | --- | --- |
| Feature | Mailchimp | GetResponse |
| Email marketing | ✔️ | ✔️ |
| CRM | ✔️ | ✔️ |
| Landing page builder | ✔️ | ✔️ |
| Full website builder | ✔️ | ✔️ |
| Webinars | ❌ | ✔️ |
| Live chat | ❌ | ✔️ |
| Web push notifications | ❌ | ✔️ |
| Facebook ad creator | ✔️ | ✔️ |
| Dedicated WordPress plugin | ❌✔️* | ✔️ |
* Mailchimp only has an official plugin for WooCommerce stores. There's no official plugin for regular WordPress sites.
Overall, you can see that GetResponse can do pretty much everything that Mailchimp does…plus more.
GetResponse just launched its own full website builder, so it now has feature parity with Mailchimp there (Mailchimp used to have that as an edge). Beyond that, GetResponse can go a lot further with useful features like webinars and live chat.
With Mailchimp, you'd need to use a third-party service to add those features (and probably pay extra to do that). With GetResponse, though, you get everything built-in, which both simplifies your marketing efforts because you need to use fewer tools and also saves you money.
Nitty-Gritty Features
Now, let's get more in-depth into the nitty-gritty features. I'll break these down into different categories…
Email marketing
| | | |
| --- | --- | --- |
| Feature | Mailchimp | GetResponse |
| Drag-and-drop email builder | ✔️ | ✔️ |
| Pre-built email templates | ✔️ | ✔️ |
| Autoresponders | ✔️ | ✔️ |
| Marketing automation | ✔️ | ✔️ |
| Email analytics | ✔️ | ✔️ |
| Transactional email support | ✔️ | ✔️ |
| RSS to email | ✔️ | ✔️ |
Website/landing page builder
| | | |
| --- | --- | --- |
| Feature | Mailchimp | GetResponse |
| Drag-and-drop builder | ✔️ | ✔️ |
| Pre-built templates | ✔️ | ✔️ |
| Popups and forms | ✔️ | ✔️ |
| Custom domain | ✔️ | ✔️ |
| A/B testing | ✔️ | ✔️ |
| Sales funnels | ❌✔️* | ✔️ |
* You can manually create a sales funnel with Mailchimp – there's just not a built-in feature to help you do it.
Overall, you can see that things are pretty similar in terms of the core features that you'd look for. Of course, there are smaller feature differences here and there, but most people probably won't notice big differences in either direction.
⚙️ User Interface
Now that you know the features, let's get into the user interface of Mailchimp vs GetResponse. That is – what is it like to use each tool and how user-friendly are they?
Mailchimp
Mailchimp has a very minimalist dashboard with lots of white space. To access the various tools, you can use the small sidebar on the left: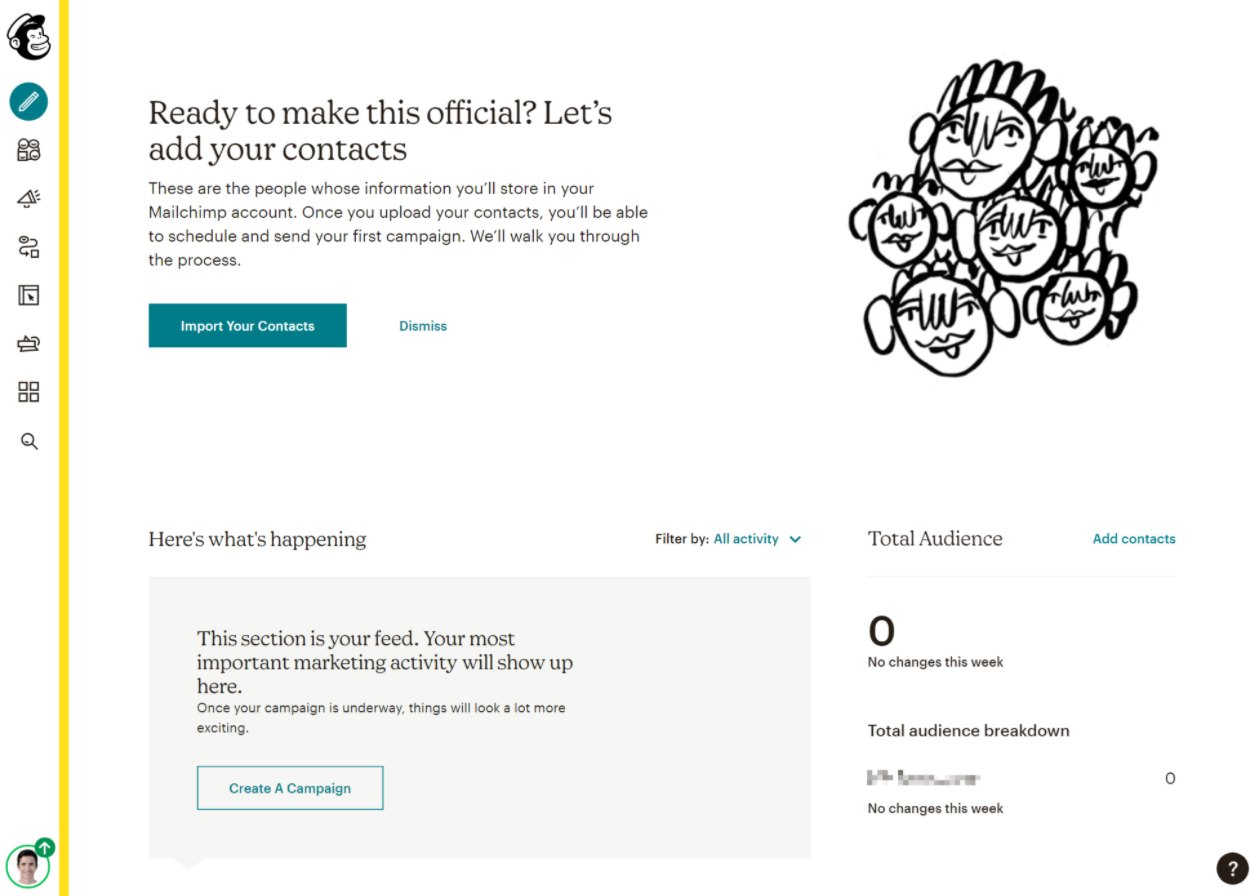 To interact with your customers, you can create a "campaign". A campaign can be pretty much anything:
Email
Customer journey
Landing page
Survey
Ads
Social media post
Signup form
Printed postcards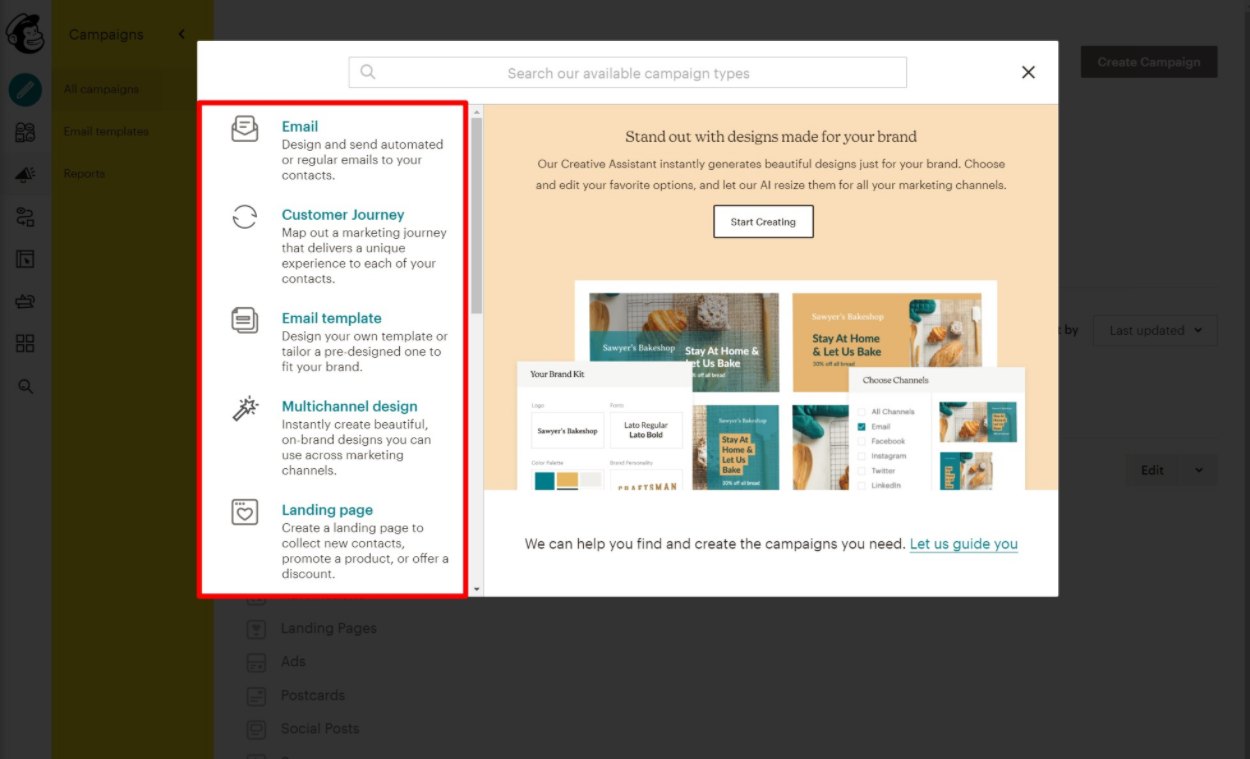 Mailchimp Email Builder
I'll keep the focus on emails for now.
When you create an email, you'll get a multi-step builder that takes you through setting up your email in different screens. First, you can choose from three types of emails:
Regular
Automated
Plain-text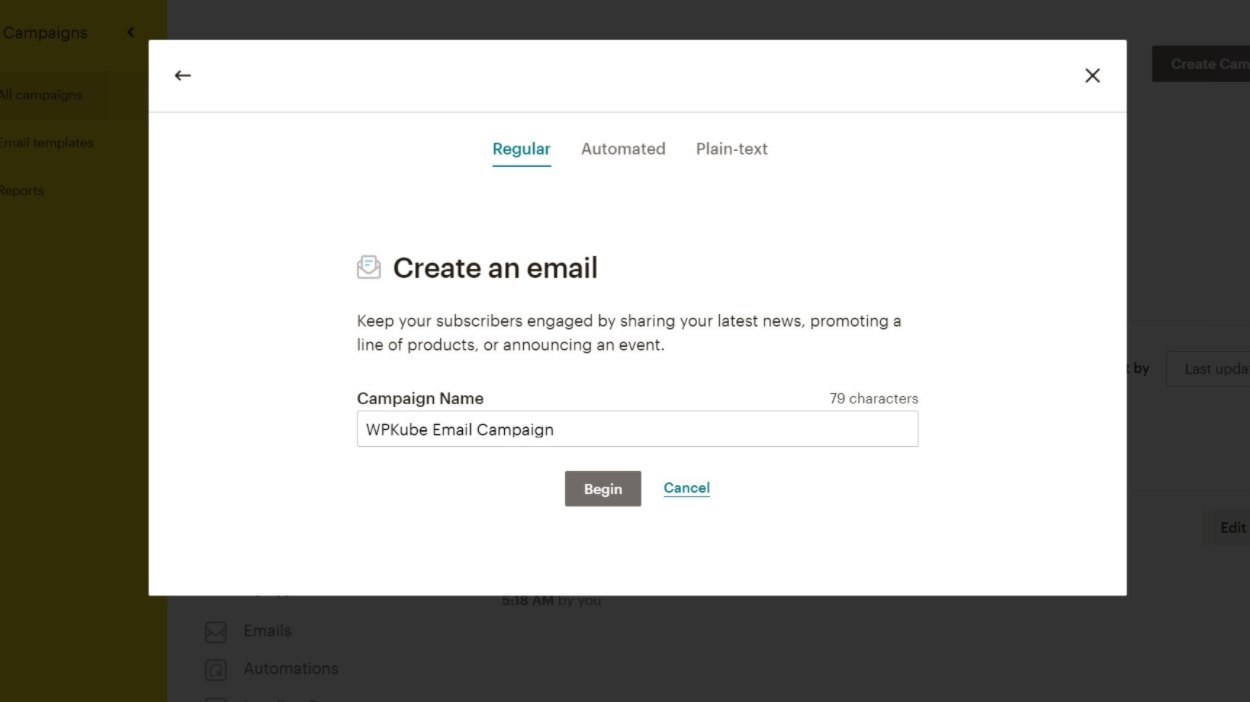 Then, you'll be in the dedicated interface for your email, which makes it easy to set up key areas: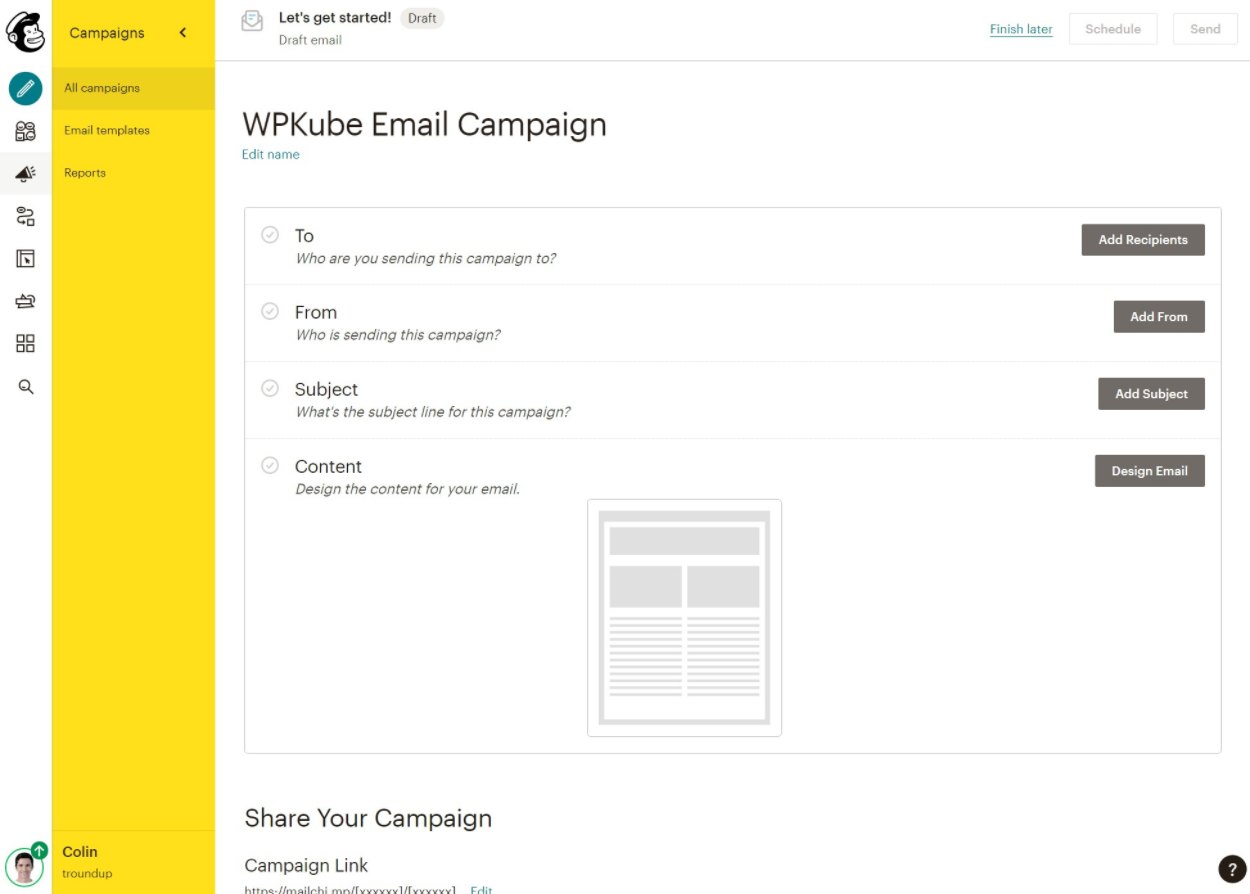 At the time that I'm writing this, Mailchimp gives you a choice between two different email builders – the "Classic" drag-and-drop builder or a new builder that's in beta. I'll use the new builder because it might be the default builder by the time that you're reading this post.
When you create an email, you can choose from a blank slate or a pre-built template. Then, you can use a beginner-friendly drag-and-drop builder to control your email design and content.
You can move things around with drag-and-drop and easily add new elements by clicking the plus icon: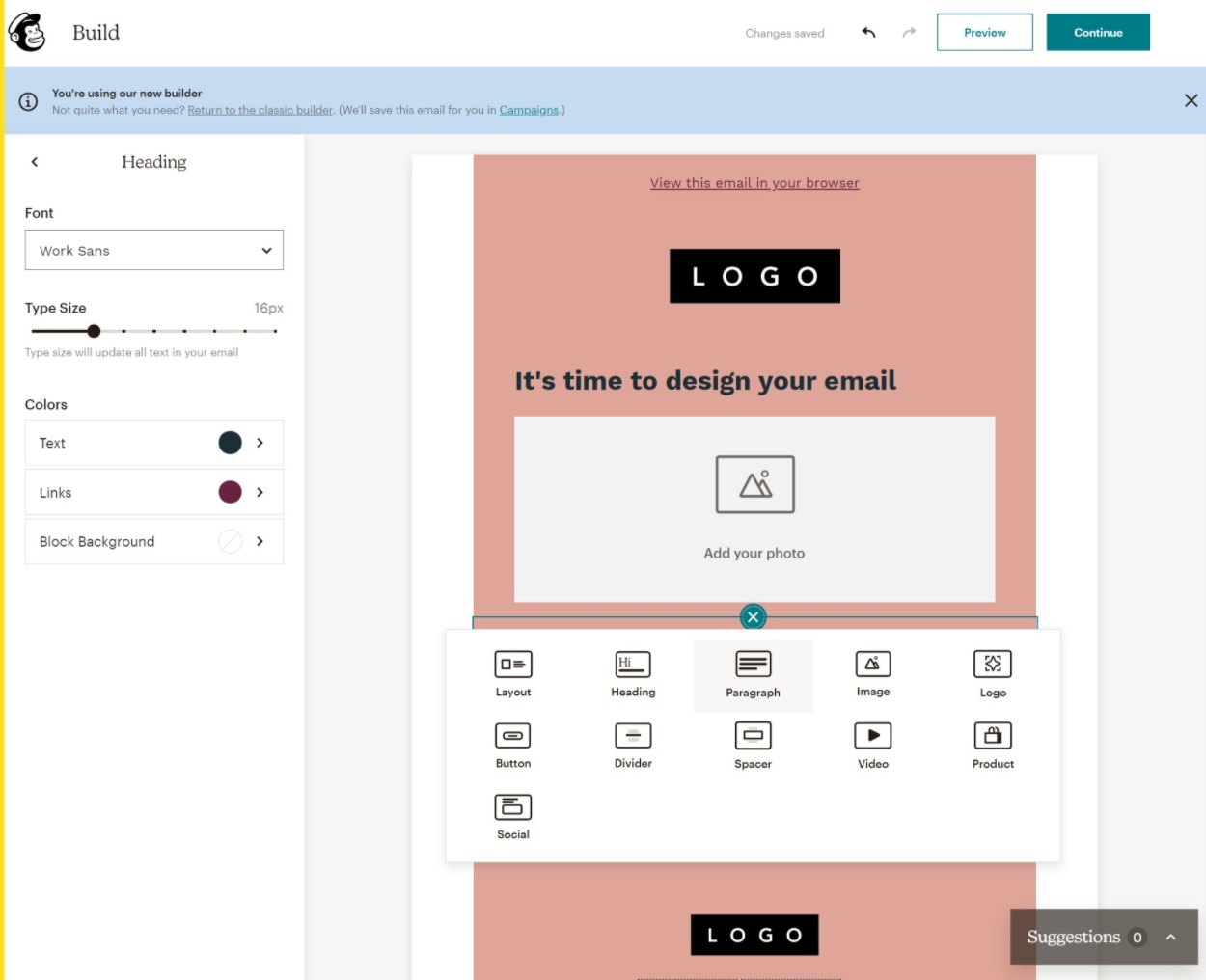 To edit text, you can just click and type. You also get a dedicated option to insert merge tags, which lets you include dynamic information in your email templates (like a person's first name).
For eCommerce stores, you'll also get a dedicated product block.
And that's it for the highlights of creating an email.
Mailchimp Website Builder
The rest of the Mailchimp interface carries on the same general aesthetic.
For example, the drag-and-drop website/landing page builder uses a similar builder, though the website builder is a little more "section-based" where you construct your website by putting together blocks for different sections. Inside each section block, you can customize the content and design: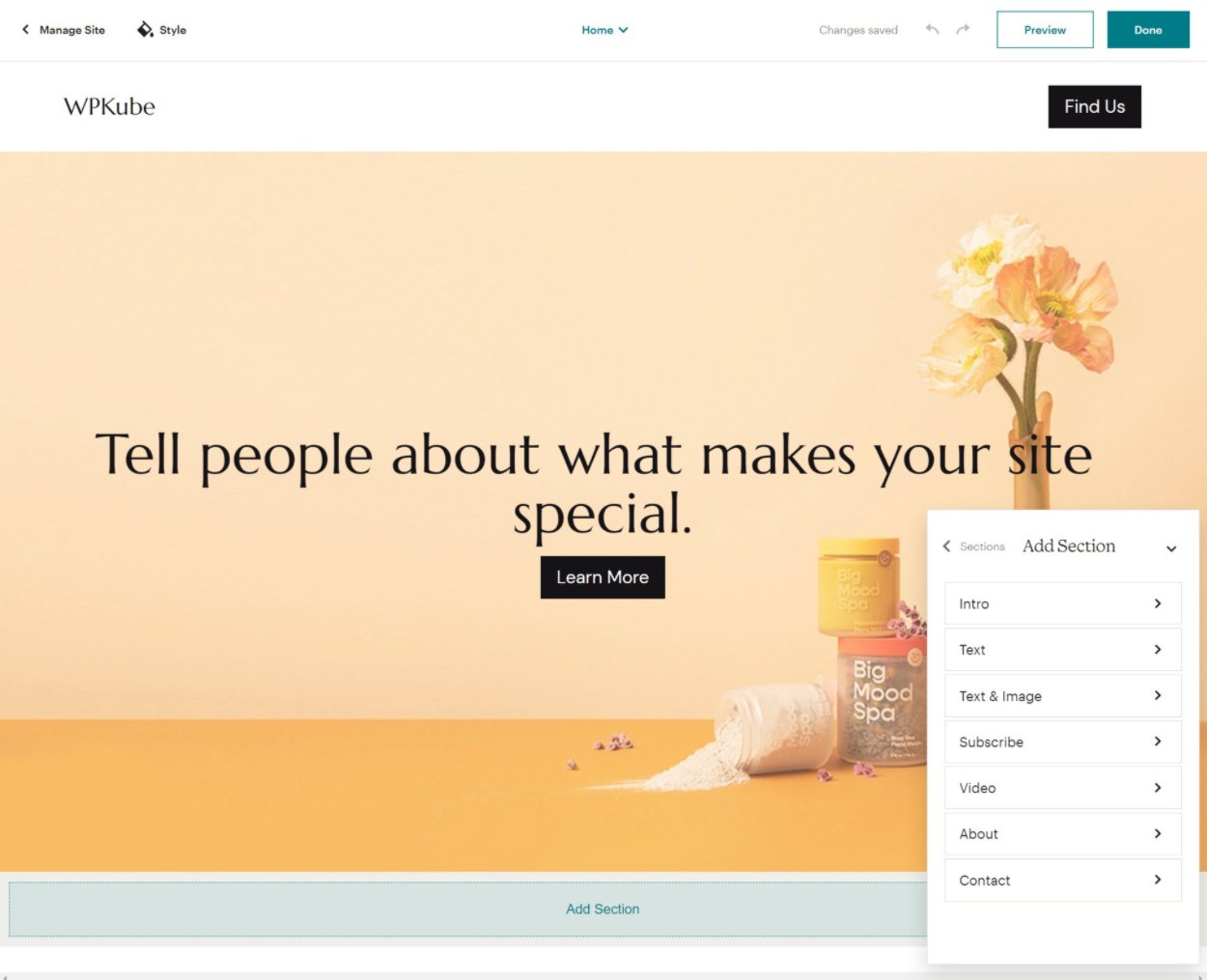 This means the website builder doesn't quite offer full free-form drag-and-drop design, though it should be plenty for people looking to build simple websites.
GetResponse
In contrast to Mailchimp's interface, GetResponse's interface is a little more "busy". That's not a criticism, it just seems like a different design philosophy, where Mailchimp tries to create a minimalist experience and GetResponse tries to pack in every feature and navigation option: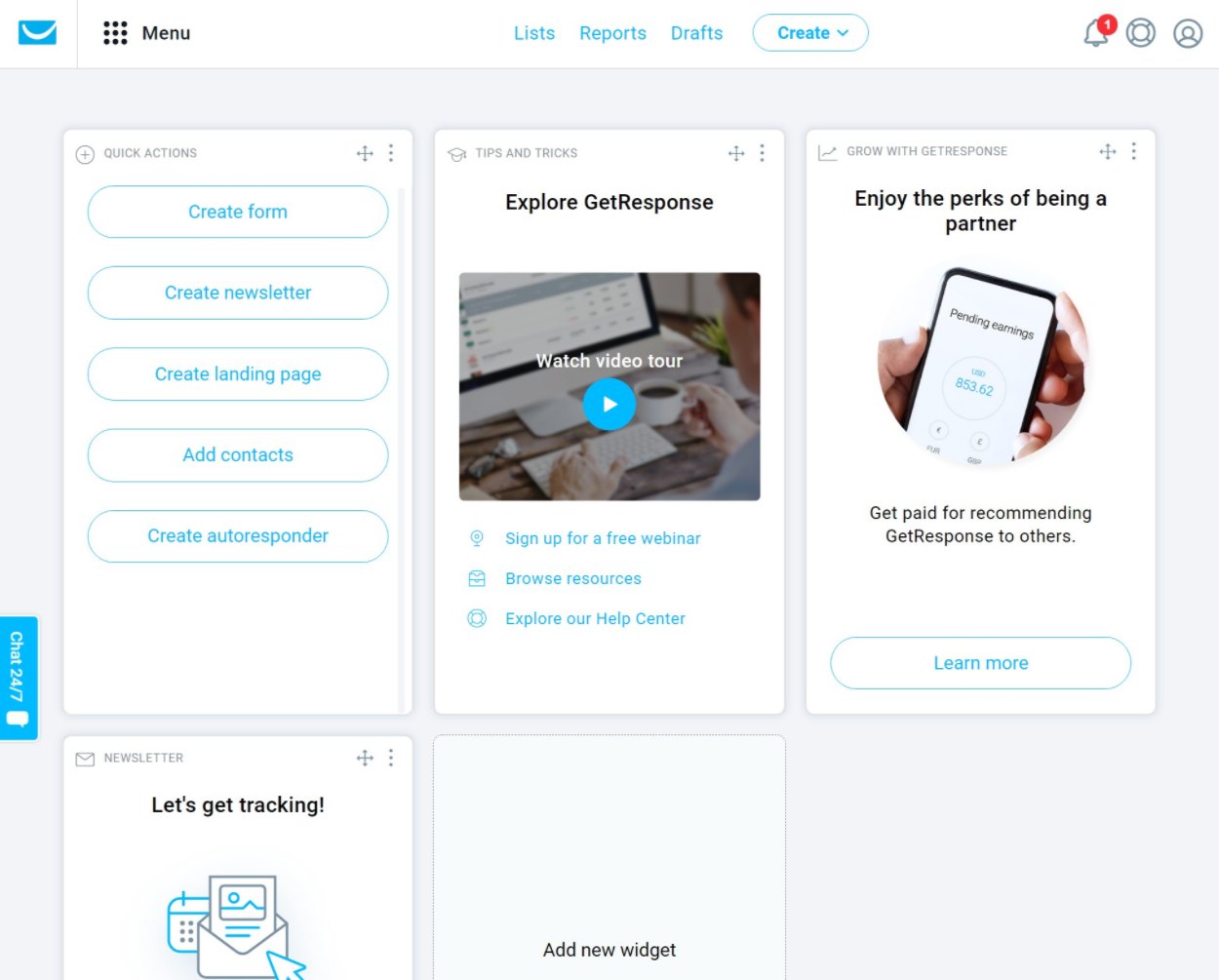 You can also customize the main dashboard to meet your needs by adding "widgets".
GetResponse Email Builder
When you create a new email, you get a nice compact interface that looks pretty similar to the equivalent interface at Mailchimp: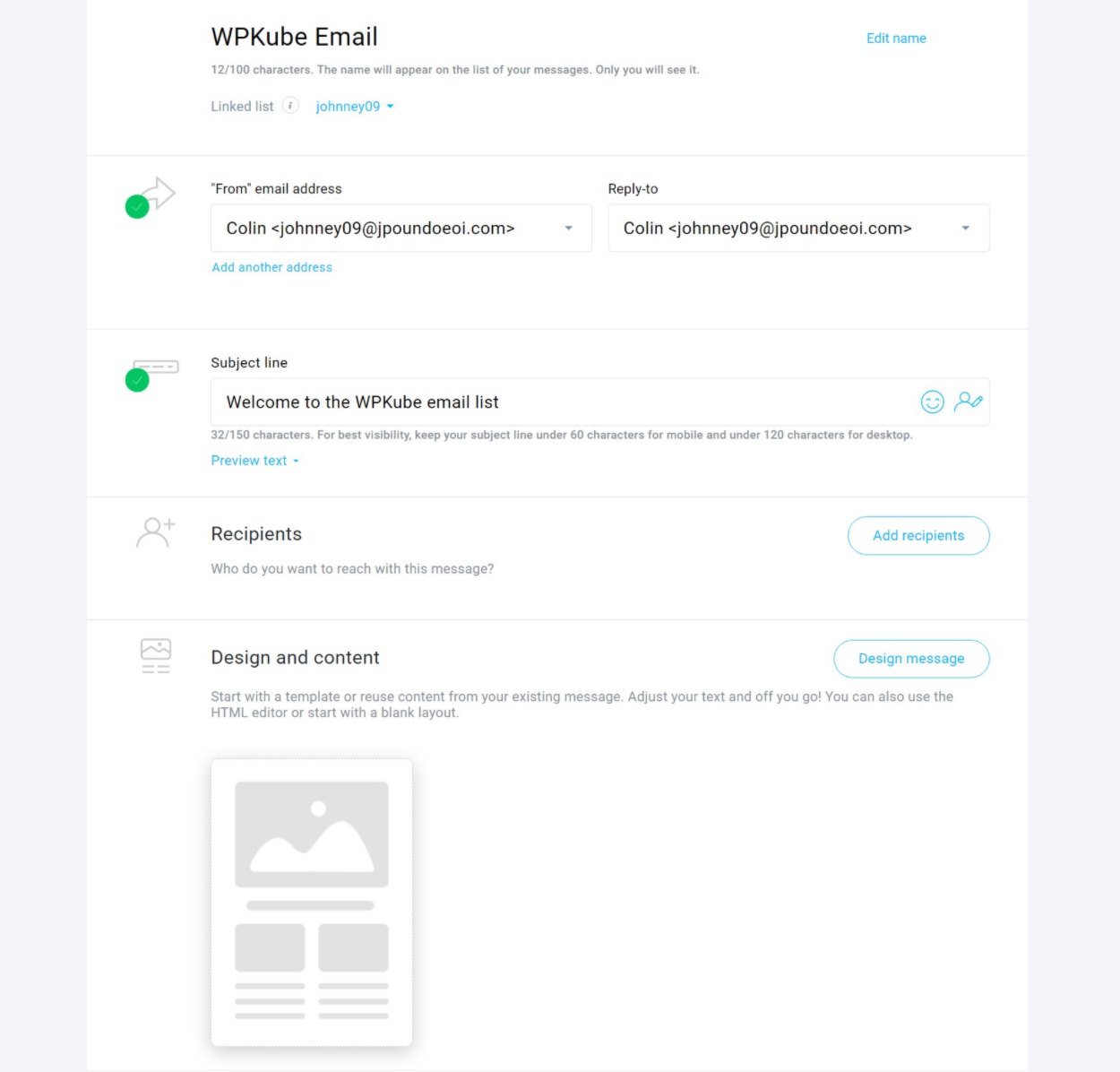 To design your email, you can choose from a variety of pre-built templates for various niches or start from a blank slate. Once you choose your starting point, you'll be in a drag-and-drop builder. You'll see a live preview of your email on the left along with options in the sidebar to add new content blocks or customize your existing blocks: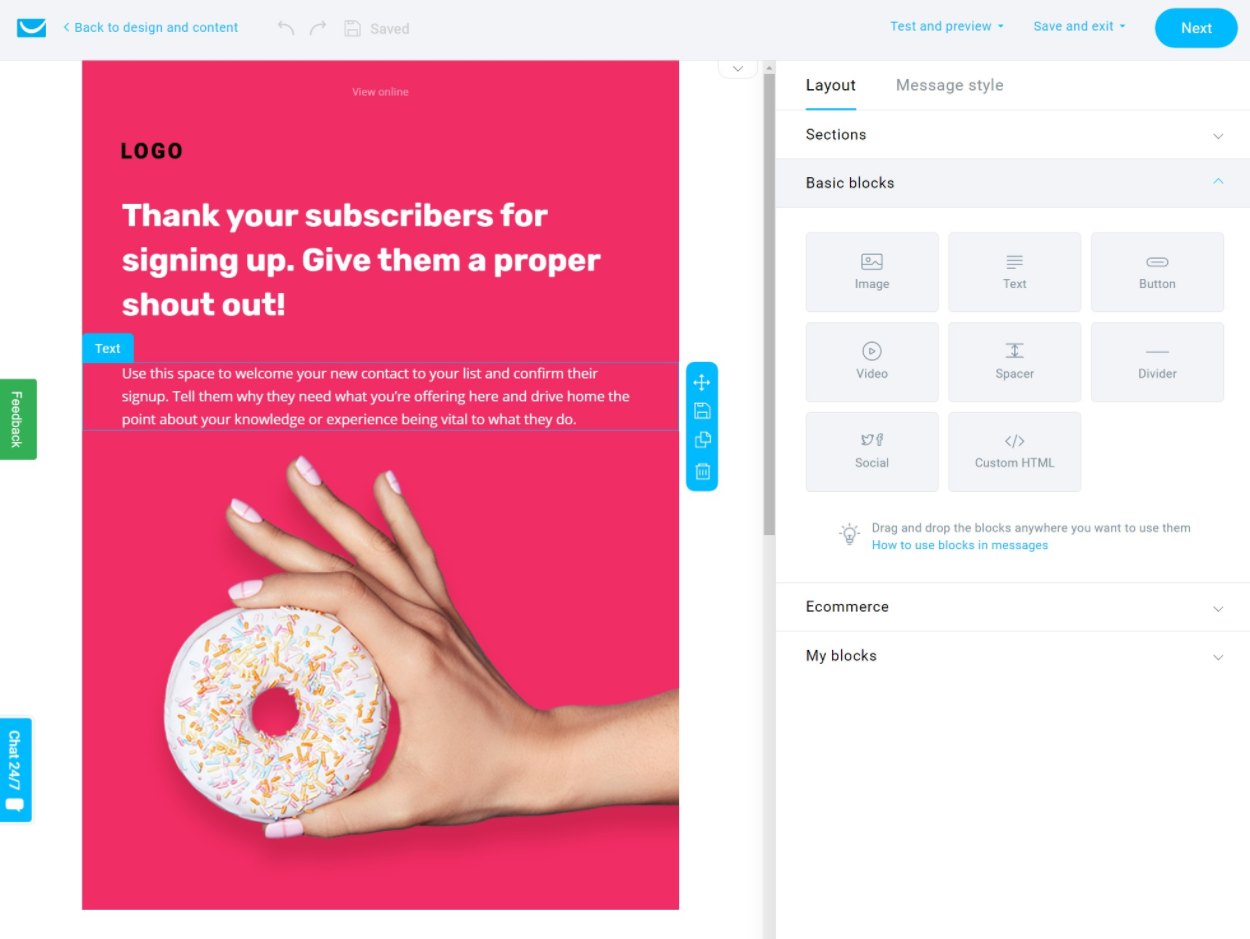 When you select a block, you'll open its settings in the sidebar. For text blocks, you can just click and type on the live preview and you'll also get an option to insert merge tags for dynamic information: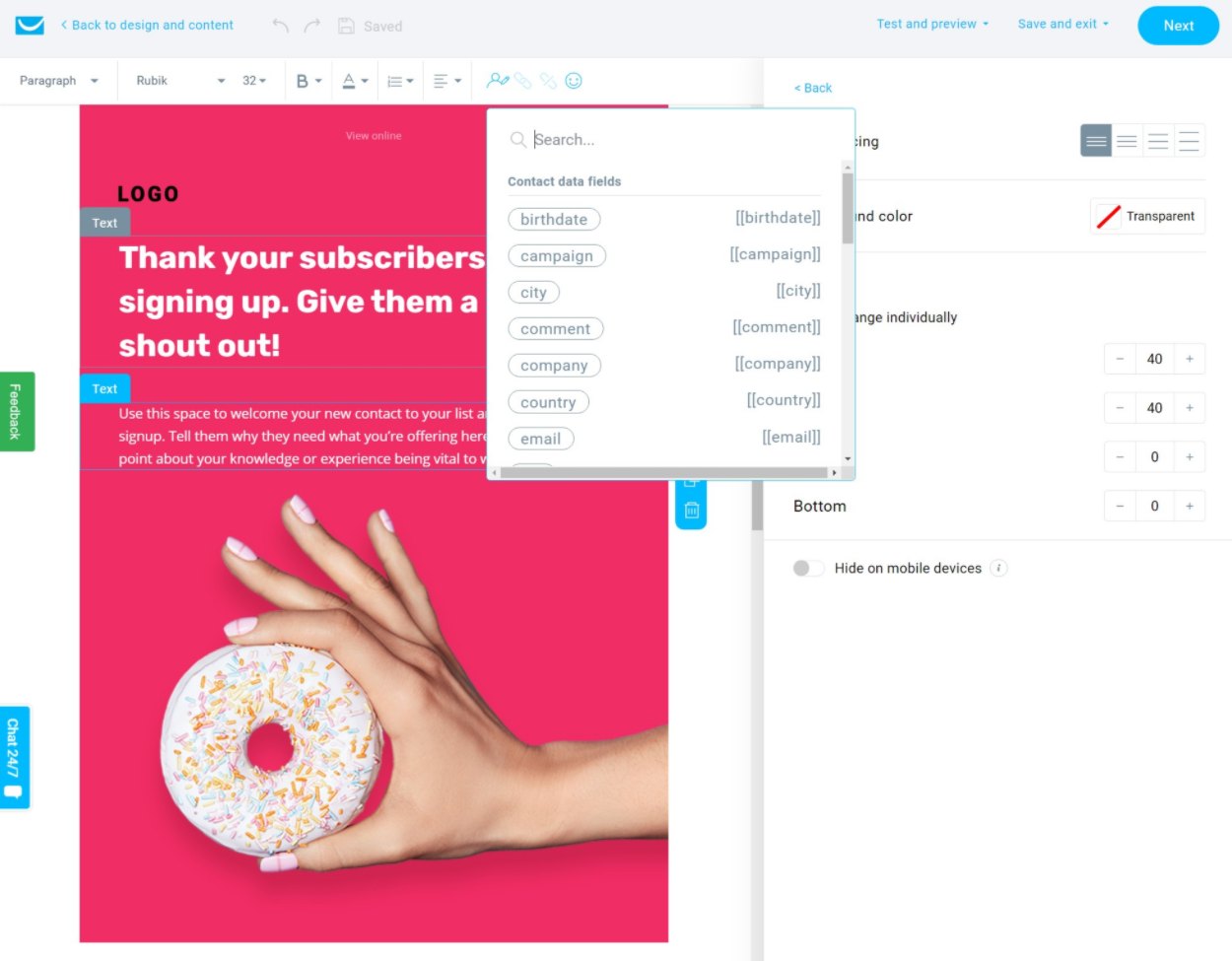 For eCommerce stores, you also get dedicated blocks to insert recommended products, which is a nice addition.
Overall, a lot of this is preference, but I personally prefer GetResponse's email builder to Mailchimp's. You might be different – but my personal opinion is that GetResponse does a better job of making it easy to create and customize designs.
GetResponse Website Builder
The website/landing page builder uses a slightly different editor, though it's still drag-and-drop. Unlike Mailchimp, it's fully free-form design (like a WordPress page builder plugin, if you're familiar with WordPress):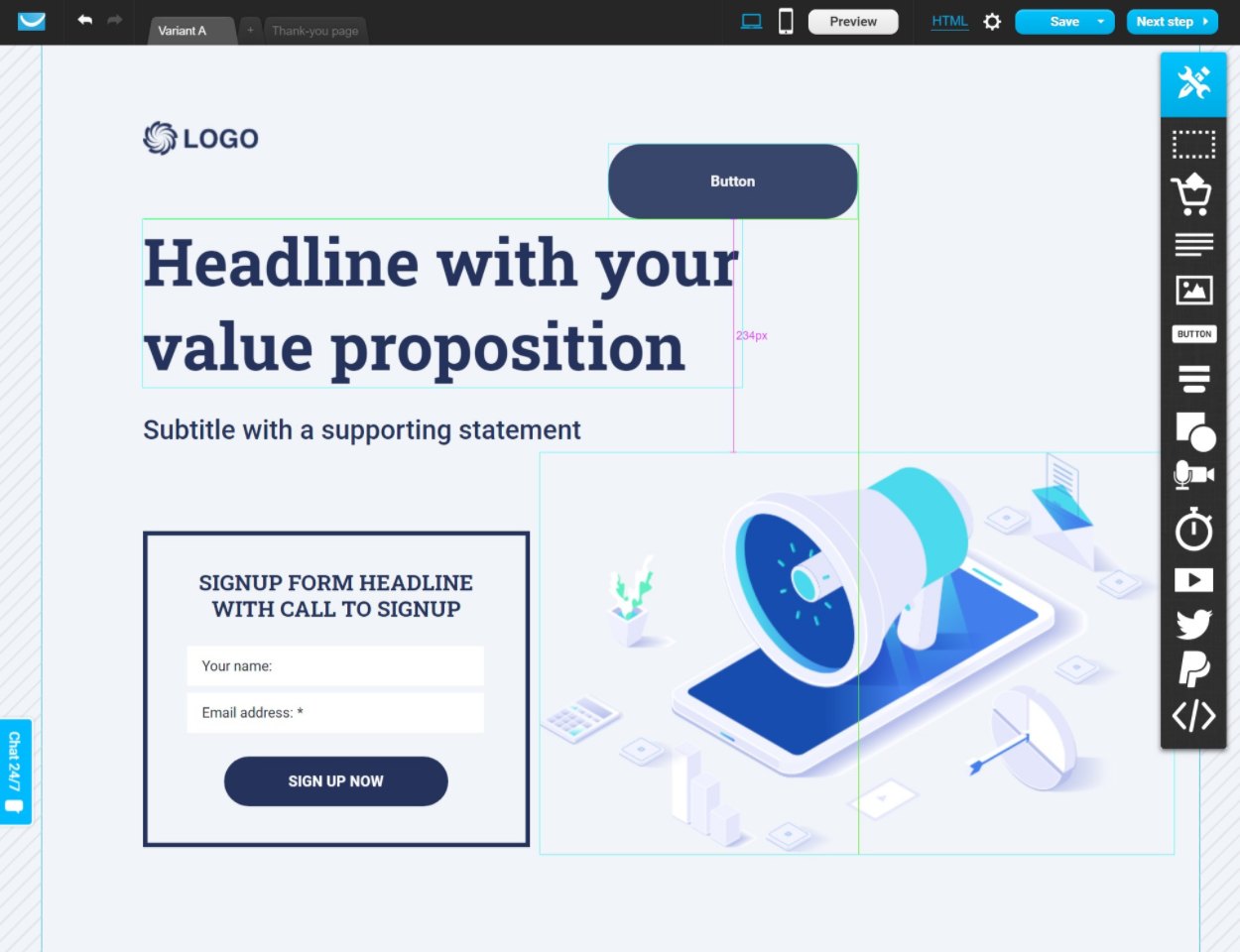 Overall, I would say that GetResponse's website builder gives you more flexibility, while Mailchimp's is simpler for non-technical users. So if you value flexibility, go with GetResponse. But if you're a total beginner who values simplicity, Mailchimp might be better.
💰 Pricing
If you're on a budget, Mailchimp can be an attractive option because it offers a free plan that works for many small businesses.
However, once you get into the paid plans, GetResponse is generally more affordable and GetResponse is also more generous when it comes to how it calculates your list size and how many emails you can send.
Both services use your list size as the key billing metric. This is different from some other services like that let you store unlimited contacts and bill you based on how many emails you send (like Sendinblue).
However, GetResponse lets you send unlimited emails based on your list size, while Mailchimp now imposes some limits on emails.
Let's go through the pricing of both tools in detail. I'll start with Mailchimp because its free plan sets a good anchor for the price comparison.
Mailchimp
If you want a free tool, Mailchimp is your only option.
Mailchimp's free plan is pretty generous and makes a good option for basic email marketing. With the free plan, you get:
Up to 2,000 contacts.
10,000 email sends per month, with a daily send limit of 2,000.
Access to basic email marketing, CRM, and landing page tools.
If you're a beginner just getting started with email marketing, this free plan is a great place to start.
However, you'll need to upgrade to the paid plan if you need access to the premium features, like automations, email scheduling, A/B testing, etc.
There are three different tiers for the paid plans, each of which comes with different features. Within each tier, you'll pay a different price based on the number of contacts that you have.
The entry-level point is the Essentials plan for 9.99, but that only lets you have up to 500 contacts. So if you're coming from the free plan, you actually get fewer contacts with the entry-level Essentials plan (though you do get a lot more features).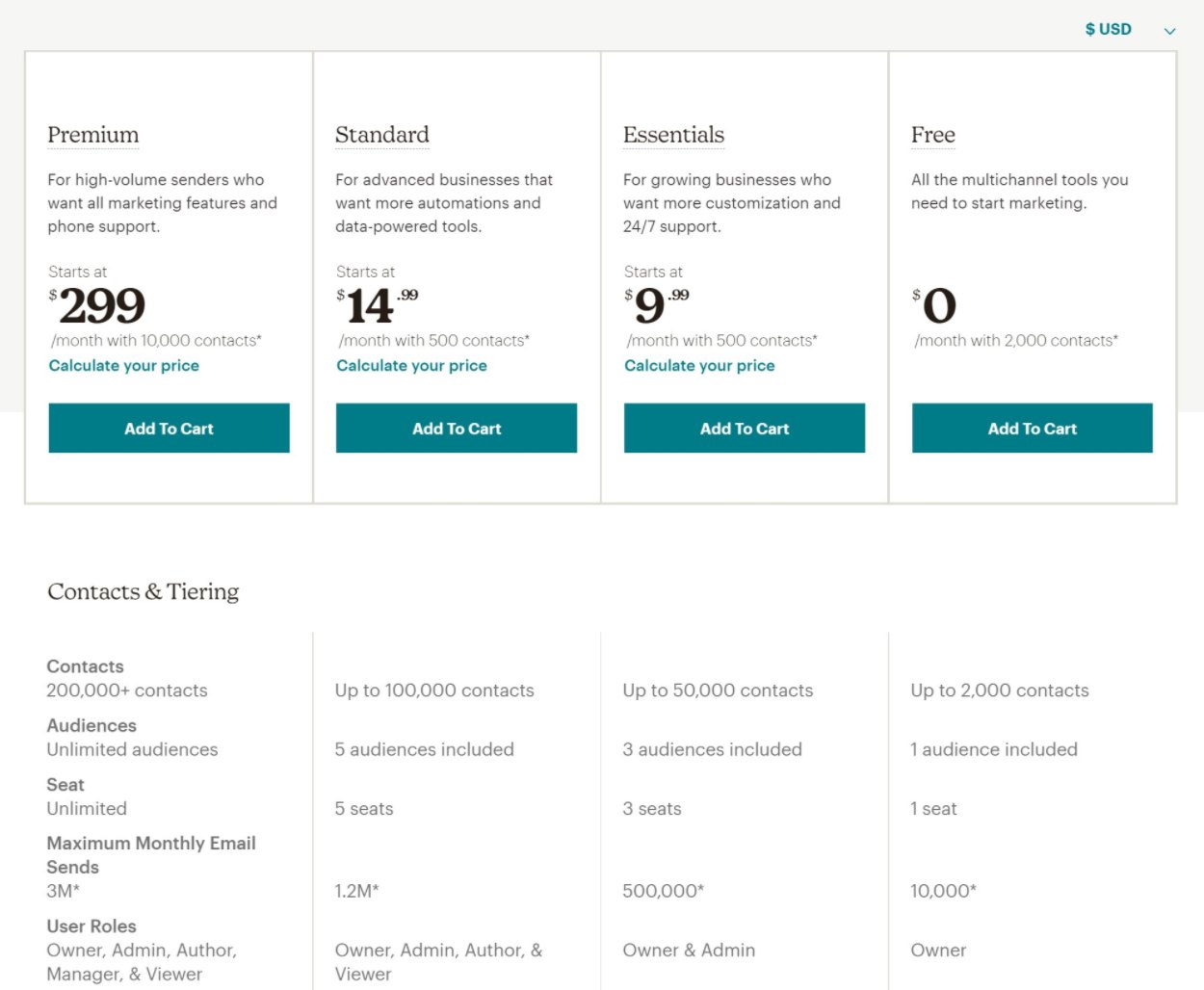 There's an extra fee to use the premium website builder.
There are two big downsides to Mailchimp's paid plans, though:
⚠️ Mailchimp now imposes some sending limits on its plans. The email sending limits are a multiple of the contact limit of your plan. The multiple is different depending on which tier you're on:
Essentials – 10X contact limit. So if your plan allows 10,000 contacts, your sending limit is 100,000 emails per month.
Standard – 12X contact limit.
Premium – 15X contact limit.
⚠️ Mailchimp has a very unfriendly way of calculating your list size for billing – called your "audience". Instead of only charging you based on the number of active, subscribed people you have, Mailchimp includes people who have unsubscribed and people who haven't opted in. If you're not regularly cleaning your lists, this could lead to you paying more than you need to.
GetResponse
As I mentioned above, GetResponse does not have a free plan. You can get a 30-day free trial without entering a credit card, but there's no permanently free option.
In terms of the paid plans, there are three different preset plans, along with a custom option for enterprises. Each plan tier comes with a different set of features. Then, the actual price for each tier depends on the size of your list.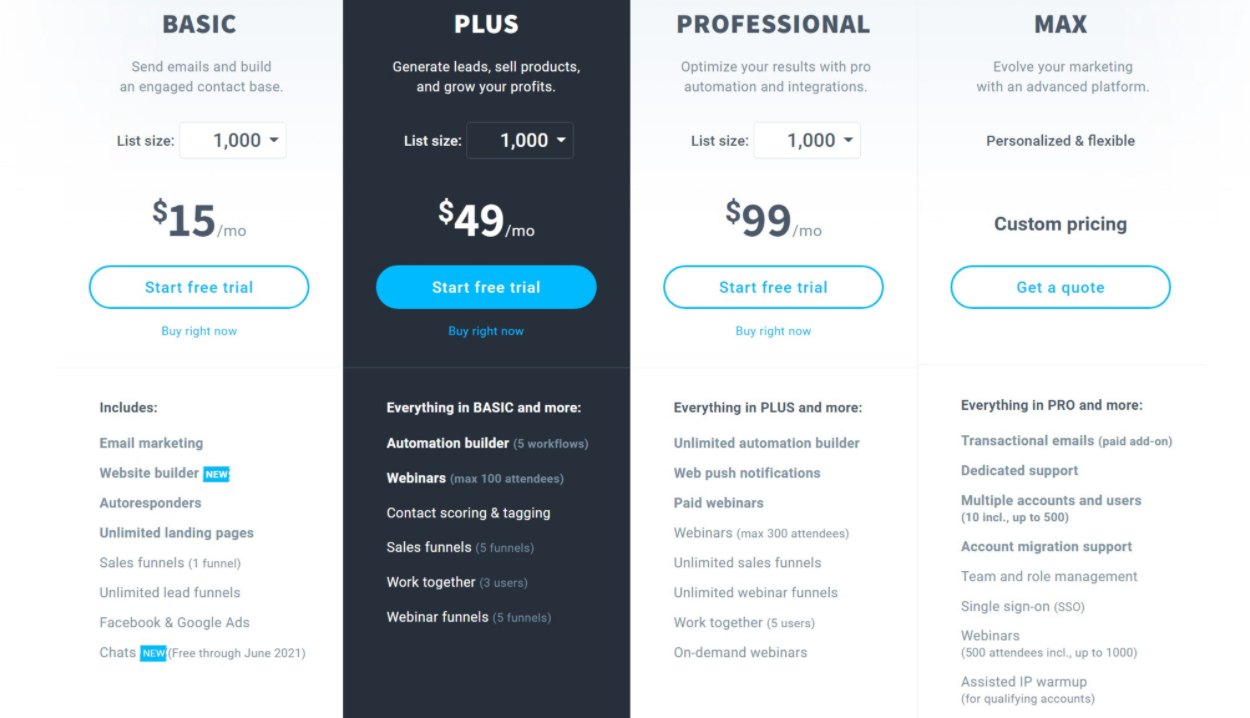 👍 Unlike Mailchimp, GetResponse allows unlimited email sending to your contacts. This is a much better deal than Mailchimp.
👍 GetResponse is also more generous in how it calculates a "contact". GetResponse only charges you for active contacts, which are people who are still subscribed and have opted-in to receive emails. This is a lot better for you than Mailchimp, which will also charge you for unsubscribed users or users who haven't opted in (as I mentioned above).
GetResponse vs Mailchimp Pricing Comparison
To make it easier to see how the paid plans compare, here's a table comparing just the monthly prices for the entry-level plan at both services:
| | | |
| --- | --- | --- |
| Contacts | GetResponse | Mailchimp |
| 500 | – | $9.99 |
| 1,000 | $15 | – |
| 1,500 | – | $20.99 |
| 2,500 | $25 | $30.99 |
| 5,000 | $45 | $52.99 |
| 10,000 | $65 | $78.99 |
| 15,000 | – | $135 |
| 20,000 | – | $170 |
| 25,000 | $145 | $200 |
| 30,000 | – | $230 |
| 40,000 | – | $260 |
| 50,000 | $250 | $270 |
| 100,000 | $450 | – |
Overall, you can see that GetResponse is pretty much cheaper across the board for equal contact limits – sometimes by a big margin (like if you have 25,000 contacts).
🏆 GetResponse vs Mailchimp: Which One Should You Use?
Now it's time to answer the most important question of this comparison – when it comes to GetResponse vs Mailchimp, which one should you choose for your website's email marketing?
Well, I think there are pros and cons for each tool. But if I had to pick one overall winner, I would say that the edge has to go to GetResponse.
Unless you fit on Mailchimp's free plan, GetResponse is cheaper and also has more generous billing rules, like not having any send limits and only charging you for active contacts. In my opinion, it also has more useful features for webmasters, such as live chat, webinars, and more.
Taking that into account, GetResponse is the best choice for most people.
With that being said, you can make an argument for Mailchimp, as well…
Why You Might Want to Choose Mailchimp
One big advantage that Mailchimp has is a free plan. If you're only planning to run a small list and you just want a simple way to stay in contact with your subscribers, the free plan might be all you need.
In that case, Mailchimp probably makes the best option because GetResponse doesn't have a free plan.
Beyond that, some other reasons why you might want to choose Mailchimp include the following:
You prefer Mailchimp's interface to GetResponse. I personally don't, but these things are subjective so you might like Mailchimp better.
Mailchimp has some very specific feature or integration that you need. I can't cover every single feature difference in this comparison because there are too many small features to name.
But overall, unless you fit those scenarios, GetResponse is probably the better option.
Or, for even more choices, you can browse our full collection of the best email marketing services.
Still have any questions about GetResponse vs Mailchimp? Ask us in the comments!