They always say that behind every great man is a great woman.
Well, I don't entirely agree. While I do think that women can have a tremendous influence on the success of powerful men, I also believe that women alone can accomplish just as much as any man. Even in the internet world.
That being said, sometimes a successful woman wants to start a WordPress blog catering to that feminine feel that other women tend to gravitate towards.
But how do you do this?
Well first, you will need to learn the differences between the WordPress.org and WordPress.com, we recommend using a self-hosted WordPress website so that you can access all of the great features WordPress has for aspiring website owners.
Next, you will need to pick up a hosting plan, SiteGround & WPEngine are both great choices. If you decide to go with, WPEngine, user our exclusive coupon code to get 50% off.
Then, after installing WordPress onto your website you will need to choose a suitable theme.  All excellent WordPress themes come well-coded, have lots of functionality, and are easy to use. Plus, things like security, translation ability, advanced commenting systems, and well-designed navigation menus all work together to secure a functional web site that oozes user-friendliness.
However, to capture that girlish feel that many website seek, you need more than just great features. You need softer color palettes, whimsical design elements, and a way to grab the attention of women that are looking for what you have to offer.
Today I am going to share with you some of the top premium feminine and girly WordPress themes that have light and airy color palettes, minimal layouts, elegant fonts, and more.
Premium Feminine WordPress Themes
1. The Essence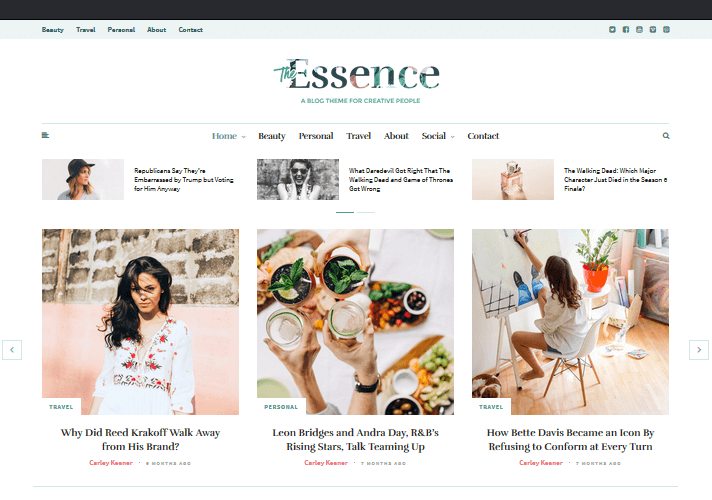 The Essence is a beautiful feminine theme perfect for those with a blog or magazine website. For starters, it comes with a custom front-end styler called the MeridianStyler. With the MeridianStyler you can change the appearance of your website to match your design needs. For example, easily change typography, colors, and the background. More so, adjust the spacing using this exclusive styling tool.
In addition, choose from any of the 17+ available homepage layouts to ensure your website looks different from even your toughest competition. In the end, this theme is great for those who want to share a lot of content and images, all with a girly feel.
Key Features:
Featured slider in both the Header and Footer areas
Custom Instagram Widget plugin
Tons of customizable color options
Social media icon integration
Translation ready
PRICE: $59
2. Beautiful Pro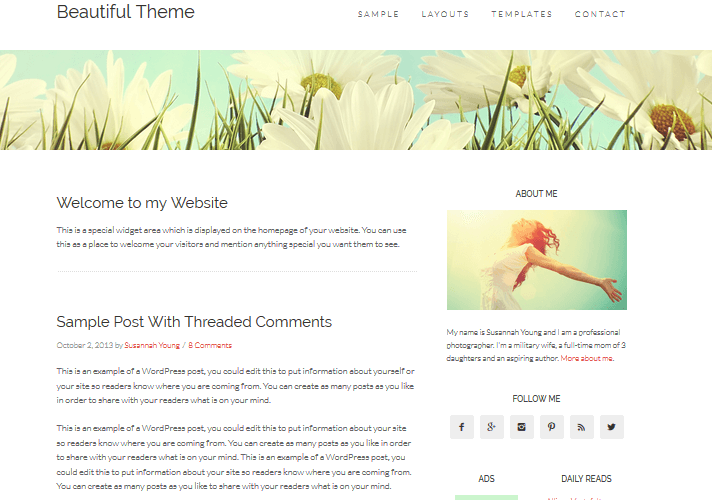 Beautiful Pro is a Genesis child theme that exudes happiness and beauty all at once. Defining beauty is impossible. Everyone has their own ideal of beauty that spans the spectrum. However, this theme does an excellent job of giving you the tools to create something you feel is beautiful.
For example, it comes with a customizable header section for branding your business. This allows you to provide your readers with an initial impression that lends itself to the beauty that is your company. In the end, this theme opens up all possibilities for all things beautiful to be shared with the world.
Key Features:
Custom page templates including a Landing Page
10 widget areas to build your site
Responsive layout with SEO optimization
Author boxes, thumbnail images, and fixed widths
Fancy drop down menus
PRICE: $99.95 (Genesis Framework and Theme)
3. Shasta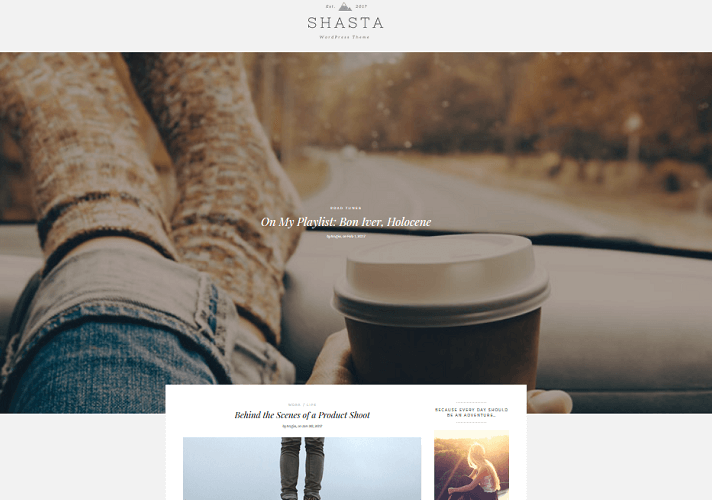 Shasta is an elegant blog-style theme that portrays your content in a beautiful, yet modern, way. With four front homepage styles to choose from, 9 custom post types including video and audio layouts, and tons of opportunities to customize your website to match that girly feel, this theme will have your site visitors saying "Wow".
Highlight your best content by implementing the large, full-width post banner, followed by a cascading grid-style layout of your best content below. In addition, showcase beautiful imagery and stunning typography thanks in large part to the open white space available.
Lastly, encourage readers to follow you on social media, share a tiled Instagram feed in the footer or sidebar, and creative custom galleries so everyone can enjoy your photography in one chic place. In the end, Shasta has everything you need to impress site visitors while keeping that light and airy touch.
Key Features:
Full WooCommerce support
100% responsive and mobile-friendly
Unlimited color options to capture that feminine feel
Hundreds of Google Fonts to choose from
Custom widgets
PRICE: $49
4. Josephine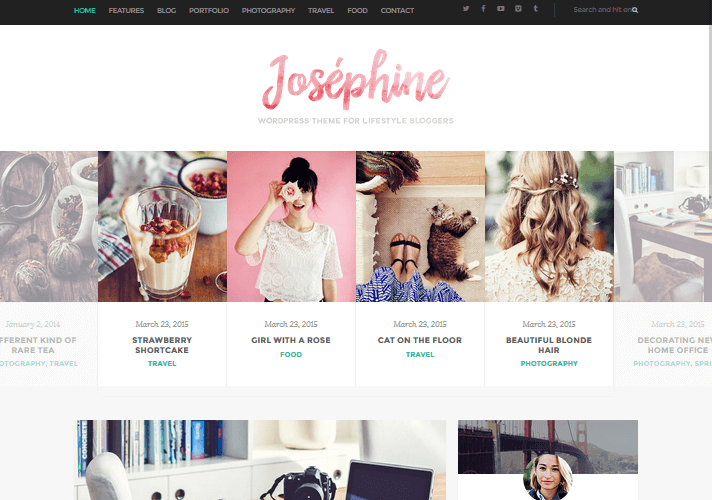 Josephine is the perfect WordPress theme for lifestyle bloggers. Blog about fashion, home decor, crafts, and food. They all look great on a feminine theme like this one. Coding knowledge is not a requirement when customizing Josephine.
In fact, you choose from the two demo content options to get your site launched in one click. Moreover, brand your business with 6 different banner types so visitors recognize your company instantly. In the end, this soft colored feminine theme will attract the right audience that your content caters to.
Key Features:
Built-in SEO optimization
Custom Author, Pinterest, and Social Media Icons widget
Mobile friendly
Organized featured posts complete with large images
Multiple blog layouts
PRICE: $44
5. Marilyn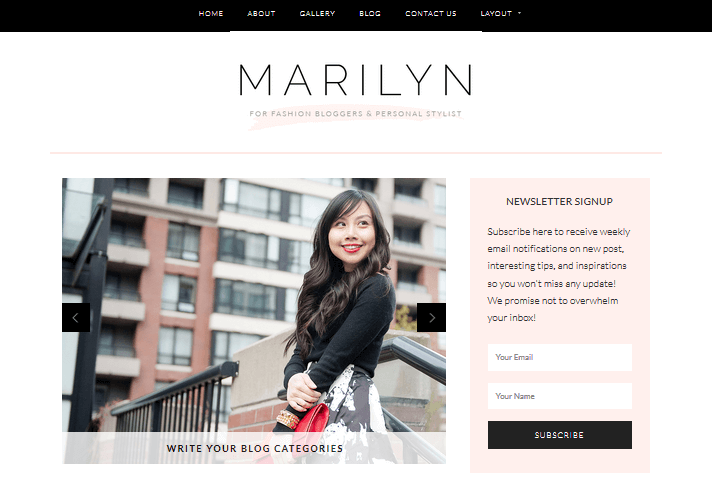 Marilyn embodies everything Ms. Monroe did – beauty, attention grabbing features, and a bold style. Built to wow site visitors and provide a functionality that encourages user-engagement, this theme is perfect for fashion bloggers. For example, it comes translation ready, with 3 promo boxes, and social media icons.
In addition, built-in SEO optimization attracts your target audience and convincing calls to actions build bigger emails lists. In the end, this girly theme is sure to boost your success as a fashion expert in no time.
Key Features:
Banner ad ready
Intuitive color picker for the perfect feminine match
Pre-styling form included for Mailchimp integration near the slider
Sticky menu
Featured slider for beautiful imagery
PRICE: $79
6. Girly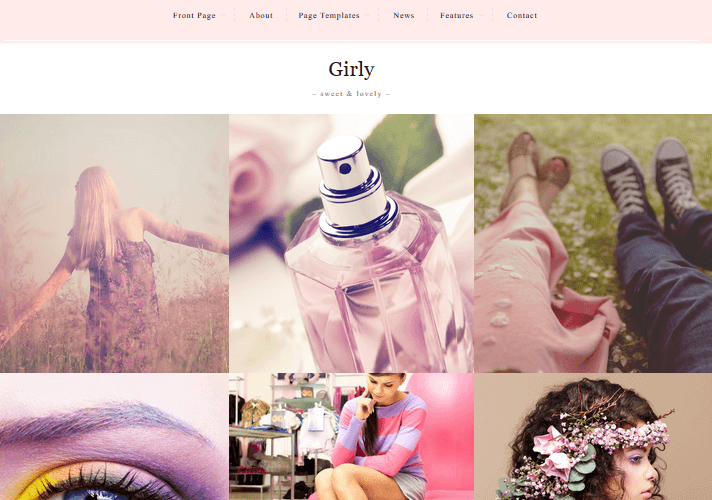 Girly – need I say more?  This theme is a versatile, powerful, and easy-to-use. In addition, it gives your audience something beautiful to gaze at for hours. Never worry about how your site renders on other devices since its layout is fully responsive. More so, create unique looking pages using the built-in templates and add imagery using the Soliloquy Slider. Lastly, place your widgets in all the right spots to encourage user engagement. In the end, this theme is great for girly websites and is ready to work for you.
Basic WooCommerce support.
Live Theme Customizer with additional theme specific customizing options.
Portfolio and grid layout options.
Large featured post images with or without post excerpts.
WPML ready.
PRICE: $59
7. Tawney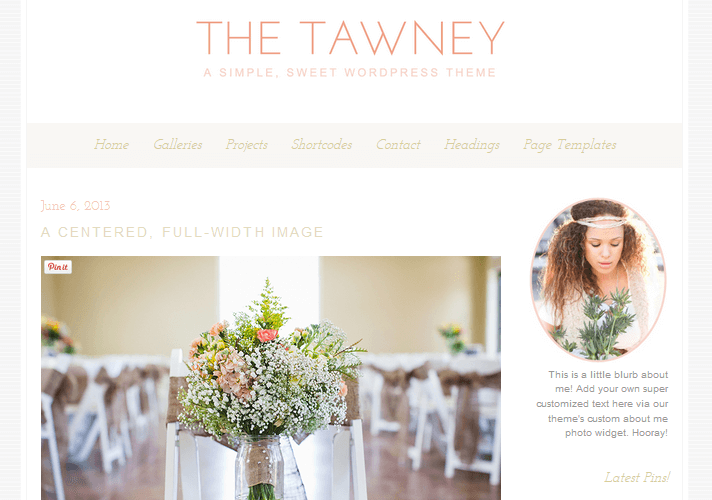 Tawney boasts a clean and simple design with a feminine touch. More so, it comes with a full loaded dashboard for making multiple customizations to match your brand. For example, change the color palette to cater to your feminine audience. This includes the navigation ribbons, text colors, borders, and more.
In addition, reach this same audience via any major internet browser and on all device shapes and sizes. Altogether, this theme is perfect for anyone looking to blog about girly topics like crafts, food, fashion, and makeup.
Built-in mosaic tiling image galleries with lightbox feature.
Company branding with logo, blog signature, and favicon upload.
Included image carousel page template.
Full post or excerpt toggle.
User-friendly navigation drop down menus.
PRICE: $70
8. Isabelle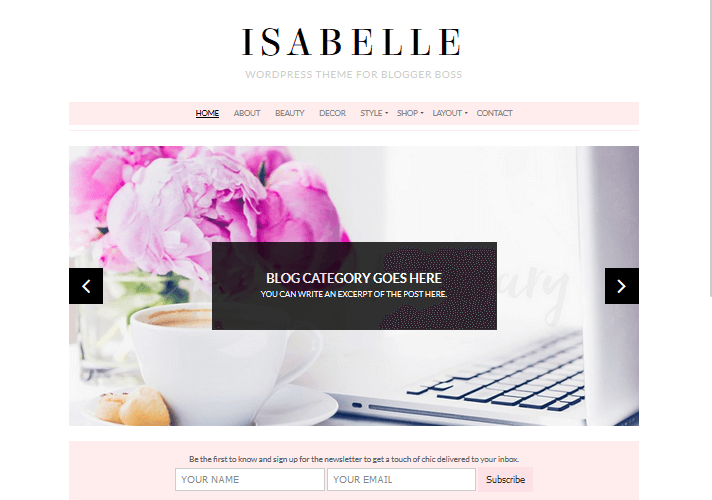 Isabelle is another attractive feminine theme from Bluchic that boasts a lightweight color palette and flexible customization. For instance, it has a tiny grid layout of thumbnail images for a dainty feeling. In addition, it comes with sample demo content to inspire your website design and a full width featured slider that fits edge to edge.
Lastly, you can create a newsletter sign up form for building your email list and staying connected with your loyal followers. Altogether, this theme is a great business builder and ranks high on the list of great WordPress website themes.
WooCommerce compatible for online shop building.
Responsive layout.
Above-the-fold slider that links to any page.
Multiple layouts with full post or excerpt capability.
Blank Landing Page template.
PRICE: $79
9. Glam Pro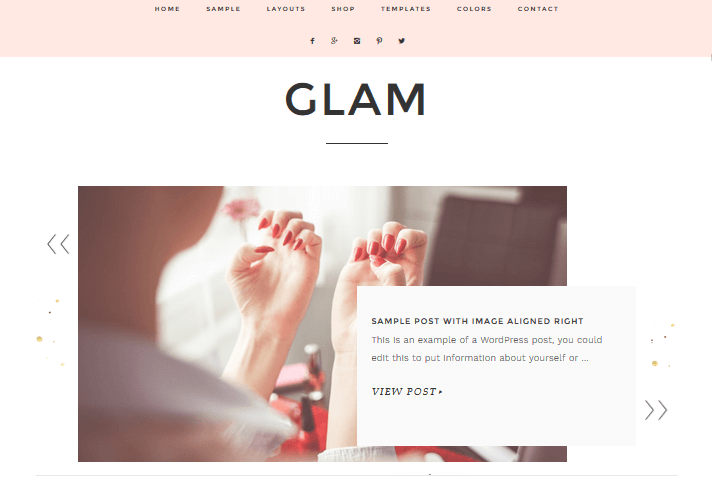 Glam Pro offers a more glitzy take on the girly appeal you want for your website. To start, this multipurpose theme suites lifestyle and fashion bloggers as well as those who own an online shop. Next, it is compatible with WooCommerce for selling your best products. In addition, this modern theme supports featured images, a widgetized homepage, and even displays a responsive slider.
Glam Pro's generous use of whitespace keeps the focus on your content and products. Additionally, it has a lightweight structure for fast loading speeds. In the end, this theme is great for bloggers, online shop owners, and those that visit your website looking for a glam take on all things girly.
Translation ready.
2 homepage and 1 footer widget area for brand management.
Custom templates – Default, Archives, Categories, Landing, and Blog.
Monetize your site with built-in ad banners.
In-post navigation for easy post reading.
PRICE: $99.95 (Genesis Framework and Theme)
10. Amalie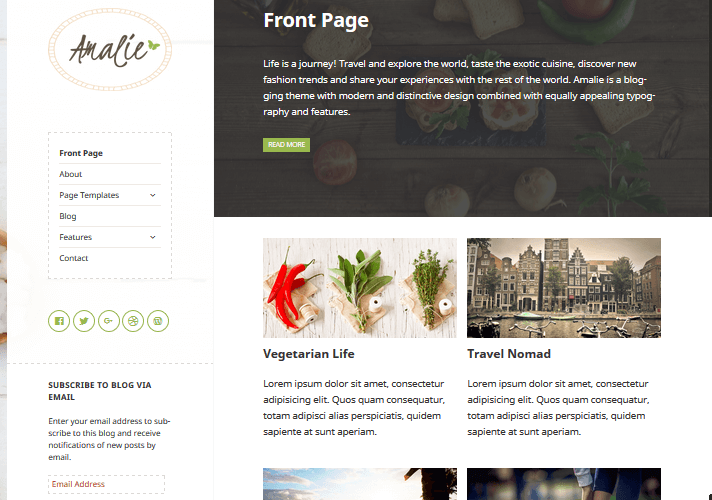 Amalie is a feminine theme based on the popular Twenty Fifteen theme. For starters, it is simple to use and uniquely designed. This makes it perfect for lifestyle bloggers that cater to a female audience.
Moreover, custom page templates, responsive layout, and additional customization options give this theme all it needs to make a striking impression. In the end, consider using Amalie if you are in need of a basic girly theme that offers a soft and delicate feel.
WooCommerce support for online shop building.
Carefully coded widgets.
Premium Soliloquy Slider with various add-ons.
Translation ready using WPML.
Grid page layout available for post organization.
PRICE: $59
11. Jessica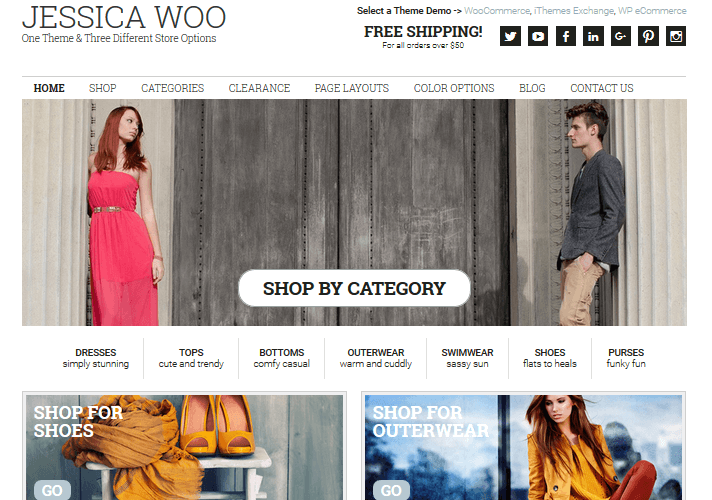 Jessica is a flexible eCommerce WordPress theme with a feminine flair. Full of features to make your online shop stand out, this theme also extends its eCommerce capability. For instance, it integrates well with WooCommerce, iThemes Exchange, and WP e-commerce. Plus, it uses generous whitespace so your products can stand out and customers can buy.
In addition, Jessica boasts prominent calls to action followed by a large featured image section. In all, this feminine based eCommerce theme leaves much room for function and design.
Easily customize theme settings, colors, background images, and content.
Use 10 homepage and 5 site wide widget areas.
Footer widgets display featured products, top rated products, and sale items.
Translation ready.
Mobile responsive and perfectly optimized.
PRICE: $129.95 (Genesis Framework and Theme)
12. Olivie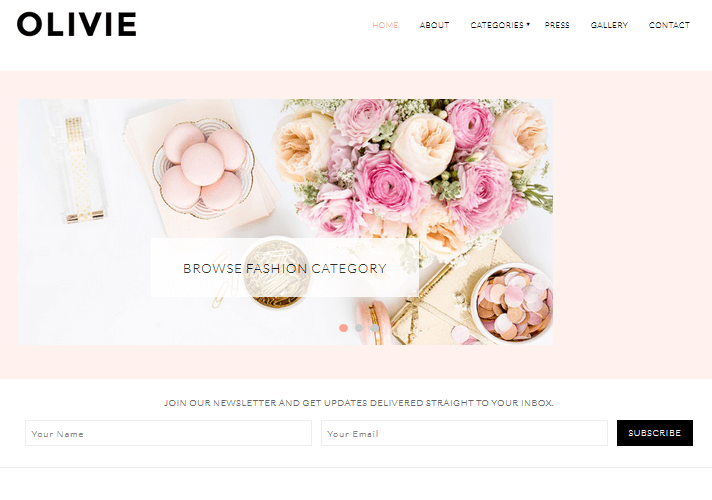 Sweetly feminine, but not overly girly, Olivie is great for those in the beauty and lifestyle niches. For instance, it is fully customizable to match any color palette, comes with demo content to inspire you, and oozes a feminine feel.
Convert site visitors into subscribers with the pre-styled full width subscription box. Reach your audience on all device sizes. Even brand your company by uploading a custom header image. In the end, Olivie offers website owners a unique way to target their female readers while building a bigger business in the process.
Highlight content with the automatic homepage slider.
Sticky navigation.
3 footer widget areas for CTAs and social media icons.
Banner ad ready.
SEO optimized with clean code.
PRICE: $79
13. Meadowbrook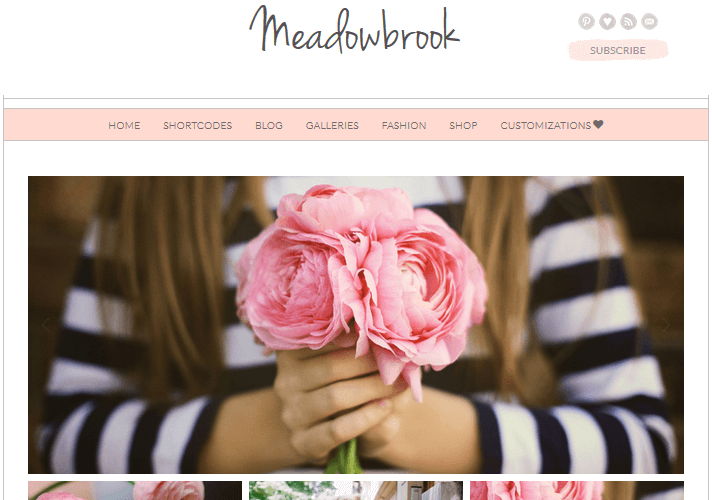 Meadowbrook comes packed with amazing typography, color controls, and a mobile friendly design. What's more, it has the right amount of feminine touch to cater to those who love all things beautiful, girly, lifestyle based, and fashion forward.
Utilize the new customizer panel to change every element on your website. This includes any Google or custom web fonts you wish to use. On the other hand, take advantage of the 23 shortcodes for additional functionality and user-friendliness. In the end, Meadowbrook is a great theme choice for those looking to keep things simple and elegant.
Set your site and sidebar width.
Masonry, Slider, and Carousel Gallery Style slider options.
Integrate responsive video.
WooCommerce compatible for online shop building.
Custom share buttons for each post.
PRICE: $70
14. Heart & Style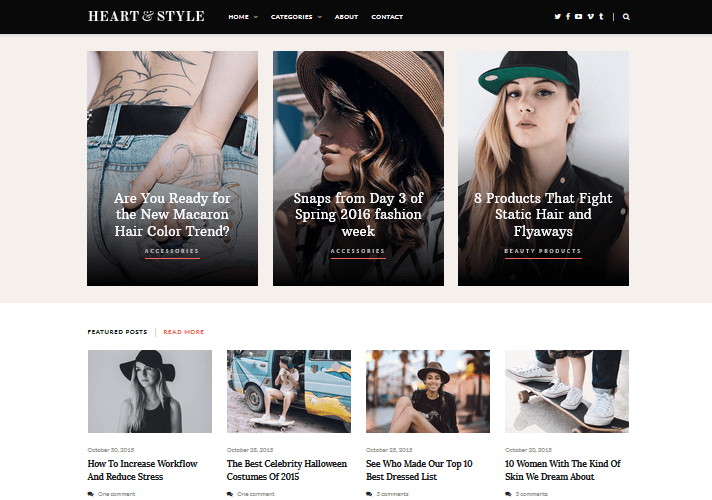 Heart and Style offers website owners a way to present an elegant website with a modern and minimalist feel. Though useful for all website types, this theme is best suitable for female bloggers writing about fashion, lifestyle, and all things girly.
For instance, it has over 250 styling and customization options and 3 alternative homepage layout styles. More so, it has a navigation menu baked right into the footer. Altogether, this theme makes creating a feminine based website an easy reality.
Social media icon integration.
Large rotating featured images with related category labels.
Sidebar, column, and full width content choices.
Custom About Me Page widget.
MeridianStyler and Live Theme Customizer maximize changes
PRICE: $49
15. Jasmine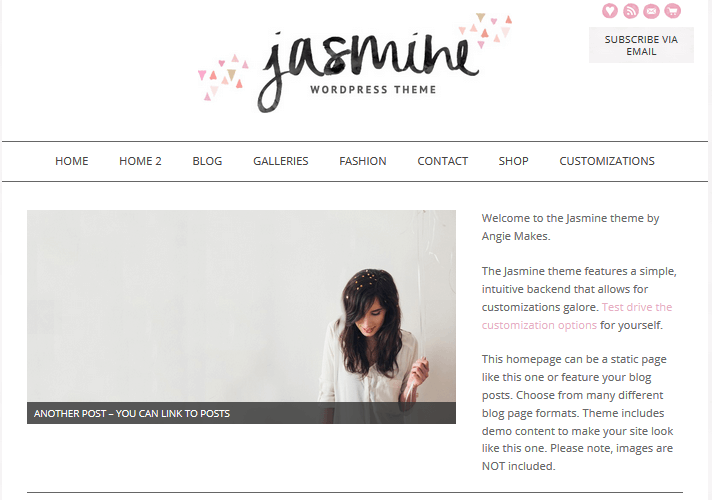 Another graceful theme brought to you by Angie Makes, Jasmine exudes a modern feel and a simple touch. Plus, its lightweight feel resembles nothing short of beauty.
Built-in SEO optimization, unlimited custom web fonts, and the ability to set site and sidebar width sizes make this theme truly unique. In addition, you can choose from 3 layout options, add responsive videos, and even include a slider for added appeal. In the end, just like their other feminine themes, Jasmine does not disappoint.
23 shortcodes for additional functionality.
Compatible with Mailchimp, WooCommerce, and Contact Form 7 plugins.
Custom widgets including social media, Pinterest feed, about me, and single image.
Custom header with or without image that supports text.
Several ad banner sections.
PRICE: $70
16. Paisley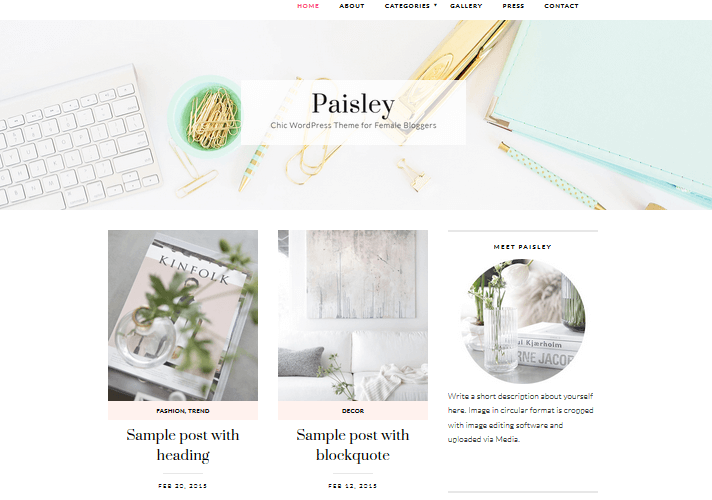 Paisley's beautiful and classic design will have your feminine audience giddy in love. In love with your content, in love with your imagery, and in love with your brand. For example, display blog posts in a grid-like fashion with two columns for an optimal reading experience.
More so, add a full width background image for the header to create a bold first impression with site visitors. Altogether, because of Paisley's stylish design, you can tailor your website to those who love being in love.
5 promo box widget areas in the footer.
Banner ad ready in the header and post sections.
Sticky navigation for improved user experience.
Translation ready.
Responsive layout design.
PRICE: $79
17. Vixen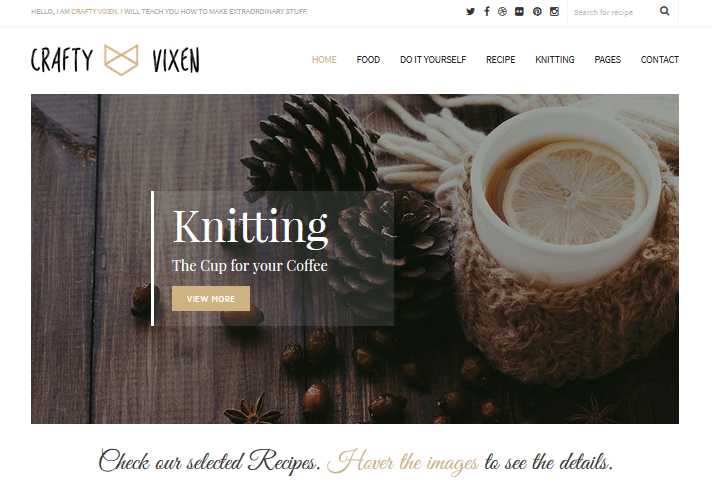 Vixen is a girly theme with a crafty feel. Creatively designed, easy to customize, and SEO optimized, this theme is perfect for bloggers of all kinds. Additionally, super-fast loading speeds lend to great user experiences. Furthermore, images display clear and beautiful.
Additionally, showcase your images using one of several layout options allow for unique website creations. In the end, you can create a crafty blog, complete with bold imagery and valuable content, using this girlish theme.
Full responsive for all devices.
Made for readability.
Video, gallery, audio, standard, and link post templates.
Custom logo and favicon upload.
Full width or boxed design.
PRICE: $46
18. Huntt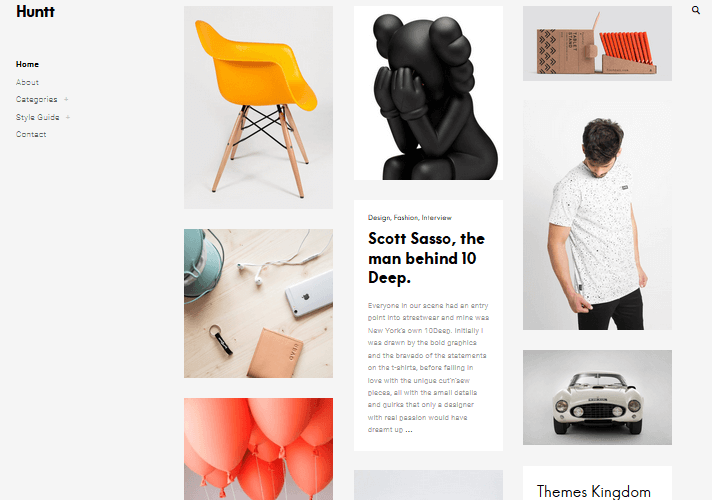 Huntt, a minimal WordPress blog theme with a visually stunning feminine feel, places content front and center. Content related to photography, graphic design, fashion, art, architecture, and interior design work well with this creative theme.
In addition, due to its portfolio features, agencies can take advantage of Huntt's beautiful design as well. In the end, this theme is fully scalable to reach any site visitor on any device, with translation abilities and clean, and fast-loading code so that you can build your business.
Fully detailed PSD files included.
Easy color transitions for customization perfection.
Intuitive search box.
Adjustable 3 and 4 row columns.
Large featured images with post titles.
PRICE: $44
So, there you have it. Some of the most innovative feminine and girly WordPress themes on the market today. Built with clean code, SEO optimization, soft color palettes, and fun elements to create the perfect girly touch, these feminine WordPress themes are just what you need for your stylish websites.
For any website that aims for a female audience or just wants a softer touch when it comes to overall design, consider using one of the above-mentioned themes.
Have you used any of the above-mentioned feminine WordPress themes? Have I left one off of the list that you feel should be included? I would love to hear all about it in the comments below!