Wix is one of the most popular website builders worldwide and powers a staggering 160 million websites. Most people choose Wix because it's easy to use, has lots of features, and there's a huge collection of templates to choose from. But if you're thinking about creating a website, you should consider using one of these Wix alternatives instead.
What's wrong with Wix? Well, nothing if you just want to get a website up quickly and you don't mind paying a monthly fee for it.
However, if you want to grow your website, add advanced functionality, improve its SEO, and have full control over your data and content, there are many better alternatives. Bonus: several of these Wix alternatives are a cheaper option too.
We recommend these alternatives:
For General Websites
For eCommerce Sites & Online Stores
WooCommerce (flexible free eCommerce platform for WordPress)
BigCommerce (powerful hosted eCommerce solution)
Shopify (Easy-to-use online store builder with lots of tools to maximize sales)
For Photography & Art Portfolios
SmugMug (Secure and unlimited photo storage and portfolio builder with sales tools for photographers)
Format (Stylish online portfolios for photographers with in-built business tools)
Wix Pros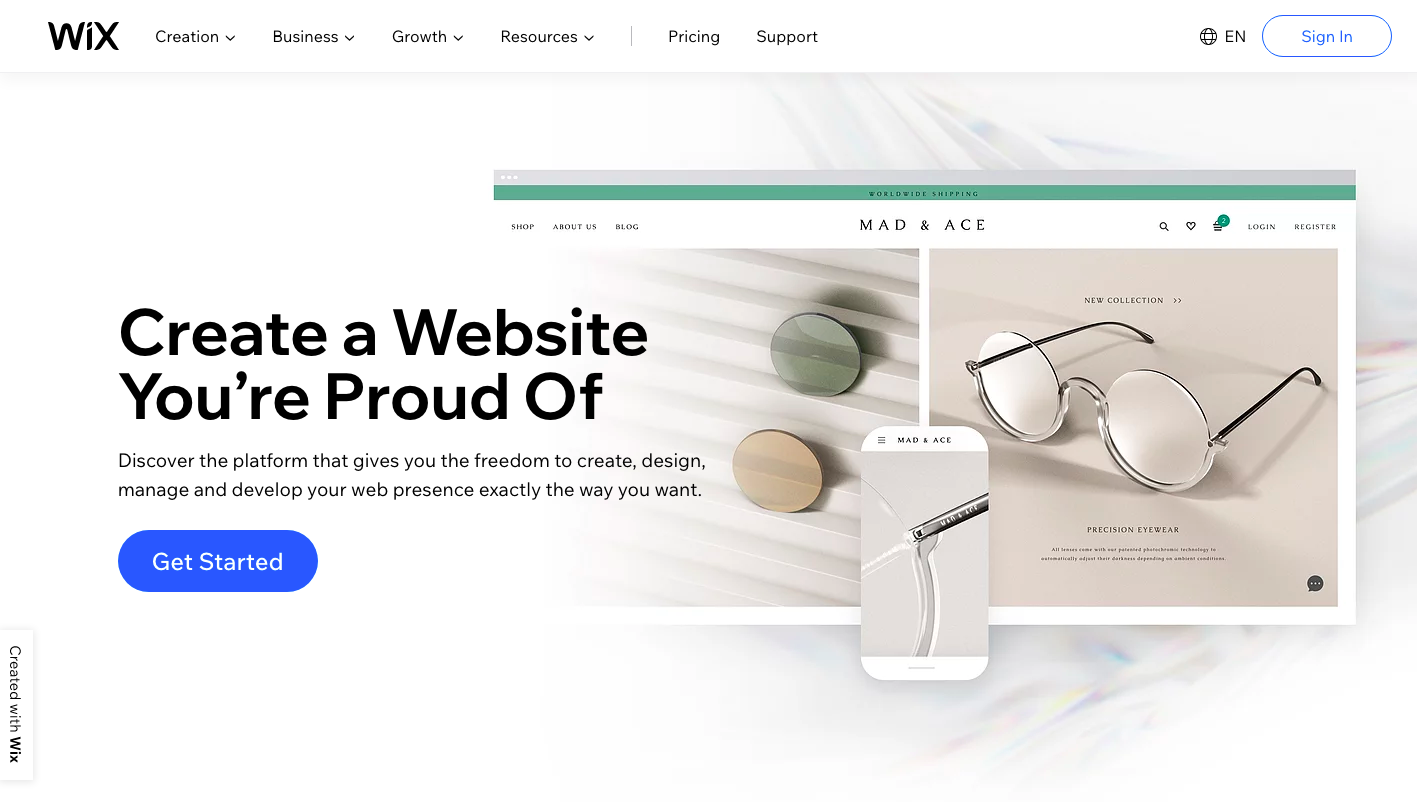 We're not claiming that Wix is all bad. Certainly, there are millions of people who seem to be happy with using it for their website. So let's start by taking a look at what makes Wix such a popular choice.
Easy to Use
Wix's main selling point has always been how easy it is to use for beginners and that's certainly true.
With its basic site wizard, you can have a site up within minutes. The drag-and-drop builder is very easy to use too, and it's simple to make customizations to the templates and create your own designs.
Great Selection of Templates
If you're not naturally skilled with design or don't want to spend hours making your website look good, Wix has you covered with over 800 professionally designed templates for pretty much any kind of site.
We can't fault the Wix templates. They really are beautiful and modern designs and there's something for everyone. Your site certainly won't look DIY unless you start messing around with them.
All-in-one Platform
Another big selling point of Wix is that they take care of everything for you including hosting, security, backups, eCommerce tools, marketing, analytics, and so on.
You don't need to sign up for or learn how to use lots of different tools and services. Everything is provided on a single platform.
Create a Free Website
Of course, a big reason why Wix hosts millions of websites is because you can build a website without paying anything with their free account.
This is a good option for small personal sites but doesn't work for most people because the free sites have a Wix domain address and display Wix ads. There are also significant limits on storage, bandwidth, and features.
However, Wix was very clever to offer this free option, as I'm sure many users started out on the free plan and then upgraded when they realized its limitations. If you want to build a website but don't have much money, there are other options.
Wix Vs. WordPress
Wix has mainly aimed its product at beginners and creatives to date, highlighting the platform's ease of use and the fact you don't need any coding skills to create a professional-looking website.
However, the brand has since expanded its focus and is now targeting agencies, developers, and those more experienced in building websites.
Wix recently launched a bizarre advertising campaign taking a swipe at WordPress. They sent high-profile tech influencers and WordPress users Bose noise-canceling headphones in a box with a "Top Secret" and a note signed from "WP".
Recipients of the headphones were instructed to scan a QR code, which took them to a video of a man calling himself "WordPress" and complaining that Wix was spreading lies and fake news.
The campaign left most of the recipients feeling confused about what they were trying to achieve, especially as there was no indication that the headphones were from Wix apart from the shipping label.
Wix later uploaded a series of videos identified as part of their "You Deserve Better" campaign, which criticized WordPress as being a target for hackers, needing regular updates, and generating constant errors.
While Wix claimed that the purpose of the campaign was to reach an audience that "doesn't think or know that Wix applies to their needs," it attracted ridicule from the WordPress and tech community, with users on Twitter calling out the brand for being "unethical" and "tacky".
So why exactly is the idea of switching to Wix such a ridiculous idea for most WordPress users? Let's take a deeper look at some of the negatives of the platform.
Wix Cons – Why You Should Not Use Wix
While Wix has some advantages, particularly for those new to creating websites, there are also many downsides.
These negatives are the reason why you'll rarely see a serious business website built on Wix and why most people move away from the platform once their website grows or they're updating it regularly.
Lack of Data Portability
Wix is the only CMS to our knowledge that does not allow you to export your content. While there are some limited export functions for products and other data types, the Wix support database states "Currently, it is not possible to transfer blog posts from one site to another."
In basic terms, this means that once you start building a site on Wix, you're stuck with it.
Of course, you can make local backups of your blog posts and website content in a spreadsheet or word documents, but there's no easy way to export your content and import it to another platform. If you want to create a new site on a different site builder or blogging platform, you'll have to start from scratch.
The easiest way to get around this problem? Don't build your site on Wix in the first place.
Expensive Option
Wix offers a free plan but it's very limited and your website will be covered with Wix ads. For this reason, most Wix users opt to upgrade to one of the premium plans.
All plans require monthly payment with the cheapest ad-free plan starting at $8.50 a month. This might not seem so expensive but considering you can get cheap web hosting for less than $6 a month and run as many websites you like, it's certainly not the most affordable way to get a site online.
If your site has a lot of traffic or hosts large files and you need a lot of space, you'll pay even more with "Unlimited" and "VIP" plans costing $12.50 and $24.50 a month respectively.
You're Locked into the Wix Platform
Wix combines a website builder, hosting, and other services in a single package. This simplifies the process of running a website but it also means you're very limited.
For example, if your website is running slowly, most website owners have the option of changing to a faster host. Wix users have no option but to stay with Wix.
Lack of Flexibility and Power
While Wix likes to promote the flexibility of its drag-and-drop builder, this is not really true.
Yes, you can customize templates and probably get them looking the way you want them to, but you can come unstuck when you want to add advanced features to your website.
For example, Wix offers a basic eCommerce platform, which is suitable for small businesses, but you'll soon realize its limitations when your business starts to scale up.
Wix website code is also quite bloated, which can make your website run sluggish and slow.
Wix Alternatives for General Websites
So, for all of these reasons, we'd definitely recommend that you consider some Wix alternatives before you start building your site on the platform.
1. WordPress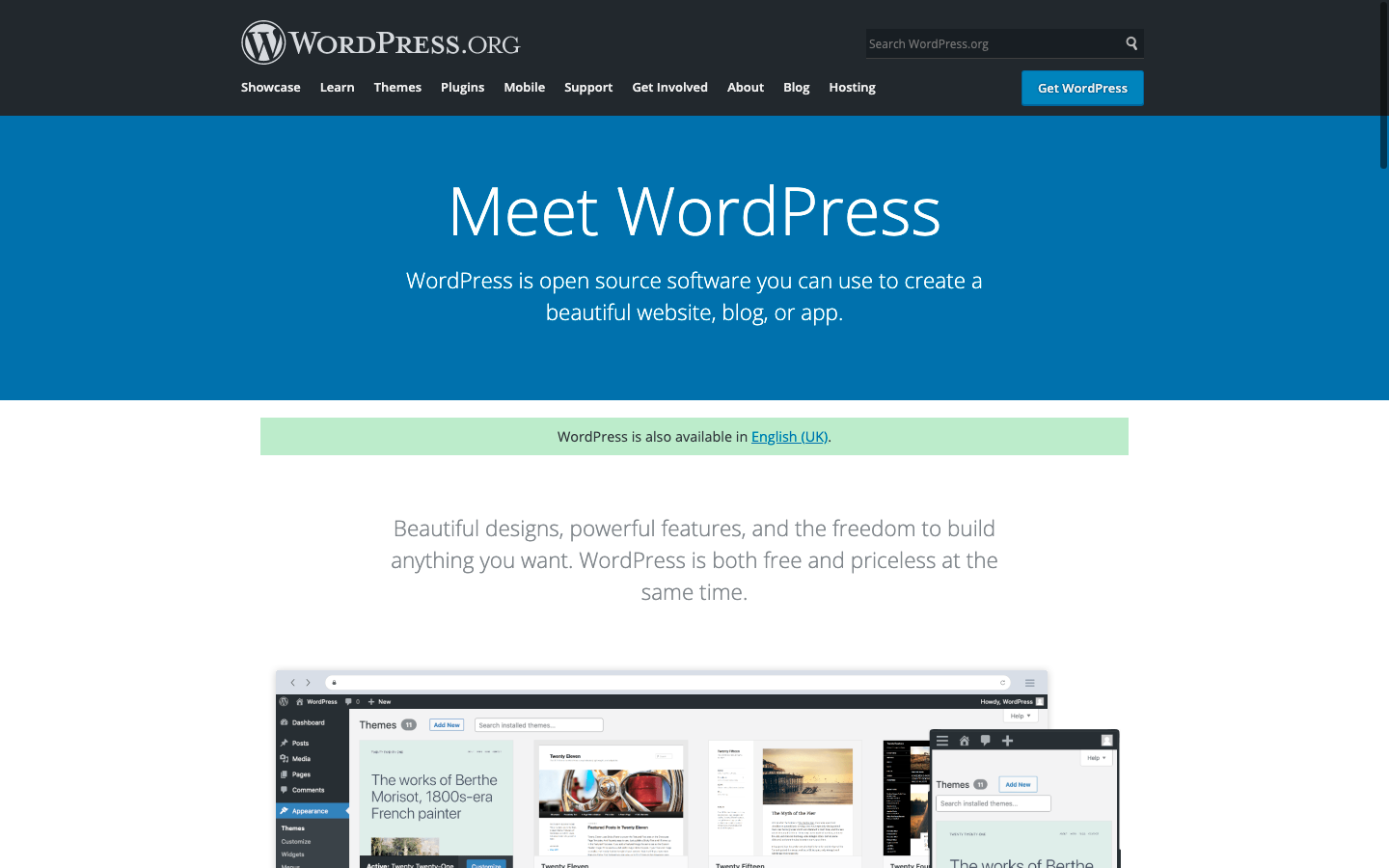 WordPress is always our number one recommendation for anyone wanting to make a website.
In 2021, WordPress powers over 41% of all the sites on the internet, which should give you an idea of just how popular it is.
This platform comes in two different versions, WordPress.com and WordPress.org, which can be confusing for new users. When we talk about WordPress, we're usually referring to the .org version, which is the best choice for most people. Read our explanation of the different versions of WordPress to find out more about this.
WordPress is an open-source content management system or CMS, which means you can use it to build any type of content website and it's completely free to download and use.
Most people know WordPress as a blogging platform, but you can build a lot more than just a basic blog on WordPress. However, if this is what you want to do, make sure you check out our detailed guide on how to start a WordPress blog.
Of course, WordPress would never have become so popular if it wasn't any good. WordPress offers great power and flexibility. It's simple enough for users who don't have any coding knowledge or web design experience and yet it's powerful enough to be the CMS of choice of huge websites and major corporations.
Pros
Highly flexible & powerful – there are thousands of WordPress plugins to extend its functionality and you can customize and add to the core code as you wish. You can build a blog, forum, portfolio, online store, and any other type of site on WordPress.
Thousands of themes – WordPress comes with access to thousands of free and premium professionally designed themes to make sure your site looks amazing.
Lots of help and support available – Millions of people use WordPress and it boasts an enthusiastic and passionate community. Whatever you need help with, there's sure to be a tutorial, video, or forum to help you out.
Cons
More complex than basic website builders – there's a bit of a learning curve to using WordPress and it may take a bit longer to get to grips with than a drag-and-drop site builder.
WordPress sites are self-managed – you'll need to look after your site and do all the maintenance and management tasks yourself including backups, updates, and maintaining security (unless you opt for managed WordPress hosting)
💵 Price: WordPress is free to download but you'll need to pay for hosting for your site. We recommend Bluehost hosting, which starts at less than $5 a month
2. Gator Website Builder by HostGator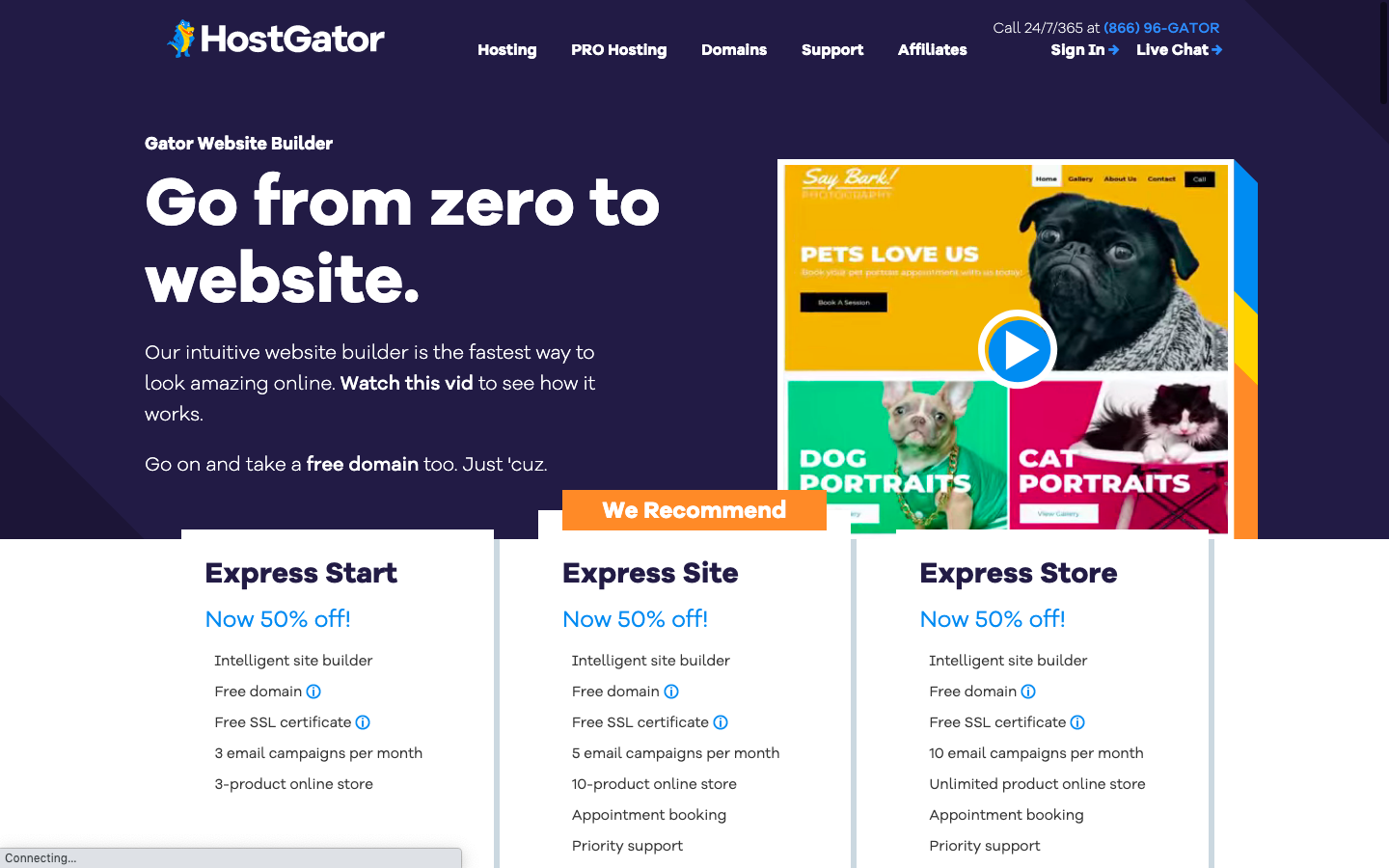 Do you prefer a more hands-off experience when it comes to creating and managing your site? Think that WordPress is too complicated to get started with? A simple website builder might be a better choice for you.
The Gator website builder by HostGator offers many of the same advantages as Wix with fewer downsides and a cheaper monthly price.
Gator is an AI-powered website builder that will automatically generate a website for you with a modern design that's suitable for your niche or industry.
You can customize the site by adding your own logo, adding images, and tweaking fonts, colors, and navigation.
Gator also includes tools for building eCommerce sites, email marketing, booking appointments, and analytics, which makes it a great choice for small businesses.
Pros
AI-powered intelligent design means you can have a site up and running within a few minutes
Easy to use for beginners
Useful features for small businesses
Affordable and includes a free domain
Cons
Limited design and customization options
You're tied to HostGator hosting
Not suitable for large or complex websites
💵 Price: From $3.84 a month, including a free domain for one year
Get Started with Gator Builder
3. Divi Theme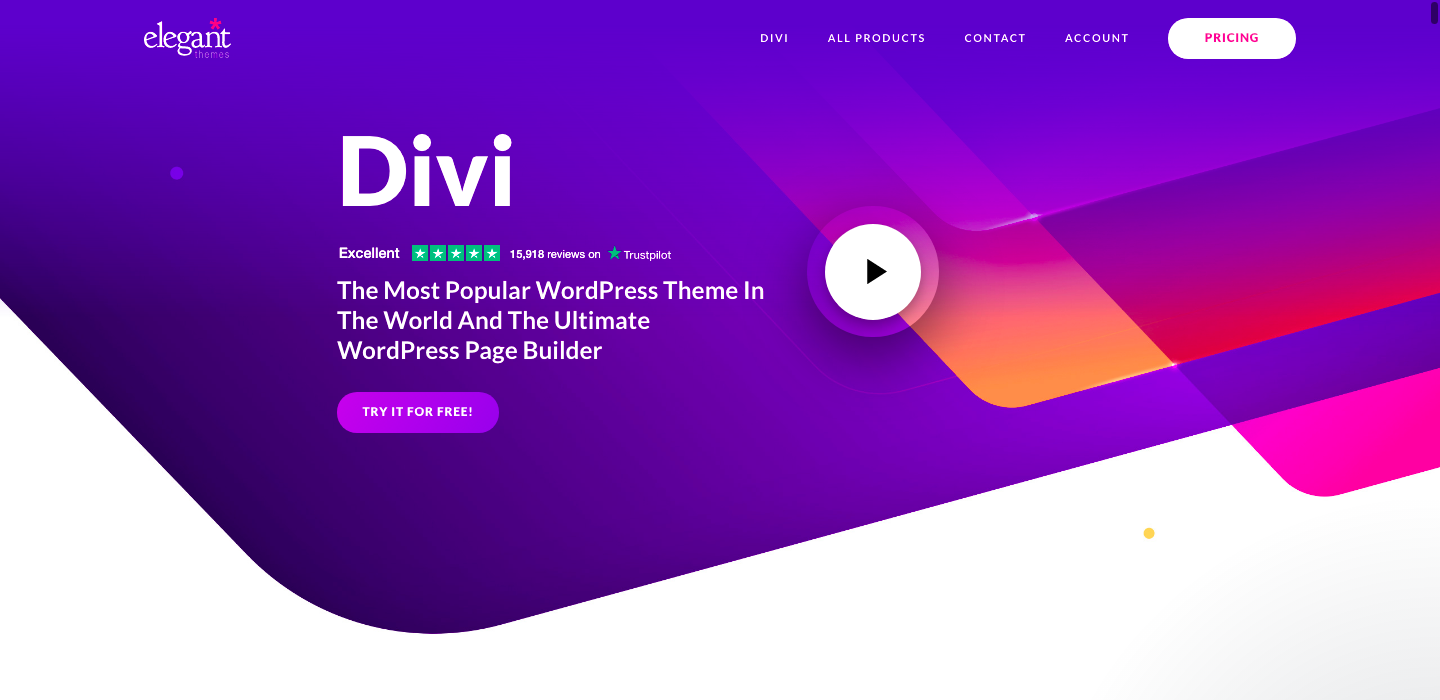 Divi is not a standalone website builder but it works together with WordPress to convert it from a code-based CMS to a visual drag-and-drop page builder.
This is no normal theme. In fact, it's not technically a theme at all. The Divi builder plugin sits as an extra layer on top of your WordPress installation so you can bypass the normal WordPress page creation process and design visually.
Divi comes with hundreds of professionally designed layouts and website packs, which you can use right out of the box or customize. You can also mix and match elements and sections from different page layouts to create your own unique designs.
When you build a website with Divi, you get all the advantages of using WordPress with the ease of use of a drag-and-drop builder. You can read more details about the theme and how it works in our detailed Divi review.
Pros
Comes with over 100 modern website design layouts with eye-catching animations and scrolling effects.
Includes dozens of website elements such as sliders, forms, buttons, galleries, and more so you can build any type of site.
Everything is fully customizable down to the code level.
Wide user base (Divi is the most popular WordPress theme of all time) and plenty of tutorials help and support available.
Cons
While Divi is a visual builder, there's still quite a steep learning curve. If you prefer drag-and-drop website builders mainly because they're easy to use, you might find Divi a little tricky at first.
Divi sites tend to load slower than WordPress sites using a more lightweight theme.
It's tricky to switch to a different theme after you've used Divi, as it inserts shortcodes into your content.
💵 Price: $89 a year or $249 one-time payment for lifetime access
💲 Don't forget to use our 20% OFF Coupon
4. Webflow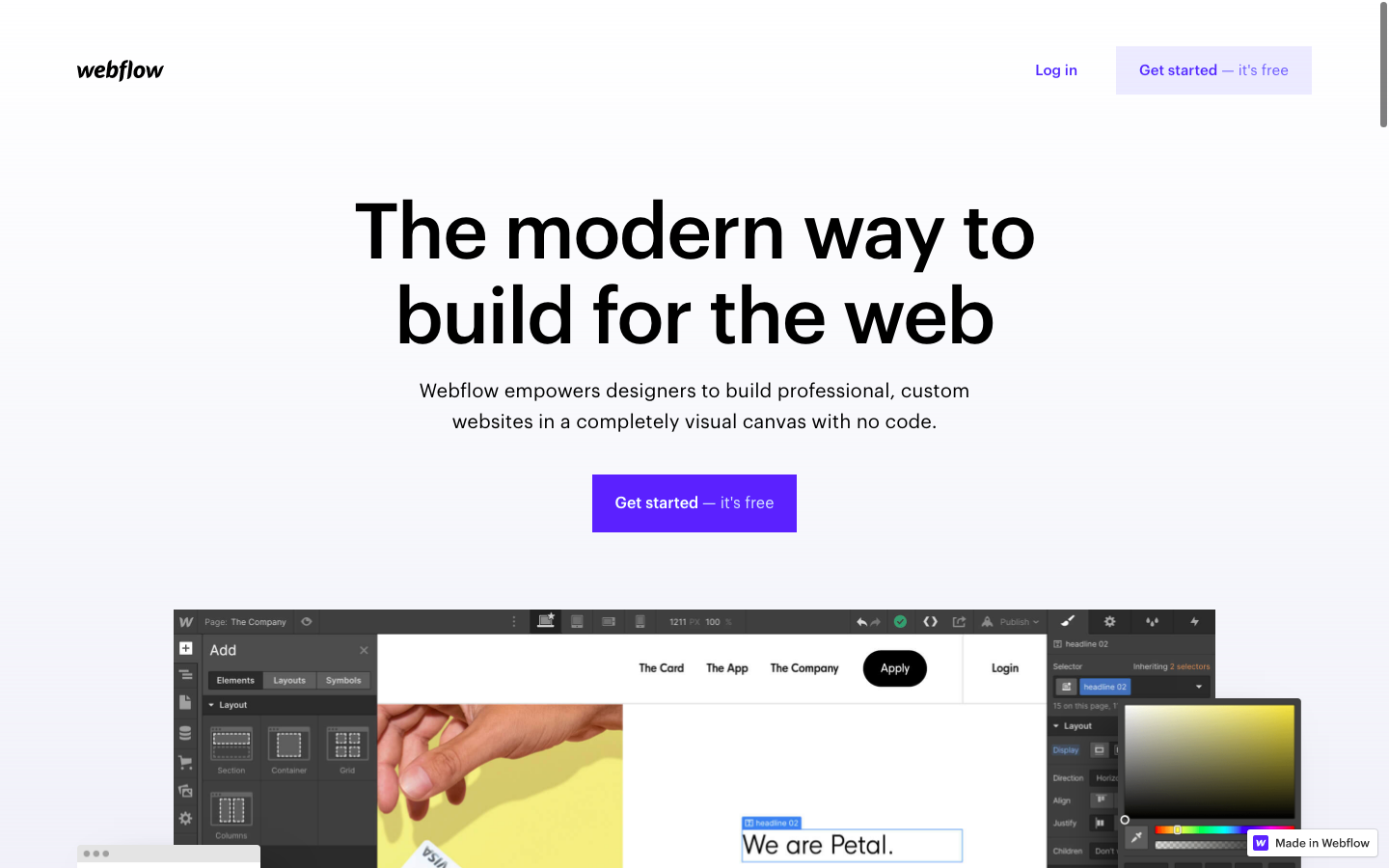 Webflow is a fairly new website builder that's somewhat of a hybrid between a CMS and a visual design tool. Unlike other basic drag-and-drop builders, it creates clean HTML 5 code and has advanced tools for creating animations and interactions.
This tool is aimed at professional web designers who want the power to build websites quickly without the need for developer involvement.
Webflow is also a fully functional CMS like WordPress, which means it's suitable for building large and complex dynamic websites
Pros:
Create innovative and eye-catching designs with unique animations and effects.
Full control over code and design down to the pixel.
Advanced integrations with external apps mean you can create websites with complex functionality.
Comes with a library of customizable templates to get you started
You can export Webflow sites as code and so you can move your site to any other platform
Cons
An advanced tool that can take some time to learn how to use properly
There's only a small number of free templates and the premium templates cost extra
More expensive than other site builders
💵 Price: From $12 a month for a basic static site or $16 a month for a CMS-powered site
5. Weebly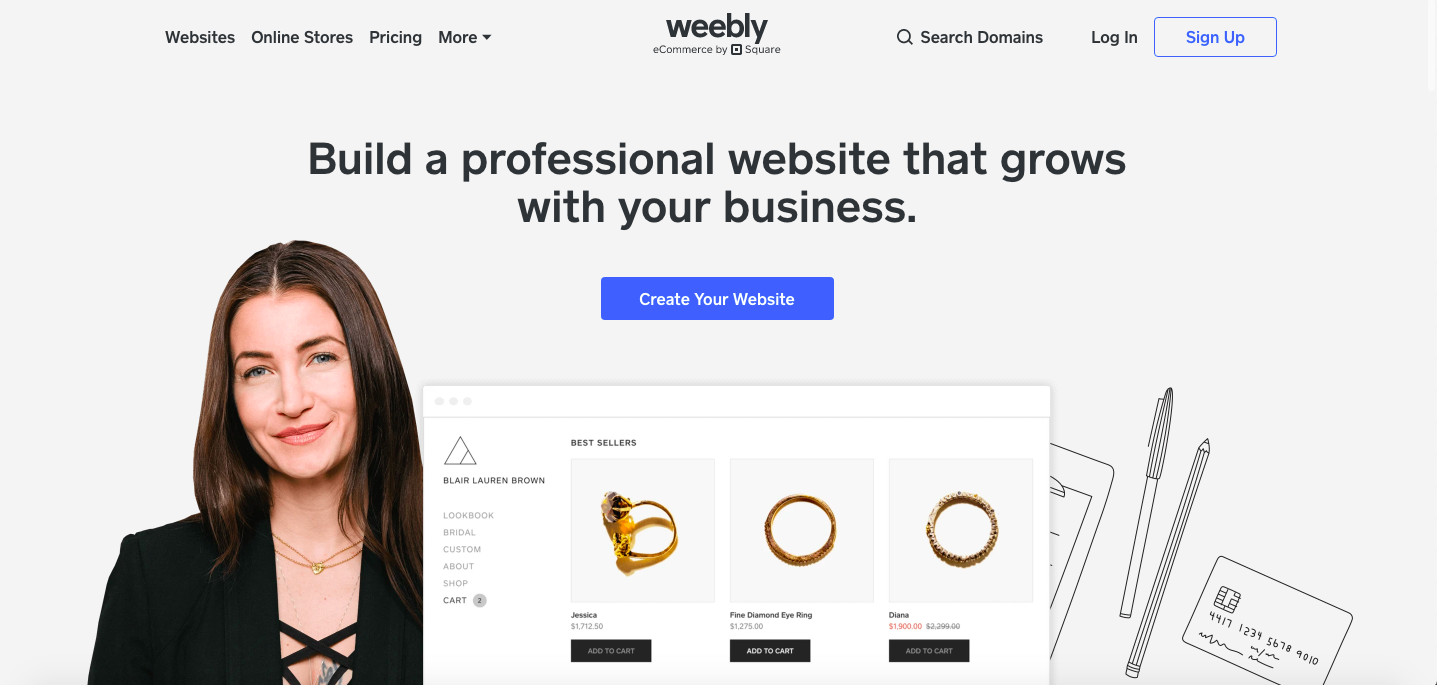 Weebly is another popular drag-and-drop website builder that's very similar to Wix. Both platforms use visual drag-and-drop builders and come with pre-designed templates.
While Weebly doesn't offer quite as many templates as Wix, the designs are beautiful and modern and you're sure to find one that's suitable for your site.
The customization options in Weebly are also not as extensive as you'll find in Wix. While this may be a negative for some, it makes for a simpler design experience and Weebly is easier to use overall.
Overall, the Wix and Weebly builders are very similar with both services offering tools for blogging, adding eCommerce functionality, and integrating with third-party apps.
Weebly also offers a free account with Weebly advertising. If you want a basic ad-free site and to connect your domain for a budget price, Weebly works out cheaper than Wix
Pros
Very easy to use
Comes with a nice selection of stylish, mobile-optimized templates
Possible to create an eCommerce store
Cons
Limited customization options
Not as many templates as some alternatives
Very basic blogging functionality
💵 Price: From $5 a month
Wix Alternatives for eCommerce Sites & Online stores
While Wix does offer a basic eCommerce platform, it's not the best choice for building an online store.
For a start, Wix plans are more expensive once you start adding eCommerce functionality. Plans start from $17 a month for sites that take online payments and you'll need to pay $25 a month or more for more advanced features such as selling subscriptions and offering multiple currencies.
So what are the best website builders for eCommerce sites? Here are a few alternatives to consider.
6. WooCommerce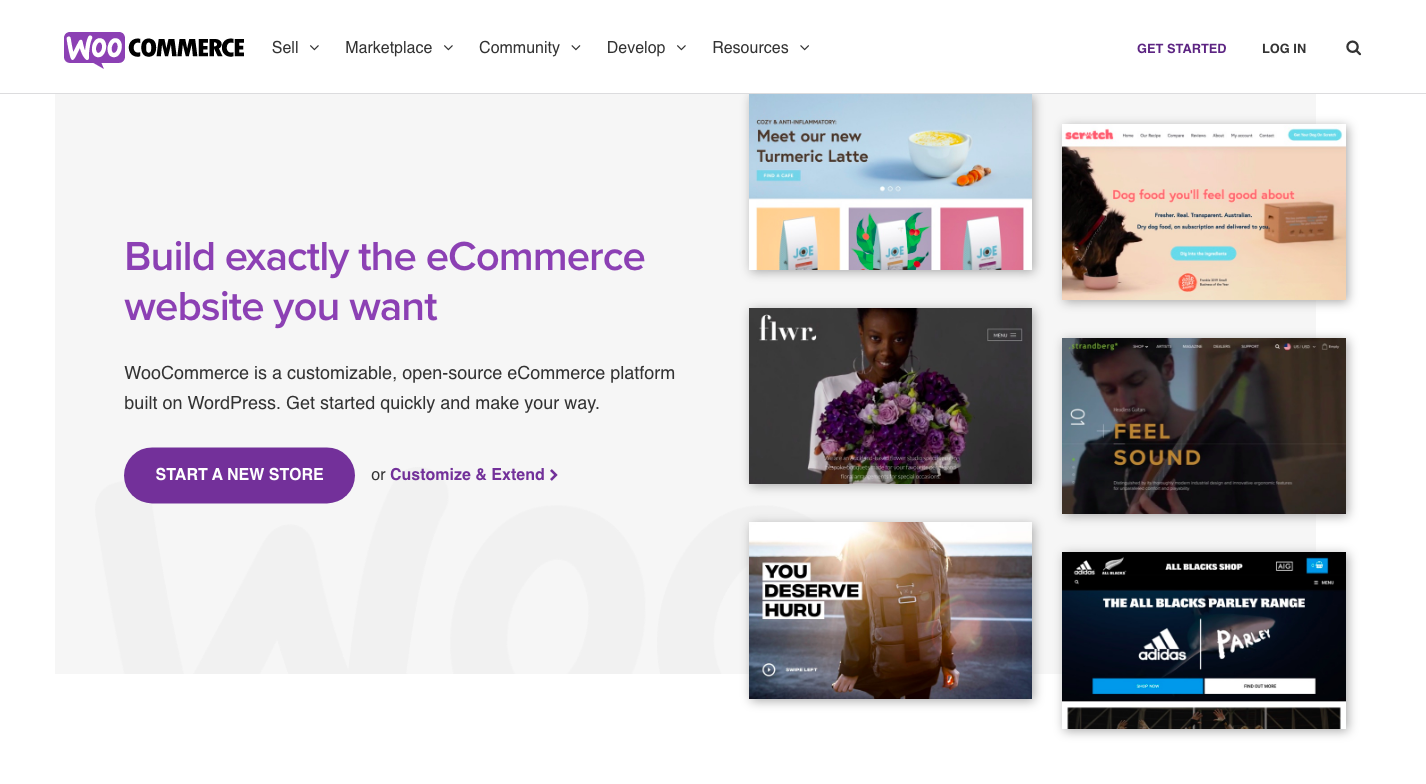 WooCommerce is a plugin for WordPress that extends the capability of the CMS and turns it into a fully functioning eCommerce platform.
After you install WooCommerce, you can configure your site to list products, take payments, and add advanced features for subscriptions, dropshipping, marketing, and more. There's even a mobile app so you can keep an eye on orders when you're on the move.
Just like standard WordPress sites, there are thousands of free and premium themes for WooCommerce so you can create an online store that looks fantastic in a couple of clicks.
Best of all, just like WordPress itself, WooCommerce is completely free to download and use. There are no monthly fees or transaction fees to eat into your profits.
The flexibility, power, and affordability of WooCommerce mean it's the most popular eCommerce platform on the web, powering around 28% of all online stores.
Make sure to take a look at our WooCommerce tutorial for a detailed guide on how to set up an online store with WordPress.
Pros
Full flexibility and control to create any kind of eCommerce site and have it looking and working exactly how you want
No limits on products and transactions
Lots of shop themes, extra plugins, and help and support available
No monthly payments or transaction fees
Cons
More complicated to set up and use than a basic site builder
Shopify extensions to add advanced eCommerce functionality can be expensive
As with any WordPress site, you'll need to buy your own hosting and manage your own backups, security, and other maintenance tasks
💵 Price: WooCommerce is free but you'll need to buy hosting for your website. We recommend Bluehost.
7. BigCommerce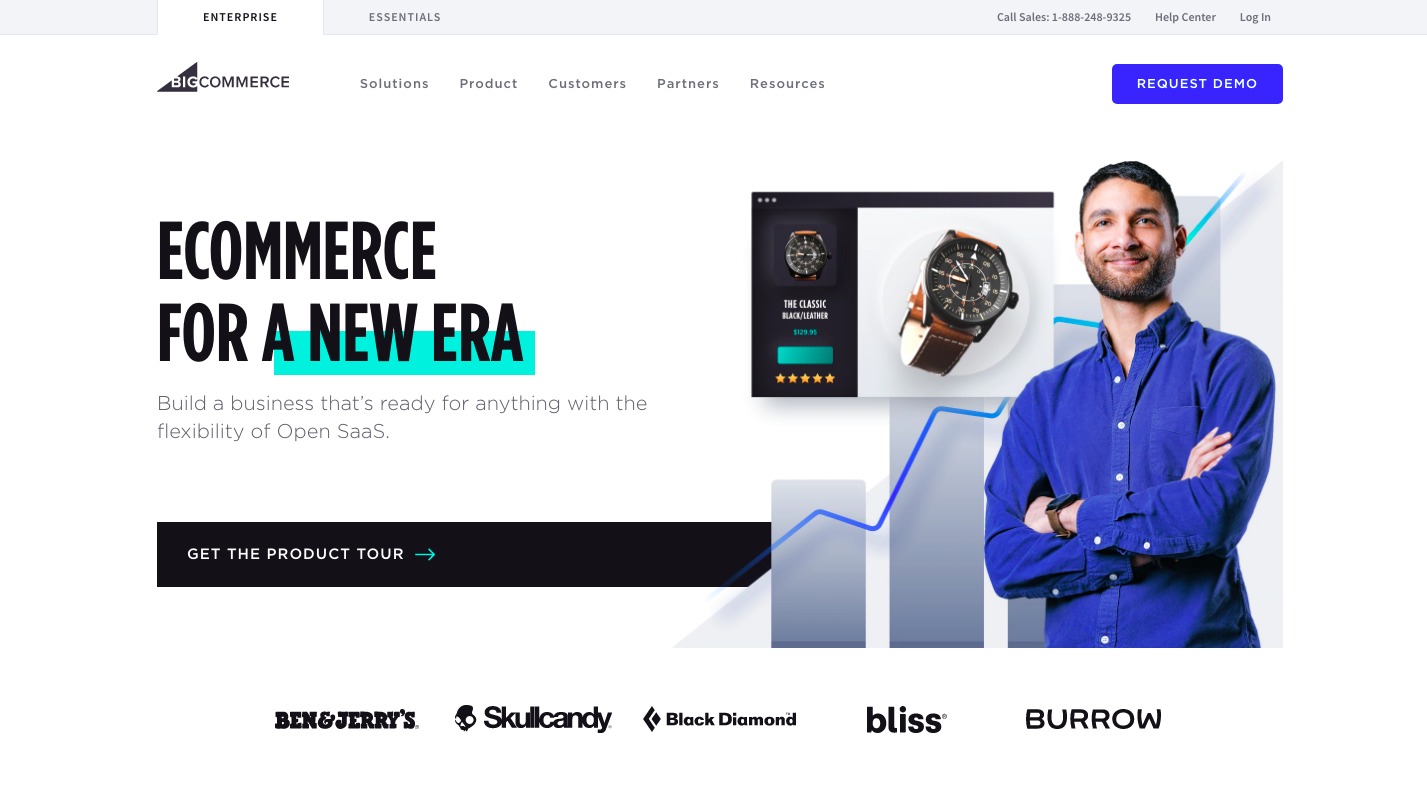 BigCommerce is a hosted eCommerce platform with a drag-and-drop storefront builder that's powerful, secure, and highly scalable. The company aims its services at established businesses and is the platform of choice for some major brands including Fujitsu, Skullcandy, Superdry, and Ben & Jerry's.
This is a serious eCommerce platform and it offers some advanced selling features you won't find anywhere else. BigCommerce offers multi-channel integration so you can sell your products on third-party marketplaces and social media as well as your website.
The team behind BigCommerce has put a lot of thought into how they can help their users' businesses grow. There are built-in tools for marketing, conversion optimization, and eCommerce management, as well as specialist advice and support from platform experts.
Pros
Advanced and powerful eCommerce features and functionality
No transaction fees
Multi-channel sales including POS, Amazon, eBay and Walmart marketplaces, Facebook Shop, Instagram Checkout, and Google shopping
Cons
More complex than the average website builder so there's a bit of a learning curve to using the platform
Overkill for most small online stores
BigCommerce premium themes can be expensive and there's only a limited selection of free themes.
💵 Price: From $29.95 a month
8. Shopify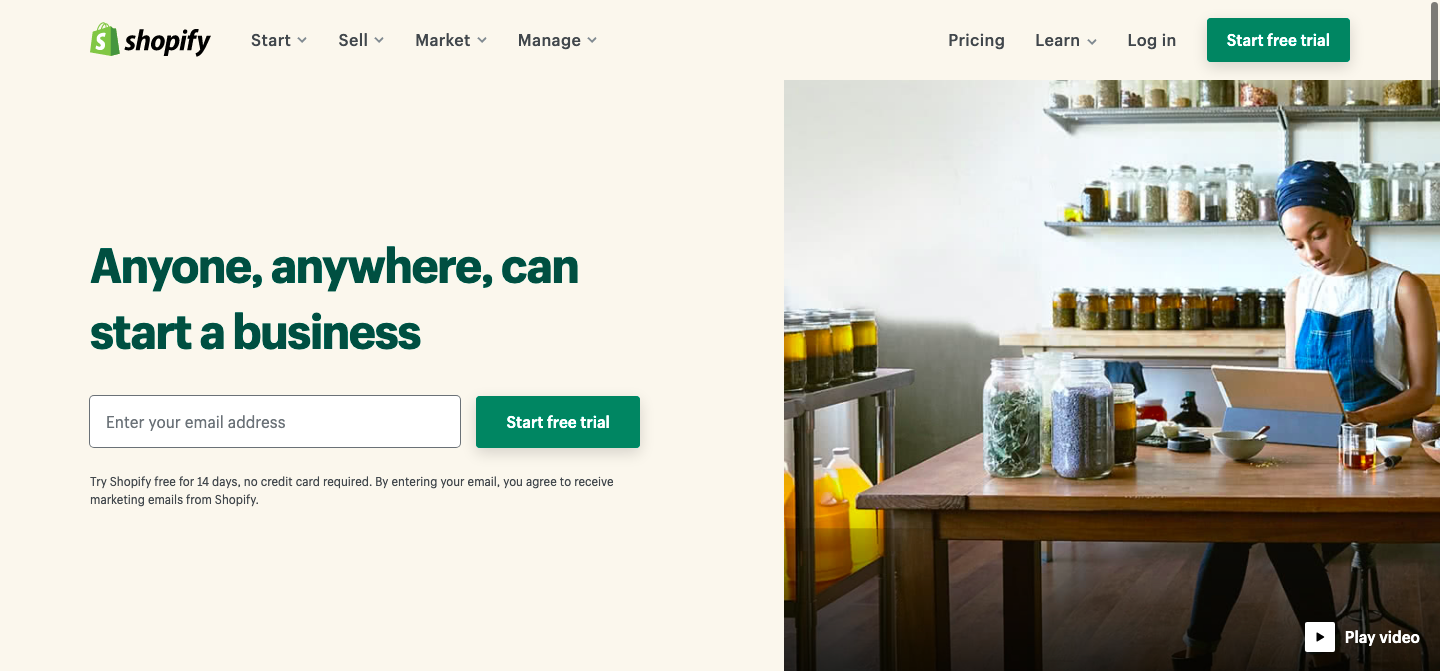 While WooCommerce is still the most popular eCommerce platform, Shopify's rapidly growing popularity means it's set to take the top spot within the next year or two.
Shopify works very well as an eCommerce platform because it's designed to be exactly that. While other website builders tack on eCommerce functionality as an extra, Shopify is built specifically to help its users sell as many products as possible.
The platform is very easy to use so even complete beginners can set up an online store within minutes. There are also lots of extensions available in the form of Shopify apps to import products from dropshipping suppliers, market your store, and boost sales.
Pros
Easy to get started and simple to use
Lots of great looking store templates to choose from, optimized for mobile shopping
Comes with free mobile apps to manage your store on the go
Dozens of conversion-focused extensions (Shopify apps) available to help you bring more traffic to your store and make more sales
24/7 support from Shopify as well as a large community of users and developers to help you out
Cons
Monthly fees plus transaction fees can add up fast so it's not the most affordable option.
There aren't many free themes and premium themes and apps can add up
Limited styling and layout options for non-store content
💵 Price: From $29 a month + transaction fees
Wix Alternatives for Photographers & Artists
Wix is a popular site builder for creatives as it has a wide selection of gallery and portfolio templates.
However, there are some other options designed specifically for photographers and artists with useful features for showcasing your work, selling prints, booking sessions, and protecting client albums.
9. SmugMug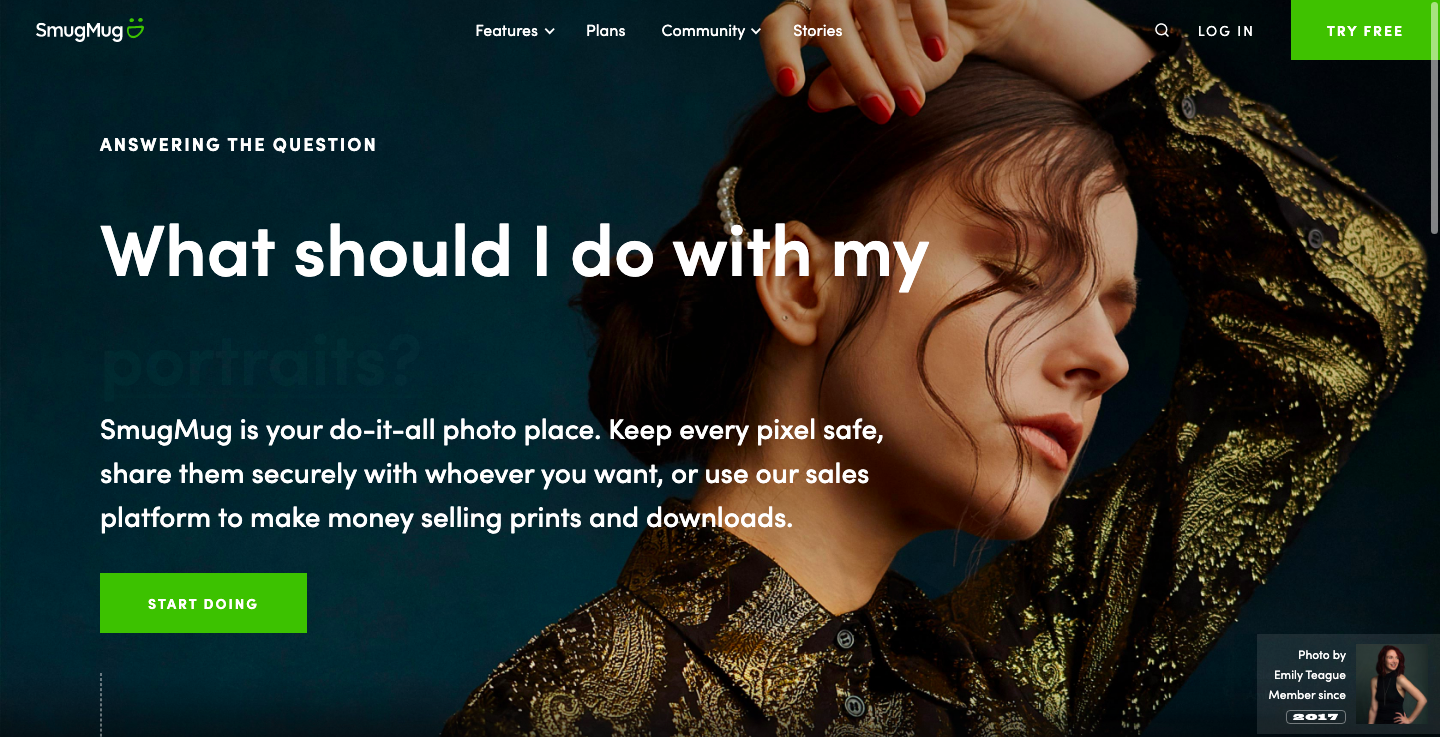 SmugMug is a drag-and-drop website and portfolio builder for photographers that features unlimited, full-resolution photo storage, custom privacy controls, eCommerce tools, and integration with photo labs for printing.
Every photographer needs a secure place to store their images. SmugMug offers unlimited cloud storage with no compression and advanced privacy tools. It also integrates with Lightroom and other photo editing software, plus there's an app to upload directly from your phone.
Why pay for photo storage and a portfolio website when you can get both services from one provider?
Pros
Templates can be customized with the drag-and-drop builder
Unlimited file storage for full-resolution images
Custom privacy settings mean you have full control over who can view and download your photos and can easily create client galleries
Includes selling tools for digital downloads, prints, custom pricelists, and billing
Image theft and misuse protection
Cons
Fewer templates with less sophisticated designs than other website builders
High transaction fees (15%) on all sales
Limited functionality to extend your site beyond a photo gallery
💵 Price: From $7 a month
10. Format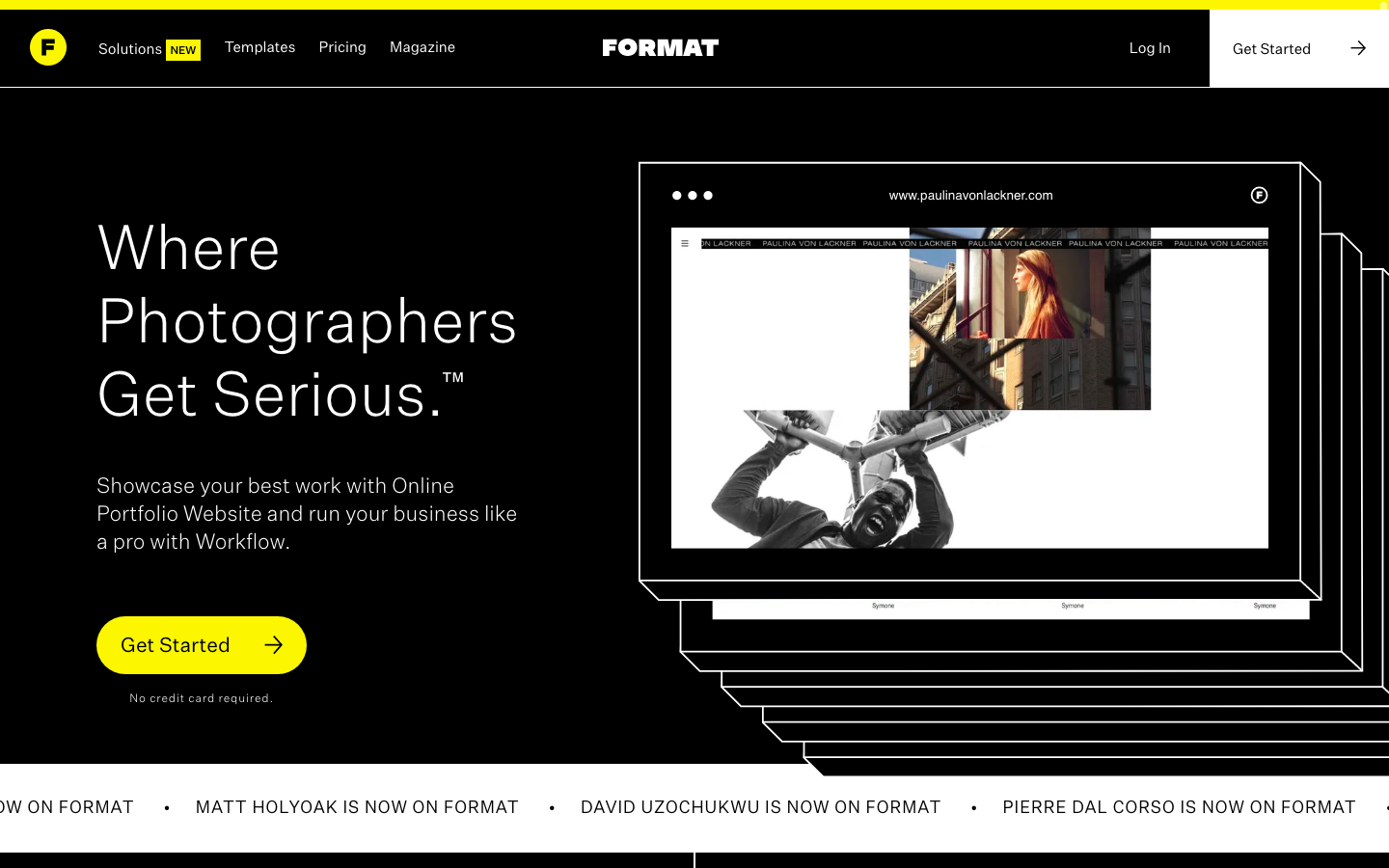 Format is a portfolio website builder with built-in features for running your creative business such as client galleries, project management tools, and digital invoicing.
Users of Format can choose from dozens of portfolio templates designed for photographers, wedding photographers, videographers, designers, artists, and fashion designers. They can then customize these templates.
If you want to add an online store to your website, you can easily set up a print store with a variety of framing options in minutes. The store integrates with print labs all over the world so you can sell your prints easily to global customers.
Pros
High-quality and fast image rendering
Host videos directly from Format
Includes an app to upload photos, edit galleries, and publish blog posts on the go.
You can easily add eCommerce functionality to your site
Includes a full suite of tools for helping you to run your business including a photography business course
All plans come with a free domain name
Cons
The cheapest plan is limited to 1,500 images and 100GB of photo storage
You are charged a transaction fee after a certain number of sales (5-15%)
Products in your online store are limited to 3 in the cheapest plan
💵 Price: From $15 a month
Final Thoughts
Wix is a good option for building a website for some people, but it's certainly not the best choice for everyone.
There are more affordable options available with similar functionality and there are certainly more advanced and flexible platforms if you're serious about web development.
If you want to get a simple and nice-looking website up quickly and you don't mind paying for it monthly, Wix is a popular platform. But it's definitely worth investigating some of the Wix alternatives we've listed here before you start building your site. Remember- once you've built your site on Wix, it's very difficult to move it elsewhere!
You might also be interested to read our detailed comparison of Wix Vs. WordPress and our roundup of page builder plugins that turn WordPress into a drag-and-drop visual builder like Wix.