The world loves WordPress, doesn't it? The headline figures are certainly impressive: WordPress powers around a quarter of the net.
If you're relatively new to WordPress, you might not realize that there are actually two versions of WordPress, though.
WordPress.com and WordPress.org.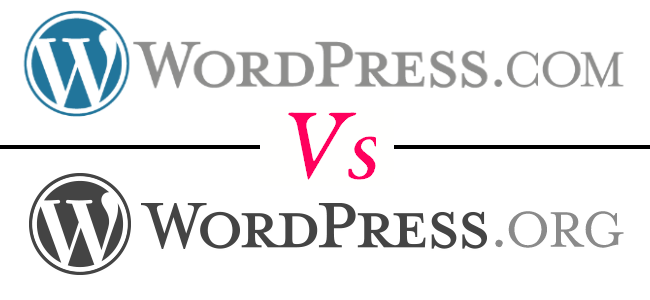 Both WordPress.com and WordPress.org use the same core WordPress software, so it's easy to confuse them as the same thing.
As a community, we complicate matters further for new users: we fail to make clear distinctions between the versions. We simply talk about "WordPress" when 99% of the time we mean WordPress.org.
So what is the difference between WordPress.com and WordPress.org? And more importantly, which version should you be using?
WordPress.com vs WordPress.org
Today, I want to compare WordPress.com against WordPress.org. I'll take a look at how the performance of the two versions differ in five key categories.
Let's kick things off, shall we?
Hosting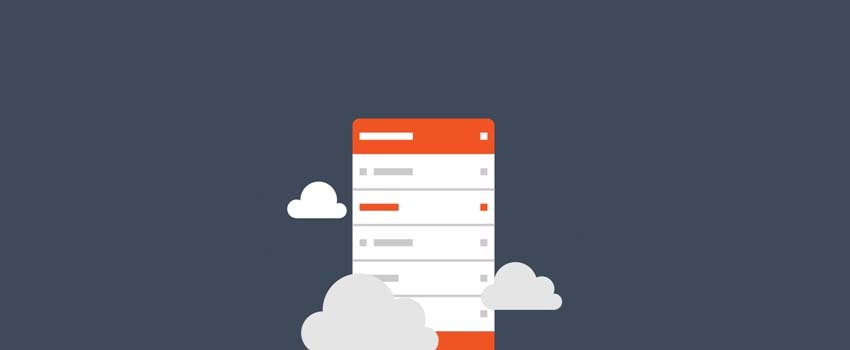 Without doubt, the main difference between WordPress.com and WordPress.org is hosting — more specifically, the way your site is hosted.
WordPress.org is self-hosted. If you want people to visit your website, you'll need to sign up with a web hosting service. This adds a monthly fee to your site's running costs.
How much does hosting cost? Well, that's up to you and depends entirely on your budget and your needs.
On one end of the spectrum there's low-cost shared hosting services like BlueHost and HostGator, with prices starting from $4 per month. On the other, there's managed WordPress hosting services, which offer you better support, security, and speed, but prices start in the region of $25 per month – Pagely and WP Engine are great examples of managed WordPress hosts. Hosts aren't created equally, so think carefully before going for the cheapest option: low-cost hosting can slow your site down and result in excessive downtime.
WordPress.com is fully hosted, making your hosting decision a lot more straightforward: high quality hosting is provided free of charge by owner Automattic. This high quality hosting will ensure your website runs super quick, plus you won't have to worry about downtime.
Winner: WordPress.com
Freedom and Control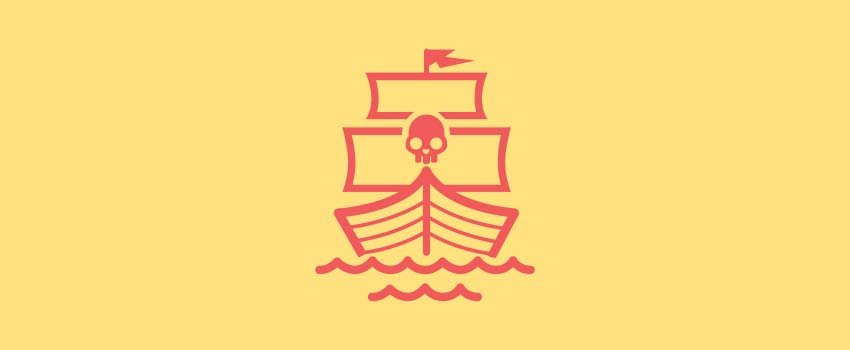 A quick glance at the hosting differences tells you WordPress.com is the better option.
However, this doesn't paint the full picture – not even close.
WordPress.com users face a lot of restrictions. For example, the free hosting gives you only 3GB of space, no video storage, and may show ads to your visitors – ads which you won't earn a dime from.
Compare this to WordPress.org, where none of these restrictions exist.
Then there's the matter of domains. WordPress.org is self-hosted, which means you can do what you want with your website. This includes buying and using a custom domain name — you can pick domains up for under $10 from a number of websites, most notably GoDaddy and Namecheap.
With a free WordPress.com account, this isn't possible: you're stuck with an annoying .WordPress extension on your URL. This might sound like a small price to pay for free, high quality hosting, but it does restrict your site's potential right from the start.
Let's say I wanted to start blogging cupcake baking tips. Which of these domains looks better?
AwesomeCupcakes.com
AwesomeCupcakes.WordPress.com
Yeah, there's a clear winner there; I'm sure that everyone would prefer the first, shorter domain, right? Well, you'll need WordPress.org for that.
With such heavy restrictions – and we'll get to more soon! – WordPress.com isn't looking quite so good, is it?
If you want more from a WordPress.com website, you can lift some of these restrictions by upgrading. However, this comes at a cost: $99 per year to be exact.
By paying this $99 fee, you'll receive 13GB of space, a custom domain, and you'll have the ads removed.
Even so, you'll still feel far more limited using WordPress.com than you would with WordPress.org.
Winner: WordPress.org
Design and Functionality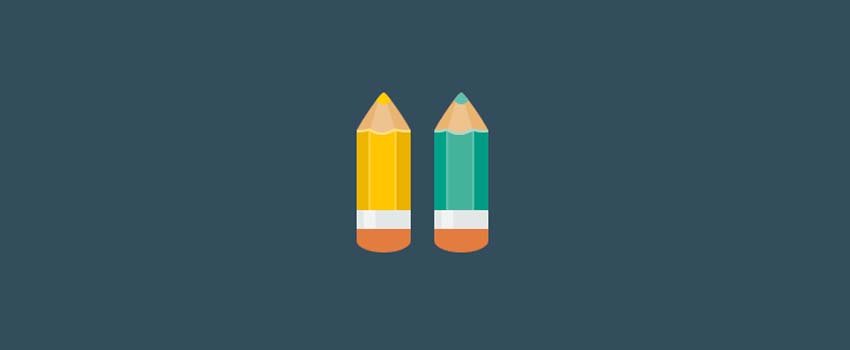 The restrictions of using WordPress.com continue thick and fast.
Now, my favorite thing about using WordPress.org is the huge variety of themes and plugins available.
If you're brand new to WordPress, a theme provides a template for your site's design, and will shape your site's aesthetics and core functionality. You can extend this functionality by installing plugins for specific purposes.
With WordPress.org, you can install as many themes and plugins as you want on your website – both free and premium ones. If you have the skills, you can modify them or build your own, too.
WordPress.com users don't have this luxury.
For a start, you must pick your theme from the WordPress.com collection. To date there are over 300 themes to choose from, though, so there's a good range and admittedly they're of a very high quality. Most of these themes are free, but there are premium themes in the collection, too, available from $18 to $175 — most premium themes are priced around $60-70, though, and upgrading your WordPress.com account gets you a premium theme for free.
WordPress.com users are also unable to install custom plugins. Automattic does bundle a good amount of functionality with each WordPress.com install, though. For example, social sharing buttons are automatically included, so you won't need to install a custom plugin for this.
In fairness, Automattic does a solid job of understanding its users' needs, so most of the functionality a hobbyist blogger will need is included straight-out-the-box. Personally, I'd prefer to install my own plugins, but WordPress.com users won't miss out completely.
These restrictions also extend to third-party services, like Google Analytics.
WordPress.org users have the freedom to install their own Google Analytics code on their website, so they can track visitor statistics. This is something WordPress.com users can't do – however, you can track visitors using a built-in analytics function.
All things considered, WordPress.com users can get some of the functionality WordPress.org users have access to — especially the functionality an amateur blogger would need. The difference? WordPress.org users have far more flexibility and freedom to use a variety of sources.
Winner: WordPress.org
Monetization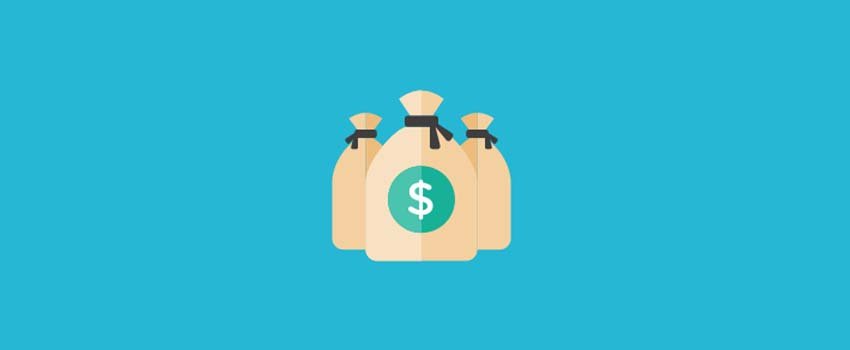 If you're ambitious, you might want to turn your blog-writing hobby into something a little more lucrative.
If you're looking to build a fully-fledged business, there's only one winner: WordPress.org.
Because you have full control over a self-hosted website, you're free to monetize it any way you see fit. Best of all, WordPress.org is a highly versatile platform, with plenty of monetization options available to you.
Want a few ideas of how you can make money from a WordPress website?
Advertising revenues
Affiliate commissions
Email marketing
Selling physical products
Selling digital products
Selling your services
Selling ad space
That really is a lot of flexibility, making WordPress.org a suitable platform for almost every type of business.
Why is WordPress.org so versatile? For that, we have to talk about plugins again.
Most plugins are developed to perform a very specific, specialist function. And, with literally thousands of plugins to choose from, there are solutions for almost every functionality imaginable.
Take email marketing, for example. Off the top of my head, there are loads of plugins for adding really sophisticated functionality for email marketing specialists – OptinMonster, Bloom, Ninja Popups to name just a few.
Because WordPress.com users can't install these plugins, it's by far the more restricted version of WordPress when it comes to monetization.
That's not to say WordPress.com can't be monetized, though – it can, but it's more difficult.
For example, you are able to add advertisements to your website. As with most things on WordPress.com, you will face restrictions, though. To even be considered, you have to receive over 25,000 page views per month and pass an approval process. Even if you're approved, you'll only get 50% of your advertising revenues – the other 50% goes to Automattic.
Compare this to a WordPress.org install, where you can place adverts on your website from day one, plus you get to keep a higher percentage of your ad earnings.
You can also run an eCommerce store on WordPress.com, but it will require you upgrading to a $299 a year Business plan. With WordPress.org, it's as easy as installing the free WooCommerce plugin.
So, although both versions can be monetized, if you're launching a website primarily to make money, WordPress.org is the undisputed winner.
Winner: WordPress.org
Security and Maintenance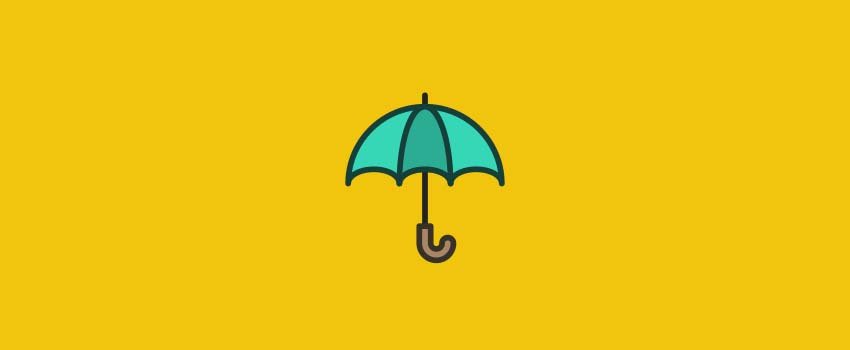 Most website owners don't take website security and maintenance seriously enough.
This is a worrying trend really, as all it takes is one successful brute force attack and your website is kaput. All the blood, sweat, and tears you poured into it; gone – not to mention that fresh hole in your wallet.
Now, we've already discussed the fantastic hosting option provided by WordPress.com. This extends to security and maintenance, too, with Automattic providing a great service for WordPress.com users.
If you don't have the time and inclination to burden yourself with your website's security, WordPress.com will probably appeal to you.
This is in contrast to WordPress.org, where users are fully responsible for their website's upkeep and protection.
That's not to say you have to go it alone. There are some fantastic WordPress plugins and services to offer you the protection you need – iThemes Security Pro is a great all in one security plugin; Sucuri will protect your site from malware; and VaultPress will allow you to restore your website should something go wrong (VaultPress is actually ran by WordPress.com owner, Automattic).
There's also been a number of dedicated security and maintenance services hitting the market. These services offer full protection for a WordPress.org website, including security, updates, maintenance, and backups – Maintainn, WP Site Care, and The WP Butler are all great examples of these services.
Of course, these plugins and services come with a price tag. In fact, some of the services I've just listed will set you back from around $40 a month. That's an awful lot when compared with the high quality free solution offered by WordPress.com.
Winner: WordPress.com
WordPress.com or WordPress.org?
Right then; we've looked at how WordPress.com compares to WordPress.org in five key performance areas.
The winner? WordPress.org, by three to two.
However, even this headline score is somewhat misleading: WordPress.org and WordPress.com are targeted at two entirely different audiences. The one that's best for you will depend on how you intend to use WordPress.
Now, if you're a hobbyist looking to build a nice looking website with minimal fuss, WordPress.com is probably the better option. WordPress.com is also a great way to dip your toes into the world of website ownership and blogging.
You don't have to worry about a lack of technical skills or monthly costs; everything is taken care of for you. That means you can blog for the fun of it without worrying about the boring behind the scenes stuff.
If you want to take your new hobby a little more seriously, the complete control of a self-hosted WordPress.org website is definitely the preferred choice. If you're looking to run a business from your website – either now or in the future – WordPress.org wins hands down.
WordPress.org gives you complete control over your content, and that means you can install useful plugins and third-party services that help grow your business and make you more money.
If you're still on the fence, personally I would always recommend WordPress.org. You will learn far more using the self-hosted platform — a skill you can market — plus it's the much easier version to scale up into something more meaningful.
If you just want to try WordPress, you're on a strict budget, or you want to own a website with minimal fuss, by all means go with WordPress.com. For me, though, it's WordPress.org all the way!
Which WordPress version are you using? Share your experiences in the comments section below!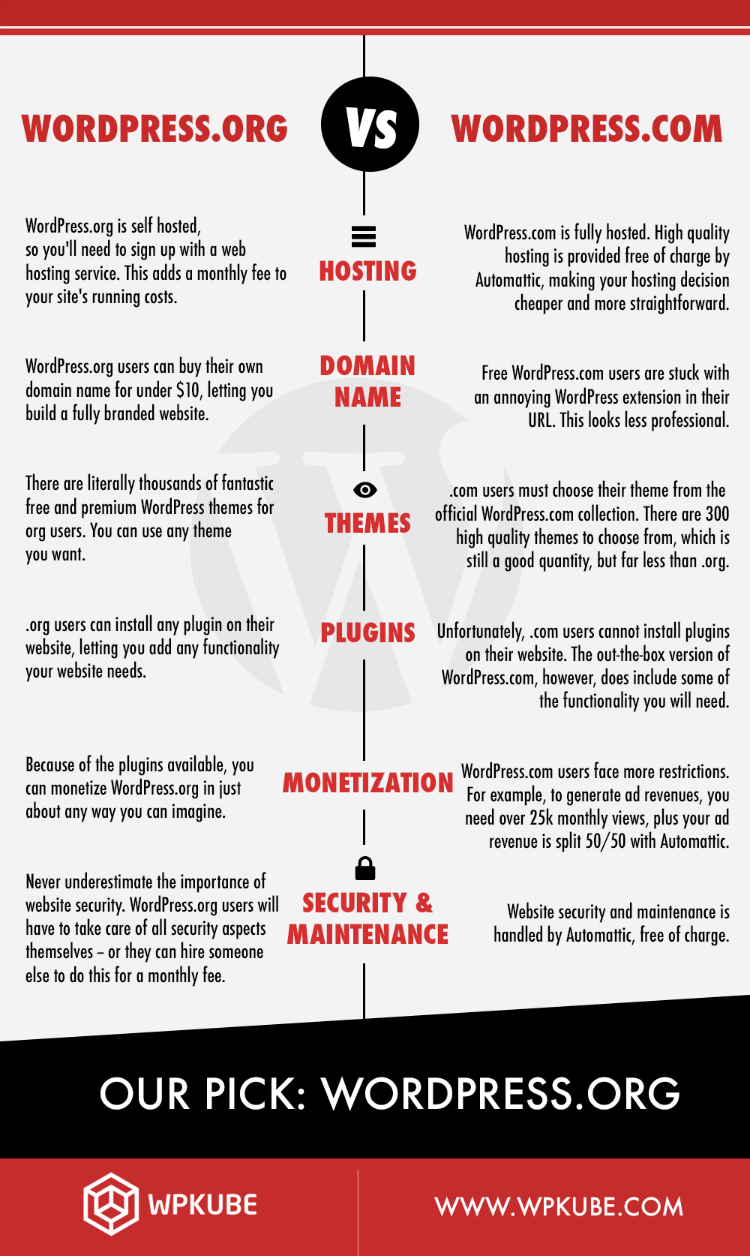 Embed This Infographic On Your Site (copy code below):