It can be said for many aspects of your website's ecosystem, but the software you use to build your website has a huge impact. As such, getting this nailed down early is great idea. Wix vs WordPress is a popular comparison between two leading solutions for creating your website.
On paper, both options have commendable features, and competitive pricing. However, traversing each platform offers the reality of what you'll get for your money.
As such, this post will compare Wix vs WordPress in a few crucial areas. Before this, let's get to know both platforms, and discuss the criteria you'll need to keep in mind when contrasting both of them.
Wix vs WordPress: Introducing Both Platforms
Both Wix and WordPress are website building platforms that will be familiar to many. At one time, Wix gained a lot of traction among site owners, and it still has a following in certain circles.
The same could be said for WordPress too, although the reach and scale of the platform is greater than all of its competitors combined. Let's give you some more detail on both platforms.
Introducing Wix
First off, Wix is an all-in-one website builder that looks to offer almost everything you'll need to create and manage your site.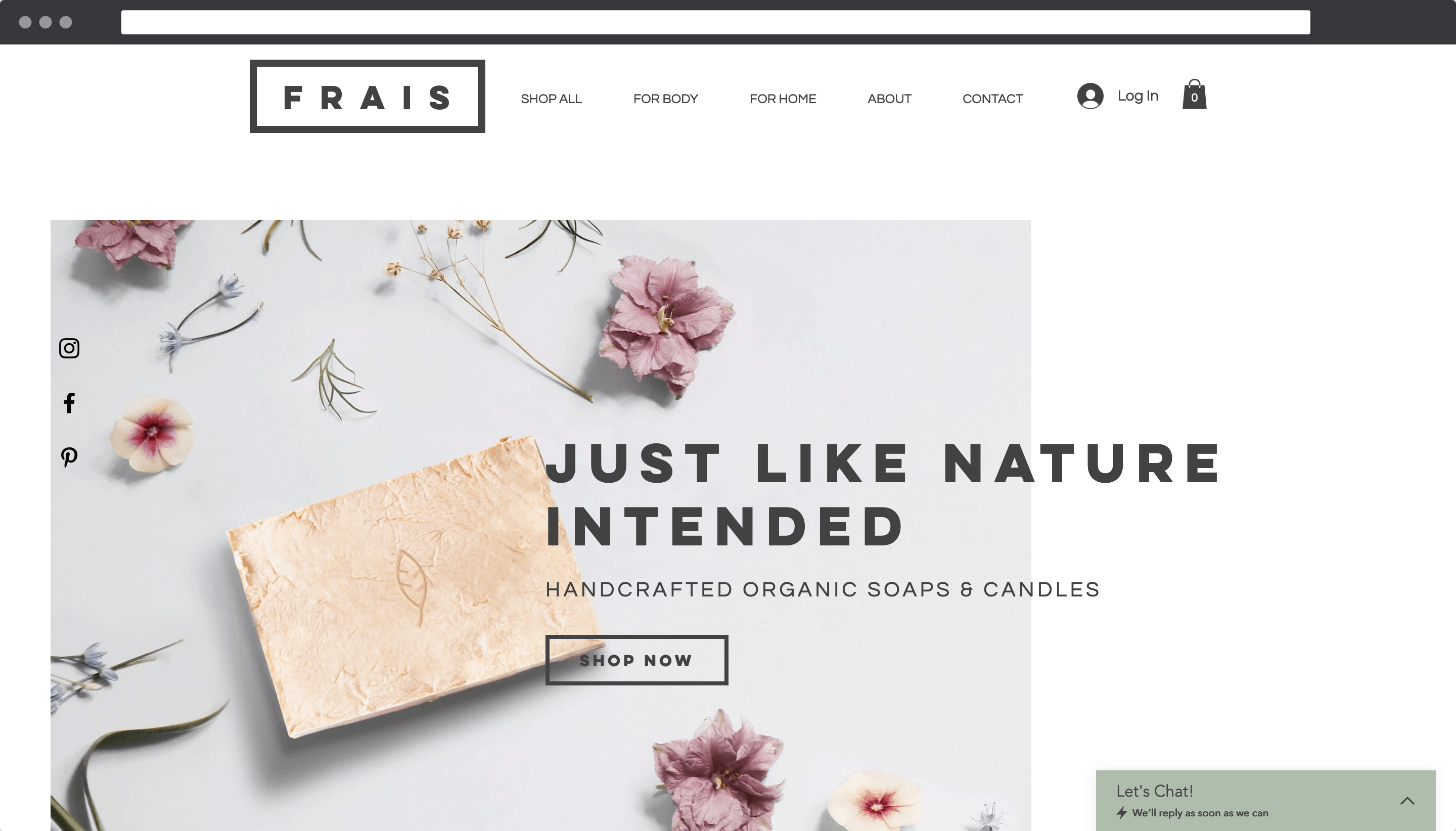 Your site is hosted on Wix' own servers, and it's closed-source 'proprietary' software. As such, this presents some issues when venturing outside of the Wix ecosystem, as we'll discuss later.
Even so, it includes a number of templates to help you get your site's visuals to your liking. There's also the killer App Market – Wix' way of extending the functionality of the platform that may just be the best of all the website builders.
Introducing WordPress
WordPress won't need any real introduction for existing users. It currently has massive reach – 40 percent of the entire internet uses WordPress in some form, so it has an unmatched user base.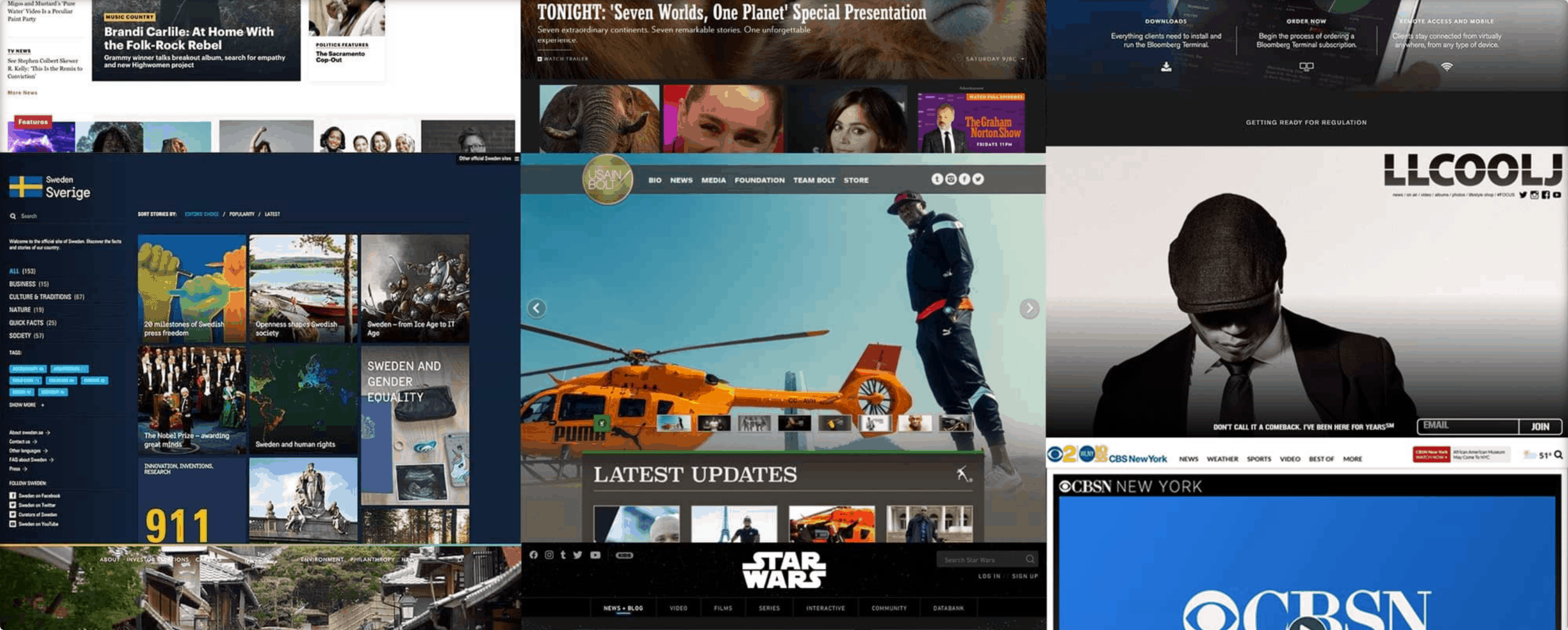 It's open-source, which in simple terms means the software and its components are free forever, and accessible for all. The base software is full-featured, and is inherently secure.
The concept of WordPress is that you build upon the core software using your own skills as a programmer, dedicated themes, and a selection of plugins. It's flexible, powerful, and scalable.
Note that we're talking here about self-hosted WordPress, as opposed to WordPress.com. This is an important distinction that will become more apparent later in the article. For more on the differences, you can check out our comparison of WordPress' two 'flavors'.
How to Compare Wix vs WordPress (Or Any Other Website Platforms)
Because both Wix and WordPress have so much under the hood to consider, you'll struggle to compare both in one sitting.
In fact, when it comes to judging any website platform, you'll want to look at the following:
Does the platform offer me the features and functionality to meet my main requirements?
Can I extend the solution based on my own needs, both now and in the future?
What support is available if I encounter a problem with my site or its software?
Am I able to move my site and its extensions, plugins, add-ons, themes, and templates to another platform or provider if necessary?
Is the platform easy on my budget?
Once you have the answers to these questions, you can balance the importance of each. From there, you should have a solution solidified. At this point, it's good to sleep on your decision and carry out the same test again after a few days.
You may even want to create a test site using both platforms to see if you encounter any day-to-day quirks that will impact how you manage your site.
Wix vs WordPress: 2 Top Tools for Building Your Website Compared (In 4 Areas)
We've now established both platforms, and gave you an idea of what to look for when choosing a website publishing solution. Next, let's detail the key areas we'll compare both Wix and WordPress in:
There will often be a greater criteria set for you than the below. However, consider the four areas we'll cover to be the essentials – deal breakers if they're not to your liking. From there, use your own requirements as a balance to make your final decision.
1. Are Both Platforms Easy to Use?
Without trying to offer spoilers, both Wix and WordPress are great to use. The immediate accessibility of Wix is fantastic, and it's a clever way to win users. You can select to edit a template before you sign up with an account. The process takes about a minute in total, and you're up and running: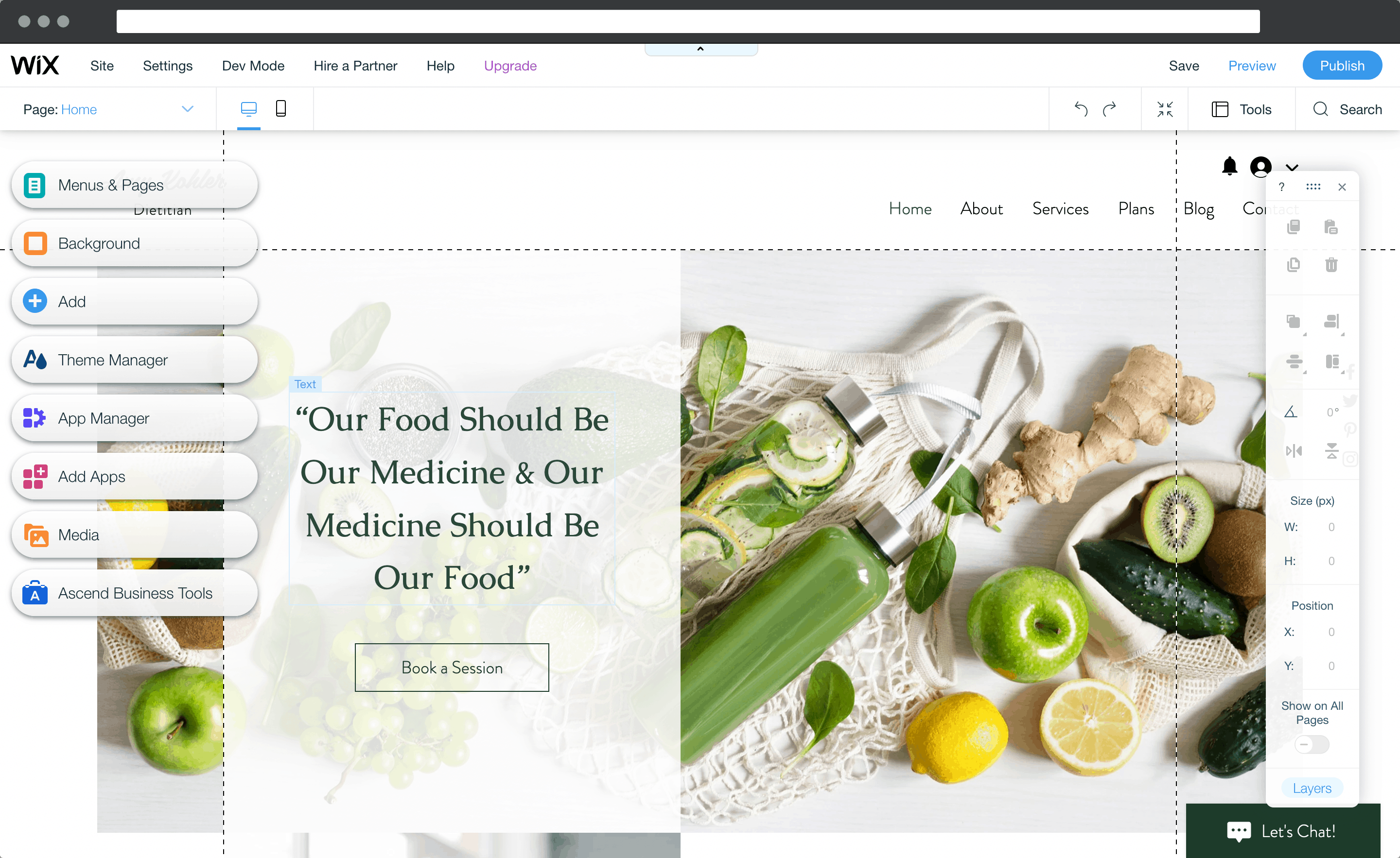 The various menus have a lot packed into them, but Wix provides tooltips to help you figure out what each screen represents: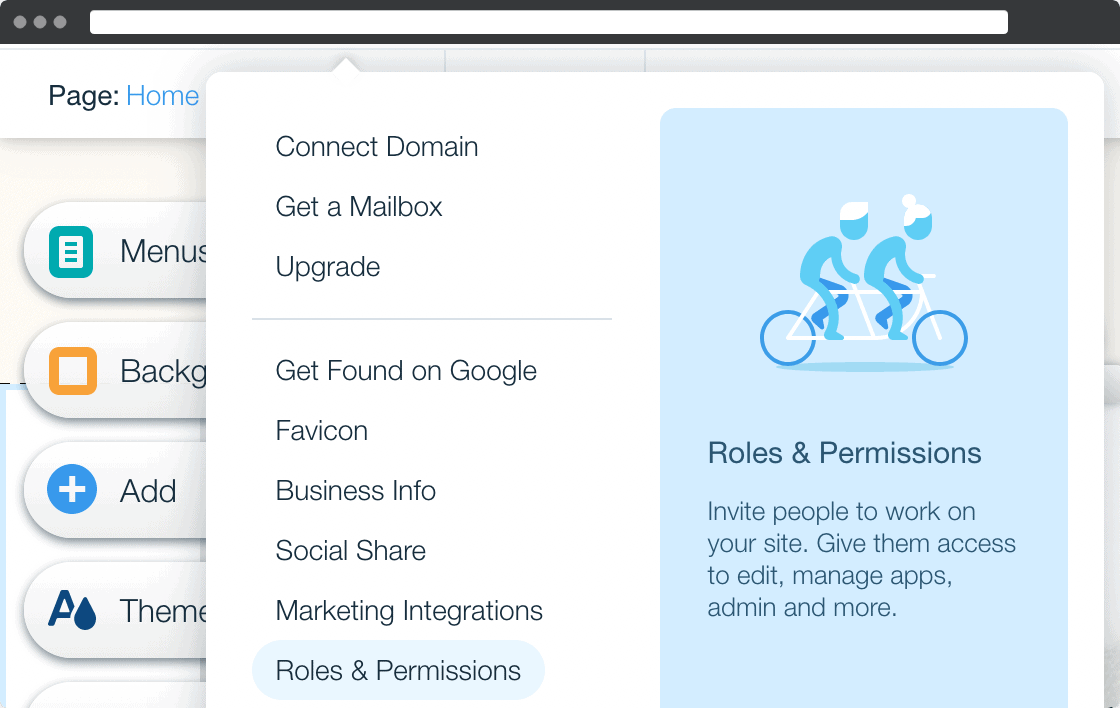 There's also a floating toolbar that pulls 'double duty' as a way to access the App Market, your Search Engine Optimization (SEO) tools, media, and more:
WordPress uses individual screens to give you access to your site's settings. However, they often provide greater depth and customization for each specific element of your site: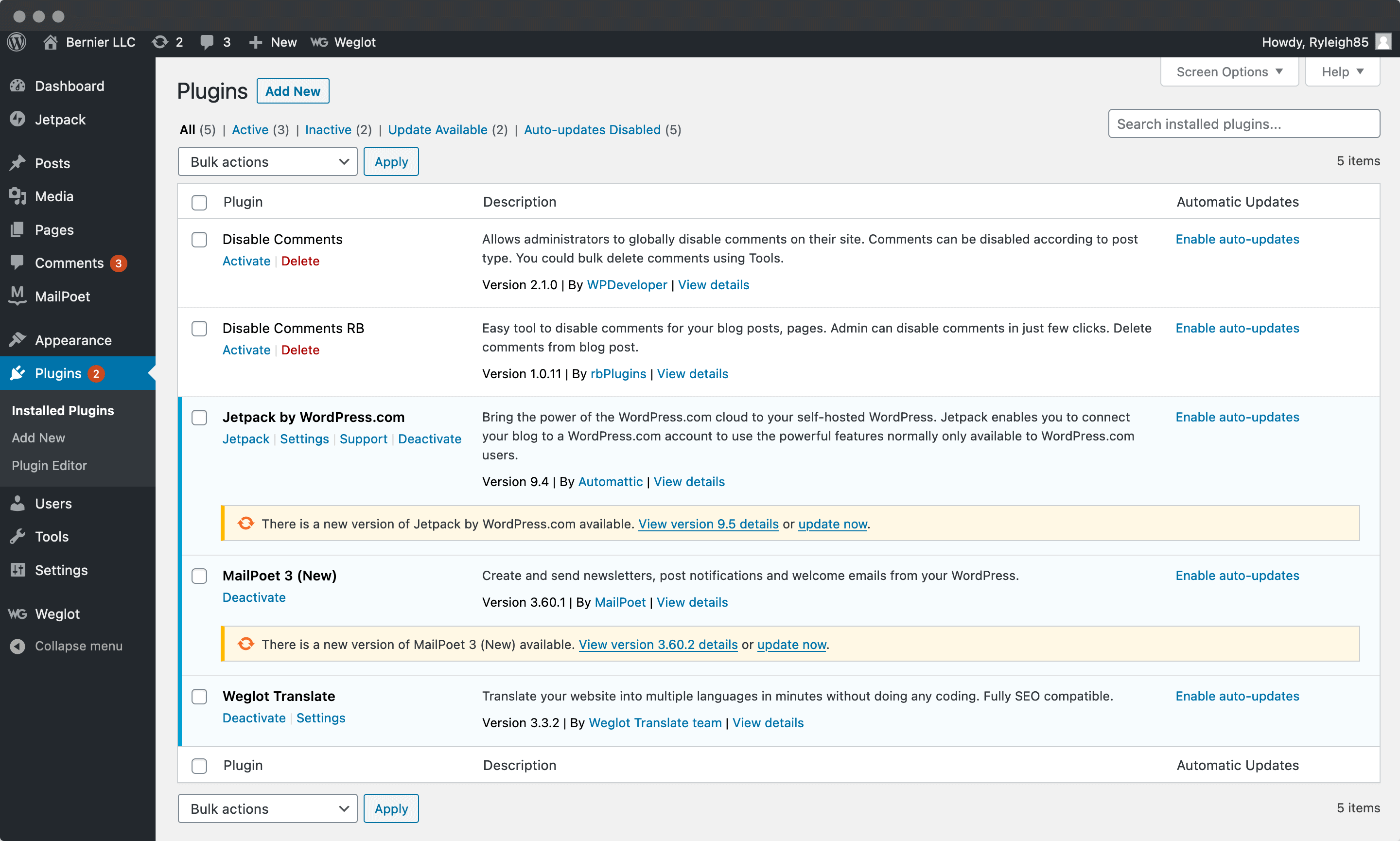 There also isn't a lot of help on what each setting does, although it's still intuitive to navigate the screens: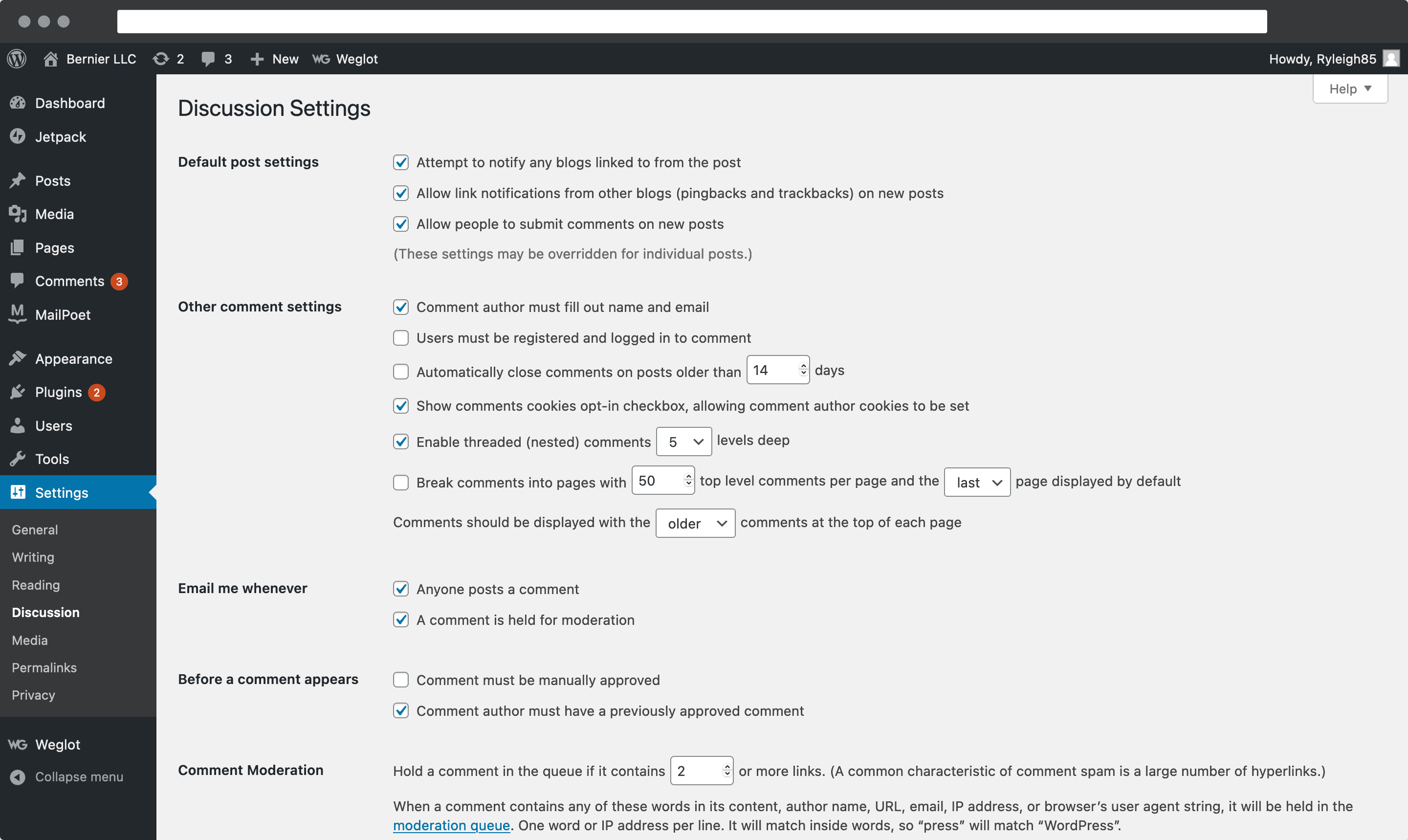 It's difficult to provide so much grunt, and find a way of presenting the information so that it doesn't overwhelm the user. However, WordPress does well, and has arguably more under the hood (as we'll find out next).
Winner: A draw. Both Wix and WordPress are easy to use, and depending on how you'd like to work, both platforms could suit you better.
2. Do Wix and WordPress Have the Right Features and Functionality?
When it comes to running a website, you'll likely want the following in place at a minimum:
A way to create layouts.
The ability to add new features and functionality.
Options to make your search engine ranking better.
Ways to control user access on your site.
A secure framework to help stop inevitable attacks on your site.
Of course, there are stellar websites created with both Wix and WordPress, so on the whole both have almost everything you need out of the box to create your website.
For example, Wix offers a flexible page builder out of the box, while WordPress offers the Block Editor: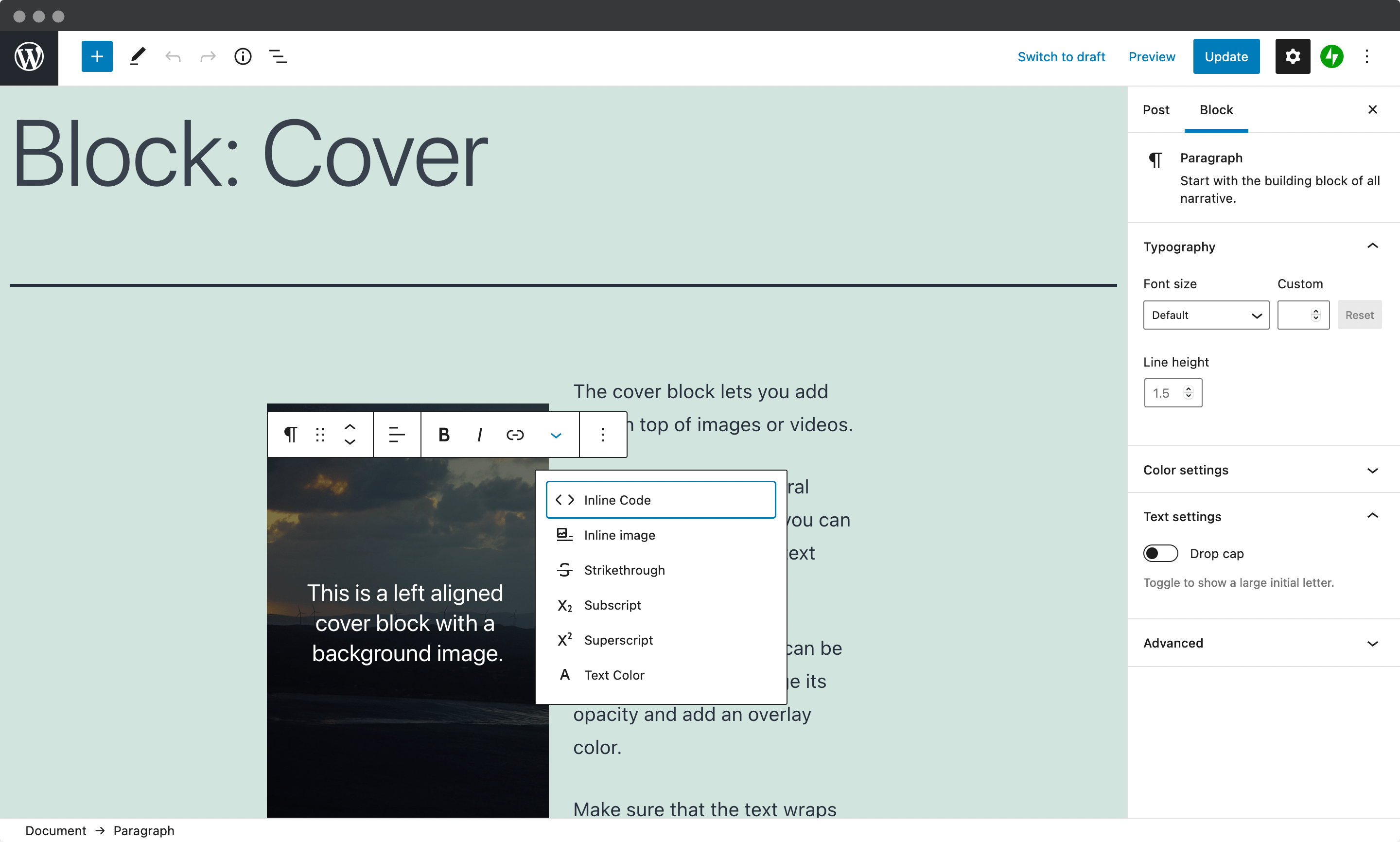 We'll get onto extensibility, but Wix and WordPress are both well-equipped in this regard. As for user administration, Wix has a comprehensive screen full of ways to give the right access to different elements of your site: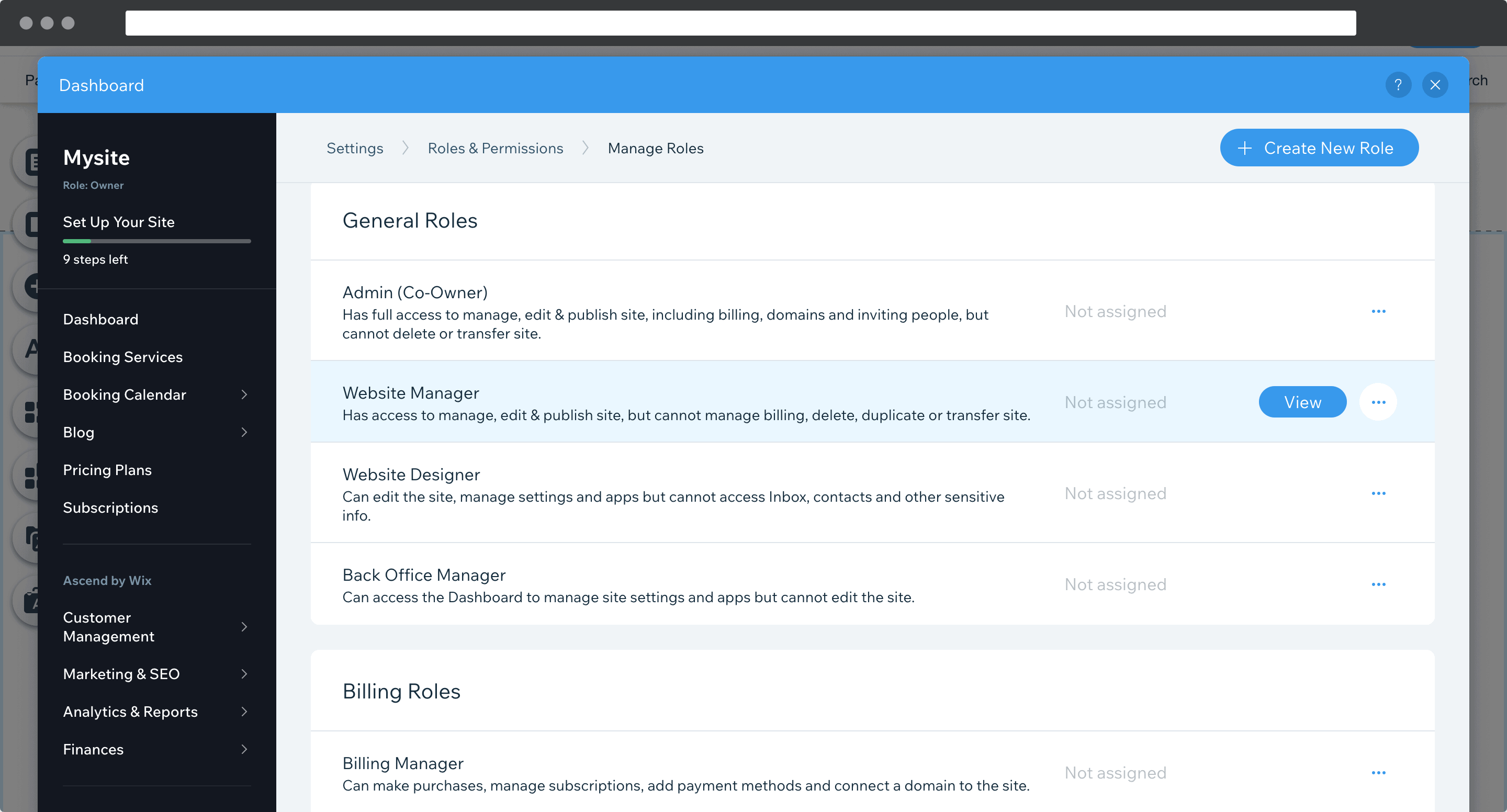 WordPress approaches user management in a different way, and uses dedicated roles to give and deny access. However, you can extend this using a plugin such as User Role Editor.
WordPress also recommends using a plugin for your SEO needs. A plugin such as Yoast SEO, SEOPress, or the SEO Framework are all fantastic and having one of them on your site is almost essential. WordPress uses 'meta boxes' on each post and page for you to edit your settings: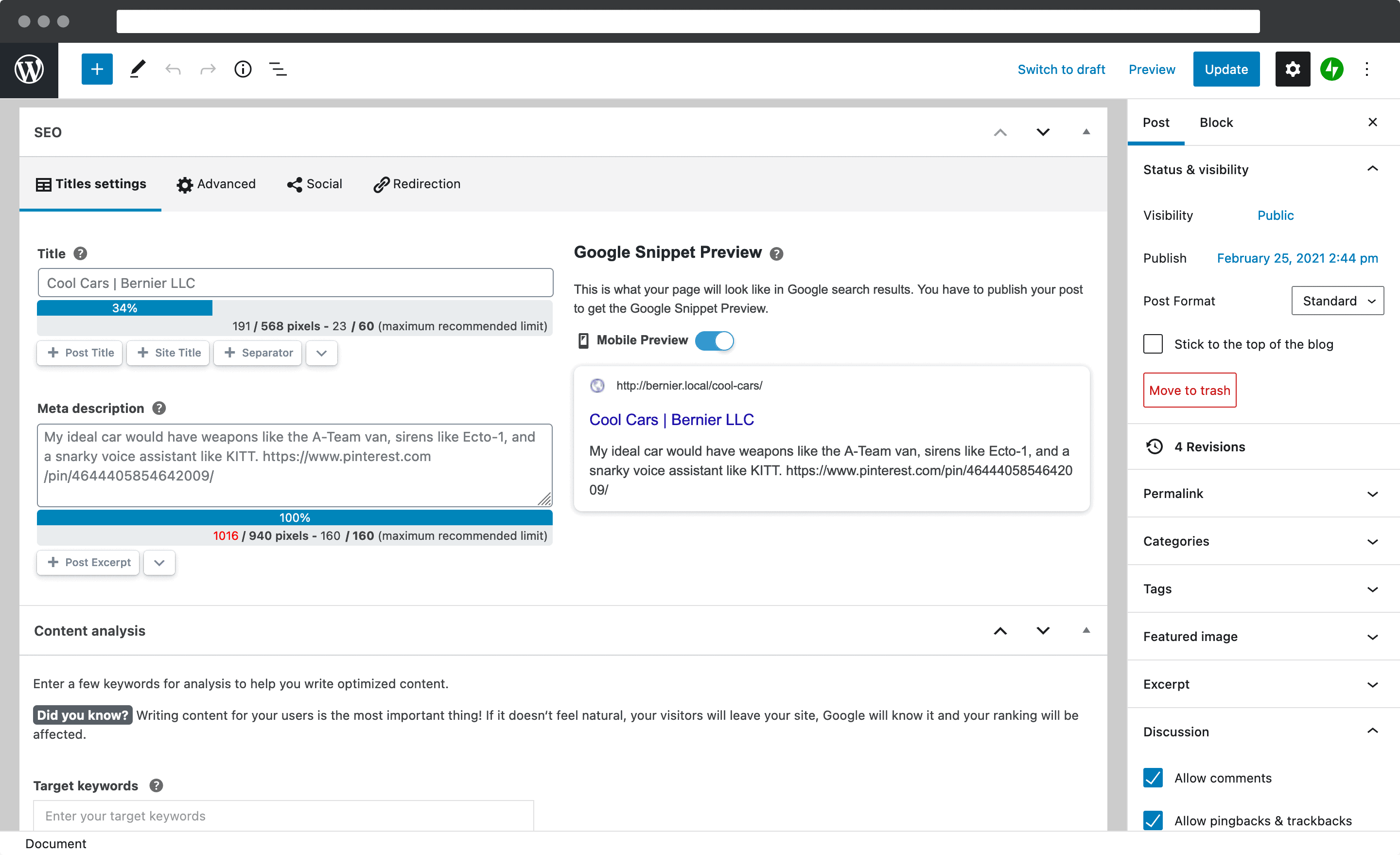 Wix has a dedicated SEO screen built-in that's full-featured, but it's difficult to find. You'll have to go through a few sub-menus to get there.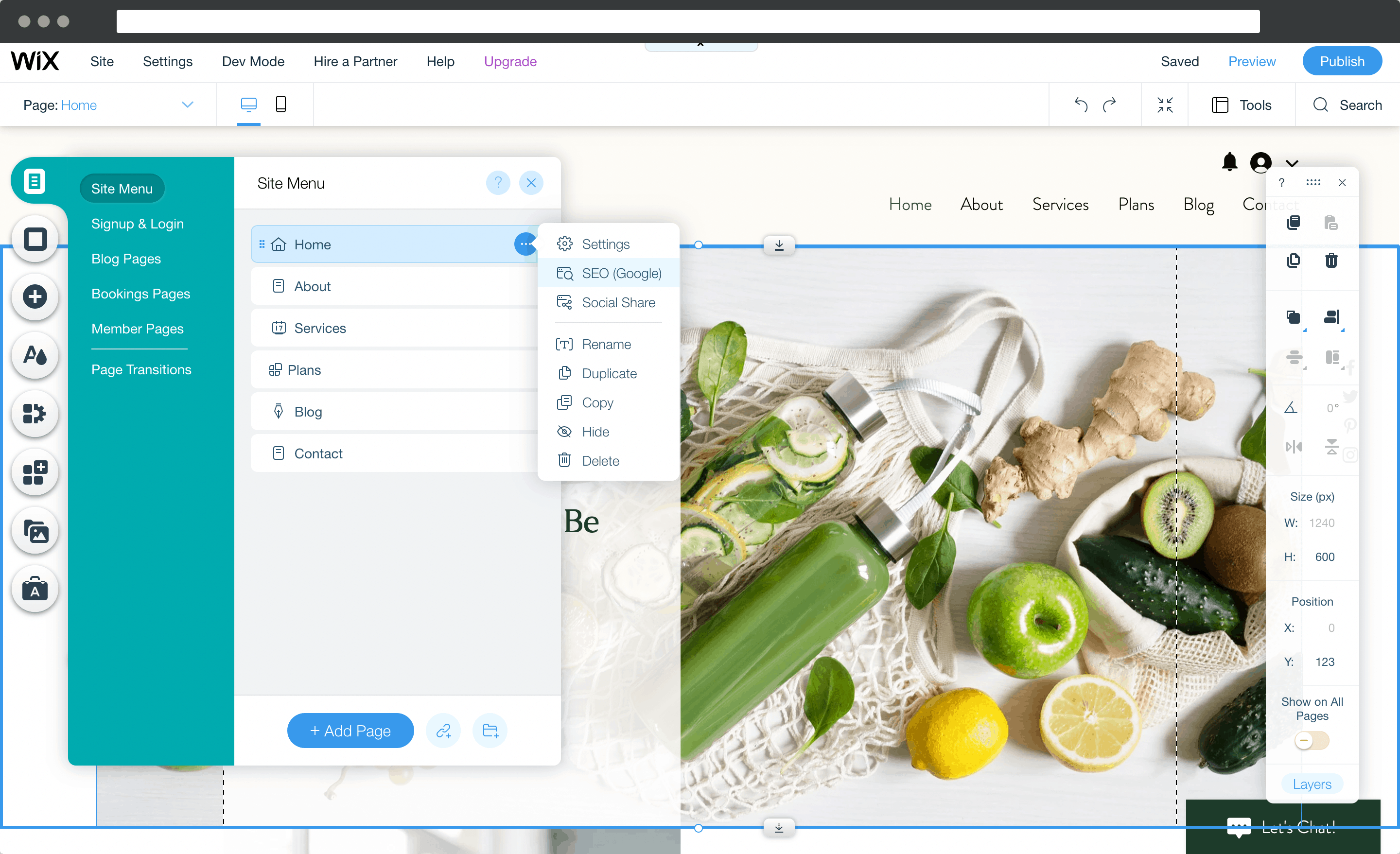 Finally, there's security. Both Wix and WordPress are secure and stable. The former is managed by Wix, and has everything you need built into the platform.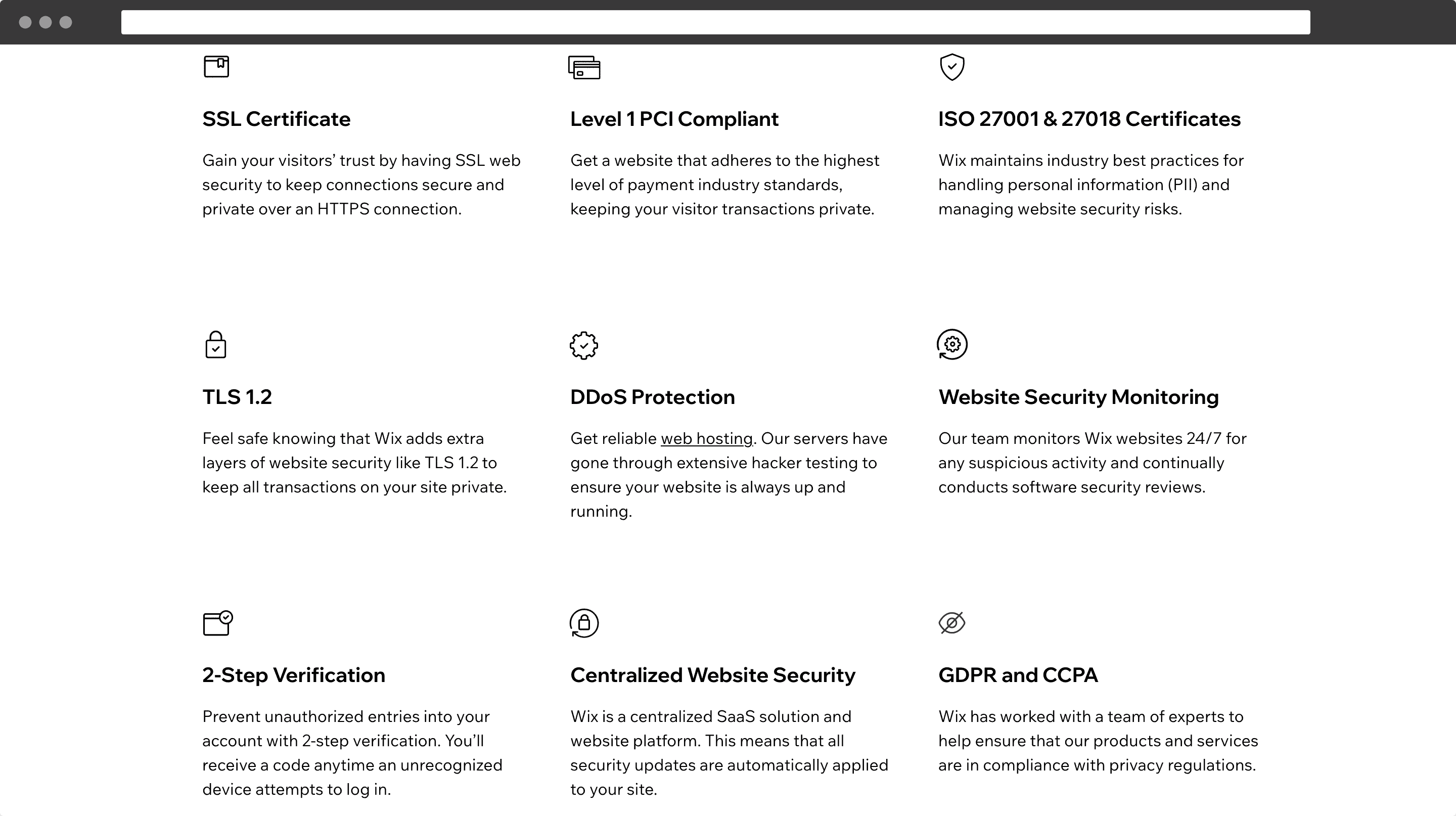 WordPress recommends using plugins to bolster your site's security however you wish, and there are plenty of solutions available. We've covered this on the WPKube lots of times in the past, and we'd encourage you to search through our archives to find something suiting your exact needs.
Winner: Wix and WordPress both have all of the functionality you need to run a website. Wix is going to be more hands-off in some regards, while WordPress is more flexible and offers more scope for tailoring your site to your exact requirements.
3. How Extendable Are Wix and WordPress?
Both Wix and WordPress aren't popular because they're inflexible. As such, you'll find plenty of ways to extend both platforms, both on the visual side and with regard to functionality.
With Wix, your look is determined by the template you choose. There are around 800 to choose from, and you should be able to find a solution for you among the collection: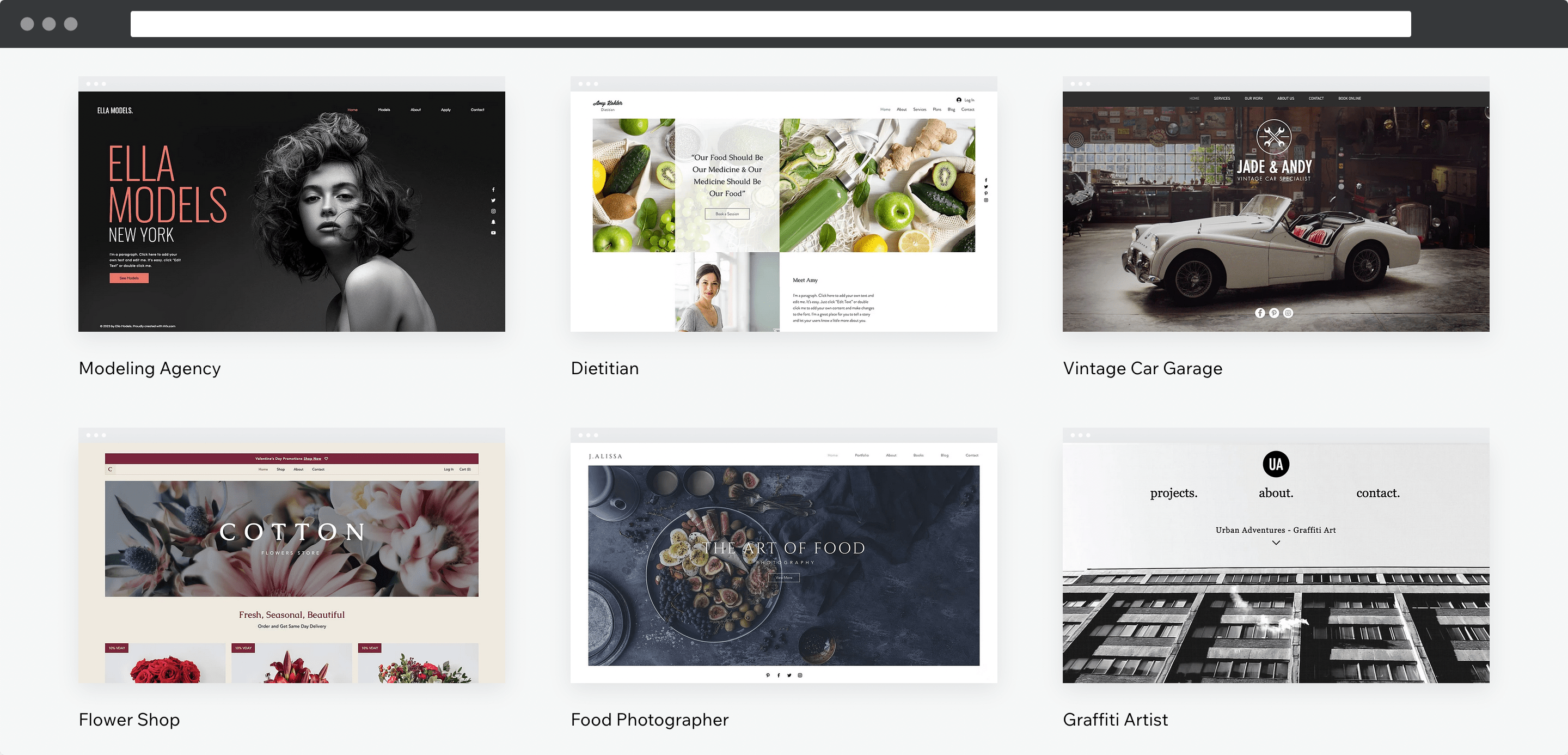 WordPress also has a large collection of themes, although the offering is different to Wix. Because WordPress is open-source, there's a rich community of developers creating for the platform. As such, there are a few places to get themes from:
The WordPress.org Theme Directory. These are all free to use, and are vetted by a dedicated volunteer team to ensure standards are kept high.
Direct from developers. There are hundreds of WordPress authors who sell their themes from their website. While they don't have to meet the WordPress Theme Team's standards, there are lots of great and popular solutions from the likes of MeridianThemes, StudioPress, and more.
Through a premium marketplace. There are also sites such as ThemeForest and CreativeMarket that developers use to host and sell themes.
As for extending the functionality of Wix and WordPress, you have plenty of options. Wix uses the stellar App Market – a collection of over 250 extensions adding marketing, newsletters, social media, maps, contact forms, and much more: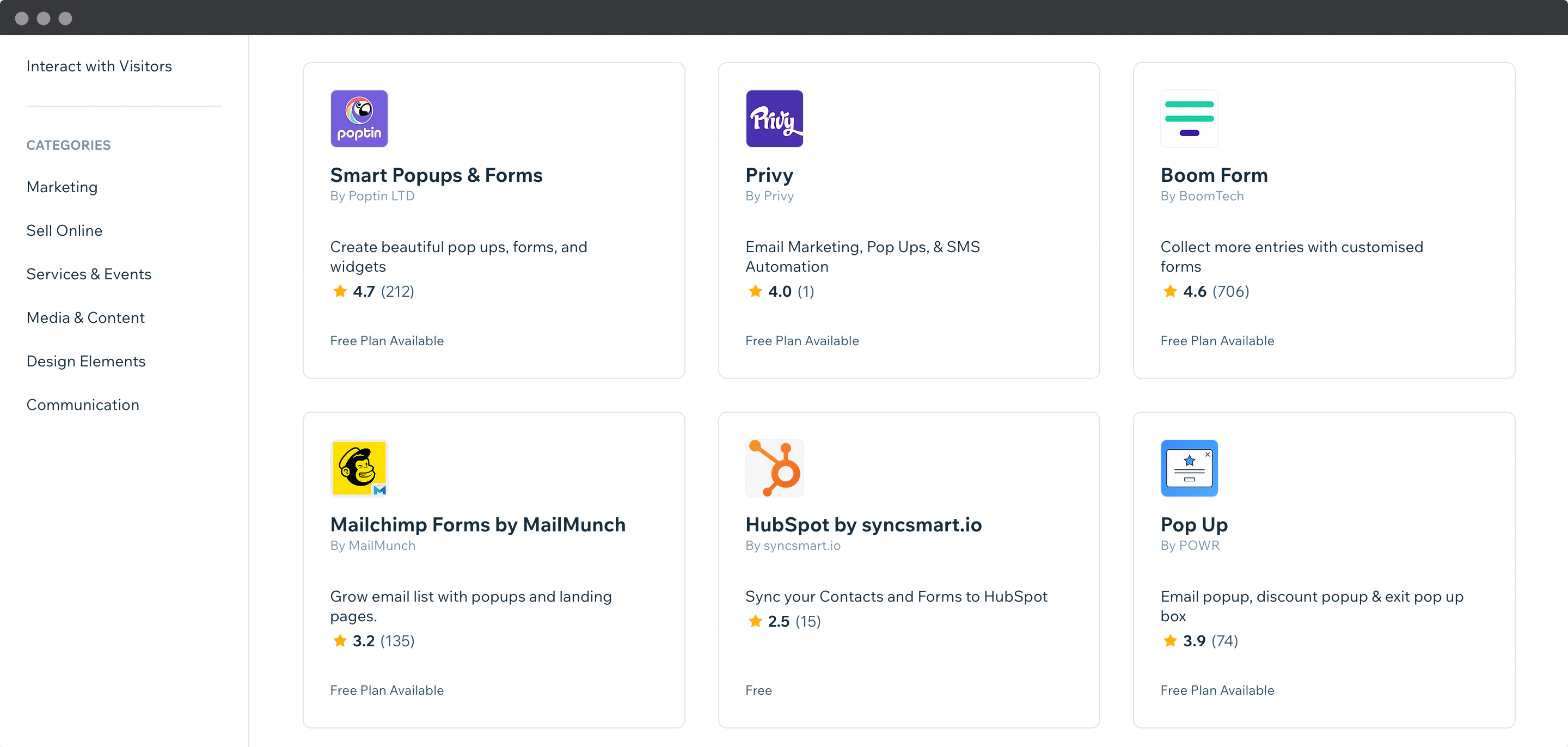 In contrast, WordPress has the Plugin Directory – a free repository of ways to extend your website's functionality: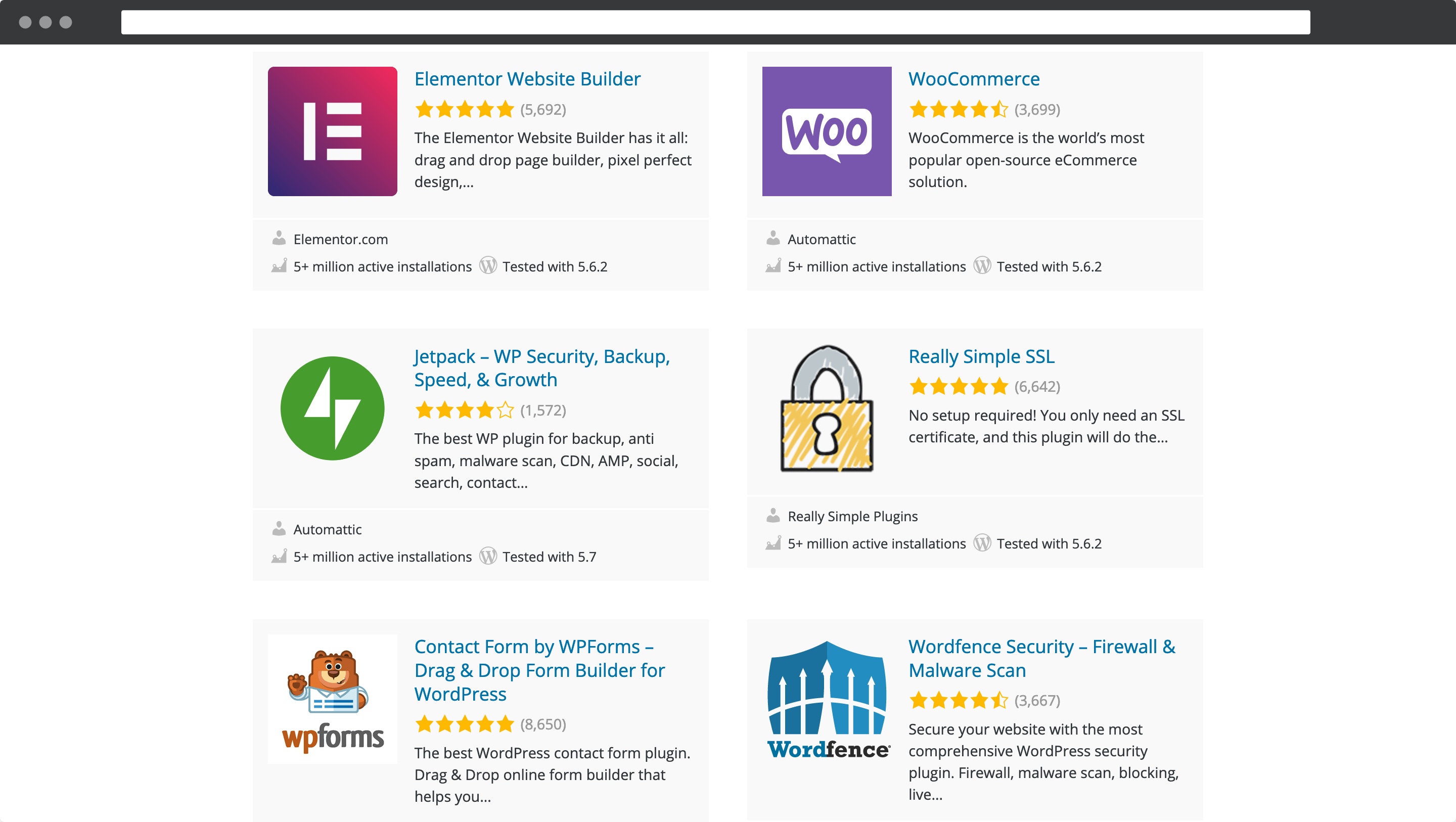 Again, this covers almost every additional feature you'd like to add to your website, including contact forms, SEO, drag-and-drop page builders, security, and hundreds more niches.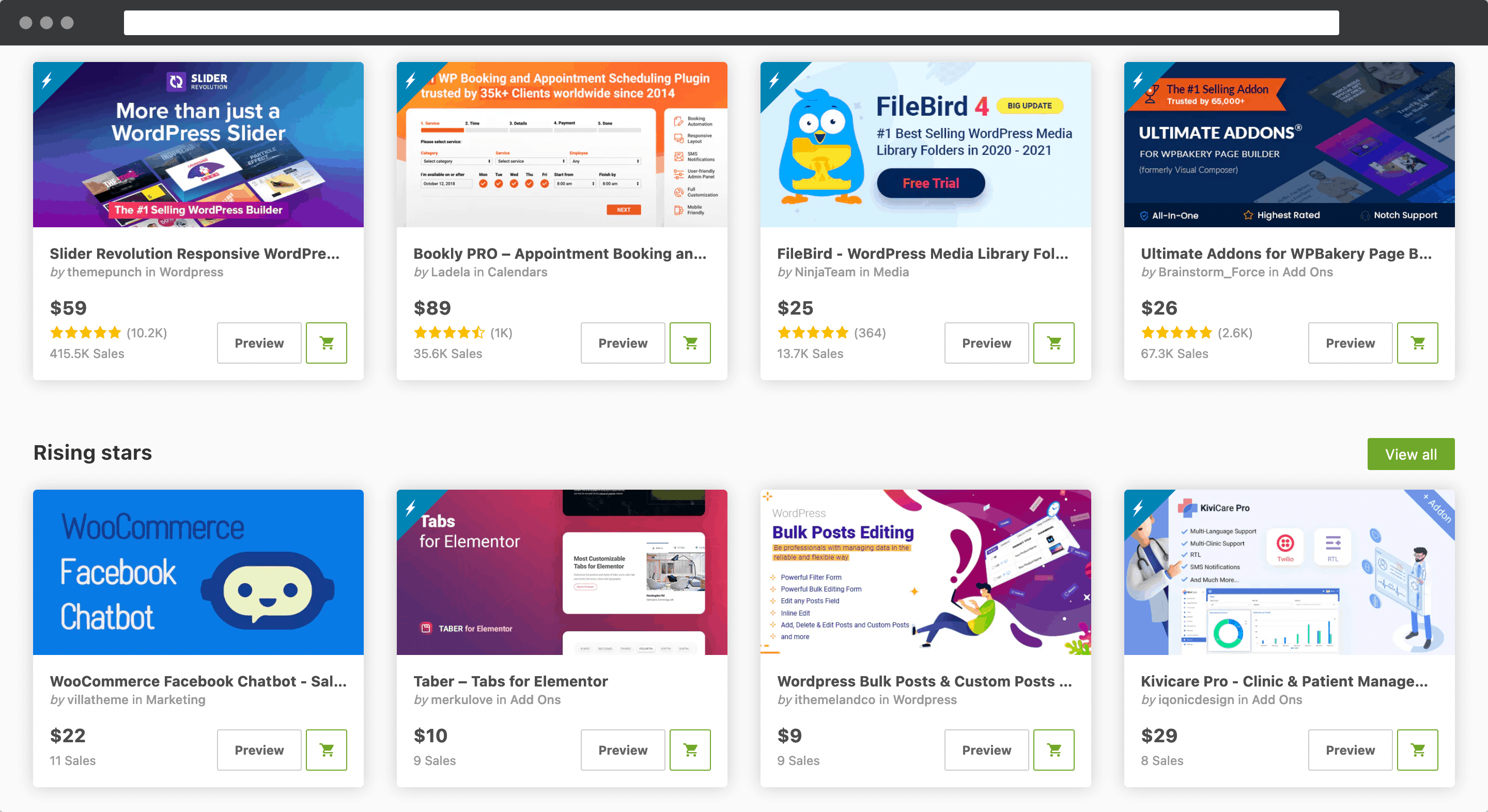 In addition, you have premium marketplaces such as CodeCanyon too, and premium plugins direct from developers to consider. The plugin ecosystem for WordPress is rich and diverse, meaning if you need to add something to your site, you'll likely find what you need.
Winner: We'd say this is a wash. While WordPress has thousands of solutions, there's a lot of repetition, and you'll often come back to your preferred favorites.
However, with Wix, there's less choice on the whole, but you'll often find what you need. Either solution is going to fit the bill for extending your site's features and functionality.
4. Will I Be Able to Afford Either Platform?
Most comparisons between any 'non-free' products or services will end up coming down to price. With everything else equal, the cheaper option is going to be better for you. However, as we've seen, Wix vs WordPress isn't equal – both platforms have different strengths and weaknesses.
Comparing the pricing between Wix and WordPress also isn't an even contest, because they're both looking to achieve different things. They also have different ecosystems, which muddies the waters some more.
For example, the core WordPress software is free – anyone can download and install the software on a server. However, this does cost money – at least, you should be paying for hosting rather than relying on free services.
If we take a 'roll call' on the basic elements that make up a WordPress website, you'll see where the costs lie:
The core WordPress software: $0.
WordPress Hosting: On average, look to pay $10–20 per month.
Your theme: This could be yours for free, but it's better to buy a premium solution for around $50–100 per year.
Plugins: Most of the essential functionality you need can be found for free in the WordPress.org Plugin Directory, although some 'freemium' plugins have a cost attached.
Saying that a WordPress website costs a maximum of $340 per year isn't the full story though. You do have to factor in any premium plugins you buy, the renewal on your domain name, and a number of other expenses that are beyond the scope of this article.
Compare this to Wix, and it seems like it's case closed. For the most expensive tiers, you'll pay around $25–30 per month for the whole package. Given the extras you'll need to buy with WordPress, it's going to be a larger outlay.
However, we'd argue that in the long run, WordPress works out as the cheaper option. Depending on your host, you'll pay less on average per month given a longer commitment.
What's more, your theme could be a one-off payment depending on the marketplace you use. However, the most important factor is that you control and own your content, and can do with it as you wish.
With Wix, you're restricted to what they want to offer you, and if you want to take your site elsewhere, you can't.
Winner: Based on upfront price alone, Wix is the winner. However, given the whole scope of WordPress and your length of commitment to the platform, WordPress speeds ahead.
Wrapping Up
If you plan on sticking with your website platform of choice for many years, we'd argue it doesn't matter which solution you pick. Most of the leading options will give you a full set of features, functionality, and extensibility at a competitive price.
However, when it comes to Wix vs WordPress as your first choice, we'd suggest that an open solution with thousands of themes and plugins is the way to go. WordPress can be a part of your journey from beginner blog to enterprise-level content management.
Create Website with WordPress.org
What's more, the CMS remains free forever, with a robust community available to support your site.
Are you considering Wix vs WordPress, and has our review swayed your decision? Share your thoughts in the comments section below!