Over the last few months, I have reviewed a number of premium theme shops including Elegant Themes & StudioPress. I use Elegant Themes on some of my niche sites and Genesis on this one. There aren't many theme shops around that come close to what Nick Roach's shop has to offer.
Recently I cam across a new theme shop called – TeslaThemes. They currently have 15+ unique and well coded themes, which can be purchased individually for $25 or  through a club membership that gives you their entire collection of themes for a very reasonable fee. The company aims at providing innovative WordPress themes, which they are doing pretty well. The theme shop is a part of Red Sky (Poland), the company that created Filestube.com, one of the most popular files search engines in the world, with more than 150 million visitors per month.
TeslaThemes Review
If you are using WordPress, then you will love their awesome themes. The newly launched theme shop has been focusing on releasing unique themes. To see an example of their beautifully designed themes, check out Cool Stuff and MedPak.
Similar to many other theme providers, the guys at Tesla use their own framework – Tesla Framework, a robust framework that allows you to easily customize the look and feel of the website.
Also Read: What The Heck Are WordPress Frameworks?
In this post, I am going to review every single Tesla theme honestly and thoroughly to ensure you get complete information in choosing a WordPress theme. This means that this post will be evergreen. Meaning that every single time Tesla produces a new theme, an extensive review will be added to this post.
If you're new to WordPress or just looking for a simple design with features you can customize, it's worth giving Tesla Themes a try. Use the coupon code "wpkube" at the time of check out to get a 20% discount.
Sportify – Gym / Fitness Theme
As the name suggests, Sportify is designed with keeping sports related websites & businesses in mind. It has everything you need to start  your sports related website in a stylish way, along with a premium slider plugin.
This theme can also be used to sell sports related equipments, via WooCommerce plugin. Sportify is perfect for someone looking to sell stuff online.
Sevenfold – Multipurpose Responsive Theme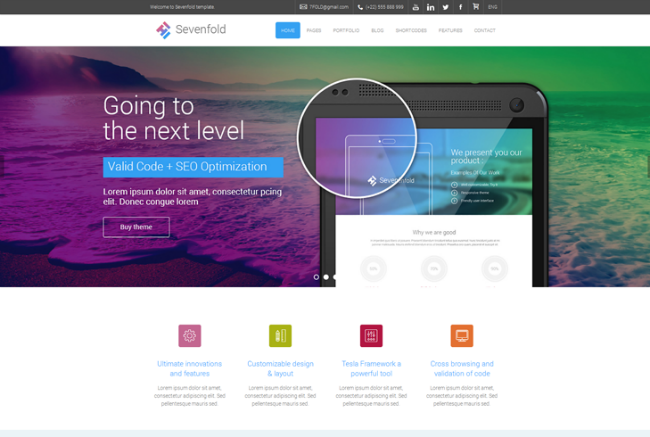 It has only been a year and half, since Tesla released their first theme. And in short period of time they have created a dozen of premium responsive themes in different niche's – that's a great thing for WordPress users.
At first glance I'm absolutely in love with the one page design, but functionality wise it is no different than Zero theme. The overall style of the theme itself is flexible as it aims at providing unique design with a ton of features. Meaning, it has a reason design that will easily fit on your mobile, phablet, tablet, and desktop.
These days, having a mobile friendly wordpress theme is incredibly important, as it is one of the main factors that google takes into account when ranking the websites.
Zero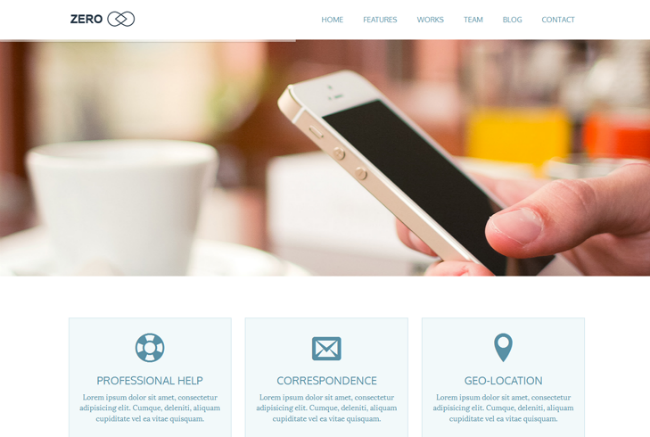 Zero is a multi-purpose theme packed with a ton of great features that allows you to create different type of websites. For Example – if you own a dozen of websites, then you can use the same theme on all the websites as it provides you with three different layouts (onepage, blog, and business layout).
It also lets you add transition effects, sticky navigation menu, and scroll animation via the settings page. It is also packed with premium plugins such as Visual Composer and Slider Revolution.
Zeon – eCommerce Theme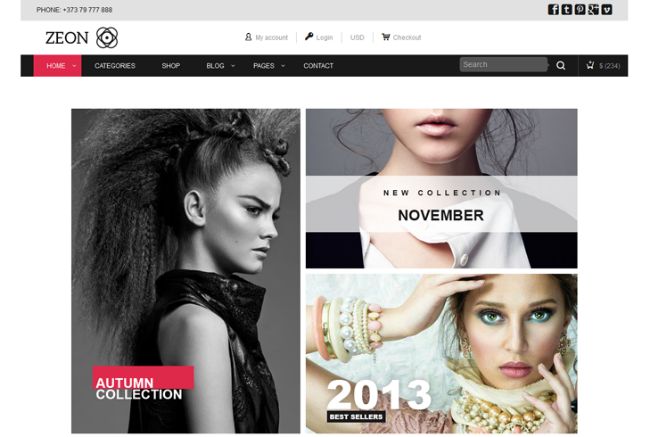 Zeon has a unique design and is packed with all the usual Tesla features such as: WooCommerce Integration, Slider Revolution, product list, built-in shortcodes, social media support, and premium support. It comes with a number of great features that allows you to create a powerful eCommerce website. You can manage your products, orders, customers, inventory, and much more, from the admin area of your WordPress website.
Zeon theme is also compatible with major payment gateways like Paypal, Credit Cards, and Bank Transfer. The theme demo features a big slider above the fold, as you scroll down you will see latest products, services, deals, portfolio logos, and footer section.
Lovers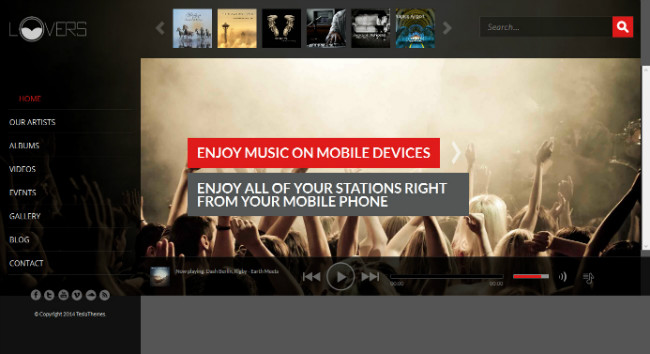 Lovers is a music theme with clean, bold, and unique design. The theme is specifically designed for music related websites. It comes with an artists and albums page, where you can showcase who are your top artists and type of albums you are producing.
The theme also has an events functionality and is managed via a dedicated custom post type. You can edit event description, specify location time date place and address for event, attach map location for event, set the title for event, add the cover for event, all from event custom post.
Other features include shortcodes, social media integration, google maps, and responsive layout.
BizNex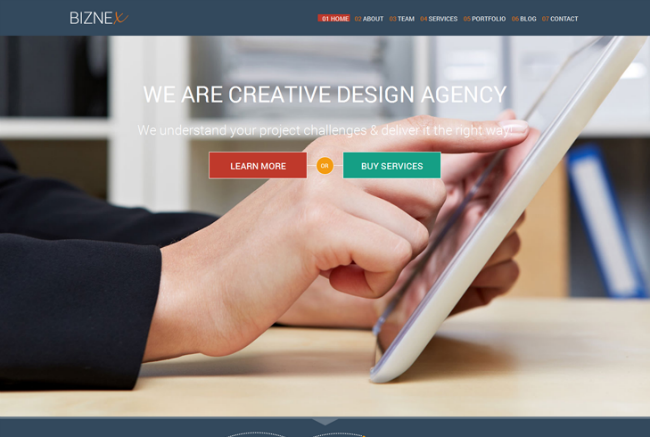 BizNex is a business agency website that comes with two layouts – one page and multi pages. One page layout will load all the elements including featured area, about us section, testimonials, clients, team members, what services you provide, latest blog posts, and contact info on one great looking page. This theme is perfect for small businesses, agency sites, professionals, and freelancers.
It comes with an easy to use interface that will help you create a beautiful layout in minutes. Additional features include – Parallax effect, custom CPT sections for services, testimonials, and team members, fixed navigation menu, built-in shortcodes, transition effects, google fonts integration, support for google maps, and well structured code.
Novelty – Magazine Theme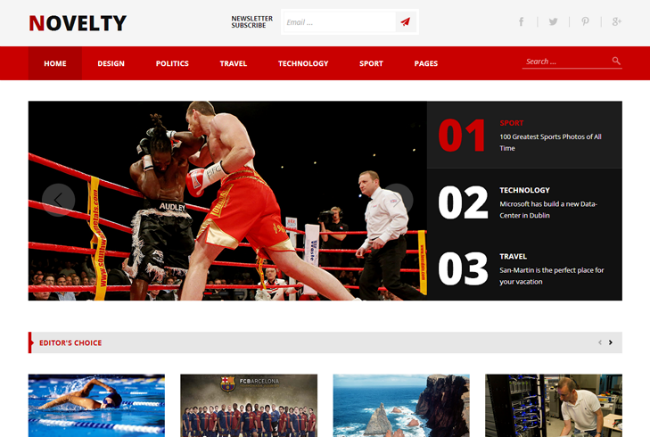 Novelty gives a magazine-style theme that gives you a high class look and feel that comes with a grid, typographical hierarchy, and clean layout for publishing in-depth content. Perfect theme for websites that publishes a lot of content. Features include – tabbed widgets, featured posts section for showcasing your best work, custom shortcodes, social media integration for better social sharing, and featured image slider. It comes compatible with WPML plugin, meaning you can easily translate your theme, posts, pages, menus, etc with just a couple of clicks.
And with Tesla Framework, you can easily customize the look and feel of the website including site colors, backgrounds, fonts, etc.
iCook – Food / Recipe Theme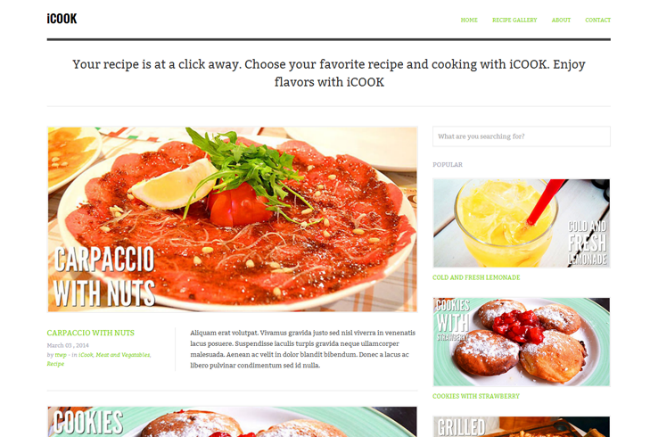 This is not your ideal WP theme because it's not designed for corporate or business websites. iCook is a niche specific theme designed to serve the needs of food bloggers and has everything you need to showcase your recipes in a stylish way.
Easily showcase your recipes with the built-in recipe gallery feature. It comes with a dozen of great features include – a popular recipes widget, custom shortcodes for recipes, filterable portfolio, twitter bootstrap, social media support, and much more.
Display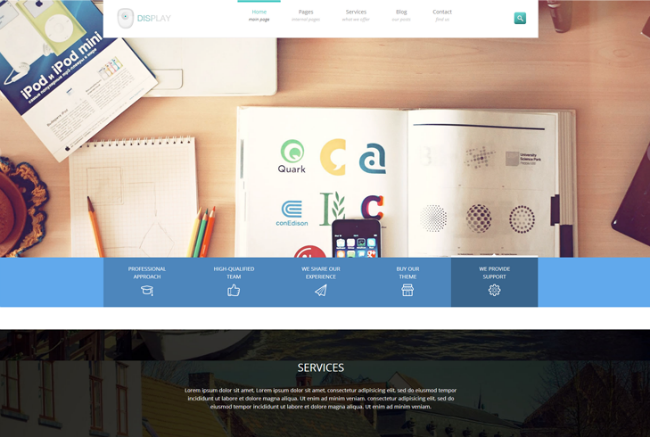 Display is a clean, modern, and responsive WP theme, ideal for agencies, studios, and freelancers. The theme has a one big homepage where you can list your services, previous work, show testimonials, current projects, information about you, and your team. It also has a big slider box (powered by Slider Revolution plugin) where you can show featured blog posts and product images with text or button.
Universe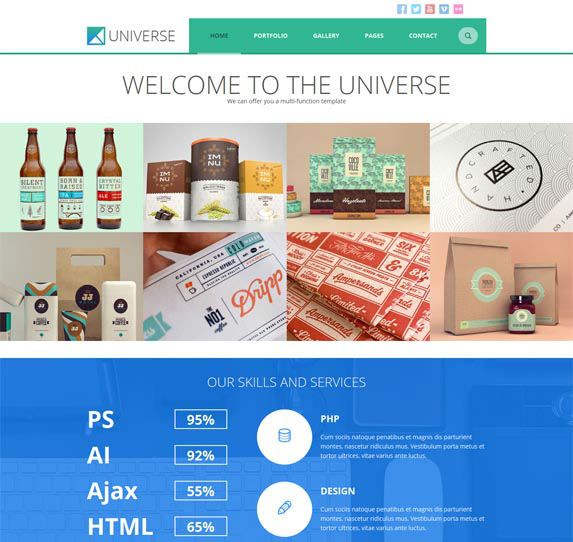 Universe is another fantastic theme by TeslaThemes, which comes with a responsive layout and modern design. This theme can used for blogging, business, creative agency, or magazine site. The homepage has a navigation, portfolio, services section, testimonials, and 3 column footer.
Some of the features are – beautiful galleries and image sliders, filterable portfolio, custom posts, custom widgets, and more.
Zoomy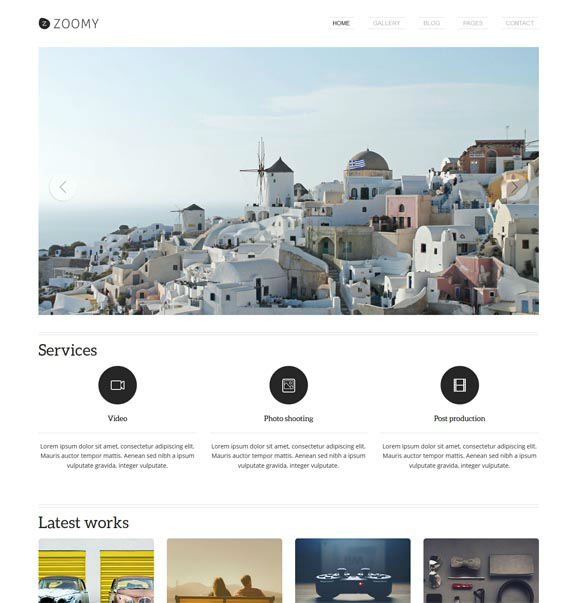 Zoomy is a well designed responsive WordPress theme from TeslaThemes. Perfect for showcasing your work / portfolio. It allows you to showcase your images / work in a very stylish way.
I especially liked their top navigation bar, which has a very gorgeous hover effect. The theme is packed with some of the usual Tesla features plus WPML compatibility.
You might want to check out our collection of best WordPress Photography Themes.
Electra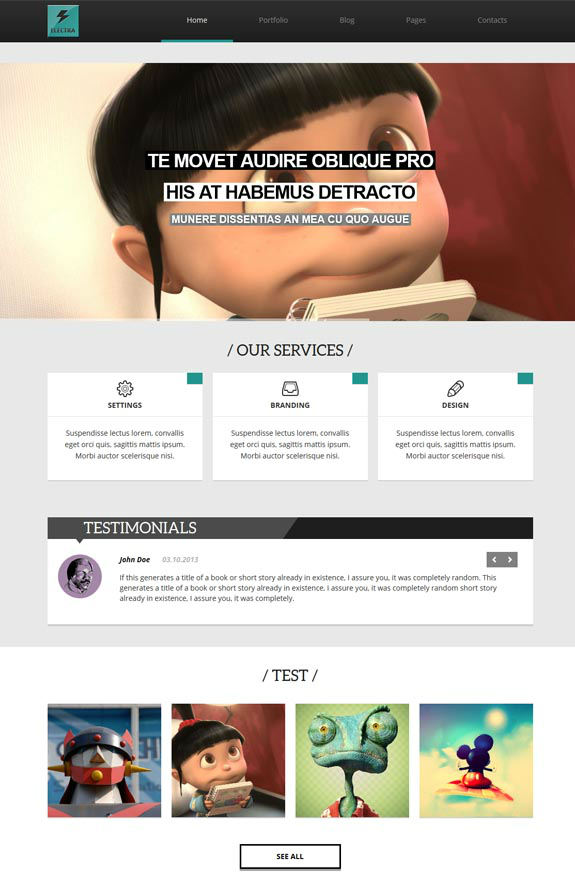 Electra is a modern responsive theme from TeslaThemes. The premium theme is perfect for portfolio sites, businesses, agencies, and corporate websites. The homepage features a nice navigation menu, big slider, testimonials, and latest blog posts section.
Although, the basic functionality is same as most of the portfolio themes available in the market, but Electra one has thing different which sets it apart from other business / portfolio themes, and that is its appealing design.
So now we should move onto other features such as transition effects, animations, drag & drop editor, and amazing Resolution slider worth $15, included in the theme.
MedPark – Medical WordPress Theme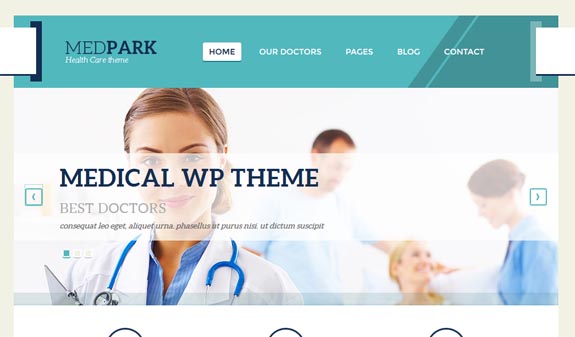 MedPark is a creative theme created for medical or education related websites. There aren't many medical or hospital related themes available, so it was good to see Tesla releasing this great template.
This theme doesn't have RSVP or any form for registration, but the design is stunning. The design is clean, flexible, and has a fully responsive design. Some of the key features of MedPark theme are doctors page, medical services section, built-in shortcodes, Google maps integration, social media support, and more.
Hudson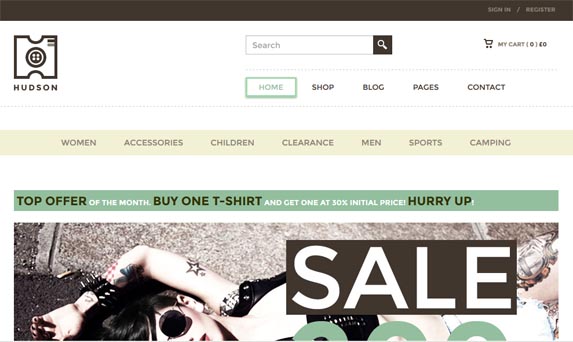 Start your own eCommerce store and sell your products without paying any extra omissions to other 3rd party online platforms.
Hudson is another great WordPress theme and comes with some great features that can help you easily start your own eCommerce portal. After playing with Hudson theme a little bit, I was impressed with the homepage design.
WinterFell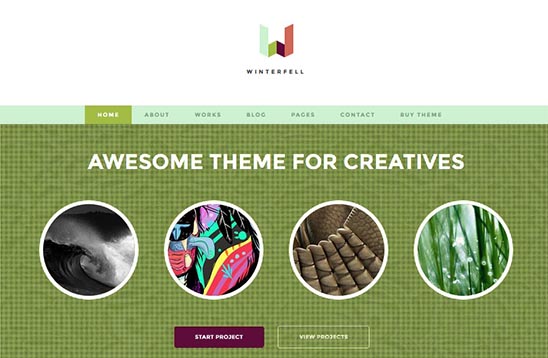 Winterfell is a magazine style theme that has lot to offer. When I first visited the demo site, I was highly impressed by the design. It looks visually impressing. The homepage shows latest work, testimonials, skills area and a nice footer.
It is a creative theme with smooth transition effects, a beautiful showcase, and a rich set of advanced features. This theme has a "FAQ" and a "Skills" panel which will give your visitors more information about the "jobs" you can do and will also increase conversion.
Shape – Photography WordPress Theme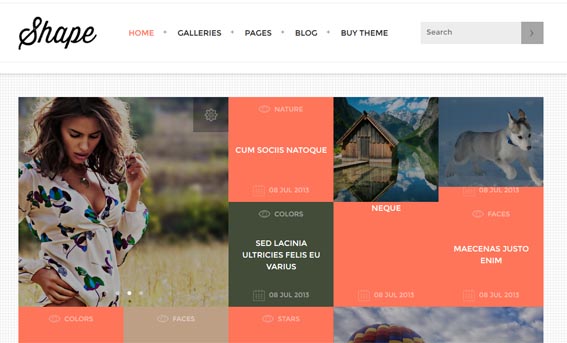 Shape is a very nice photography theme that gives you power to create awesome website. The homepage is quite unique and some people might not able to understand properly. On a bright side, shape has an awesome galleries and blog section. I especially liked the blog design, because of the 2 column interface. It has fewer panels to distract visitor's attention, in compare to other themes.
Your visitors are definitely going to love clicking around just to know more about your site design. It really is a cool design that TeslaThemes has put together. Great work, guys.
Vulcano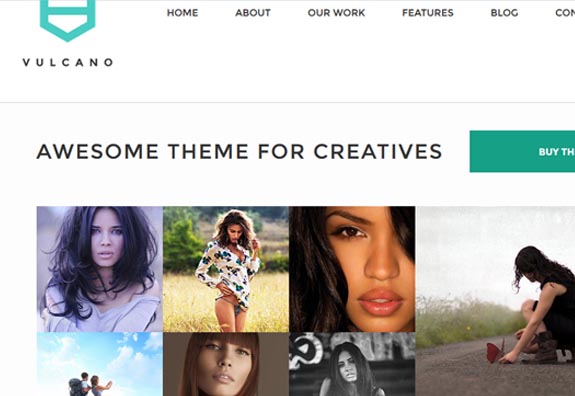 Vulcano theme is a magazine style theme that has a lot of features built all into one theme. If you are looking for creative theme with clean, minimalist and sexy design, than you might love this theme. Although, this theme uses sexy stock images but still without any of those images, Vulcano would really look great.
This beautiful theme comes with some unique features – Start a project panel at the bottom of the homepage, ajax contact form with newsletter subscription, google maps with drag & drop functionality, responsive design and much more.
It also display current statistics on the homepage.
Wedding Day
Are you planning to create a website with WordPress, where you can share all their information about your special day, then Wedding Day is the theme you should be using. It is crucial to set up the a well designed website, long before the wedding day, as it will give you some extra time to play with the design and functionality.
The beautifully designed wedding WordPress theme comes with a full-width responsive design, smooth transition effects and sliders, a beautiful photo album, dedicated pages for your wedding ceremony, date & place, RSVP form, and a stylish blog, where you can write about your memorable experience.
Speaking of weddings themes, you should check out our popular collection of wedding themes.
Cool Stuff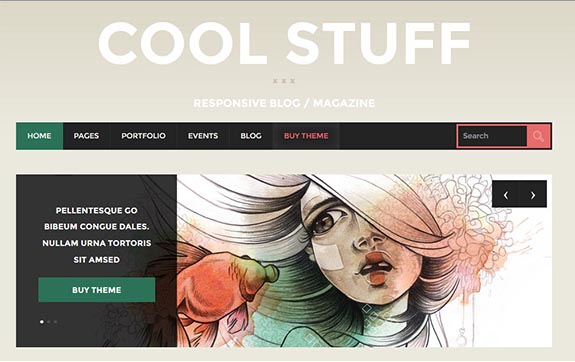 Take a look at the magazine themes listed on ThemeForest and you will notice that most of them are complicated and filled with stock images. But after taking a look at Cool Stuff theme, it looks like a magazine style theme that is unique and isn't filled with all the complicated stuff.
I think this is a great piece of art, and will look great on any type of website, not just magazine themes. This theme doesn't also comes with one of those wacky sliders, which keeps changing every widget on your homepage. It's nice to see Cool Stuff theme doesn't rely on those slider plugins.
If you are good with CSS and WordPress, then with a few customizations, you can use this as a company website. Although, I would prefer something differ for a company website.
Some of the notable features of this theme are – Responsive design, Filterable Portfolio, Social media sharing, Contact Form, Custom Posts, Post Format support, and Built in Shortcode.
Revoke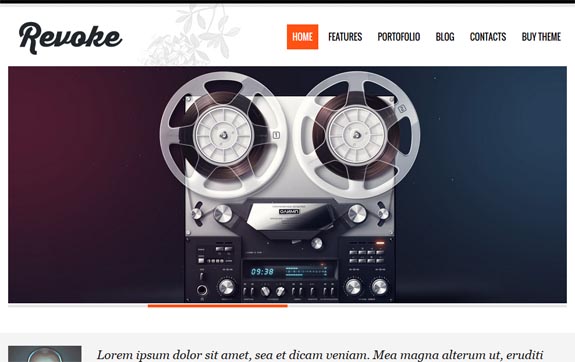 At first glance, I though it looks like any other portfolio theme. There's a top navigation, slider, testimonial section, portfolio, and our clients area. But after playing for a few minutes, I think it's a quality theme with a nice design. So if you are bored with other portfolio company themes, you may like Revoke theme.
Revoke is another great theme with clean and modern design, coupled with some fantastic features and powerful options panel. It is also one of their most popular themes to date.
As other themes, Revoke is powered by their Tesla framework and has features like – responsive design, mainpage slider, filterable portfolio, social media support, flickr gallery, google maps and much more.
Design Portfolio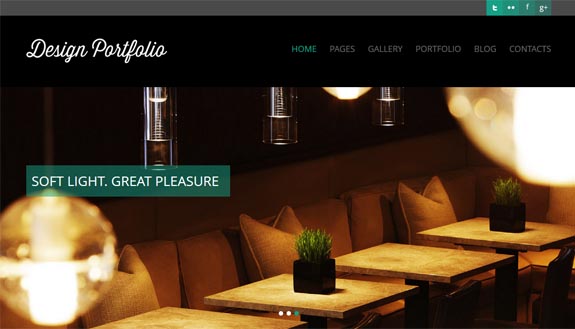 Visually, the Design Portfolio theme is awesome. This Portfolio theme can be used for a variety of businesses or personal uses. It looks quite well with different colors. You visitors will definitely going to love the design and how it works.
The About us page with team, skills and faq section looks really cool. There's a top navigation, slider area, call to action, portfolio area, and footer. The theme has a complete set of advanced options to help you easily setup and customize your website.
Axa Theme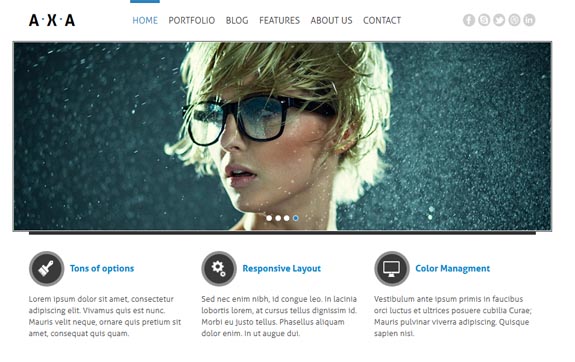 Axa is a pretty much same as the Skywalker, except it has a completely different design. The theme is unique in its own way and have features such as – Pop Ups with Hints and Call to action on homepage, both of which are great for increasing conversion. If you are web development or design agency or have a product to sell, then this may be for you.
Axa comes with a blog section, which looks pretty nice compared to other Tesla designed themes. Other then that, there are few small bugs, which I think can be easily fixed through the Tesla support.
Lastly, it has everything you need to represent your products or services in a professional way.
SkyWalker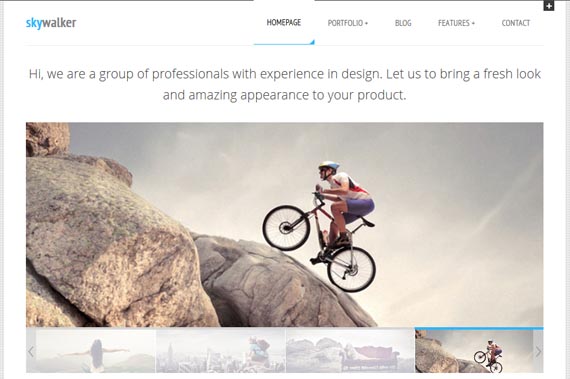 Skywalker is a fully functional responsive theme with a clean and minimalist layout. Ideal for blogs, photography website, portfolio, creative agency, local business, or other related websites.
The homepage has a impeccable infrastructure with portfolio, recent work and recent posts sections. The main features of the website are homepage & portfolio section, Other than that, the website is pretty much your standard WordPress blog.
If you like the minimalistic design and want to show off your work, Skywalker theme may be the right choice for you.
MyCountdown Coming Soon Theme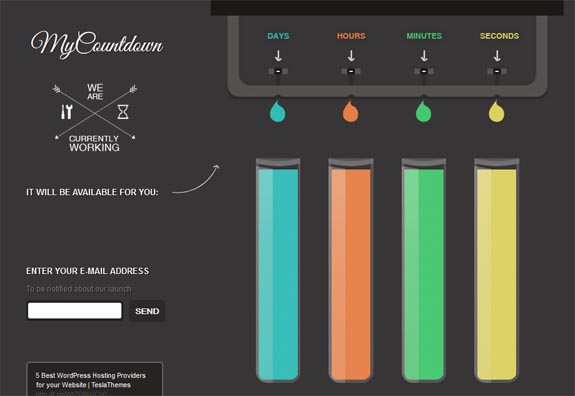 A coming soon or under construction page helps to build buzz before launching the website. If done correctly, it can be used to boost the email subscribers. It also gives you time to work on the content infrastructure, marketing strategies, outreach efforts, etc. When I first launched BlogPreneurs, I used a coming soon page to build momentum before the launch.
MyCountdown is perfect for letting your visitors know about your site in advance, and it comes with some great & useful features.
Belle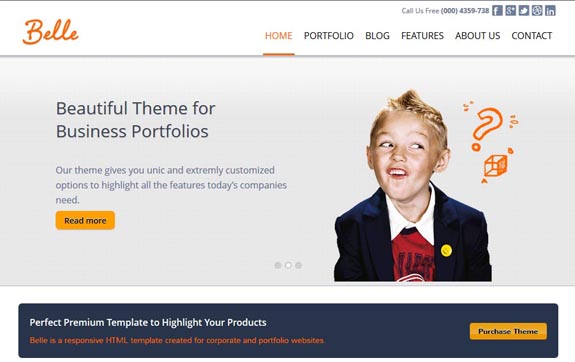 Are you planning to start a small company or maybe looking to promote your digital product, than take a look at the Belle portfolio theme. Belle can be also be used for a photography website. Although, I would only prefer to use this theme for a company or service website. It won't look good just for blogging or photography purpose.
Belle is a 12 columns grid and has some great features including a tabbed widget, apparently for which I had to $14 to get the functionality. If you want to implement a tabbed widget in your website, then go download this great plugin.
It's fully responsive, comes with a variety of color selections, parallax slider for homepage, flickr gallery and you can even customize the design through their options page.
Use the coupon code "wpkube" at the time of check out to get a 20% discount.
Have you used Tesla Themes? Please share your experience in the comments below.