Have you ever wished that you could build your own custom WordPress site without needing to learn to code?
Toolset is an innovative suite of tools that help you create beautiful custom WordPress sites without programming. It includes courses, WordPress blocks, and plugins. And now, with our exclusive Toolset coupon code, you can save even more money on your purchase.
For a limited time only, you can get 20% off of any Toolset package. Just use our special link to visit Toolset to make sure your discount is applied.
Want to find out more about Toolset and if it's right for you? keep reading for an overview of the features this tool offers and who it's designed for.
What is Toolset?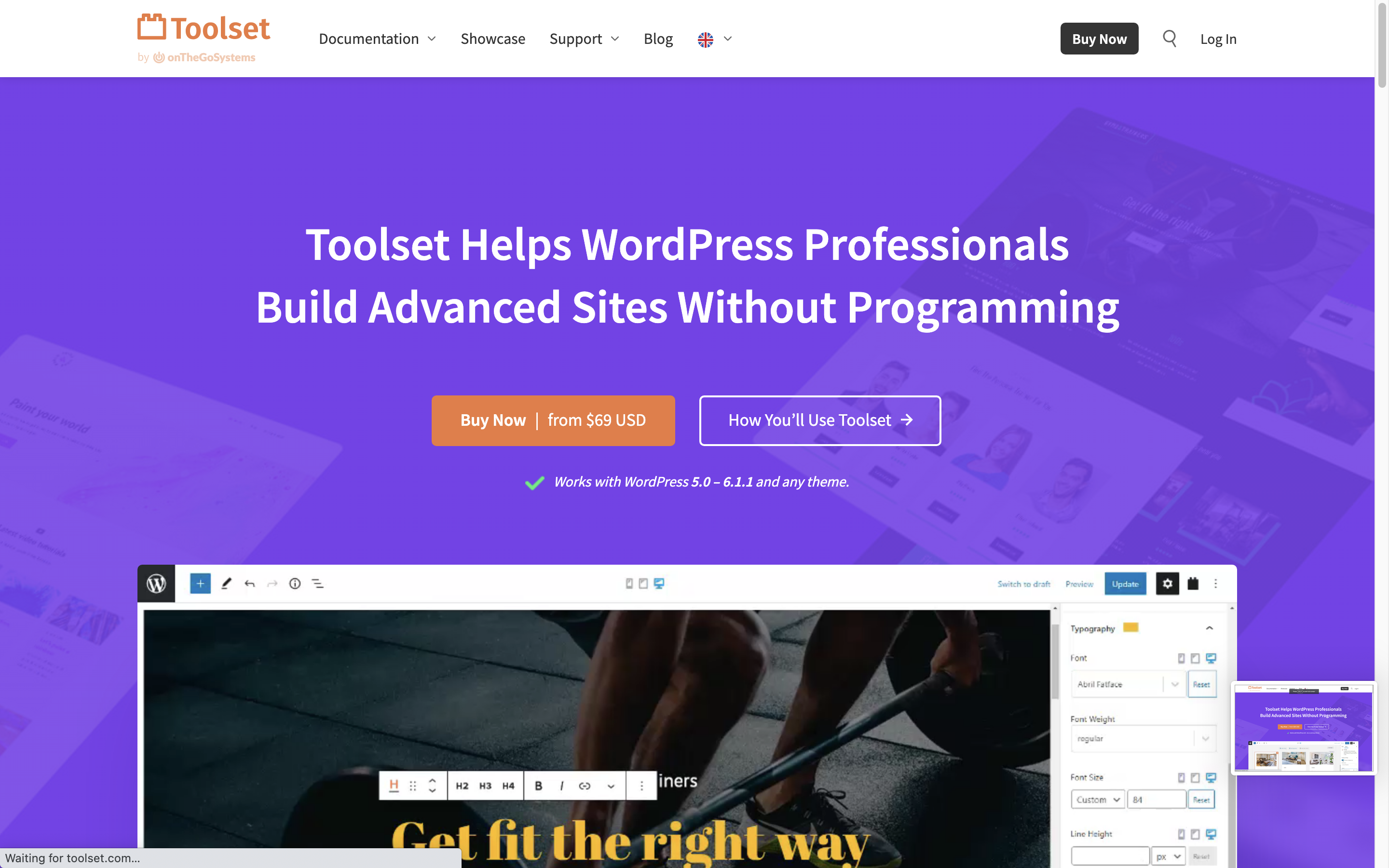 Toolset uses the WordPress Block Editor to make it easy and quick for you to create custom WordPress sites including custom post types, fields, templates, tables, lists, searches and more, all without needing any coding skills.
The suite is intended to work as a full no-code design and development package that will take you from a complete WordPress newbie to a designer of sophisticated custom WordPress sites.
It's a great way for non-coders and small business owners who don't have the resources to pay a professional developer or learn coding to create their own sites.
Toolset Features
Toolset's suite of WordPress plugins enables you to build your own WordPress designs with drag-and-drop blocks. You can then customize the functionality of the site with plugins that walk you through the process of building custom content types and interactive elements.
You can also create custom archives, fields, and templates as well as search forms to help visitors find the content they're looking for more quickly. Additionally, you can use Toolset's built-in block editor to design beautiful pages with ease.
Custom searches
Toolset's custom search block enables you to create advanced searches for custom content types without having to write code. You can add filters and controls to the search block, allowing visitors to quickly find exactly what they're looking for.
You can also create multiple different search blocks on your site with different parameters so that visitors are able to get the most relevant results possible.
Custom post types, taxonomies, and fields
The Toolset Types plugin allows you to create custom post types, taxonomies, and fields that you can use to store data in your WordPress site. You can also control the way the data is displayed with templates so that it looks great on any device.
Custom forms
Toolset's custom forms allow you to quickly create contact forms, registration forms, and other interactive elements with a drag-and-drop interface.
You can also create front-end submission forms to create sites built on user-generated content like directories, classifieds, and membership sites.
Access control and roles management
Toolset also has an access control feature that allows you to assign custom roles and permissions to different users on your site. This makes it easy to manage who can create, edit, and delete content and other actions on the site, as well as restricting access to certain areas or content types.
Maps
The Toolset Maps plugin enables you to add Google or Azure maps to your WordPress site, and add multiple markers linked to content with a custom address field. For example, you could display businesses listed in your directory in a specific category on a map.
Courses & lessons
Finally, Toolset also offers a suite of courses and individual lessons to help you get started with creating custom WordPress sites. All the courses are easy to follow and walk you through the steps required to create different kinds of sites such as eCommerce sites, galleries, directories, and more without needing any code or additional plugins.
Toolset Plans & Pricing
There are 3 licence options available for Toolset, depending on how many sites you want to use it on. All plans include all the features, free updates and support for a year and a cheaper account renewal price, so you'll save money if you decide to use the tool over a longer period. They also offer a 30-day money-back guarantee with no questions asked.
The 1 site plan is $69.
The 3-site plan is $149.
Finally, the unlimited site plan is $299.
Remember, use our link to make sure you get 20% discount on any plan.
How to Use the Toolset Coupon Code
You don't need to enter a coupon code to get our exclusive 20% discount for Toolset. Just click on the link below to get started, and you'll automatically get 20% off your purchase:
Click this link to visit Toolset and get your 20% discount
Our Toolset coupon is valid on any of the site plans, so whether you want to buy a licence for a single site, or you're a freelancer or agency wanting to use it on unlimited sites, you'll get 20% off with our exclusive discount.