There are thousands of themes within the WordPress Theme Directory. This figures increases day-by-day, and even includes a new slew of dedicated Block themes. As such, you'll need to dedicate even more time than ever before to pick from the best free WordPress themes for your needs.
While premium themes are fantastic, sometimes they aren't right for your project. For example, you might have shoestring budget, or have time constraints that mean a setup process isn't an option. However, because you have so many free themes to choose from, the glut of options can be overwhelming.
For this roundup, we're going to show you a bunch of the best free WordPress themes available. You can find all of them on the WordPress Theme Directory, and throughout, we'll talk about user ratings, the pros and cons, along with our verdict. At the end of the article, we'll run through some common questions you might have about choosing the best free WordPress theme for you.
1. Astra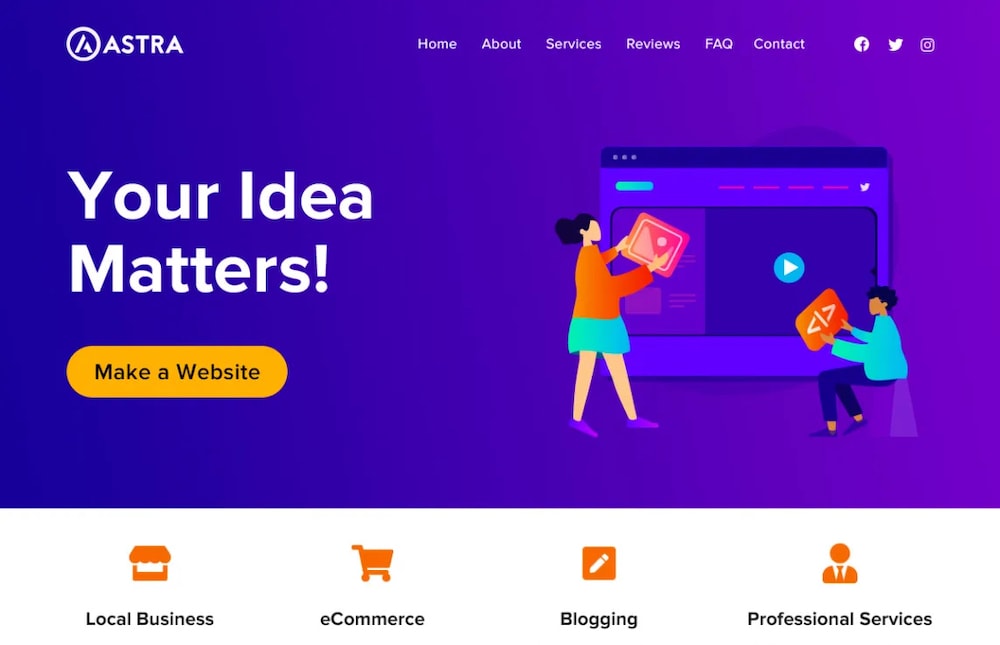 When it comes to lightweight themes that perform well, Astra is right up at the top of the list. What's more, it offers compatibility with almost all of the page builders you'll use, including the native Block Editor.
Other users love this theme too, with a 4.9 start rating (out of five) on WordPress.org. With over one million active installs, it's a theme you'll want to try.
👉🏻 Astra Theme Review: Is It The Best WordPress Theme?
Pros
One of the most popular themes on the market.
A wide range of features and functionality.
Fantastic user reviews and ratings.
Cons
There might be too much on offer for quick setup needs.
You'll need to upgrade for some essential design options.
Verdict
We like Astra at WPKube, as our review shows. As such, we can recommend this as one of the best free WordPress themes. It's even a top contender for premium themes too!
2. GeneratePress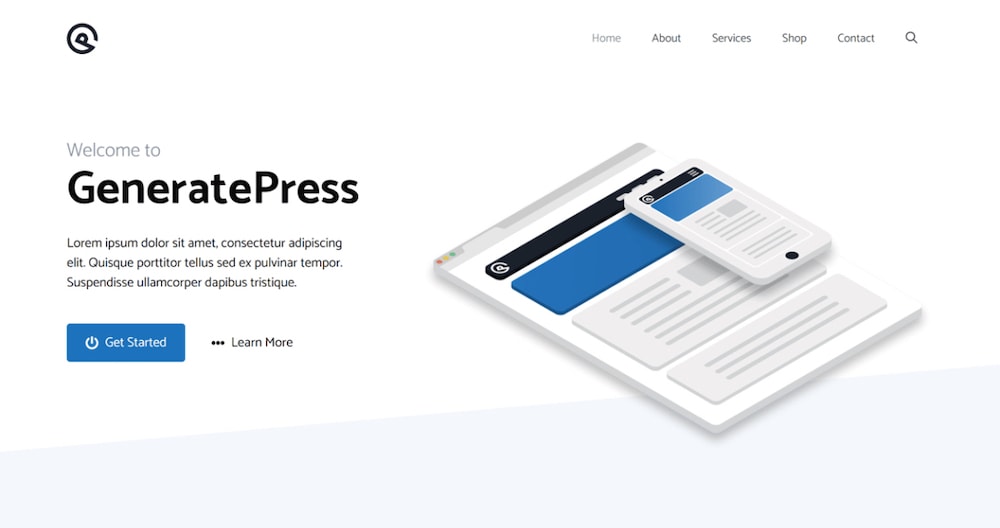 GeneratePress reminds us of the Genesis Framework in some ways. It's quick to load, lightweight, and customizable, all while looking gorgeous on the front end.
While GeneratePress can use other page builders, you'll find fantastic integration with the Block Editor. What's more, you have compatibility with WooCommerce too. The design library includes lots of template choices, and if you pair GeneratePress with the GenerateBlocks plugin, you'll have much more scope for your layouts.
👉🏻 Honest GeneratePress Review: 7 Key Features + Pros and Cons
Pros
Near-perfect integration with the Block Editor.
There are tasteful designs throughout its template library.
It's subjective, but the theme feels high-quality to use.
Cons
There's a focus on solid and dependable templates, rather than 'wild' designs.
Verdict
As a free theme, GeneratePress is one of the best. It looks great, feels fantastic to use, and has thoughtful integrations. A winner in our book!
3. Neve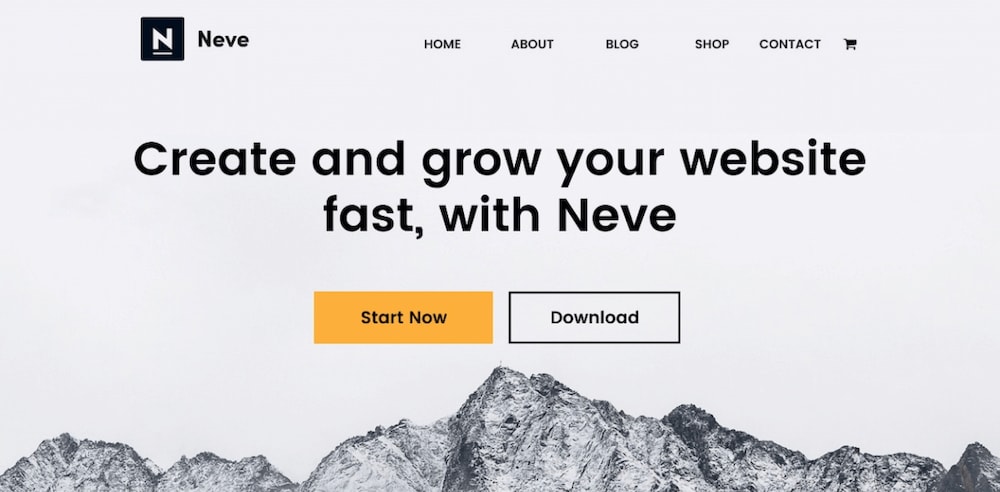 ThemeIsle has a lot of themes in its portfolio, but Neve is its leading multipurpose example. It looks great on mobile, loads fast, and offers compatibility with Accelerated Mobile Pages (AMP.)
However, Neve is also flexible, which means it's easy to create a unique and professional site. It gives you control over your layout, header, and footer, along with styling. However, there are limits to this that a premium upgrade will solve.
Pros
Offers a stellar set of options for smaller screen devices.
Provides WooCommerce support and integration.
Cons
You may need to upgrade sooner rather than later, as the design options are minimal with the free version.
Verdict
For smaller screens, Neve is a top-drawer option. For SEO purposes, Neve is a draw. All in all, you'll want to check out Neve if you value a site that loads fast and can reach all users, not just desktop ones.
4. OceanWP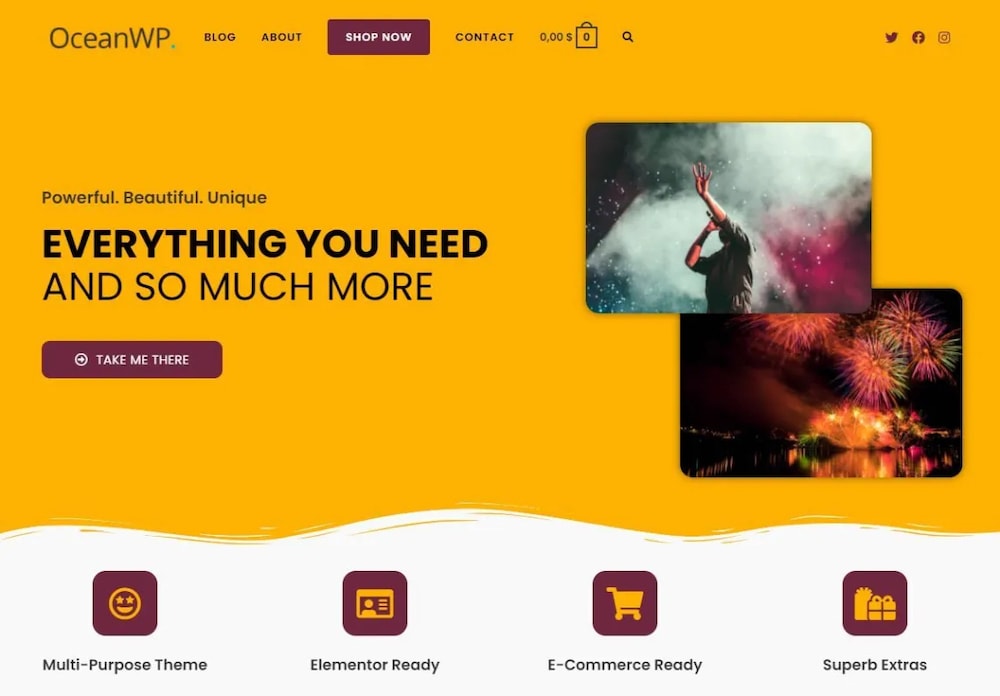 OceanWP is another lightweight multipurpose theme with a super high 4.9 star rating out of five. As such, you'll have plenty to work with to create blogs, business websites, creative portfolios, online stores, and more.
It's just as flexible as other similar themes. For example, there's an extensive library of starter sites and demo pages. What's more, you can use almost any site builder. OceanWP is also compatible with WooCommerce, which is great if you need to build an e-commerce site.
Pros
There's plenty of page builder integration on tap.
Great ratings and reviews can put your mind at ease with regards to quality.
Cons
As with many big multipurpose themes, you have a lot to wade through when it comes to features and functionality.
You'll want to upgrade to get the best experience of OceanWP.
Verdict
On the whole, OceanWP is one of the best free WordPress themes regardless of niche. Given the quality upgrade path, it's a theme you can stick with as you scale your site.
If you decide to go with the premium version, don't forget to use our exclusive OceanWP coupon code.
5. Hello Elementor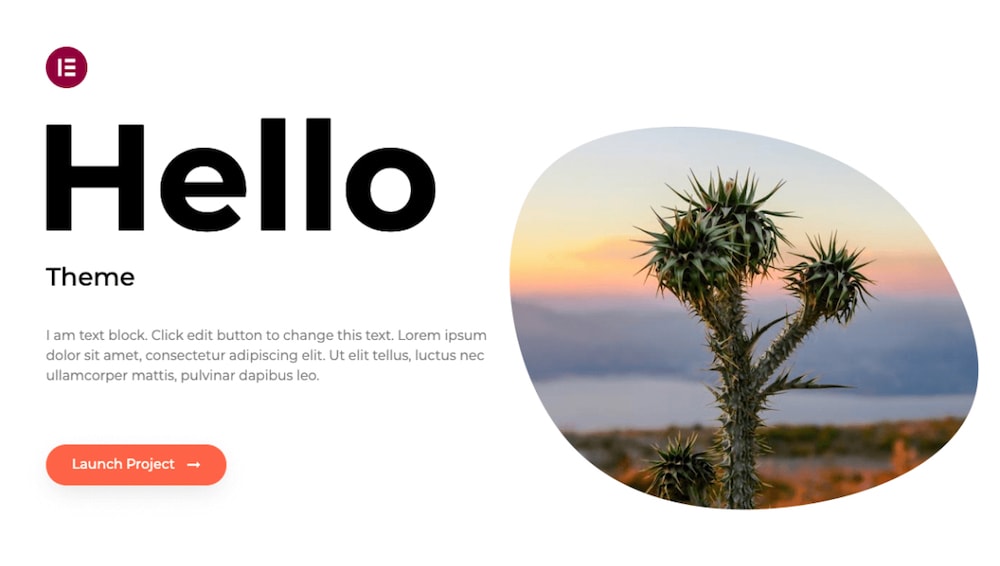 The next entry in our list of best free WordPress themes is not a typical one. The Hello Elementor theme is more of a blank starter for use with the page builder. As such, there's not a lot to discuss about it.
Without Elementor, you won't be able to customize the theme much. However, for Elementor users, this will be the typical option you'll choose. If you use the page builder and don't consider this one, it's a mistake on your part.
Pros
Elementor users will want to opt for this theme as standard as it offers the best in compatibility with the page builder.
It's a true blank canvas to create your ideal WordPress website design.
Cons
You'll have to use the Elementor page builder with this theme.
It's a blank starter theme rather than
Verdict
While you won't want to use this in any other situation, it's almost a no-brainer option for Elementor users.
6. Kadence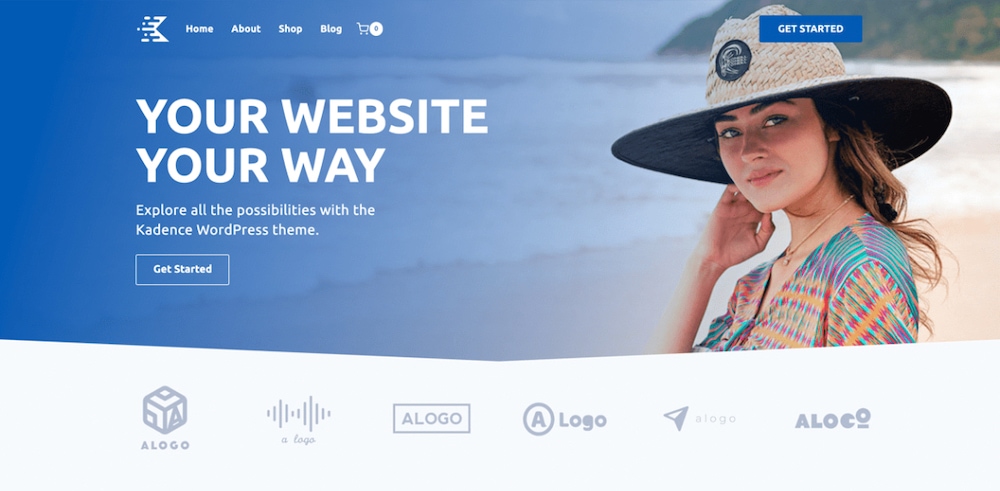 Right off the bat, Kadence is a superstar free WordPress theme. It looks arguably better than the majority of options on this list, and comes with a feature package that other themes don't offer.
There are plenty of starter templates available to help you begin your project, and you'll use the native Block Editor to create your layouts. There's also a bundled Kadence Blocks plugin to help expand the available elements at your disposal. All in all, Kadence is a joy to use.
👉🏻 Kadence Theme Review: Is It The Right Theme For You?
Pros
Kadence offers high-quality starter templates.
The bundled Block collection is a fantastic addition.
There's a super-high number of five-star reviews on WordPress.org.
Cons
You might have to upgrade to get even more value from the theme.
Verdict
Kadence is a top theme, and might even be in the top five best free WordPress themes available.
7. Björk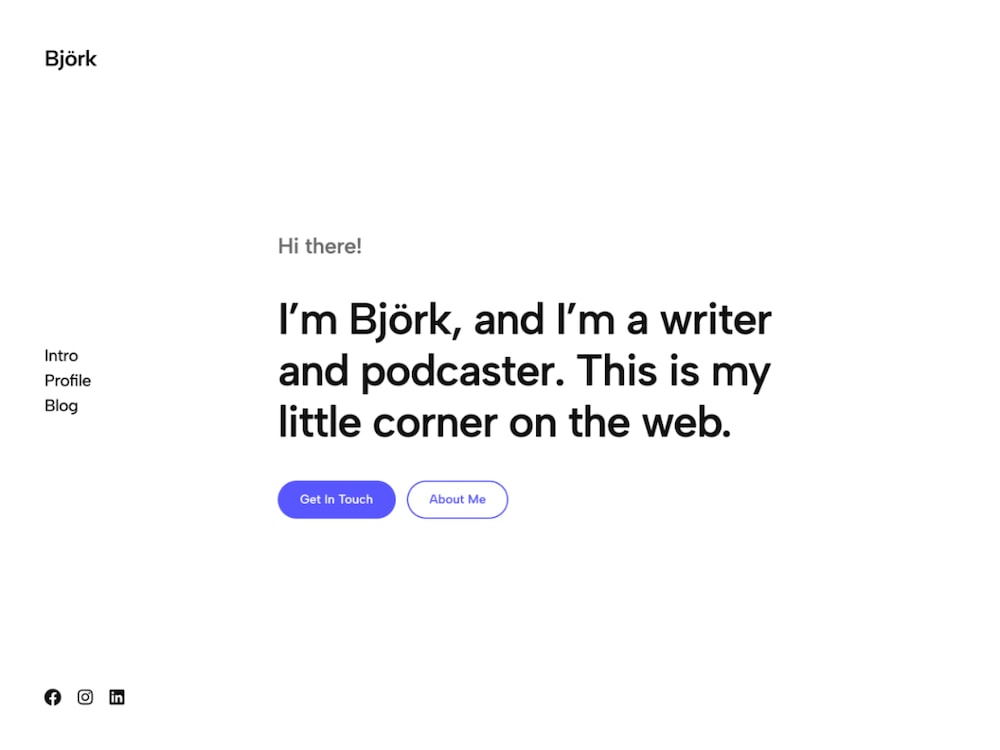 Modern personal or blog themes are thin on the ground, with most opting to go with an older style of WordPress look. However, Anders Norén creates modern and minimalist themes. Björk is no exception.
You have little to fuss with here, which is good to see. You'll choose a style variation, a collection of Block patterns, and go live. We like the sticky desktop navigation and the clean lines the theme offers.
Pros
Another near-perfect theme from Anders Norén.
There aren't a lot of choices to make with this theme, but everything is tasteful and looks gorgeous.
Cons
It's a one-trick pony, and you won't be able to adapt it to other use cases (not that you'd want to.)
Verdict
Anders Norén knows how to design a WordPress theme. As such, Björk is fantastic at what it does for blogs and personal websites.
8. Zakra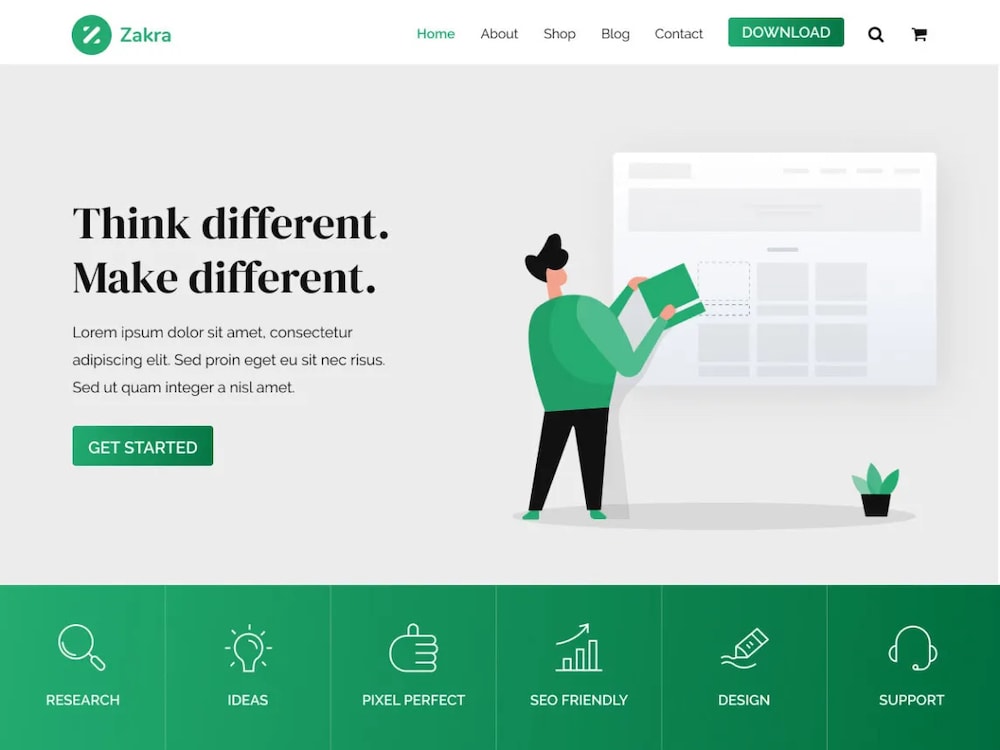 Zakra is one theme that doesn't get a lot of column inches in comparison to the larger themes. However, ThemeGrill's multipurpose theme has lots of users and a perfect five star rating on WordPress.org.
As with other multipurpose themes, you can adapt it to business sites, blogs, portfolios, personal sites, and more. It also offers compatibility with nearly every page builder too, including the native Block Editor.
Pros
User reviews and ratings are a mark of quality with this theme.
There's a good level of flexibility when it comes to design choices.
Cons
There aren't as many starter sites available, so you'll need to pull out your design chops.
Verdict
While Zakra is an elder statesperson of WordPress themes, this doesn't mean it's a slouch when it comes to features and functionality. Other users agree that it's near-perfect for many situations, so it's worth a look and download for your own needs.
9. Sydney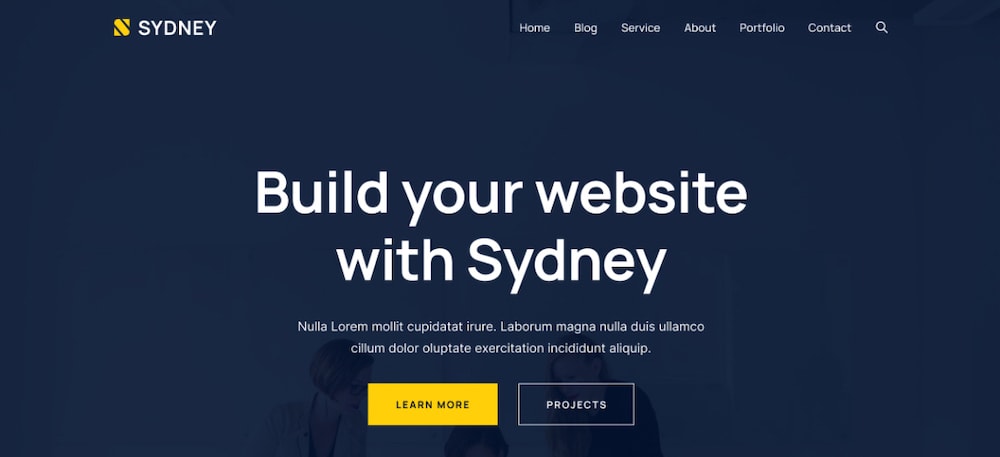 We'd argue that Sydney offers one of the best ways to use Elementor in a third-party setting. There are a bunch of pre-built starter templates that you can customize as you need. For example, you have access every Google Font available, full control over your color scheme, sticky navigation options, and more.
The developer also exercises quality across every theme in its portfolio. For example, Sydney has a high ration between five-star and one-star reviews. This is a good sign, and means you'll want to add it to you shortlist.
Pros
Fantastic compatibility with the Elementor page builder.
You have lots of design options that other themes don't offer, such as font choices.
Very few one-star reviews means Sydney wins the public vote!
Cons
Sydney might not offer anything unique to differentiate it from other similar themes.
Verdict
As far as the best free WordPress themes go, Sydney is right up at the top. The default layout is flexible enough for most business sites, while you can customize it to fit your own needs and vision. It's a good option to consider regardless of your niche.
10. Ashe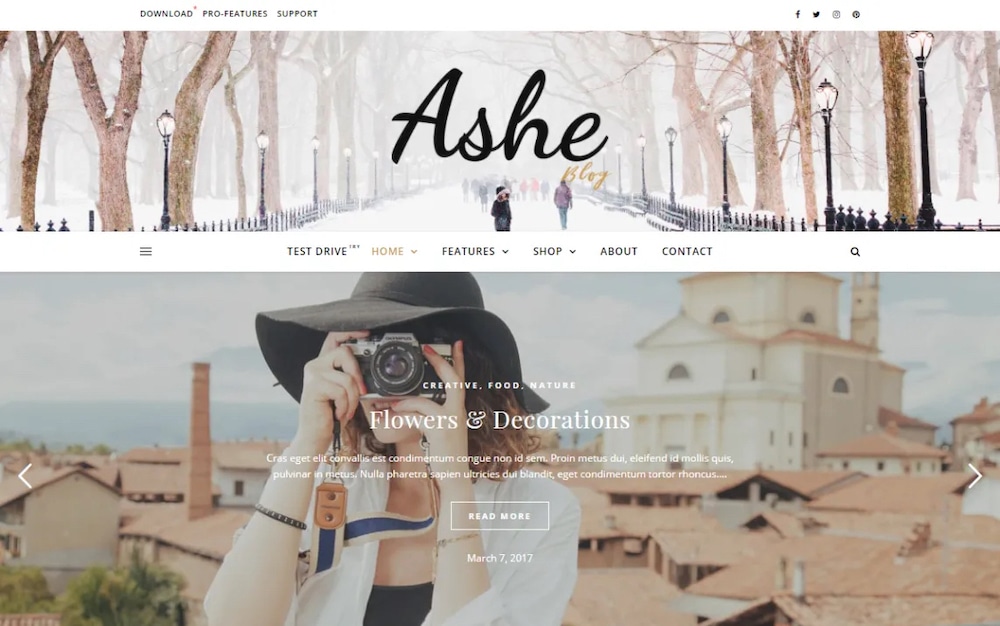 If you want to create a site within the lifestyle, food, travel, and blogging niches, Ashe is near-perfect. It has some of the best reviews and ratings available too, which is a boon.
The theme showcases visuals over text, which is perfect for its intended target niches. There are lots of style options to choose from, and the setup process is quick too. If you use a page builder, Ashe also offers compatibility with nearly all of them, along with WooCommerce integration.
Pros
One of the best free WordPress themes for blogging and lifestyle sites.
Super user reviews and ratings means Ashe is a theme you can trust.
Great set of translation options.
Cons
Ashe might not be able to handle other sites than lifestyle or personal ones.
Verdict
If you want a step up from WordPress' default themes (more of which later,) Ashe is a fantastic WordPress theme that can do the business.
11. OnePress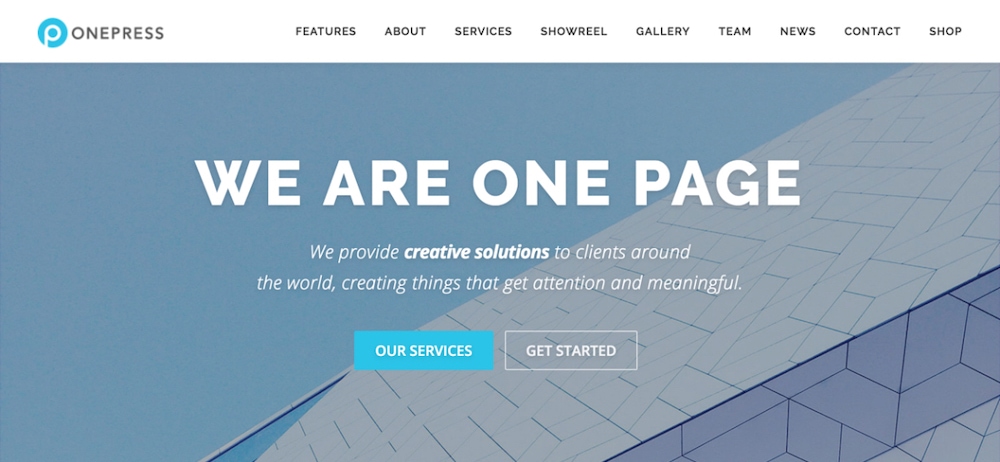 OnePress can work wonders in a few areas that other WordPress themes don't cover. For example, you can use it to showcase products and present service offerings. It will look great for tech industry sites.
Even better, you'll use the familiar WordPress Customizer to build your layout using content Blocks and widgets. You'll also have further color and design options to help you personalize the layout.
Pros
It's one of only a few themes that focus on product showcases.
The default design is functionality and solid, which means you can adapt it to lots of different niches.
Cons
While user reviews are good, with a decent star rating, it's lower than other themes in this list.
The theme will need some customization for other focuses, as the default layout is a touch too bland for our tastes.
Verdict
OnePress isn't perfect, especially when you compare it in some areas to other themes. However, for business applications, it performs well and could be perfect for your needs.
12. ColorMag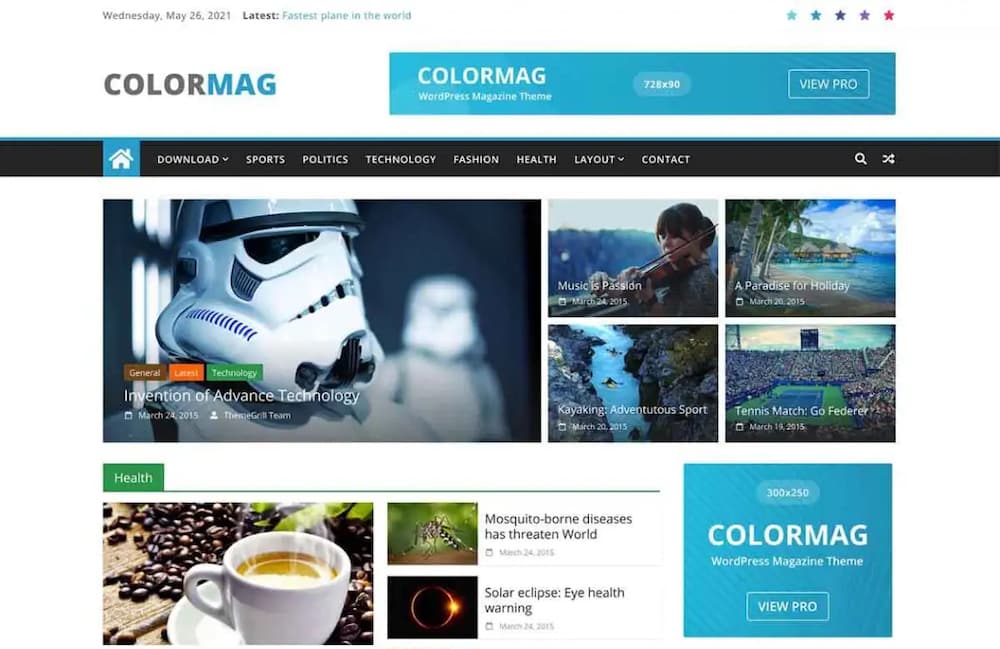 ColorMag is a long-time stalwart of free WordPress themes, which makes sense when you consider it has a 4.9 out of five star rating on WordPress.org.
The theme fill the gap for news and magazine websites, but can also adapt to blogs too. It's an uncluttered theme that can present the maximum amount of information without overwhelming the reader.
We also like how you have dedicated space for ads in this theme. Each of the starter site templates can accommodate advertising, which means you can monetize your site without spending on a premium WordPress theme.
Pros
One of only a few dedicated news and magazine themes on this list.
Lots of positive reviews and rating from users.
ColorMag is a long-term option for a WordPress theme, given that the developers constantly update it.
Cons
Because it's an older theme, it's not as 'modern' as other themes on this list. In the wrong setting, this could impact performance or leave you wanting for certain newer features and functionality.
Verdict
ColorMag is quality and deserves its place on this list of best free WordPress themes. For news and magazine sites, we can't think of anything better.
13. ChromeNews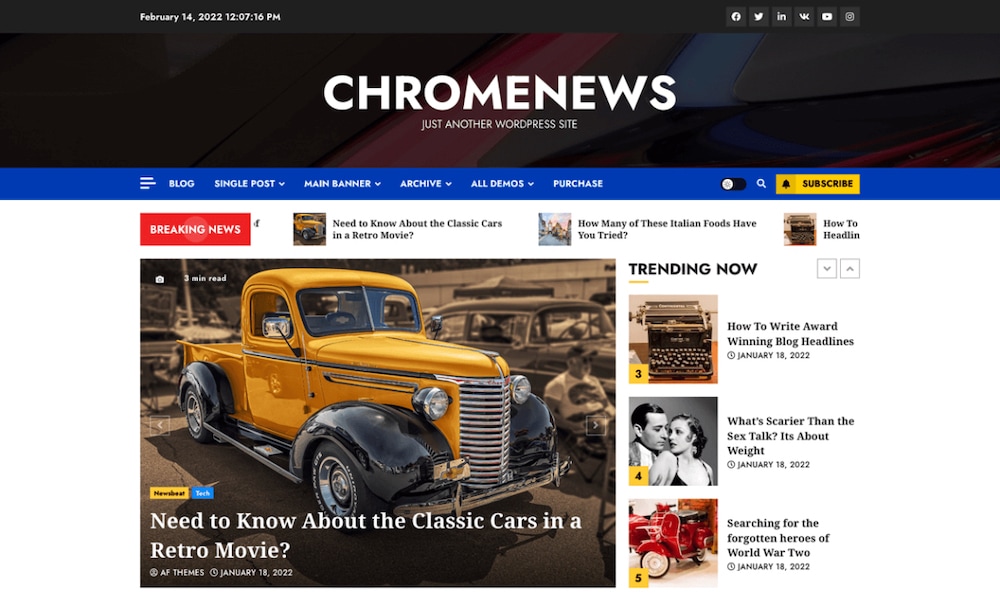 Here's another way to set up a news or magazine WordPress website. ChromeNews offers a quick setup process, a number of designs to kick-start your site, and a decent blend of customization options.
You'll be able to use the WordPress Customizer and Block Editor here without restriction. Also, ChromeNews supports the WooCommerce plugin, so you can also monetize aspects of your site using the plugin.
Pros
Fills a gap in the news and magazine theme space.
Supports language elements such as Right-To-Left (RTL) reading.
Cons
There aren't lots of installs for this theme, and ratings (while high) are fewer than the competition. This might mean you look at a more long-term proposition.
Verdict
You should definitely check out ChromeNews if you want to build a magazine site. It's arguably not as feature rich as ColorMag, but it performs well and could suit your needs.
14. Rife Free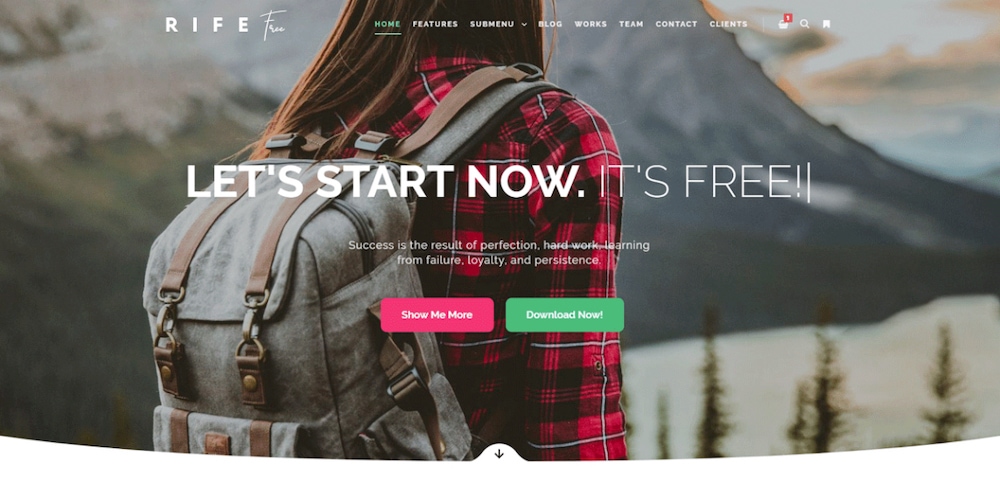 Rife Free is another five-star theme that packs a punch. It's suitable for portfolios and photography, and because it supports WooCommerce, could work for professionals in those fields.
One aspect we like is that you have a 'typing effect' for the header, which can give your site some dynamism. In addition, you can add images galleries that the user can swipe on, access galleries through Blocks, and customize your site using over 450 options within the WordPress Customizer.
Pros
Some of the feature inclusions (such as the typing effect) are fantastic.
We like the options available to customize your site.
You have dedicated functionality for small screens, such as image galleries you can swipe and touch.
Cons
Outside of portfolios or photography, Rife Free might not fit your vision.
Verdict
A good presentation for your portfolio or photographs is essential. Rife Free can help you achieve your goals, complete with some unique functionality not present in other themes.
15. Mesmerize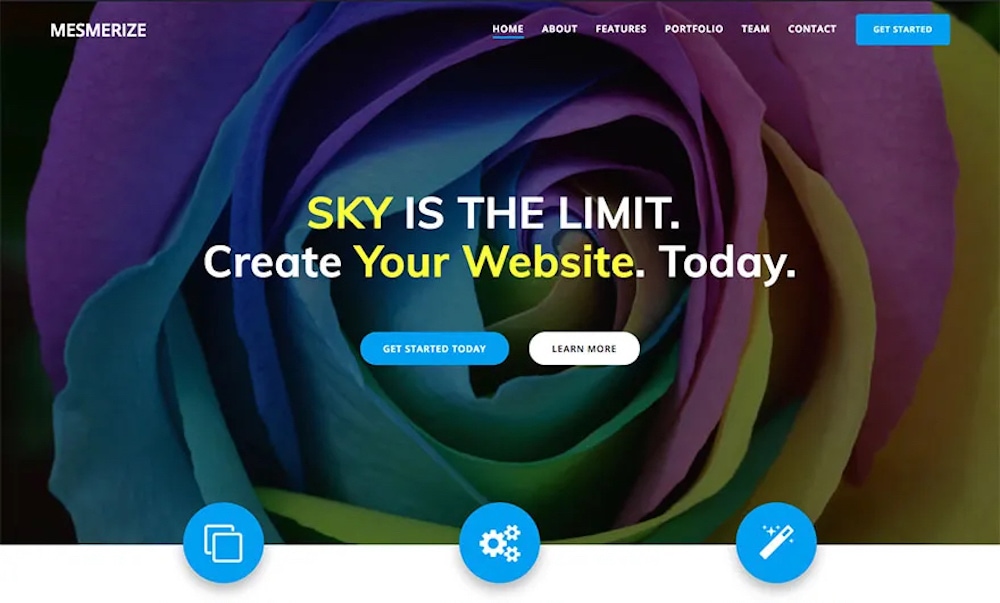 Mesermize's unique selling point is flexibility. It's a multipurpose WordPress theme that offers a number of different layouts for various sections of your site. For example, you have five header designs, and lots of content sections to help you create a layout in your vision.
You'll also find extensive design and customization options too. You can add in video or slideshow backgrounds, gradient overlays, adjust the content within the header, and much more.
Pros
Lots of customization options available.
It offers a modern home page design that will fit with lots of different use cases.
Cons
There might not be enough variability between section designs or home page layouts.
Verdict
The multipurpose WordPress theme niche has a lot of available choice. However, Mesmerize stands tall thanks to its design options and good-looking default layout.
16. Storefront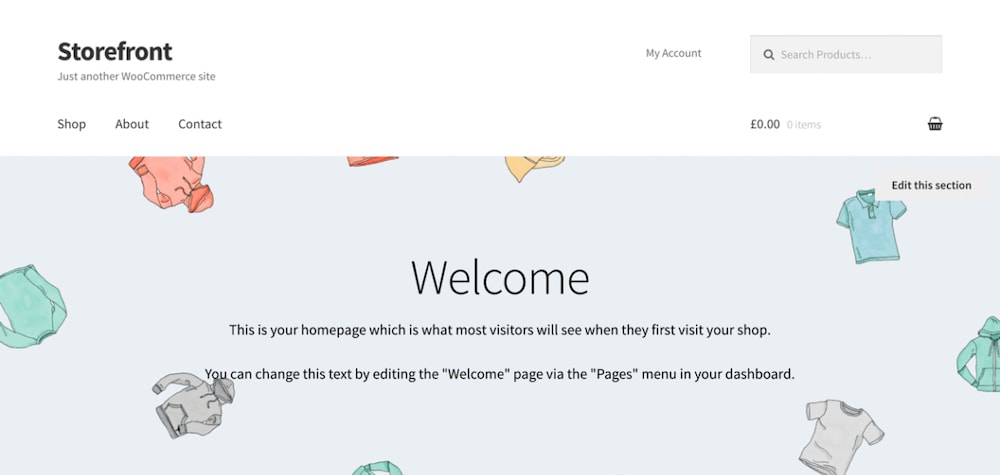 For the ultimate in compatibility with WordPress and WooCommerce, Storefront is the theme for you. It's the only 'official' theme for the e-commerce platform. As such, it's simple to setup and use.
Most of what you'll need to run a store is present in Storefront. The shop pages look solid, and with extensions you can customize how it looks and feels. There are also child themes for Storefront too, but these can cost money (unlike the default option.)
Pros
Storefront is quick and lightweight.
Given that it's the official WooCommerce theme, there's no better way to set up a store with near-perfect compatibility.
Cons
The theme is light on advanced customization options.
It has a 'default theme' look, which might not be to your tastes.
Verdict
If you want to build an online store using WooCommerce, Storefront will be almost always the best free WordPress theme for the job.
17. Vantage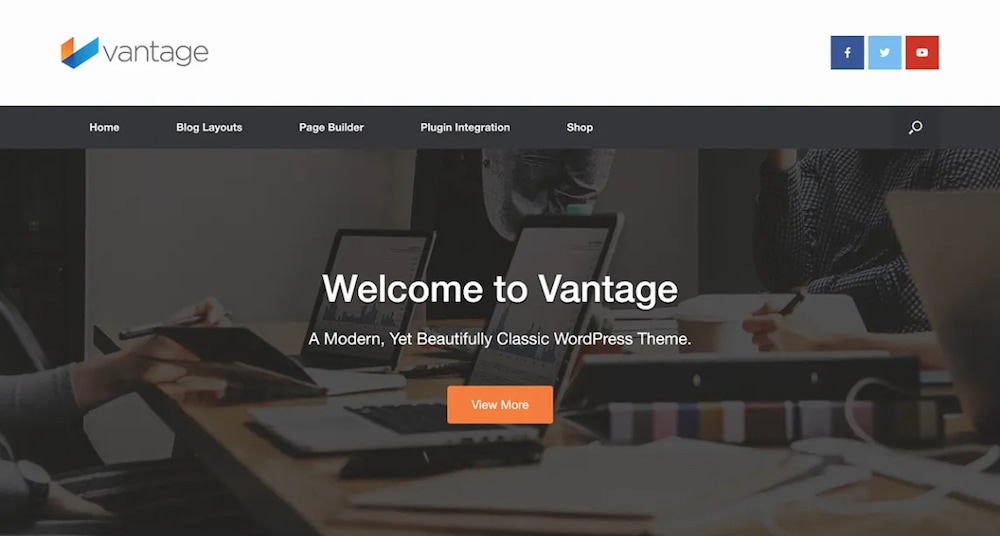 Elementor users will often opt for the Hello Elementor theme, and other page builders can also offer this. Vantage is the 'official' theme for SiteOrigin Page Builder.
For users of the page builder plugin, this theme should be at the top of your shortlist. It offers tight integration with other plugins too, such as Smart Slider 3 and the SiteOrigin Widgets Bundle. As for customization options, you'll have lots of choice – especially if you use the recommended plugins. Even better, you can do this through the WordPress Customizer too.
Pros
It's good to see a theme that caters to the SiteOrigin Page Builder plugin, as it's one of the better options available.
Cons
To get the best out of the theme, you'll need to use SiteOrigin Page Builder.
Verdict
For SiteOrigin Page Builder users, Vantage offers the best in compatibility and flexibility. Even so, it's suitable for those who don't use the page builder too.
18. Blocksy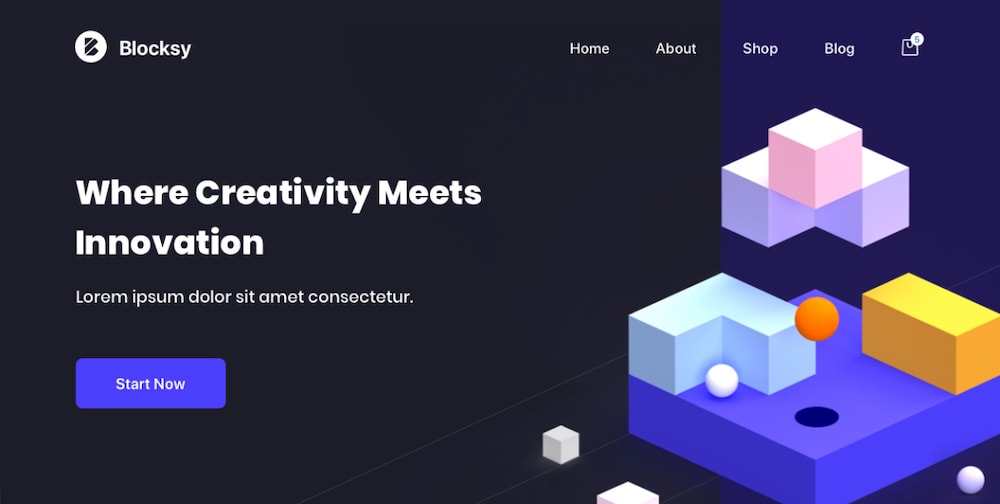 We talk a lot about user feedback in this roundup, and for good reason. Social proof is important to gauge quality in a free WordPress theme. With this in mind, Blocksy holds its own. From 700 reviews on WordPress.org, 699 of them are five-stars. This is an astonishing and deserved figure in our opinion.
Blocksy focuses on the Block Editor first and foremost. This means the experience is quick and straightforward. What's more, this lightweight multipurpose theme has the tools to let you build almost any type of site available, including WooCommerce stores.
👉🏻 Blocksy Theme Review: Honest Thoughts
Pros
The theme's design centers around the Block Editor, so you won't need a third-party page builder.
Users note that the support provision is impressive.
There are lots of customization option, even in the free version of Blocksy.
Cons
While there are lots of customization options, you might struggle to work through them all at first.
Verdict
If you want to use the Block Editor rather than a third-party page builder plugin, Blocksy is ripe for consideration. It'll be on the same list as the likes of GeneratePress with regards to flexibility, design choice, and premium upgrade path.
19. WordPress' Default Themes

This list wouldn't be complete without a WordPress default theme. However, we can't choose between them, so they're all on here! Okay, you might not opt for Kubrick for a modern website, but more recent themes (even as far back as Twenty Fifteen) can still cut the mustard.
Each default theme will help you achieve something different, so you might not always want to opt for the latest one. For example, Twenty Twenty-Three looks to take a advantage of new site editing options, while Twenty Twenty showcases the Block Editor at its most flexible. For blogs and personal sites, a default theme is almost a go-to option.
Pros
You have a theme that will look fantastic without any form of customization.
There will be long-term support due to each theme being 'official.'
Compatibility with WordPress' core features will be the greatest you can get.
Cons
When it comes to customization, you'll need some HTML and CSS because WordPress' default themes don't offers lots of options.
Default themes are really a showcase for new WordPress features, so for professional websites, you'll often want to look elsewhere.
The range of sites you can create with default themes are slim, but within that slice, you can get excellent results.
Verdict
Personal sites and blogs should use a WordPress default theme, in our opinion. There are some crackers on offer, especially those from Twenty Twenty onwards.
Frequently Asked Questions (FAQ) On Choosing the Best Free WordPress Theme for You
In some cases, you'll want to move faster than trawling through a list such as this. In fact, there are a number of popular questions you might have about choosing the best free WordPress theme for you. Here is a collection, complete with our answers!
Which Free WordPress Theme is the Most Popular?
Both Astra and the Hello Elementor theme have over one million active installs, so they are the most popular non-default WordPress themes. However, while both of these themes are quality, active installs isn't the only measure of it. We recommend looking at the feature set, upgrade path, user ratings, and developer support for each theme.
Is There One Best Free WordPress Theme to Suit a Personal Website or Blog?
There is no singular best free WordPress theme for any niche or industry. However, for a blog, a WordPress default theme is perfect. They are quick to set up, tailor-made for blogging, and give your site a fantastic look that you can customize.
Which Best Free WordPress Theme Is Ideal for an E-Commerce Business?
If you had to choose one right now, Storefront is a solid option. However, you'll likely want to take a a look at the larger players with dedicated premium upgrades. This is because you'll get a greater number of WooCommerce-specific options, and once your store grows, you can leverage the premium options.
Is There a Best Free WordPress Theme With a Good Premium Upgrade Option?
Most developers offer premium upgrades to its free theme. As such, there is no single best free WordPress theme with this option. Instead, you'll want to assess the premium feature set and see if this 'fills in' the blanks that you currently miss.
Does It Matter That Some of These Best Free WordPress Themes Don't Come With a Page Builder?
Not at all! The WordPress Block Editor is fantastic, and in many cases, could be beneficial. For example, GeneratePress can use both page builders and the Block Editor without eroding the experience.

However, if you have a favorite page builder in mind, you'd do well to choose a theme that supports it. For instance, Elementor users should stick with the Hello Elementor theme, because you'll have the best compatibility with that page builder.
In Summary
While a premium WordPress theme is often ideal based on your setup time and available budget, there's no need to spend to achieve the design you want for your site. In fact, free themes can have just as much under the hood as premium ones.
Even better, most of the free themes on this list have premium upgrades too. For example, Astra, Neve, OceanWP, and more big players all can give you a top-tier WordPress theme for zero outlay. If you want more you can upgrade. In contrast, even the default WordPress themes (such as Twenty Twenty-Three) can suit your project in the right circumstances.
Is there a theme you like that isn't on our list of best free WordPress themes? Share your opinions in the comments section below!