WordPress is growing bigger by the day and with it the WordPress theme repository. Developers are hard at work churning out theme after theme like the world is ending tomorrow. For this very reason, the collection of free WordPress themes in the repository, and on the internet in general, is expanding exponentially just like our very own galaxy.
This throws you a curveball when you're looking for the perfect free WordPress theme for your next project. I have used (and still use) free WordPress themes on some of my projects, and I can assure you it's an uphill task settling on the right fit. You have to dig and dig deep you will to find a theme you truly love amidst the thousands of themes out there.
Top Free WordPress Themes for 2016
But with these top 12 free themes, you don't have to dip your hand in the lottery machine when looking for your next free theme. I've personally tested and use(d) some of these free themes, and in the next few words, we are confident you'll find a free WordPress theme you'll be glad to use.
A'ight, stay with me.
Simple Lite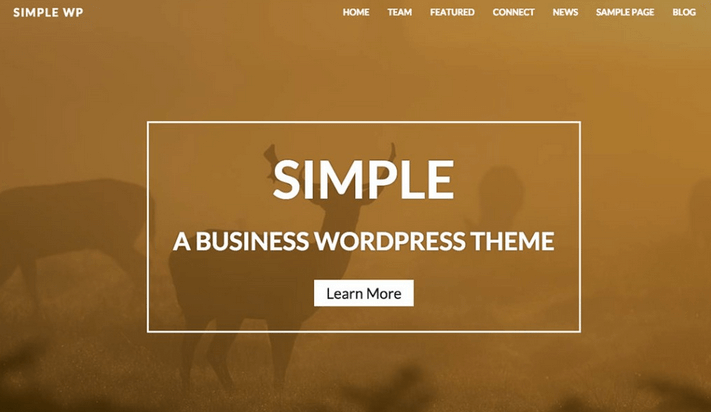 Simple Lite is brought to you by Nimbus Themes free of charge and is packed with just enough features to get the job done. It is designed to bring you a clean and modern design, without all the excess customizations and bloat that many premium, multipurpose themes do. Plus, it was built on the solid Bootstrap 3 framework so you know your site will always render powerful and fast, no matter what you have created with it.
This free WordPress theme is 100% mobile-friendly meaning it will display on every device type – desktop, tablet, and mobile phone – without a hitch so even users on the go can enjoy what you have to offer. In addition, you can change every site element including colors, fonts, and layouts using the exclusive Nimbus Themes options panel.
Translation ready for reaching a global audience, cross-browser compatible for seamless display to all site visitors, and having the ability to show visitors featured posts highlighting your best content of the day, Simple Lite is the ultimate when it comes to free themes.
Good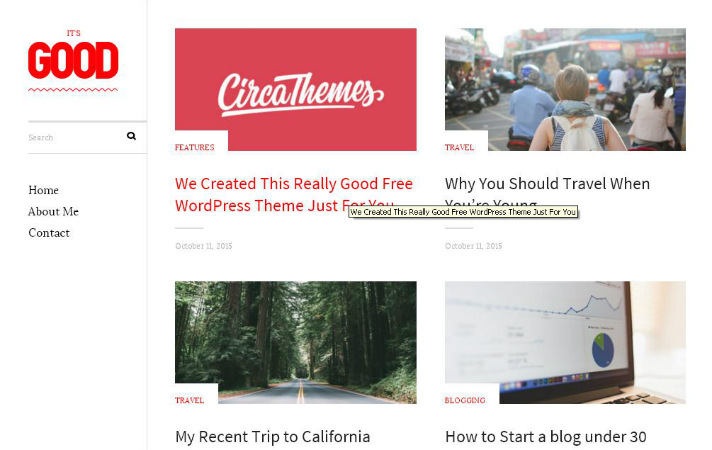 If you've used Twenty Fifteen, you'll quickly relate to Good, a simple but elegant theme by FancyThemes. This is the kind of theme that suits bloggers, freelancers, small businesses and agencies alike, thanks to a versatile design that you can adapt to your needs. Good is 100% responsive allowing it to degrade gracefully depending on your screen size. This means your site will look awesome and perform exceptionally well regardless of the device the visitor is using.
It comes with generous thumbnails that will add color and pomp to your brand just by their sheer size. You get author bio boxes and a related posts section that will drive more engagement on your site. The footer supports several widgets making it the ideal section to place extra content.
The menu is fixed on a responsive sidebar placed on the left side. Other than that, the frontpage display grabs the reader's attention thanks to…wait for it…the generous thumbnails we just mentioned.
You can customize the footer copyright text, add your own custom logo and play around with your background. In other words, you have lots of styling options at your disposal, which makes building incredibly beautiful sites easy. If you're looking for a simple yet versatile free WordPress theme, look no further, Good has your back covered.
Elegant Free WordPress Theme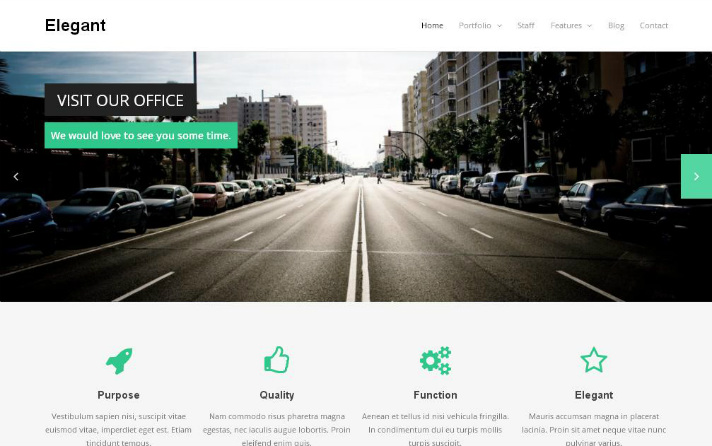 In my time as a WordPress blogger, I have seen a handful of awesome WordPress themes (both free and premium), and I can tell you confidently that few themes can compete with the Elegant WordPress theme by WPExplorer Themes. I'm not even saying this because I happen to use Elegant on my site currently. No, that's not the case. Elegant deserves a mention on this and many other lists.
Here's a short story. After traversing the vast land of WordPress themes for what seemed like an eternity, I came to the gates of WPExplorer. I unlocked the gate, looked around, and inside I found the Elegant theme. In no time I was addicted; I fell in love head over heels with the theme.
Stories aside, this theme is the perfect fit for bloggers, freelancers, small businesses, and even nonprofits to mention a few. It's classy and tidy, Elegant, and considering you can set it up easily in no time, you have no reason to hold back.
If elegance doesn't get you excited, how about we strip this beauty to its bare bones and see how you feel then. Good. Starting from the top, Elegant ships with built-in custom post types that make creating homepage features, slides, portfolio and staff pages as easy as pie. When you install this free WordPress theme, it adds Home Features, Home Slides, Portfolio and Staff menu items on your WordPress admin menu. All you have to do from this point is click on the respective menu item and build your site as you desire.
This theme comes with a single sidebar and three footer sections for those extras you'd like to call attention to. Think of related posts, comments, RSS feeds, opt-in forms and adverts. Using the built-in WordPress theme customizer, you can turn your site whichever way you desire. For instance, you can upload a custom logo, change background color/image, select your homepage and edit footer copyright text among other things.
Couple Elegant with the free Symple Shortcodes Plugin from the same company and you get even more power. You can add everything from callouts, highlights, maps, social sharing buttons, general buttons, pricing tables, font icons, skill bars, testimonials, columns, accordions and much much more.
Other features include a responsive layout, multiple page templates, multiple post format, featured images, custom Google fonts and much more. Oh by the way, WPExplorer offers a premium version of this theme with even more features including awesome support.
Journal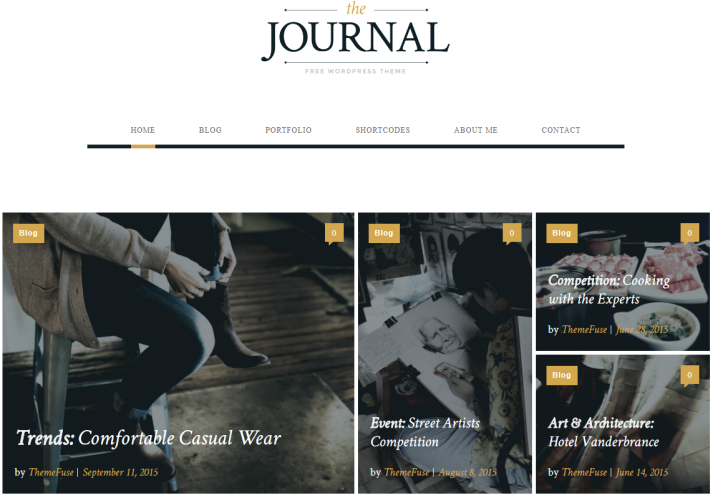 Journal is a free magazine theme from ThemeFuse that packs a ton of premium-quality features. It comes with a powerful, drag and drop page builder that lets you build all kinds of complex web pages without having to code a single line. In addition to this, the theme is powered by the Unyson framework which brings even more advanced features to the table such as customizable sidebars, portfolio module, advanced SEO, backups, events calendar, breadcrumbs, and much more.
Once you have the theme installed and activated on your website, you'll be able to modify its color schemes and typography options through the intuitive WordPress Customizer. In addition to this, the theme also comes with a number of pre-designed page layouts that you can access directly from the page editor screen.
The theme also comes with a built-in, drag and drop contact form builder module that lets you design and create powerful contact forms in just a few clicks. This way, you won't have to install a separate contact form plugin or worry about customizing it with CSS to make it fit in with your site's existing design.
Journal is fully responsive and retina ready from the get-go so you can rest assured your site will look great on devices of all sizes. This goes for both regular monitor displays and the latest HiRes Retina displays.
Underwood Lite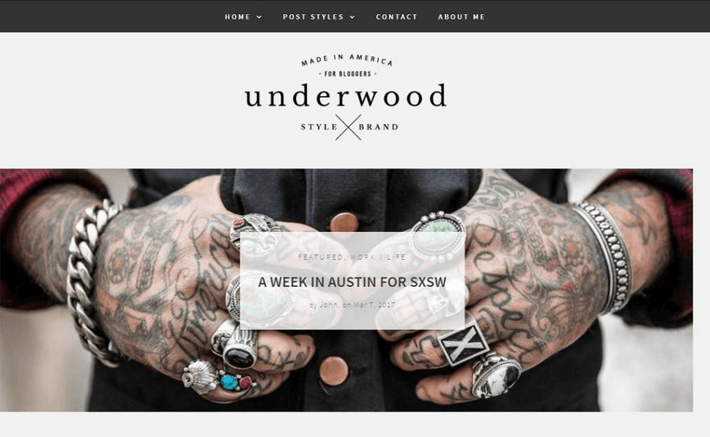 Underwood Lite is another powerful free WordPress theme meant to show off your bold, edgy style. Boasting a masculine feel, not found in many WordPress themes, this free theme comes packed with features to help you maintain a tough demeanor while also showcasing your killer content and beautiful photography.
Enjoy a large featured image for creating a lasting first impression on anyone that comes to your website. Plus, link to that content and boost site engagement. Add information to the sidebars such as About Me section, customize the logo to brand yourself as an authority in your industry, and even enable sticky posts to keep the user experience top notch.
With Underwood Lite, you can interact with sire visitors via the built-in threaded comment feature, translate content to reach a wider audience base, and customize your entire color scheme using the intuitive color picker. In the end, this is exactly the kind of free theme those looking to create a no-nonsense kind of website with.
Onetone Free WordPress Theme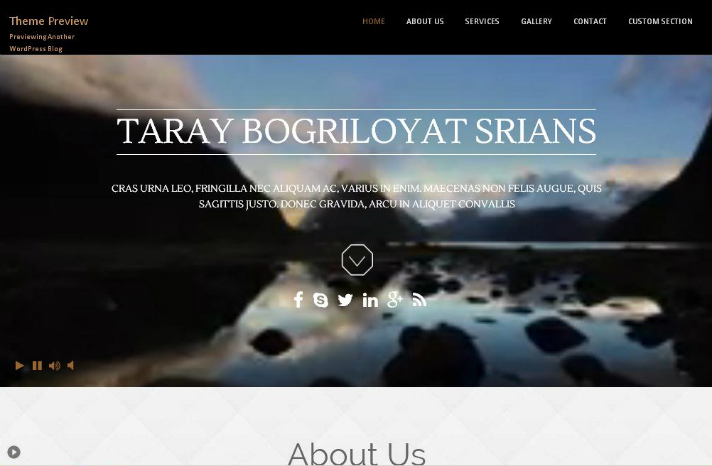 One page WordPress themes are hot. When they are free and as beautiful as Onetone, they become crazy hot. If you're one for one pagers and don't want to shell out a penny, this bad boy is exactly the free theme you need. It's suitable for any type of professional you can think of including musicians, designers, event planners etc.
This beauty is split into sections allowing you to place all of your content on the homepage. Whenever you hit a menu item e.g. About Us, it scrolls down to the corresponding section. Smoothly.
Onetone is brought to you by the MageeWP team, who have done a great job in the backend. They offer you a one of a kind options panel that lets you customize your WordPress site whichever way you desire. You can easily specify the number of homepage sections you want, set a section background video with controls, and design each section independently.
You have the option of creating a slide show, add widgets to your footer and customize your 404 page easily. On top of that, you can upload your own logo, favicon, post & page backgrounds, and refine menu & links font color. You get a back to top button, and provision to add custom CSS.
Other options include parallax scrolling background, video backgrounds, Font Awesome icons, a responsive layout and SEO-ready architecture. Onetone has been downloaded some 339k times and has a decent rating of 4.0/5.0.
Sentio
Brought to us by Design Hooks, Sentio is built with the creative professional in mind. According to their website, Sentio is "…a clean, sharp, modern design based on beautiful typography, nice micro interactions and fully responsive layout." What a claim! So I decided to put this free WordPress theme to the test. Here are the findings.
Installing this baby was easy and straightforward. As soon as activated Sentio, it picked up my menus, meaning I didn't have to go thro' the process of setting up menus again. It's beautiful and supports the WordPress theme customizer via which you can customize your header, add a logo & social sharing buttons, edit your footer, set your site title & tagline, customize colors, set header/background image, refine your menus, set a static page and define your widgets.
It will take you less than 15 minutes to get this theme up and running. Is it responsive? You bet it is. If you need more customization, you can implement custom CSS. All in all, Sentio is a lightweight free WordPress theme that will let your business stand out from the crowd.
IonMag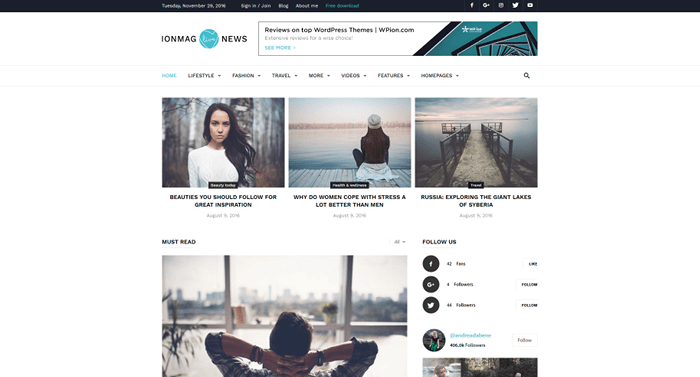 Do you want a premium quality, feature-rich theme without spending a dime? You don't need to look any further than ionMag. A fantastic free WordPress theme option for your magazine project,ionMag is sleek and stylish, and won't disappoint. Designed for magazines, it can be used for any type of blog, news site, or content heavy website.
WPion have outdone themselves with this theme. ionMag contains some amazing features you usually only find in premium themes like the front end visual builder that allows you to build your own pages with flexible, drag and drop elements. And the party doesn't stop there – ionMag also comes with loads of custom widgets you won't believe you're getting for free, including Social Counter, Instagram, Author Box widgets, and even more.
ionMag boasts stunning big grids that show off your amazing featured images to good effect. Your audience won't be left in any doubt as to which posts and articles are your most valuable.
While ionMag puts you in complete control of your site appearance with the visual builder, if you're a little clueless when it comes to designing a modern, attractive website, there's plenty of preset options to choose from. Balanced and beautiful layouts are available at the click of a button, letting you get back to the more important activities for your business, like content creation.
Hueman | Inspire and empower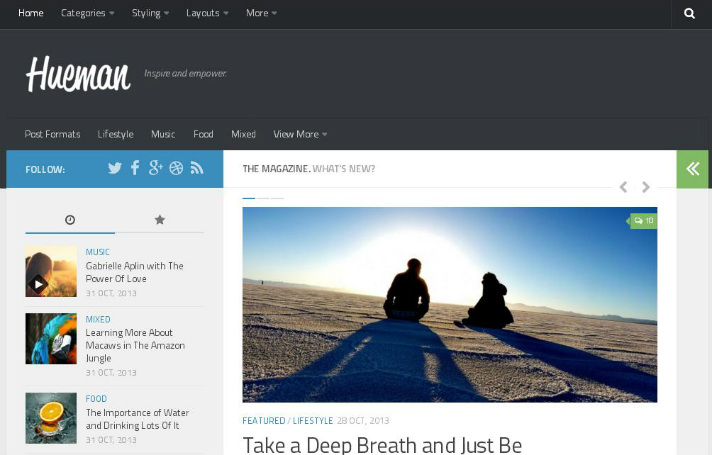 If authors  continue creating such great themes as Hueman and giving them away gratis, premium themes might go the way of the dinosaurs. Which is why a friend of a friend is building WPThemeRaves.com entirely on Hueman and the WP Review plugin by MyThemeShop. You know, to save the premium WordPress theme.
Setting up Hueman is as easy as A, B, C. Just install the theme, activate it and then install the recommended plugins: Contact Form 7, Regenerate Thumbnails, Responsive Lightbox, and WP-PageNavi. Don't worry, you won't do much, Hueman will prompt you so that all you have to do is point and click.
Alexander, the author, has one humble request for you before downloading. He urges you to make at least one random act of kindness/love today. So go ahead and hug someone special, your dog or a tree – it doesn't matter – just spread the love and, of course, download Hueman.
You get to enjoy a free WordPress theme like no other with features such as unlimited colors, a responsive layout, 2 sleek sidebars, up to four footer columns, faster speeds, share buttons, related posts widgets, featured story/slider, unlimited widgets, multiple post formats, footer and header ads, great SEO, custom logo, custom page templates, localization, child theme support and cross-browser compatibility among others.
Lest I forget, you also get OptionTree, a magnificent theme options framework that lets you build the website of your dreams. Hueman has 563K downloads and a splendid rating of 5.0/5.0.
Note: The version of Hueman available at WordPress.org doesn't include all the features. To get all the cool features, download the theme from the official website below.
Sparkling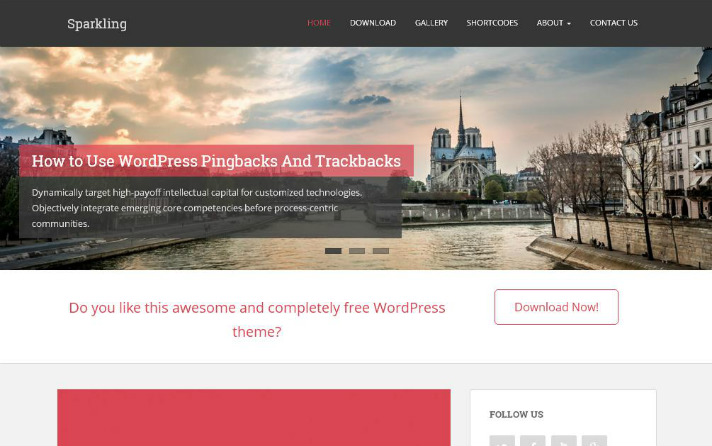 Running on Bootstrap and looking like a million bucks, Sparkling is a flat design WordPress theme developer by Colorlib. Remember flat design? If you do, and are a fan, Sparkling won't disappoint. With a beautiful look, a fullscreen slider and amazing widgets, this theme is your chance to standout from the crowd. The flat design is responsive which means your site will look amazing across multiple platforms.
On top of that you get vibrant colors, stunning HD graphics, vector icons, awesome support, infinite scrolling, Font Awesome icons, documentation and compatibility with WordPress plugins such as Yoast SEO, Gravity Forms, W3 Total Cache, and Contact Form 7 among others.
Sparkling utilizes HTML5 and CSS3 techniques and since it's built to the best web standards, it's SEO friendly. This theme is further translation ready meaning you can have your site in any language you want, provided you have the translation file ready.
Using the built-in WordPress theme customizer, you can launch the theme options panel and unlock so much customizing power you'll get a headrush. You can customize everything from the slider, layout, action buttons, typography, header, footer, content and social sharing among others.
Sparkling has a rating of 5.0/5.0 and 391K downloads.
Lightly Theme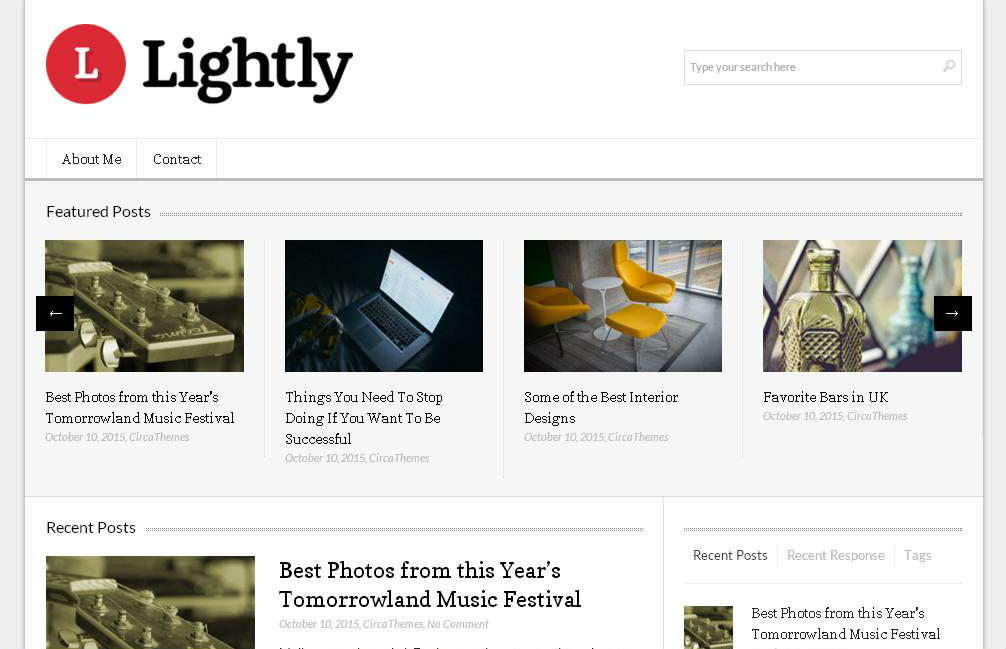 FancyThemes make an appearance again this time with Lightly, a free WordPress theme that places the focus on content rather than the design. Lightly is the theme you want if you would like to start writing content right away as you work on the design. And that's because you can turn this beauty whichever way you wish with a few custom changes.
It's built light to ensure fast page load speeds, which if you're wondering, is important for SEO. Lightly is ideal for the writer in you, the blogger friend, the reviewer or the designer next door. This, however, doesn't mean you can't use this theme for any other purpose. There's a featured posts carousel just below the menu that ensures maximum exposure.
Other than that, Lightly features a widgetized and tabbed sidebar that's guaranteed to boost engagement. At the bottom, you'll find a widgetized footer section for them extras. Lightly is fully responsive so your readers can enjoy your content on the go. Posts carry a featured image and you can always place social sharing buttons anywhere on your blog using a shortcodes plugin.
Dualshock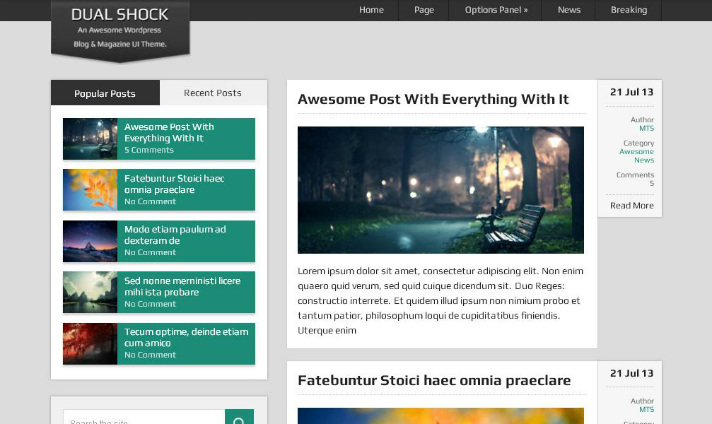 Beauty, beast, energy, versatility and powerful are some of the terms we can use to describe Dualshock only if any of these words did the theme any justice. Are you in the process of launching a blog or an online magazine? If so, Dualshock is exactly what you need. Just download the theme from MyThemeShop, adjust a few options using the intuitive options panel and you're good to go.
Dualshock boasts of a 5.0/5.0 rating and good number of reviews from satisfied users. On top of that, this free theme is bursting at the seams with great features that make it quite the robust solution you need for your business. What features?
Aesthetically, Dualshock spots a refreshing premium layout that's 100% responsive. The theme features the best search engine optimization techniques, and an interesting library of custom widgets.
You can improve how your site looks in a matter of minutes what with unlimited backgrounds and color schemes. Dualshock is translation-ready which means you can reach new global audiences simply by adding a translation file. You also get a relate posts widget to generate more views from each post.
The theme is super-fast and future proof since it employs the latest HTML5 and CSS3 web standards. I had the chance to test run Dualshock, and of all the features, I loved the Theme Options Panel the most. General settings include uploading your own logo & favicon, inputting header code, footer code & copyright text, as well as enabling pagination.
Moreover, you can activate breadcrumbs, post meta info, author box and tag links with a single click of a button. You can even import and export options which lets you transfer your site easily. How cool? I could go on and on….
Oh wait, did I mention you get 24/7 support and updates for 1 year?
MH Magazine Lite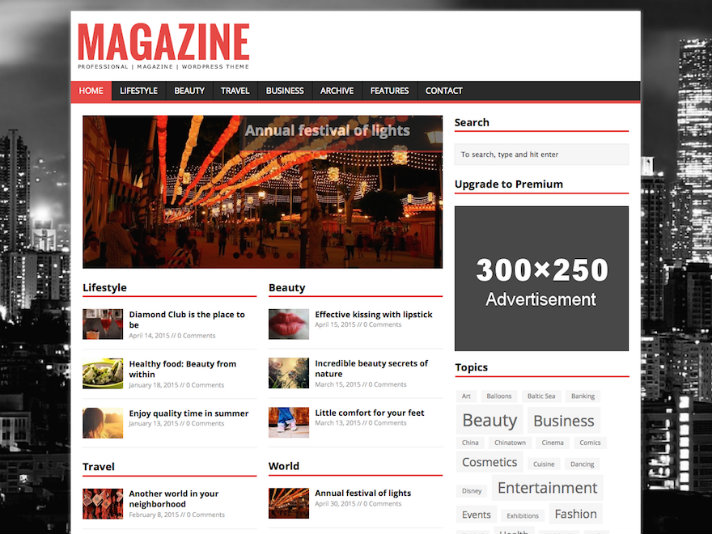 Are you looking for a free WordPress theme for your magazine project? If that's a resounding yes, look no further, MH Magazine Lite was built with you in mind. Designed exclusively as a magazine theme, it's suitable for professional blogs, news websites and other editorial websites.
With nearly 400k downloads and an impressive rating of 5.0/5.0, MH Magazine Lite must be powering a good number of sites. This just means you are in good company and can't go wrong with the theme. MH Themes must really know what they are doing what with all the brilliant features they put into this incredible theme.
You get everything from custom widgets to a responsive layout to sliders and Contact Form 7 among others. MH Magazine Lite is compatible with the latest version of WordPress, WMPL and all the major browsers.
Tetris Free Masonry Tumblog WordPress Theme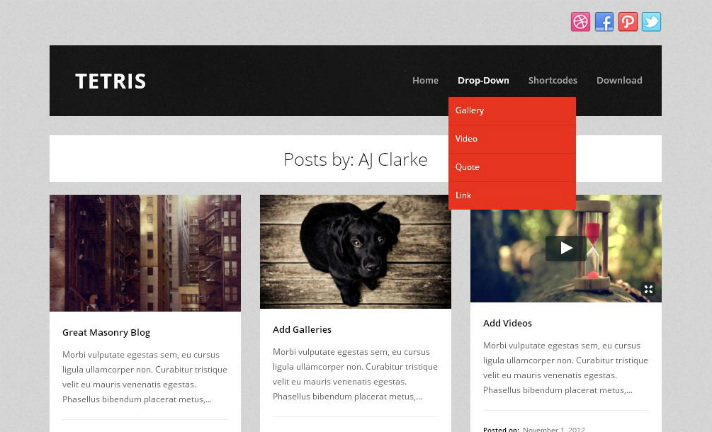 Taking our number 10 position today is Tetris, a free masonry WordPress theme developed by our good friends over at WPExplorer. I tried this theme once on one of my sites, and it was quite fun. From the looks, you might resolve Tetris has little to offer in term of features, but you couldn't be further from the truth.
Featuring a sleek and responsive masonry style homepage, Tetris allows you "…to showcase your posts in a modern fashion." Further this 100% free WordPress theme makes sharing different media types incredibly easy thanks to multiple post formats including audio, image, video, gallery, and standard among others.
Tetris will be a great asset for your business whether you're a blogger, photographer, video producer, artist etc. The drop down menus and single posts look great as well. Please try the blockquotes 🙂 Other features include built-in theme options, widgetized sidebar and footer, Google fonts, a responsive layout, social options and support for the Symple Shortcodes Plugin among others.
Moesia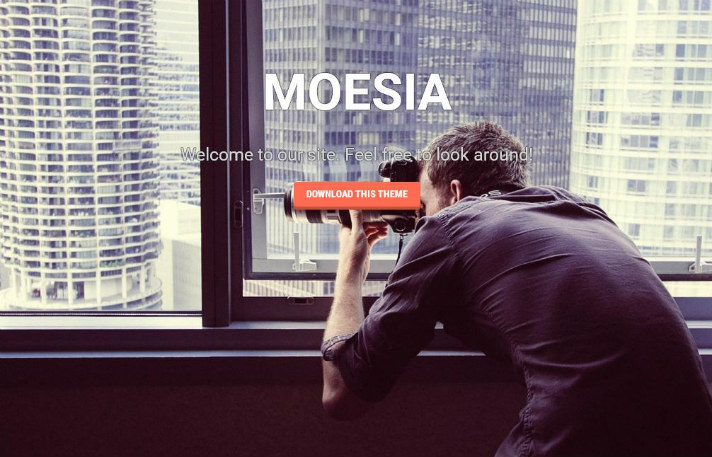 Here's a free WordPress theme made specifically for businesses. If you're looking to establish a presence online for your biz, you needn't any other theme but Moesia. With all the cool features that come bundled in this theme, it's a pity it has a 4.5/5.0 rating.
In all honesty, I expected a higher rating, but perhaps we should just wait and see. All the same,  it has a little over 292K downloads, which is a good figure to work with.
But stats, opinions and ratings aside, what features can you expect to get with Moesia? Brought to you by Athemes, a reputable theme foundry, Moesia boasts of cool features such as frontpage blocks to create unique homepages, responsive layout for that great look on all devices, parallax backgrounds galore, a custom header complete with parallax effect, custom widgets for extra content, necessary .po and .mo files for translation, social sharing icons, Google fonts and a whole lot of theme options. I'm talking about these options: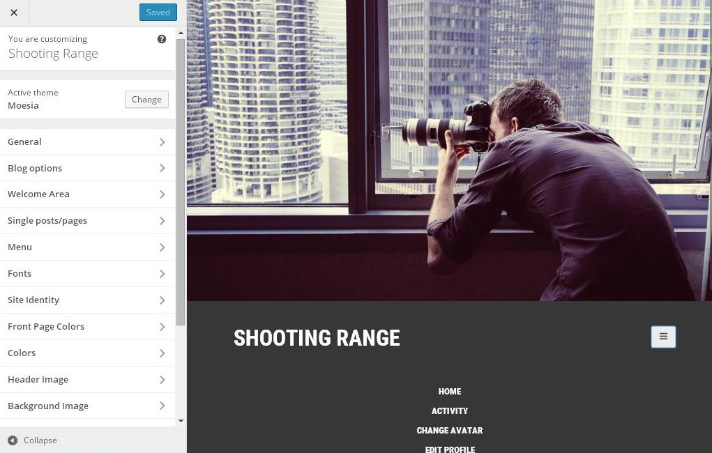 Oh wait,  Moesia is a one-page thriller and comes with documentation. Additionally, there's a pro version with more features.
Breviter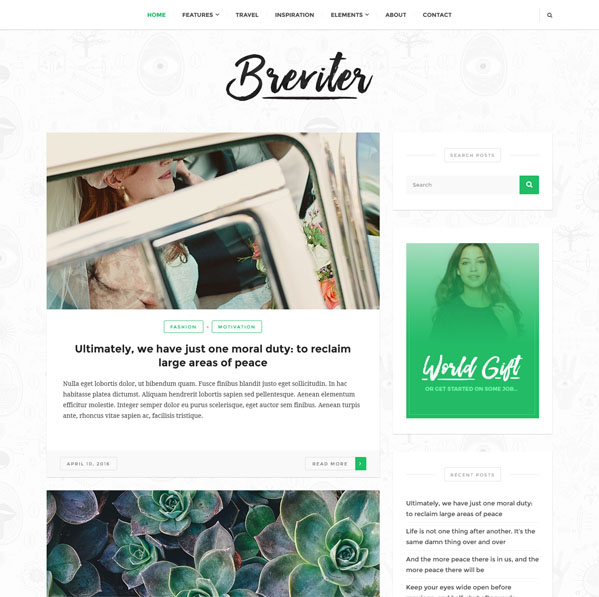 Breviter is a hand-crafted WordPress theme from Design Hooks. The theme was designed with creative bloggers and professionals in mind. Breviter's elegant and bold layout works to put your content on the forefront captivating your viewership's attention. This lightweight theme emphasizes your content – whether it's a blog entry, image-filled posts, videos, links, quotes – and give your site a neat and clean look.
The theme leverages big imagery on the homepage to draw in your readers and get them hooked on your content. Breviter also features classy typography that makes it easy to read content. One of the best features about this incredibly powerful theme is that it elegantly utilizes whitespace to give your viewership an excellent browsing experience.
Breviter is easy on the eyes and feature-rich to its core. The theme is fully responsive which ensures that your site will be accessible from devices with different screen sizes – and look equally great on them. The free version of this theme ships with all of the basic functionality and when you want to take things further, you can upgrade to the premium version which comes with a $39 price tag. Breviter Pro offers additional features, premium support from the developers, and free updates!
Popster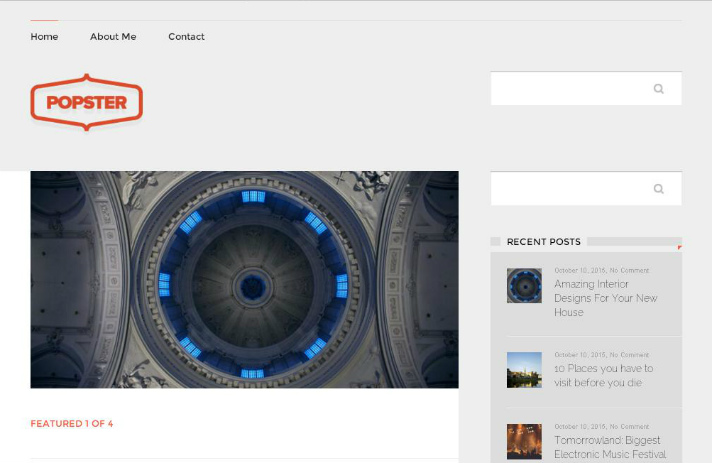 Last but not least is a simple and elegant masterpiece brought to us by the great guys at FancyThemes. I know, I know…this is the third time I'm mentioning these guys, but that's because they are good at developing simple but easy to customize themes. One minute you can have Popster as you see it in the screenshot and the next minute you can have a complete custom design that will reflect your personality and brand image.
The menu comes at the absolute top where it's easily visible although you can place additional menus in your sidebar/footer using a widget. Speaking of widgets, Popster features a widgetized sidebar that will come in handy if you're looking to display extra content.
This free WordPress theme is responsive and a relaxed way of showing the world your content. It comes with great thumbnails that are ideal for driving engagement. Other features include clean code, SEO friendly tags, support for major browsers among other things
At the end of the day…
Choosing the perfect WordPress theme depends entirely on the features you need. Your choice could be a one-pager, a multipurpose theme, a framework or any other theme, but it must fulfill your needs. After all, choosing the right theme means all the difference between success and utter failure.
We hope this article helped you find the right WordPress theme for you site. You may also want to see our post on choosing the right WordPress theme and essential plugins to have on your site.
Which is your favorite free WordPress theme? Have you used any of the above free themes? Please share your thoughts in the comment section below.