Have you ever found a WordPress theme that had the desired design, as far as style and color scheme, but not the ideal layout? What about the amount of time it will take you to code different layouts, either for personal use, business, or multiple client websites? What if you don't know how to code?
With the Conductor plugin, you have a point and click interface that enables you to quickly and easily update the layout of your WordPress website – all without touching a single line of code!
This plugin puts page building skills into the reach of even a novice, making it easy to create professional looking customized pages. It's not only for end users though – developers can also benefit from the efficiency of Conductor.
Keep reading to find out more!
About Conductor
The Conductor plugin, developed by Slocum Studios, enables you to "simplify content display for WordPress." It's built by a team of WordPress developers that use the Conductor plugin in their own workflow when designing and developing sites. It's always encouraging to see WordPress developers eating their own dog food!
Conductor gives you the power to customize the structure, style, and substance of your pages by simply choosing elements from within its visual interface. No design or coding knowledge is required. It offers a number of great features that help manage (and drastically reduce) the amount of time spent on customizing WordPress page layouts.
If you're familiar with the high-end, heavily customizable premium themes that give you a huge amount of control, consider Customizer as the tool that can give you that same level of control over any WordPress theme.
Pretty cool, right?
Let's start off by taking a look at the features of Conductor, then its add-ons, and lastly its packages and pricing options.
Conductor's Features
Conductor comes with an interface that enables you to easily customize WordPress pages by simply choosing from an option of various layouts.
Let's take a closer look at the components of each feature:
Conductor is WordPress Customizer Compatible
The WordPress core team consider the Theme Customizer a key part of the content management system's future. With that in mind, it is reassuring that Conductor makes the Theme Customizer its home.
Any changes made through Conductor (and thus via the Theme Customizer) are observable in real-time – without you having to click a button or refresh. And with its easy-to-use interface, creating a new layout is as quick as selecting the page and any of the Conductor widgets you'd like to incorporate. Conductor will do the rest by automatically updating the page with the new layout specifications you have selected.
Conductor is also flexible enough to enable you to apply customization to individual pages, posts and custom post types, and choose exactly what content to display in those layouts:
Conductor Display Types
From within the interface, you also have additional options to choose from, enabling you to control which (and how) elements are displayed in any given layout.
These elements include featured images, titles, content, the 'Read more' link, and more:
Furthermore, you are in control of what format to display the content in. You can either choose to have your content displayed in a single- or multi-column layout, or a custom layout. All of this works with your existing theme, automatically updating based on your selection. And if your theme is a responsive, mobile-friendly theme, the display layout you choose will also be responsive.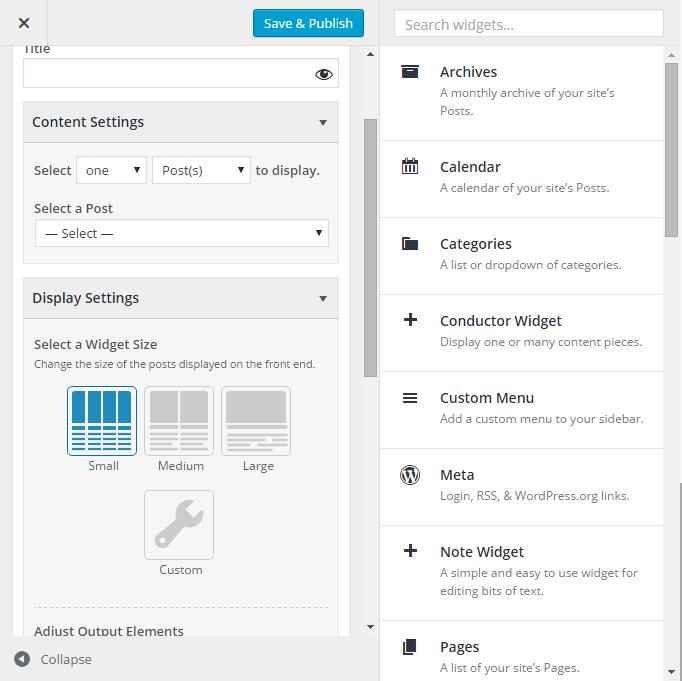 Conductor Widgets
The Conductor plugin comes with its own widget, enabling you to insert into your pages any content from your website – featured posts, pages, products, etc. You are only limited by the types of content you have available.
A simple click on the Conductor button opens up a user-friendly visual interface, presenting you with options to:
Select exactly what page, post or other type of content you want to display.
Add "one" or "many" types of content. Choosing "many" will update the visual interface, providing more customization on your pages with easy point-and-click selections.
With "many" options selected, you will be able to change the "order by",  "ascending" or "descending" filters, and how many pieces of content you want to display within the widget. You can further customize the layout by selecting the amount of content to show per page, and even change the layout on-the-fly by selecting single columns or multi-columns from the visual interface.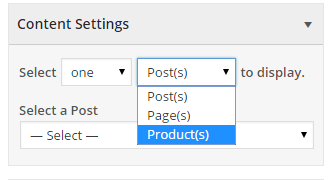 In addition to being able to insert the Conductor Widget into your layout, the plugin also enables you to insert any widget currently active on your website. Again, you're only limited by what is available on your website! This gives you an array of options to choose from when adding widgets to a custom page layout.
A huge benefit of the Conductor plugin is its reported compatibility with all WordPress themes. Although it would be rather time consuming (to say the least) to test this claim, I can report that it holds up very well indeed against the two most recent default themes, as well as a couple of other popular themes that I tested.
Conductor also offers a number of additional add-ons to further customize your website and provide ease of integration with other WordPress plugins. Let's take a look at a few of the available add-ons.
The Conductor Custom Fields Add-On gives you the capability of displaying content from custom fields in the selected layout. This is a powerful add-on for anyone that works with creating their own custom fields or making custom fields compatible with other active plugins on their WordPress website.
The Conductor WooCommerce add-on enables integration with WooCommerce, the popular e-commerce store plugin. With the Conductor WooCommerce Add-on you can build custom page layouts to display your products practically anywhere you want!
With the Conductor WooCommerce add-on you can choose from an array of custom fields such as Price, Add to Cart, Inventory Quantity, Shipping Weight and Shipping Dimensions to be displayed along with your product.
Note is a free add-on that enables you to type in text, live, from within the WordPress Customizer. You can see how your text will display within the customized design and layout of your website.
Another Conductor add-on worth mentioning is the Display Pack, which provides three new widget display layouts:
List: Display your content in an unordered bullet list.
Table: Display your content in an HTML table.
Grid: Display your content in a grid with evenly spaced columns.
Other Conductor add-ons includes:
Details about all Conductor add-ons, pricing and any prerequisites, are available on the Conductor plugin website.
Conductor Packages and Pricing
With four packages to choose from, there are buying options constructed to suit just about any WordPress user:
The 'Blogger' and 'Business' Packages
The 'Blogger' and 'Business' packages are suitable for new to proficient users who want the ease and flexibility of changing their WordPress blog or business website, without having to know or learn how to code. Users just starting out or with one website to manage may find this package the most appealing.
The 'Power User' and 'Developer' Packages
The 'Power User' and 'Developer' packages are aimed at WordPress users who are consultants and developers with multiple websites and projects requiring custom page layouts. The Developer Package also provides early access to future beta versions of the plugin.
Additional Package Perks
It's worth noting that the Business, Power User and Developer packages come bundled with the Symphony Pro starter theme and the Custom Fields and Genesis add-ons. The Power User and the Developer packages include even more perks; more specifically, all Conductor add-ons.
Conductor Support and Updates
All plans, with the exception of the Developer, are billed annually and include one year of support and updates. The Developer package comes with lifetime support and lifetime updates. A declaration of support and updates gives users assurance about maintenance of the plugin, compatibility with the latest version of WordPress and also being able to go straight to the source, so to speak, with questions.
If you'd like to try out Conductor without fully committing to the purchase, you have 14 days to evaluate the plugin. Should it not suit you, you may return it based on the plugin's Terms and Conditions Policy.
Want to Learn More?
A lot of Conductor's value is difficult to translate into words or images – in reality, only video or personal experience can demonstrate just how powerful this plugin is.
With that in mind, we recommend that you head on over to the Conductor homepage. You'll find an introductory video right at the top, and the How it Works section offers up a number of different videos that address different elements of the plugin's functionality.
Conclusion
From beginners to proficient users, WordPress consultants, developers, and hobbyists will find the Conductor plugin an efficient and easy-to-use plugin for automating custom layouts and building pages without learning or needing to code.
On its website, Slocum Studios describes Conductor plugin as "The theme independent content display and layout builder that might change your life". If you're a WordPress user constantly needing to build custom layouts, this plugin certainly may do exactly that.
If you're looking for a quick way to change the flow of your pages and website user experience, the Conductor plugin is a valuable and essential page building tool to have in your WordPress arsenal.
What do you think about Conductor as a WordPress plugin for automated custom layouts? Let us know in the comments!