Searching for the best WordPress donation plugins so that you can raise funds for your website or cause?
Whether you just want a simple PayPal donation button or you're looking for a more advanced fundraising solution that can help you run full campaigns and manage donors, you can find some excellent WordPress plugins to help you get going.
In this post, we've collected our picks for the eight best WordPress donation plugins:
Three of these plugins are full-service fundraising tools that work great for charities. They can help you create multiple campaigns, raise money towards goals, and more.
The other five plugins are more limited in scope, such as adding simple donate buttons/forms or letting you accept donations via your WooCommerce store.
Ready to get started? Let's dig in!
Eight Best WordPress Donation Plugins Compared

Active on over 100,000 sites, GiveWP is the most popular donation plugin at WordPress.org.
It offers a full fundraising solution. Collectively, organizations use GiveWP to raise more than $100 million USD per year.
It helps you create stylish donation forms and campaigns. If you create a campaign, you can create a dedicated fundraising page for that campaign that showcases your progress towards your goal(s).
You'll also get a complete donor management and reporting system on the backend. You can keep track of all your donation activity and you'll be able to view a complete history of each donor, along with the ability to generate tax-deductible receipts.
Beyond those core features, you get plenty of other options including the following:
Support for 18+ payment gateways – PayPal is free, while the rest cost money.
One-time or recurring donations – visitors can choose to make their pledge ongoing.
Custom donation amounts – enter preset amounts and/or let people donate a custom amount.
Fee relief – ask people to cover the payment processing fees.
Integrations – integrate with your favorite email marketing services and CRMs. There's also a catch-all Zapier integration.
💵 Price: Free core plugin. Premium add-on bundles from $249.
👍 Pros:
Well-designed interfaces on frontend and backend.
Best-in-class donor management.
Advanced features and integrations.
Comes from an established team.
History of success – GiveWP users collectively raised over $100 million in 2019.
👎 Cons:
The free version is limited – only one-time payments via PayPal.
Expensive compared to other plugins.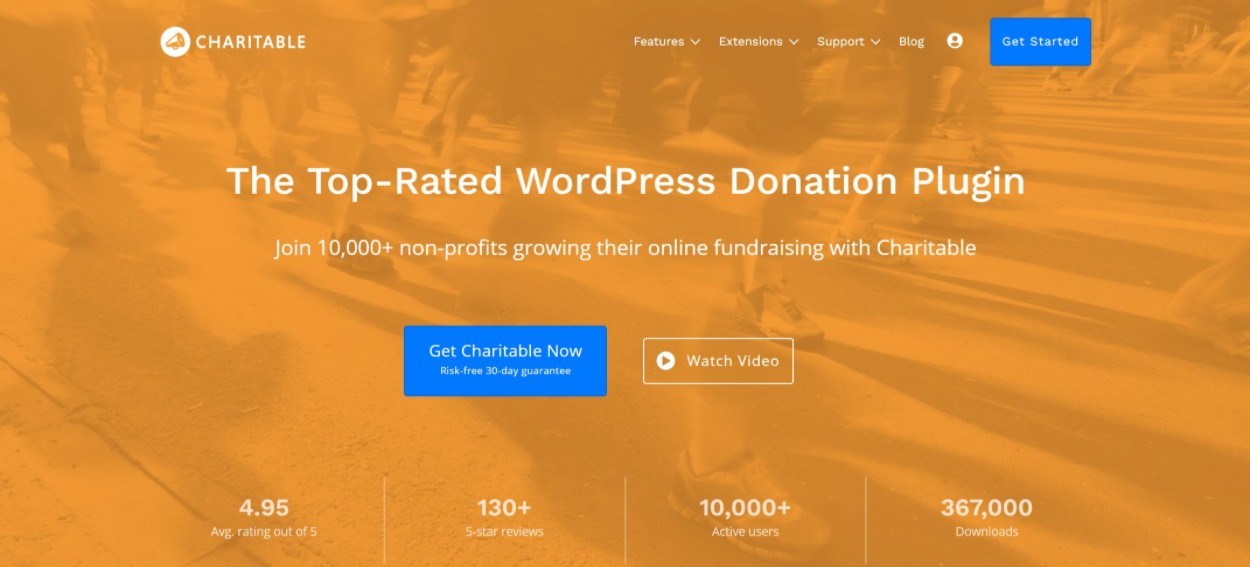 Like GiveWP, Charitable is another full-featured WordPress fundraising plugin that makes a great option for non-profits or anyone else who needs a true fundraising solution.
You can create great-looking donation forms, as well as full fundraising campaigns that display the number of donations and progress towards your fundraising goal.
Charitable also supports peer-to-peer fundraising – you can let other people register on your site and create their own fundraising campaigns. For example, if you have a charity 5k event, participants could register on your site to create their own fundraising pages. Or, they can register as a team and raise money together.
Here are some other notable features in Charitable:
Donation management.
Flexible donations – preset or custom donations, along with one-time or recurring donations.
Support for 5+ payment gateways – PayPal is free, while Stripe, Authorize.net, and others require paid add-ons.
Fee relief.
Email marketing integrations – connect to Mailchimp and other popular tools.
💵 Price: Free core plugin. Premium add-on bundles from $129.
👍 Pros:
Affordable for its features – it's cheaper than GiveWP.
Peer-to-peer fundraising.
Easily modifiable via code snippets.
👎 Cons:
The free version is limited – only one-time payments via PayPal (same as GiveWP).
No donor management/history – you can only see a list of individual donations, not full donor profiles.
Limited integrations as compared to GiveWP.

PayPal Donations is a 100% free plugin that makes it easy to add a simple PayPal donate button to your WordPress site. You can see a real example in the image above.
When you set up the plugin, only have a few options:
Pick the currency.
Choose the default amount (you can customize this for different buttons).
Choose different button styles or use your own custom button image.
To connect to PayPal, all you need to do is enter your PayPal email address – there's no need to mess around with the API or anything:
To place your button(s), you can use a shortcode. That's it!
💵 Price: 100% free.
👍 Pros:
100% free.
Very simple setup.
No need to use APIs – just enter your PayPal email.
👎 Cons:
It literally just lets you add a donate button – nothing more.

Stripe Donations gives you an easy way to accept donations via the Stripe Payment gateway. However, unlike the PayPal Donations plugin above, it goes beyond just adding a simple button (though it's still nowhere near plugins like Give and Charitable).
If you're a non-profit, Stripe is a very attractive payment gateway. The "normal" processing fee is 2.9% + $0.30/transaction, but registered non-profits can get a preferable 2.2% + $0.30/transaction rate.
To collect donations, you can create a customizable form that includes the payment fields, as well as the option to add a custom title, description, and image.
You can also send a customizable email to donors and create a custom thank you page. What's more, the plugin will store a list of your donors.
💵 Price: Free. There's also a $19.99 premium version that adds more features.
👍 Pros:
Free version should work for most people.
Easy setup.
Default form design looks good.
👎 Cons:
While you get basic donor management, it's limited as compared to GiveWP and Charitable.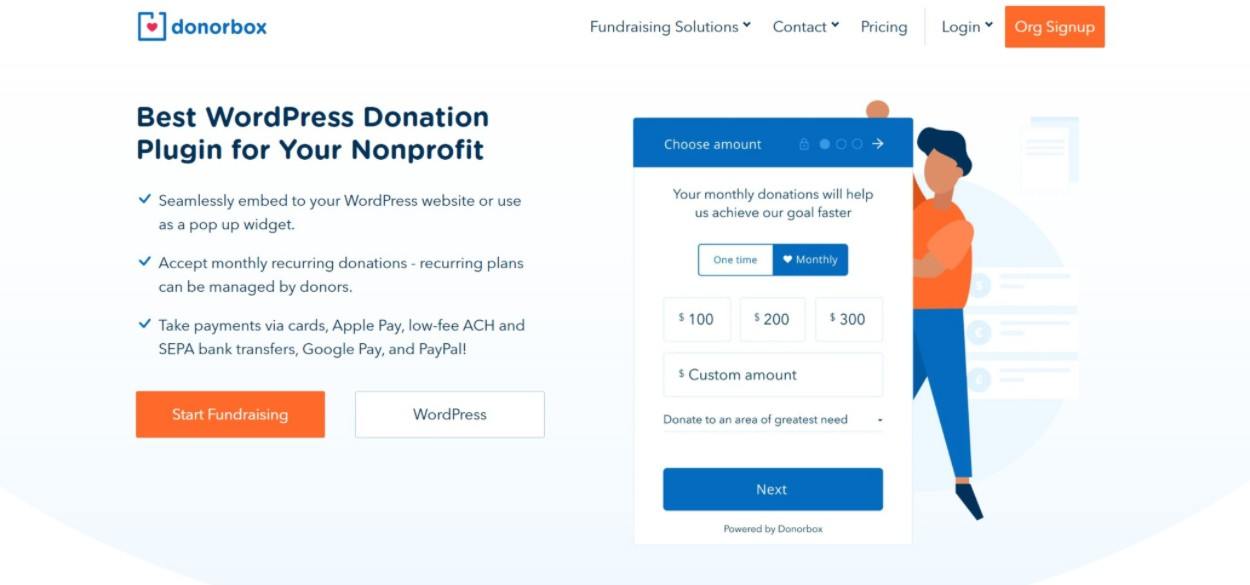 Donorbox is technically a SaaS donation platform, rather than a native WordPress donation plugin. However, it's very easy to integrate into your WordPress site thanks to its dedicated integration plugin at WordPress.org.
If you're ok with that SaaS approach, you can get a lot of advanced features
Customizable payment options – add multiple present amounts, let people choose between one time or recurring, let them enter custom amounts, etc.
Multiple payment gateways – make it really easy for people to choose between payment gateways, including bank transfers via Plaid.
Multiple currency support – accept donations in multiple currencies if needed.
Customizable donor messages – people can leave a public message alongside their donation (kind of like GoFundMe).
Advanced donor management – create donor segments based on amounts, frequency, etc.
Overall, the frontend experience for donors is really well done – you can check out a live example here.
💵 Price: Donorbox doesn't charge a flat fee. Instead, it takes a percentage of the funds that you raise. You'll pay 1.5% to Donorbox on top of payment processing fees.
👍 Pros:
Very user-friendly frontend donor experience.
Dedicated WordPress integration plugin.
No need to worry about security.
Supports bank transfer donations.
Excellent donor management.
👎 Cons:
It's a SaaS, not a native WordPress plugin.
It takes a commission rather than charging a flat fee. This can add up over time.

Potent Donations for WooCommerce helps you accept donations using WooCommerce, which lets you process donations via any one of the payment gateways that WooCommerce supports.
The plugin is quite simple. It works by adding a new Donation product type that you can select in the Product data box of the regular WooCommerce product editor.
When you choose this product type, your site's visitors will be able to enter their own custom donation amount, rather than choosing from a preset price.
To control the options that people have, you can set a default donation as well as the amount increment. For example, if you set the increment to $10, people will only be able to donate in multiples of $10.
That's it – for everything else, you'll rely on core WooCommerce features.
💵 Price: 100% free.
👍 Pros:
WooCommerce is an established and reliable solution for accepting payments.
You get access to hundreds of payment gateways via WooCommerce.
You also get access to other WooCommerce plugins.
Supports custom donations.
It's free.
👎 Cons:
It's not standalone – you must use WooCommerce.
No option to set preset levels – just custom amounts.
Get Potent Donations for WooCommerce

As the name suggests, Cryptocurrency Donation Box focuses on helping you accept donations via various cryptocurrencies, with support for 50+ different cryptocurrencies.
You can use the plugin's settings to add the wallet address(es) where you want to accept payment. Then, you can easily display them anywhere on your site using a shortcode.
If you want to accept donations via multiple currencies, your visitors can use the tabbed interface to see the wallet for their preferred currency. The plugin also displays a QR code so that people can donate more easily.
Overall, it's quite simple, but it gives you exactly what you need to accept cryptocurrency donations on WordPress.
💵 Price: Free.
👍 Pros:
Supports 50+ currencies.
The QR code makes it easy for people to donate.
Very simple.
👎 Cons:
No special donation features – it just displays wallets.
Get Cryptocurrency Donation Box
8. Your Favorite Form Plugin
Ok, this one isn't a single plugin. But I think it's worth pointing out that most quality WordPress form plugins can also make a great solution for donations if you just need an easy way to create a donation form.
They'll let you create a custom donation form using their drag-and-drop form builders. Then, you can hook that form up to your preferred payment gateway to process the payments. For example, check out this tutorial from the Gravity Forms team.
Here are some popular form plugins that can make a good option for donations:
Basically, as long as your chosen form plugin supports payment forms, you can use it as a WordPress donation form plugin.
Price: Most form plugins only offer payment integrations in their premium versions, so expect to pay $49+.
👍 Pros:
Use your existing form plugin – no need to add a new plugin.
This approach is very flexible.
Most form plugins make it easy to connect to Zapier or third-party tools.
👎 Cons:
Most form plugins charge for payment integrations.
Not 100% focused on donations.
Which Is the Best WordPress Donation Plugin?
The best WordPress donation plugin for you really depends on what you're looking for:
Are you a non-profit looking for a tool to help you run your fundraising efforts? Or do you otherwise need a tool that can help you manage full-service fundraising campaigns?
Are you just looking for a way to add a simple donation button or form for your website?
Best WordPress Fundraising Plugin for Nonprofits
If you need a full-service WordPress fundraising plugin, GiveWP is the overall best option because of its user-friendly interfaces and advanced features, while Charitable can be good if you want to save money and/or need peer-to-peer fundraising.
Donorbox could also be an option here if you like the SaaS approach, but remember that you'll have to give up 1.5% of your donations on top of payment processing fees.
Best WordPress Donation Plugin for Individuals
If you just want a simple solution to create a donation button or form, I think you have plenty of solid options.
For a basic PayPal donation button, consider PayPal Donations. However, if you want an actual donation form, I'd recommend considering Stripe Donations or just using a form plugin such as Gravity Forms or WPForms.
Finally, I also shared a few more niche options, such as the WooCommerce donation plugin or the cryptocurrency donation plugin.
Do you still have any questions about choosing the best donation plugin for WordPress? Let us know in the comments!