Choosing a page builder plugin is less certain than it was even a couple of years ago, as there are lots of solutions on the market. Even so, for many users, the options boil down to Beaver Builder vs Elementor Pro. As such, this is good place to start your journey.
Both of these plugins have a long-standing and distinguished pedigree among WordPress users. Each has a wealth of features and functionality, along with reasonable pricing. As such, your decision will be based on how each solution suits you and your workflow.
In this post, we'll look at Beaver Builder vs Elementor Pro in a few different areas. By the end, you'll understand which option is right for you and why that is.
A Quick Primer On Page Builders
Before we move the comparison, let's get on the same page (pun intended). For the unaware, a page builder is a way to create your site using a visual interface, rather than through code. You'll work using a so-called 'front end builder'. This means you'll see the site as it will appear to users in the browser.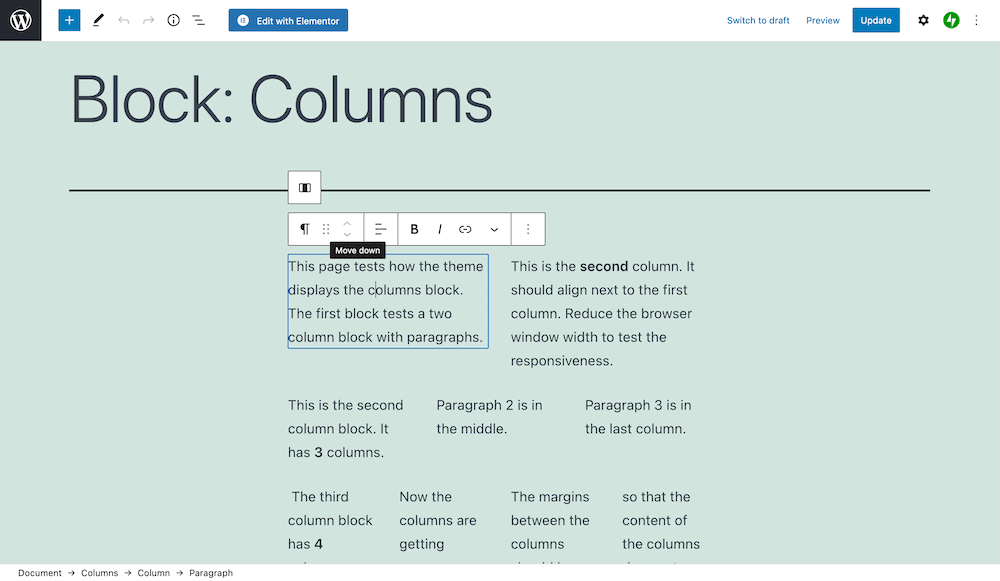 The built-in WordPress Block Editor is great for writing blog posts and other content. Though, when it comes to layouts and site design, it's still a baby. This functionality is improving, but you can't yet rely on it to help you build you entire site.
Enter page builders. These are third-party solutions for building your site's layout and content. You'll often have the functionality to customize almost every aspect of your front-end display. Some solutions will let you build custom headers and footers, and more.
You'll also find features to help you add in advanced elements such as interactive buttons, pop-ups, animations, and more. The goal of a page builder is to help you create your site without the need for code, yet with the same flexibility and scope. With regards to Beaver Builder vs Elementor Pro, both page builders have plenty to offer here.
Beaver Builder vs Elementor Pro: Introducing Both Plugins
The comparison is coming up, but before that, let's introduce both Beaver Builder and Elementor Pro. Note that we're talking about the premium versions of each plugin. While both offer free tiers, these vary in scope and functionality.
In any case, most users will often opt for the fuller-featured premium solutions, so it makes sense to talk about these in the first instance.
Beaver Builder
Beaver Builder is the 'elder statesman' of page builder plugins. It's been around for a number of years, and was one of the first page builders on the market.
It's a drag-and-drop builder, with a collection of modules that lets you add almost any piece of functionality or formatting to your site. For example, you can add a Call To Action (CTA), basic forms, video embeds, and much more: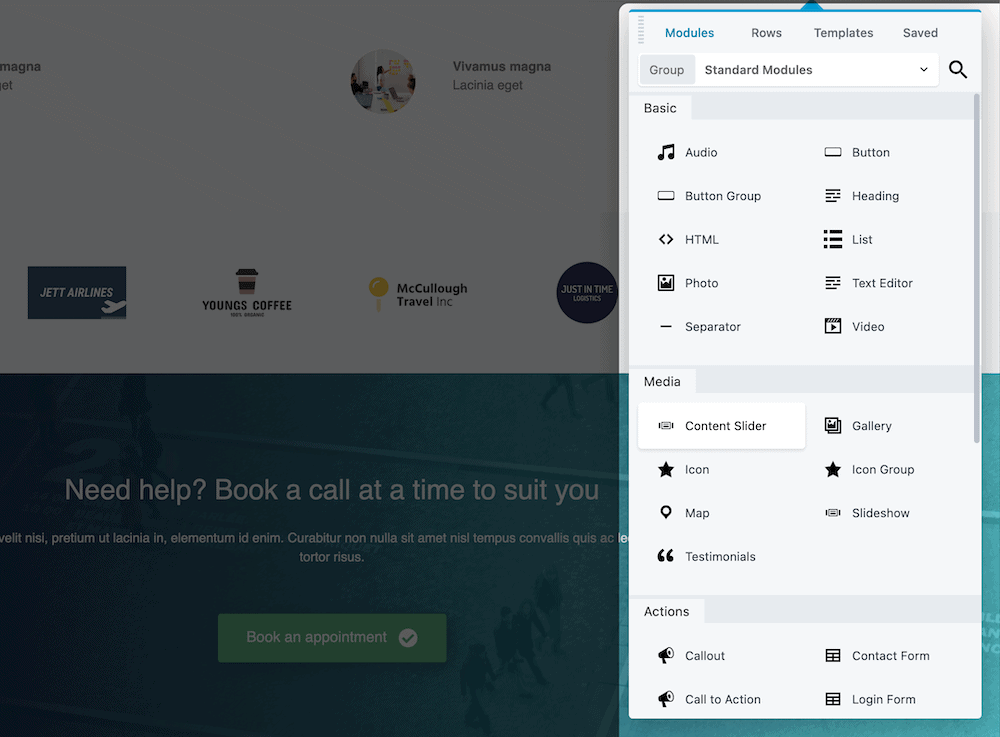 We've talked about Beaver Builder on the blog before. This article is worth reading to get some more context and information on how Beaver Builder works on a day-to-day basis.
Elementor Pro
Elementor is a relative newcomer when it comes to page builders. While it hasn't been around for too long, it has developed a stellar reputation among end users, site owners, developers, and even investors.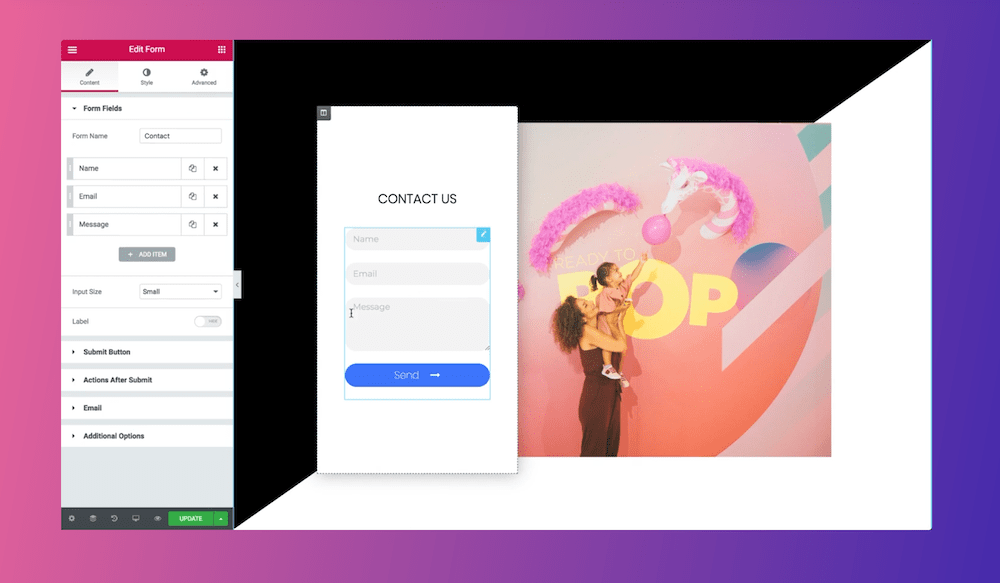 It's also a drag-and-drop page builder that works as though you're viewing your site's front end. Much like Beaver Builder, you pull modules ('elements' here) into place, and work on the attributes and properties of each one.
Again, there are lots of elements to choose from – you shouldn't need to go hunting for additional elements to build your site.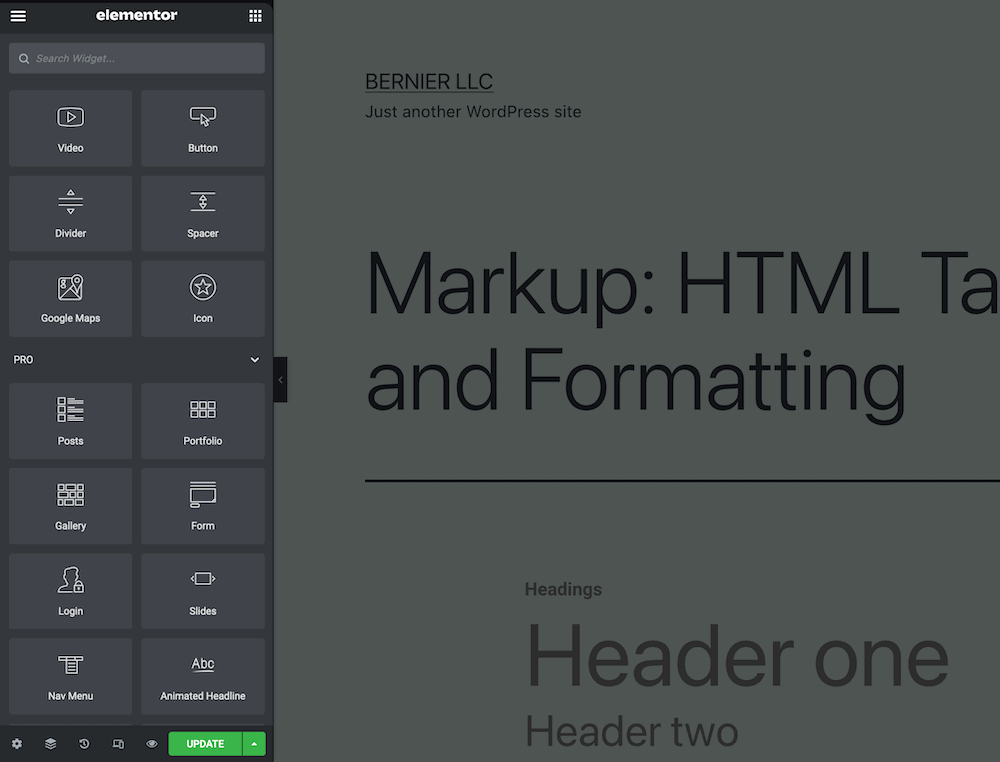 Because Elementor is so popular, we've also featured the page builder on the blog before. For a more in-depth look at how the plugin works, we encourage you to check out that post too.
Beaver Builder vs Elementor Pro: Comparing Both Page Builder Plugins
We're now into the thick of this Beaver Builder vs Elementor Pro comparison. Over the next few sections, we'll take a look at each solution and compare them in the following areas:
Features, functionality, and Ease of Use 🧰. We'll look at what each plugin can offer, along with any additional functionality provided.
Support and resources 🙋. Here, we'll look at how much support is on offer for each plugin. We'll also look at any further resources available to help you build and manage your site.
Pricing 💵. This straightforward section will look at the cost factor for each plugin. It will also touch on any free tiers, although it's not a fair comparison (as we'll explain).
There may be some cross-over between sections. For example, ease of use and features will overlap in an organic way. As such, while we encourage you jump around the post to read about aspects that interest you, taking in the full post will let you learn the full story of each page builder.
Features, Functionality, and Ease of Use 🧰
Because both Beaver Builder and Elementor Pro are popular and powerful, this comparison will be close. Each page builder offers a drag-and-drop editor as a matter of course. Elementor looks more modern in our subjective opinion, although Beaver Builder looks more like a native WordPress feature.
With Elementor, you edit from the sidebar at all times. There are three panels to choose from: Layout, Style, and Advanced.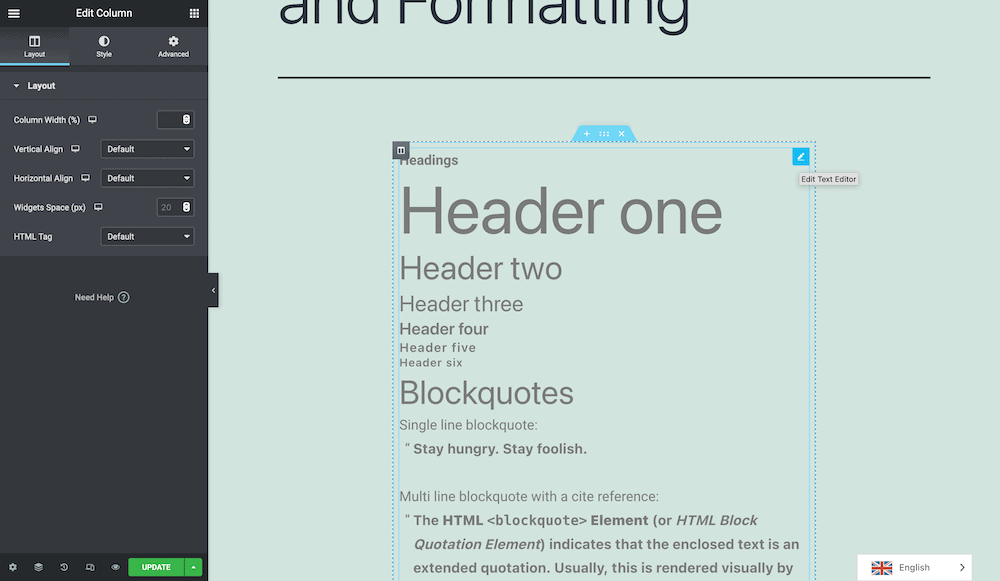 This is a nice way to separate different aspects of your design, but you sometimes get the feeling there is too much for this sidebar to handle. For example, there's also a 'hamburger menu' full of site-wide options, along with further menus and sub-menus.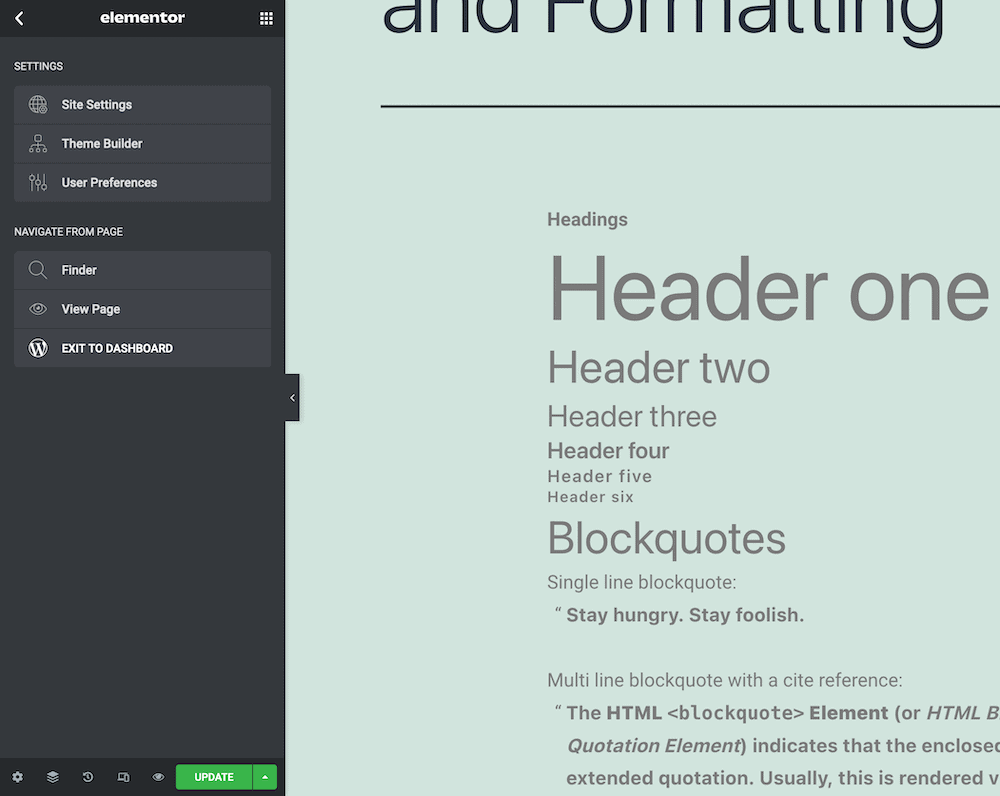 Though, we do like that there's always a link to the Elements screen. This gives you access to all of the functionality for your site, and you can even add aspects such as Lottie animations and forms. For the latter, there's a dedicated builder that will often mean you don't need a plugin to do the job: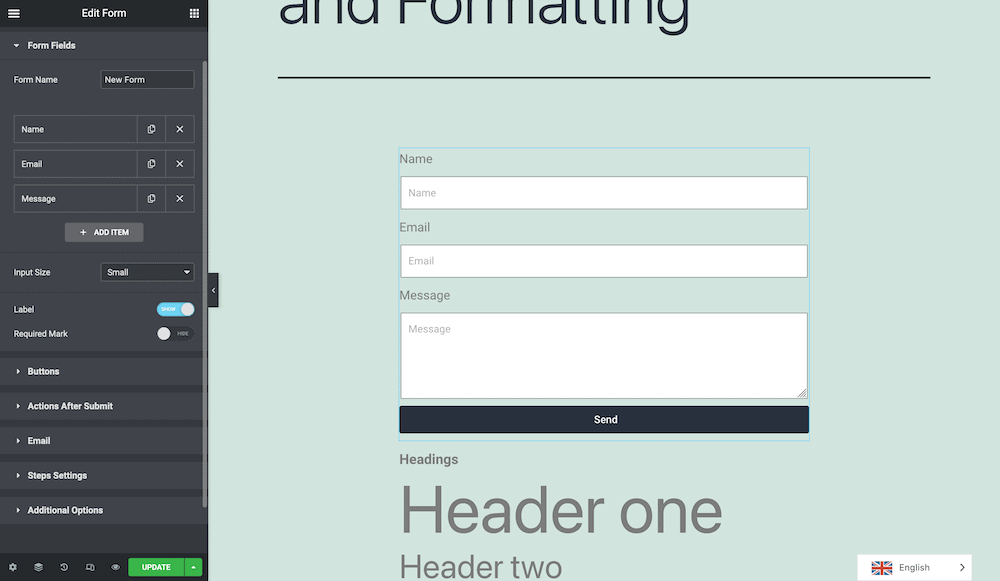 As for Beaver Builder, it took us a while to figure out why we couldn't edit posts with the plugin. It's because you have to activate custom post types other than pages. This is an odd User Experience (UX) decision, and means going to the Settings > Beaver Builder > Post Types page within WordPress.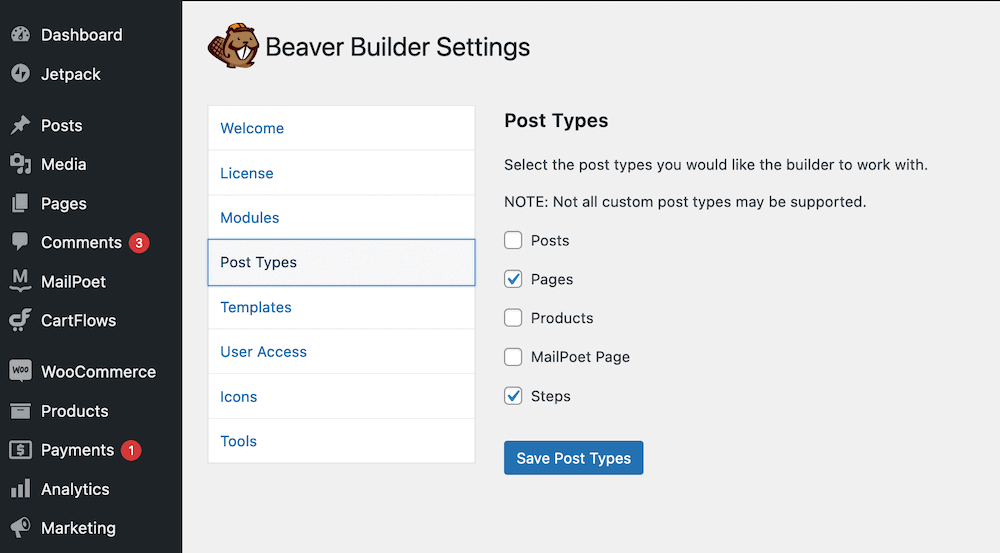 Once this was up and running, we then had to find how to use Beaver Builder on a post or page. If your page uses another editor, you'll have to head into WordPress' 'traffic light' menu and click the Convert to Beaver Builder option: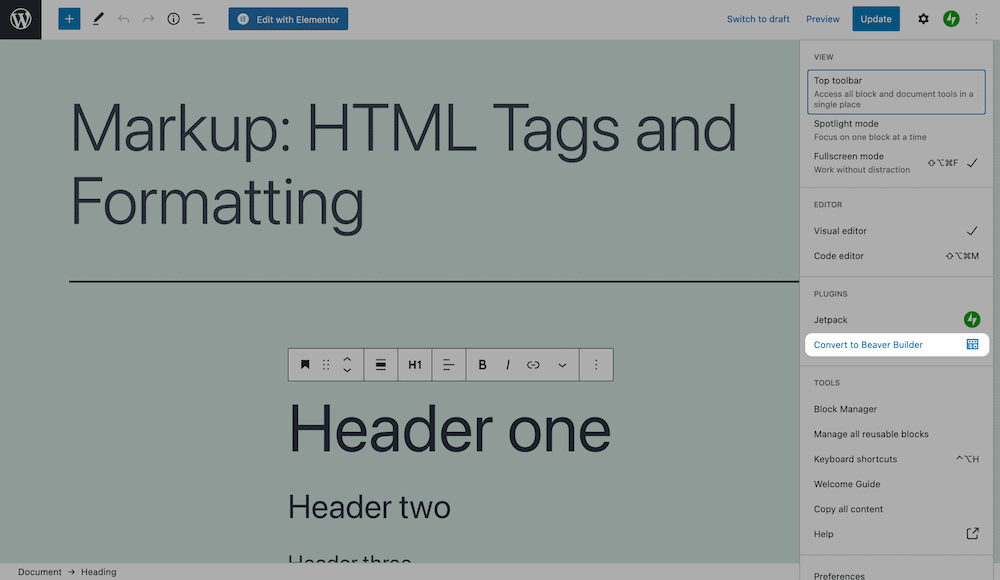 It's convoluted to navigate menus to open an edit screen for a WordPress post – especially as Elementor offers a one-click option within the toolbar.
Still, using Beaver Builder on a page is intuitive and more comfortable than Elementor. The default screen is more 'open' than Elementor's sidebar setup. Beaver Builder uses floating panels to let you control settings and customizations. It's nice, and you're still able to dock panels if you need to.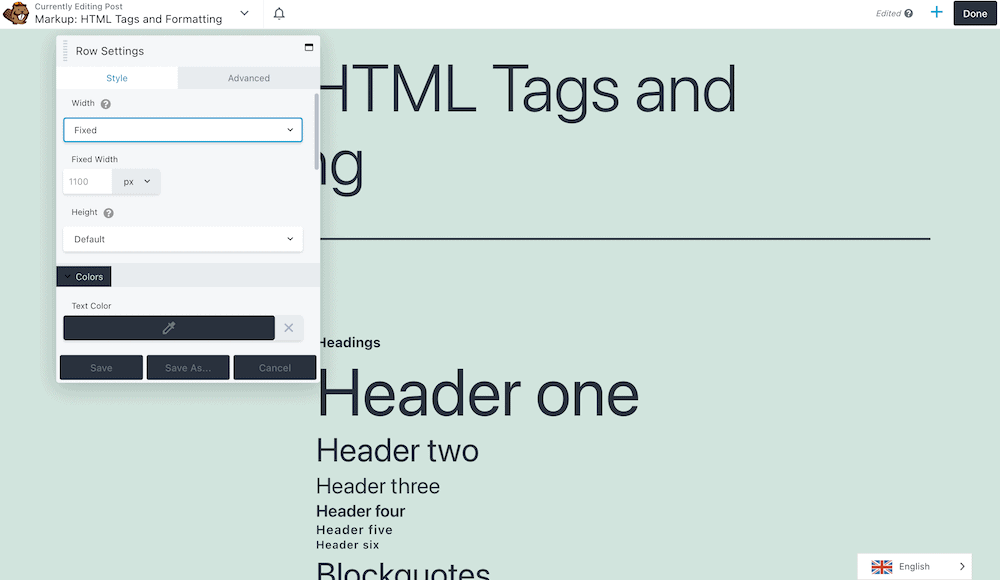 The good news is that Beaver Builder also includes much of the same features and functionality as Elementor. While you don't get to utilize functionality such as Lottie animations, the collection of modules won't see you short. There will be almost every element you'll need to build you site here.
Templates and Pre-Built Sections
Both Beaver Builder and Elementor include example templates and layouts to give your site a kick start. The great thing here is how you can take a pre-built template and customize it to your liking. It gives you a professional base to work from, while giving you a chance to add your own spin.
With Beaver Builder, you access all of the templates from the same right-hand drop-down as your modules, under the Templates tab: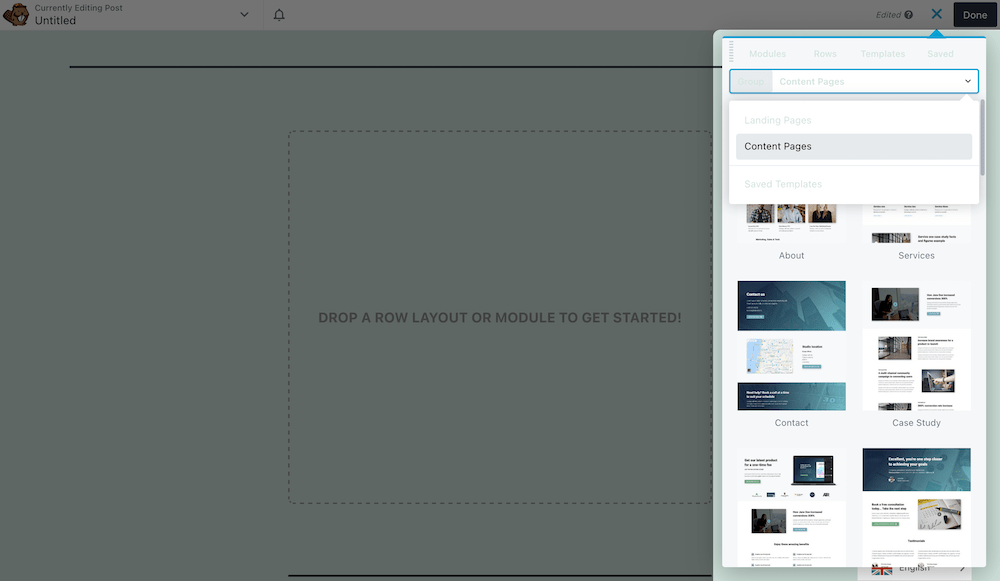 The designs are split into two – landing and content pages. There are options to cover a number of different use cases, and on the whole, they're all well-made and designed. Though, we'd like to see more of a selection here – hopefully there will be a push in this area going forward, as templates like this are a valuable resource for users.
As for Elementor, there's a subtle button within your front end editor that gives you access to a wealth of templates, sections, and Blocks:

This opens a modal dialog that contains almost countless layouts and designs – much more than Beaver Builder offers. It's a full-featured aspect of Elementor, and there's also search functionality to find what you need.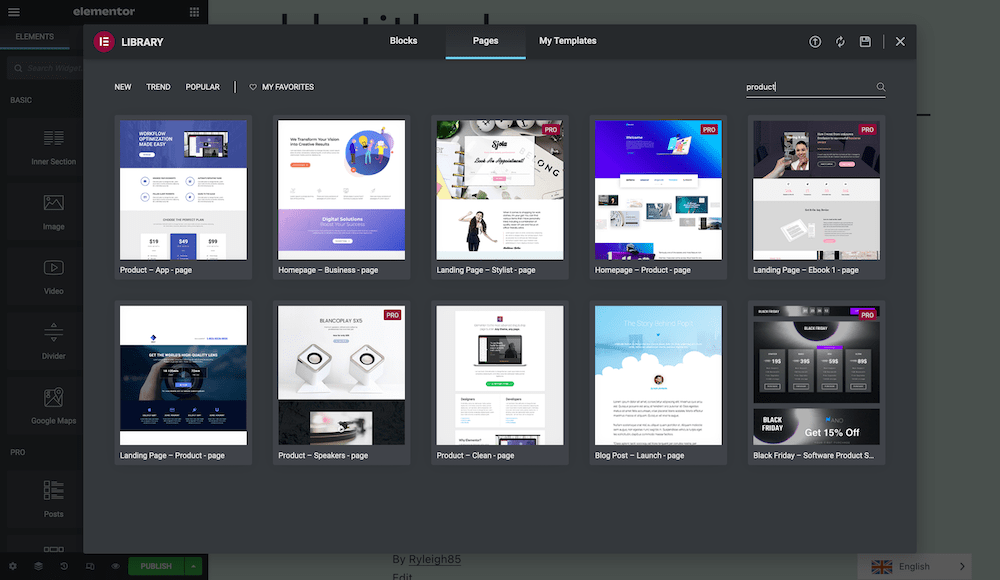 There's so much here that you could get overwhelmed with the choice, so it's welcome that you have search capabilities.
The unique aspect here is the Blocks page. This gives you pre-built sections for your site, covering all the essentials and more: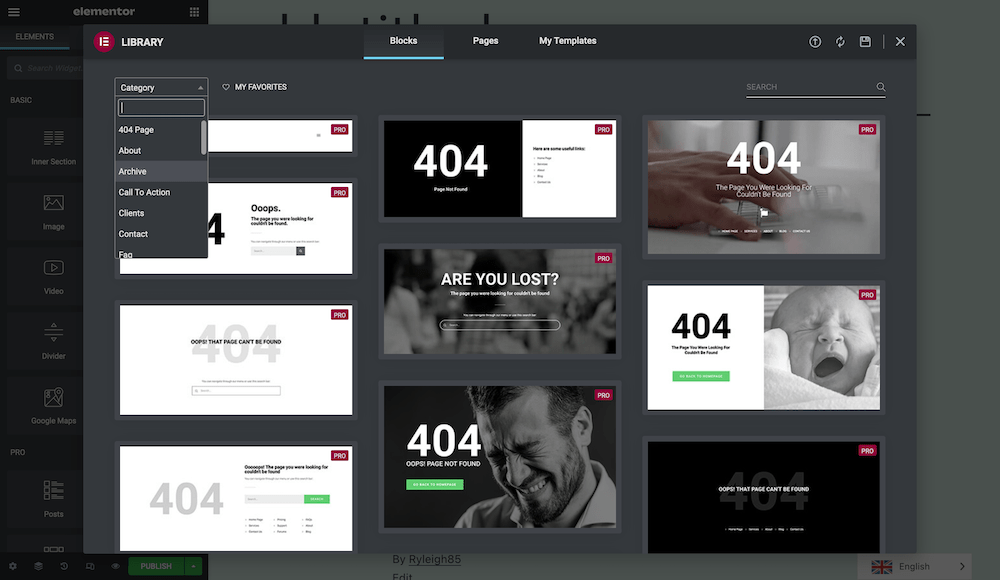 For example, you'll find designs for 404 pages, contact forms, Call To Action (CTA) elements, pricing, and so much more. In fact, there could be an entire article on Elementor's whole template library, such is the depth of assets here. It's a superb offering that no other page builder can meet, and pushes Elementor to the front of the queue for your attention.
The design quality of both Beaver Builder and Elementor's templates are stellar, and we like them both. Though, Elementor makes it so easy to build a site fast that it's now the benchmark for all others.
Support and Resources 🙋
Having a present and noticeable support network is vital for keeping long-term users. As such, both Beaver Builder and Elementor take care of their respective user bases.
Starting with Beaver Builder, its support is more traditional in that there is a dedicated ticketing system, and a knowledge base. We have no complaints with either of these channels, and the knowledge base has lots of resources for using the plugin.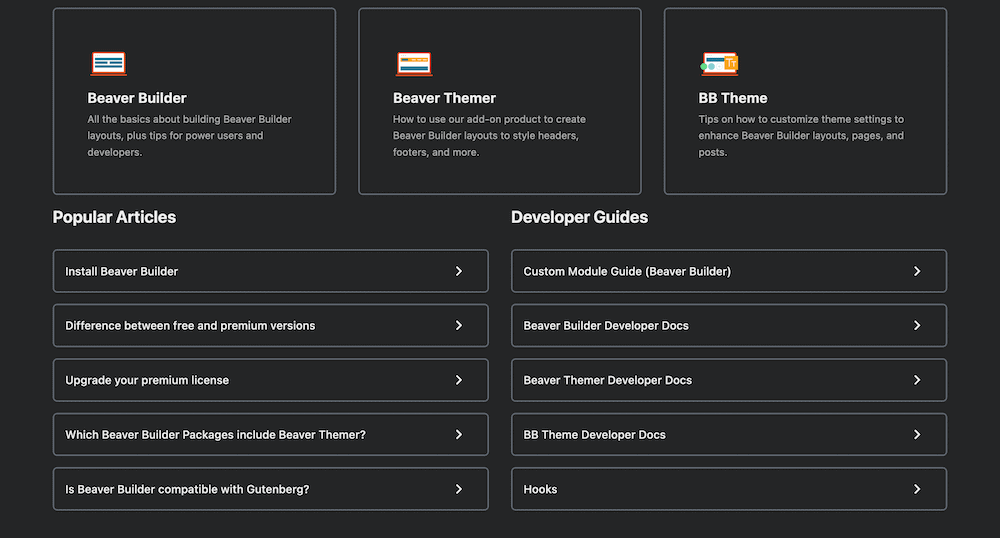 We also like how there's a separate resource page, outlining courses and other content about using and mastering Beaver Builder. You can also find a dedicated Facebook group, Slack channel, and community forum. This is a great step to take, as having like-minded users to turn to is a valuable asset that not many other solutions use:

Though, Elementor is an outlier that does leverage the community. In a word, it's massive. In fact, there's more than a Facebook group here. There's also a dedicated developers group, a translation community, and to facilitate it all, a number of community leaders.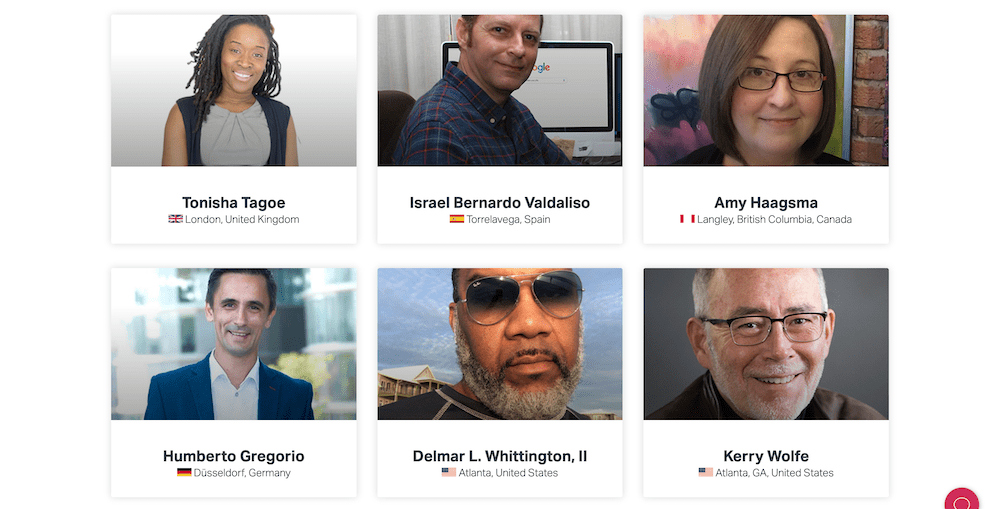 These communities tie together through Elementor Meetups – in-person events much like WordCamps. They run all over the world and have thousands of attendees:

The standard support is also strong. There's a help center – again, it stocks lots of articles to help you build your site. There's also a resource hub, full of blog posts, videos, webinars, and much more to immerse you within Elementor's ecosystem: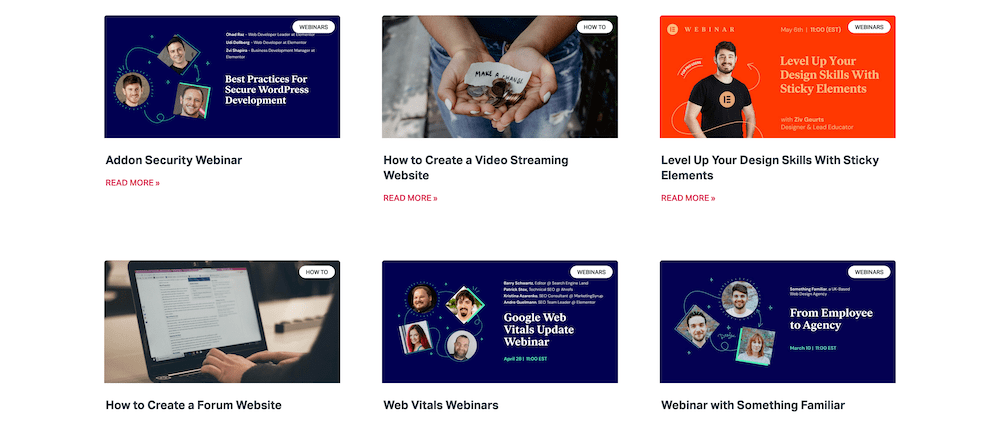 In terms of volume, Elementor takes the win. Though, it's not the only factor in play. Beaver Builder has a great level of support and assistance, and has a community on hand. As such, the overall winner is a tie.
Pricing 💵
Right off the bat, it's clear that Beaver Builder has more straightforward pricing compared to Elementor. At least, this is based on the visuals from each pricing page. Beaver Builder offers three tiers: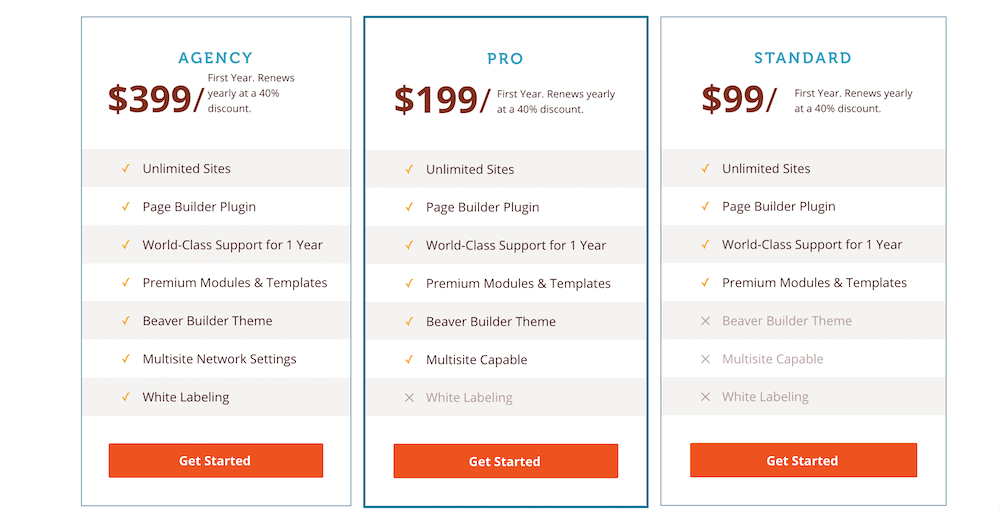 Most users will gravitate to the Standard plan, at $99 per year. This lets you use Beaver Builder on as many sites as you need, coupled with support from the developers. Also, you get access to professional templates and layouts to use on your site.
In contrast, Elementor has five different tiers, each for a specific application. Regular users will like the Essential and Advanced plans, given the price ($49–99 per year).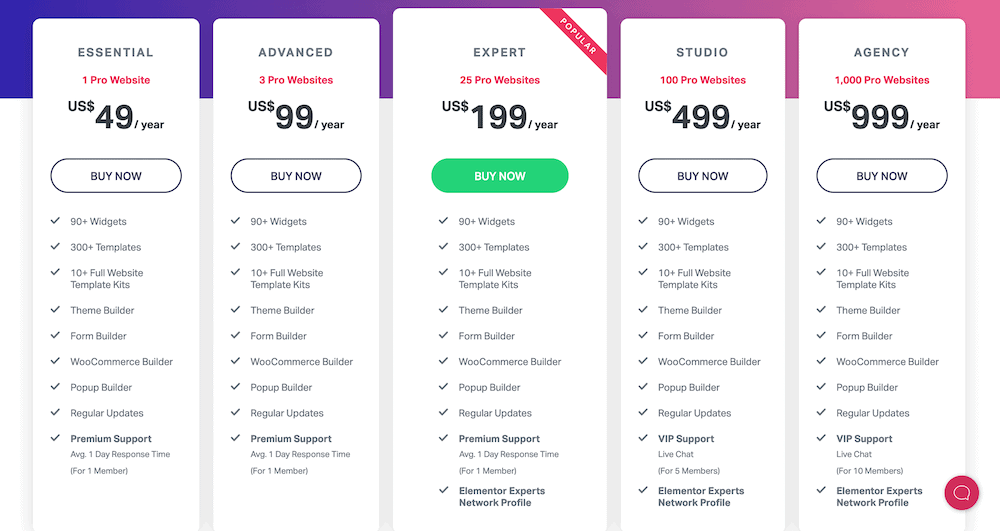 The key difference between Beaver Builder and Elementor Pro is how those tiers offer value. For Elementor, you'll pay based on the number of sites you want to install the plugin to. The feature set is the same for all premium users, but more licenses require more money.
For Beaver Builder, can use the plugin on any and all sites in your network. Instead, you 'unlock' features and functionality on higher tiers. What's more, the Pro plan charges an extra $100 per year for the dedicated Beaver Builder Theme, and makes the plugin Multisite-capable. For us, this erodes the value in the plugin.
To take things further, Elementor includes theming functionality within the Pro feature set. This is an additional purchase for Beaver Builder users. You're paying around $350 per year to get the same functionality as Elementor.
In short, we'd rather see Beaver Builder take on a different pricing model, or at least build extra functionality into the plugin.
Beaver Builder vs Elementor Pro: How to Choose One to Help You Build Your Site 🤔
Once you've broken down the scope of each page builder, your final task is to choose one. How you do this will be based on your needs and requirements:
For sites with basic needs, or if you have a theme you like already in place, Beaver Builder is a good choice.
For a full-featured design experience at a reasonable price, Elementor wins the race.
If you don't get on with Elementor's way of working, Beaver Builder might suit you better.
When it comes to budget-conscious decisions, it's a wash. Elementor is a better choice for a free page builder, although it's beyond the scope of this post. Elementor has competitive pricing with a greater range of features and functionality up to $100, although beyond that it's not so clear. This is especially the case if you factor in Beaver Builder's premium additional functionality.
Regardless of your choice, you'll get a full-featured and powerful page builder with which to create your site. This is testament to the robust and active development of WordPress and it's themes, plugins, and solutions.
In Summary
While you may have had limits in the past, modern WordPress is rich with page builder plugins. Each one will hook into WordPress itself to help you create a site from the ground up. This includes your entire layout, and gives you almost the same level of customization as coding will.
In this post, we've looked at Beaver Builder vs Elementor Pro in a few different areas. On the whole, your final decision will be based on how each plugin meets your site's needs.
Elementor comes with more features out of the box, and has a better 'all-in' pricing model.
Though, Beaver Builder has the same scope when you factor in additional premium functionality. What's more, it's a better deal for the standard version over Elementor, given that you can use it with unlimited sites.
Has our Beaver Builder vs Elementor review swayed you one way or the other? Let us know your thoughts in the comments section below!