Looking for the best WordPress membership plugins?
If you want to know how to set up a membership site with WordPress, then the plugins covered in this article will help you with your objective.
Not only are these plugins packed with features, but they are, for the most part, very easy to set up and use. The tools listed cover a range of budgets, from free to premium, and they are ideal for those just starting out, through to site owners looking for a high-end professional solution.
While most of these are all-purpose plugins, we also included a few plugins dedicated to creating online courses, as that's a very popular use case for membership plugins nowadays.
In total, we'll cover 11 different membership plugins across a range of different budgets, including several free options.
Let's get right to the action.
The Best WordPress Membership Site Plugins for 2023
Keep reading to discover the best membership plugins for WordPress and get your site up and running today.
1. MemberPress
MemberPress is one of the most popular WordPress membership plugins. It doesn't have a free version, but it's pretty good value for what you get.
Once installed, this plugin allows you to restrict access to all the content on your WordPress site including pages, posts, categories, tags, and files you've uploaded. Some other top features of MemberPress include:
Management of unlimited members
Create unlimited access rules
Offer unlimited pricing pages
Sell an unlimited amount of digital products
Accept payments with PayPal, Authorize.net, and Stripe
Automatically grant and revoke access when members join or unsubscribe
Content dripping with timed release of access
Offer customizable coupons
Integrates with the Easy Affiliate plugin to help you offer an affiliate program (this plugin was previously known as Affiliate Royale)
Integrates with Blubrry PowerPress to help you create a members-only podcast (no more Patreon!)
Premium support
If you're specifically looking to offer online courses, you'll also be happy to know that MemberPress recently released its own dedicated course tool. While it's not as powerful as a full online course plugin, it offers enough functionality for most people's needs.
💵 When it comes to pricing, there are three plans available:
Basic – $179 – 1 site and basic features.
Plus – $299 – up to 2 sites and some more advanced features.
Pro – $399 – up to 5 sites and all features, including Easy Affiliate.
The prices above are for the first-year price. Upon renewal, the prices increase and range from $279 (Basic license) to $599 (Pro license).
Additionally, if you don't renew your license, MemberPress will lock your access to the backend dashboard areas (though your frontend membership content will continue to function).
Basically, if you use MemberPress, you need to be willing to pay the regular license price every year for as long as you plan to use it.
If you want a premium membership plugin that covers all the bases and gives maximum flexibility then MemberPress is a great choice.
👉 You can learn more in our full MemberPress review.
Pros: This is a well-regarded option that is very easy to use. The support for digital products as well as managing a membership site makes this a versatile plugin.
Cons: There's no free version. The plugin locks your backend MemberPress dashboard access if your license expires (though frontend content continues to work).
2. Paid Memberships Pro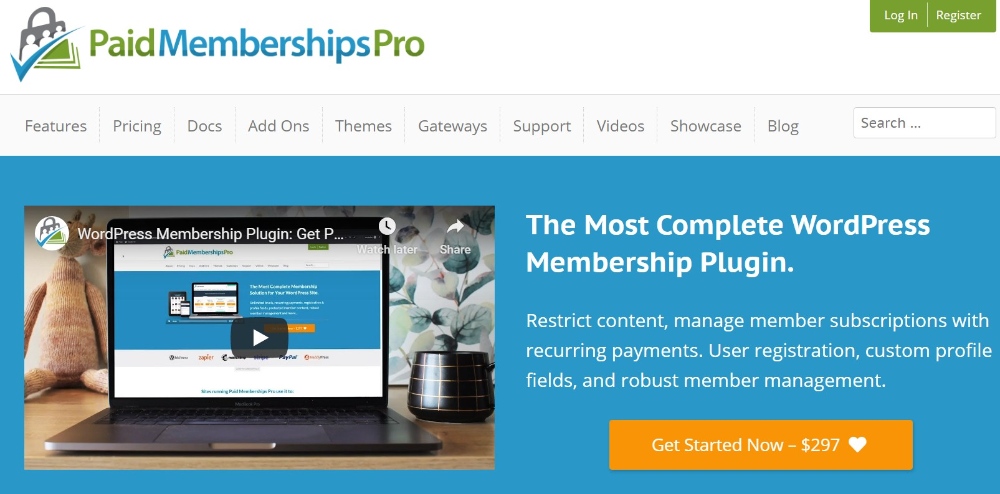 Paid Memberships Pro is a great option that will cost you nothing to get started with. Yes, this is a free membership plugin that you can begin using today in order to restrict access to the content on your WordPress site to selected users. There are also two premium plans that get you access to lots of paid add-ons.
As for the plugin itself, it's got a great feature set making it a solid choice for anyone looking for a no-budget tool. Some of the standout features include:
Unlimited membership levels
Integrations with 6 payment gateways
Flexible pricing and free trial periods for your members
Accept recurring subscriptions
Set access and membership levels for individual pages and posts
Customize the notification email messages
Edit or replace the default plugin pages for login etc.
Offer discount codes
Drip release content over time
Expand the features with free extensions and add-ons
While the core Paid Memberships Pro plugin is free and pretty generous with its functionality, the developer also has over 65+ premium add-ons (in addition to 19+ free ones). These give you a lot of flexibility for how you configure your membership site with features such as:
Addon purchases. E.g. purchase one-off access to a single resource in addition to a membership level
Integrations for bbPress, BuddyPress, email marketing services, and more
Goals/gamification
Group memberships
Member network sites with WordPress Multisite
…lots more
💵 You can get access to all of the premium add-ons and premium support via two plans:
Plus – $297 per year for up to 5 sites
Unlimited – $597 per year for unlimited sites
👉 You can learn more in our full Paid Memberships Pro review.
Pros: Has a pretty generous free plugin. The huge array of official and third-party add-ons also make it very easy to customize the plugin to meet your needs (though you might need to pay).
Cons: It's a little pricey if you need the premium add-ons because the cheapest plan is $297.
3. Restrict Content Pro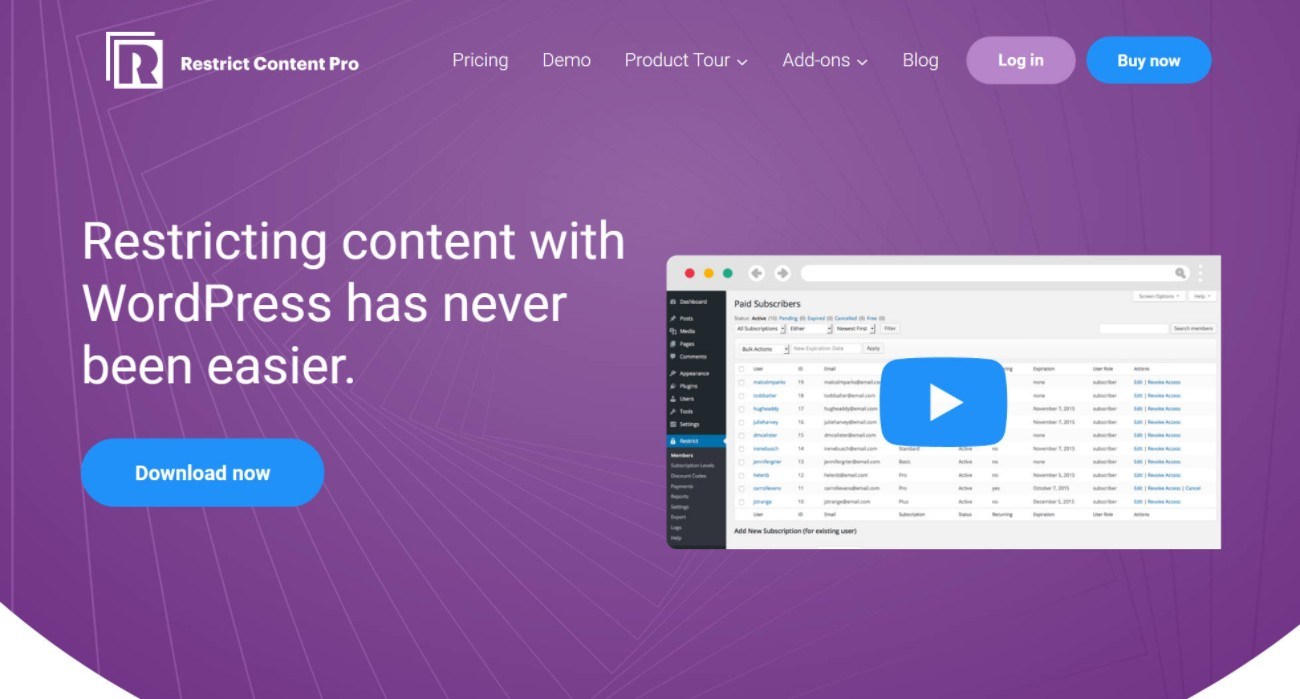 Restrict Content Pro is another popular membership plugin.
It originally was developed by the same developer as the Easy Digital Downloads and AffiliateWP plugins. However, it was acquired by Liquid Web/iThemes in 2020 via Liquid Web's StellarWP subsidiary.
Liquid Web is one of the biggest companies in the WordPress space, which should give you confidence that it will be around for the long haul (always an important consideration when choosing a membership plugin).
The admin user interface is well designed and it fits right into the appearance of the WordPress admin area, creating a seamless integration on the backend. Restrict Content Pro is very easy to use and there's helpful documentation displayed throughout the settings pages to ensure you're able to get started as quickly as possible.
Restrict Content Pro gives you the ability to restrict access to your content in a number of different ways. You can restrict access to individual posts based on membership level or use categories and tags to restrict access. Some other features you get with Restrict Content Pro include:
Create unlimited subscription levels
Customer dashboard allows your customers to view and manage their account details
Sell an unlimited number of digital products
Accept payments with Stripe, Braintree, 2Checkout, PayPal Website Payments Pro, and PayPal Standard, and Express.
Prorated upgrades and downgrades
Flexible schedules for content restriction – e.g. content dripping, option to restrict access to past content, option to hard-set an expiration date
Group memberships
Customizable coupons
Let members create network sites with WordPress Multisite
Integrations with email marketing services
Premium support and updates
Overall, if you're after a quality membership plugin with ever-increasing features and amazing flexibility then Restrict Content Pro is an excellent choice.
💵 There are four pricing plans available, all of which now give you access to all pro features (which wasn't the case before the StellarWP acquisition).
Personal – $99/year for use on one site.
Plus – $149/year for use on five sites.
Professional – $249/year for use on unlimited sites.
Ultimate – $749 one-time for lifetime support and updates and use on unlimited sites. You also get all future add-ons at no extra cost.
The free version of Restrict Content Pro is now more powerful than it was before, which might make it a workable option for simple sites. However, most people will still want the Pro version for serious membership sites.
Pros: Restrict Content Pro is extremely versatile and gives you maximum control over access to your content. Drip it out, lock past content, set content to expire, and go public after a certain time – all of this is possible with Restrict Content Pro. It's also pretty cheap with the new pricing plans.
Cons: You might need to use some custom CSS for the frontend dashboard pages.
👉 You can learn more in our full Restrict Content Pro review.
4. MemberMouse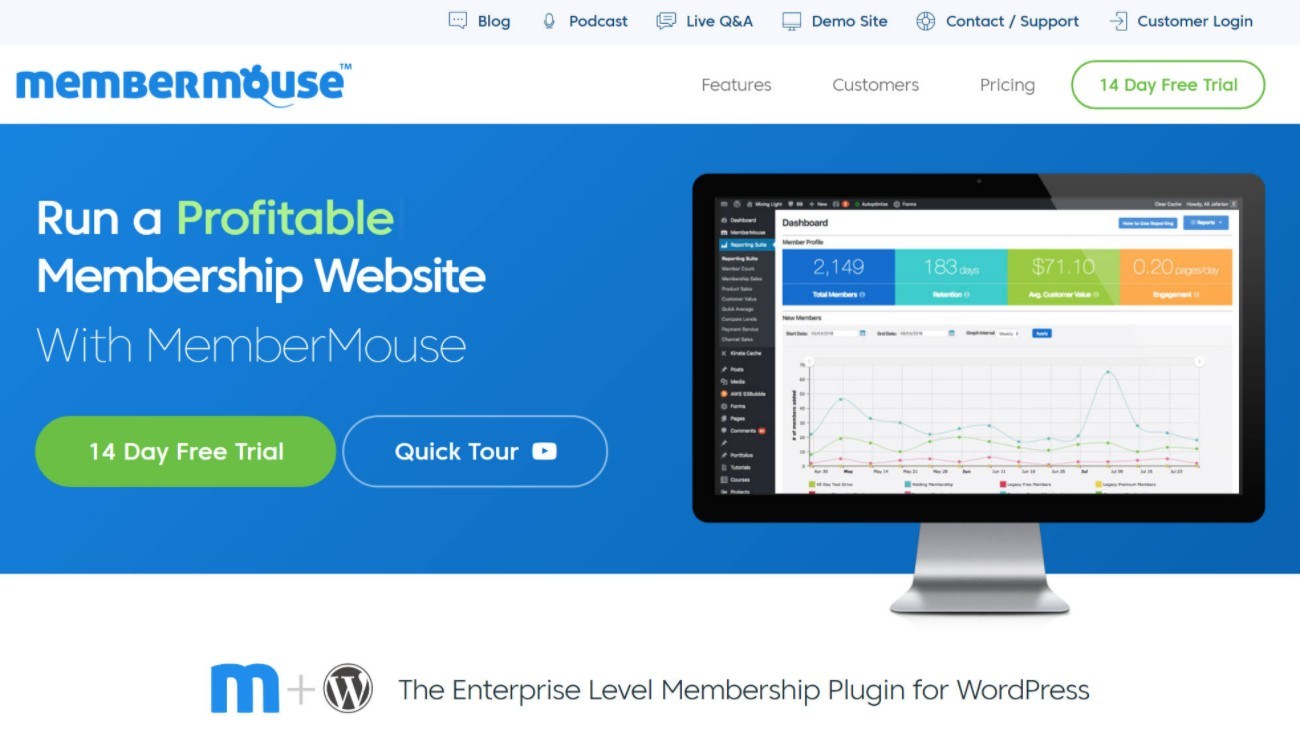 MemberMouse is a premium membership and eCommerce solution, which lets you create a membership site in minutes. The plugin is built with keeping non-techies in mind, and takes only a few minutes to set up.
The most attractive thing about this plugin is that everything is built-in right from the start, which is a big part of what makes it so easy for non-technical users.
In addition to restricting content and offering member access, you can also sell individual products, including some nice upsell opportunities. For example, you could upsell a one-off ebook as part of the membership signup process.
Other features include:
Customer management
Self-configuring checkout
Coupons
International currency
Group functionality
Tools to prevent unauthorized account sharing
Prorated upgrades
Social media integration,
Protected upgrades
Overdue payment handling
Detailed analytics
…much more.
MemberMouse currently supports six payment gateways:
Stripe
PayPal
Braintree (by PayPal)
Authorize.net
Sticky.io
Clickbank
One downside of MemberMouse is that it uses a recurring billing model, rather than the traditional "one-time payment" model that most WordPress plugins use. That is, you'll need to pay for as long as you want to use the plugin, whereas with a "traditional" plugin you're only paying to continue receiving support/updates.
💵 You'll also pay based on the number of members you have:
Builder – $29 per month for up to 5,000 members.
Advanced – $79 per month for up to 50,000 members and more features.
Premium – $199 per month for up to 100,000 members and all features.
Additionally, another important note is that MemberMouse is not GPL licensed. This means, in part, that you cannot edit the underlying code like you could with a GPL-licensed membership plugin. If you're a developer, this is definitely something to keep in mind.
However, if you're just a casual user, MemberMouse's "all-in-one works out-of-the-box" approach is quite convenient.
Pros: Has lots of advanced features and is pretty easy for non-developers to use.
Cons: Not GPL licensed, which is a turnoff to some WordPress users. Also uses a recurring subscription business model instead of the normal WordPress one-time payment model.
👉 You can learn more in our MemberMouse review.
💰 Use our exclusive MemberMouse coupon to get 25% OFF.
5. WooCommerce Memberships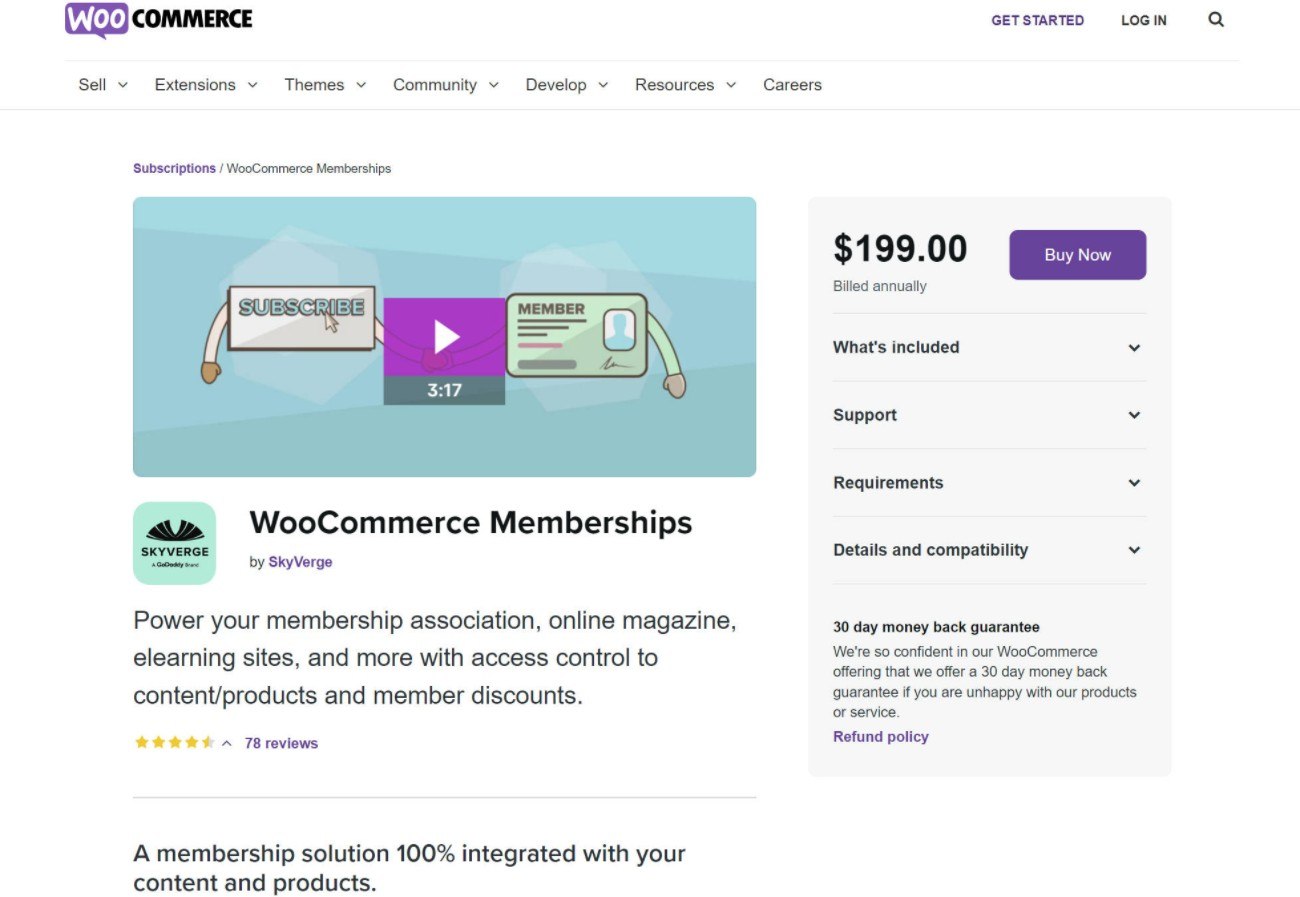 WooCommerce Memberships is a WordPress membership plugin based on the popular WooCommerce eCommerce plugin. That does not mean it's only for WooCommerce stores – you can use it to create literally any type of membership site.
By using WooCommerce as the base for handling payments, you can tap into all of WooCommerce's many features and extensions including coupons, discounting, subscriptions, bundles, upsells, etc.
You can choose to restrict any type of content and you can also choose to drip content to members based upon categories, tags, specific posts or pages, and projects.
If you are running an eCommerce store, WooCommerce Memberships does include some nice features there. For example, you can:
Require people to be a member in order to purchase products (like a purchasing club).
Give special discounts to members (e.g. free shipping for all memberships).
Billing control is better than many other plugins as well. When combined with WooCommerce Subscriptions, members will have complete control over their own memberships. Including the ability to pause, upgrade, downgrade along with the other requested proration adjustment.
Offer unlimited membership levels
One customer can have multiple memberships
Access to a great selection of payment gateways via WooCommerce
Ability to integrate an affiliate program into your membership structure
Full eCommerce features
Premium support and updates for 12 months included
💵 WooCommerce Memberships itself costs $199. However, you might need to purchase other extensions for key functionality. For example, if you want to offer recurring subscription memberships, you'll also need WooCommerce Subscriptions (also $199).
Pros: It's WooCommerce. That means you'll be able to take advantage of other extensions that Woo offers including Subscriptions, Bookings, and Groups.
Cons: It can quickly get expensive if you need access to other WooCommerce extensions, such as WooCommerce Subscriptions.
6. LearnDash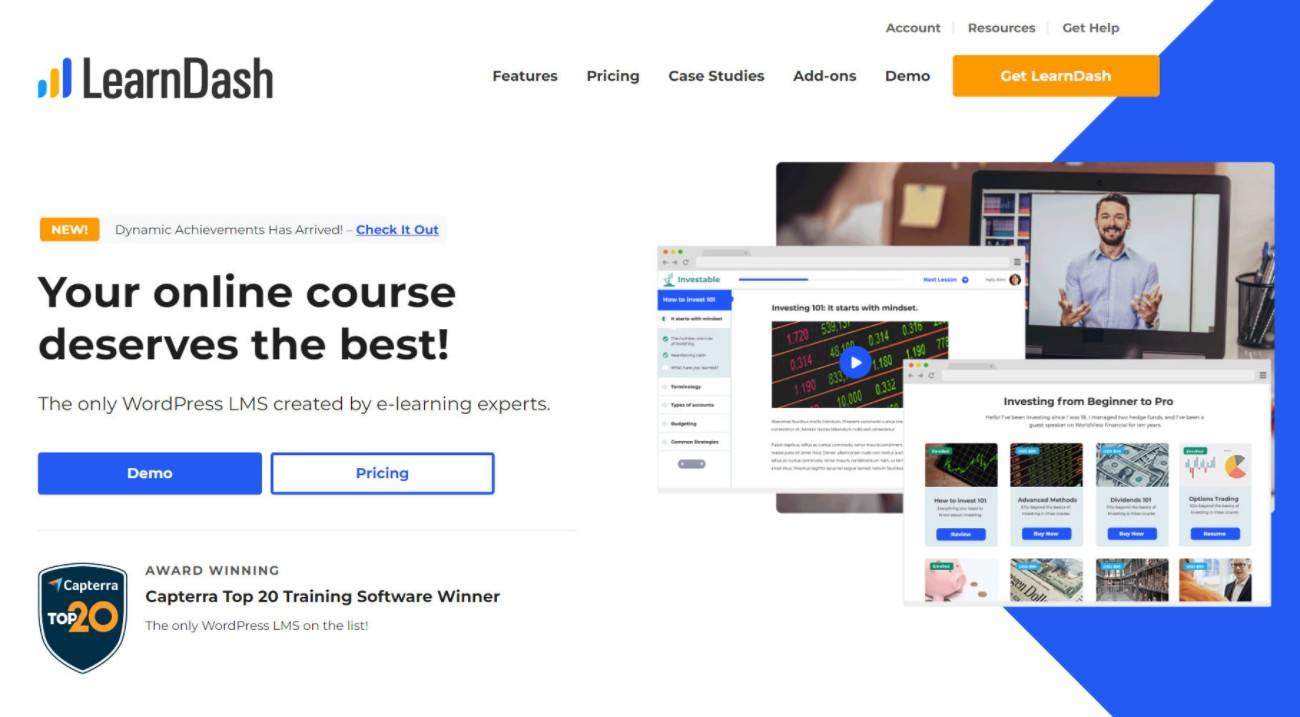 LearnDash is a popular WordPress LMS plugin (learning management system) that includes membership functionality to help you deliver and monetize online courses.
That's the unique thing about LearnDash – it's specifically focused on creating online courses. If you are doing that, LearnDash can be really convenient because it includes the course functionality and membership functionality in one integrated package.
In terms of course functionality, LearnDash offers the following:
Drag-and-drop course builder
Support for text and multimedia lessons, including dedicated video lesson support
Simple or advanced quizzes, including automatic grading
Course prerequisites
Course certificates and badges
Other course gamification features like points and leaderboards
In terms of membership plugin functionality, LearnDash also has the following:
Content restriction support so that only eligible members can view some/all course content
Option to drip feed content
Built-in payment support for one-time or recurring payments, including bundles
Direct payment integrations for PayPal, Stripe, and 2Checkout, as well as a WooCommerce integration to use any WooCommerce payment gateway
Group membership support to sell plans to organizations
If you need even more advanced membership and content restriction functionality, LearnDash also works well with most other membership plugins on this list. There's even an official Restrict Content Pro integration that lets you use the two together.
This makes sense given that LearnDash was acquired by Liquid Web in 2021, which is the same company that acquired Restrict Content Pro in 2020.
💵 LearnDash starts at $199 for access to all* features and use on a single site.
We also have a special LearnDash coupon to help you save up to 40% on those plans. With our deal, you'll pay just $159.
*Higher-tier plans include a special ProPanel feature, but this isn't needed for membership sites as it's more for serious academic institutions using learnDash.
👉 You can learn more in our full LearnDash review.
Pros: LearnDash excels at creating membership-powered online courses. While it's technically an LMS plugin, it includes a lot of built-in membership functionality at no extra cost.
Cons: If you're not creating courses, you'll definitely want to choose a different membership plugin.
7. Paid Member Subscriptions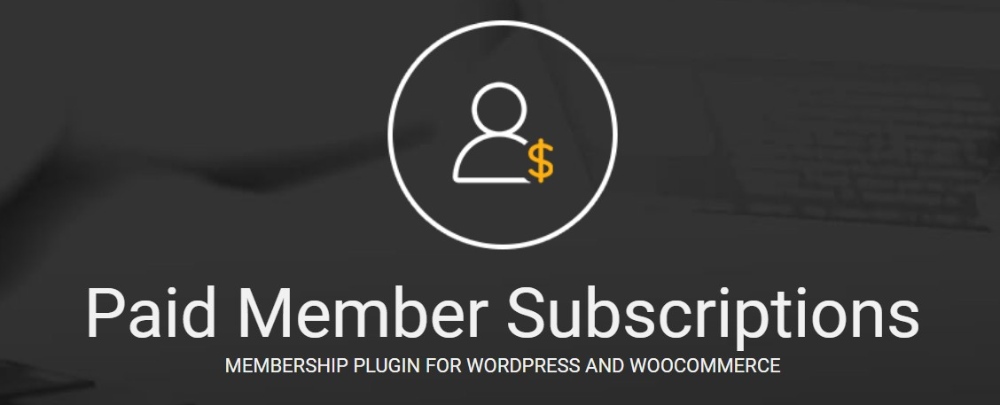 Paid Member Subscriptions is a versatile membership plugin for WordPress that will help you set up a full-featured membership site. The basic plugin is free, but if you want to unlock features like content dripping you'll need to upgrade to one of the paid plans.
With the plugin, you'll be able to restrict access to your site content by post, page, tags, or categories.
Some of Paid Member Subscriptions' other features include:
Management of unlimited members
Navigation menu filter, members see only what their access level allows
Accept payments with PayPal Pro, PayPal Express Checkout, and Stripe
Globally restrict access to content based on post type, taxonomy, and terms
Content dripping with timed release of access
Discount codes for running promotions or rewarding your members for upgrading their membership level
Free trials
Multiple subscriptions per user
💵 When it comes to pricing, there are three plans available::
Free – fairly generous with features and available at WordPress.org
Hobbyist – $69 for limited premium features and use on a single site
Pro – $149 for all premium features and use on unlimited sites
Both paid plans come with a year of updates and support, so to continue receiving them you'll need to continue paying annually.
If you want an affordable membership plugin that gives you great flexibility and the ability to drip content, then Paid Member Subscriptions is a great choice.
Pros: The free version is pretty generous with the features that you get. The Pro version is still affordable at just $69.
Cons: It's not quite as flexible as something like Paid Memberships Pro, though it can still do everything most membership sites need.
8. OptimizePress 3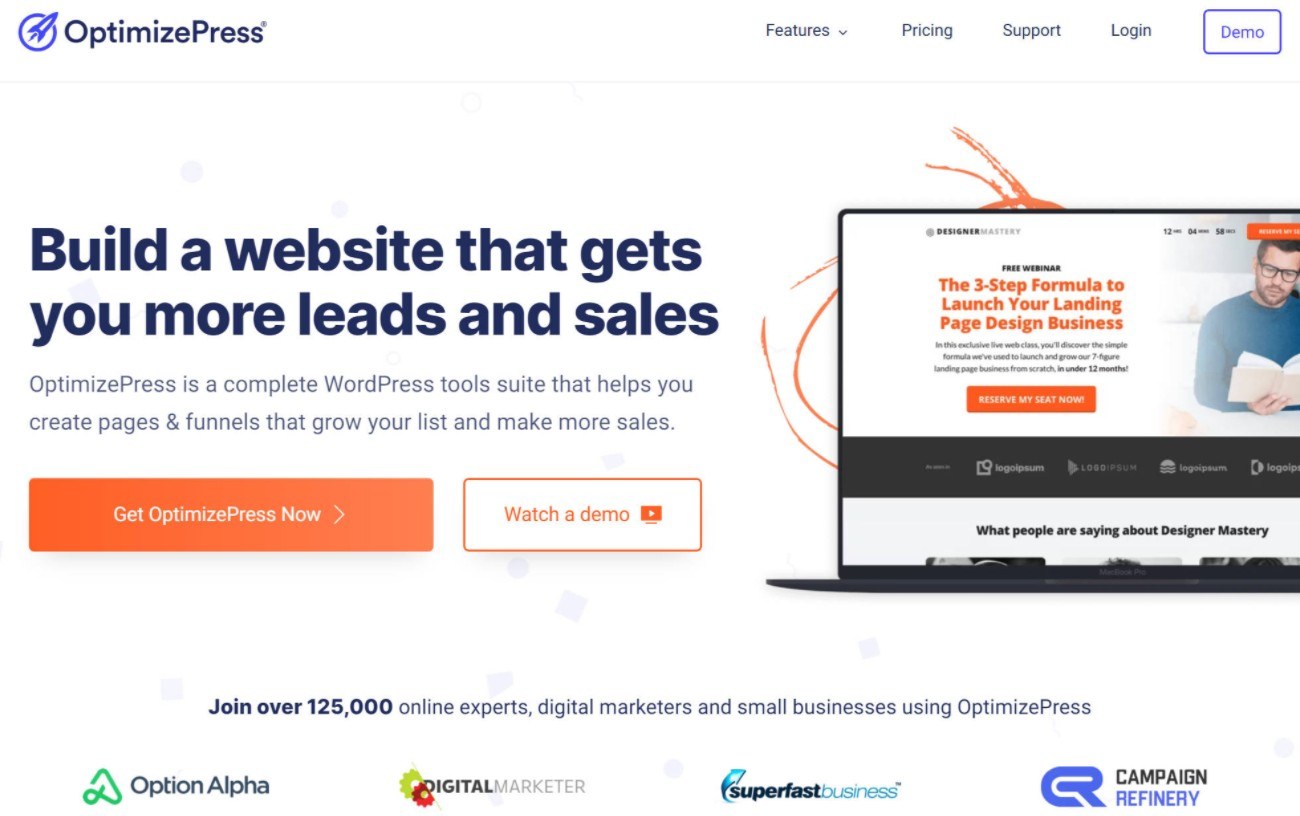 Note – OptimizePress 3 is not a membership plugin by itself. Instead, it integrates with any of the other plugins on this list to help you more effectively sell your memberships.
We recently published a full OptimizePress 3 review, covering the best features and usability of this landing page builder for WordPress. However, it's worth another mention here as it does allow you to enhance the membership functionality of your WordPress site.
OptimizePress comes with a number of templates specifically for dealing with membership sites and is a great tool for those looking to optimize the signup pages of their site.
The page builder makes it very easy to set up and customize the landing pages for your membership offering, and the membership portal aspect of the plugin works with a range of membership plugins. If you want to customize the signup pages, login forms, and membership lesson and module listings then OptimizePress, used in conjunction with a supported membership plugin equals a powerful combination.
👉 Read our full OptimizePress 3 review
💵 OptimizePress 3 starts at $199 for use on up to 20 websites for full features. There's also a more limited $99 version for use on a single site.
Pros: Comes with a very large selection of templates. The page builder is also very easy to use, giving you access to an unlimited amount of designs. Ideal for any type of landing or registration page, not just membership sites.
Cons: Unlike the older version (OptimizPress 2), OptimizePress 3 doesn't help you restrict content/create plans/manage members, etc. That is, you'll still need to pair it with another plugin on this list.
9. WishList Member Plugin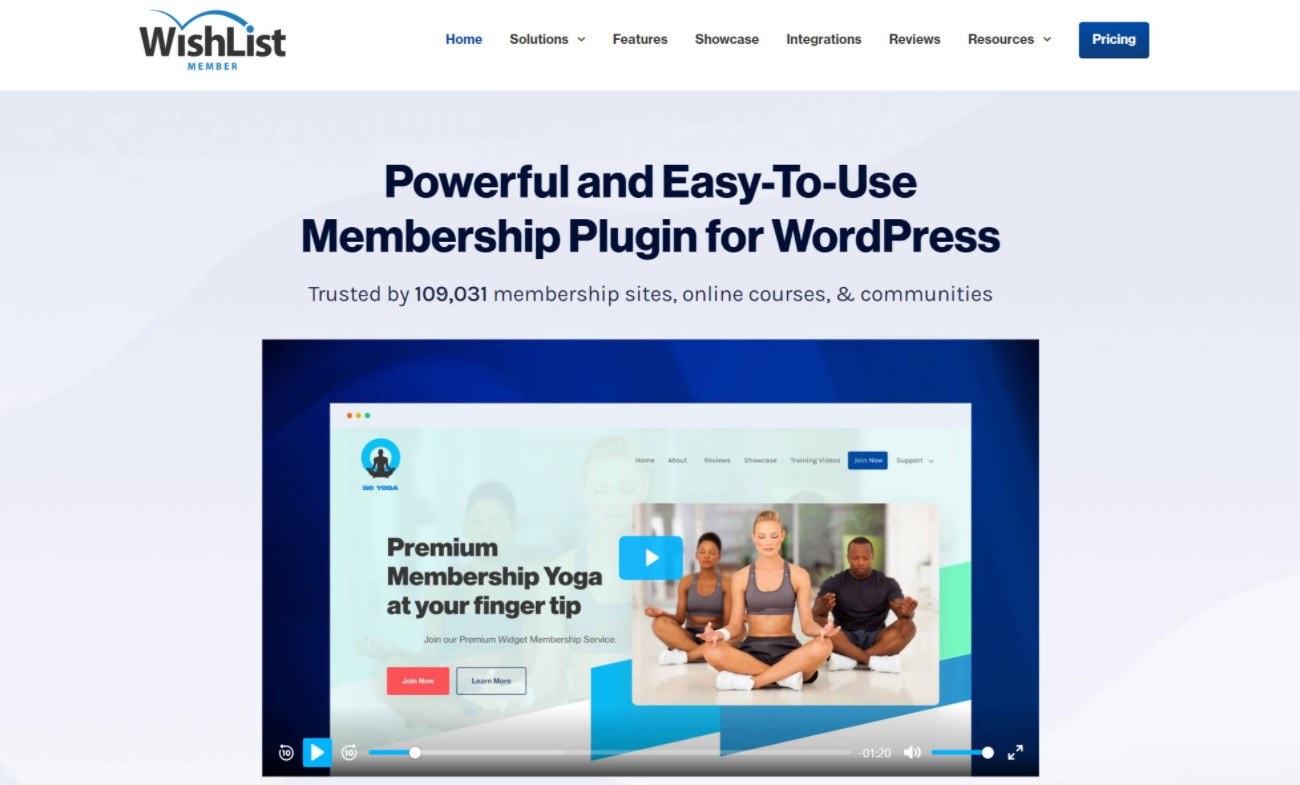 Launched all the way back in 2008, WishList Member is a premium membership plugin that is known for giving you lots of control over how you can restrict content and make it available to members. This also means that there are lots of options to explore, which can sometimes be confusing for new users. However, lots of settings and expansive menu systems are often the price you pay for this level of control over your membership site and premium content.
While WishList Member used to have a very dated interface, it recently got a big facelift and now looks quite modern. The developers did a great job of listening to customers and really improving the plugin. So if you'd already written this one off before, it might be worth another look now.
Some of the features of this premium WordPress membership plugin include:
Create unlimited membership levels
Sequential content delivery and auto-upgrades of membership levels
Easy ability to hide or restrict individual pieces of content from non-members
Handles free, trial and paid memberships
Integrations with tons of payment processors including big names such as PayPal, Stripe, Authorize.net, 2Checkout, and more
Integrations with most email marketing services, as well as a catch-all Zapier integration
Secure RSS feeds (let members securely view restricted content in their own readers)
Subscription length control with auto-expire
Free previews with protection after the 'more' tag
Partial content display for protecting as little as one sentence within a post
WishList Member also recently launched a Courses add-on in late 2021 that helps you build online courses powered by WishList Member. This add-on is only available on the highest-tier WishList Member plan, though.
The plugin also comes with a good selection of support material to help you get started such as video tutorials, support guides, one year of unlimited updates, and one year of unlimited support.
💵 WishList Member has two plans:
$199 for just the WishList Member plugin and use on a single site
$399 for the WishList Member plugin and the Courses add-on as well as use on up to 50 sites
Note – WishList Member used to obfuscate their code and was not GPL licensed. However, that's changed! You can now edit the underlying code and WishList Member has embraced GPL, which is great! This is another example of the improvements in newer releases.
Pros: Lots of control over how your membership site works, comes with a risk-free 30-day trial, recently got a facelift to modernize the interface.
Cons: Because of the way that WishList Member integrates with payment gateways, it's difficult to implement discounting strategies and coupon codes.
👉 Read our full WishList Member review
10. ProfileGrid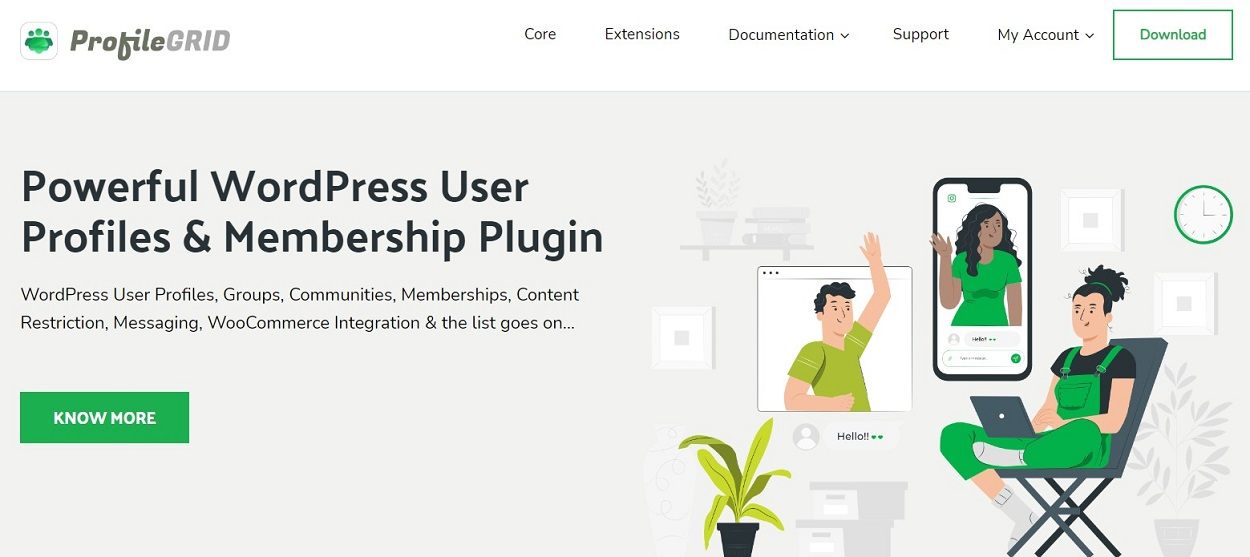 ProfileGrid is a WordPress membership plugin with more of a focus on the social aspect of creating members-only communities.
For example, you'll get features like private messaging between users, user groups, friends and friend requests, personal user blogs, notifications, social streams, etc. But at the same time, you also get traditional membership plugin features such as the ability to restrict content and charge for membership on a one-time or recurring basis.
Basically, if you want to create a membership site that includes these social community features, ProfileGrid is definitely one to consider because most other membership plugins don't offer these tools.
Here are some of the key features:
Restrict access to content on your site.
Charge for access to your membership community using PayPal, Stripe, or WooCommerce (including support for WooCommerce Subscriptions for recurring payments).
Dedicated front-end user profile areas for members.
Add social features such as private messaging, friend requests, user activity feeds, and more.
Option to let members create their own personal blogs.
Option to create multiple user groups, including charging for access to user groups.
Email template manager to customize the email notifications that you send to users.
Custom registration form builder.
💵 ProfileGrid has a free version at WordPress.org that might work for simple membership communities.
To unlock the advanced features, including the ability to charge for access to your membership community with Stripe or WooCommerce, you'll need the premium version. The premium version gives you access to all of the premium extensions for one price:
Premium – $79 for use on a single site and one year of support and updates.
Premium+ – $159 for use on unlimited websites and lifetime support and updates.
Let's talk about the pros and cons…
Pros: It has unique social features that most other membership plugins don't offer. There's a functional free version. The Pro version offers an affordable lifetime license.
Cons: If you don't need the social features, you'll probably want to choose a different plugin.
11. Teachable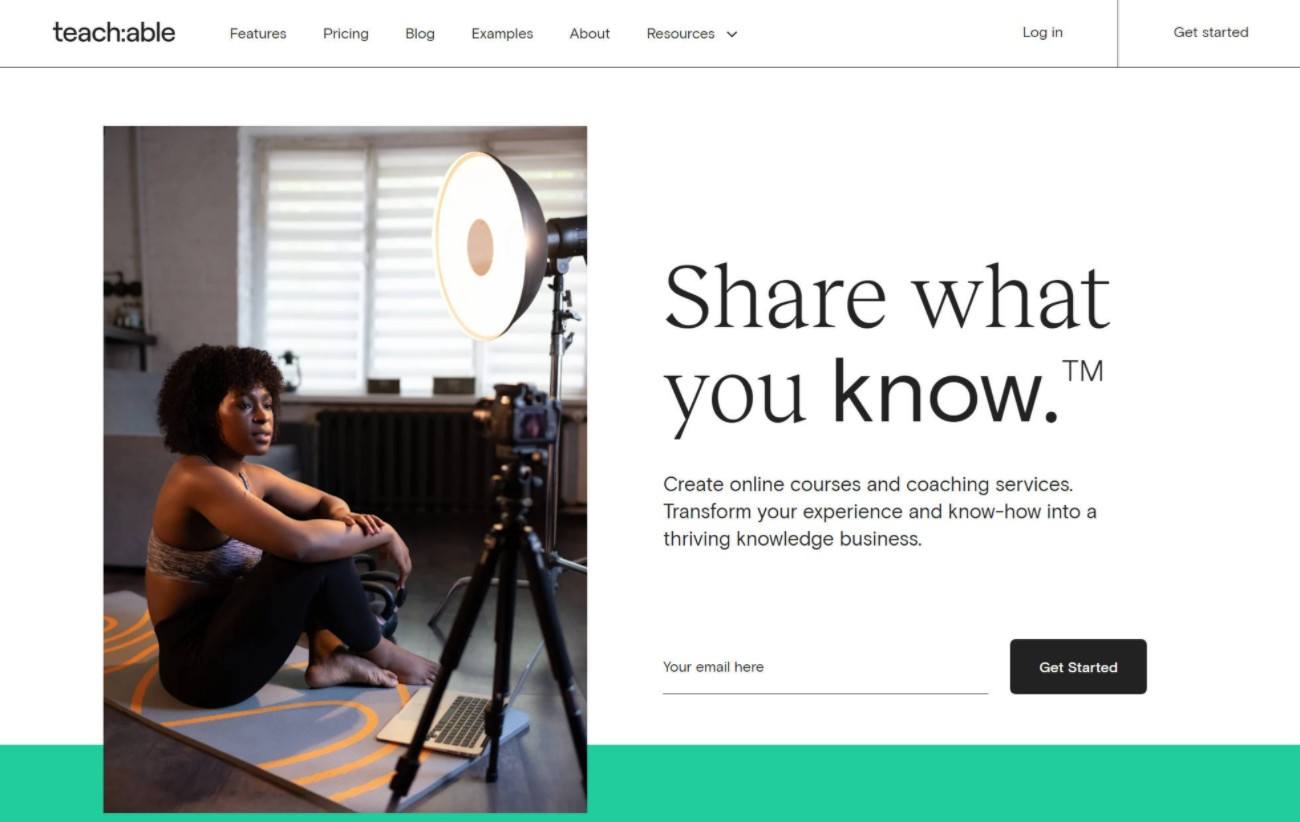 Teachable is another LMS tool that, like LearnDash, is primarily focused on helping you create online courses (or sell coaching services). However, like LearnDash, it includes pretty solid membership features as part of that functionality, which makes it a great option if you're looking for a membership solution to create and deliver online courses.
Teachable is technically a SaaS tool rather than a native WordPress plugin. However, it does integrate quite well with WordPress, so it can fill that same need.
For example, you can create a registration form on your WordPress site and then automatically add users to Teachable when they fill out your WordPress form.
You can use Teachable to deliver online courses to your members and/or offer them coaching services. You can also bundle the membership plans together. For example, you could create a bundle of an online course and one-on-one coaching.
Teachable also offers some nice conversion-boosting features, such as built-in support for order bumps/upsells.
In terms of online course functionality, Teachable offers the following:
Drag-and-drop course builder
Support for text and multimedia lessons, including dedicated video lesson support
Simple multiple choice quizzes with automatic grading
Course completion certificates
And then in terms of the membership functionality, you get the following:
Restrict course content to eligible members
Drip content out of time
Built-in payment support via Teachable's own payment gateway or PayPal and Stripe
Four different payment options for your courses, coaching, or bundle products – free, one-time payment, recurring subscription, or payment plan
There are also other useful features like Zapier/webhooks support and a built-in tool to create an affiliate program for your membership site.
👉 Read our full Teachable review
💵 Teachable has a free plan that supports unlimited courses with limited features. Paid plans start at $39 per month.
Pros: Very user-friendly interface on the frontend and backend. Hosted SaaS tool so you don't need to worry about maintenance or security. Strong functionality for membership-powered online courses. Offers nice conversion-boosting tactics like order bumps.
Cons: Teachable is a SaaS tool rather than a native WordPress plugin, though it does integrate tightly with WordPress. It's only for courses – if you're not creating membership courses, you'll definitely want a different tool.
Quick Membership Plugin Comparison Table
Membership Plugin Comparison
Content Dripping
Digital Downloads
Recurring Subscriptions
Starting Price
MemberPress
✅
✅
✅
$149
Restrict Content Pro
✅
✅
✅
$99
Paid Memberships Pro
✅ (Pro)
✅
✅
Free, $297 (Pro)
MemberMouse
✅
✅
✅
$39.95/mo.
WooCommerce Memberships
✅
✅
✅
$199
LearnDash
✅
❌
✅
$199
Paid Member Subscriptions
✅ (Pro)
✅
✅
Free, $69 (Pro)
OptimizePress 3
✅
✅
✅
$199
Wishlist Member
✅
✅
✅
$147
Profile Grid
❌
❌
✅
$79
Teachable
✅
❌
✅
Free, $39/month (Pro)
Conclusion: The Best Membership Plugin for WordPress
With high-quality free and premium options available, anyone can start offering restricted access content on their site to their members and subscribers. Whether you want to build a private community or a premium online course, you should be able to set up your site in a very short amount of time using one of these plugins.
While the above plugins only represent a small sample of the many membership tools out there for WordPress, they should be enough for most users' needs. Unfortunately, there is no one-size-fits-all best WordPress membership plugin, as while the above are all well-rounded products, they have their own strengths and weakness, not to mention price tags.
Before making a choice, it's a good idea to be clear on exactly how you plan to manage your members' area and what features you will need, such as content dripping, course delivery, recurring payments, ease of use, custom landing pages, or pay per view access. Once you know your requirements, making a decision will be much easier.
If you're looking for a starting point, some of the top options are MemberPress, Restrict Content Pro, and Paid Memberships Pro. Or, if you're on a budget, consider Paid Member Subscriptions.
If you're specifically looking to create a membership site to offer online courses, you might want to start with LearnDash or Teachable. Or, MemberPress and WishList Member both now offer dedicated course add-ons, though neither is as powerful as a dedicated tool like LearnDash or Teachable.
But remember – they all have strengths and weaknesses, so we recommend that you just use this article as a diving-off point for a more thorough investigation.
I hope this article helped you find the right membership plugin for your website. If you're planning to offer online courses with your membership site, you also might want to check out our collection of the best WordPress LMS plugins, which has a few other good options.
Have you set up a membership site and if so which plugin did you use?