Considering using the GeneratePress theme for your WordPress site? In our hands-on GeneratePress review, we'll help you decide if it's the best option.
Here at WPKube, we use the Genesis Framework, rather than GeneratePress. However, I've been using GeneratePress on all of my own personal sites for a few years now, so I think I have some unique hands-on thoughts to bring to the table.
Here's proof from my GeneratePress purchase history: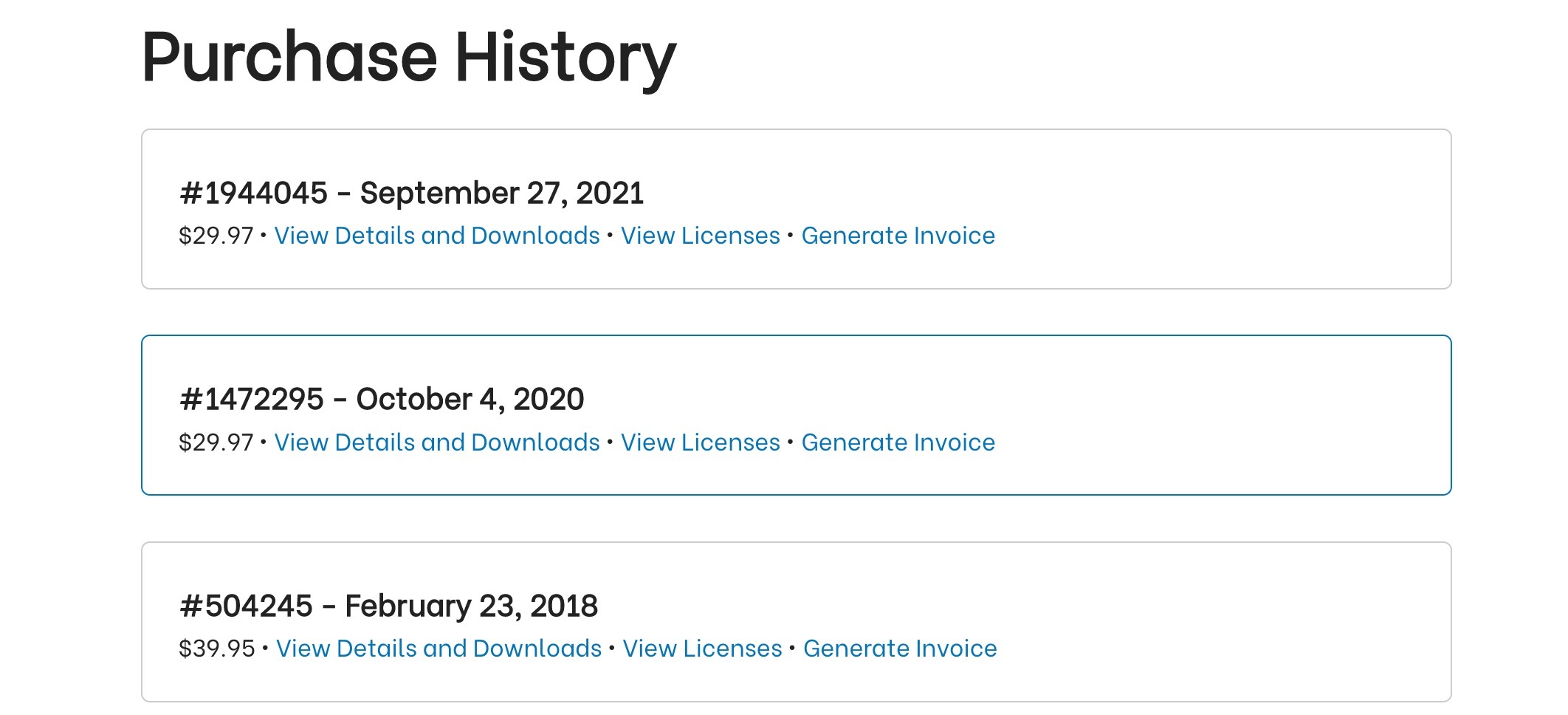 In this GeneratePress theme review, my goal is to focus on helping you choose the right theme for your site – whether that's GeneratePress or one of the popular GeneratePress alternatives.
To that end, here's everything that I'm going to cover:
Let's dig in!
💡 GeneratePress Review Summary
If you want a detailed GeneratePress review, keep reading for all the gory details. But if you're in a rush, here's a quick summary of how I feel about GeneratePress.
Overall, I think that GeneratePress is one of the top WordPress themes for experienced WordPress users who value fast performance, clean code, and lots of opportunities for customization.
You get lightning-quick performance, tons of built-in settings in the real-time Customizer, and an advanced custom layouts tool that even lets you get into full theme building using the native WordPress block editor.
It's a lot of power and customization packed into one lightweight package, which is why I've chosen to use it for my own sites.
However, if you're building your first WordPress site or if you're just generally not very experienced with basic WordPress concepts, I think there might be better themes for your needs, such as Astra or Kadence Theme.
Additionally, if you're specifically looking for a free theme, there are other lightweight, multipurpose themes that offer a little more functionality in their free versions, which might make those themes better options if you're not willing to upgrade to GeneratePress Premium. Again, Astra and Kadence would be good options in terms of free themes, along with Neve and Blocksy.
Let's go more in-depth…
⚙️ Seven Key GeneratePress Features: Explaining Why It's So Popular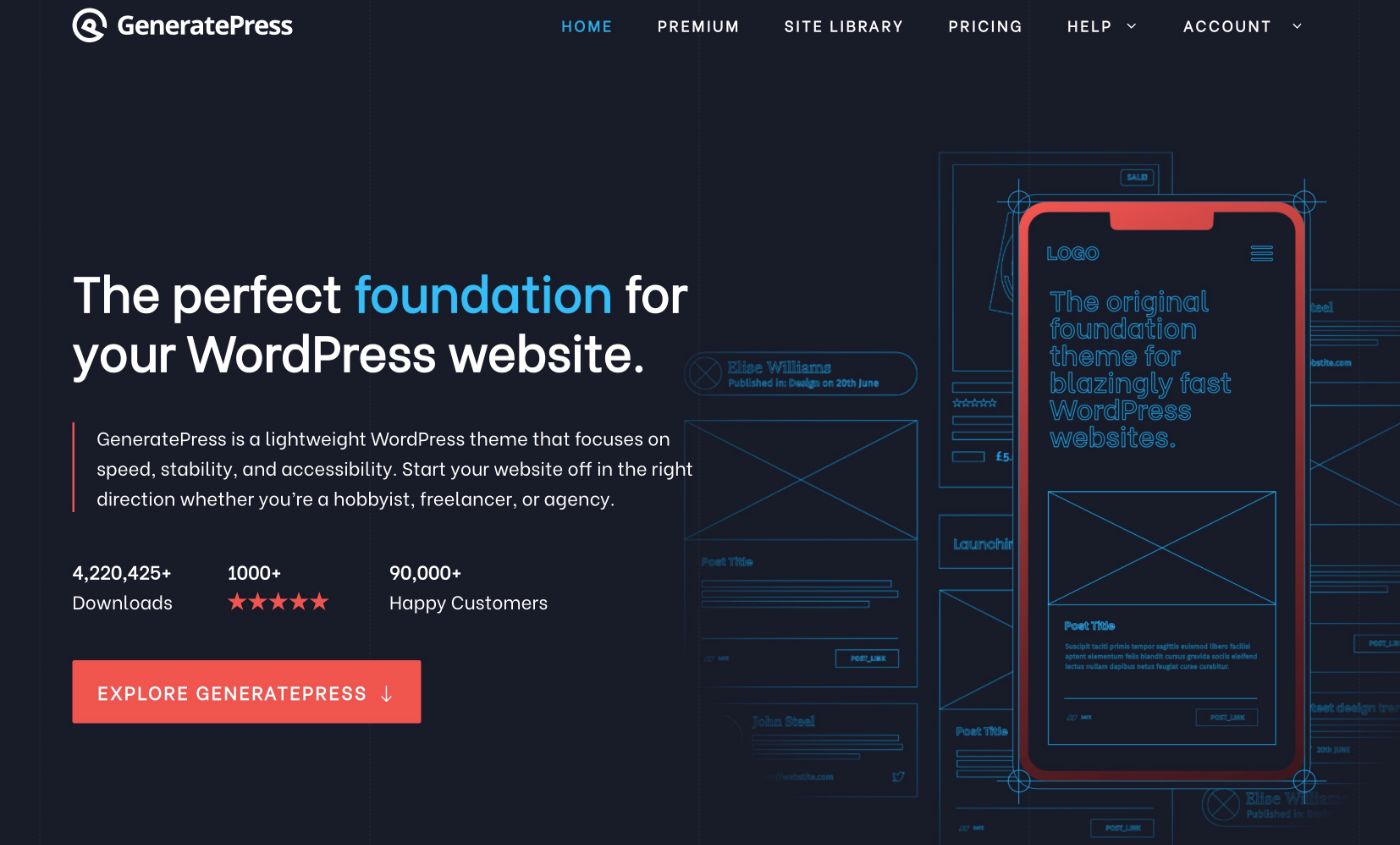 While there are a ton of GeneratePress features that help you build your site, here are the most important features that I think explain its popularity:
Multipurpose approach
Performance optimization and clean code
Flexible options in the real-time WordPress Customizer
Page-level controls
80+ importable demo sites
GeneratePress Elements for custom layouts
Full theme building support with GenerateBlocks
Let's go through them…
1. A Focus on Performance Optimization and Clean Code
One of GeneratePress' key selling points is its focus on performance optimization and clean code.
Simply put, it's one of the fastest, most stable themes that you'll find.
If you create a fresh WordPress install with GeneratePress, it clocks in at an incredible 28 KB with 6 HTTP requests: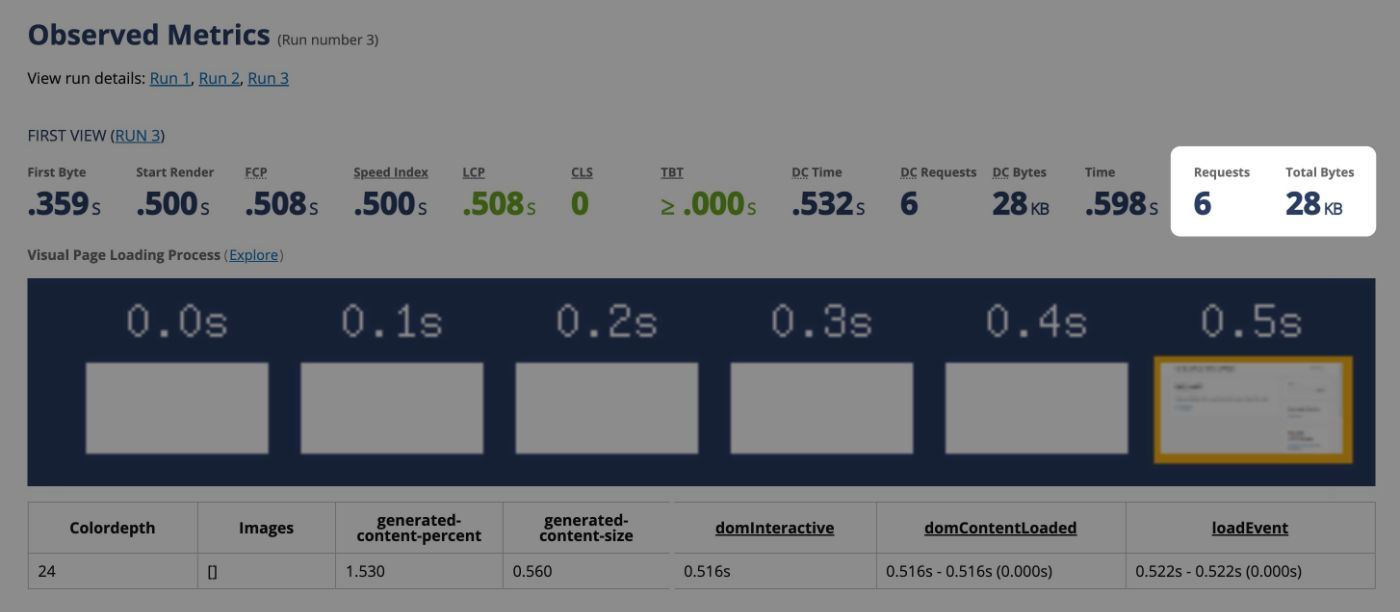 For comparison, Astra (another very lightweight theme) still comes in at 40 KB for the same test.
What really impresses me about GeneratePress, though, is that it still stays lightweight even as you start customizing your site and activating premium modules.
Other lightweight themes can start to slow down a bit as you add more features, but GeneratePress keeps things lightweight no matter what.
It also gives you tools to create a faster WordPress site. For example, it's super easy to use a system font stack and GeneratePress also includes built-in features to optimize its code.
Overall, GeneratePress is one of the fastest and most performance-optimized themes in existence, which makes it a great option for users who value every millisecond of performance.
2. Truly Multipurpose – Build Any Type of Website
GeneratePress is a truly multipurpose theme, which means that you can use it to build literally any type of website in any niche, including:
Business brochure sites
Blogs
Portfolios
eCommerce stores
Online courses
Etc.
This means that GeneratePress can basically be your default theme for all your sites, which has two big benefits:
It simplifies your workflows. There's no need to search for a theme when you launch a new site – you just install your trusty GeneratePress theme and start customizing.
It saves you money. You just need to pay for GeneratePress one time and you can use it on all your sites at no extra cost. More on pricing later.
3. Flexible Options in the Real-Time WordPress Customizer
To let you customize your site and achieve that multipurpose functionality, GeneratePress gives you a ton of options in the real-time WordPress Customizer.
With the Customizer, you get a real-time preview of your site on the right and a bunch of options on the left. As you adjust those options, the preview will automatically update, which allows for easy code-free customization.
You can use these options to control layouts, content, colors, typography, and lots more.
I can't show you every single feature in the Customizer because there are just so many options, but here's a quick sampling of key areas.
Note – I have GeneratePress Premium activated for this section – you won't get quite as many options with just the free version of the theme.
Typography
I love GeneratePress' typography system. Instead of limiting you to preset options, it lets you create your own dynamic typography rules that target as many elements as needed.
First, you'll add all of the fonts that you want to use. You can use system fonts (best for performance) or Google Fonts.
Then, you can add your own custom typography rules targeting any element on your site: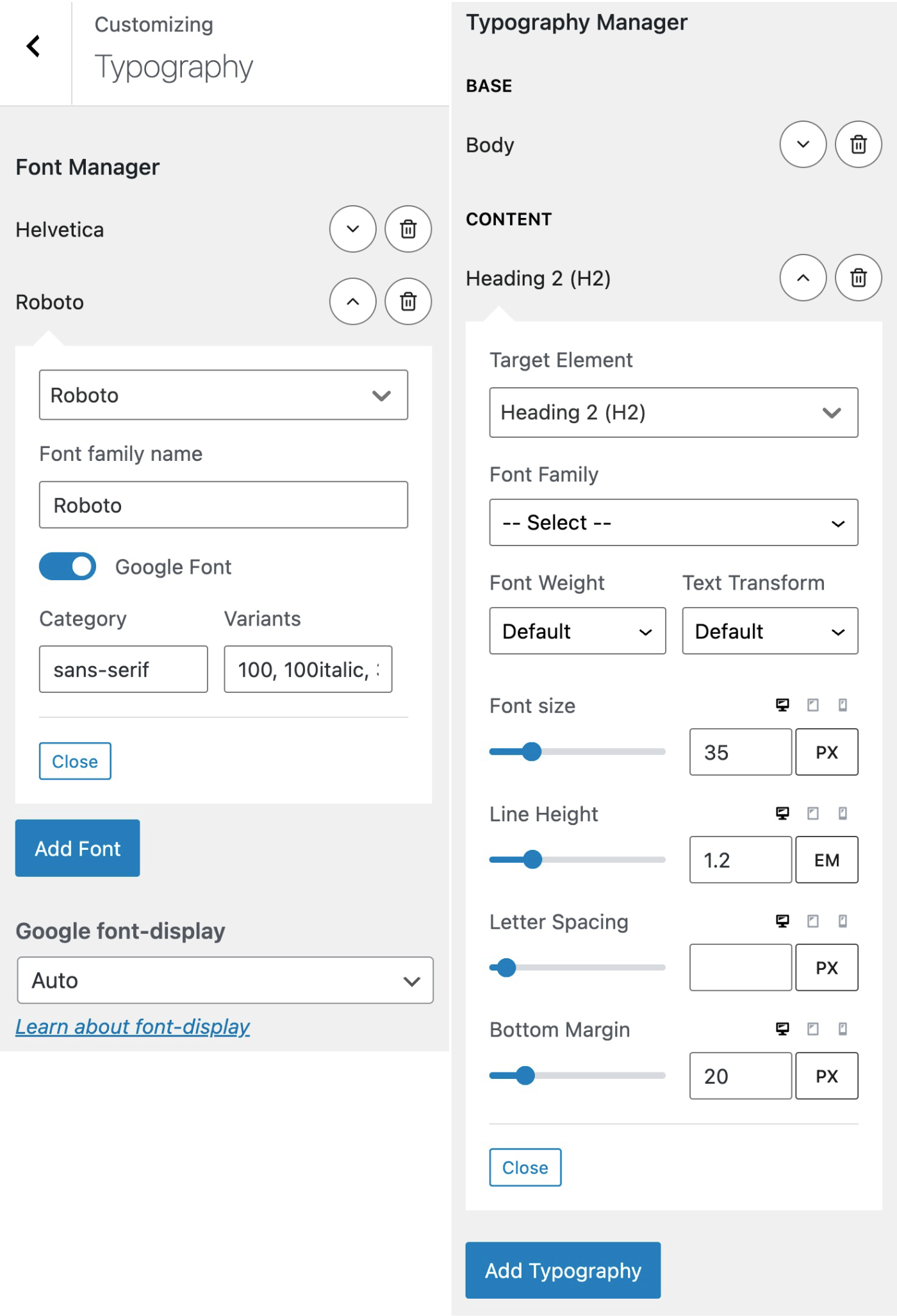 Colors
GeneratePress lets you set up one global color palette to control default styles. Then, you can easily override colors for more specific elements if needed.

Header Layouts
You get an array of header layouts, along with lots of options to customize the navigation menus. Other notable features include sticky headers, special mobile headers, off-canvas headers, and more:
For example, you could use one header for desktop users and then set up a simpler navigation menu for mobile visitors, where you don't have as much space.
Blog Layouts
You get tons of options to control the layouts for both the blog archive page and the single blog posts: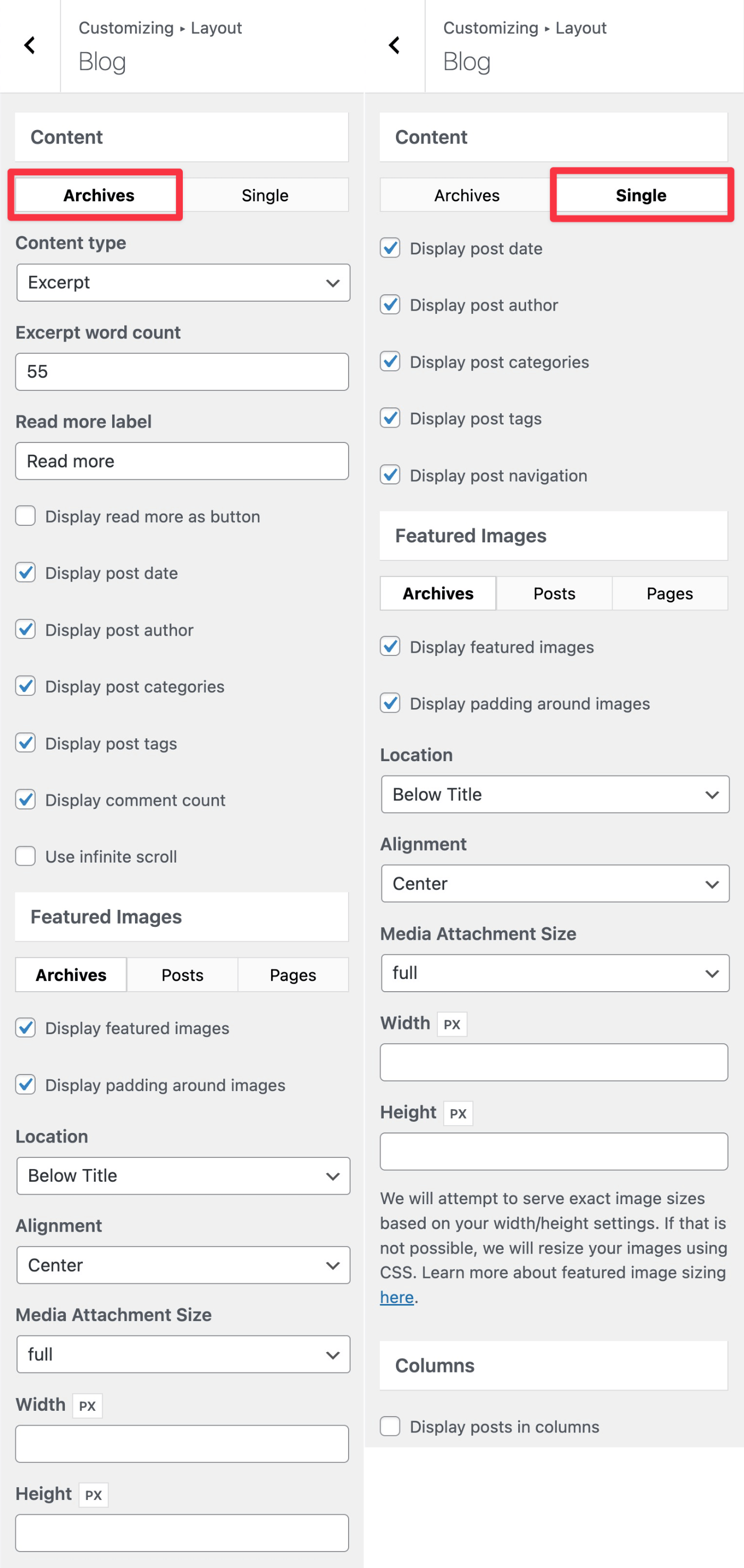 Again – this is by no means a complete list of options. I'm just trying to give you a general feel for what GeneratePress offers.
4. Page-Level Controls
To adjust the layout of content on a piece-by-piece basis, GeneratePress comes with flexible page-level controls.
For example, you can change the content width, sidebar layout, page header, and so on.
These are handy both when using the block editor or when using a page builder plugin such as Elementor.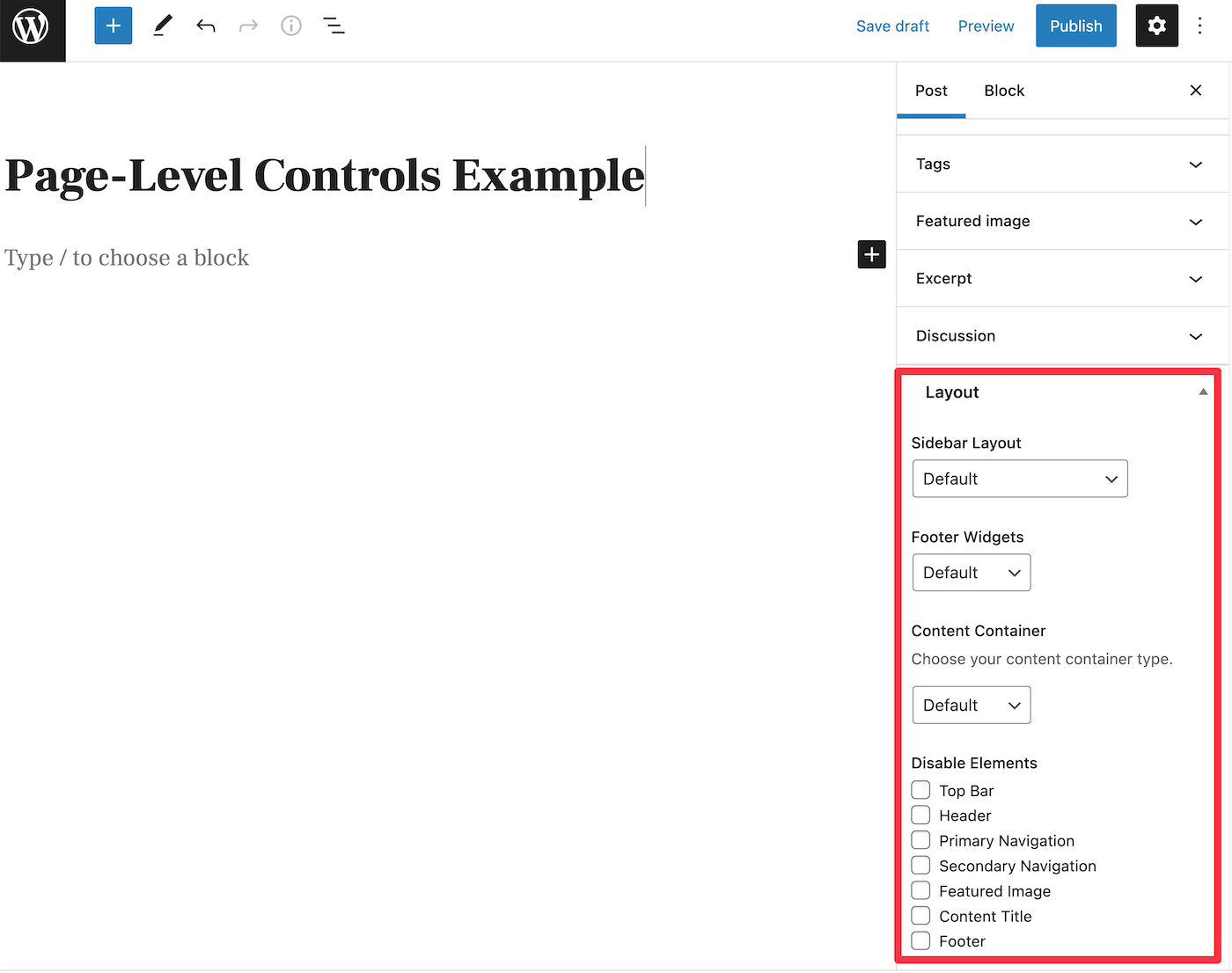 You can also create your own custom layout configurations to save time – more on that in a second!
5. 80+ Importable Demo Sites (GeneratePress Templates)
If you upgrade to GeneratePress Premium, you'll get access to 80+ pre-built importable demo sites covering a range of niches including business websites, eCommerce stores, and blogs.
Most of these demo sites are now built using the native block editor and GenerateBlocks, which makes them load super-fast while still giving you easy customization options.
Some of the older demo sites are built with Elementor or Beaver Builder, but all of the new ones use the block editor.
You can import a demo site with just a few clicks. When doing so, you're able to choose between importing all of the content or just importing the Customizer settings.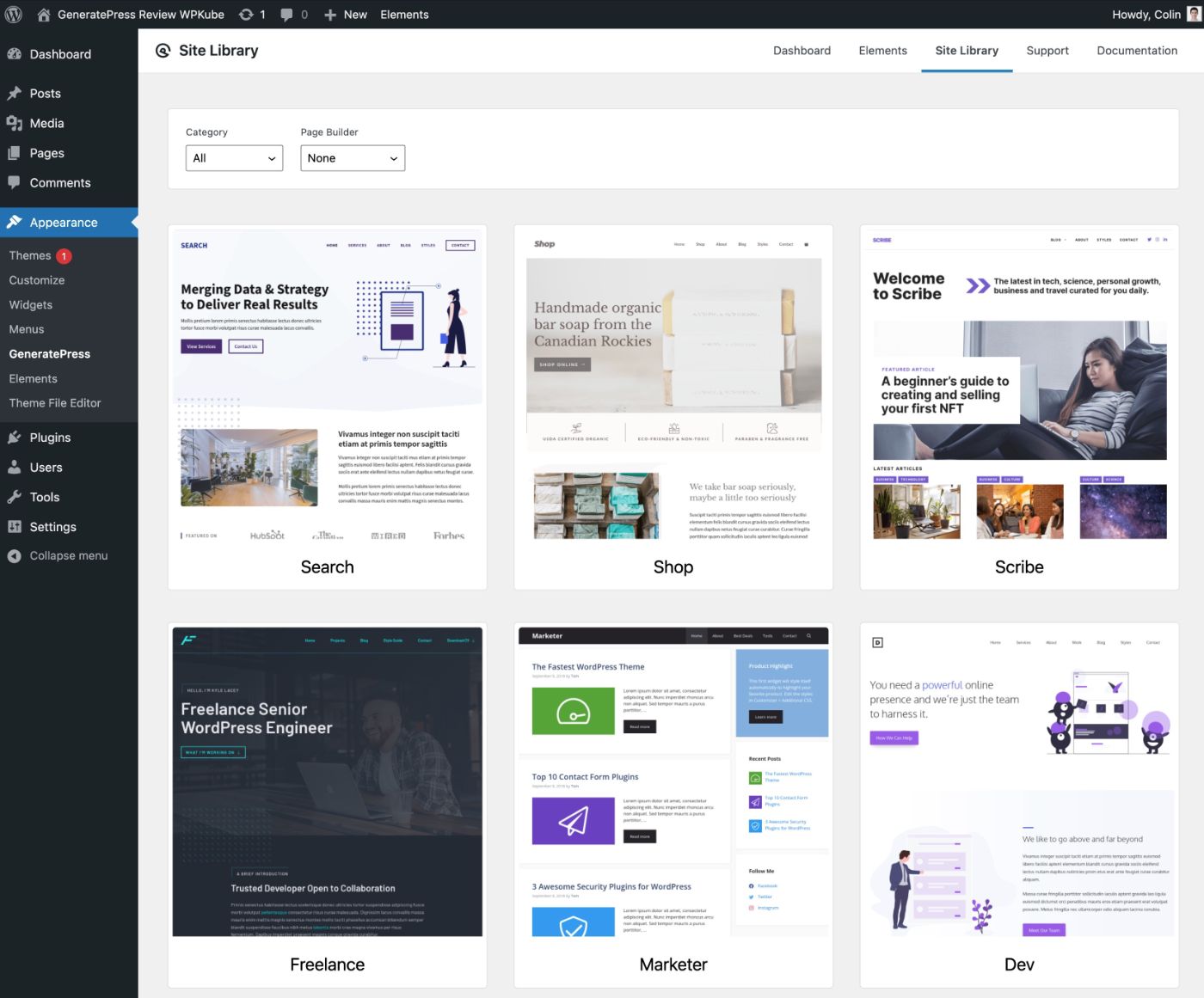 6. GeneratePress Elements for Advanced Customization
For more advanced users, GeneratePress Elements opens a whole new world of customization options.
With Elements, you can essentially design custom layouts that you inject at various places on your site. You can use GeneratePress' many hook locations to inject content at specific parts of the theme. Or, you can completely replace entire templates, such as building a custom header, footer, and more.
When you create a new element, you can choose from four different types:
Block – create any custom content using the block editor. This is the most versatile element, I think.
Hook – insert custom code in any theme hook location. You can also target hooks using Block elements, so I recommend using Blocks for designs/content.
Layout – set up custom layouts targeted towards specific content. E.g. sidebar, content width, and so on.
Header – design custom page headers for certain content.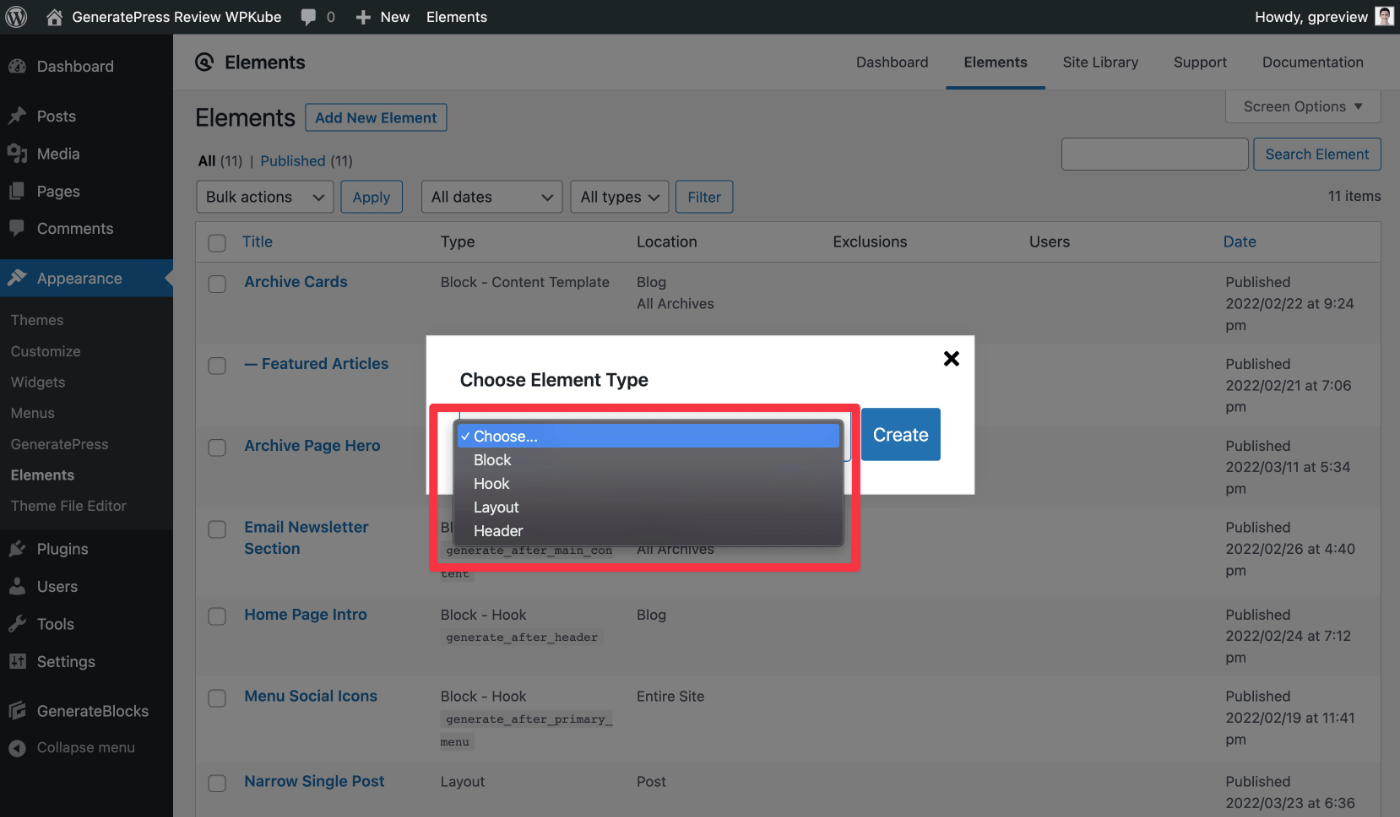 For this example, let's say that I'm creating a Block, though the basic principles will be the same for other types of elements.
On the next screen, you would see the native WordPress editor, which is where you can add the content/design for that block. You can use all of the normal blocks, as well as any blocks that you've added with plugins.
You also two very important additions:
Display rules
Block Element type
Display Rules:
You can use these to target your design to certain content and users. You can create as many rules as needed and get very specific. For example, only targeting this design to a certain page when viewed by users with a certain role.
Block Element Type:
You can use the element type to control where you want to inject/use this content. You get ten different options:
Hook
Site Header
Page Hero
Content Template
Post Meta Template
Post Navigation
Archive Navigation
Right Sidebar
Left Sidebar
Site Footer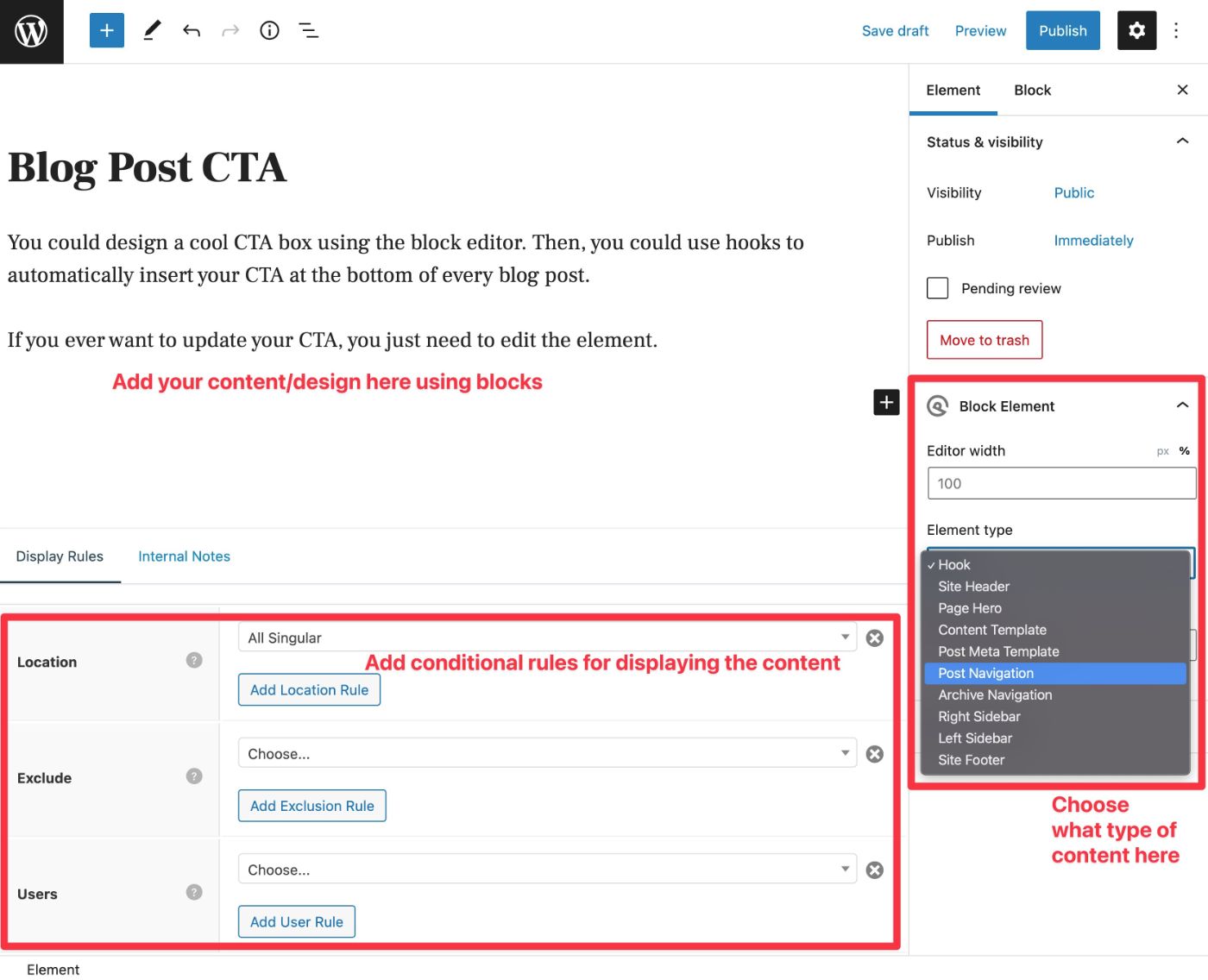 Having all of these element types opens up another very powerful possibility – full block-based theme building!
7. Full Theme Building Support With GenerateBlocks
With GeneratePress 3.0, you get access to full theme building support using the native WordPress editor. This is similar to the theme building functionality that you get with plugins such as Elementor Pro's Theme Builder and the Beaver Themer add-on for Beaver Builder.
You can create theme templates using Blocks from GeneratePress Elements, as mentioned above. Then, you can design your custom theme templates using blocks. To insert dynamic content (such as a post title or content), you can use the dynamic content functionality in the GenerateBlocks plugin as well as the native theme blocks (or other plugins that you're using, such as Kadence Blocks):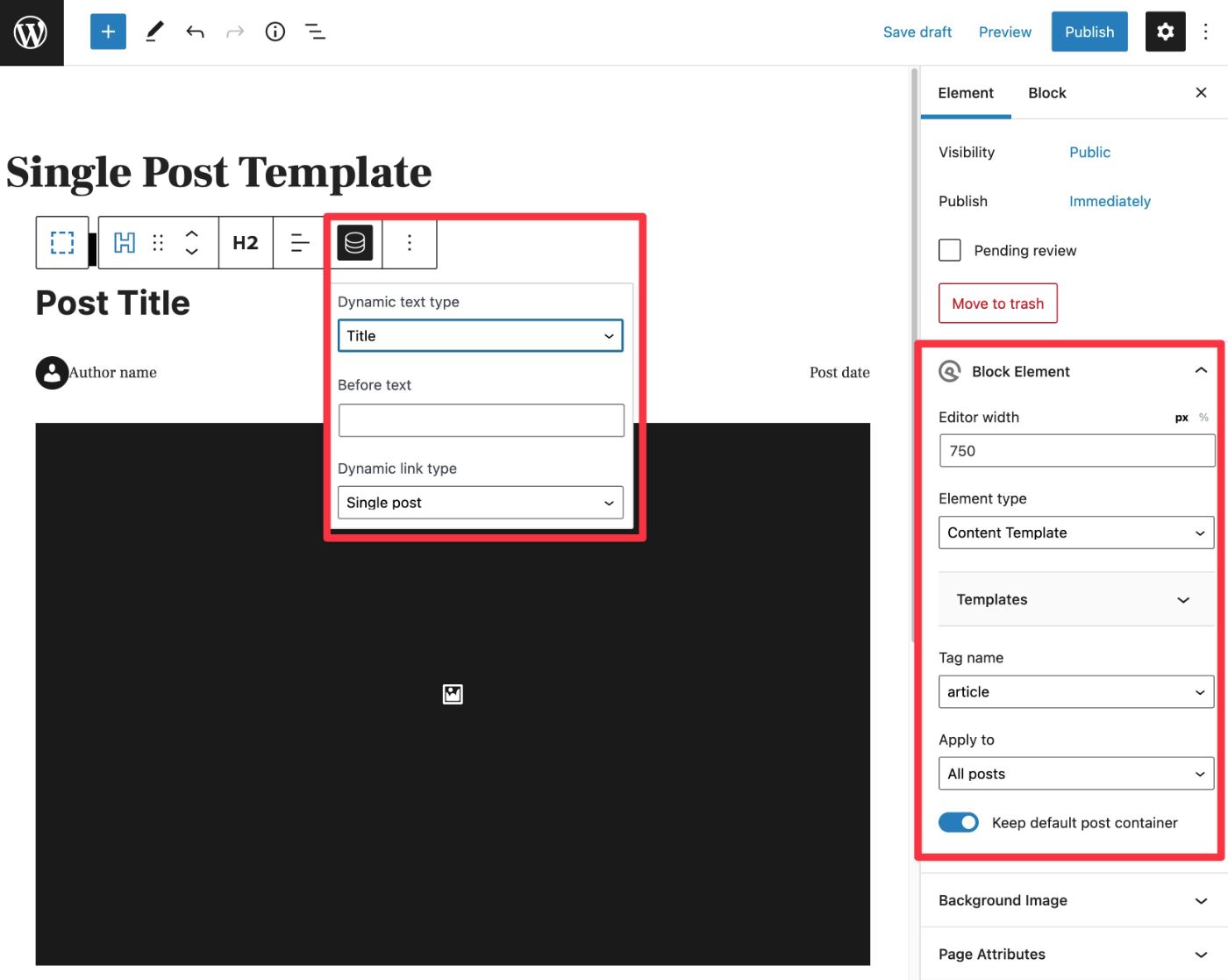 You can create templates for any post template, including custom post types. Or, you can also create template parts, such as designing just the navigation.
With the dynamic content support in GenerateBlocks or another plugin like Kadence Blocks Pro, you can also dynamically insert data from custom fields that you've added with a plugin such as Advanced Custom Fields. This opens up the ability to build some really unique custom content WordPress sites, all without needing to know any code.
If you want to see it in more detail, check out this tutorial video from David McCan:
💰 GeneratePress Premium Pricing
The core GeneratePress theme is available for free at WordPress.org.
If you want to add more features and access the pre-built demo sites, you can upgrade to GeneratePress Premium, which is technically an add-on plugin that you'll install alongside the theme.
You have two options to purchase GeneratePress Premium – both options give you all features and use on up to 500 sites (essentially unlimited). The only difference is the license term:
Yearly – $59 for one year of support and updates. Your theme and all premium features will keep working after the first year, but you'll need to renew your license if you want to continue receiving support and updates.
Lifetime – $249 for lifetime support and updates.
GeneratePress Free vs Premium
The free version of GeneratePress is functional by itself. However, I think that most serious webmasters will want to upgrade to GeneratePress Premium.
Here are some of the most important features that you get when you upgrade to GeneratePress Premium:
More advanced style and layout options. For example, you get more control over your header, colors, blog layouts, and more. This is one of the biggest reasons for most people to upgrade to GeneratePress Premium.
GeneratePress Elements. This is the advanced custom layouts tool that I mentioned.
More advanced WooCommerce support, which is important if you're building an eCommerce store.
Here's a full look at the GeneratePress Premium modules: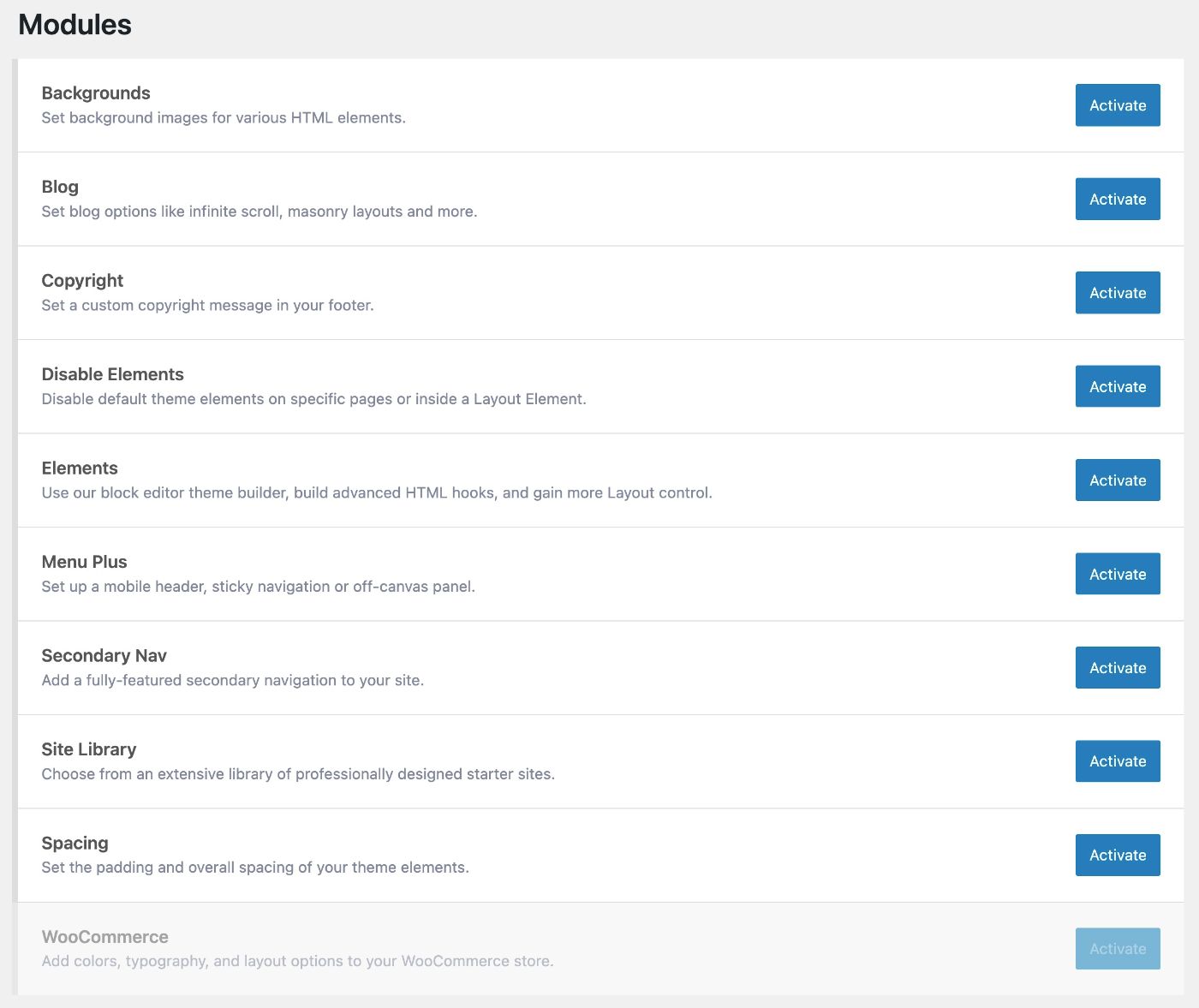 GenerateBlocks Free vs GenerateBlocks Pro
While you're not required to use the GenerateBlocks plugin with GeneratePress, I do recommend pairing them together if you're planning to use the native block editor for your site.
Here, though, most people will be totally fine with the free version of GenerateBlocks, especially if you've already purchased GeneratePress Premium for the theme.
If you do want GenerateBlocks Pro, it will cost you $39 for use on a single site.
👍👎 GeneratePress Pros and Cons
Here's a summary of the pros and cons from our GeneratePress theme review…
👍 Pros
It's incredibly lightweight and performance-friendly. GeneratePress sets you up for success when it comes to creating a quick-loading site.
The developers focus on clean, efficient code in everything they release.
The typography system is really nice for easily controlling your site's fonts. I also love how easy it is to use a system font stack for performance.
The page-level controls are great for working with page builder plugins.
GeneratePress Elements is incredibly powerful and useful, especially for advanced users who are familiar with the idea of hooks and such.
The pairing of GenerateBlocks and GeneratePress essentially gives you full theme building control in the native block editor. This is a really great way to access full code-free website customization but without slowing your site down like you would with a page builder.
The forum support is generally pretty good and they're usually willing to go above and beyond with fixing issues and providing code snippets. There's also lots of documentation that provides code snippets for various customizations.
👎 Cons
The free version of GeneratePress doesn't offer any pre-built importable demo sites, which is a bummer since most other themes in this space do.
While GeneratePress has plenty of design flexibility for most people, other themes such as Astra or Kadence Theme are still a bit more flexible when it comes to more nitty-gritty design options.
While GeneratePress offers full WooCommerce support, it doesn't have as many integrations as a theme like Astra. For example, it doesn't have the dedicated integrations for LearnDash or LifterLMS that Astra offers. If you're using those LMS plugins, that might be a reason to choose Astra over GeneratePress.
☝ Other Quality GeneratePress Alternatives
While GeneratePress is an excellent theme and my personal favorite, it's far from the only option when it comes to this lightweight, multipurpose approach.
If you're also interested in other GeneratePress alternatives, here are some of the best options (a few of which I've already mentioned):
Here's a quick comparison of GeneratePress vs Astra, the most popular GeneratePress alternative.
GeneratePress vs Astra
Astra has more starter templates (including free templates), more integrations (e.g. LearnDash and LifterLMS), a slightly larger number of options in the real-time Customizer, and a more generous free version.
GeneratePress has slightly better performance (Astra is still very fast, but can bog down a bit if you activate a lot of modules), a bit better stability, and a stronger custom layouts tool, including its theme building functionality.
Experienced users will probably prefer GeneratePress, but Astra is still a great theme.
❓ GeneratePress FAQs
As we near the end of our GeneratePress review, here are a few common questions you might have.
Is GeneratePress free?
The core GeneratePress theme is available for free at WordPress.org. If you want to access more features, you can purchase the GeneratePress Premium plugin to extend the free GeneratePress theme.
Does GeneratePress need a child theme?
Most people will not need a child theme with GeneratePress because you can make most of your customizations using GeneratePress Elements. You certainly can use a child theme if you want – it's just not necessary in most cases unless you need to directly edit the template files for some reason.
How do you install GeneratePress Premium?
GeneratePress Premium is a plugin not a theme, so you'll install it by going to Plugins → Add New and uploading the ZIP file that you get from your GeneratePress dashboard. You can then activate the premium modules by going to Appearance → GeneratePress.
Final Thoughts on Our GeneratePress Theme Review
Now for the most important question of our GeneratePress review – should you use it for your websites?
While I think that GeneratePress is an excellent theme, I don't think it's the right option for everyone. So, let's run over when you should use it and when another theme might be a better option.
🟢 When to Use GeneratePress
Overall, I think that GeneratePress is an excellent WordPress theme for experienced WordPress users who want a lightweight, reliable, and customizable foundation.
First, the performance is incredible – GeneratePress consistently rates as one of the fastest WordPress themes when I've tested it and it will absolutely help you build lightning-fast websites (though you'll still need to use quality hosting and implement other performance best practices via a plugin like WP Rocket).
Other lightweight themes can start to slow down a bit if you activate a lot of their premium modules, but GeneratePress pretty much always stays fast.
Second, you get tons of style and layouts in the real-time WordPress Customizer, which lets you customize your site to any niche or use case. If you don't want to set up all of the details from scratch, you can also import the Customizer settings from one of the demo sites.
Finally, the power of GeneratePress Elements opens up so much flexibility for customizing your site. You can use hooks to easily inject content at certain spots or you can create entirely custom layouts in more of a theme-building approach.
You do not need to be a developer to use GeneratePress Elements. But again, some basic knowledge of how hooks and templates work will come in handy.
🛑 When to Use a Different Theme
There are a few situations in which I think you might want to consider a different theme over GeneratePress.
First, for WordPress beginners or casual users, you might be happier with a theme like Astra or Kadence Theme. It's not that GeneratePress is complex, it's just that those themes make things a little easier. For example, they have more starter sites (in the case of Astra) and nice features like a header and footer builder.
In comparison, some of GeneratePress' best features require some WordPress experience to get value from. For example, GeneratePress Elements is incredibly powerful, but newbies might not be able to unlock that power.
Second, if you're specifically looking for a free theme and you're unwilling to pay for GeneratePress Premium, then I think you can find better free options. I would recommend Astra, Kadence Theme, or Neve for a couple of reasons:
They offer free importable starter sites (Astra has the biggest free collection).
Their free versions give you a bit more flexibility in the Customizer when it comes to styles and layouts.
Finally, if you're creating an online course with LearnDash or LifterLMS, then I recommend considering the premium version of the Astra theme because it gives you some really useful integrations with those LMS plugins. For example, you can customize your course layouts from the Customizer.
Do you still have any questions about GeneratePress or our GeneratePress review? Let us know in the comments!