It's not too often you stumble upon a free WordPress theme with full support, a forum, and a knowledge base. However, the occasional premium developer creates a free theme based on a premium theme of their own, in an attempt to convince people to test it out and buy the pro version. That's the case with GeneratePress, since it does have the option to pay for the GP Premium theme.
That said, we're rather impressed by the free version, especially considering it has almost 400 ratings (most of which are 5 stars) on the WordPress themes directory.
The GeneratePress theme is a simple, lightweight, and free theme. As for the design, it actually reminds me of some of the child themes you can find for the Genesis Framework. Overall, this theme is clearly trying to make things simple for the developers. It's a standout for bloggers, yet you also get to take advantage of some more premium tools like translations, Font Awesome icons, and integrations with several premium and free plugins.
I've never used the GeneratePress theme before, so I was excited to get started, mainly due to the acclaim it has received online. I'm also a blogger myself, so it's nice to see themes that cater to getting content online quickly, without the distractions of premium themes or the possible coding problems with free themes.
So, keep reading to learn more about our GeneratePress review. We'll be covering everything from the installation and support to the customization options.
Key Features of GeneratePress
The main reason people are going to jump for GeneratePress is because of its simplicity. The theme is extremely clean, yet you still have the option to include add-ons and integrate with some of the more advanced plugins on the market.
In addition, you don't have to go hunting around on the WordPress backend to find the right tools to make a simple customization.
The Customizer
Most people familiar with WordPress know all about the default customizer. However, some basic themes avoid this tool for regular changes, making it somewhat more difficult to locate the settings to make quick adjustments. In my opinion, free themes should all use the WordPress Customizer to their advantage. This way, your beginner customers only have to stick around in one area, and the advanced users can speed up their development times.
For example, you can instantly tap into the typography tools for adjusting things like font weights, font sizes, and line heights. The screenshot below displays the typography area in the customizer, with a full preview and real-time updates whenever a modification is made. Quite often there's no reason for anything more advanced than the WordPress customizer, since you get to cut out the Preview button. Oh yeah, and most people aren't in need of a drag and drop page builder, so this keeps all of your tools in one area.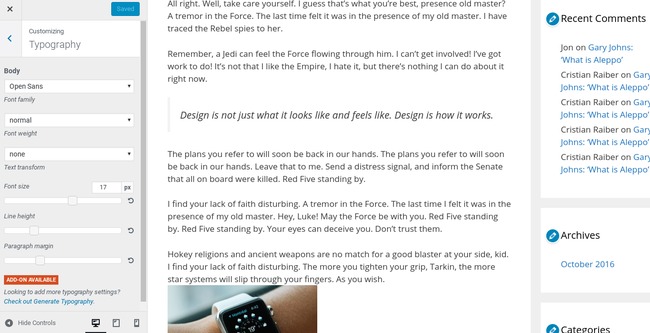 I enjoy the fact that the theme add-ons (covered below) can be accesses directly through the Customizer. So if you'd like to add a slider or color tool, that's possible (depending on your theme version) with the additional tools.
The default tabs in the Customizer include items like Layout, Colors, Site Identity, Blog, Widgets, and Menu. Therefore, you remain in the Customizer when figuring out your menu, as opposed to navigating to a completely different part of the dashboard. I also like this for widgets, since it can get frustrating with the separate Widgets page that some developers tend to go to.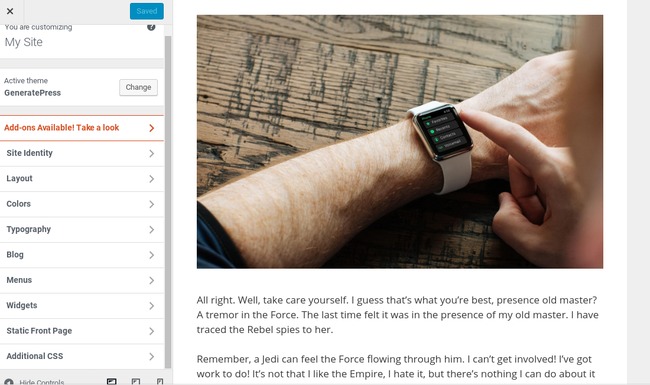 Overall, the Customizer has the majority of settings and tools you need, and the more experienced developers still have the chance to include their own custom CSS.
Access to Sleek Add-ons
As we saw above, the add-ons can be accessed through the WordPress customizer. It's not often you see so many add-ons offered through the free theme. Well, they aren't exactly provided for the free theme, since you must pay for the premium version in order to access them. This is kind of a bummer, but I still like the setup, since you can get a taste for the free theme, then decide whether or not you'd like to upgrade to receive all of the wonderful add-ons.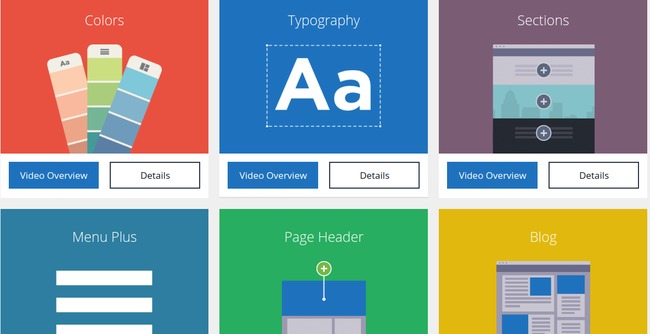 To give you a glimpse of what's offered, you can see that some of the add-ons include colors, typography, sections, menus, page headers, and blogs. I like the spacing add-on, since it allows you to help your content breathe a little bit. The backgrounds are useful too, and you can access some other interesting add-ons for disabling elements and generating hooks.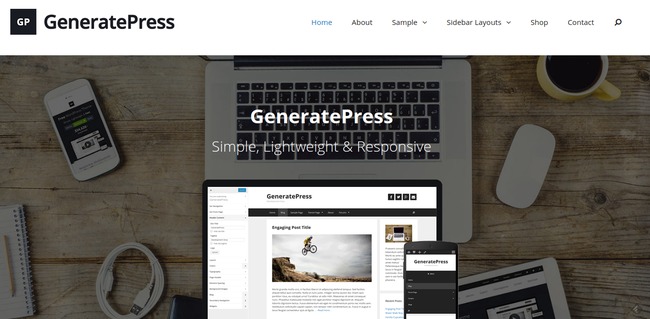 Translations, Font Awesome, and Widgets
It's clear that the GeneratePress developer had a desire to make the quintessential blogging theme, since the post formats look top-notch, and the columns and sidebars support widgets perfectly. For example, you would have no problems inserting a social media widget in the sidebar. The same goes with anything from text widgets to recent post lists.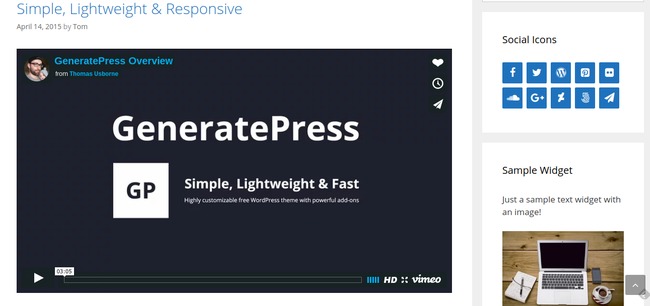 The theme has translations for over 20 languages. This count continues to grow, so you know that languages like Spanish and German are possible with the theme. Not only that, but over 600 Font Awesome icons are packaged into the GeneratePress theme. These fonts are managed through the WordPress Customizer, so you can make your typography look bold and beautiful or simple and elegant.
WooCommerce Support and Other Plugins
If you take a look at the GeneratePress demo, you'll notice a full WooCommerce store, packed with demo products and even some ratings for each one. The theme integrates with various premium and free plugins, and they all seem to look great when activated. For example, this simple online store is exactly what a regular blogger would need when trying to sell some merchandise or an eBook.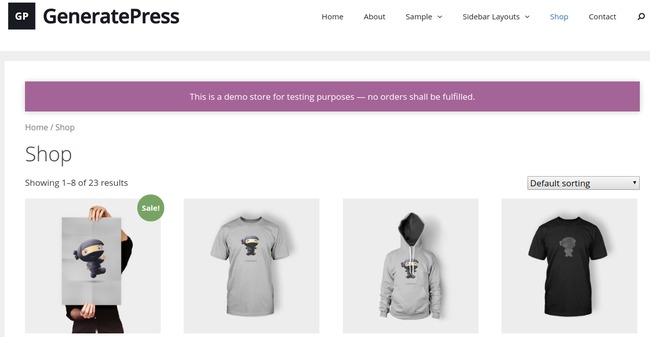 Some of the other plugins listed for compatibility include WPML, bbPress, and all major Page Builders. Therefore, you can utilize a drag and drop page builder if you want or make a full forum to support your own customers.
One of the main reasons this theme gets so many good reviews online is because the users have very few problems with conflicting plugins. As you may know, free themes tend to have trouble with one or two random plugins, so it's refreshing to hear when a theme is nicely coded.
What Else?
The theme's feature list isn't going to blow you away, but that's kind of the point with GeneratePress. The goal is obviously to make things simple, which is exactly what most bloggers and small businesses require.
However, you'll notice that quite a few other basic features do come with the GeneratePress theme, such as:
Mobile responsiveness.
Microdata Schema.org integration for improved SEO.
Secure and stable coding for a fast, lightweight, and safe website.
Many developer tools such as hooks and filters.
Incredible Support for a Free Theme
The customer support is by far my favorite part of the GeneratePress theme. Most free themes have their little support forum in the WordPress theme directory, but half the time the developers don't respond, and those forums aren't anything compared to a full support knowledge base.
Well, the GeneratePress developer has a complete website for the theme, so you can check out features, support docs, and knowledge base articles for both the free and paid versions of the theme. The free support is directed to the WordPress,org page, but I've found that the premium forums actually answer many of the questions you would need for the free GeneratePress theme.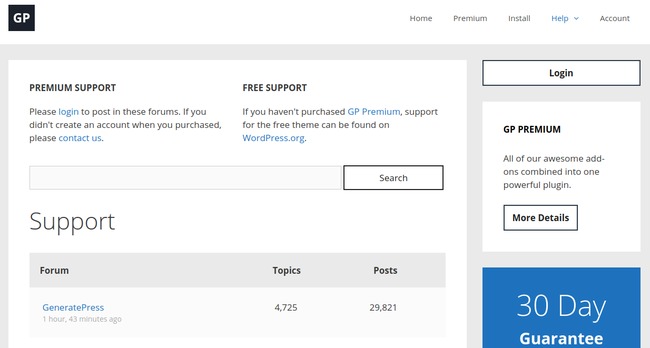 Once again, the knowledge base is technically for the premium theme, but it guides you through some things you might stumble upon with the free version. And I would assume that many people end up upgrading to the premium theme, so it's nice to see that the developer has all the resources you need when the moment comes along.
For example, the knowledge base covers topics like debugging, generating colors through an add-on, and installing the theme.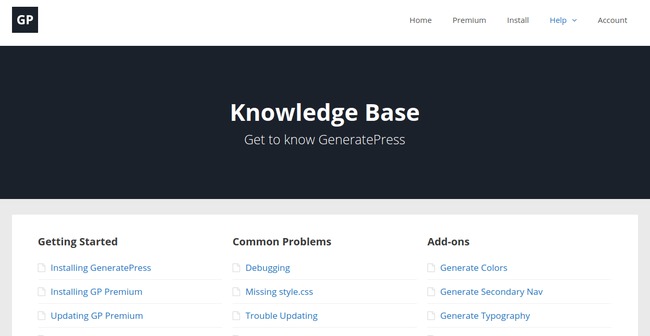 Installation
As with the majority of free themes, the installation doesn't take much time at all. The same goes for GeneratePress, since you just go to the Themes panel in WordPress and punch in the name. After that, a quick Installation and Activation takes place.
The theme definitely requires a little customization right out of the box, but it looks pretty good with my initial try.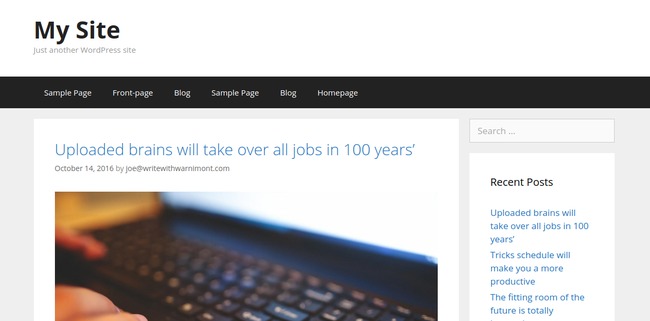 A GeneratePress tab does show up in WordPress, but there's not much to it. I like the fact that it offers the Support links, and the Customize button directs you to the primary place you need to go. The developer also includes a Delete Customizer Settings button to completely get rid of the settings you may have had from a previous theme.
Finally, the developer continues to try to sell you on the premium version.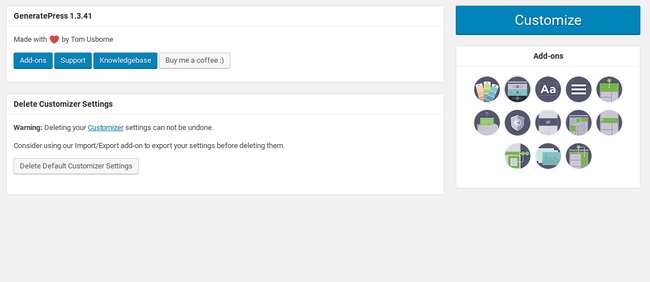 That's about it for the installation. I didn't expect much else, but sometimes you have to activate some demo content or something like that. There's nothing like that here.
GeneratePress Price and Value
The GeneratePress pricing, as discussed, is $0. If you decide to upgrade to the premium version, that's going to cost you around $39.95. The price stands out, since your theme is complemented by 12 add-ons and whatever future releases come out. Not only that, but you can utilize the theme on unlimited websites, making it ideal for developers and bloggers with multiple websites.
The support and updates are only available for one year, but the forum is public anyway. Other than that, the developer offers a 30-day money back guarantee, just in case you decide that GeneratePress isn't for you.
You cant complain about the value of both the free and paid versions. Paying around $40 for a theme with unparalleled support and simplicity isn't bad at all. Furthermore, you get to try out the free theme and potentially stick with that without paying a dime.
Final Thoughts
Who would I tell to go out and get GeneratePress? It's not a bad idea for a small business, since it includes options for banners and presenting your products or services. You can make a pretty sleek eCommerce store with the theme, but I can't imagine scaling up that quickly with such as basic theme.
The primary person opting for GeneratePress is the simple blogger. This is someone who's tired of complicated customization tools on the backend. The blogger needs a way to get content generated and posted quickly. The blogger requires beautiful post types without too much clutter. Last, but not least, the blogger is in search of a theme without any coding problems that'll weight the site down.
Luckily, the GeneratePress theme is one of the more impressive free WordPress themes I've seen in awhile. I'd recommend it to most small businesses and all bloggers.
If you have any questions about this GeneratePress review, or if you'd like to make any suggestions to people just getting started with the theme, drop a line in the comments section below.