Whether you run a personal or business site, there is no doubt that calls to action play an important role in your website. They help readers and visitors follow the path you want them to take and take a desired action.
Depending on the purpose of your website, you might want to add a call to action to have people sign up for your email list or you might want them to schedule a consultation session with you. You might use them to drive traffic to a specific product on your site that's currently on sale. Whatever the case may be, a well-placed and attractive call to action can significantly boost your conversion rate.
There are a number of WordPress plugins that you can use to create effective calls to action. In this roundup, we'll take a look at seven of the best WordPress plugins currently available so you can determine the best one for you.
7 Best Call-to-Action WordPress Plugins
The plugins on our list range from free to paid. Some of them have basic features while some are slightly more advanced, but one thing is certain: they will help you boost your conversion rate.
1. Thrive Ultimatum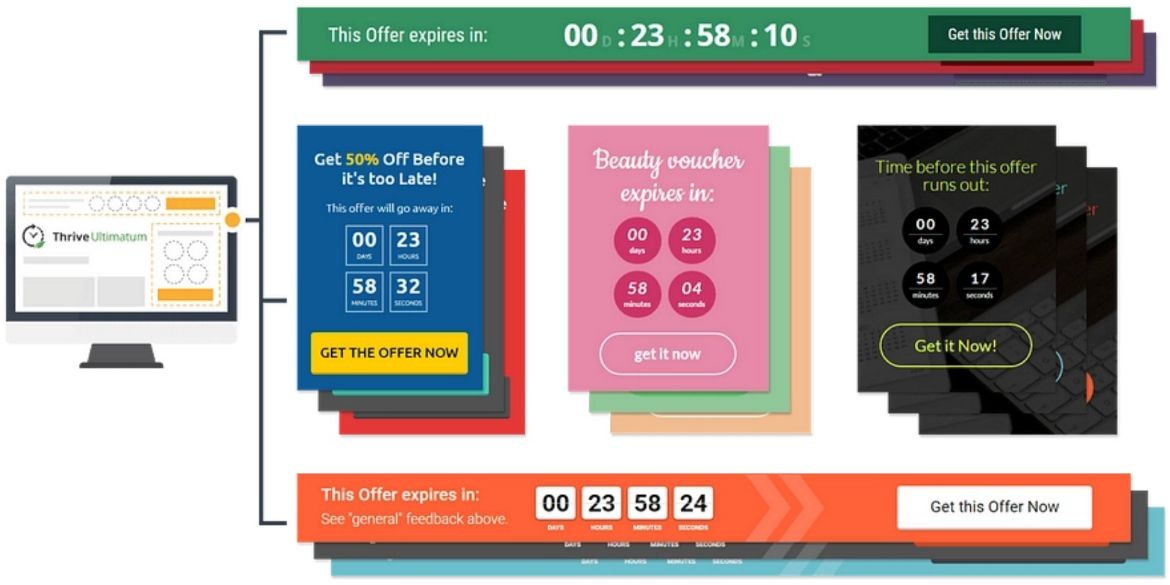 Thrive Ultimatum allows you to create calls to action by using the principle of scarcity marketing. The main idea behind the plugin is that if you make your offer available for a limited time only, your calls to action will convert better.
You can use the plugin in several places on your site:
As a top bar
In your sidebar
Across specific category pages
And more
You can run unlimited campaigns, create recurring campaigns, and create an unlimited number of calls to action. The CTAs can be customized using a visual editor.
Thrive Ultimate is available as part of the premium Thrive Suite package, which includes all of the plugins and themes that Thrive Themes offers.
Pros:
Visual Editor
Plenty of customization options
The ability to set multiple calls to action on the same page
Uses conversion-boosting scarcity strategies
Cons:
Compared to other plugins on this list, Thrive Ultimatum is expensive if you're not planning to use other plugins from Thrive Themes.
Price: Thrive Ultimatum is only available as part of the Thrive Suite of plugins, which also gets you access to other useful call to action plugins like Thrive Leads (our review) and Thrive Architect (our review). You also get access to all of the other Thrive Themes products. You can pay $228 annually ($19 per month) or $90 quarterly ($30 per month).
Overall, if you think you'll use the other Thrive Themes products, you get a lot of value for creating CTAs on your WordPress website.
2. Convert Pro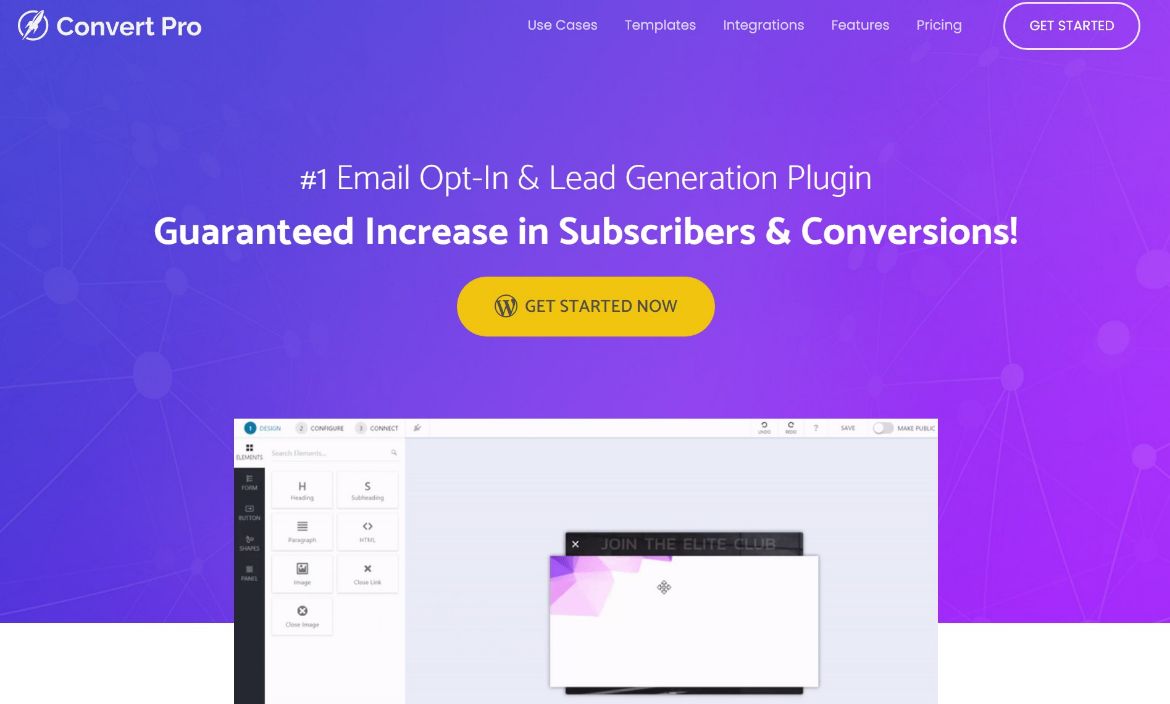 Convert Pro is a flexible WordPress list building plugin that helps you create a variety of popups including modal popups, notification bars, slide-ins, and more.
You can start from pre-built templates and customize everything using a visual, drag-and-drop builder interface. Then, you can connect directly to a variety of email marketing services and optimize your CTAs using built-in analytics and A/B testing.
You'll also get lots of targeting and trigger rules to make sure the right visitors see your CTAs at the right time. For example, you can target by content, referring URLs, user device, past behavior, and lots more.
Pros:
Visual, drag-and-drop builder
Supports multiple popup types
Built-in A/B testing
Cons:
Mainly focused on opt-ins and lead generation – not as good for other types of CTAs
There's no free version
Price: Convert Pro doesn't have a free version. It starts at $79 for use on unlimited sites and one year of support and updates or $399 for lifetime support and updates.
3. Elementor Pro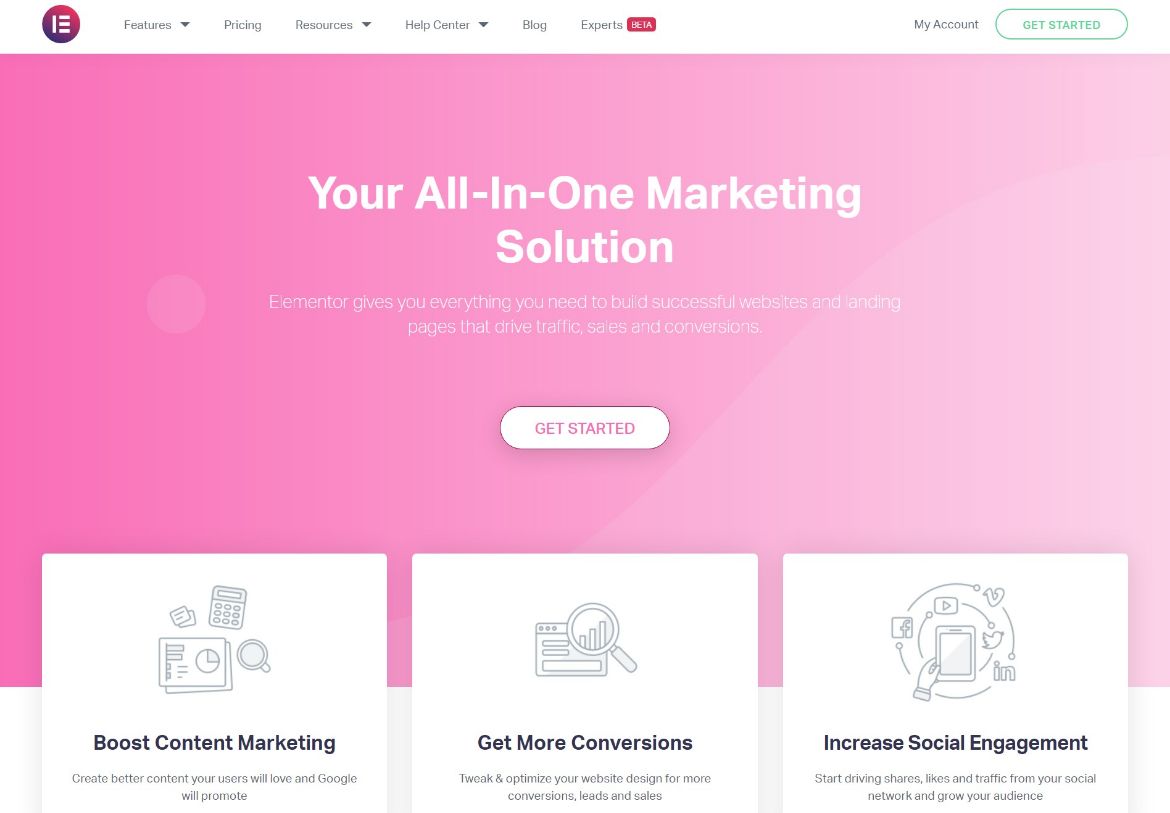 Elementor Pro is a very flexible call to action plugin because it lets you implement all different types of CTAs.
If you're not familiar with Elementor, it's a visual, drag-and-drop builder plugin. You can build anything, from landing pages to blog posts. You also get lots of elements to include eye-catching buttons and layouts.
For CTAs, though, you'll probably want to purchase the premium version, Elementor Pro, because it gets you access to features like:
A form builder that has integrations with Zapier and popular email marketing services
A popup builder that lets you use the drag-and-drop interface to design popups, slide-ins, notification bars, and more
More content elements and design options
👉 To learn more, you can read our full Elementor review.
Pros:
Visual, drag-and-drop builder
Dedicated content elements for buttons, forms, CTA boxes, and more
Flexible popup builder
Cons:
It might be overkill if you just want a simple, lightweight solution for basic CTAs
Price: The core Elementor plugin is available for free at WordPress.org. Elementor Pro starts at $49 for access to all features and use on a single site.
4. HashBar

HashBar allows you to create a customizable notification bar or call to action bar that sits at the top or bottom of the screen. Or, you can also place it as a floating box on the side.
You can use your own message and call to action, as well as choose a color that works best with your existing brand.
It's a simple and effective plugin that can be downloaded for free from the official repository. It's worth mentioning that there is a pro version of the plugin, which add extra features such as:
Scheduling for CTAs
Only display a certain CTA on specific content
Support for sticky/transparent header
Custom mobile responsive breakpoints
Pros:
Display a bar at the top or bottom of the screen
Also lets you show a sticky sidebar
Fully customize the text and colors to create your own custom CTA
Cons:
You need the premium version to match CTAs to specific content.
Price: There's a free version at WordPress.org. After that, the pro version starts at $29 for one year of support/updates on a single site or $59 for lifetime support/updates.
5. Simple Side Tab

If you're looking for a plugin that will allow you to put your CTA on the side of your site and remain visible as users scroll down, consider the Simple Side Tab plugin. It adds a vertical tab to the left or right side of the browser window and it displays on all pages of your site. The tab remains visible no matter how far down a user scrolls. The plugin is also optimized for mobile use, so it won't obstruct any content on smaller screen sizes.
You can customize the colors and fonts that the side tab will use and since the plugin doesn't use any graphics, it won't slow down your site. You can download the plugin for free from the plugin repository.
Pros:
The ability to choose the browser side where the tab appears
Mobile-friendly
Ease of use
Cons:
You cannot set multiple side tabs
Price: Free
6. Ultimate Addons for Gutenberg
Ultimate Addons for Gutenberg is a collection of new editor blocks that allow you to create buttons, tabs, accordions, sliders, and more. There's even a dedicated Call to Action block that lets you create eye-catching CTA boxes.
Overall, it's just generally a really flexible option for creating your own call to actions in various places on your site.
Once you install the plugin, you'll be able to use all the new blocks in the native WordPress editor (AKA Gutenberg).
Better yet, the plugin is 100% free.
Pros:
Can be used for more than just calls to action
It works with the native WordPress block editor
All the blocks are very customizable
Cons:
You can't use this plugin if you're still using the Classic WordPress editor (TinyMCE)
Price: 100% free
Get Ultimate Addons for Gutenberg
7. Boxzilla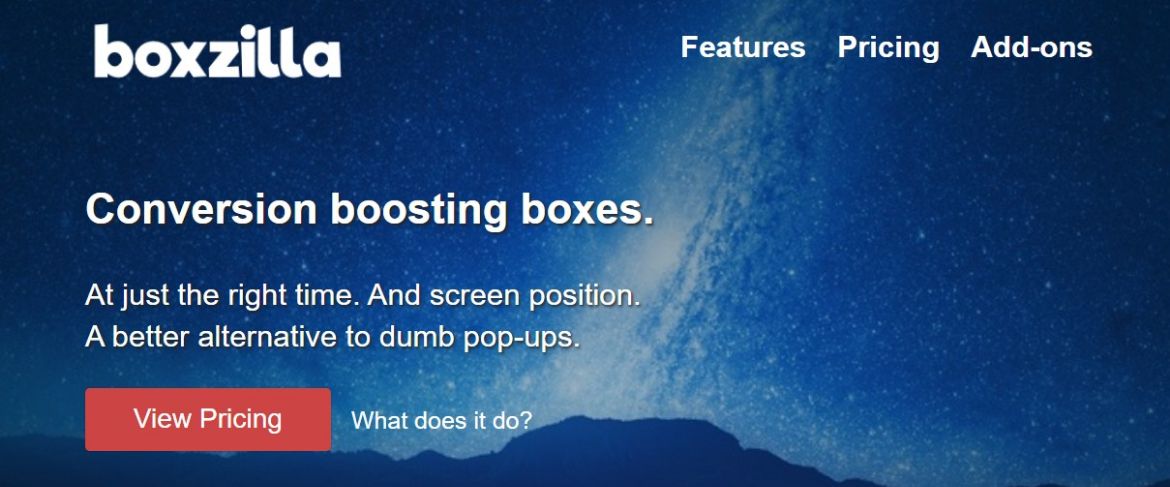 The Boxzilla plugin is very lightweight and allows you to create beautiful calls to action triggered after scrolling down based on a percentage point, reaching a certain element, spending a certain amount of time on your site, before someone leaves, and more.
The boxes can be shown using a button or a link and positioned either in the corner or in the center of the screen. The settings allow you to customize colors and the animation used to show the box. Boxes can be shown only on some pages or posts and you have complete control over how long a dismissed box should stay hidden. There is also an option to hide the box on mobile devices.
Pros:
Lightweight
The ability to control when and how the box appears
The ability to hide the box on mobile devices
Cons:
Exit intent feature available on the paid plan only
Not a one-time payment but a monthly or yearly subscription
Price: This plugin is available for free, but there is also a premium version of the plugin that starts at $48 for use on a single site and access to all premium add-ons.
Add Calls to Action to Your Site With One of These Plugins
Attractive calls to action are a great way to encourage visitors to take action on your site and can greatly boost your conversions, whether you want your visitors to sign up for a free download, join your email list, or buy your products.
If you're looking for a simple, no-frills solution then consider a plugin like HashBar or Boxzilla. But if you need more features such as granular control over posts, pages, and categories where you want the call to action to display or if you want to create a sense of urgency, then check out Thrive Ultimatum.
Or, for a versatile solution that can build landing pages, popups, blog posts, and more, consider Elementor Pro.
Do you still have any questions about choosing between the best WordPress call to action plugins? Ask us in the comments section!