Whether you run a personal or business site, there is no doubt that calls to action play an important role in your website. They help readers and visitors follow the path you want them to take and take a desired action.
Depending on the purpose of your website, you might want to add a call to action to have people sign up for your email list or you might want them to schedule a consultation session with you. You might use them to drive traffic to a specific product on your site that's currently on sale. Whatever the case may be, a well-placed and attractive call to action can significantly boost your conversion rate.
There are a number of WordPress plugins that you can use to create effective calls to action. In this roundup, we'll take a look at seven of the best WordPress plugins currently available so you can determine the best one for you.
7 Best Call-to-Action WordPress Plugins
The plugins on our list range from free to paid. Some of them have basic features while some are slightly more advanced, but one thing is certain: they will help you boost your conversion rate.
1. Thrive Ultimatum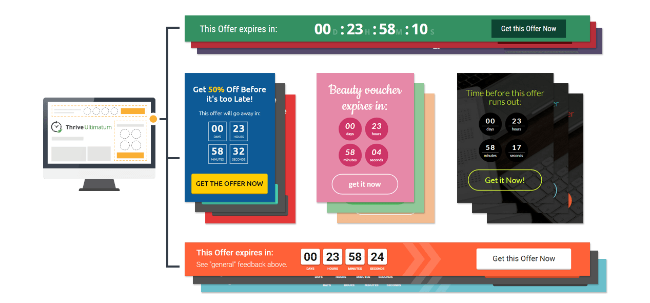 Thrive Ultimatum allows you to create calls to action by using the principle of scarcity marketing. The main idea behind the plugin is that if you make your offer available for a limited time only, your calls to action will convert better.
You can use the plugin in several places on your site:
As a top bar
In your sidebar
Across specific category pages
And more
You can run unlimited campaigns, create recurring campaigns, and create an unlimited number of calls to action. The CTAs can be customized using a visual editor. This is a premium plugin that's available for $97 for a personal license allowing you to use the plugin on one site and gives you one year of support and unlimited updates.
Pros:
Visual Editor
Plenty of customization options
The ability to set multiple calls to action on the same page
Cons:
Compared to other plugins on this list, this plugin is significantly pricier
Price: $97/year for a 1-site license, $147 for 5-site license, and $399 for 15-site license; also available as part of their Thrive Themes membership package starting at $30/month paid quarterly.
2. WordPress Calls to Action
This plugin is no longer available for download.
The first plugin on our list was developed by Inbound Now and works as a standalone plugin or in conjunction with WordPress Leads and WordPress Landing Pages to help you create a complete lead generation system for your website.
WordPress Calls to Action gives you the ability to monitor and track conversion rates, run A/B split tests on calls to action, and comes with an easy to use visual editor that lets you make changes to your CTA buttons instantly. Calls to action can easily be cloned and you can even create popup CTAs.
The plugin was designed with inbound marketing best practices in mind and can be downloaded for free from the official repository.
Pros:
Easy to use
Visual Editor included
The ability to track conversion rates and run A/B split tests
Cons:
Creating your own templates requires coding knowledge
Price: Free
3. WordPress Notification Bar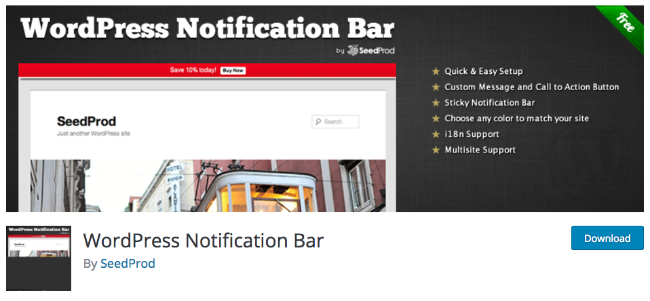 WordPress notification Bar allows you to create a customizable notification bar or call to action bar that sits at the top of your screen. You can link it to any page on your site, use your own message and call to action, as well as choose a color that works best with your existing brand.
It's a simple and effective plugin that can be downloaded for free from the official repository. It's worth mentioning that there is a pro version of the plugin, which add extra features such as:
Creating unlimited bars per site
Capturing email leads
Custom countdowns
Social media icons
Google Fonts integration
Dedicated support
And more
A Pro version of the plugin is available for $29/year for a personal license which entitles you to 1 year of support and updates and the ability to use the plugin on one site. If you want to use the plugin on more sites, Business and Agency licenses are available for $49 and $99, respectively.
Pros:
Quick setup
Support for multisite
Cons:
Free version is limited to only bar per site
The ability to capture email addresses is available on the paid plan
Price: Free with paid versions starting on $29/year for a Personal license, $49 for Business license, and $99 for Agency license.
4. Simple Side Tab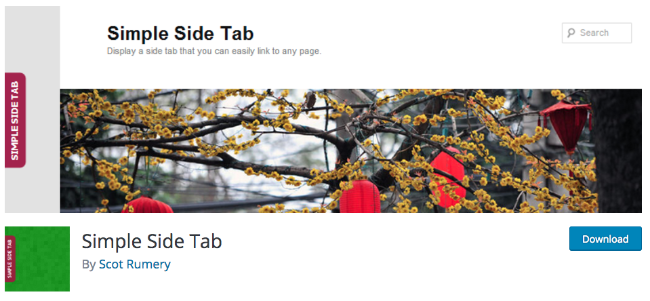 If you're looking for a plugin that will allow you to put your CTA on the side of your site and remain visible as users scroll down, consider the Simple Side Tab plugin. It adds a vertical tab to the left or right side of the browser window and it displays on all pages of your site. The tab remains visible no matter how far down a user scrolls. The plugin is also optimized for mobile use, so it won't obstruct any content on smaller screen sizes.
You can customize the colors and fonts that the side tab will use and since the plugin doesn't use any graphics, it won't slow down your site. You can download the plugin for free from the plugin repository.
Pros:
The ability to choose the browser side where the tab appears
Mobile-friendly
Ease of use
Cons:
You cannot set multiple side tabs
Price: Free
5. Shortcodes Ultimate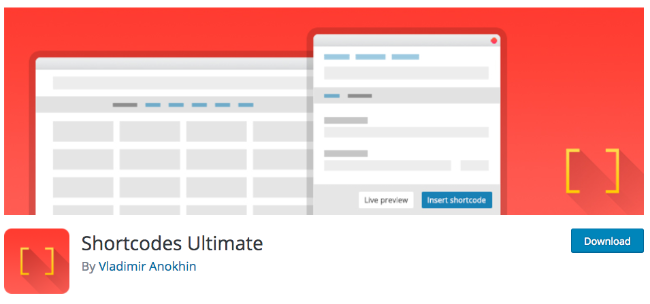 Shortcodes Ultimate is jam-packed with features that allow you to create buttons, tabs, accordions, sliders, and more. After the plugin installation, a new button will be added to your post editor which you can use to insert custom buttons and more to your posts and pages.
The best part about this plugin is that you can use a combination of boxes and buttons to create your custom call to action. The plugin comes with 50+ predefined shortcodes, unlimited color variations, and a selection of predefined styles. The core plugin is freely available in the repository but you can also purchase premium add-ons to unlock extra shortcodes and styles.
Pros:
Can be used for more than just calls to action
Ease of use
Customizable
Cons:
Since this plugin relies on shortcodes, if you decide to stop using it, your calls to action will no longer work
Price: Free with premium add-ons ranging from $15-$25
6. Boxzilla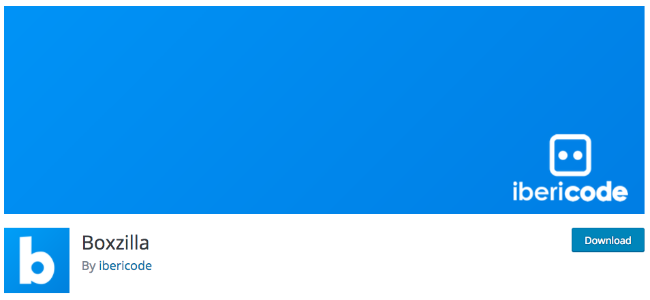 The Boxzilla plugin is very lightweight and allows you to create beautiful calls to action triggered after scrolling down based on a percentage point, reaching a certain element, spending a certain amount of time on your site, before someone leaves, and more.
The boxes can be shown using a button or a link and positioned either in the corner or in the center of the screen. The settings allow you to customize colors and the animation used to show the box. Boxes can be shown only on some pages or posts and you have complete control over how long a dismissed box should stay hidden. There is also an option to hide the box on mobile devices. This plugin is available for free, but there is also a premium version of the plugin starting at $6/month for one site as well as premium add-ons.
Pros:
Lightweight
The ability to control when and how the box appears
The ability to hide the box on mobile devices
Cons:
Exit intent feature available on the paid plan only
Not a one-time payment but a monthly or yearly subscription
Price: Free with premium version available for $6/month for Personal license on 1 site, $9/month for Developer's license on 3 sites, and $14/month for Agency License on 10 sites
7. Button Builder – Buttons X
Last plugin on our list is Button Builder – Buttons X. With it, you can create beautiful CTA buttons. Plus, it allows you to make unlimited button variations without any coding. You can customize buttons with any color and use any Google Fonts and make use of free add-ons such as Google Analytics, tooltips, and widgets.
This plugin allows you to integrate the buttons with WooCommerce, create social media buttons, use them in your navigation menu, use them with Gravity and Ninja Forms, and much more.
The basic version of the plugin is available in the official repository, while the premium version, which includes even more button styles as well as premium add-ons, are available on CodeCanyon for $21.
Pros:
Supports unlimited number of buttons
The ability to clone buttons
Google analytics integration via free add-on
Cons:
The free version is limited to 3 visual styles
Most of the integrations are available in the paid version
Price: Free with paid version available for $21
Add Calls to Action to Your Site With One of These Plugins
Attractive calls to action are a great way to encourage visitors to take action on your site and can greatly boost your conversions, whether you want your visitors to sign up for a free download, join your email list, or buy your products.
If you're looking for a simple, no-frills solution then consider a plugin like WordPress Calls to Action or Boxzilla. But if you need more features such as granular control over posts, pages, and categories where you want the call to action to display or if you want to create a sense of urgency, then check out Thrive Ultimatum.