Would you like to attract potential customers and business partners to your next seminar so that you can do business together?
Or perhaps you are setting up a meetup for the local hobby group and want to get as many like-minded people together as possible?
Whatever your situation is, you need an interesting website that catches everyone's attention. At the same time, your site should give all the information your potential partner needs.
In this post, we look at the best event themes for WordPress that will impact your visitors. So whether you are a musician, a business owner, or a speaker, you'll find the right theme that makes your website stand out.
But Before We Look at the Themes, Let's Talk About Your Website First
To have a functional website, you need a web host to store all your content.
There are quite a few hosts out there, and sometimes it's challenging to pick the right one for your needs.
The one we recommend here at WP Kube is Bluehost, one of the most popular hosting companies for WordPress. It offers an outstanding balance between features and affordability.
And once you have your site up and running with Bluehost, it's time to complement the setup with some of the best WordPress plugins.
When you have taken all the steps above, you are now ready to pick the theme for your event website.
1. Oscillator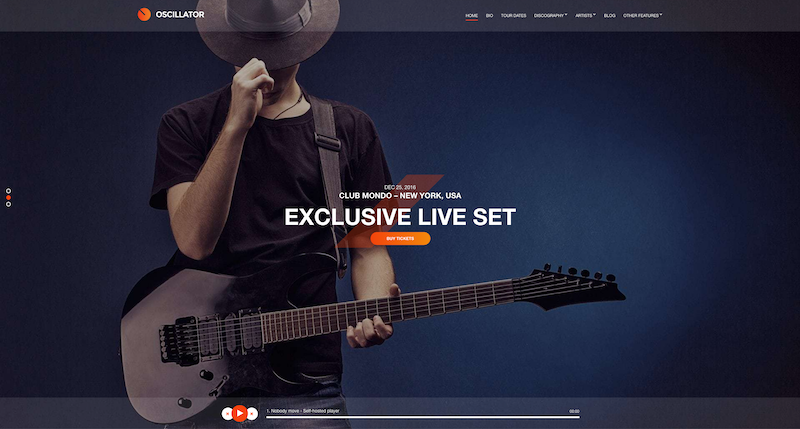 Oscillator is a WordPress theme for DJs, clubs, event organizers, and the whole entertainment industry.
The theme contains plenty of valuable features that help you showcase your talent or promote your event. For instance, you can choose between six page types, including artist, discography, or gallery.
You can also let the visitor stream or download media on the website with an integrated audio player.
Key Features:
The theme supports translations so that you can serve international audiences.
Oscillator integrates with WooCommerce, and you can create your event-based online store.
It is optimized for speed.
Six custom widgets improve how your content looks. The list includes "tracklisting" to show discography tracks, or "events" to show upcoming or recurring events.
The homepage supports a slider for displaying slideshow content.
💰 Price: starting from $49 (use our CSSIgniter coupon to get 30% off)
2. Divi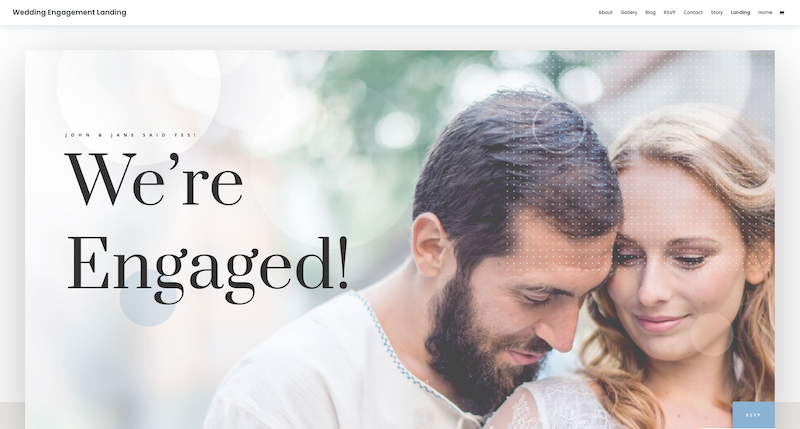 Divi, by Elegant Themes, is a mixture of a WordPress theme and a page builder.
With Divi, you can create stunning websites with drag-and-drop functionality. You can also customize every part of your website.
This powerful functionality lets you create a website visually, with no coding. You can also make whatever type of website you want (you are not just limited to event sites).
Divi includes 100+ Layout Packs that help you build a website for every occasion. In the event category alone, you can find 11 packs, including Design Conference, Meetup, or Event Venue.
Key Features:
The theme contains 40+ elements you can use on your website, including sliders, galleries, or testimonials.
With Divi, you can customize every part of the site. You can even customize your theme with the Theme Builder tool.
There are many built-in productivity features that make your website building faster. These features include saving and reusing your designs, editing multiple elements at once, or speeding up the common actions with keyboard shortcuts.
Test anything with built-in split-testing tools to see which layout or element performs better.
Access to 100 extensions that expand the functionality of your Divi website.
👉 If you are interested in more of what Elegant Themes can offer, see our Elegant Themes review.
💰 Price: starting $89/year (use our Elegant Themes Coupon to get 20% off)
3. Astra Pro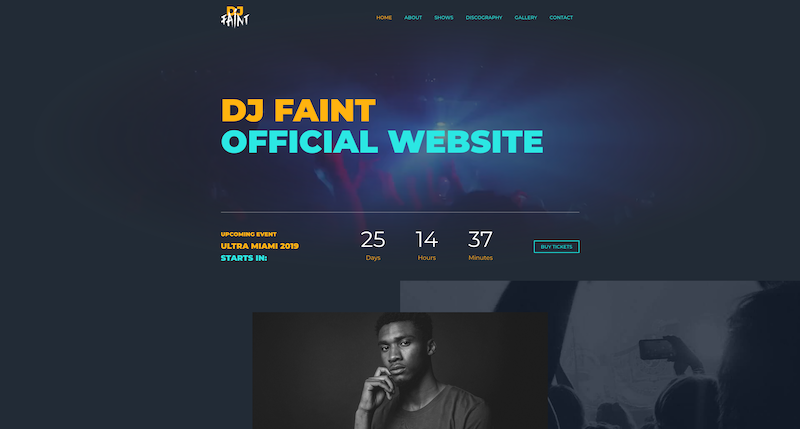 Astra is currently one of the most popular WordPress themes. It is lightweight and optimized for fast page downloads. It is also full of features that help you build any type of website you wish.
One exciting feature is its pre-built website library. With these websites, you can build your site fast. The library includes a template for over 150 different sites.
In the event space, you can find templates for Weddings, DJs, or conference events. Or you can create the template of your own by customizing the pre-built template to your needs.
With Astra, every aspect of your website is easily customizable, including fonts, colors, headers, or blog posts.
All the features are available without a page builder since this theme integrates nicely with the Gutenberg editor.
Key Features:
Build and customize your headers and footers.
The theme integrates with WooCommerce so that you can create an online shop on your website.
Astra is translation-ready, so you can also serve international audiences.
Customize your website with no coding skills.
Hook your website with an LMS (Learning Management System), like LifterLMS.
💰 Price: starting $47/year
4. ShowPro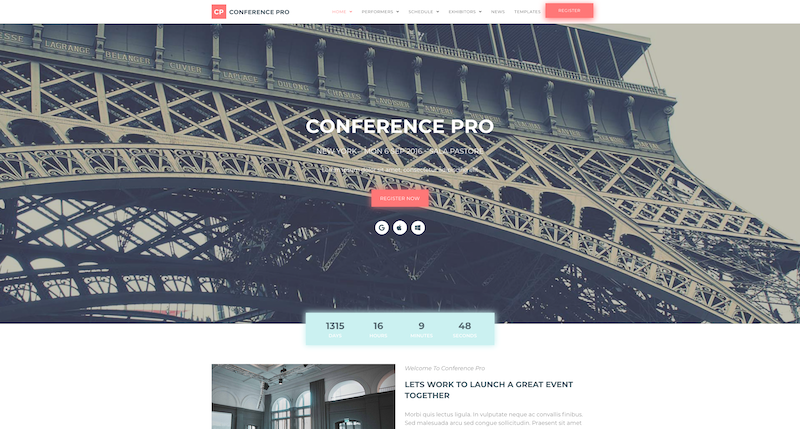 ShowPro is a theme that includes eight starter designs, helping you to create your conference website quickly.
The theme is customizable with the standard WordPress customizer, and you can easily access various aspects of the page elements, including colors and fonts.
ShowPro also contains multiple page and blog layouts you can choose from. You can also choose from half a dozen header layouts to your liking.
What makes ShowPro more complete is the Conference Plugin, which is designed solely for managing conference websites.
But here is the catch: If you decide to purchase the plugin only, you don't get access to ShowPro themes. Therefore, I suggest you invest in the "theme + plugin" package to get the best of both worlds.
Key Features:
A lightweight theme designed for speed.
Choose a layout from various starter sites, then customize it to finish your design.
Display all the event sessions in one beautiful schedule (the Conference Plugin).
Add and manage the speaker information (the Conference Plugin).
Ticket Sales integration with Eventbrite (the Conference Plugin).
💰 Price: $79/year (the Conference plugin only), $129/year (ShowPro themes + the Conference Plugin).
5. Music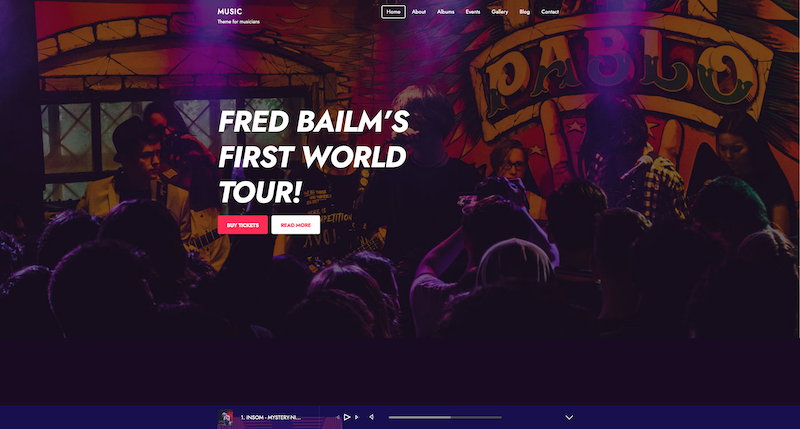 Are you an artist wanting to showcase your talent? Or perhaps you work in the music industry, planning for the next musical event? If that is the case, look at what the Music theme can offer you.
This theme contains plenty of features that make it perfect for music events. For example, you can include a music player on the page, letting your audience enjoy your creativity even further. You can also list tour dates, add playlists, or a gallery for your albums.
Music also supports ten header/layout options that give you the freedom to create the right look and feel for your website.
Key Features:
Showcase your music with full-width video backgrounds.
Includes a social sharing feature for spreading the word about your work.
Choose between various color themes to match your branding.
Responsive and Retina ready.
Create stunning layouts with drag-and-drop, with the built-in Themify Builder.
💰 Price: starting from $59 (use our Themify Coupon to get 20% off)
6. Exponent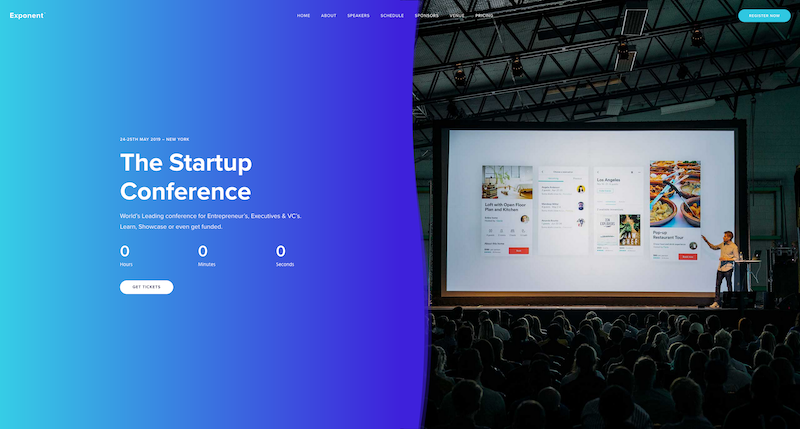 Exponent contains a bunch of starter sites in one package. You can build your event site on top of these starter sites by customizing them according to your needs.
What's even more exciting is that Exponent comes with a Visual Builder.
This tool gives you total control over how your pages will look. You can save your designs as a template or design your footer and header styles. With Visual Builder, anyone can create a good-looking website.
The team behind Exponent has paid a lot of attention to the theme's performance.
For instance, JavaScript loads when it's needed, and the code is cached and minified. Also, the images are only loaded when necessary (aka lazy-loaded).
Key Features:
Twenty-seven starter sites with a unique design, giving you the power to build the site you like.
The theme includes GDPR tools that help you achieve GDPR compliance.
Exponent consists of the Slider Revolution plugin for great-looking slider content.
The theme integrates with WooCommerce, the top eCommerce WordPress plugin.
Build a great-looking blog with eight unique layouts.
💰 Price: $59
7. WellExpo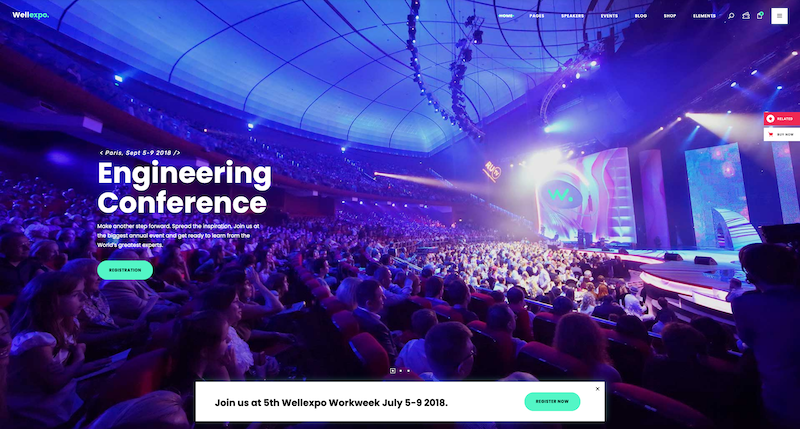 WellExpo is a theme created solely for events and conferences.
The theme contains plenty of home page designs that give you a head start with your next website project. You can find the layouts in many categories, including medical conferences, music events, digital conferences, or business forums.
Once you have decided on the home page design, you can then pick from various ready-made and professionally designed inner pages. These pages include things like About Event, Registration, Event Schedule, or Speakers.
If you decide to purchase WellExpo, you are in for a treat: the theme contains a WP Bakery page builder plugin that gives you superb control of the theme layout in a drag and drop manner.
Key Features:
Slider Revolution plugin included for making sliders and carousels on your website.
Create professional schedule and timetable layouts with the TimeTable Responsible plugin.
Dedicated layouts for speakers and participant pages.
Integrates with WooCommerce, so you can start selling tickets for your next big event.
Share the atmosphere of your event with an image gallery or with videos.
💰 Price: $75
8. Conference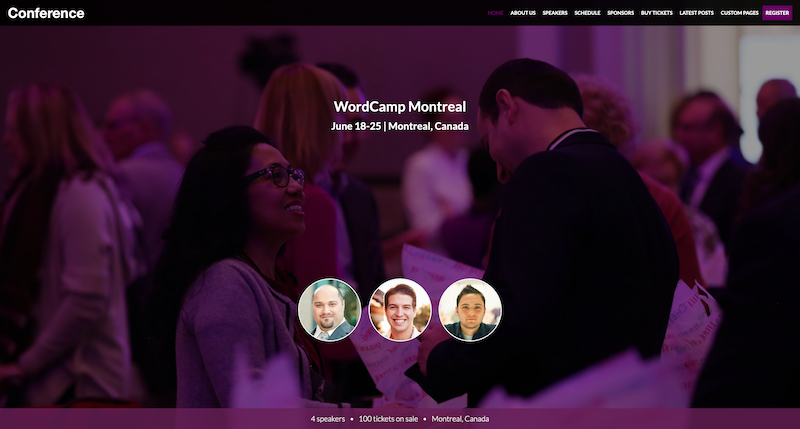 Want to create a professional-looking website for your next conference, seminar, or meetup? If so, the Conference theme by WPLook Themes could be your choice.
The theme contains plenty of event-specific features that make the theme ideal for any event organizer.
For instance, you can create speaker-specific pages to promote the speakers. Each speaker can also have their bio with a picture. The complete bio page gives an excellent overview of the presenter and what he/she is all about.
Your visitors can also purchase event tickets directly from your website through PayPal or Eventbrite.
Conference gives tools to manage event schedule information. With the easy-to-understand schedule formatting, your event attendees know quickly which track or speaker to follow.
The theme comes with flexible layout options so that you can tweak your event website's user interface according to your needs.
Key Features:
Responsive theme that visitors can view on any device.
Designed for fast page downloads.
Supports translations so that you can present content in multiple languages.
Custom Social Sharing buttons included with the theme.
Update the latest event information on your site with the blogging component.
The theme is GDPR compliant.
💰 Price: starting from $75/year
9. Uptime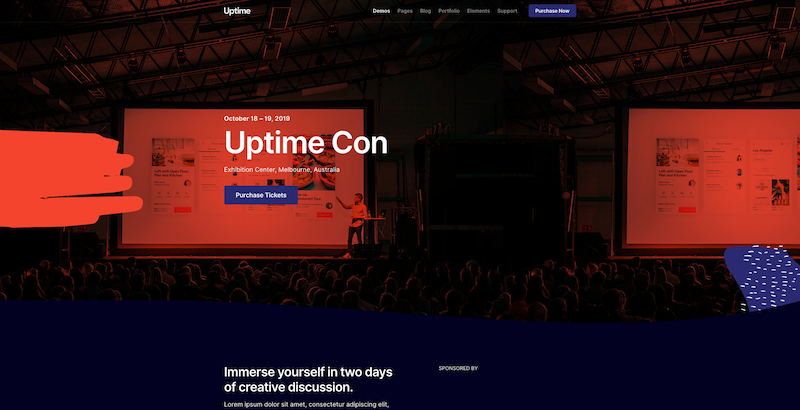 Uptime gives you all the tools you need to build a complete and visually stunning event website quickly.
The theme comes with a selection of landing pages. Once you have picked the landing page, you can tweak these pages, making your event website look like yours. You can also choose from a variety of great-looking inner pages to make your website design complete.
You also have an unlimited selection of color schemes at your disposal. And to complete your design, the theme comes with 600 SVG icons you can use with your content.
Uptime integrates with Elementor to give you the most flexibility in your website design. There are plenty of custom Elementor elements designed by the Uptime team that you can use on your site, including Accordion, Countdown, Image Carousel, Speakers List, or Tabbed Schedule.
Uptime also contains plenty of custom post types (or pages) designed solely for a specific purpose.
For instance, with Team, you can create a page that introduces your team with bios and images. And with the Testimonial post type, you can add testimonials of your attendees regarding your past events.
Key Features:
Social sharing ready.
The theme supports translations so that you can reach audiences globally.
Build a blog and choose its layout to your liking, including cards, masonry, or blog sidebar.
Dozens of content blocks (aka ready-made content pieces) you can use on your website.
💰 Price: $49
10. Projektor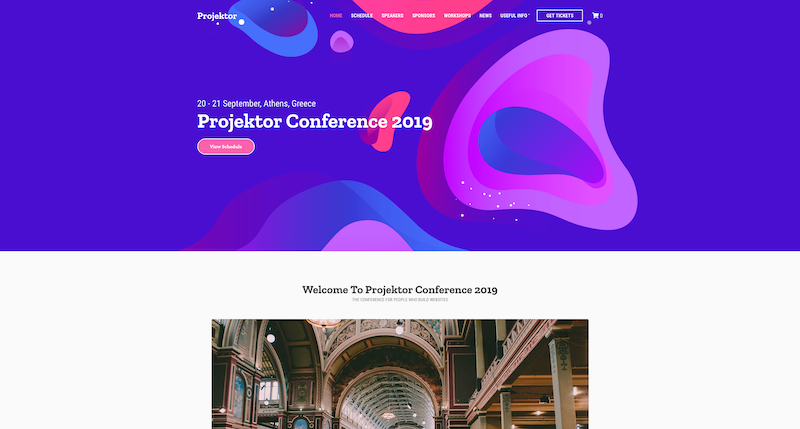 Projektor is ideal for any event, no matter how big or small. The theme contains plenty of features that help to make your future events attractive.
First, the theme is highly customizable. It gives you flexible header and footer layouts, letting you shape them the way you want. You can also choose between various page layouts based on your needs.
Projektor also comes with all the necessary features for making your event website look professional. For example, you can display speaker and event track information beautifully. You can add sponsor or workshop pages, too.
Finally, the theme integrates with WooCommerce, so you can start selling tickets directly through your website.
Key Features:
Projektor supports various page builders, shortcodes, or the standard block editor when creating the content on your website.
The developers built the theme with speed in mind. The speedier the pages load, the better impression this gives to your visitors.
Social sharing support is built-in to spread awareness of your next event on social media.
💰 Price: starting from $34.30 (use our CSSIgniter Coupon to get 30% off)
Best Event Themes for WordPress: Our Picks
So there you have it, 10 best event themes for WordPress. But the more options there are, the trickier it comes to pick the right one for your site.
In my opinion, three themes stand out from this list: Oscillator, Exponent, and Music.
They all provide a bunch of features that make a stunning event website. The price of these themes won't break your bank, either.
I encourage you to take a closer look at these themes to see if any of them are an excellent fit for you. Or perhaps some other theme from this list came out as your favorite? Please let us know what it is!