WP Event Manager is a free event management plugin for WordPress. It helps you to publish events on your WordPress website with ease.
The plugin has over 10,000 active installations and a star rating of over four stars on average (most of the reviews are five stars).
The numbers look great. Still, I wanted to see myself what the plugin is all about. So jump into my WP Event Manager review and see what I found!
What is WP Event Manager?
WP Event Manager is a versatile plugin that you can use with many types of events, like setting up a speaker page for a seminar, a website for a sports event, or a webinar event page.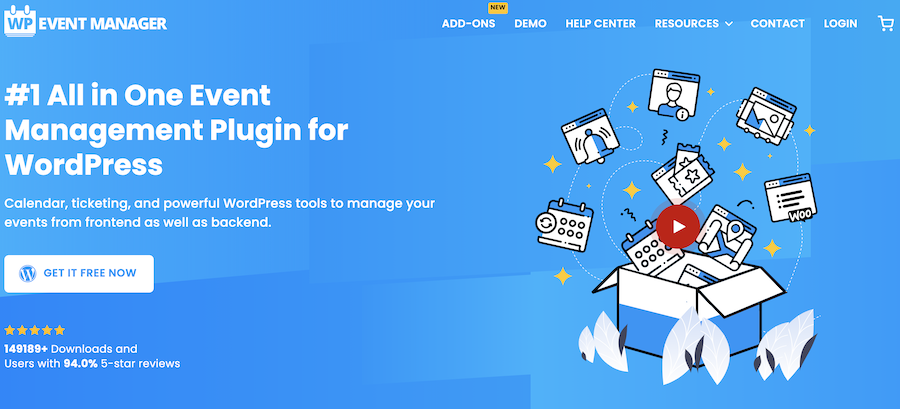 The plugin has many exciting features:
SEO friendly. Compatibility with SEO plugins (like Yoast).
Fully responsive. You can use any device (desktop, laptop, mobile, tablet) to view your event pages.
Field editor. Events contain plenty of event-specific data. With the field editor, you can manage this data without touching the code.
Multilingual support. You can translate the event pages into various languages. This feature is helpful if you are about to create an event for international audiences.
Event widgets. Display the event data wherever you like on your WordPress website.
Dashboards for admins and organizers. Administrators can moderate the events on the website. Event organizers have their own dashboard where they can manage all their events.
Event listing preview. Allow event organizers to view the event before it goes live. This feature helps you to spot any issues before publishing the event page.
But the features don't stop here, and this is the full list: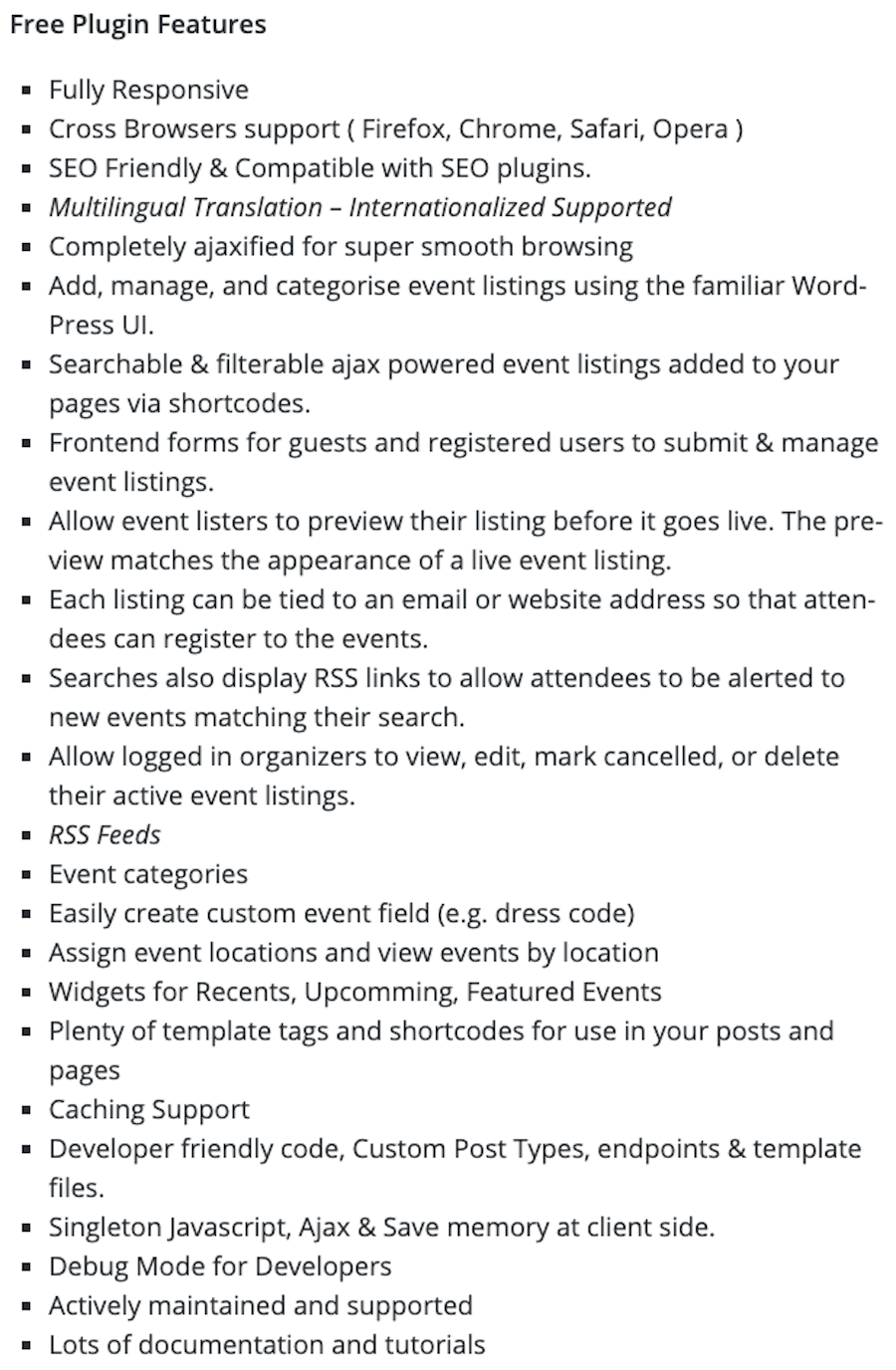 These features ensure you can set up and manage events on your website without asking a developer for help.
Getting Started with WP Event Manager
The WP Event Manager installation takes a standardized WordPress approach. If you are unsure how to install a plugin, take a look at the guide here at WP Kube on how to choose and install WordPress plugins.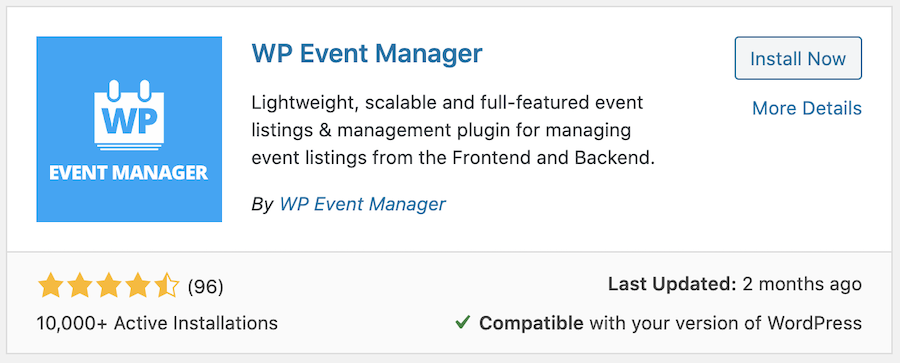 During the installation, you can also do some initial configuration. In particular, you can choose which WordPress event pages the plugin creates. This step saves you the effort to add these pages by yourself.
During the page setup, you also get a shortcode for each created page. You can use these codes on custom pages if you'd like to add new event pages yourself.
Once the installation is ready, you'll see an Events menu item on your WordPress Dashboard: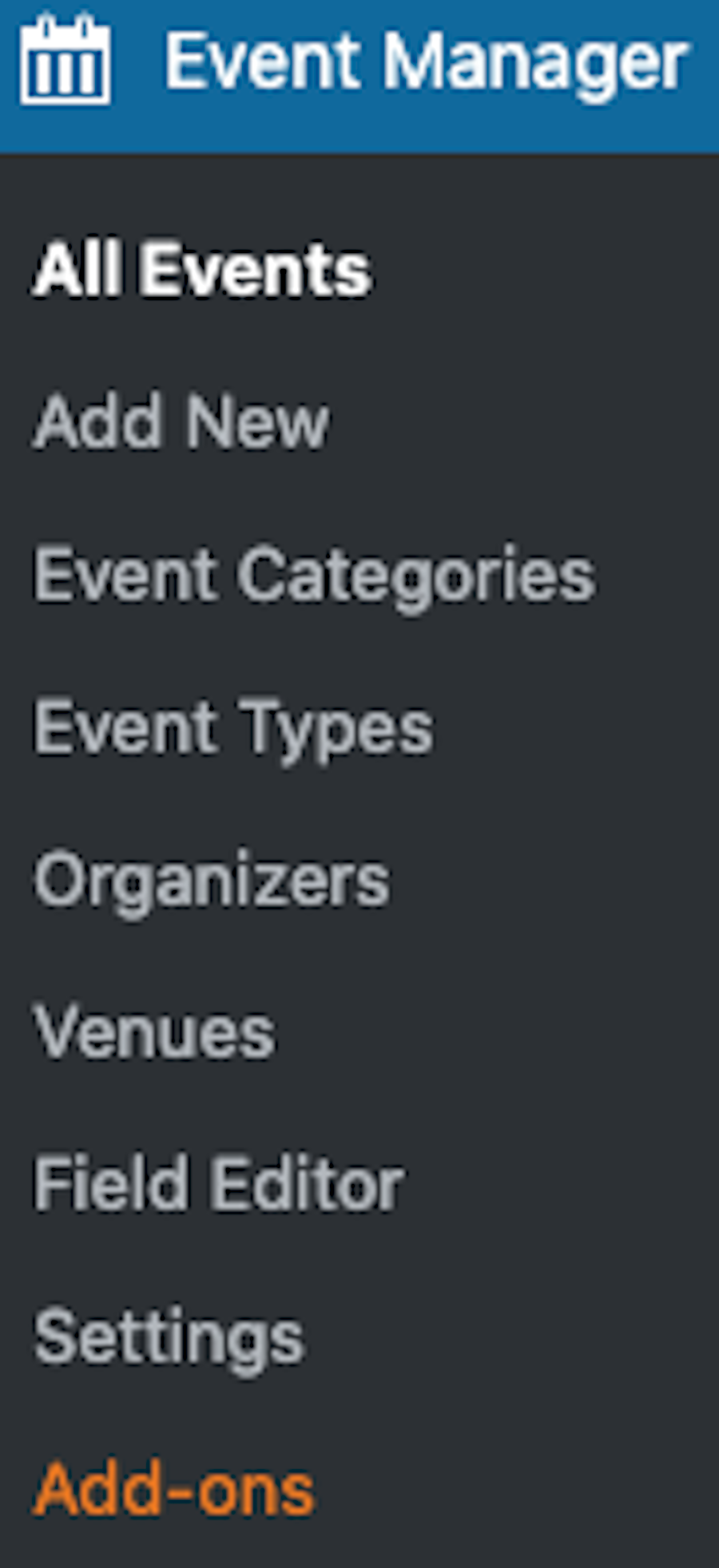 From there, you can navigate quickly to various parts of the plugin:
All Events: This page lists all the events in the system. You can also manage the current events through this view.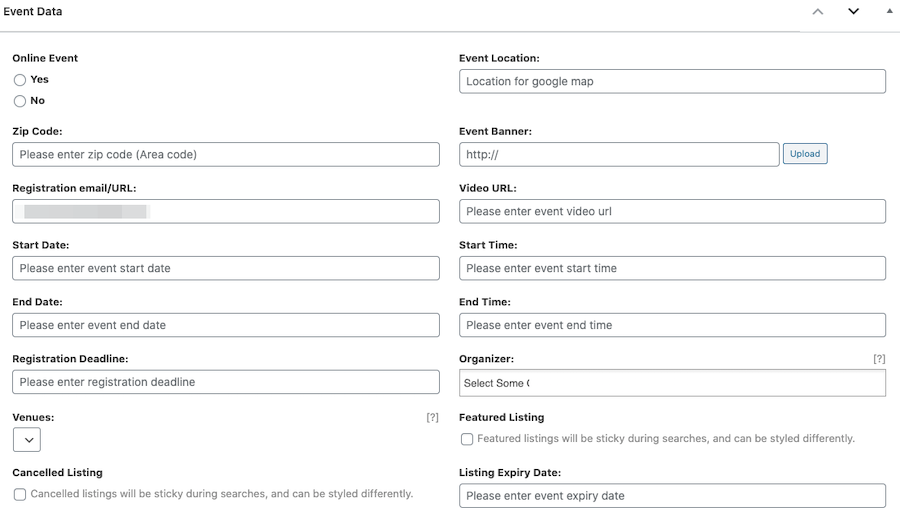 Event Categories: Put events into different categories. For instance, these categories could be various industries: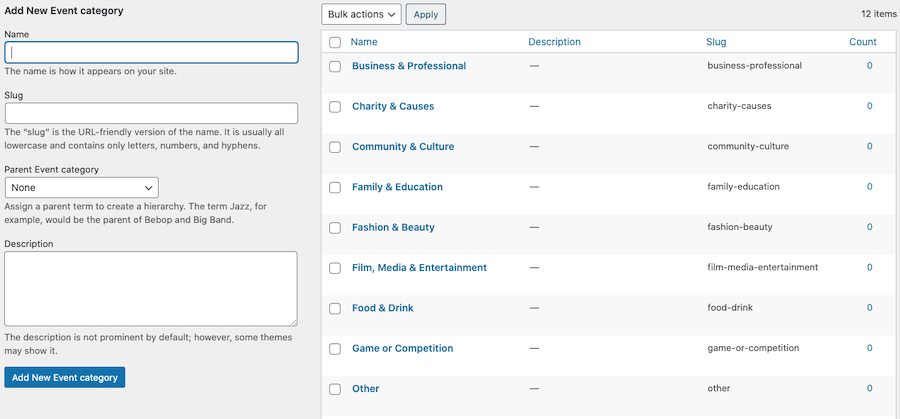 Event Types: Inside each category, you can have various event types. This section is the place where you can manage them.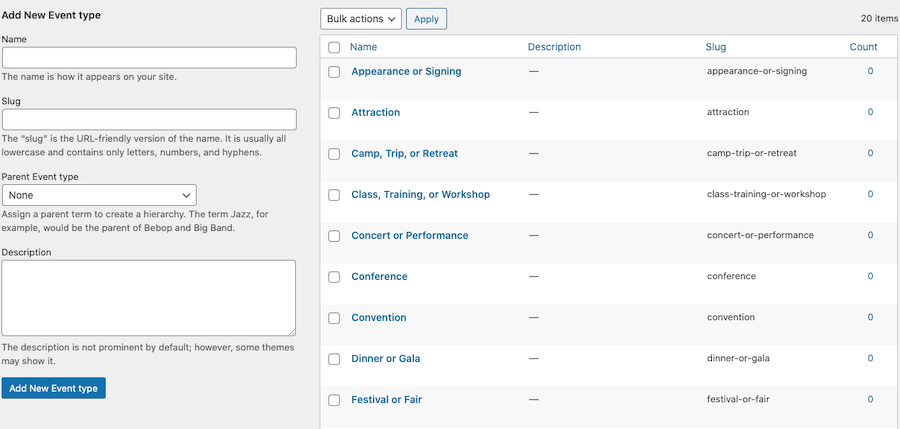 Organizers: Manage event organizers.

Venues: Manage the event venues.

Field Editor: Manage the event forms data. This view has separate sections for events, organizers, and venues.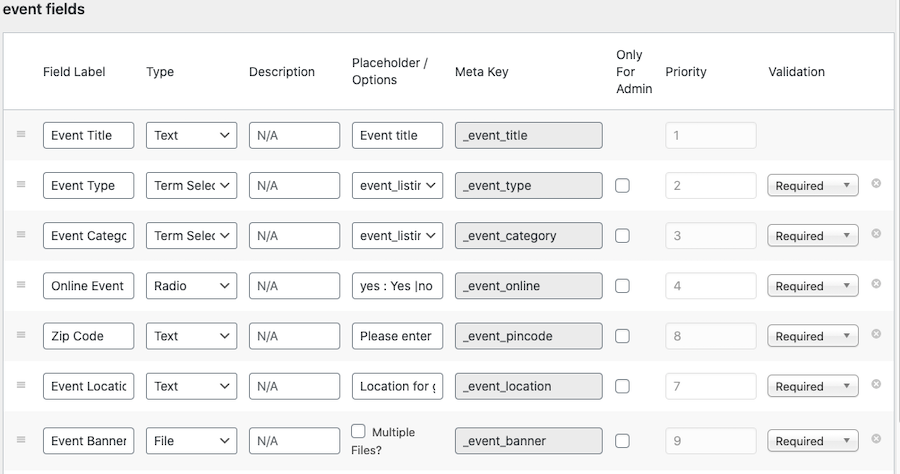 Settings: Plugin's general settings.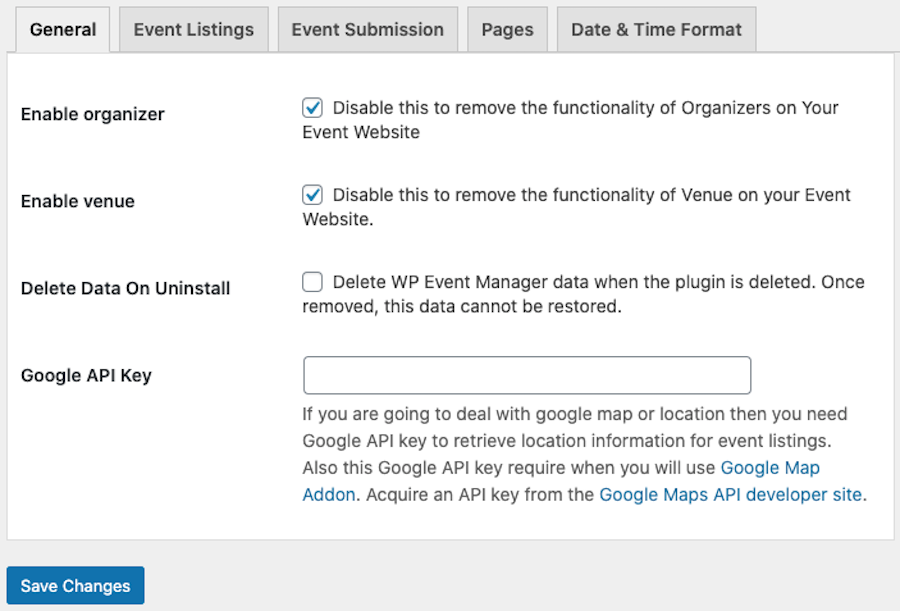 Add-ons: Premium add-ons that expand the functionality of the WP Event Manager plugin.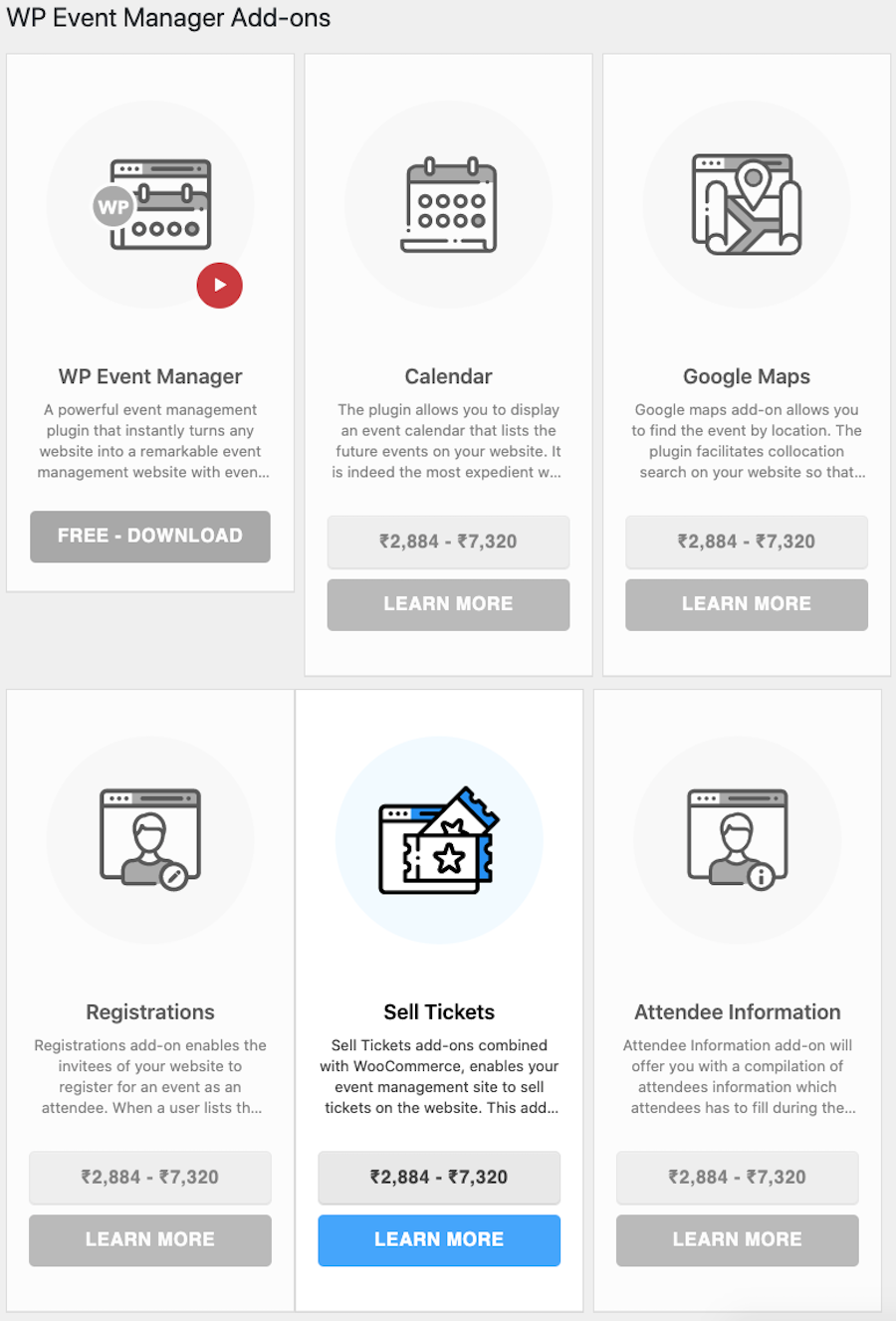 It's easy to navigate around the plugin, but there are minor things in the UI that the WP Event Manager team should address.
First, the team should fix some grammatical errors in the UI, like in this screenshot:

Although these kinds of errors are not the end of the world, they still give the impression of an unfinished product.
Also, there are help icons (question marks), which should give the user more information about this part of the UI.
For instance, when you add a new event, you see the question mark next to the Organizer field.

When you hover over the question mark, you see a pop-up and inside it a link text "here." But as soon as you try to navigate to the link, the pop-up disappears.
Once again, this glitch is not a big deal. But it's frustrating for sure.
Configuring the Plugin
You can find the configuration options under the Settings menu, under five tabs: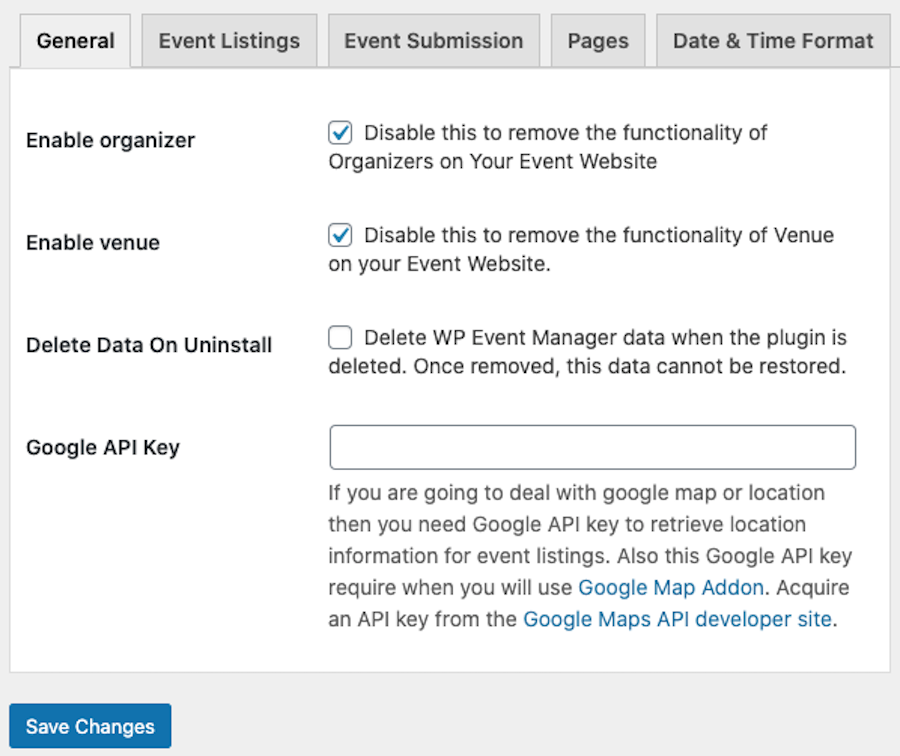 By default, you land on the General tab first, so let's start our configuration tour there.
General
You can activate or deactivate the venue and the organizer functionality on your website on this tab page.
You can also enter your Google API key here if you fancy a map on your event website.
Event Listings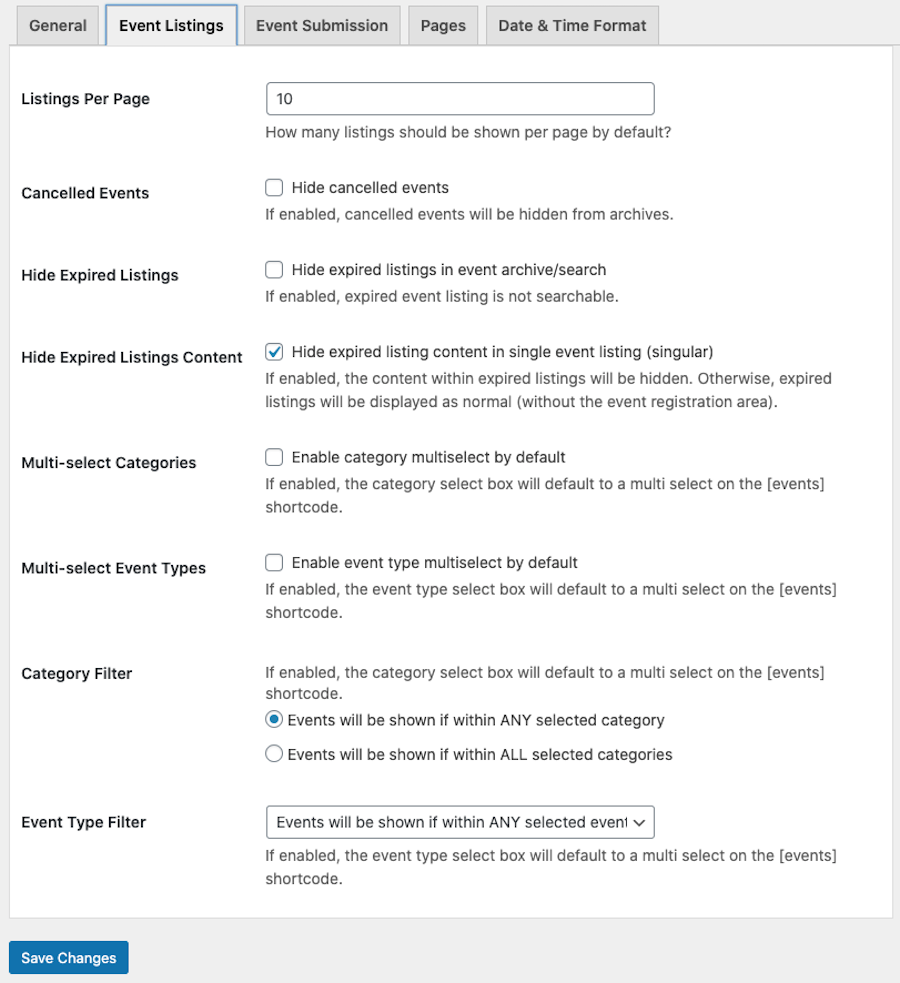 Event Submission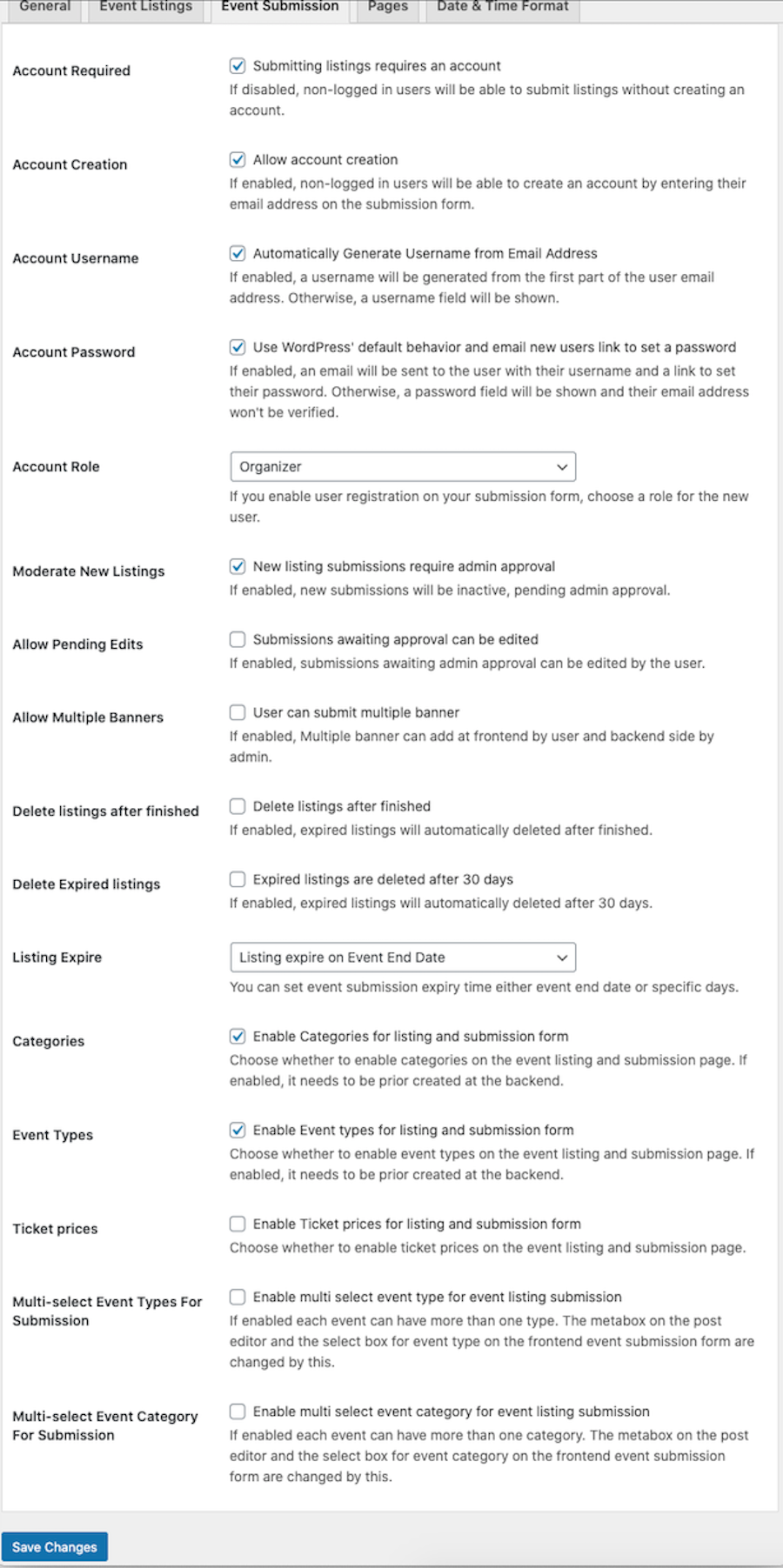 Here, you can find account-related settings or configure the submission approval process.
Pages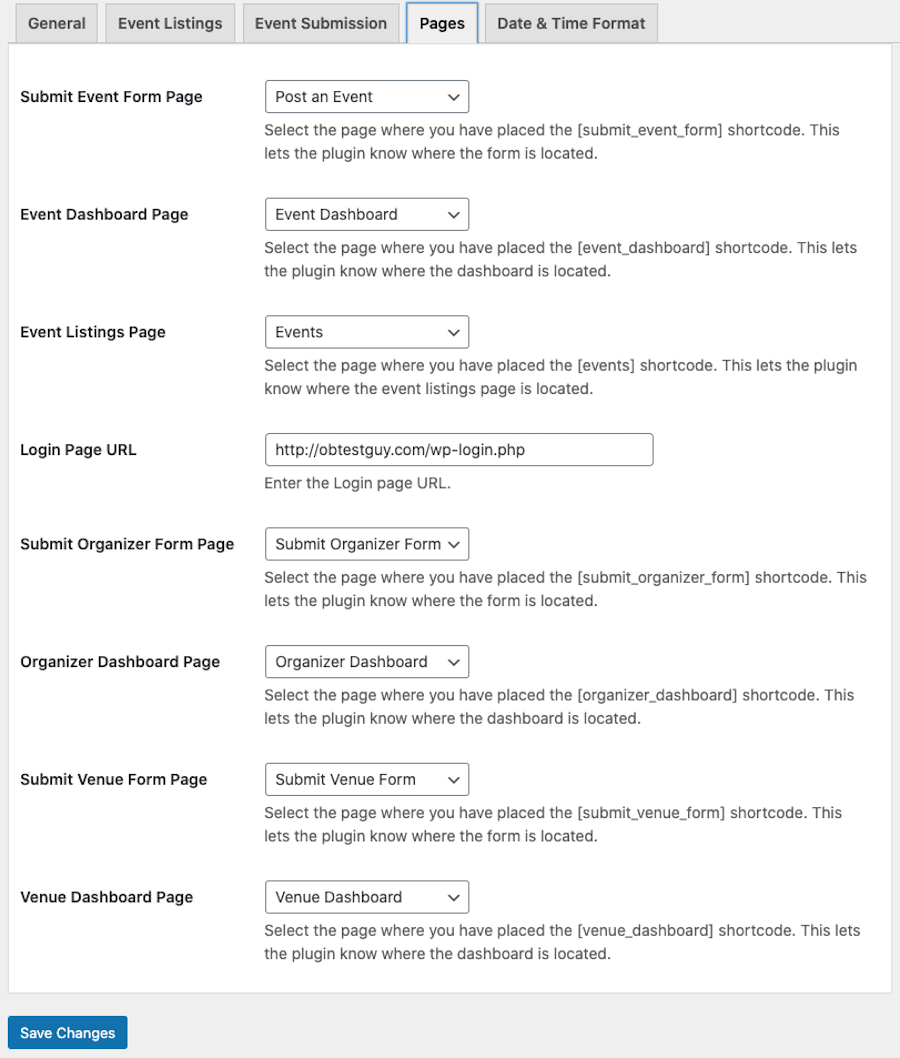 The tab configures/reserves various pages for the plugin. For instance, you can define which page the Event Dashboard uses.
The plugin creates and reserves the pages when you install the plugin. But naturally, you can change them at will. All you have to do is copy the shortcode provided by the plugin and add it to a new page.
Date & Time Format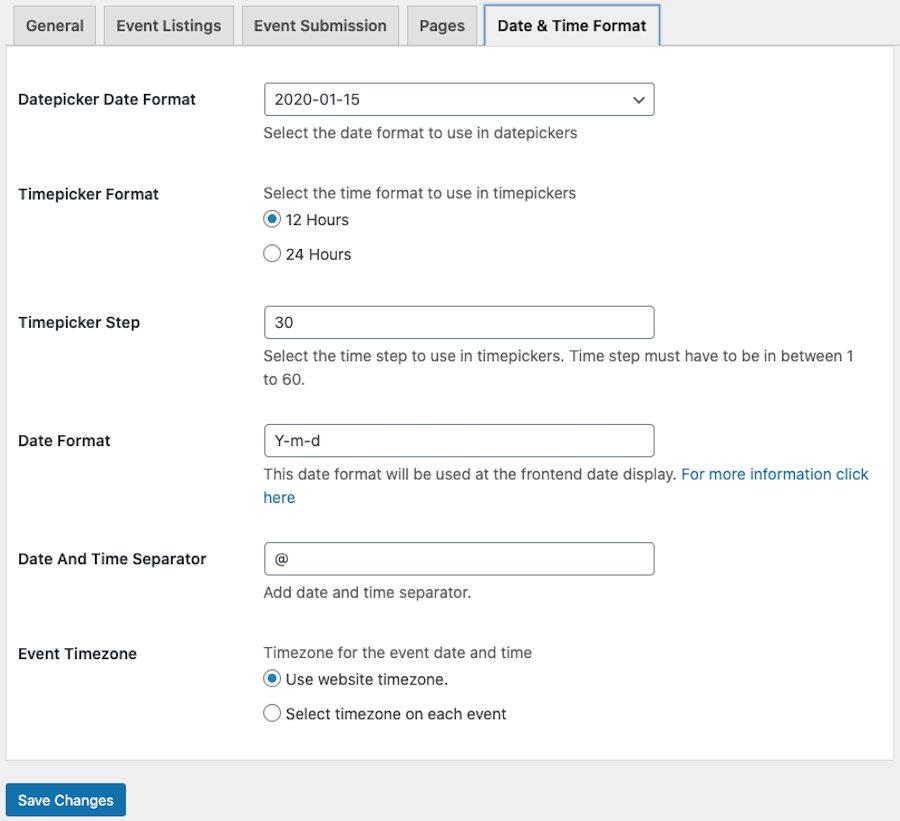 Under the Date & Time Format tab, you can set the time picker format or event time zone information.

Overall, the configuration settings are easy to set and understand. And if you have questions regarding these settings, you can always refer to the Help Center or product support.
Working with the Plugin
Now you know what the plugin is all about. But how do you do the most common tasks with the plugin?
Let's find out!
How to Create an Event
Creating an event is the most common task you do with the WP Event Manager.
When you enter the new event page under Events > Add New, you'll notice that the event page has two sections.
The upper section shows the regular Gutenberg editor, where you can enter event-related information. And the lower part displays the event data fields provided by the plugin.
You can add the event through the WordPress admin with these steps:
1. Enter Event Manager > Add New
2. Add the event data on the Gutenberg view on the top:

3. Enter all the required information regarding your event on the form at the bottom: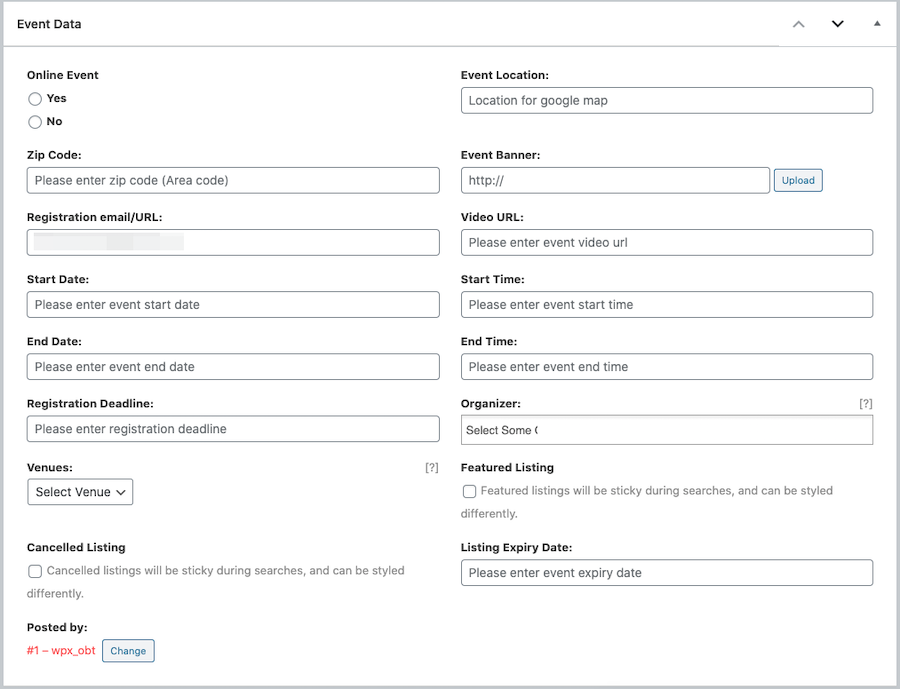 4. Once you have added the event information, click the good old WordPress Publish button on the top-right of your Gutenberg editor.
5. Your newly published event looks like this: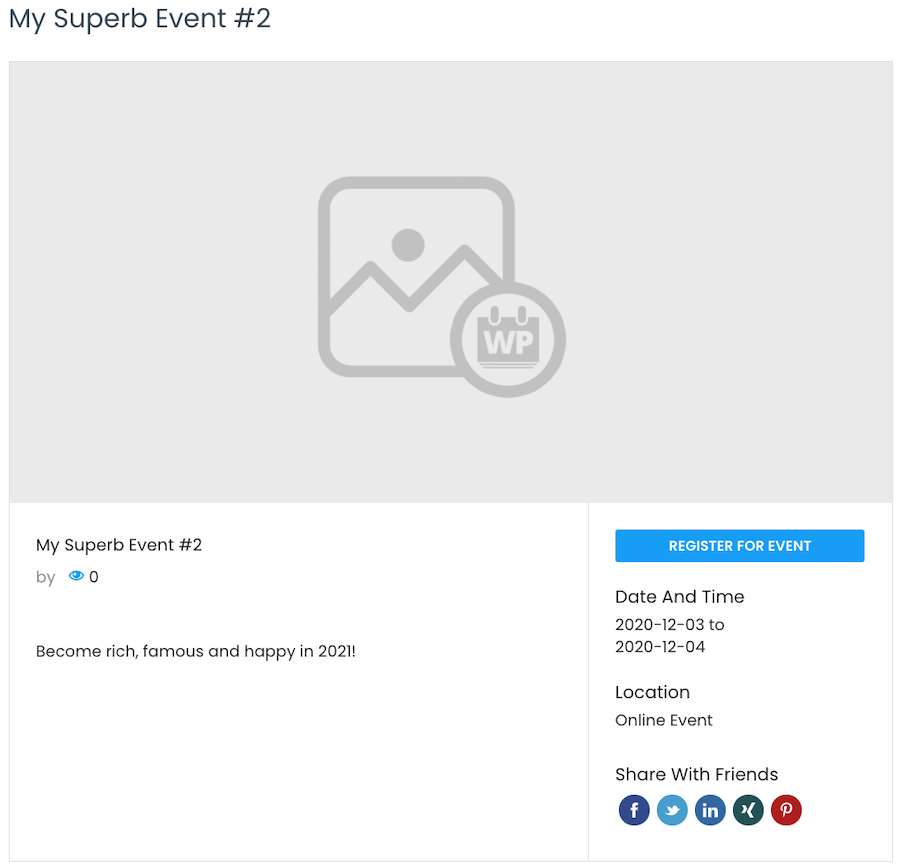 The event pages will look a bit boring, and hopefully, you have more options to style them in the future. But if you have a page builder like Elementor, you can spice up the event pages more.
The event organizer can submit events through a separate front-end form. While the form looks different from the WP admin equivalent, the data fields are also almost the same.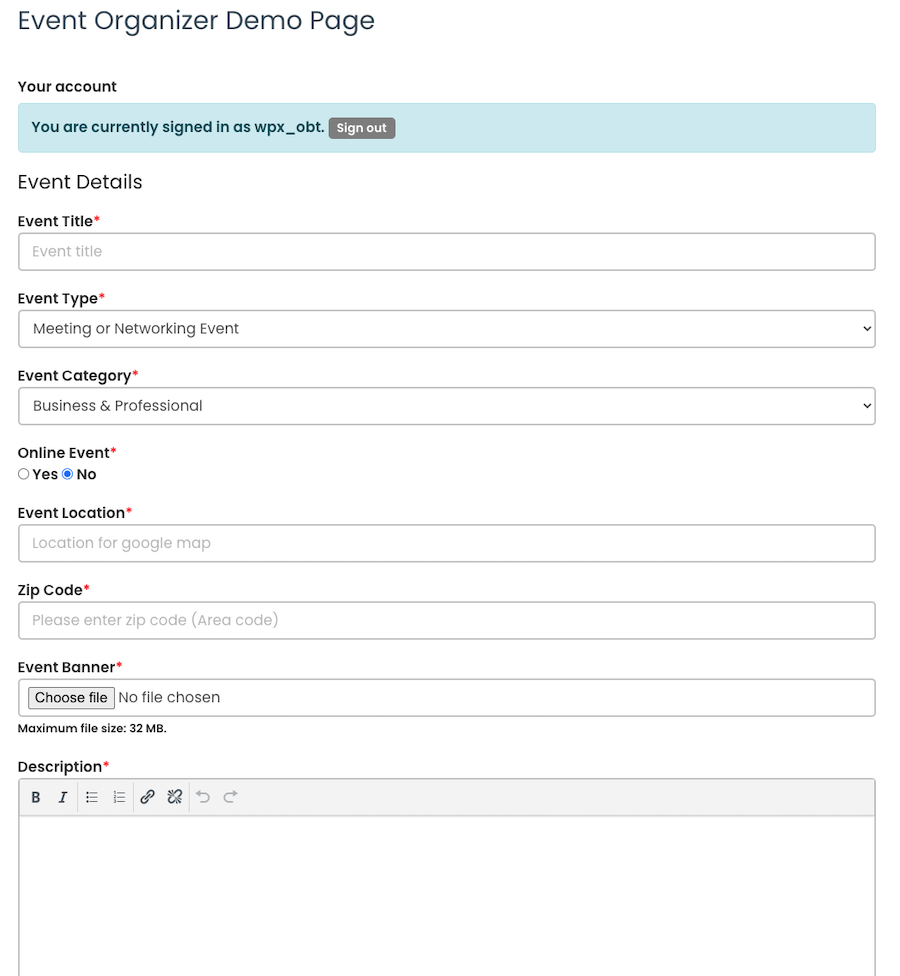 Before your event details go live, click the Preview button on the top-right. There you can see what your event looks like. If everything is OK, click the Submit Listing button: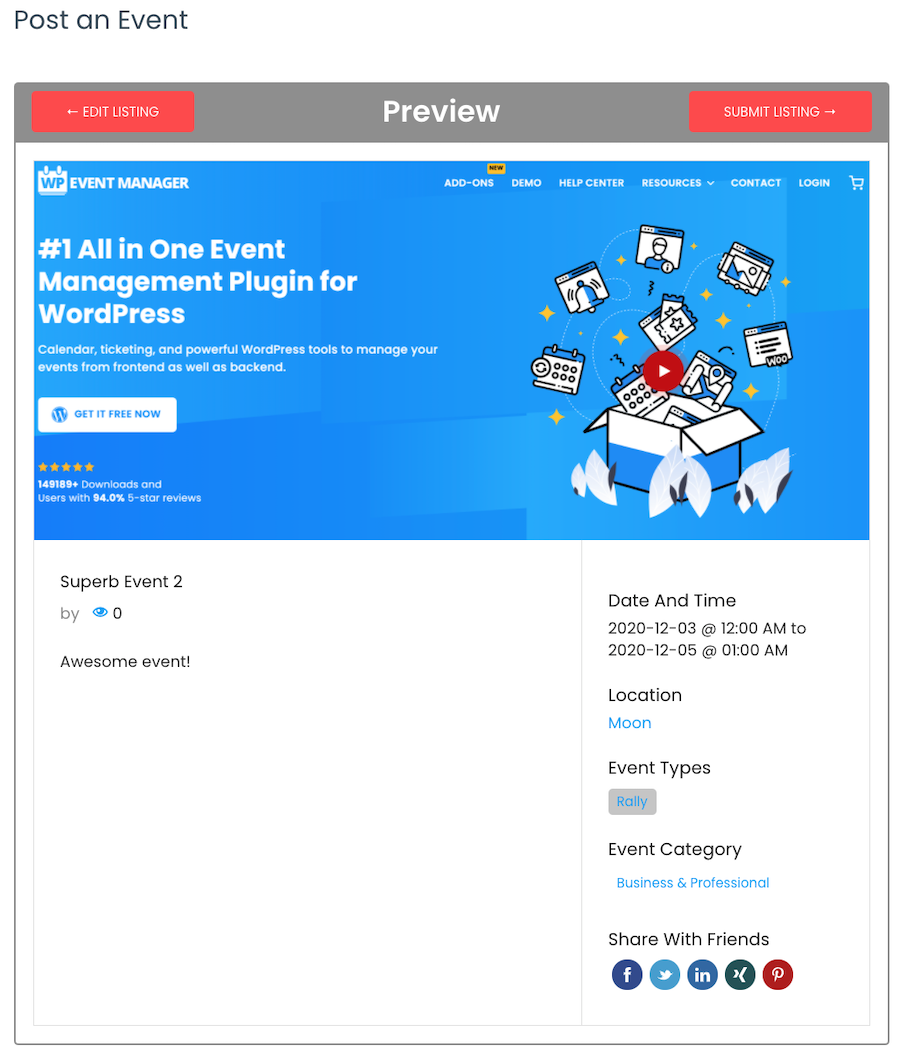 The preview functionality is great because it helps you catch any errors before publishing the event page.
If you want the event organizer to submit events him/herself, configure the user account settings in a way that fits your security policies:

But if you decide that the administrator should always approve the events before they go live, you can naturally do so.
Listed Events and the Event Dashboard
If you are a WP admin, you can find the created events by going to Events > All Events:

From there, you can change the event details or approve events if that's your preferred workflow.
If you are an event organizer, you can also access your front-end event dashboard, where you can find all your event-related information:

How to Use the Field Editor
If you want to edit the event submission forms, you can do so using the Field Editor tool.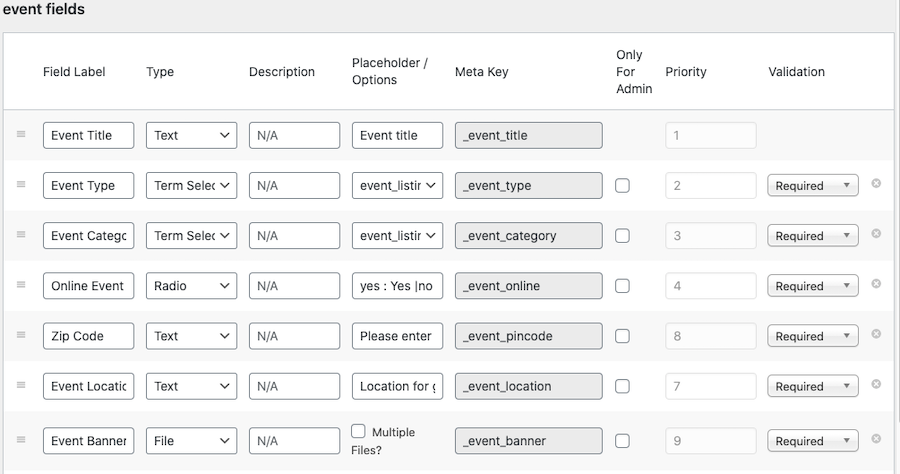 Currently, it contains over 30 fields that you can tweak. You can find the fields in three different sections: event fields, organizer fields, and venue fields. And if you want to add a new field, you can do so.
You can manage the labels, data types, placeholder texts in their text boxes or descriptions. You can also change their values or priorities.
Once you have done your changes, save them.


Then look at the form again, and you'll see the change (Event Title placeholder changes to Title):

Premium Add-ons and Pricing
You can expand the functionality of the WP Event Manager with 20 premium add-ons. These extensions add excellent new functionality to the plugin.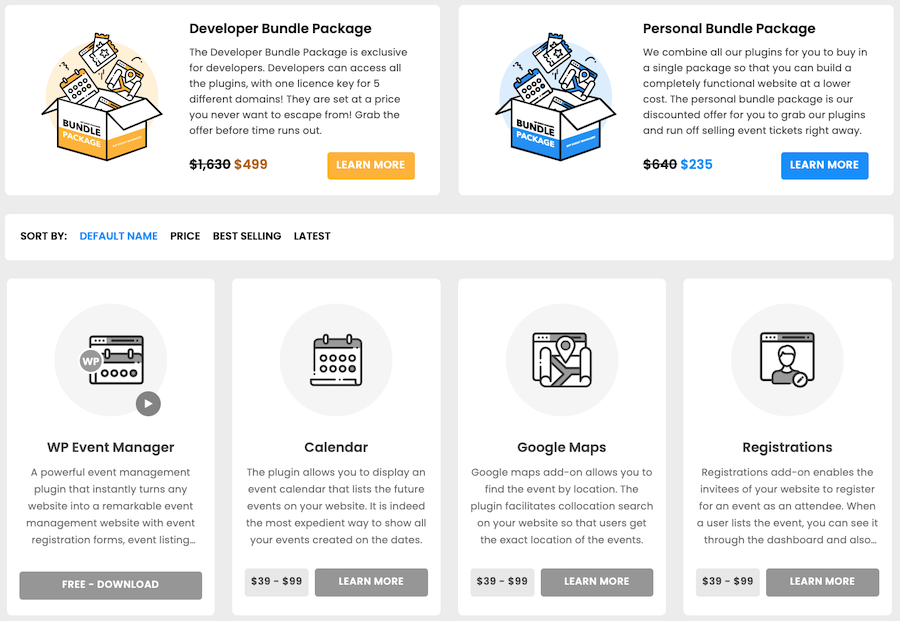 At the time of writing the post, you can choose from the following add-ons:
Calendar, Google Maps, Registrations, Sell Tickets, Attendee Information, Zoom, WooCommerce Paid Listings, Recurring Events, Alerts, and Bookmarks.
And if this list wasn't enough, you still have Embeddable Event Widget, Colors, Sliders, Even Tags, Contact Organizer, Export Events, iCal, Google Recaptcha, Google Analytics, and Emails.
Some plugins require other plugins before you can use them.
For instance, if you want to use the Attendee Information add-on, you also need to purchase the Registrations and Sell Tickets plugins.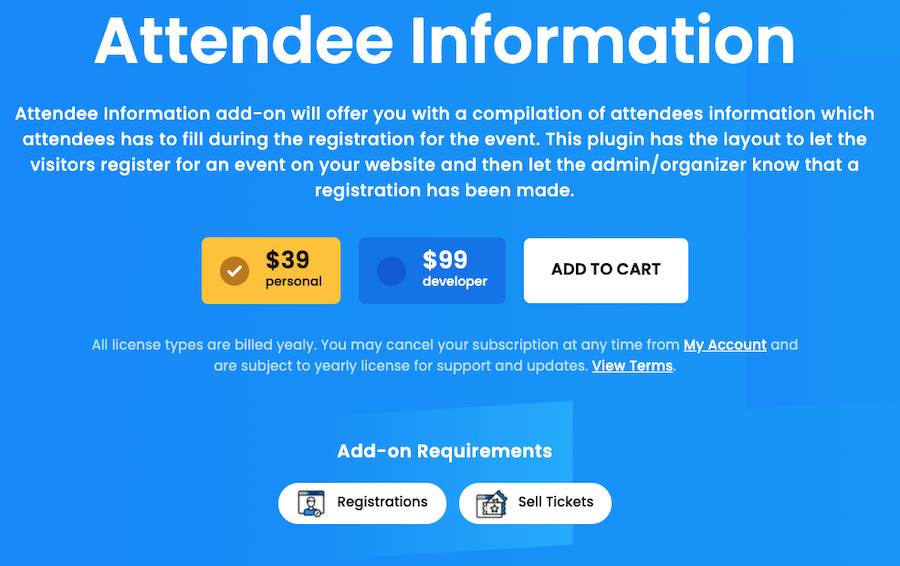 Learning about an add-on by reading takes you only so far. That's why it's great to know you can find some premium add-ons in action on the WP Event Manager demo site.
Unfortunately, not all the plugins have a working demo. I think the WP Event Manager team should fix this shortcoming soon.
The add-on pricing varies depending on whether you buy plugins one at a time or in a bundle and whether you are a private person or a developer.
For personal use, the plugin prices vary from $19 to $39. And if you are a developer, expect to pay $49 to $99 per add-on.
If you need more than one add-on (this is sometimes the case), it may be reasonable to invest in a bundle.
The Personal Bundle Package costs $235. If you are a developer, you can buy a Developer Bundle Package for $499.
Just keep in mind that all the plugins/bundles are subscription-based, and you have to renew their license annually.
Customer Support
When I test new products or services, I pay a lot of attention to the support options.
For instance, you may need an answer to your pressing question right away. But if the vendor has slow response times, the shiny features do not warm your heart in that moment.
Fortunately, WP Event Manager provides various support options. And in my opinion, support is top-notch.
First, there is the Help Center, which is free and accessible to everyone.

The Help Center provides various self-support options with the Knowledge Base, the FAQs, or the video tutorials. You can even reach the WP Event Manager staff by using Slack, Facebook, GitHub, or through the plugin support page on WordPress.org:

My preferred way of getting support is by using chat.
Why? Because often, you get an answer to your question much quicker than submitting a ticket.
I was happy to find out that the chat channel was one of the available support options. So I went ahead, tested the chat, and got the right answers to my questions.
But the support options don't stop there.
You can even submit a support ticket to their customer support through the Help Center page. Typically, you'd get this support option if you purchase a premium product. But this is not the case with WP Event Manager!

I submitted a few tickets, and I got answers to my questions relatively quickly.
If you purchase premium add-on subscriptions, you can also access a separate support channel for those questions.
There is one improvement I'd like to have: I want to know the support's operating times. It would be helpful to know when the support person is around.
WP Event Manager Pros and Cons
Pros
Easy to use and configure.
The plugin is free.
Excellent support and extendibility through premium add-ons.
Cons
Some parts of the UI are a bit unfinished.
You have to renew the add-ons annually, if you want to continue receive the updates & support.
Limited styling options, if you are not a developer.
Is This the Right Tool for You?
I had never heard of this plugin before. Yet, this new acquaintance was a pleasant surprise. The plugin was easy to set up, and I got great support from their team.
I suggest that you look at this plugin if you want to set up an event website fast. And with a free product, it's simple to get started without any financial risks.