An affiliate program can be a great way to get more sales if you're selling any physical or digital products on your site, including courses, memberships, and software. An affiliate plugin makes it easy to manage the program.
When you partner with affiliates, they'll promote your products or services to their audience. When someone makes a purchase after clicking a link on one of your partners" sites, you will pay the affiliate a percentage of the sale. In this way, both vendors and affiliates benefit from the arrangement.
You'll need some way to track where buyers come from so that you can award to commission to the referring affiliate after you make a sale. You'll also need some way to manage affiliate signups and payments. This is where affiliate plugins come in.
Using an affiliate management plugin for your WordPress site makes it easier to:
Automate affiliate signup and referral code generation
Manage affiliate accounts
Track clicks and sales from your affiliates
Set commissions based on a flat rate or percentage
Pay your affiliates
In this article, I'll be summarizing some of the best affiliate management plugins for WordPress to help you choose the best option for your site and make more sales with your affiliate program.
1. AffiliateWP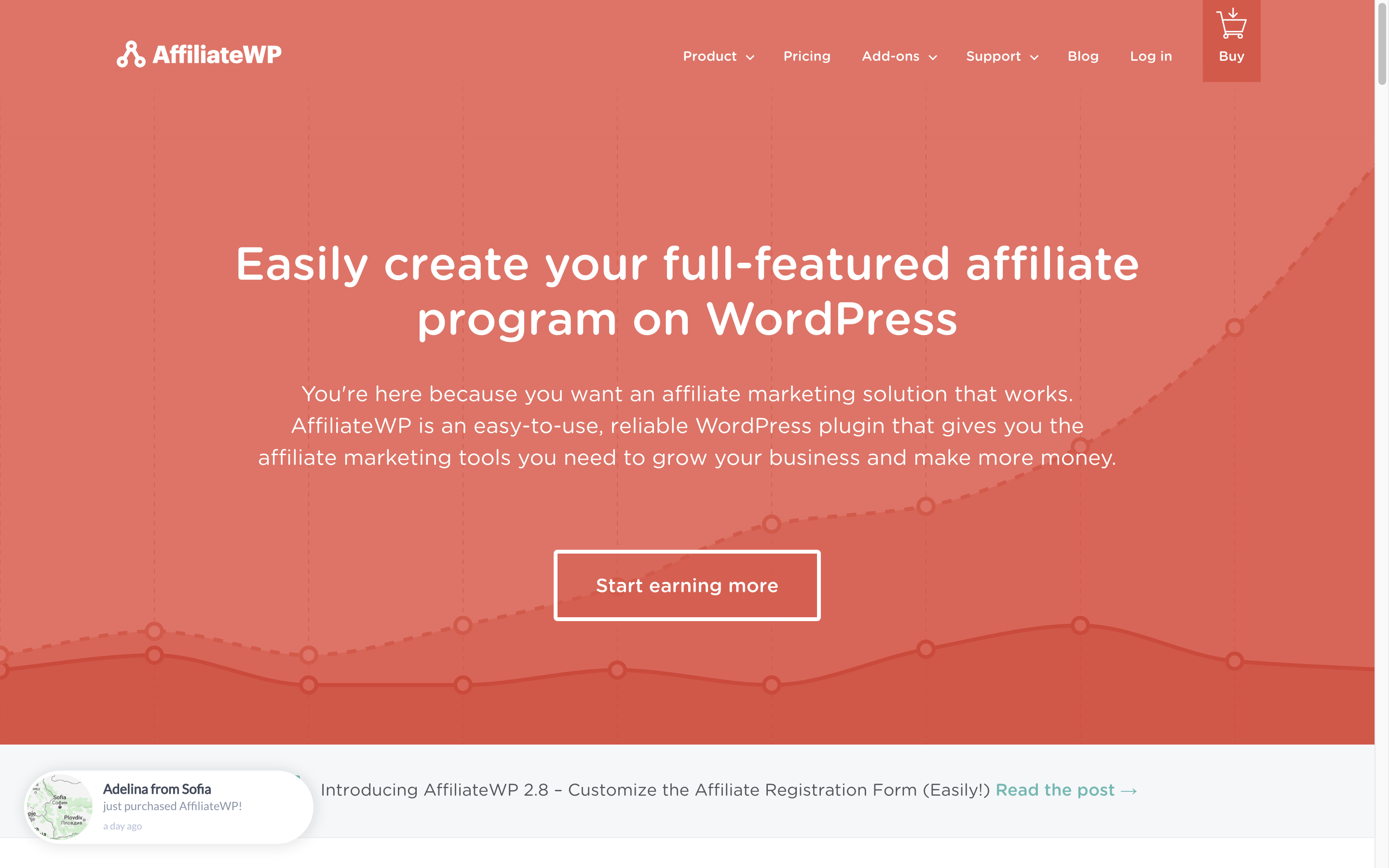 AffiliateWP is a comprehensive, powerful plugin that allows you to manage your affiliates from one place. It integrates with many popular eCommerce and membership plugins such as WooCommerce, Easy Digital Downloads, ZippyCourses, MemberPress, and more, so it is easy to use on any site.
This affiliate management plugin includes all the tools you need to boost your sales through affiliate marketing. Its simple and intuitive installation and control panel makes it easy for you to get started, and a default affiliate signup form and portal for affiliates to self-manage their account will save you time so you can focus on your business.
👉 Check out our detailed review of Affiliate WP
Features:
Integrated payouts service
Real-time tracking of visits, referrals, earnings, and registrations
Affiliate coupon tracking
Automatic or manual affiliate registration
Affiliate dashboard for affiliates to view earnings, generate referral links, and download creatives
Set cookie expriation
WordPress shortcodes for the affiliate signup form, login, and more
Pricing: Plans start from $299 a year for one site with unlimited affiliates and referrals. There's no free trial but a 14-day money-back guarantee if you try out the plugin and it isn't suitable for you.
2. Post Affiliate Pro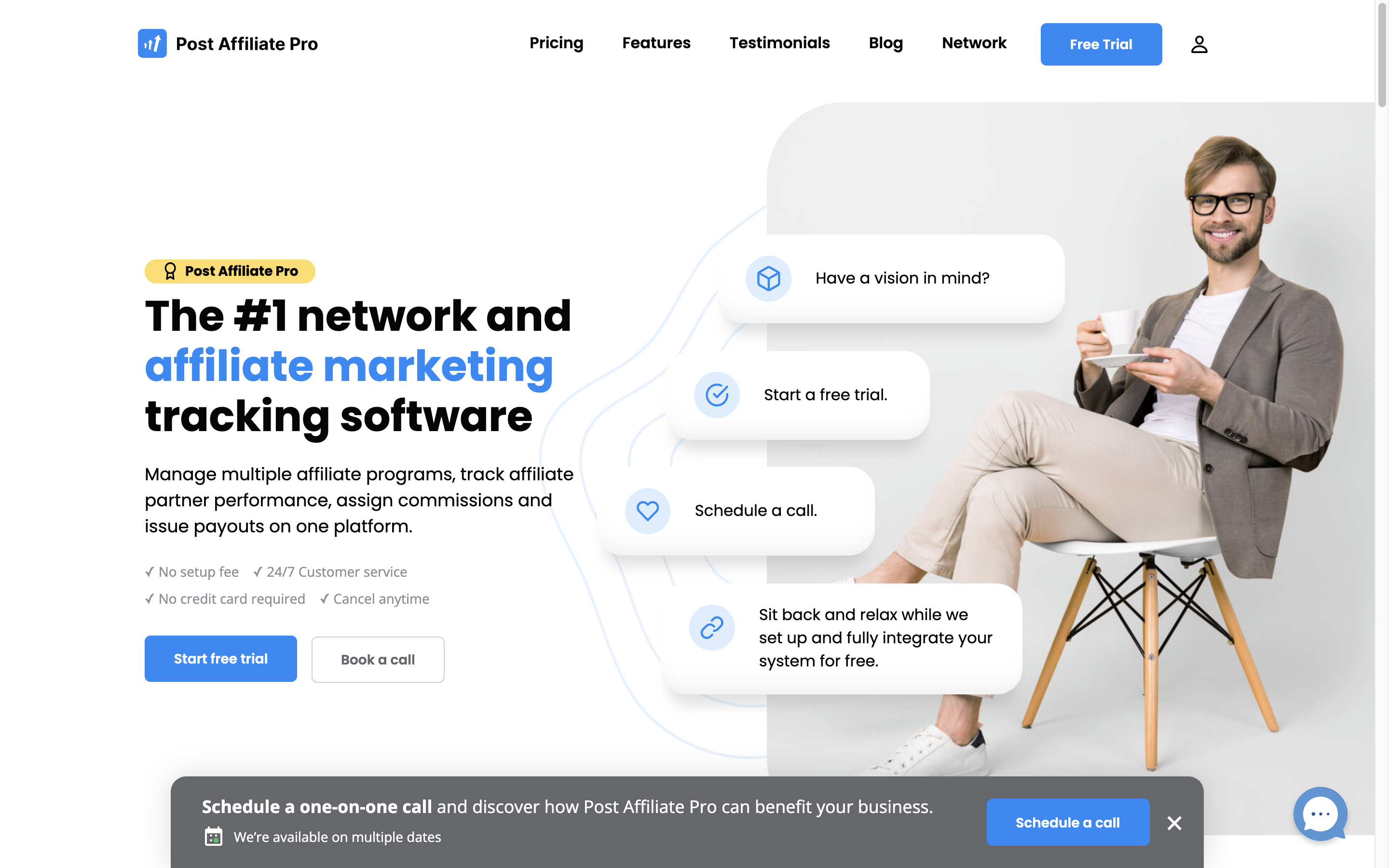 Post Affiliate Pro is an advanced affiliate management platform that's suitable for running large-scale and complex affiliate programs to grow your business to its maximum potential.
This powerful affiliate plugin has everything you need to manage multiple affiliate programs while offering advanced features for tracking and rewarding affiliates.
Features:
Intuitive affiliate manager dashboard
Multiple commission types, including commission groups, multi-tier commissions, recurring commission, and performance rewards
Multiple affiliate link styles and tracking methods
Advanced reporting and analytics.
Smartlinks automatically direct visitors to the offers they're most likely to be interested in.
Integrates with over 200 shopping carts, payment gateways, and marketing tools
Pricing: Plans start from $97 a month, which supports unlimited affiliates and up to 1 million tracking requests. A free trial is available.
3. EasyAffiliate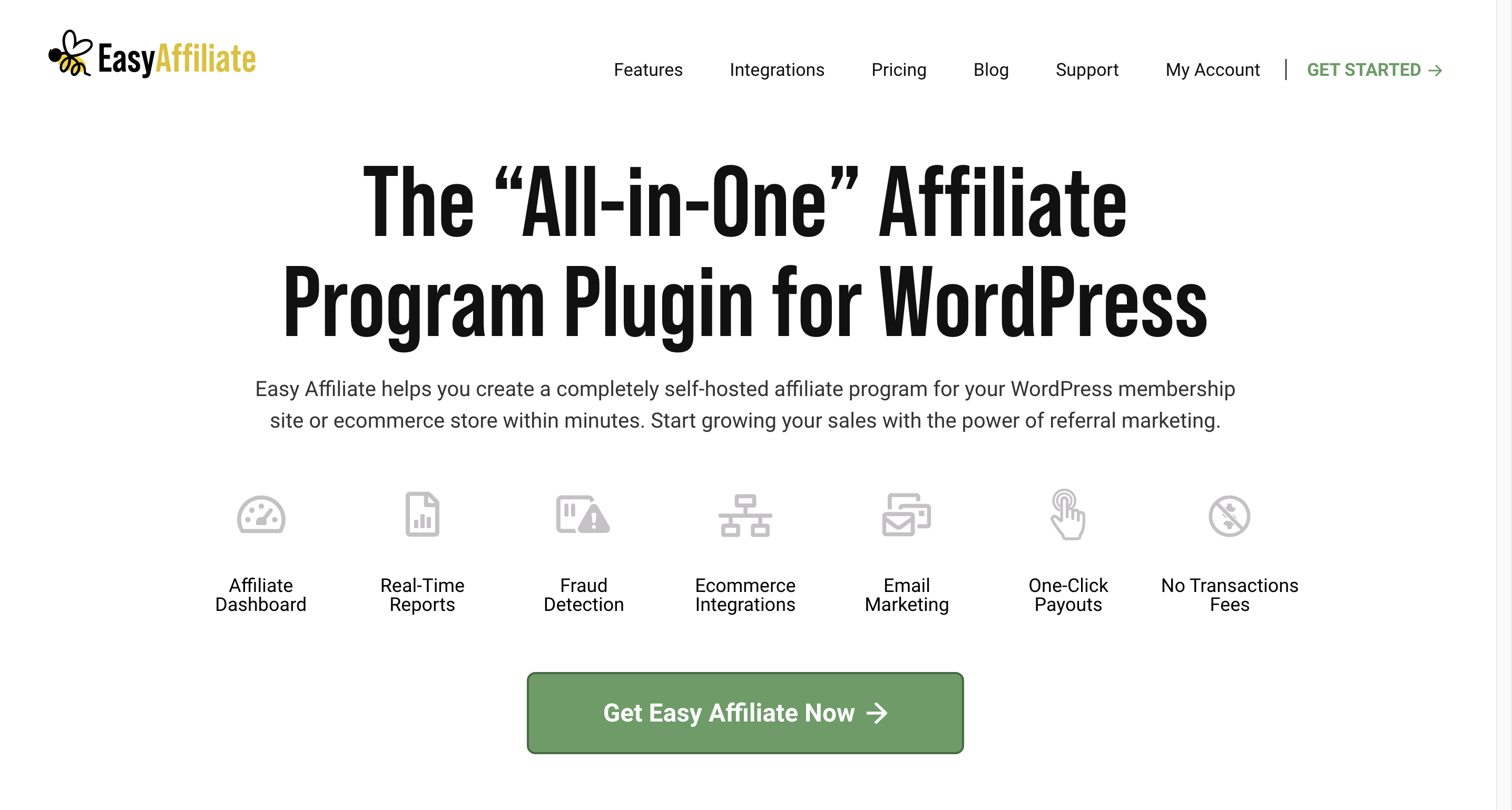 EasyAffiliate is a feature-rich affiliate marketing plugin for WordPress designed to be flexible and powerful with advanced security and fraud protection features.
It works with a wide range of WordPress sites, including WooCommerce sites, membership platforms like MemberPress, and other eCommerce plugins such as Easy Digital Downloads.
Features:
Customizable and personalized affiliates dashboard
Admin panel with advanced reports
Built-in affiliate application process
Multiple commission levels with customizable override rules
Automatically flag suspicious affiliate behavior before payout
Custom link generation with support for pretty links
Integrates with popular email marketing services to keep in touch with affiliates
Pricing: From $199 per year for use on one site with unlimited affiliates and tracking requests. There's a 14-day money-back guarantee so you can get a refund if the plugin isn't suitable for you.
4. SliceWP Affiliate Plugin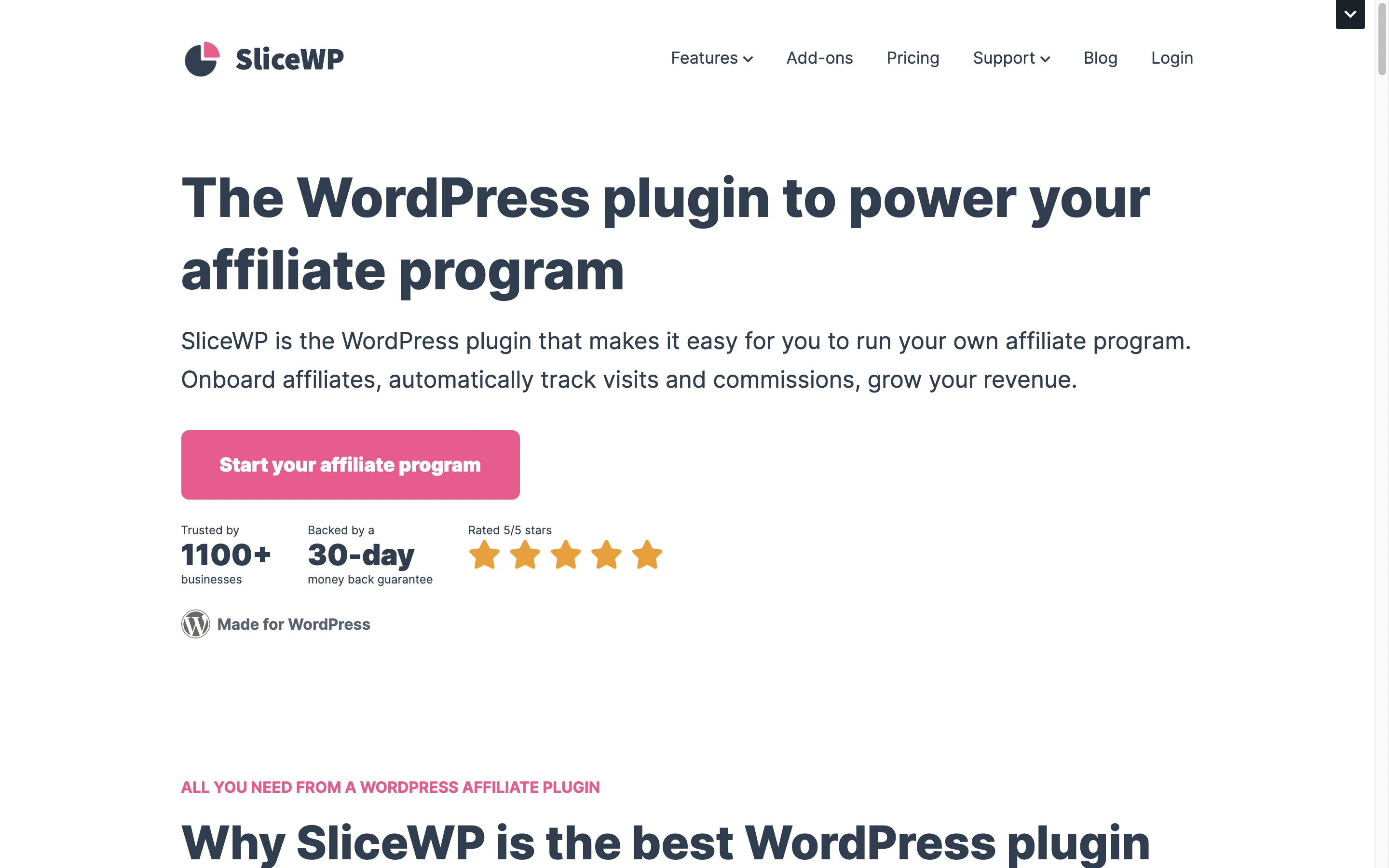 SliceWP Affiliates Plugin is a relatively new plugin and has only been around since 2020, but feedback from users is overwhelmingly positive. It's designed to be easy to use with an attractive interface. It's quick to set up, integrates with WooCommerce, Easy Digital Downloads, and other plugins, and is suitable for anyone who wants to set up an affiliate program for their eCommerce site.
The free version comes with all the basic functionality you need to track referrals and manage your affiliates. In contrast, the premium version comes with extra features such as customizations, reporting, and cross-site tracking.
Features:
Dedicated affiliate area for affiliates to manage their account and track their commissions
Real-time reports
Affiliate coupon tracking
Bulk PayPal payouts
Customizable commission rates
Easy and powerful affiliate management
Lead affiliate commissions
Pricing: From $99 a year for the premium plugin on one site. A free version of the plugin with limited functionality is also available.
Don't forget to use our exclusive SliceWP coupon to get 20% OFF.
5. WP Affiliate Manager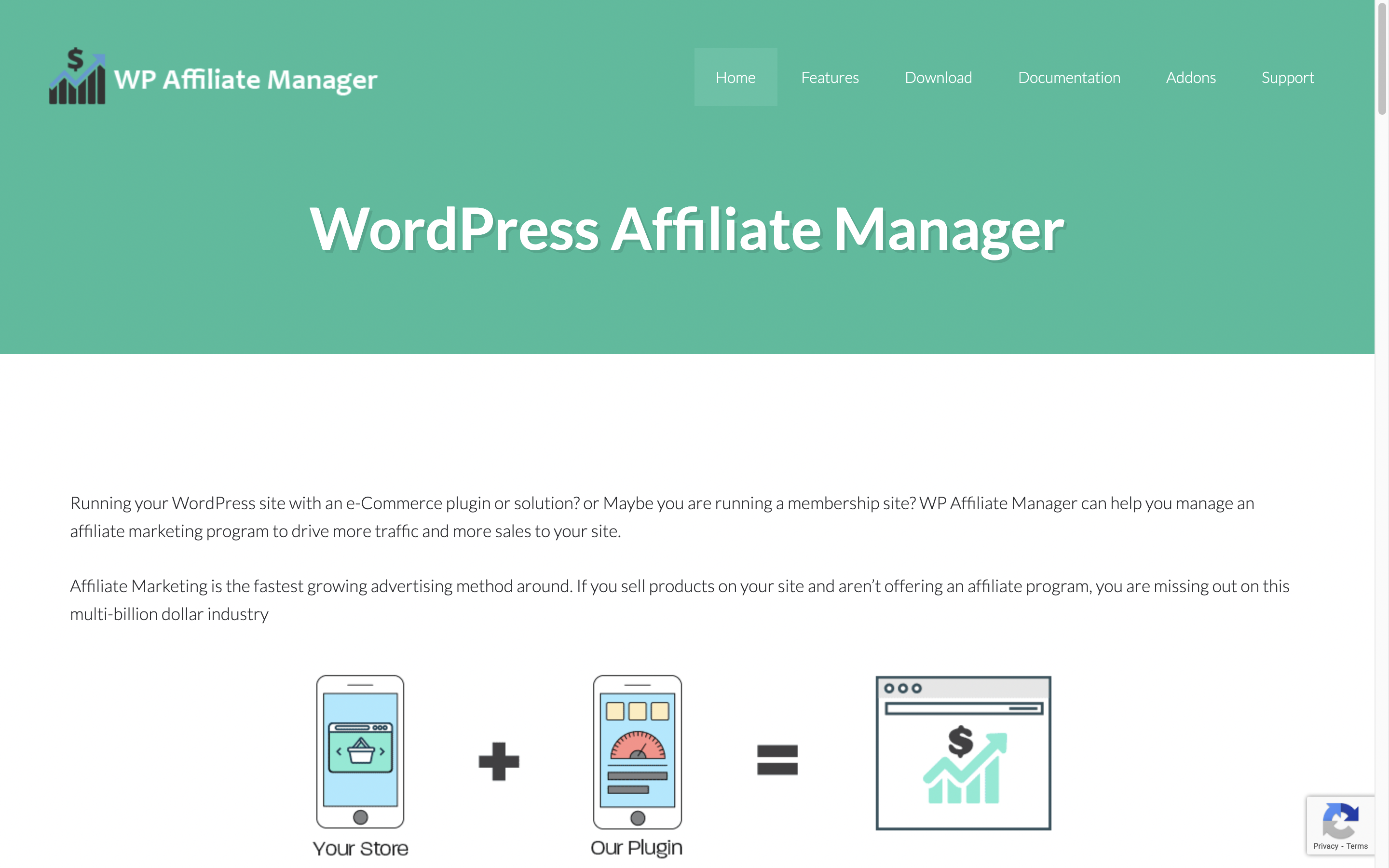 WP Affiliate Manager is a simple and affordable plugin that enables you to manage your affiliate programs on WordPress easily.
This plugin makes it easy to track referrals, manage, and pay your affiliates, all within WordPress. It also integrates with many popular eCommerce and membership plugins, including WooCommerce, Easy Digital Downloads, and Simple Membership Plugin.
Features:
Affiliate dashboard for your affiliates to sign up and generate referral codes automatically
Real-time tracking of referral clicks and sales
Flat rate or percentage-based commissions
Shortcodes for affiliate registration and login
Admin dashboard to manage affiliates
Customizable affiliate registration form
Pricing: The premium plugin costs $39 for a single site. A free version is available if you want to try it out first.
6. Ultimate Affiliate Pro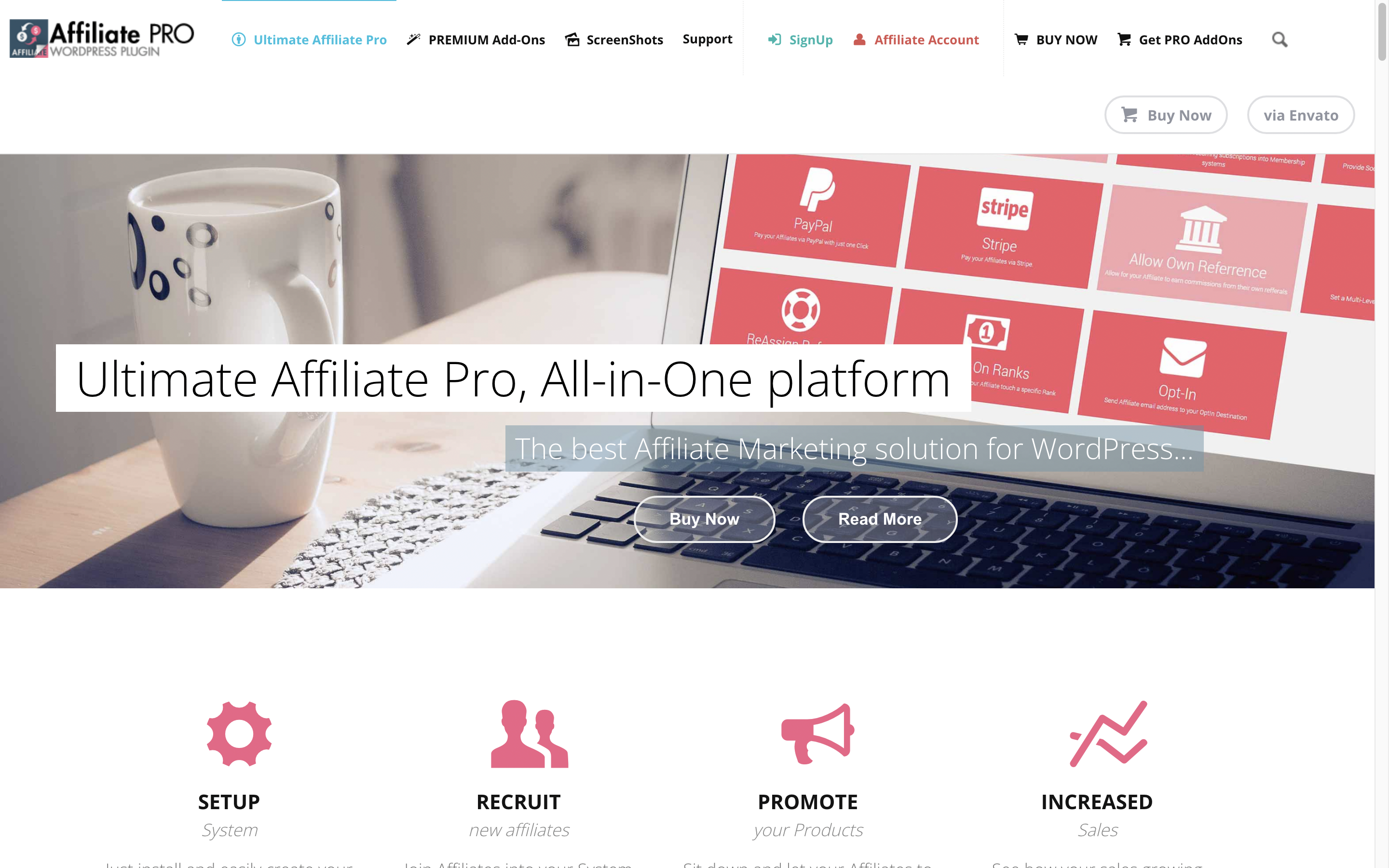 This all-in-one affiliate management solution has everything you need to run an affiliate program on your WordPress site and manage your affiliates and ads in one place.
It works by enabling affiliates to run their own marketing campaigns with a suite of tools and tracking via metrics such as CPC, CPA, and CPM. Affiliates can also recruit more affiliates with an MLM structure.
Features:
Affiliate Wallet that encourages affiliates to spend their earnings on the site
Affiliate ranking and performance bonuses to drive more sales through incentives
Flat-rate, percentage, or custom commissions
Direct payout via PayPal or Stripe
Customizable registration form
Affiliate coupons and friendly links
Affiliate landing pages
Multiple login and registration templates
Pricing: $69 for use on a single site with lifetime updates
7. YITH WooCommerce Affiliates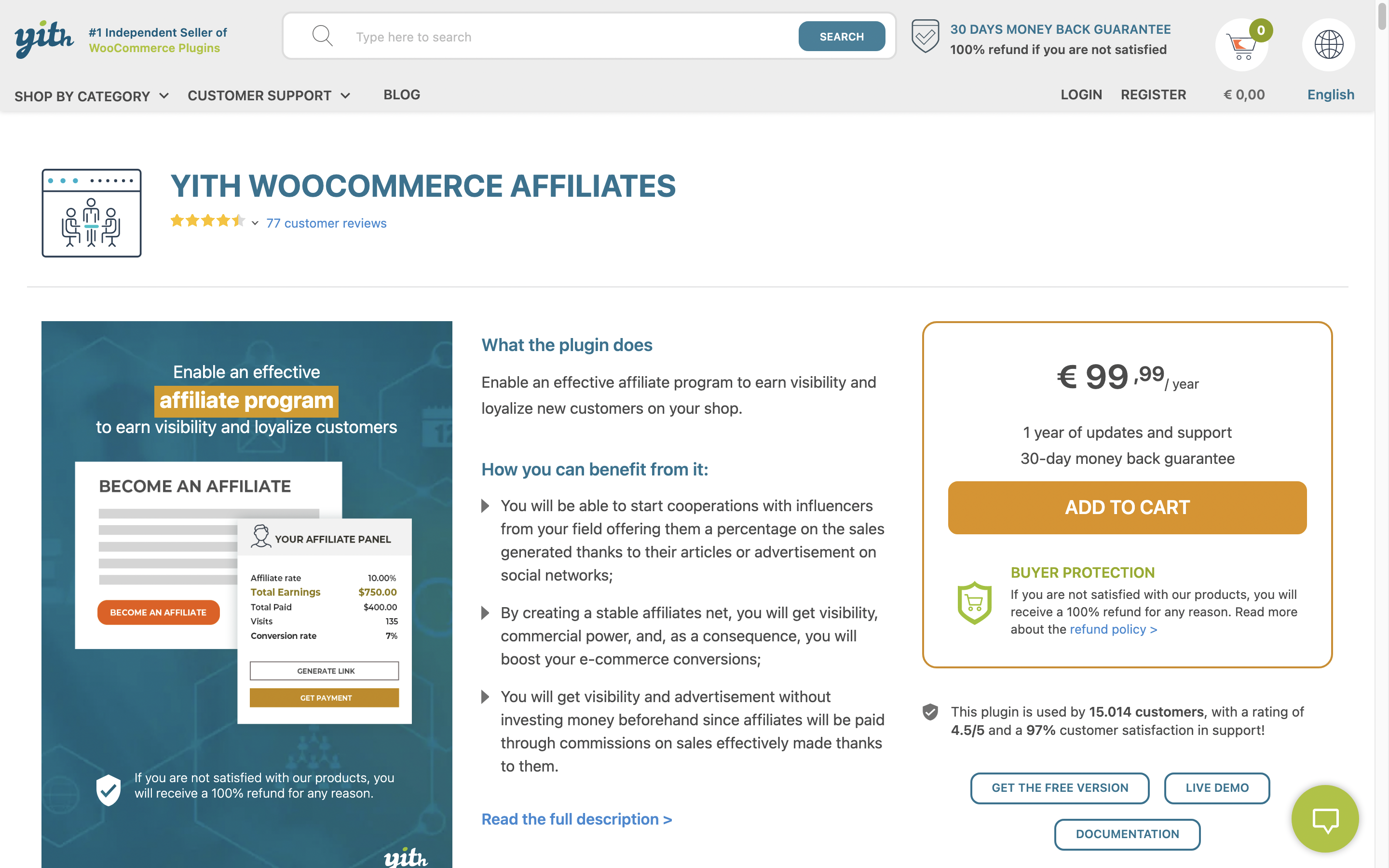 YITH WooCommerce Affiliates is an excellent plugin for running affiliate marketing programs with your WooCommerce store.
You have complete control over affiliates, including setting different commissions for different products and users and deciding how long affiliates can receive commissions after a shopper clicks their link. You can also choose between automatic or manual payments.
Features:
Automatic affiliate registration
Generate custom coupons for affiliates
Set cookie duration to enable commissions for multiple days after a user clicks a referral link
Automatically removes commissions for refunded products
Affiliate dashboard with performance reports
Automatic payment of commission on reaching a set threshold or on specific days
Specify different commissions for each product or user
Pricing: € 99,99/ year. A free version with limited features is also available.
8. ReferralCandy for WooCommerce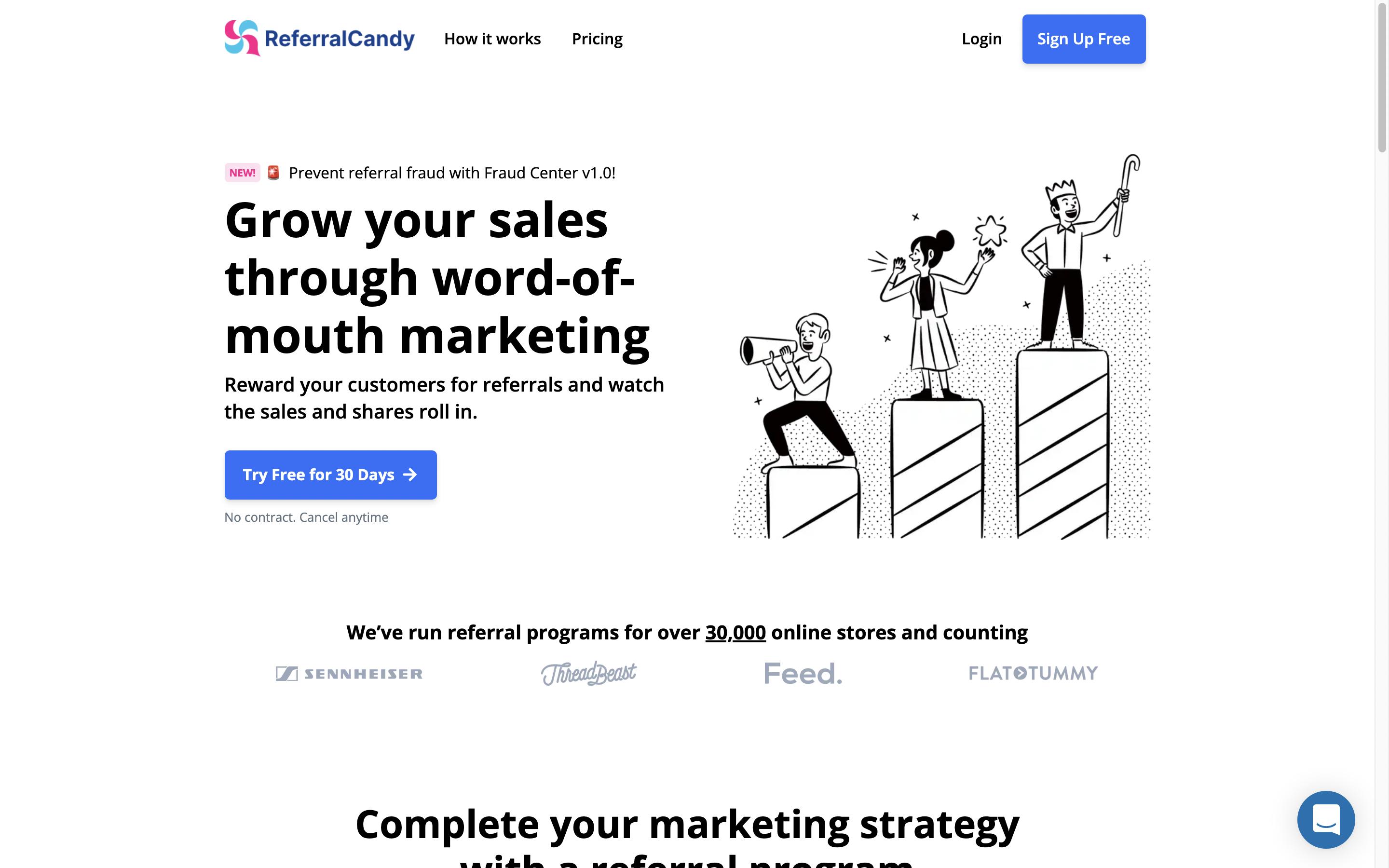 ReferralCandy is a popular customer referral plugin for WooCommerce stores. If you're keen to increase your sales and reward customers for loyalty, this SaaS solution could be a good option for you.
This isn't a traditional affiliate management plugin. It's designed for customers who have already bought from you, rather than allowing anyone to sign up to the program. It works by encouraging customers to share discount codes for your products and services with their friends via email and social media in exchange for a discount, free gift, or monetary reward.
Features:
Fully automated system allows you to customize when customers are invited to the program and how and when they will be rewarded.
Advanced analytics and customer insights panel
Library of modern templates optimized to attract maximum referral signups
Promote referral program across multiple channels
Prevents referral fraud and spam
Pricing: From $49 a month for unlimited customers. There's a free 30-day trial available, so you can try it out before you buy.
9. Refer a Friend for WooCommerce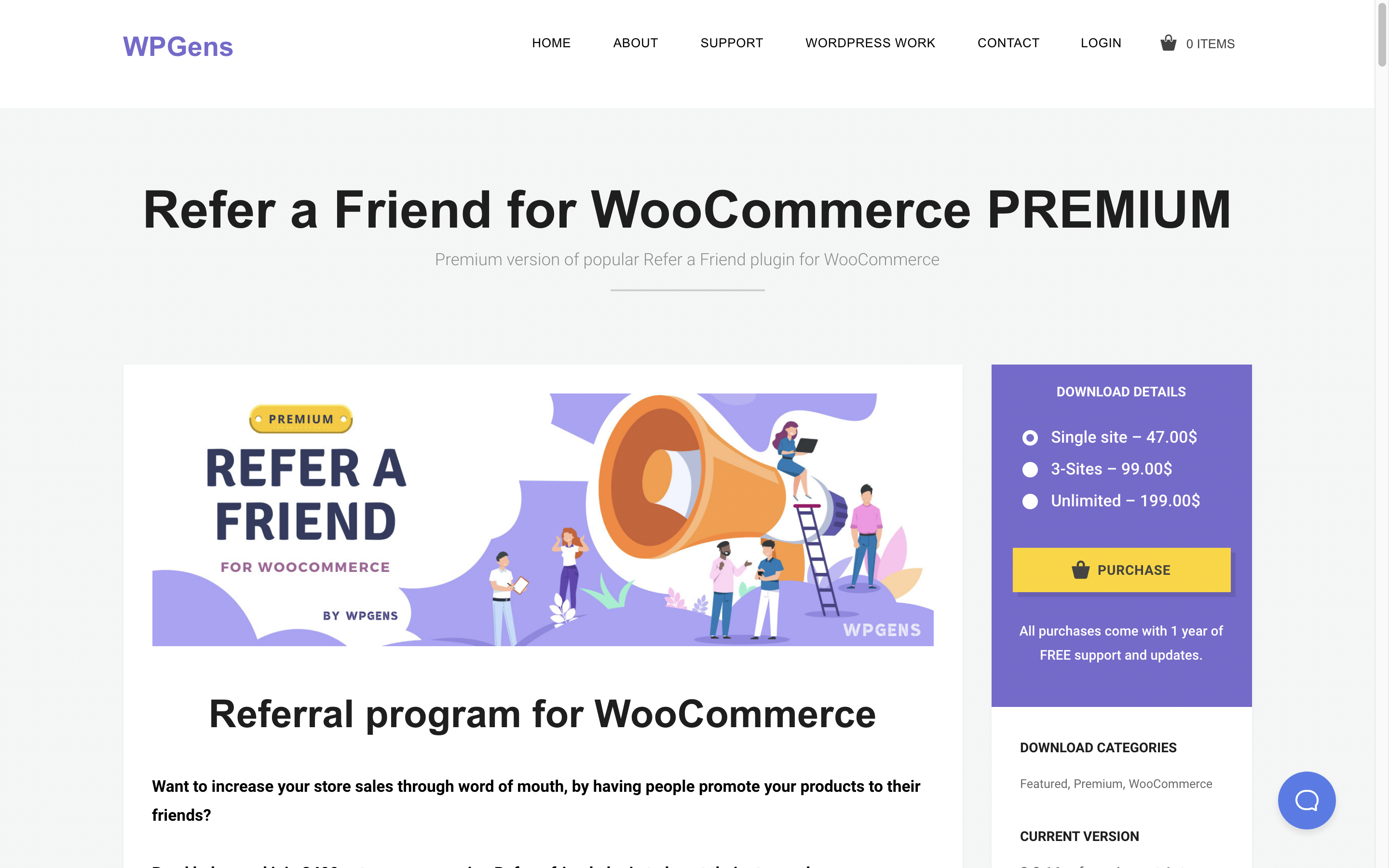 Like ReferralCandy, this isn't a traditional affiliate marketing plugin. You don't have to pay affiliates for referrals, but you can reward them by offering discount coupons when they send new customers your way with the help of this WooCommerce referral plugin.
The free version of this plugin will be enough for most sites. However, you can upgrade to the premium version for extra features like shortcodes, coupons for friends, and enhanced fraud protection.
Features:
Set the value and type of coupons, as well as if you want to set a minimum value for referred orders
Customers can track who they referred and see their coupons on the referral portal
Coupon expiry dates
Customizable email referral invites
Pricing: Free or from $47 for a single site for the premium plugin.
10. Solid Affiliate Plugin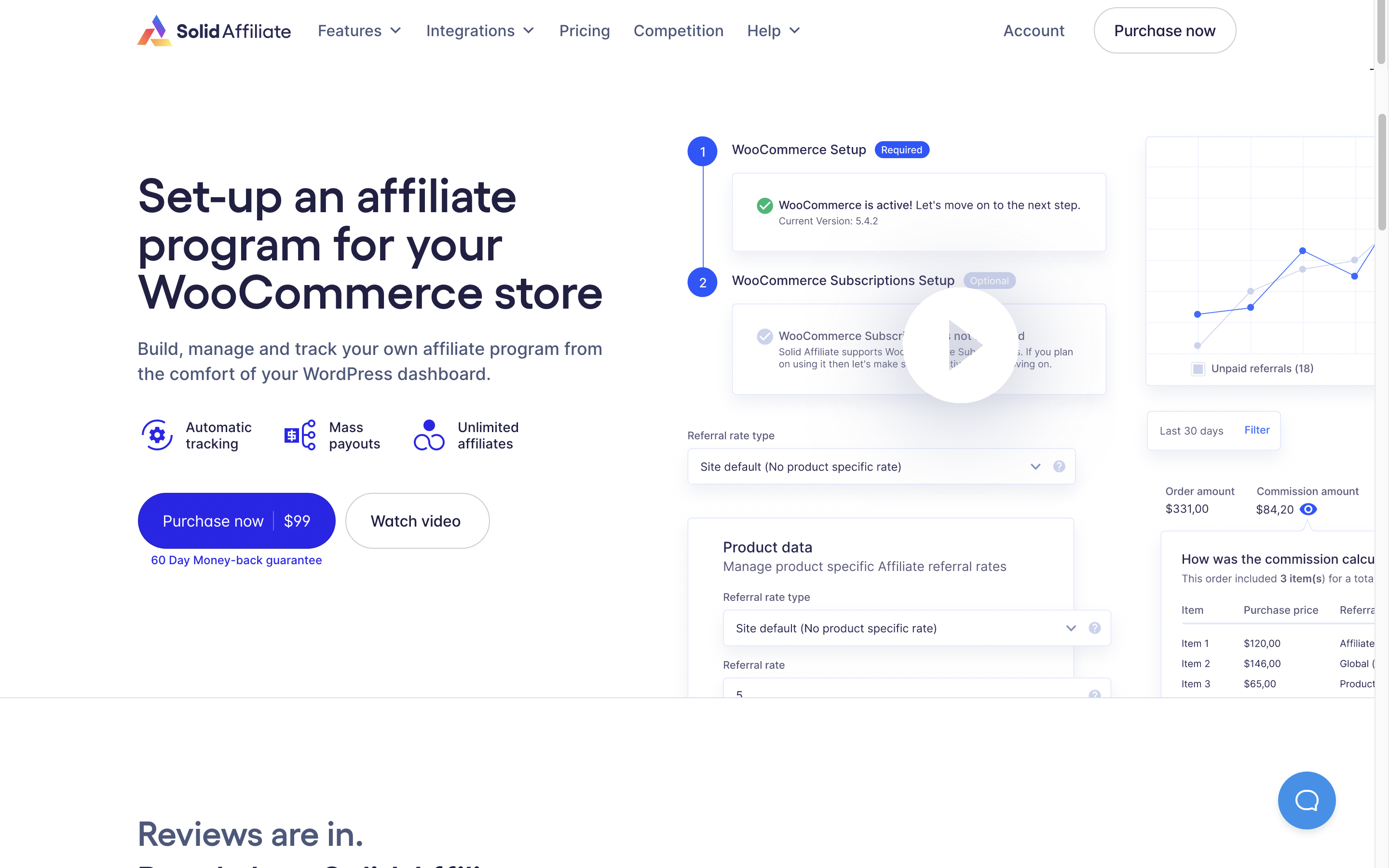 Solid Affiliate is another new WordPress affiliate marketing plugin that was only launched in 2021. It's designed to make it easy for you to track, manage and pay affiliates. It's suitable for anyone who wants an all-in-one solution for managing their affiliate program for their WooCommerce store.
Unlike other plugins, which integrate with multiple WordPress plugins, Solid Affiliate WP was built specifically for WooCommerce sites. Another nice feature of this plugin is that it's currently sold with lifetime support and updates, so you don't have to keep paying each year to use it. So grab this deal while you can!
Features:
Easy-to-use setup wizard
Integrates with WooCommerce out of the box, including WooCommerce subscriptions, coupon tracking, and product-specific conversion rates
One-click affiliate payments with PayPal
Detailed payment records with refund protection
Customizable affiliate portal
Customizable commission fee structure
Easy affiliate sign up and self-management
Pricing: $99, including lifetime support and updates
11. Tapfiliate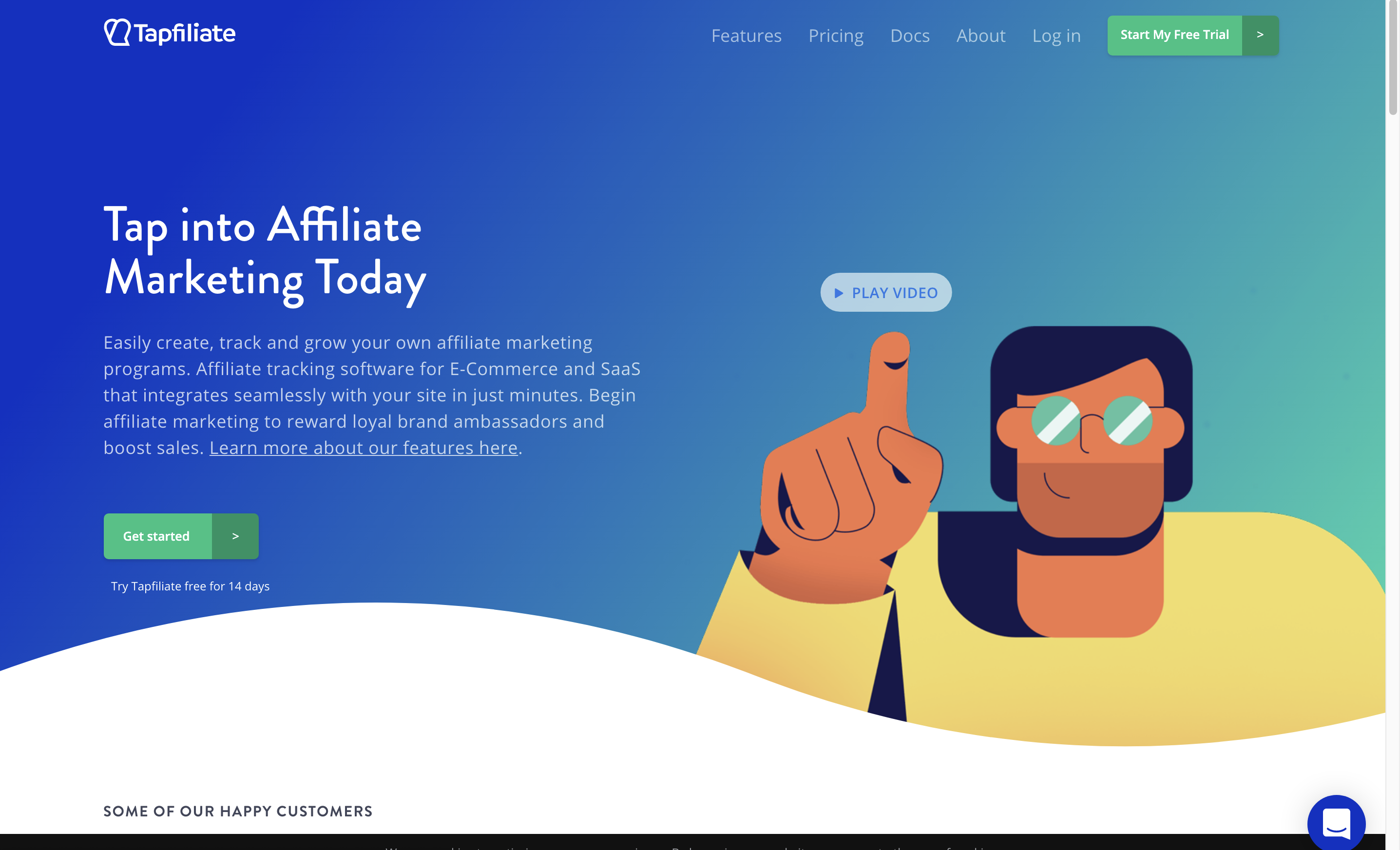 Rather than being a WordPress plugin, Tapfiliate is a cloud-based solution that enables you to set up an affiliate program for any type of eCommerce site. The software works with WooCommerce, WordPress, and other platforms and has built-in tools for recruiting affiliates, tracking referrals, and managing payments.
Tapfiliate is an all-in-one platform that includes tools for affiliate marketing, referral marketing, and influencer marketing. There's also an advanced analytics and reporting dashboard to help you grow and optimize your affiliate program.
Features:
Advanced sales tracking with links and coupons
Automated affiliate recruitment
Asset management for banners, ads, coupons, social media posts, and other creative
Customize affiliate signup pages and dashboard to match your brand
Flexible commission structure
Affiliate performance bonuses
Advanced real-time reporting
Pricing: From $89 a month. A 14-day trial is available, and there's also a 90-day money-back guarantee.
12. Affiliates by itthinx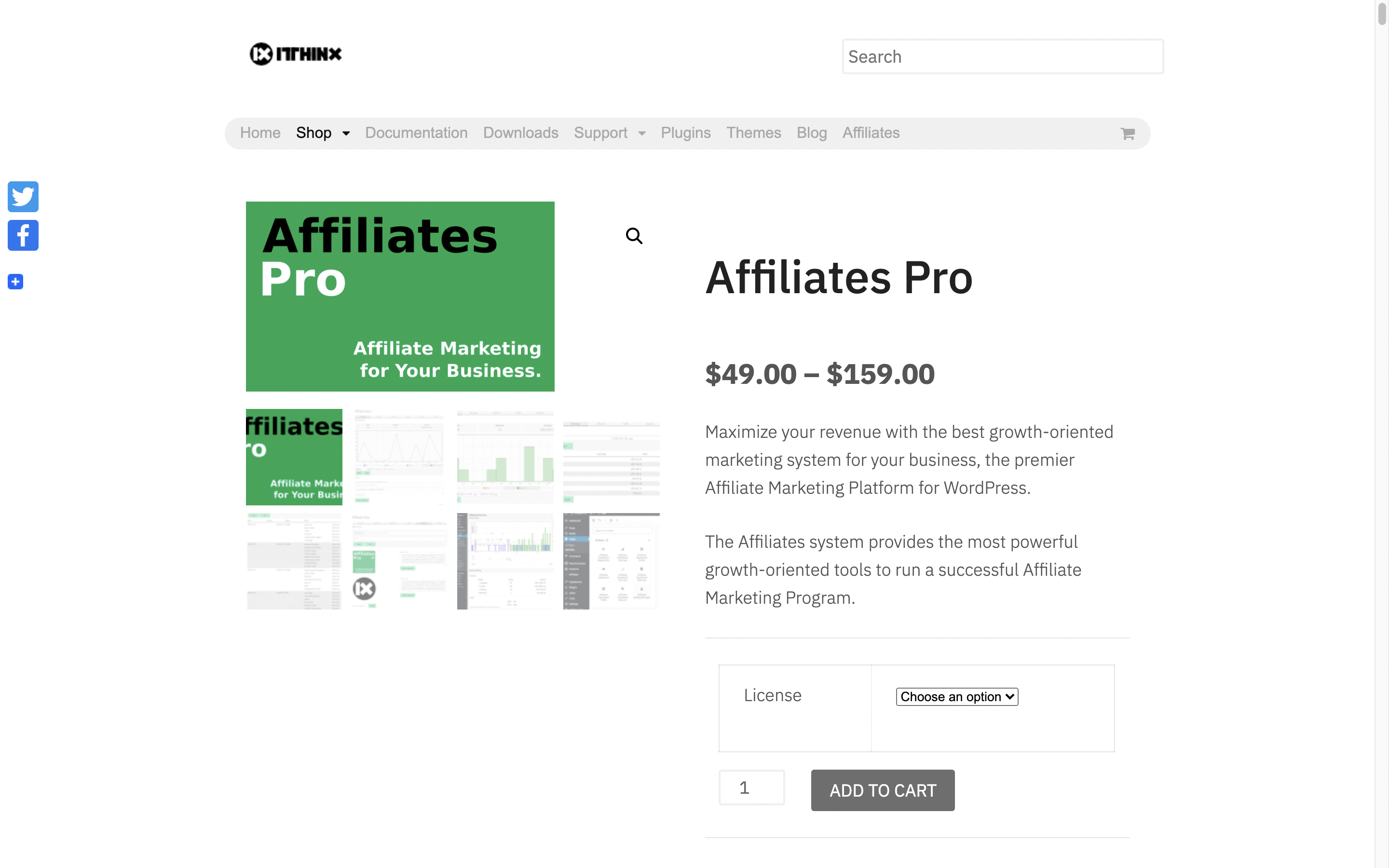 Affiliates is a basic affiliate management plugin for WordPress that comes with a number of free and paid extensions for those who need additional integrations and functionality. It's easy to install and configure, but the number of add-on plugins can be a little confusing at first for those who are used to an all-in-one plugin.
The core plugin includes an affiliate dashboard, automated affiliate registration, and affiliate management. In addition, extension plugins are available to make Affiliates compatible with WooCommerce, NinjaForms, Contact Form 7, and BuddyPress. The pro version of the plugin adds extra features such as custom referral rates, a more detailed dashboard, and advanced reporting.
Features:
Intuitive and customizable affiliate dashboard
Integrates with most popular eCommerce plugins
Real-time reporting
Easy affiliate management tools
Automated affiliate signup
Coupon referrals
Pricing: The core plugin is free. Affiliates Pro is priced from $49 for a single site.
Which is the Best Affiliate Plugin for Your Site?
Before choosing a plugin, it's important to consider your needs and budget. For example, if you're an indie software developer trying to boost sales of your WordPress plugin, you don't need the expensive solutions aimed at large businesses running complex affiliate programs.
You'll also want to choose a plugin that makes things as easy for you as possible. The whole point of an affiliate management plugin is to save you admin time, so look for one that automates as much as possible and is simple to set up and use.
If you're looking for a free affiliate plugin or you're on a tight budget, try the free version of Affiliates by it thinks, SliceWP, or YITH Woocommerce Affiliates and consider upgrading if you like the plugin and need additional features.
If you're prepared to invest a little money into a premium plugin, you have a few more options. While it's always a risk to place your bets on new software, if you have a WooCommerce site, Solid Affiliate gets my vote for a clean user interface and complete feature set, and it's received very positive reviews to date.
AffiliateWP, EasyAffiliate, and WP Affiliate Manager are also excellent options.
For tiered affiliate programs or businesses built around multi-level marketing, you'll need a plugin that supports this structure. Try Ultimate Affiliate Pro, which is designed specifically for MLM businesses.
For those who want to set up a customer referral program rather than a standard affiliate program, it's best to choose a plugin designed for this purpose. ReferralCandy and Refer a Friend are both good options, and the latter has a free version.
For enterprises and those who have a team to manage their affiliate program, you'll need something more robust. Post Affiliate Pro and Tapfiliate both fit the bill (for a hefty monthly fee, of course.)