Searching for a way to create an affiliate program for your WordPress site? In our hands-on AffiliateWP review, we'll help you decide if this plugin is the right tool to create an affiliate program for your eCommerce store, online course, membership site, and more.
Spoiler alert – I think that AffiliateWP is probably the all-around best WordPress affiliate plugin when it comes to:
Built-in tracking integrations.
Features and flexibility.
Longevity (it will be around for a while because it comes from a reputable developer – the same team behind Easy Digital Downloads).
In our full review, I'll help you understand why I say that, and I'll also highlight some negatives and key details to understand.
Here's everything that I'll cover:
Let's dig in!
⚙️ AffiliateWP Review: Introducing the Features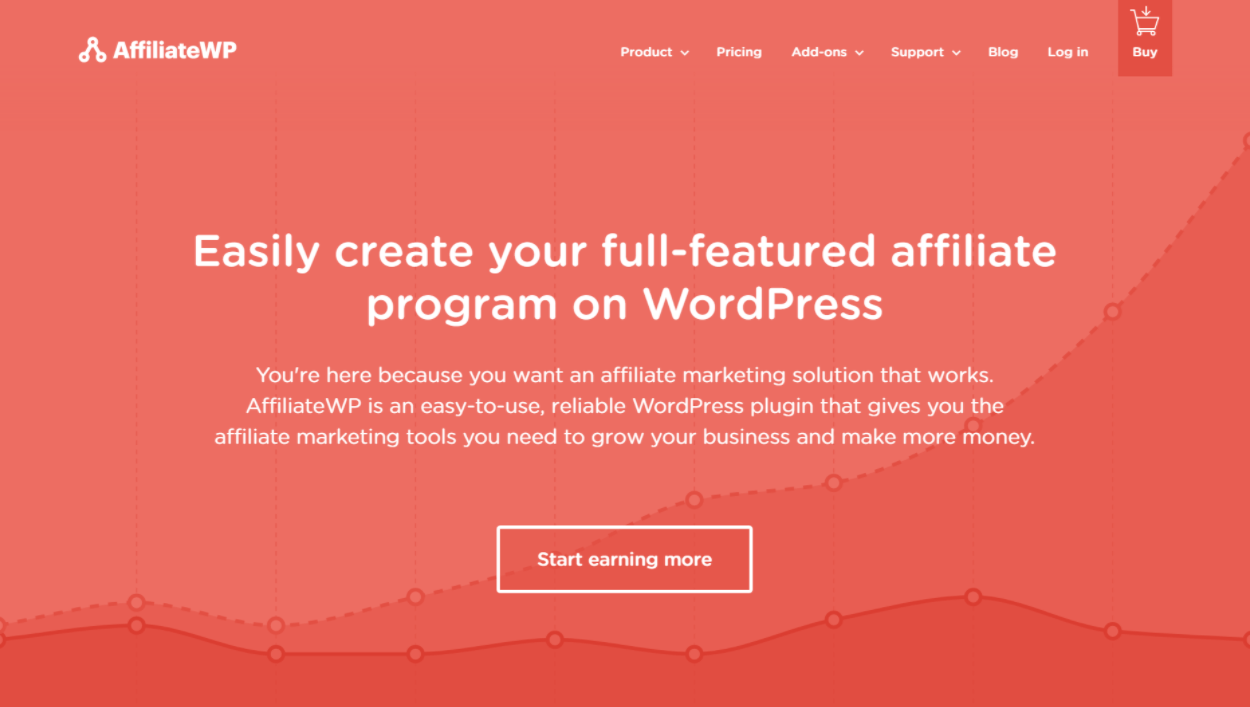 In a nutshell, AffiliateWP helps you create an affiliate program for your WordPress site. Other people can register with your affiliate program and AffiliateWP will automatically track the traffic and sales that they send you so that you can reward them with a commission.
It offers built-in integrations with most popular WordPress eCommerce plugins, membership plugins, and LMS plugins for easy setup – there's no complicated tracking to configure.
AffiliateWP also offers lots of flexibility for setting up your affiliate program exactly as you want it to be.
Let's go through it…
Built-in Referral Tracking Integrations
One of the really cool things about AffiliateWP is that it has one-click integrations with popular plugins. This makes the setup process super simple.
Basically, you just check a box and AffiliateWP will automatically start tracking conversions – no need to mess around with tracking pixels or code.
Here are the built-in integrations that it has:
AffiliateWP doesn't include a dedicated integration for LearnDash's built-in payments feature, but you can easily use AffiliateWP with LearnDash if you use EDD or WooCommerce as your LearnDash payment processor. Learn more about LearnDash.
If you're not using one of those platforms, you can still set up tracking yourself using the affiliate conversion script shortcode.
Key Features
One of AffiliateWP's high points is that it gives you a lot of features for managing your affiliate program.
For example, let's look at commissions. You get:
Global commissions – either flat rate or percentage.
Option to override commissions on a per-product basis or exclude certain products.
Custom affiliate tiers to reward high performers.
Option to set custom rates for individual affiliates.
Lifetime commissions.
Optio to award commissions for new user signups.
Custom affiliate coupons.
To pay out your affiliates, you can use:
The developer's custom payout service, which supports 31+ countries.
The built-in PayPal payouts integrations.
Manual payouts.
Other useful features include:
Detailed reporting and stats.
Option to add creatives.
Bulk import/export for affiliates, payouts, referrals, etc.
Zapier integration.
Your affiliates also get lots of useful features:
Front-end affiliate dashboard.
URL generator.
Campaign sub-ids (affiliates can add their own tracking IDs – a really useful feature for them).
Statistics/reporting, including graphs.
Notification emails for new referrals – i.e. when they get a sale.
Area to view creatives.
This is just a taste of the many available features – I'll share more when I talk about the 33+ available add-ons.
🆚 Key Benefits of AffiliateWP vs Alternatives
I would say there are a few benefits to using AffiliateWP over working with an affiliate network like ShareASale, CJ, etc.
Cost/Commissions
The biggest benefit of using AffiliateWP is that you can save a ton on costs/commissions.
With AffiliateWP, you'll pay a one-time cost ($149-$249) to set up your affiliate program*, but there are no ongoing costs based on the volume of commissions you pay out. It's 100% a flat fee.
Let's compare that to ShareASale. With ShareASale, you'll pay a one-time $550 fee to add your platform. Then, you'll also pay an ongoing fee for every commission that you pay out, which is 20% of your commissions.
So if you pay an affiliate a $5 commission, you also have to pay ShareASale $1, which makes the total cost of that commission $6 to you.
Other affiliate networks can be even worse! For example, CJ charges a one-time $3,000 signup fee plus a $500 per year fee plus a fee based on your sales/commissions.
Overall, using AffiliateWP to create your own affiliate program is significantly cheaper.
*You'll probably want to renew your license to continue receiving support/updates, so you'll need to pay this every year.
Own Your Audience
Another big benefit is that you get to own your audience and have a direct relationship with all of your affiliates. With an affiliate network, your affiliates are controlled by the network (though you can obviously still contact them).
This puts you in a somewhat weak position. For example, if you're negotiating fees with your network, they have leverage because they control the relationship.
With AffiliateWP, there's no middleman getting between you and your affiliates.
Of course, the downside here is that you'll also need to build your affiliate numbers from scratch – you won't benefit from the built-in pool of affiliates that a network has.
Flexibility
Finally, you also just get more flexibility because AffiliateWP is an open-source, GPL-licensed WordPress plugin. You can edit the code as needed to create the perfect setup for your affiliate program, which isn't possible if you use a network.
🔧 How to Create a WordPress Affiliate Program With AffiliateWP
Now, let's look at what it's like to create an affiliate program using AffiliateWP – I think you'll be surprised at how easy it is to set up the core features. For this section, I will be just using the core plugin – but I'll also talk about the many features that you can add with extensions after this.
I'll use WooCommerce for this example, but remember that AffiliateWP also integrates with all of the other tools that I mentioned above.
Setting Up Your Integration(s)
When you first activate AffiliateWP, the first thing that you'll want to do is set up your integration(s) – AKA what you want to track.
To set these up, you go to Affiliates → Settings → Integrations. One cool thing is that you can select multiple integrations, which is neat if you're selling via multiple tools.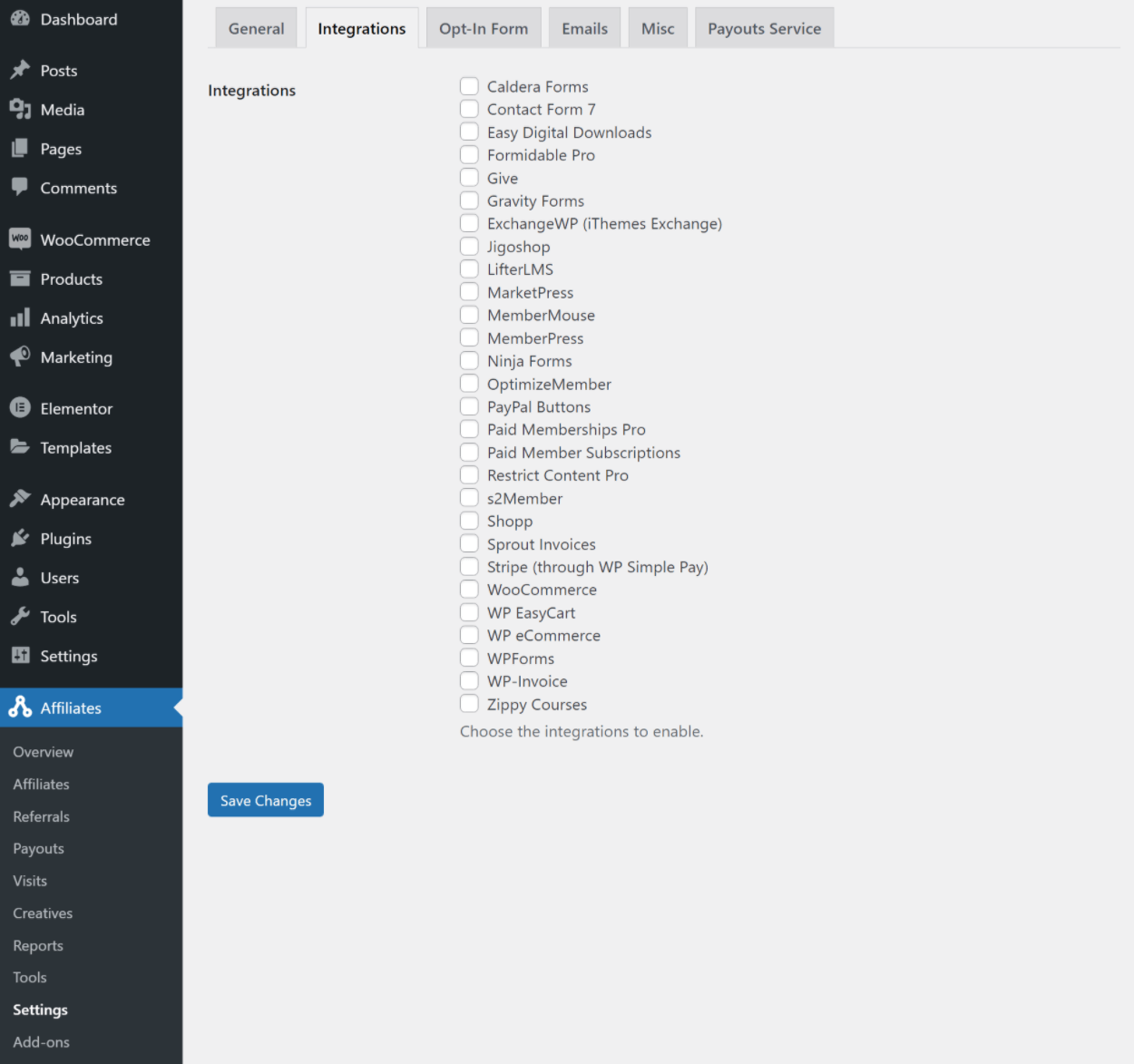 Setting Up Rates and Behavior
To control your affiliate rates and behavior, you can go to the General tab in the settings area. This is where you can control:
Referral types – flat rate or commission.
Referral rates.
How long the affiliate tracking cookie lasts.
Whether to credit the first or last referrer.
Affiliate URL structure.
…and more – just all the nitty-gritty details.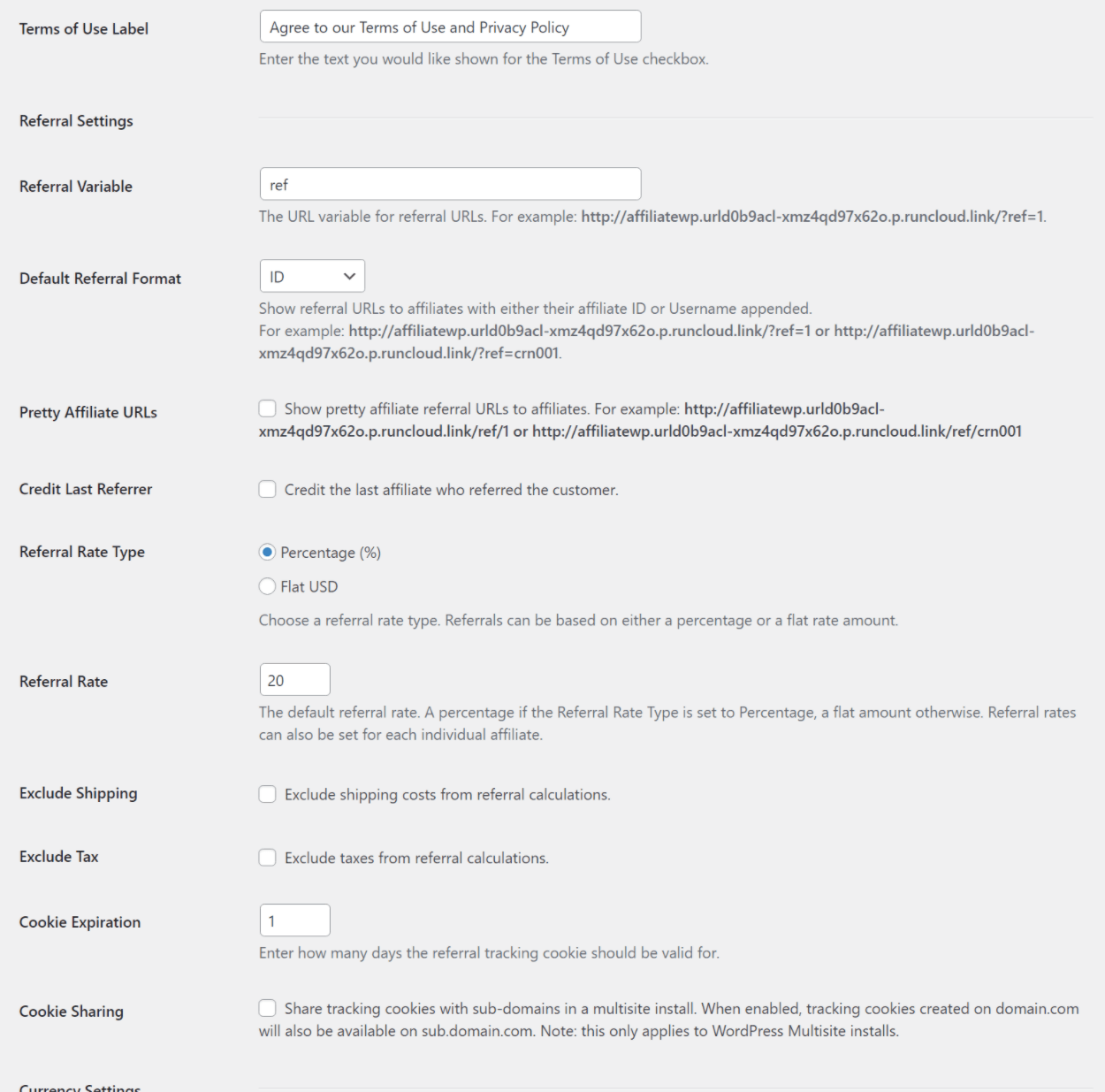 You can also set up custom affiliate rates or exclude certain products on a per-product basis. For WooCommerce, you can do this from the Product data box in the product editor: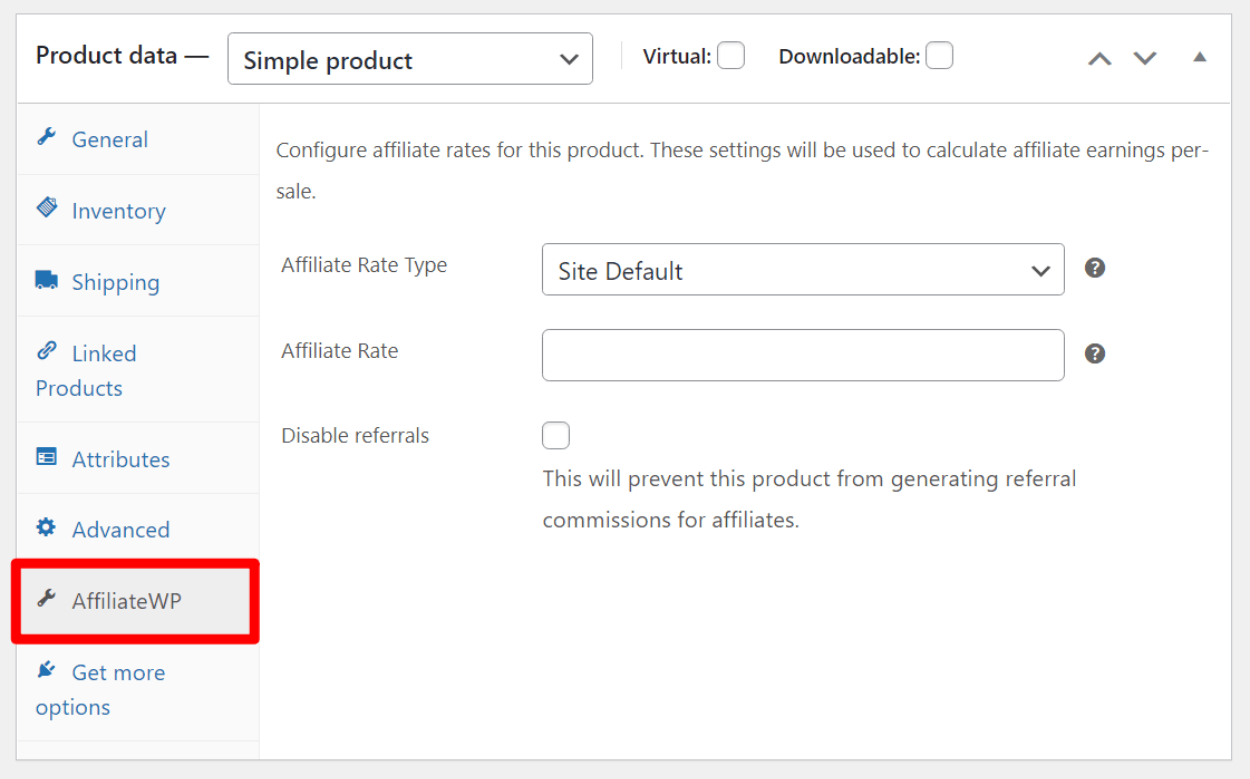 Creating Your Affiliate Registration Page
AffiliateWP will automatically create the dashboard page for your affiliates when you install it, but you'll need to manually create the page where affiliates can register.
With the AffiliateWP Blocks extension, you can create this page using the block editor. Or, you can always use a shortcode: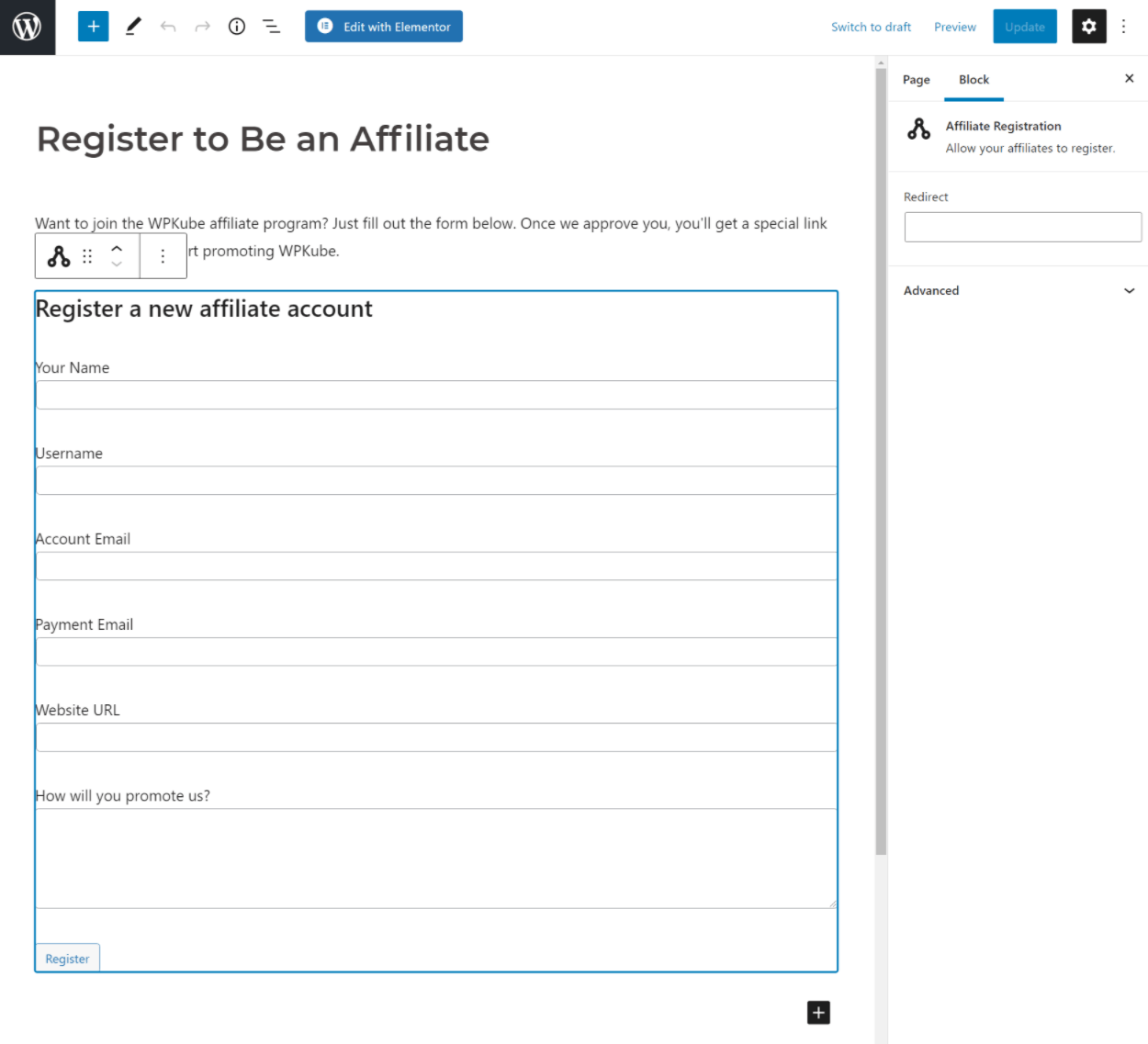 You can choose whether you want to require manual admin approval for new affiliates. Or, you could just make everything manual and not allow public registration (this would require you to manually create an account for each affiliate).
And that's it! You now have a fully working, albeit basic, affiliate program.
💻 How Your Affiliate Program Will Work
Now, let's look at how your affiliate program works from two perspectives:
Your affiliates' perspectives.
Your perspective (or your affiliate program manager).
How It Works for Your Affiliates
When a new affiliate lands on your site, they'll be prompted to register for an account: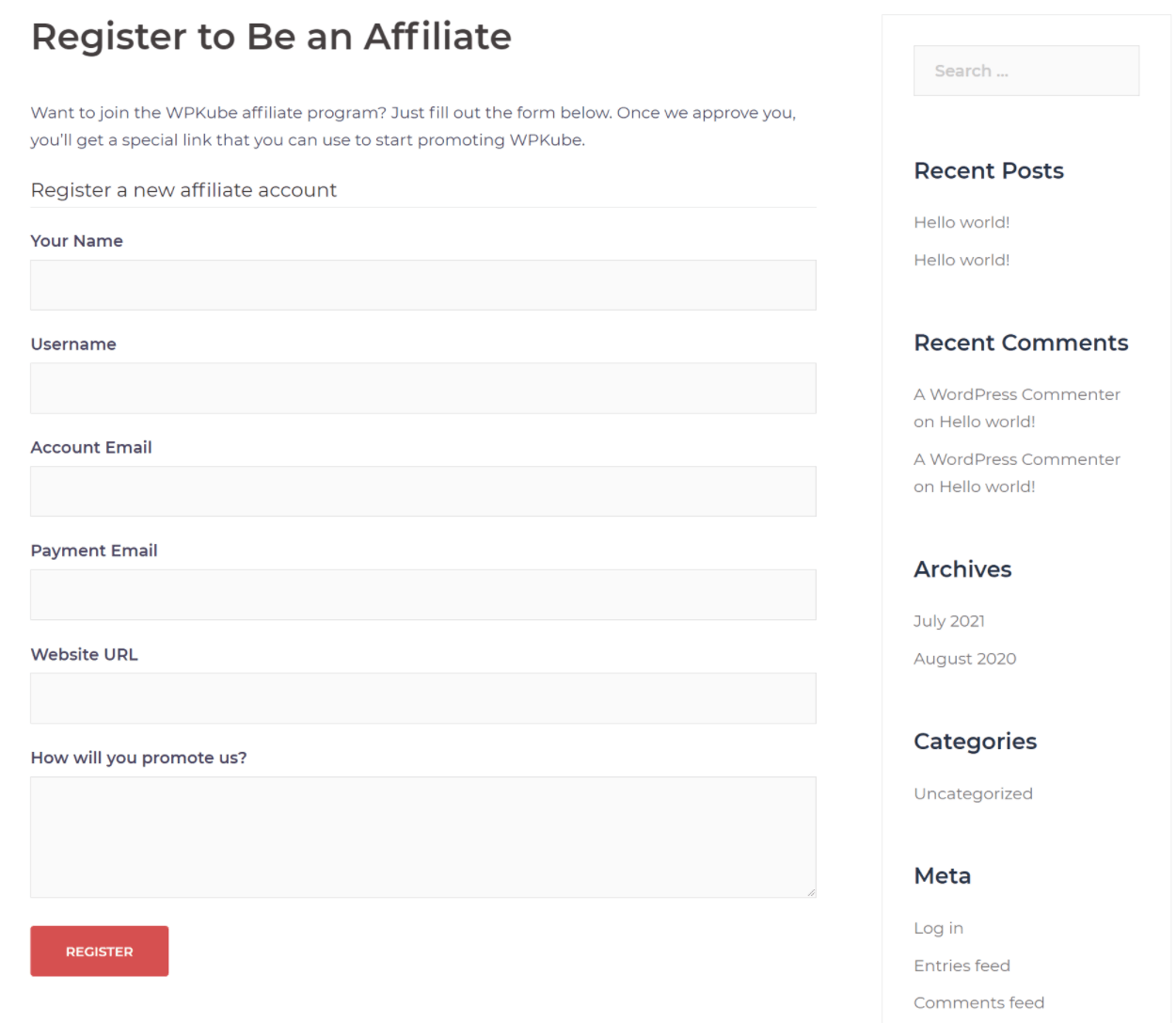 Once they're approved, they'll get a front-end dashboard where they can access/generate their affiliate links and view stats, payouts, creatives, etc.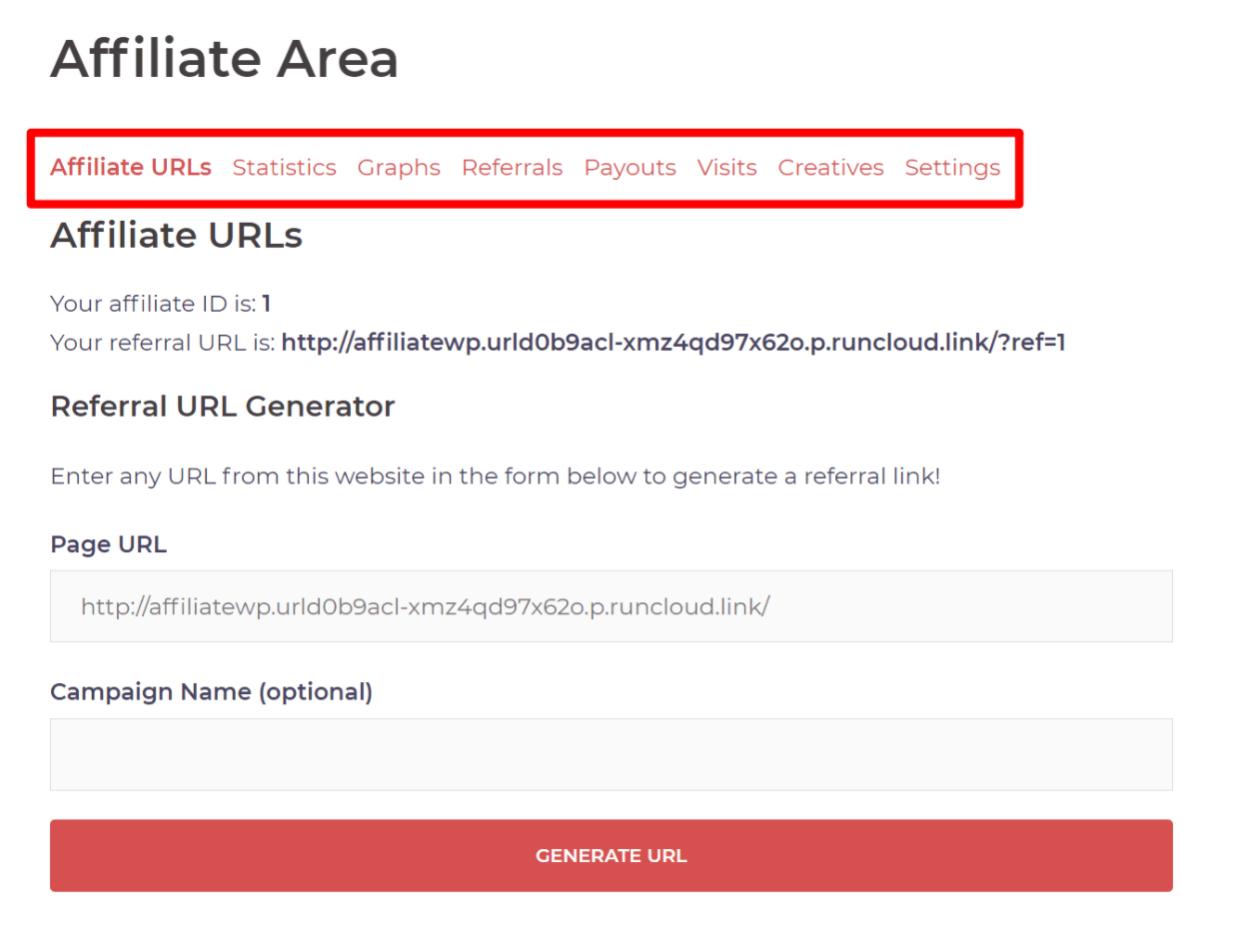 Once they have some sales, they'll also be able to see those details: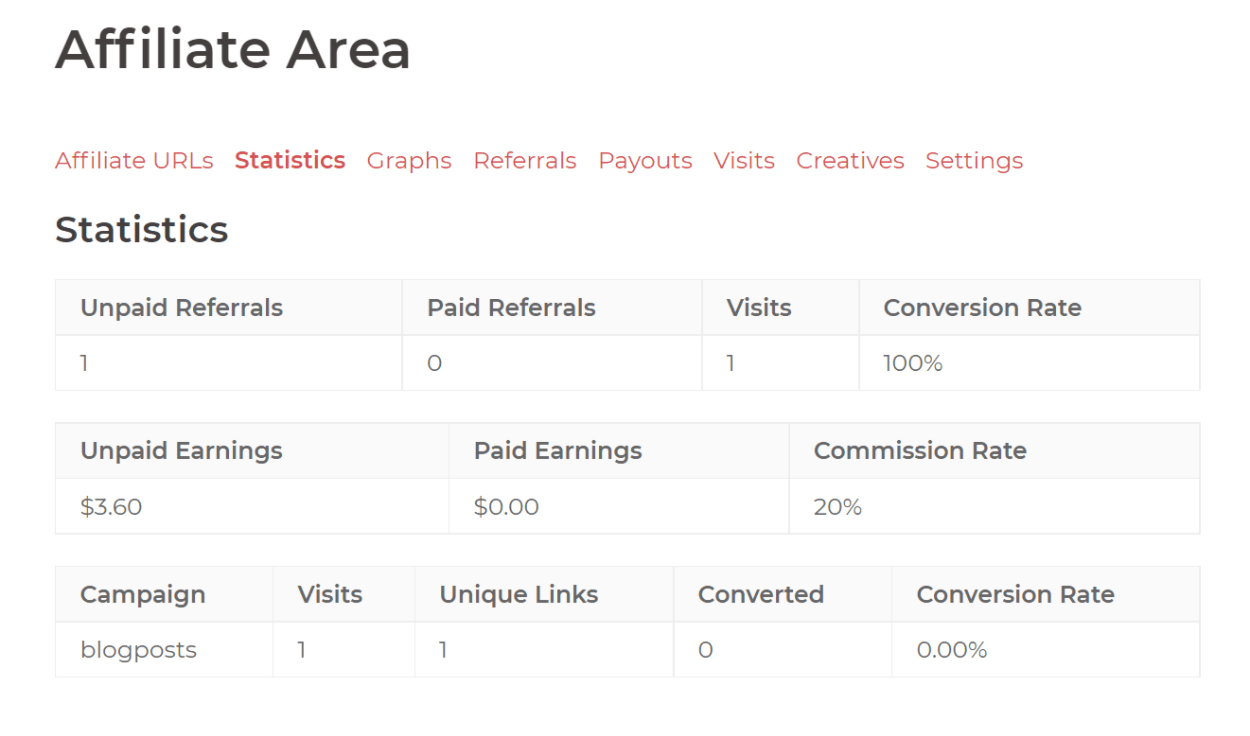 How It Works for You
Now, let's look at what it's like on the backend.
First, you can manage all of your affiliates from the Affiliates area. This is also where you can approve new affiliates:
You'll get a quick summary of the affiliate and you can open a more detailed report if needed.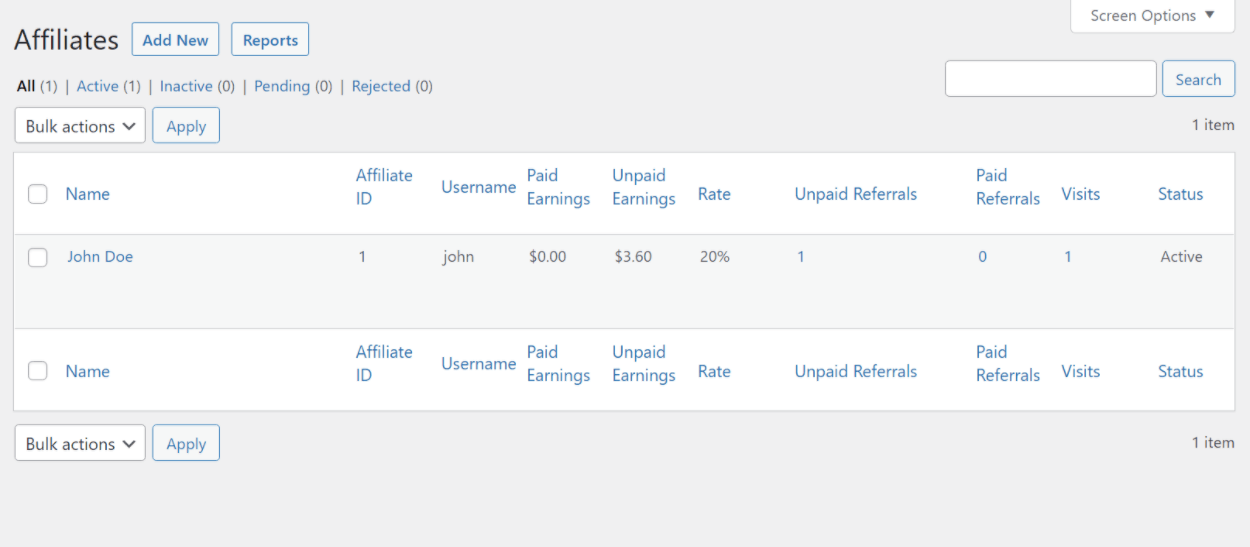 In the Referrals area, you can see a list of each unique commission/order, along with its status:

You'll also get a reports area to see trends over time and high-level analytics: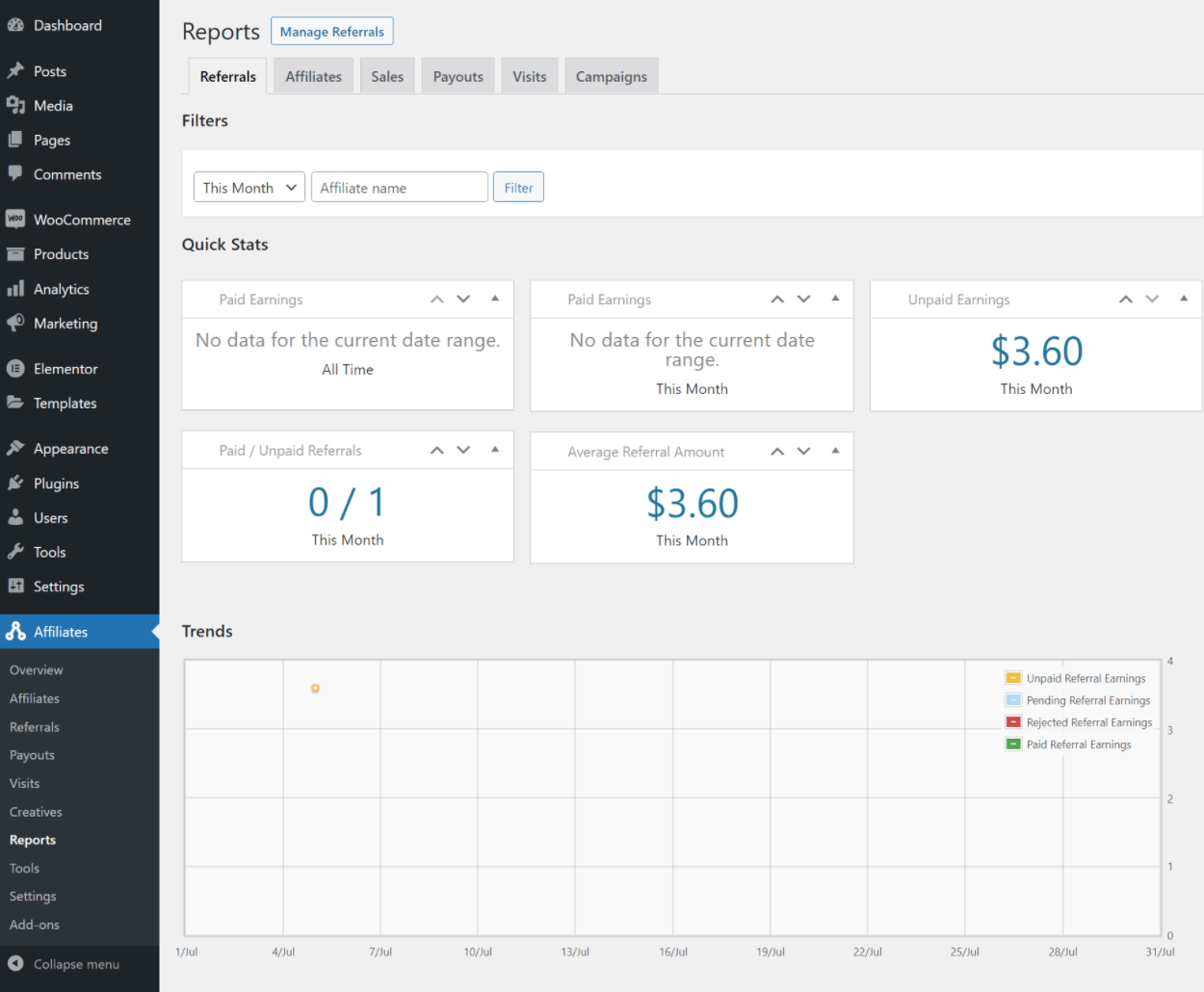 Finally, you can easily add creatives for your affiliates to use. These will show up in your affiliates' dashboards: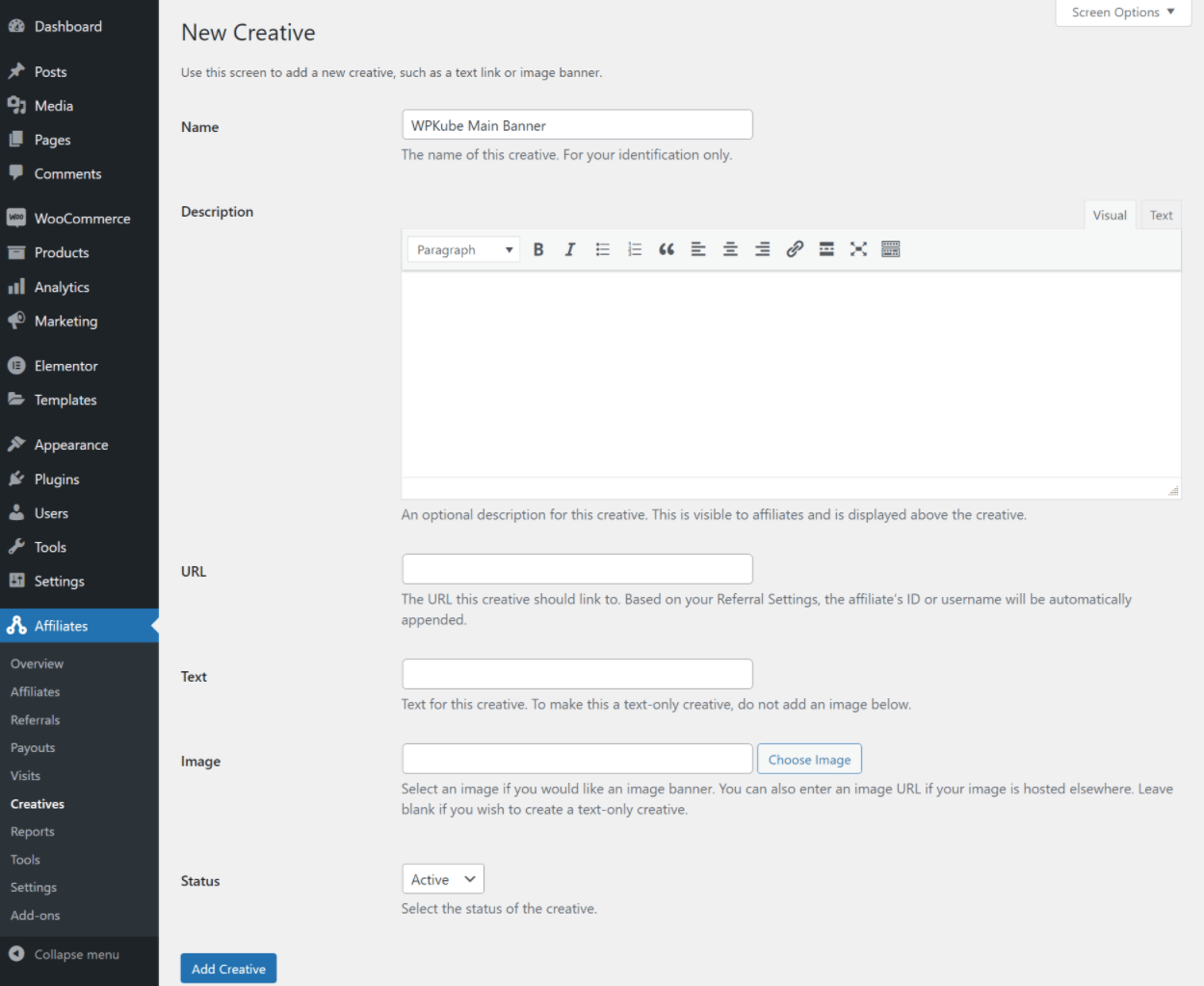 How to Pay Out Affiliates
In addition to manually paying out affiliates, AffiliateWP offers two tools to automate payouts:
Its own custom payout service, which supports 31+ countries.
A dedicated PayPal integration.
To create a payout, you can enter details such as:
Affiliate name
Start date
End date
Minimum earnings
You don't have to fill out all the details. For example, you can leave the affiliate name blank to pay out all affiliates between the dates: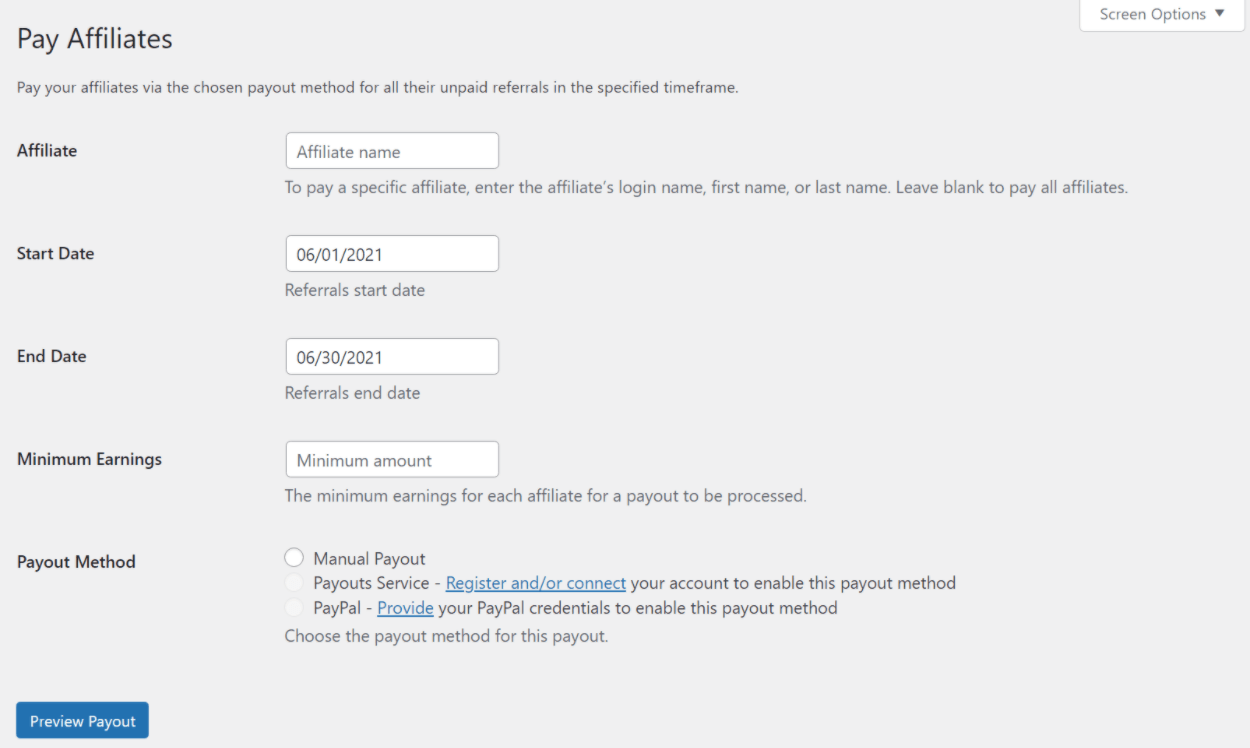 You'll then see a preview of the payout. If all looks good, you can generate the CSV (for manual payouts) or continue using one of AffiliateWP's automated payout methods: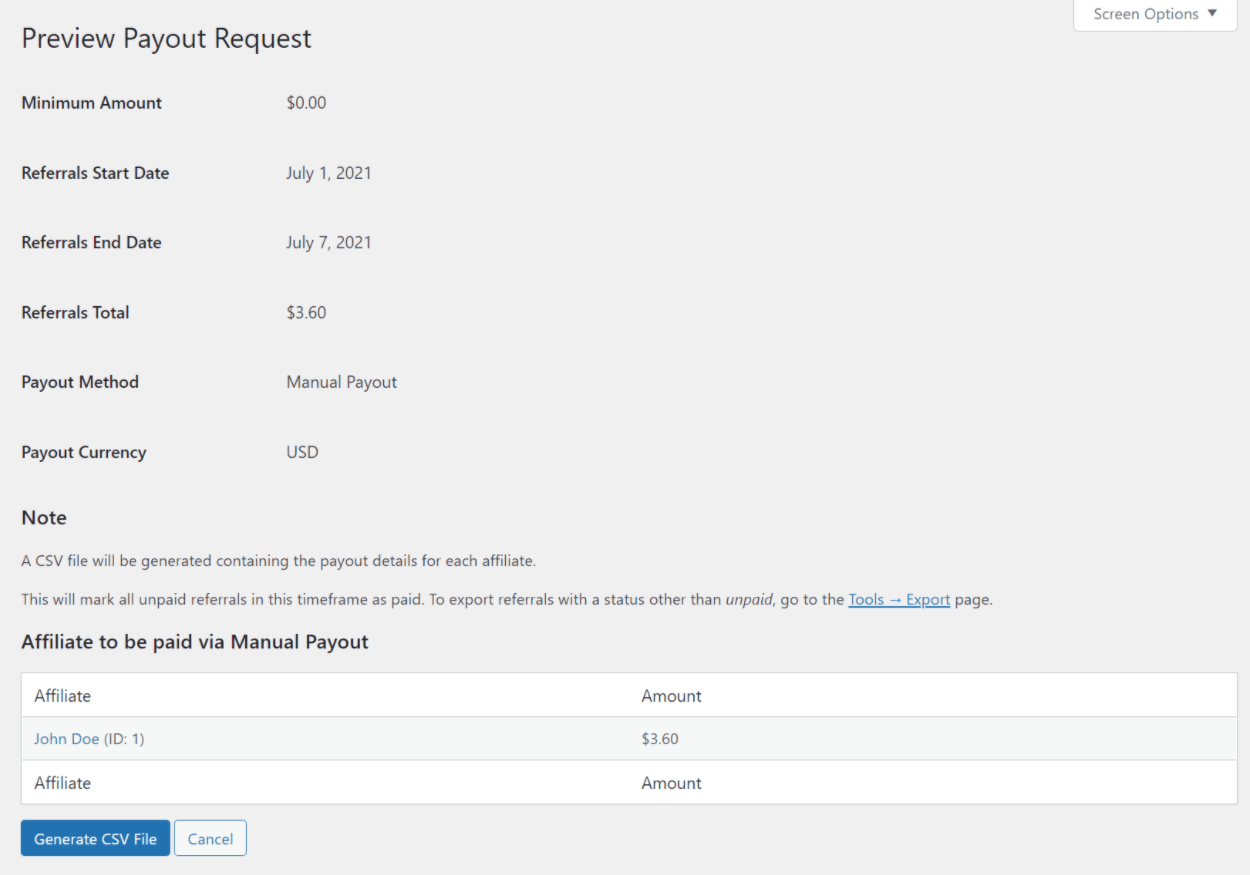 Extending Your Affiliate Program With Free Add-Ons
The core AffiliateWP plugin is pretty straightforward and doesn't give you a ton of options for customizing things. But with the free (and paid) add-ons, you can change that.
Currently, AffiliateWP offers 18+ free add-ons and 15+ Pro add-ons. I'll just talk about the free add-ons in this section, but I'll cover paid add-ons next.
Here are what the free add-ons help you do:
Let affiliates share their URL as a QR code.
Blocks for the editor.
Specify a custom starting affiliate ID.
Customize the affiliate area tabs.
Show information based on an affiliate's URL (like showing a custom welcome message for referral traffic).
External affiliate links.
Allow affiliates to earn commissions on their own sales.
Show affiliate coupons.
Bulk exclude certain products from commissions.
Set custom rates on a per-affiliate level.
Show a leaderboard of top affiliates.
Offer a one-time signup bonus.
Pay your affiliates with store credit.
Let affiliates see order details.
Let shoppers award their commission to a specific affiliate at checkout.
💰 AffiliateWP Pricing
The core AffiliateWP plugin only comes in a premium version, which you can purchase from the developer's website.
To add extra features to the core premium version, you can also find:
18+ official free add-ons, which are available to use on all plans (mentioned above).
15+ Pro add-ons, which are only available if you purchase the Professional license.
There are three plans to purchase AffiliateWP. The Personal and Plus plans, only get you access to the core plugin (and the free add-ons of course). You can do everything that you saw above with these versions.
With the Professional plan, you get access to all 15+ current and future pro add-ons, along with support for up to ten websites.
Here are the full details: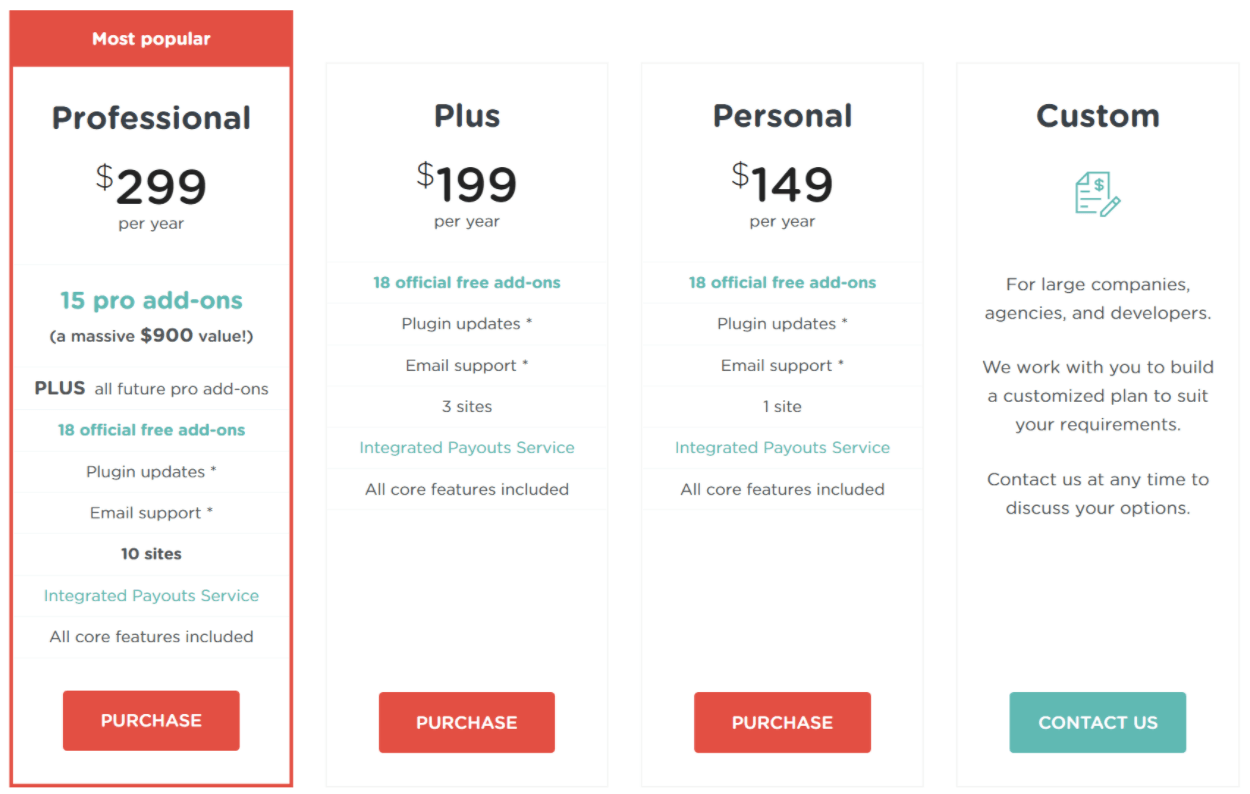 Which AffiliateWP Version Should You Use? Exploring Pro Add-Ons
So which version of AffiliateWP should you use? Well, I would say that most serious sites are probably going to want the Professional license to get those pro add-ons.
You'll need the pro add-ons to implement some basic features that most affiliate programs will want including:
Tiered affiliate rates to reward high-performing affiliates with higher rates.
A better front-end dashboard for your affiliates via the Affiliate Portal. The core version does offer a front-end dashboard – this add-on just makes it a lot nicer.
Zapier integration.
Dedicated affiliate landing pages.
Direct link tracking (affiliates can link directly from their site without using an affiliate link).
Custom affiliate slugs.
Award commission for new user signups.
Push notifications for new referrals.
Lifetime commissions.
Recurring referrals (great for subscription payments or membership sites).
PayPal payouts.
I think the new affiliate dashboard alone is worth the money as it's a lot nicer for your affiliates.
For example, here's the "traditional" front-end affiliate dashboard in the basic core version: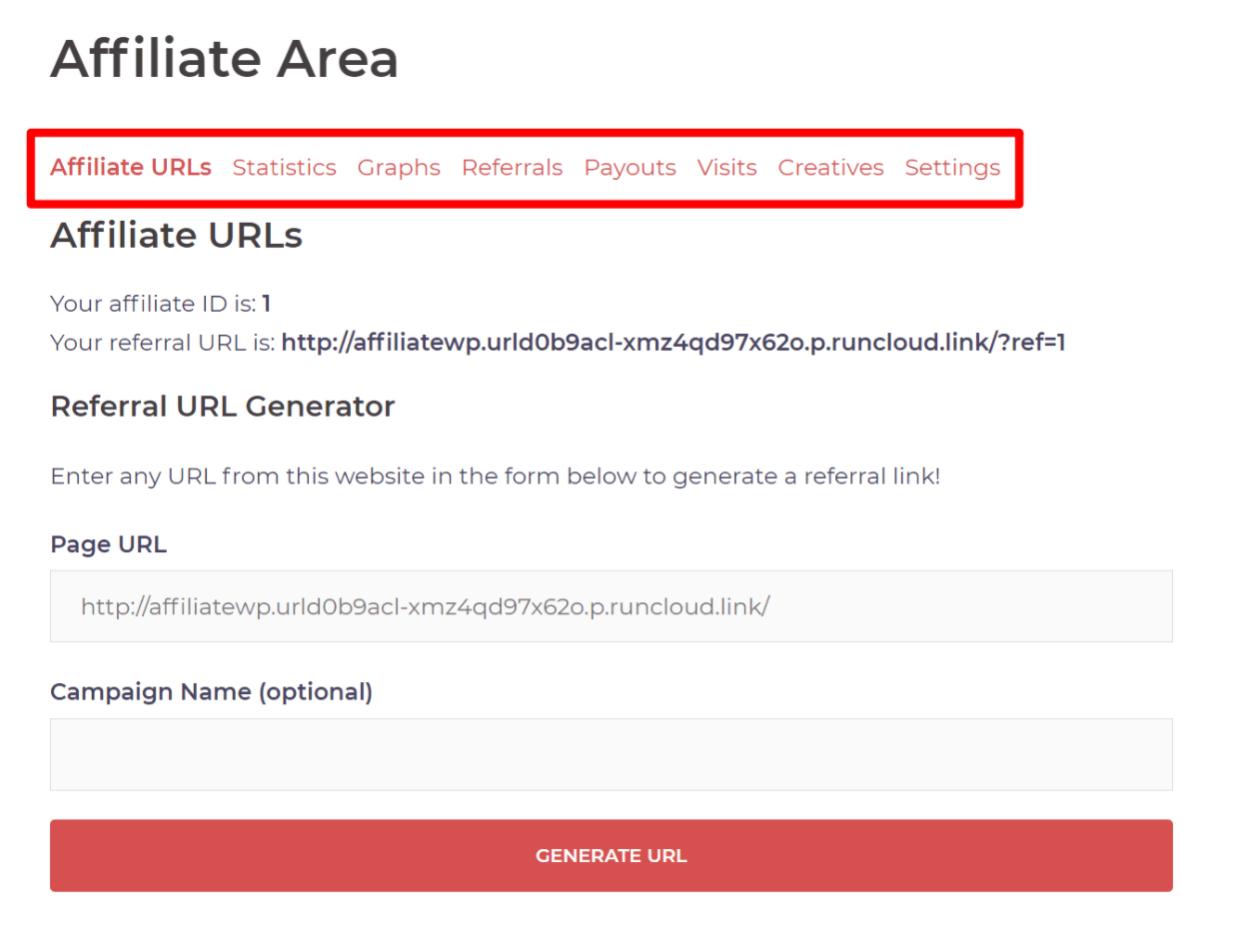 And here's how it looks with the pro affiliate portal add-on, which was just recently released in April 2021: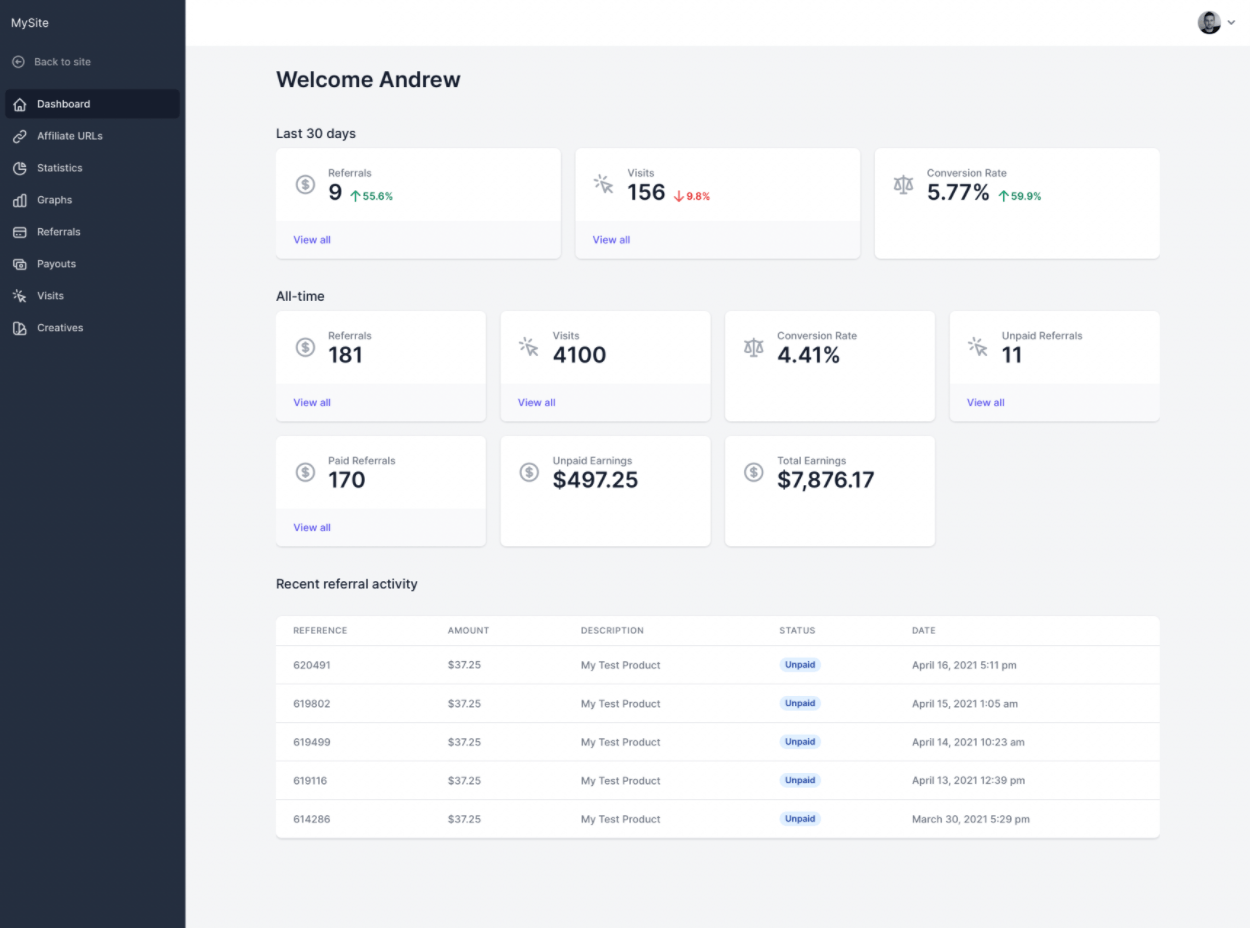 Overall, you certainly can create a functioning affiliate program with just the core version (as I showed you above). But I think the pro add-ons are worth the extra $150 if you're serious about growing your affiliate program.
👍👎 AffiliateWP Pros and Cons
Pros
It has a really lengthy tracking integration list which makes the setup process very easy.
You get a ton of control over your affiliate program, like detailed options for commissions, tracking, etc.
The 33+ add-ons give you a lot of room for customizing your affiliate program.
AffiliateWP has its own payout service, which makes it super easy to pay your affiliates. Or, you can use the PayPal add-on.
Cons
The backend user experience is not as nice as a plugin like SliceWP, which offers a much nicer admin dashboard.
It can be a little pricier than some other affiliate plugins if you need the Professional license, though I think it still offers good value.
🏁 AffiliateWP Review: Final Thoughts
Overall, I think that AffiliateWP is the most well-known WordPress affiliate plugin for a reason – it's a great tool from an established and high-quality developer.
In terms of the features and flexibility that you get, I'm not aware of a better native WordPress affiliate plugin.
I do think there are some competitors who can do things better in certain areas. For example, I think SliceWP has a much nicer backend dashboard experience and is a little cheaper. But SliceWP is also not nearly as flexible as AffiliateWP, so you'd be making additional tradeoffs.
Additionally, AffiliateWP's new front-end dashboard (which I showed you above) is a huge upgrade and creates a very professional front-end dashboard for your affiliates.
Beyond being really flexible, AffiliateWP is also super easy to set up. You can literally have a working affiliate program within five minutes of installing the plugin, which is pretty impressive.
If you want to get started, click the button below:
Still have any questions about AffiliateWP or our AffiliateWP review? Let us know in the comments!