It has been a few months since I made the switch to Genesis theme framework. Previously, I was using the Thesis theme by Chris Pearson. I used that framework for a year and a half, learned all the hooks, made some money by providing thesis customization service, and was happy with it until the DIY folks decided to launch the more sophisticated version of same theme. The new version had a Drag & drop functionality and that's when I decided to made the switch.
It's not that I don't like drag & drop versions, its just that I'm a developer and I don't need a whole drag & drop mess or excessive code in my site. On a side note, Thesis 2.0 is still a powerful framework but not many people will going to like it. If you are still interested in Thesis, then check our review on Thesis 2.0.
A lot of WordPress developers and authority bloggers switched from Thesis to Genesis suc
In this post, I am going to talk about Genesis theme and why bloggers like Chris Lema, Neil Patel, Rae Hoffman, and Bill Erickson, are making the switch.
Disclosure: Please note that this post contain affiliate links, and at no additional cost to you, I will earn a commission if you decide to make a purchase.
Same Background about Genesis Theme
StudioPress was first started by an Starbucks Addict & Sarah McLachlan Fan named – Brian Gardner. He built the StudioPress from ground up to a level where it started making thousands of dollars every month. Later he relinquished all control of his business endeavors by coming together with four popular entrepreneurs to form a software company called – CopyBlogger Media.
Since the merge with CopyBlogger, the theme has become a huge success. The CopyBlogger Media has been able to promote the Genesis theme, among other products through their content marketing efforts.
Prior to forming a partnership, CopyBlogger was running on Thesis theme and Brian Clark was a minority owner of DIYThemes. But later parted ways because of different opinions.
"For the last year Chris and I have had completely different opinions about the direction of the development of Thesis, the running of the company, and our relationship with the WordPress community. I think Chris really wants to build something new that has nothing to do with WordPress. Trying to force his development ideas into a WordPress framework creates a whole set of issues. I wanted him to go build his thing on a separate development track and simply be okay with Thesis being a great framework that extends the power of WordPress — because that's what it was supposed to be." said Brian in an interview.
Why You Should Use Genesis Theme
Genesis Framework gives you a very clean looking design right out of the box and comes with a ton of awesome features such as – optimized for search engines, regular updates, premium class security (audit by Sucuri), easy to customize, widgets, ready, and theme options page. Of course, there are third party plugins like Extender plugin and Design Palette Pro, that can further help you customize the design.
And Even with default design, you can use it on a variety of sites and it won't look bad.
Pricing starts at $59.95, which is very reasonable compared to other frameworks available in the market. Plus $20 if you want a child theme.

Pricing
I bought the StudioPress PRO Plus package which is what I recommend you get, as it gives you access to all the current and future child themes (along with the Genesis framework). The current price of the package is $349.95, which is much better considering the pricing structure of other premium themes like Thesis 2.0, Pagelines, and Get Noticed.
If you're not a developer and want to use the theme on one or two sites, then better go with the framework + child theme package. It will cost you around $80 plus you can use the theme on as many sites as you like.
You can always purchase additional child themes without having to pay for the framework. If you are good at building custom child themes, then go with the basic framework as it will only cost you $59.95.
Purchase the Genesis Theme Framework
Installing the Theme
The process is pretty much straight forward, install the theme, and activate it. Next install the child theme and activate it, as well. That's all. You are good to .
Don't be surprised, if you don't find a fancy options page, most of the frameworks come with a big fancy box (a drop down or settings page), but this one doesn't. When, I first started using the Genesis, I didn't expected to see a simple options page, which is one of the things that I like most about this framework.
Getting Started with Genesis
Setting up genesis theme is easy, you install it and bam… you're good to go. Now your only focus should be on producing quality content and building audience around it.
There are plenty of tutorials available in their Docs section to learn from.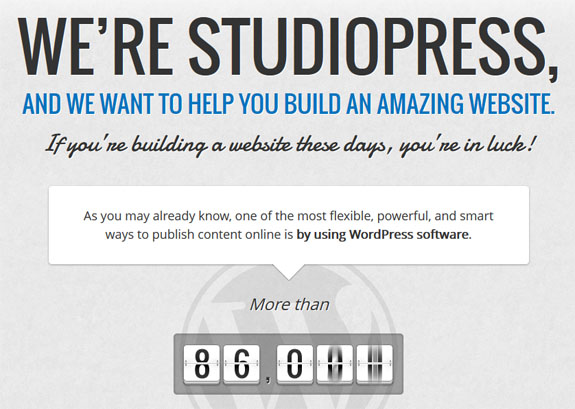 Genesis Site Options
Upon activation you will notice a new sidebar menu in your WordPress Admin entitled Genesis – click on it to get started. As you will hover the mouse on the "Genesis" menu, you will see 3 links – Theme Settings, Import/Export, and README.
Theme Settings
This is the section where you can manage everything from changing the default layout to adding custom scripts in the theme. You can choose a color style, add a custom feed URL, and choose a default layout for the theme (each themes come with different layouts).
You can insert the twitter and search form in your navigation, automatically insert the breadcrumbs, choose whether you want to show the comments or not, adjust how you want your content to be viewed, and other minor adjustments.
You can also insert the header and footer scripts directly from the WordPress dashboard. This can be very useful for inserting Google analytics or BSA code.

Import / Export Settings
I never used this feature but it seems like a nice addition to the theme. This is the section where you can import your theme & SEO settings. It might be useful in case you want to implement the same settings on other blog.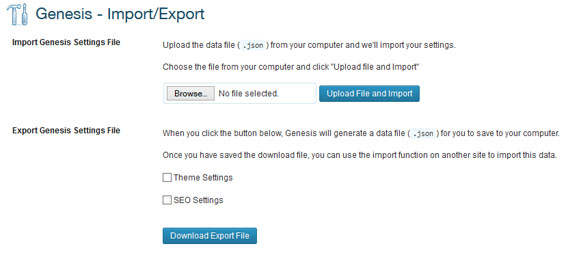 README
README is not exactly an options page. It's more of an instructions page for installing the child theme.
Additional features
Header & Background Image – Automatically upload and insert the backgroud through dashboard. Both of these features will only work if you are using a child theme with the main framework.
Author Box – Choose whether you want to display the author box or not. It can be done directly through your profile page. You also get the option to display the author box for some authors / contributors.
Built in SEO – If you hate using extra plugins, than simple use the built-in SEO offered by Genesis. Personally, I prefer to use WordPress SEO plugin by Yoast, which works perfectly fine with this theme.
Child Themes for Genesis – Free and Premium
Genesis has plenty of awesome child themes to choose from, it's not easy to choose the best one. In this list I've collected some of the best free and Premium Genesis child themes. Though, most of the child themes sold by StudioPress are offered with the framework included.
Fremedy
Fremedy is a simple business theme created by Themedy and it comes with all the necessary features and it can be used for both Thesis 2.0 and Genesis. The theme features a simple and responsive design, ideal for business and company websites.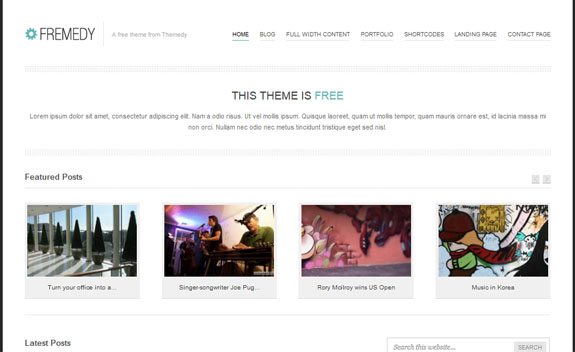 BreakPoint
BreakPoint is a fully responsive theme with a minimal, clean design that allows visitors to focus on content.
Herman Theme
At first glance, I didn't thought it was a free theme, mostly because of the awesome features that this little child theme has to offer. The theme has a ton of great features including page layouts, page templates and post formats.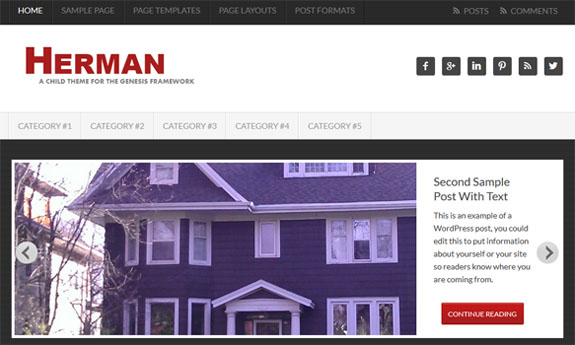 Download Herman
Balance Theme
The minimalist design of the Balance theme gives you the best of form, with a responsive frame that's built for any kind of communication. Balance is one of the best themes for Genesis. I used theme for a few months, on my business blog before implementing a custom design.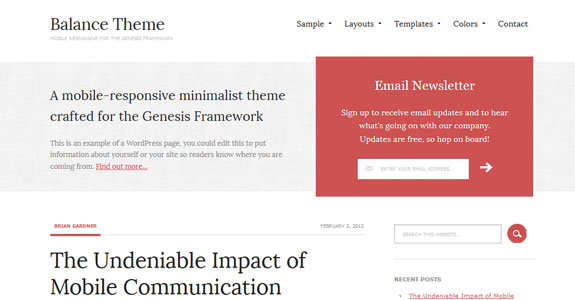 Prose Theme
Prose is a simple 2 column theme and works for anytime of blog. Its point-and-click design controls allow you to effortlessly change almost any aspect of your site without touching a single line of code.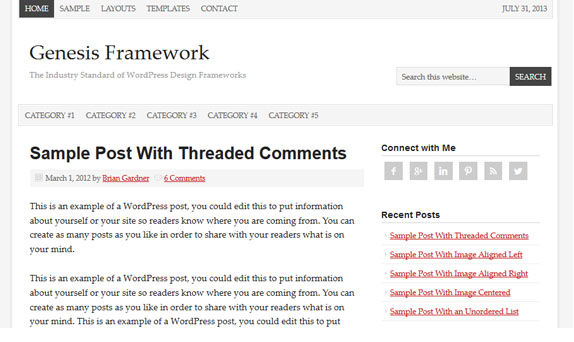 Eleven40
Eleven40 is a wide theme and comes with 3 column (content area & 2 sidebars) by default. The layout can be changed easily to a 2 column website. The Eleven40 theme is the first to break out of the usual 960px layout and reaching a width of 1140px.
The theme has a responsive layout, so it looks great on any device including iPhone and iPad.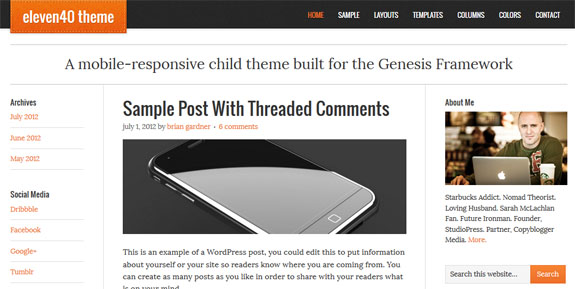 Final Thoughts
Genesis is no doubt one of the best WordPress themes. It has a fantastic design, killer child themes, premium support, and affordable price. Plus none of the above features require coding or anything, so you're definitely in good hands.
Which theme framework do you like the most? If you have any Genesis-related questions, please drop me a line in the comments below.