While most websites and blogs using WordPress start life as a single-author project, for some of these sites, there comes a point where bringing other authors on-board the blog is the next logical step in growing the project beyond its current limitations.
There are a number of advantages to doing this including:
Growing the site at a faster rate with multiple authors publishing content on a regular basis
Allowing the site owner to take a backseat by enlisting others to take over the majority of the publishing responsibilities
Bringing established names from the topic of the blog on-board to boost the audience, authority and credibility of the site
Diversifying the scope of the blog into other areas which the original author isn't experienced in
Luckily when you chose WordPress as the platform for your blog, you made the right choice. WordPress supports multiple authors right out of the box and includes a number of roles which make it easy to add new users to the blog without handing over control of the entire site.
This guide to working with multiple authors in WordPress covers the best plugins to help you manage and work with additional authors, as well as providing some tips on getting the best from your writers and ensuring you get the kind of content you are looking for.
Quick Overview of the Different Roles in WordPress
A standard installation of WordPress will give you access to four main roles that are related to publishing content on a blog. Here is a quick rundown of the roles and their capabilities:
Administrator: those with this role can access all the functions of a site including those concerned with publishing content and managing users. Its best keeping this role to yourself as it is the most powerful role of all.
Editor: these users can publish and edit their own posts as well as those of other users.
Author: this role is given to those who need the ability to publish and manage the posts they have created, but not those of others.
Contributor: those with this role can only create and manage their own posts and cannot publish them, the responsibly for which belongs to the editor or the administrator. This is a good role to give to new writers whose content you wish to have the final say on whether it makes it onto your blog or not.
So as you can see, right out of the box, it is possible to create an account for a new writer on your site with the role of contributor, who can then create posts and submit content which is not published on the site until you have approved it and published the post yourself. The contributor role is ideal for new additions to your writing team as it allows you to retain ultimate control over what content is added to your site and what your visitors see.
There are two other roles which are the super admin and the subscriber roles. The former is only available to users running a multisite WordPress network and is the 'highest' role available; while the later refers to someone who has a profile on the blog and is more likely to be posting comments on the blog rather than their own posts or pages.
To manage users on a WordPress, from the admin dashboard, click on 'users' on the side-menu.
Plugins to Enhance Multiple Author Functionality in WordPress
While the above user roles and their abilities cover everything you need to work with multiple authors on your WordPress site, there are some recommended plugins that can make your life easier when managing multiple writers.
Post Ideas Plugins
The Ideas plugin allows you and your writers to save ideas for posts inside WordPress. While some bloggers create a new draft post for each idea they get, this approach can soon get messy and drafts sometimes have a way of getting accidentally published. This free plugin allows you to quickly publish any genius ideas you might have before they are lost forever.
Communicating with your Team
While email is great for making initial contact with your writers, communicating directly from inside of WordPress can help keep all your correspondence easily to hand in an area that is directly related to what you are discussing: your website.
With the free Private Messages for WordPress plugin, you can add the ability to be able to send messages between the registered users on a blog. Each user gets their own inbox with only blog administrators having access to the messaging settings. Email notification is also available for this plugin to ensure users are made aware that they have received a message.
Enhanced Author Profile Boxes
While a standard WordPress installation does let you manage authors effectively enough, it can be improved by installing one of the many plugins available. These multi-author plugins allow you to add more elements to the user profile area that is usually displayed at the end of posts.

These boxes contain information about the author such as a short bio and links to their website and social profiles as well as a photo. While there are many popular plugins available, some popular options that can help enhance the public profile of your authors include:
Email Notification of New Posts
The workflow plugin covered later on in this article will allow you to receive notifications when the status of a post is changed, such as from draft to pending review, letting you know there is a post to be checked and then published. However, if you don't want all the extra features of the Edit Flow plugin, the WP Status Notifier free plugin is a great alternative that just does one thing and does it well.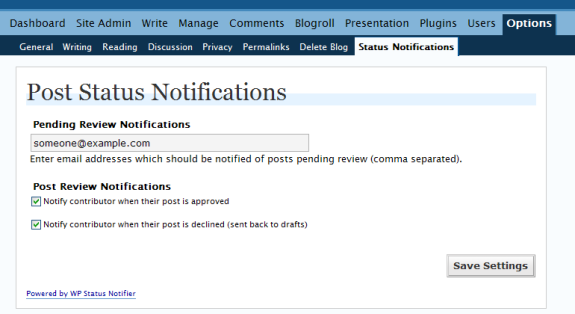 With this plugin you will get an email notification when a contributor has posted content that is waiting for your approval. From the email that is sent, you can visit the post by following a link or approve it directly from the email. You can also configure the plugin to email the contributor once you have changed the status of the post they have submitted. Overall, this is a very useful feature that will keep you up to date with the work that is being submitting on your blog.
Project and Workflow Management
To add consistency to your posting schedule as well as making it easy for your readers to know when to expect new content on the site, and from which authors, it's a good idea to create a posting schedule for the blog as a whole and for each individual author.
Getting a Posting Schedule Overview
To make life easier for editors and content managers a free plugin like the popular Editorial Calendar makes it easy to get a clear overview of which posts are scheduled for which days. From this calendar that this plugin adds to the WordPress admin interface, editors can drag and drop posts to specific days as well as creating new posts or drafts for others to work on, to be ready for a certain day.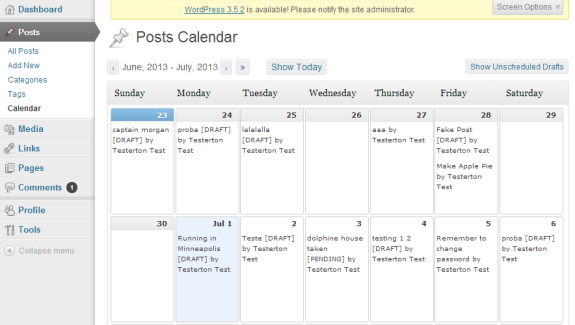 Managing Workflow within WordPress
As the number of writers for your blog grows, keeping track of who is writing what on which day and on what topic can quickly lead to overwhelm. If you have tasked your writers with submitting their own ideas for the posts they write, keeping track of those via email can soon snowball into multithreaded emails for each author and many rounds of email tennis.  To help you keep track of who is doing what when and what post ideas you've already agreed to or not, another free plugin can really help you out here.
The free Edit Flow plugin simplifies the work flow processes that surround the creation of new content. With this plugin your contributors can pitch post ideas to you inside of WordPress which you can then approve and assign to a particular author.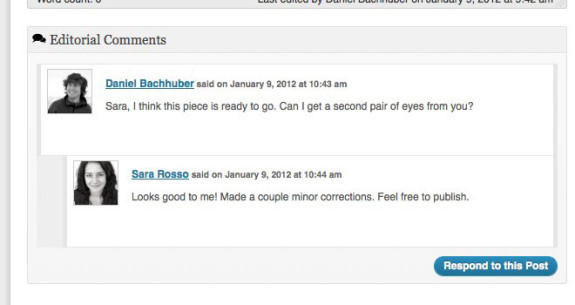 You can also create custom posts statuses, such as 'in progress', 'awaiting approval', 'finished' or any others you feel are appropriate to your work flow. These allow you to see who is working on what and gives more detailed analysis on the status of a post compared to the out of the box options that come with WordPress. You can also choose to receive notifications of when the status of a post is changed so you can quickly proofread and approve and new posts.
With the Edit Flow plugin you can also communicate with your team inside WordPress. This makes it much easier to keep track of dialogues you are having with your writers compared with standard email communications. All communications are private between the editor and those selected making it the ideal platform for discussing business.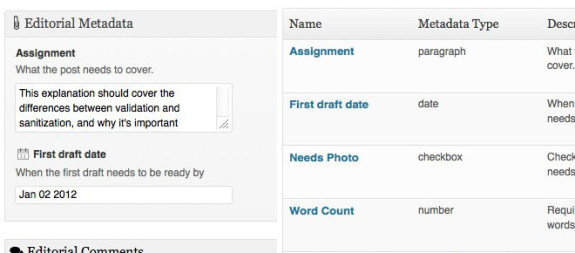 Notes for writers concerning posts, such as the topic and what it needs to cover, as well as the due dates can also be added using the Editorial Metadata feature of this plugin. You can also get an overview of what is being posted when using the calendar functionality of this plugin. The plugin also allows you to group writers into specific user groups which is great once you start really expanding your writing team to include teams covering certain topics or groups of users with the same roles such as writers and editors.
There are a number of other more advanced features of this plugin and it is definitely worth taking a closer look at.
How to Work with Multiple Authors
As lots of successful blogs began life as a labour of love between the creator and the topic of the website, handing over some of the publishing responsibilities can be a daunting task. Not only in terms of sharing your platform and audience, but also in the impact it will have on the writing style and voice of your blog.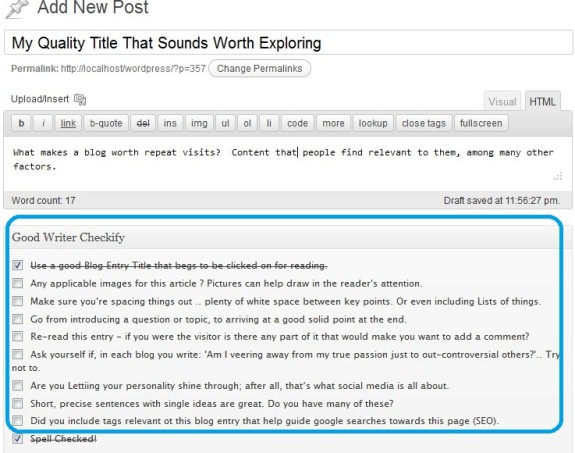 To ensure the process of adding additional writers to your blog goes smoothly there are a few things you can do to ensure everyone is reading from the same script:
Be clear with your expectations: before taking on a new writer, whether on a co-author basis or as a paid copywriter, it is essential to be clear of what your expectations are. Do you want them to act as a ghost writer, echoing your views and opinions or do you want them to have a distinct voice with their own writing styles and views? Make sure you decide this before bringing someone onto your writing team and that you make it clear to them.
Provide feedback on their contributions: make sure you give your writers feedback on any content they submit. Let them know what you like about their writing and what they could do to improve it. This could include things like formatting styles, use of images, post title and the content itself. The more feedback you can give your writers, the more likely you will be to get exactly what you want.
Provide a style guide: to help your new writers get off on the right foot as well as maintain consistency across your blog, creating a style guide for your team to follow can be invaluable. This could be as basic as covering what size images should be and which header sizes to use, right down to grammar, paragraph formatting and link text. It might be second nature to you to insert the image after a sub-header but other writers might be used to placing it before. The style manual could also cover interlinking and links out to other website and when this is appropriate or not.
Provide a checklist for posts: if you have certain elements you'd like to have added to each page such as an image, headers, sub-headers and a link to an external site for example, then providing your writers with a checklist to refer to when submitting or publishing a post is a great idea. To provide a new post checklist inside WordPress, on the new post screen, try the Good Writer Checkify plugin which actually allows you to show a check list under the post editor.
Use of tags and categories: do you want your authors to create their own categories and tags for new posts or should they use existing ones? The same goes for filling in SEO fields. By making clear your expectations at the beginning you can avoid problems developing in the long run.
Handing over some of the responsibility for your blog can be a daunting prospect, especially for those who enjoy retaining total control over their projects. However, if managed properly, it can be a rewarding process that can help grow your blog to even bigger and better achievements.