WordPress Plugin and software businesses in general, are great businesses to run. It's easy to get started (if you're a developer) and profit margins are usually very high. When I started SeedProd, my Coming Soon Plugin for WordPress business, back in 2011 it only cost me $5 to launch aside from my development time to build the plugin.
Today I want to show you how I started and what is involved with my current operating cost. I'll also talk about which services are essential and which are "nice to haves".
So, as I said back in 2011 I launched SeedProd for $5. Here's how I did so cheaply. Aside from having the product (in my case my premium plugin) All you need is a website to market the product, a reliable way to collect money and an efficient delivery mechanism.
Oh yeah and a domain name. So I lied, it cost me $15 to launch ($10 for the domain).
I created a simple, static one-page website site to market the product and hosted it on Amazon S3. It was super fast and reliable. Cost $0.
At that time, Easy Digital Download did not exist so there was no platform for selling plugins. I learned of eJunkie.com through the Micropreneur Academy (a membership site for solo founders) which I was a member of at the time.
eJunkie made it super easy for me to collect money and then deliver my product to the customer. And the great news is that it only cost $5 a month. Sure the UI was nasty but it worked! That was it! From the very first day I launched, I was profitable. I actually ran the company for $5 a month for about the first year. But as your product and customer base grows so do your needs.
Today my profits are much higher than when I launched but my operating cost are still extremely low. I currently run SeedProd for under $500 a month excluding payment fees.  Here's a list of services I currently use.
Must Have Services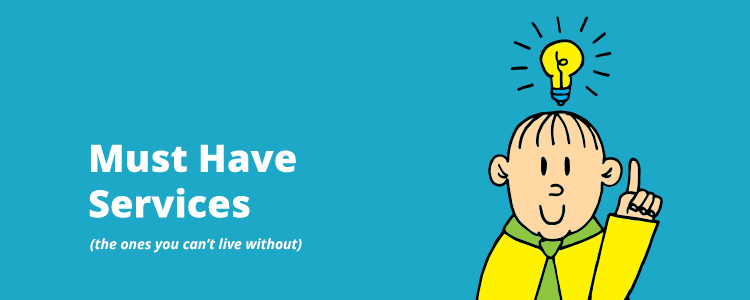 1. Stripe and PayPal – These are "must haves" and the fees associated with these services are just the cost of doing business online. I don't include these in my monthly operating cost above but the fees associated with the services are 2.2% – 2.9%+ $30 per transaction.
Stripe helps smalls businesses and individuals accept payments over the internet. Regardless of the nature of your business you can set up a reliable payment infrastructure that ships with everything you need. Best of all you can integrate Stripe with mobile payments. One of the standout features on offer is that you can set up recurring and metered billing.
PayPal is the most popular payment infrastructure used on the internet. It allows quick and easy transactions. This service has a plethora of standout features on offer that allow you to request money online, send payments and shop around the world.
2. CPA and ADP – Once tax time comes and you realize what is owed you'll quickly see the need to hire a professional to do your taxes and provide advice in order to make your tax bill as low as legally possible. My second year in business I hired a CPA and he saved me 5 figures in tax payments by filing my taxes as an S-Corp. Cost: $750 or $62 a month if you amortize over a year.
Next, he set me up with ADP which is a payroll processing company. They file all my tax-related paperwork every month so I don't have to worry about a thing.
ADP is an online service that helps users manage their tax related and payment compliant needs. ADP Tax and Compliance solutions are built to minimize employment related tax and payment compliance risk and to help improve process efficiencies. With this service you can reduces taxes and other expenses.
Cost: $70 per month.
3. Outright – Outright is a bookkeeping service that GoDaddy now owns. They make it super easy to pull in all your transactions from PayPal and Stripe for tax purposes.  The easier you can make things for your CPA, the cheaper your CPA cost will be.
Outright lets users store all of their business finances on a single platform. It simplifies tax preparation and automatically organizes sales and expenses into their respective IRS tax categories. With Outright you can dramatically improve invoicing and book-keeping without having to maintain spreadsheets. The service also lets you export all of your sales and expense data.
Cost: $10 per month.
So so far all my described operating cost have been tax related. Make sure you get this part right. That last thing you want to deal with is tax issues.
4. Digital Ocean – I have moved away from my one-page static site and now host my marketing site for SeedProd on a VPS at Digital Ocean with WordPress installed.
If you are not familiar with being a server administrator then just pay Pagely, WPEngine, or GoDaddy to host your site. For me hosting my site is painless and gives me more control to automate.
DigitalOcean is a cloud infrastructure provider that focuses on simplifying web infrastructure for web developers and software developers. With this service you can leverage SSD-only cloud, simple control panel and professional hosting and Linux distributions. The key advantage to DigitalOcean is that you can have your personal cloud server ready to go in 55 seconds.
Cost: $20 per month.
5. CloudFlare – I use CloudFlare Pro for my CDN, Security and SSL. Even though my website is WordPress it's mostly static aside from weekly blog posts. I use CloudFlare to cache everything on my site which makes it super fast. They also provide SSL since it is hosted on their edge servers. The Pro version of CloudFlare comes with a WAF (Web Application Firewall) as well which protects me from various WordPress vulnerabilities that arise.
CloudFlare is a service that protects and accelerates your website. The company also provides CDN services, internet security services and distributed domain name server services. CDN allows users to distribute their content around the world. In addition to this CloudFlare will also get you optimization for webpages with add servers.
Cost: $20 per month
6. VaultPress – This is a backup service from Automattic. Never run your site without a backup. VaultPress also allows me to easily create a staging site from my live site. Set it and forget it. A nice alternative is BackupBuddy.
VaultPress is a premium backup and security service for WordPress sites. It creates automated backups with easy restores. In addition to this you get access to daily security scans with one click repairs. The packages come with dedicated support from a team of WordPress experts.
Cost: $5 per month.
7. HelpScout – HelpScout is helpdesk software that I use to communicate with my customer via email, they host all my documentation and it provides my contact forms on my Marketing and Support sites.
HelpScout is a help desk service designed for small businesses. It's designed to help people grow their business with a focus on their team and values. HelpScout's Help Desk is a customer support software that helps webmasters connect with their customers.
Cost: $20 per month
8. GitHub – All my code is currently hosted on Github. A free alternative to Github is Bitbucket.
GitHub is a web based repository hosting service. That features distributed revision control and source code management functionality Of GIT. GitHub allows users to integrate with third-party tools in order to build software that works best for them. It offers great value for money and features a helpful community, as well.
Cost: $7 per month.
9. Amazon S3 and SES – I use Amazon S3 to distribute my plugin code to my customers. This takes the load off my servers and I can distribute a url that expires automatically after a given amount of time. I use amazon SES for all my transactional emails.
Amazon Simple Storage Service (S3) is a widely used online file storage web service on offer by Amazon Web Services (AWS). Amazon S3 makes web scale computing infinitely easier for web developers. Users can store and retrieve data to their web service interface from anywhere on the web whenever they'd like. Amazon Simple Email Service is a powerful email service that's built on top of the same infrastructure Amazon.com uses to cater to their customer base. This service allows users to send all kinds of emails – transactional, marketing, and high-quality content.
Cost: $5 per month.
10. Drip – I use getdrip.com for all my lead nurturing and email marketing automations. Drip makes it easy to automate your sales funnel cycle for your leads. This user-friendly application gives users access to campaign blueprints, guidance, email tools, and analytics.
Cost: $99 per month
11. Zapier – I absolutely love this service! Zapier allows you to connect apps and automate tasks. As a solo founder, time is of the essence. So anything that can be automated should be automated.
Zapier is a web automation application that enables users to automate parts of their business. If there are day to day tasks that can be automated, Zapier allows you to create Zaps which interlink the web applications you use to automate them. The service is incredibly easy to set up and use. All you have to do is configure your Zaps once and then you can forget about them.
The services above are my current must haves. I could not run my business without them. These service tally up to roughly $300 per month.
Keep profits high and operating cost low but don't ever sacrifice the cost of a service if it saves you more money in time than the service cost.
Cost: $15 per month
Nice to Have Services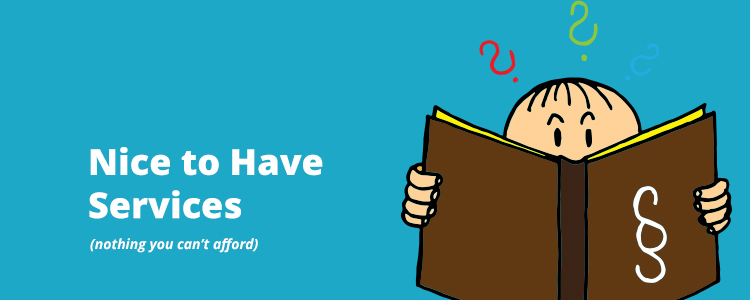 The set of services I'm going to list below are my "nice to haves". These things make my life easier.
12. Creative Cloud – I'm currently subscribe to Adobe's Creative Cloud to have access to Photoshop. Adobe Creative Cloud is a SaaS offering that enables users to access a collection of Adobe's products for video editing, graphic design, photography, web development, and cloud services. The best part about signing up for this service is that the products are always up to date and you can create great work across your desktop and mobile devices.
Cost: $10 per month
13. Laravel Forge and Envoyer – I use these services to manage my servers and to deploy my custom billing and admin app with zero down time.
Laravel is an open-source PHP framework that's free for everyone to use to develop web applications following a model-view-controller (MVC) architectural pattern. Forge is a Laravel project that enables users to provision, host, and deploy PHP applications on AWS, Linode, and Digital Ocean. Envoyer, on the other hand, is a product from Laravel that offers zero downtime PHP deployment.
Cost: $20 per month
14. Cloud9 IDE – I like to be able to edit my code in the cloud because I can access it from anywhere, never know when a crisis will arise and you're not close to your dev machine.
It is a powerful service that allows users to write, run, and debug their code with a cloud IDE. One of the best features about this service is that it allows users to collaborate with team members to work on a particular project by assigning their workspace public access or work on it on their own under private access. Cloud9 features a built-in terminal for command-line usage and a plethora of language tools to help you code faster.
Cost: $20 per month
Services I've Used in The Past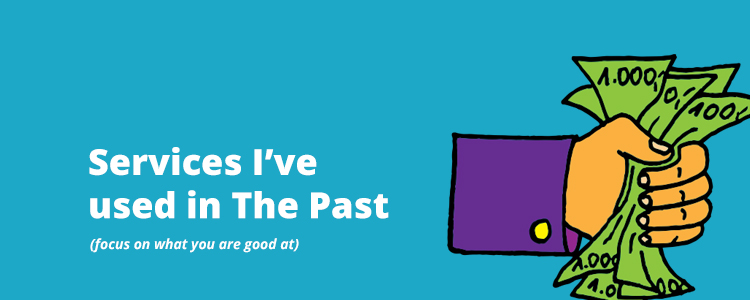 The list below are services I have used in the past, but not using them currently.
15. Contract out Support – If you have a very high support queue then you should absolutely do this. I have improved my documentation, fixed bugs and automated my support issues to where my monthly volume is extremely low.
Cost: $500 to $1500 per month.
16. Contract out Content Writing – Content Marketing is an affordable way to market without paying for advertising. But if you don't write then you will need to hire a writer. I have experimented with hiring a writer but writing is actually a skill I want to learn. Being able to write and communicate effectively is an invaluable asset to have. So, I have taken over that in an effort to learn.
Cost: $500 to $1500 per month.
17. Buying Ads – I have been experimenting with ads and continue to do so but ultimately organic SEO and word of mouth have been my most effective means of advertising. It's very easy to spend a lot of money on ads and end up with little to show for it in terms of ROI.
Adding it all up:
Must Have Services
Stripe & PayPal:

2.2% – 2.9% + $30.00

CPA & ADP:

$62.00

Outright:

$10.00

Digital Ocean:

$20.00

CloudFlare:

$20.00

VaultPress:

$5.00

HelpScout:

$20.00

Github:

$7.00

Amazon S3 & SES:

$5.00

Drip:

$99.00

Zapier:

$15.00
TOTAL: $293.00
---
Nice to Have Services
Creative Cloud:

$10.00

Laravel Forge and Envoyer:

$20.00

Could9 IDE:

$20.00
TOTAL: $50.00
---
Services I've Used in The Past
Contracting out support:

$500.00

Contract out content marketing:

$500 – $1500/month

Paid Advertising:

Open
POTENTIAL COSTS: $1000-$2000+
---
So there you have it. These are the services I use to run a successful solo founder plugin business.
If you have any questions or comments please let me know and make sure to check out SeedProd.com if you need a Coming Soon plugin for WordPress.
This post is written by John Turner, founder of SeedProd.com